Romance in animes is a very popular genre but not all romances end on a happy note. Therefore there exists an exclusive sub-genre of romance anime series that truly touches our hearts.
These sad romance animes bring out your emotions in an intrinsic way.
So, if you are a sucker for some sad romance animes which make you burst into tears, this list is just for you!
1. Clannad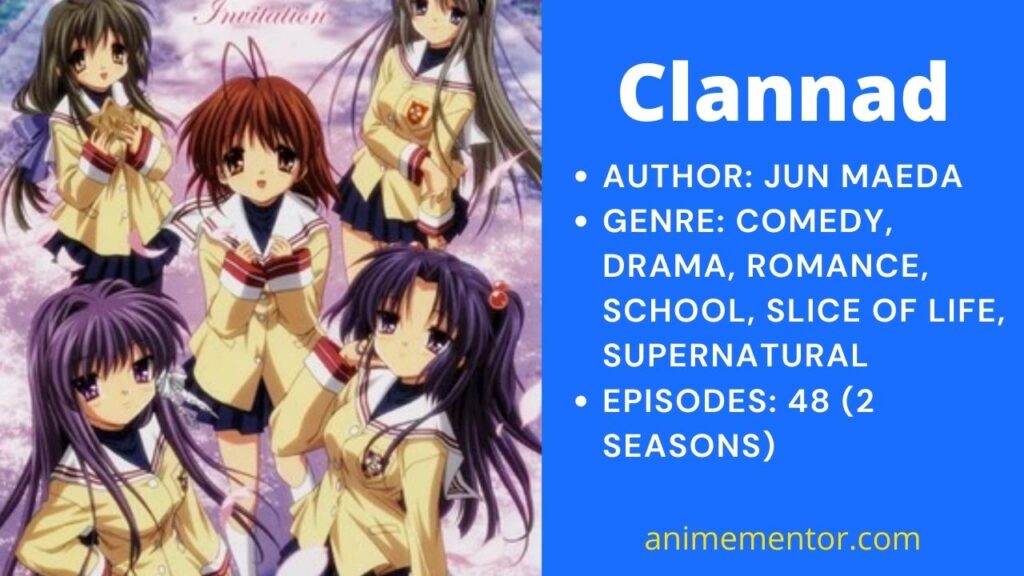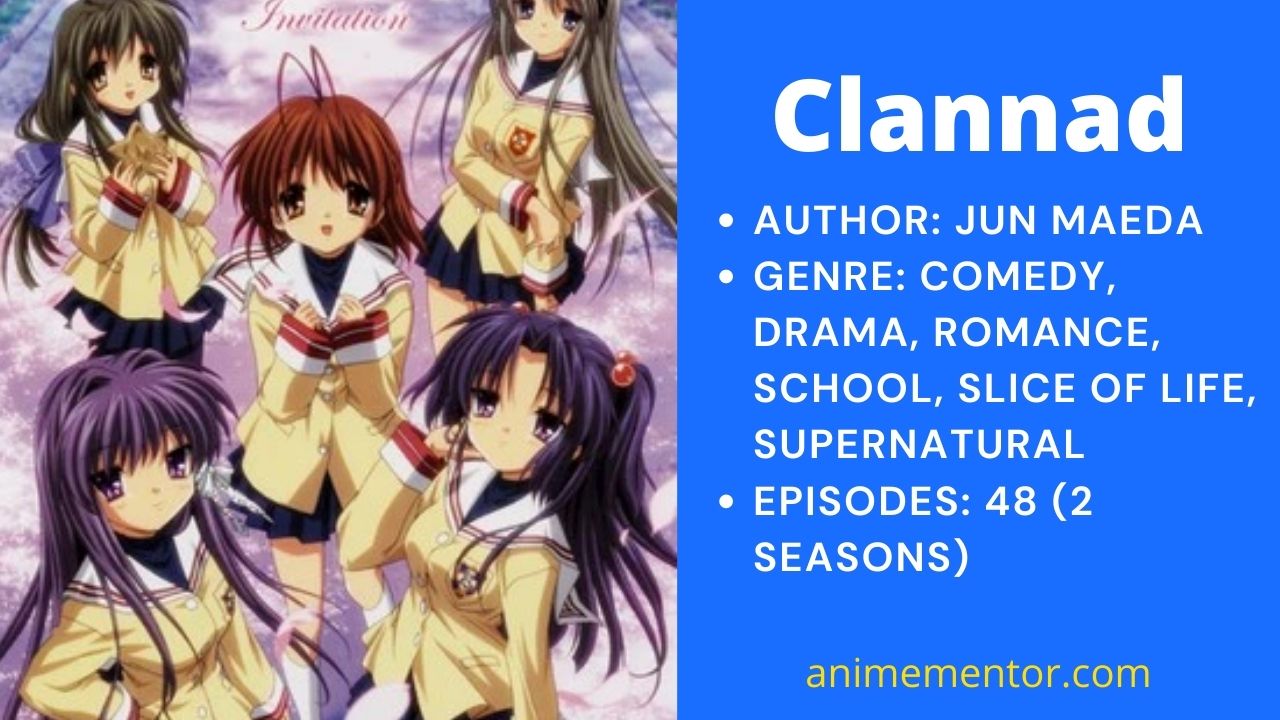 AUTHOR: Jun Maeda
GENRE: Comedy, Drama, Romance, School, Slice of Life, Supernatural
EPISODES: 48 (2 seasons)
SYNOPSIS: The story of Clannad follows a third-year high school boy named Tomoya Okazaki who is not at all satisfied with his life. Rather he despises living every day. A horrific car accident in his childhood claimed his mother's life. His father could not take the pain and turn to alcohol and gambling.
Tomoya never liked his father's newly picked habits. Once the father and son even got into a fistfight that ended with Tomoya injuring his shoulder.
From that point on Tomoya always ignored and hated his father and had a distant relationship with him.
One day while going to school, Tomoya encounters a weird girl named Nagisa Furukawa who was just standing on the road, mumbling something. She was one year older than Tomoya but due to her illness, she was repeating the same class.
Nagisa did not have many friends as all her classmates have been promoted to the next grade and thus she is often alone. Later, however, Tomoya became good friends with Nagisa and the two started sharing about everything.
With Nagisa, Tomoya finds new hope and his life starts to move in a new direction. Will Tomoya truly find happiness?
2. Plastic Memories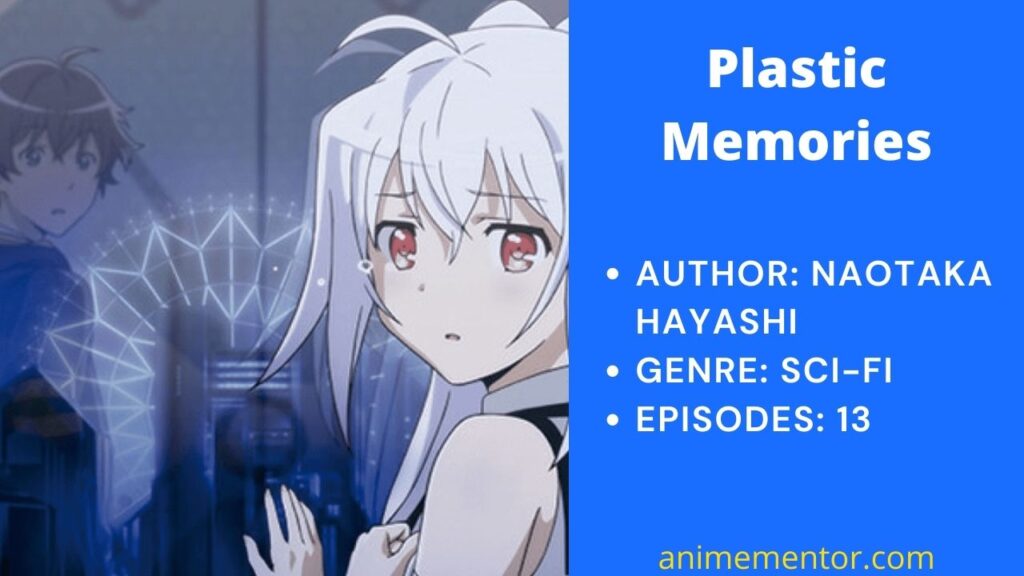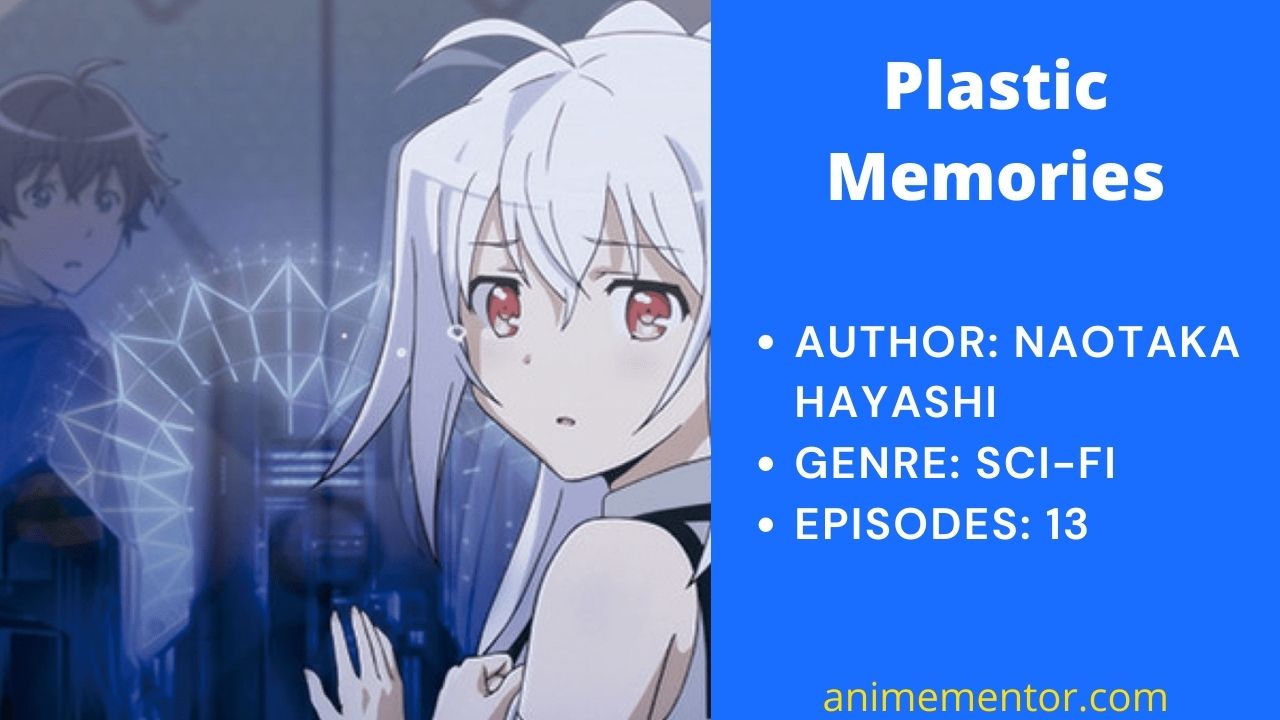 AUTHOR: Naotaka Hayashi
GENRE: Sci-fi
EPISODES: 13
SYNOPSIS: The events in the story take place in the future when androids that look exactly like humans started to spread throughout the world.
Tsukasa Mizugaki, after failing his college exam is gets a job at an android manufacturing company SAI corp. thanks to his father's connection.
SAI Corp. specializes in manufacturing Giftia, a one-of-a-kind android that has almost the same emotion and human-like qualities. However, the problem with androids is that they have a finite service life beyond which they get very rough and violent. Therefore, the company has started a terminal service for retrieving the Giftia that have expended their service life.
Now, the new employee at the terminal service, Tsukasa Mizugaki builds a team with the Giftia Isla to save other androids from getting terminated.
3. Rascal does not Dream of Bunny Girl Senpai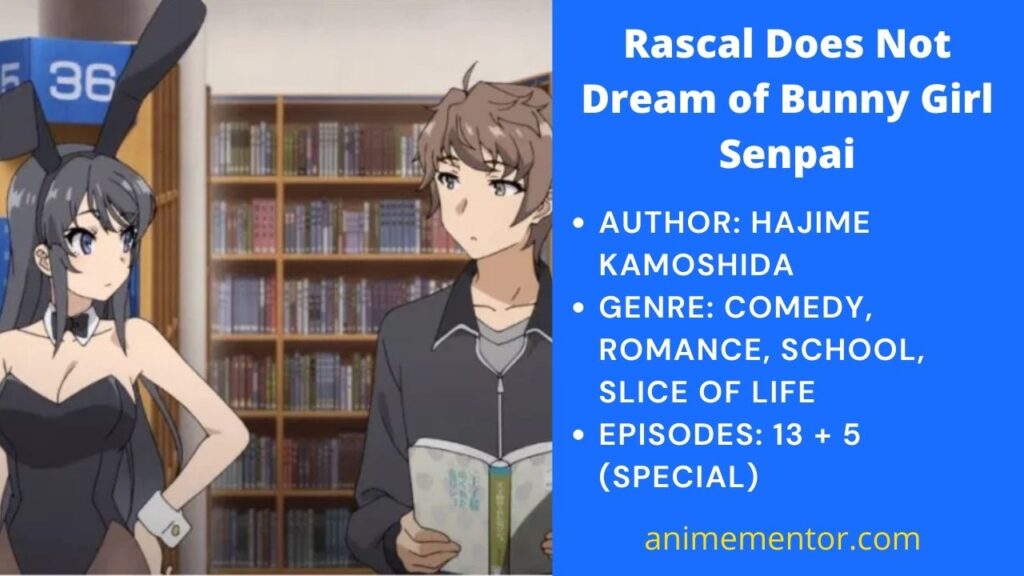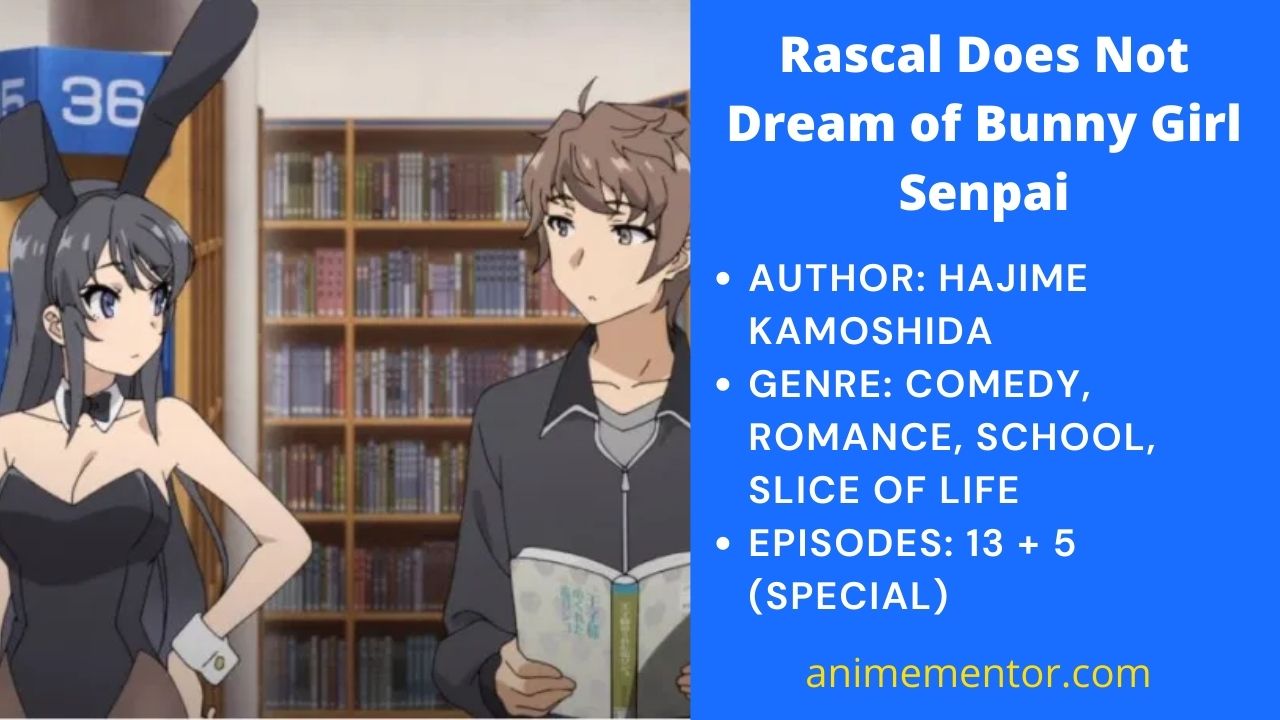 AUTHOR: Hajime Kamoshida
GENRE: Comedy/ Romance/ School/ Slice Of Life
EPISODES: 13 + 5 (special)
SYNOPSIS: The story follows a young boy named Sakuta Azusagawa, who is a second-year student at Minegahara High School. One day he stumbles upon a girl who was wearing a bunny costume at the library. Surprisingly, only Sakuta could see the bunny girl.
Later Sakuta finds out that the bunny girl was Mai Sakurajima his senpai, who was a third-year student at his school. She is also a very popular actress who was currently on a break from acting. Sakuta however, couldn't understand the reason why people around her can't see her in the bunny girl attire.
Later on, we find out about a mysterious syndrome that only occurs in your puberty stage which is known as the Puberty Syndrome and Mai is suffering from it.
Sakuta was told by her to not mess with her but one day after seeing Mai at the train station Sukata approaches her. Sakuta wanted to know the mystery behind this strange puberty syndrome and in the course of it, he also revealed his feelings towards Mai.
4. Anohana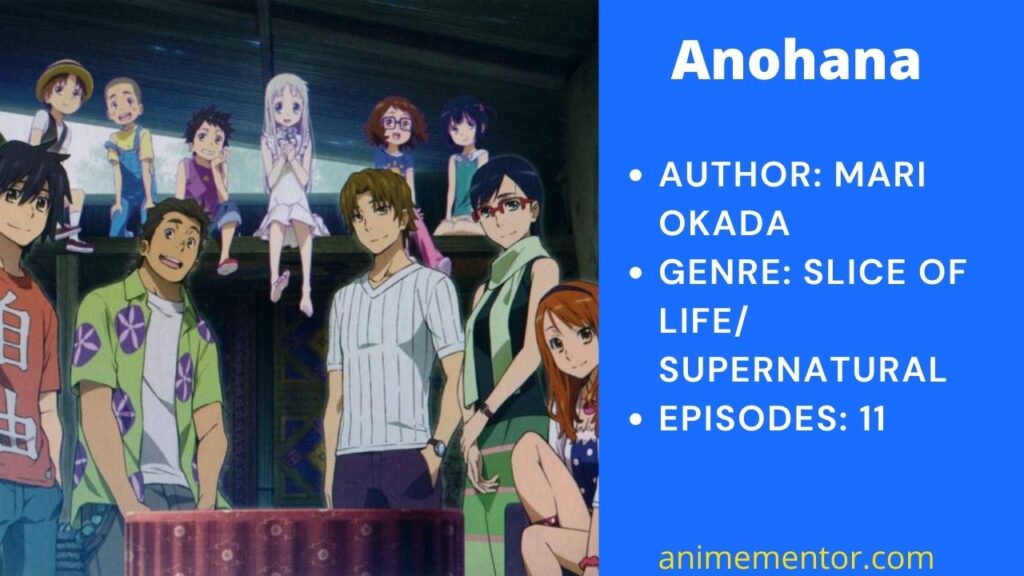 AUTHOR: Mari Okada
GENRE: Slice Of Life/ Supernatural
EPISODES: 11
SYNOPSIS:- The anime depicts the story of five childhood friends reuniting to fulfill the final wish of their dead friend
Years ago they were 6 childhood friends who were always together. But now those friends seemed to have grown apart after the death of one of their friends – Menma.
One of the now remaining 5 friends, Jin-tan who is presently aimless in life, one day starts to see Menma's ghost. Menma tells Jin-tan that he may be able to see her due to a wish she made as a kid.
She then asks Jin-tan to fulfill that wish and thus, the friends who have grown distant in all these years gather together for one more time.
5. Violet Evergarden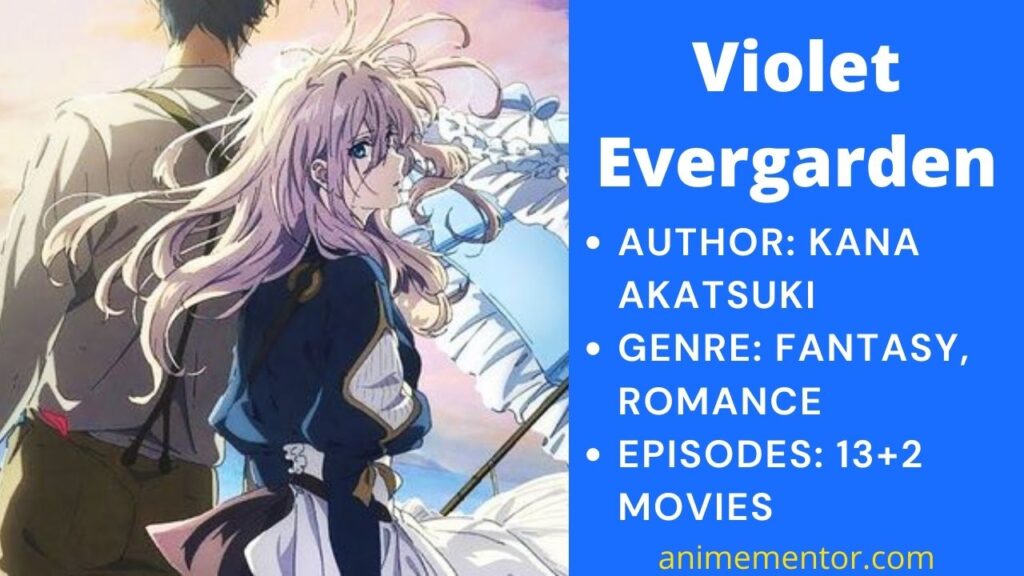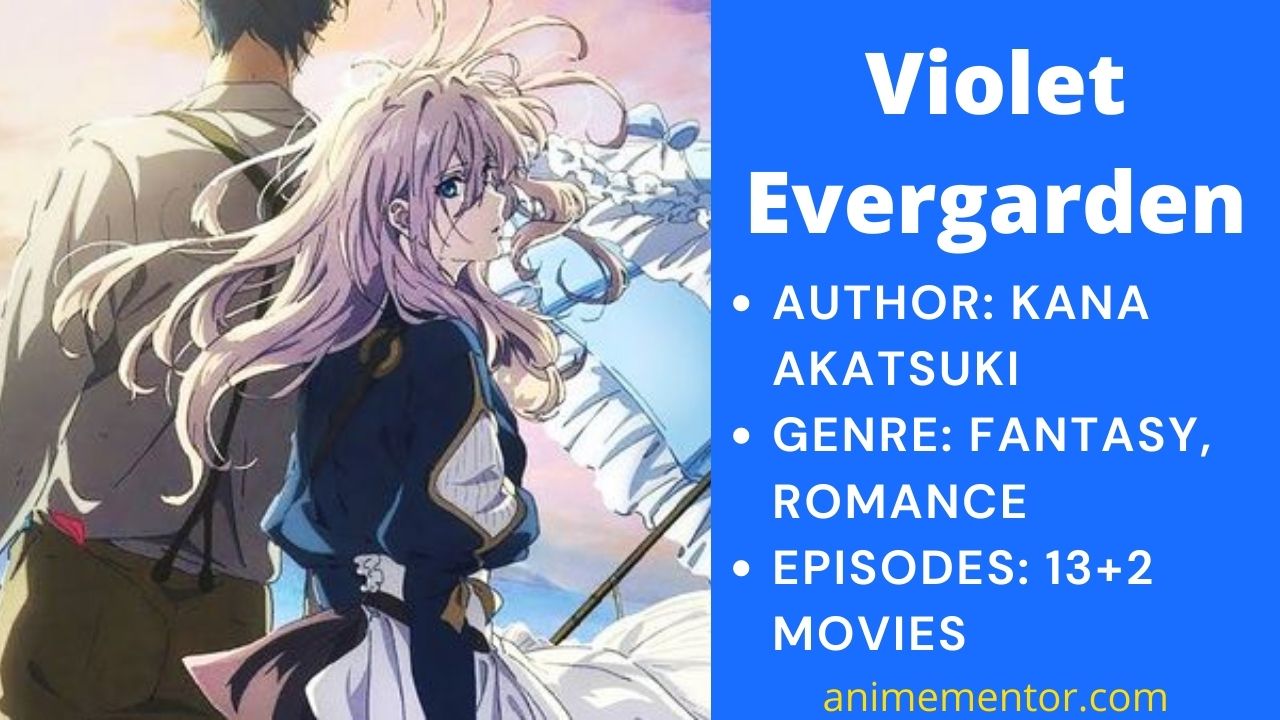 AUTHOR: Kana Akatsuki
GENRE: Drama / Fantasy
EPISODES: 14
SYNOPSIS:– Once there was a great war in the continent of Telesis which lasted for about 4 years.
Violet Evergarden's story starts after the great war when a girl named Violet Evergarden, wakes up in a hospital recovering from the wounds she got on the battlefield in the final phase of the war.
Violet heard some very precious words (I love you) from the person she was dearest to on the battlefield. However, Violet who trained her entire life to be a killing machine, couldn't comprehend the meaning. At the same time, she could never forget those words.
The continent of Telesis was divided into two – the North and South by the great war. But, after it ended, the people eagerly wait for a new joyous period to begin.
After being discarded from the hospital, Violet Evergarden who was once an emotionless soldier starts a new phase of her life at a postal service office as an Auto Memories Doll. At the same time, she searches for the person who was very dear to her.
Through her work, she learns about the various thoughts and wishes of people and the concepts of love.
6. Your Lie In April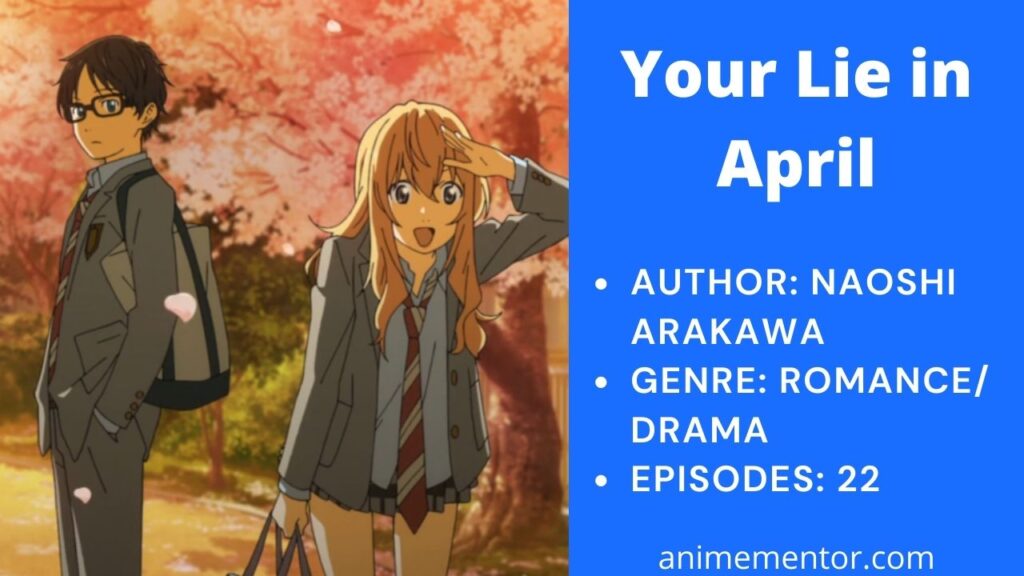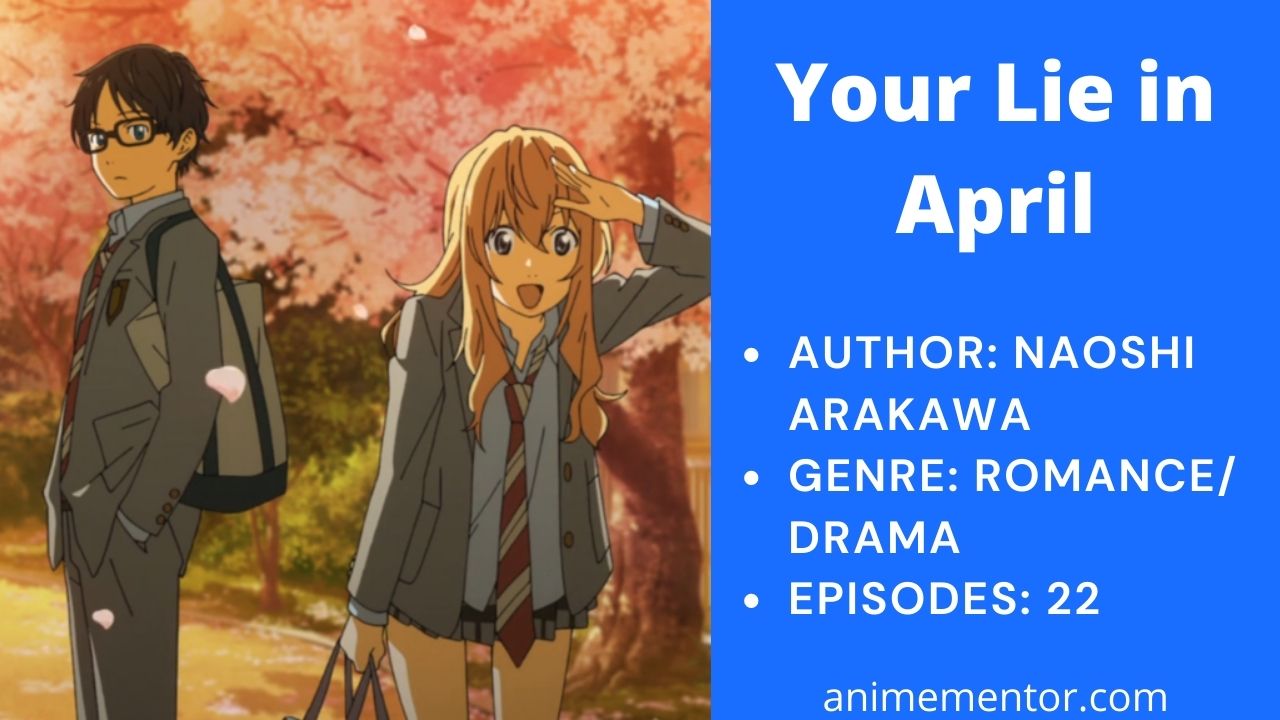 AUTHOR: Naoshi Arakawa
GENRE: Drama/ Music/ Romance/ School/ Shounen
EPISODES: 22
SYNOPSIS:- Arima Kousei is a child piano prodigy who lost his ability to play the piano after a traumatic incident that took place in his childhood as his mother had passed away. His daily life is somber and gloomy, but the gloominess begins to fade away when he encounters a female violinist eventually.
Miyazono Kawori is a bold, fearless girl who is gripped with confidence. She persuades Kousei to go back into the world of music again. Captivated by Kawori's words, Kousei is forced to go back into the spotlight he once received and now a new beginning awaits for Kousei.
7. Orange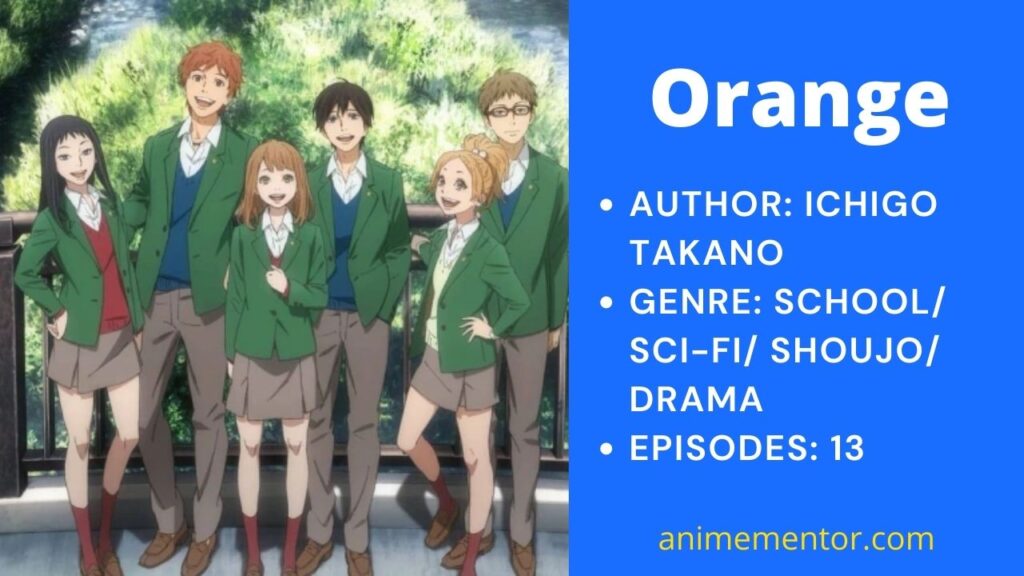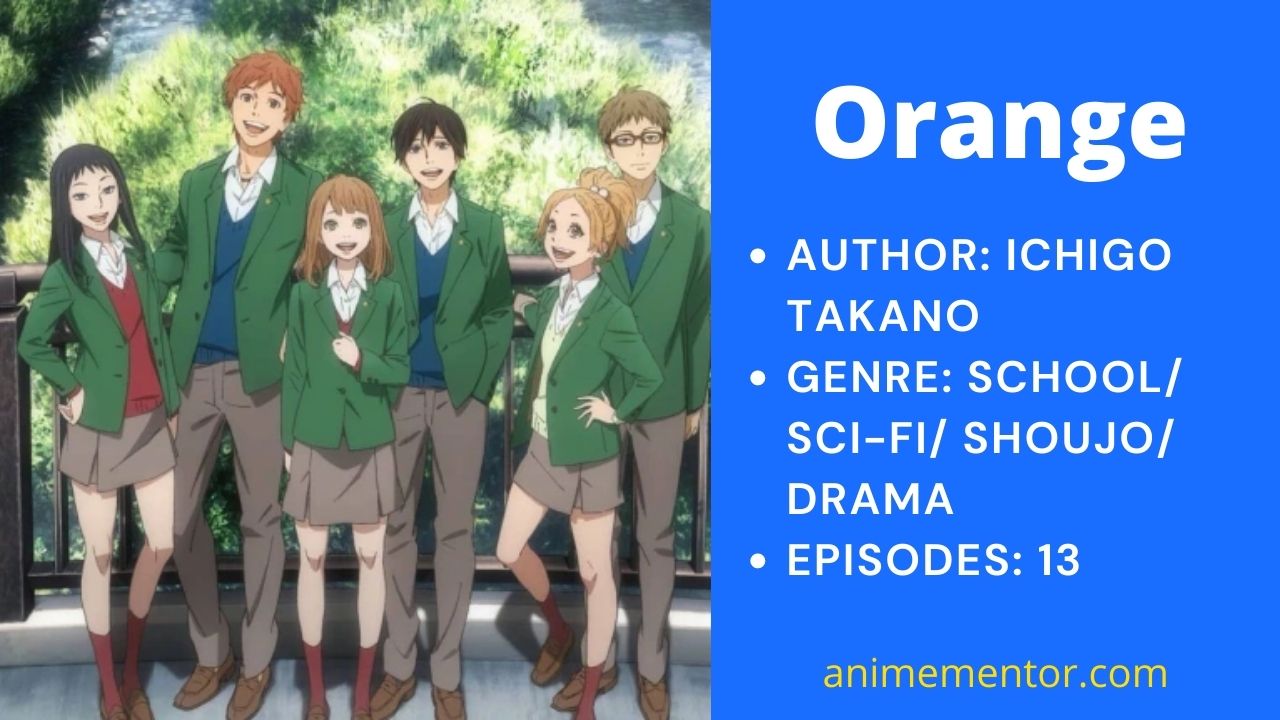 AUTHOR: Ichigo Takano
GENRE: School/ Sci-fi/ Shoujo/ Drama
EPISODES: 13
SYNOPSIS: It was springtime, when suddenly one morning, 16-year-old Naho Takamiya receives a strange and detailed letter in the mail declaring to be from herself 10 years in the future with a list of events due to take place in the future.
At first, Naho thought that it was just a prank. However, when the things mentioned in the letter started to take place, including the mention of the new transfer student named Kakeru Naruse who will sit beside her in the class, Naho is forced to believe otherwise.
The letter was just like her diary entries. In the letter her supposedly future self tells Naho about the biggest regrets she will have in her life and asked the present Naho to watch over Kakeru closely and not make the same mistake as she did.
Will Naho be able to make the right decisions that can change their fate?
8. Angel Beats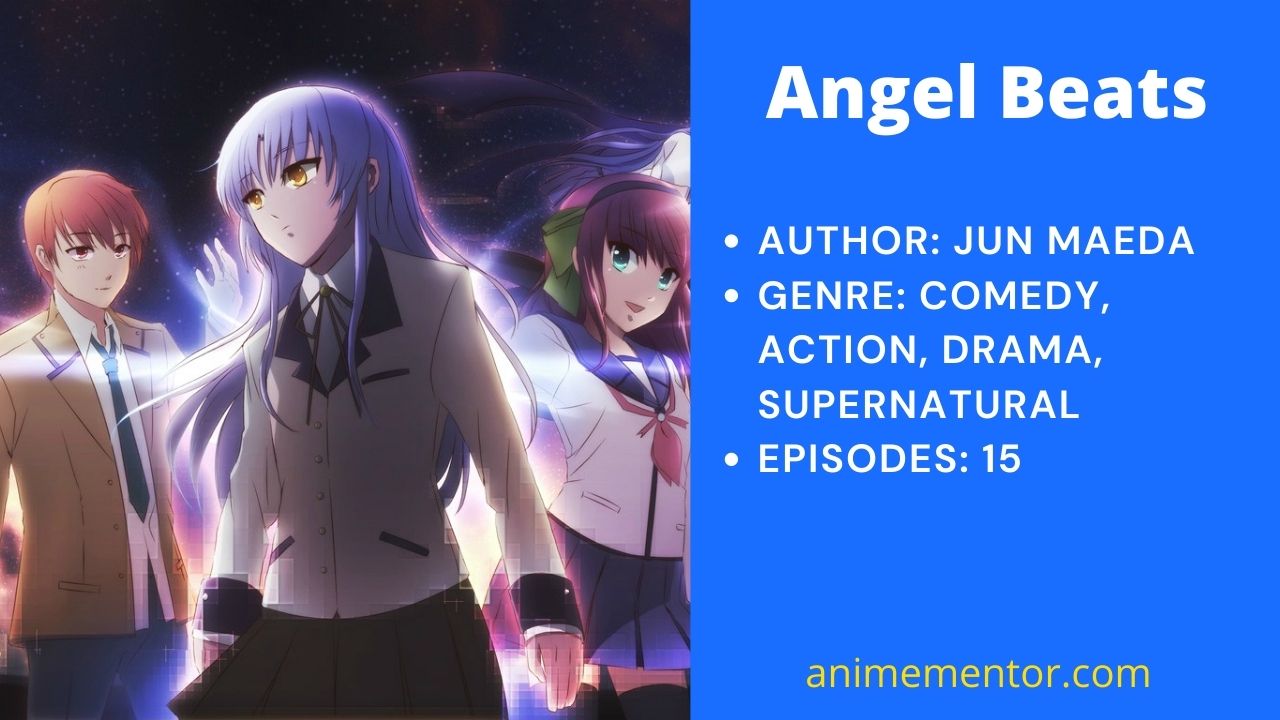 AUTHOR: Jun Maeda
GENRE: Comedy, Action, Drama, Supernatural
EPISODES: 15
SYNOPSIS:- This story presents us with a group of students who are already dead but refuses to go to the next life. Here the protagonist is a boy named Yuzuru Otonashi who has no memory of his past life except his name after waking up in the afterlife.
It is a world where the future of the angels is at stake and they must fight to protect their future.
Yuzuru meets a girl named Yuri Nakamura, who tells Yuzuru everything there is to know about the afterlife and its environment which is present at a local high school. In the afterlife, the students can kill each other and they feel physical pain but they can be revived too.
Yuri decided to protests against the Gods of the world for giving them a pathetic life and forms a group known as the Shinda Sekai Sensen or SSS in short. However, Tenshi the chairperson of the students in the afterlife opposes the idea of the SSS members and starts a battle against them.
Therefore the SSS members are confronted with the angels who possess numerous powers.
9. One Week Friends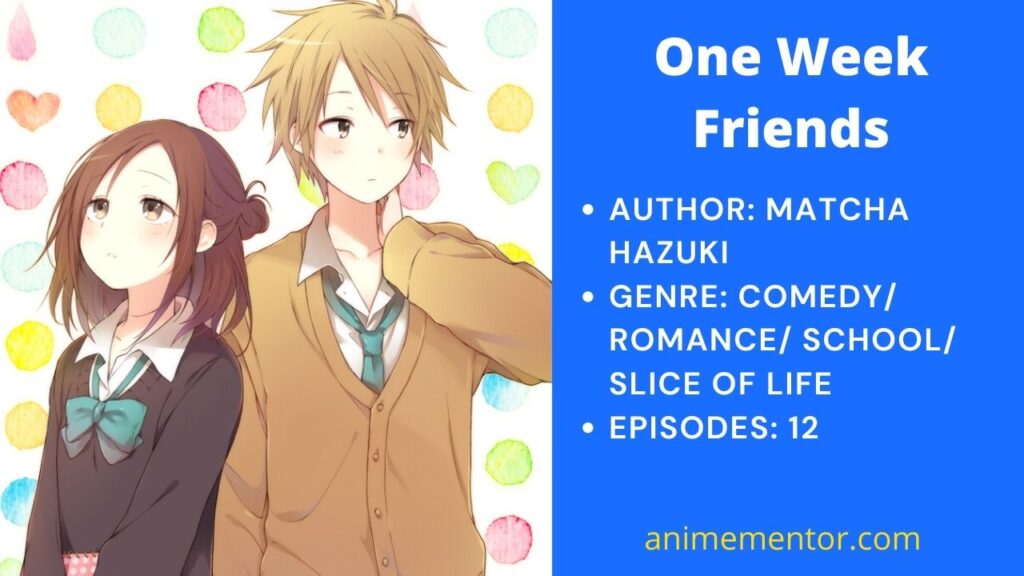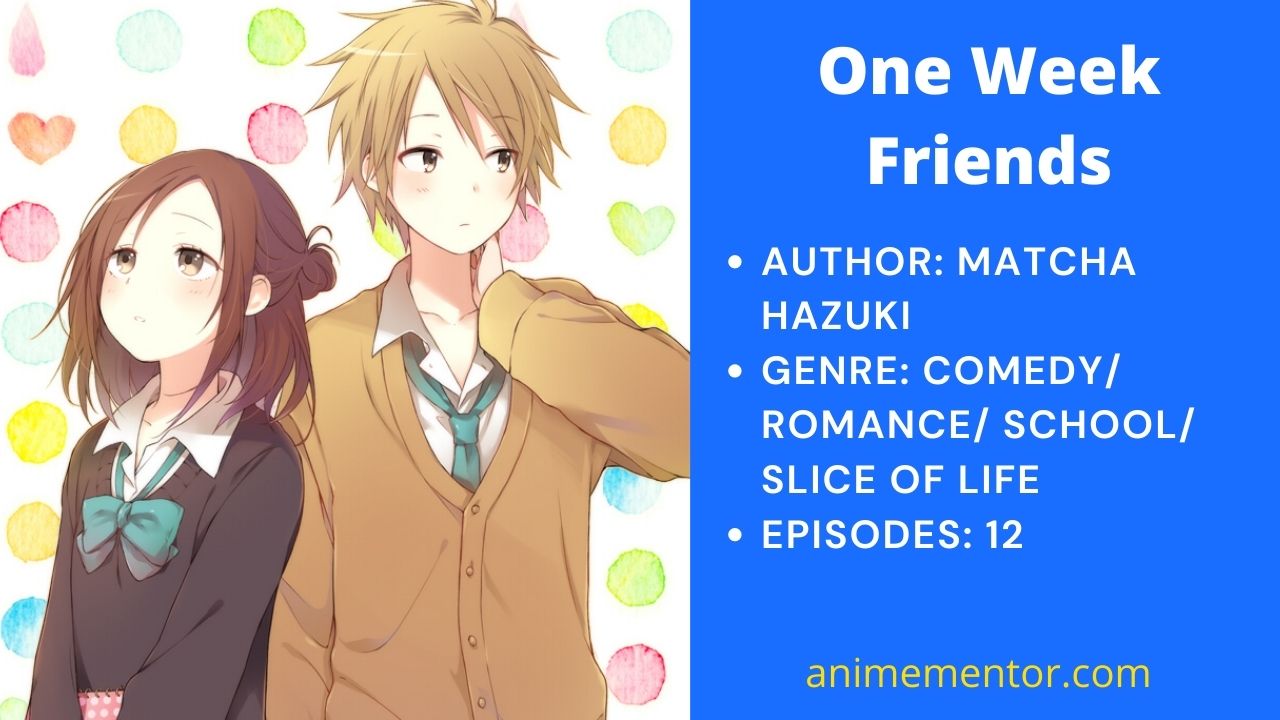 AUTHOR: Matcha Hazuki
GENRE: Comedy/ Romance/ School/ Slice Of Life
EPISODES: 12
SYNOPSIS:- Yuuki Hase is a 16-year-old high school student and has a crush on Kaori Fujiyama – a quiet self-contained girl who is often alone. She does not oppose the idea of associating with Yuuki (as she does with everyone else) and due to this, Yuuki has a crush on her.
One day Yuuki gathers all of his courage to ask Kaori if she wanted to become her friend. Later at lunchtime Yuuki sees Kaori eating her lunch alone on the roof and visits her. Yuuki wanted to get closer to her, so he started to meet Kaori frequently in the hope that they would become good friends someday. And as fate would have it, Kaori also shares her thoughts with him and opened up a little bit.
However, one day suddenly Kaori started ignoring Yuuki and he got very curious about it. Later Yuuki finds out that due to an accident that Kaori faced during middle school at the end of each week on Monday Kori loses all the memories of her friends and close ones.
But Yuuki wanted to be her friend. So, he decides that every Monday he would ask Kori to become friends with him and start all over again.
10. Golden Time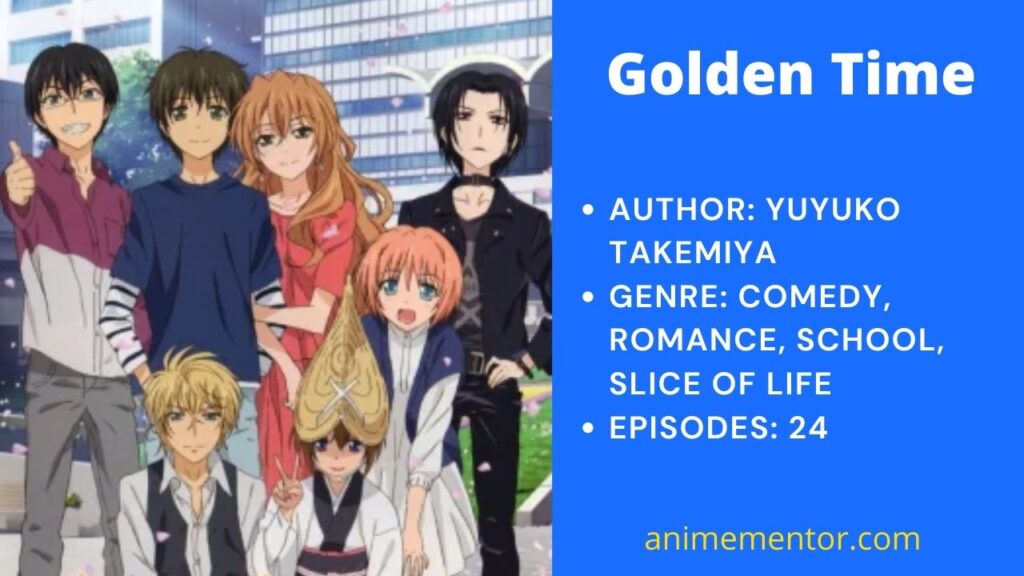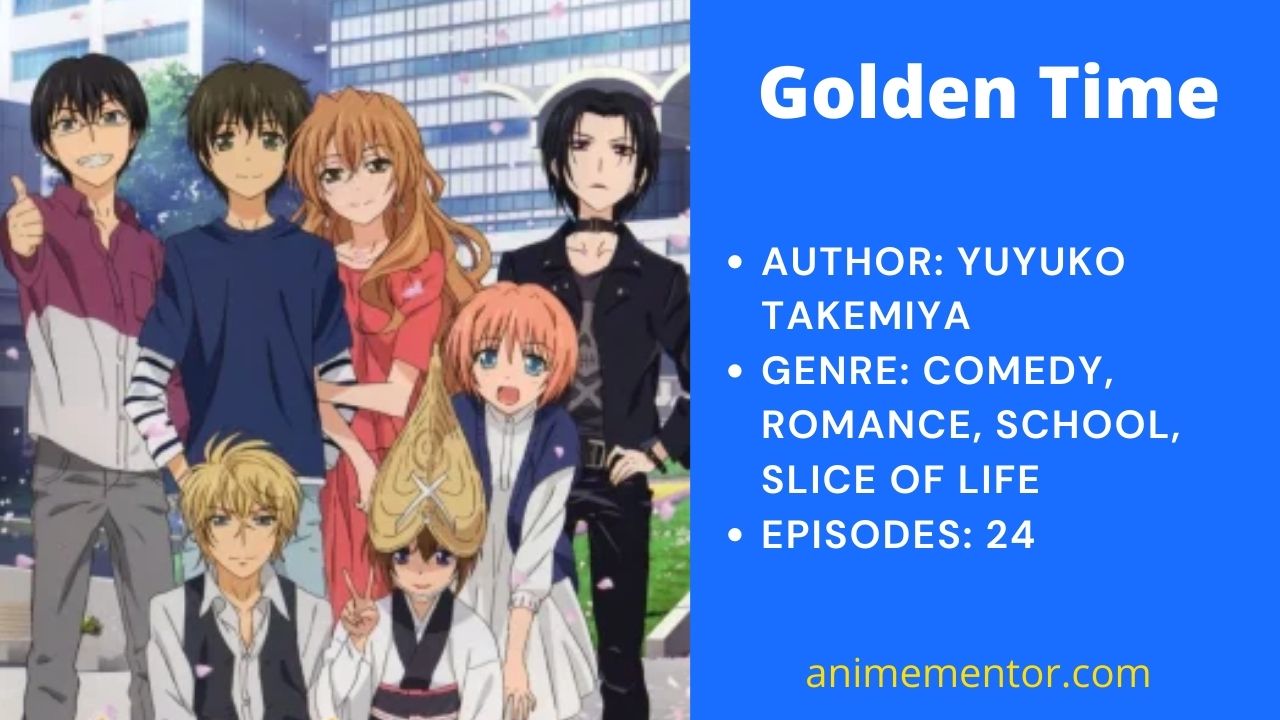 AUTHOR: Yuyuko Takemiya
GENRE: Comedy/ Romance/ School/ Slice of Life
EPISODES: 24
SYNOPSIS:– In a private law school in Tokyo, a new student named Tada Banri was enrolled who on his first day to school was finding his way to the freshman orientation but got lost after the opening ceremony.
There he stumbles upon another freshman named Yanagisawa Mitsuo who was also lost in the way. The two somehow managed to arrive at the orientation in time when suddenly a beautiful girl with a bouquet of roses appeared from nowhere. The girl gave the flowers to Mitsuo, congratulated him, and left. Later, Tada learns that the beautiful girl was Mitsuo's childhood friend, Kaga Kouko.
In their childhood, Mitsuo and Kaga were told that they would marry each other in the future. Mitsuo doesn't like Kaga anymore but now they are again together in the same private law school.
Conclusion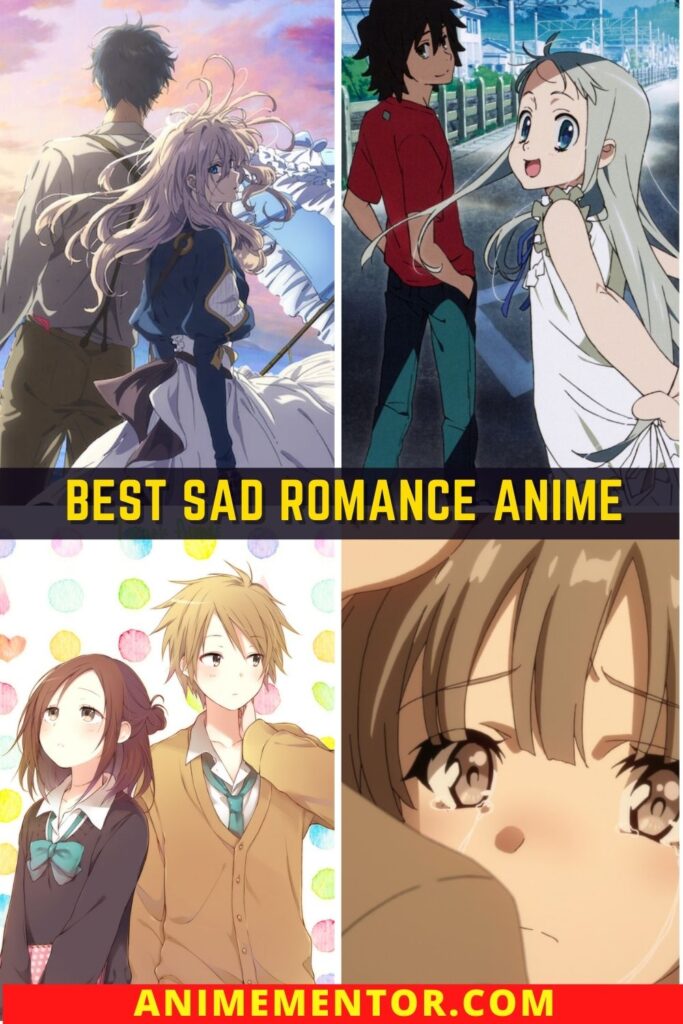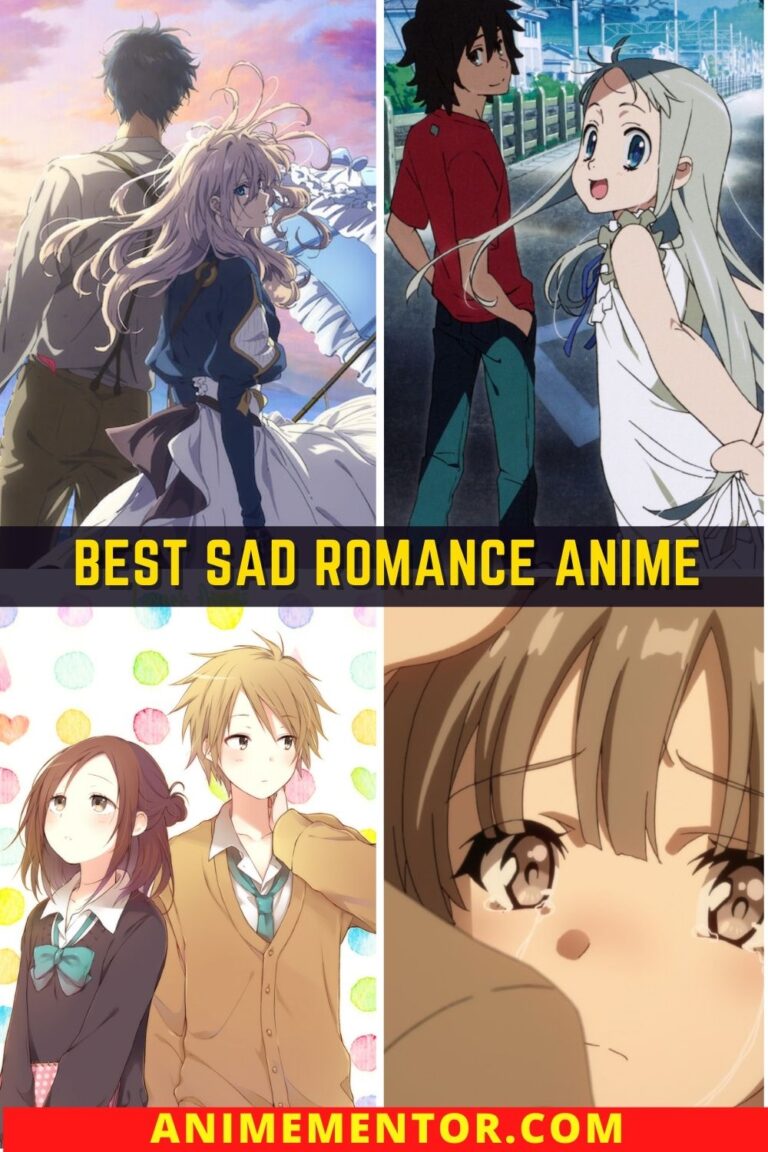 So this was our list of the Best Sad Romance Anime. Did your favorite sob anime make it to the list? Or do you think we missed some good ones? The comments section is all yours!
Also, If you have any queries, suggestions, or feedback reach out to us and we will get back to you as soon as possible!
Thanks for reading this far!
Bye!