Today we are back again with another awesome list. We present to you the list of the best anime series where our main character is a demon lord with superpowers!!
Whenever we talk about the main character, we think of him/her becoming a HERO. But today's list contains the main characters who possess demonic powers and are great demon lords.
Sometimes they can be good and at that the same time be ruthless. So, without wasting any more time, let's get right into the list ASAP!!
1. The Misfit Of Demon King Academy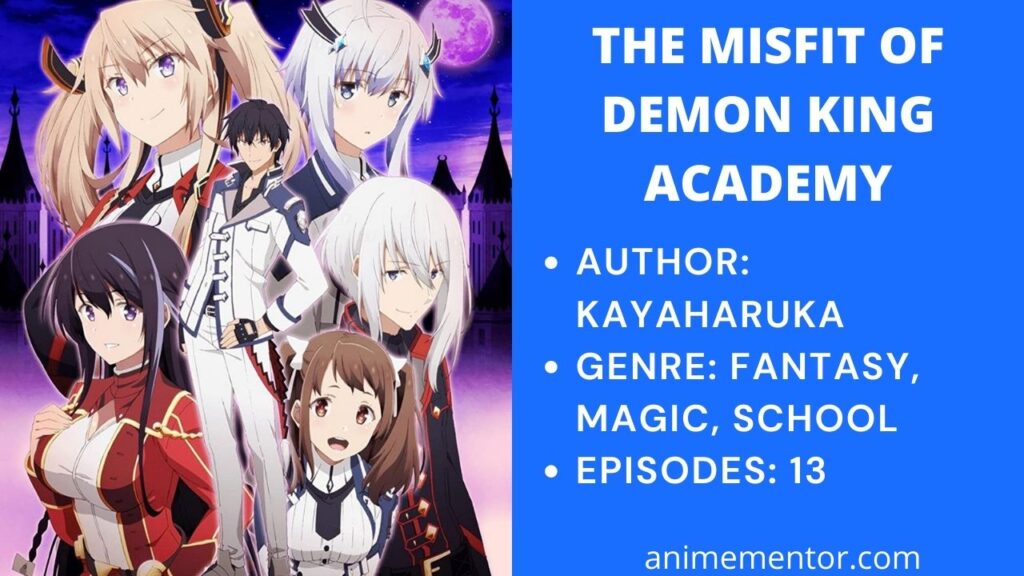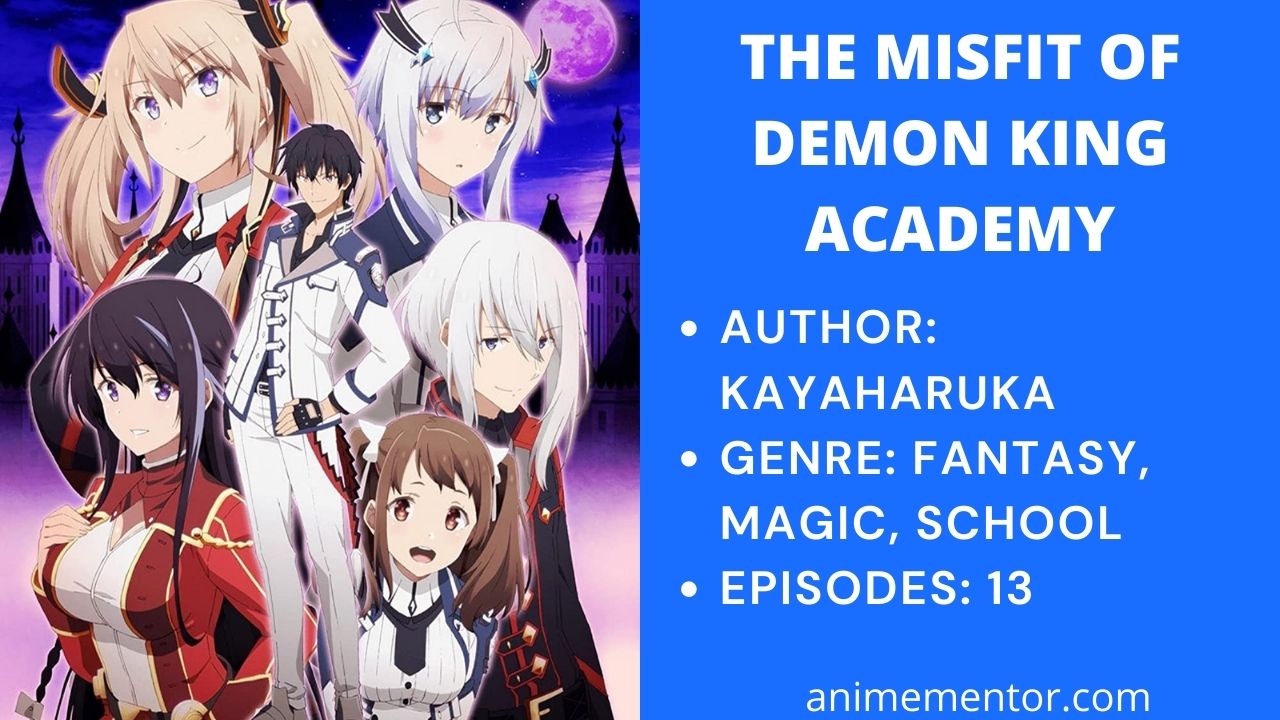 Author: Kayaharuka
Genre: Fantasy, Magic, School
Episodes: 13
The protagonist of this series is Anos Voldigoad. He is a ruthless and overpowered demon lord who is once again reincarnated after 2000 years. He possesses all the powers he previously had as the demon lord.
2000 years ago he was sick of the war between demons and humans, so he decided that he would reincarnate after 2000 years as he longed for peace.
But after he was reincarnated, he saw that no one in the world quite remembers him or his name. It was a too peaceful world and his demon descendants were very weak nowadays. Now Anos goes to the magical demon school and tries to prove in front of everyone that he is the DEMON LORD!!
2. The Devil is a part-timer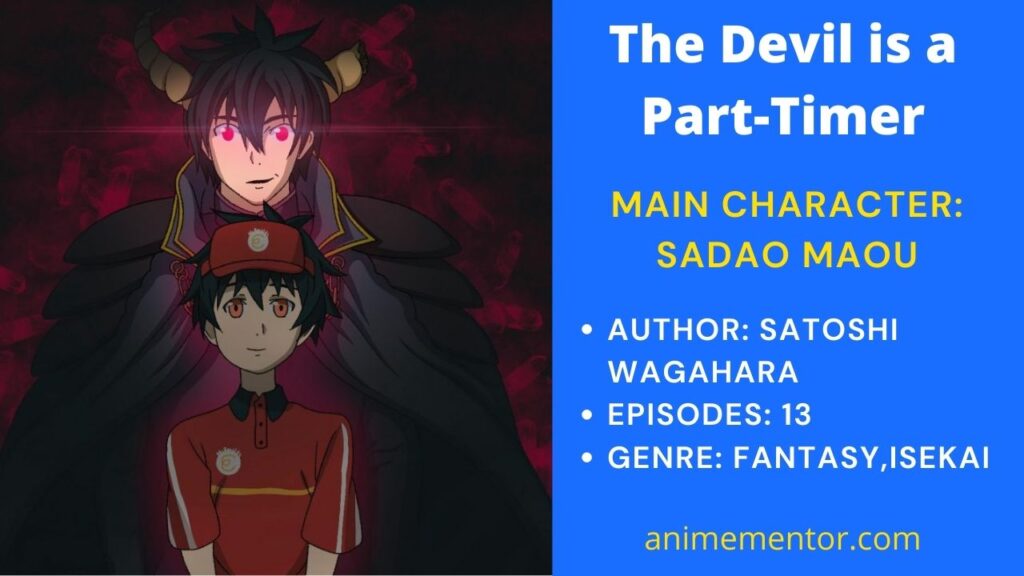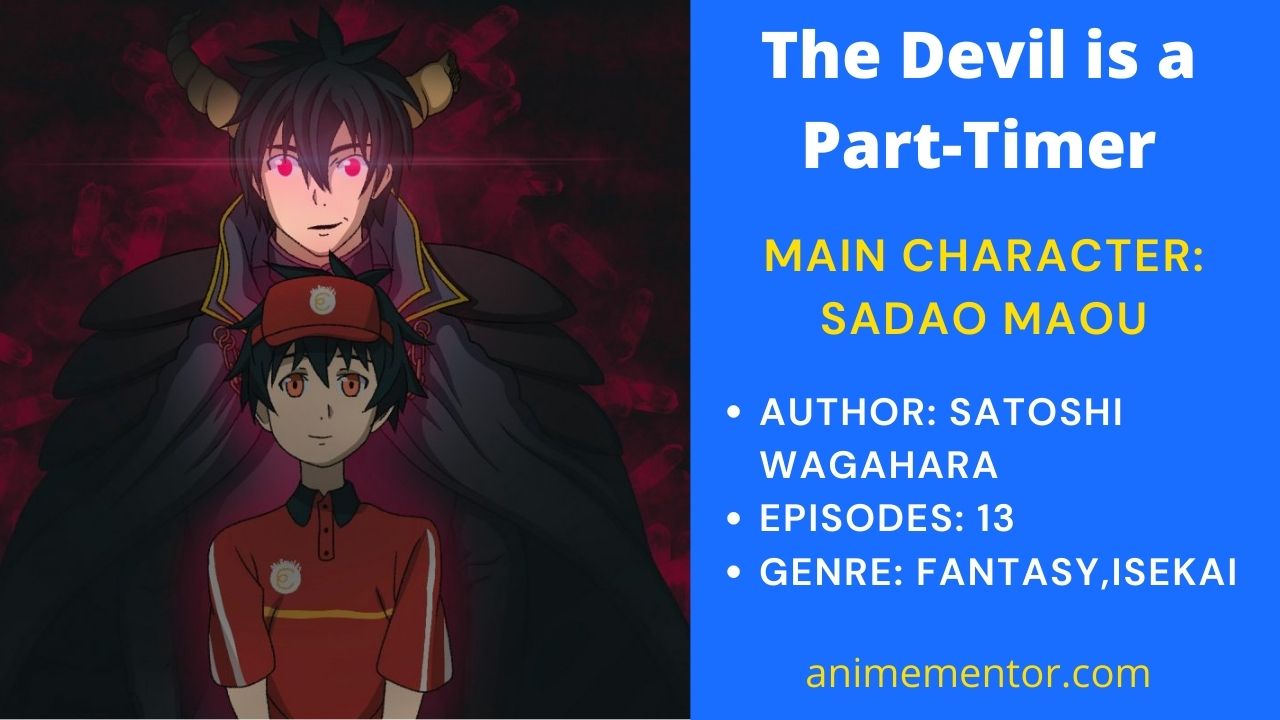 Author: Satoshi Wagahara
Genre: Comedy, Demons, Fantasy
Episodes: 13
This story is a little unique in terms of demon lord stories as here The Devil King works as a part-timer to pay for his living expenses!!
The protagonist of this story is Devil King Satan who was very close to conquering the whole world due to his unbelievable power. But at last, he was defeated by Hero Emilia.
After that, he was forced to come to the human world presently the modern-day Tokyo city. Here his magical and destructive powers are of no use to him if he wants to sustain his life.
He disguised himself as a normal human named Sadao Maou and to pay for the living expenses he now works in a fast-food restaurant. So his hilarious daily life begins!!
3. How Not to Summon a Demon Lord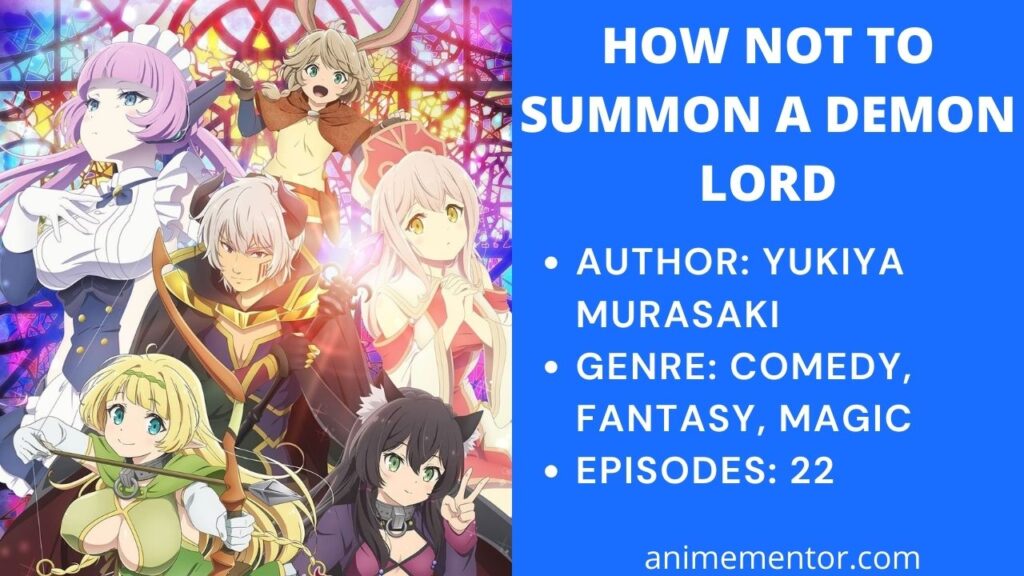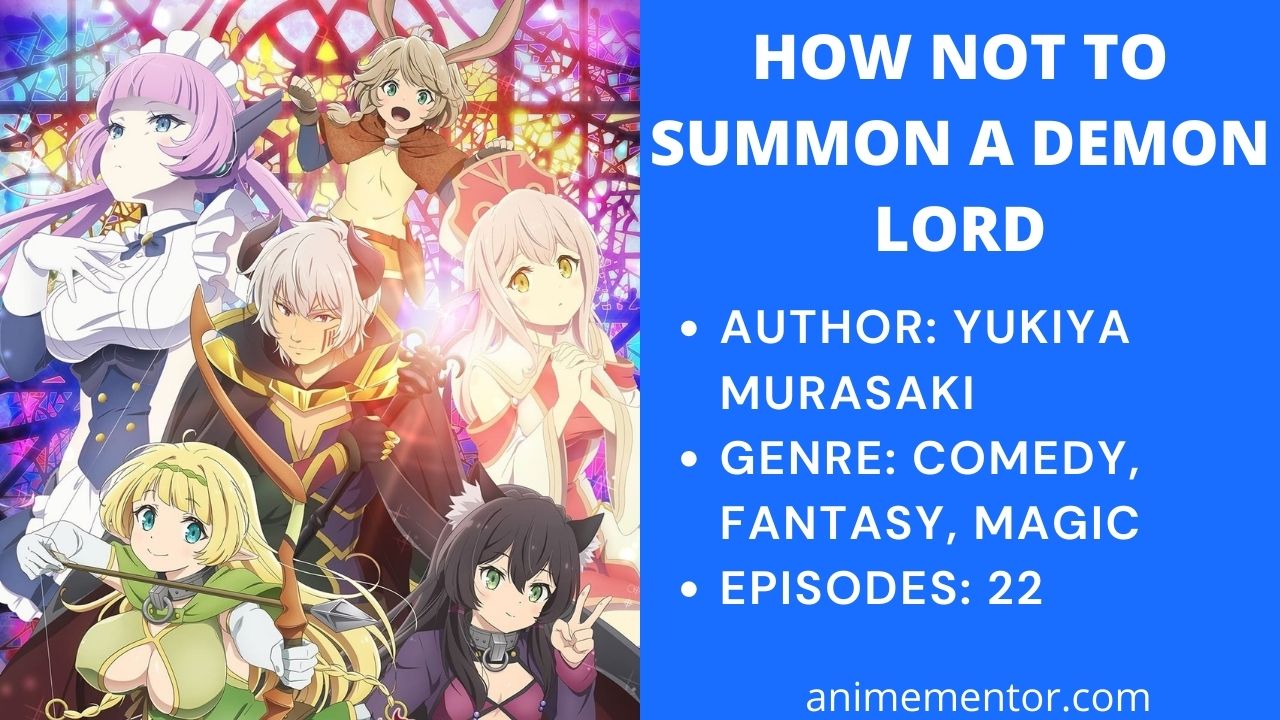 Author: Yukiya Murasaki
Genre: Comedy, Fantasy, Magic
Episodes: 22
Sakamoto Takuma gained an overpowering strength in the game MMORPG Cross Reverie where he was known as the Demon King by other participants.
Takuma was summoned to another world with his gaming appearance. There he met two girls who wanted to cast slave-turning magic upon him, but instead, they became slaves to Takuma.
This was due to his special magic skill 'Magic reflection'. He is the most powerful magician but has no social skills. He told them that he is Diablo, the Demon King.
This story revolves around the acting Demon King and his other accomplices as they step toward their new journey.
4. The Greatest Demon Lord Is Reborn as a Typical Nobody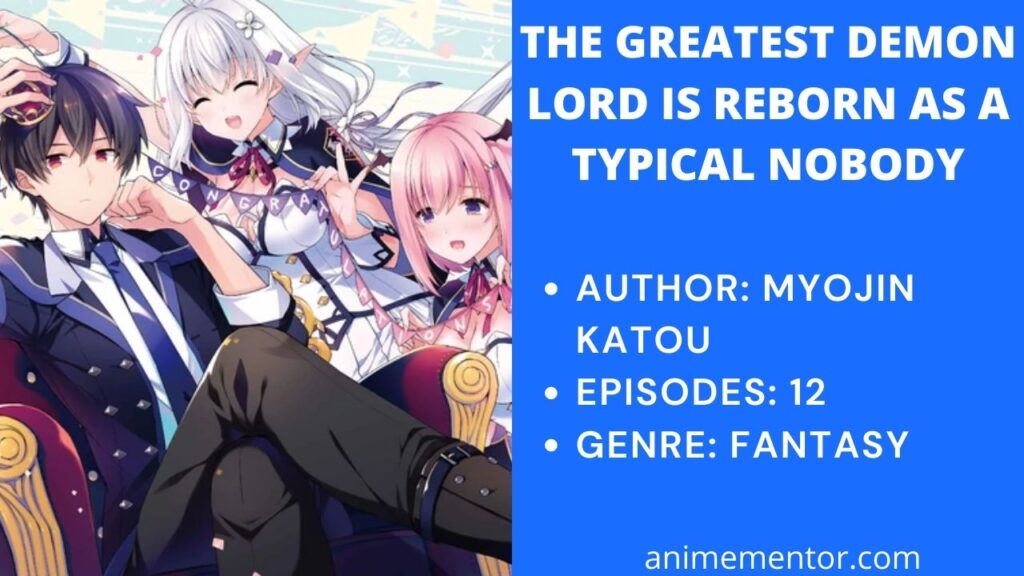 Author: Myojin Katou
Episodes: 12
Genre: Fantasy
Studio: Silver Link; Blade
A long time ago a sorcerer name Varvatos has become too powerful and can no longer be recognized as a human. The Demon Lord Varvatos, who is the most powerful being in history, thinks life is a big fat snore.
So he decides to reincarnate as an average boy since no one understands him and he has no friends. He hopes to lead an ordinary life after reincarnating as Ard Meteor in modern life. When he takes matters into his own hands and decides to reincarnate, he calibrates his magical strength to be perfectly average.
He could never have predicted that everyone in the modern world would be weak as hell, so that means he is once more totally outclassed! As Ard approaches his 10th birthday, he hopes to make friends, but his past as the terrifying Demon Lord means he has no social skills and other children consider him creepy.
5. That Time I Got Reincarnated as a Slime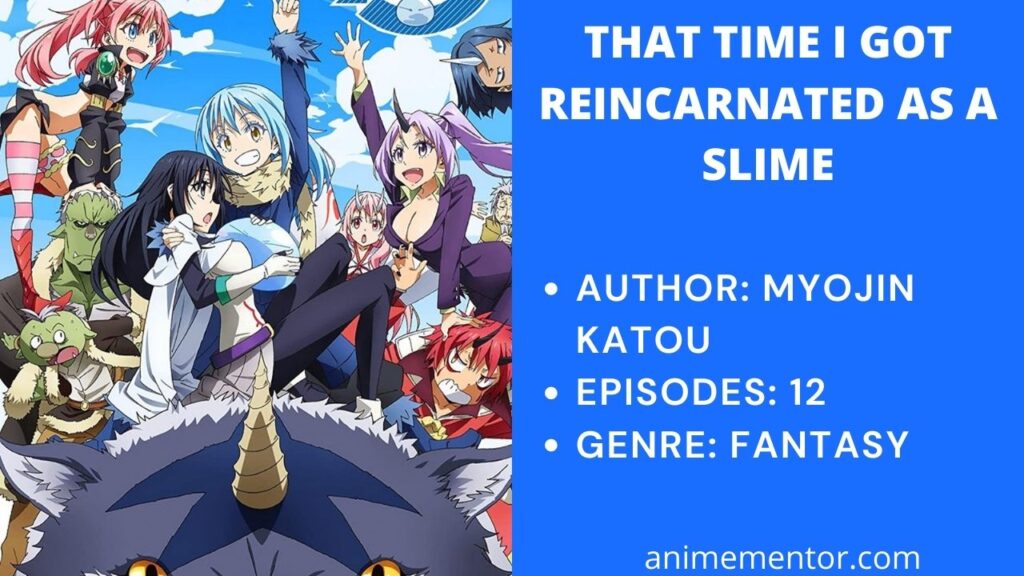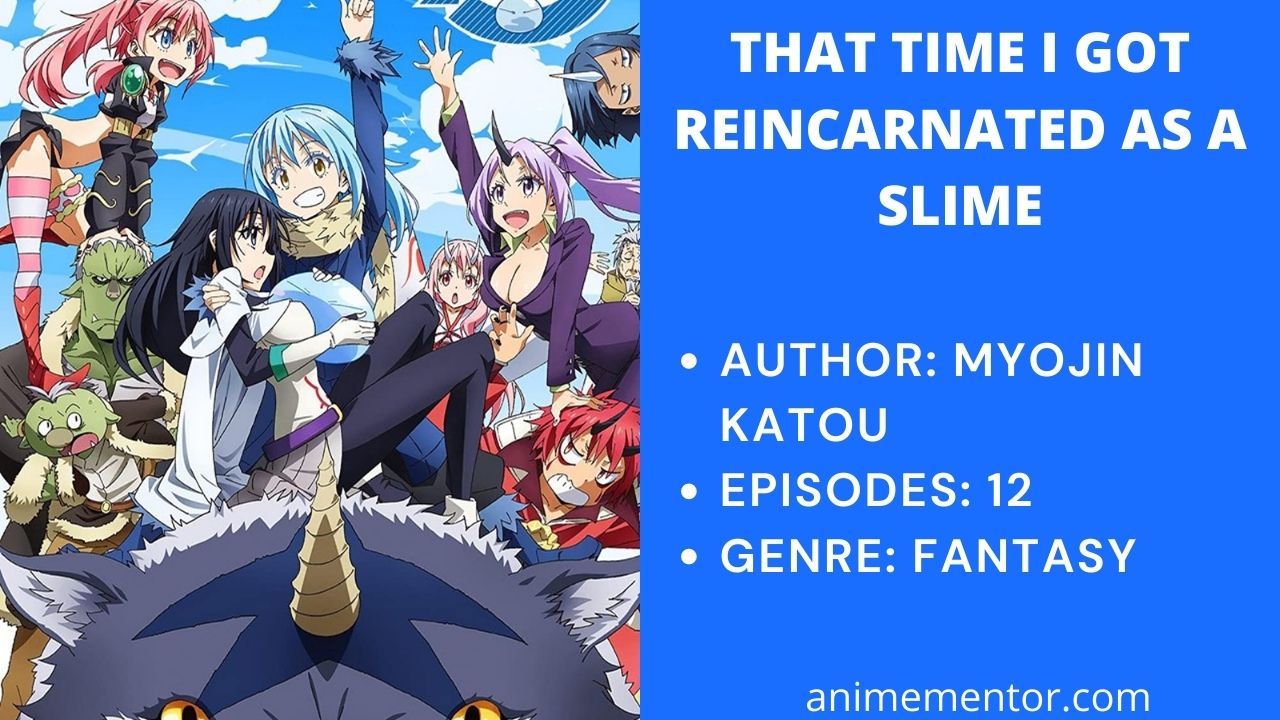 Author: Fuse
Genre: Fantasy
Episodes: 48
One day a 37-year-old human named Mikami Satou was killed by a thief passing by. Surprisingly the next time he woke up was in a different fantasy world as he was reincarnated in that world. He was reincarnated into this world in the form of a 'slime' monster with all his memories of his previous life intact.
There he met with a dragon named Veldora who was trapped in a large cave. He gave him the name Rimuru Tempest. Rimuru learned about the world from him and ultimately he found that he has a special skill within him like a system. This system enables him to do various things like he stored Veldora in his system and thus he was no longer present in the cave.
This story tells us about the journey of Rimuru Tempest who wonders in a new fantasy world and his journey of becoming one of the strongest beings in this world!!
6. Seven Deadly Sins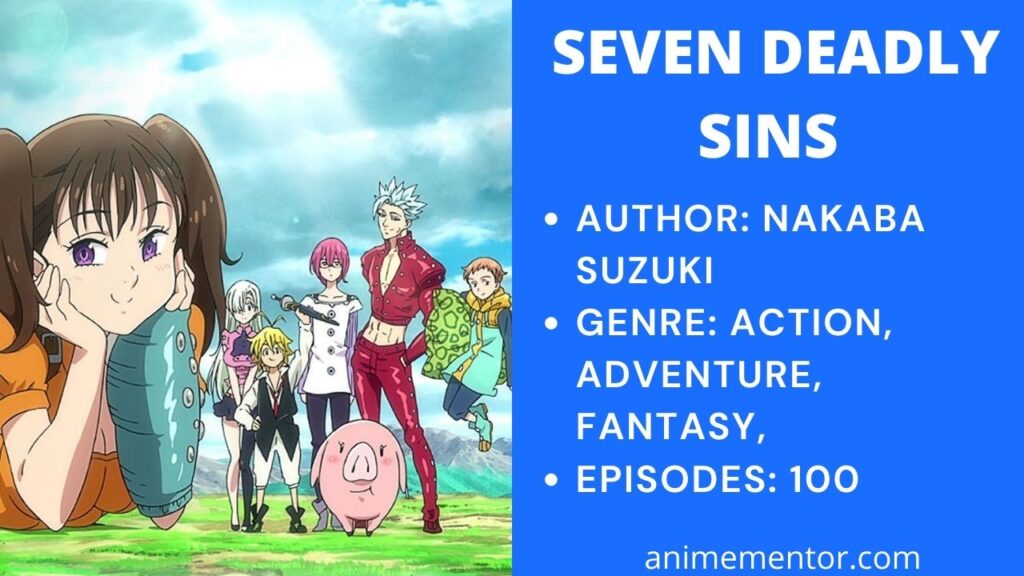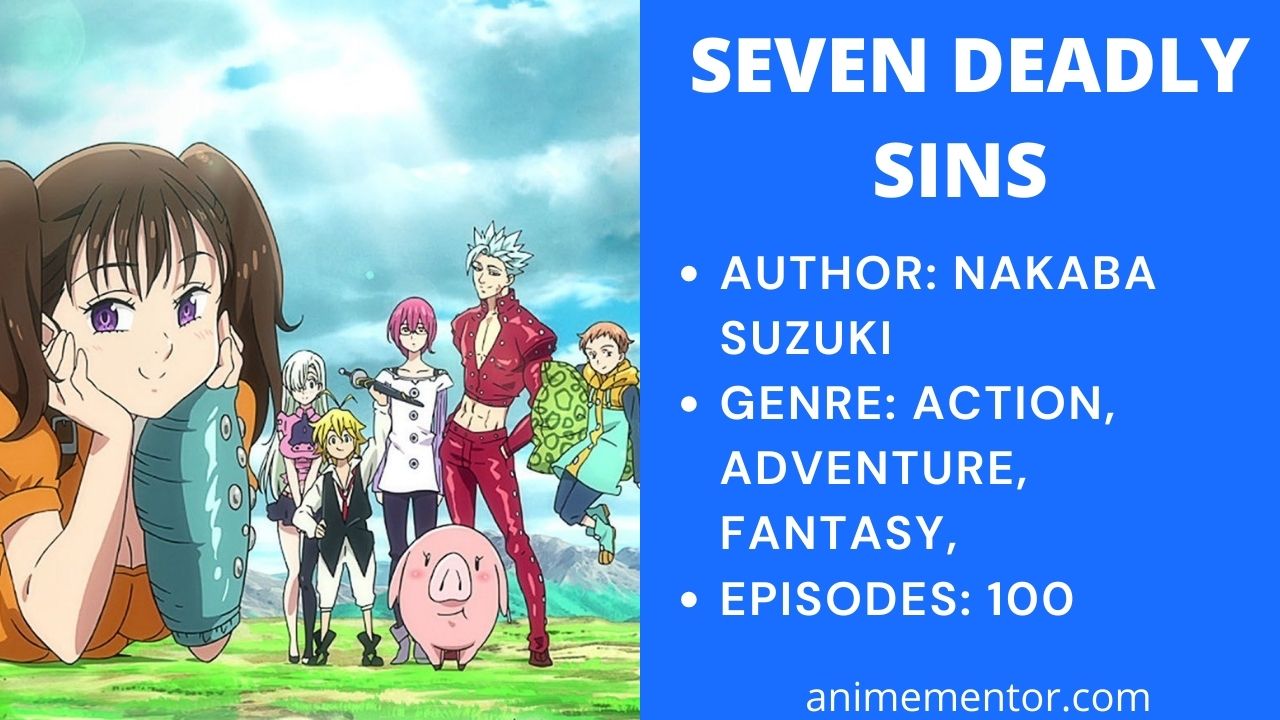 Author: Nakaba Suzuki
Genre: Action, Adventure, Fantasy, Shounen, Supernatural
Episodes: 100
The protagonist of this insane story is Meliodas who is a part of the legendary SEVEN DEADLY SINS.
It's a group comprising of seven strongest knights who once conspired to dethrone the king of Britannia.
It's said that they were defeated by the Holy Knights but many claim that they are still alive. After ten years the Holy Knights performed a coup detat and killed the king becoming the rulers themselves.
The King's only daughter Elizabeth sets out on an adventure to find out the Seven Deadly Sins in order to take their help and get back the kingdom from its tyrant rulers.
7. Demon King Daimao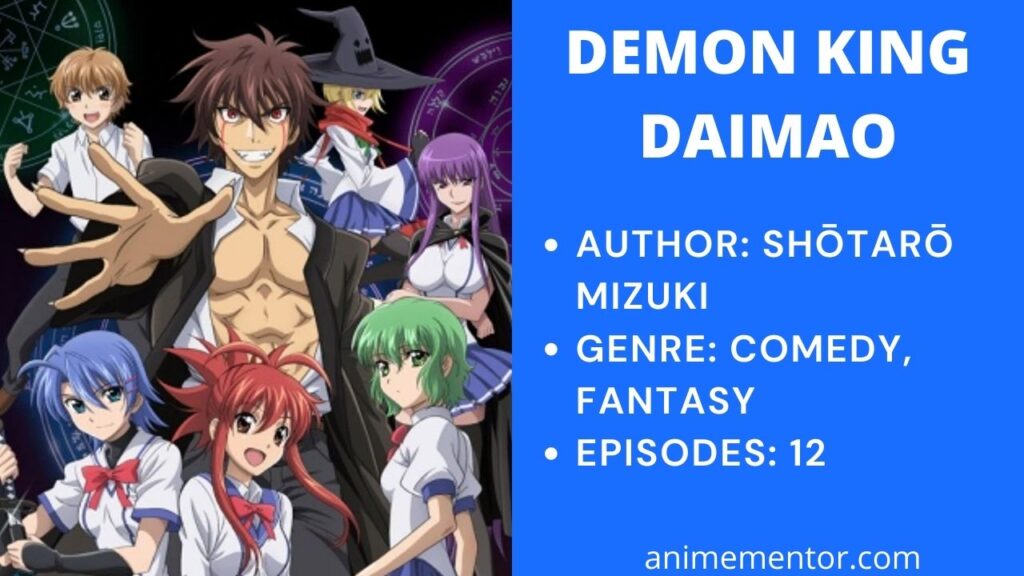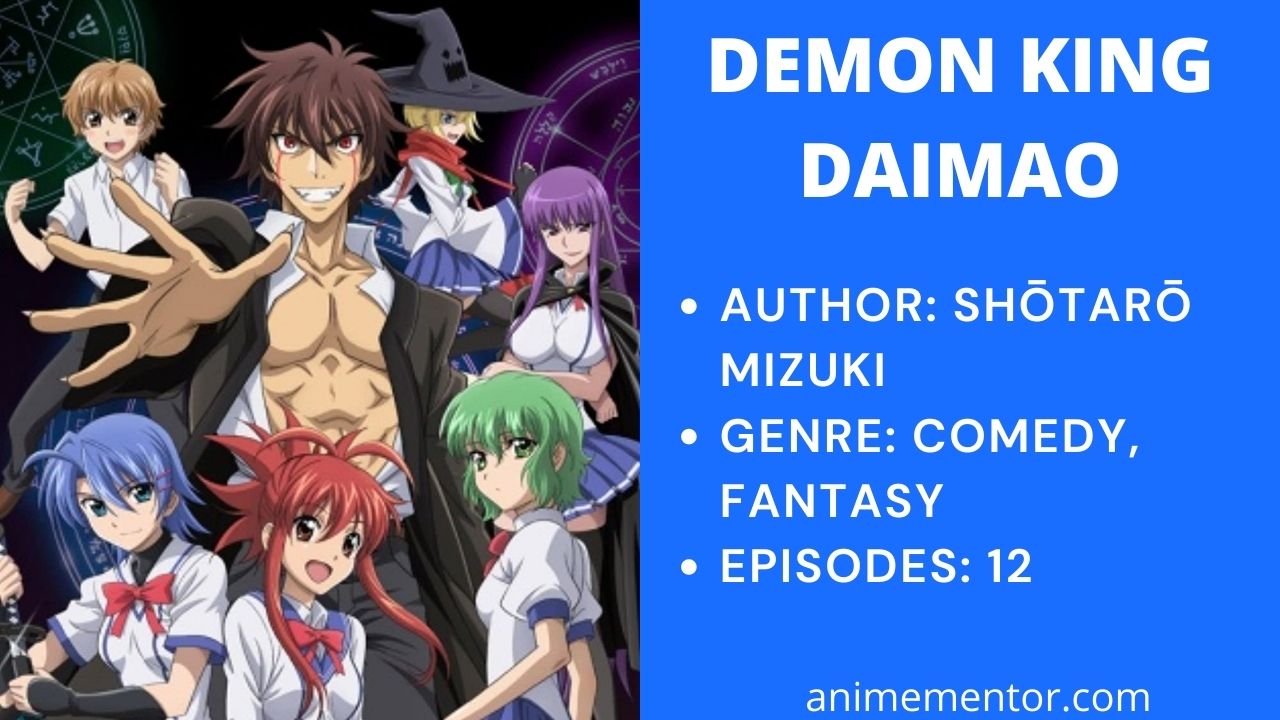 Author: Shōtarō Mizuki
Genre: Comedy, Fantasy
Episodes: 12
The protagonist of this story is Sai Akuto. He is one of the greatest magicians in his country and often contributes to the society as its clergy.
Sai enrolls in the Constan Magical Academy where an aptitude test was held. In that test, he found out that his future occupation is to be a demon lord.
This story deals with the problems in Sai's life after this incident as he meets several new students like the female class head Junko Hattori who seems to resent him due to his power.
Also, he met a beautiful android named Korone and a mysterious girl named Keena Soga.
8. Overlord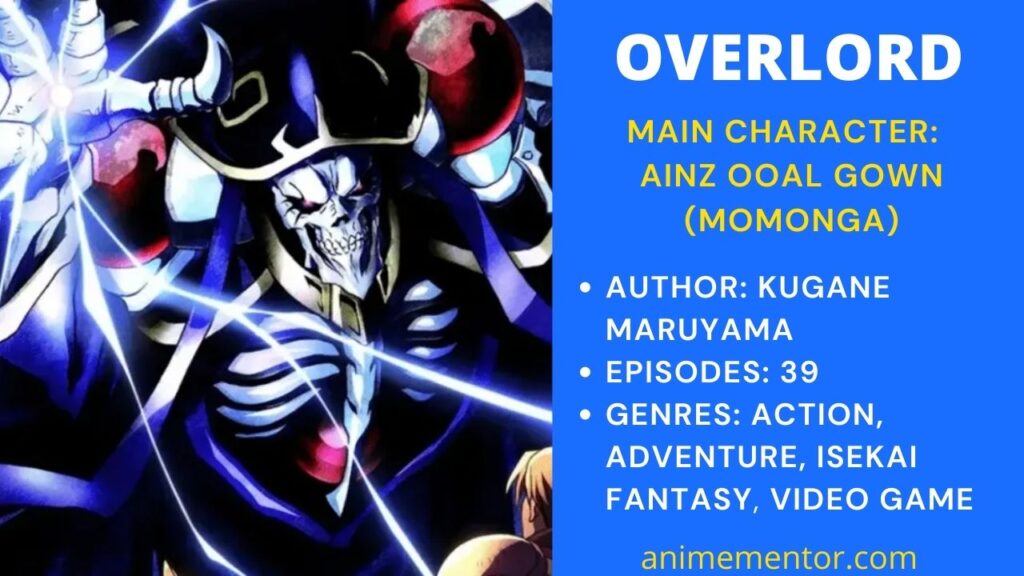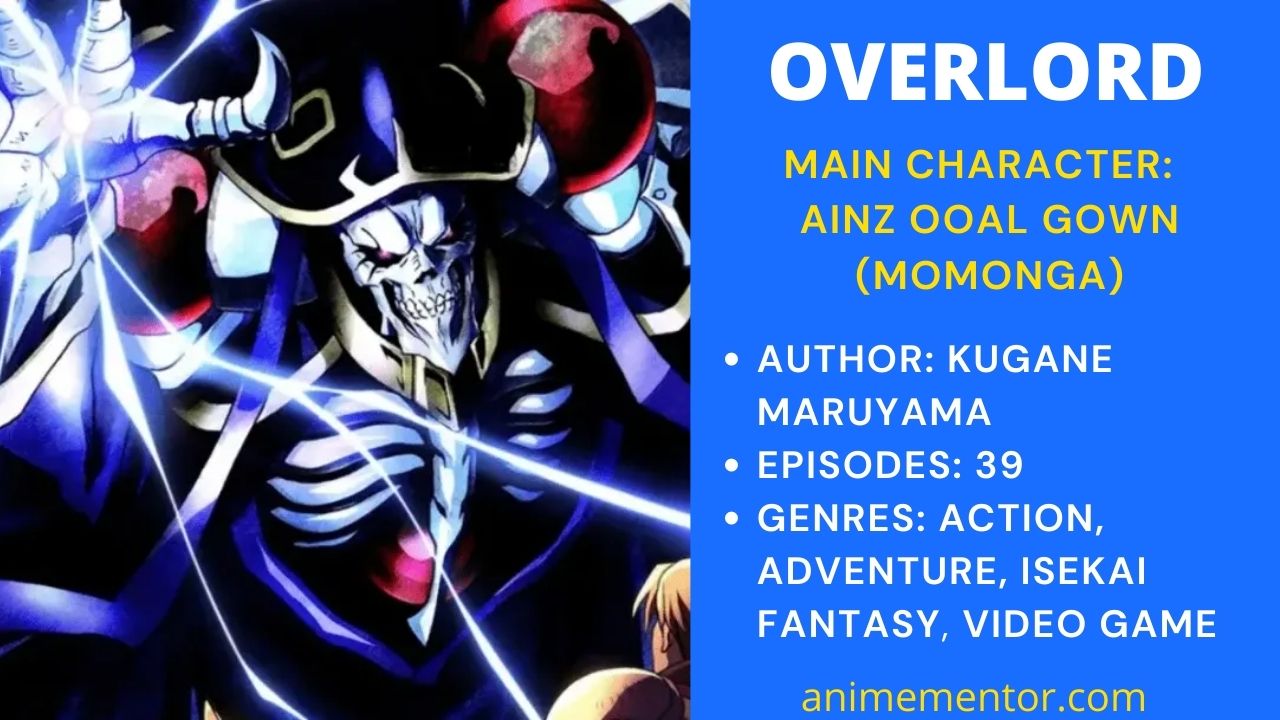 Author: Kugane Maruyama
Genre: Action, Fantasy
Episodes: 39
The plot begins through a popular online gaming RPG system named Yggdrasil. However, it was completely shut down one day.
Momonga, the protagonist of this story decides to not quit the game and decided to not log out of the game.
He is changed into a huge skeleton figure that is known as the strongest magician in the world.
The gaming world begins to change as the players in the game (NPCs) started to feel emotions. Now Momonga decides that he would be the ruler of this new world and continue to play through it.
9. Black Butler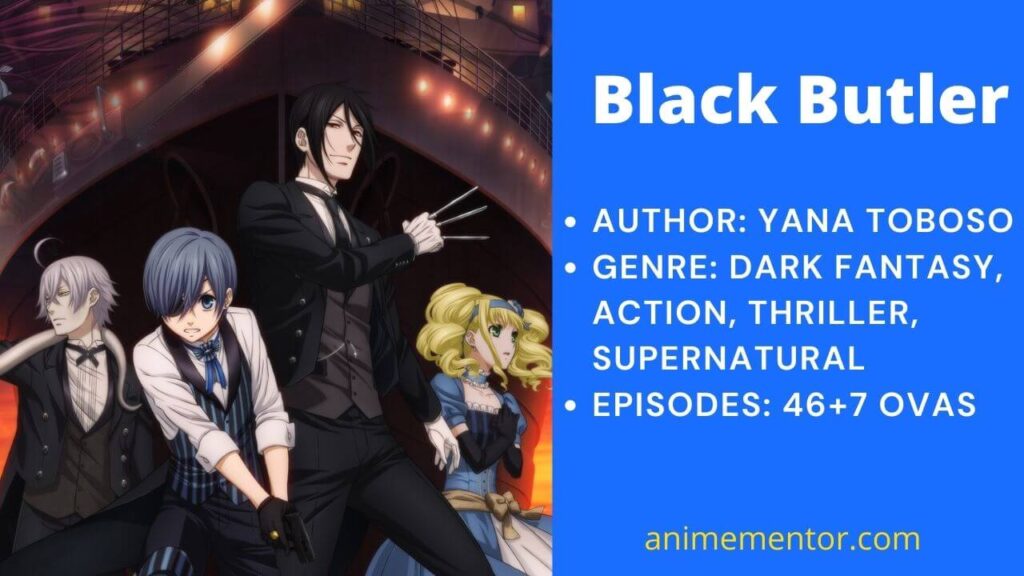 Author: Yana Toboso
Genre: Action, Comedy, Demons, Fantasy,
Episodes: 46
This story begins in Europe in the Victorian era where a young boy lost everything precious to him and was now about to die.
At the moment of his death, he proposed a deal with the demon that he would give his soul in exchange for exacting revenge.
Phantomhive corp. handles all the business related to the Queen of England as well as the underground business. Its head is Ciel Phantomhive who along with his new partner or a demon butler Sebastian Michaelis works for the corporation.
This story follows the two of them along with their other useful servants as they investigate to find the cause behind the murder of Ciel's parents.
10. Trinity Seven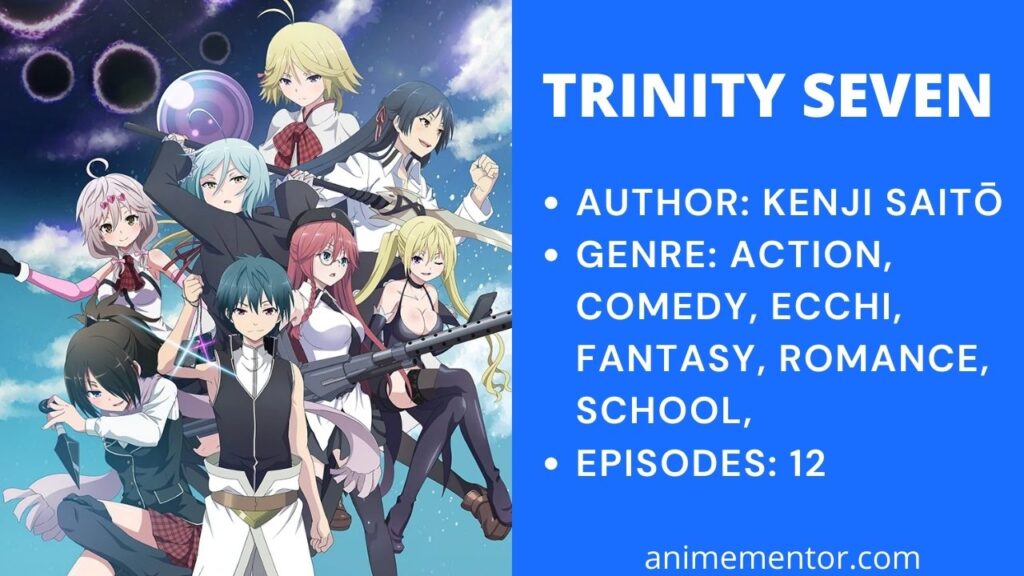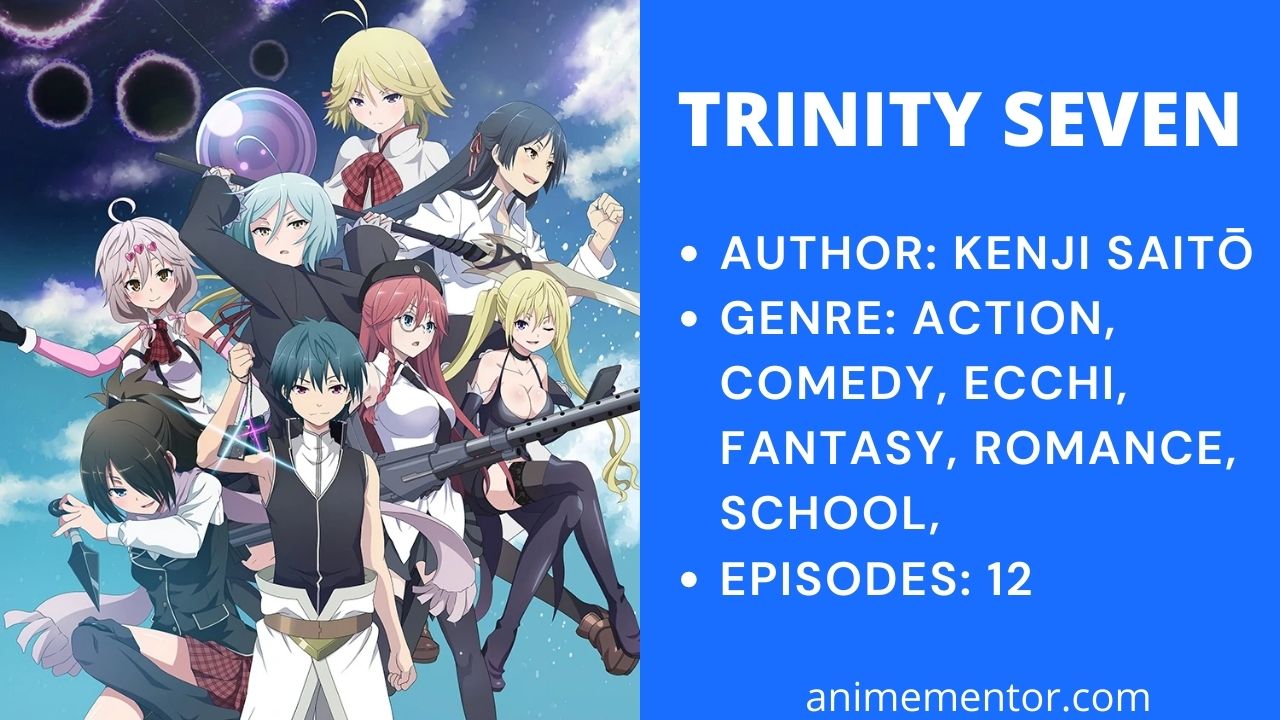 Author: Kenji Saitō
Genre: Action, Comedy, Ecchi, Fantasy, Romance, School,
Episodes: 12
Kasuga Arata lives in a peaceful town where every day is like a normal day without any troubles.
But this peace didn't last long as one day a Black Sun appeared and after that everything changed. A magician appeared before Arata.
Due to the effect of the Black Sun, a Breakdown Phenomenon occurred and it ultimately devastated the town where he lived.
He possesses a Grimoire which his childhood friend had left. Follow the story of Arata as he leaps through new adventures and finds out the reason behind all these scenarios!!
11. Nura Rise of the Yokai Clan Demon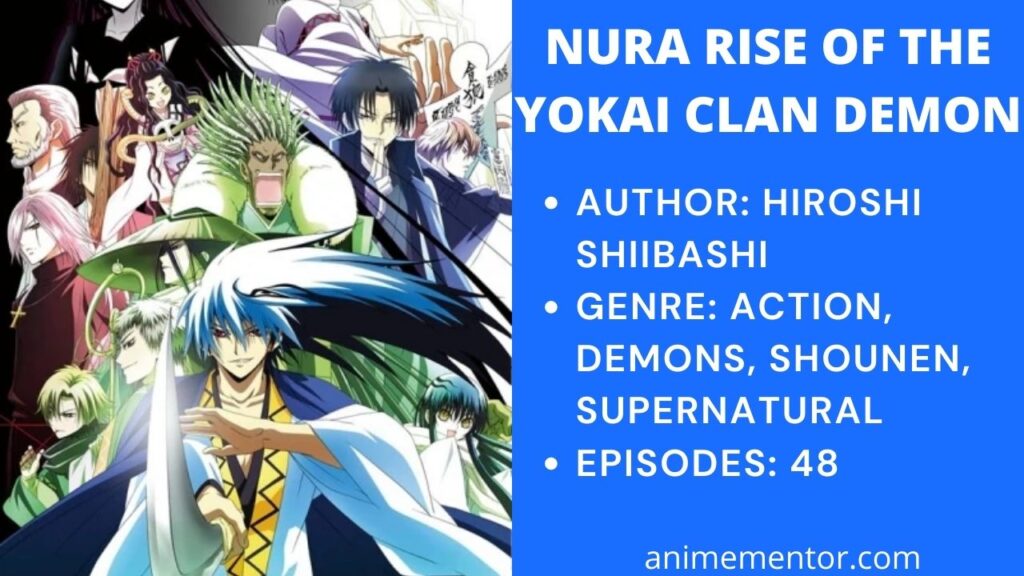 Author: Hiroshi Shiibashi
Genre: Action, Demons, Shounen, Supernatural
Episodes: 48
The protagonist of this story is Nura Rikuo. He is a quarter demon along with 3 parts of a human. He lives with his grandfather in the house of spirits.
His grandfather is the current clan head of the Nura Youkai. And after him, Rikuo was set to be the new leader of the clan.
Rikuo disliked his demon part but ultimately manages to stay with it and decides to be the leader of the clan.
But many others were opposed to the selection of the new leader, and so Rikuo was facing a tough time against them.
12. Blood Lad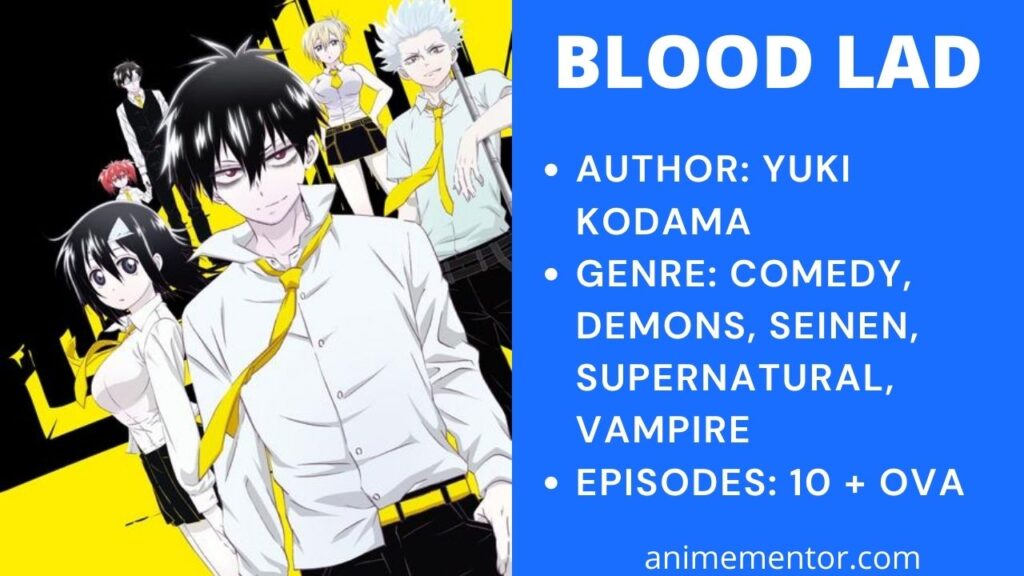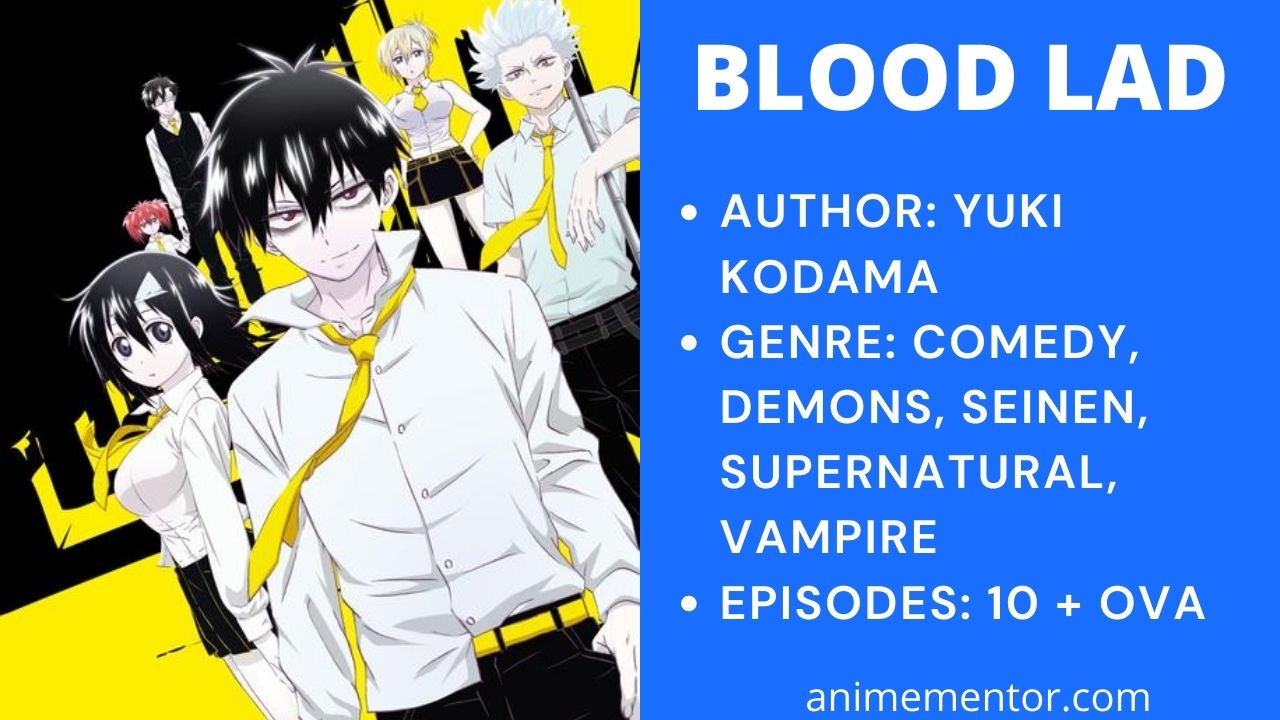 Author: Yuki Kodama
Genre: Comedy, Demons, Seinen, Supernatural, Vampire
Episodes: 10 + ova
This story is about a vampire leader who has very less interest in the consumption of human blood. The vampire leader named Staz is the boss of a particular section within the vast demon world.
Staz is more obsessed with human cultures, especially Japanese culture. One day a girl named Yanagi Fuyumi who is a Japanese appeared in the demon world accidentally. Seeing this, Staz thought that he should get involved in it.
But when Staz pays attention to an intruder who has paved his way into his turf, the Japanese girl was killed by a monster.
Now Fuyumi became a wandering ghost. Staz was filled with guilt and promised himself that he would bring back Fuyumi to her life.
13. Demon Lord Retry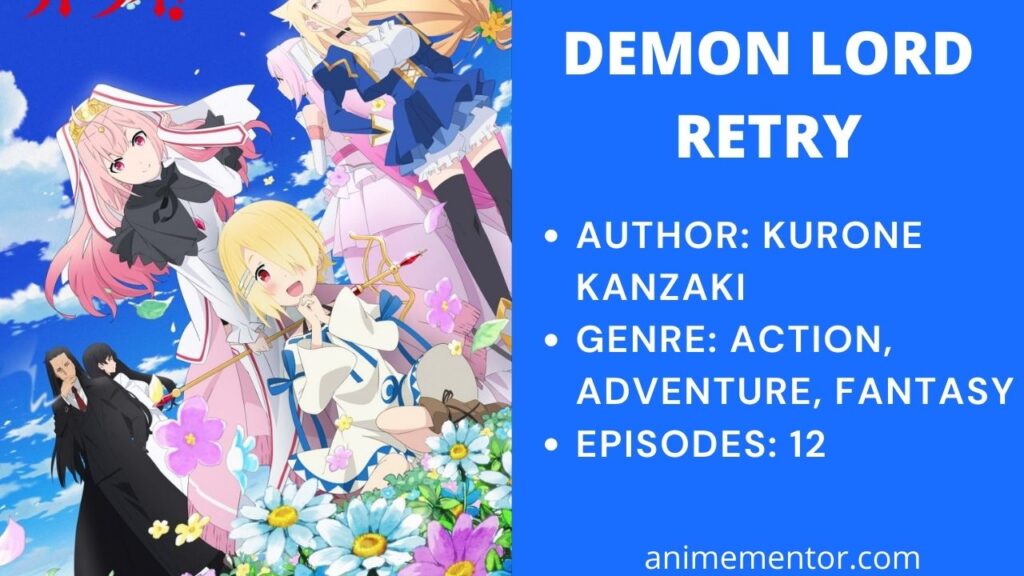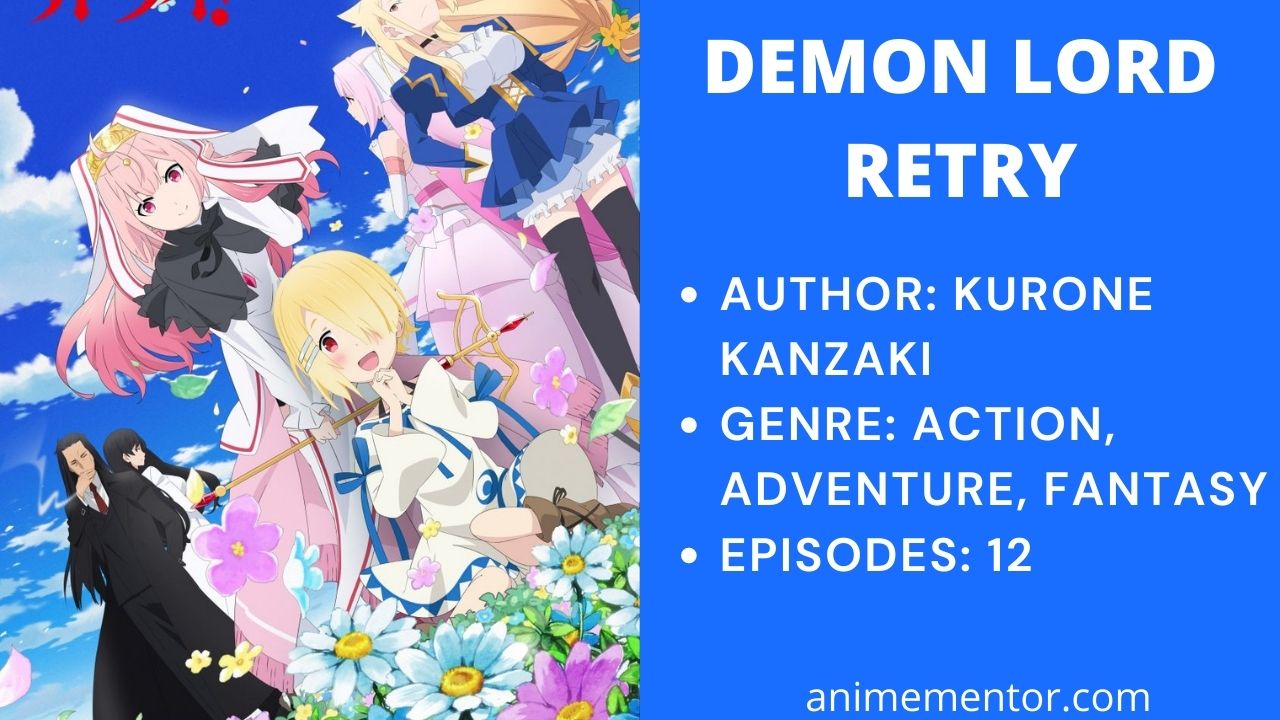 Author: Kurone Kanzaki
Genre: Action, Adventure, Fantasy
Episodes: 12
Akira Oono is a peculiar type of adult who can be found anywhere. One day he was pulled to a different world within the game. He was role-playing a character known as the DEMON LORD with some extraordinary powers.
In the different world, he met different other characters like a girl with a disabled leg. They started to go on their journey together hereafter.
When everyone notices that he is the Demon Lord, many peoples as well as some countries target him. The saints of these places also tried to take him under control.
Akira due to his overwhelming power causes disturbances everywhere he goes.
14. Welcome to Demon School! Iruma-kun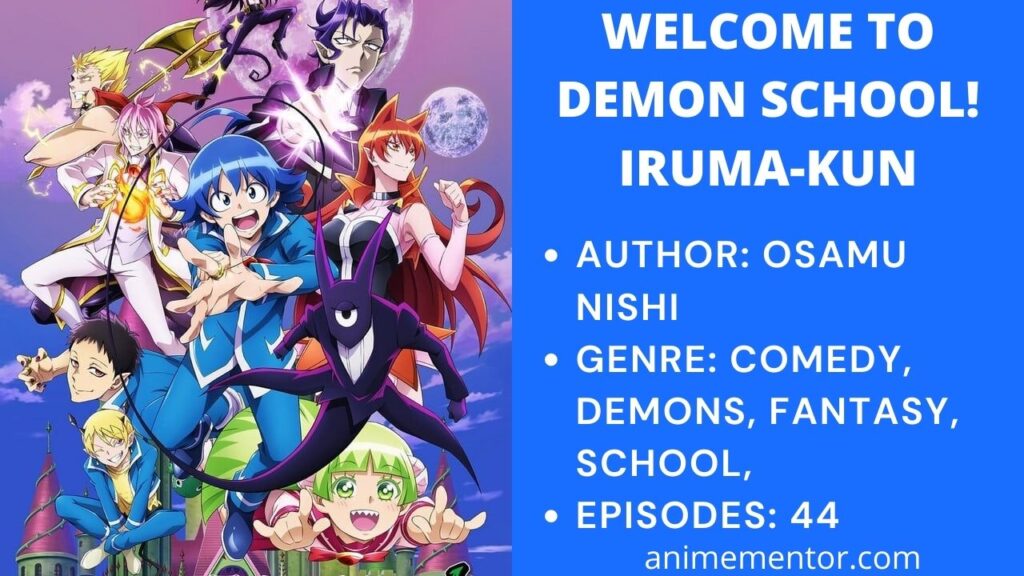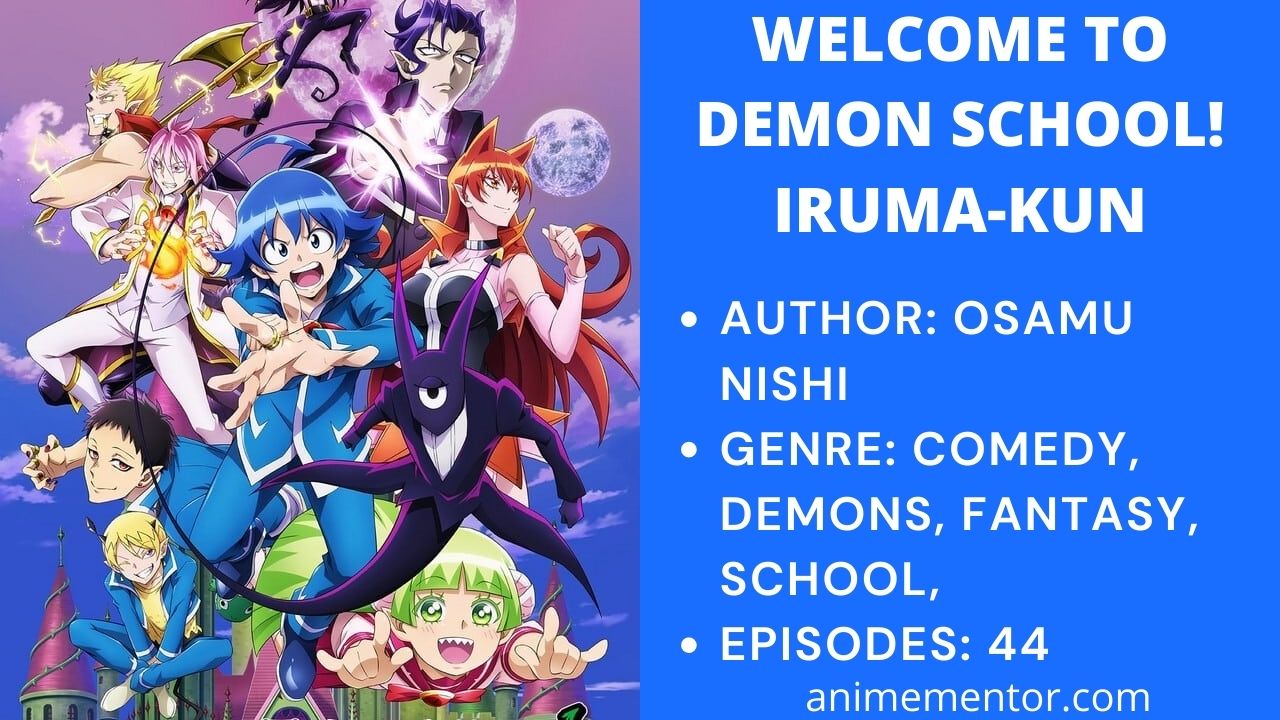 Author: Osamu Nishi
Genre: Comedy, Demons, Fantasy, School,
Episodes: 44
Iruma Suzuki is a 14-year-old boy is a hardworking boy who works hard to earn money for a living.
Later, his parents sold him to a demon named Sullivan. Iruma thought that his life has come to an end, but Sullivan just wanted a grandchild for himself. Sullivan sent Iruma to attend the demon school Babyls.
Sullivan was the chairman of Babyls and is the next candidate for Demon King. Now Iruma tries to conceal his appearance so that no one can find out that he is a human.
15. Inuyasha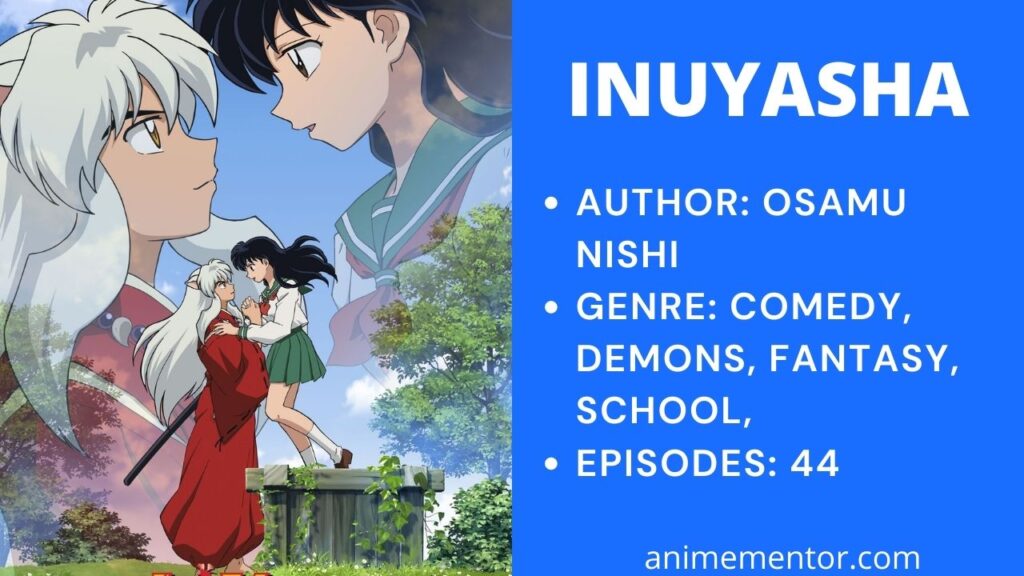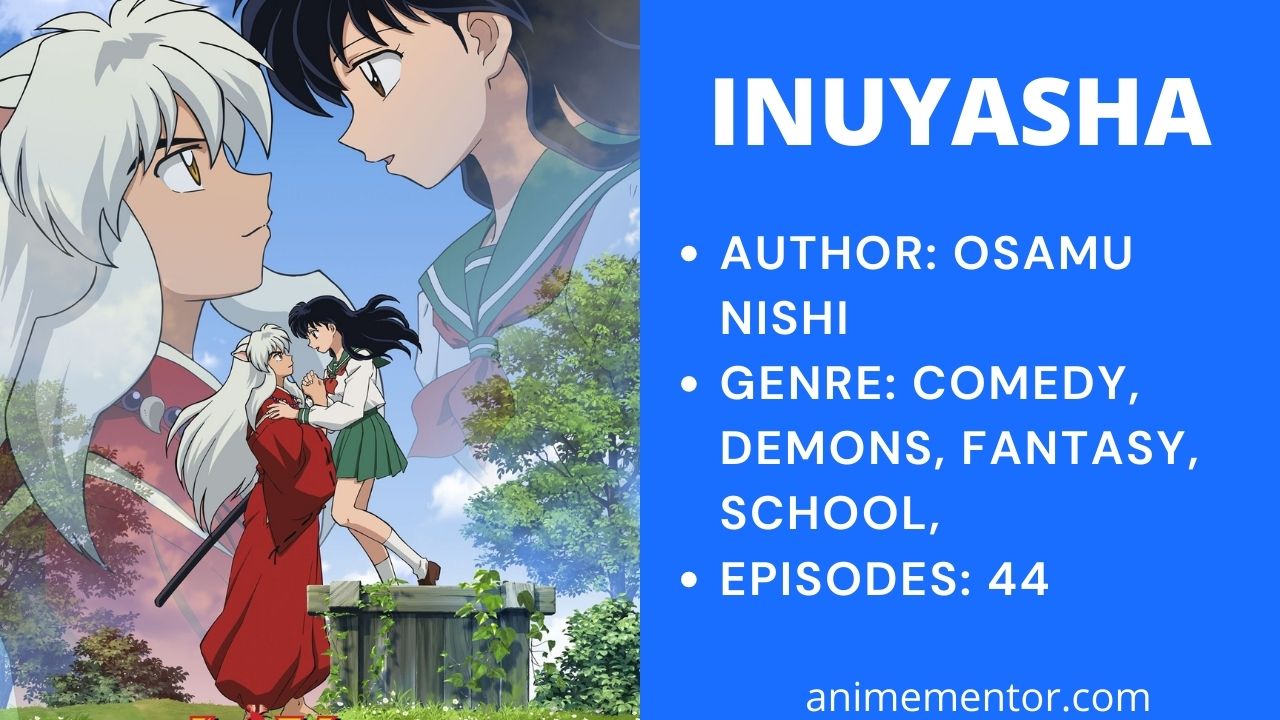 Author: Rumiko Takahashi
Genre: Action, Fantasy, Romance, Isekai
Episodes: 167 + 26
This story tells us about a family with a 1000-year-old Japanese temple where Kagome and her grandfather live.
Her grandfather would always tell her about the history of the house whenever he got any time. It's said that the old well in her house has a cruel monster trapped within it. Though, Kagome never believed it.
But one day the well sucked Kagome inside where she was sent to an ancient era of large forests and big demons.
Kagome is confronted with the Shikon no Tama where she unwillingly unleashes the demon Inuyasha from his prison.
16. Ao no exorcist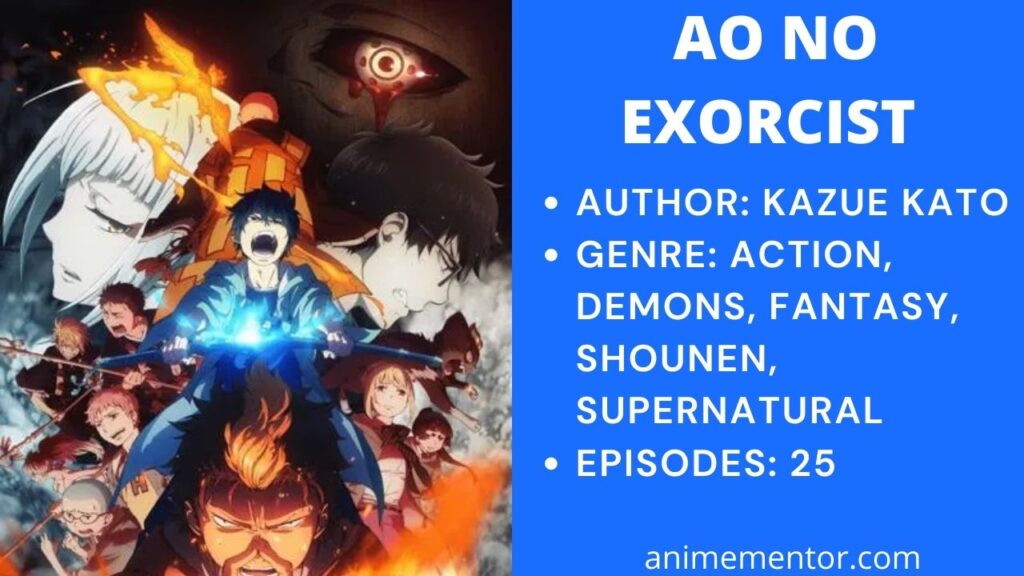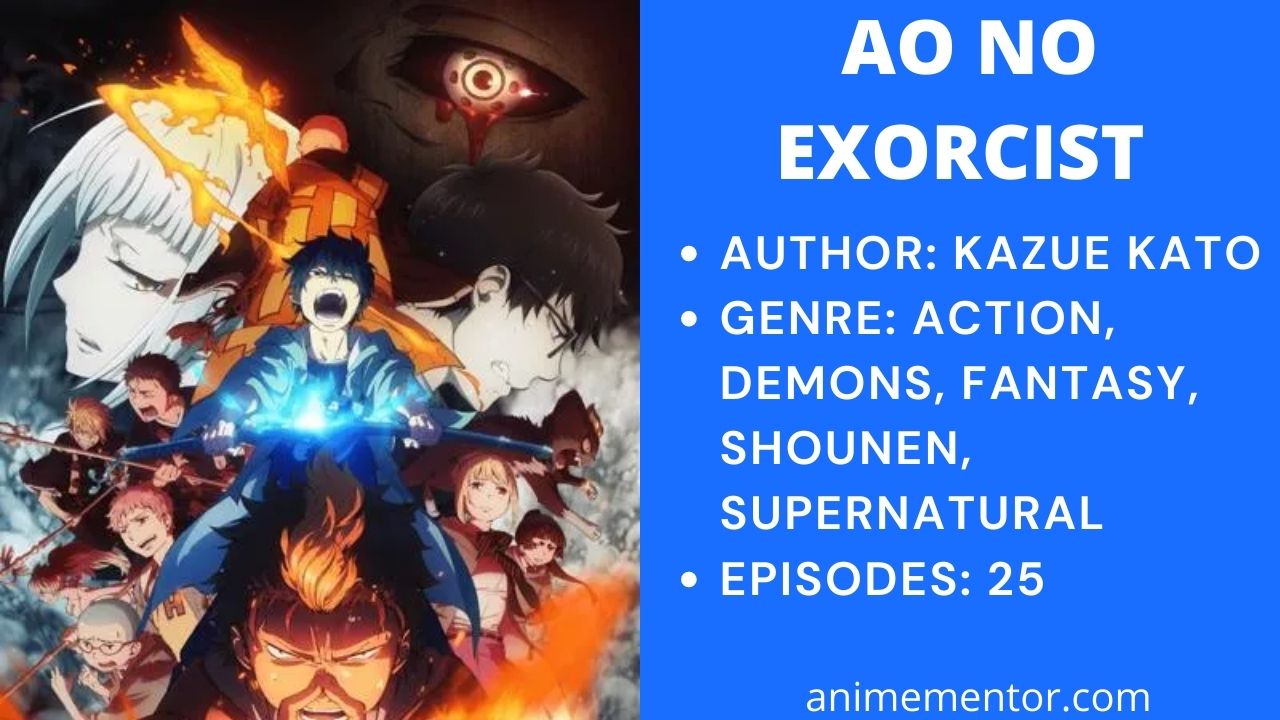 Author: Kazue Kato
Genre: Action, Demons, Fantasy, Shounen, Supernatural
Episodes: 25
There are two distinct worlds, the Assiah where the humans lived, and the Gehenna where the demons lived.
Sometimes the demons would try and control the humans by possessing them. And those humans who can fight against these demons are known as exorcists.
Our protagonist Rin Okumura who lives in the human world finds out that he was Satan's illegitimate son. His foster father protected him from the grip of the demons, but now he too was killed.
Rin promised that he would avenge his foster father's death. And now is on his way to becoming an exorcist.
17. Devilman Crybaby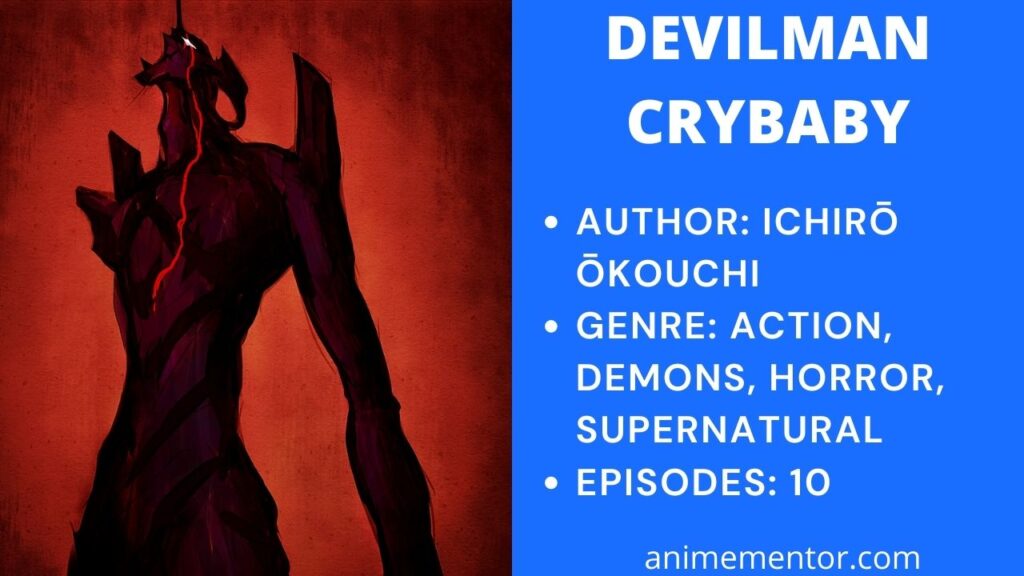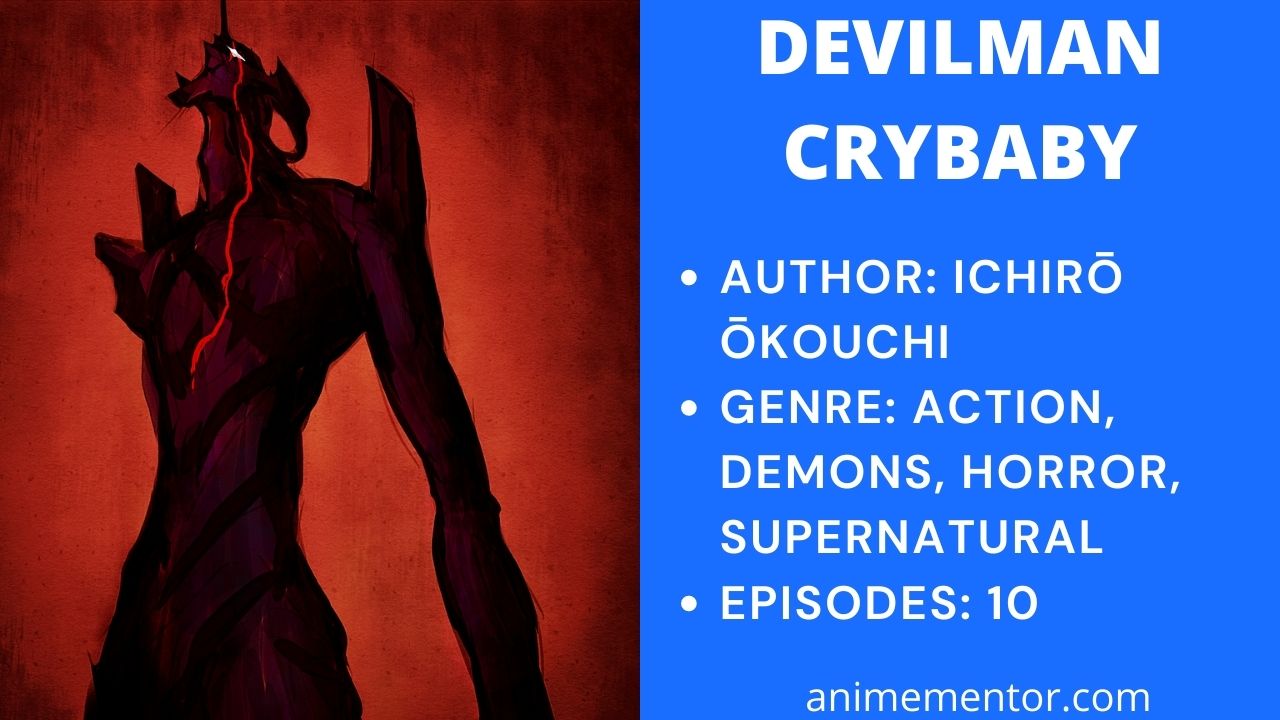 Author: Ichirō Ōkouchi
Genre: Action, Demons, Horror, Supernatural
Episodes: 10
One day Ryou Asuka tells his best friend Fudo Akira that soon the demon clan will revive and snatch away the peaceful life from the humans.
Ryou thought that the only way to prevent it from happening was by becoming stronger than them. And to do that he suggests fusing with a demon.
Akira now becomes a Devilman by fusing with a demon. He now has a heart of a human and the powers of a demon.
18. Ushio To Tora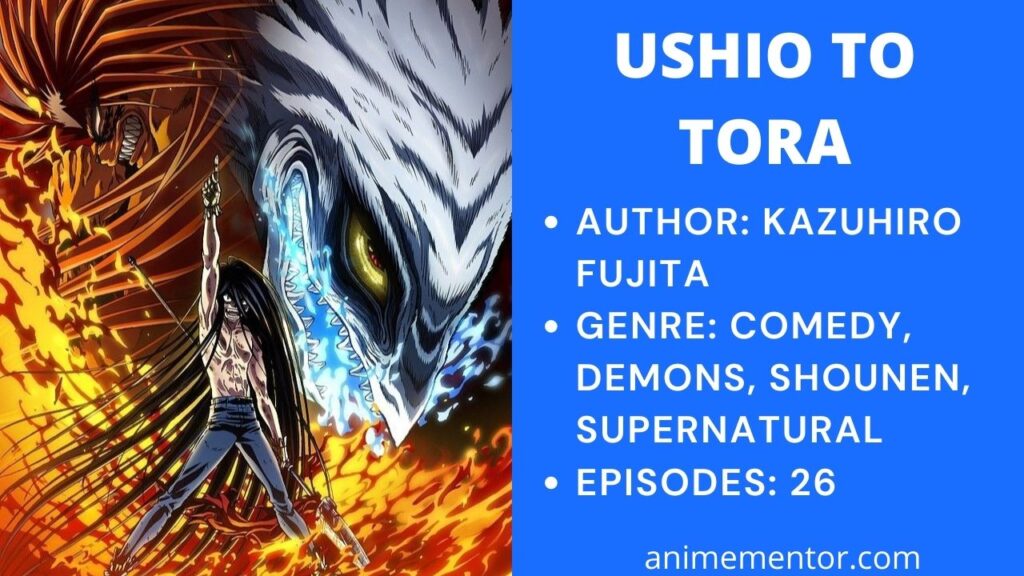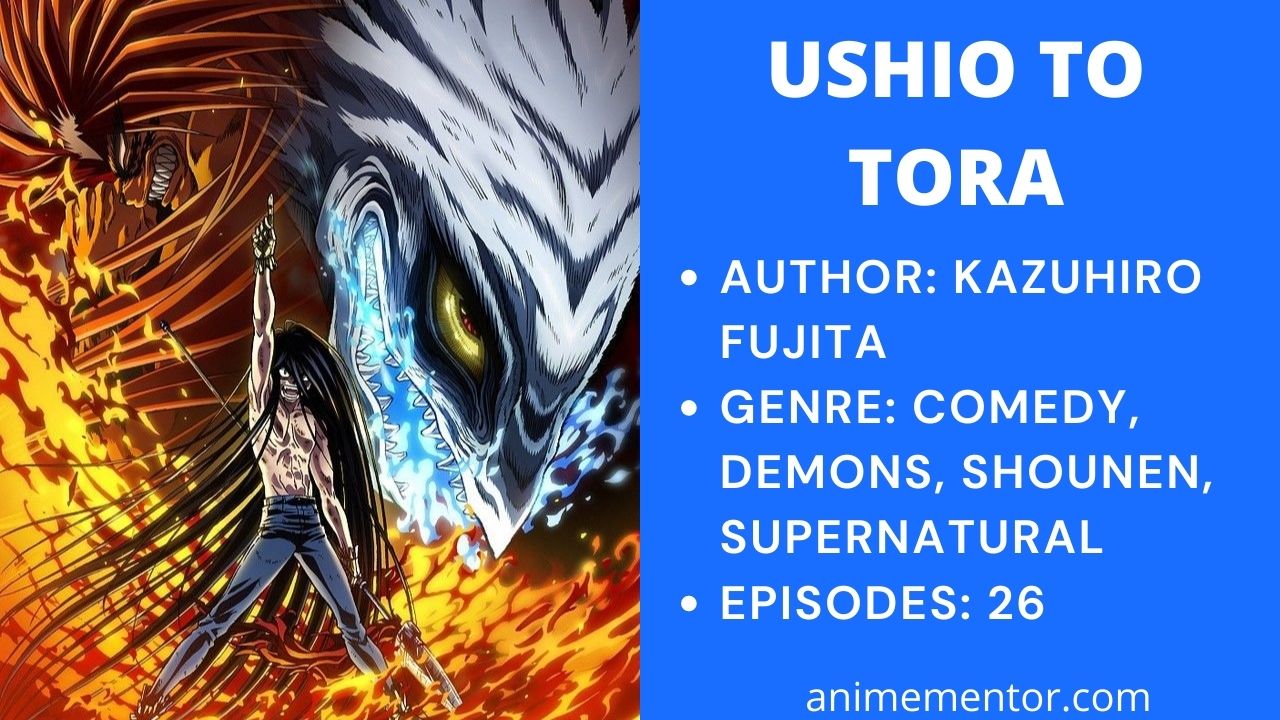 Author: Kazuhiro Fujita
Genre: Comedy, Demons, Shounen, Supernatural
Episodes: 26
Ushio's father would always speak of an ancient ancestor who impales a demon on the temple stone with Beast Spear. But Ushio never believed them and thought that his father was crazy.
But one day he finds out the demon is in his basement. To save his dear ones, Ushio released Tora from imprisonment.
Now Ushio couldn't understand if releasing Tora was a worse mistake or not!!
19. Devils and Realists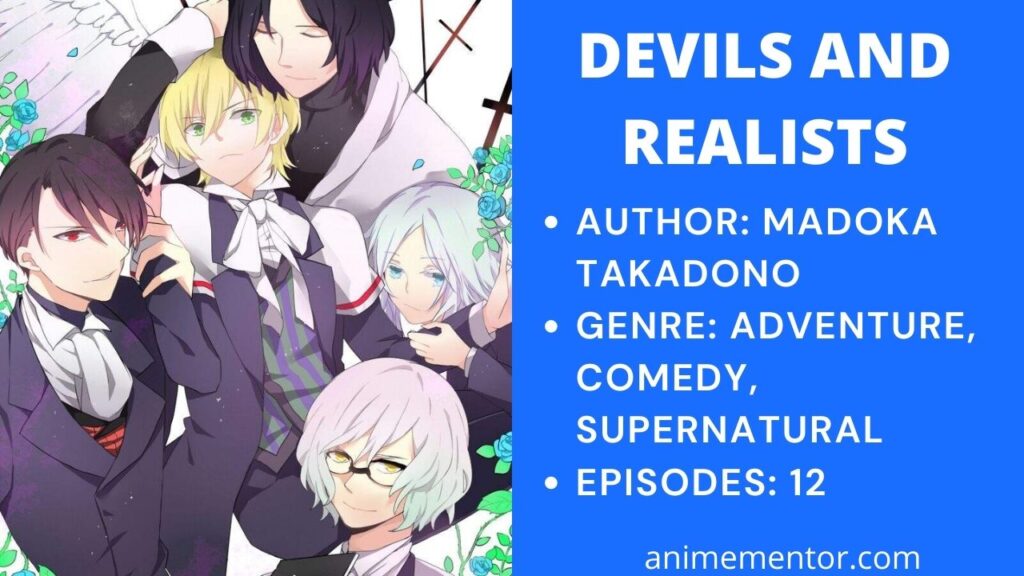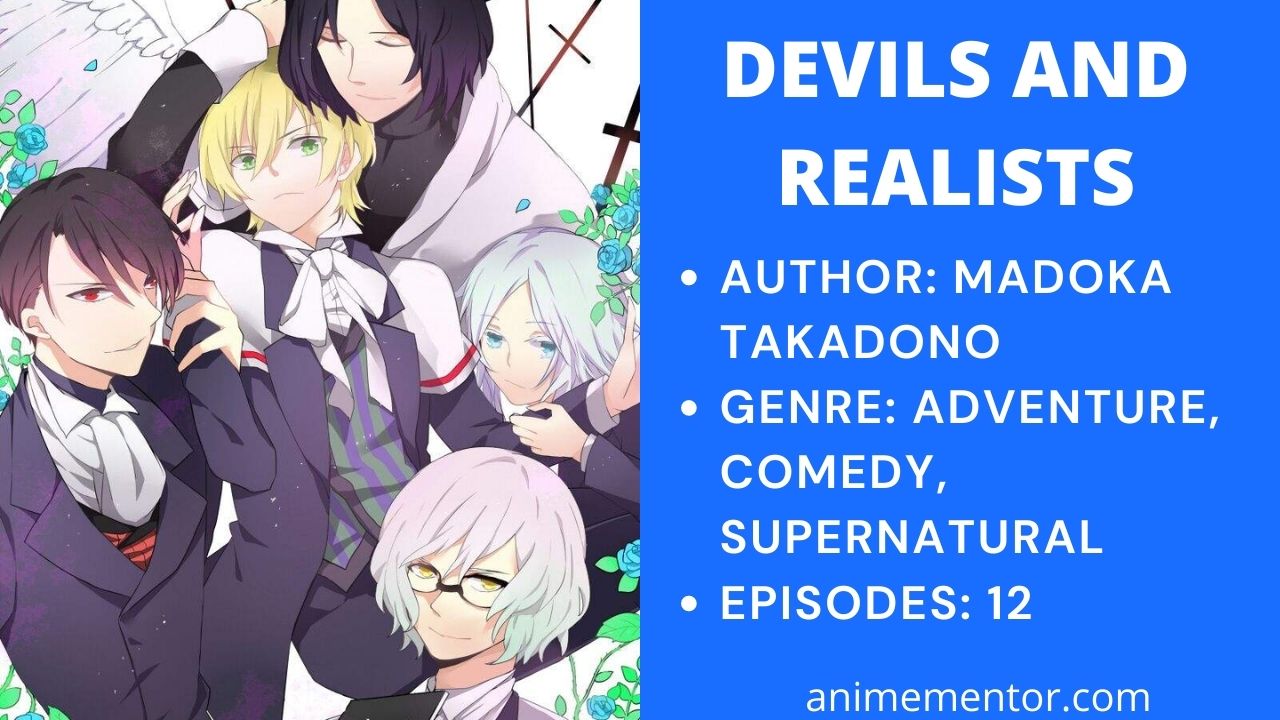 Author: Madoka Takadono
Genre: Adventure, comedy, supernatural
Episodes: 12
William Twining, a 17-year-old, genius boy was bankrupt. One day while looking for some money to pay for his tuition, he summoned a demon in his basement.
The demon was Dantalion and told William that he was the Elector in Hell. At first, William never believed it as he didn't believe in demons and all.
From that point, Dantalion never left William's side and decides that he would make William the interim King of Hell.
Soon after this, William was involved in a war between Heaven and Hell and through it, he learns of his family's ancient past.
20. Endro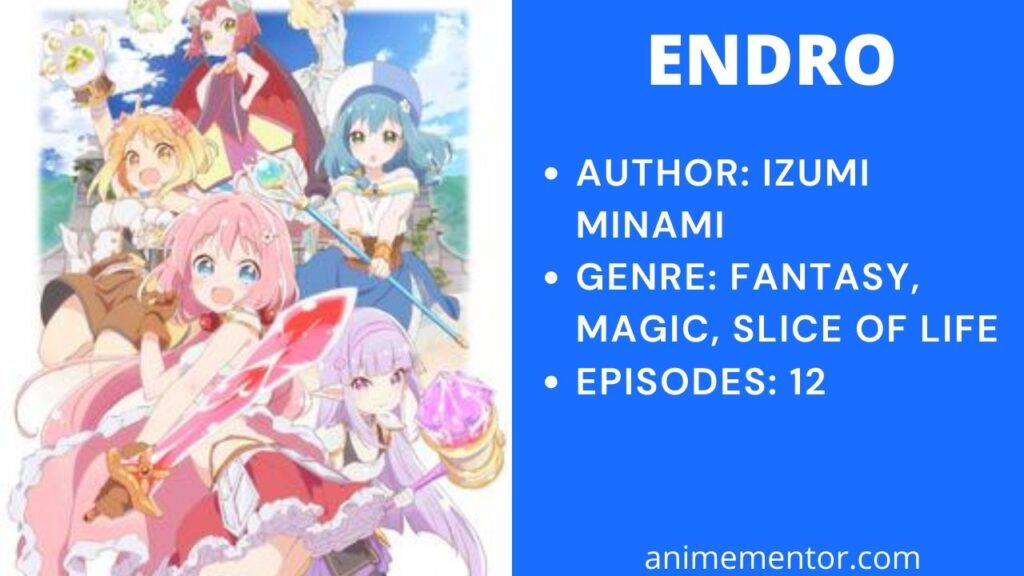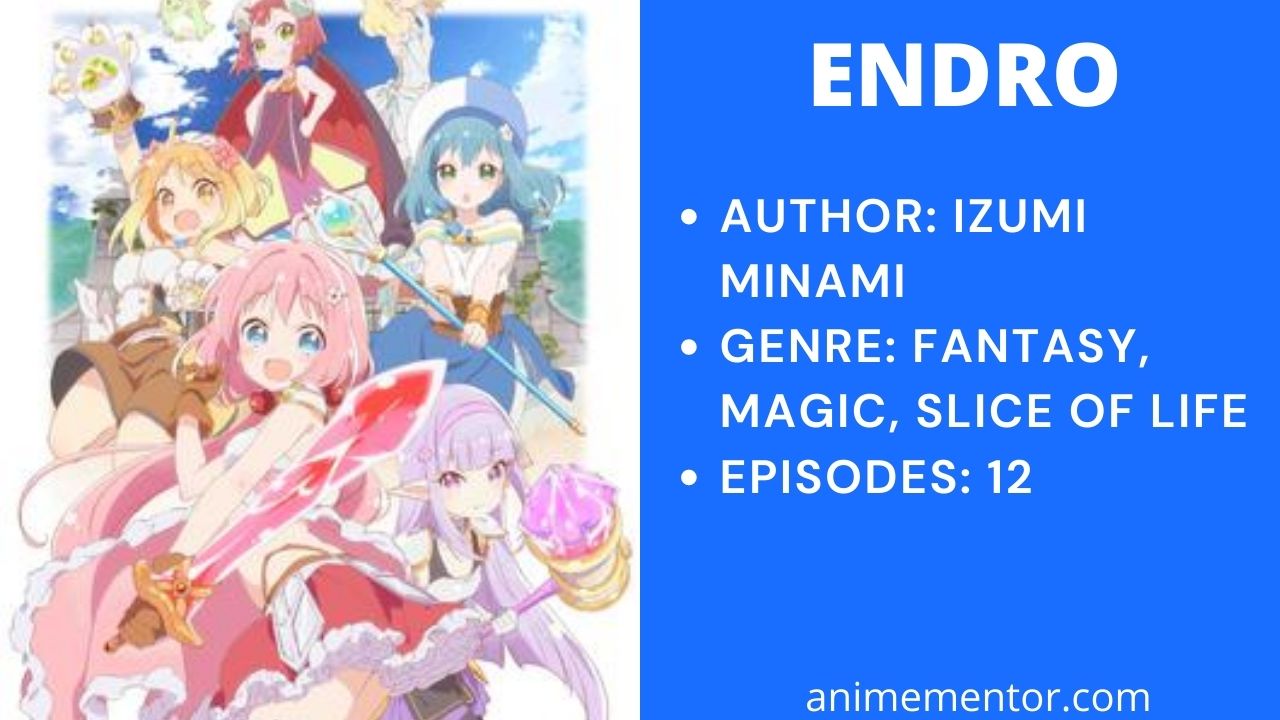 Author: Izumi Minami
Genre: Fantasy, Magic, Slice of Life
Episodes: 12
Naral Island is a place where the humans live with the monsters. It's a place full of swords and sorcery. A cruel Demon King lives there too.
A first-generation hero previously defeated the demon king in the past. Over the next generations, the Demon King was again resurrected and a hero to defeat him also appeared.
Yusha possesses the body of a hero but is a bit absent-minded. This story is about four girls who continue to struggle to defeat the demon king.
21. Maoyu Archenemy and Hero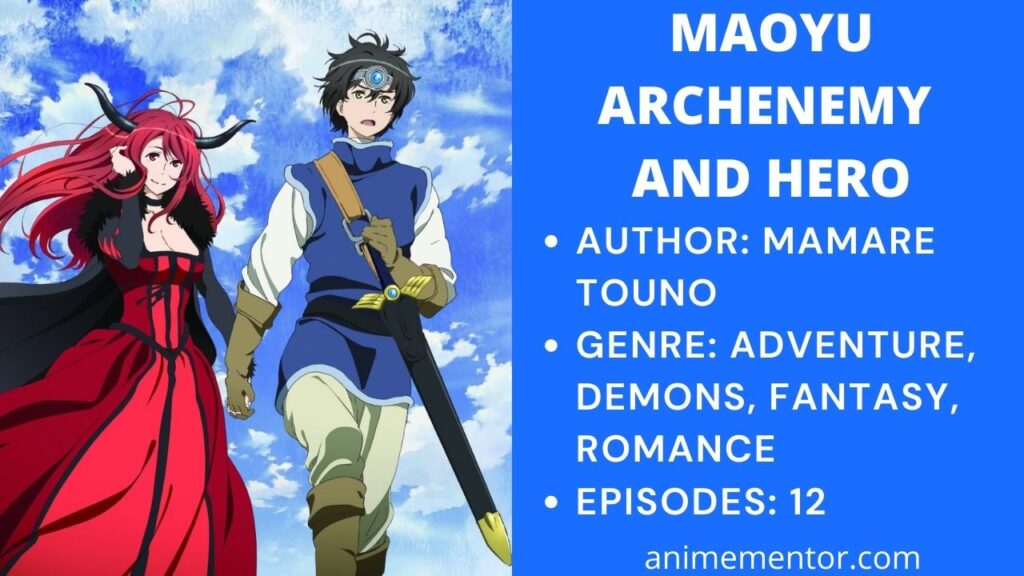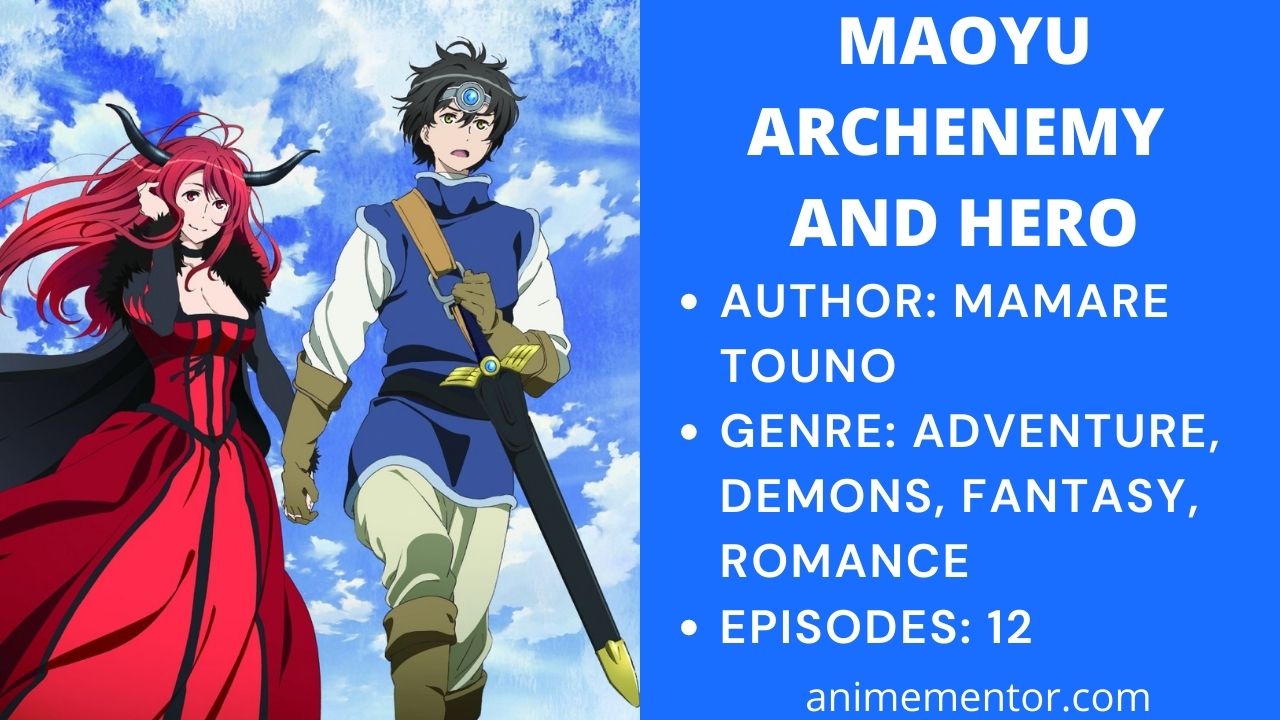 Author: Mamare Touno
Genre: Adventure, Demons, Fantasy, Romance
Episodes: 12
The Hero of this story finally found his way to the Dark Lady's castle after a long adventurous journey. But there he was asked for help.
There was a bit of conversation between the Hero and the queen of demons regarding the war between humans and demons. The Demon Queen made The Hero realize that if this war stops, then civil war will start among the humans.
Finally, the Hero thought the only way to bring peace and stop the war was to join forces with the demon queen. So he agreed to help her.
CONCLUSION:
So, now it's time to end this list. Hope you guys like it.
Please mention in the comments the anime series which you have liked the most. Follow through our website for more incredible posts. Meet you in my next article. Till then, Sayanora!!!