Manga has grown to be one of the most popular forms of comics in the world. With its unique illustration style and distinguishable black-and-white originality that sets it apart from the rest, it is a form of art that grows larger in size every day. As each manga has its own themes and storylines that make it quite unlike any other, there has been much great manga throughout the years, even to the point where they can be classified as a masterpiece. In this list, we shall be taking a look at the 15 best Manga that have ever been made and that fans definitely have to read at least once in their life.
15. Kaguya-Sama: Love is War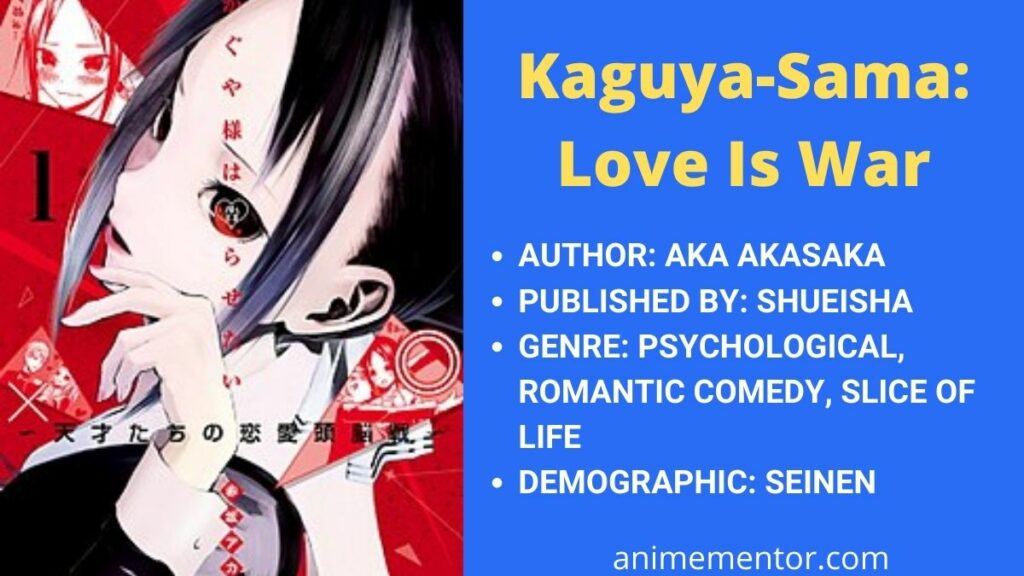 Author: Aka Akasaka
Published by: Shueisha
Genre: Psychological, Romantic comedy, Slice of life
Demographic: Seinen
Volumes: 40
Kaguya-Sama is one of the funniest and most romantic stories to ever be written. It follows the student council president and vice president of a prestigious academy as they try to get each other to confess their feelings. This is done through several hilarious methods and each of them believes they would lose if they acknowledge their love. With an amazing set of characters and side characters that instantly make us attached and a very creative premise, it is one of the most enjoyable experiences that any reader will have.
14. Vinland Saga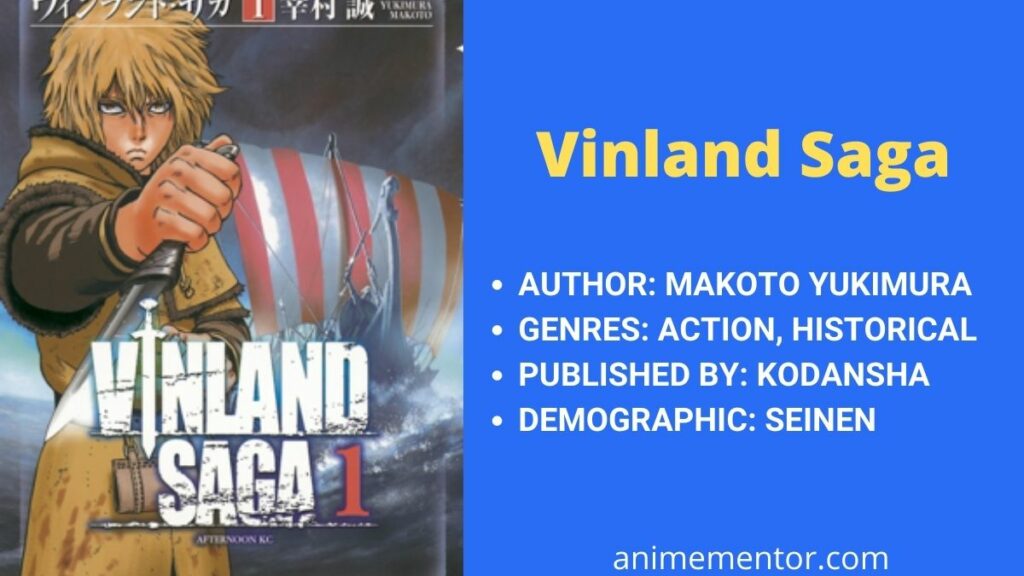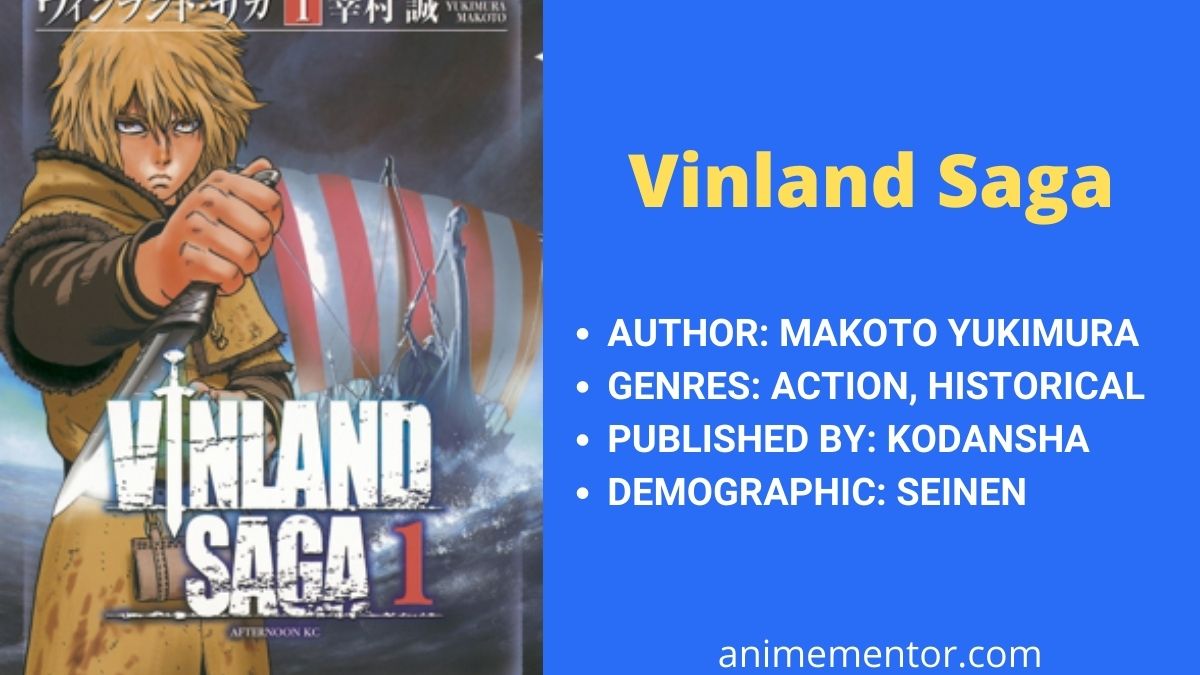 Author: Makoto Yukimura
Genres: Action, Historical
Published by: Kodansha
Demographic: Seinen
Volumes: 26
Original run: April 13, 2005 – present
While the anime is already very popular, the Vinland Saga manga is a transformative story that gives us several values in life. It follows the journey of its protagonist, Thorfinn as he goes from a rage-infested kid who craves revenge to one who learns the beauty and value of life and refuses to kill.
With exhilarating fights and an elaborately written world that gives us an engaging insight into the wars and conquests of the olden days, the manga is a must-read for anyone who enjoys an entertaining portrayal of history and the amazing journey of a meticulously written main character.
13. Grand Blue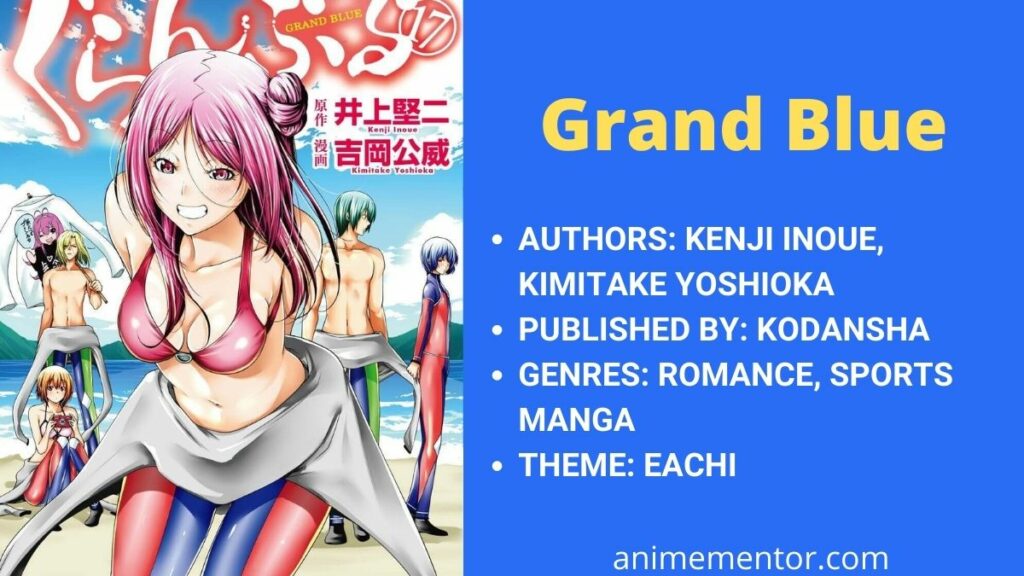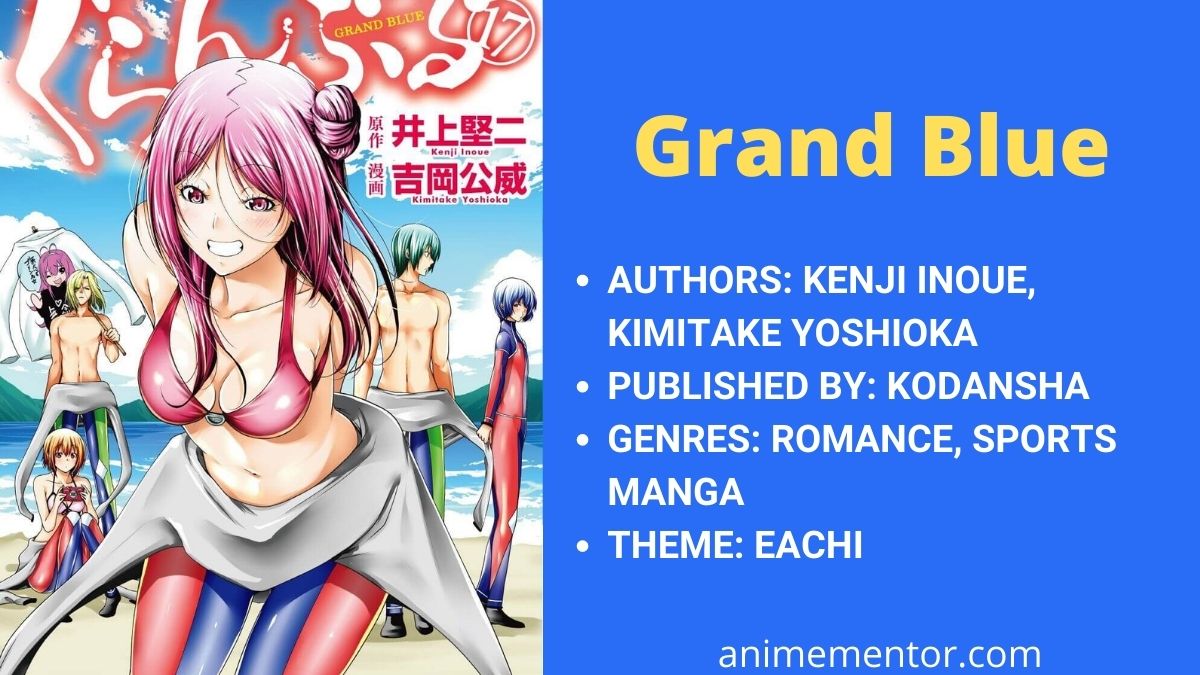 Authors: Kenji Inoue, Kimitake Yoshioka
Published by: Kodansha
Genres: Romance, Sports manga
Theme: Eachi
Volumes: 19
Grand Blue is a hilarious slice-of-life manga that is eccentric, hilarious, and extremely fun in every panel. It follows the life of its protagonist, Iori, as he lives with his cousins in a scuba diving shop while attending college. As he meets a bunch of weird characters here, he has various comedic experiences. In addition to this, he also learns about the wonder of the water and went from a person who didn't appreciate the sea world to one who was completely infatuated with diving. Every character in Grand Blue has a memorable personality and with romantic undertones, the manga is an extremely joyful comic to read.
12. Great Teacher Onizuka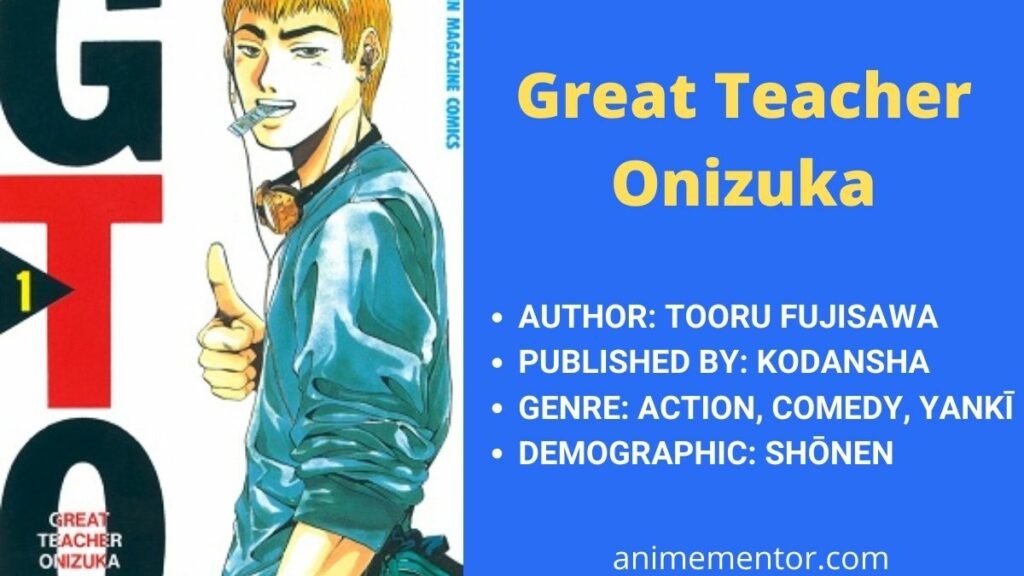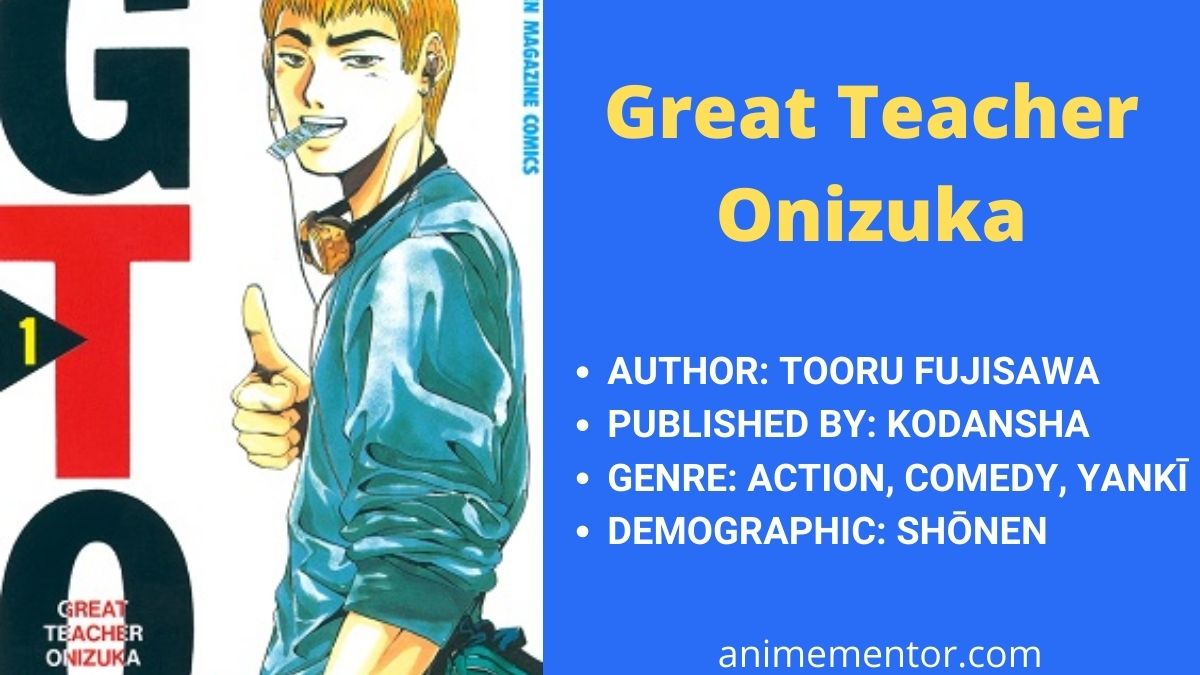 Author: Tooru Fujisawa
Published by: Kodansha
Genre: Action, Comedy, Yankī
Demographic: Shōnen
Volumes: 25
It is often said that a good teacher is the greatest gift that a student can receive. No story supports this quote more than that of Great Teacher Onizuka. It revolves around a former gangster by the name of Onizuka who becomes a high school teacher in order to get a loving wife.
However, despite his motive being anything but honest, he meets many troubled students during his time here and works towards improving their lives and setting them on the right path toward having a good future. Through their experiences, both the students as well as Onizuka show tremendous growth. The manga is very engaging and has a gripping story that makes us read it from start to end easily.
11. Chainsaw Man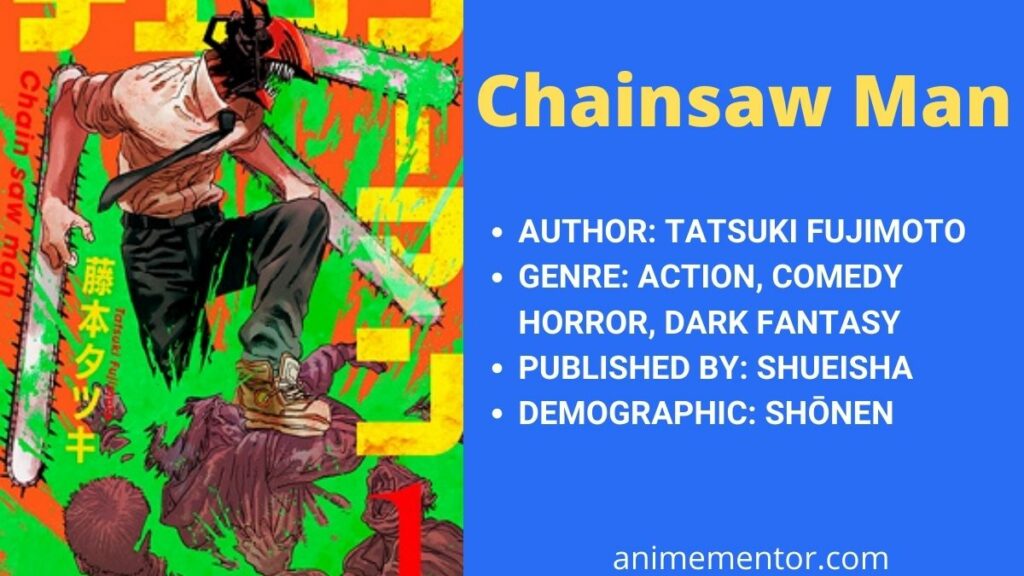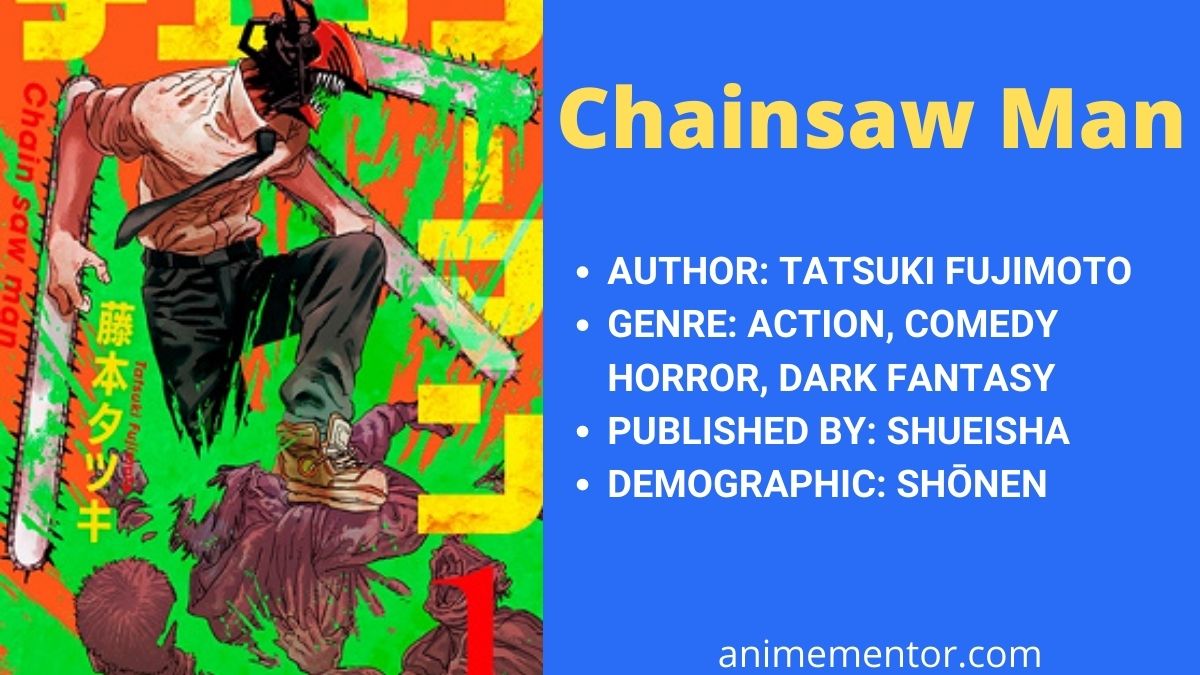 Author: Tatsuki Fujimoto
Genre: Action, Comedy horror, Dark Fantasy
Published by: Shueisha
Demographic: Shōnen
Volumes: 13
With its recent anime that attracted a wider audience, more people will now feel motivated to read the amazing Chainsaw Man manga. It follows the tragic life of a young boy named Denji as he gains the ability to transform into a supernatural person with the abilities of a Chainsaw.
When working as a devil hunter and putting these powers to good use, he forms several friendships. However, with many threats looming in the shadows, Denji also experiences several tragedies as he finally discovers emotions that he thought he never had. Chainsaw Man is full of electrifying fights and explosive art. Combined with the memorable characters and bold storyline, it is a must-read for any fan of manga.
10. Tokyo Ghoul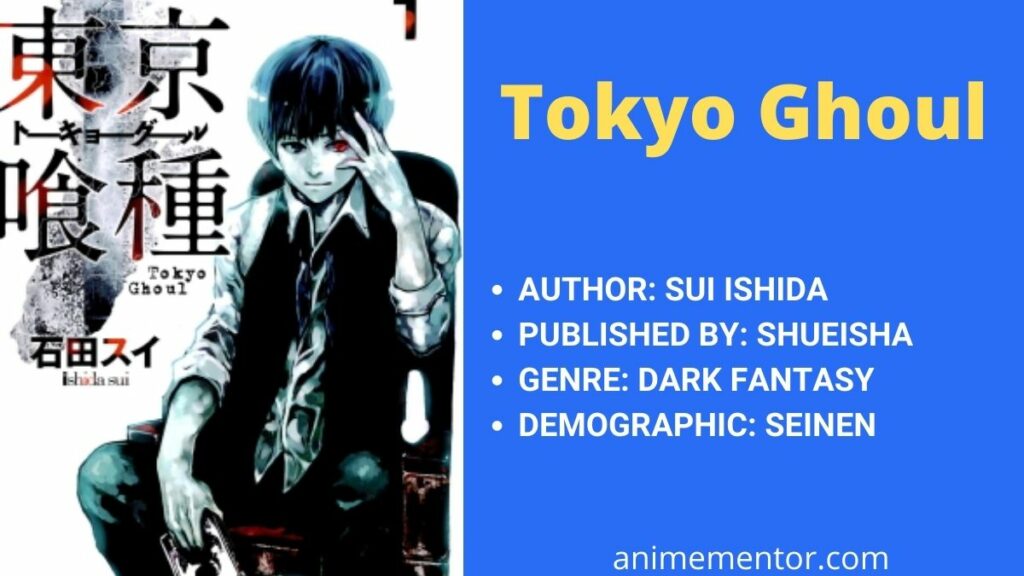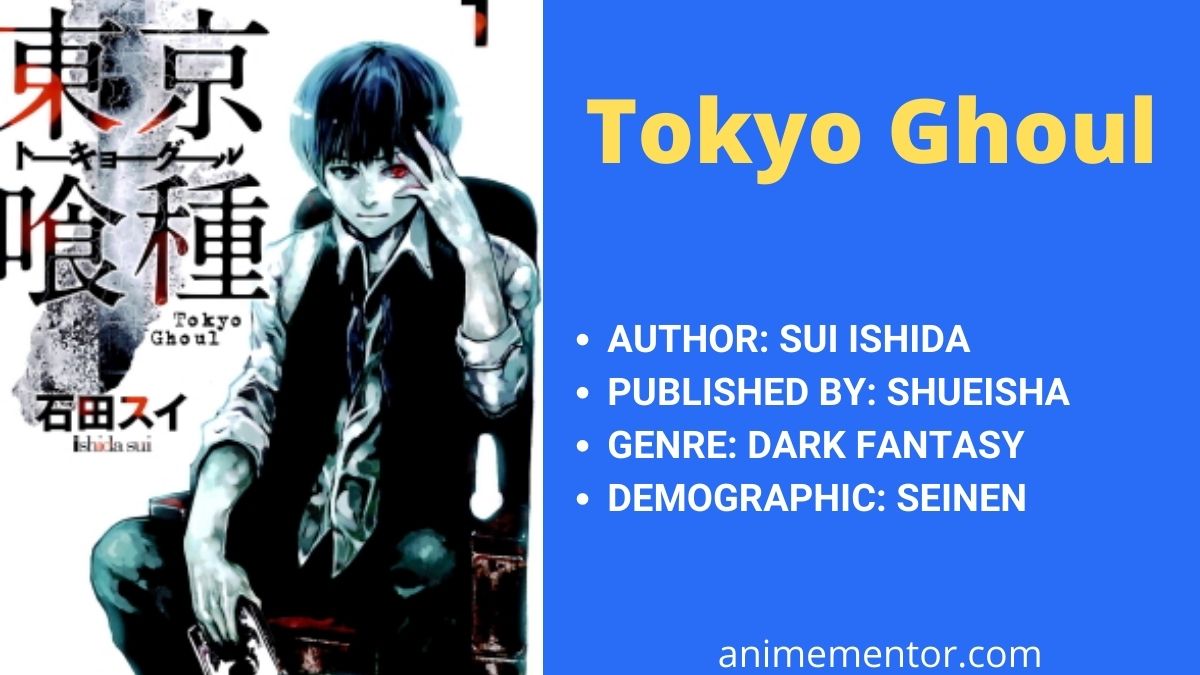 Author: Sui Ishida
Published by: Shueisha
Genre: Dark Fantasy
Demographic: Seinen
Volumes: 14
While many only remember the atrocious anime adaptation of Tokyo Ghoul, the manga is one of the best that the Seinen demographic has to offer. Set in a world where both humans and man-eating creatures known as Ghouls exist, the story follows the life of an innocent boy by the name of Ken Kaneki. Due to an unfortunate event, he turns from a human into a ghoul while struggling to get accustomed to his new life.
However, with the help of others, he manages to get settled in, only to find out the various foes that threaten Ghouls. We see him act as a bridge between the Ghouls and humans while undergoing various brutal transformations in order to strive for a world of mutual existence and peace. Tokyo Ghoul is a very stylish manga with exemplary art and action sequences. The story is very relevant to real life and keeps us hooked for all its chapters.
9. The Climber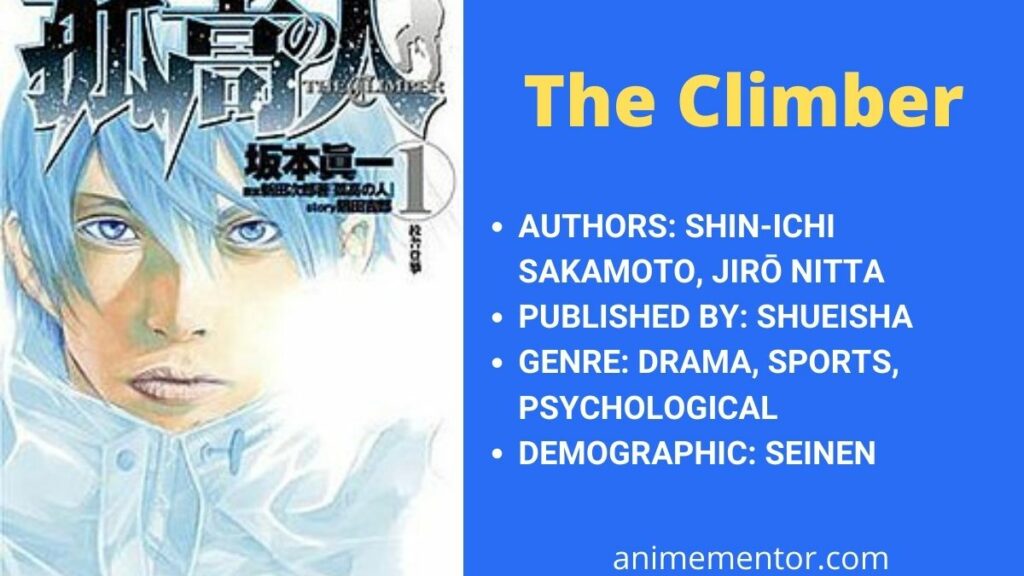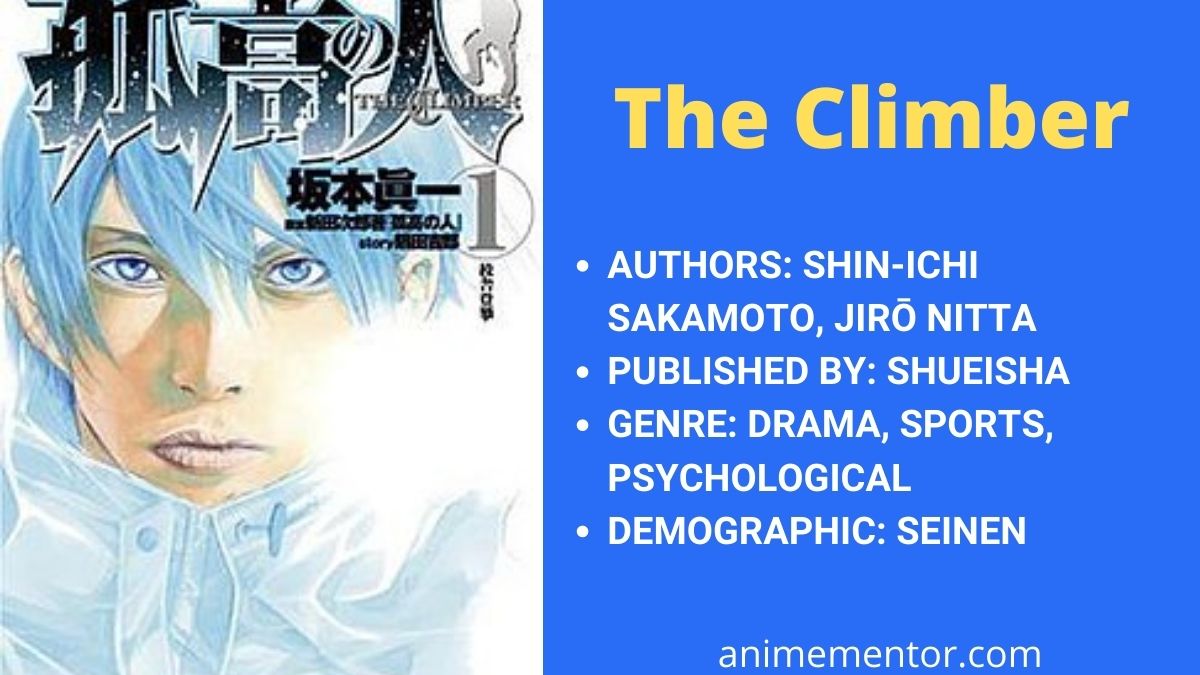 Authors: Shin-ichi Sakamoto, Jirō Nitta
Published by: Shueisha
Genre: Drama, Sports, Psychological
Demographic: Seinen
Volumes: 17
The Climber is undoubtedly the most underrated sports manga out there. It follows the life of a young boy named Mori who finds his passion in the sport of climbing. With the adrenaline rush, it gives and the sense of satisfaction when he reaches his destination, he sacrifices almost everything in his life to pursue this sport.
As we see him grow up, his dedication to it does not waver but he is needed to prioritize between his family and this potentially fatal sport that has surrounded a majority of his life. The Climber is a very mature manga with adult themes and a realistic outlook on life. It teaches us the value of persistence through the exciting and breathtaking sport of climbing.
8. Slam Dunk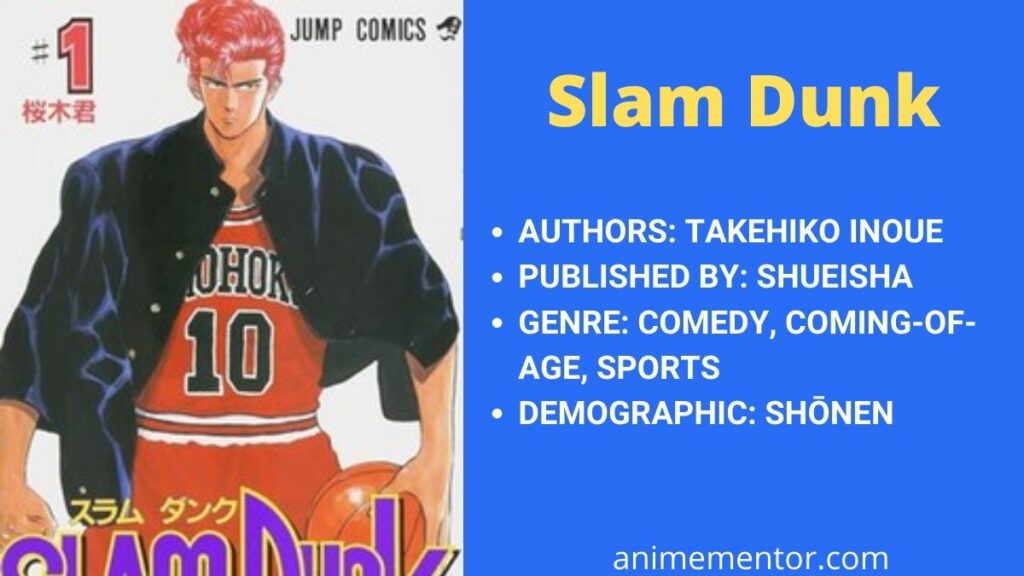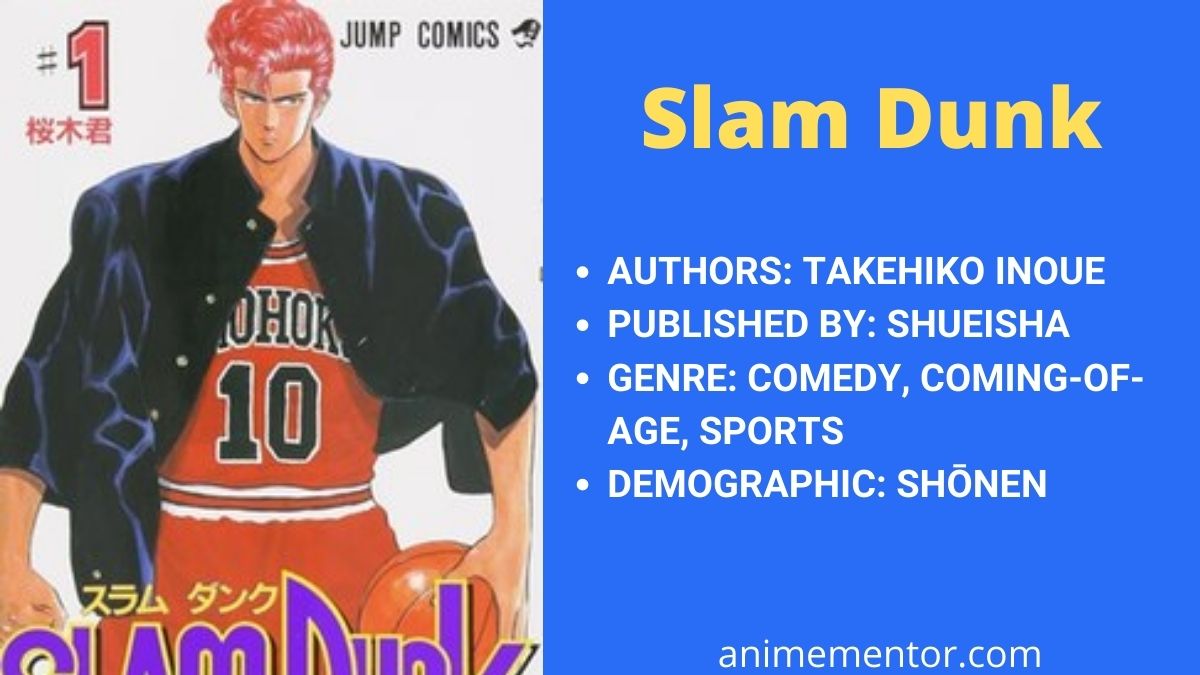 Authors: Takehiko Inoue
Published by: Shueisha
Genre: Comedy, Coming-of-age, Sports
Demographic: Shōnen
Volumes: 31
Slam Dunk is yet another amazing sports manga that, unlike The Climber, is very popular. It follows a short-tempered and violent student by the name of Hanamichi who starts learning basketball in order to impress a girl he likes.
Soon, however, he becomes completely entranced by the sport and the affection that his teammates and so many others show for it. With the help of his friends and newly found spirit, he works very hard in order to produce satisfactory results. Simultaneously, we see him grow from a kid who would lash out at everything to a mature person who you feel can be depended upon.
7. Hunter x Hunter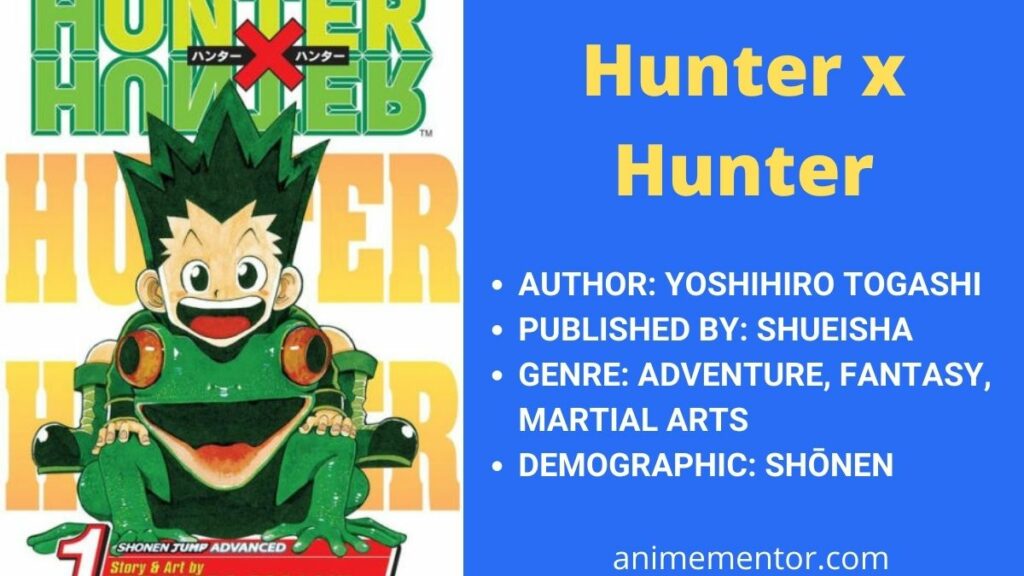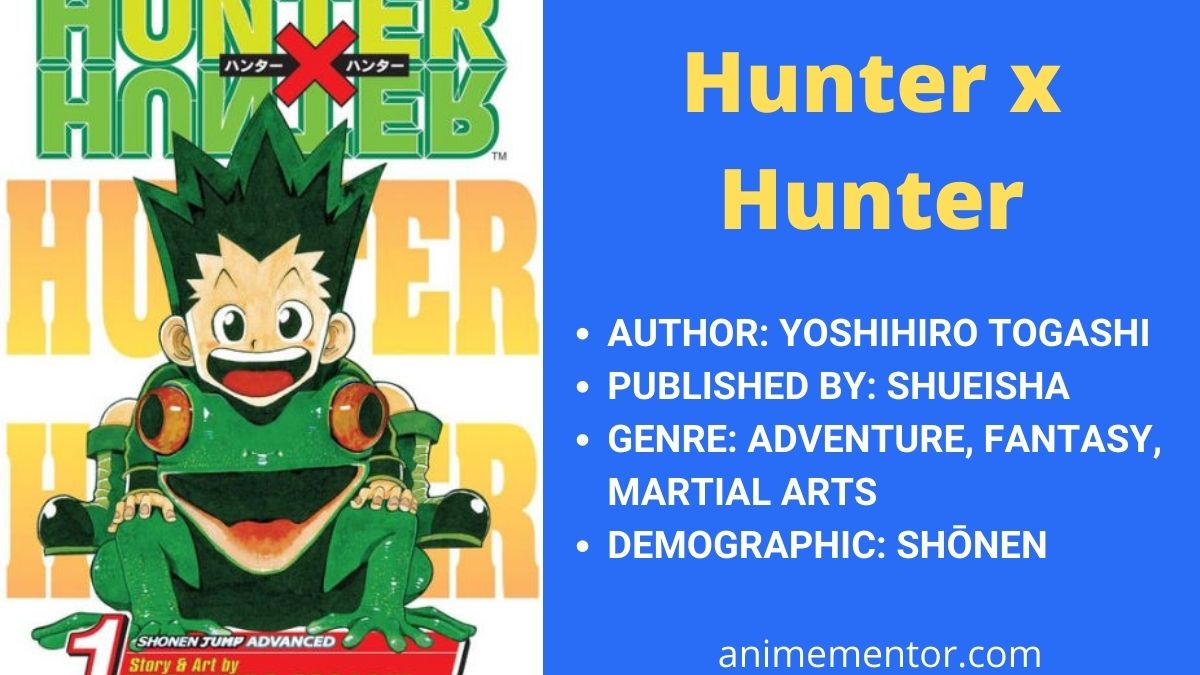 Author: Yoshihiro Togashi
Published by: Shueisha
Genre: Adventure, Fantasy, Martial arts
Demographic: Shōnen
Volumes: 37
Original run: March 16, 1998 – present(On Hiatus)
Hunter x Hunter is one of the founding fathers of Shounen which served as the inspiration for much modern anime that we all know and love. While the art is reminiscent of the older generation of manga, the story is absolutely fantastic while having some of the best world-building. It follows the life of a young boy named Gon who becomes a hunter to find his missing father.
On his journey, he finds comrades that he can trust who accompany him. While searching for his father and training to get stronger, he runs into several villains with unique personalities who all have their own grand goals. We are introduced to exciting fight sequences and a very creative power system as we see Gon and his group fight to protect their loved ones.
6. Kingdom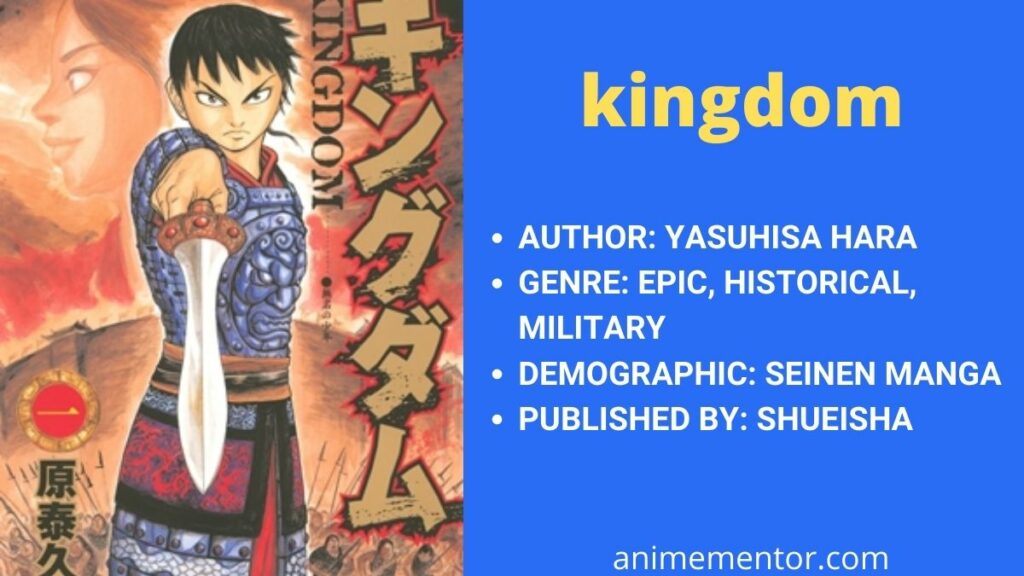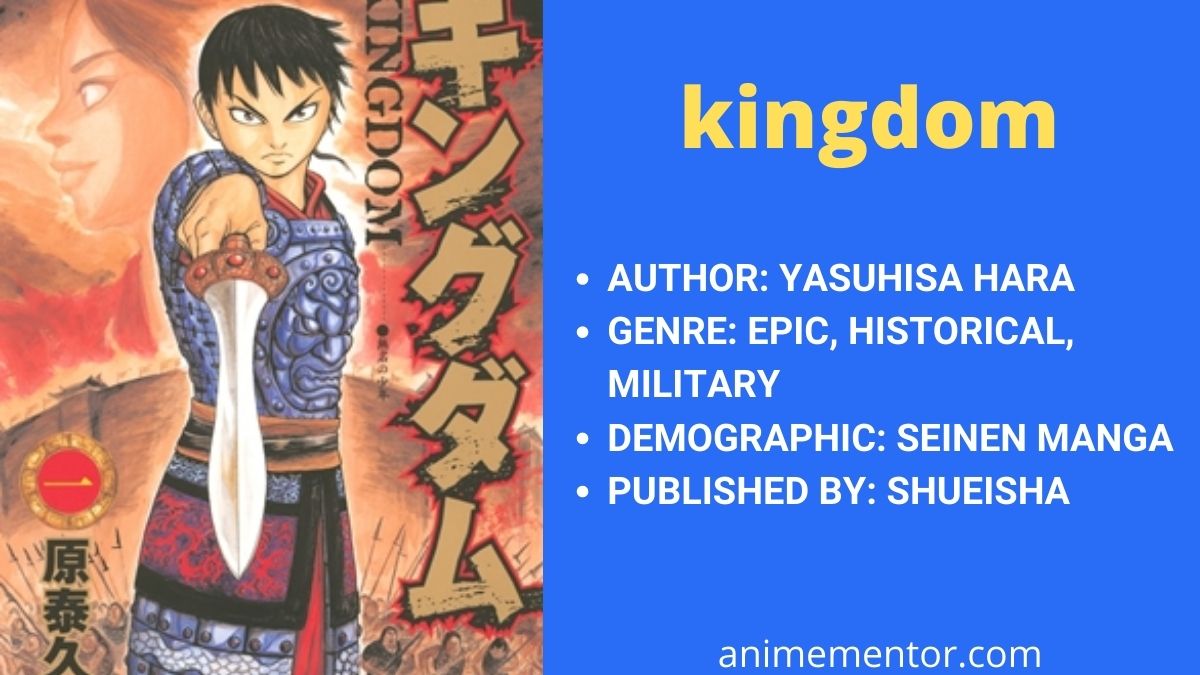 Author: Yasuhisa Hara
Genre: Epic, Historical, Military
Demographic: Seinen manga
Published by: Shueisha
Volumes: 67
The kingdom is an epic tale of war and battles which is set in the ancient Warring States period of China. A young orphan by the name of Shin wishes to become a great general along with his best friend. However, on the death of his friend, he decides to carry both their dreams forward and has a coincidental meeting with the king of his state who is on the run from enemies.
As they work together and form a bond, Shin sets his goal in motion and faces several formidable enemies who stand in his way. The kingdom is an amazing manga for any fan who enjoys history and intense battles. With amazing characters and several gory scenes, it has a foot in every genre.
5. Vagabond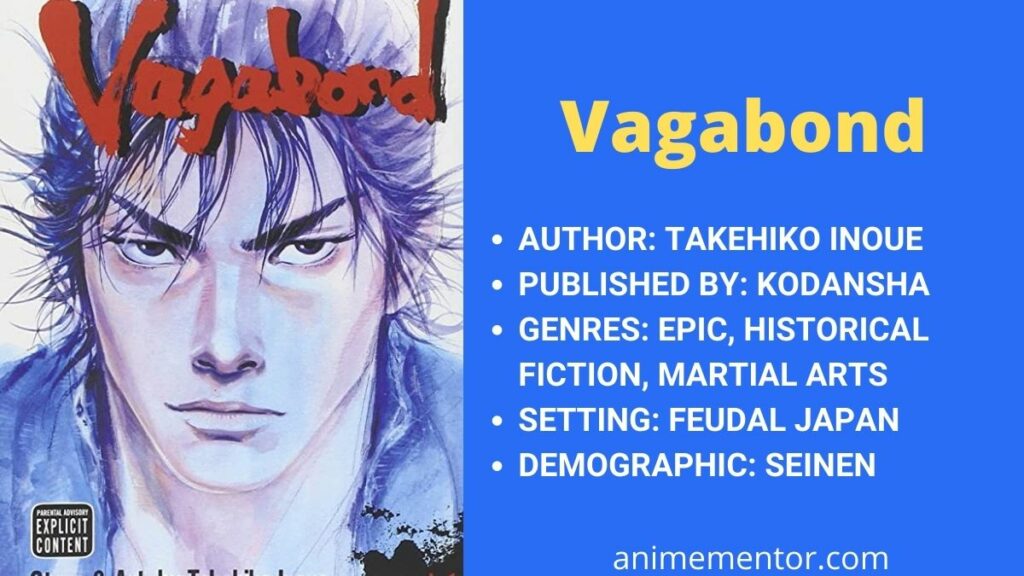 Author: Takehiko Inoue
Published by: Kodansha
Genres: Epic, Historical Fiction, Martial Arts
Setting: feudal Japan
Demographic: Seinen
Volumes: 37
Original run: September 17, 1998 – May 21, 2015 (on hiatus)
Vagabond tells the epic tale and journey of Miyamoto Musashi, one of the greatest swordsmen who ever lived. Right from when he was a young boy who earned acclaim in the war to when he would travel across the country in order to fight strong opponents, Vagabond is brilliantly made right from start to end.
As we see the young boy go from a beast who only craves violence to one who thinks about his actions, several values, and morals are imparted to us. We are also introduced to one of the best rivalries in fiction as we also see the life of Sasaki Koujirou, his main opponent and the only one who comes close to him in terms of power. While Vagabond has been on a hiatus for a long time, it had a very satisfying ending which also managed to make us excited for when it would resume.
4. 20th Century Boys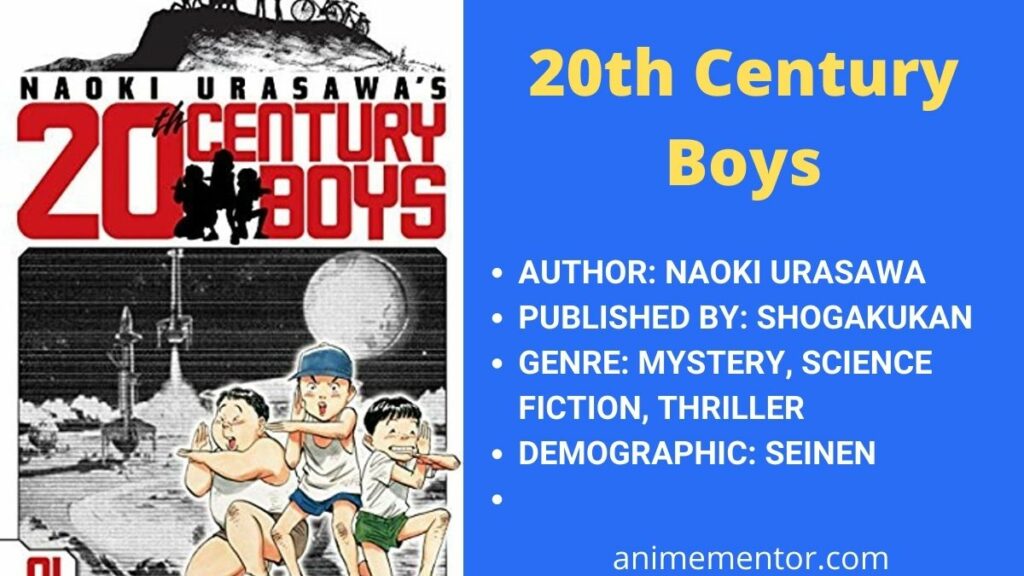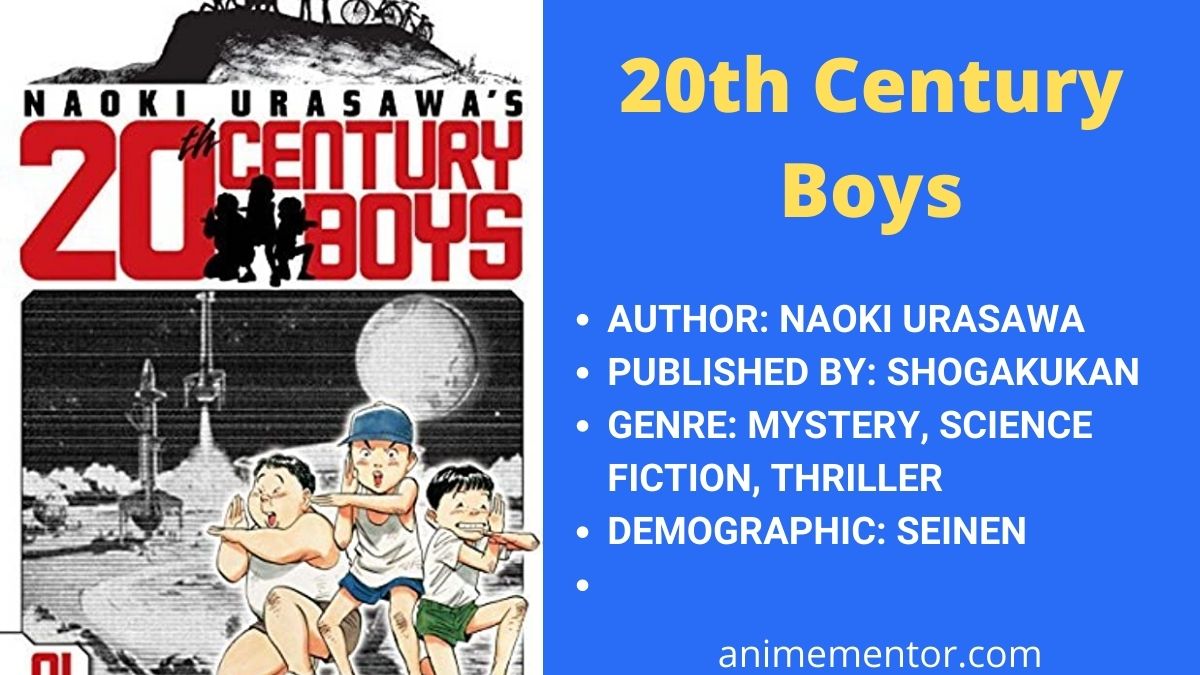 Author: Naoki Urasawa
Published by: Shogakukan
Genre: Mystery, Science fiction, Thriller
Demographic: Seinen
Volumes: 22
As one of the highest-rated Seinen manga ever, 20th Century Boys has been able to leave its mark on the community. It follows the life of Kenji and his group of friends as they investigate the mysterious death of their acquaintance. However, the deeper they go into their investigation, they find out about the existence of a person known as Friend who is running a dangerous organization that wants to control the world.
As they try to find connections through the past and prevent disaster, several mysteries are brought to light. 20th Century Boys is an intricately woven story that takes place in several different timelines while not confusing the reader too much. It is an amazing psychological story that is well ahead of its time.
3. Monster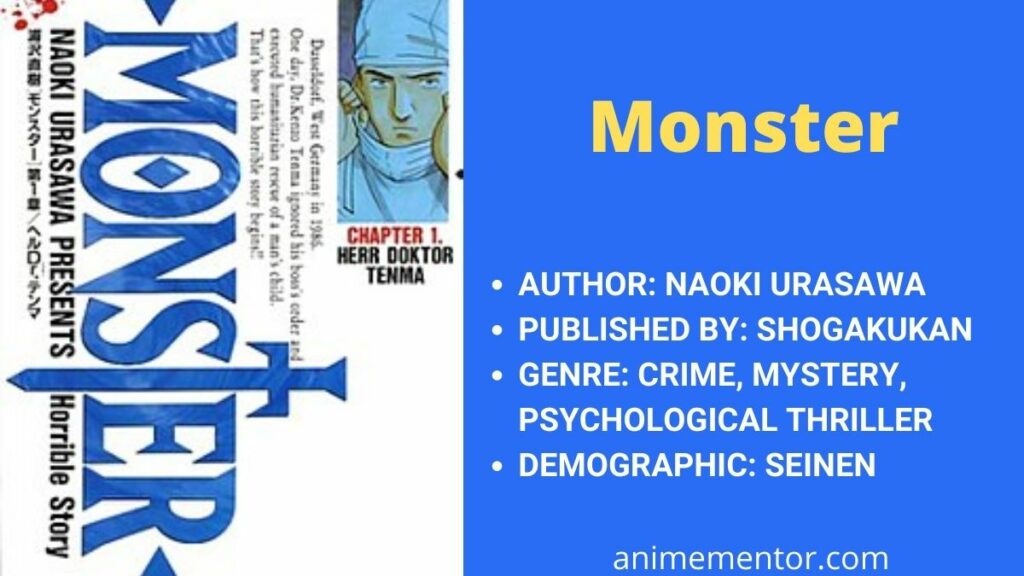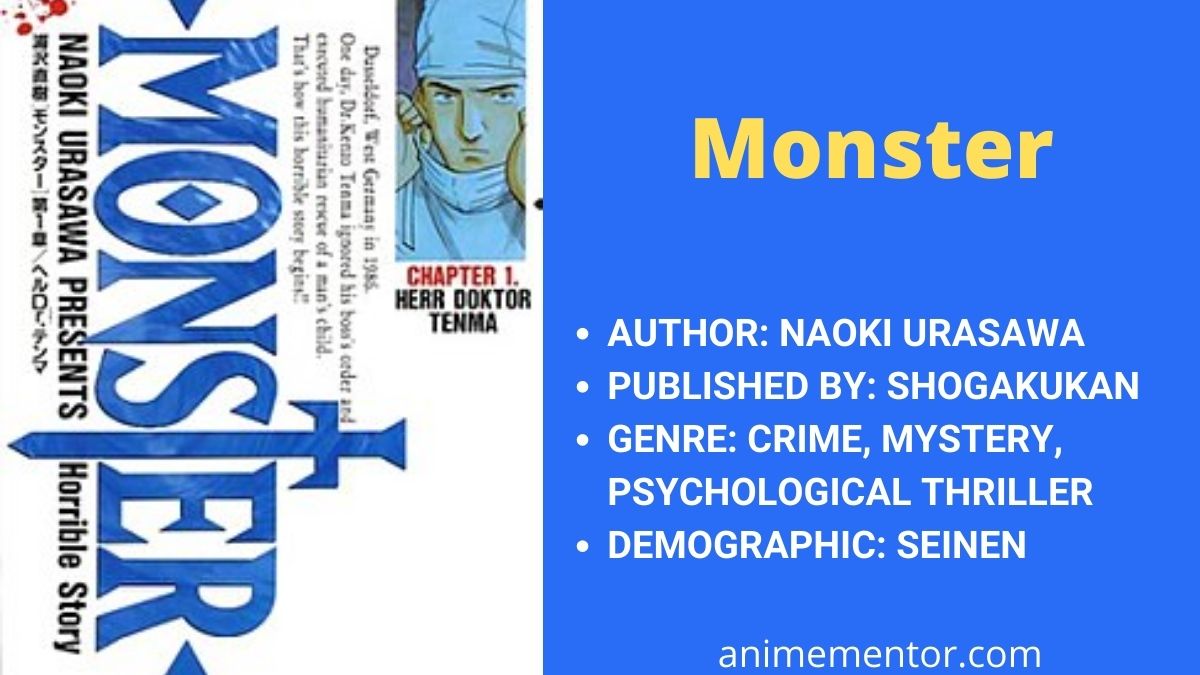 Author: Naoki Urasawa
Published by: Shogakukan
Genre: Crime, Mystery, Psychological thriller
Demographic: Seinen
Volumes: 18
Monster is one of the best mystery thriller manga that you can read. It follows the cat-and-mouse chase between a doctor who has been framed and the psycho who he is tracking down to clear his name. With a very dark setting and several brutal scenes, Monster keeps you hooked for every chapter as we are introduced to several characters who are very well-written. The structure of the manga and the build-up to the conclusion is fantastic and show the best of Naoki Urasawa.
2. One Piece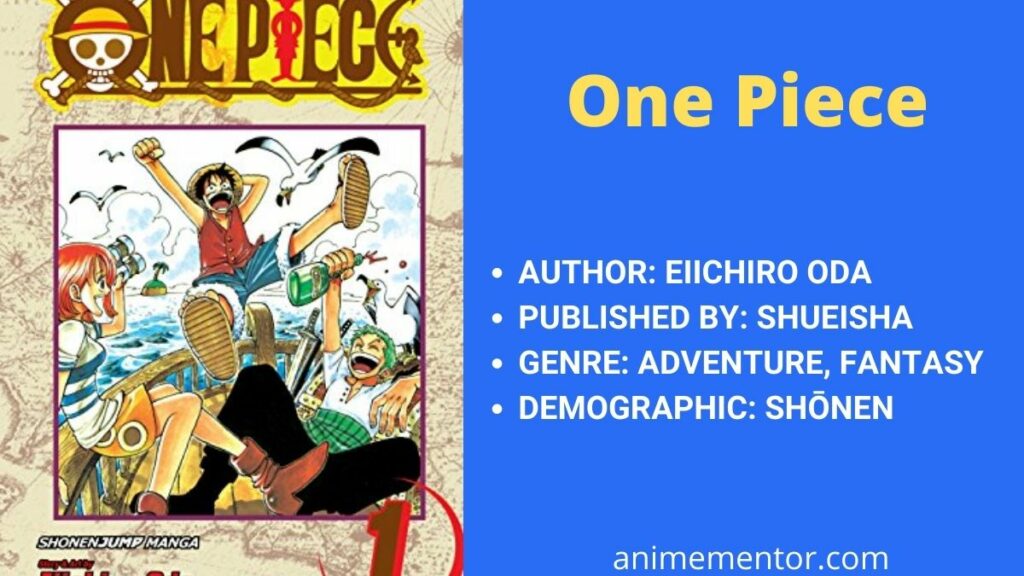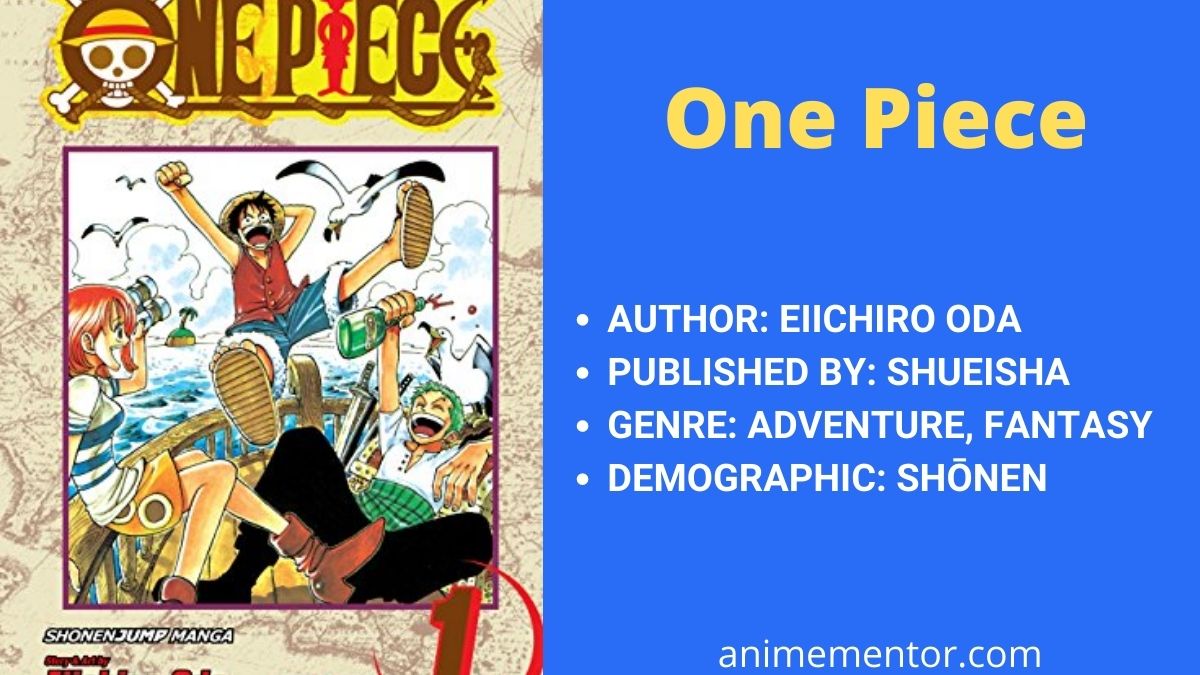 Author: Eiichiro Oda
Published by: Shueisha
Genre: Adventure, Fantasy
Demographic: Shōnen
Volumes: 104+
Widely considered as the best Shounen Manga to ever be made, One Piece takes us on an amazing adventure through its fictional world. We are told the story through the perspective of its main character, Luffy, a young boy who has big aspirations and wishes to become the Pirate King.
Joining him on his journey is a crew of loyal characters who all have their own distinguishing characteristics. As Luffy sails the seas, he faces many opponents and also the entire government which runs the world. While constantly raising his own power, he saves those in need and lives life in the freest way he can imagine.
1. Berserk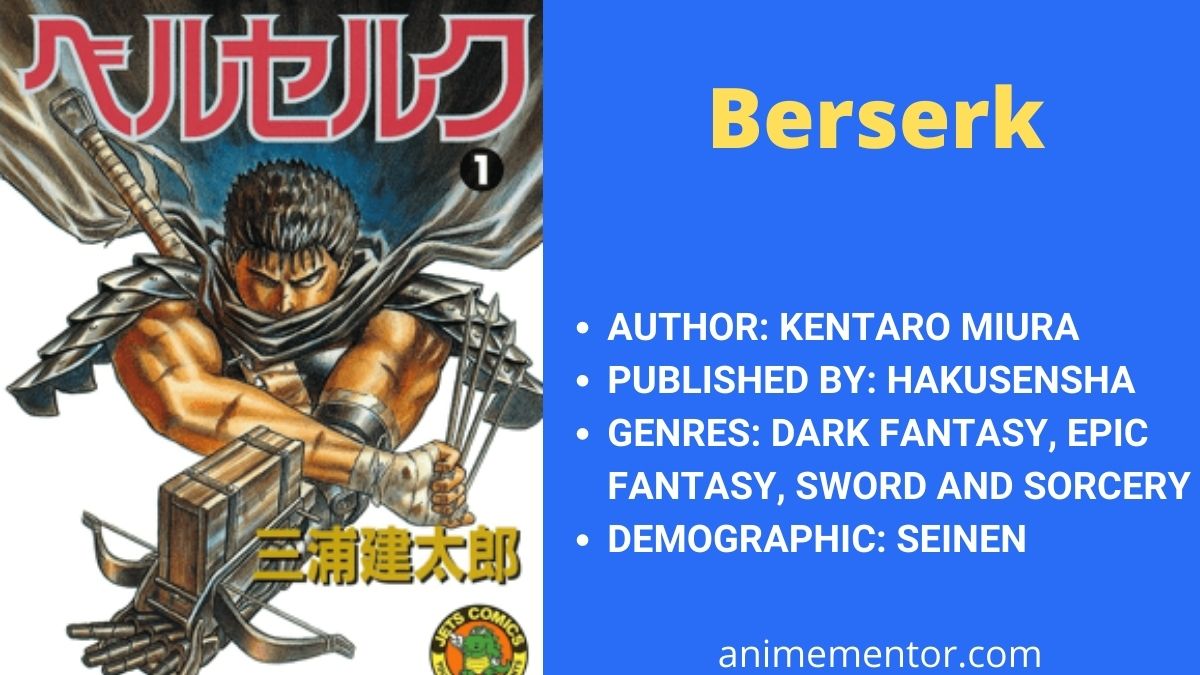 Author: Kentaro Miura
Published by: Hakusensha
Genres: Dark Fantasy, Epic Fantasy, Sword and sorcery
Demographic: Seinen
Volumes: 41
It comes as no surprise that the highest-rated manga of all time is the best manga that everyone has to read at least once in their life. Berserk follows the life of a man named Guts who is in search of revenge against a former comrade who betrayed him by the name of Griffith. In his path of vengeance, he constantly battles against demons and supernatural enemies as he tries to push past the restrictions placed on him as a human.
The life of Guts is extremely tragic as he has lost almost everyone he loves. We see him try to move past that while he forms new connections and not let grief consume him. Berserk is an extremely mature series filled with gore and brutality. The art is a spectacular complement to its battles and its dark world is extremely fascinating to readers.