Manhwa is the general term for print cartoons and comics in Korea. Outside of Korea, it refers to South Korean comics.
Manhwa is a prominent part of Korean culture. The word "Manhwa" is believed to be originated from the Chinese term "manhua," which means "impromptu drawings." These terms were originally used in Japan, Korea, and China to refer to all comics and graphic novels, regardless of their country of origin.
Currently, foreign readers refer to comics from a particular country by these names: manga are Japanese comics, manhwa is Korean comics, and manhua are Chinese comics.
History of Manhwa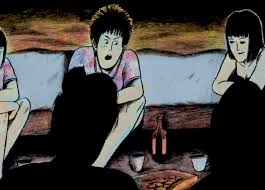 The Korean term manhwa was first used to describe cartoons in the 1920s. From 1910 to 1945, Japan occupied Korea, and Japanese culture and language were absorbed into Korean society during this time.
Most political newspapers had closed by the mid-1920s, and political and social cartoons were replaced by children's stories. Political cartoons gradually regained prominence after the establishment of the Republic of Korea in 1948.
Kim Yong-hwan launched Korea's first comic magazine in 1948, Manhwa Haengjin, but the magazine was soon closed when the authorities disapproved of the cover.
By the 1950s and 1960s, comics became increasingly popular, and their variety of style and subject matter gave rise to new genres, such as sunjeong (Romantic Comedy).
With the increasing publication of comics in South Korea, the government enacted censorship laws and created a comic distribution monopoly, further censoring manhwa.
Adaptation of term
As a result of the relative obscurity of Korean culture in the Western world, the word manhwa is somewhat unknown to English-speaking audiences.
English translations of manhwa have been successful in targeting the manga and anime communities; in fact, the American publisher Tokyopop promoted manhwa as manga.
Popular Manhwa Publishers
Daewon C.I.
Haksan Culture Company
Seoul Culture Corporation
Shinwon Agency Corporation
Manhwa in the United States and the West
In the United States, Sanho Kim was the first manhwa artist. According to journalist Paul Gravett, Eastern Comics published the first original manhwas in the United States in 1987.
Due to the explosive popularity of manga in the Americas, many of the titles licensed for the market attempt to replicate the elements of successful series. After manga became popular and commercially successful in Europe and the United States, a number of publishers began importing and translating manhwa titles for the same reason.
The readability and left-to-right orientation of manhwa led to it gaining popularity, along with the realism of the characters and the combination of eastern and western cultures.
What is Webtoon?
A print edition of a manhwa is rare in comparison to manga. With the rise of smartphones, Manhwa has largely been replaced by online comics (webtoons).
Webtoons are a type of digital comic that originated in South Korea and is usually read on smartphones. Webtoons are sometimes referred to as manhwa or in other words – Webtoon is the digital color version of manhwa.
Since webtoons were largely unknown outside of the country at their inception, they have gained enormous popularity.
As digital manhwa has become more popular as a medium of publication, print publications of manhwas have decreased. The amount of material published in webtoon form has now reached parity with that published offline.
Animation and live-action Adaptations
In the late 1980s and early 1990s, there were some major hits based on Korean comics (such as Dooly the Little Dinosaur and Fly! Superboard). Recently, live-action drama series and movie adaptations of manhwa have become more frequent.
Some of the best dramas of the respective years are Full House in 2004 and Goong in 2006. Based on a webtoon, Secretly, Greatly became one of the highest-grossing films of 2013.
Manhwas like The God of High School, Tower of God, and Noblesse will be adapted into Japanese via Crunchyroll in 2020. Netflix is adapting "All of Us Are Dead" into a live-action series in 2022.
Flim:
APT (2006)
Dasepo Naughty Girls (2006)
Tazza: The High Rollers (2006)
Le Grand Chef (2007)
Hello, Schoolgirl (2008)
Killed My Wife (2019)
Eggnoid (2019)
Beauty Water (2020)
Love and Leashes (2022)
Television [Kdrama]
The Great Catsby
Gourmet (2008)
Mary Stayed Out All Night (2010)
Aridong's Last Cowboy (2010)
Sweet Home (2020)
How to Be Thirty (2021)
Taxi Driver (2021)
Dr. Brain (2021)
All of Us Are Dead (2022)
Moving (2022)
Animated series
ReLIFE (2016)
Nanbaka (2016)
Recovery of an MMO Junkie (2017)
How to Keep a Mummy (2018)
The God of High School (2020)
Tower of God (2020)
Noblesse (2020)
Game
Berkanix (2009)
Tower of God (2013)
The God of High School (2015)
The Sound of Heart (2016)
Denma with NAVER WEBTOON (2016)
Noblesse with NAVER WEBTOON (2017)
Densinma with NAVER WEBTOON(2019)
Gaus Electronics with NAVER WEBTOON (2019)