In 1917, the first Japanese animation was made and released. In 1963, Astro Boy (a.k.a. Mighty Atom) became the first television series to be released in Japan.
Every year, thousands of animations are produced and aired on TV and streaming platforms. And the number of must-watch titles keeps going up.
So here is our list of all the Must watch anime up until 2022.
By the way, here in this article the term – anime (which is a Japanese term) strictly refers to animation series made in Japan.
Best of the Best Anime: Fullmetal Alchemist: Brotherhood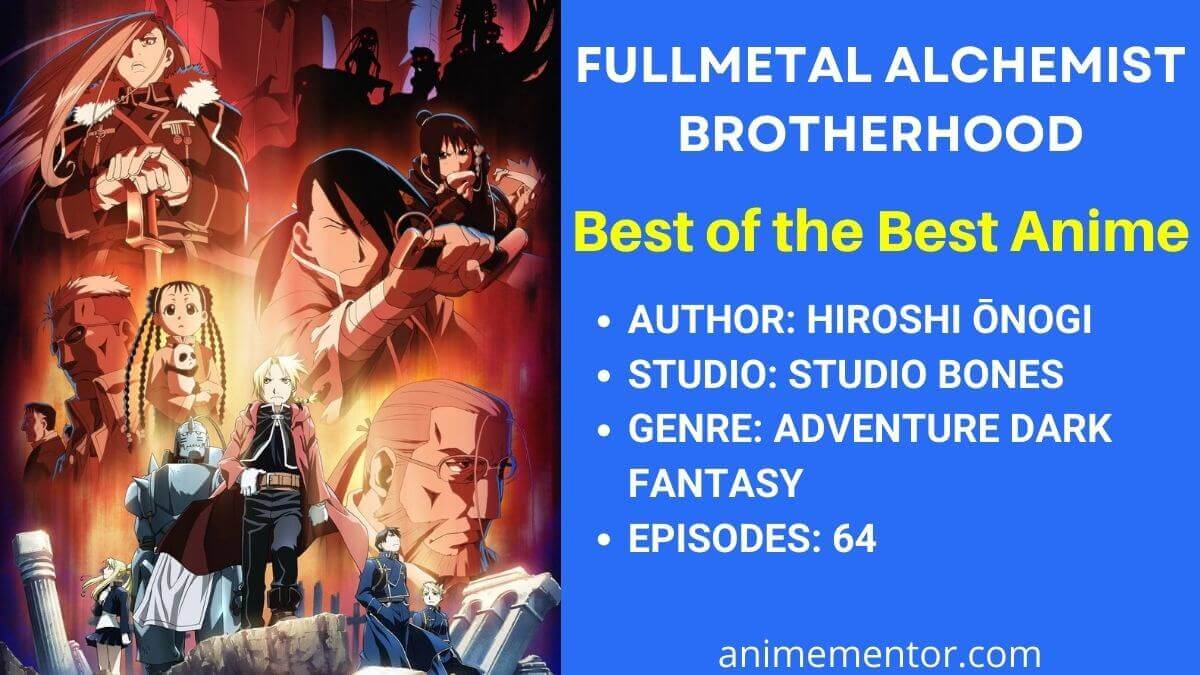 The story started with two alchemist brothers Alphonse and Edward Elric, who lost their bodies due to a past alchemy accident. Now they are finding a way to restore their bodies and face lots of problems, Govt secrets, and propaganda. The plot of Fullmetal alchemist Brotherhood is not as straightforward as you think.
The anime has many layers and is filled with the richness of loveable complex characters, it also explores grand philosophical ideas and stays entertaining at the same time. The anime relies on colorful dialogue writing, an enticing soundtrack, and exceptional ideas all along.
Many anime struggles to balance the difficulty of constructing elaborate worlds while maintaining memorable characters, iconic moments, and thrilling fights. The beauty of Fullmetal Alchemist: Brotherhood lies in that. Which makes the anime so perfect and the Best of the Best Anime of All Time.
Most Popular: Attack on Titan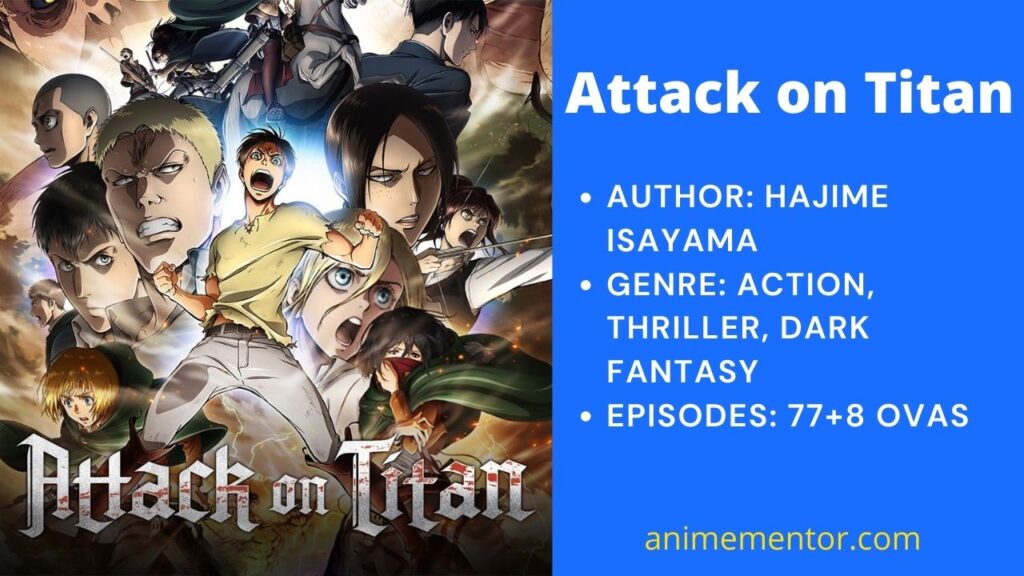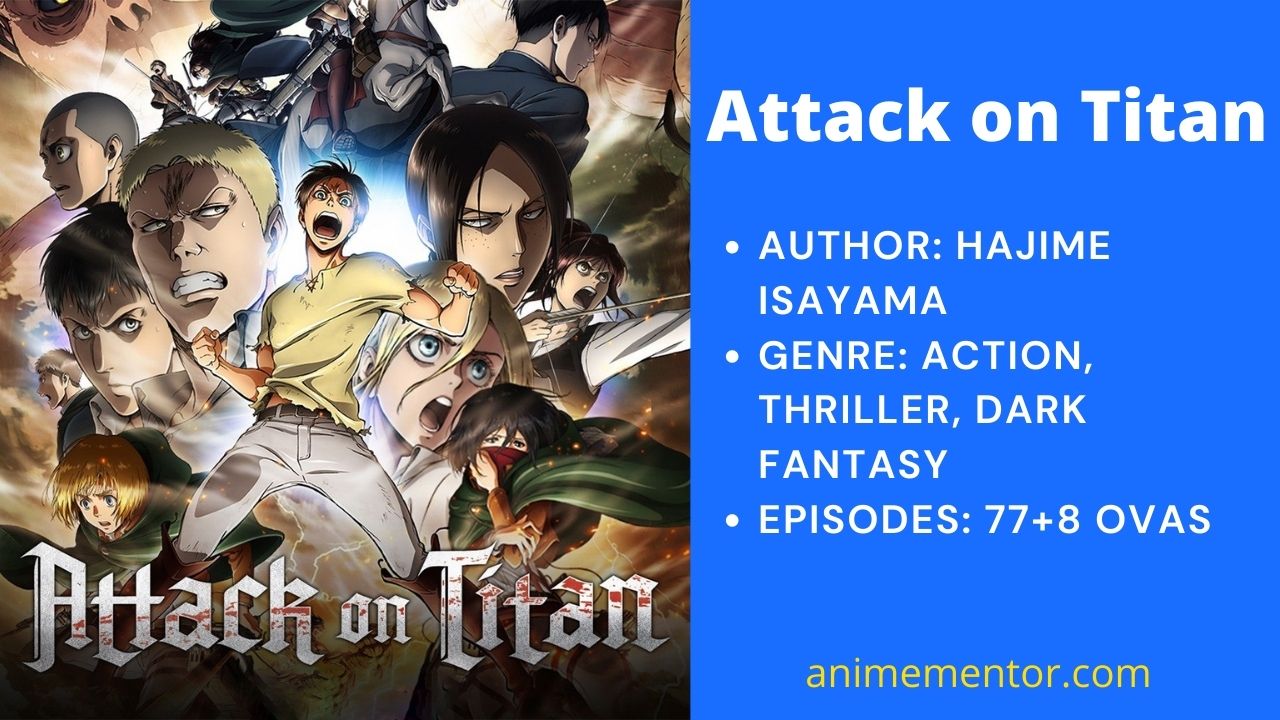 Attack on Titan is one of the most epic dramatic shows with an enticing and captivating plot you will see. Shingeki no Kyojin is among the most popular anime which able to crack the wall between Hollywood and Anime world.
It is based on Hajime Isayama's Shingeki no Kyojin. In a post-apocalyptic world where humanity is close to its Extention, Titans have forced mankind to live inside walls. Titans hunt mankind out of pleasure, humans have been hidden behind these walls for more than a century and did not expect any Titan to breach the wall, but the unexpected happens. Now the hero Eren Yeager with his two friends will dedicate their entire life to defeating these Titans.
Attack on Titan anime is filled with tragic moments, sad scenes, meaningful plots, plot twists, and hardcore fight scenes. It has lots of thrilling and tragic moments with an epic storyline and animation which makes it most popular even among non-anime watchers.
N.B: The first thing we recommend to non-anime fans is to watch Attack on Titan. 90% of people become regular anime watches after that.
All-time Best: One Piece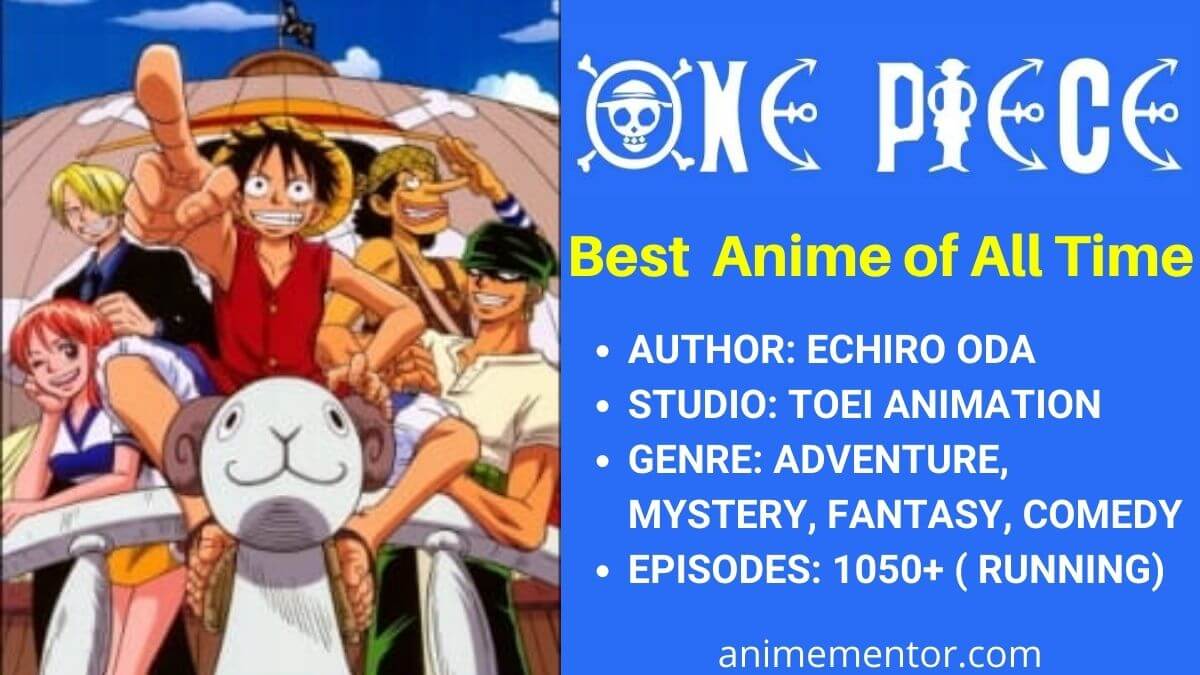 One Piece is not an anime it's an emotion! It focuses on Monkey D. Luffy, a boy with unique characteristics of rubber he got after eating a Devil Fruit. He sets up on an adventure with his crew to find the ultimate treasure and become the Next Pirate king.
You will love the animated characters, art, plot, and storytelling. Each character has a fun unique personality. Throughout the adventure with Straw Hat Pirates, you will feel you are part of the crew.
One Piece treasure is a treasure collection of everything the world has to offer and the One Piece Anime has everything the Anime world has to offer from fantasy, adventure, mystery, politics, comedy, time travel, history, and more.
A point to note is that the style of this anime is very different than other animes and maybe that is the reason it makes this anime one of the favorites. The anime series sometimes becomes too slow to give manga enough time. But it is one of those animes that you will become obsessed with. One Piece is one of the most favorite anime among the fans. It has more than 1000 episodes and still airing.
Best Storyline: Hunter x Hunter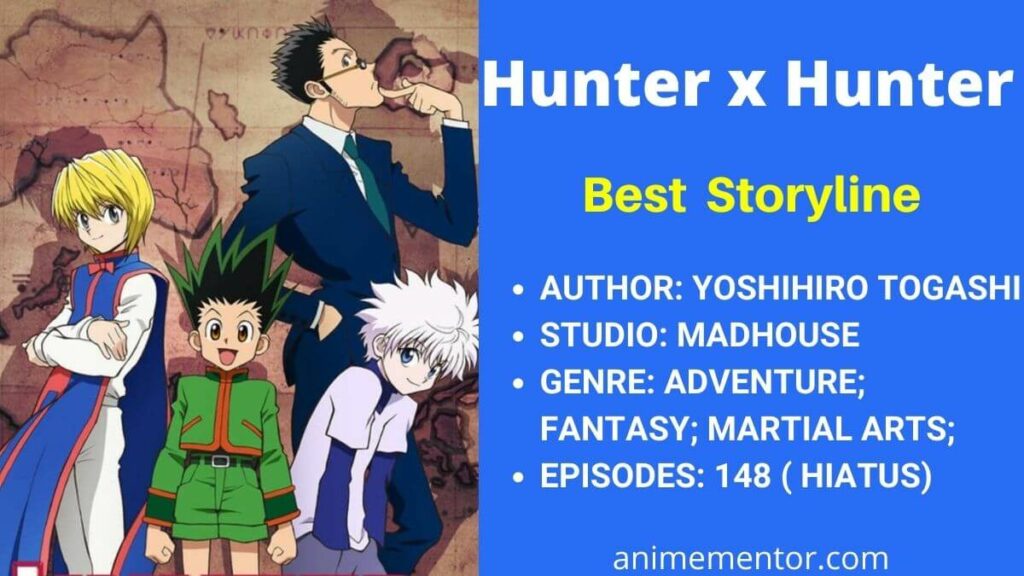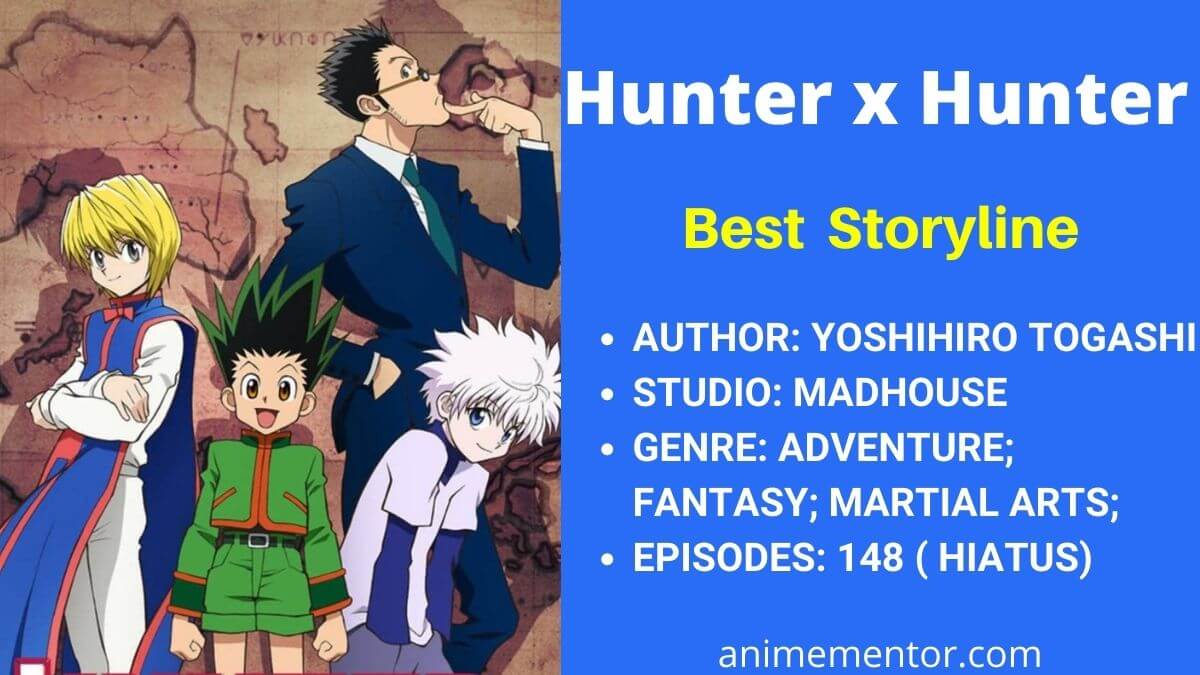 You must have seen Hunter hunter trending on Twitter. The anime stopped airing in 2014 but still is talked about among the community because of its unique storyline and it remains one of the best anime with a perfect story.
Hunter x Hunter focuses on Gon, who is a young kid and disease to become a pro hunter one day just like his father, but he cannot remember him. What follows is a unique storyline, a marvelous journey of the kid and his 3 friends to become a pro hunter in this world. You will have a hard time finding an anime with such a good plot.
The characters and stories are said to be one of the best and are still talked about today.
Best Animation: Demon Slayer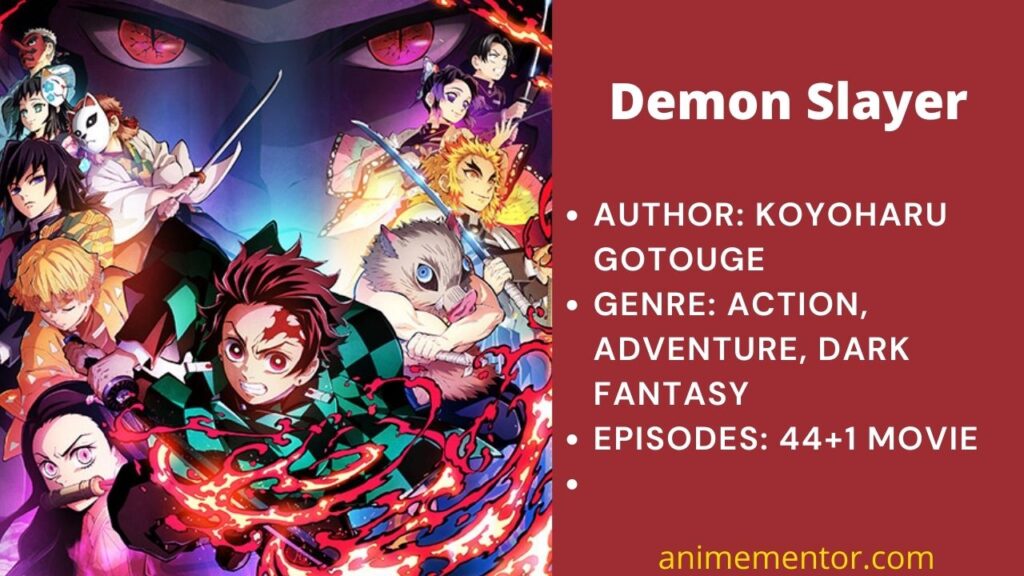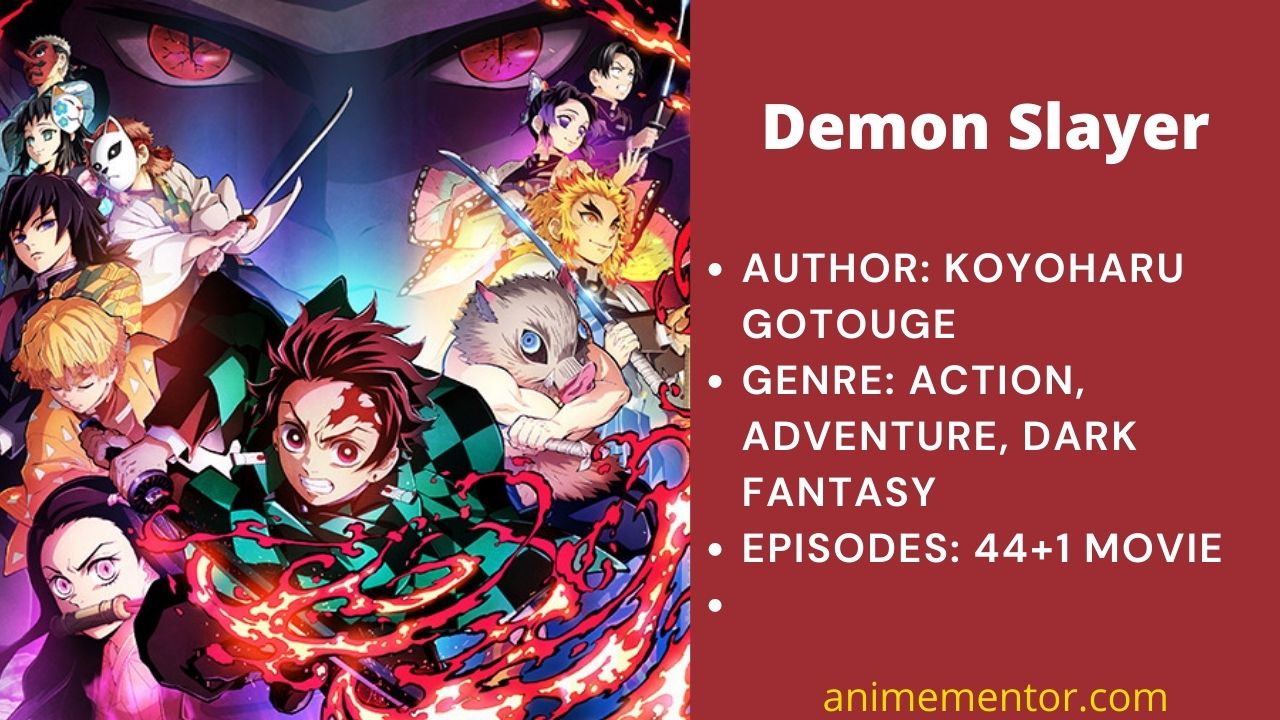 Demon Slayer or Kimetsu No Yaiba is one of the best-animated shows ever made. It has dynamic vivid graphics and an enticing plot to top it up. In terms of animation, it is up and above in the same category. The use of CGI is flawless, giving a visual expression of a 3D appearance.
The background of every scene is very life-like which makes the experience immersive. The real actions of sword fights and granular depictions like water and coming out of the sword are flawless and clever.
It adjusts the war scenarios with ease and cinematic guidance. Character animations are perfectly shown while highlighting various art forms and fighting styles. The demons are also very scary from the designs to their appearance, smile, hair, and movements everything is aggressive looking and shows pure evil.
Best Comedy: Gintama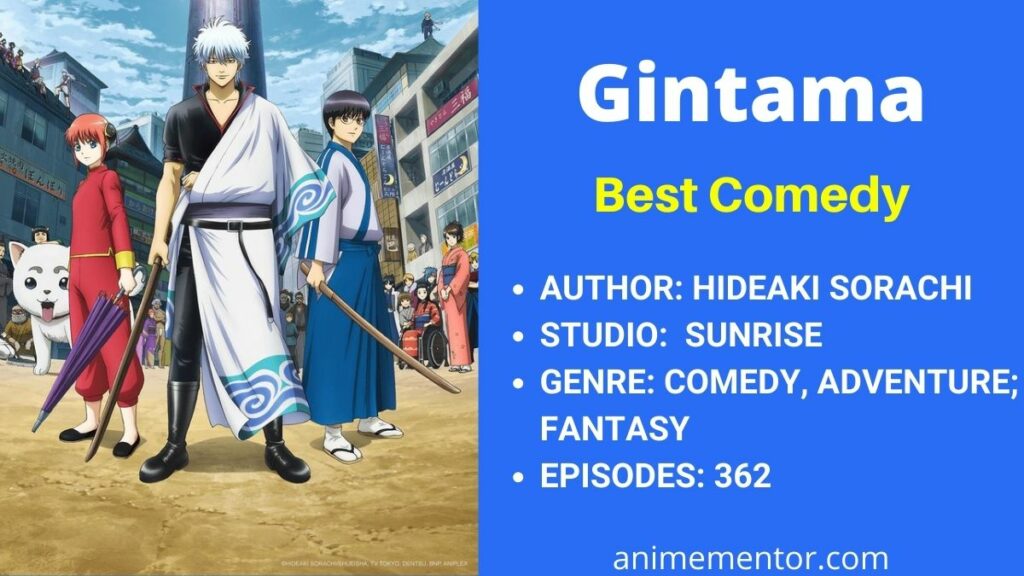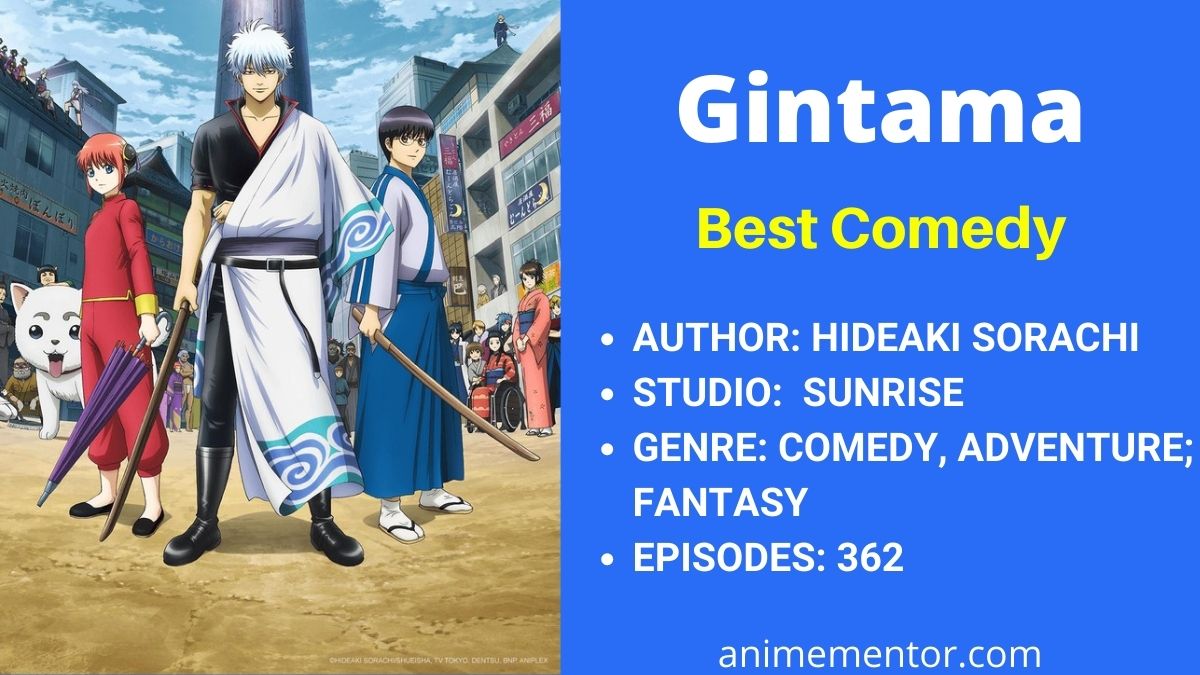 Gintama is adapted from a manga and has many seasons, versions, and OVAs, and each time the depiction gets crazier. The animated action sequences, voiceovers, hidden references, and inside jokes take Gintama to another level of comedic excellence. The setup is placed in the Edo period in Japan when Amantos, an alien race invaded.
Gintoki, our protagonist is a contract laborer who resides his life respecting the samurai code of conduct. He has to help people and avoid as many fights as possible. But unfortunately, he is surrounded by warrior clans, god dogs, strong aliens, and anarchists. Even in these threatening situations, the anime doesn't fail to giggle you. It is funny laughable and a must-watch for fans who want to have a good laugh.
Best Romantic: Kaguya-sama: Love Is War?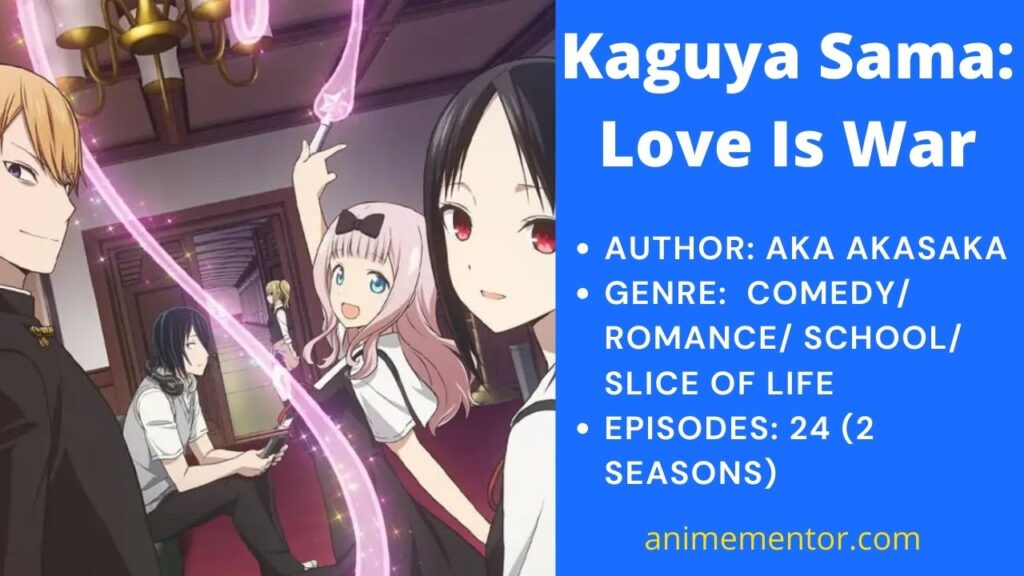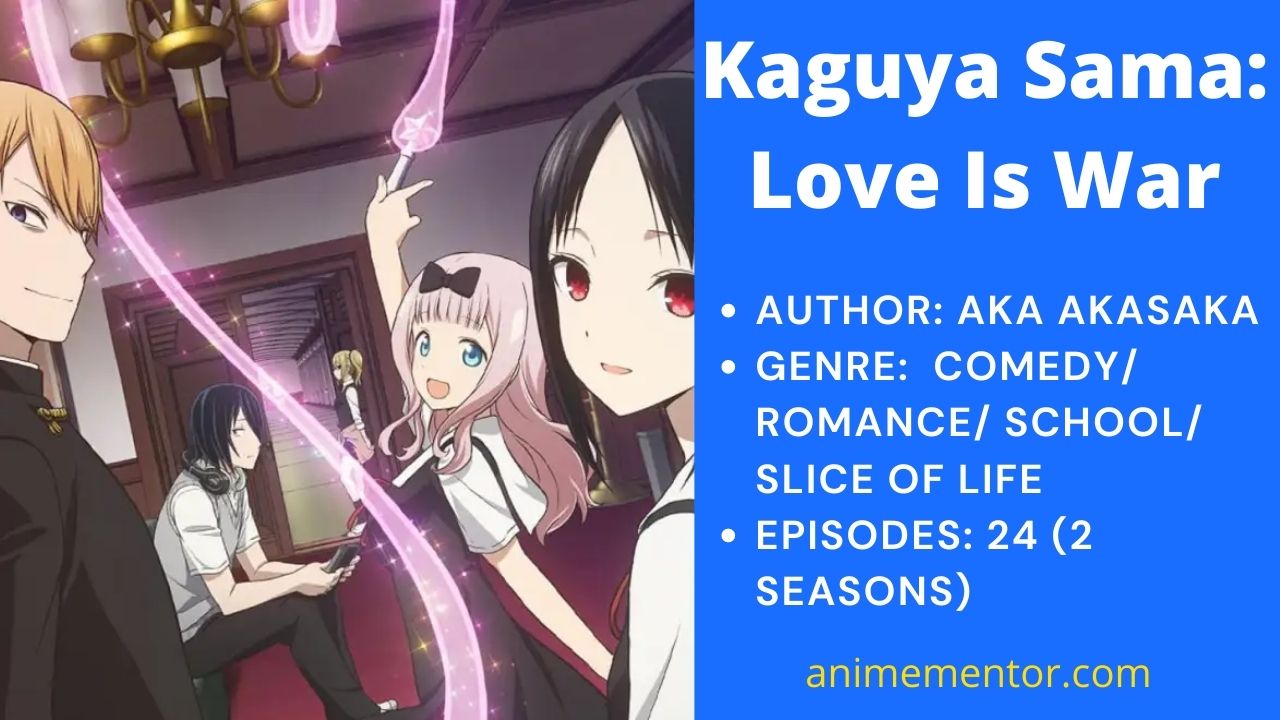 This anime proves the old saying "Everything is fair in love and war". Don't confuse it with a typical romance anime. The characters Kaguya and Miyuki are highly intellectual and try to each other in confessing the love first and of course, no one is willing to confess it first, this makes the whole equation more fun.
The setup is in an elite school and the activities of their friends and surrounding are funny and lovely, you will fall in love with both of them, that's for sure. The latest season largely focuses on comedic aspects, and the time for the romances between Kaguya and Miyuki has also increased steadily.
Best Isekai: Mushoku Tensei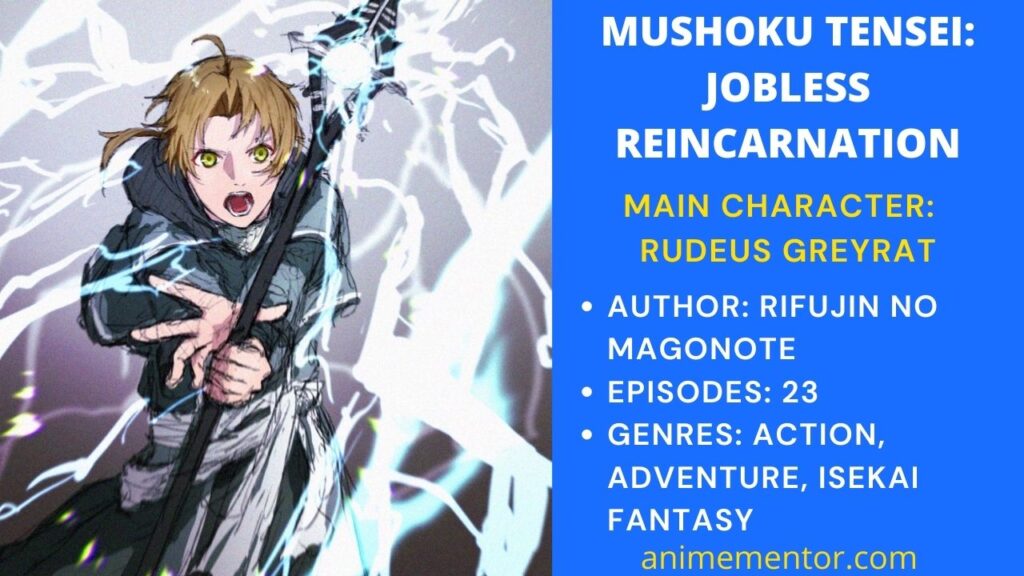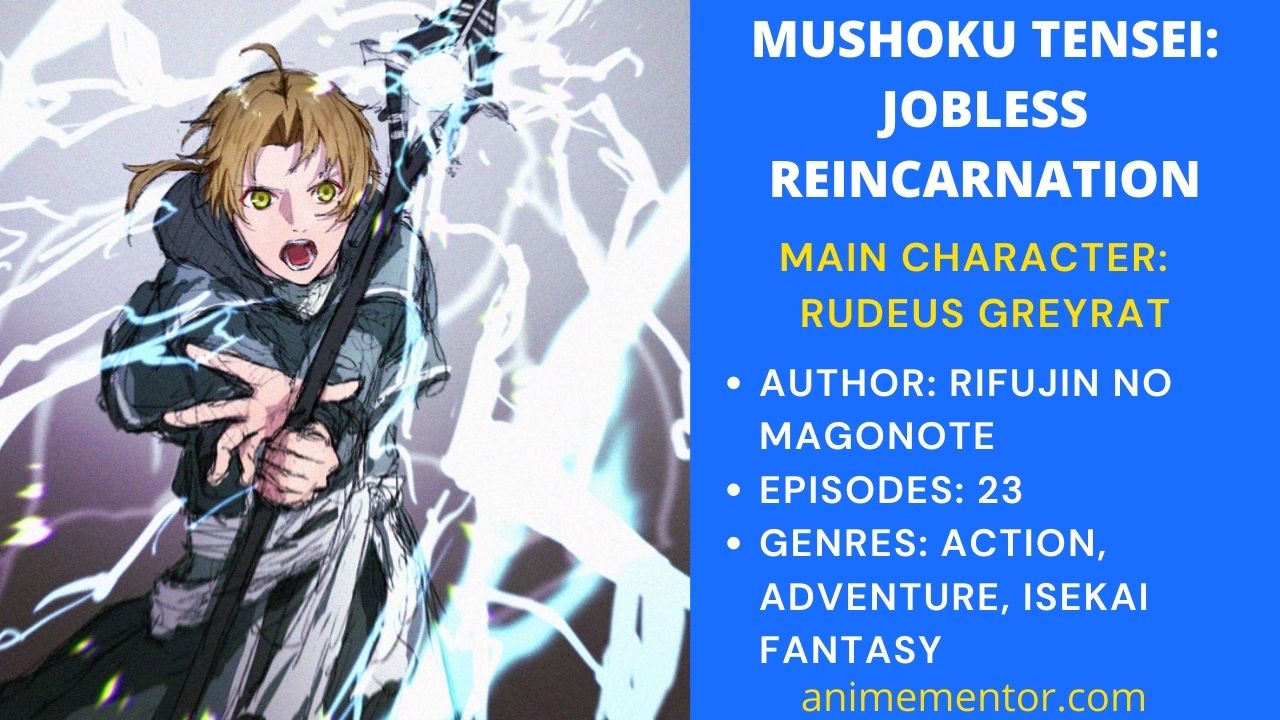 Jobless Reincarnation or Mushoku Tensei is a story of an anonymous 34-year-old man who is homeless and how he gets reincarnated in a fantasy world. The anime sets itself apart from the start by depicting a person who is at the end of the line but wants to do one good thing before the end of his life.
The serious tone of the show is hard-hitting and introspective at the same time. The main character gets a second chance to live his life and what he does with it truly inspiring for many. This show will stay in your thoughts even until you are done with the show.
Best Sci-Fi: Steins; Gate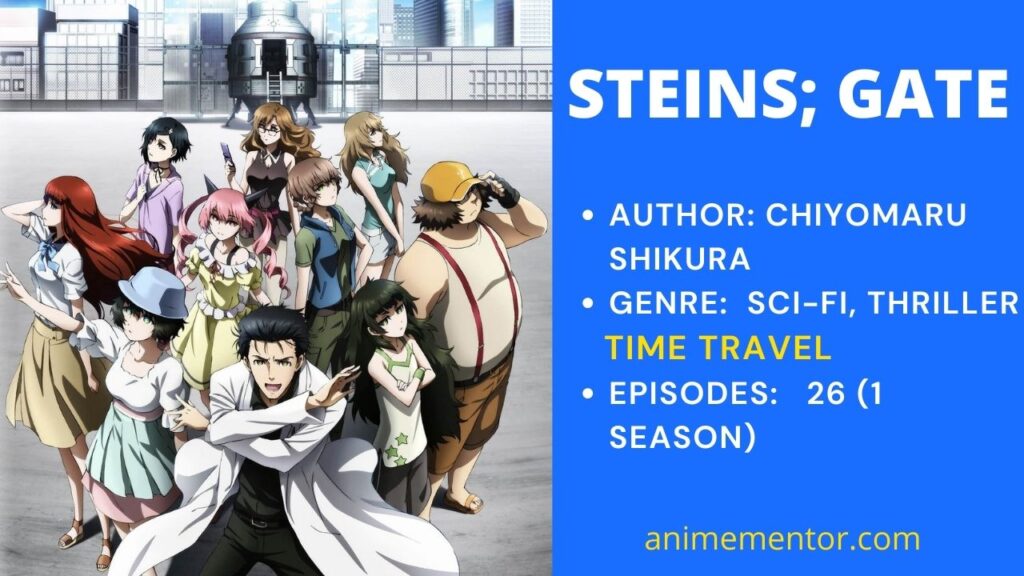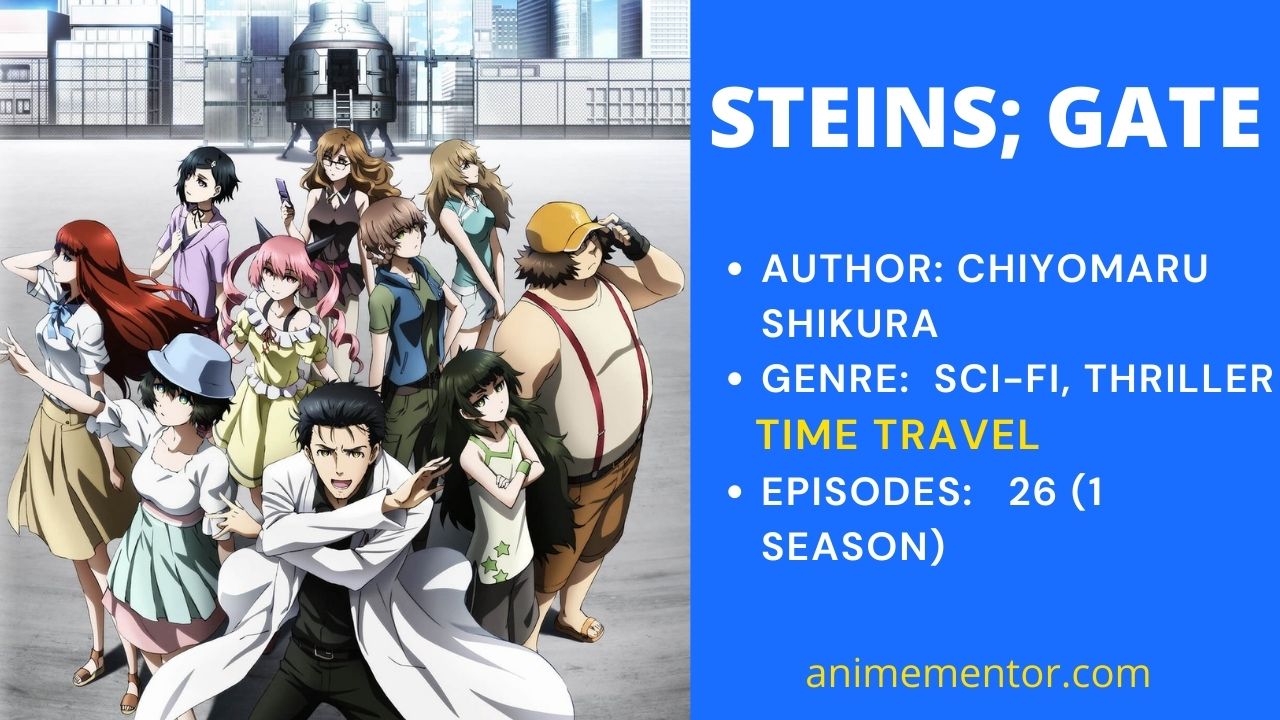 Steins Gate is based on an old visual novel. It is an anime that has an incredible story, art, music, plot, characters, and theme. The anime adaptation was very well received. The anime revolves around a bunch of friends who invent a machine that can send messages in time.
Their deeds cause confusing parallel ripples in the past present and future. It also shows how the character goes through hell in making things back to normal. The show is loved for its second half, logical sci-fi concepts, and the risks. It is a slow burner and the story unfolds layer by layer. If you're a science guy you will surely love the show.
Best History: Kingdom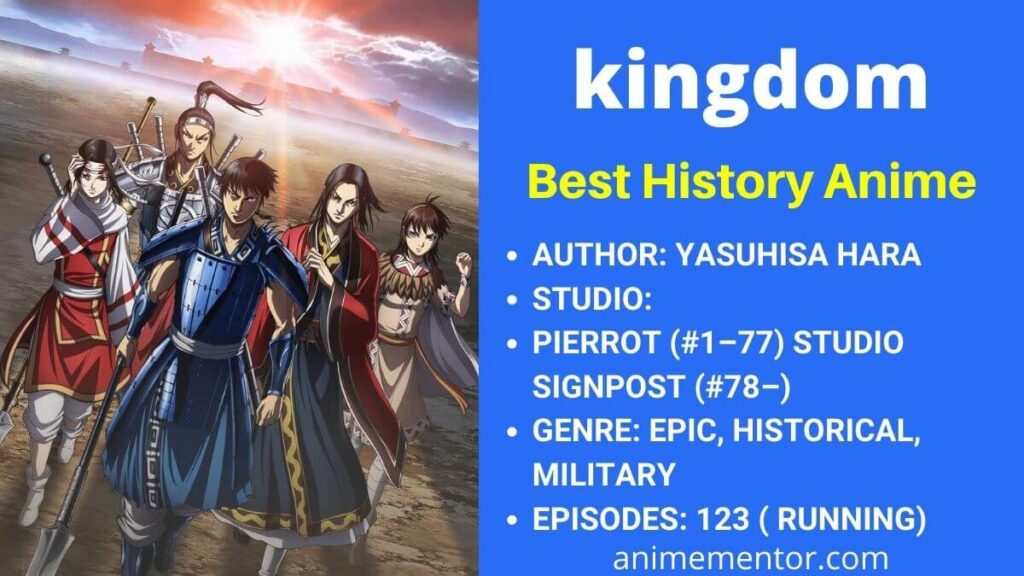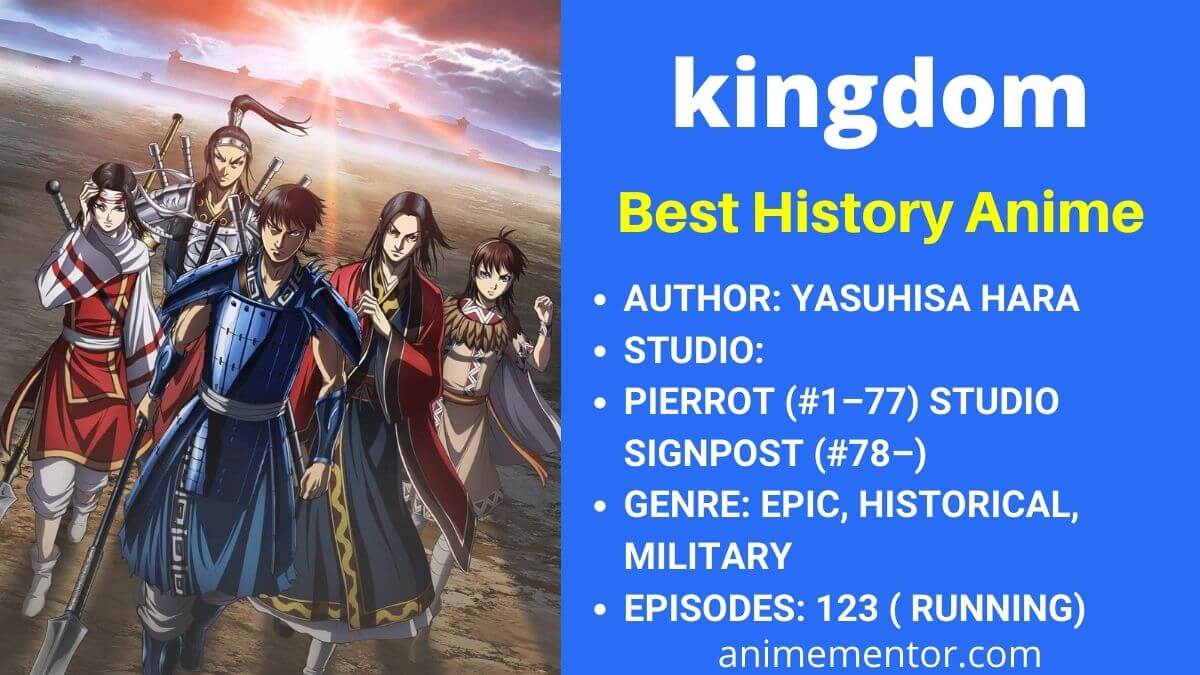 While watching Kingdom you will feel like the childhood story of Luu Buu is being followed. The show is set up in the Chinese era of the Warring States. Shin, the protagonist resides in the Qin state. He wants to become the best and the greatest general the Earth has ever seen.
The anime is filled with harsh battles. There is tactical warfare, betrayal from allies, and butchering. You will also see that the characters of the anime are inspired by real-world war figures, some are fictional. Irrespective, Kingdom is a long anime that depicts the ground reality of war and deserves praise in every manner.
Best Fantasy: Naruto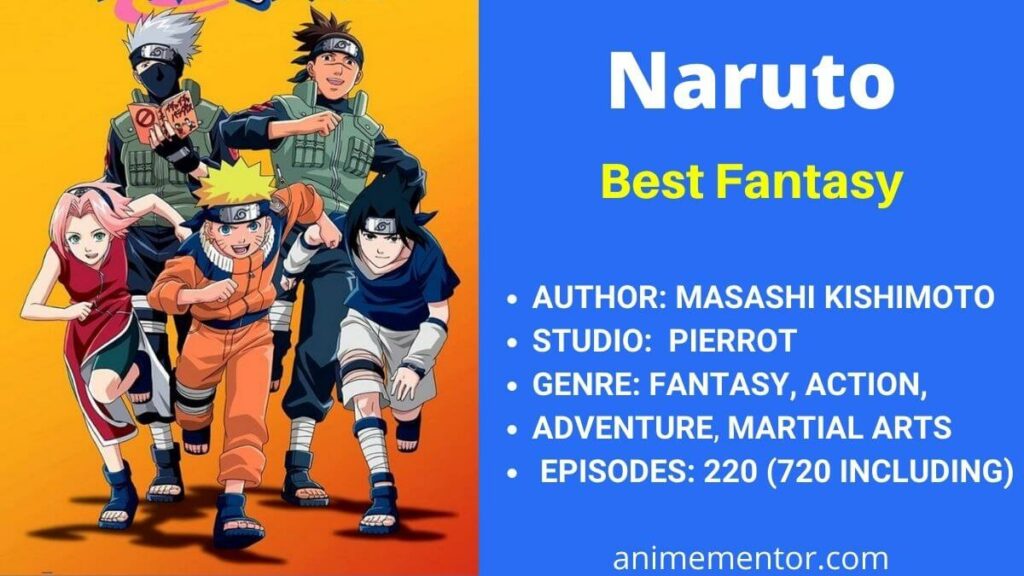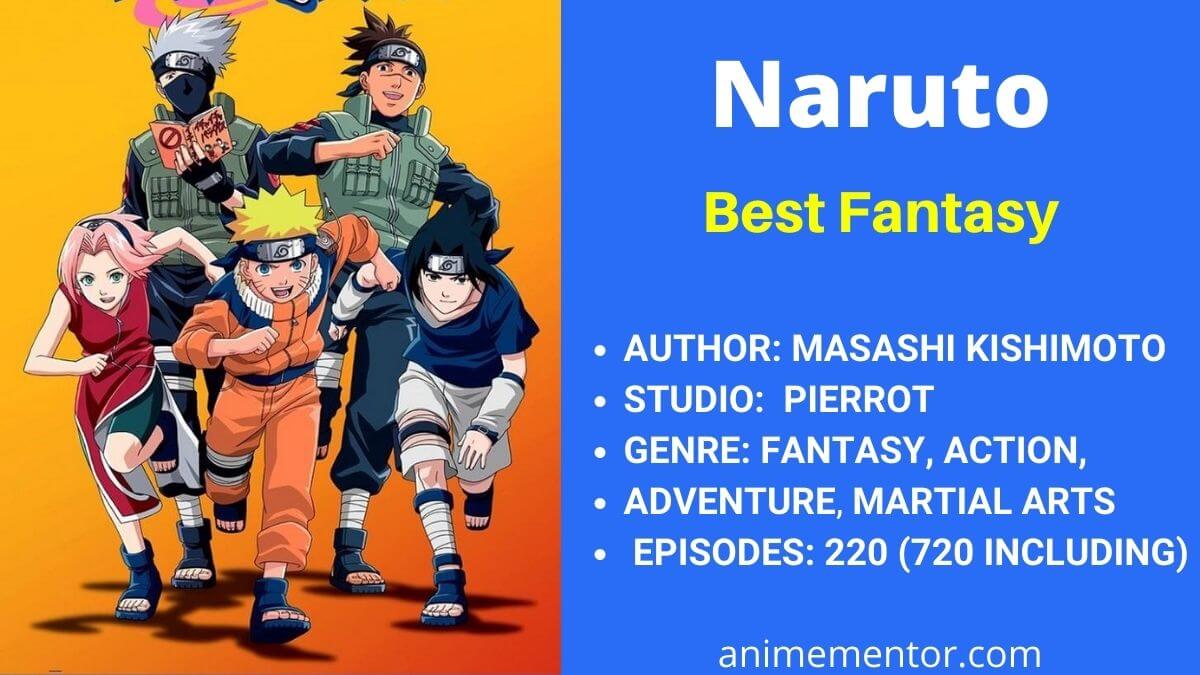 Naruto is one of the greatest anime and it will go down in the history. It is based on a ninja theme. In starting it was released as a weekly manga by Masashi Kishimoto. It ran from 1999 till 2014.
The setting is in a fictional world named Shinobi, a boy named Naruto resides there and is growing up among many of his friends in front of his masters. Naruto along with other ninja battles uses different Ninja Techniques while using Chakra Energy.
Everything from friendship, betrayal, and bonding, to family relationships, is present in Naruto. No wonder it is the best anime according to many across the world.