Most Anticipated Upcoming Anime Series of 2022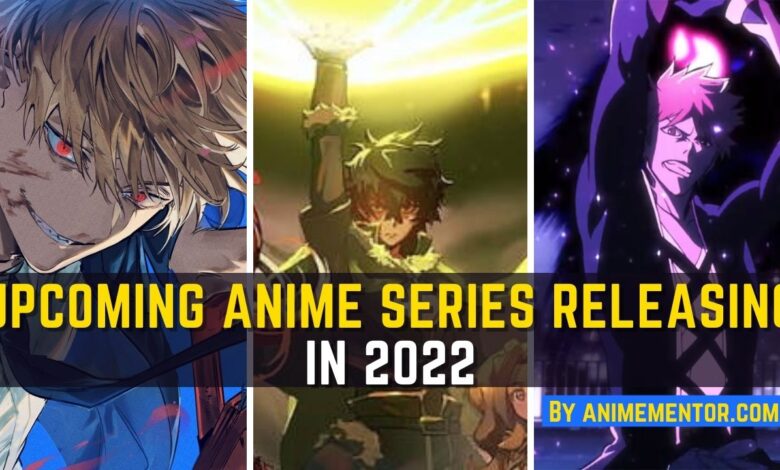 Published on August 24, 2022 Edited by Ayaz
At the time of the pandemic, anime entered the mainstream entertainment media. The last years have been great for otakus. Now, the year 2022 also brings some awesome, jaw-dropping anime series for fans.
From new releases such as – Chainsaw Man and Spy x Family to some existing bangers like Bleach and Overlord to name a few, there's just so much to look forward to this year!
With so much coming our way it might be a problem to keep track of all the major releases. So here is a list of some of the most popular/ anticipated series the fans are eagerly waiting for in 2022.
Upcoming Anime Releasing in Winter 2022
Upcoming Anime Releasing in Spring 2023
To Be Announced Anime Releasing in 2022
Upcoming Anime Movies Releasing in 2022
---
Upcoming Anime Releasing in Summer 2022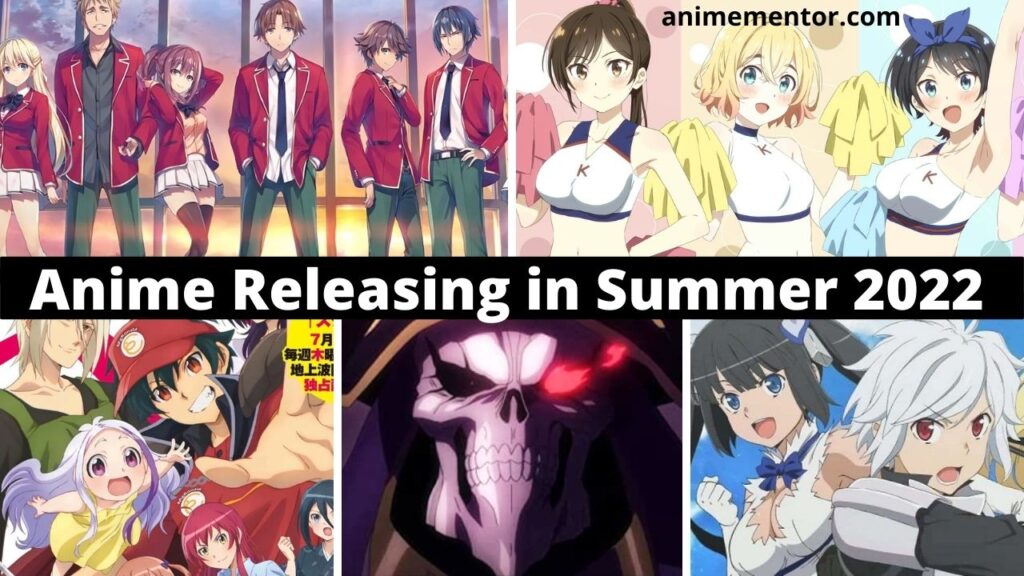 Release Date
Title
Total Episodes
Studio
Director(s)
July 2
Iii Icecrin 2
Shin-Ei Animation
TIA
Juria Matsumura
July 2
Lycoris Recoil
A-1 Pictures
Shingo Adachi
July 2
Phantom of the Idol
Studio Gokumi
Daisei Fukuoka
July 2
Rent-A-Girlfriend (season 2)
TMS Entertainment
Kazuomi Koga
July 2
Shoot! Goal to the Future
EMT Squared
Noriyuki Nakamura
July 2
Teppen—!!!!!!!!!!!!!!!
Drive
Shinji Takamatsu (Chief)
Toshinori Watanabe
July 2
Engage Kiss
A-1 Pictures
Tomoya Tanaka
July 3
Luminous Witches
Shaft
Shouji Saeki
July 3
RWBY: Ice Queendom
Shaft
Kenjirou Okada (Chief)
Toshimasa Suzuki
July 3
Utawarerumono: Mask of Truth
28
White Fox
Kenichi Kawamura
July 3
Yurei Deco
Science SARU
Tomohisa Shimoyama
July 3
Classroom of the Elite (season 2)
Lerche
Seiji Kishi (Chief)
Hiroyuki Hashimoto (Chief)
Yoshihito Nishōji
July 4
My Isekai Life
Revoroot
Keisuke Kojima
July 4
Overlord (season 4)
Madhouse
Naoyuki Itō
July 5
Vermeil in Gold
Staple Entertainment
Takashi Naoya
July 5
Dropkick on My Devil! X
Nomad
Hikaru Sato
Taku Yamada
July 6
Harem in the Labyrinth of Another World
Passione
Naoyuki Tatsuwa
July 6
Made in Abyss: The Golden City of the Scorching Sun
Kinema Citrus
Masayuki Kojima
July 6
My Stepmom's Daughter Is My Ex
Project No.9
Shinsuke Yanagi
July 6
Smile of the Arsnotoria the Animation
Liden Films
Naoyuki Tatsuwa
July 6
Tokyo Mew Mew New
Yumeta Company
Graphinica
Takahiro Natori
July 6
Uncle from Another World
AtelierPontdarc
Shigeki Kawai
July 6
The Yakuza's Guide to Babysitting
Feel
Gaina
Itsuro Kawasaki
July 7
Call of the Night
Liden Films
Tetsuya Miyanishi (Chief)
Tomoyuki Itamura
July 8
Shine On! Bakumatsu Bad Boys!
Geno Studio
Tetsuo Hirakawa
July 8
When Will Ayumu Make His Move?
Silver Link
Mirai Minato
July 8
Black Summoner
Satelight
Yoshimasa Hiraike
July 9
Lucifer and the Biscuit Hammer
NAZ
Nobuaki Nakanishi
July 9
Prima Doll
Bibury Animation Studios
Tensho
July 9
Shadows House (season 2)
CloverWorks
Kazuki Ōhashi
July 9
Dr. Stone: Ryusui
1
TMS Entertainment
Shūhei Matsushita
July 10
Extreme Hearts
Seven Arcs
Junji Nishimura
July 10
Hanabi-chan wa Okuregachi
Gaina
Hiromitsu Kanazawa
July 10
Isekai Yakkyoku
Diomedéa
Keizō Kusakawa
July 10
Orient (part 2)
A.C.G.T
Tetsuya Yanagisawa
July 12
Shine Post
Studio Kai
Kei Oikawa
July 13
The Devil Is a Part-Timer!!
3Hz
Daisuke Tsukushi
July 14
Love Live! Superstar!! (season 2)
Sunrise
Takahiko Kyogoku
July 17
Is It Wrong to Try to Pick Up Girls in a Dungeon? (season 4)
22
J.C.Staff
Hideki Tachibana
July 23
BanG Dream! Morfonication
2
Sanzigen
Kōdai Kakimoto (Chief)
Tomomi Umetsu
July 28 July 29
Chimimo
12
Shin-Ei Animation
Aruto Pino
July
Musasino!
A-Real
Mitsuyuki Ishibashi
July
The Maid I Hired Recently Is Mysterious
Silver Link
Blade
Mirai Minato (Chief)
Misuzu Hoshino
July
The Prince of Tennis II: U-17 World Cup
M.S.C.
Studio Kai
Keiichiro Kawaguchi
July
Fuuto PI
12
Studio Kai
Yousuke Kabashima
August 1
Nights with a Cat
Studio Puyukai
Minoru Ashina
August 4
Release Date
Title
Total Episodes
Studio
Director(s)
Japanise Name
October
Beast Tamer
EMT Squared
Atsushi Nigorikawa
Yūsha Party o Tsuihou Sareta Beast Tamer
October
Bibliophile Princess
Madhouse
Tarou Iwasaki
Mushikaburi-hime
October
Bleach: Thousand-Year Blood War
Pierrot
Tomohisa Taguchi
Bleach: Sennen Kessen-hen
October
Blue Lock
Eight Bit
Tetsuaki Watanabe
October
Encouragement of Climb: Next Summit
12
Eight Bit
Yusuke Yamamoto
October
Eternal Boys
Liden Films
migmi
Eikyū Shōnen
October
Futoku no Guild
TNK
Takuya Asaoka
October
Golden Kamuy (season 4)
Brain's Base
Shizutaka Sugahara (Chief)
October
I'm the Villainess, So I'm Taming the Final Boss
Maho Film
Kumiko Habara
Akuyaku Reijō Nanode Last Boss o Katte Mimashita
October
Kōkyū no Karasu
Bandai Namco Pictures
Chizuru Miyawaki
October
Management of Novice Alchemist
ENGI
Hiroshi Ikehata
Shinmai Renkinjutsushi no Tenpo Keiei
October
Megaton Musashi (season 2)
OLM
Akihiro Hino (Chief)
Shigeharu Takahashi
October
Mob Psycho 100 (season 3)
Bones
Yuzuru Tachikawa (Chief)
Takahiro Hasui
October
Mobile Suit Gundam: The Witch from Mercury
Sunrise
Kidō Senshi Gundam: Suisei no Majo
October
Muv-Luv Alternative (season 2)
Yumeta Company
Graphinica
Yukio Nishimoto
October
My Hero Academia (season 6)
Bones
Kenji Nagasaki (Chief)
Masahiro Mukai
Boku no Hero Academia 6
October
My Master Has No Tail
Liden Films
Hideyo Yamamoto
Uchi no Shishō wa Shippo ga Nai
October
Nōmin Kanren no Skill Bakka Agetetara Nazeka Tsuyoku Natta
Studio A-Cat
Norihiko Nagahama
October
Play It Cool, Guys
Pierrot
Chiaki Kon
Cool Doji Danshi
October
Pop Team Epic (season 2)
October
Reincarnated as a Sword
C2C
Shinji Ishihira
Tensei Shitara Ken Deshita
October
Reiwa no Di Gi Charat
Liden Films
Hiroaki Sakurai
October
Shinobi no Ittoki
Troyca
Shuu Watanabe
October
The Eminence in Shadow
Nexus
Kazuya Nakanishi
Kage no Jitsuryokusha ni Naritakute!
October
To Your Eternity (season 2)
20
Drive
Kiyoko Sayama
Fumetsu no Anata e
October
Umayuru
Scooter Films
October
Urusei Yatsura
David Production
Hideya Takahashi
Yasuhiro Kimura
October
Uzumaki
4
Drive
Hiroshi Nagahama
October
VazzRock the Animation
13
PRA
Nobuhiro Takamoto
October
Welcome to Demon School! Iruma-kun (season 3)
21
Bandai Namco Pictures
Makoto Moriwaki
Mairimashita! Iruma-kun
October
Yowamushi Pedal: Limit Break
TMS/8PAN
Upcoming Anime Releasing in 2022
SPY X FAMILY
 AUTHOR: Tatsuya Endo
GENRE: Action/ Comedy/Shounen
RELEASE DATE: April 2022
SYNOPSIS: Twilight is an elite spy who has to "build a family" to fulfill an undercover mission. So, he agrees to a fake marriage with Yor and adopts Anya as their daughter not knowing that his wife Yor is actually an assassin and little Anya is a telepath. A fun and suspenseful life with the most unique family in the world. I wonder what will happen next!
CHAINSAW MAN
AUTHOR: Tatsuki Fujimoto
GENRE: Action/ Drama/ Horror/ Shounen/ Supernatural
RELEASE DATE: 2022
Probably the most waited new Anime series of 2022 is Fujimoto's, Chainsaw Man. A story that is gory, painful, and makes you feel despair as you never felt with a frequent comedy.
SYNOPSIS: A poverty-stricken kid Denji was stuck with a huge debt to the yakuza that his father left before death. But thanks to a devil dog he saved named Pochita, he somehow managed to survive by killing Devils for the Yakuza. But soon he was betrayed by the yakuza and was killed by a Zombie Devil. After that Pochita in order to save his master sacrifices himself, bringing Denji back from the dead but now Denji is a Chainsaw man!
With all these new popular mangas getting animated we are also getting some of the old series back this year which will also create a storm among the fan base. So check out these old but popular animes. Here's the list…….
BLUE LOCK
AUTHOR: Kaneshiro Muneyuki
GENRE: Shounen/Sports
RELEASE DATE: Mid-2022
SYNOPSIS: The story begins with Japan's failure in the World Cup which begins the Football Union's search for new players to play in the upcoming 2022 World Cup. Isagi Yoichi is one of the 300 U-18 strikers chosen by Jinpachi Ego, a man who was hired by the Japan Football Association to guide Japan to win the World Cup. Ego isolates the chosen 300 players into a prison-like institution called "Blue Lock" in order to create "the world's greatest egotist striker". The lone surviving striker will earn the right to become the national team's striker.
UZUMAKI
AUTHOR: Itou Junji
GENRE: Drama/ Horror/ Romance/ Seinen
RELEASE DATE: October 2022
SYNOPSIS: Junji Ito's stories are one of a kind. Uzumaki is no different from that. The story follows the lives of Kirie Goshima, Shuichi Saito along with the citizens of Kurozu-Cho. The slow, uncanny creep of horror begins when Shuichi's father discovers a hobby to collect Uzumaki. Uzumaki, the spiral, the hypnotic secret shape of the world which manifests itself in various ways like seashells, ferns, whirlpools in water, and even in people's bodies. As the madness spreads, the inhabitants of Kurozu-Cho are pulled ever deeper, as if into an Uzumaki of no return…….
SPRIGGAN
AUTHOR: Takashige Hiroshi
GENRE: Action/ Adventure/ Historical/ Shounen/ Supernatural
RELEASE DATE: 2022
SYNOPSIS: Hiroshi's Spriggan takes place after the Cold war where Out Of Place Artifacts(OOPArts) are taking over various parts of the world. Different Armed forces started secret searches for these Artifacts for their own selfish reasons. The  ARCAM private army with the help of their elite secret agents known as Spriggans plans to turn the tides of the battle against those who would endanger humanity by using these artifacts.
ORIENT
AUTHOR: Ohtaka Shinobu
GENRE: Action/ Fantasy/ Shounen
RELEASE DATE: 2022
SYNOPSIS: The author of Magi makes a comeback in the anime world with Orient, the story of 15-year-old Musashi. This fantasy series takes place during Japan's warring states period. Mushashi made a promise to his friend Kanemaki that they will become Samurai. But as time passed the samurai were exiled and disgraced. Fighting against all odds this duo gets on a journey of unknown dangers to recover the tarnished name of the Samurai. What does life hold for them in this journey?
BLEACH: THOUSAND YEAR BLOOD WAR
AUTHOR: Tite Kubo       
GENRE: Action/ Comedy/ Drama/ Fantasy/ Shounen/ Supernatural
RELEASE DATE: October 2022
Tite Kubo's magnum opus Bleach returns after an 8 year-long hiatus with its final arc Thousand-Year Blood War. The fans are already on the hype train. Will it become the best anime of 2022?
SYNOPSIS:  The Thousand-Year Blood War is a war that takes place between the Gotei 13 and the Wandenreich. The Quincy will finally rise to strike against the Shinigami and the Soul society. This will create a war between the two.
The primary difference between Shinigami and Quincy is that while Shinigami purifies Hollows and allows the pure souls to transmigrate, Quincy destroys the Hollows completely.
Read More
Bleach Thousand-Year Blood War Release Date, Plot, Trailer & More
THE RISING OF THE SHIELD HERO(SEASON 3)
AUTHOR: Aneko Yusagi(LN), Aiya Kyu(Manga)
GENRE: Seinen/ Action/ Adventure/ Fantasy/ Harem/ Romance
RELEASE DATE: TBA
 After a lot of rescheduling from 2020 the Rising of the Shield Hero season 2 is finally confirmed to be released in 2023. A fan favorite Isekai anime adapted from the Light Novel of the same name. Let us again join the journey of Shield Hero Iwatani Naofumi!
SYNOPSIS:  The first season of the series ended with a lot of undisclosed information and also the fight between Glass and Naofumi gives birth to a lot of questions. Season 3 will continue their journey further into various new challenges. Naofumi, Raphtalia, and Filo will again try to save the world from the Waves (the inter-dimensional monsters' attack) along with new friends.
VINLAND SAGA(SEASON 2)
AUTHOR: Yukimura Makoto
GENRE: Action/ Adventure/ Historical/ Mature/ Seinen
RELEASE DATE: 2022
The Viking-themed anime is coming back. Vinland Saga's season 1 ending was one of the most shocking finales of any anime. The fans are waiting for season 2 for almost 2 years. What will happen now in this upcoming season?
SYNOPSIS: Season 2 starts again with the shocking reveals the life of Thorfinn. He has lost both his purposes and will to live on. After years later as a slave, he has become a laborer. Until he meets Einar. Now the story unfolds how Thorfinn reevaluates his purpose in life.
OVERLORD(SEASON 4)
AUTHOR: Maruyama Kugane(LN), Satoshi Oshio(Manga)  
GENRE : Seinen/ Action/ Adventure/ Fantasy/ Harem/ Romance/ Supernatural
RELEASE DATE: 2022
 Overlord is an anime series that is based on a light novel of the same name. It's been a long time since its season 3. After a long hiatus of 4 years, Ainz is returning with a movie and season 4.
SYNOPSIS: Overlord season 4 should be adapting volumes ten, eleven, and twelve of the light novel series, effectively concluding with the first part of "The Paladin of the Holy Kingdom" arc which will begin with Ainz's coronation.
AUTHOR: REIJI MIYAJIMA
GENRE: ROMANCE/ COMEDY
RELEASE DATE: 2022
One of the Fan-favorite rom-com is returning with its complex story plot. A romantic comedy that very beautifully tells the love story of A boy named Kazuya. This became an immediate fan favorite as it depicts the beauty of true love very minutely.
SYNOPSIS: After getting dumped by his girlfriend Kazuya decides to rent a girlfriend from the online app. He then meets Chizuru his rental girlfriend but he thought she was inauthentic. So after some thought, he gave her a low rating. Which makes Chizuru angry and she shows Kazuya her anger. Through some interesting events, those two spend more time together. However, they quickly discover that they are next-door neighbors and even attend the same college. What does the future hold for them?
Read More
Rent-A-Girlfriend Season 2 Release Date, Cast, Plot, and more
KAGUYA-SAMA: LOVE IS WAR -ULTRA ROMANTIC
AUTHOR: Aka Akasaka
GENRE: Comedy/ Romance/ School Life/ Seinen
RELEASE DATE: April 2022
Fans are pretty hyped about this anime getting another season. Kaguya and Shirogane's competition of love creates a very hilarious comedy for the fans to enjoy. And so here is what to expect in this season –
SYNOPSIS: As the story unfolds more with the pasts of its characters we expect an awesome season again. Perhaps, Kaguya will finally confess her love for Miyuki. Though like the previous season it might not be a journey very comfortable.
IS IT WRONG TO TRY TO PICK UP GIRLS IN A DUNGEON? (DANMACHI Season 4)
AUTHOR: Fujino Oomori(LN/Manga)
GENRE: Ecchi/ Action/ Adventure/ Fantasy/ Harem/ Romance/ Comedy/ Drama
RELEASE DATE: 2022
A long-running anime series showing the journey of a 14-year-old kid and how he wants to be the hero. After the defeat against Asterius in season 3, what will happen to our little protagonist Bell?
SYNOPSIS: After meeting goddess Hestia, Bell Cranel sets out on the journey to explore the dungeons of Orario. In season 4 Bell to fulfill his dream will go much deeper in the dungeon with his newly made friends and face off against many dangerous monsters.
KOMI CAN'T COMMUNICATE
Author: Oda Tomohio
Genre: Romance/ Comedy/ Slice of Life/ Drama
Release Date: APRIL 6, 2022
This series has become very popular among the fans after the first season. The animation is also very beautiful. This series is very emotional and amazingly depicts the inner beauty of a person.
SYNOPSIS: Komi is the most beautiful girl in the class. Everyone in the class loves her and praises her like a goddess. However, she has her own problems in life. She has a communication disorder. She can't talk with anyone as she gets embarrassed. At this hard time, she meets a normal person. Tadano is the most normal person in the class whose existence is almost forgotten in class. These two meet and their exciting journey begin. More of their cute romance filled with awesome incidents continues in season 2.
MADE IN ABYSS: THE GOLDEN CITY OF THE SCORCHING SUN
AUTHOR: Tsukushi Akihito
GENRE: Adventures/Dark Fantasy/ Seinen/ sci-fi
RELEASE DATE: 2022
 After the remarkably awesome ending of season 1 fans were waiting for an announcement of season 2. One of the darkest fantasy anime – Made in Abyss makes a comeback in 2022 what does it have in store for us?
SYNOPSIS: The second season is a direct continuation from where season 1 ended. As the title tells us it will adapt the "The Golden City" arc from chapter 49. So the anime will probably be picking up in the next level of the abyss which is the 6th layer. Let's follow them on their journey ance again.
Conclusion
So, There it is, the most anticipated anime list of 2022. There is still much news about a few anime releases that have not been confirmed just yet. We will notify you about them as soon as they get a confirmed release date.
Did your favorites make it to the list? which of these anime you will be watching in 2022? Share your thoughts with us in the comments.