As an Anime fan I know the struggle – when you finish an epic series like One Piece or Naruto after binge-watching for days on end and suddenly feel at a loss for what to watch next.
Committing to another long-running anime feels exhausting, but you still want to enjoy immersive stories and captivating animation.
The solution lies in the world of short anime! Many phenomenal series tell complete narratives in 12, 13, or 24 episodes. Short anime series provides a convenient option to enjoy captivating narratives, relatable characters, and visually appealing animation without the need for a lengthy commitment.
In this post, we created the top 17 short anime series spanning different genres that you can easily binge on in a day.
Best Short Anime Series
---
1. Horimiya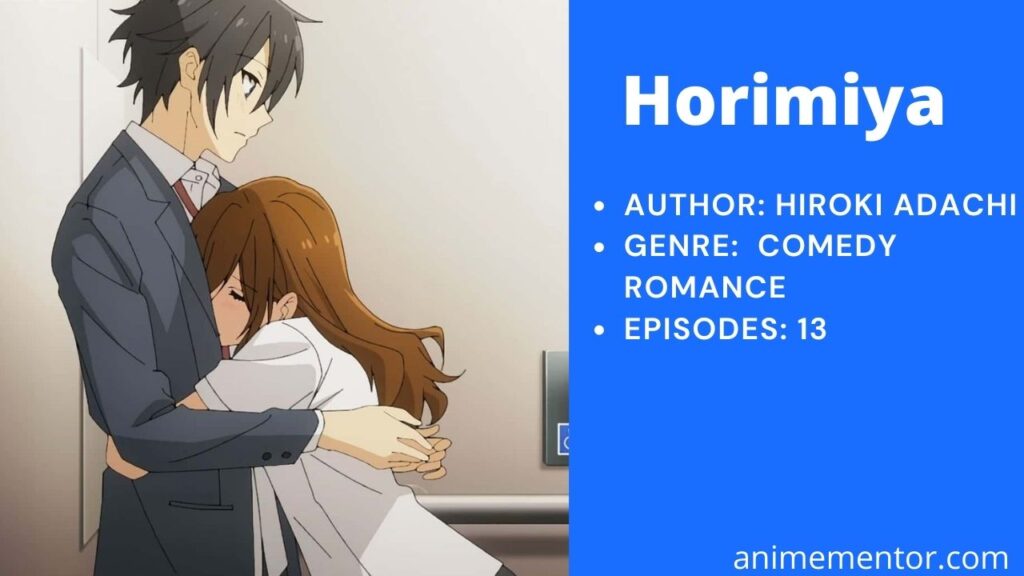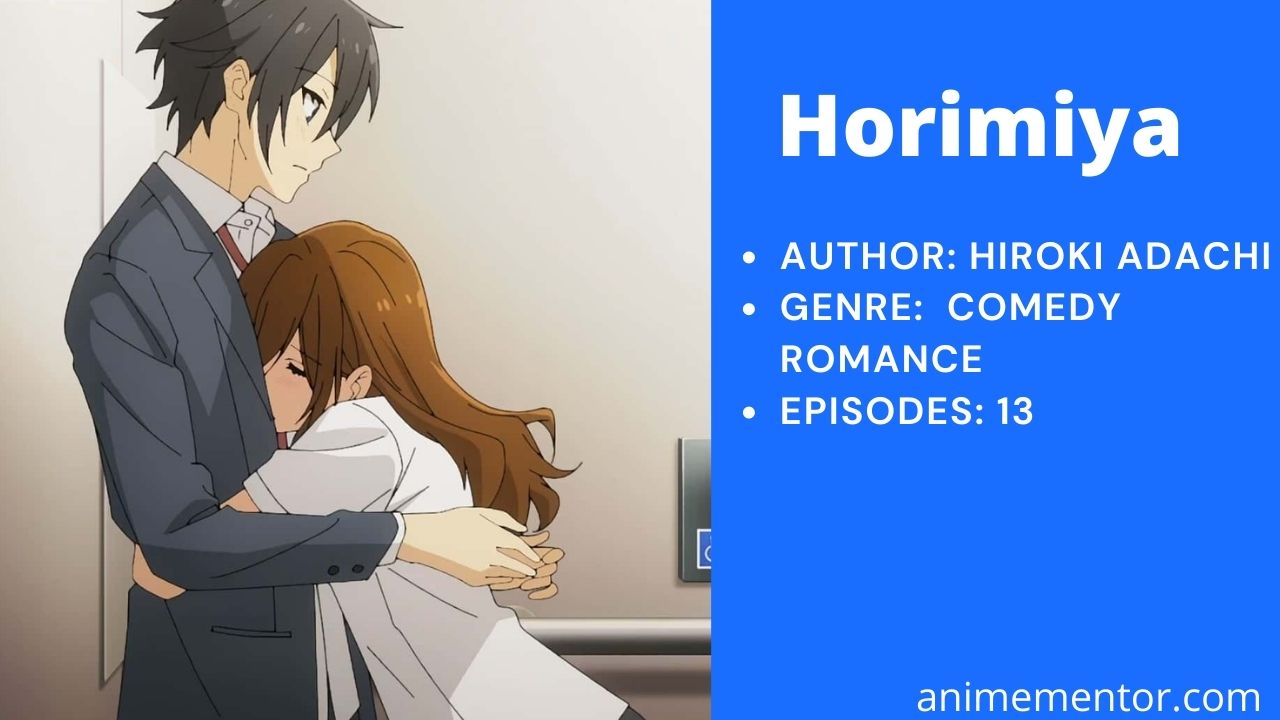 AUTHOR: Hiroki Adachi
GENRE:  Comedy, Romance, School, Slice Of Life
EPISODES: 13
Studio: Clover Works
Looking for a cute romantic comedy anime that you can binge on a weekend? Then add Horimiya to your watchlist! This charming 13-episode series subverts stereotypes through an endearing high school romance.
The story follows two high school students, Kyouko Hori and Izumi Miyamura, who hide parts of their lives from their classmates. Hori secretly cares for her younger brother while Miyamura conceals his tattoos and piercings.
When Hori and Miyamura meet unexpectedly outside of school, they get to know each other's hidden sides and form an endearing friendship that blossoms into romance.
With its mix of humor, heartfelt moments, and relatable characters, Horimiya captures the emotional highs and lows of first love. At only 13 episodes and 24 minutes each, Horimiya is a light, fun watch perfect for a quick weekend binge.
Fans of series like Toradora and Lovely Complex that showcase realistic teen relationships will find a new favorite in Horimiya's charming story. Its short length makes Horimiya easy to enjoy in one or two sittings, but its sweetness and humor will leave a lasting impression.
2. Your Lie in April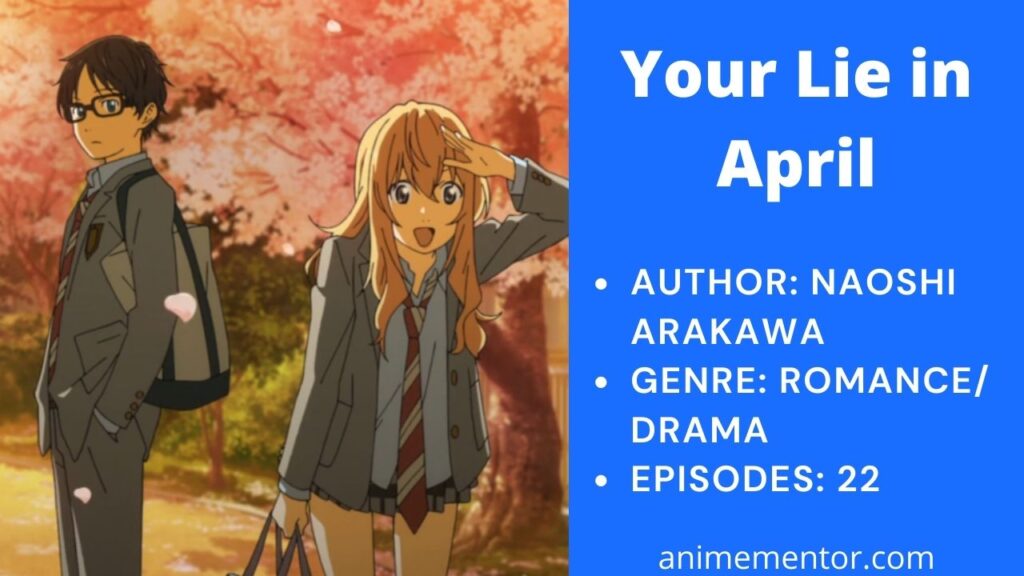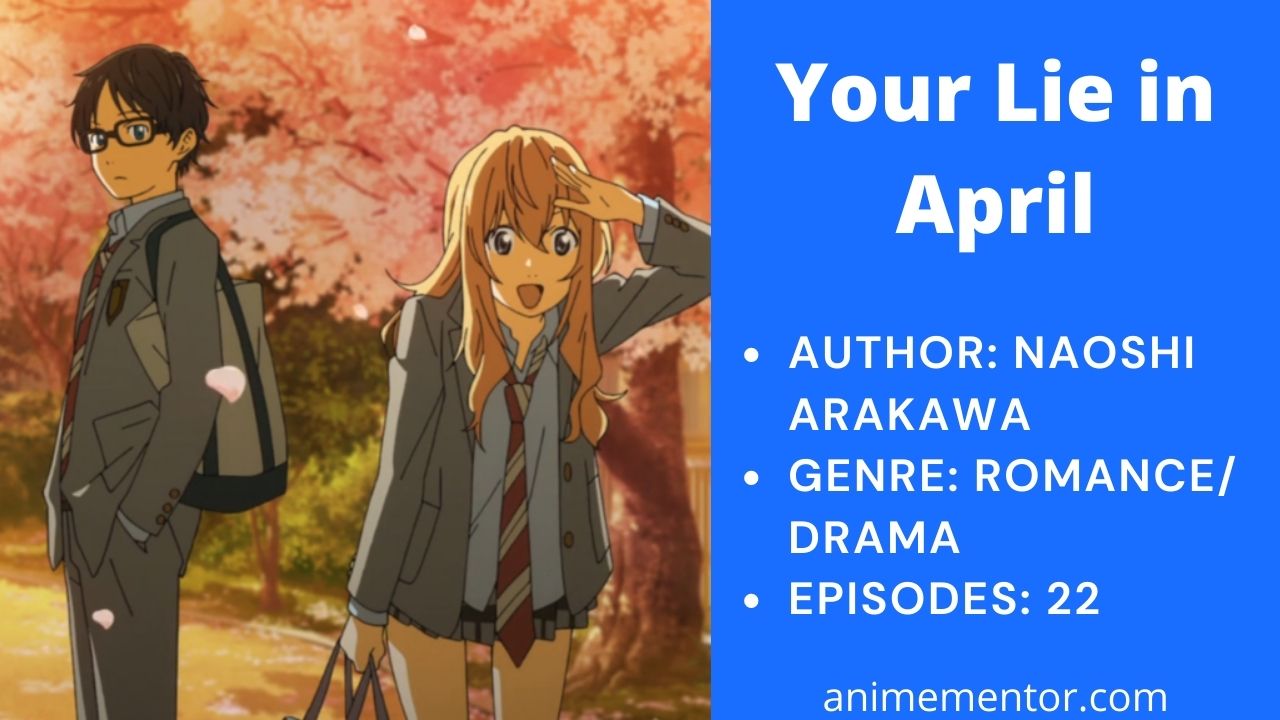 AUTHOR: Naoshi Arakawa
GENRE:  Drama, Music, Romance, School
EPISODES: 22
Looking for an anime that will pull at your heartstrings? Get ready for a musical rollercoaster ride with Your Lie in April. This 22-episode melodrama highlights the healing power of music and love.
The story starts with former piano prodigy Kousei has lost his ability to play after his mother's death. He lives a dull life until meeting Kaori, a spirited violinist. She stirs his heart and convinces Kousei to perform again.
Through their shared passion for music, Kaori and Kousei form a bond that transforms both of their lives. Their friendship blossoms into an intimate, bittersweet romance.
With its vibrant animation and inspiring narrative, Your Lie in April will move you. Watch Kaori bring color into Kousei's monochrome world and encourage him to embrace life once more.
Their emotional journey captures how music connects people and touches hearts. Your Lie in April balances sentimentality with humor for a poignant viewing experience. Let this coming-of-age story remind you of music's uplifting power.
3. One Punch Man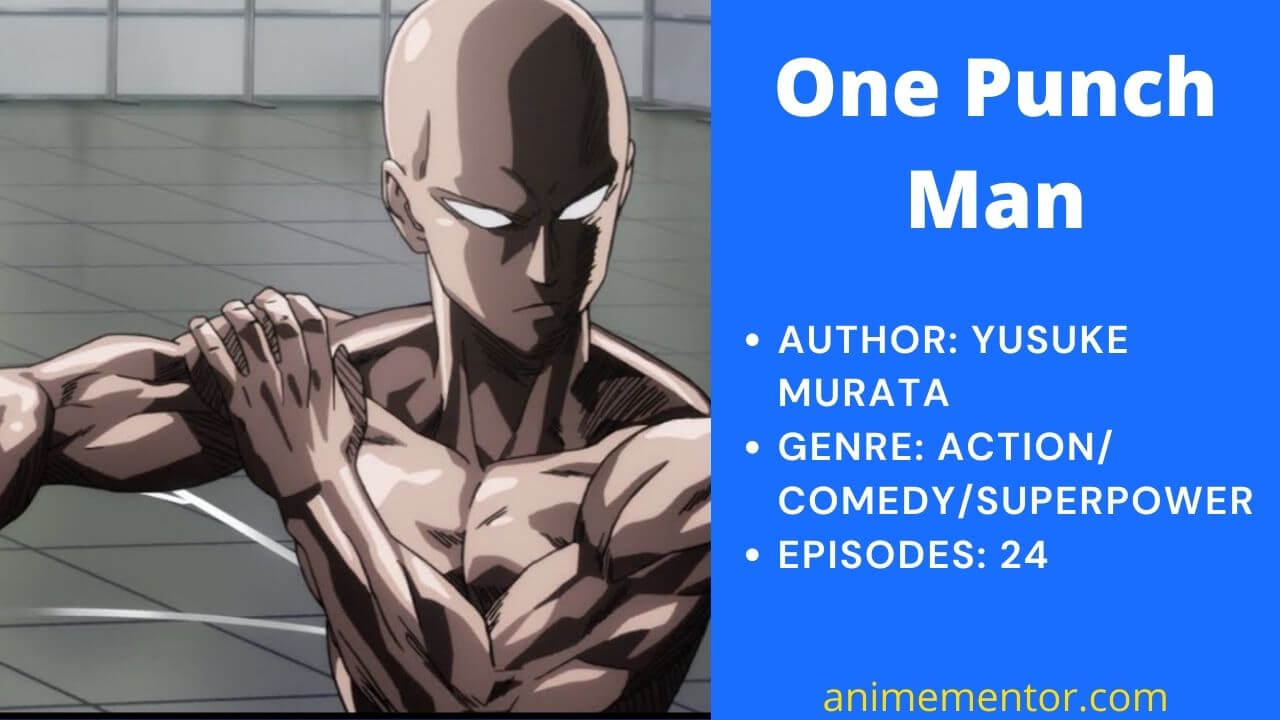 AUTHOR: Yusuke Murata
GENRE: Action, Comedy, Parody, Sci-fi, Superpower
EPISODES: 24 episodes (2 seasons)
Studio: Madhouse
Looking for an action-packed anime that will make you laugh till it hurts? One Punch Man is a must-watch series that cleverly satirizes superhero tropes through over-the-top comedy. Directed by Shingo Natsume and produced by the talented Madhouse studio, One Punch Man stars Saitama, an average guy turned superhero who can defeat any foe with a single punch but longs for a worthy challenge.
After intense training causes Saitama to lose all his hair, he easily dispatches villains left and right in each exhilarating fight scene. However, his unmatched strength has left him bored and unfulfilled. Across 24 thrilling episodes, Saitama searches for a villain strong enough to take more than one of his punches.
With its vibrant animation, absurdist humor, and crazy cast of heroes and monsters, One Punch Man provides a fresh take on the superhero genre. Action comedy fans looking for a clever anime parody should not miss this viral hit. At just 24 half-hour episodes, it delivers an exciting weekend binge.
4. Charlotte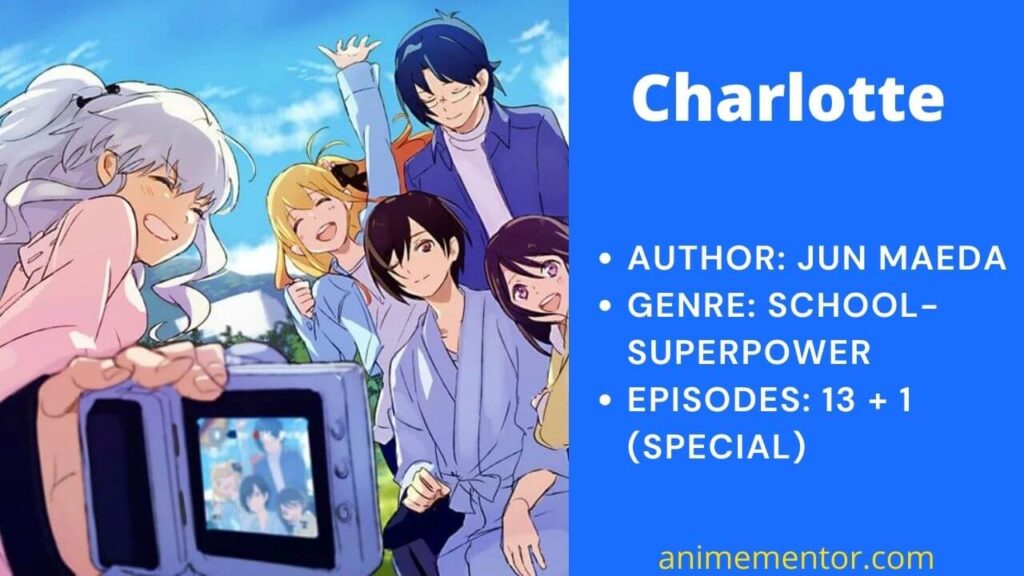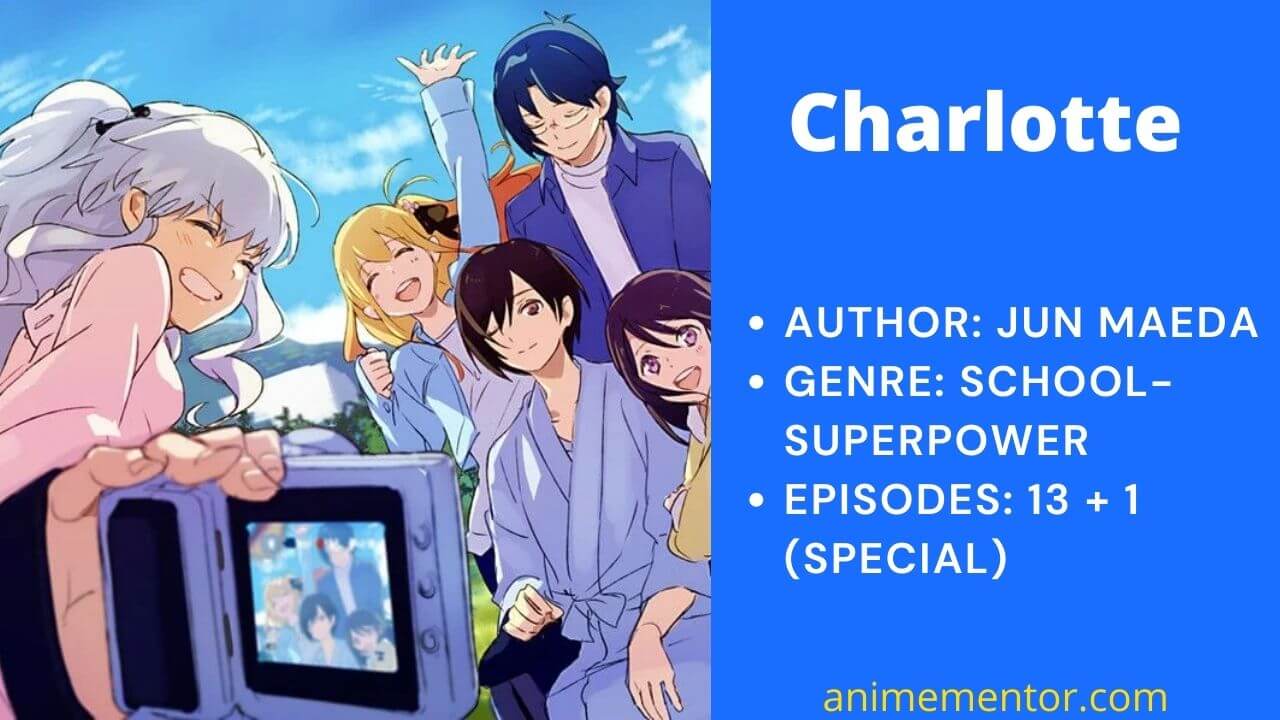 AUTHOR: Jun Maeda
GENRE: Superpower/ School
EPISODES: 13 + 1 (Special)
Charlotte is a 13-episode sci-fi anime exploring the lives of teenagers with special abilities. When Yuu Otosaka begins using his power to take over another student's body, he is confronted by Nao Tomori, who reveals the dark truth about superpowered youths.
As Otosaka joins Tomori's student council to track down ability users, they soon get caught up in a desperate race against time.
Charlotte delivers an emotional rollercoaster through its endearing characters and unpredictable plot. With its otherworldly powers and high school drama, this original anime by acclaimed creator Jun Maeda offers a poignant look at adolescence through a supernatural lens.
Let Charlotte take you on a heart-wrenching journey about coming of age in a dangerous, miraculous world.
5. Kids on the Slope
I just finished watching Kids on the Slope and I'm still floating on a melodic high. As for jazz lovers, this anime hit all the right notes.
It's set in 1960s Japan and follows Kaoru, a reserved piano prodigy who keeps to himself. That is until he meets the rebellious drummer Sentarou, who opens up a whole new world to him.
Despite their differences, these two really connect through their shared love of jazz music. You could feel their chemistry right from their first improvised jam session in the basement of a local record shop.
Sentarou's outgoing personality draws the shy Kaoru out of his shell. Seeing Kaoru slowly come into his own and build real friendships was so rewarding. The animation perfectly captures those fragile, formative years of youth too.
And the music – wow! It's the heart and soul of this anime. The jazz soundtrack is smooth and melancholic, matching the emotional highs and lows of the story. I found myself bobbing my head to those catchy beats.
Kids on the Slope is a moving coming-of-age tale, elevated by its vintage vibe and soulful soundtrack. The characters really grew on me, and I loved watching their journey of friendship and self-discovery.
With its nostalgic 1960s setting, vintage designs, dynamic jazz performances, and down-to-earth storyline, Kids on the Slope perfectly encapsulates youth's joy and turbulence, making it a melodic masterpiece in my book!
6. Classroom of The Elite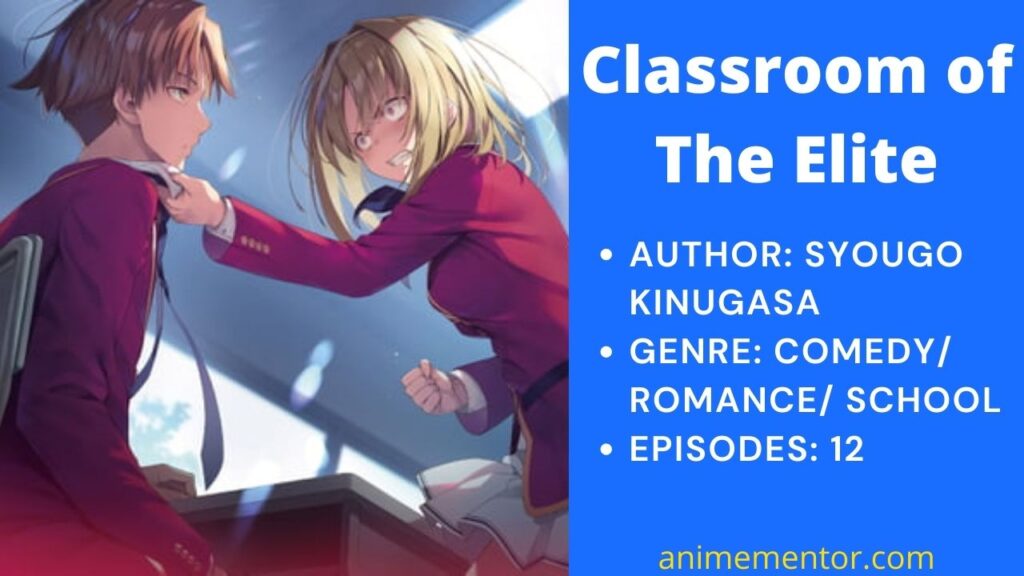 AUTHOR: Syougo Kinugasa
GENRE: Comedy/ Romance/ School
EPISODES: 12
Looking for an exciting anime that will keep you guessing? Try watching Classroom of the Elite for a thrilling psychological show you can finish in one weekend.
The show follows Kiyotaka, a student at the prestigious Tokyo Metropolitan Advanced Nurturing High School. Despite poor test scores, Kiyotaka gets placed in Class D, the class for the worst performers.
But Kiyotaka is far smarter than anyone realizes. He notices the cutthroat academic competition and vows to climb to the top while hiding his true skills and brilliance through clever tactics and mind games against rival students.
With only 12 episodes that are 24 minutes long each, Classroom of the Elite is an easy anime to watch in one or two sittings over a weekend. But its complicated plot and characters will leave you wanting more when it's over.
If you want an exciting, suspenseful anime full of surprises, watch Classroom of the Elite. This thrilling psychological show will grab your attention until the very end.
7. Hyouka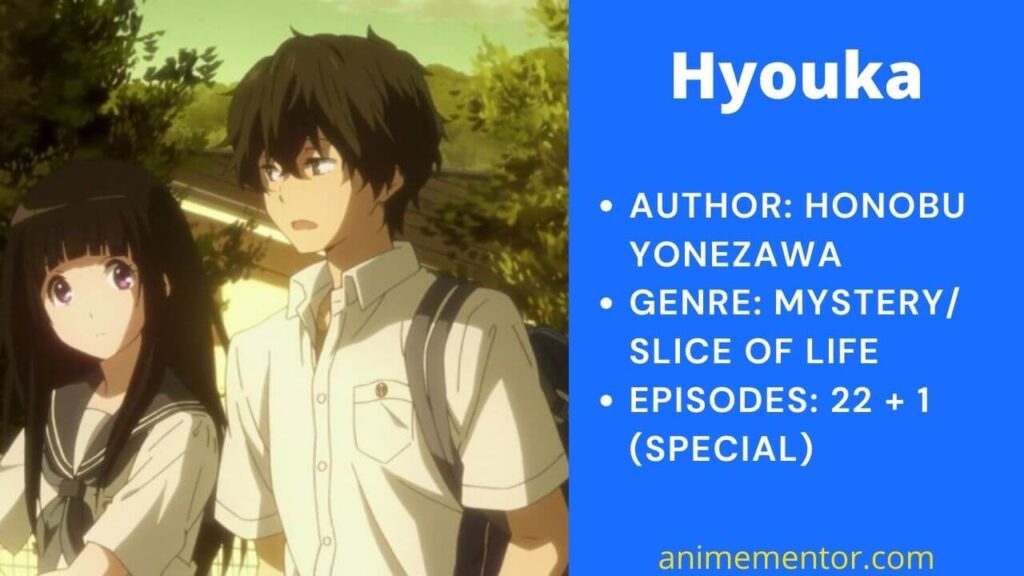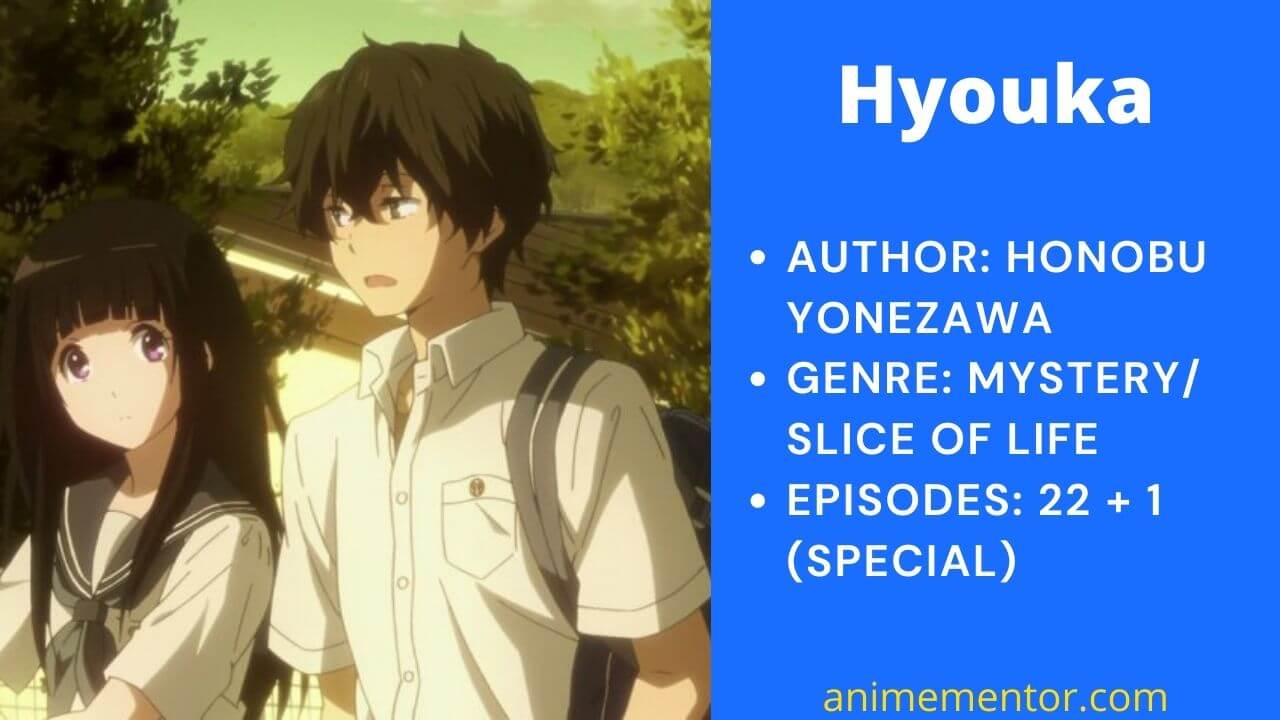 AUTHOR: Honobu Yonezawa
GENRE: Mystery/ Slice of life
EPISODES: 22 + 1 (Special)
Need an anime that cleverly combines mystery and comedy with a slice-of-life feel? Check out Hyouka.
This charming 22-episode series follows low-energy student Oreki as he joins his school's Classics Club at his sister's urging. There he meets the ever-curious Chitanda, who can't resist a good mystery.
Despite his lazy tendencies, Oreki gets drawn into solving puzzling cases linked to club secrets by Chitanda's infectious enthusiasm. Together with their quirky friends, Oreki and Chitanda take on these baffling mysteries with wit and deductive reasoning.
Through the thrill of unraveling each case and the entertaining chemistry between its eccentric characters, Hyouka perfectly balances cozy and mysterious. With masterful writing, vibrant art, and a blend of genres, Hyouka is an enjoyable watch for those seeking memorable characters and lighthearted puzzle-solving fun.
8. Plastic Memories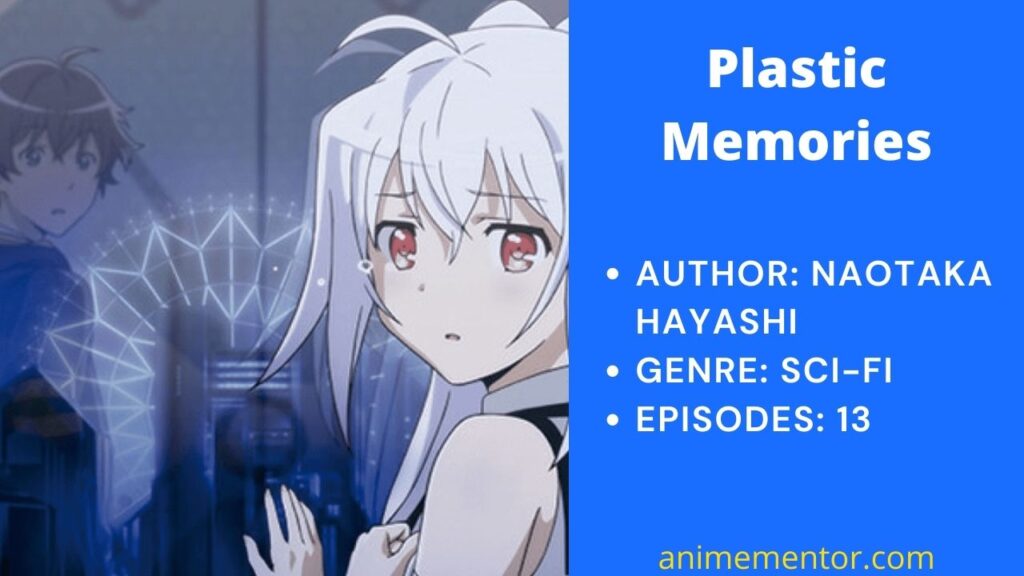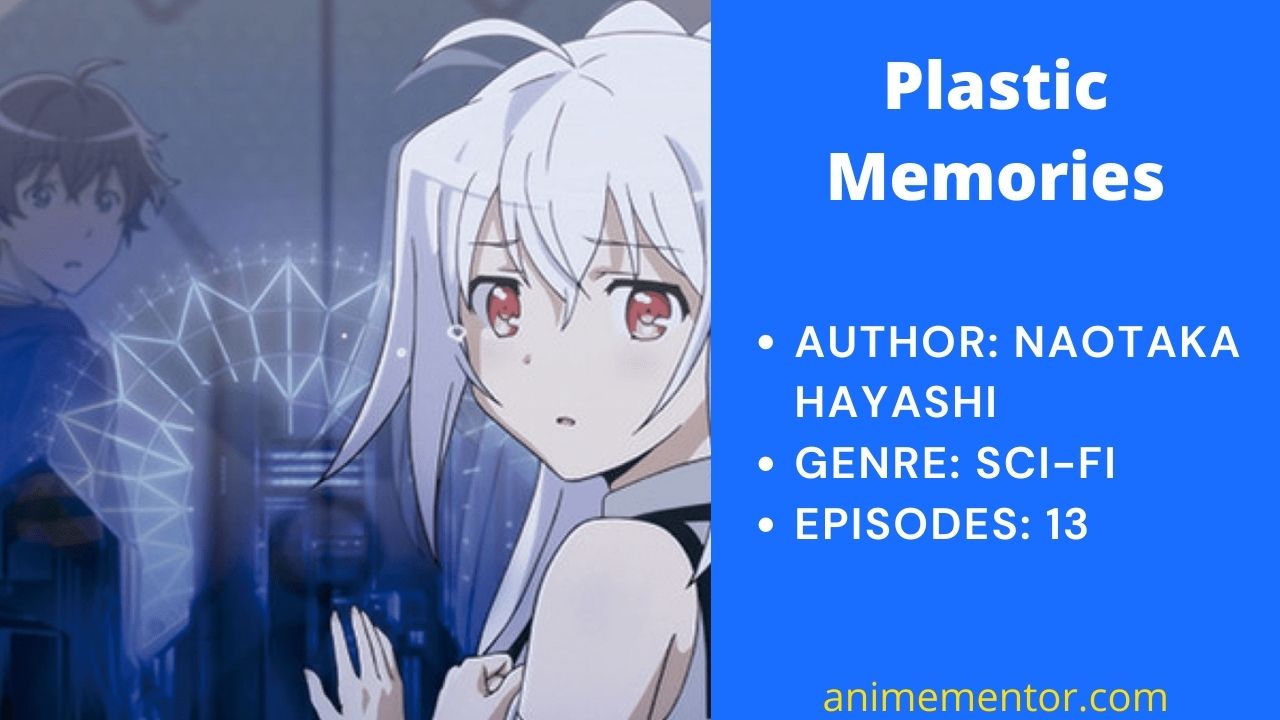 AUTHOR: Naotaka Hayashi
GENRE: Sci-fi
EPISODES: 13
After flunking college, 18-year-old Tsukasa Mizugaki starts working at SAI Corporation, where he's partnered with an android named Isla to retrieve expired androids called Giftia.
At first, their relationship is professional. But as termination day for Isla approaches, they grow closer than expected.
Just when you think you know where the story is headed, everything changes. Mizugaki discovers a shocking corporate secret that changes his mission to save Isla.
With hilarious moments, heart-wrenching romance, and thought-provoking themes, Plastic Memories will move you in unexpected ways. Get ready to cry and laugh through this poignant 13-episode sci-fi gem.
Grab some tissues, because Plastic Memories will punch you right in the feels. The ending will leave you astonished—but you'll love every minute of this emotional, high-stakes journey!
9. Erased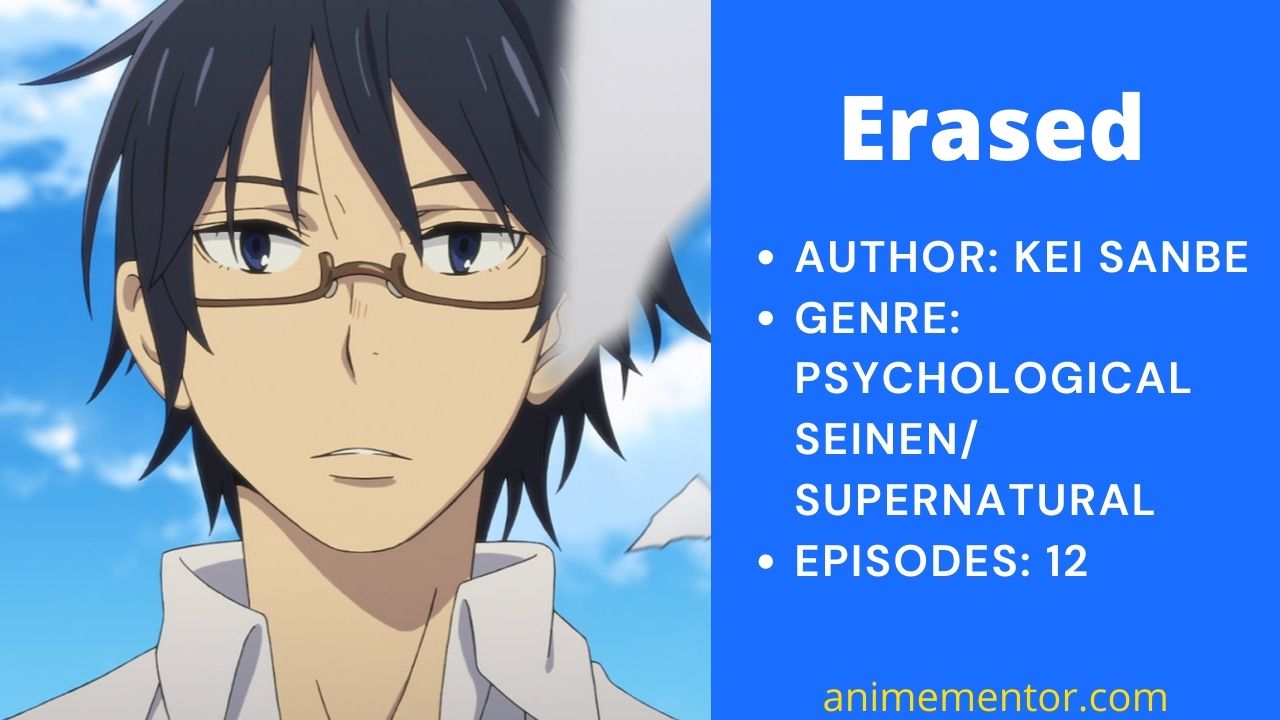 AUTHOR: Kei Sanbe
GENRE: Psychological/ Seinen/ Supernatural
EPISODES: 12
Satoru Fujinuma possesses a strange power to go back in time before accidents occur and stop them. But when he's framed for murder, Satoru's ability sends him 18 years into the past to his 5th-grade self.
He soon realizes this is his chance to prevent a traumatic incident – his classmate Kayo Hinazuki went missing when they were young, kicking off a string of kidnappings. Can Satoru save Kayo and solve the mystery?
With its gripping plot twists, high stakes, and themes of regret, Erased will keep you on the edge of your seat. Just when you think you know what will happen, everything changes again.
Get ready for giggles and tears as you root for Satoru to rewrite the past. Erased delivers an emotionally charged thrill ride you won't forget.
Strap in for a weekend of binge-worthy suspense and drama! Erased brings you back in time to change the future in this riveting sci-fi adventure.
10. Another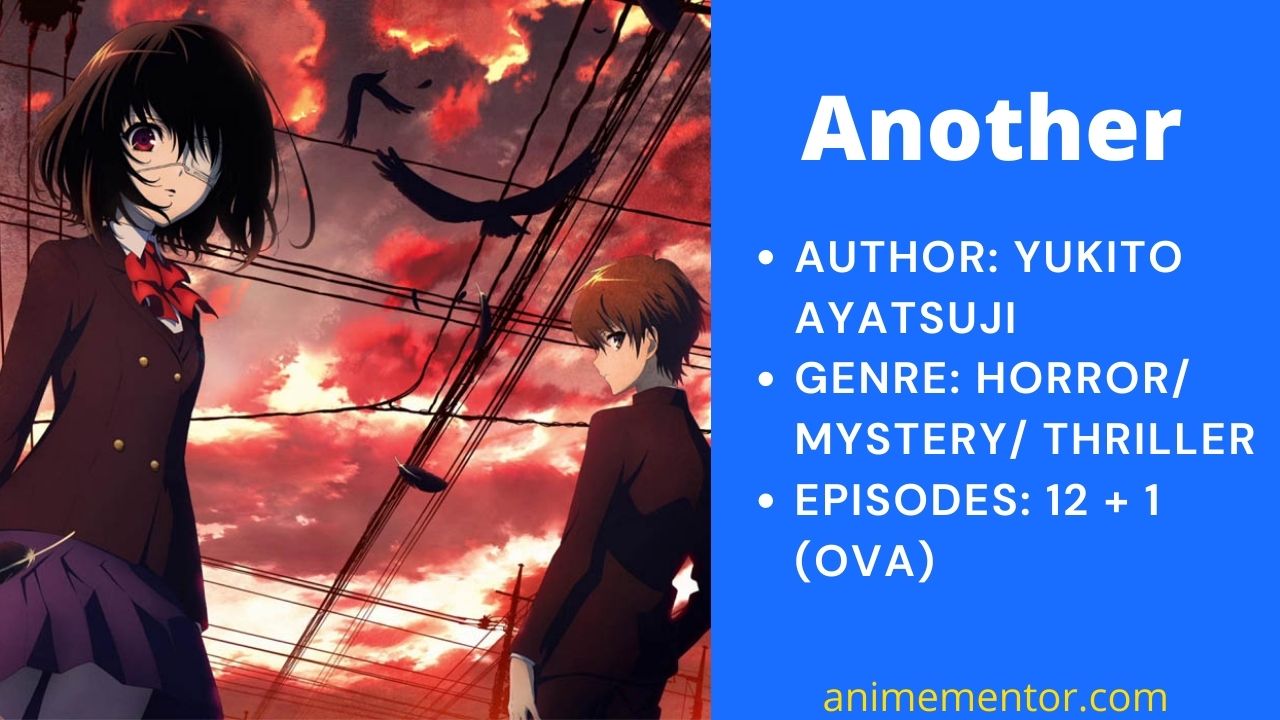 AUTHOR: Yukito Ayatsuji
GENRE: Horror/ Mystery/ Supernatural/ Thriller
EPISODES: 12 + 1 (ova)
If you want a scary and mysterious anime to watch over a weekend, then you should check out Another. This 12-episode horror series will keep you gripped as you try to unravel its creepy supernatural puzzle.
The story goes between 1972 and 1998. In 1972, a popular student named Misaki in class 3-3 dies suddenly. But her classmates pretend she is still alive all the way until graduation. Years later in 1998, a new student named Kouichi transfers into class 3-3. He notices something strange – the class has a tense, uneasy feeling and there is a quiet girl named Mei Misaki that the other students seem to ignore.
As scary things start happening to the students, Kouichi tries to figure out why. He discovers the class has been cursed ever since Misaki died back in 1972. By going into the past, Kouichi hopes to find a way to break the curse that is causing students to die in the present.
With its creepy atmosphere, bloody scenes, and mysterious characters, Another pulls you deep into its scary mysteries. Just when you think you have figured out the secrets, a new twist will surprise you.
If you enjoy complex supernatural horror stories like Higurashi, then don't miss Another. Watch all 12 nerve-wracking episodes in one weekend if you dare!
11. Amagi Brilliant Park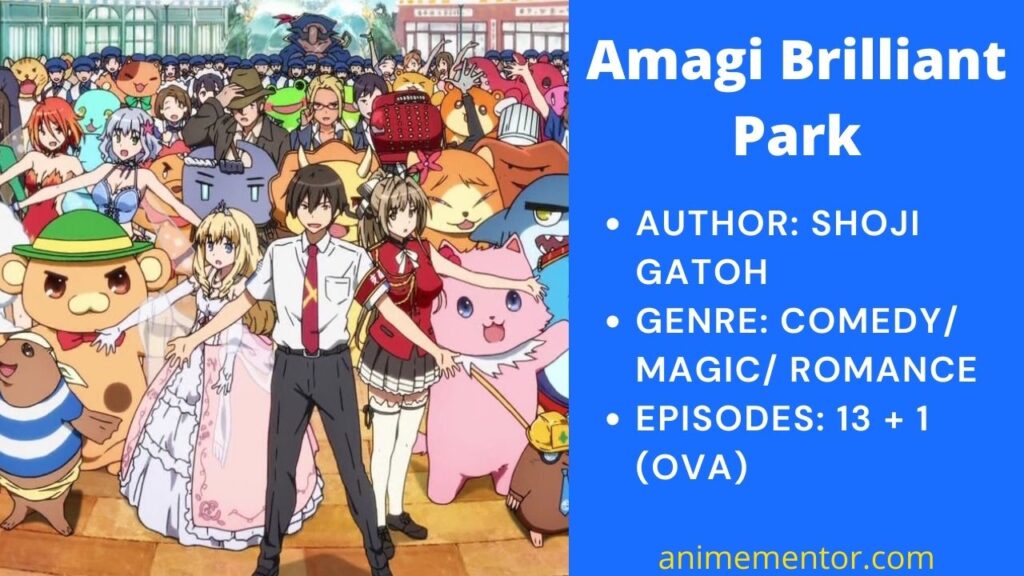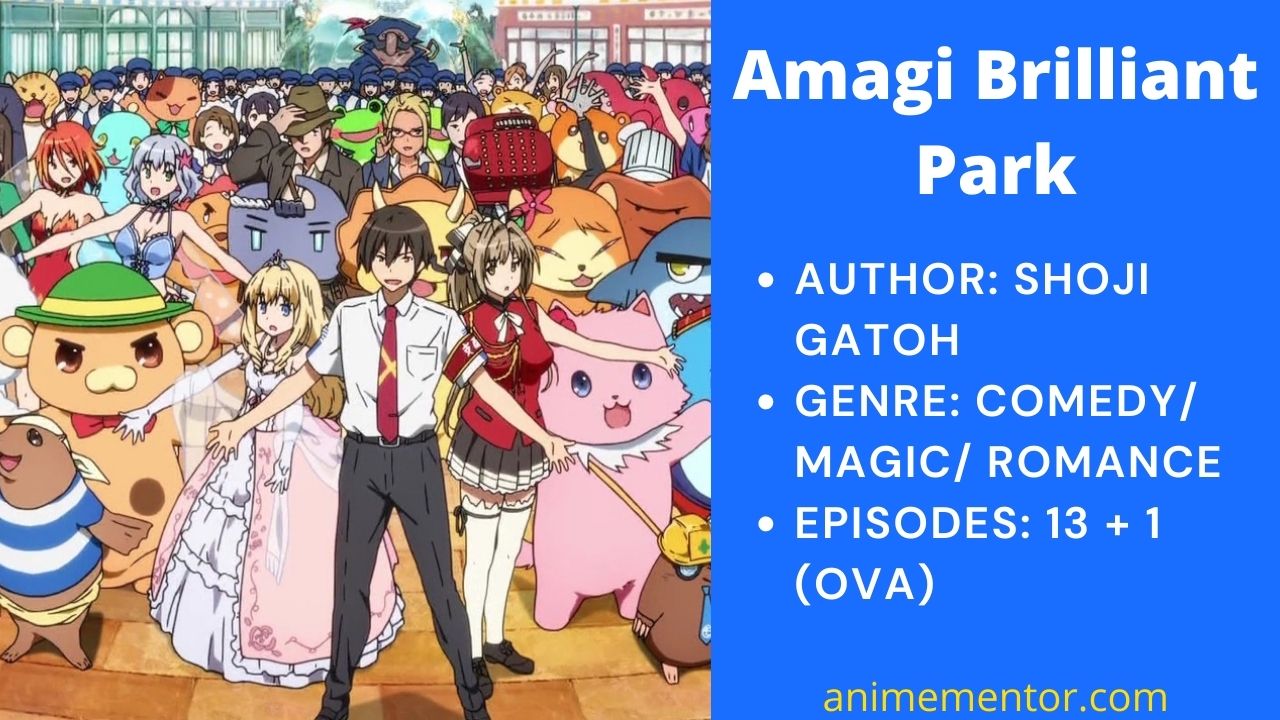 AUTHOR: Shoji Gatoh
GENRE: Comedy/ Magic/ Romance
EPISODES: 13 + 1 (ova)
Kanie Seiya is an idealistic high school student who gets asked on a date to an amusement park called Amagi Brilliant Park by a mysterious transfer student, Sento Isuzu. But when Seiya arrives at the park, he finds out it is in danger of being shut down forever due to money problems.
However, Amagi Brilliant Park is actually full of people from a magical realm called Maple Land. The park collects magical energy from visitors that the citizens of Maple Land need to survive in the human world. So if the park closes, it could mean the end for the people of Maple Land.
Seiya meets Ratifa, the park manager and princess of Maple Land. She asks Seiya to become the acting manager of Amagi Brilliant Park and try to save it from being closed down. This begins Seiya's journey as he takes charge of the struggling park and its eccentric magical employees.
With its mix of lighthearted comedy, fantasy elements, and characters trying to save their magical world, Amagi Brilliant Park is a fun and imaginative story. Fans of shows like Ascendance of a Bookworm that blend fantasy and comedy will find a new favorite in Amagi Brilliant Park's whimsical charm.
12. Ao Haru Ride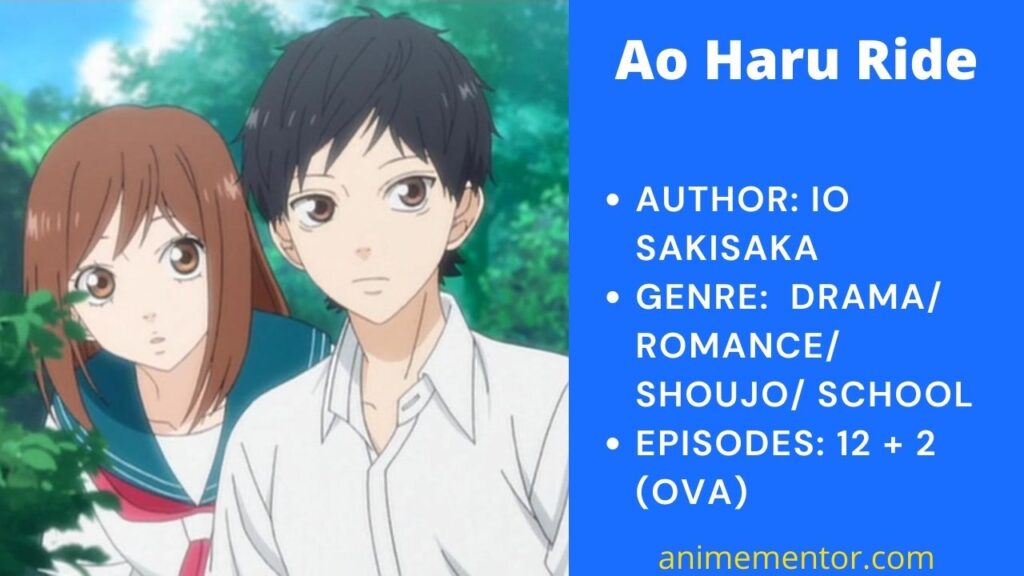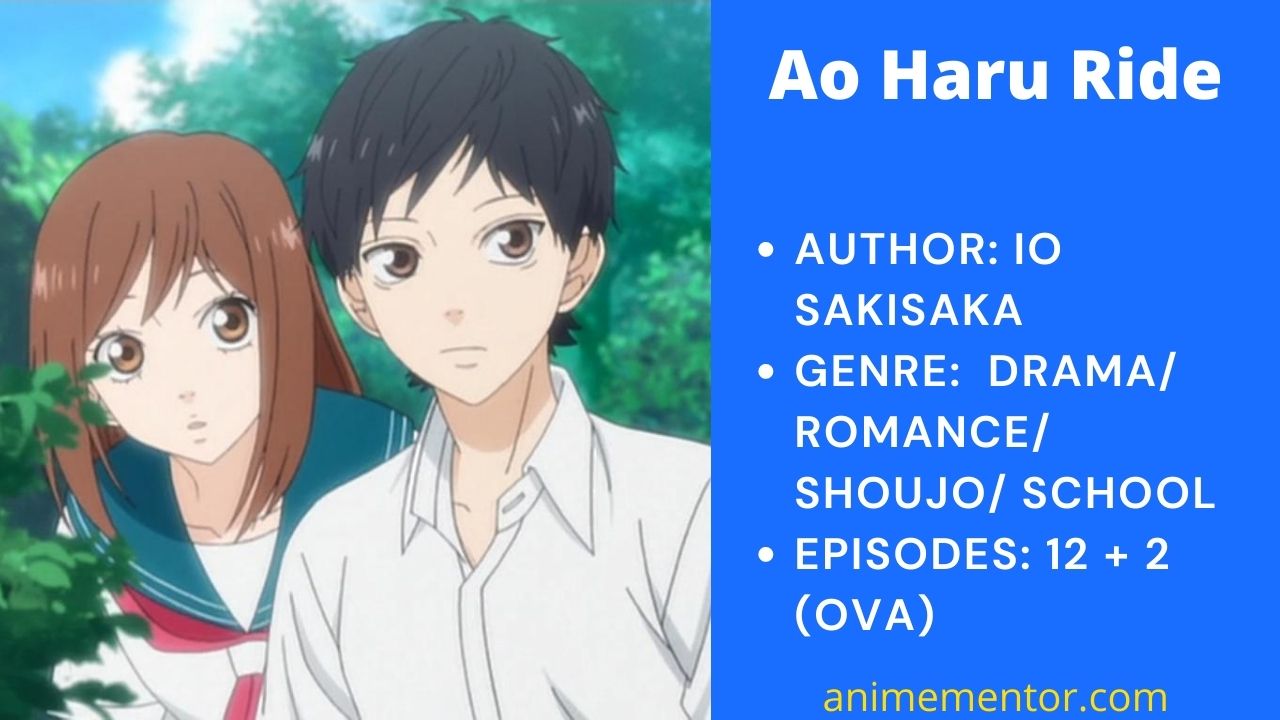 AUTHOR: Io Sakisaka
GENRE:  Drama/ Romance/ Shoujo/ School
EPISODES: 12 + 2 (ova)
In middle school, Yoshioka Futaba used to be in love with a boy named Tanaka Kou but, she couldn't get her feeling across to the only boy she has ever liked. However, because of a misunderstanding, their relationship as friends ends when he transfers schools during summer vacation.
Now Yoshioka wants to reset her life in her way as a new high school student. She was determined to be a like-minded person so that her friends won't get jealous of her. But once again in high school, she stumbles upon her lost childhood love Tanaka-Kun but now, he goes by the name Mabuchi Kou.
Mabuchi tells Yoshioka that he also had the same feelings for her back then in childhood, but now it's just become a thing of the past.
Will Futaba be able to get her feeling across to Tanaka-Kun?
With its mix of cozy school life, heartfelt flashbacks, and emotional highs and lows of young romance, Ao Haru Ride captures all the confusion, joy, and pain of adolescent feelings. Relive the magic and lessons of first love!
Fans of gentle romance series like Kimi ni Todoke will find a new favorite in Ao Haru Ride's nostalgic and sweet story.
13. Anohana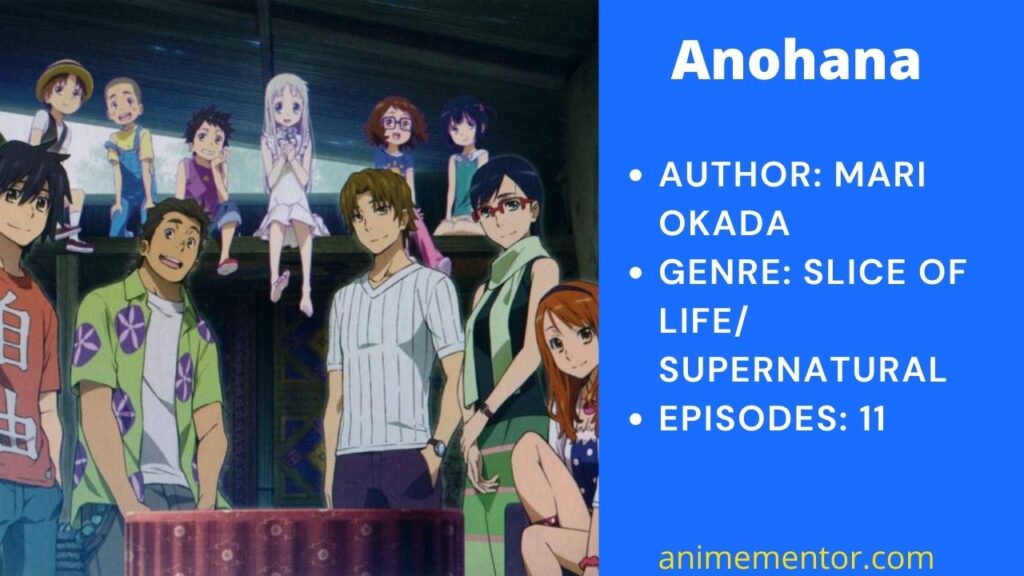 AUTHOR: Mari Okada
GENRE: Slice Of Life/ Supernatural
EPISODES: 11
Years after drifting apart after a tragic childhood loss, five friends unexpectedly reunite when they start seeing the ghost of their dead companion Menma. At first confused and unsettled, the group bands together one last time to fulfill Menma's wish and give her peace.
Through painful memories, laughter, tears, and forgiveness, the bonds of friendship are rekindled. But Menma's wish remains a mystery – what could it be? And can it finally heal the group's wounds?
With its mix of bittersweet nostalgia, colorful characters, and themes of grief and closure, Anohana captures the magic of childhood bonds. Get ready for a weekend of nonstop tears and smiles as you root for this group of estranged friends.
The ending will leave you astonished. Don't miss Anohana for a poignant rollercoaster about the power of friendship!
14. Orange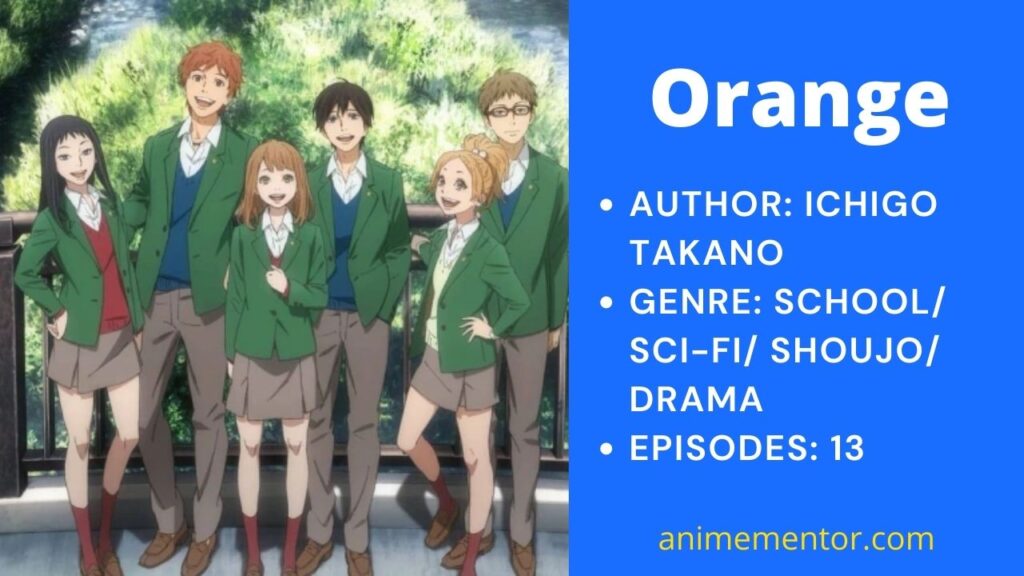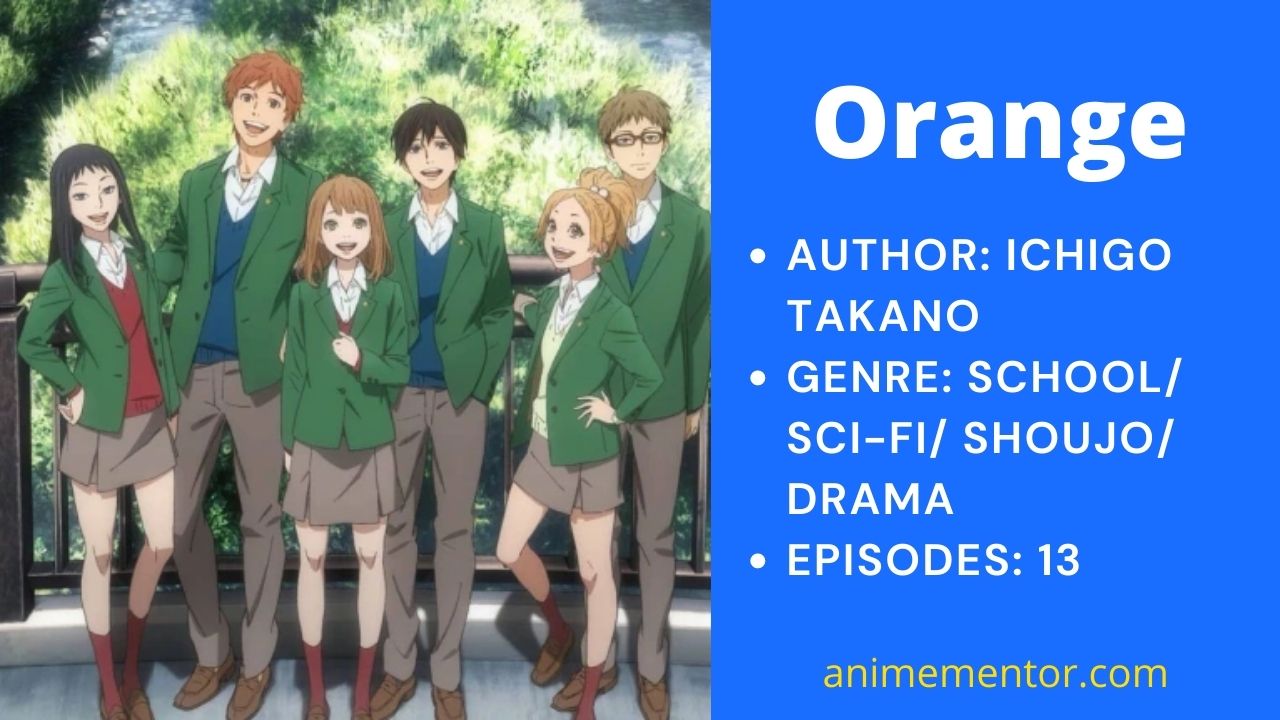 AUTHOR: Ichigo Takano
GENRE: School/ Sci-fi/ Shoujo/ Drama
EPISODES: 13
Looking for a moving sci-fi romance anime? Add Orange to your watchlist! This emotional 13-episode series explores the power of second chances.
When 16-year-old Naho suddenly receives a letter claiming to be from her 26-year-old self, she's understandably confused. But as the letter's predictions come true, like meeting transfer student Kakeru, Naho realizes it's real.
Her future self reveals deep regrets about Kakeru and urges Naho to change his fate. As they grow closer and Naho falls for him, she becomes determined to save Kakeru from the sorrow that awaits him down the road.
Will Naho be able to make the right decisions that can change their fate?
With its mix of lighthearted school life, a tinge of time travel, and an emotional love story, Orange delivers themes of cherishing each moment and changing destiny.
15. No Game No Life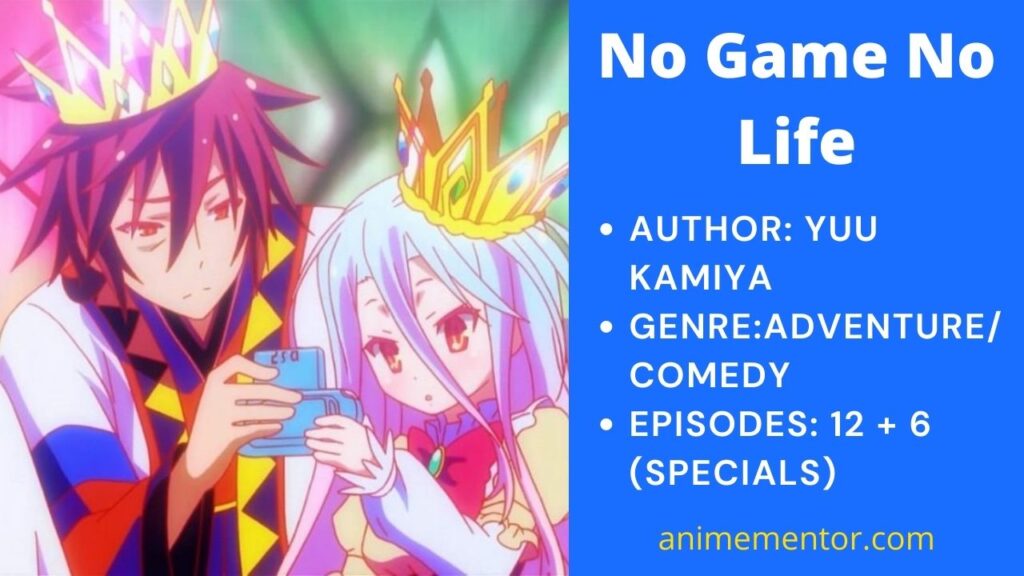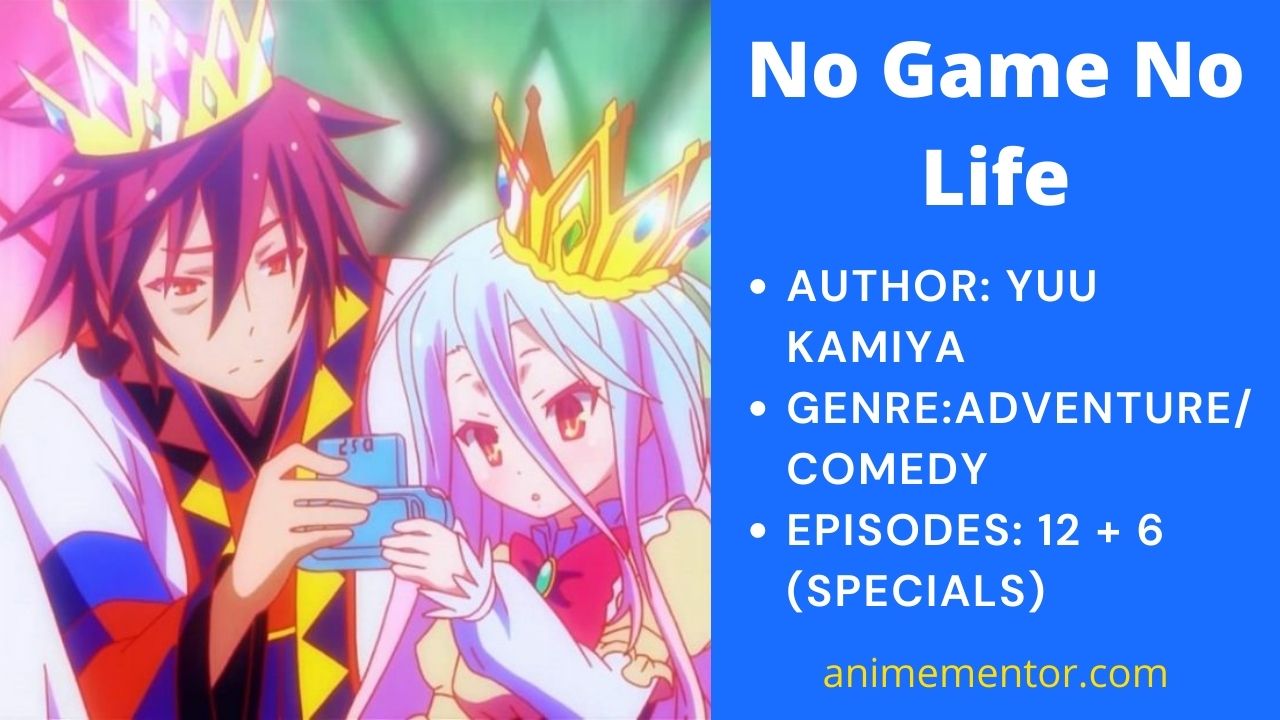 AUTHOR: Yuu Kamiya
GENRE: Adventure/ Comedy/ Fantasy/ Game
EPISODES: 12 + 6 (specials)
Shut-in NEET siblings Sora and Shiro see real life as dull and average. But in gaming, their skills are legendary, making them urban legends. One day, a self-proclaimed god named Tet summons them to a fantastical world where all conflicts are resolved through games.
In this new world, humanity has been cornered into one city by magical beings. Sora and Shiro, failures in the real world, now have the chance to use their gaming genius to save humanity in this realm. But they'll have to outsmart supernatural opponents in increasingly high-stakes games.
With its mix of over-the-top comedy, strategic competitions, and visual splendor, No Game No Life provides thrilling escapism.
16. Wotakoi: Love is Hard for Otaku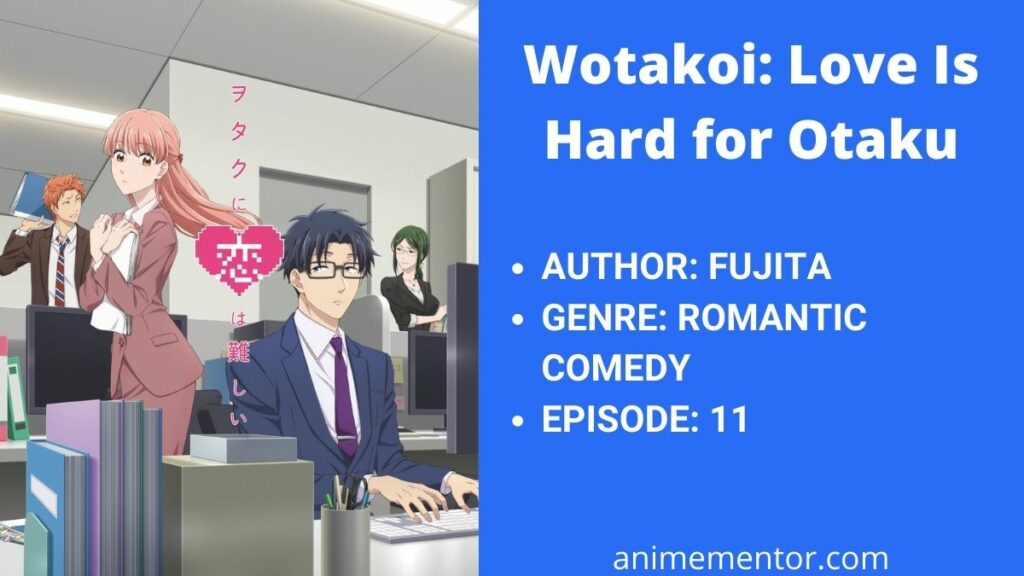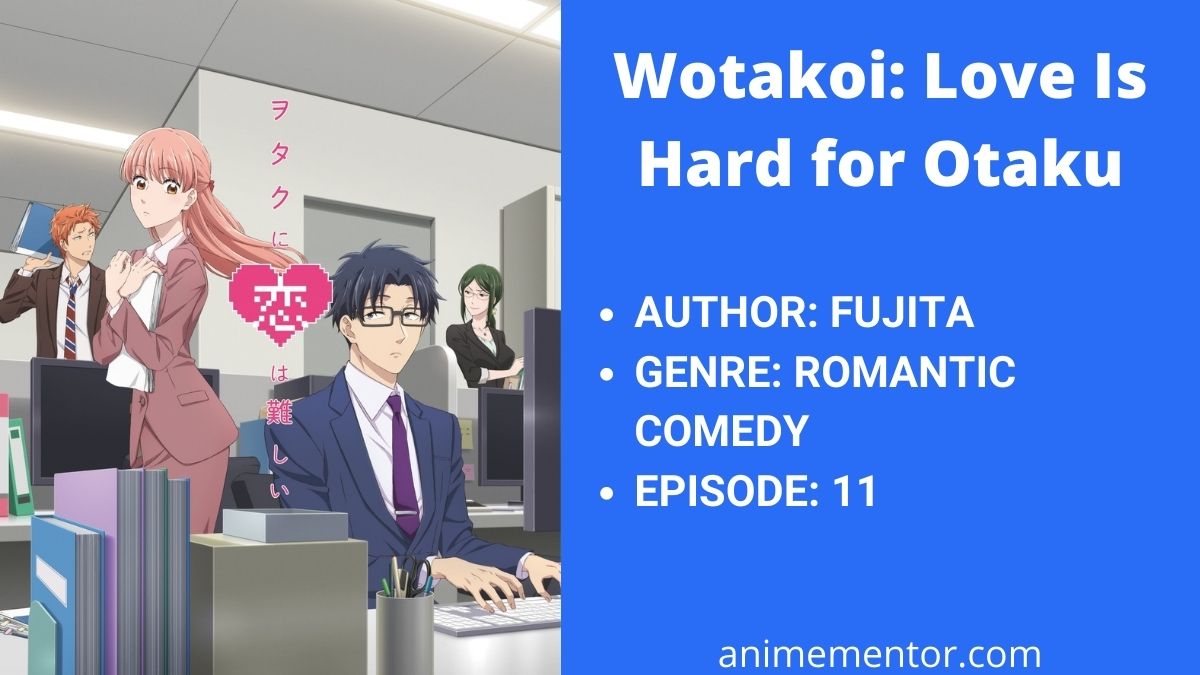 If you're searching for a lighthearted rom-com anime, look no further than Wotakoi: Love is Hard for Otaku. This 1-cour Anime series follows the adorable office romance between gaming otaku Narumi and Hirotaka.
Wotakoi follows Narumi, a new office worker who hides her geeky fujoshi lifestyle. Her world is turned upside down when she runs into her old otaku friend Hirotaka, sparking an adorable workplace courtship.
Together, Narumi and Hirotaka navigate office politics and budding romance while secretly being big nerds together. Witty otaku humor and a lively supporting cast make Wotakoi hilarious and fun.
Wotakoi celebrates the quirks of otaku culture with plenty of gaming references and cosplay laughs. But underneath it, all is a sweet bloom-into-love story between two endearing souls.
For fans of funny and sweet workplace romantic comedies like Aggretsuko, Wotakoi delivers laughs while warming your heart. At just under 3 hours total, Wotakoi is primed for a fast-paced weekend binge. Its short length means you'll finish with a smile on your face but still want more.
17. Noragami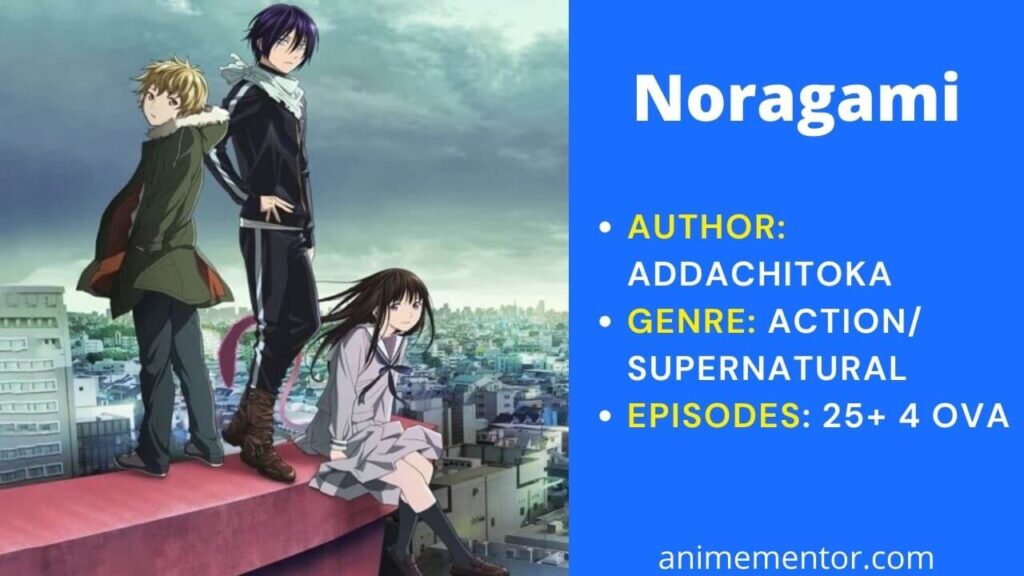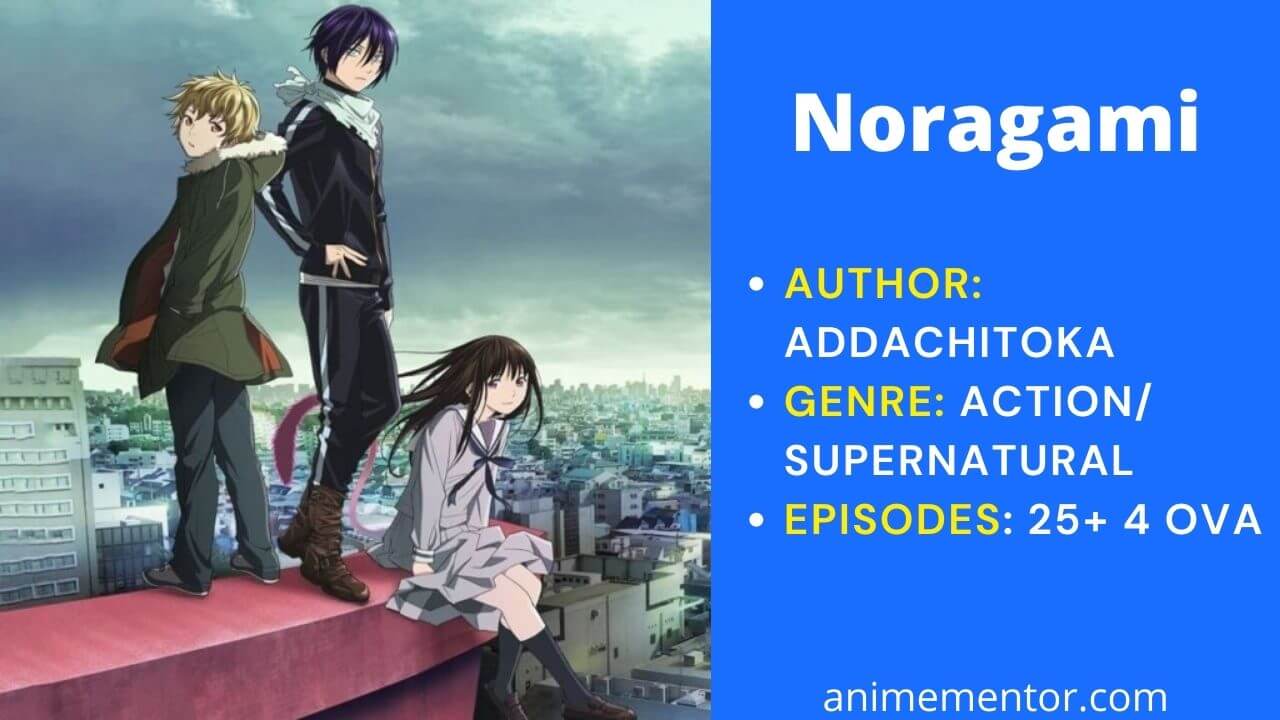 AUTHOR: Addachitoka
GENRE: Action/ Adventure/Comedy/ Supernatural
EPISODES: 25 episodes (2 seasons) + 4 ova
The story follows Yato, a minor god just seeking a little recognition. He carries out odd jobs for 5 yen but dreams of gaining worshippers and building a shrine. Things take an exciting turn when he meets middle schooler Hiyori and they team up, getting tangled in unpredictable adventures across the spirit and human worlds.
With its colorful animation, hilarious god-world banter, and unpredictable predicaments, Noragami nails comedy while delivering hard-hitting action sequences as Yato battles hostile gods. The story builds momentum as Yato strives for fame, fortune, and followers.
As a huge anime fan myself, I was glued to the screen from start to finish. Noragami deserves more hype for flawlessly blending genres and crafting lovable characters on an exciting quest.