If you are looking for short anime series which is easier to binge-watch in a day or two then these short anime shows are perfect for you to check out.
Best Short Anime Series
---
1. Horimiya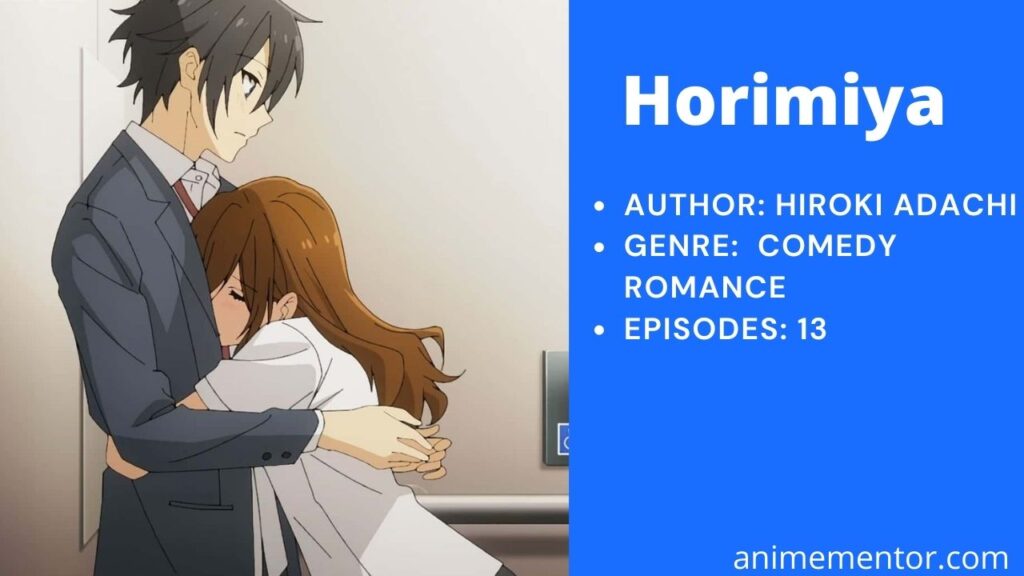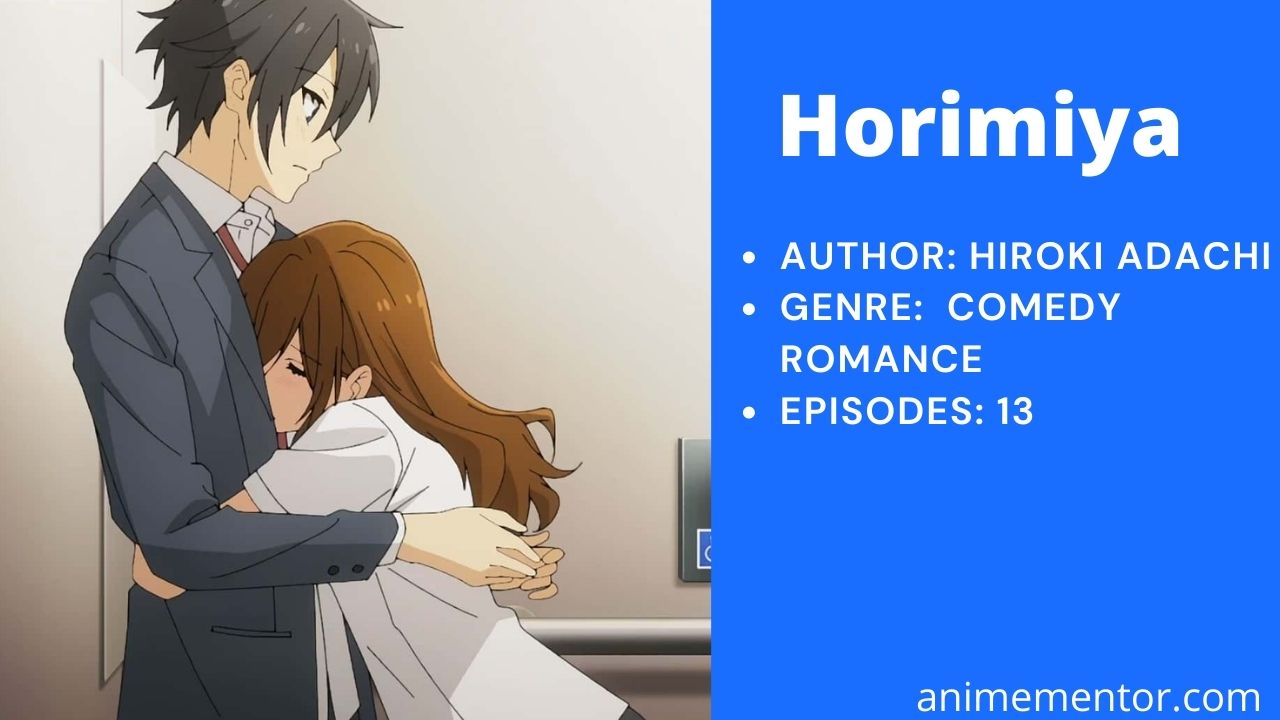 AUTHOR: Hiroki Adachi
GENRE:  Comedy/ Romance/ School/ Slice Of Life
EPISODES:  13
SYNOPSIS:- Kyouko Hori is an attractive and popular high school girl who is admired at school for her academic excellence. However, she has been hiding another side of her. As Hori's parents usually stay away from home for work, Hori looks after her younger brother and does the household work, with no time to socialize outside of school.
While on the contrary, Izumi Miyamura is a quiet, glasses-wearing person. However, in reality, he is a friendly guy with nine piercings concealed behind his long hair with a tattoo along his back and left shoulder.
Coincidentally, Hori and Miyamura encounter one another outside of school – neither one looking the way they expected. Eventually, they became friends, and share a side of their life they have not shown to anyone before.
2. Your Lie in April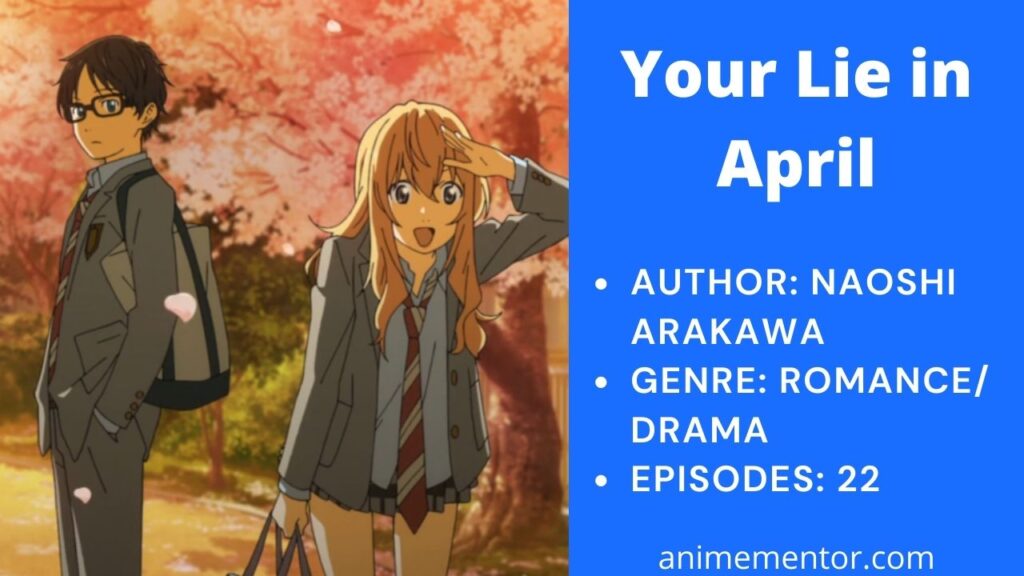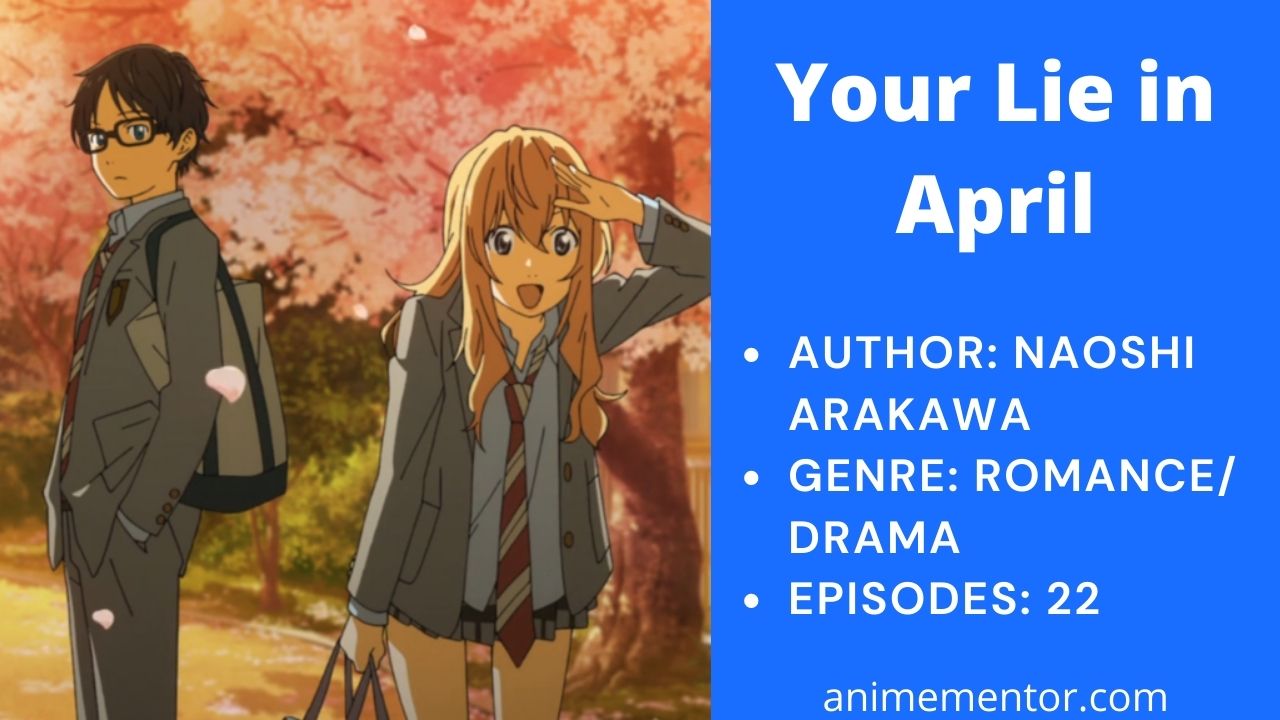 AUTHOR: Naoshi Arakawa
GENRE:  Drama/ Music/ Romance/ School/ Shounen
EPISODES: 22
SYNOPSIS:- Arima Kousei is a child piano prodigy who lost his ability to play the piano after a traumatic incident that took place in his childhood after his mother had passed away. His daily life is somber and gloomy, but the gloominess begins to fades away when Kousei encounters a female violinist Miyazono Kawori.
Miyazono is a bold, fearless girl who is gripped with confidence. She persuades Kousei to go back into the world of music again. Captivated by Miyazono's words, Kousei is forced to go back into the spotlight he once received and now a new beginning awaits for Kousei.
3. Noragami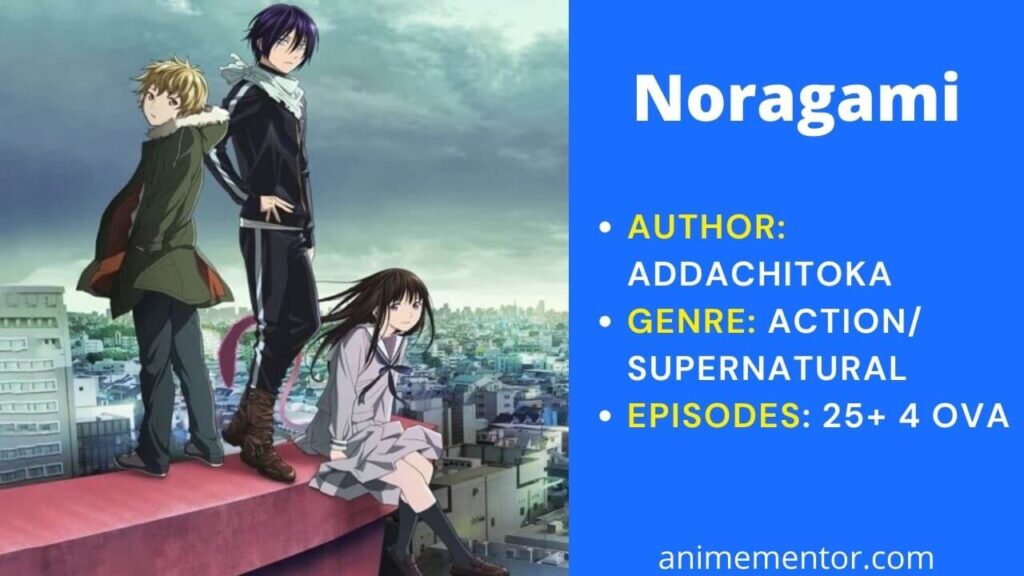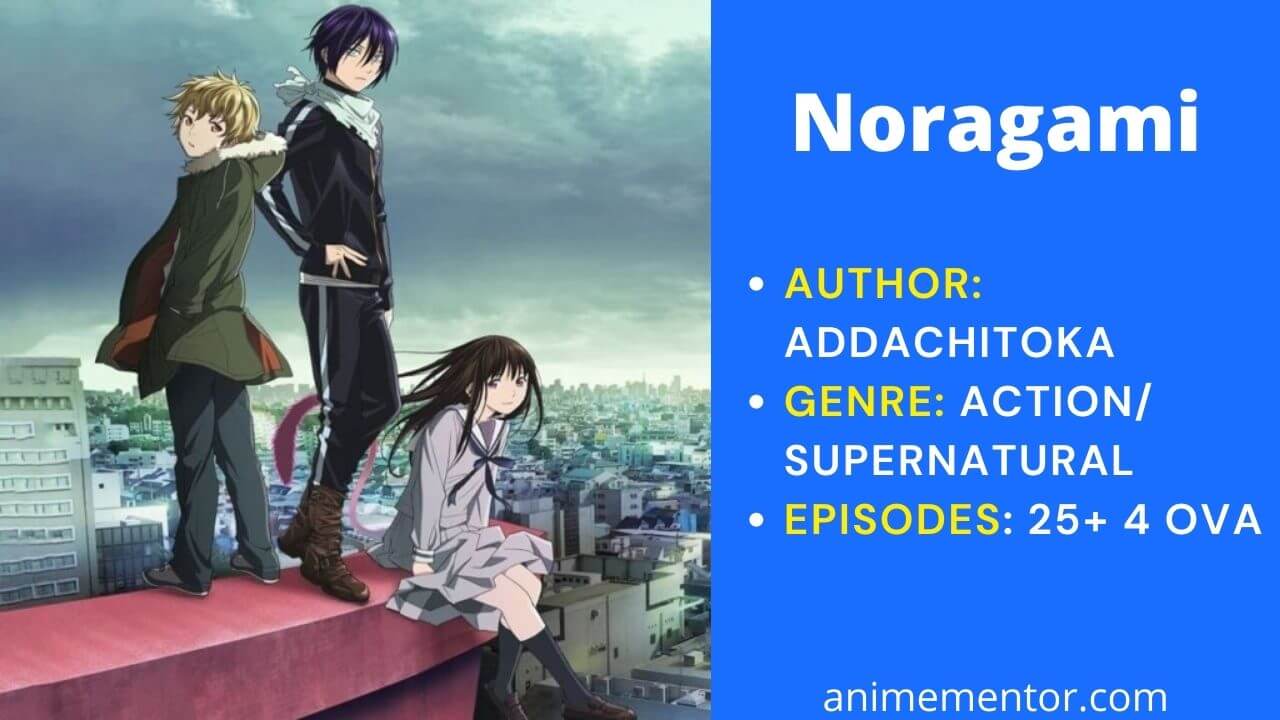 AUTHOR: Addachitoka
GENRE: Action/ Adventure/Comedy/ Supernatural
EPISODES: 25 episodes (2 seasons) + 4 ova
SYNOPSIS:- Yato is a minor god and a self-declared "Delivery God," who is seeking to have millions of worshippers. In the right place in times of need, one will get to see a number inscribed in red and upon calling this number he/she will get to contact the 'Delivery God'.
Without a single shrine, Yato spends most of his time doing jobs for five yen apiece. One day a middle-school girl named Hiyori Iki was getting bullied by her classmates. She goes to the restroom to cry where she finds the scribbled number. Calling the number, Hiyori encounters Yato who promises to solve all her problems. Later Yato teams up with Hiyori to gain fame, recognition, and at least one shrine dedicated to him.
4. Charlotte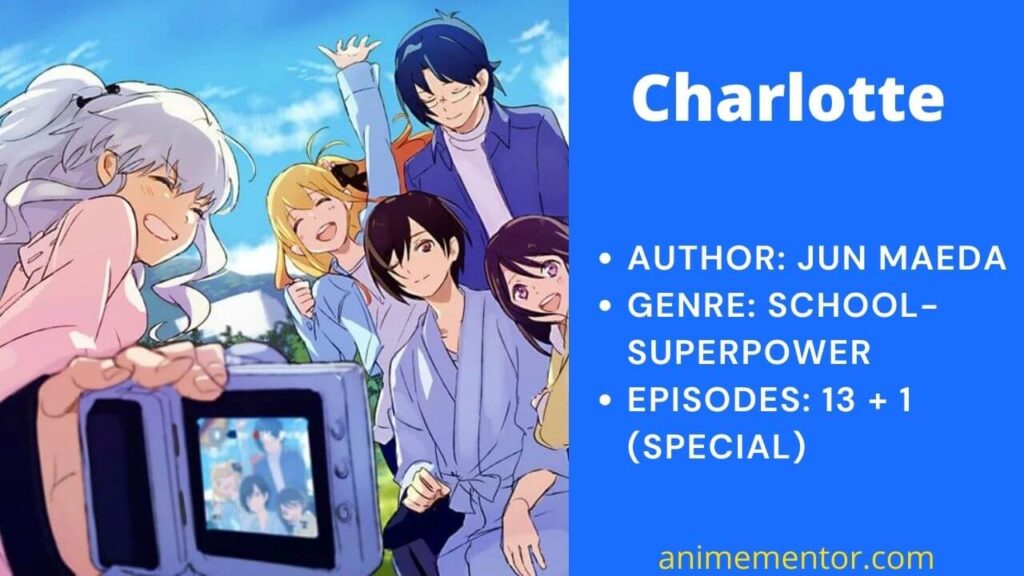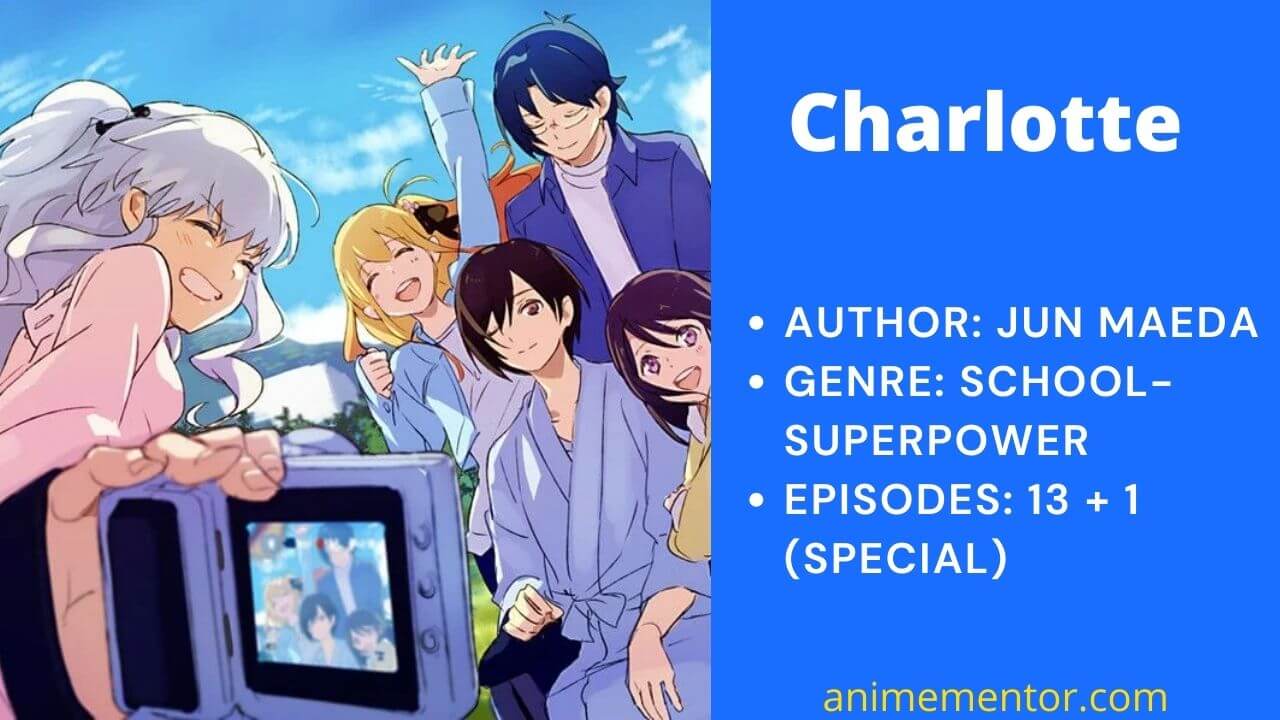 AUTHOR: Jun Maeda
GENRE: Superpower/ School
EPISODES: 13 + 1 (special)
SYNOPSIS:- The story centers around a small percentage of some people who possess a special ability from their puberty. Their powers tend to be random and not automatically along the lines of what we would regard surprising. These special abilities which commence from puberty stay with them for a few years before vanishing during adulthood.
Yuu Otosaka is one such man who uses his power without the knowledge of others and lives a fairly satisfying, average school life. One day appears before him a girl named Nao Tomori. Yuu's encounter with Tomori reveals the true destiny of the special power-users.
5. One Punch Man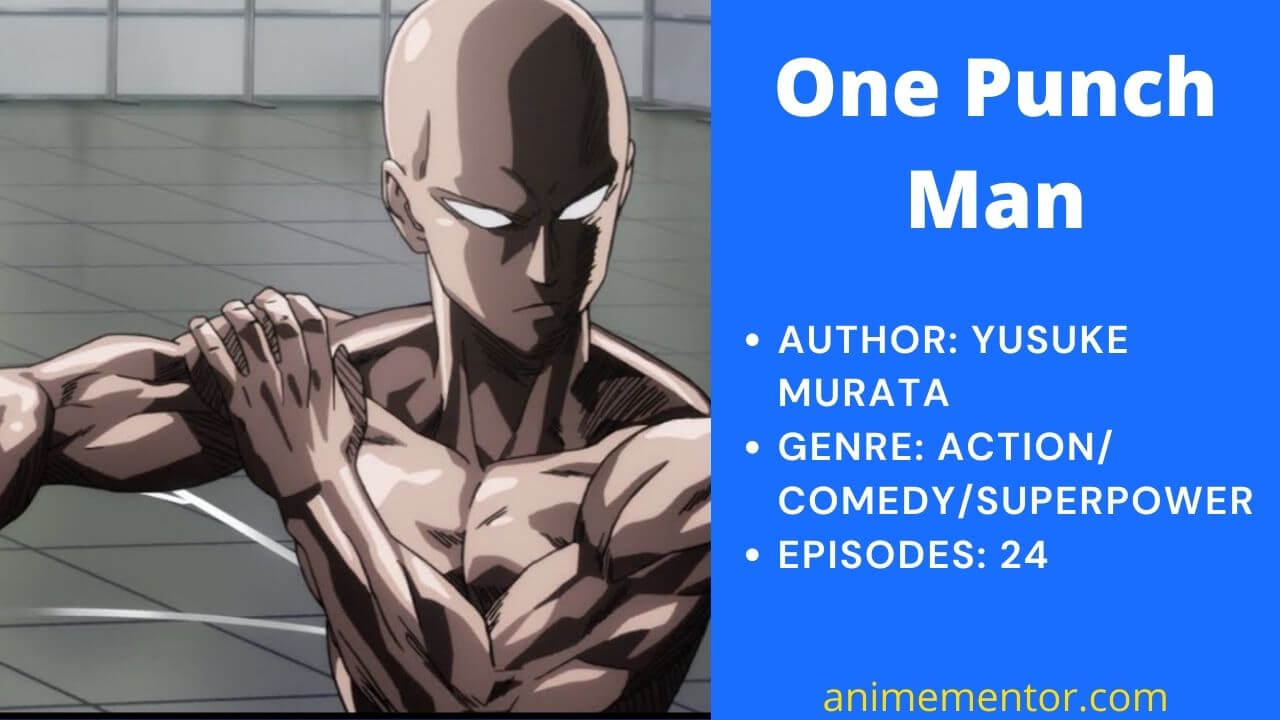 AUTHOR: Yusuke Murata
GENRE: Action/ Comedy/ Parody/ Sci-fi/ Super power
EPISODES: 24 episodes (2 seasons)
SYNOPSIS:- If you had the supreme ability to defeat any enemy with just one punch, what would you do?  You would become a superhero definitely!
The apparently ordinary Saitama has a distinctive hobby – he wants to become a hero. For the sake of chasing his childhood dream, he trained continuously for three years, and ultimately lost all of his hair during the training.
Although this average-looking guy doesn't have some average problems, he's literally a superhero searching for tough opponents!
Now here lies the problem- every time he finds a powerful or competitive candidate for himself, he just beats the hell out of them in just one punch. He is no longer able to enjoy the sensation of fighting and his life has become quite boring.
Can Saitama really find someone strong enough to challenge him? Follow Saitama through his journey as he looks for new more powerful opponents to challenge!
6. Classroom of The Elite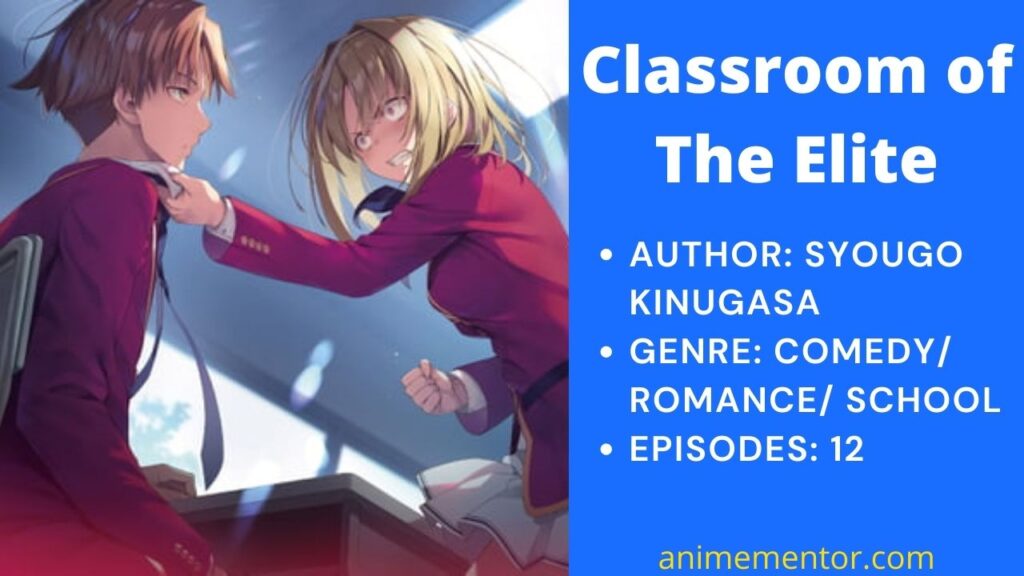 AUTHOR: Syougo Kinugasa
GENRE: Comedy/ Romance/ School
EPISODES: 12
SYNOPSIS:-  Koudo Ikusei Senior High School is a school with highly developed facilities where almost 100% of students go on to university or find employment and get success in their life. The students have the privilege to wear any hairstyle and bring any personal belonging they want.
Koudo Ikusei looks like an amazing school, but the truth is that only the extraordinary students receive this advantageous treatment.
When Ayanokouji Kiyotaka set foot into this elite government-sponsored prestigious High School, he finds out how virtue-based this system of education is. He is a student of D-class, where the school puts all of its weak students together in order to scorn and mock them. However, after encounters with Horikita Suzune and Kushida Kikyou, from his class, Kiyotaka's life begins to change.
7. Hyouka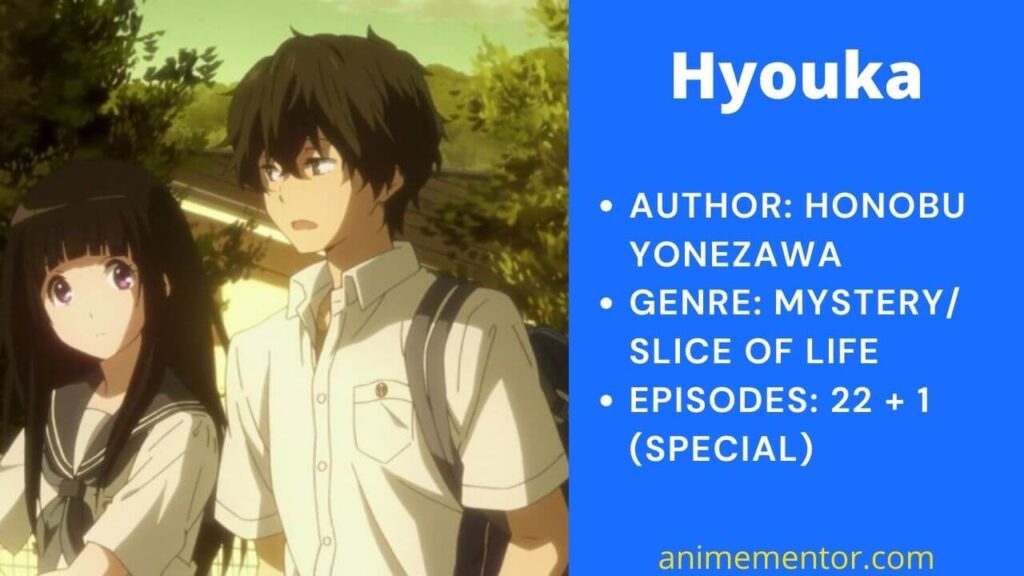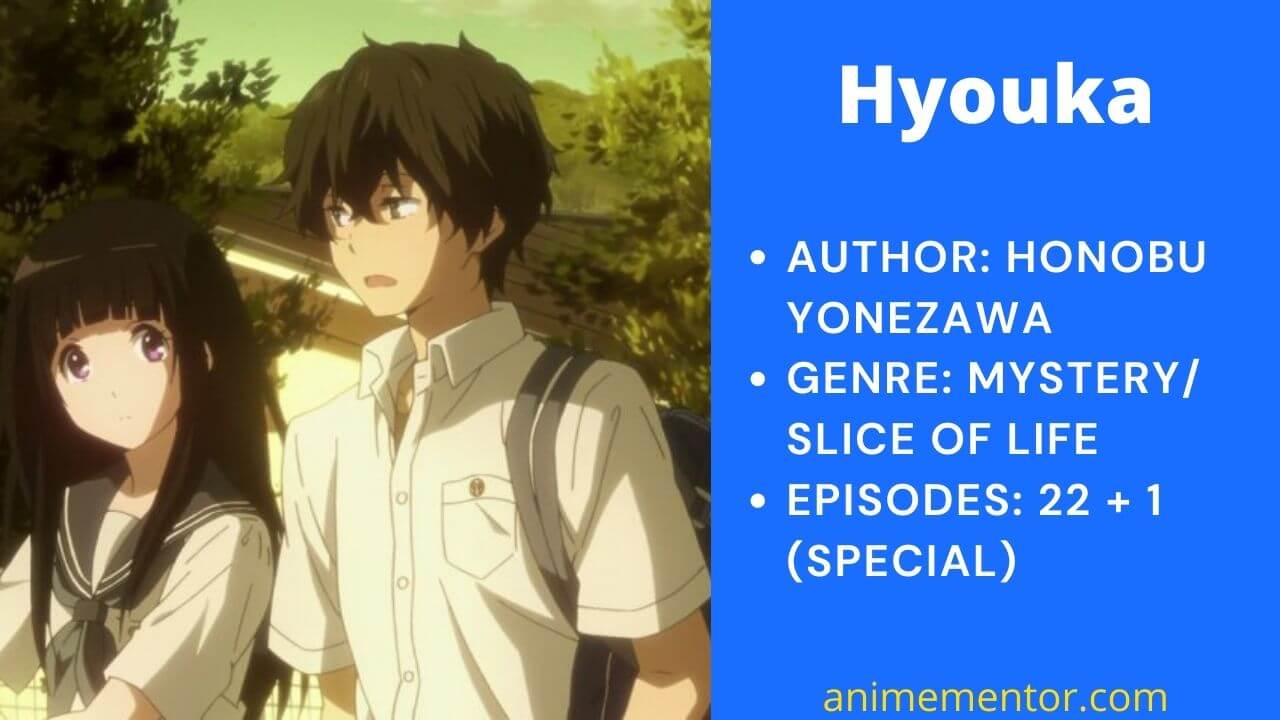 AUTHOR: Honobu Yonezawa
GENRE: Mystery/ Slice of life
EPISODES: 22 + 1 (special)
SYNOPSIS:-  High school freshman Riki Hotaro, who always acts quietly has but only one goal- to achieve a gray life and peaceful life while maintaining as much energy as he can.
Unfortunately, his tranquil days came to an end when his elder sister, Tomoe, asks him to save the memberless Classics Club from disbandment. Later, he enters "Koten Bu (Classic Literature Club)" as suggested by his elder sister where he runs into Chitanda Eru, Fukube Satoshi, and Ibara Mayaka.
Chitanda is a beautiful and calm girl but sometimes she turns into an incarnation of curiosity once she says, "I'm interested in it (Watashi, Kininarimasu)". Oreki finds himself intertwined with Chitanda's curious and sparkling personality.
Together, they begin to search for a case that took place 33 years ago. The hints of this mysterious incident are concealed in an old collection of works of the previous members of Koten Club.
8. Plastic Memories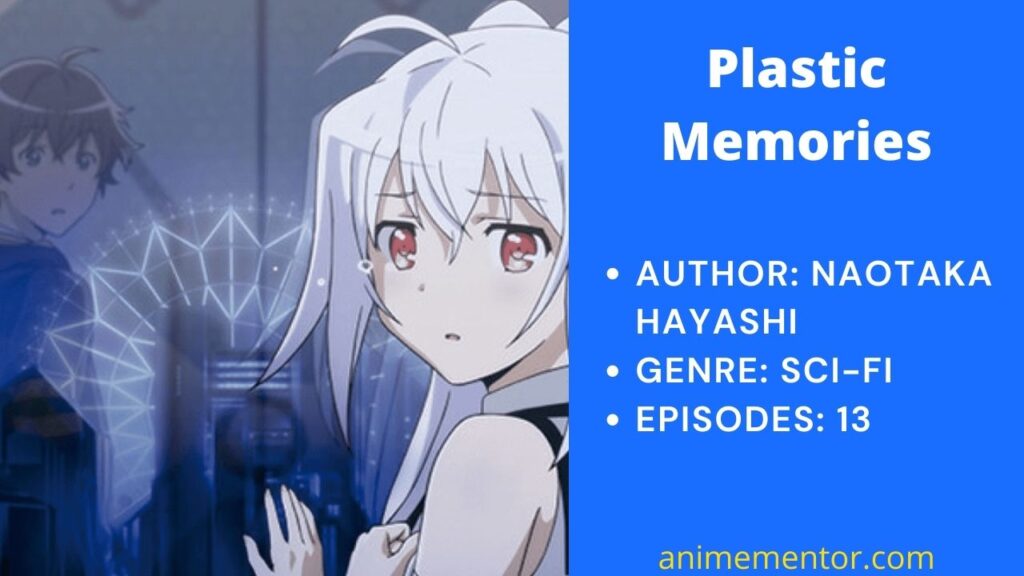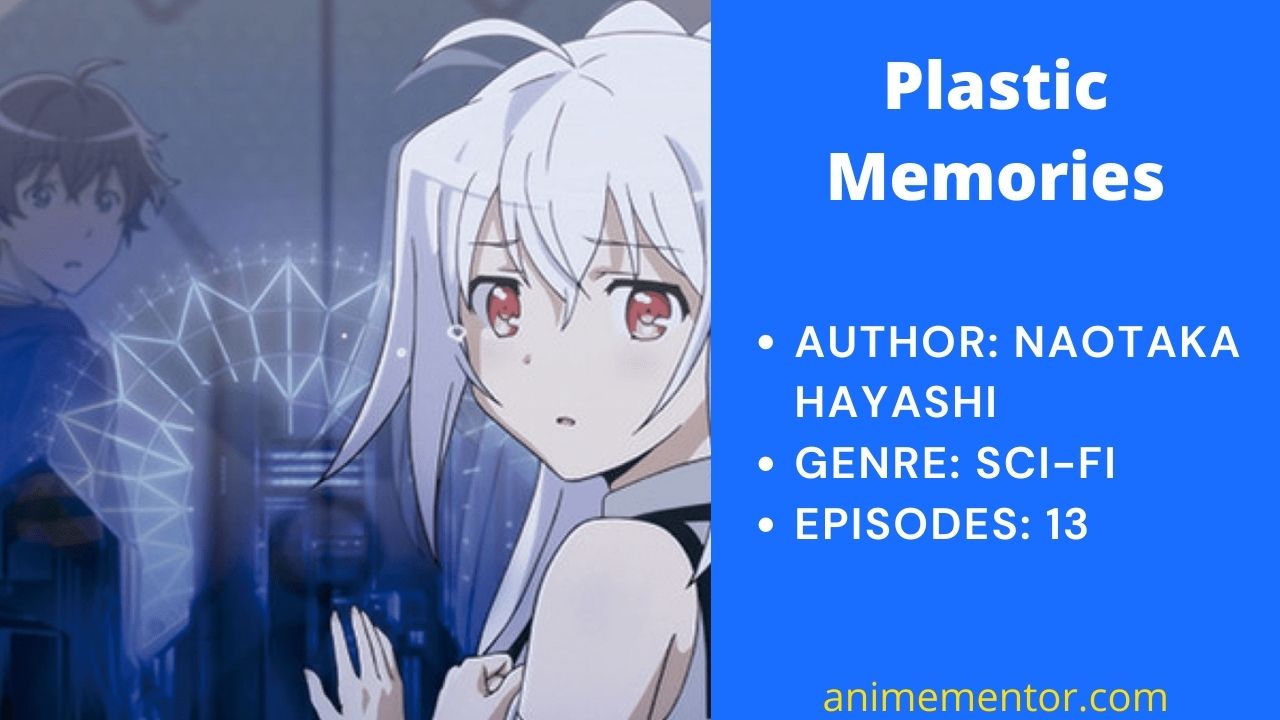 AUTHOR: Naotaka Hayashi
GENRE: Sci-fi
EPISODES: 13
SYNOPSIS:- Upon failing his college entrance exams, 18-year-old Tsukasa Mizugaki is provided with a position at the famous SAI Corporation. Here the android production company SA Corp. produces Giftia, a one-of-a-kind android that has almost the same emotion and human-like qualities. This event takes place in the future when Androids that look exactly like humans started to spread throughout the world.
But there is one complication – the Androids produced have a finite service life beyond which, they get very rough and violent in nature. Therefore, SA Corp. has initiated a terminal service for retrieving the Giftia that have expended their service life.
The new employee at the terminal service, Tsukasa Mizugaki builds a team with the Giftia Isla to secure other androids from getting terminated and a new journey lies in front of them!
9. Erased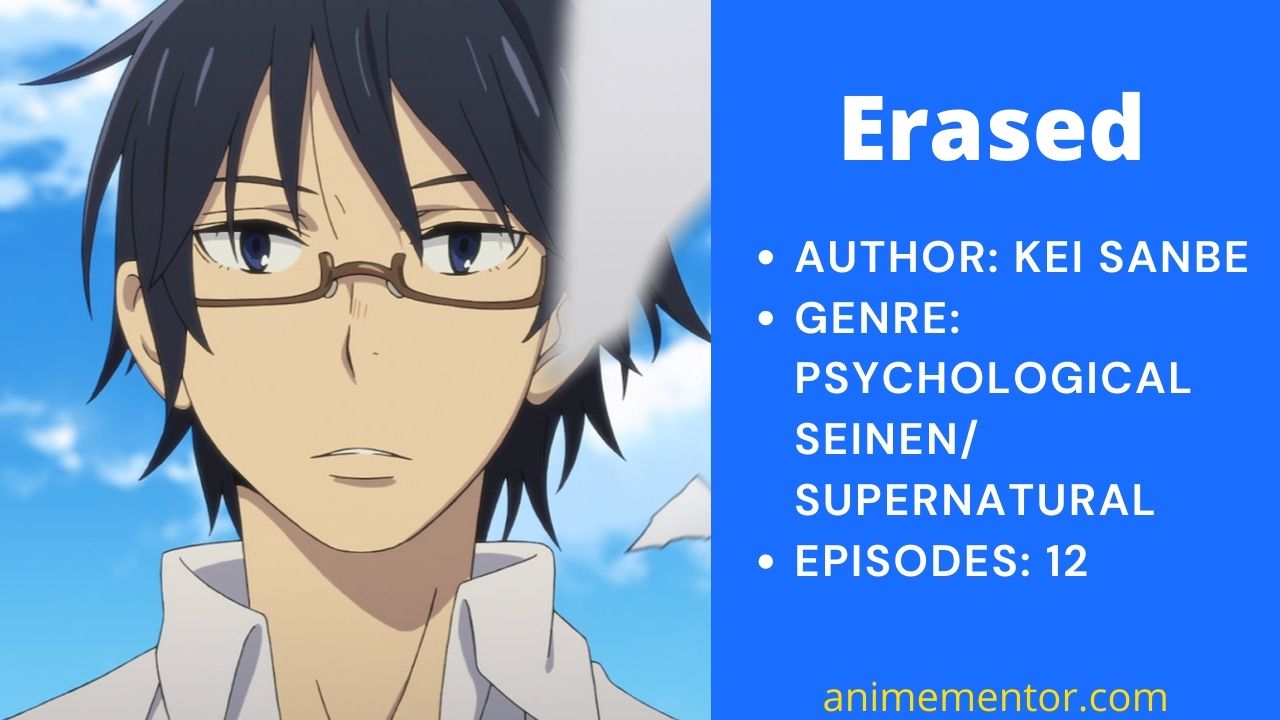 AUTHOR: Kei Sanbe
GENRE: Psychological/ Seinen/ Supernatural
EPISODES: 12
SYNOPSIS:-  Erased follows the story of the Satoru Fujinuma who is engulfed by his fear to manifest himself. Somehow, he possesses a supernatural ability to be compelled to prevent deaths and disastrous incidents by time-traveling before the event actually occurred, and ultimately preventing the accident.
However, one day he gets himself involved in an accident and he was framed as the murderer. Yearning to save the victim, he is sent back in time 18 years ago and finds himself as a grade-schooler before his classmate Kayo Hinazuki went missing. Satoru now ventures into a new journey: to save Kayo and investigate the mystery behind her disappearance which started with a chain of kidnappings while he was in 5th grade.
10. Another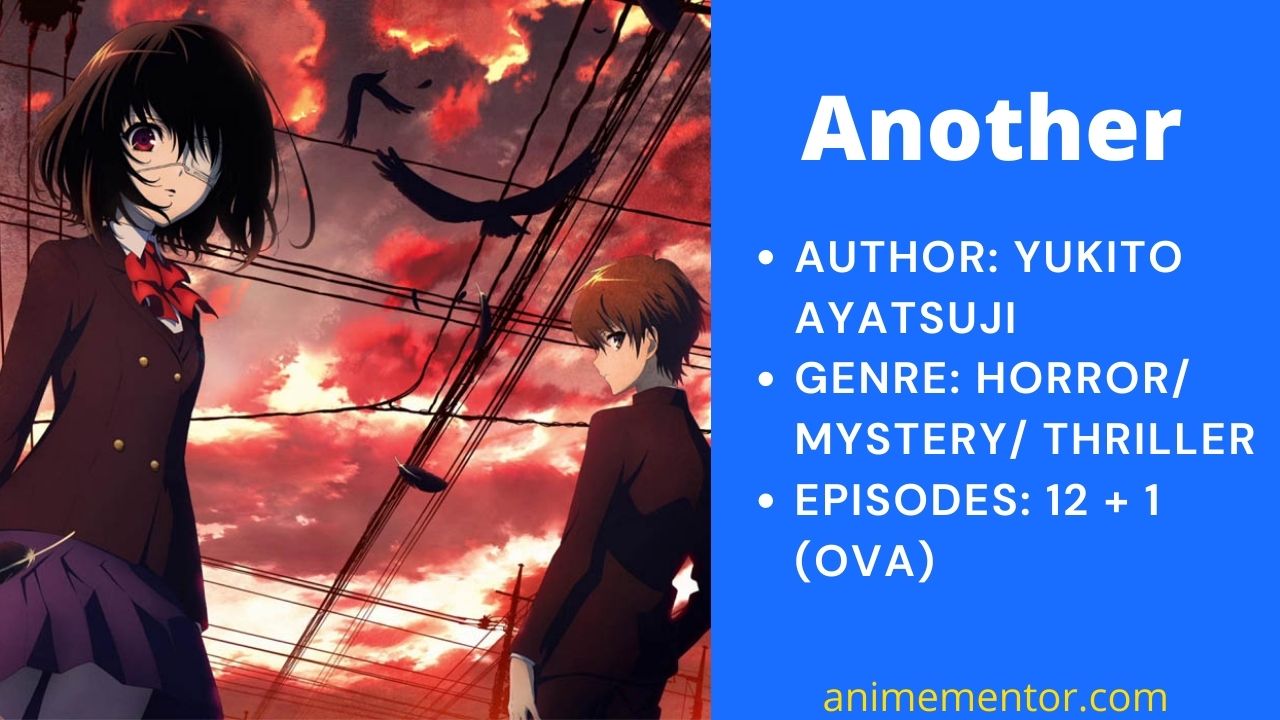 AUTHOR: Yukito Ayatsuji
GENRE: Horror/ Mystery/ Supernatural/ Thriller
EPISODES: 12 + 1 (ova)
SYNOPSIS:-  26 years ago, in 1972, there was a student named Misaki in Yomiyama North Middle School's class 3-3. She was an honorary student who was very popular and attractive in her class and was also good at sports.
However one day she suddenly died, but her classmates decided to move on as if she was still with them in their class until graduation and they kept her desk and also brought it into the graduation ceremony. The strange fact is that no one could explain why their classmate, who was already dead, was present in the graduation photo.
Later, in the spring of 1998, a boy named Sakakibara Kouichi transfers to that classroom, and he becomes wary of the tense atmosphere coming out of that classroom. Specifically, there is a beautiful and mysterious girl named Mei Misaki who always wears an eyepatch and always sits alone, drawing pictures. For some reason, the rest of the class refuses to acknowledge her existence.
11. Amagi Brilliant Park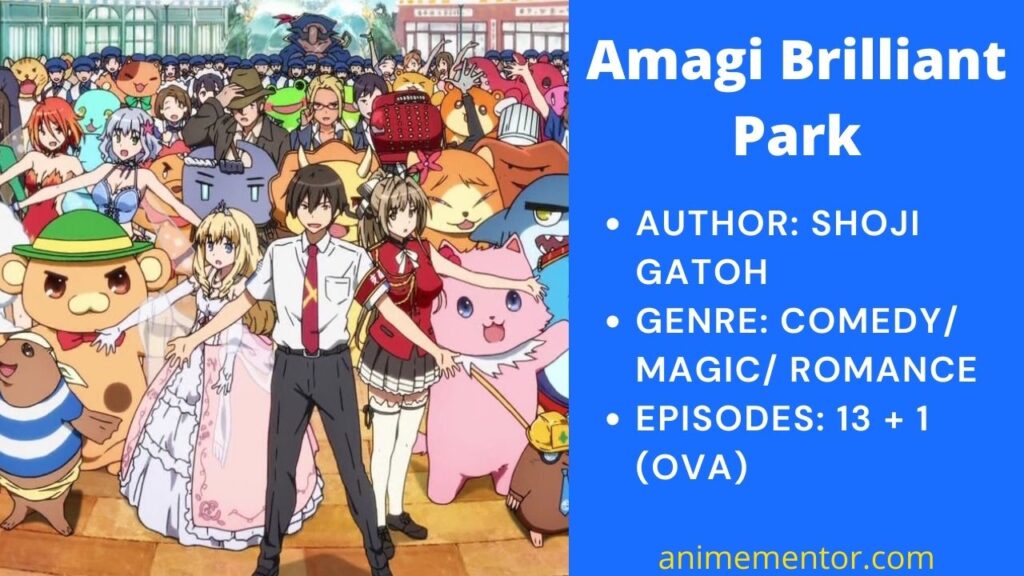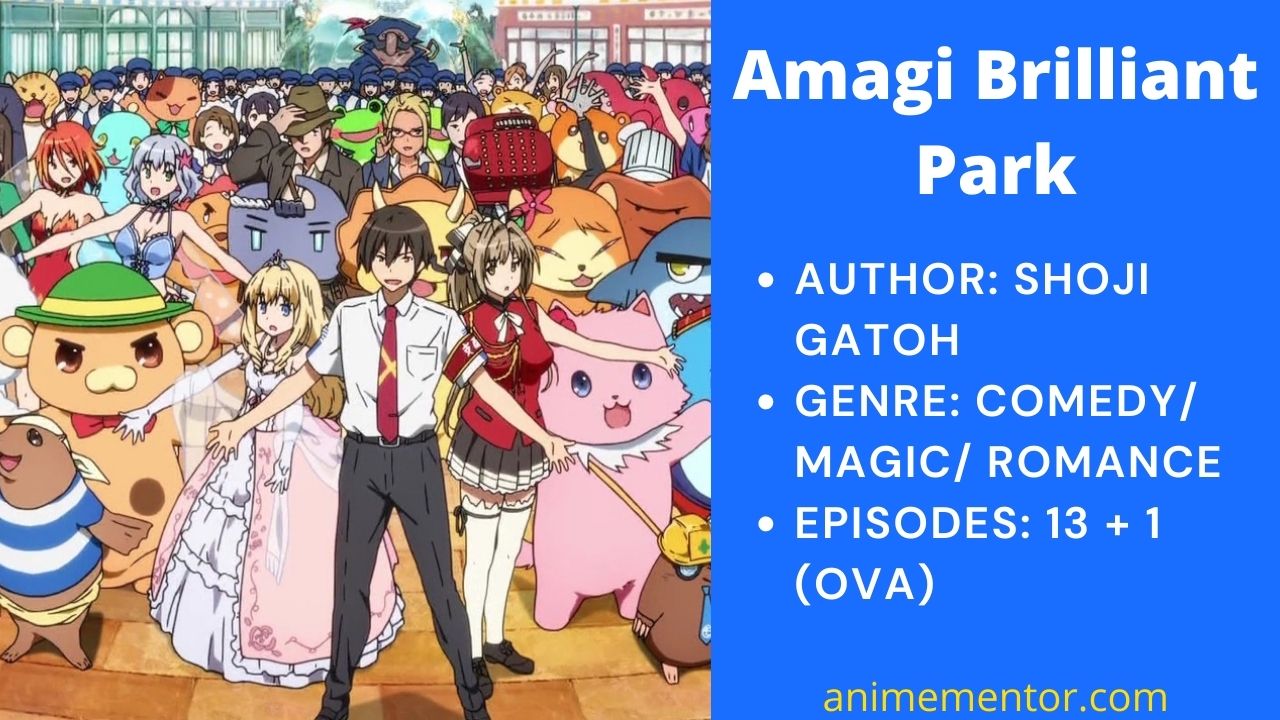 AUTHOR: Shoji Gatoh
GENRE: Comedy/ Magic/ Romance
EPISODES: 13 + 1 (ova)
SYNOPSIS:-  Kanie Seiya, is a good-looking and idealist high school boy, who is invited on a date to an amusement park named Amagi Brilliant Park, by a mysterious and attractive transfer student named Sento Isuzu. The park is in serious financial trouble and about to be closed forever.
However, the park is actually filled with people from a fantasy realm called Maple Land – a space for collecting magical energy from visitors while they are enjoying the park. Now, the park is the solitary way through which the peoples of the magical world can sustain their survival in the human realm.
Seiya is introduced to Ratifa, the park's manager and also the princess of Maple Land, and she asks Seiya to be the acting manager of this dissatisfying amusement park.
12. Ao Haru Ride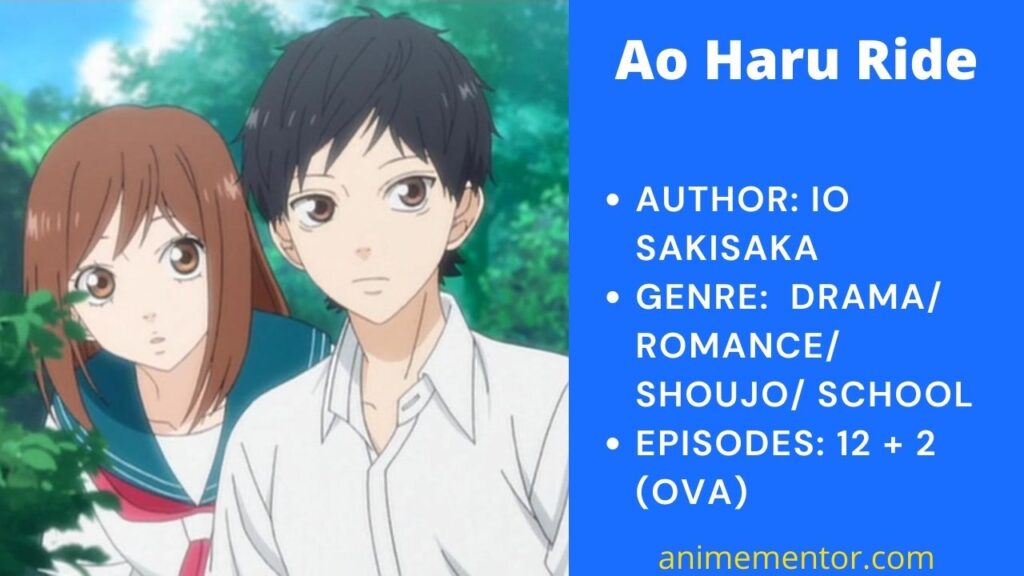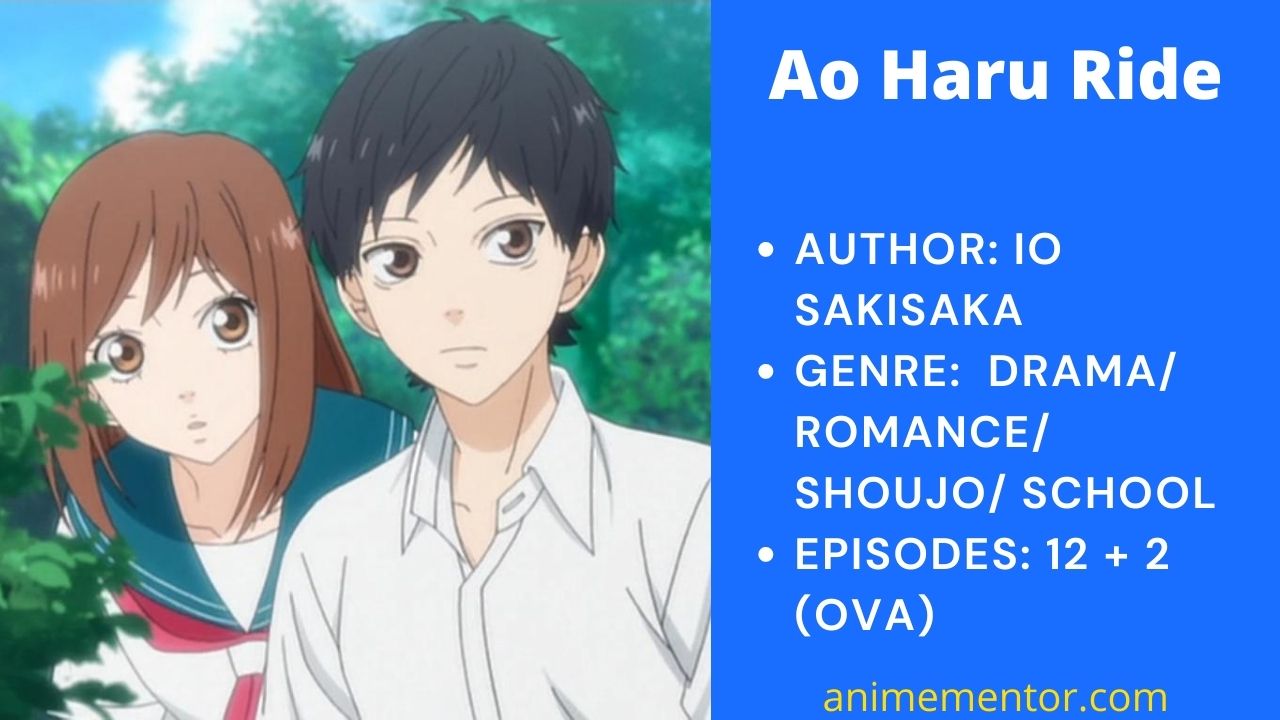 AUTHOR: Io Sakisaka
GENRE:  Drama/ Romance/ Shoujo/ School
EPISODES: 12 + 2 (ova)
SYNOPSIS:- In middle school, Yoshioka Futaba used to be in love with a boy named Tanaka Kou but, she couldn't get her feeling across to the only boy she has ever liked. However, because of a misunderstanding, their relationship as friends ends when he transfers schools during summer vacation. She was also rejected by her female friends in Junior High.
Now Yoshioka wants to reset her life in her way as a new high school student. She was determined to be a like-minded person so that her friends won't get jealous of her. But once again in high school, she stumbles upon her lost childhood love Tanaka-Kun but now, he goes by the name Mabuchi Kou.
Mabuchi tells Yoshioka that he also had the same feelings for her back then in childhood, but now it's just become a thing of the past.
Will Futaba be able to get her feeling across to Tanaka-Kun?
13. Anohana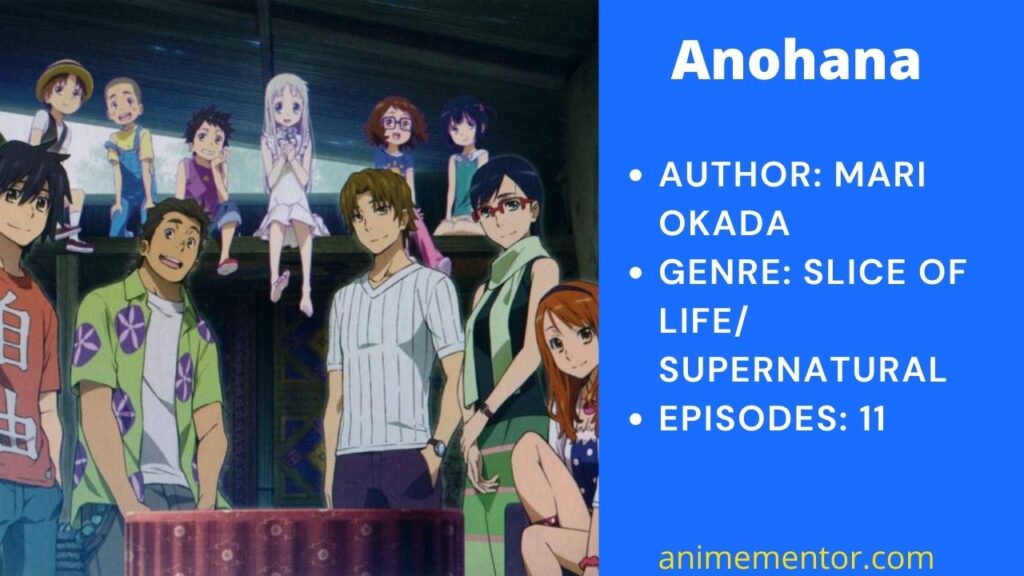 AUTHOR: Mari Okada
GENRE: Slice Of Life/ Supernatural
EPISODES: 11
SYNOPSIS:- The story starts with five childhood friends reuniting to fulfill the final wish of their deceased friend when the ghosts of their dead friend appear in front of them.
At a time, they were a group of close childhood friends. However, by the time they entered high school, the six friends have grown apart from each other over the years after the death of one of them – Menma.
Previously, the leader of the group was Jin-tan who is presently aimless in life. One day he started to see Menma's ghost. Menma meets Jin-tan and states that he may be able to see her due to a wish and asks him to fulfill that wish. Because of that, the friends who have grown distant in all these years gather together for one more time.
14. Orange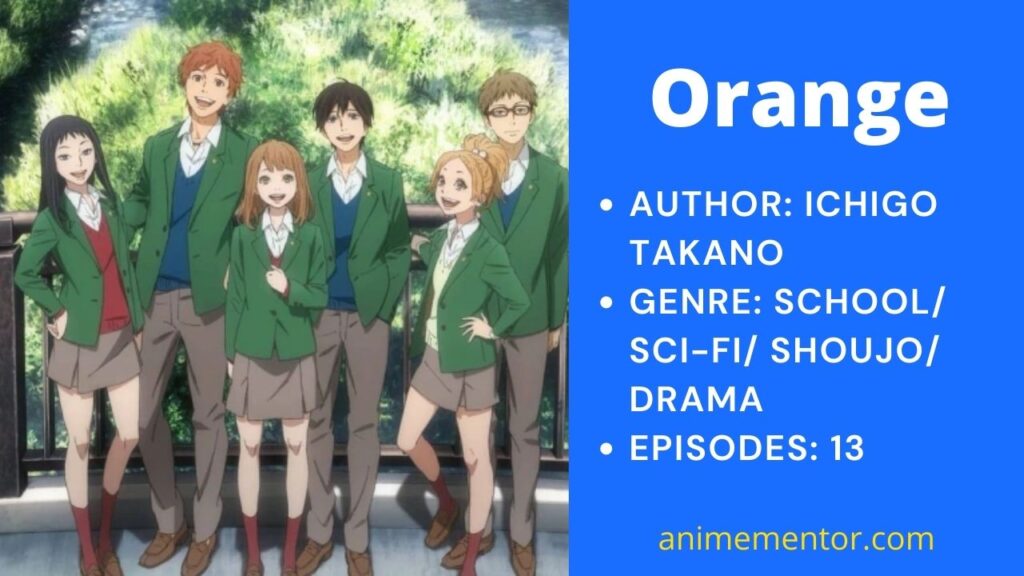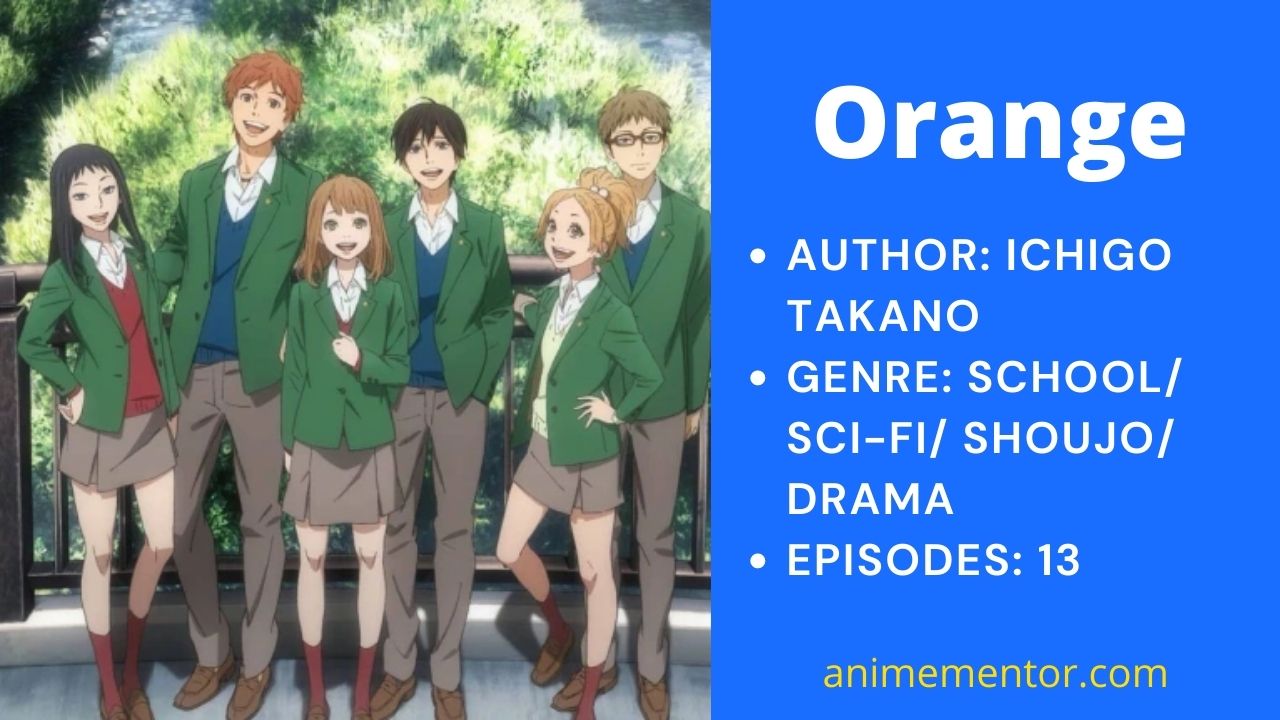 AUTHOR: Ichigo Takano
GENRE: School/ Sci-fi/ Shoujo/ Drama
EPISODES: 13
SYNOPSIS:- It was springtime when suddenly one morning, 16-year-old Naho Takamiya receives a strange and detailed letter in the mail declaring to be from herself 10 years in the future with the mention of many events that were supposed to take place in the near future.
At first, Naho thought that it was just a prank but then the things mentioned in the letter started to take place including the one which mentioned a new transfer student named Kakeru Naruse who will sit beside her in the class, she is forced to believe the information.
The letter was just like her diary entries. Her future self tells her about the biggest regret she had in her life and watch over Kakeru closely and not make the same mistake as she did previously.
Will Naho be able to make the right decisions that can change their fate?
15. No Game No Life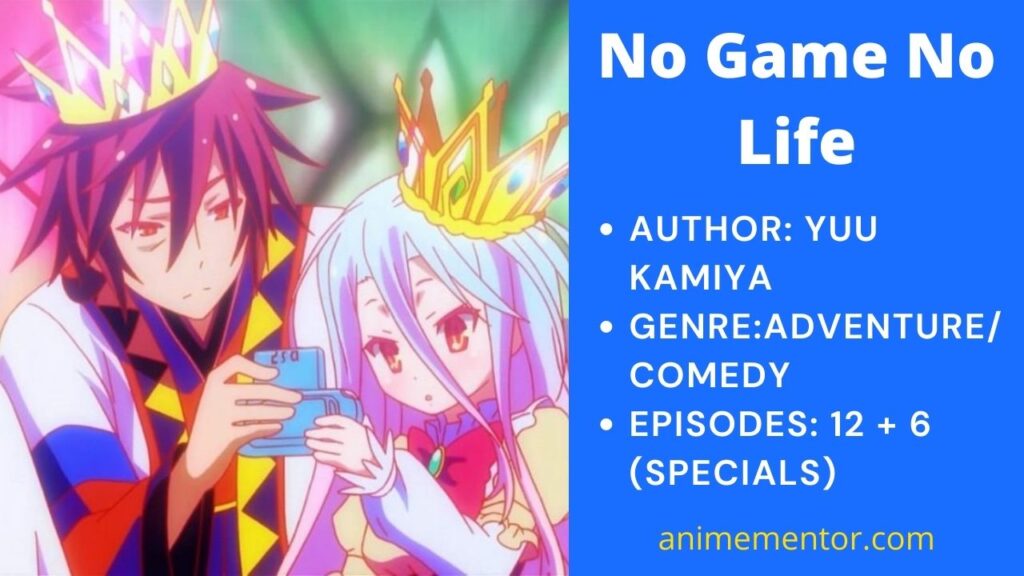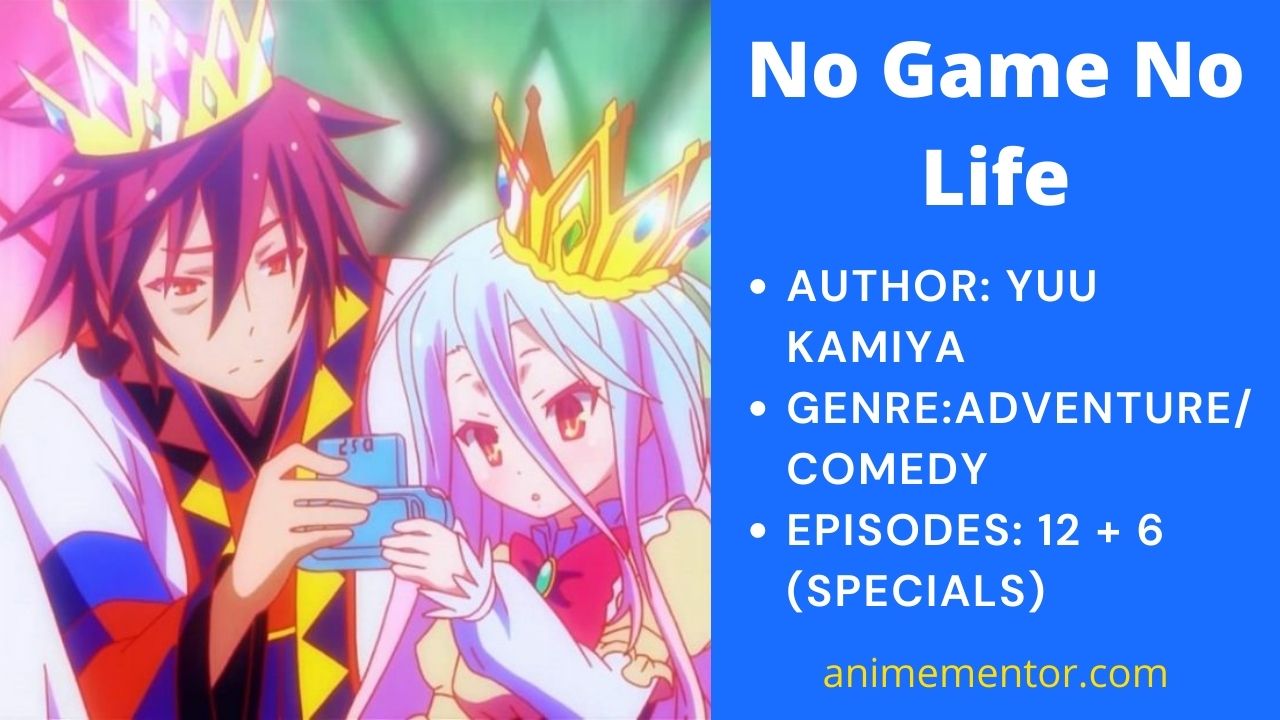 AUTHOR: Yuu Kamiya
GENRE: Adventure/ Comedy/ Fantasy/ Game
EPISODES: 12 + 6 (specials)
SYNOPSIS:- The story of No Game No Life revolves around Sora and Shiro, a brother and sister who are some loser shut-ins and are brilliant NEET (Not in Education, Employment, or Training) in terms of their reputation. The two gamer duo see the real world as a "crappy place" that is a good-for-nothing or average society.
In the gaming world, the extraordinary pairs are supreme and reign over others and their avatars are seen as an urban legend.
One day the siblings are summoned by a young boy who calls himself a 'GOD' into an alternate world where wars and conflicts are restricted and everything is decided by playing games. In this fantasy world, the siblings learn that humanity was cornered and was driven into one city by other foreign races.
Can Sora and Shiro the two failures in the real world save the humanity of this world? Only time will tell.