Cardcaptor Sakura, the beloved 1990s magical girl anime, has remained popular from generation to generation, as longtime fans share their childhood favorite with their own children.Nonetheless, it still reigns as one of the best shows in Mahou Shoujo anime with its fandom growing each day.
There are a variety of characters that appear in manga and anime, some pivotal in plot. In this article, we'll look at the Cardcaptor Sakura's main characters' age, birthdate and height and more.
Name
Birth Date
Age
Height
Status
Sakura Kinomoto
April 1
10~11 (Original series)
13~14 (Clear Card Arc)
138 cm – 143 cm
Alive
Shaoran Li
July 13
9~10 (Clow Card Arc)
10~11 (Sakura Card Arc)
12~13 (Clear Card Arc)
140 cm – 148 cm
Alive
Cerberus
Unknown
Unknown
Unknown
Alive
Tomoyo Daidouji
September 3
9~10 (Clow Card Arc)
10~11 (Sakura Card Arc)
12~13 (Clear Card Arc)
136 cm
Alive
Toya Kinomoto
February 29
16~18 (Original series)
19 (Clear Card arc)
Tall
Alive
Yukito Tsukishiro
December 25
15-16 (Original series)
17-18 (Clear Card saga)
Alive
Yue
Indefinite
Indefinite
Indefinite
Alive
Meiling Li
March 25
10~12 (Original Anime)
13 (Clear Card Arc)
Alive
Clow Reed
Unknown
Unknown
Unknown
Dead
Eriol Hiiragizawa
March 23
Physically 11 (Sakura Card Arc)
13+ (Clear Card Arc)
Alive
Fujitaka Kinomoto
January 3
43~45 (Original series)
46~47 (Clear Card Saga)
Alive
Spinel Sun
Unknown
Unknown
Alive
Ruby Moon
Unknown
Unknown
Alive
Sakura Kinomoto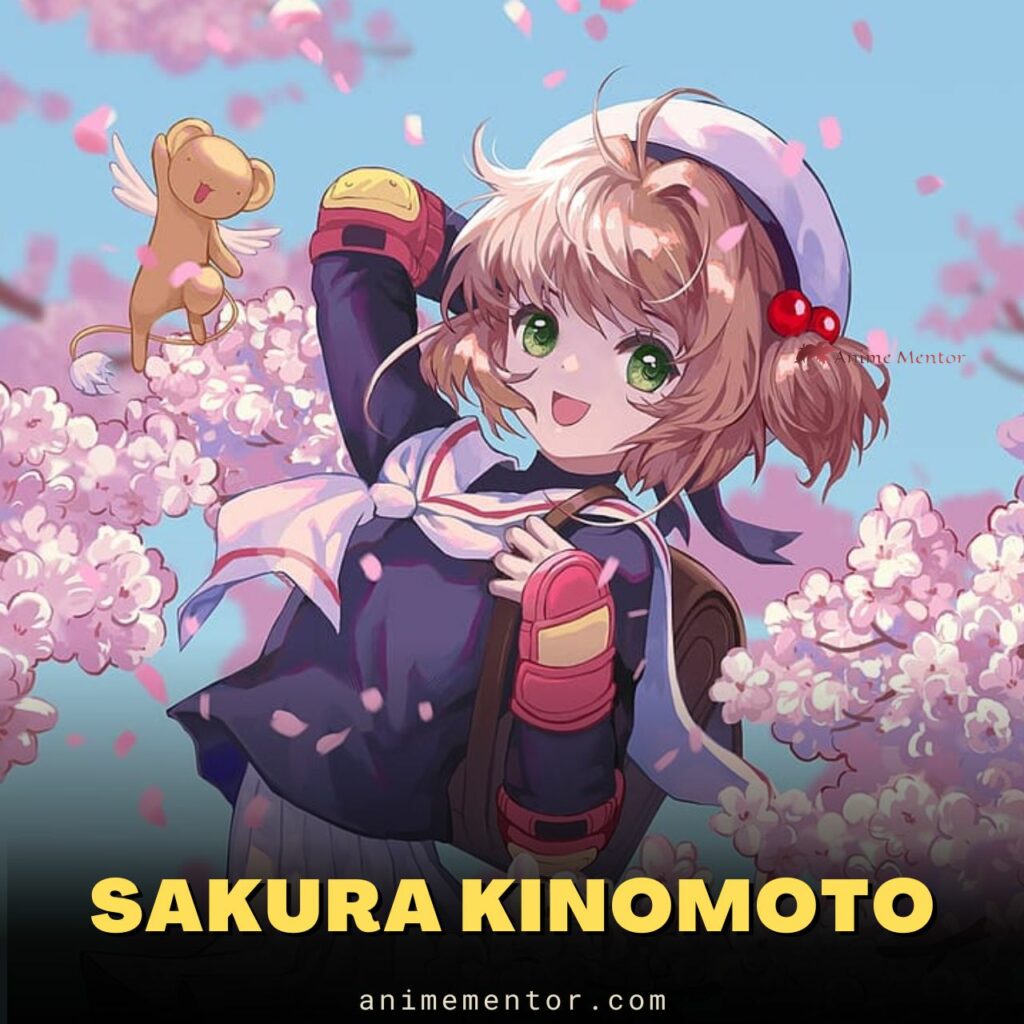 Sakura Kinomoto (木之本 さくら Kinomoto Sakura) is the titular protagonist and the eponymous heroine of Cardcaptor Sakura. Sakura is portrayed as a loved, pretty, cheerful, cute and naïve ten-year old. Named after the Japanese word for the flower "cherry blossom", Sakura is skilled in sports at school, being called the "best baton twirler in school" by her friends.
However, she hates maths and has an open fear of ghosts. Sakura maintains a crush on Yukito Tsukishiro for most of the manga and anime, but eventually develops similar feelings towards Shaoran Li after he confesses to her upon his own feelings. Shaoran Li is considered to be the canon main interest, Sakura's true love.
Shaoran Li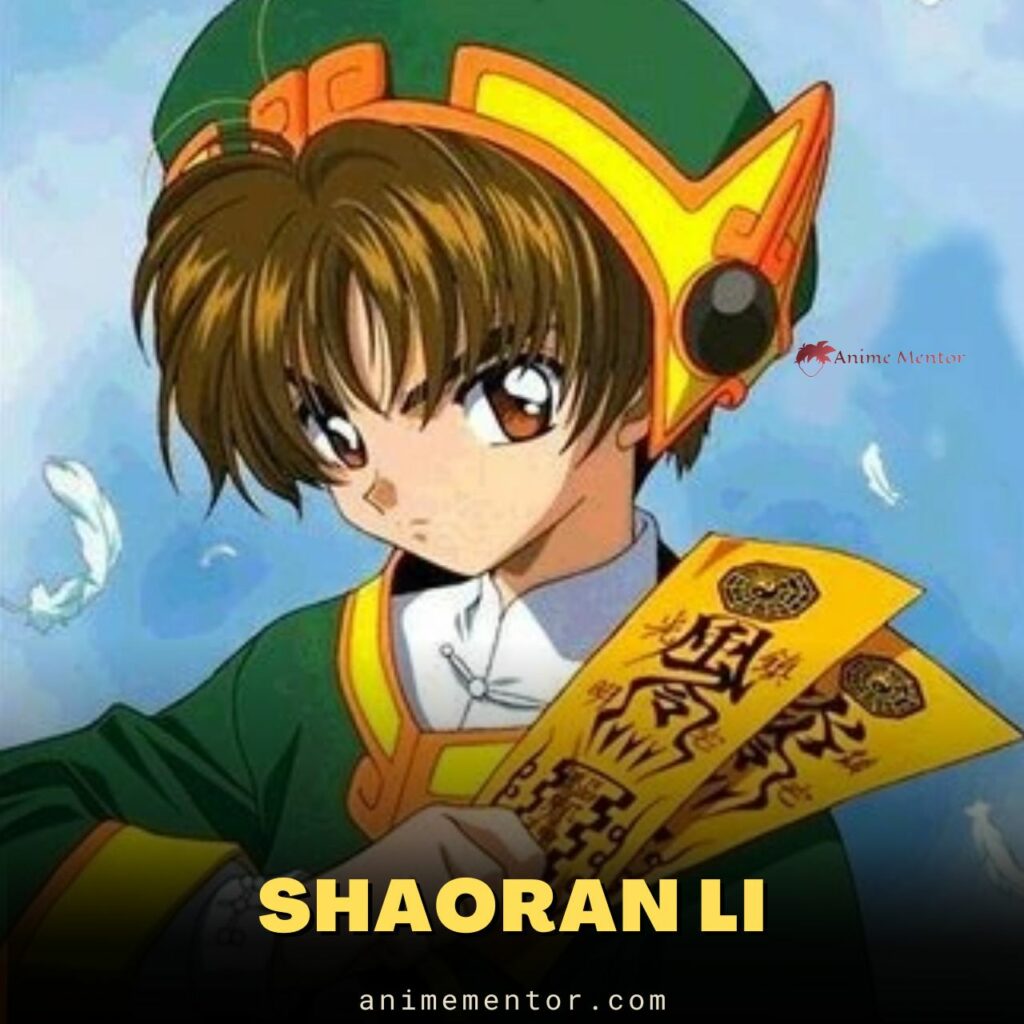 Shaoran Li (Chinese: 李 小狼, Pinyin: Lǐ Xiǎoláng) is the supporting character and distant relative of Clow Reed. Initially a rival of Sakura Kinomoto, Shaoran softens up and becomes allies, and eventually becomes the love interest of Sakura. He likes Mathematics and PE class in school and has a soft spot for Dim Sum and chocolate.
He isn't so fond of studying Japanese and is particularly annoyed with Kero-chan calling him a kid. He is quite skilled in martial arts and sword art with the ability to use element magic.
Tomoyo Daidouji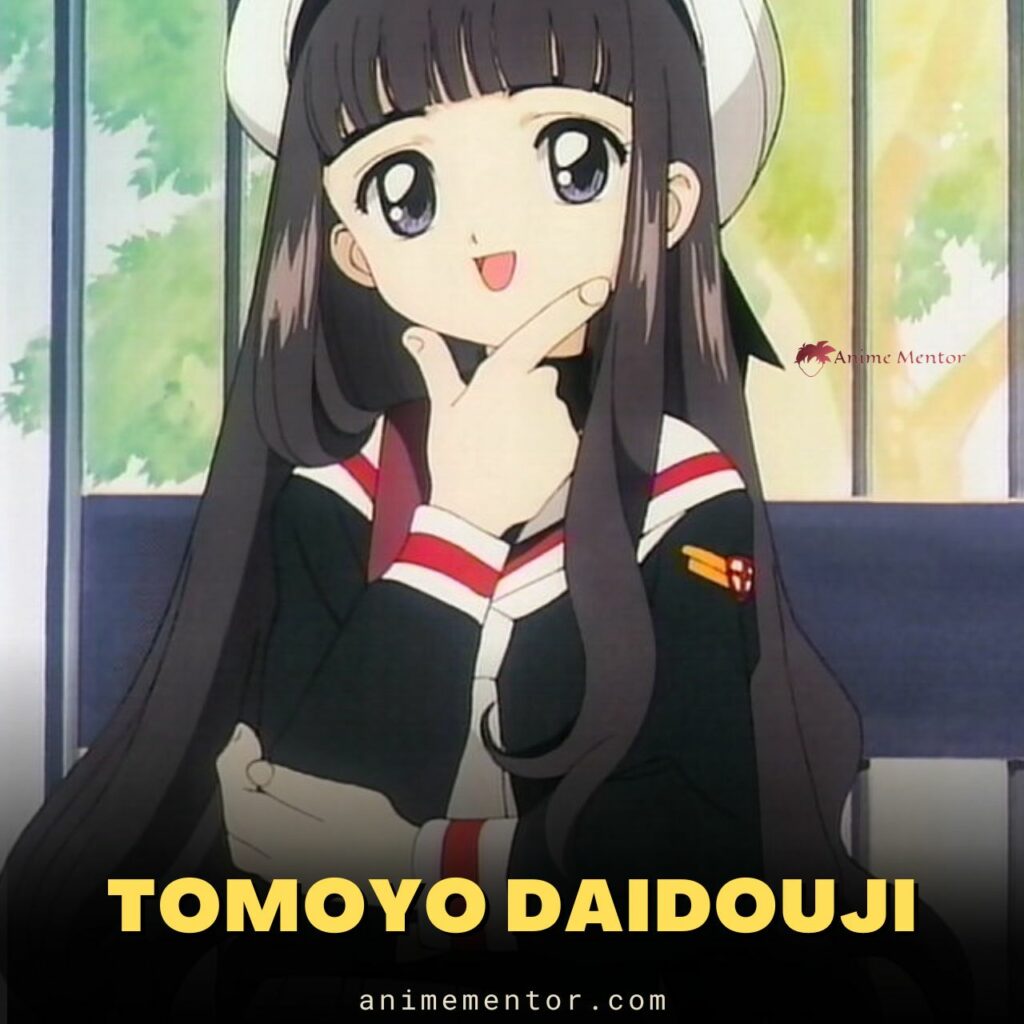 Tomoyo Daidouji ((大道寺 知世 Daidōji Tomoyo) is a major supporting character and the best friend of Sakura's. Her second cousin from her mother's side, Tomoyo aids in Sakura's adventures with the cards. She also created the iconic costumes seen throughout the show.
A great singer, she likes music and Japanese class in school, and is seen throughout the show in beige and white coloured attire. An intelligent and perceptive girl, Tomoyo is depicted as being mature for her age, kind hearted, intelligent, and regularly speaking using more formal verb conjugations and expressions, giving her a unique air of refinement rarely seen amongst elementary students.
Cerberus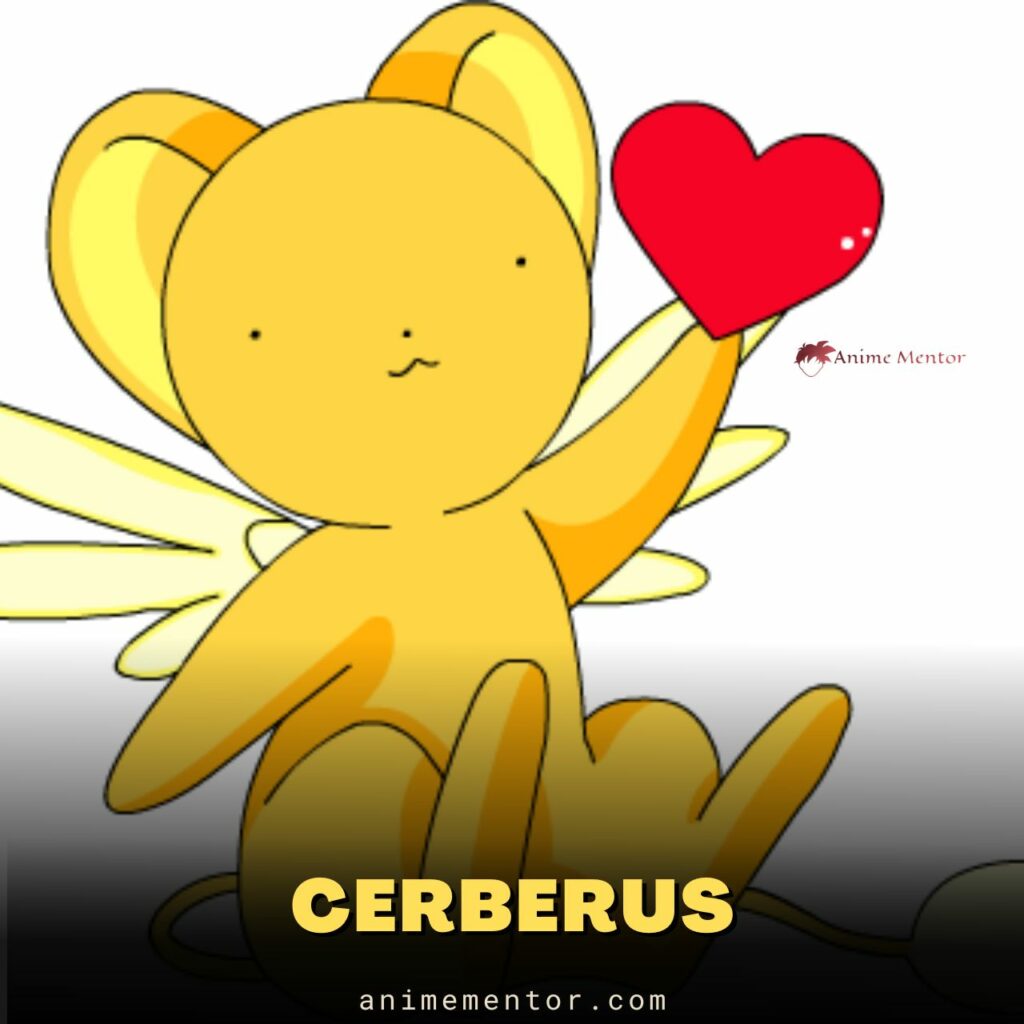 Cerberus (ケルベロス Keruberos) affectionately called Kero-chan by Sakura, he is one of the two Guardians of the book holding the Clow cards. He is appointed by Clow Reed to select the potential candidate to be the next master of the cards, and Sakura is chosen. Cerberus remains by Sakura's side throughout the manga and anime as her friend, companion, adviser and protector when new threats appear.
Having spent a lengthy amount of time in the book while it was in Osaka, Cerberus speaks with a pointed Osakan-accent. He tends to be bossy, demanding, egotistical and gluttonous, but clearly displays his affection for Sakura, especially if she is hurt or in danger. He becomes very fond of video games, and is addicted to sweets. Cerberus spends most of his time in a "temporary" or "false form": a small figure resembling an orange stuffed animal with wings.
Unlike Yue, Cerberus' magical powers are like the sun, and thus largely self-sustaining. Cerberus' name is taken from the Greek mythological figure, Cerberus, a large three-headed beast who was assigned to guard the gates of Hades.
Touya Kinomoto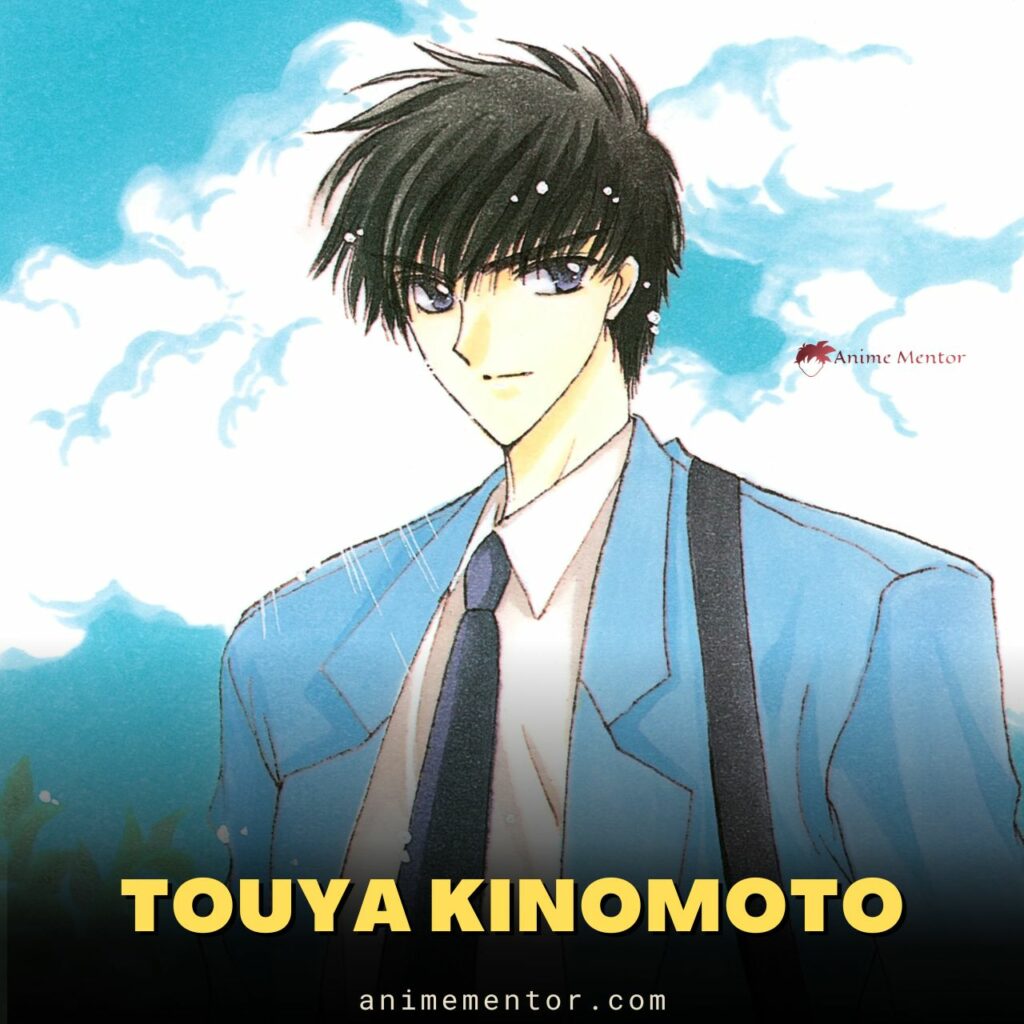 Touya Kinomoto (木之本 桃矢 Kinomoto Tōya) is Sakura's older brother who teases her frequently. Though he is portrayed to be the annoying older brother, he cares a great deal for Sakura and works to protect her. He regularly takes on several part-time jobs that put him in a position to be nearby when she is working on capturing a card.
Touya possesses several magical powers, including the ability to see ghosts and other non-humans, the ability to sense when Sakura is in danger, and mild precognition. He has a close relationship with his friend Yukito, despite knowing he is the alter-ego of Yue. He is fond of Chemistry and soccer and has a great liking for Steak, rice omelette and Yakisoba. He is popular among the girls, but is much of a loner, his friends being Kaho Mizuki and Yukito, hanging out with the latter often.
Yukito Tsukishiro
Yukito Tsukishiro (月城 雪兎 Tsukishiro Yukito) is the close friend of Touya Kinomoto and the human alter-ego of Yue, the Clow Card Guardian. As Yukito, he displays a kind and gentle nature, and is Sakura and Shaoran's initial crush.
For most of the series, Yukito is unaware of Yue's existence, though he maintains an enormous appetite for food in an unconscious attempt to give Yue power. Also canonically implied, Yukito is in a romantic relationship with Touya Kinomoto.
Yue
Yue (月?, Chinese Pinyin: Yuè) is one of the Guardians of the Clow Cards, along with Cerberus. Whereas Cerberus is the elector of the new Clow Card Master, Yue is the judge who is allowed to test the candidate for their worthiness. He spends most of the series in his temporary form, Yukito Tsukishiro.
Unlike Cerberus, Yue's powers are heavily dependent on the power of his master, thus Yue's growing need for power is reflected in Yukito's ravenous appetite, and later constant sleeping. His personality is depicted as more serious and aloof than Yukito's, and while Yukito is fond of Sakura, Yue is reluctant to accept her.
Meilin Li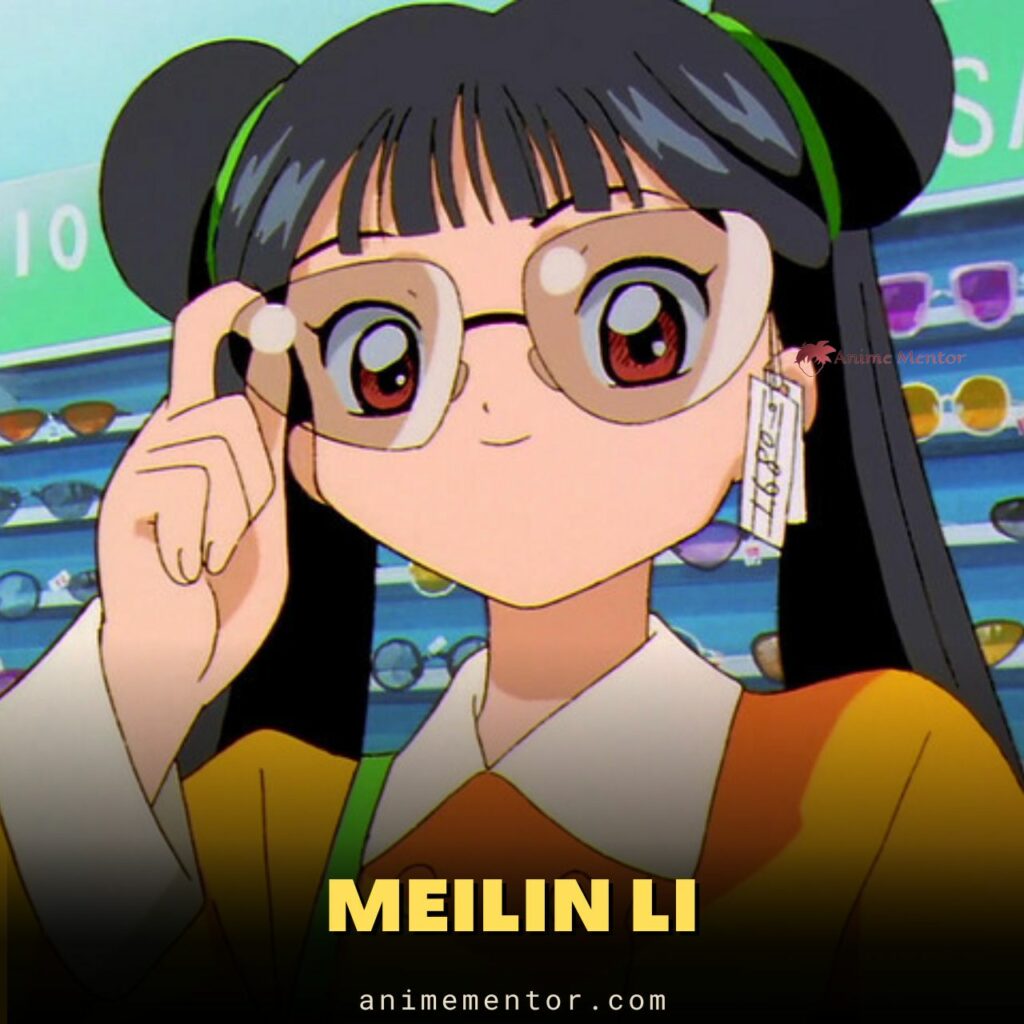 Meilin Li (李 苺鈴 Ri Meirin Chinese Pinyin: Lǐ Méilíng) is a supporting character of the anime Cardcaptor Sakura. She is the first cousin of Syaoran Li and was his betrothed since early childhood. Meiling was initially a spoiled, aggressive, selfish, and obnoxious young girl. She is a bit hot-tempered, an energetic girl who wants to show off, and chased Syaoran from Hong Kong.
Meiling has no magic power, so she can't use magic, but her martial arts are very strong. But eventually, she finds herself making friends with Sakura and becomes one of her strongest allies.
Clow Reed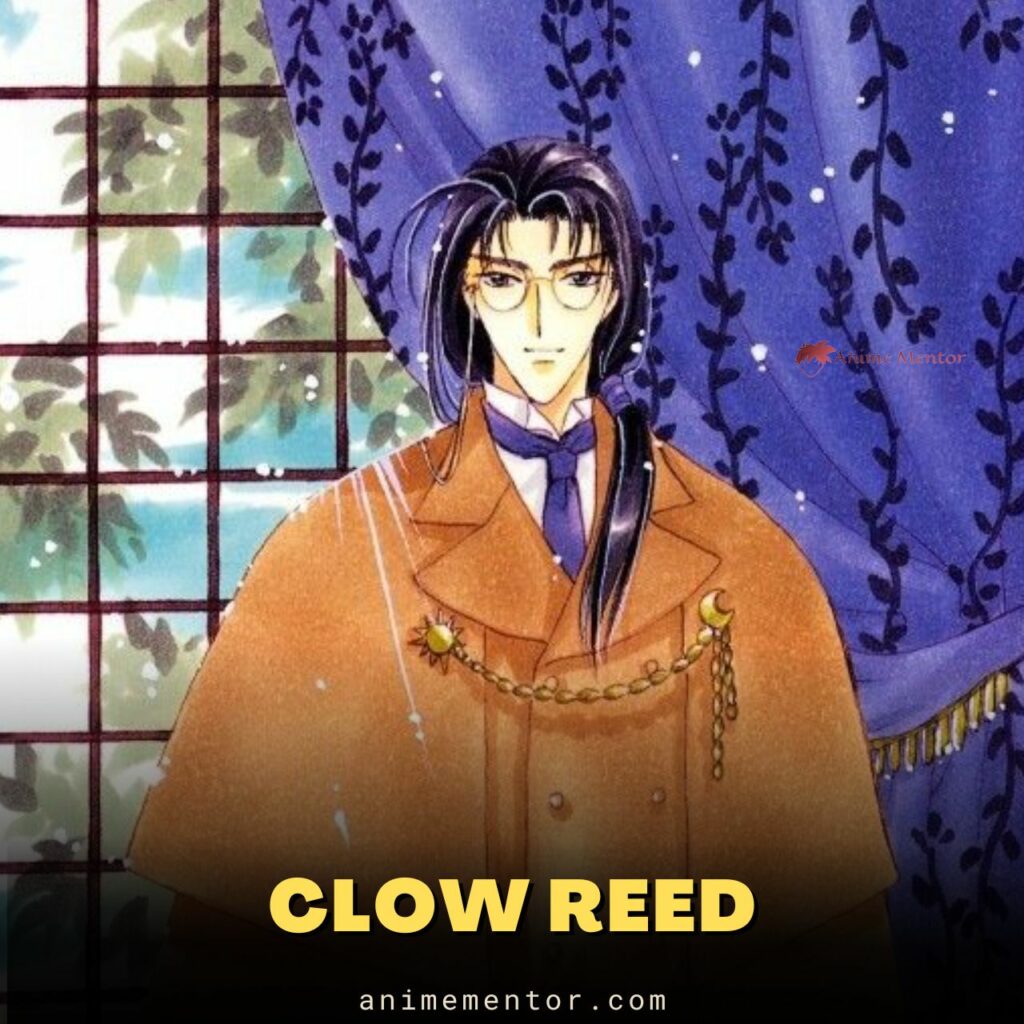 Clow Reed (クロウ·リード Kurō Rīdo) is the powerful magician who originally created the Clow Cards, and their magical guardians Cerberus and Yue. With an English father and a Chinese mother, Clow created a new type of magic that blended both Eastern and Western magical elements.
His plan was to hand down the magic to people who would use and protect it while meeting all of the qualifications. However, only a few people could learn about this brand. The character of Clow is only seen in flashbacks, as he has long been dead before the series started. Very few details are revealed about his character, personality, or life.
Eriol Hiiragizawa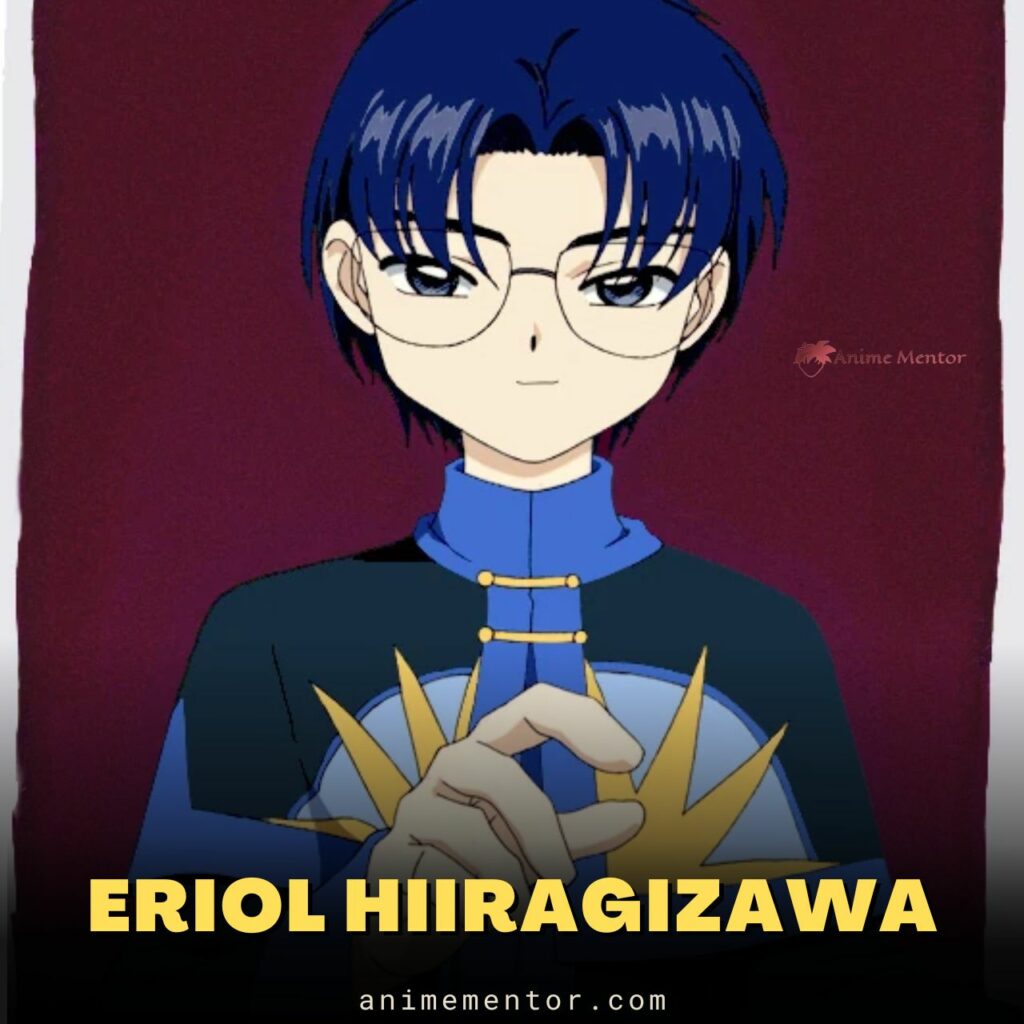 Eriol Hiiragizawa (柊沢 エリオル, Hīragizawa Erioru) is a supporting character in Cardcaptor Sakura. He is one-half reincarnation of Clow Reed and plays a main role in the events of the Sakura Cards Arc as the source of all magic events. In the Clear Card Arc, he is a supporting character alongside his lover, Kaho Mizuki.
He is skilled in basketball, cooking, academics, piano, and art. Eriol is usually a serious and determined person who also has a mischievous personality and he has to restrain himself from making wisecracks, as in Sakura Cards Arc.
Fujitaka Kinomoto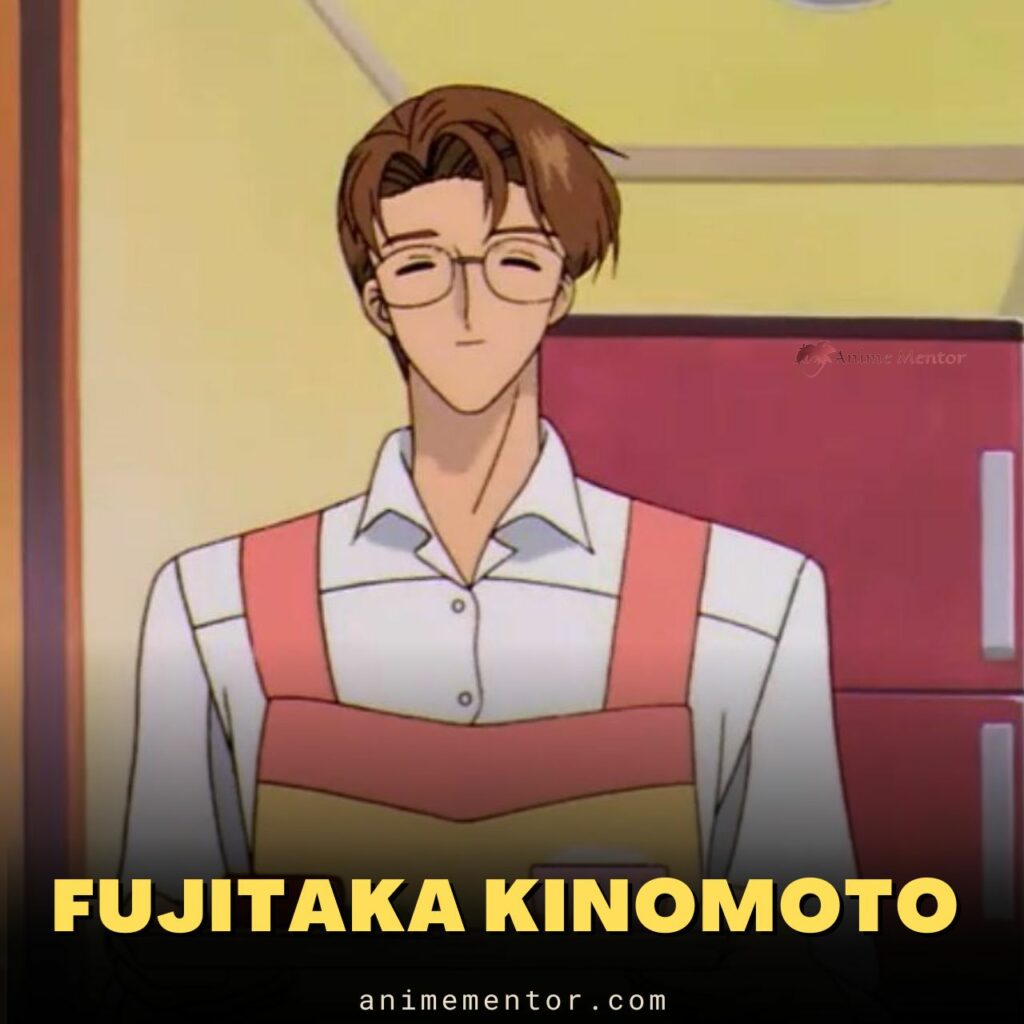 Fujitaka Kinomoto (木之本 藤隆 Kinomoto Fujitaka) is the father of Sakura and Touya. A busy professor of archeology at Town University, Fujitaka is a kind and caring father. He is also one-half of the reincarnation of Clow Reed, the other being Eriol.
He developed a romantic relationship with Nadeshiko Kinomoto in her school, where he was working as the student teacher. Eriol eventually parts some of his powers to Fujitaka, when he finally sees and reunites with the spirit of his wife.
Spinel Sun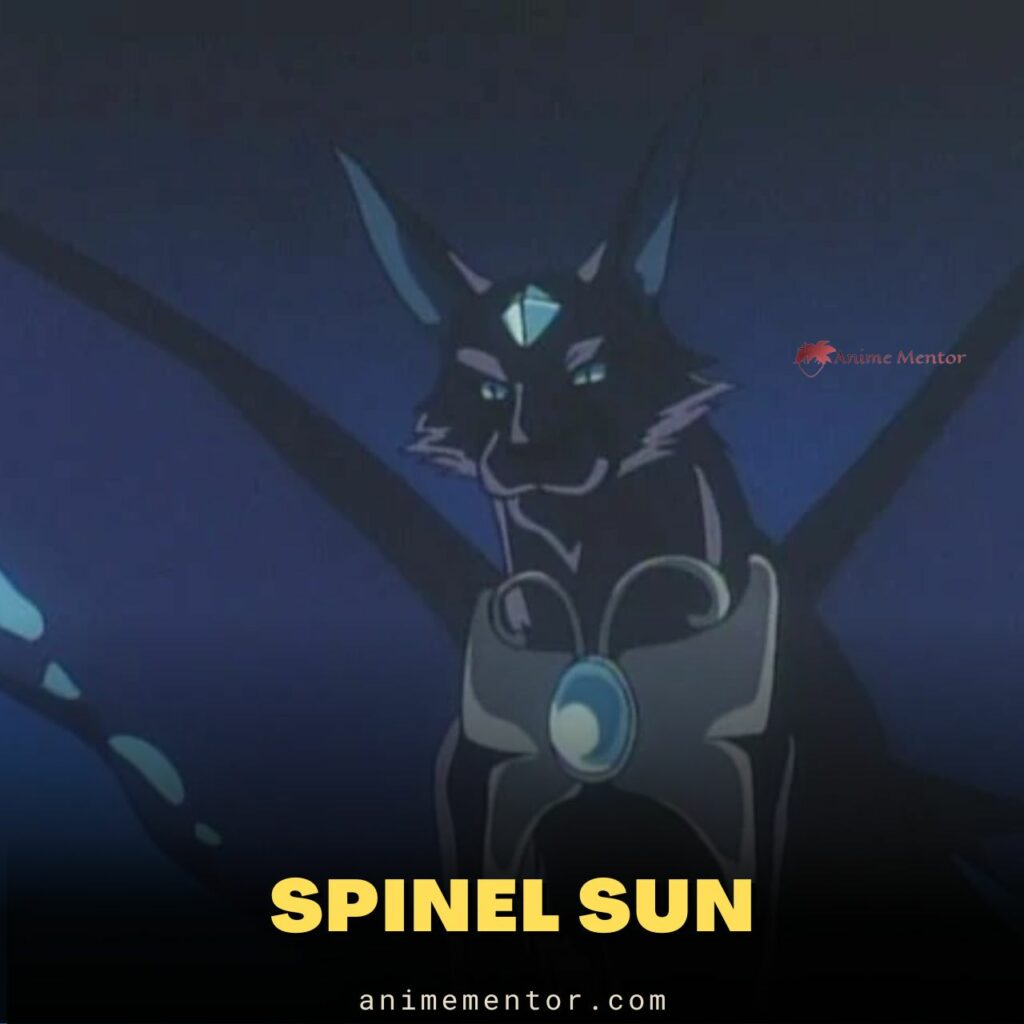 Spinel Sun (スピネル·サン Supineru San) is the cat-like magical guardian created by Eriol Hiiragizawa as a counterpart to Clow Reed's original guardian Kerberus. Spinel Sun's true form is a butterfly-winged black panther, while his false form is similar to a small winged cat. He spends most of his time reading and projects a calm demeanour.
Ruby Moon
The counterpart of the original guardian Yue, Ruby Moon (ルビー·ムーン Rubī Mūn) is one of two magical guardians created by Eriol Hiiragizawa.
Ruby Moon created a false form named Nakuru Akizuki (秋月 奈久留 Akizuki Nakuru) and enrols in Seijou High School, entering the same class as Toya Kinomoto, Sakura's brother, and Yukito Tsukishiro, the false form of Yue who is unaware of his true nature.