True Beauty (여신강림 in Korean, literally meaning "The Advent of a Goddess") is a manhwa series that was a worldwide sensation. Written and illustrated by Yaongyi, it was serialised on Naver Webtoon from 2018 to 2023.
True Beauty follows the journey of Lim Jukyung, a girl who was bullied in middle school due to her looks. Tired of being judged for her external appearance, she masters the art of makeup to transform herself into a beauty. However, this brings along new challenges, and the story explores Jukyung's romantic life as well as her struggle with accepting her true self.
True Beauty has more that 800 million views on Naver Webtoon, making it one of the site's most popular series. It was also adapted into a K-drama in 2020. Starring Moon Gayoung, Cha Eunwoo and Hwang In-Youp, the drama was an instant hit!
True Beauty Wiki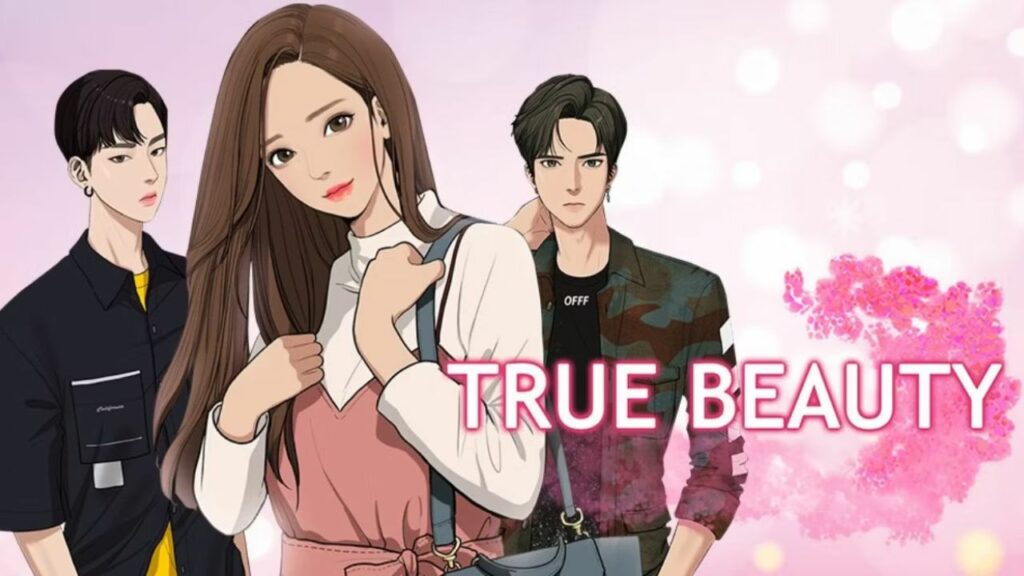 | | |
| --- | --- |
| Genre | Romance, Drama |
| Author | Yaongyi |
| Illustrator | Yaongyi |
| Publisher | Naver, Young Com |
| English publisher | Naver |
| Webtoon service | Naver Webtoon (Worldwide) |
| Original run | April 2, 2018 to June 28, 2023 |
| Chapters | 223 |
True Beauty Plot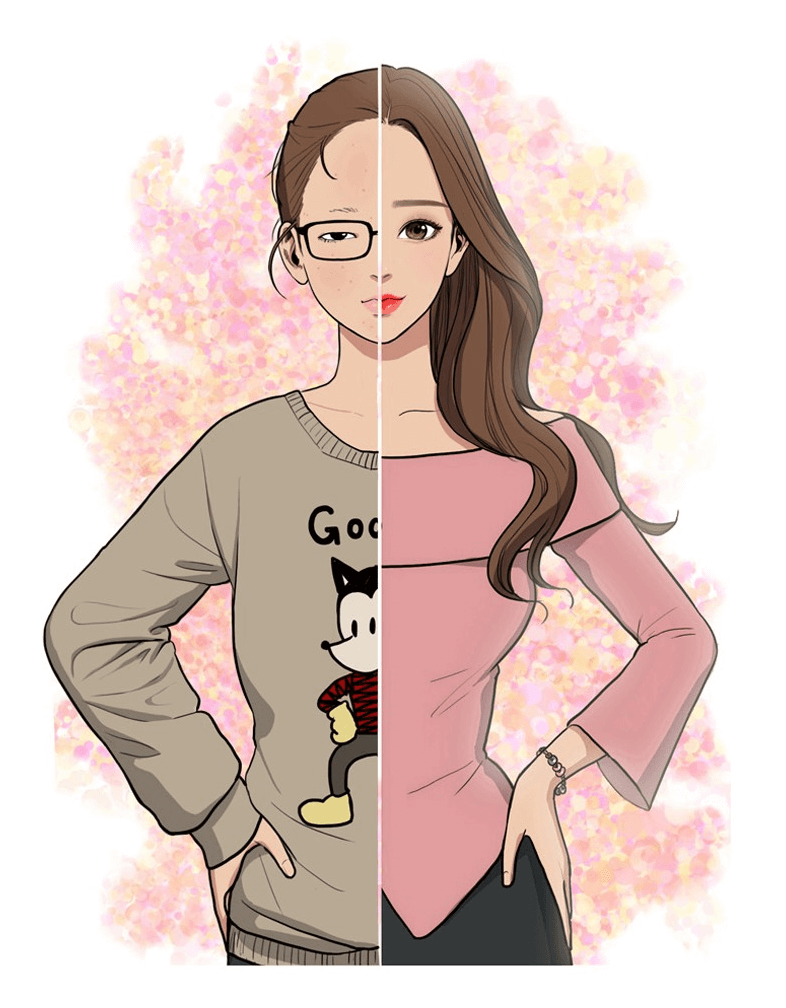 True Beauty centers around Lim Jukyung, a Korean high school student. In middle school, Jukyung is mercilessly bullied and ostracized for not fitting narrow beauty standards, having natural features like bushy brows, acne-prone skin and single eyelids. To reinvent herself before starting high school, she religiously watches makeup tutorials and practices tirelessly to perfect her skills.
When Jukyung enters high school, her makeup skills have transformed her into a striking beauty. She becomes extremely popular, earning the nickname "goddess" from besotted classmates. However, Jukyung feels inner turmoil about her glamorous made-up facade versus her bare-faced true self that she considers ugly.
Jukyung's life gets complicated when she gets entangled with two contrasting boys – Lee Suho and Han Seojun. Suho is a thoughtful, aloof boy who first meets makeup-free Jukyung at a comic book store, as they share a passion for horror. He sees beyond her physical appearance and accepts both sides of her. On the other hand, Seojun is a charismatic former idol trainee hiding inner vulnerability and a complicated past.
As Jukyung navigates high school and deals with first love, friendships, rivalries, family relationships and school pressures, she is on a quest for self-discovery and self-acceptance. The plot tracks her journey through adolescence into college, portraying her gradual maturity. It also thoughtfully explores relevant themes like toxic beauty standards, judgmental attitudes, bullying, self-image issues and lookism in modern society.
Jukyung finds herself torn between the two male leads, resulting in a gripping love triangle. Fans eagerly follow the tangled romantic relationships and who she finally chooses. Overall, True Beauty is an immersive, nuanced narrative of a young woman's universal struggle to embrace her true self and inner beauty.
True Beauty Characters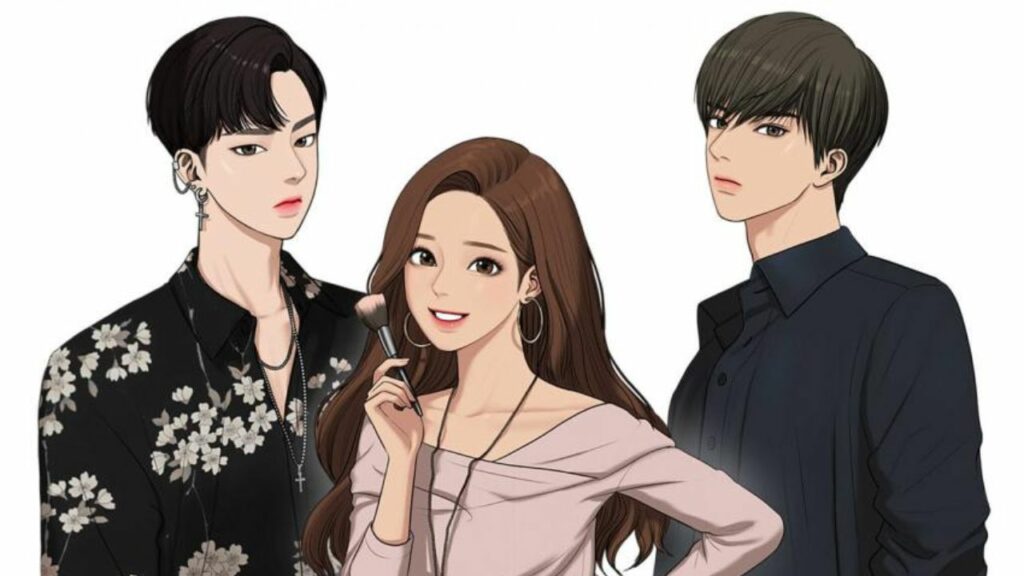 Lim Jukyung– The protagonist of the series. Jukyung is considered "ugly" and bullied at school because of her appearance. She decides to turn things around by mastering the art of makeup. This helps her transform into a total beauty, and she looks so different with makeup that most people are unable to recognise her real face. She likes horror comics and heavy metal music.
Lee Suho– A very handsome but aloof guy who goes to the same school as Jukyung. He also loves horror comics and first meets Jukyung at a comic book store. They bond over their love of horror and become friends. He recognises her at school even though she looks like a different person with makeup on. He has a strained relationship with Seojun due to some past incidents.
Han Seojun– Another handsome guy who goes to Jukyung's school. At first glance, he seems like your usual "bad boy" but Seojun is actually a very kind and sensitive person. He becomes friends with Jukyung and develops feelings for her. He used to be an idol trainee at a reputed entertainment company, but left due to mysterious circumstances. He has a bad relationship with Suho.
Lim Heekyung– Jukyung's older sister who works at an entertainment company.
Lim Juyoung– Jukyung's mischievous younger brother.
Kang Sooah– Jukyung's best friend at school.
Kang Soojin– A social media star at Jukyung's school who grows jealous of her popularity.
Han Gowoon– Seojun's sister who is a student at the same school. She is ill-treated by some of her peers because of her looks.
Where to Read True Beauty?
You can read the entirety of True Beauty on the Webtoon app. The main story has 223 episodes. There are several spin off episodes after that dealing with the life of supporting characters.
Those interested in the K-drama adaptation can watch it on the Viki site or app.
True Beauty Review
True Beauty is a webtoon that deals not only with romance, but also with issues like beauty standards and bullying. The romantic plot is swoon-worthy, with two extremely handsome male leads who also have great personalities. The love triangle between Jukyung, Suho and Seojun is definitely one of the most iconic love triangles in the romance manhwa genre.
True Beauty also has amazing visuals, and the characters are drawn in breathtaking details. The series also sheds light on South Korea's obsession with its strict beauty standards, and shows its harmful side. And most importantly, True Beauty shows us that external appearances are not everything, and that we must never judge people simply by their looks.
All these factors make True Beauty a great read for any manhwa fan looking for a unique plot and great romance!