Haikyu!! (ハイキュー!!) is a popular Japanese high school volleyball manga and anime series written and illustrated by Haruichi Furudate. Haikyu!! was serialized in Weekly Shonen Jump from 2012 to 2020 and has been adapted into an anime series by Production I.G that aired from 2014 to 2020.
With its dynamic characters, exciting volleyball matches, and themes of personal growth, teamwork and rivalry, Haikyu!! became one of the best-selling manga series of the 2010s. The anime adaptation also gained critical acclaim for its animation, characterization, attention to detail in volleyball techniques, and blend of sports action with interpersonal drama. Haikyu!! is considered a leading example of the sports manga/anime genre.
Haikyuu Wiki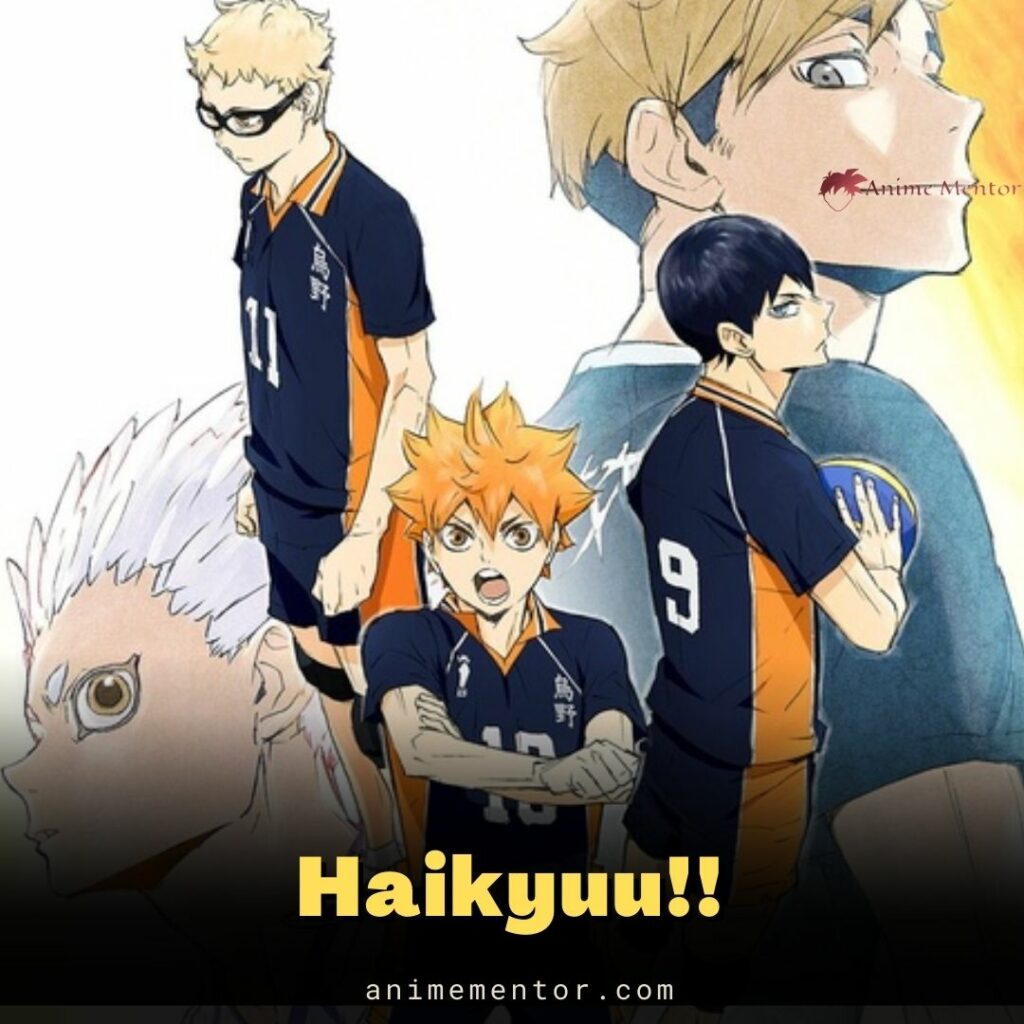 Genre
Comedy
Coming-of-age
Sports
Manga
Written by
Haruichi Furudate
Published by
Shueisha
English publisher
Viz Media
Magazine
Weekly Shōnen Jump
Demographic
Shōnen
Original run
February 20, 2012 – July 20, 2020
Volumes
45
Anime
Directed by
Susumu Mitsunaka (Ep 1–60)
Masako Satō (Ep 61–85)
Written by
Taku Kishimoto
Music by
Yuki Hayashi
Asami Tachibana
Studio
Production I.G
Licensed by
Crunchyroll
Medialink
Netflix
Original network
JNN
Original run
April 6, 2014 – December 19, 2020
Episodes
85 + 5 OVAs
Haikyu Plot
Shoyo Hinata is a short, energetic boy who becomes obsessed with volleyball after seeing a high school tournament on TV featuring a player nicknamed the "Little Giant." Hinata is inspired by the Little Giant's athleticism and skills despite his short stature, similar to Hinata's.
When Hinata enters junior high, he joins his school's volleyball club but he's the only member. For two years, he desperately trains alone, determined to get good enough to play competitively.
In his final junior high tournament, Hinata's team faces off against a powerhouse school led by genius setter Tobio Kageyama, known as the "King of the Court." But Kageyama's team easily defeats Hinata's. Hinata vows to get his revenge on Kageyama in high school.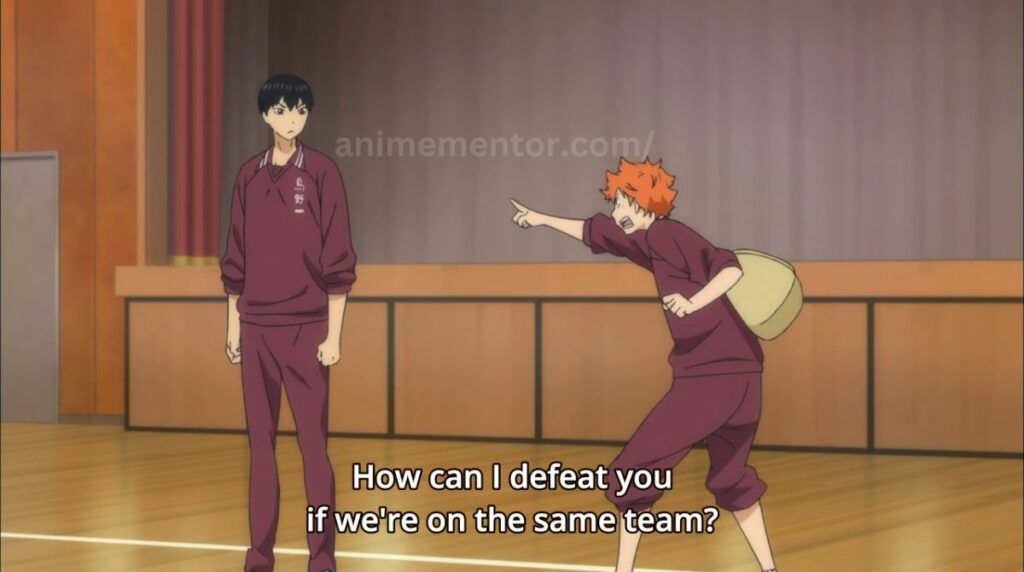 Ironically, Hinata and Kageyama both end up attending Karasuno High School – the former school of the Little Giant. However, Karasuno's volleyball team has declined since those glory days and is now nicknamed the "Flightless Crows."
Despite their junior high rivalry, Hinata and Kageyama realize they can create an incredible attack combo together. Hinata's speed and jumping ability pair perfectly with Kageyama's precise sets. Their special quick attack revitalizes Karasuno and helps them start winning matches again.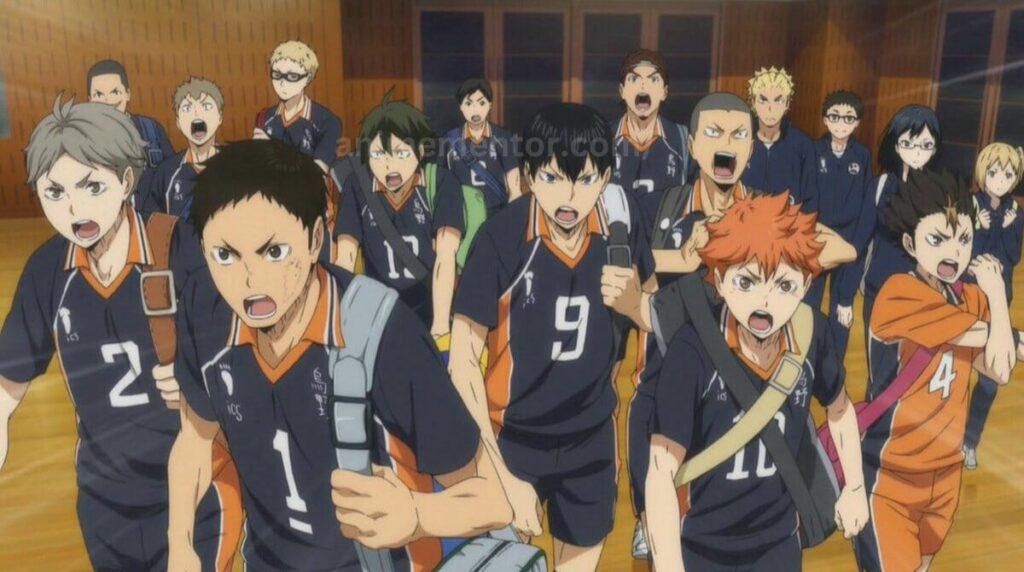 However, restoring Karasuno's reputation won't be easy. Rival schools like Aoba Johsai and Shiratorizawa stand in their way to nationals, led by intimidating players.
Can Hinata and Kageyama lead Karasuno all the way to the national championships?
Haikyuu Cast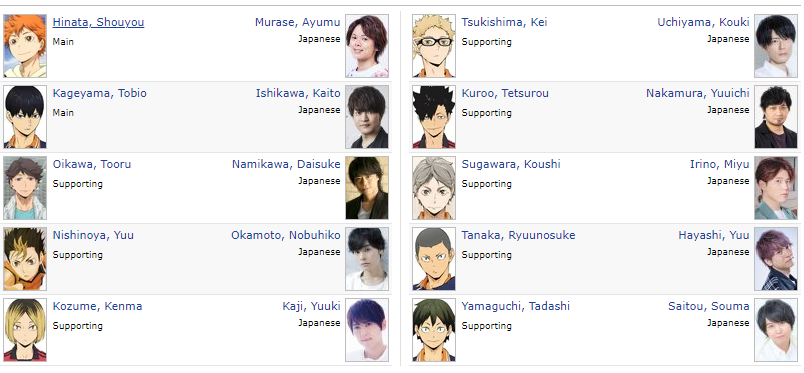 Shoyo Hinata (VA- Ayumu Murase): Short high school student determined to become a volleyball star despite his size.
Tobio Kageyama (VA- Kaito Ishikawa): Serious genius setter who joins forces with Hinata to revive Karasuno's team.
Tooru Oikawa (VA- Daisuke Namikawa): Talented captain and setter from Aoba Johsai who sees Kageyama as his rival.
Yu Nishinoya (VA- Nobuhiko Okamoto): Skilled libero who defends Karasuno with boundless confidence and energy.
Kenma Kozume (VA- Yuuki Kaji): Quiet, observant setter and childhood friend of Kuroo from Nekoma High.
Kei Tsukishima (VA- Kouki Uchiyama): Intelligent middle blocker who lacks motivation and often clashes with Hinata.
Tetsurou Kuroo (VA- Yuuichi Nakamura): Clever Nekoma captain who helps Tsukishima improve his blocking.
Koushi Sugawara (VA- Miyu Irino): Kindhearted Karasuno vice-captain who supports the underclassmen spikers.
Ryuunosuke Tanaka (VA- Yuu Hayashi): Passionate wing spiker who energizes and encourages Karasuno.
Tadashi Yamaguchi (VA- Souma Saito): Tsukishima's shy friend who serves as a pinch server for Karasuno.
Who will Enjoy the show?
Haikyuu! is a sports anime that is geared towards those who enjoy sports anime, specifically volleyball. However, the anime has a broad appeal, and many people who are not typically fans of sports anime also enjoy it. The series is known for its well-developed characters, intense action scenes, and emotional moments. If you enjoy an anime that is both exciting and relatable, then Haikyuu! may be perfect for you.
Haikyuu Review
I never expected to love a sports anime until being won over by Haikyu!!. This exhilarating series exemplifies the best the genre can offer – inspirational personal growth, intense rivalries, and matches that keep you on the edge of your seat.
Despite their bitter junior high rivalry, energetic shorty Hinata and genius setter Kageyama must learn teamwork when fate reunites them at Karasuno High. Combining Hinata's incredible leaping power with Kageyama's pinpoint sets, they breathe new life into Karasuno's volleyball club.
The characters are the real stars, from the quirky team dynamics to stoic Kageyama's awkward personal growth. I became invested in every emotional victory and loss. With fantastic animation, an upbeat soundtrack, and a focus on real volleyball fundamentals, Haikyu!! delivers incredibly hype yet grounded matches.
While perhaps not reinventing sports anime, Haikyu!! represents its very best. This motivational gem made me cheer. I cannot recommend it enough, even for those doubtful of the genre like I once was. It will speak to your inner passion and have you longing to stand on the court yourself!
Haikyu Manga Sales and Popularity
As of September 2023, Haikyu!! manga has over 60 million copies in circulation, making it one of the best-selling manga series.
It was the 4th best selling manga series in Japan in 2020 with over 7 million copies sold.
The manga won the Shogakukan Manga Award for Best Shōnen Manga in 2016.
It has frequently ranked highly in surveys and polls of favorite manga series in Japan.
Haikyu Anime Adaptation
The Haikyu!! anime adaptation by Production I.G aired from 2014 to 2020 with 85 episodes and 5 OVA episodes.
The anime was hugely popular, ranking in many "Best Anime of the Decade" lists. It won awards like "Best Boy" for Shoyo Hinata.
4 compilation films and 2 theatrical anime films were also released.
Haikyu Games
Haikyu!! video games have been developed including Haikyu!! Cross Team Match for Nintendo 3DS and the character Shoyo Hinata appearing in J-Stars Victory VS.
Haikyu!! also inspired stage play adaptations and live events.