Romance is one of the most beloved genres in any form of fiction, especially manga. With the sweet and wholesome feelings that it induces in us, it is no surprise that it has a huge fan following. Romance manga is also often bittersweet while making us shed tears through their drama. With a variety of elements ranging from comedy to tragedy, even fans of only fighting anime can't help but be fascinated by them. In this list, we shall dive into the 10 best romance manga that you have to read at least once.
10. The Quintessential Quintuplets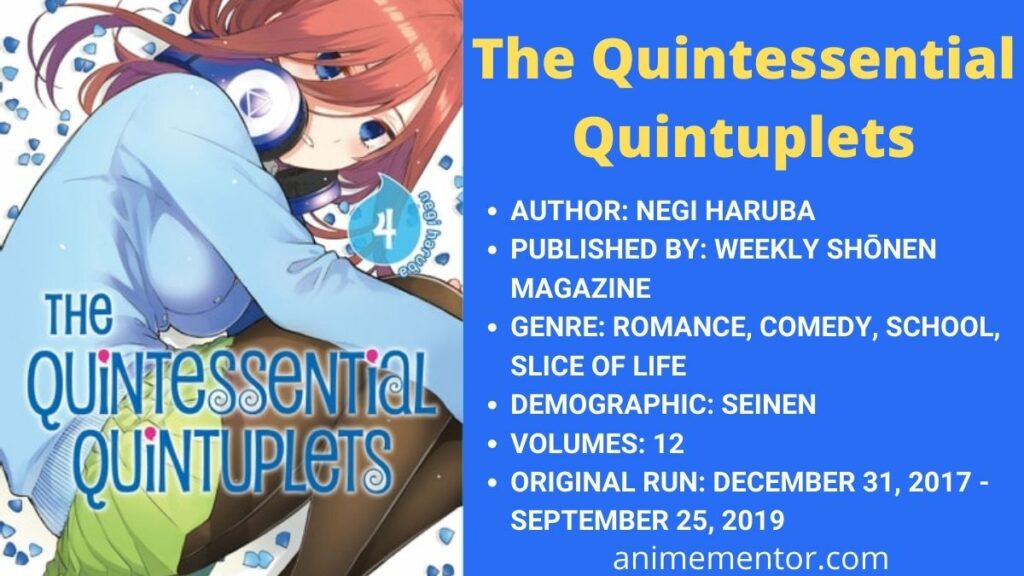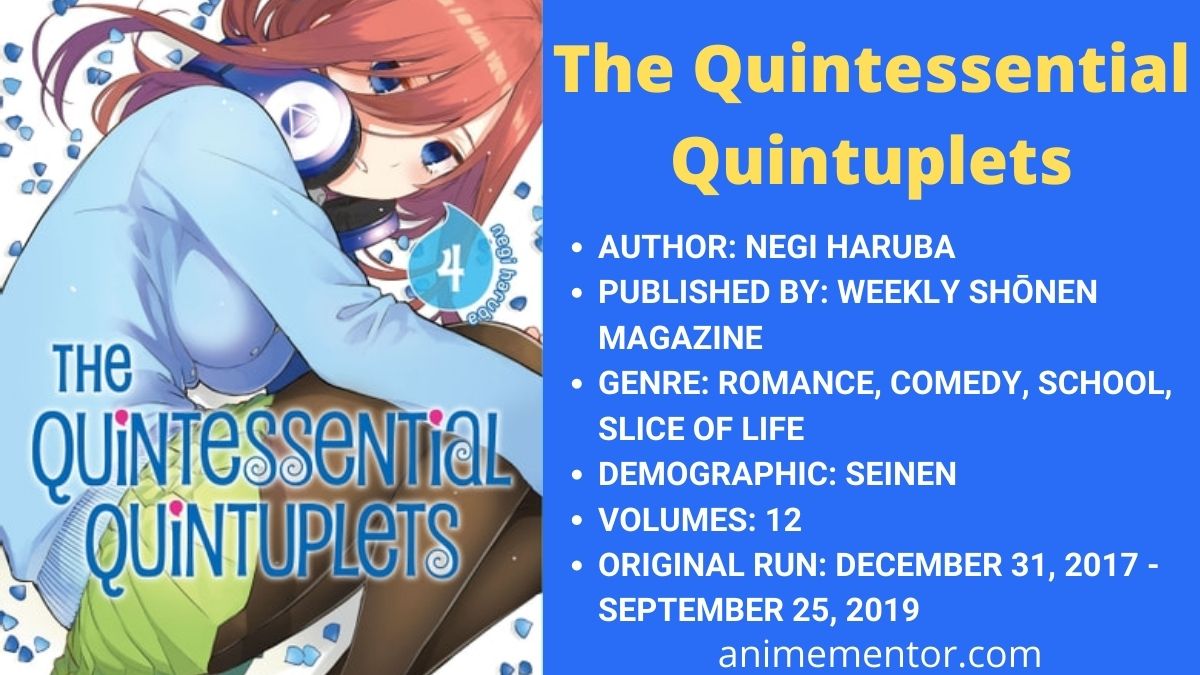 Author: Negi Haruba
Published by: Weekly Shōnen Magazine
Genre: Romance, Comedy, School, Slice of Life
Demographic: Seinen
Volumes: 12
Original Run: December 31, 2017 – September 25, 2019
A well-executed harem story can go on to become one of the most enjoyable experiences for a reader. While it is unfortunate that not many of this kind exist, The Quintessential Quintuplets shows the potential that is held by the genre. It follows a brilliant high school student named Fuutarou who is struggling financially. When he agrees to take on the gig of being a tutor, he had no idea what he was signing up for. Fuutarou is stunned when his student was not one but 5 girls who happened to be quintuplets. As he struggles in adjusting to each of their personalities and helping them in study better, he forms bonds with each one of them which inevitably leads to the sisters developing a crush. The Quintessential Quintuplets is a hilarious series filled with romance and drama as the protagonist is forced to make an impossible choice.
9. Kimi ni Todoke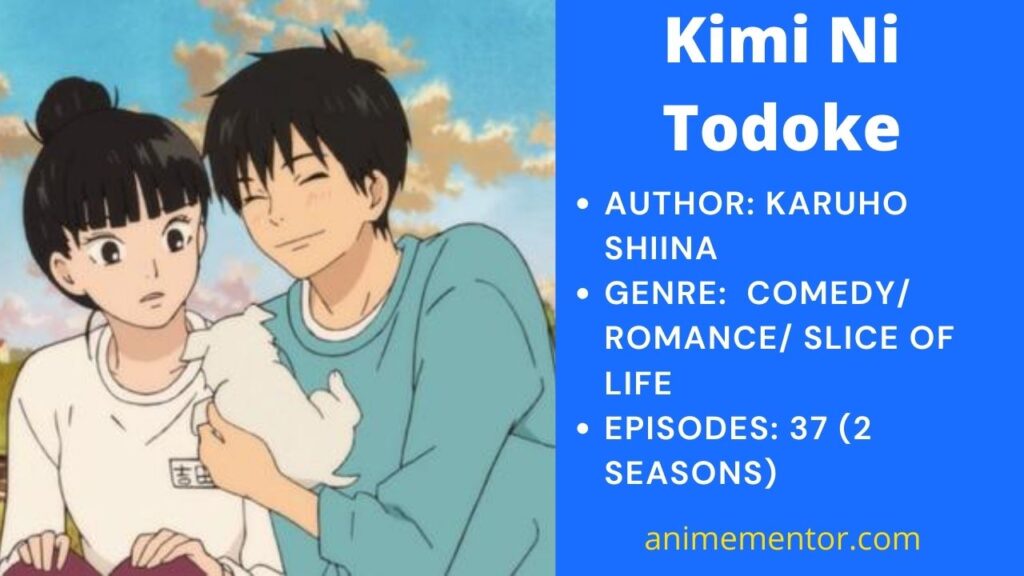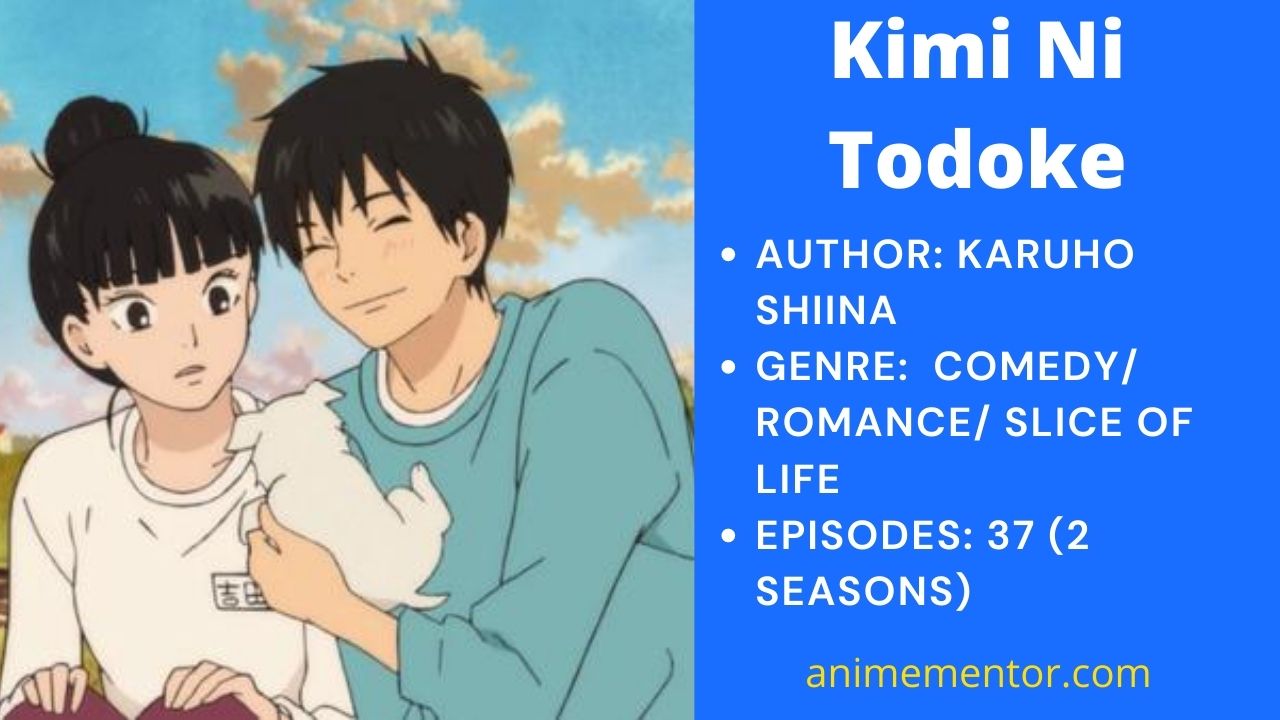 Author: Karuho Shiina
Published by: Bessatsu Margaret
Genre: Romance, School, Slice of Life
Demographic: Shōjo
Volumes: 30
Original Run: October 25, 2005 – June 25, 2011
Kimi ni Todoke is a heart-warming classic Shoujo manga that follows a girl with a frightening appearance. Due to this, people often find her to be unapproachable and fear her which is the exact opposite of her personality. However, after being drawn to a cheerful boy in her class, she aspires to change herself while forming a relationship with the boy. Through this, the shy protagonist comes out of her shell while experiencing a variety of feelings and creating bonds with others. It also leads to an extremely sweet romance between the two leads which never fails to make the reader smile.
8. Orange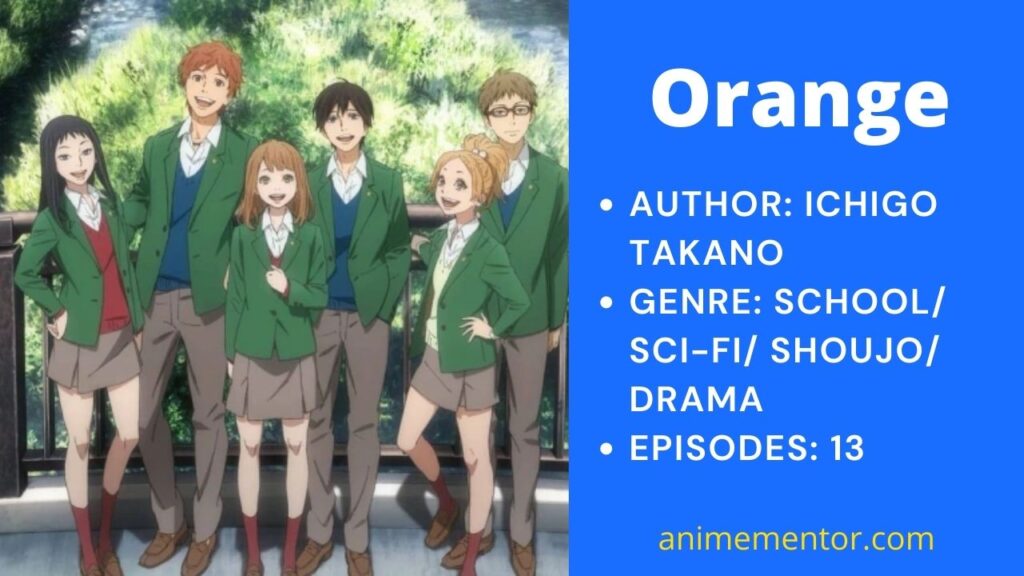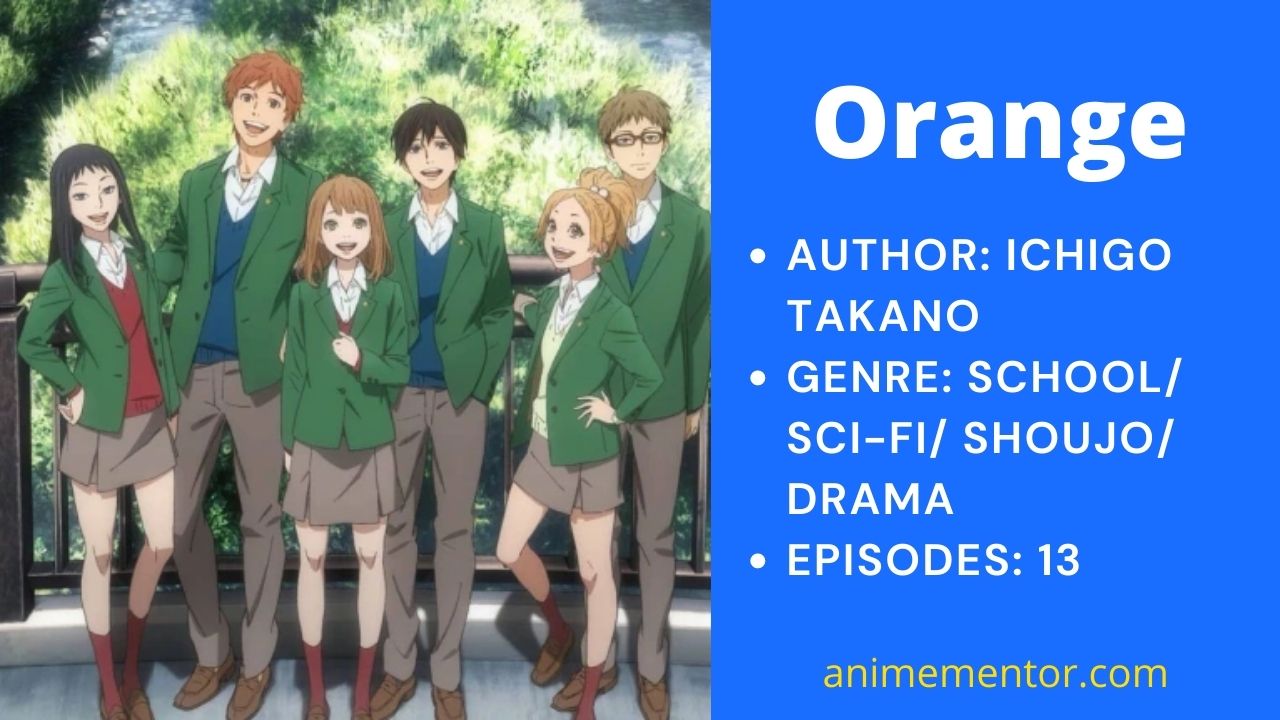 Author: Ichigo Takano
Publisher: Zero-Sum Ward
Genre: Romance, Science Fiction, Drama, School
Demographic: Seinen
Volumes: 7
Original Run: June 12, 2012 – December 12, 2015
Orange is a series filled with drama and many bittersweet moments. The story starts as we see a girl receive a letter from the future which tells her to take care of a boy in her class to avoid any regrets. The boy, whose name is Kakeru, seems very cheery on the outside but is extremely depressed due to several problems happening in his family. Together with her friends, she tries her best to let him have a happy life while following instructions from the letter. This leads to a romance blooming between the two of them. However, the contents of the letter are not enough to let them go on a smooth path as several obstacles come in their way.
7. Blue Spring Ride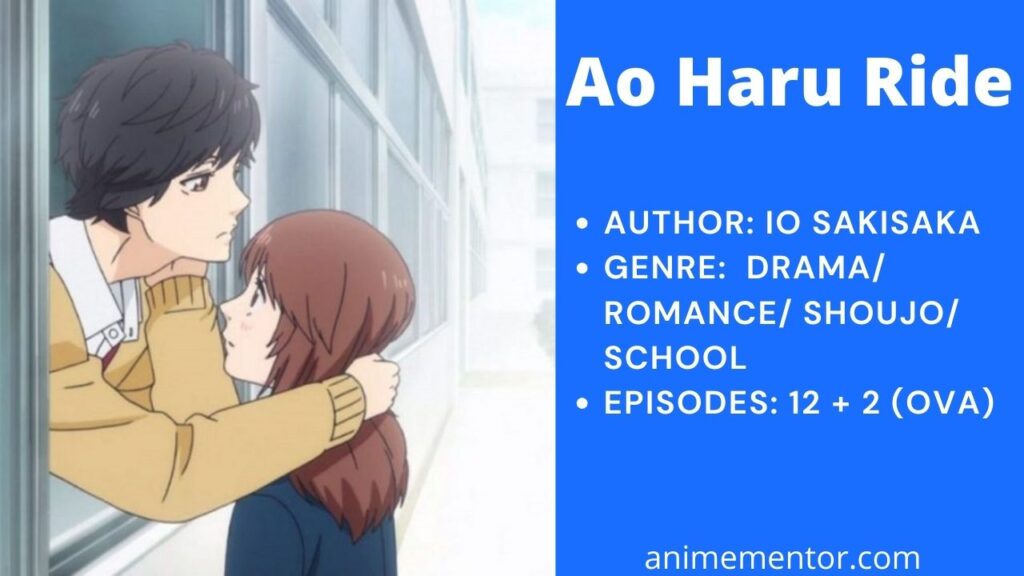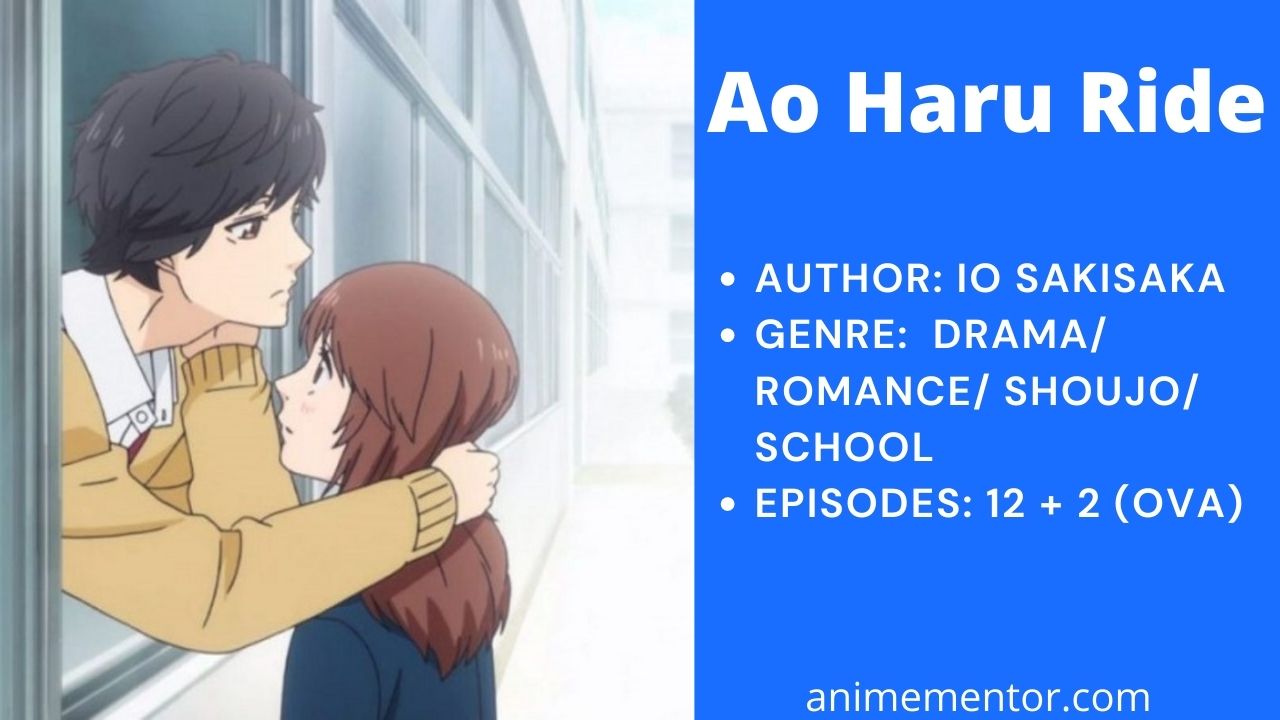 Author: Io Sakisaka
Publisher: Shōjo Comic
Genre: Romance, Drama, School
Demographic: Shōjo
Volumes: 18
Original Run: February 25, 2011 – November 25, 2014
Blue Spring Ride, more commonly known as Ao Haru Ride might be a Shoujo series but it is also one of the most popular romance manga to ever come out. It follows a young girl named Futaba who encounters her childhood crush in her school. Through the passage of time, both their personalities had changed drastically as they struggle to find the friendship and connection they once had. As we see Futaba try to maintain her friendship through her current persona but also attract her crush, several satisfying but also intense scenes take place. Ao Haru Ride contains many staples found in Shoujo Manga and is a great starter series for anyone looking to try out the genre.
6. Horimiya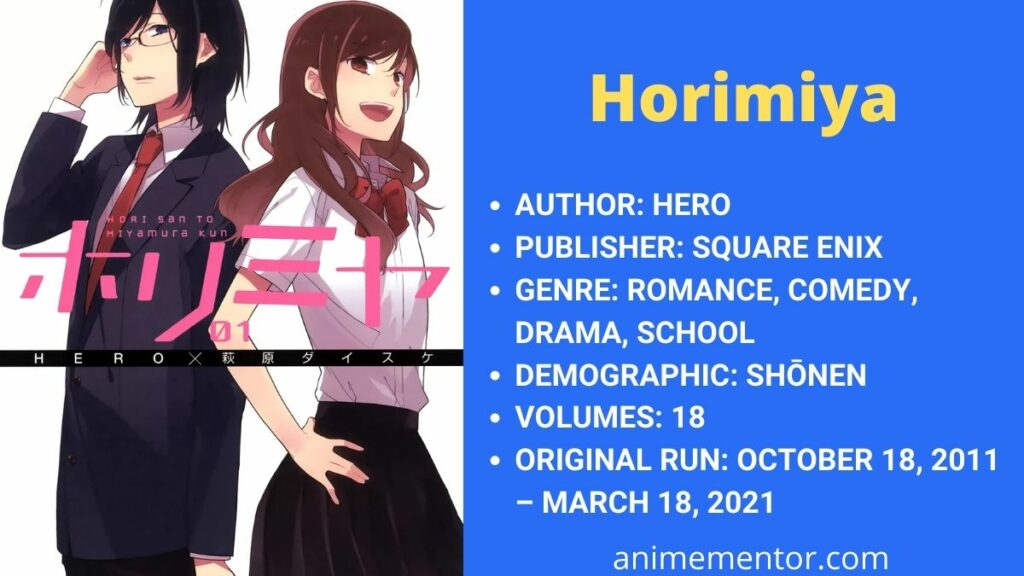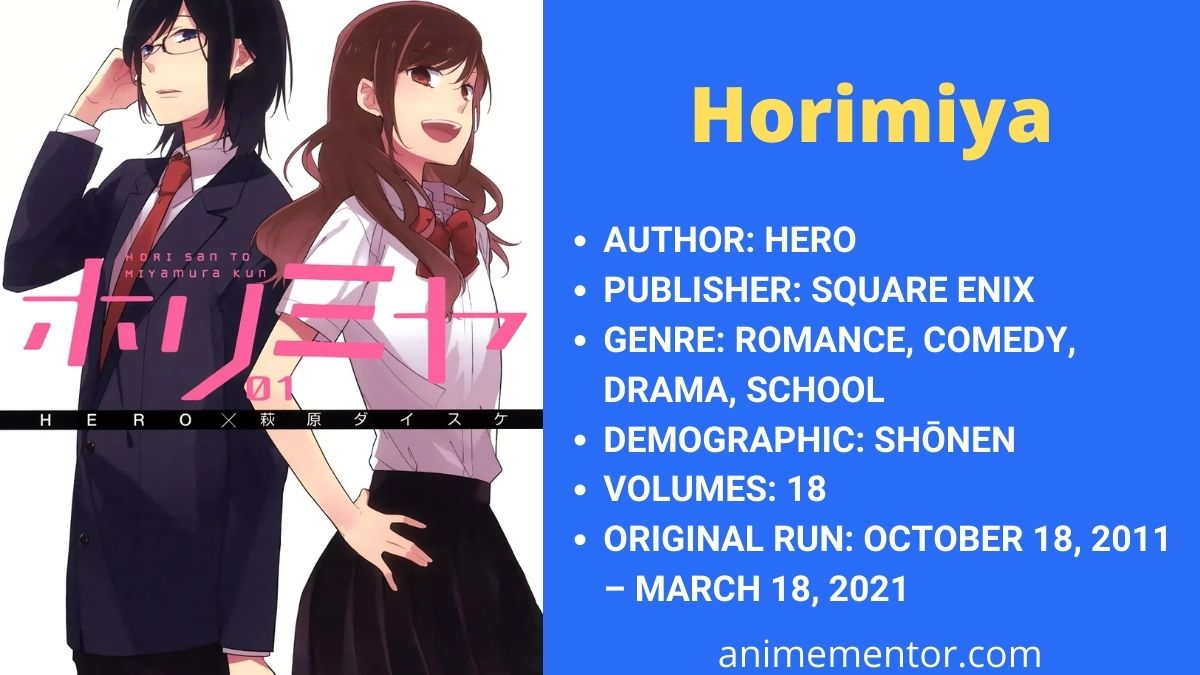 Author: HERO
Publisher: Square Enix
Genre: Romance, Comedy, Drama, School
Demographic: Shōnen
Volumes: 18
Original Run: October 18, 2011 – March 18, 2021
With its widely successful yet redacted anime, the Horimiya manga has had a surge in readers who appreciate the enjoyable and realistic take on a relationship that the series presents. We are introduced to an outgoing girl who is loved by everyone and a gloomy boy who doesn't talk much. While it looks seems like they are polar opposites, a coincidental meeting helps them in becoming friends. As the boy frequently visits the girl's house and is friendly with her family, we see her falling for him and them getting into a relationship. While most stories end with the boy and girl getting together, Horimiya starts at the point where we see the two of them making sacrifices and experiencing the joys of dating.
5. Three Days of Happiness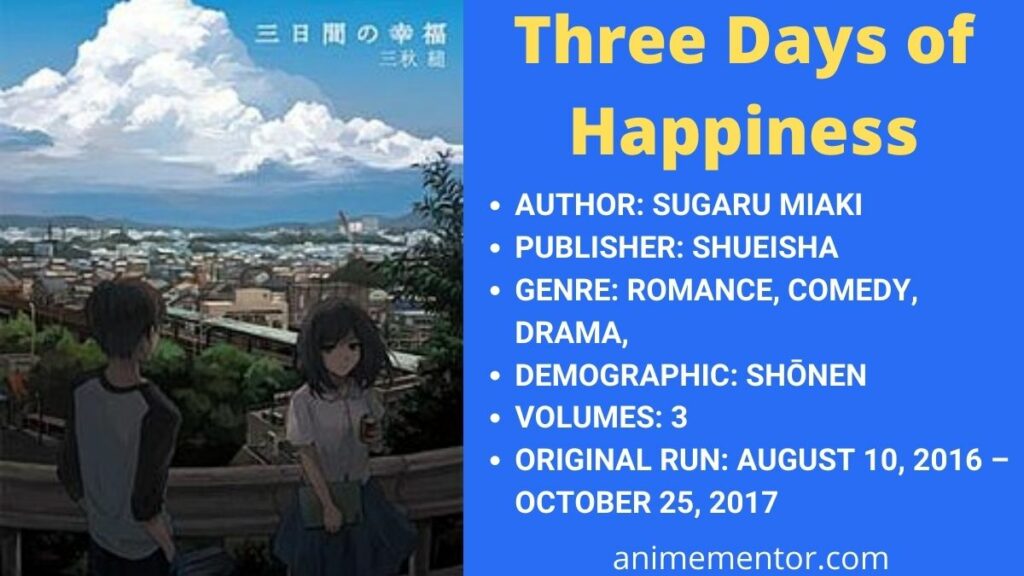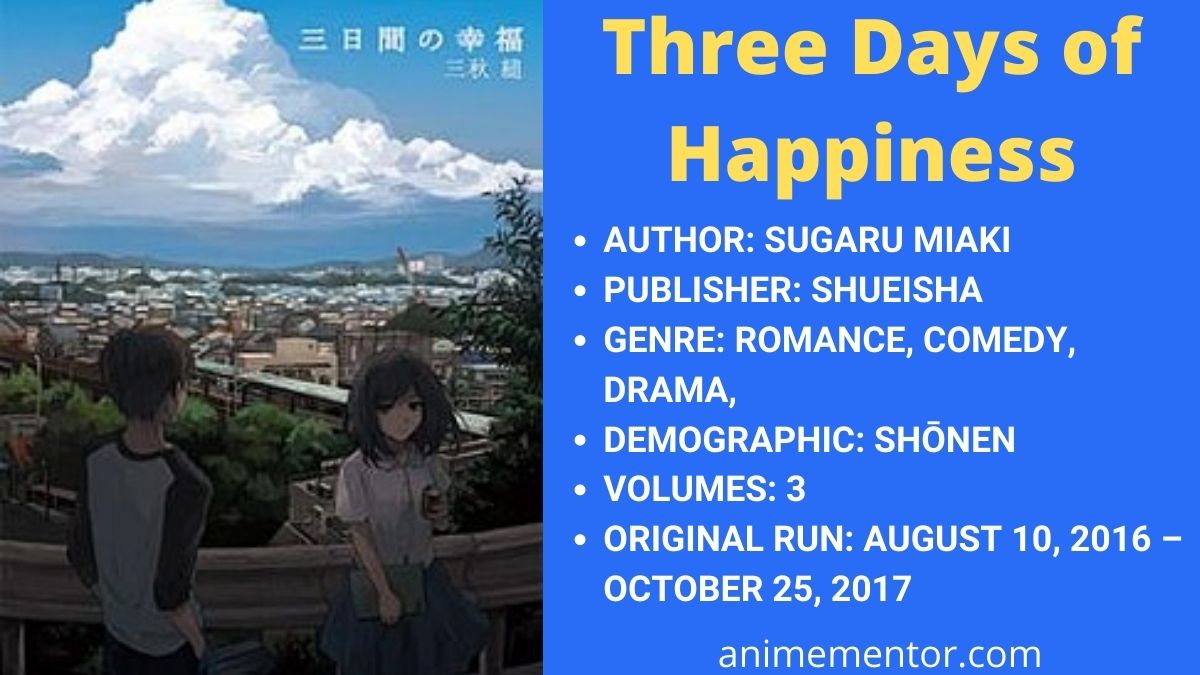 Author: Sugaru Miaki
Publisher: Shueisha
Genre: Romance, Comedy, Drama,
Demographic: Shōnen
Volumes: 3
Original Run: August 10, 2016 – October 25, 2017
Three Days of Happiness is an extremely unique story that follows a depressed man who sells off his lifespan and has only three months to live. During his final days, he is assigned an observer to monitor him. As the two of them spend their days together while expressing their stories and traumas, they unsurprisingly form a bond. Through this, we see them letting go of the past while living in the moment with no regrets. Three Days of Happiness is a bittersweet story that follows the growth of a person and finding value in each one's life.
4. Your Lie in April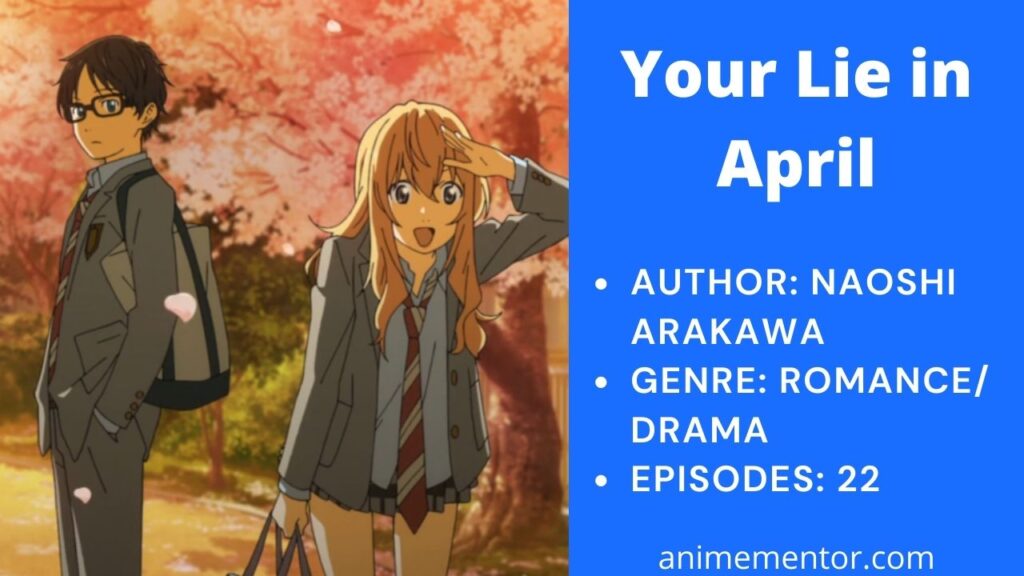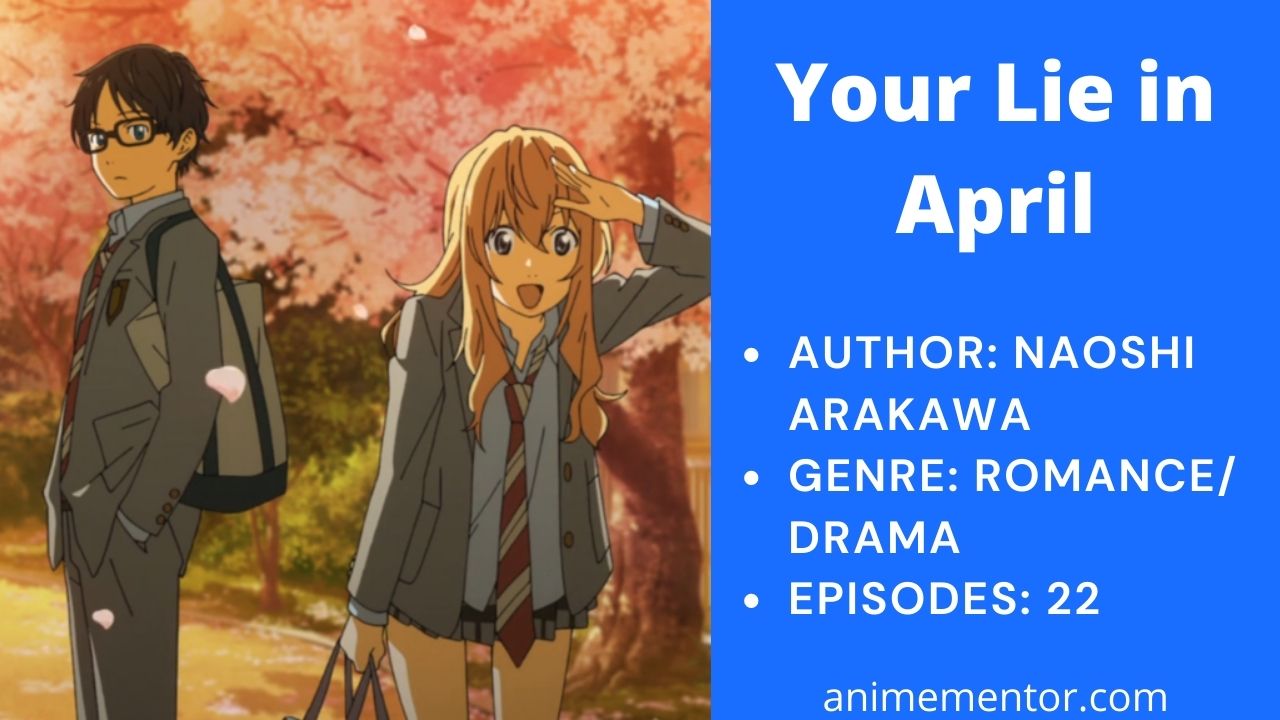 Author: Naoshi Arakawa
Publisher: Kodansha
Genre: Romance, Drama, Music
Demographic: Shōnen
Volumes: 11
Original Run: August 9, 2011 – April 9, 2015
Your Lie in April is a beautifully sad series that follows the life of a trauma-induced musician. While Kousei was considered a prodigy in the field of piano playing, he led a very sad life which made him develop a fear of it. On finding a cheery girl who plays the violin, however, he strives to improve himself and get over his trauma with her help. As the two of them play together and confide in each other, they also go from being friends to something more. However, the happy girl has a secret she hasn't revealed which puts a dent in their feelings. Your Lie in April is an extreme tearjerker that plays with our emotions while showing the development of each character.
3. Maid-Sama!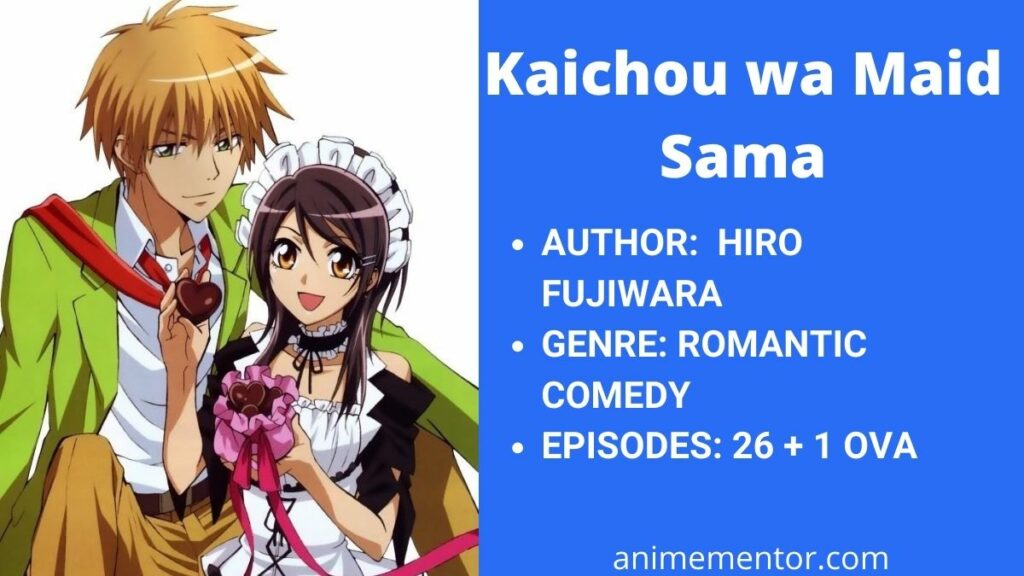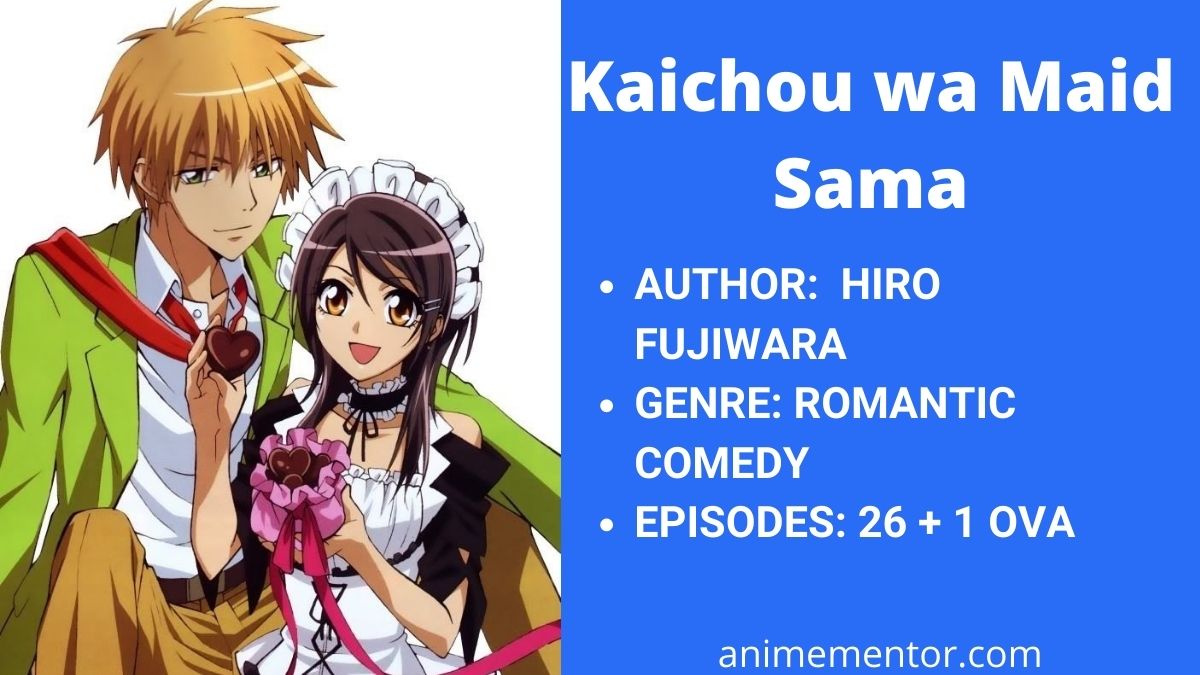 Author: Hiro Fujiwara
Publisher: Hakusensha
Genre: Romance, Comedy, School
Demographic: Shōjo
Volumes: 18
Original Run: September 24, 2006 – September 24, 2013
One of the most influential manga that also serves as the standard for any Shoujo series is Maid-Sama! It follows its protagonist, the student council president, Misaki. She is a very diligent and strict individual who hardly ever slacks off. She also works in secrecy at a maid café in order to provide for her family. However, when a handsome boy from her school finds her there, he proceeds to tease her while making her life a living hell by being very open with his affection toward her. Slowly and despite the problems this causes her, Misaki also finds herself to be attracted to him. Maid-Sama! is a hilarious series that follows almost every trope of a romance manga to perfection.
2. Will you marry me again if you are reborn?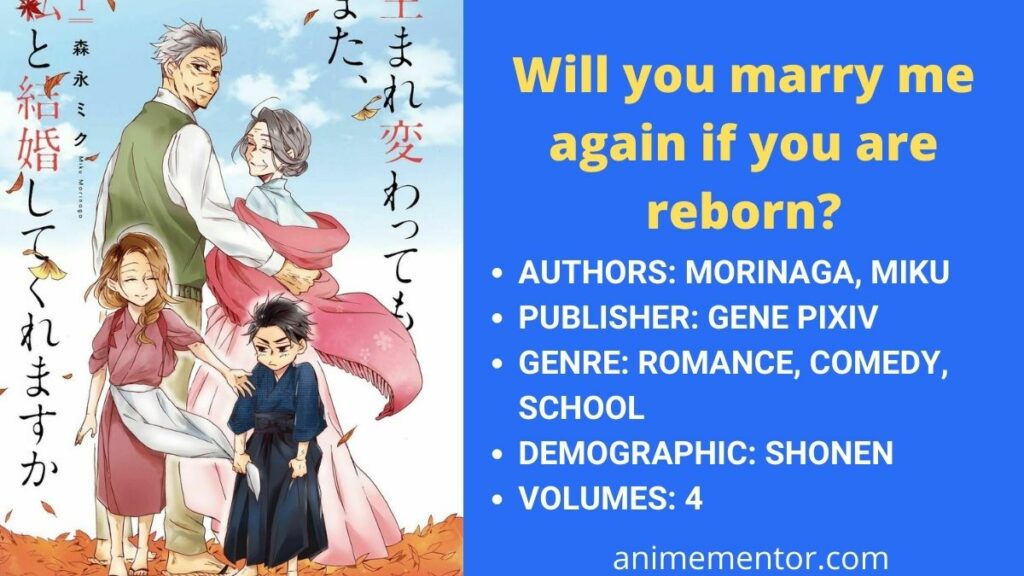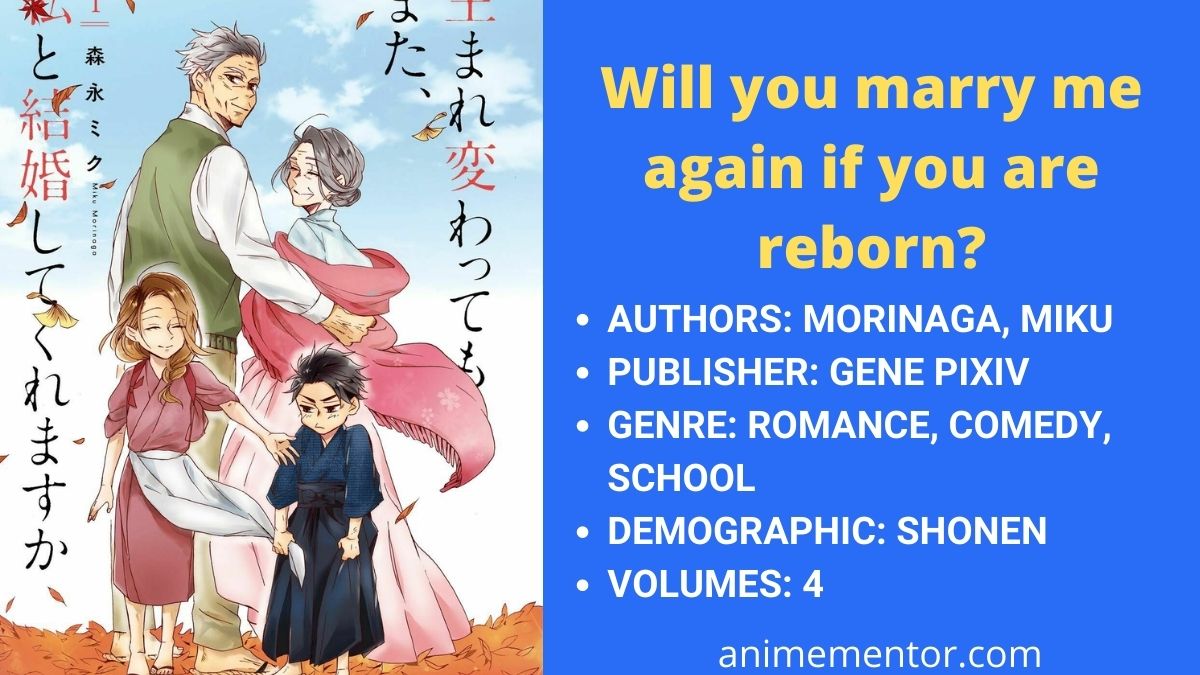 Authors: Morinaga, Miku
Publisher: Gene pixiv
Genre: Romance, Comedy, School
Demographic: Shonen
Volumes: 4
Original Run: Oct 20, 2017 to Sep 20, 2019
"Will you marry me again if you are reborn?" is one of the most underrated manga to ever be made. It is extremely sad and depressing while also dealing with a very sweet story of romance. As we are introduced to an old couple where the man is bedridden, we are taken back in time to where we are shown how they met and the circumstances surrounding their families. As we see the boy and girl's feeling slowly grow more intense through time, we are also shown the concept of loss and the uncertainty of life through a war. While the manga is yet to reach the mainstream audience, it is undeniably one of the best experiences a reader will get and leaves a deep emotional impact despite its small number of chapters.
1. Kaguya-sama: Love Is War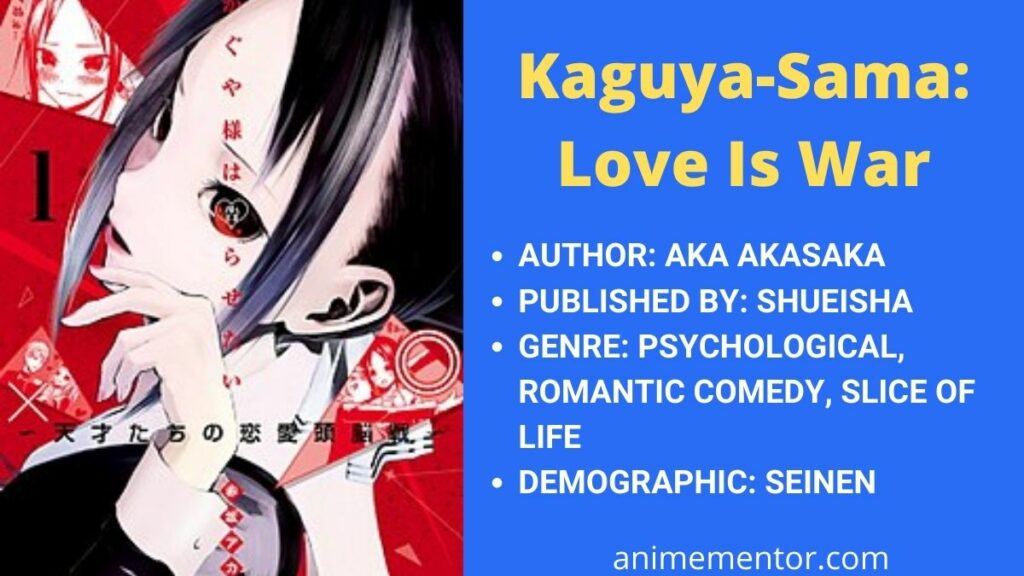 Author: Aka Akasaka
Published by: Shueisha
Genre: Psychological, Romantic comedy, Slice of life
Demographic: Seinen
Volumes: 40
The Best Romance Manga that any fan of the genre can read currently is definitely Kaguya Sama. It follows the life of the brilliant president and vice president of the Student Council of a prestigious academy. While they seem calm and composed on the outside, both of them are deeply in love with each other but refuse to admit it. In addition, they decide on making the other person admit their feelings in order to win their twisted game. This leads to several funny moments as we see them constantly trying to outwit each other. In addition, Kaguya Sama also has a good balance of drama and great character development as we feel attached to almost every member of the cast. With its recent conclusion which was very satisfying, there is no better romance manga that one can read right now.