"Masamune-kun's Revenge," also known as "Masamune-kun no Ribenji," is a popular Japanese manga series written by Hazuki Takeoka and illustrated by Tiv. This romantic comedy follows the story of Masamune Makabe as he seeks revenge on his childhood crush. With its blend of humor, romance, and intricate character dynamics, "Masamune-kun's Revenge" has captured the hearts of readers and viewers alike.
The manga series, published by Ichijinsha and serialized in Monthly Comic Rex from October 2012 to June 2018, spans a total of 11 volumes. Hazuki Takeoka's engaging storytelling and Tiv's artwork bring the characters to life, drawing readers into Masamune's journey of vengeance and self-discovery. Additionally, a light novel adaptation with illustrations by Tiv was published by Ichijinsha in December 2013.
"Masamune-kun's Revenge" was adapted into an anime television series produced by Silver Link. Directed by Mirai Minato and written by Michiko Yokote, the anime aired from January to March 2017. With its vibrant animation and catchy soundtrack composed by Tatsuya Kato, the anime brought the story's humor and romantic tension to the screen, captivating audiences.
Following the success of the original manga and anime, "Masamune-kun's Revenge" continued its story in spin-off manga series. "Masamune-kun's Revenge After School" was published from September 2018 to January 2019 in Monthly Comic Rex. Additionally, a new spin-off manga titled "Masamune-Kun's Revenge engagement" began serialization in Comic Howl in April 2023
The series returned to the screen with a new anime series titled "Masamune-kun's Revenge R" in July 2023. Produced by Silver Link and directed by Mirai Minato, the new season promises to deliver more humor, romance, and unexpected twists as Masamune's story unfolds.
Masamune-kun No Revenge Wiki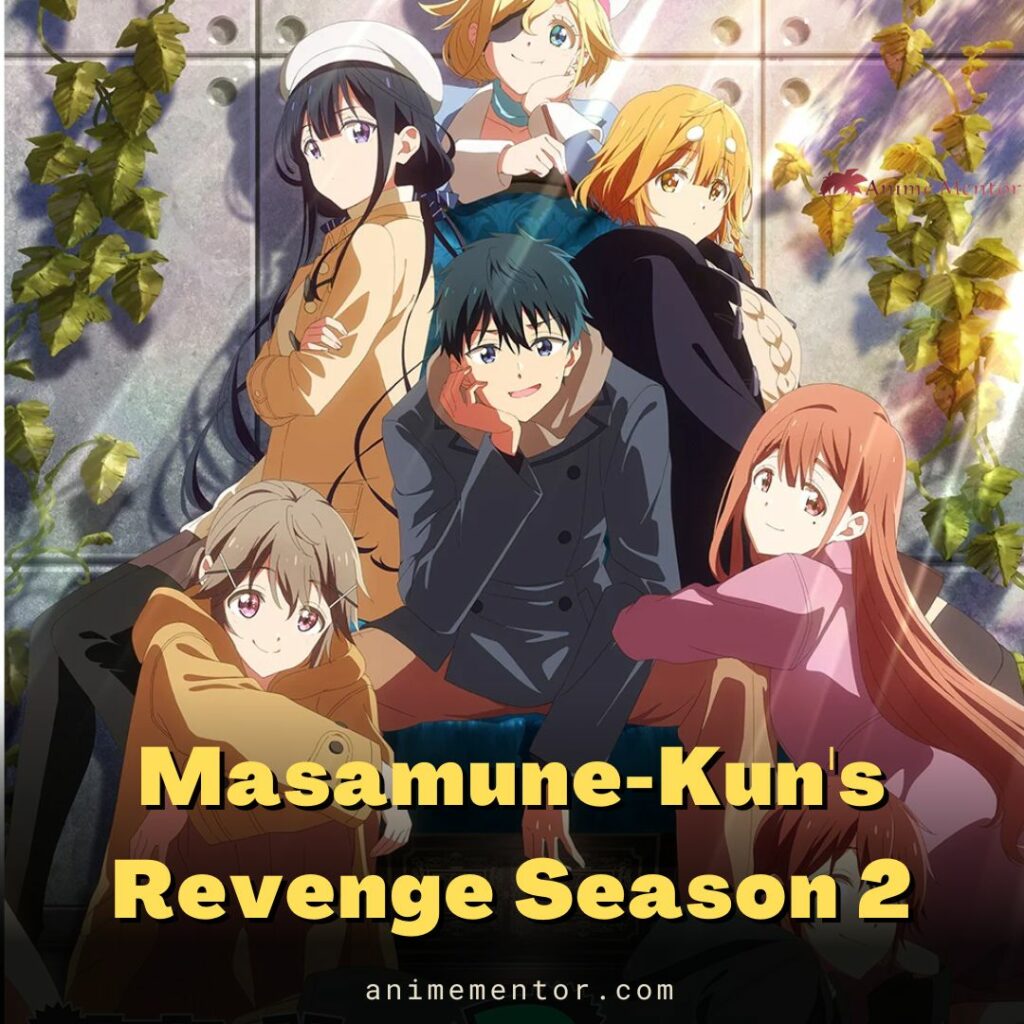 | Genre | Romantic comedy |
| --- | --- |
| Written by | Hazuki Takeoka |
| Title | Masamune-kun No Revenge |
| Published by | Ichijinsha |
| English publisher | Seven Seas |
| Magazine | Monthly Comic Rex |
| Demographic | Shōnen |
| Original run | October 27, 2012 – June 27, 2018 |
| Anime Directed by | Mirai Minato |
| Studio | Silver Link |
| Licensed by | Crunchyroll |
| Original network | Tokyo MX, KBS, Sun TV, AT-X, BS Fuji |
| Original run | January 5, 2017 – March 23, 2017 |
| Episodes | 12 + OVA |
Masamune-kun No Revenge Plot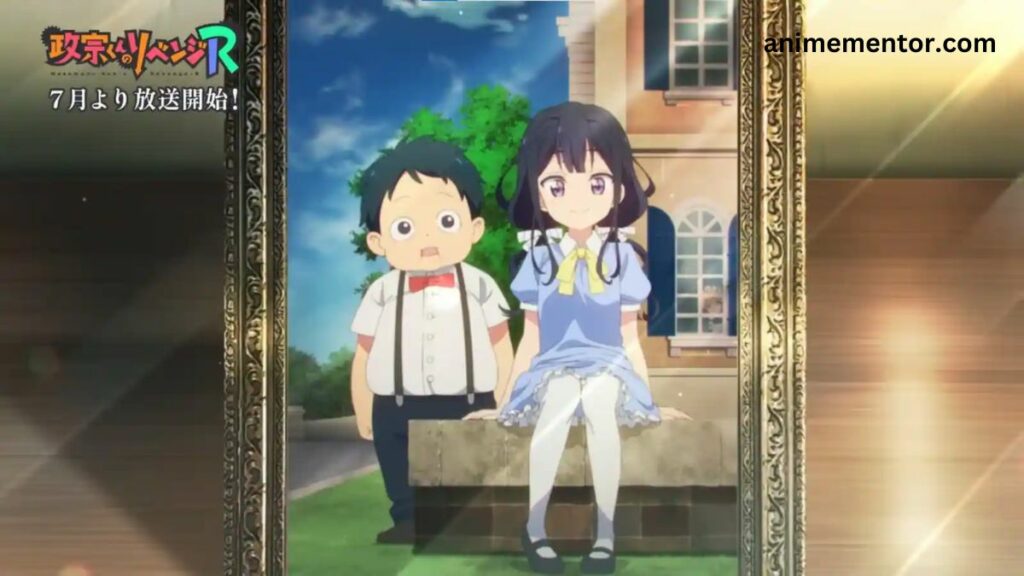 "Masamune-kun No Revenge" follows the story of Masamune Makabe, a high school student who experienced heartbreak during his childhood. When he was young, Masamune was overweight and bullied by a girl named Aki Adagaki. Determined to exact revenge and win her heart, Masamune undergoes a dramatic transformation, shedding his excess weight and becoming a handsome and popular student.
Masamune transfers to Aki's school with the intention of making her fall in love with him and then breaking her heart, just as she did to him in the past. However, as Masamune gets closer to Aki, he realizes that she is not the cruel person he once thought she was. Aki, known as the "Cruel Princess," reveals her own vulnerabilities and struggles, and an unexpected connection forms between the two.
As Masamune navigates his feelings and his desire for revenge, he encounters various obstacles and complications, including the presence of other girls who develop romantic interests in him.
Masamune-kun No Revenge Review
The story explores themes of self-discovery, forgiveness, and the complexities of relationships as Masamune grapples with his past and his growing feelings for Aki.
Throughout the series, Masamune's initial motivations for revenge start to evolve. He questions his own actions and begins to understand the importance of understanding others' perspectives and finding genuine connections. As the story progresses, Masamune must confront his own insecurities and learn the true meaning of love and acceptance.
"Masamune-kun No Revenge" combines elements of romance, comedy, and drama to create a compelling narrative that explores themes of self-improvement, redemption, and the power of forgiveness. The series takes readers on a journey of personal growth and emotional discovery as Masamune seeks to reconcile his past and find happiness in unexpected ways.
Masamune-kun No Revenge Characters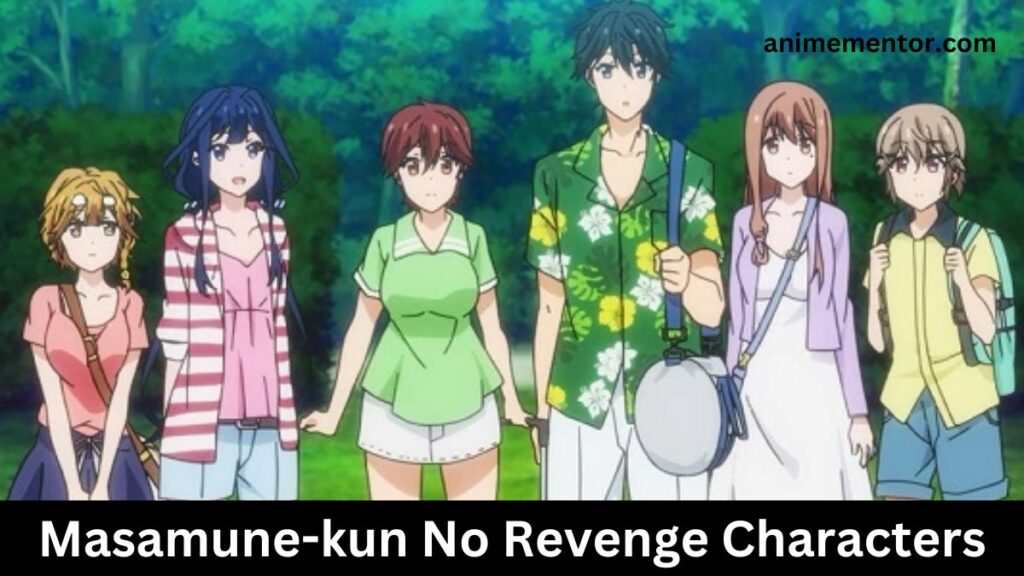 Masamune Makabe: The main protagonist of the series, Masamune is a high school student who was once overweight and bullied by Aki Adagaki. He undergoes a transformation and seeks revenge by trying to make Aki fall in love with him.
Aki Adagaki: Known as the "Cruel Princess," Aki is a popular and beautiful girl who rejected Masamune in the past. She has a cold and distant demeanor, but as the story progresses, her vulnerabilities and insecurities are revealed.
Yoshino Koiwai: Aki's maid and closest confidante, Yoshino assists Masamune in his pursuit of revenge. She is observant and often provides guidance and advice to both Masamune and Aki.
Neko Fujinomiya: A cheerful and friendly girl who develops feelings for Masamune. She supports him throughout his revenge plan, but her affection may complicate his relationship with Aki.
Kojuro Shuri: Masamune's childhood friend and best friend, Kojuro is aware of Masamune's past and provides him with emotional support. He is often seen as a voice of reason and offers advice to Masamune.
Chinatsu Hayase: A classmate of Masamune and Aki, Chinatsu is known for her energetic and outgoing personality. She develops feelings for Masamune and becomes a rival to Aki.
Kanetsugu Gaso: A self-proclaimed warrior and member of the school's disciplinary committee, Kanetsugu is infatuated with Masamune and sees him as a rival for Aki's affection.
Tae Futaba: A cheerful and friendly girl who befriends Masamune. She has a crush on Kojuro and supports Masamune in his endeavors.
"Masamune-kun No Revenge" can be watched on various streaming platforms. Here are some popular options:
Where to watch
Crunchyroll is a leading streaming service for anime and offers "Masamune-kun No Revenge" for streaming in various regions. It provides both subbed and dubbed versions of the series.