Oshi No Ko [ 推しの子], "Her Fans" or "Their Idol's Children") is a captivating manga series written by Aka Akasaka and illustrated by Mengo Yokoyari has been serialized in Shueisha's Weekly Young Jump since April 2020. As of January 2023, ten tankōbon volumes have been collected. An anime television series adaptation produced by Doga Kobo is set to premiere in April 2023.
Oshi no Ko Wiki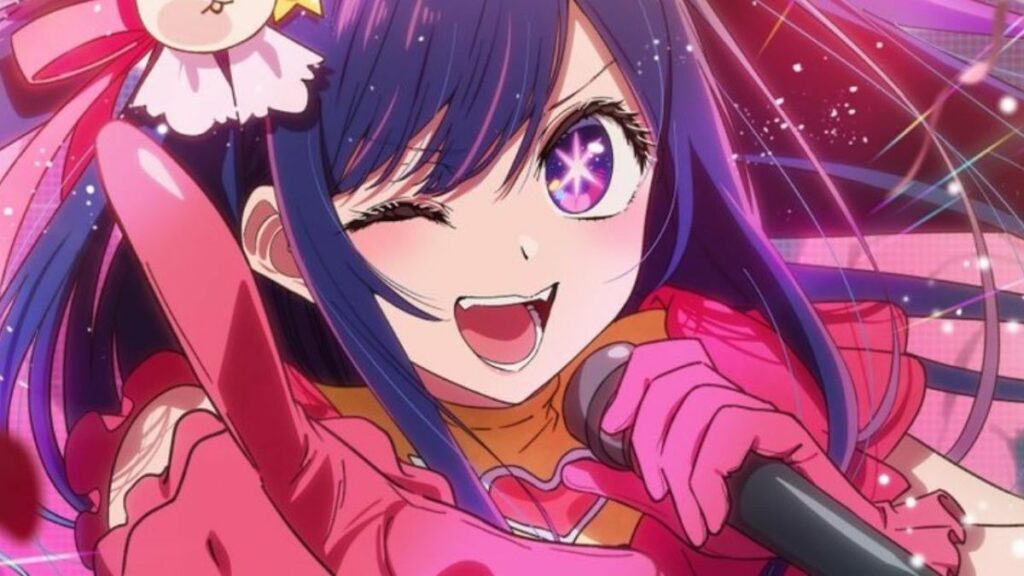 | | |
| --- | --- |
| Genre | Drama, Mystery, Slice of Life, Dark Fantasy |
| Written by | Aka Akasaka |
| Illustrated by | Mengo Yokoyari |
| Published by | Shueisha |
| Imprint | Young Jump Comics |
| Demographic | Seinen |
| Original run | April 2020 – ongoing |
| Volumes | 10 (as of January 2023) |
| Anime TV series | Oshi no Ko |
| Directed by | Daisuke Hiramaki |
| Written by | Jin Tanaka |
| Music by | Takurō Iga |
| Studio | Doga Kobo |
| Licensed by | Sentai Filmworks |
| Original run | April 2023 – TBA |
Oshi no Ko Plot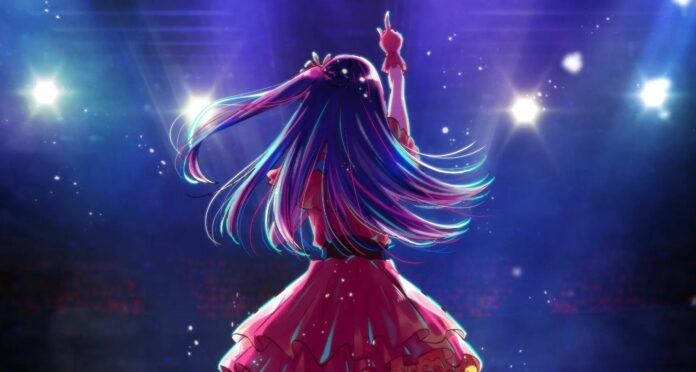 In the captivating world of "Oshi no Ko," we follow the intertwined lives of Aqua and Ruby Hoshino, two siblings who are unknowingly connected through their past lives.
Sixteen-year-old Ai Hoshino is a talented and beautiful idol, adored by her fans as the embodiment of a pure, young maiden. However, life isn't always as perfect as it seems. She was pregnant and come to the countryside to deliver the baby secretly. Country gynecologist Gorou Amemiya, a devoted fan of Ai, is astonished when the pregnant idol appears at his hospital. He promises her a safe delivery.
But he was murdered by Ai's stalker before delivering the twin. However, Gorou's spirit is reborn as Aqua, Ai's son, while Ruby, a reincarnation of another one of Gorou's patients, joins them as his fraternal twin.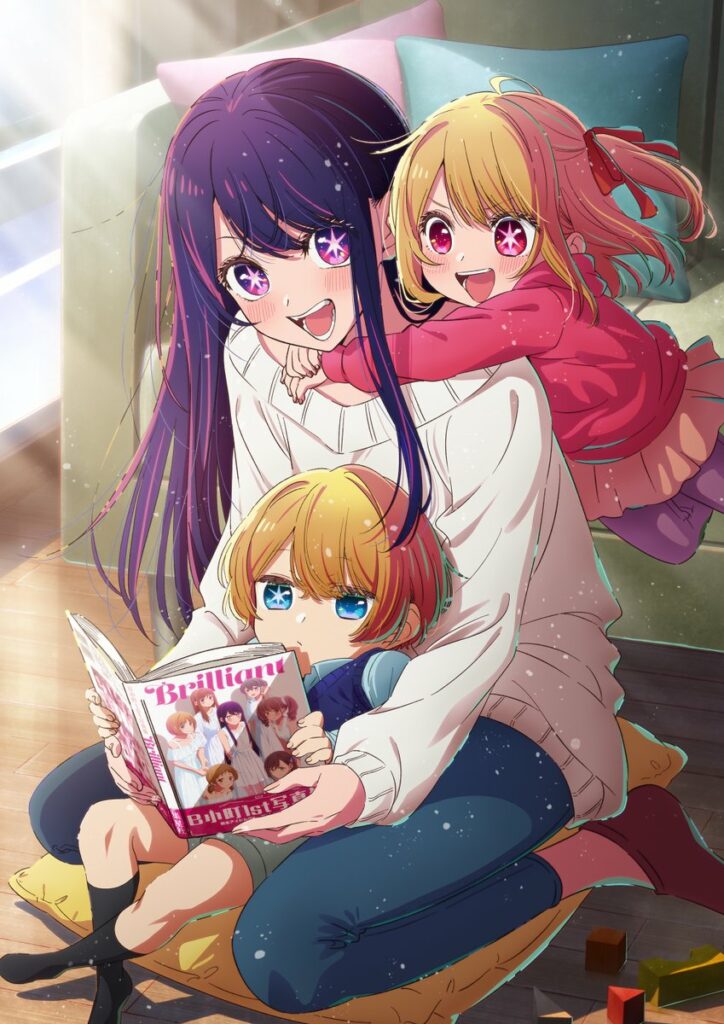 Four years later, Ai is tragically murdered by the same fan who had killed Doctor Gorou, and later the fan dies by suicide. Aqua, filled with darkness in his heart, suspects that their father may have been involved as an accomplice in the murders.
Determined to find and confront his father, Aqua resolves to enter the entertainment industry. They find themselves under the care of Ichigo and Miyako Saito, owners of Ai's talent agency, Strawberry Productions (in anime Ichigo Production).
Ruby holds onto her dream of becoming an idol like Ai and forms a new group called "B-Komachi" alongside actress Kana Arima and popular YouTuber Mem-cho. Aqua, on the other hand, pursues an acting career and develops a close friendship with fellow actress Akane Kurokawa, utilizing their connection as a means to aid his search for his father.
In this dramatic tale of reincarnation, love, and revenge, Aqua and Ruby navigate the treacherous world of showbiz in search of truth, justice, and retribution. Will they be able to avenge their mother's death and protect the loved ones who have supported them along the way?
Oshi no Ko Characters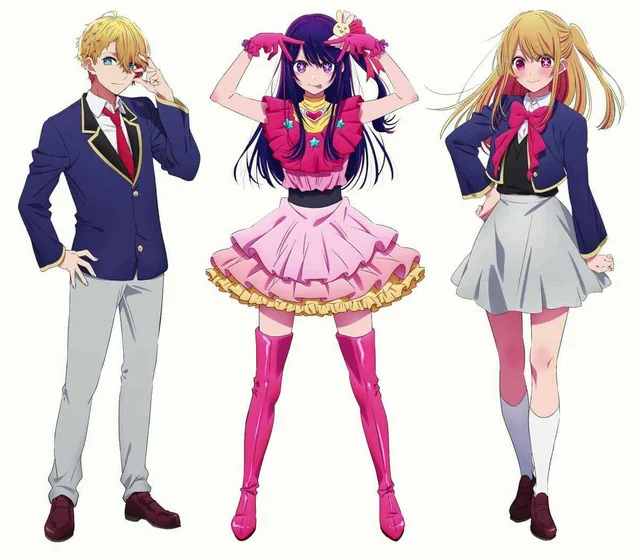 Aquamarine Hoshino (Aqua): The reincarnated version of Gorou Amemiya, who embarks on a journey to avenge his mother's death and uncover the truth behind the murders.
Ruby Hoshino: Aqua's twin sister and fellow reincarnation, who is determined to follow in her mother's footsteps as an idol.
Ai Hoshino: A popular idol and the mother of Aqua and Ruby, whose tragic death sets the siblings on their path of revenge.
Kana Arima: An aspiring actress who becomes friends with Aqua and Ruby and joins their idol group.
MEM-cho: A social media star who joins Aqua and Ruby's idol group in pursuit of her dreams.
Ichigo Saitō: The president of Strawberry Productions and the man responsible for recruiting Ai Hoshino into the world of idols.
Taishi Gotanda: A film director who scouts Aqua and encourages him to become an actor.
Oshi no Ko Voice Actress
The anime features a talented voice cast that brings the characters to life, with notable performances by:
Aquamarine Hoshino (Main) – Voiced by Takeo Ootsuka
Ai Hoshino (Main) -Voiced by Rie Takahashi
Ruby Hoshino (Main) – Voiced by Yurie Igoma
Kana Arima (Supporting) – Voiced by Megumi Han
Akane Kurokawa (Supporting) – Voiced by Manaka Iwami
Mem-Cho (Supporting) – Voiced by Rumi Ookubo
Miyako Saitou (Supporting) – Voiced by Lynn
Sarina Tendouji (Supporting) – Voiced by Tomoyo Takayanagi
Gorou Amemiya (Supporting) – Voiced by Kento Itou
Oshi no Ko Review
Oshi no Ko is a compelling look into the world of idols and entertainment, offering a fresh perspective on the challenges faced by those seeking fame and fortune. The anime's intricate plot, combined with its vibrant visuals and a powerful voice cast, create an immersive experience that captures the heart and soul of the idol industry. Oshi no Ko is a must-watch for fans of drama and character-driven stories, as it delves deep into the complexities of human nature, ambition, and the pursuit of dreams.
With its engaging storyline and well-developed characters, Oshi no Ko is a masterful exploration of the trials and triumphs faced by those who dare to chase their dreams in the unforgiving world of show business.