Girlfriend, Girlfriend (Kanojo mo Kanojo) is a Japanese romantic comedy manga series written and illustrated by Hiroyuki. The manga was serialized from 2020 to 2023 with its chapters collected in sixteen tankōbon volumes. It is also adapted into an anime television series in 2021 by Tezuka Productions, with a second season set for Fall 2023.
Girlfriend, Girlfriend Wiki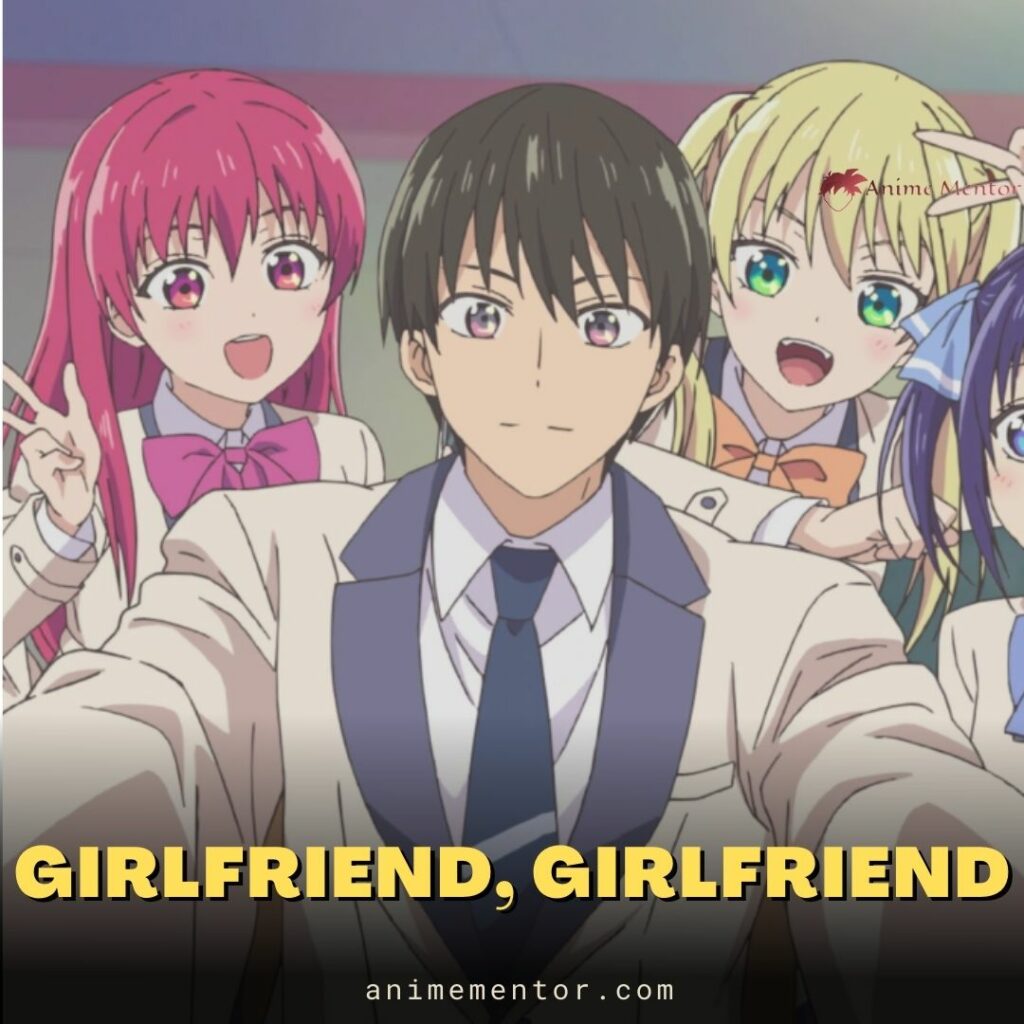 Genre
Rom-Com
Manga
Written by
Hiroyuki
Published by
Kodansha
English publisher
NA: Kodansha USA (digital)
Magazine
Weekly Shōnen Magazine
Demographic
Shōnen
Original run
March 4, 2020 – May 24, 2023
Volumes
16
Anime television series
Directed by
Satoshi Kuwabara (S1)
Takatoshi Suzuki (S2)
Studio
Tezuka Productions (S1)
SynergySP (S2)
Licensed by
Crunchyroll
Muse Communication (Sea Region)
Original network
JNN, AT-X
Original run
July 3, 2021 – Now
Episodes
12 (Season 1)
12 (Season 2)
Girlfriend, Girlfriend Plot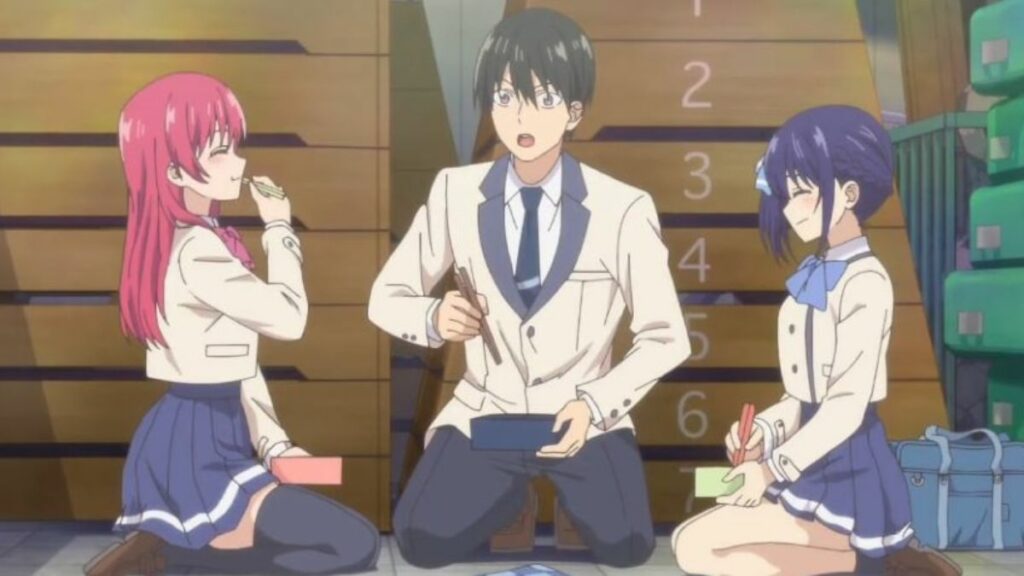 The story centers on Naoya Mukai, a high school student who has started dating his childhood friend Saki Saki. One day, another classmate named Nagisa Minase confesses her love to Naoya as well.
After some hesitation, Naoya accepts Nagisa's request to become his second girlfriend, deciding he will date both Saki and Nagisa at the same time. The three even end up living together in Naoya's home. Although Saki is initially overwhelmed, she becomes fond of Nagisa too and agrees to the unusual arrangement.
As the series progresses, Naoya, Saki and Nagisa try to balance their secret three-way relationship while also dealing with misunderstandings, communication issues, and jealousy. Things get more complicated when other girls at their school – including a popular live streamer named Rika Hoshizaki – become interested in joining the relationship too. Naoya refuses to add more girlfriends, but Rika persists in her advances.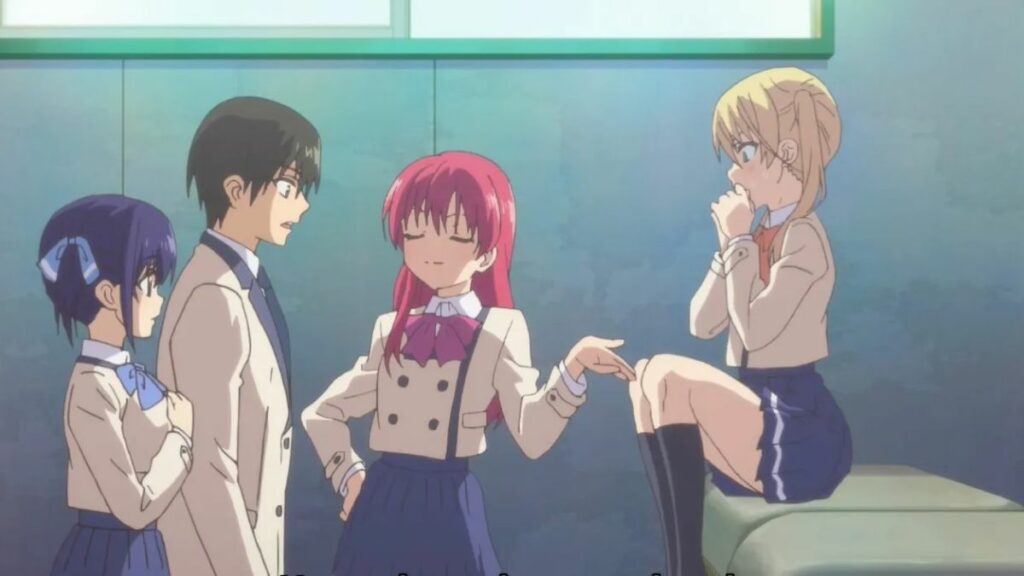 Saki's friend Shino Kiryu eventually discovers that Naoya is two-timing Saki with Nagisa. However, after seeing how happy they are, Shino starts developing feelings for Naoya as well. More romantic hijinks and love triangle situations ensue as the characters try to navigate their increasingly tangled web of relationships.
Will Naoya be able to maintain this unconventional polyamorous arrangement? Or will the growing complications and misunderstandings cause everything to unravel?
Girlfriend, Girlfriend Cast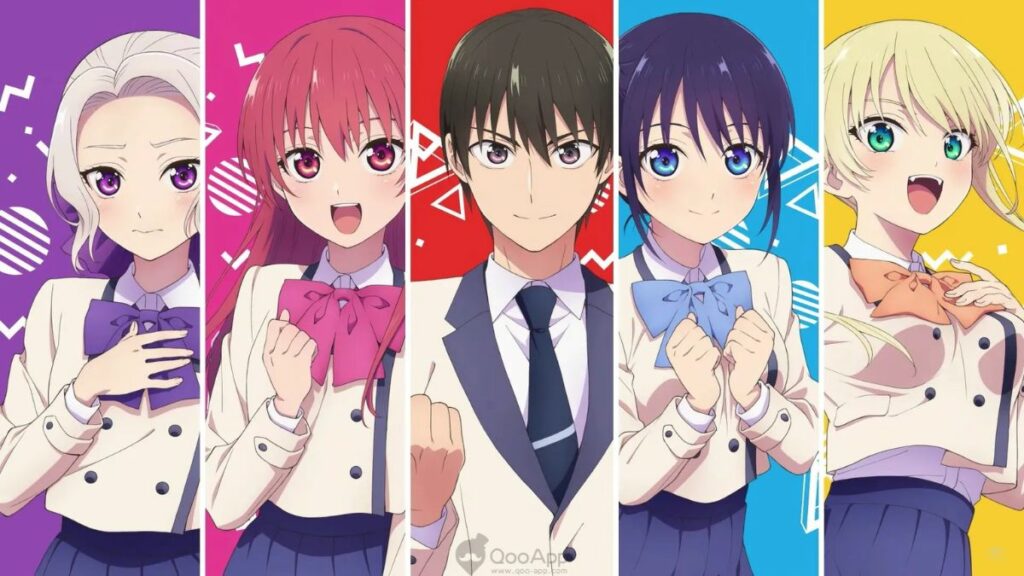 Naoya Mukai – The male protagonist who starts dating both his childhood friend Saki and another girl Nagisa at the same time.
Saki Saki – Naoya's childhood friend who becomes his girlfriend and agrees to the polyamorous relationship.
Nagisa Minase – A shy girl in Naoya's class who confesses to him and becomes his second girlfriend.
Rika Hoshizaki – A popular live streamer who tries to join Naoya's relationship as his third girlfriend.
Shino Kiryu – Saki's best friend who disapproves of the polyamorous arrangement but develops feelings for Naoya.
Where to watch Girlfriend, Girlfriend?
Crunchyroll – This popular anime streaming service licensed the series for international distribution outside of Asia. Both subtitled and English dubbed versions are available.
Muse Asia – For viewers in South and Southeast Asia, Muse Asia licensed the series and is streaming it on YouTube and other platforms like iQIYI and Bilibili.
Blu-Ray/DVD – Physical releases of the anime are available for purchase in various regions, often with subtitles or dubs in local languages.
Who Should watch Girlfriend, Girlfriend
With its harem-style romantic comedy, Girlfriend Girlfriend will most appeal to fans of the harem and rom-com genres who enjoy absurd relationship dynamics and exaggerated humor. The moderate ecchi content and polyamorous storyline also makes it well-suited for open-minded viewers interested in exploring non-traditional relationships. And as a slice of life high school anime, the primary target demographic is teens and young adults who can relate to and enjoy the school setting and characters. Overall, Girlfriend Girlfriend offers an amusing take on polyamory that will provide laughs for viewers seeking a lighthearted anime rom-com.
Girlfriend, Girlfriend Review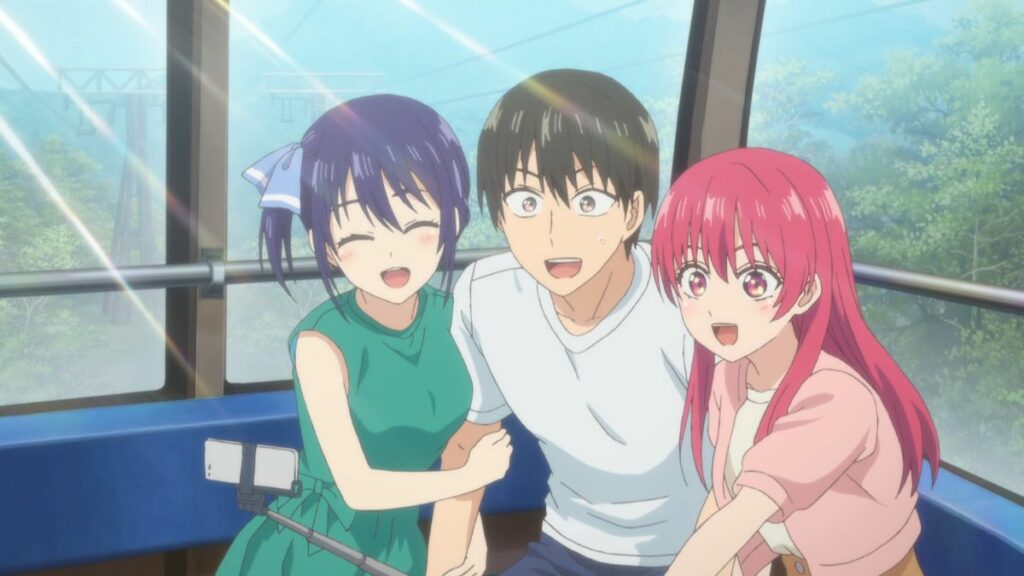 After watching Girlfriend, Girlfriend, I'm thoroughly entertained by its ridiculous premise and over-the-top execution. The story centers on Naoya, a high schooler who starts dating two girls at once – his childhood friend Saki and another girl Nagisa who confesses to him.
What follows are absurd hijinks as they try to balance this polyamorous relationship, with other girls trying to join this love triangle as well. Logic and reason are thrown out the window, but that's exactly what makes it so much fun to watch. The characters like Naoya and Saki are genuinely endearing despite their stupidity. Their exaggerated reactions always get a laugh out of me.
It fully embraces the absurdity and doesn't take itself seriously at all. While it won't win any awards for nuanced storytelling, Girlfriend, Girlfriend succeeds as a comedy by just being downright silly entertainment. I'm constantly amused watching these likable characters find themselves in the most ridiculous romantic situations imaginable.
It's simply a blast to watch if you just want some over-the-top comedy and don't go in expecting anything profound. Girlfriend, Girlfriend had me laughing out loud with its nonsense, so I'd definitely recommend it for some zany romantic escapism.