Loid Forger is the primary main character or the antagonist of the spy comedy series Spy x Family. He has dropped everything about his past to work for his country as a covert spy who acts under the cool codename "twilight". For his current assignment, he is tasked to have a fake family by marrying and having a daughter. So to complete his mission he marries Yor Briar and adopts and becomes an adoptive father of Anya Forger a six-year-old.
Loid Forger Wiki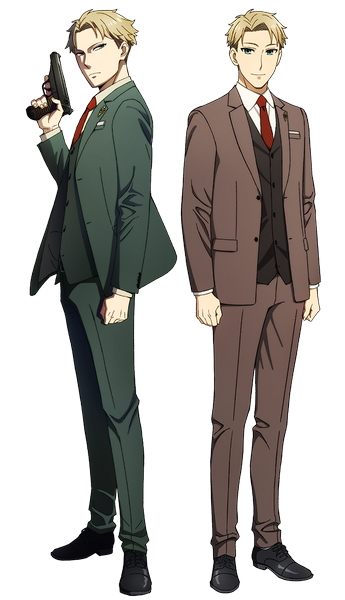 Name
Loid Forger
Age
30 Years
Height
187 cm (6'1½")
Gender
Male
Birthday
Not Announced
Hair Color
Blond
Eye Color
Blue
Occupation
Spy
Psychiatrist (False Front)
Power
Face Change
Anime Debut
Episode 1
Manga Debut
Chapter 1
Japanese Voice
Takuya Eguchi
Appearance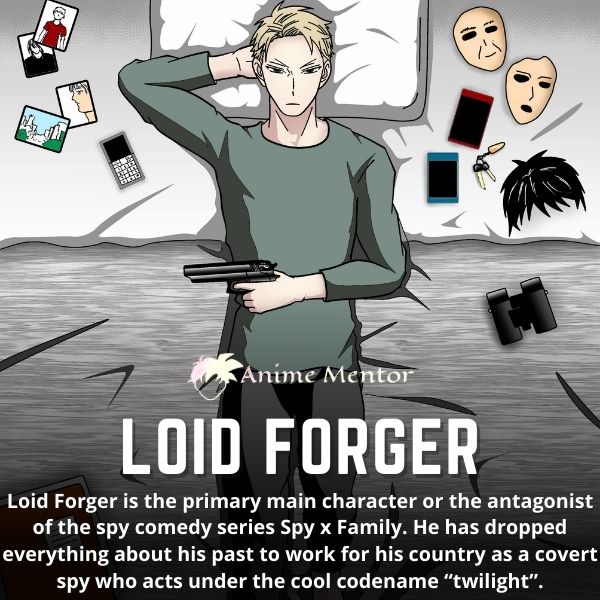 His age is unknown in the series. He has short messy blond hair, light skin, and blue eyes. His hair is slicked back depending on the occasion. He has a tall stature and a muscular athletic build just like a spy hero should have.
When outside he is seen wearing a three-piece light green suit with a red tie. In his left lapel, he wears a pin in the shape of a dagger with the symbol WISE.
At home, he wears a simple white t-shirt with black long pants and as a psychiatrist, he is seen wearing a lab coat on his shirt and tie.
Personality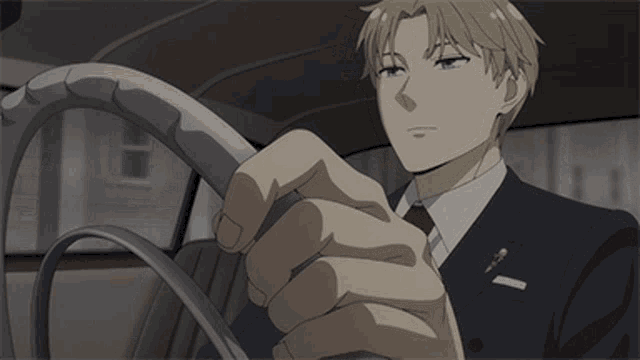 As a spy with the codename "twilight", he is cold and does his job well, his first priority is his mission, and can do whatever it takes to accomplish it. He has gone to lengths to complete his mission he is seen joining a dangerous terrorist organization, dating his target's daughter, and now creating a fake family. He is shown to have a kind personality, he even risked his identity as a spy while rescuing Anya Forger.
Loid's past has been dark as an orphan in the war, the feeling of disparity and solidarity has stuck with him in his adult years as well. This motivated him in becoming a spy and create a world where children won't have to cry. He sympathizes with Yor on sacrificing themselves for benefit of others and their beliefs and it became the deciding factor for him getting married to Yor. In his childhood, he was honest and never lied to his parents which is totally contrasting with his current habits as a spy. 
How old is Loid Forger?
The real age of Loid Forger aka Twilight has not been revealed. According to some sources, the author confirmed that Loid Forger is 28y Old.
How tall is Loid Forger?
Loid Forger is 187 cm (6'1½")
Abilities & Skills
He has been a spy for at least ten years and has been training himself since then. His combat fighting skills are very pragmatic and he uses everything in the environment to his advantage against his opponents.
Trained Professional:
He is extremely professional and can handle a bunch of armed thugs all by himself.
Intelligent:
His greatest ability is his intelligence and his observational skills in his line of work. He used flour to prevent armed thugs from shooting and memorizing secret ciphers in solving his next missions. 
He has a very sharp memory and can remember the names of 200 penguins simply by skimming a list. 
Speed
He is very fast and can take down multiple people without much trouble by using a smokescreen.
Senses
He is well aware of his surroundings. He found Anya easily and also noticed that he was being watched by the faculty members of the academy.
Strength
He has core strength and was able to pull an obese child who was stuck in a gutter with just one arm.
Endurance
He is durable and managed to come out of a car crash fine enough to go to a party.
Disguise
As a spy, he is a master of disguise being able to replicate other people who have different body parts and voices as well with other characteristics.
FAQ
What is the real name of Loid Forger?
Hence, he has no real name and his current name is merely an alias. Every time, he uses a fake name and ID. He goes by the code name Twilight.
How old is Loid Forger?
The real age of Loid Forger aka Twilight has not been revealed. He is between 27 and 30 years old.
When is Loid Forger's Birthday?
Loid Forger's Birthdate is unknown.
Does Loid Forger like Yor?
Currently not. Loid agrees to be her lover at the party, while Yor agrees to act as Anya's mother for the interview.
Where is Loid Forger From?
Loid was raised in Luwen, Eastern Westalis, as an only child. He was raised by a strict, pacifistic father, while a loving mother sang him lullabies often.