Yor Forger is the secondary character or the tritagonist of the spy comedy series Spy x Family. Normally she works as an everyday clerk at Berlint City Hall but secretly she leads a life of a garden assassin who goes by the name "Thorn Princess". To hide her identity she marries Loid and becomes an adoptive mother of Anya Forger.
Yor Forger Wiki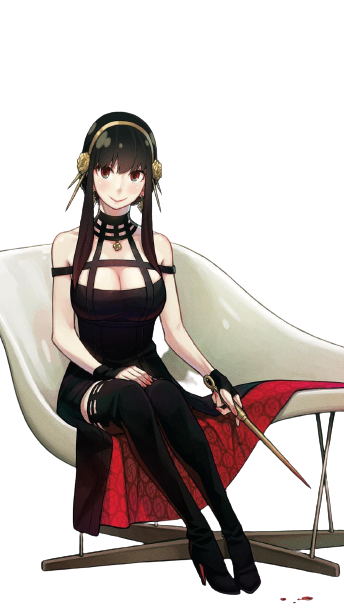 Name
Yor Forger
Age
27 Years
Height
160 cm
Gender
Female
Hair Color
Black
Eye Color
Red
Occupation
City Hall Clerk
Assassin
Anime Debut
Episode 2
Manga Debut
Chapter 2
Japanese Voice
Saori Hayami
Appearance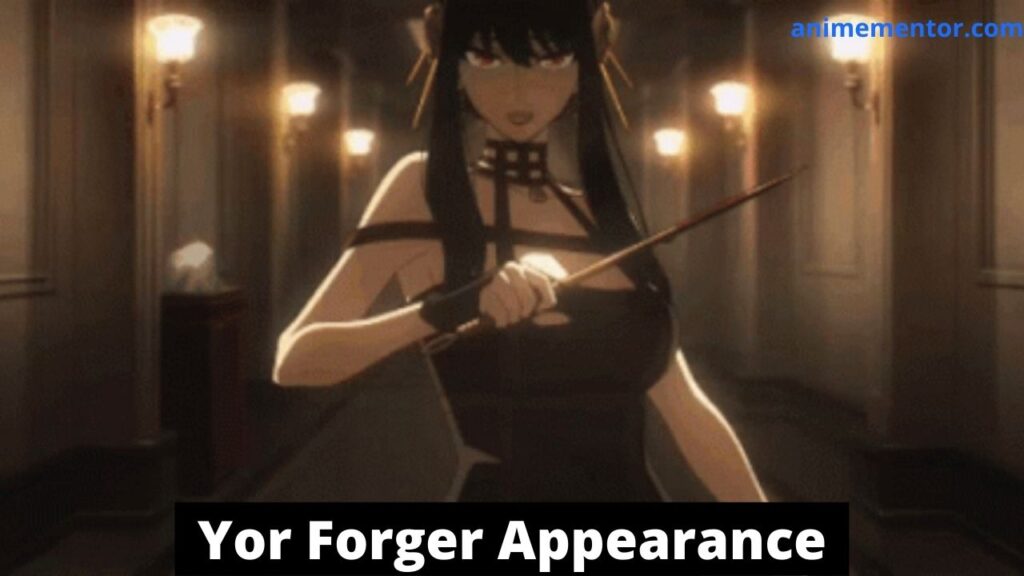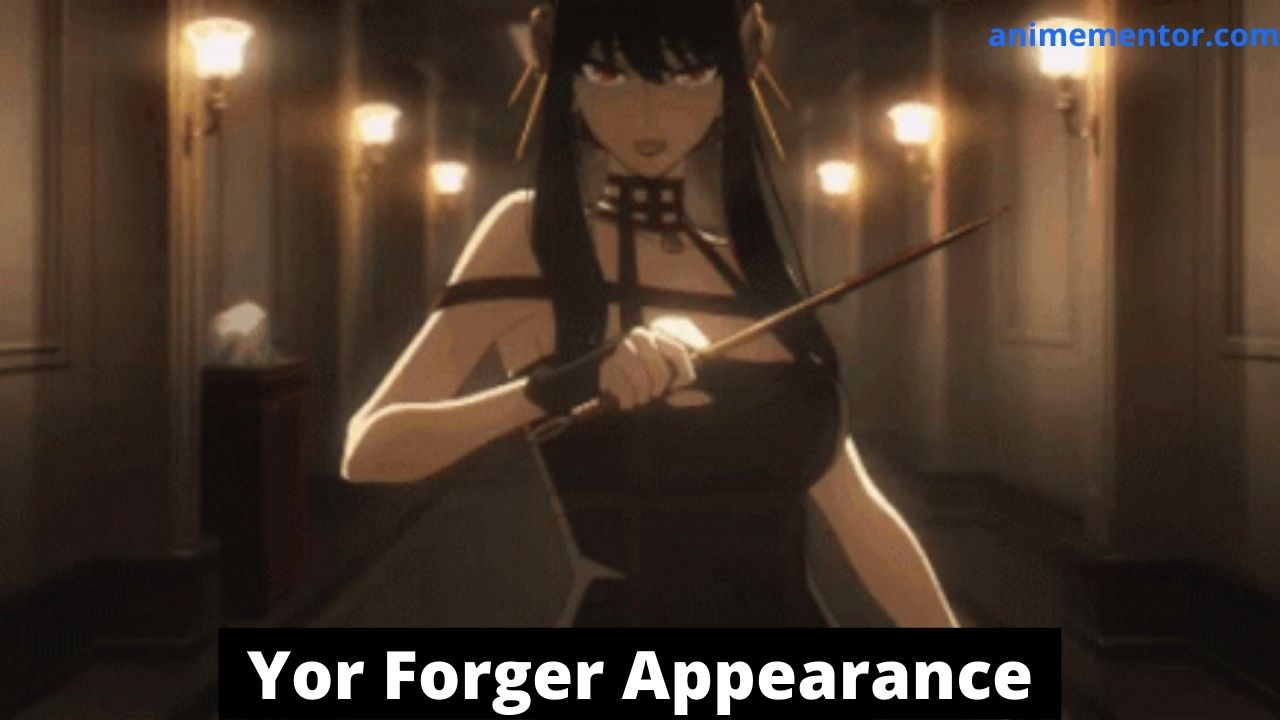 Yor is a young attractive woman with long black hair, upturned red eyes, and fair skin. She keeps her hair in two parts and crosses her over her head and binding them with a headband forming two locks of hair that reach just below her chest. When her locks are off her hair reaches mid-back.
She wears brown heeled ankle boots and a red off-shoulder sweater and black tights. On her ears, she wears small spiked dangling gold earrings and a white headband. When going out she sports a long beige coat with black buttons over her clothing.
While at work in Berlint City Hall she wears her work uniform, a long sleeve shirt with a dark green sleeveless vest over it. At the bottom, she wears a dark green knee-length office skirt and black heels.
When doing the assassin work she wears a structure-fitting halter-style black dress that reveals her shoulders and cleavage, with a red pattern inside her skirt and a red choker.
The front of the skirt is mid-length and the back is long that reaches below her knees. She also sports black high boots and fingerless black gloves. Her headband is gold in color with two spikes and a red rose. Her weapons are also of the same color and she wears this same dress on certain formal occasions as she has only one good dress.
Yor Forger Body Measurements
According to the Twitter user "Hikari (@hikari_okiraku)," who has been calculating anime characters' body sizes for years. She said that based on Loid Forger's height of 187cm (measured using the difference between her height and her height), we are assuming Yor's height is 169 cm and a band of 73.0 cm.
The measurement is based on the contour of the body below the breasts of a girl with an ideal height of said height. Using one of the promotional images where Yor appears from the side, a separation between the chest and rib cage is calculated at 9.1 cm, which is useful for calculating the cup.
Using these measurements, a crown size of 95.4 cm is estimated based on a cross-section diagram. In Japanese terms, this translates into an "F Cup," which is equivalent to an "DD Cup" in American terms.
So Yor's body measurements are calculated by subtracting the contour under the chest and the contour on the chest, so Yor's is 22 cm in this case.
Yor Forger Personality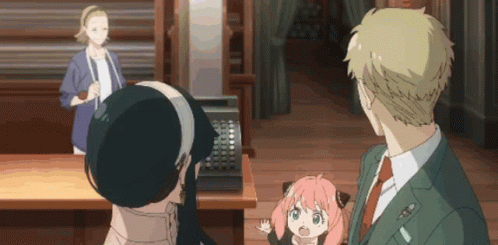 In the start, she is seen as cold and stoic with her expressions while interacting with her co-workers. She doesn't like involving in conversations or gossiping with her colleagues, Camilla describes her as a robot. After forming a family with Loid and Anya she has become more open and expressive and now she starts conversations with her colleagues and asks them how to be a good cook or how to be a better wife.
Due to her mindset as an assassin and upbringing, she often resolves to murder people as the solution to her problems. For instance, she thought to kill everyone at the party when Camilla asks her about her date. She also thinks to murder other parents to ensure admission of Anya Forger at the Eden Academy.
Yor feels insecure about herself and her abilities and believes that she is not enough for anything apart from cleaning and killing, she also worries about her being a good wife and a mother. After her interview at Eden Academy, she tries to be a better mother and asks Camilla for cooking lessons.
Yor is very naive as she believes all the lies Loid tells her to hide his true identity.
Yor Forger Abilities & Skills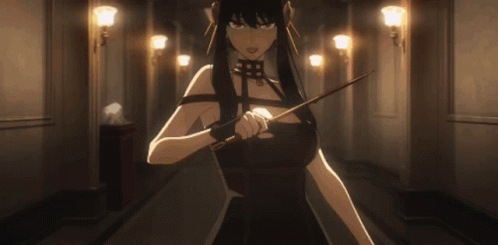 Despite her lean and slim stature, she possesses insane physical abilities. She can effortlessly pierce the skulls of enemies with a weapon and with the power of her hands, her thrust was strong enough to destroy the pumpkin and break a person's hand. Her kicks are powerful enough to deflect a moving car, forcing it to crash into a street pole brutalizing other humans. In hand-to-hand fights, she is mostly seen using her rapid kicks representing her flexibility and agility. Her kicks were strong enough to knock Loid out which he was not expecting since training days.
Yor has displayed the ability to be impeccably fast and agile. Even in heels she can move fast and jump from tall heights. Her jumps can knock out outraging cows and her dashing speed was quick enough to intercept another assassin who was already fast enough to dodge Director's bullets.
She has exceptionally quick reflexes and sharp intuitions.
Stamina & Durability
Yor managed to hold and resist gunshot injury on her glutes and move normally, this caused her severe pain and left her in bad mood on reaching home. On the cruise ship, she fought and killed around 22 skilled assassins leaving only little damage to her fingers.
Cleaning
As an assassin, she is a skilled cleaner and leaves no traces after taking out her target. This ability of her can be seen in household chores, keeping the house clean and spotless.
Intelligence
She knows certain pressure points in the human body, she uses this to knock out a cow.
Poison Tolerance
Her body can resist poison as shown when she drank a cocktail that had bodily fluids from a Pufferfish. The only shown symptoms were tingling and hindered sense of pain which helped her with a gunshot wound. While fighting on the cruise she inhaled enough toxic gas to take down a bear.
Weapons
Her weapon of choice is two slender single-handled weapons with a resemblance to ice picks. It is yet to be seen her using this weapon outside of her assassin work.