Ken Wakui's Tokyo Revengers manga and its anime adaptation have received much praise over the years. Nevertheless, they have also drawn some criticism.
Fandoms have different opinions about the manga's seven arcs. Some of them are highly regarded, while others are controversial and downright hated.
So we decided to rank all Tokyo Revengers arks. We also tried our best to keep the rankings unbiased based on community feedback as well as our opinions.
If you are a Tokyo Revengers fan and wants to know the best story Arc in Tokyo Revengers then this article is for you. Let's begin –
Spoiler Alert

This article may contain manga and anime spoilers and reflects the writer's personal views.
1. Toman Arc: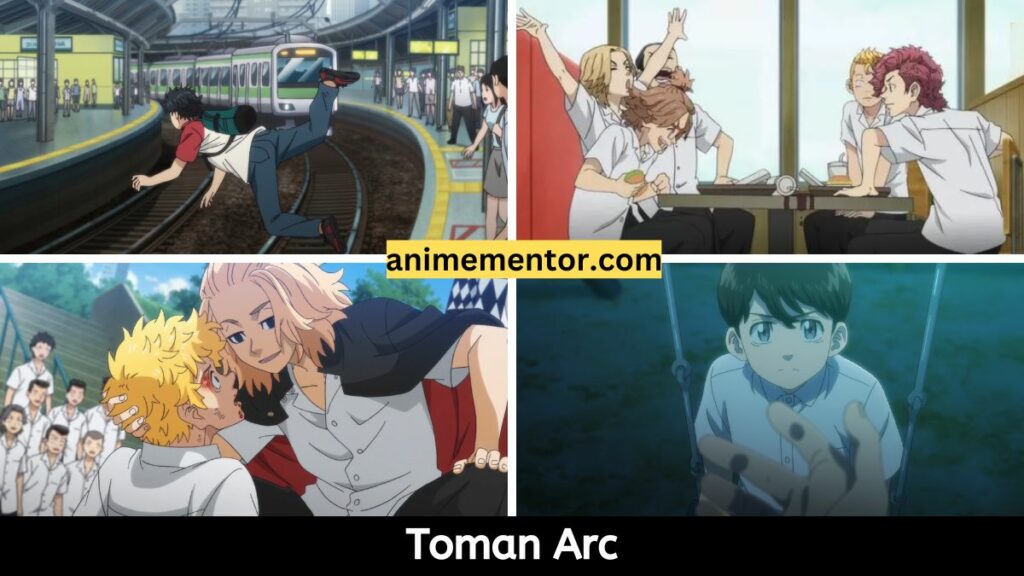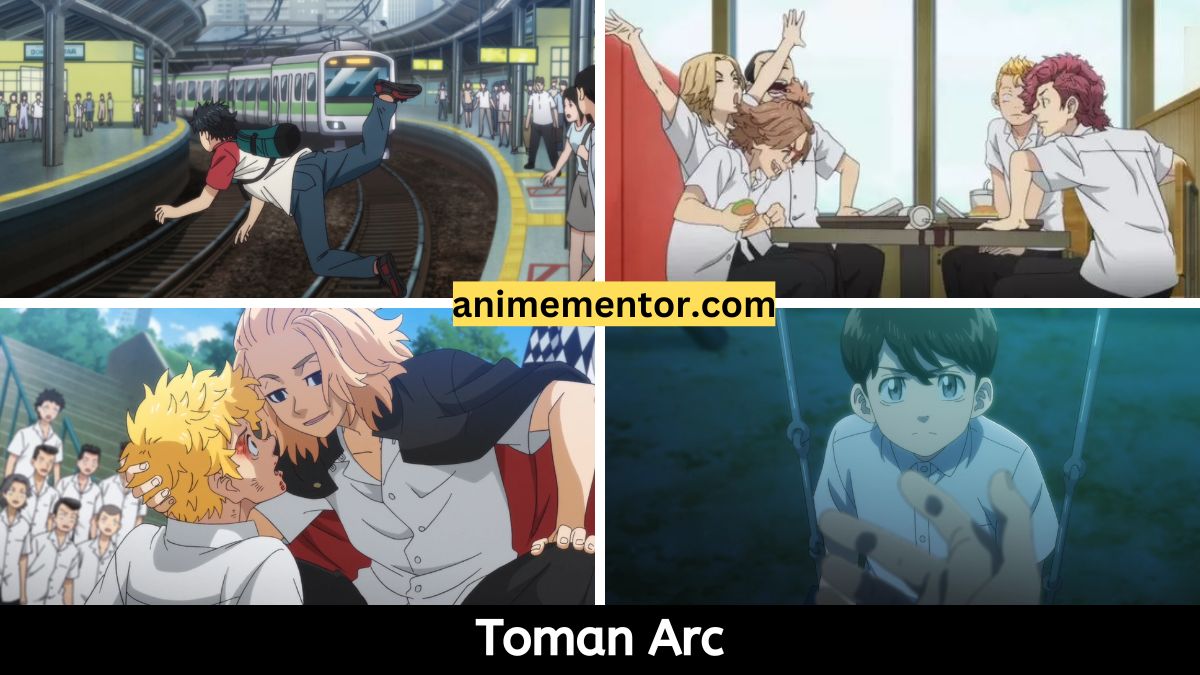 Chapters 12
Episodes 5
Rating:8/10
Ranking: #6
Takemichi Hanagaki comes to know that his ex-girlfriend Hinata Tachibana had died in a gang dispute between the Tokyo Manji gang. When he was one day at the train station, he was pushed off the station's platform when he saw the train approaching, he thought of Hinata and his school days, but instead of dying, he went exactly 12 years back in past.
This is when he makes it a mission to save the life of saving Hinata Tachibana. This marks the beginning of the story; this arc mainly focuses on the character introduction.
Manga Chapter
Anime Episode
Number of Chapters
Number of Episodes
1. Reborn
1. Reborn
2. Resist
2. Resist
3. Resolve
4. Relieve
5. Revolve
3. Resolve
6. Return
7. Rejoin
8. Reseparate
4. Return
9. Releap
10. Reply
11. Reburn
12. Remind
5. Releap
2. Battle of 8/3 Arc (Moebius Arc)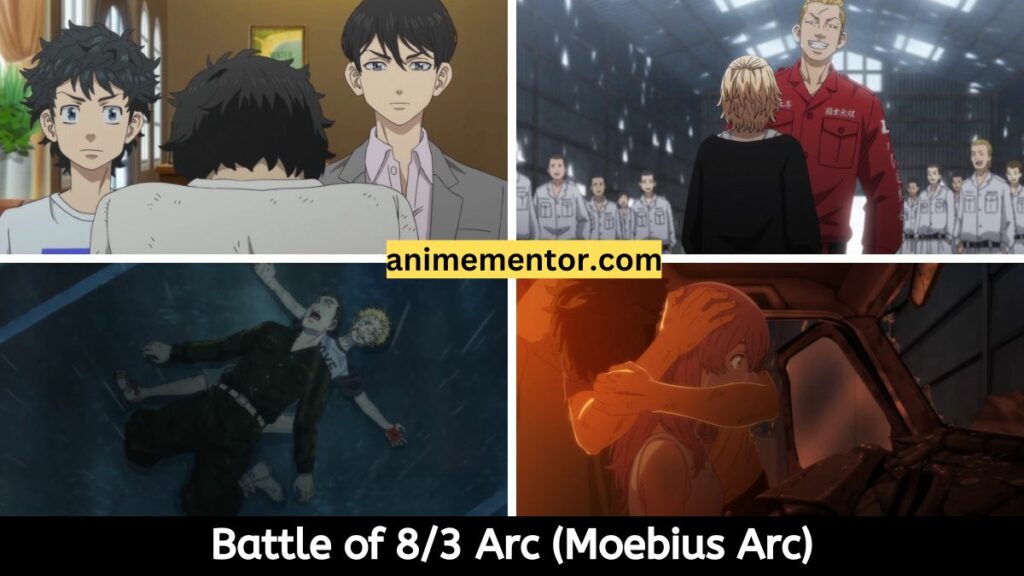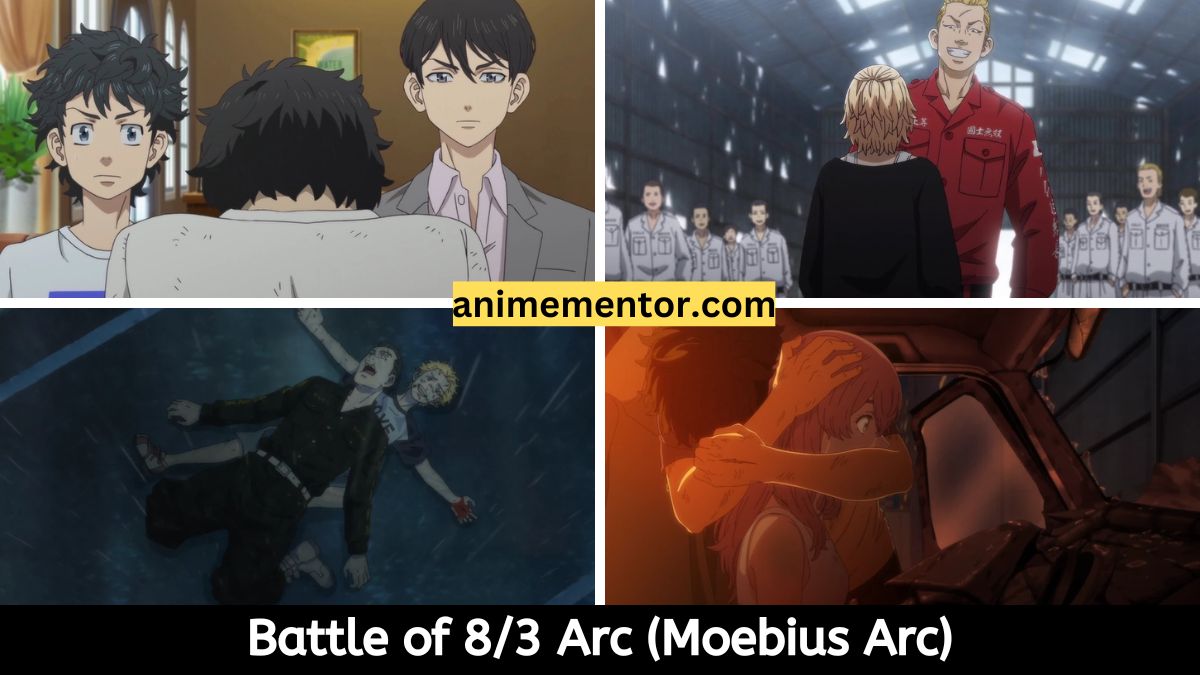 Chapters 21
Episodes 7
Rating: 8/10
Ranking : #5
After altering a few things in the past when Takemichi returns to the future he comes to know that the future still hasn't changed and Hinata is dead, then he learns from Atsushi Sendo "Akkun" that this all happened because Manjiro Sano changed after the death of Ken Ryuguji "Draken" who died in an unruly battle between the Tokyo Manji gang and Shinjuku Biker gang Moebius. This time Takemichi travels to the past to prevent the conflict and to save Draken's life.
Manga Chapter
Episode Title
13. Regret
14. Resort
6. Regret
15. Revive
16. Reignition
17. Redivide
7. Revive
18. Rechange
19. Restart
20. Reinspire
8. Rechange
21. Revolt
22. Reconflict
23. Reseek
24. Revoke
9. Revolt
25. Rerise
26. Realize
27. Regain
28. Reel
10. Rerise
29. Respect
30. Recept
31. Recognize
32. Rebuild
11. Respect
33. Revenge
12. Revenge
3. Bloody Halloween Arc (Valhalla Arc)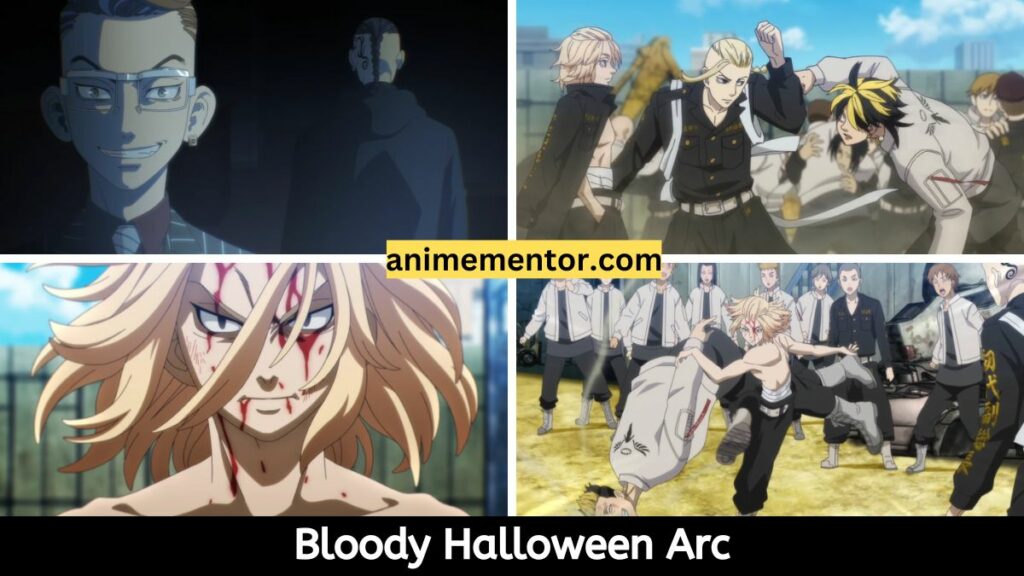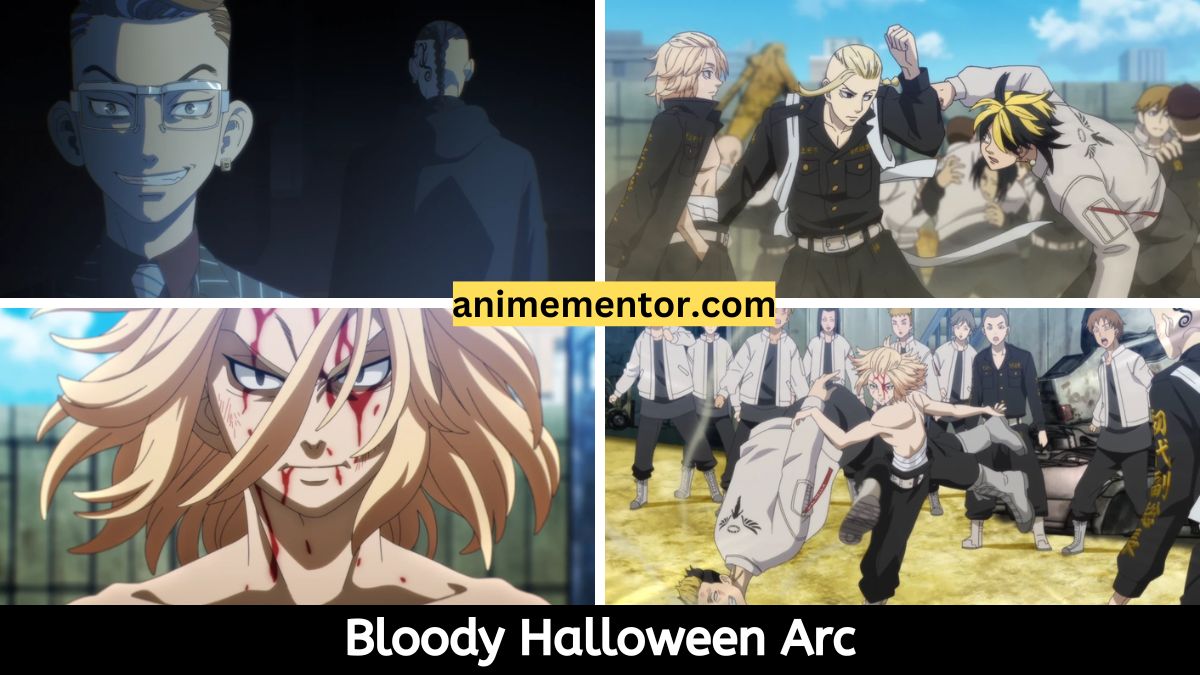 Chapters 44
Episodes 12
Rating: 9/10
Ranking: #2
This arc begins with Shuji Hanma taking over as the new leader of the Valhalla gang which was previously called the Moebius. We also see Tetta Kisaki whom Takemichi considers a time leaper becoming the third division captain. In this arc, we come to know about the six founding members of Toman. This arc also includes one of the most important events of the entire series i.e., the bloody Halloween which is the fight that occurs between the Tokyo Manji gang and Valhalla on October 31, 2005. The fight ends with the death of Baji and the arrest of Kazutora.
This arc ends with the Valhalla gang joining Toman and Takemichi becoming the first division captain.
Manga Chapter
Anime Episode Title
34. Darkest Hour, 35. Odds and Ends. 36. Anyone's guess, 37. Enter the stage
13. Odds and Ends
38. Break up, 39. My buddy
14. Break up
40. No pain, no gain, 41. Double cross
15. No Pain, no gain
42. Once upon a time, 43. In those days, 44. Screw up, 45. Take out on
46. Made up my mind, 47. Level with
16. Once upon a time
48. No way, 49. Grow apart, 50. Before dawn
17. No way
51. Open fire, 52. Never fear, I'm here
18. Open Fire
53. Turn around, 54. Below the belt
55. No match for
56. The one
57. Look up for
19. Turn around
58. Dead or Alive, 59. Get mad
20. Dead or Alive
60. One and only, 61. In tears
62. Last wishes
21. One and only
63. One for all
22. One for all
64. End of war,
65. My fam
66. Have an affair
67. Man-crush
68. Sunday best
69. Big moment
70. Tide turns
71. Same old same old
23. End of war
72. An old tale, 73. A crybaby, 74. Get back
75. Let one down
76. It is what it is
77. Gotta go
24. A Cry baby
4. Christmas Showdown Arc (Black Dragon Arc)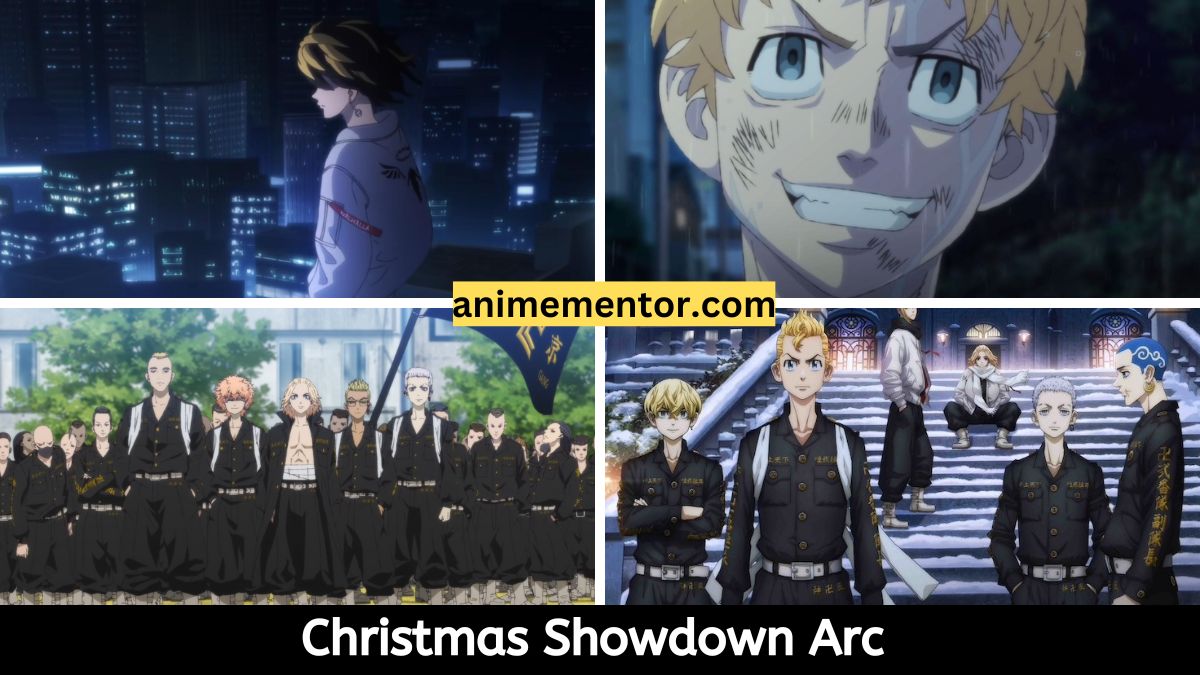 Chapters 44
Episodes 12
Rating: 10/10
Ranking: #1
The Black Dragon Arc will be adapted into The Tokyo Revengers: Seiya Kessen-hen or The Tokyo Revengers: Christmas Showdown Arc, which will air in January 2023. It will have 12-13Episode.
The main focus of this arc was the Christmas showdown, the fight between a few toman members, and the 10th generation Black Dragon. In this Takemichi's mission was to stop Hakkai Shiba from killing his elder brother Taiju Shiba (leader of the 10th generation Black Dragon) to protect his sister Yuzuha Shiba. Kisaki and Hanma offer to help Takemichi and Chifuyu to accomplish this task, but they end up betraying Takemichi and Chifuyu. Then begins the fight in which the toman members were on the verge of defeat when Mikey enters, finishing the fight by defeating Taiju.
This arc ends with the 10th generation Black Dragon joining Toman's first division under Takemichi's leadership and Mikey removing Kisaki.
Manga Title
Anime Episode Title
78. Hey, pal
79. Fuck off
80. Thicker than water
81. Stand alone
25. TBA
82. Own up
83. Big brother
84. Run errands
85. Family bonds
26. TBA
86. Be serious about
87. Strange bedfellows
88. Just gotta do
89. How you met
27. TBA
90. Christmas Eve
91. Miss you
92. Whip up morale
93. Keep one's vow
28. TBA
94. Scaredy cat
95. The ordeal from God
96. Always here for you
97. Sibling rivalry
29. TBA
98. Strive together
99. A verbal shot
100. Hundreds of times
101. Keep mum
30. TBA
102. Salute someone
103. Mother figure
104. Christmas night
105. No one can match
31. TBA
106. Dawning of a new era
107. Tight-knit
108. The light of my life
109. Not apt to give any way
32. TBA
110. Best wishes
111. Season opener
112. You're fired
113. You have my word
33. TBA
114. On my way home
115. Turn over a new leaf
116. Far from home
117. Last order
34. TBA
118. Life comes and goes
119. Too late to be sorry
120. Can take it
121. Last but not least
35. TBA
5. Tenjiku Arc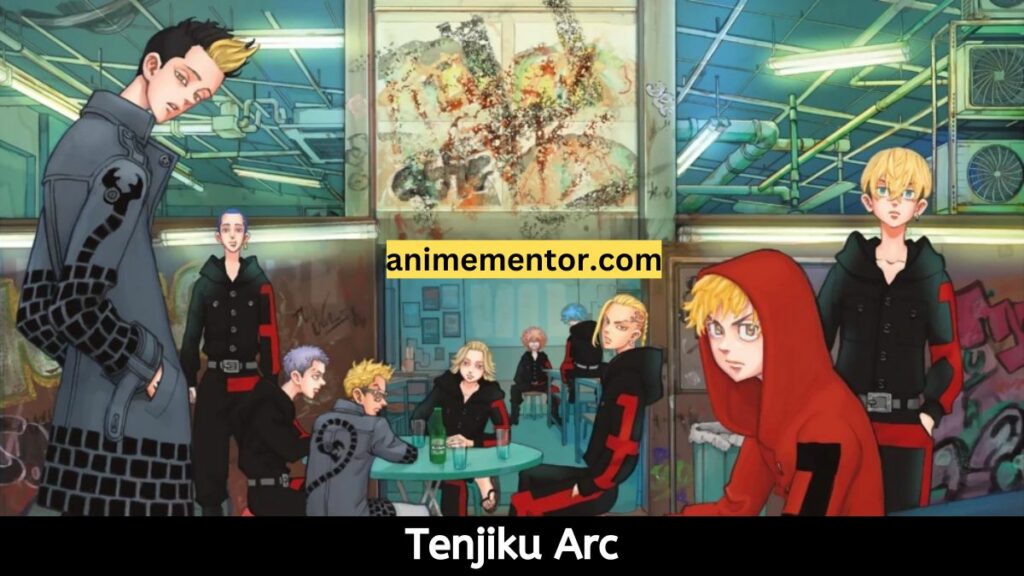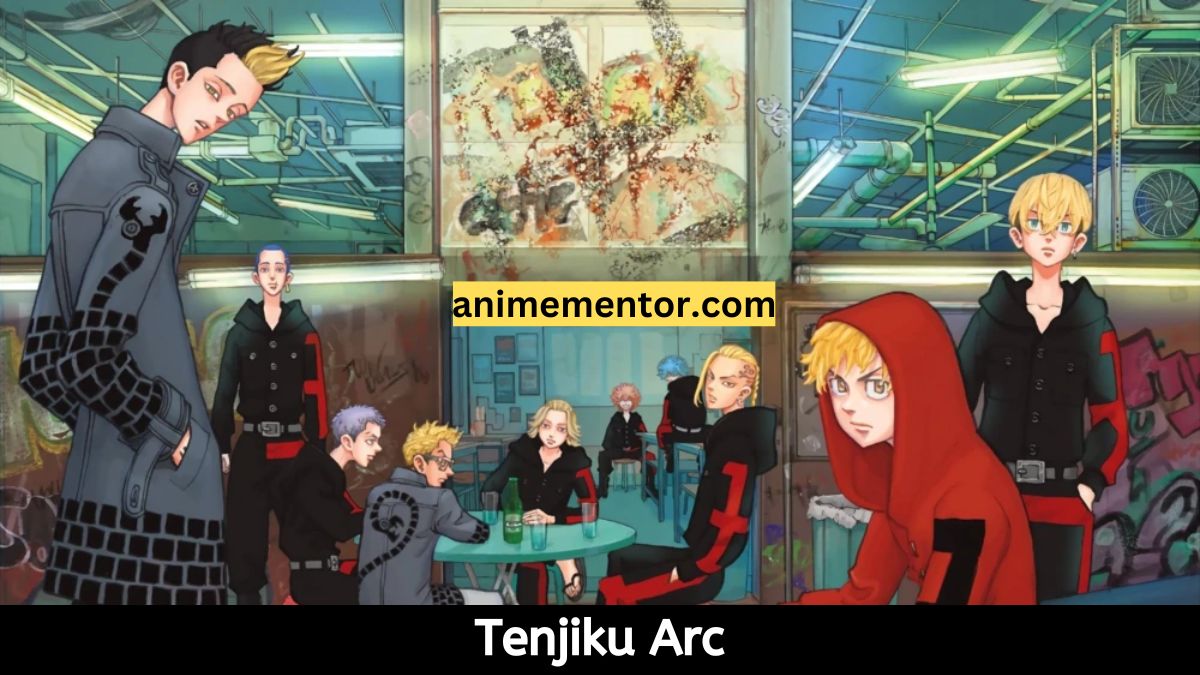 Chapters 64
Episodes: TBA [Approx 18]
Season: 3
Rating: 8.5/10
Ranking: #4
In this arc gang called Tenjiku led and founded by Izana Kurkowa with the help of Tetta Kisaki challenges Toman. In this Kisaki kills Mikey's sister Emma. This arc has one of the fiercest battles of the whole series between the Tenjiku and Toman gangs. This arc ends with the death of Izana who died by Kisaki's gun protecting Kakucho. At last, Kisaki dies after getting hit by a speedy truck while trying to escape from Takemichi.
In the end, Toman claims victory over Tenjiku, and Mikey disbands toman.
Manga Title
Episode Title
122. Twin to dragon
123. You're not my type
124. When it rains, it pours

36. TBA
125. Brother in arms
126. Two peas in a pod
127. Be fuzzy
128. Gang of four
129. The longest day
37. TBA
130. Pep party 131. Rest in peace
132. The big baddy
133. Sell out
38. TBA
134. Mortal enemy 135. Even I can
136. My lot in life
137. Run out of patience
39. TBA
138. stick together, 139. Make an exception
140. Back-stab
141. Lay out a plan
40. TBA
142. Family tree, 143. Come back to life
144. Big-hearted
145. Go-to guy
41. TBA
146. A bad hunch, 147. The root of all evil
148. Don't freak out
149. Arch villan
42. TBA
150. Damn it, 151. Just do it
152. Rise against
153. NocteKing
43. TBA
151. Just do it, 152. Rise against
153. NocteKing
154. Be in the van
155. Turn the tide
44. TBA
156. A den of iniquity 157. Money monger
158. Untamed heart
159. I know in my head
45. TBA
160. Stand no chance 161. The baby of the family
162. The blue ogre
163. Awake my potential
46. TBA
164. Head the list 165. Things change, but not all
166. Brave heart
167. Who wouldn't
47. TBA
168. Headliner, 169. The home front
170. Homecoming
171. Showdown at the summit
48. TBA
172. Lose your touch 173. The one and only
174. Nothing is left
175. Admonitions are not sweet
49. TBA
176. What was been left, 177. Déracinée
178. Paradise lost
179. End the standoff
180. Run after
50. TBA
181. Take a vow 182. Present to the mind
183. Lay the plan
184. Wind something up
185. Meet his fate
51. TBA
6. Bonten Arc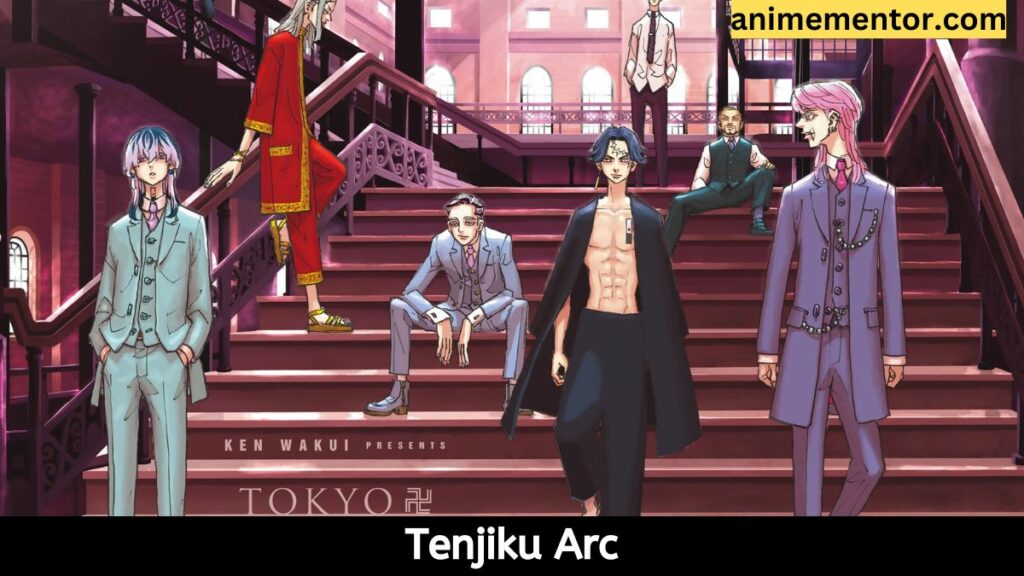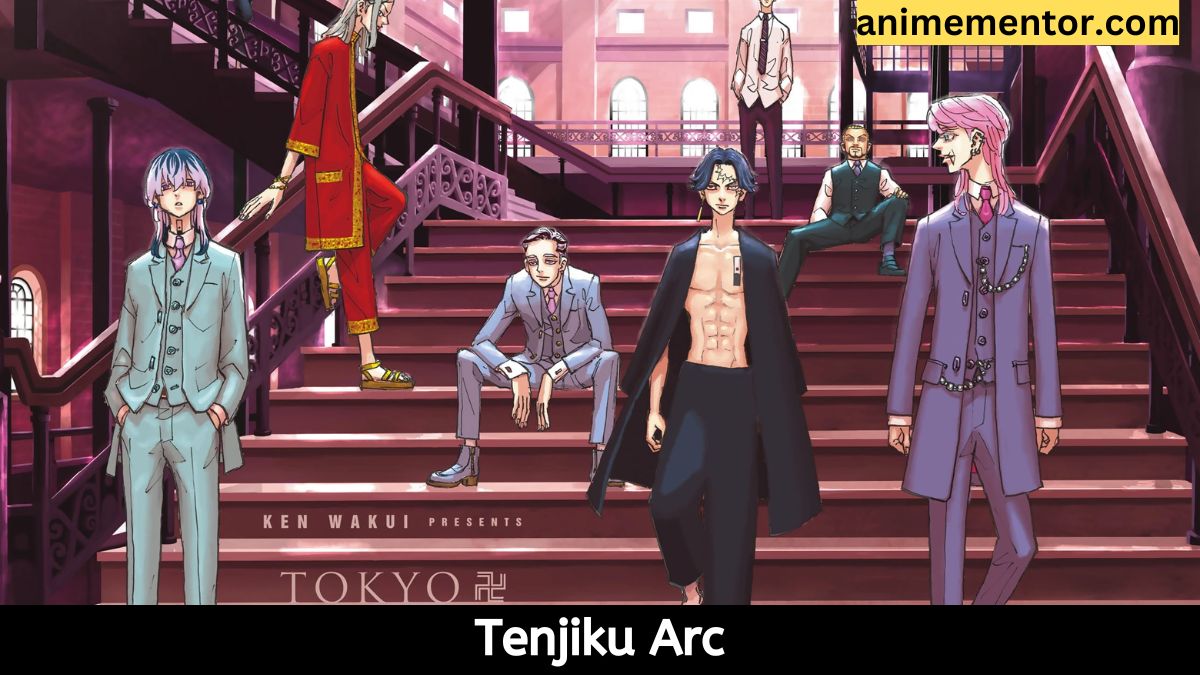 Chapters 20
Episodes: TBA [Approx 6]
Season: 3
Rating: 8.5/10
Ranking: #3
When Takemich Hanagaki returns to the future he finds that Hinata and all his friends are alive, it was one of the best futures that he could have accomplished, but Takemichi learns that Manjiro Sano "Mikey" after disbanding Toman went on to become part of a criminal organization called Bonten, so he went on to see him and then he returns to the past after shaking hands with Mikey in an attempt to save his life. But this time he travels ten years into the past instead of twelve years.
Manga Title
Episode Title
186. It's been real 187. Way to go
188. The lion of the day
189. Break up
52. TBA
190. Until next time 191. Be the world to me
192. Just be close at hand
193. Feel great!
53. TBA
194. The keepsake, 195. lingering scent
196. Can say that again
197. Be left behind the times
54. TBA
198. Lose myself in memory 199. Sincerely yours
200. Crack a smile
201. What's up?
55. TBA
202. Get away, 203. Don't give a damn
204. Give me a hand
205. The picaresque
56. TBA
206. Let you down
57. TBA
7. Final Arc
Three Deities Arc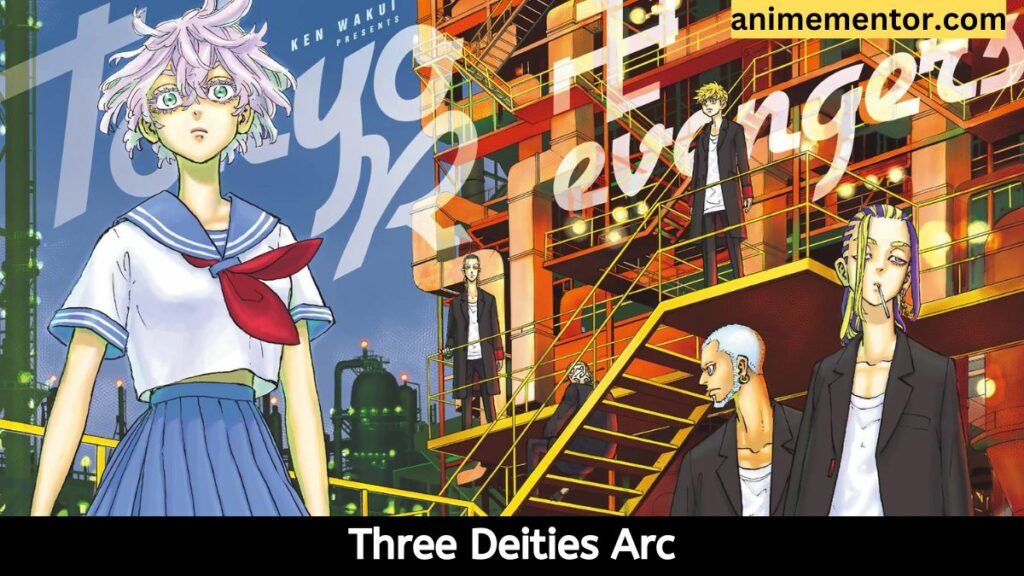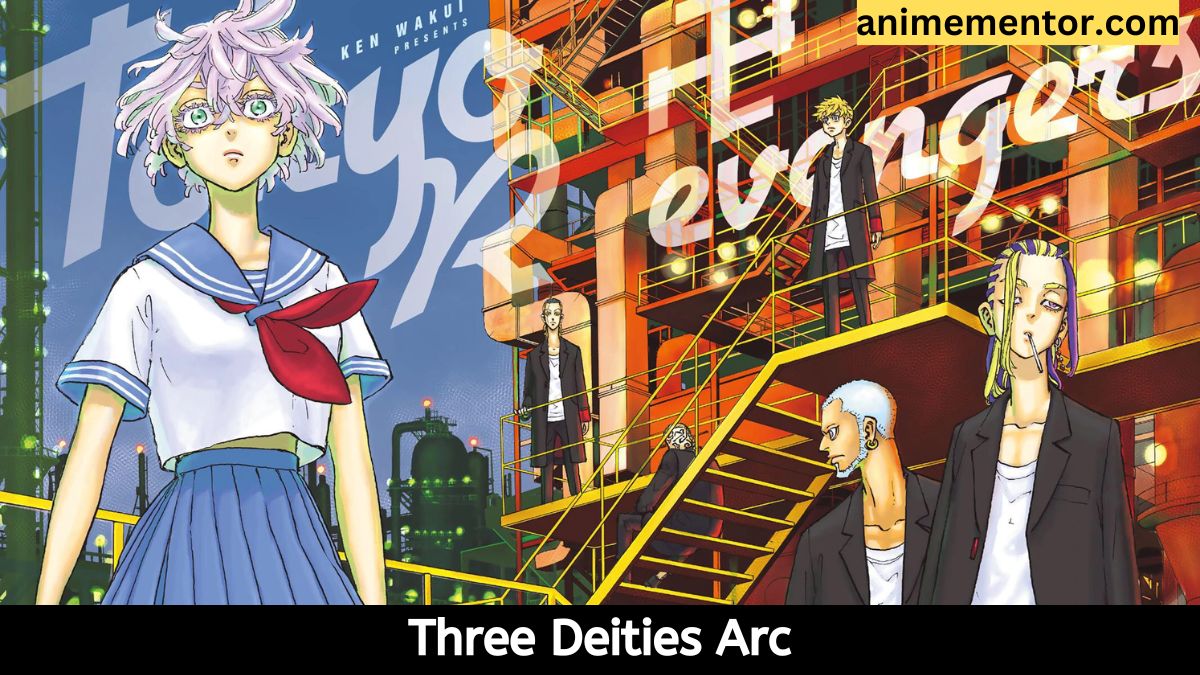 Chapters 28
Episodes: TBA [Approx 11]
Season: 4A
Rating: –
Ranking: –
On returning to the past Takemichi gets caught up in a conflict between the three deities which were Rokuhara Tandai, led by South Terano; Brahman, led by Senju Kawaragi and Kanto Manji Gang, led by Manjiro Sano. We witness the death of Draken and South and the Kanto Manji gang emerging as victorious among the three deities and Brahman getting disbanded.
Manga Title
Episode Title
207. The final act 208. Turbulent period
57
209. Get a grip
210. Face the music
58
211. The law of the jungle, 212. Battle of the titans
59
213. Living legends
214. The engine fired ,
60
215. After a storm comes calm 216. Shows her color
61

217. Have never seen anything like it
218. Queen it over
62
219. A sense of foreboding, 220. Bull's-eye
221. Ups and downs of his fate
63
222. Give back 223. Good old days, 224. Cutthroat
64

225. Free for all
226. Dynamic duo 227. Gangster,
65
228. Beat hell out of
229. Go easy on
230. Get stuck-up
66
231. Blood-chilling, 232. It takes two to tango
233. Better late than never
67
234. There is no mending, 235. Just be yourself
68
Kanto Manji Arc
Chapters 28( Running)
Episodes: TBA [Approx 12]
Season: 4B
Takemichi then goes on to form his own gang called Second Generation Tokyo Manji Gang to fight the Kanto Manji gang. This arc answers the long-awaited question of Shinichiro Sano(Mikey's elder brother) being the second-time leaper.
Manga Title
Episode Title
236. Band of brothers 237. Make allies
238. Really into it
239. Steel the show
68
240. Go into retirement 241. A forced smile
242. Inherit the crown
243. Wide array of
69
244. The showdown battle 245. Grow up to
246. Giant Killing
247. Hey dude
70
248. Long time no see 249. Good chemistry
250. Turn the table
251. Get out of hand
71
252. Bring back 253. The worst is come
254. Train wreck
255. Holy cow!
72
256. Behind the scenes 257. Tipping point
258. Strange bedfellows
259. Like a something demoniac
73
260. Squaring off against 261. Opposite sides of the same coin
262. To rout and ravages
263. Be strong
74
264. Not only the force but also… 265. Stand by me
266. Make vision a reality
267. To signal a counterattack
75
268. Another such, 269. All things must pass
76
TBA
TBA
So that concludes our Article on All Tokyo Revengers Arc in Order with Rank.
Given that the fans have expressed extreme reactions to every chapter of the ongoing Kanto Manji arc it's quite understandable if your views differ from ours and that is okay.
Let us know your thoughts in the comments below and if you can convince us we might update the article. Please keep it respectful 😅.
Sayonara!