Kon'nichiwa, min'na!! We are back again with another awesome anime series list.
As all of you know, Tokyo Revengers is one of the most popular anime series in recent time. The anime has combined many genres like time travel, high school, and gang themes with a beautiful and energetic storyline.
The series ended with a blast in season 1 and with a huge cliffhanger for the anime fans. Fortunately, season 2 is already in the works and hopefully, we won't have to hold our breath for too long to find out what happens next in the story.
But while you wait for the next season, there are many other Anime like Tokyo Revengers that you can check out.
All the series mentioned in this article have a lot in common with Tokyo Revengers, be it in terms of time travel, gangs, mafia, and all. So, without wasting any more time, let's dive into the list straight away:-
1. Erased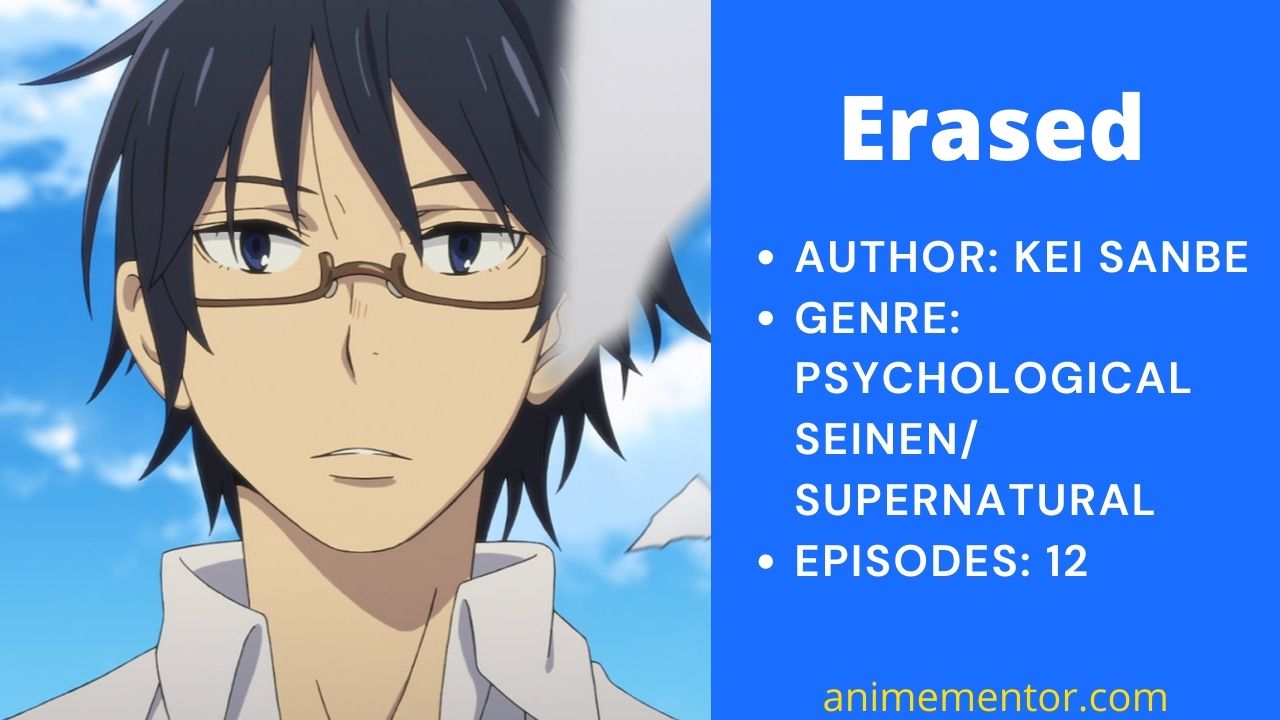 Author: Kei Sanbe
Genre: Comedy/ School/ Slice Of Life/ Time Travel
Episodes: 12 (1 season)
Erased follows the story of the Satoru Fujinuma who is engulfed by his fear to manifest himself. Somehow, he possesses a supernatural ability to be compelled to prevent deaths or disastrous incidents by time-traveling before the event actually occurred, and ultimately preventing the incident.  
But one day Satoru was hailed as a murderer as he got himself entangled in an accident. To save the sufferer Satoru time-travels to the past and finds himself 18 years ago as a grade-schooler. He realizes that the incident of his classmate Kayo Hinazuki missing hadn't taken place. 
Satoru now set forth on a new adventure where he wants to solve this mysterious case by himself and save a friend from going missing.
2. RE: ZERO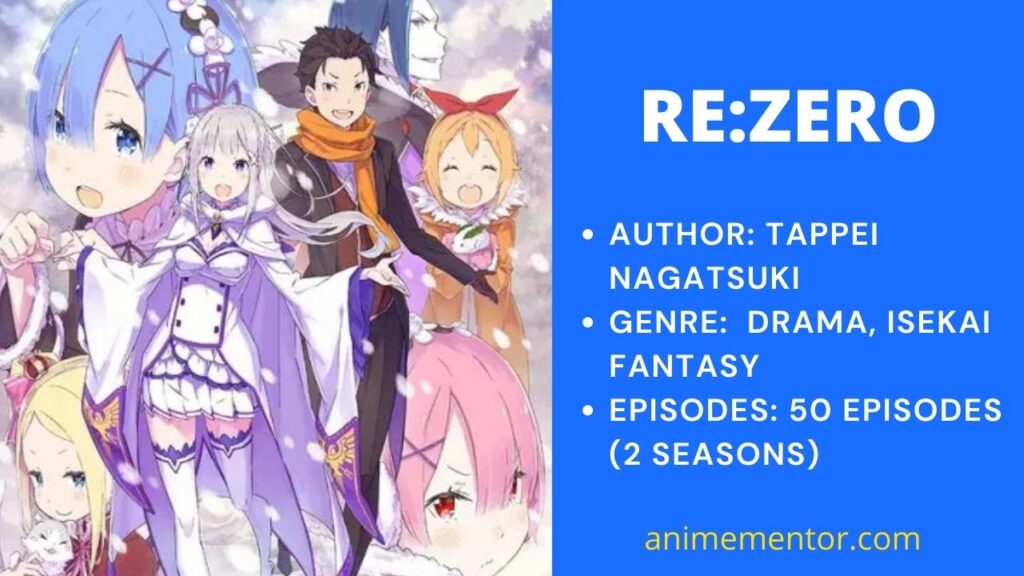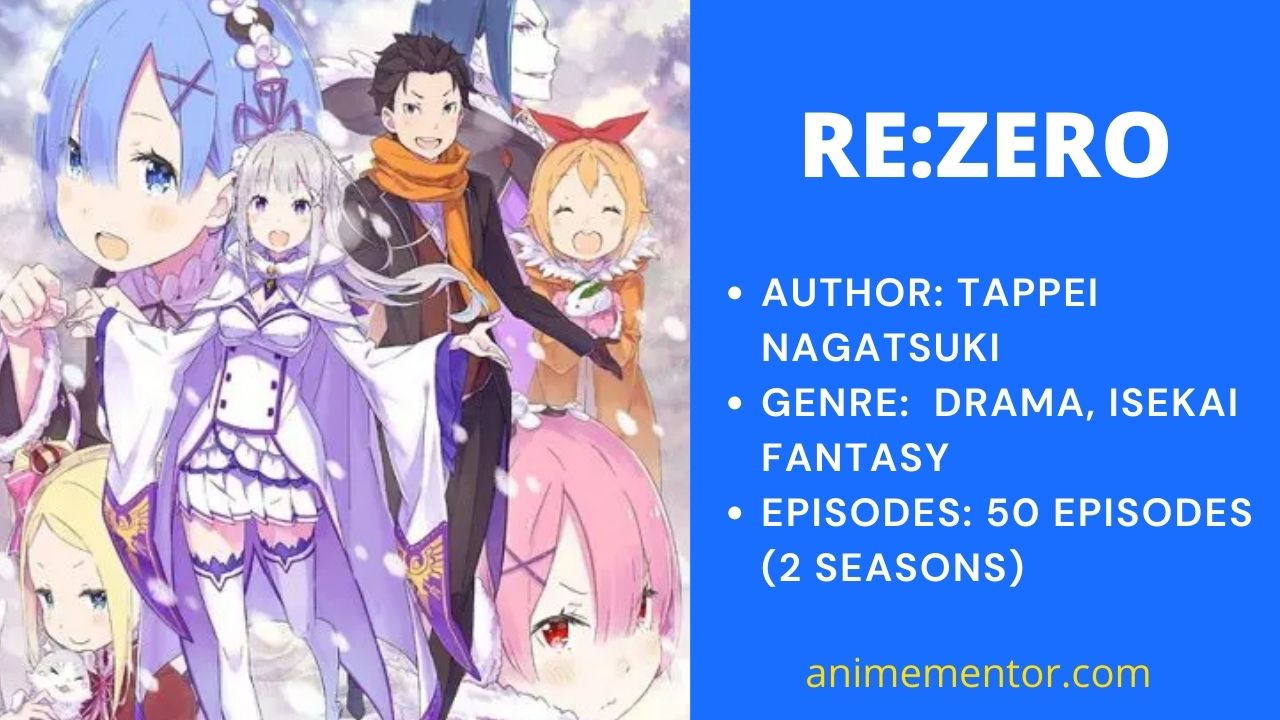 Author: Tappei Nagatsuki
Genre:  Drama/ Fantasy
Episodes: 50 episodes (2 seasons)
The story tells us about Natsuki Subaru, a normal young boy, and an ordinary high school student. 
His normal life changed when he was suddenly summoned by someone from a parallel world. There he is rescued by a beautiful elf girl named Emilia. She had a very painful past and due to which she was now being chased by an assassin.
Subaru was delighted by his rescuer and wanted to do something for her in return for saving him. He didn't know why or who has summoned him so for the time being he started to follow Emilia in her journey. 
However, their journey soon came to an end when a group of assassins ambushed them. Subaru and Emily both got killed and everything seemed to be over when suddenly Subaru awakes up. He was unharmed and alive.
At first, Subaru was in shock but soon he realizes that he has the power to rewind death and names his ability "Return by Death". The new ability gives him the ability to reverse time by dying; although, only he remembers what happened in the previous timeline. 
Who gave Subaru the power to reverse time and why was he summoned in this alternate world?
3. Bungou Stray Dogs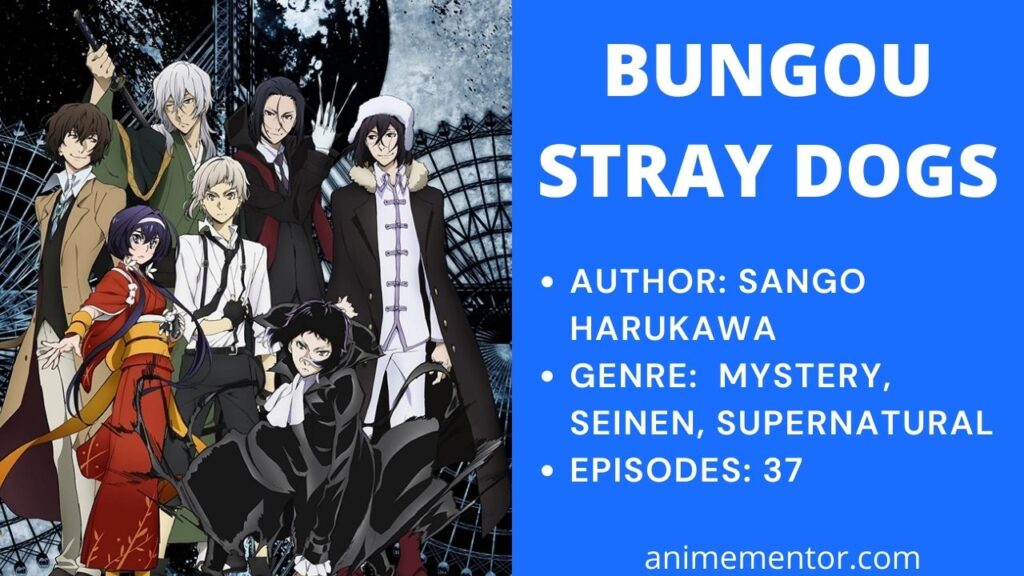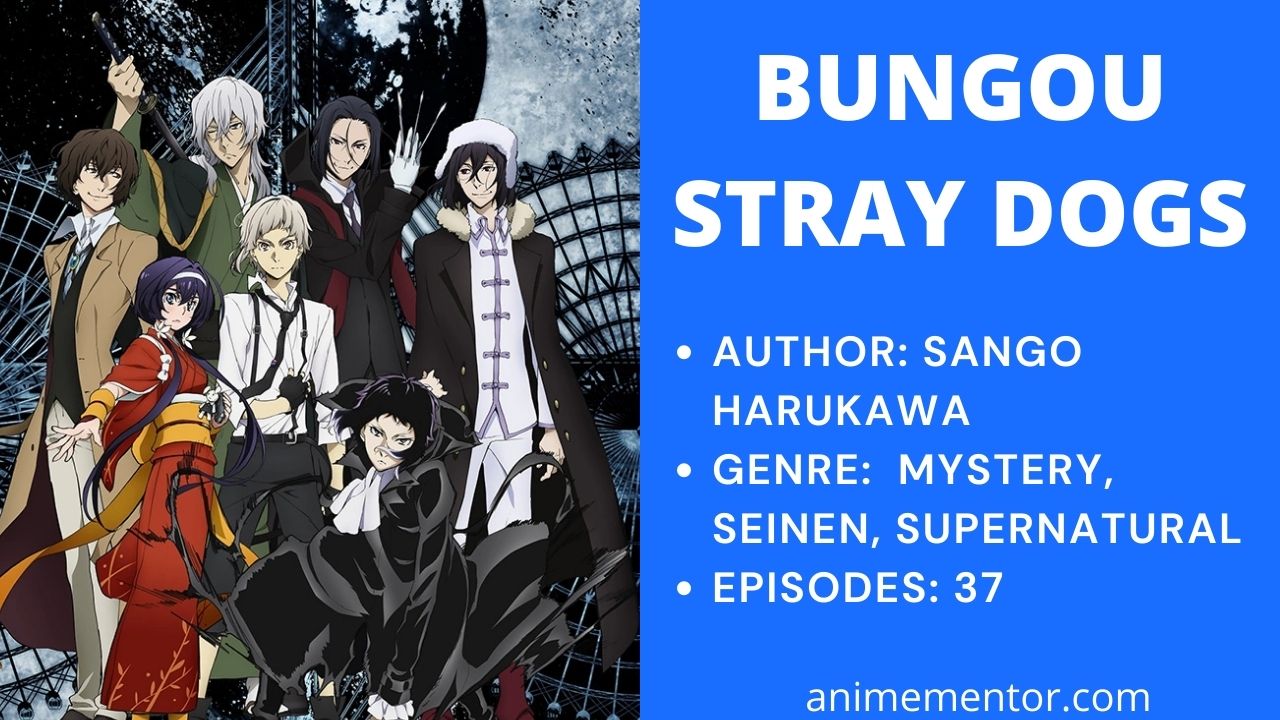 Author: Sango Harukawa
Genre:   Mystery, Seinen, Supernatural
Episodes: 37
Synopsis: – The story starts with the introduction of super abilities which some people possess. The protagonist is a young boy named Nakajima Atsushi who is very depressed with his life. He was kicked out of the orphanage where he used to stay and now he was just wandering in the streets in search of some job to earn money. 
One day when he was passing by the river, he saw a man drowning. Without thinking much, Atsushi jumped in and saved the man.
The man was Osamu Dazai. Atsushi learned that Dazai was trying to commit suicide by drowning in the river. They both talked for quite a bit. Later, Atsushi came to know that he was gifted with supernatural power and so was Dazai.
Atsushi was capable of transforming into a powerful white tiger in the moonlight. Now, Atsushi understood why the orphanage kicked him out before. 
He was now taken to an Armed Detective Agency by Dazai where all the people possess supernatural abilities and use their powers to cases throughout the city of Yokohama. 
On the other hand, Port Mafia is a group of mafias and gangsters who are known for their criminal records. Atsushi became the target of this huge organization as somebody placed a hefty bounty upon him in the black market. Will Atsushi be able to escape from the clutches of Port Mafia?
4. Steins; Gate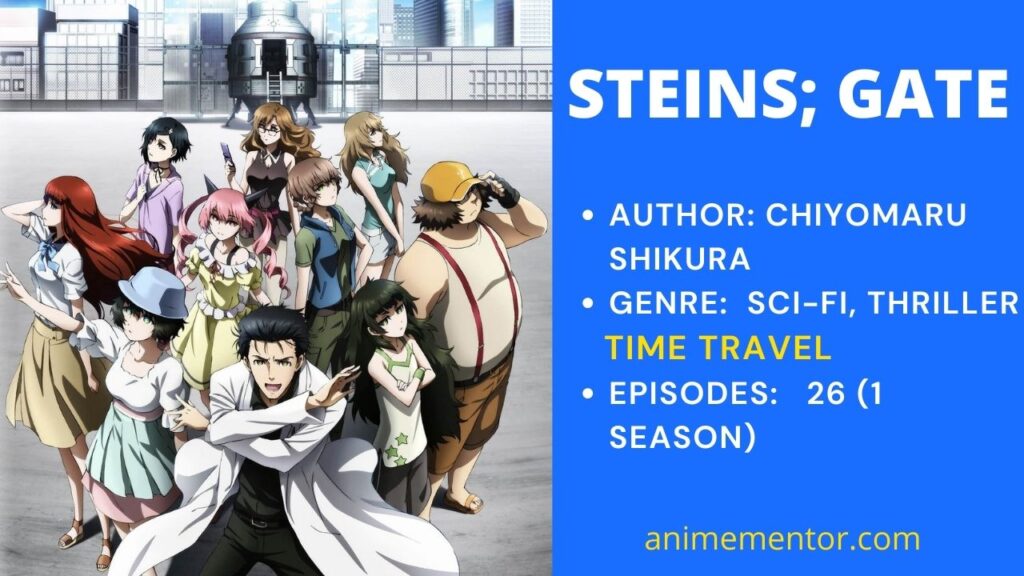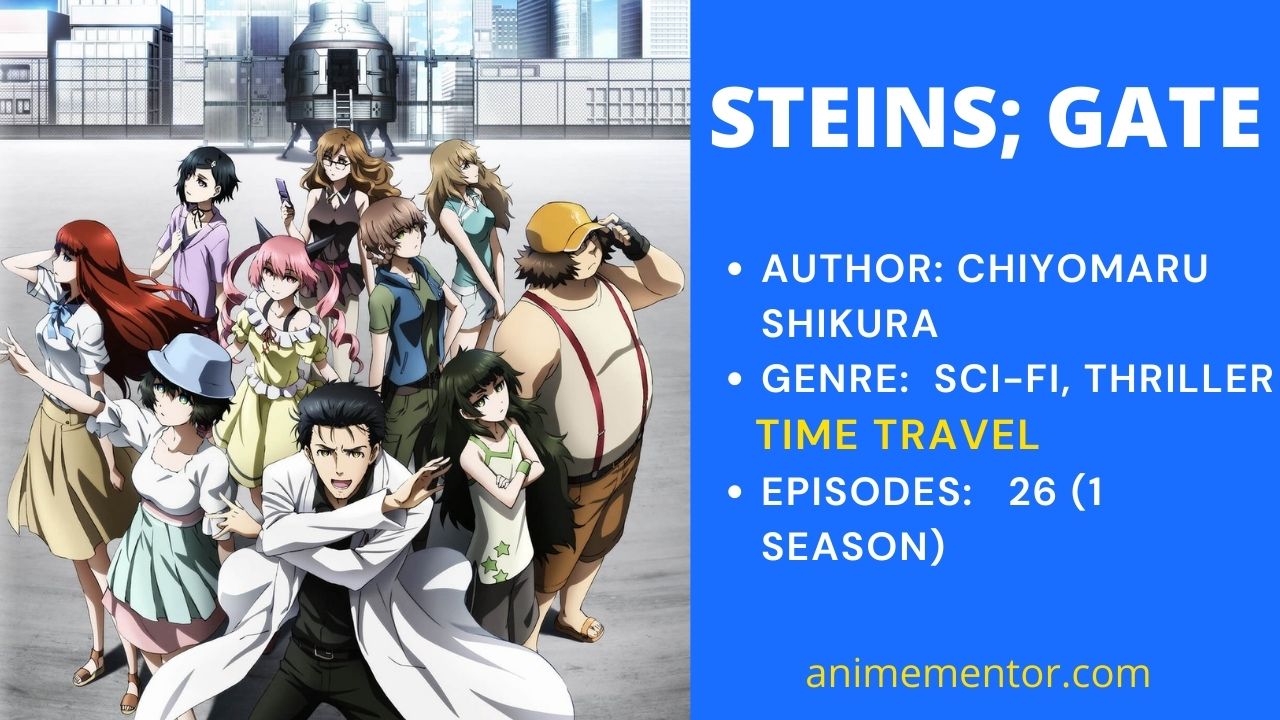 Author: Chiyomaru Shikura
Genre:  Sci-Fi, Thriller
Episodes:  26 (1 season)
The tale of Steins; Gate takes place in Akihabara and is a story about time travel and the result of its abuse. 
Here the protagonist is a guy named Okabe Rintarou. He also goes by the name Hououin Kyouma and is an acknowledged "mad scientist".
After years of research, Rintarou successfully discovered a way of time traveling and begins to misuse the power by helping his friends who were having issues in the past. Rintarou was not concerned about the consequences that he would cause by changing the past.
An organization named SERN who were also researching time travel finds out about them and started an operation to capture Rintarou and his friends.
5. Ikebukuro West Gate Park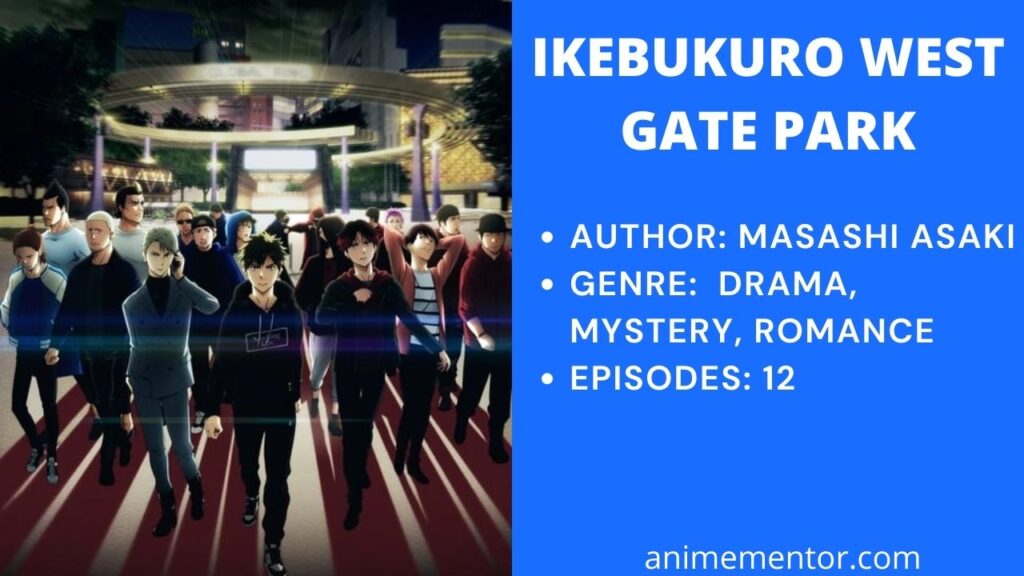 Author: Masashi Asaki
Genre:  Drama, Mystery, Romance
Episodes: 12
The story starts at Ikebukuro, a city known for its violent environment. Many gangs, the Yakuza rule the streets, and most of the things done here are by illegal means. 
Takashi Ando is the leader of a street gang named The G Boys protects its members from violence and also helps/provides services to other people of the area.
A new gang named Red Angels also tries to be the best gang under their fascinating leader Ozaki Kyoichi.
In this crime-filled city, there is a boy named Makoto Majima who is a writer. He has a very high sense of justice and tries to help anyone he can. 
Makoto is like the bridge between all the major gangs in the city, the police officers, and the robbers too. He is a charismatic troubleshooter.
To protect his friends, Makoto conciliates all the disputes among all the groups, and also by solving the cases the cops can't solve.
However, despite all his efforts, one incident of extreme violence claims the life of his friends. Can Makoto resolve the violence or will it result in the end of him?
6. Vivy: Fluorite Eye's Song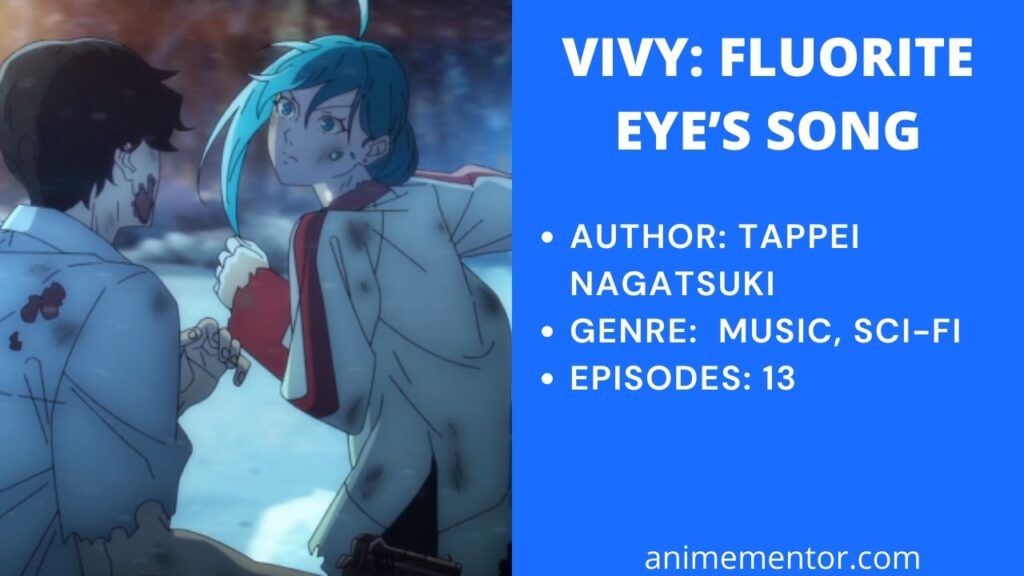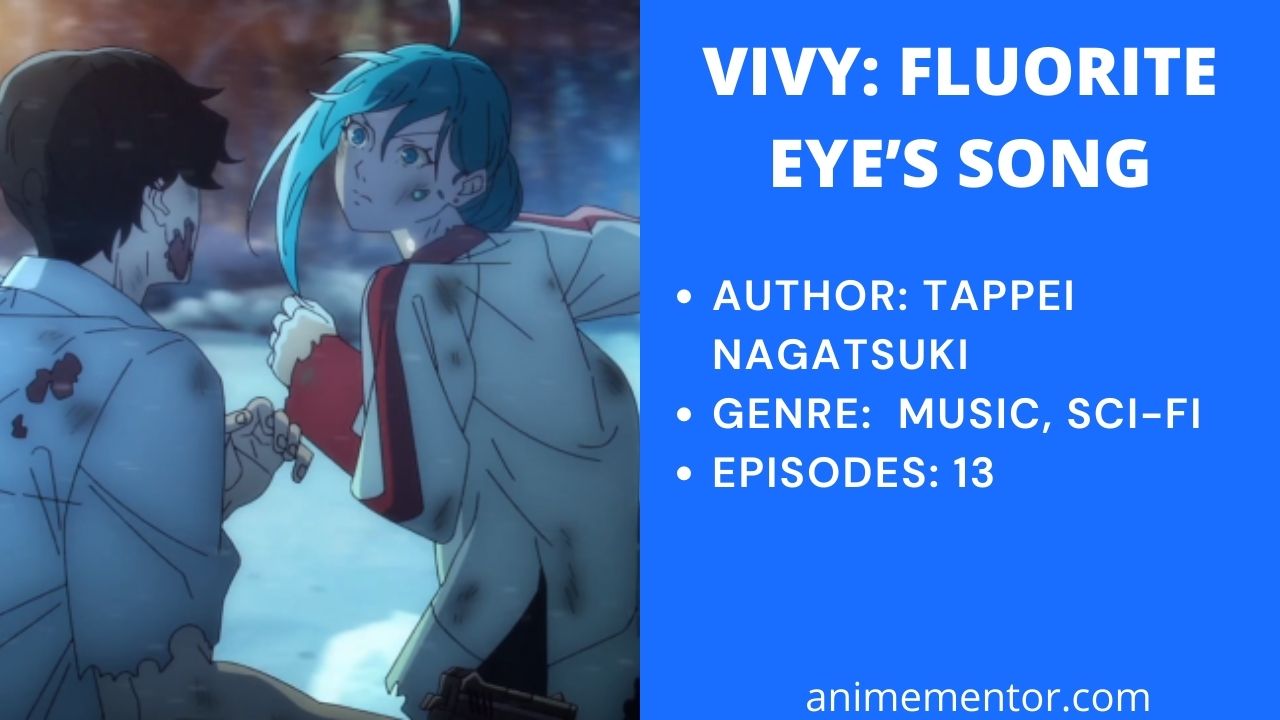 Author: Tappei Nagatsuki
Genre:  Music, Sci-fi
Episodes: 13
The story revolves around Nierland which is a theme park of A. I system where science knows no boundaries. After several years of experimenting with artificial intelligence methods, the scientists finally concluded that AI will only operate if they are given a single mission to carry throughout their life.
From that, the first autonomous humanoid AI was created named Vivy who has a single mission in her life – to make people happy with her songs. She sings at every event at the theme park trying to bring happiness to the people.
One day when she was on her way to sing on the main stage, an AI from 100 years into the future named Matsumoto appeared and disrupted her show. 
Matsumoto told Vivy that 100 years later, war will erupt between AI and humans, and Matsumoto was given the mission to correct this situation by changing the circumstances in the past.
They both join hands with each other to prevent this war from happening. A new adventurous journey now lies in front of Vivy.
7. Link Click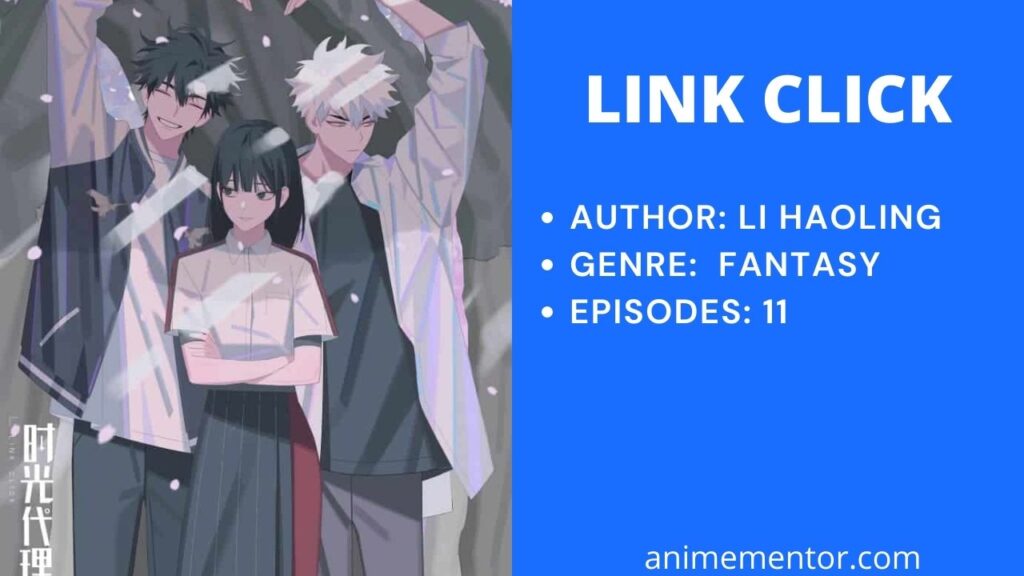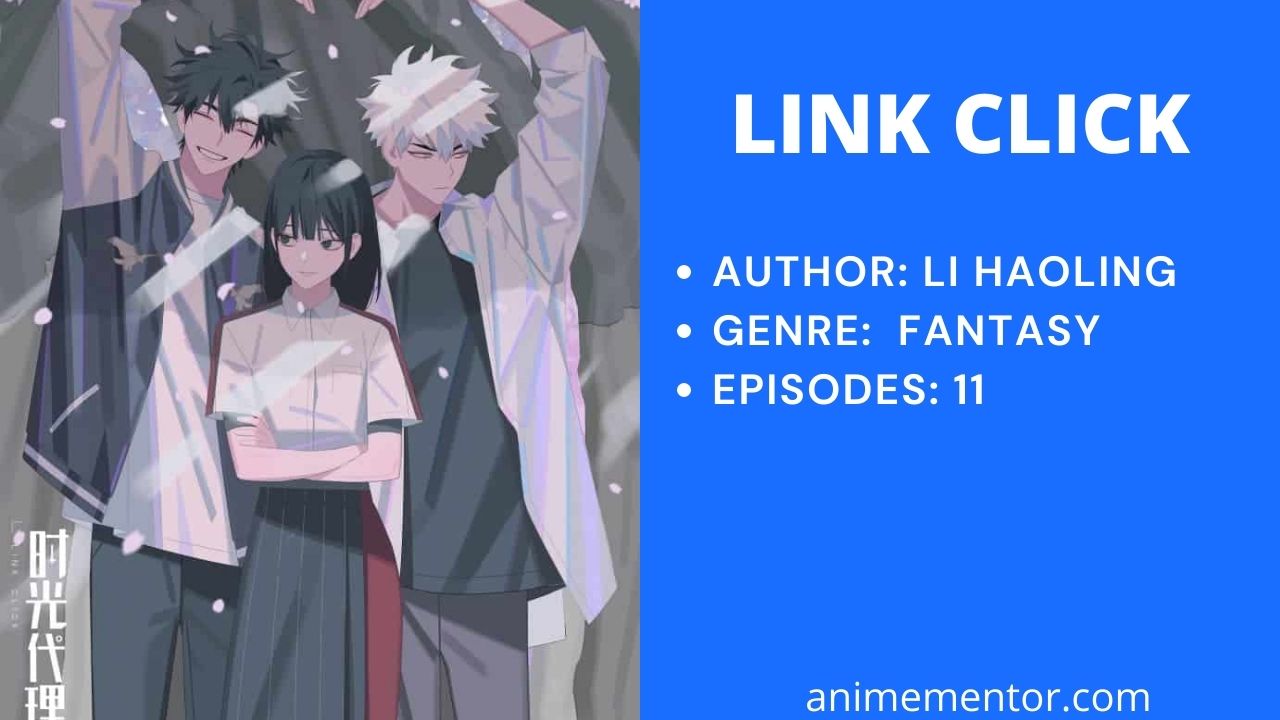 Author: Li Haoling
Genre:  Fantasy
Episodes: 11
"Time Photo Studio" is a small store located in one of the corners of this huge and busy metropolis city. There are very few customers who come to visit this place and it looks like it's abandoned.
But it is not a normal studio, the place is run by Cheng Xiaoshi and Lu Guang, both with supernatural abilities. The two cooperate to run their little business.
They use their abilities to satisfy their customers by entering the photos. However, we often do not get the things we want, and sometimes things are just out of our hands and don't go as planned…
Follow these two men in their exciting journey as they pave through their new way of life.
8. Rainbow: Nisha Rokubō no Shichinin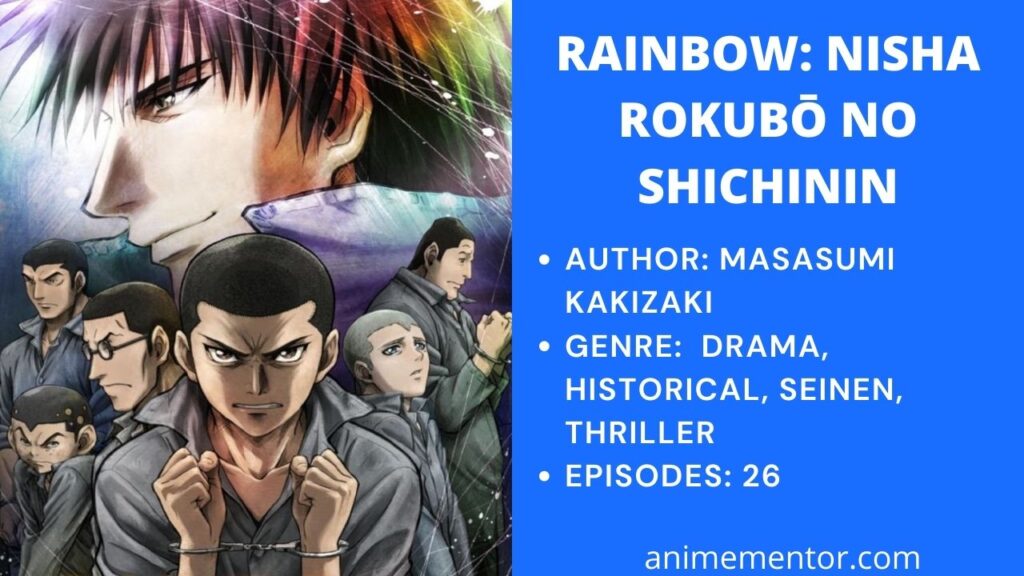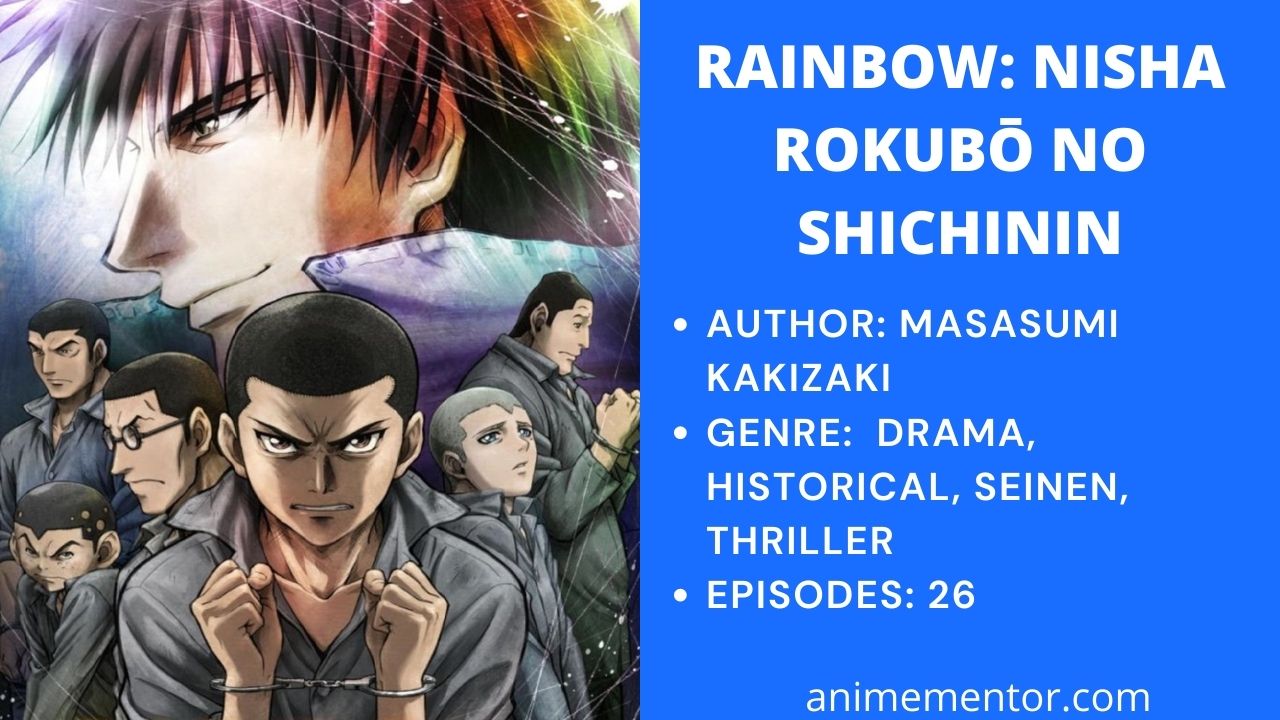 Author: Masasumi Kakizaki
Genre:  Drama, Historical, Seinen, Thriller
Episodes: 26
Rainbow: Nisha Rokubō no Shichinin revolves around the struggles of people with lower-class backgrounds after a post-war situation.
 In Tokyo, at the Shōnan Special Reformatory, there were six junior delinquents along with their mentor. The story is set in the 1950s when these seven delinquents had to learn to live together. They were constantly facing humiliation and were suffering but had no choice but to accept it.
Follow their struggles in their daily life and the things they do to make both ends meet, waiting for a spark of light in this dark world of sufferance. 
The story focuses on the students' lives in their school and also the years after they left the school in this post-war society.
9. Gangsta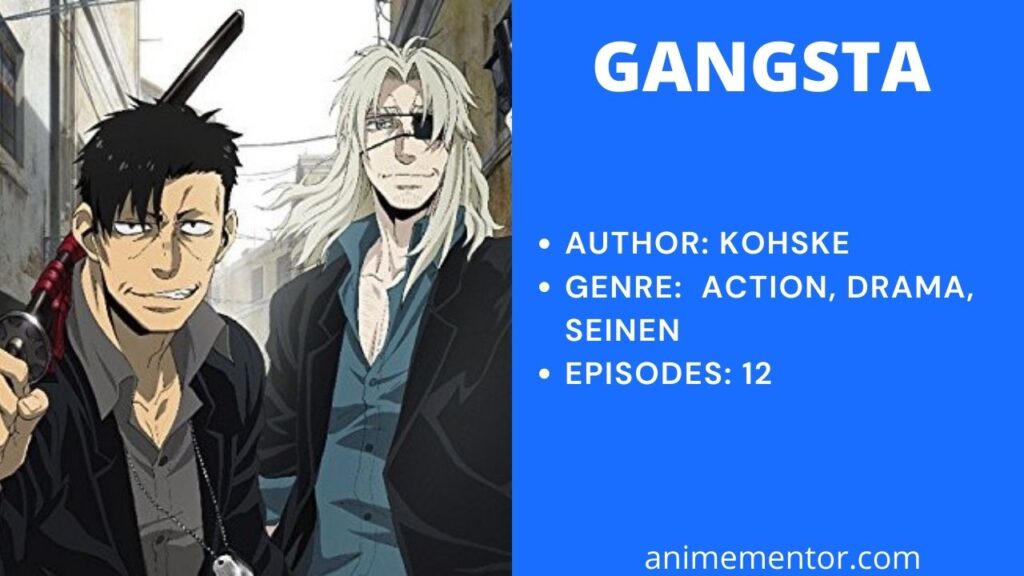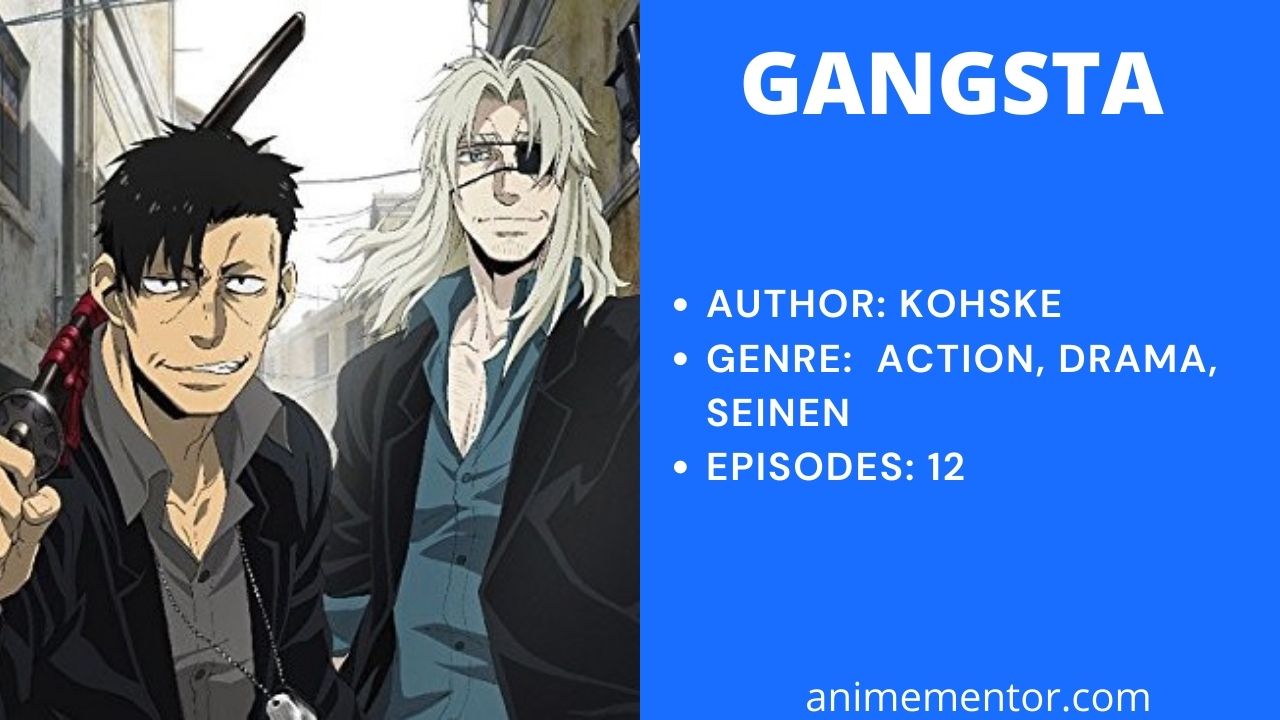 Author: Kohske
Genre:  Action, Drama, Seinen
Episodes: 12
The story takes place in the city of Ergastulum where corruption and crime creep every nook and cranny. Robbery, murder, prostitution to bribery is normal here.
Worick Arcangelo and Nicolas Brown are two hire-for-work men also known as "Handymen" by the folks. They do any kinds of work the people ask of them and also take care of many jobs the others refuse to accept.
One day they were proposed with a particular job by a cop who requests their help in capturing a gang which has been left at large. On the job, they met with Alex who is a prostitute by profession. Due to some incidents, later she became the secretary for the Handymen.
They thought of this job like every other job but they were wrong about that as they were about to encounter a job which is a lot more than they actually bargained for.
Meanwhile, Alex starts to recall her past, and eventually finds more of the past of the Handymen.
An uneasy tension grows between the four major powerhouses in this city and the center of it lays the Handymen.
10. Darker Than Black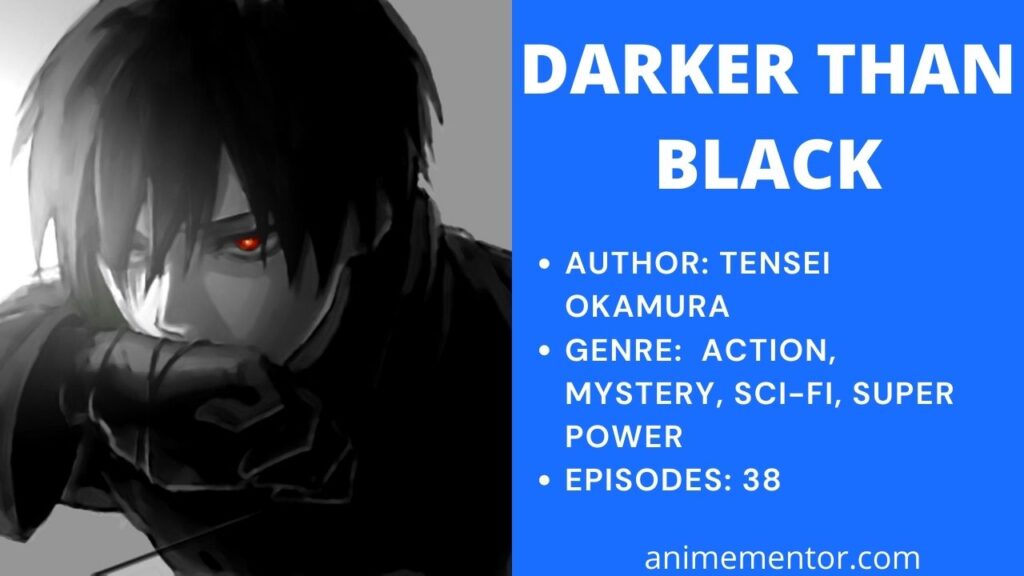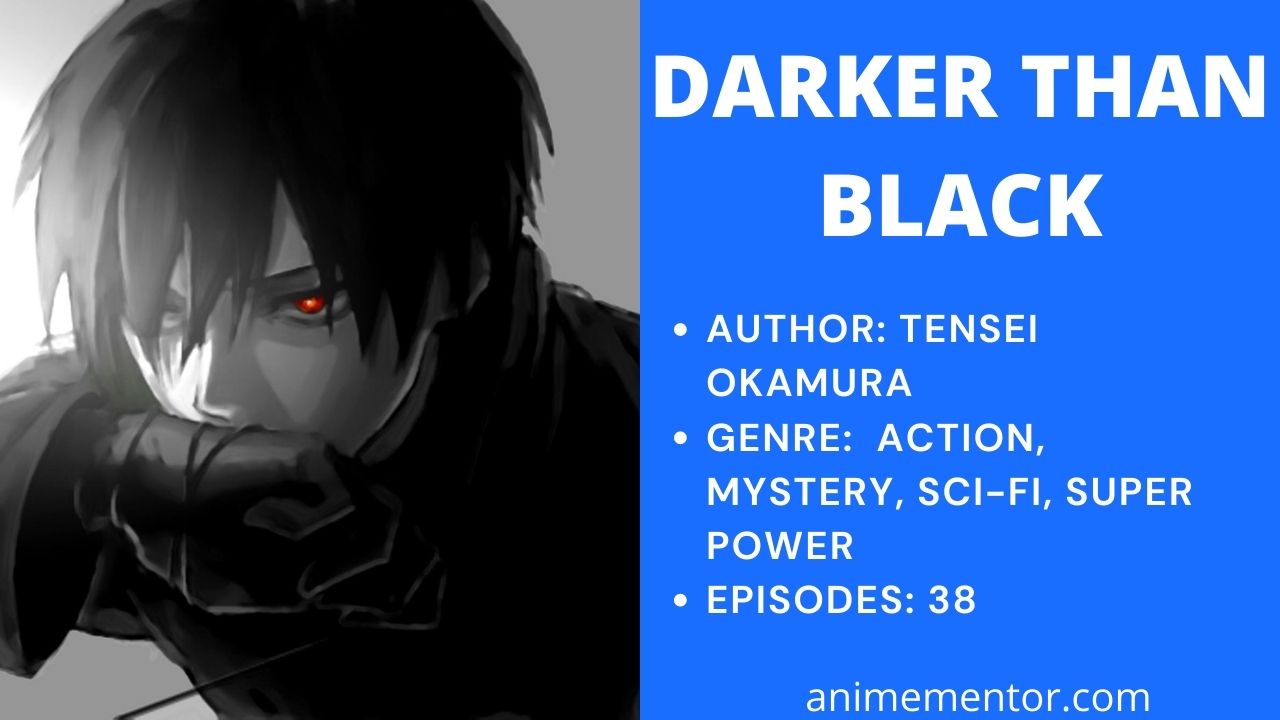 Author: Tensei Okamura
Genre:  Action, Mystery, Sci-Fi, Super Power
Episodes: 38
Ten years earlier, a spatial gate which was known as the "Heaven's Gate" appeared in South America. After that, a gate also appeared in Tokyo which was known as the "Hell's gate". It was an impenetrable field. It altered many landscapes and destroyed many cities.
At this time, a special group of individuals who wielded supernatural abilities known as Contractors came to the rescue of humanity. They used these super abilities at the cost of their conscience.
The Contractors were kept as a secret from the public and they do their work without showing any emotions. They show no mercy to anyone as the more they use their power, the more they are deprived of their humanity. 
One of the most powerful contractors is Hei who has a blind associate by his side named Yin. They work for one of the many Contractor agencies to find out the reasons and the mysteries behind Hell's Gate.
Conclusion:
So, I hope that you enjoyed reading this article for the Top 10 anime series like Tokyo Revengers.
For people who love time travel and gang or mafia animes, these few series will definitely add up to your taste.
 I'm sure that you will enjoy each of these anime series mentioned above. Don't forget to mention in the comments, the anime which you liked the most. Also, if you have any suggestions, feedback let us know.
See you soon in my next article.
SAYONARA!!