The genre has also come to be known for its healthy dosage of romance. Many fan bases only watch anime if it features fascinating relationships and some swoon-worthy romance.
In stories that astonish us with love, generosity, gentleness, and intense desire, anime fans have always enjoyed seeing the main characters form relationships with attractive and beautiful girls. Because of the adorable couples in anime, it is clear that romance is still popular and embraced by fans of anime and manga.
Many anime fans around the world have favorite couples that they like watching and rooting for in their favorite programs. Whether it's due to how powerful they are together or simply how adorable they are when they're on screen together.
There's no need to look any further if you want to curl up on the couch and browse the top anime couples. Here is our list of the 15 cutest romantic anime couples ever.
15. Kaori and Kousei (Your lie in April)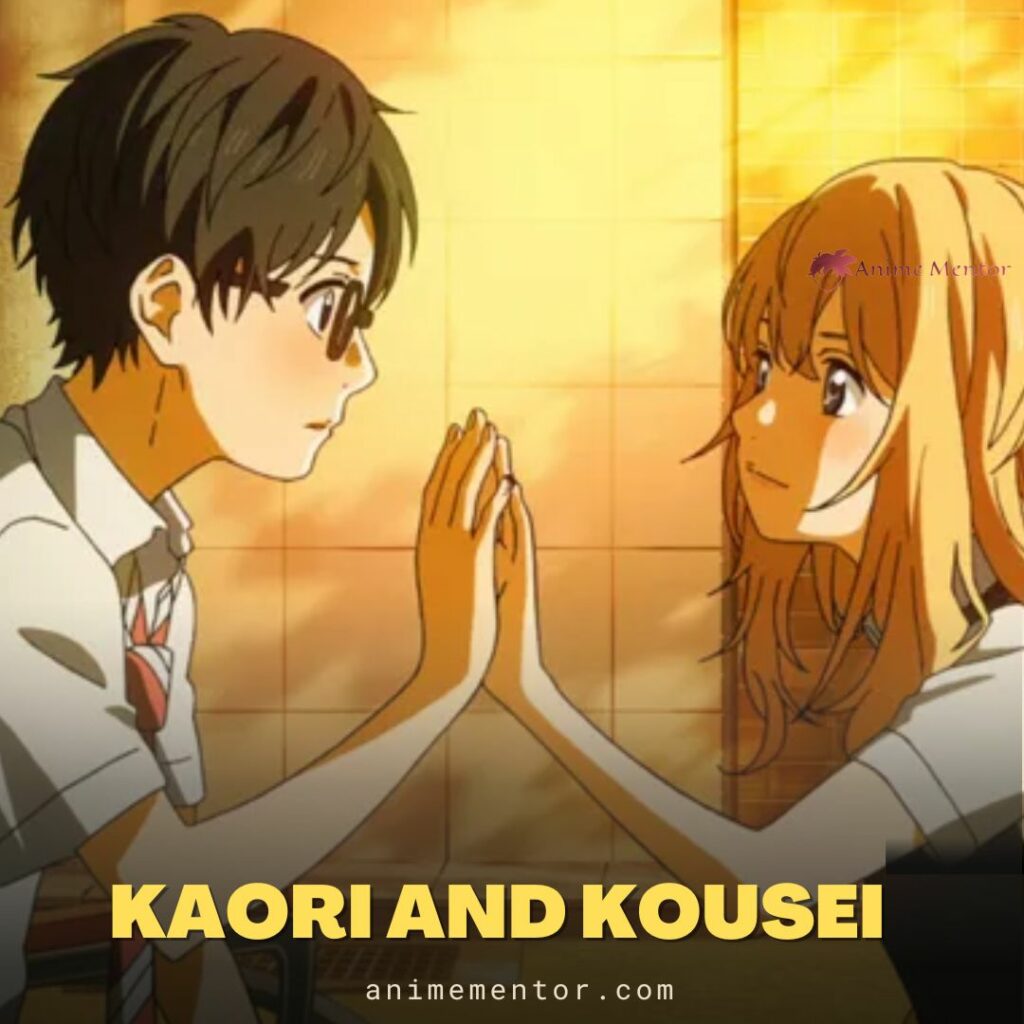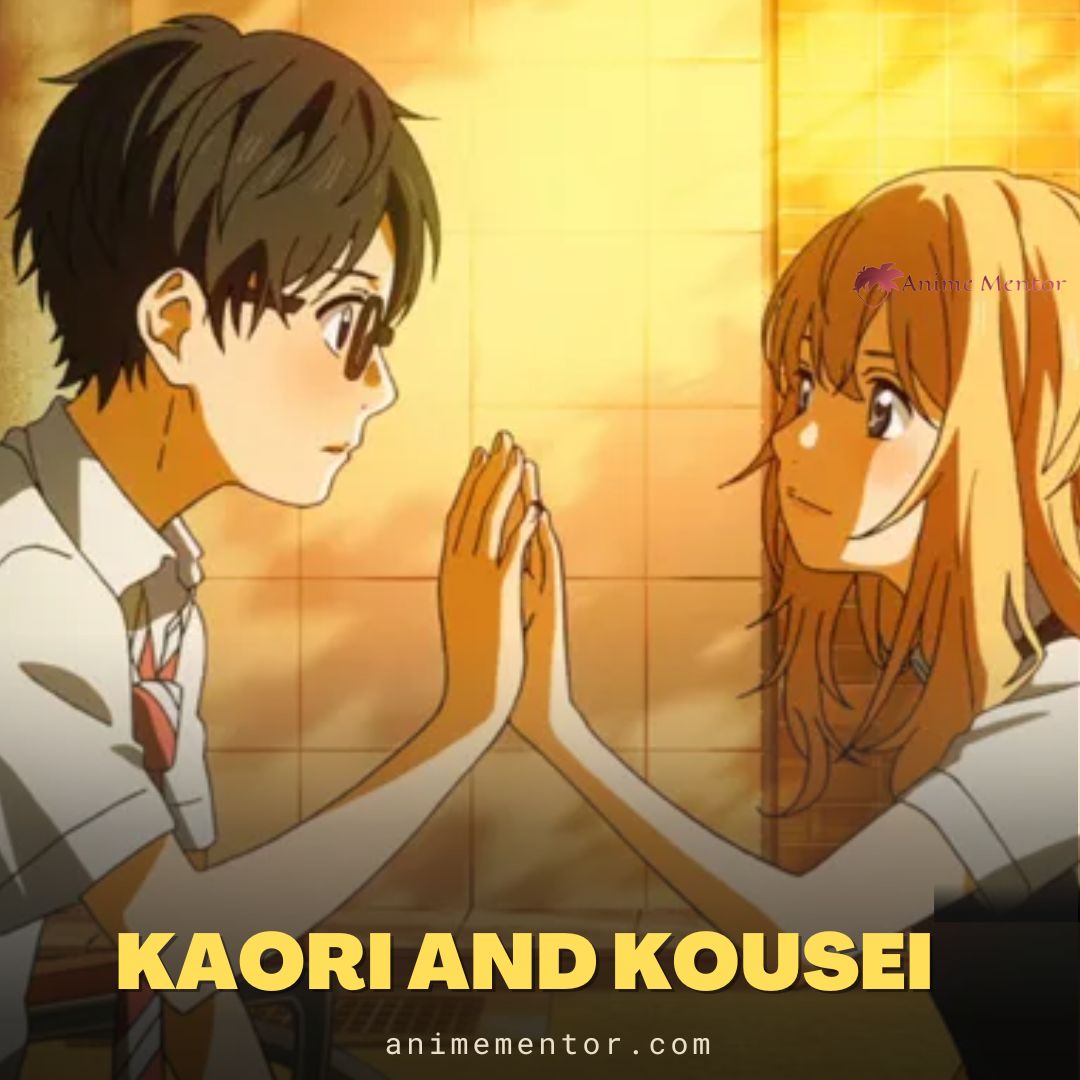 The chemistry between Kaori and Kousei is undeniably there, even though we don't see them as a real pair until the end of the season.
We won't ruin the pleasure for you, but the story is really charming but also heartbreaking, with a conclusion that makes everyone sad.
Although Kaori did her best to make the most of their time together, we must never forget that she was the one who guided Kousei through each stage of rediscovering his passion for music.
Imagine, for a moment, finding serenity and contentment in someone else when everything else seems bleak and empty without them. I know it sounds cliché, but a couple like Kaori and Kousei did make it work and it was absolutely beautiful. And this explains why they're on this list of best couples.
14. Kirito and Asuna (Sword Art Online)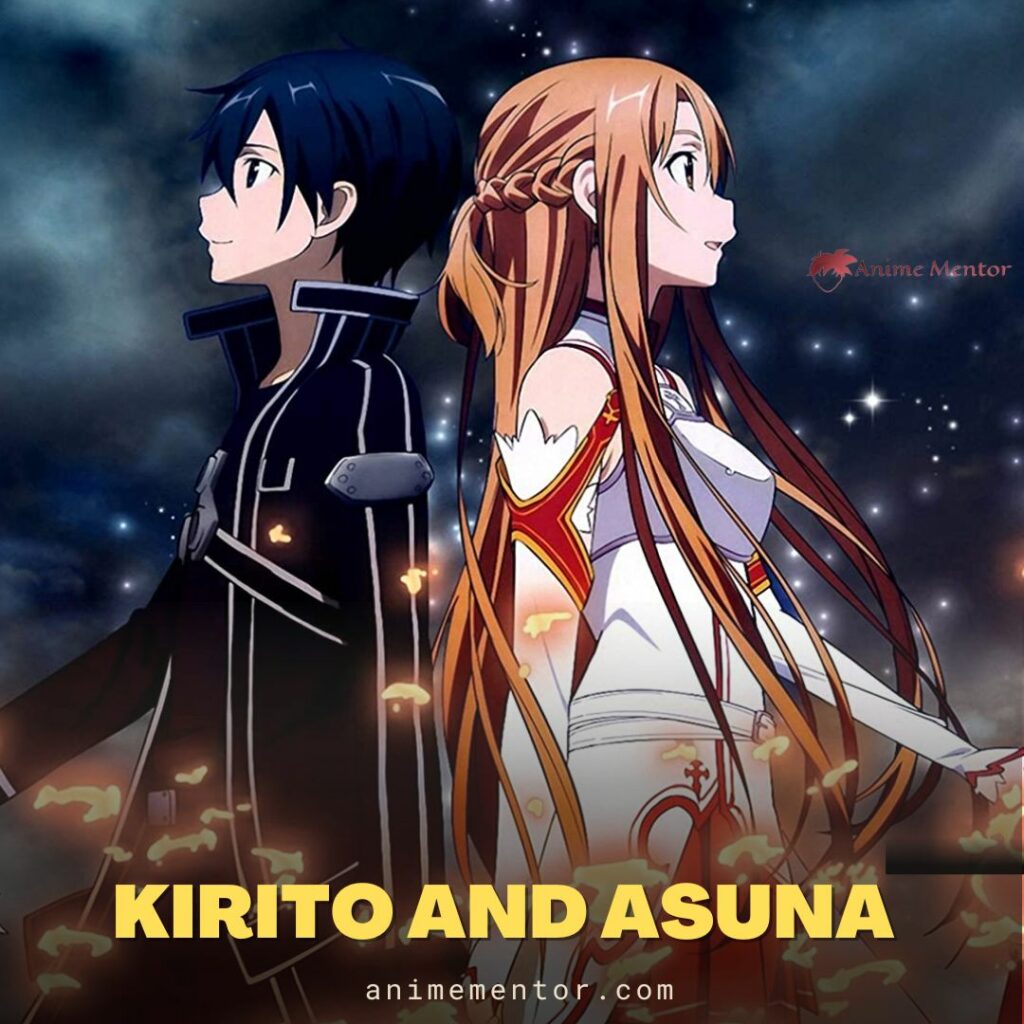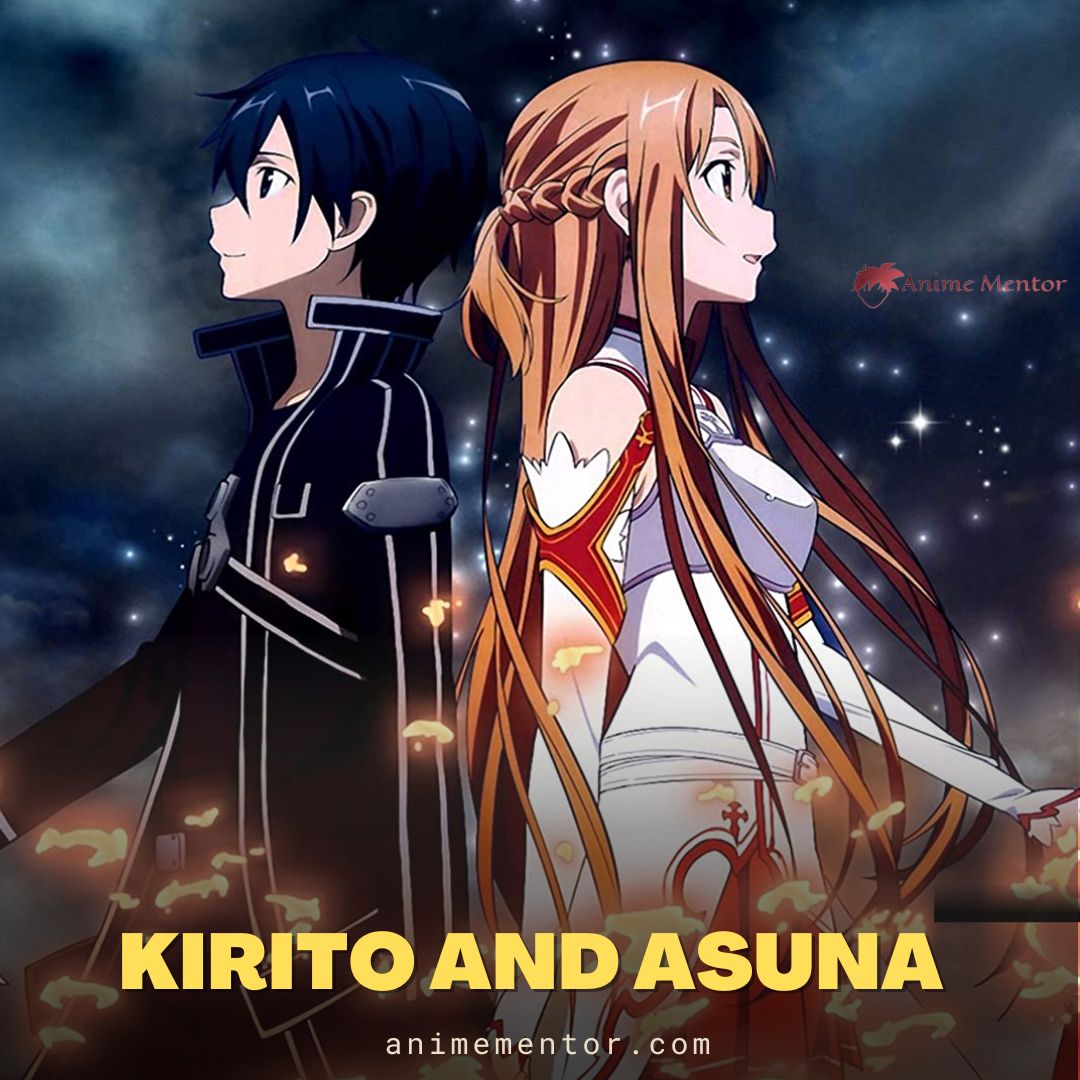 One of the most popular anime pairings ever made is Kirito and Asuna. The beginning of no anime has ever depended so much on a relationship. From season 1 through season 3, the narrative is driven by Kirito-kun's unwavering commitment to Yuuki Asuna-san because she is the source of the majority of his inspiration.
He is presumably so attractive to other women in the game because of the kind of loyalty he possesses, along with his skill in swordsmanship. Kirito and Asuna are likely candidates to be mentioned in a discussion about anime couples.
13. Rikka and Yuuta (Chuunibyuo)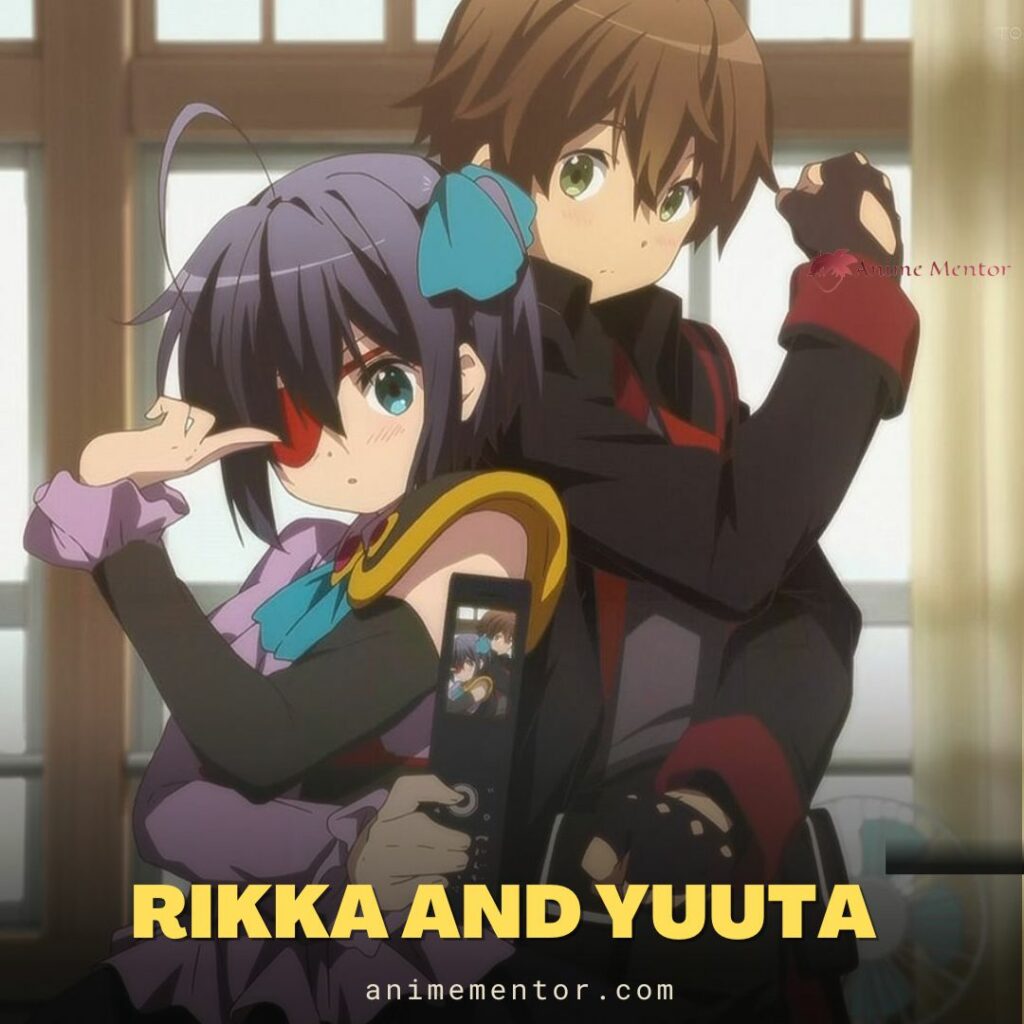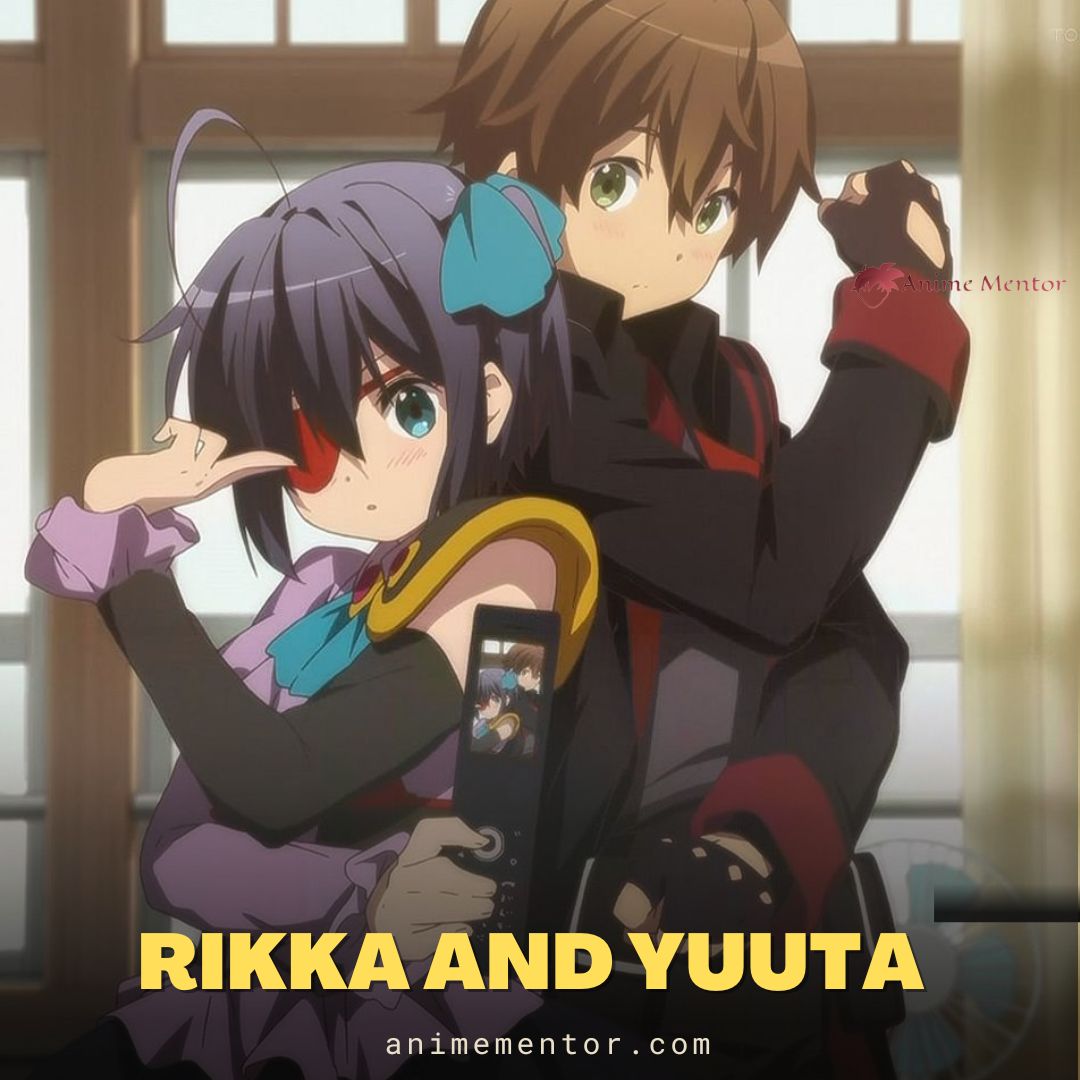 Chuunibyou is a term used in Japan to describe people who believe they are the fictitious character of their choice and live a fantasy life in their thoughts.
The main character of the anime, Yuuta, experiences these delusions but is embarrassed by them. But then he meets a young woman, Rikka, who reminds him of himself and who has her own fantasies.
Although the illusions appear foolish, they help the protagonists bond and revisit some of their past.
Yuuta and Rikka's inclusion on this list shouldn't come as a surprise.
They are unlike any other partners on this list, despite the fact that their relationship appears absurd and strange due to their "chuunibyuo" behaviors.
12. Kamina and Yoko ( Gurren Lagann)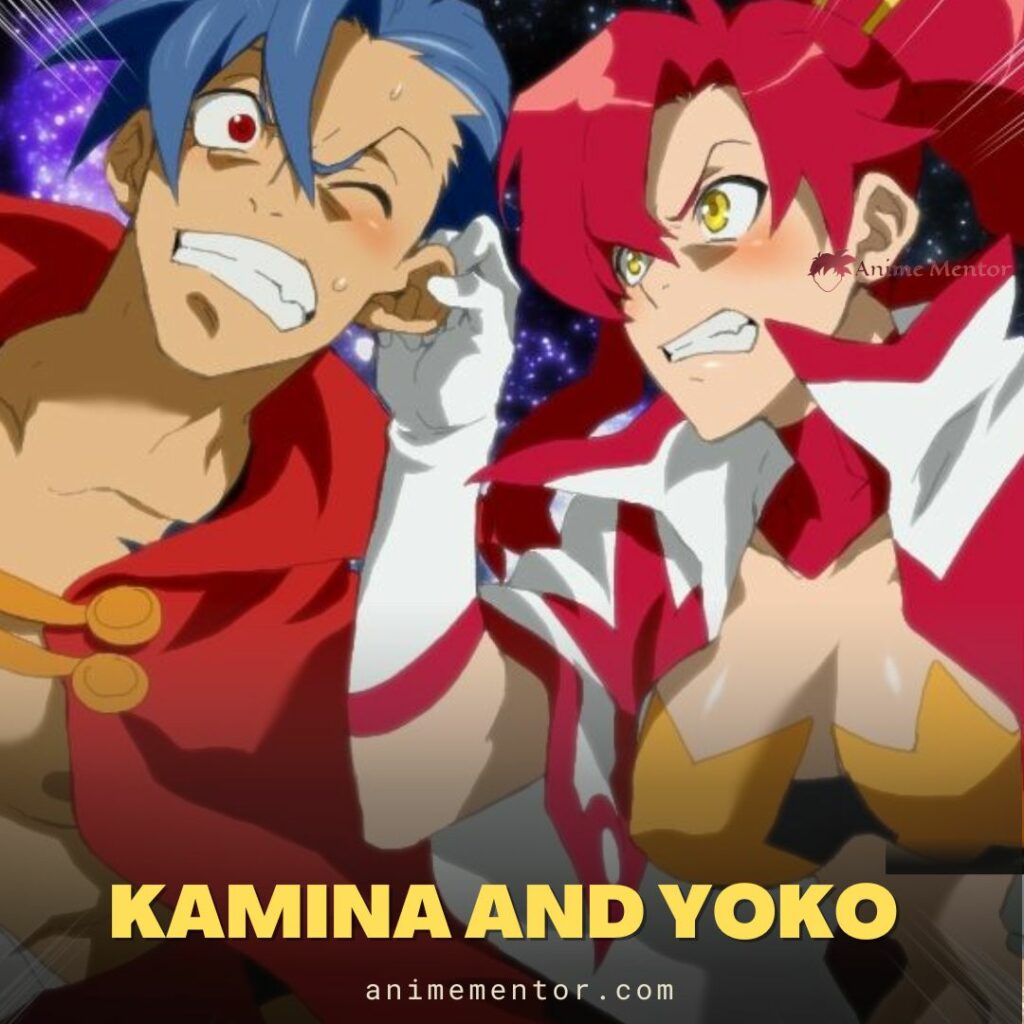 Fans of anime will find Gurren Lagann to be highly entertaining and a memorable watch. It's a timeless anime with well-written characters and a fantastical, intriguing universe that starts below the earth.
Finally, a girl sharpshooter named Yoko is encountered by Simon and Kamina as they leave their underground settlement. Kamina, acting like a playboy who is quickly attracted to her, makes a move that enrages Yoko. True love and passion for one another, however, develop with time. Later they became one of the best couples in the history of anime, according to fans.
11. Hak and Yona ( Akatsuki no Yona)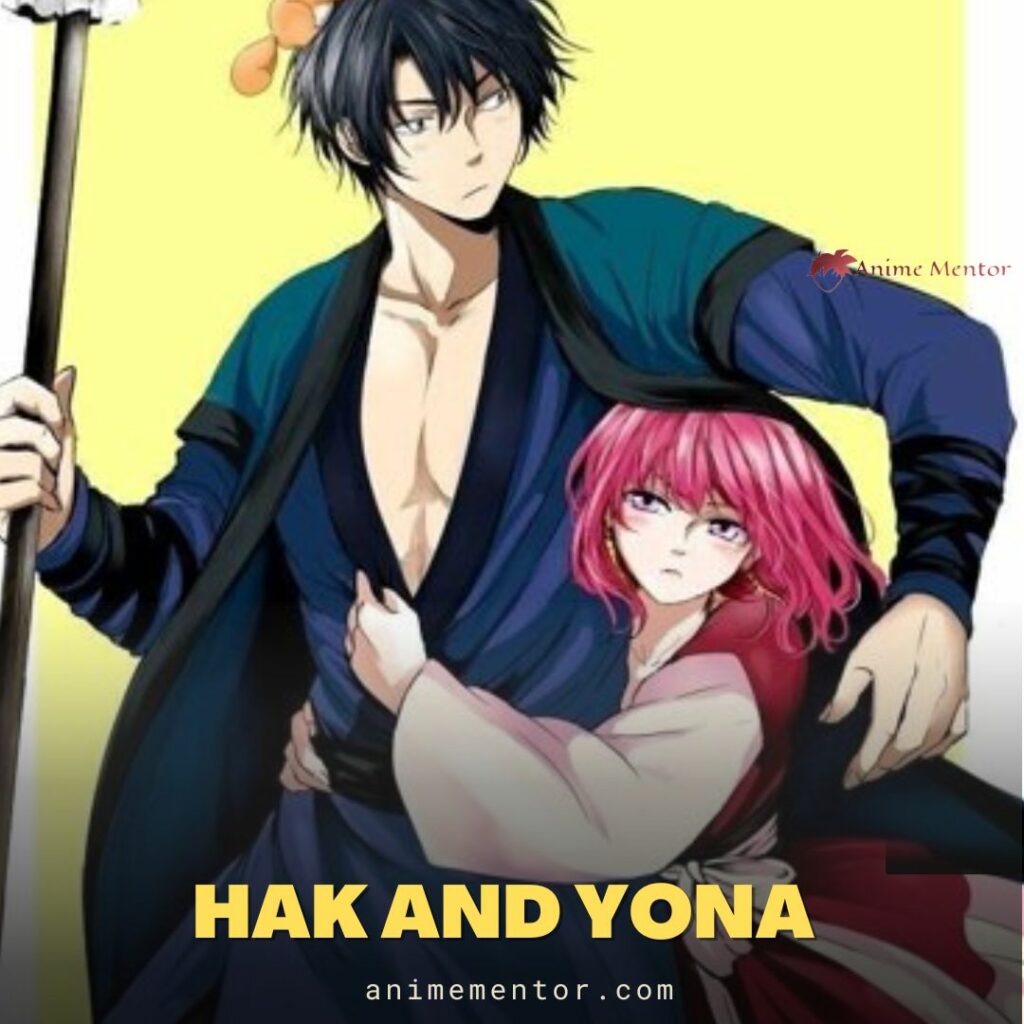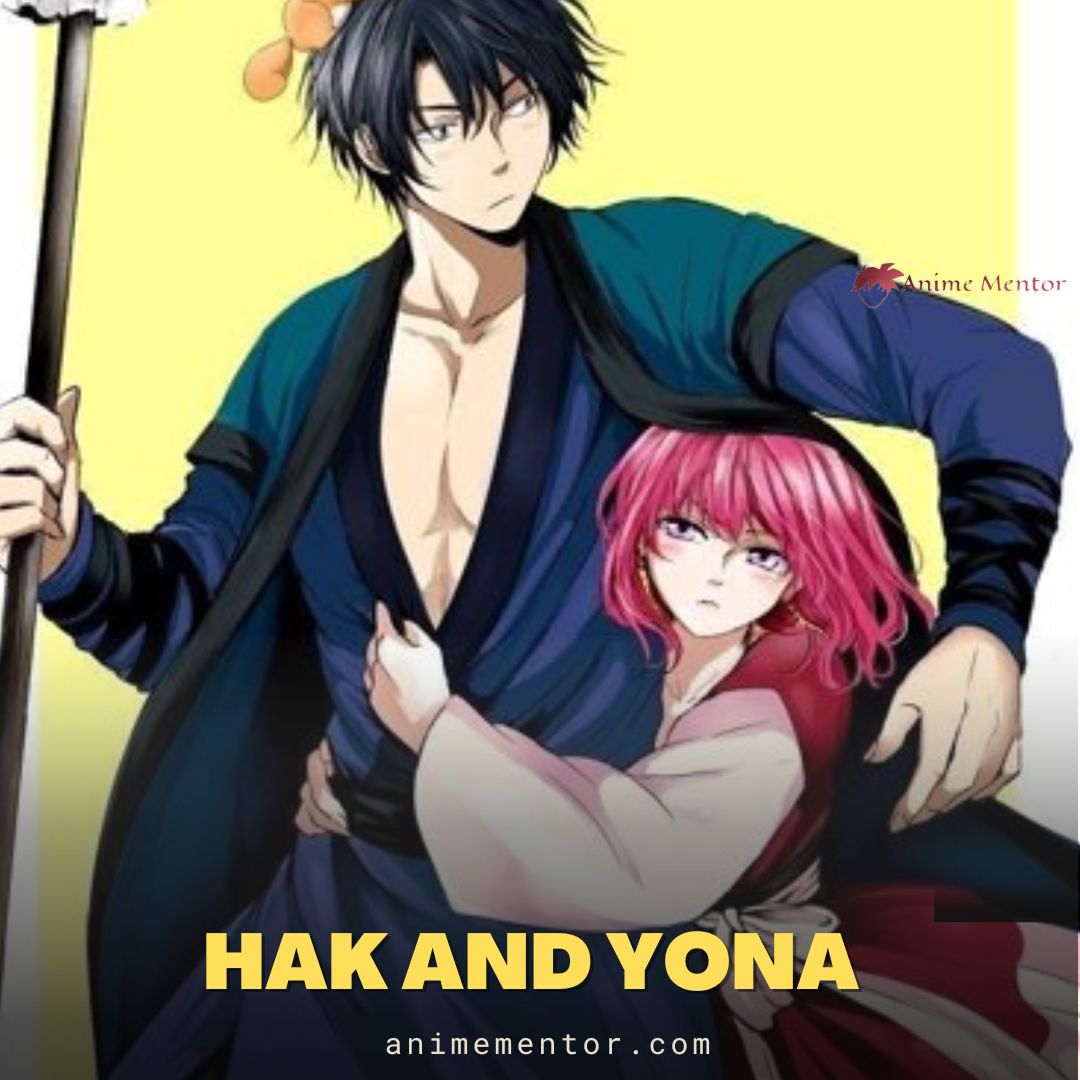 Yona is a privileged princess whose birthday turns out to be a somber one when her own cousin kills her father the king in cold blood. Then, with the aid of her guardian Hak, she is compelled to leave the hamlet.
Together, they explore a world filled with legendary dragons and many different kingdoms.
Yona's bodyguard, Hak, who also happens to be her childhood friend, is essential in maintaining her attention on him.
As the show goes on, the two of them grow to have such intense feelings for one another that viewers have dubbed their relationship phenomenal, which explains their inclusion on this list.
10. Haru and Shizuku (My Little Monster)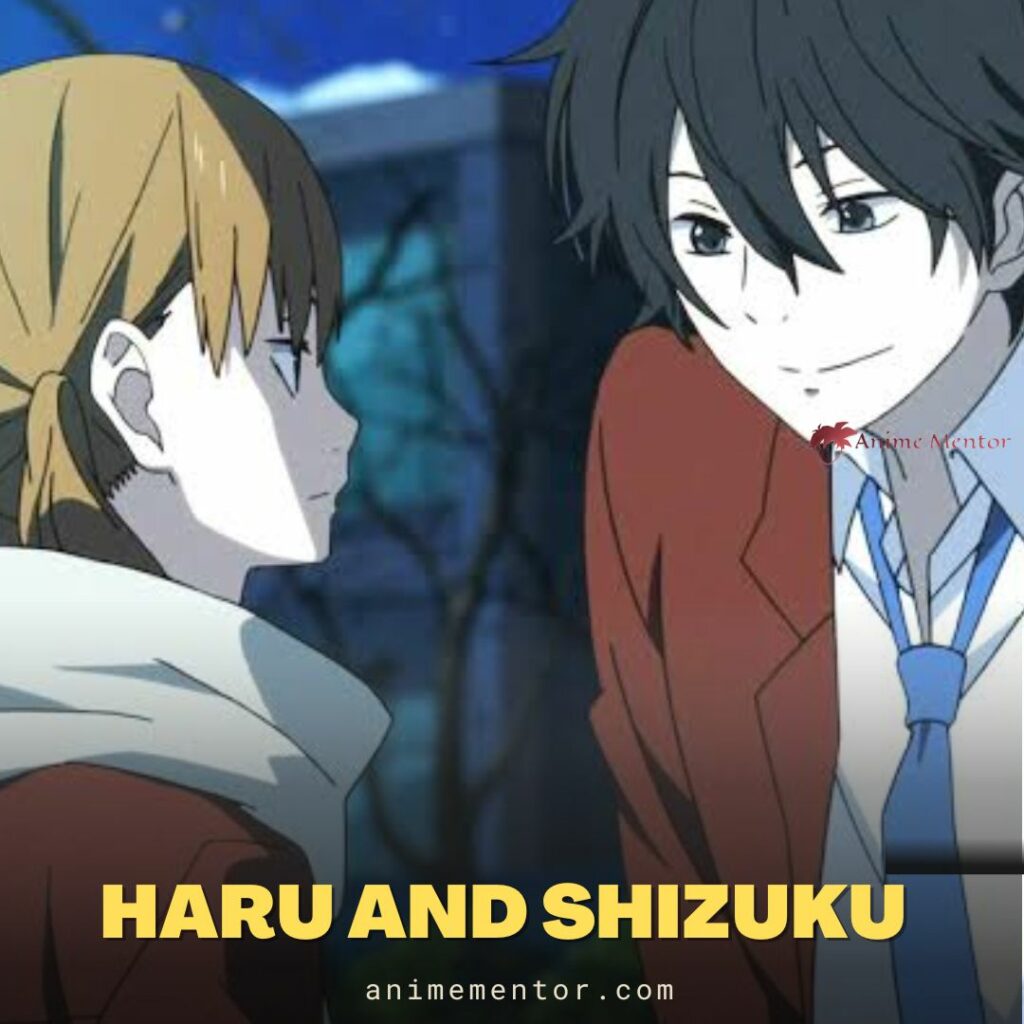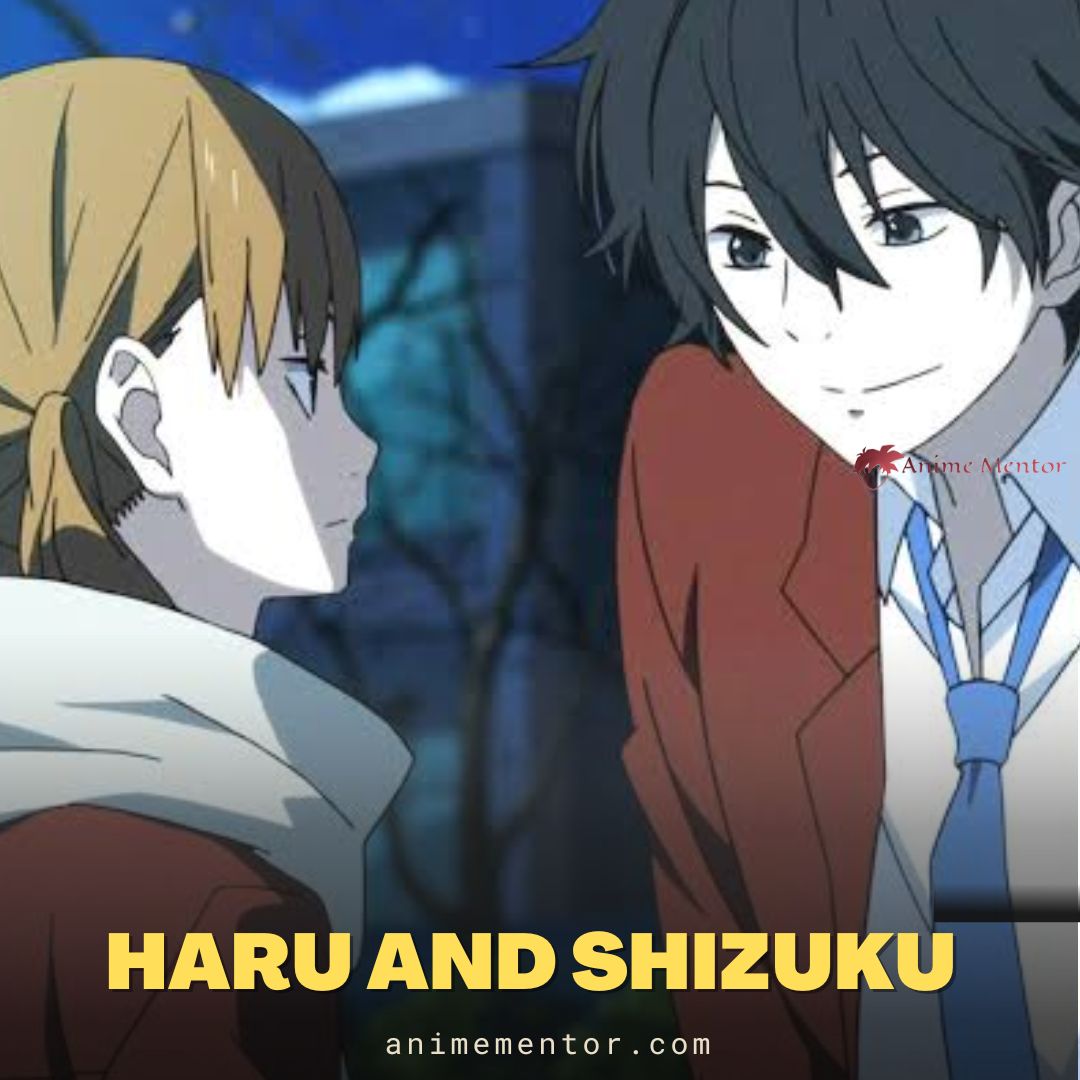 After the release of my little monster, Shizuku and Haru became a well-liked couple. A delinquent and a diligent student girl seemed to be the popular choice at the time. When Shizuku is instructed to deliver some papers to Haru, their relationship blossoms.
Despite claims to the contrary, Haru exhibits a kind side when he is near Shizuku.
The central theme of this anime is how to bring together two outcasts and make them work. Fans ultimately received one of the cutest romantic anime couples.
9. Naruto and Hinata (Naruto)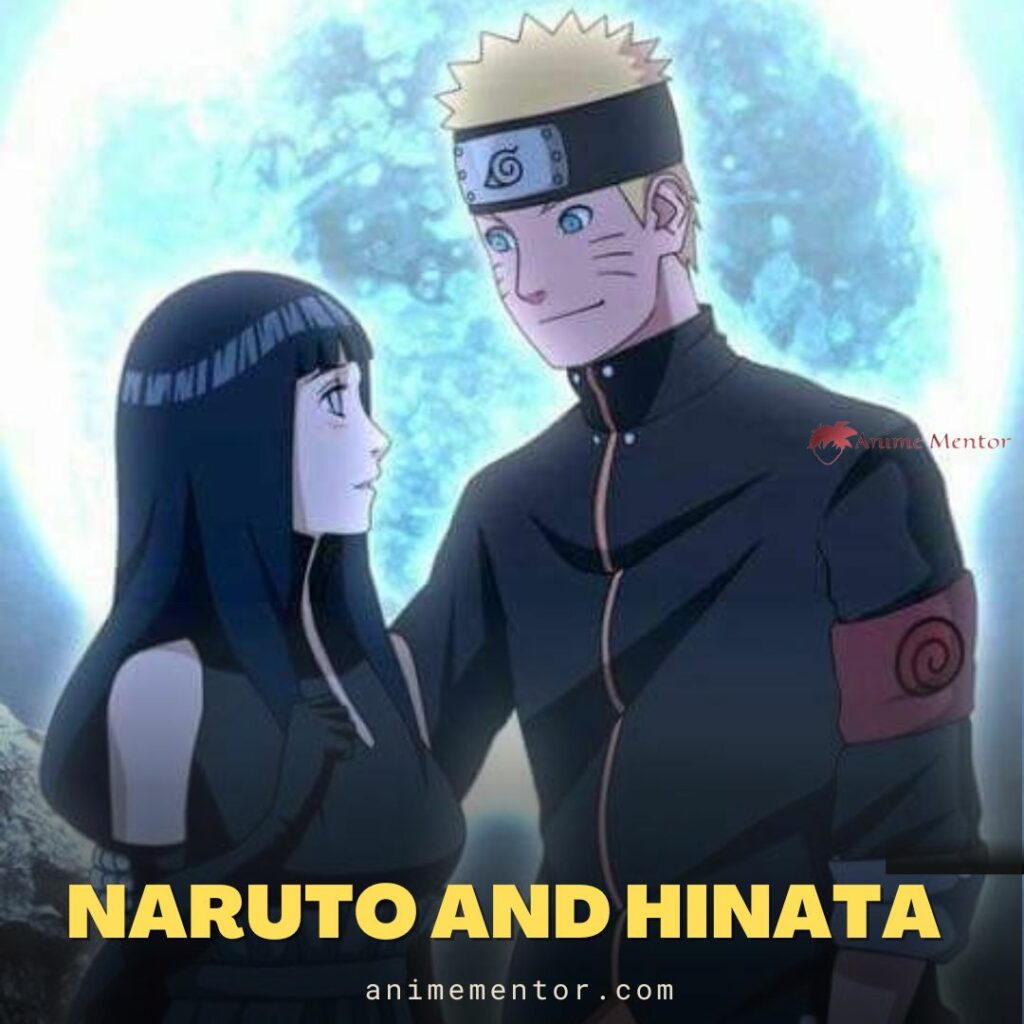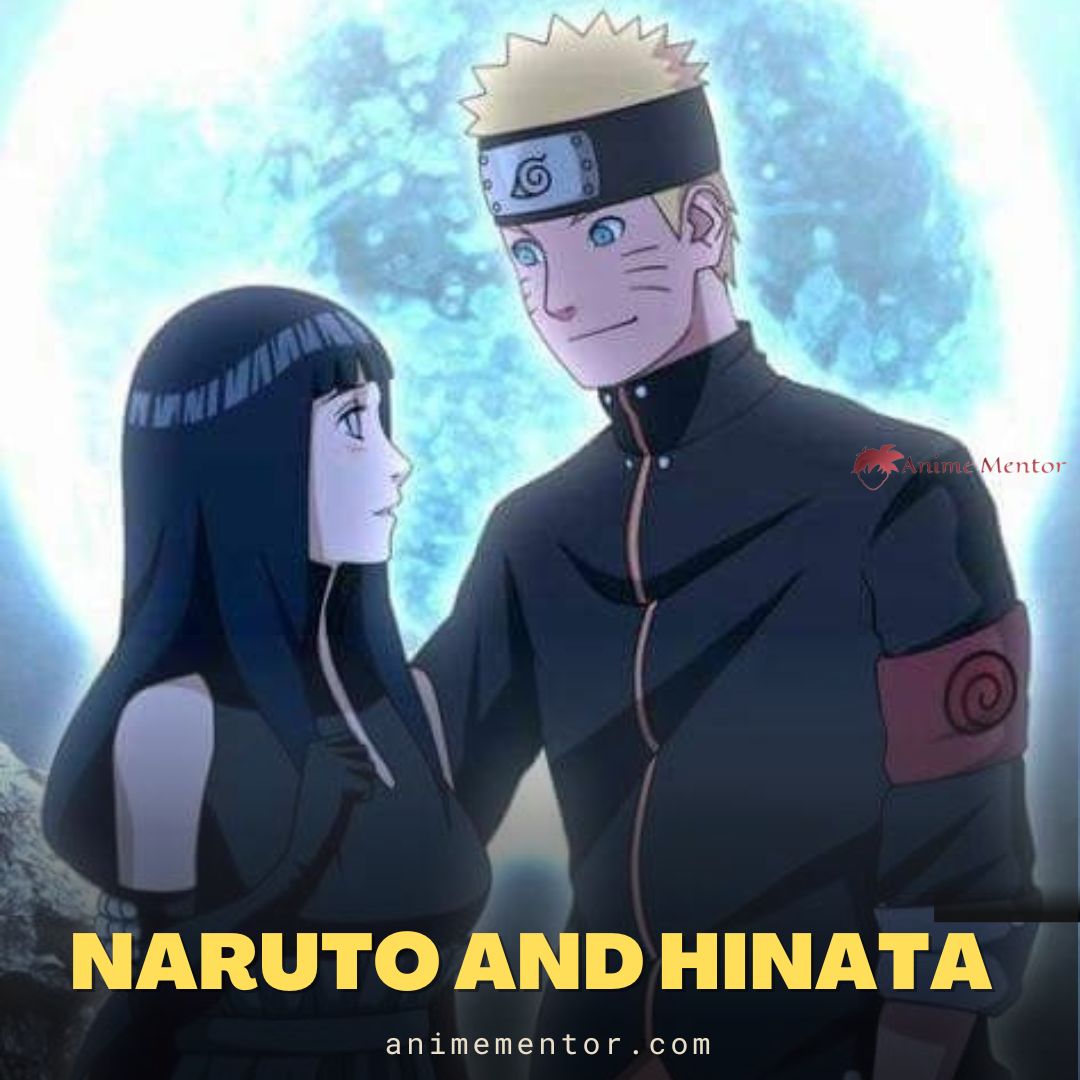 Hinata was the girl who lusted after Naruto for years but was too timid and soft-spoken to do anything and Naruto was too preoccupied with being the best to notice, which angered many of their followers. It took almost two series and a movie before we could finally see them act on their love, but this is yet another relationship that surfaced after a long time. They remain the most well-known couple in the world of anime because of Naruto's prominence. And from a subjective perspective, their connection is one of the best.
8. Zero Two and Hiro (Darling in the Franxx)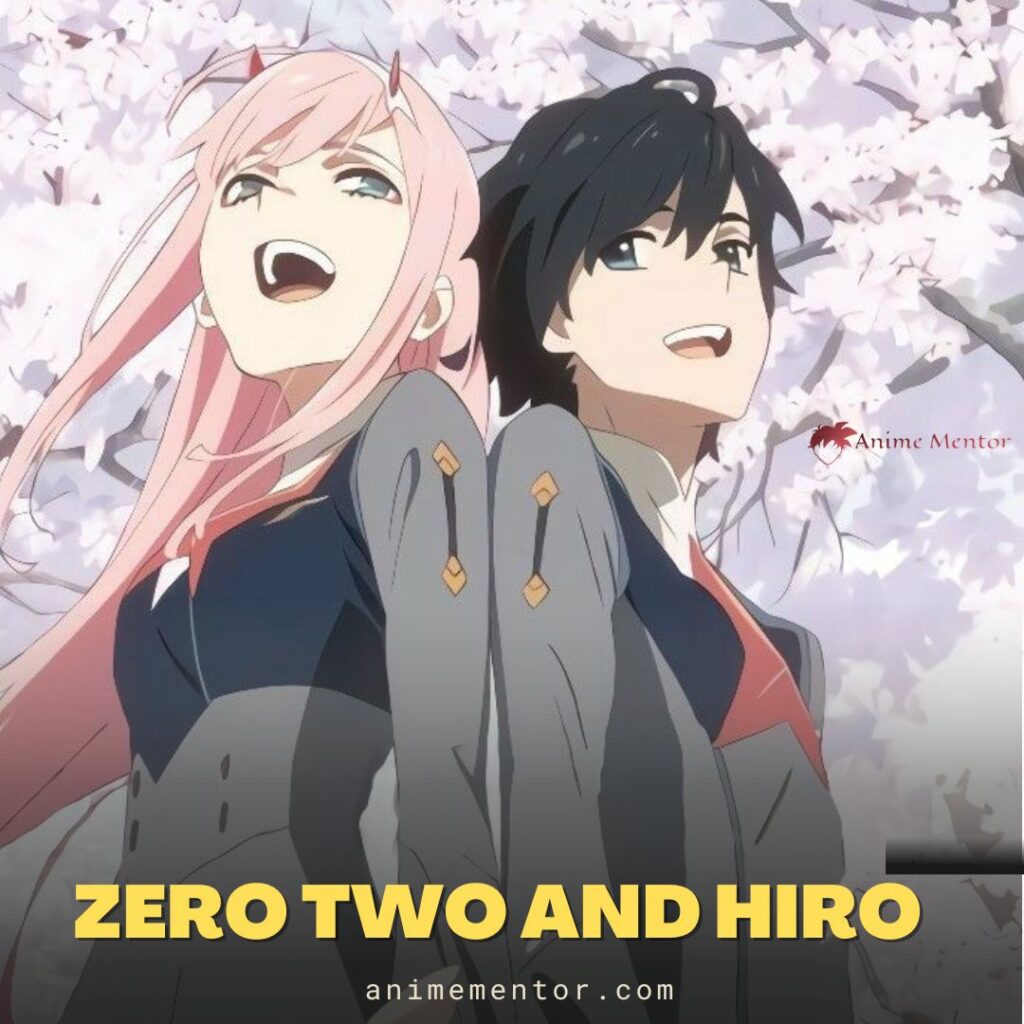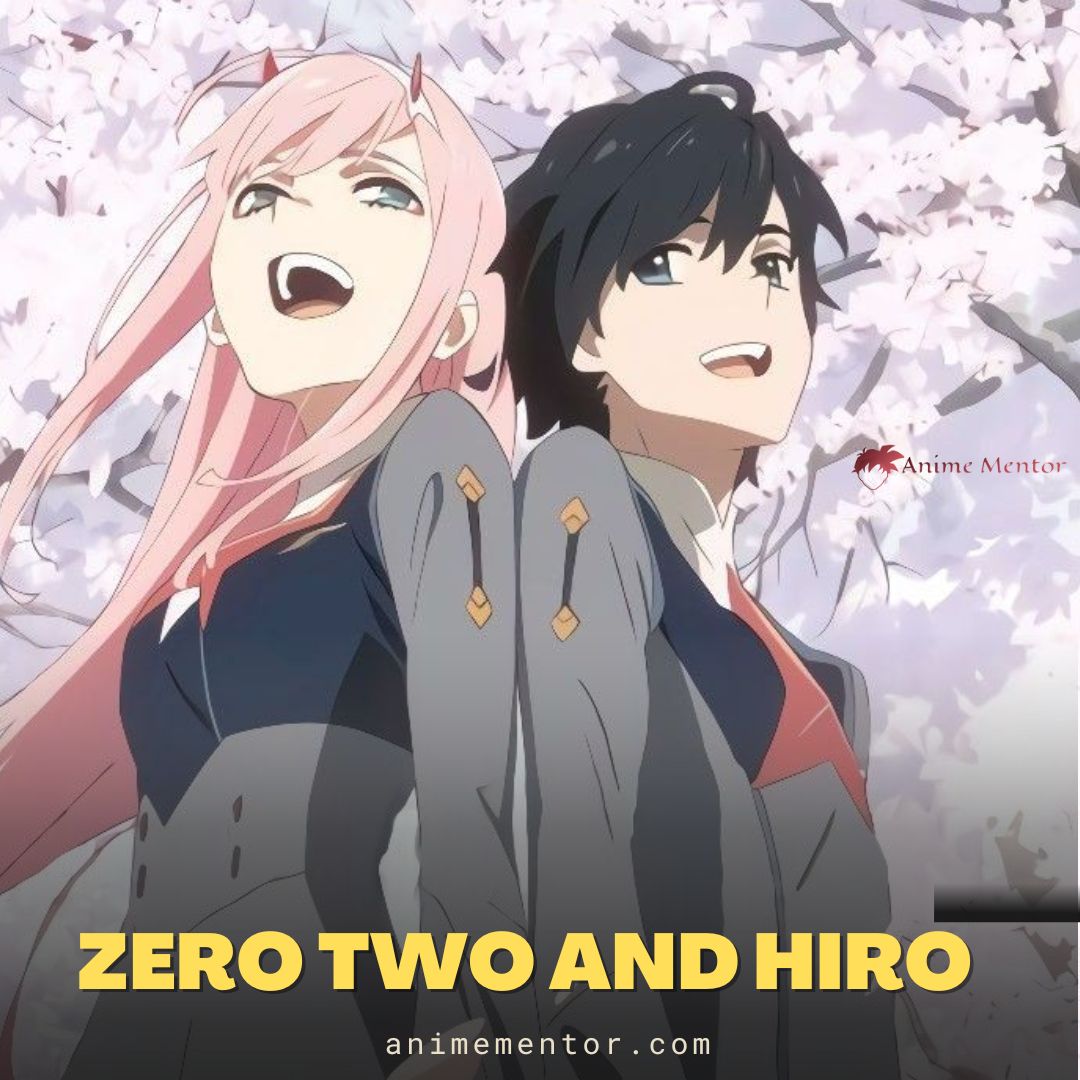 Although the relationship between Hiro and Zero Two gets off to a rocky start, Zero Two primarily employs him to help her find her mate. Hiro, it turns out, was the young child who had been kind to her when she was a girl. As they work together to recover from their early traumas, their fairy romance blossoms, and they quickly win us over.
Therefore, you should watch Darling in the Franxx, an incredibly popular and unforgettable anime series that features one of the best pairings in the genre.
7. Tohru Honda and Kyo Soma ( Fruits Basket)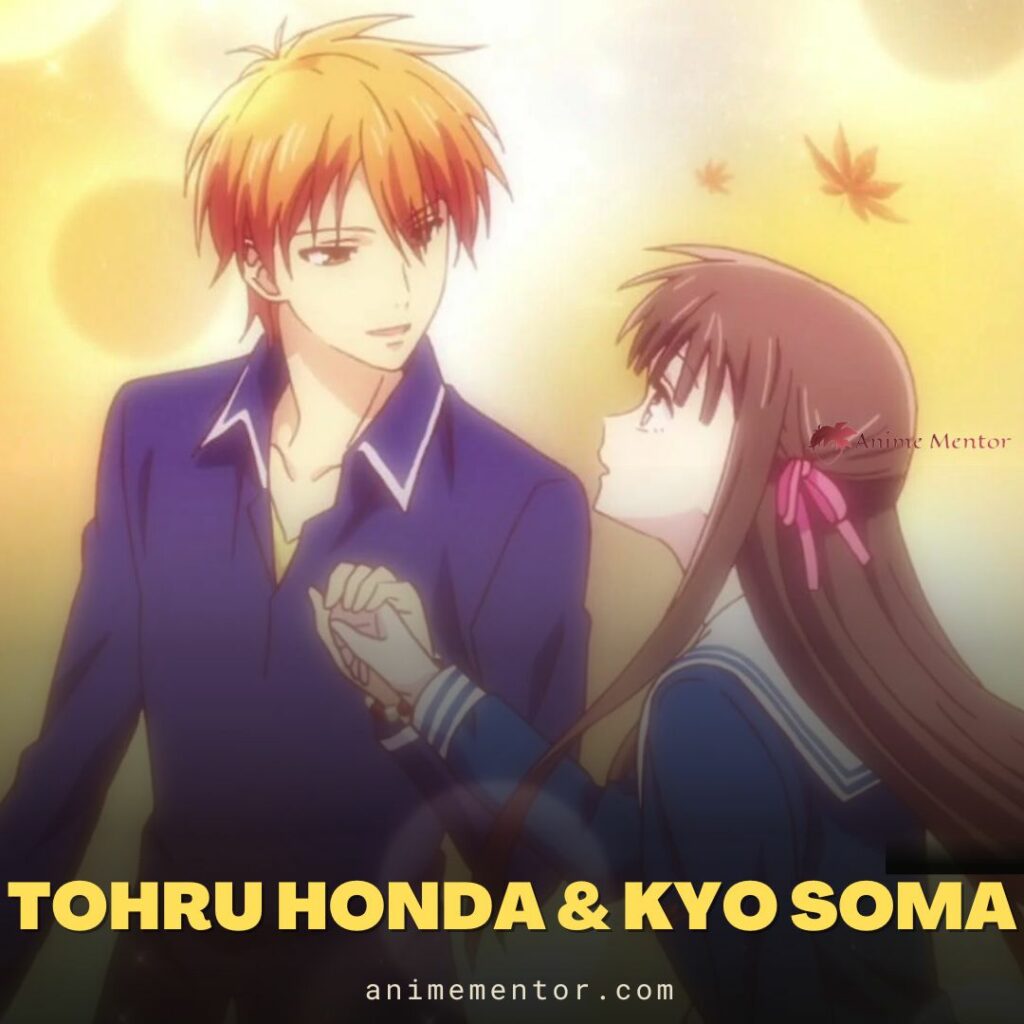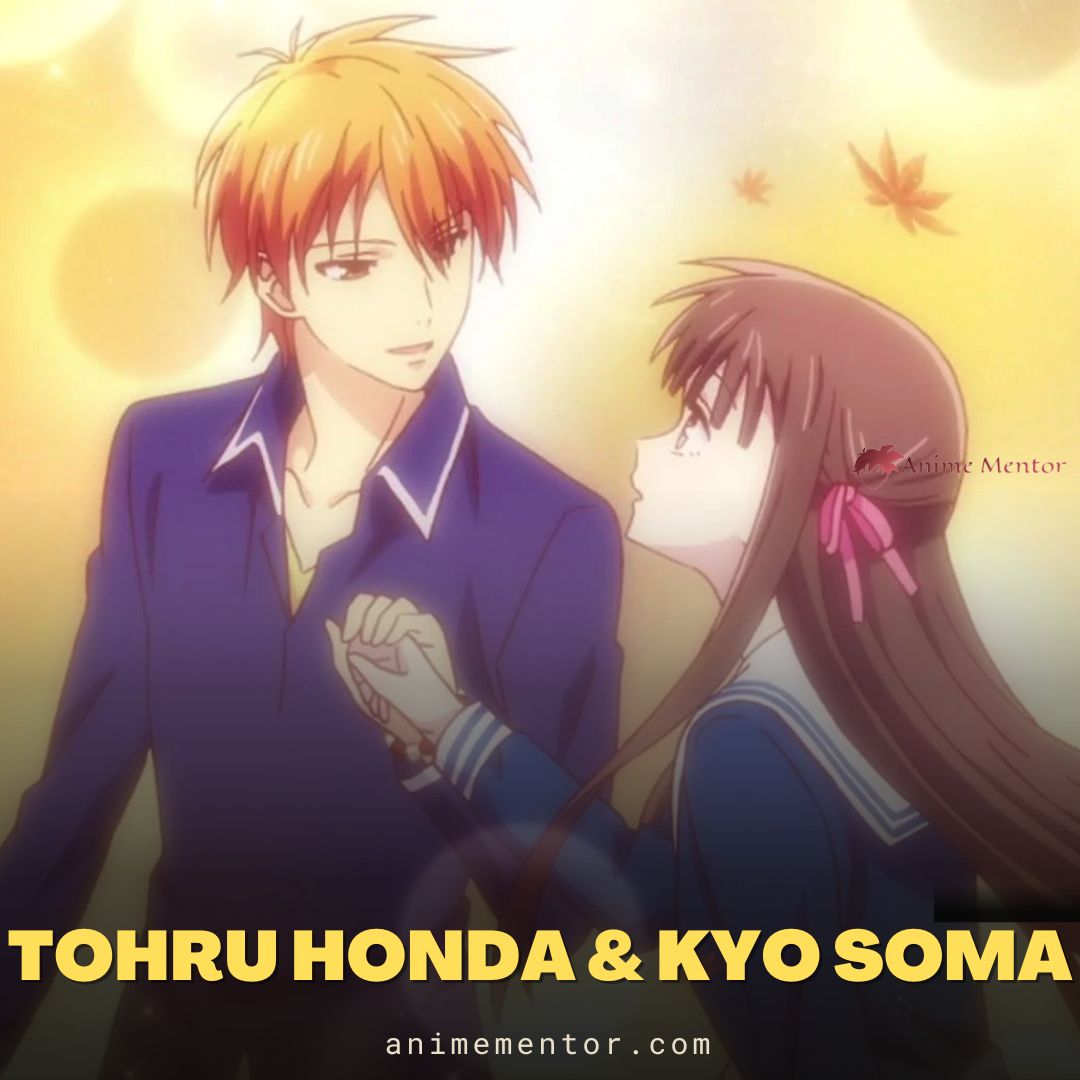 In this anime, the impulsive troublemaker Kyo and the sentimental teen Tohru, who is filled with hope and aspirations of sweet love, make for some lovely chemistry.
The most well-known couple in all of the anime at one point was Tohru Honda and Kyo Soma. Kyo was the first male tsundere figure introduced to the public. The relationship between Tohru and Kyo had a significant influence since it demonstrated Tohru's unconditional acceptance of Kyo and her unwavering support for him. Even though their fame skyrocketed, it was well-deserved, and they still rank among the most cherished anime couples in history.
6. Yuzuru and Kanade (Angel Beats)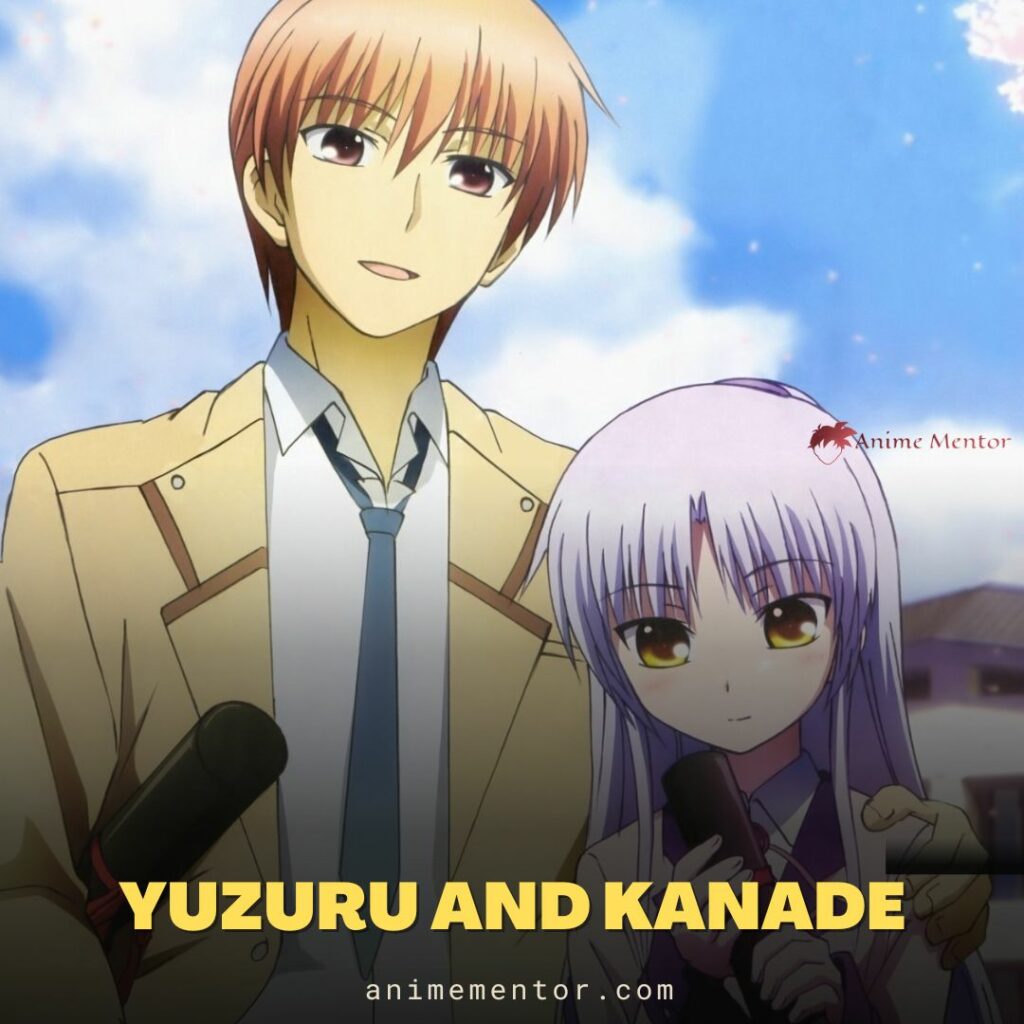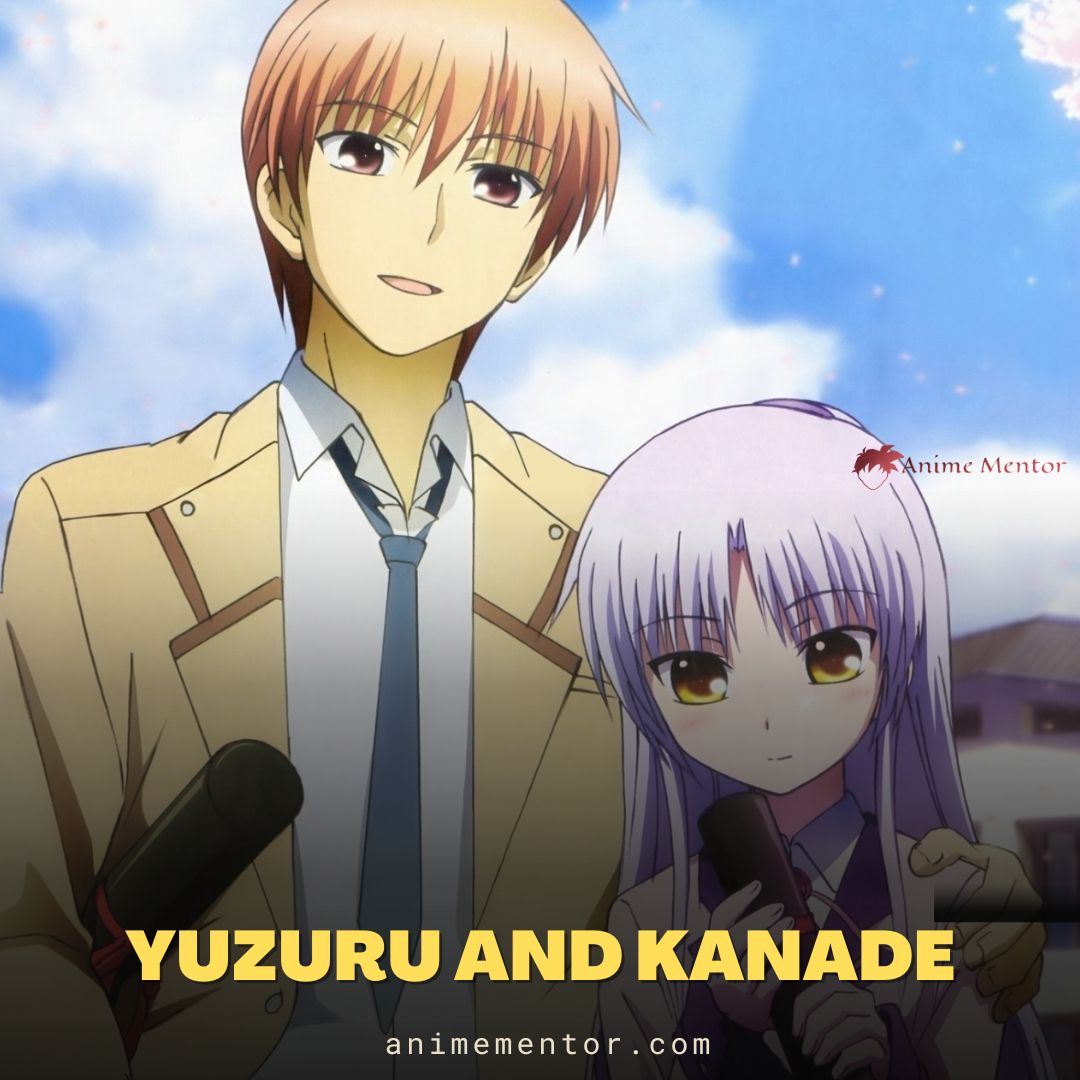 The remarkable emotional intensity of Angel Beats' story has won a lot of fans all around the world. Fans constantly appear to love and support Yuzuru Otonashi and Kanade Tachibana as a relationship.
At the afterlife school, Kanade serves as president of the student council. Her real name, Kanade Tachibana, was later made known in the anime, but she is still frequently referred to as Angel because no one actually knows it.
Considering how supportive they are of one another, Angel and Otonashi are a perfect match. They become much more bonded as a result. Even Nevertheless, Kanade makes a subtle reference to the fact that Otonashi has always been her true love.
Despite their emotional split, these two are ultimately destined to cross paths once more.
5. Ryuuji Takasu and Taiga Aisaka (Toradora)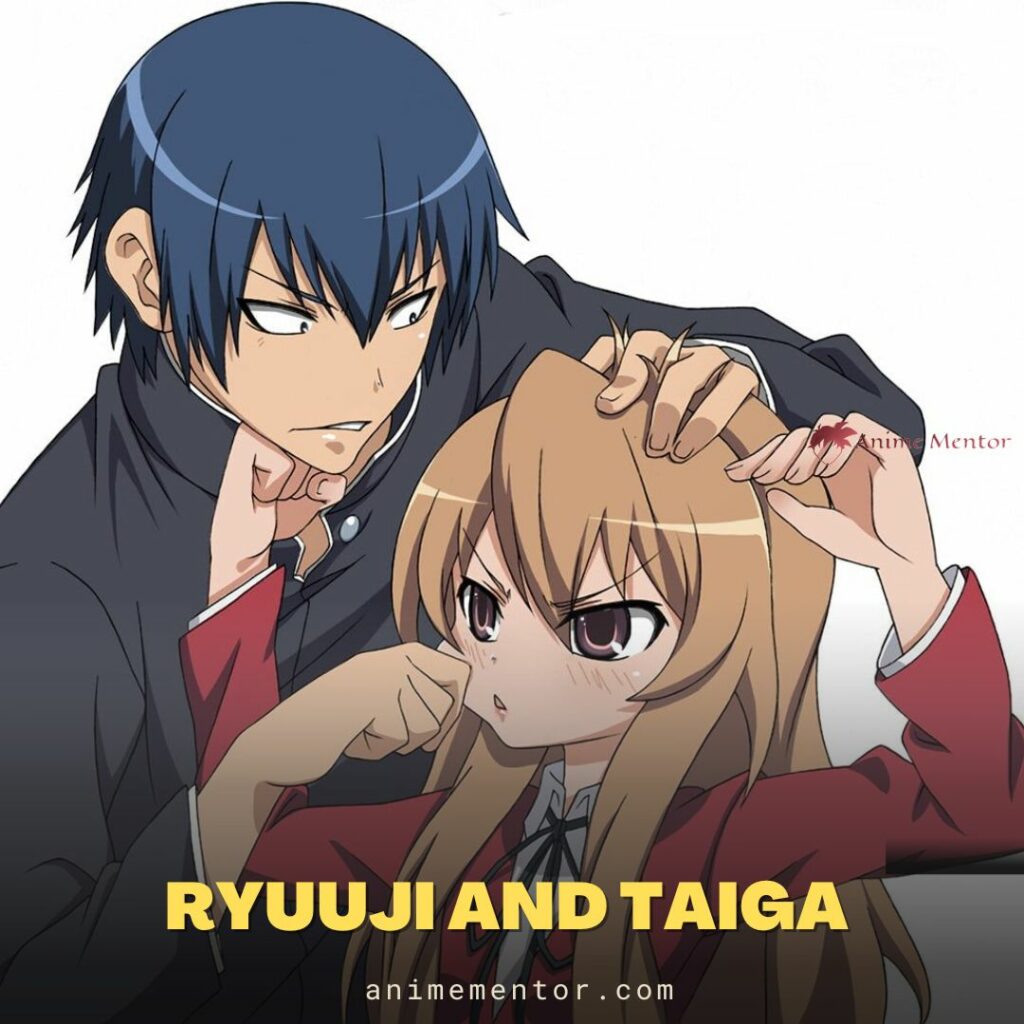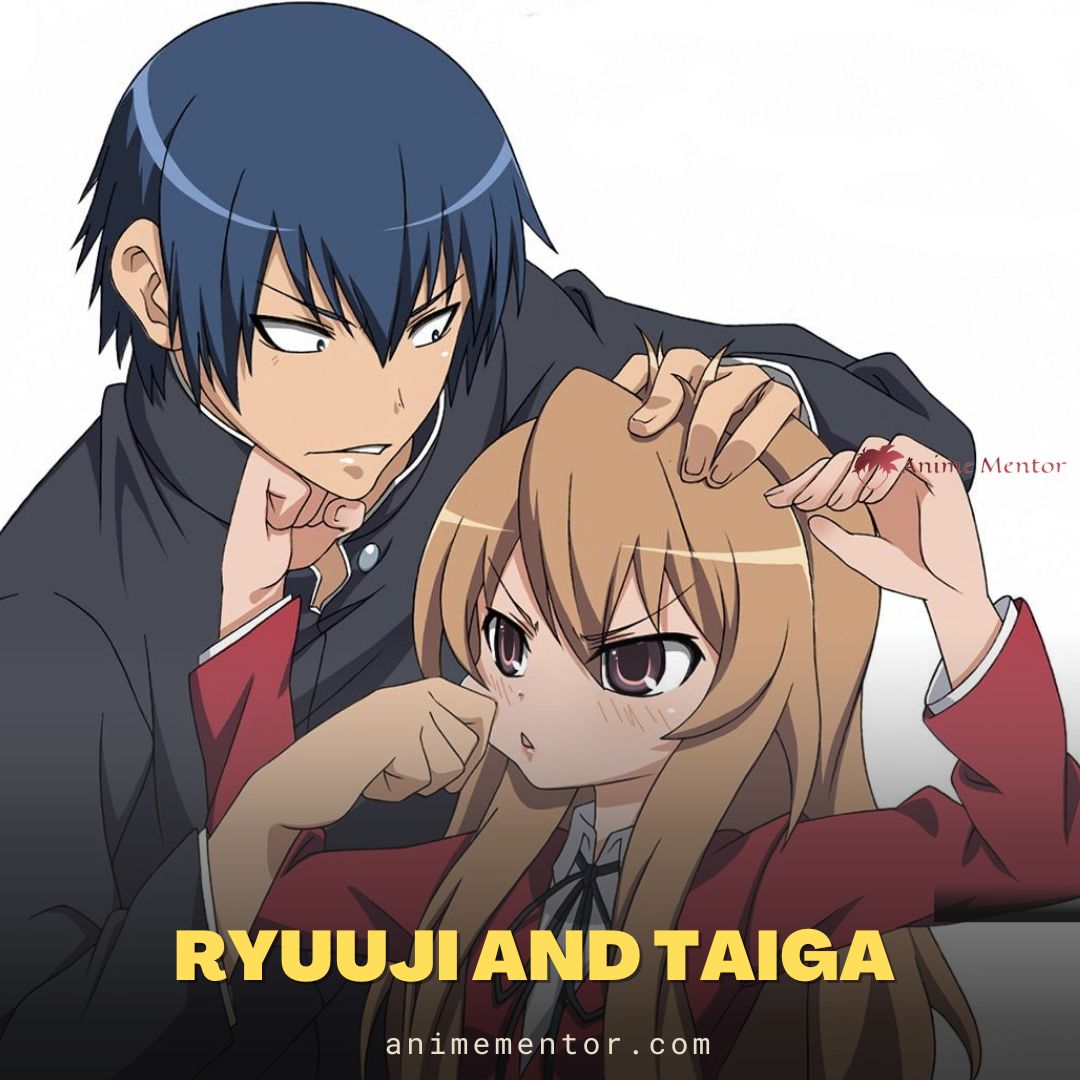 In his school, Ryuuji struggled to fit in. Despite his friendliness, he frequently terrified his peers.
While Taiga is diminutive and adorable, she is a girl who carries a slice on her shoulder that is an important part of who she is.
When the two learn that they are neighbors and are liked by each other's acquaintances, they initially formed an uneasy relationship before falling in love. They could be the prettiest coupling you've ever seen in an anime.
4. Misaki and Usui (Kaichou wa Maid Sama)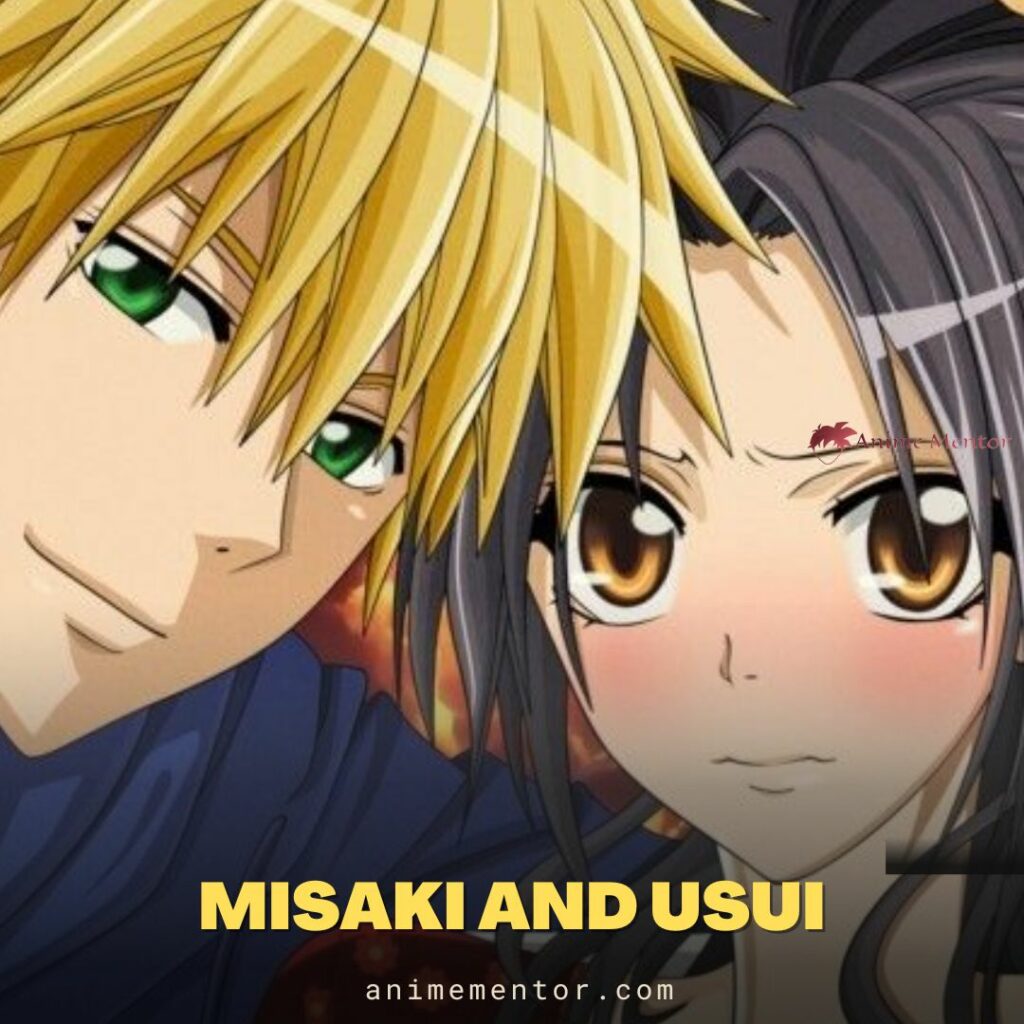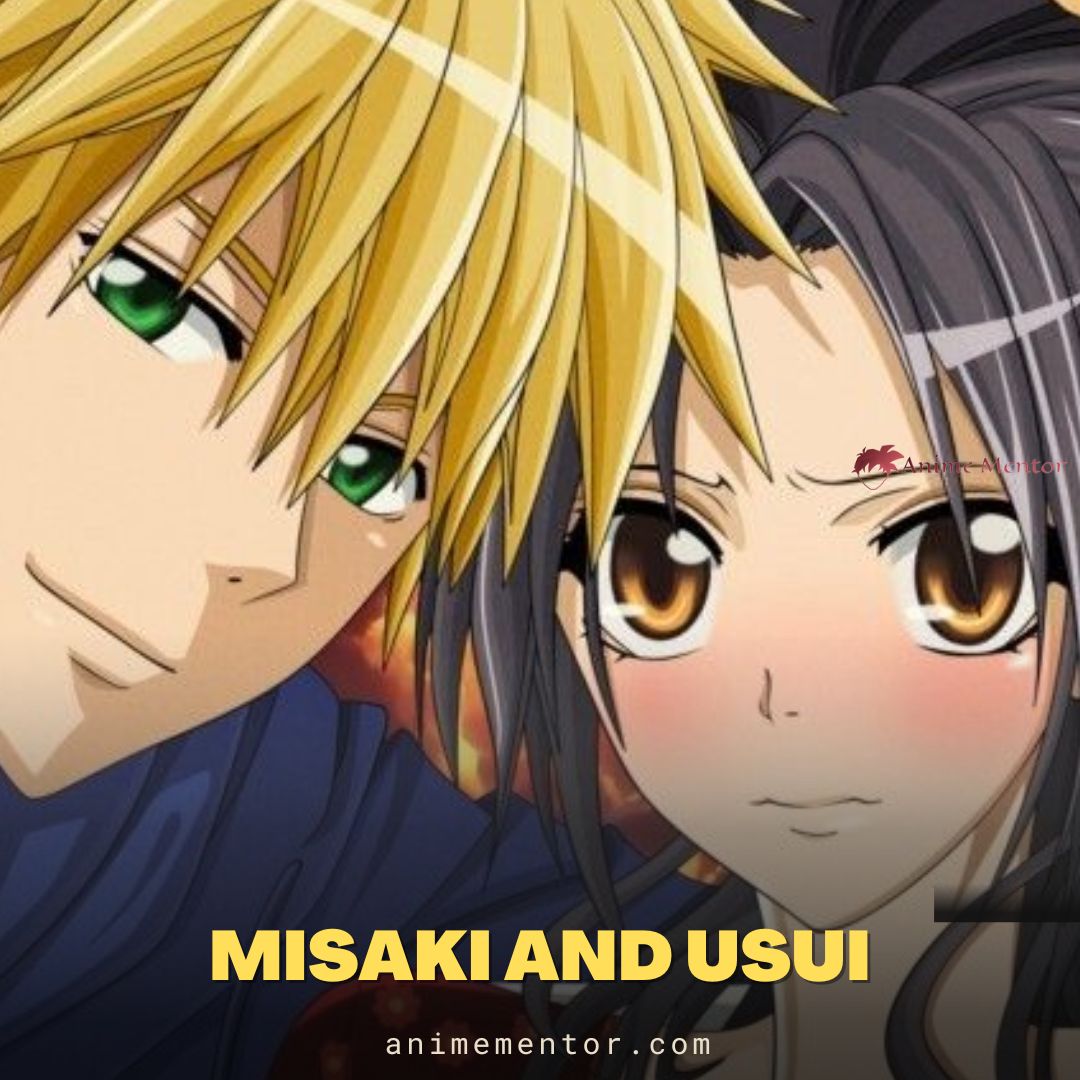 Misaki Ayuzawa, the first female president of her school, rules it with a heavy hand while discreetly working a part-time job as a maid in a cafe to help support her family.
Takumi Usui, on the other hand, learns her secret and is drawn to her right away by her charismatic demeanor.
Usui and Misaki constitute an oddly amusing couple.
While Misaki and Takumi's romance was justly well-known, it eclipsed many other relationships that might have been in shoujo anime at the time.
3. Tatsumi and Mine (Akame ga kill)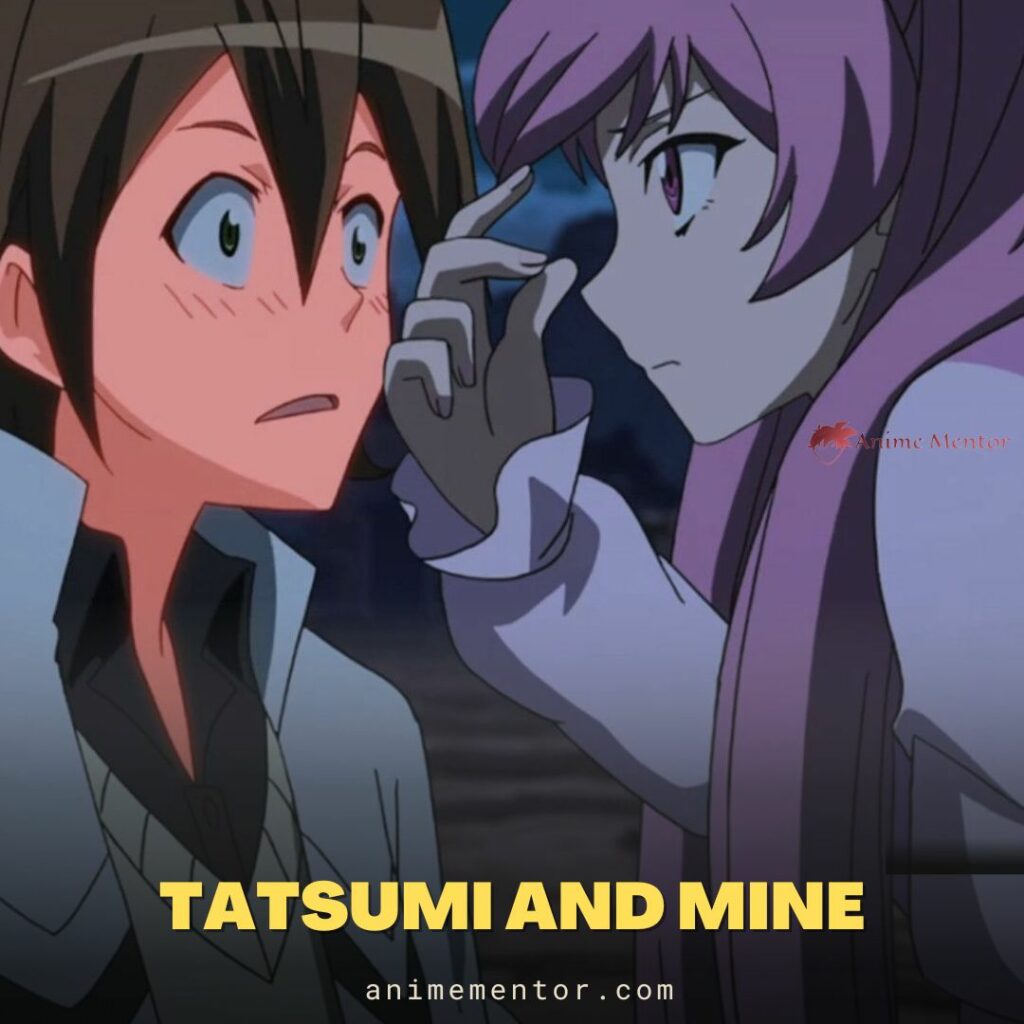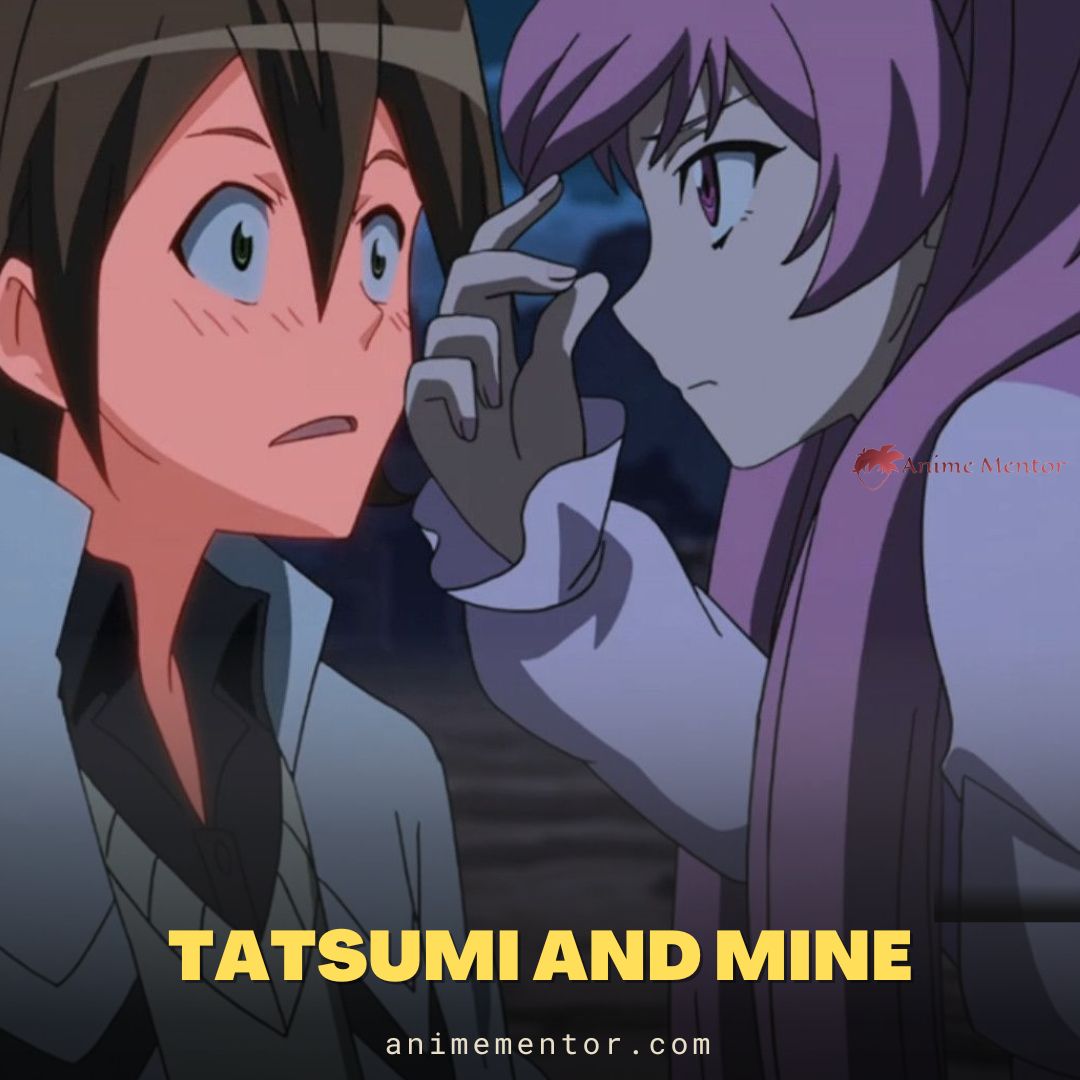 Given that Mine doesn't declare her love for Tatsumi, the newest member of the Night Raides, until after she has suffered serious injuries, this pairing is undoubtedly one of the most heartbreaking on this list. Although it looks like something out of a schoolyard romance, their relationship is demonstrated to be worthwhile.
Although Akame ga Kill is an action show, it nevertheless manages to draw you into the romance and relationships of the characters.
Initially challenging, Mine progressively pushes back and surprises us so. Tatsumi and Mine frequently display a different side while leading lives as killers, and despite all the tragedies that Night Raid causes, the two maintain a beautiful friendship.
They are in the top three because their romance is simply swoon-worthy, which explains why.
2. Kaguya and Shirogane (Kaguya-sama: Love is War)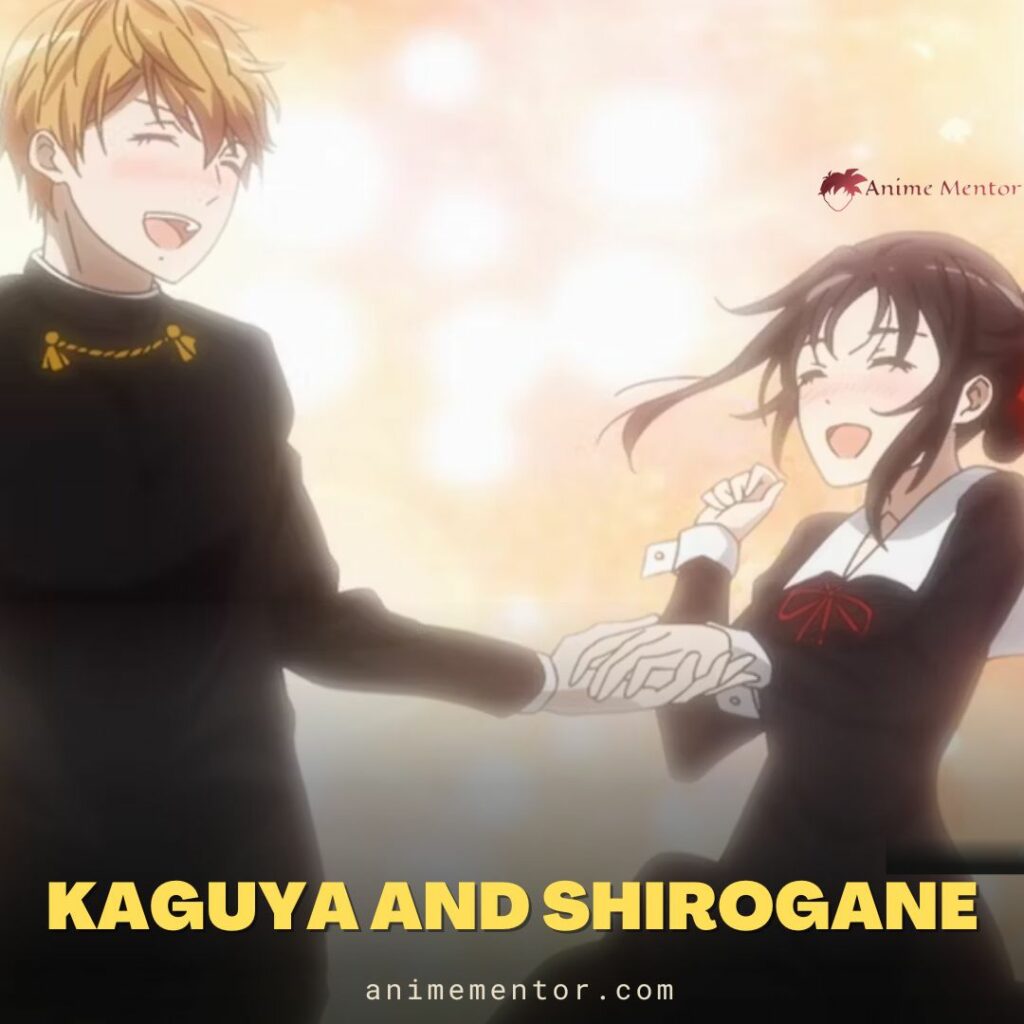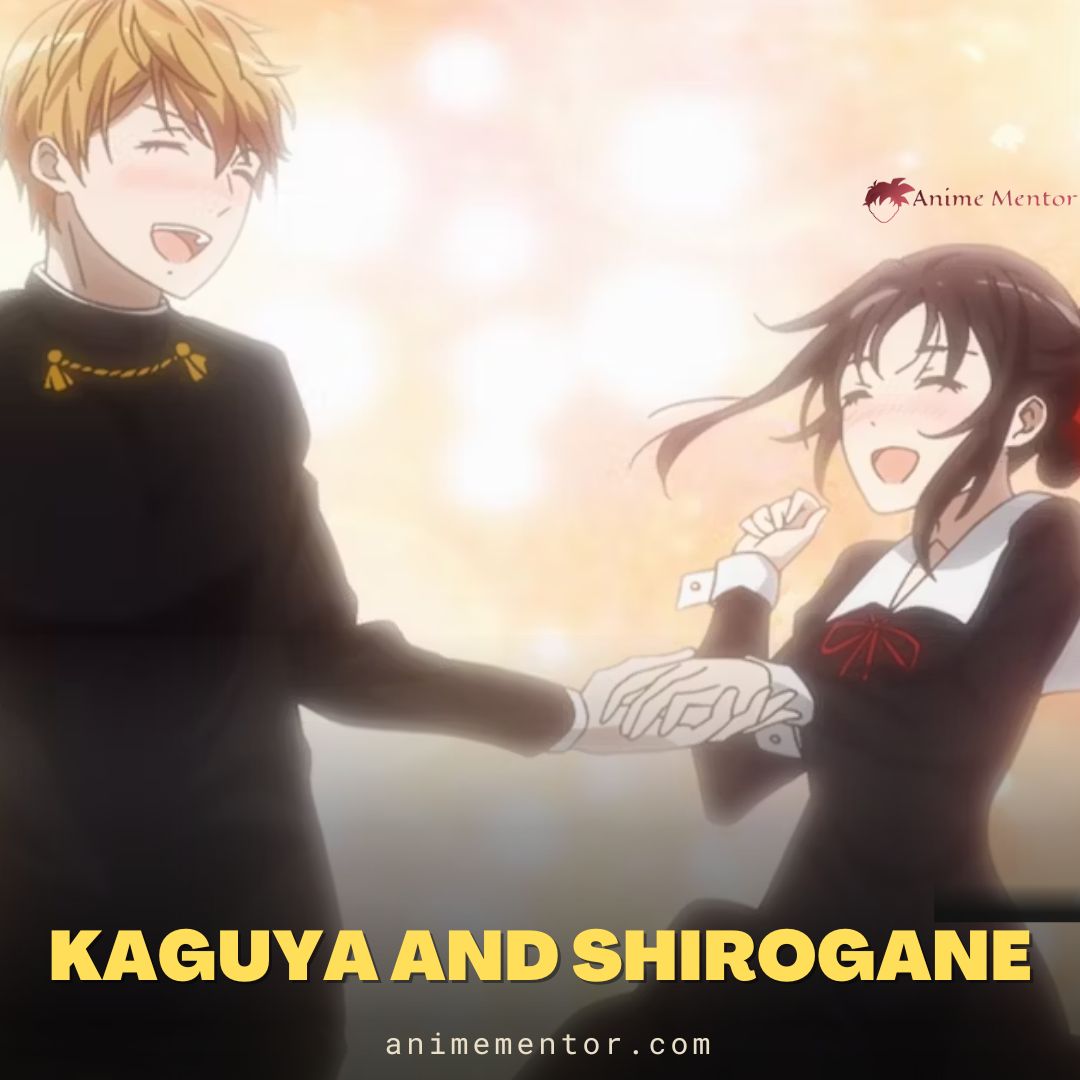 One of the all-time great animes is Kaguya-sama: Love is War. The story of Kaguya and Shirogane's romance and rivalry is amusing and engaging. They are unquestionably among the greatest couples ever. Despite the plot being a little bit clichéd, the character development and their journey need special attention. And viewers felt it to be quite enjoyable to see Kaguya and Shirogane's romance develop. One anime features two lovers who want the other to express their feelings before they do. It's entertaining to watch these characters fight against their feelings for one another just out of foolish pride. They became a well-liked couple among fans as a result of their tale and the anime's rise in popularity.
1. Tomoe and Nanami (Kamisama Kiss)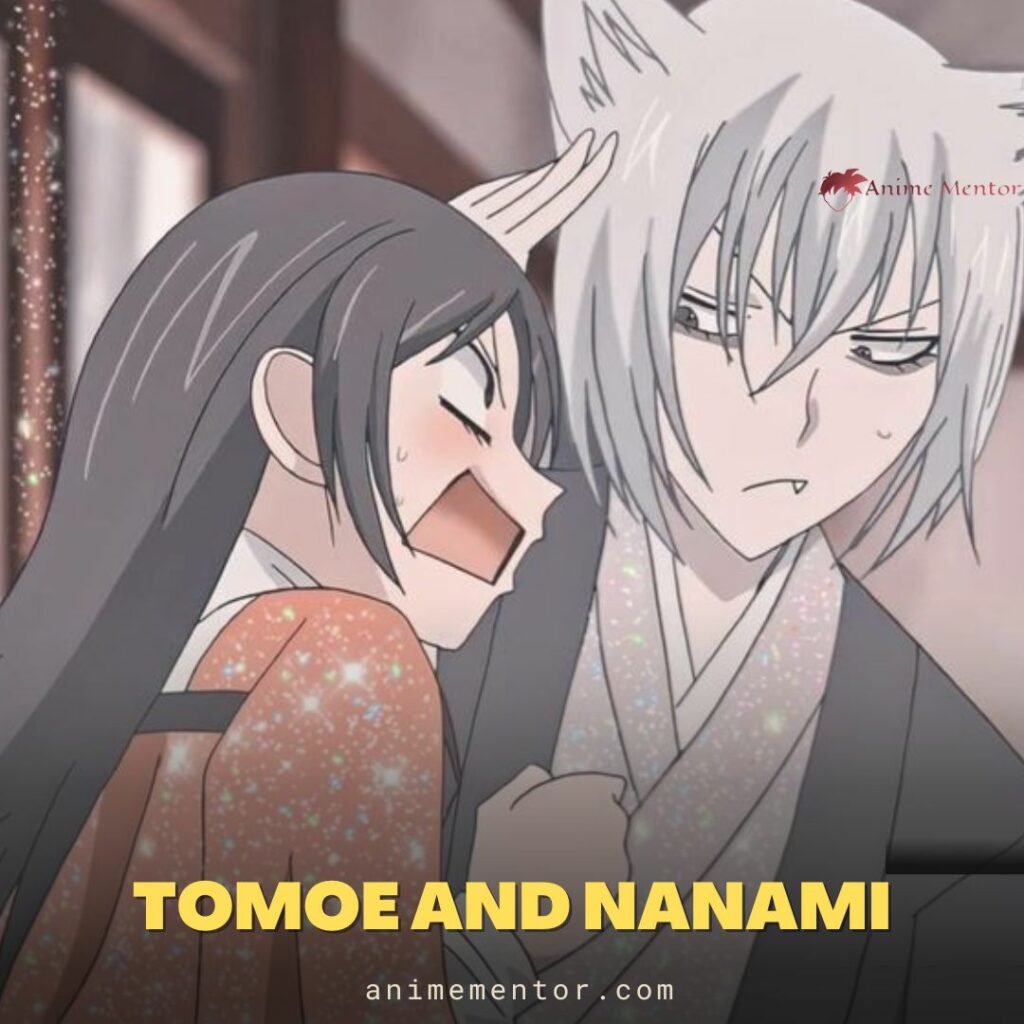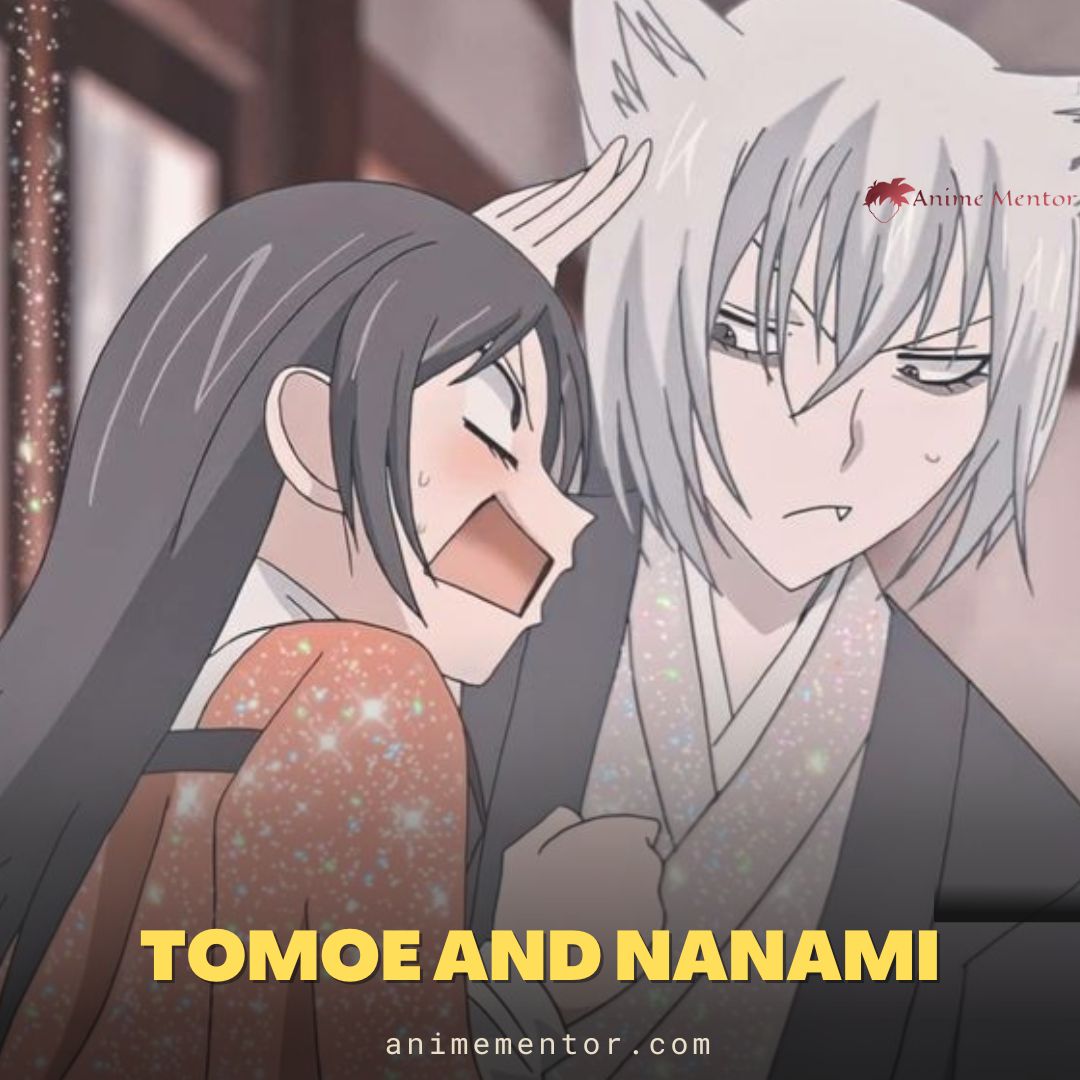 In the tragic anime Kamisama Kiss, Nanami Momozomo, a young girl, is abandoned by her father when he flees because of debt problems.
The story develops as Nanami works for Mikage in exchange for a roof over her head.
When she meets Tomoe in this new home, Mikage's supernatural being known as a "Yokai," things get more interesting. Fans are in awe of their lovely love tale as she keeps falling for him.
Instead of the usual cringe-worthy and clichéd love stories we see, this romance feels extremely touching and profound since the story is so brilliantly written.
To truly believe it, you must watch this anime!
You've just seen a few of the top anime couples on this list! Visit us soon for more similar posts like these.