Time travel is one of the most fascinating and popular genres in anime shows in recent days and has worked as the main premise of various fantasy or sci-fi shows.
Time-traveling may look like an overused plot in anime but there are many series that have managed to portray this topic elegantly.
Through these Animes, we live our fantasies of traveling to the past exploring/reliving each day, and manipulating time.
Various Anime shows put forward different theories based on time travel and also use them to create many alternate/parallel dimensions or timelines. However, only a few of them bring about this concept in a truly interesting way.
Thus today, we decided to take a look at the top animes based on time-traveling that truly sets them apart!
[toc]
1. STEINS; GATE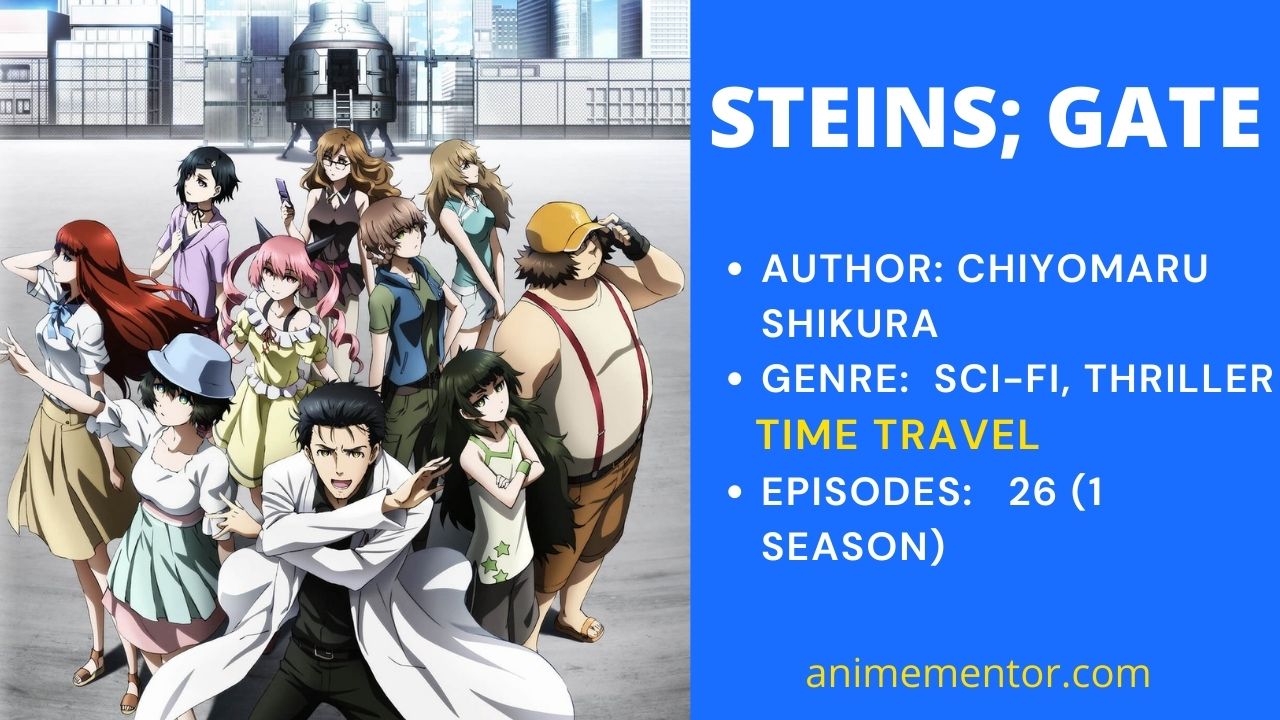 AUTHOR: Chiyomaru Shikura
GENRE:  Sci-Fi, Thriller
EPISODES:   26 (1 season)
SYNOPSIS:- The tale of Steins; Gate takes place in Akihabara and is a story about time travel and the result of its abuse.
Here the protagonist is a person named Okabe Rintarou whose other name is Hououin Kyouma and is an acknowledged "mad scientist".
After a certain period of time Rintarou successfully discovered a way of time traveling and begins to misuse its power by helping his friends who were having bad incidents in the past. He was not concerned about the consequences that he would face due to its abuse.
An organization named SERN also performs their research on time travel finds out about him and started an operation to capture the friends. Now Rintarou and his friends must find a way to avoid being captured by them.
2. TOKYO REVENGERS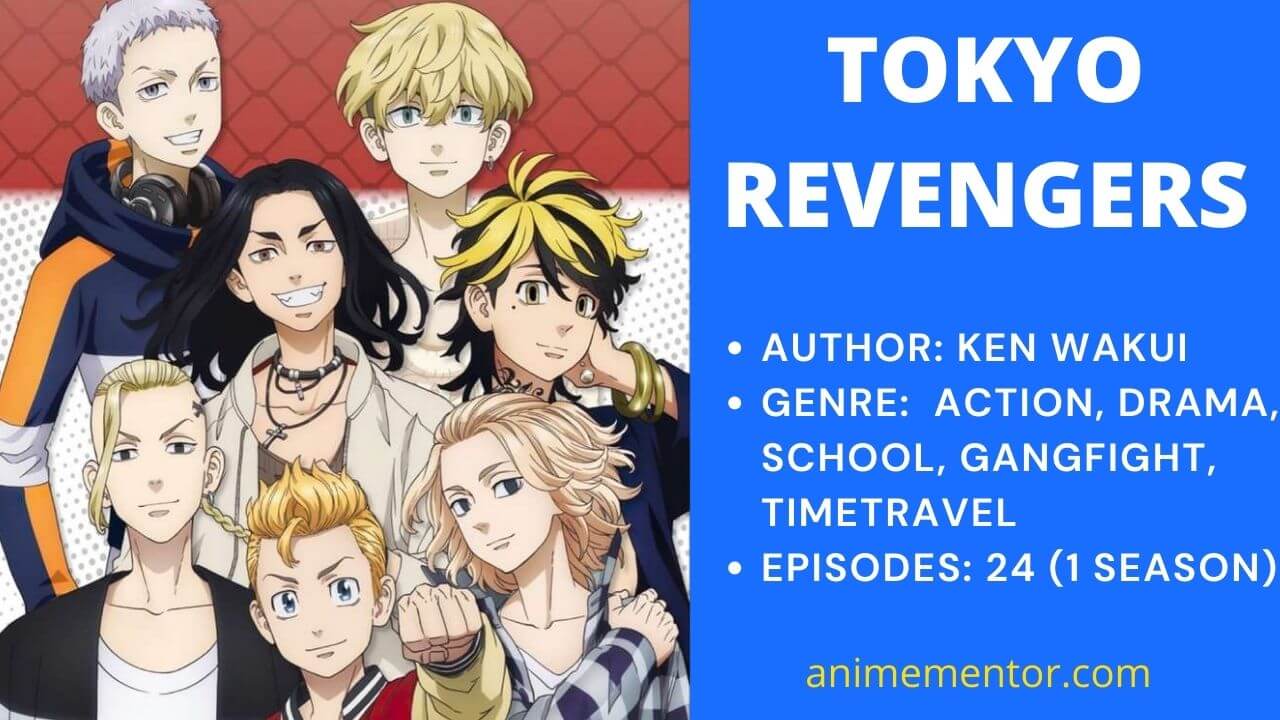 AUTHOR: Ken Wakui
GENRE:  Action / Drama / School / Shounen
EPISODES: 24 (1 season)
SYNOPSIS:-  The story of Tokyo Revengers starts when Takemichi Hanagaki, the protagonist of the story one day finds out that his ex-girlfriend from high school Hinata Tachibana was killed by a gang of ferocious criminals known as the Tokyo Manji gang.
Takemichi's boring and miserable life suddenly changed when he thought of finding the reason behind Hinata's death and thus time traveling 12 years in the past when he was still in school and was already in a good relationship with Hinata Tachibana.
Upon time-traveling Takemichi starts to find a way to prevent the death of Hinata in the future and he joins the Tokyo Manji Gang to be in a superior position in the gang and started to climb up the ranks with the intention of changing the future and saving Hinata from getting murdered.
Later Takemichi learns that he can time travel between the past and the present of 12 years gap by a mere handshake with Hinata's brother Naoto. In the present Naoto was a police officer who was also finding the mastermind behind the death of her sister.
So Takemichi teams up with Naoto to solve this mysterious case and ultimately to save Hinata from her gruesome fate.
3. ORANGE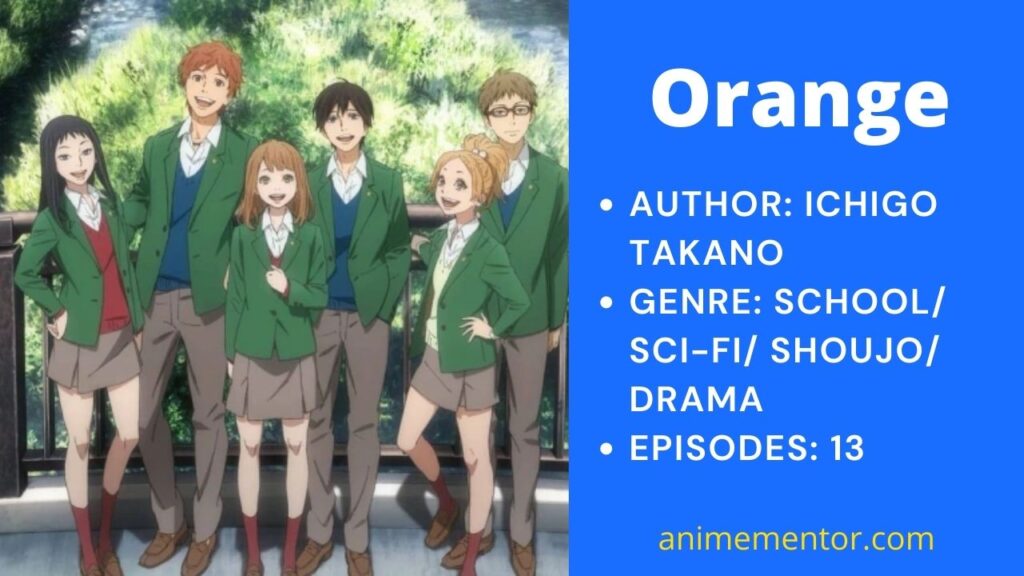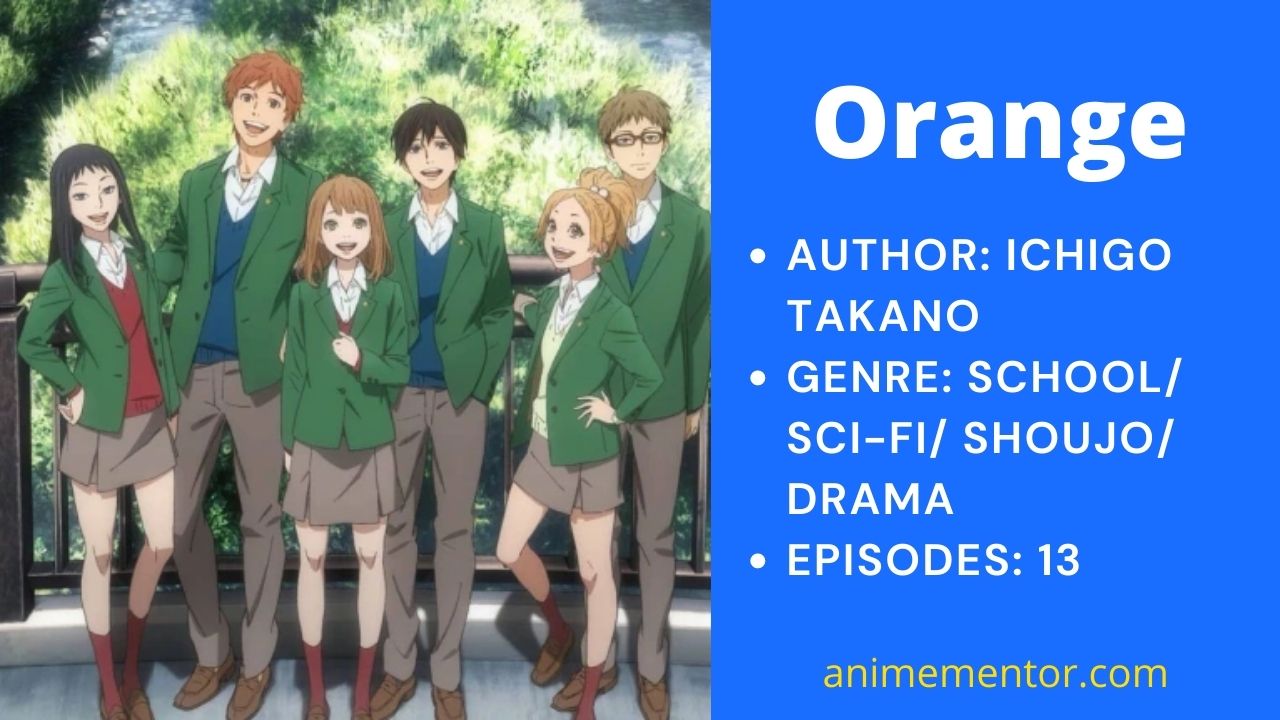 AUTHOR: Ichigo Takano
GENRE:  Comedy/ Romance/ School/ Slice of Life
EPISODES: 13 (1 season)
SYNOPSIS:-  It was springtime, when suddenly one morning, 16-year-old Naho Takamiya receives a strange and detailed letter in the mail claiming to be from herself 10 years in the future. There were many events that were written in that letter that was supposed to take place.
At first, she thought that it was just a prank but then the things which were written in the letter started to take place including the fact that a new transfer student named Kakeru Naruse who sits beside her in the class which was already mentioned in that letter and – Naho is forced to believe the information provided in the letter.
The letter was just like her diary entries. Her future self tells her about the biggest regret she had in her life and it was about Kakeru and asks her to watch over him closely and not make the same mistake as she did previously.
Will Naho be able to make the right decisions that can change their fate?
4. RE:ZERO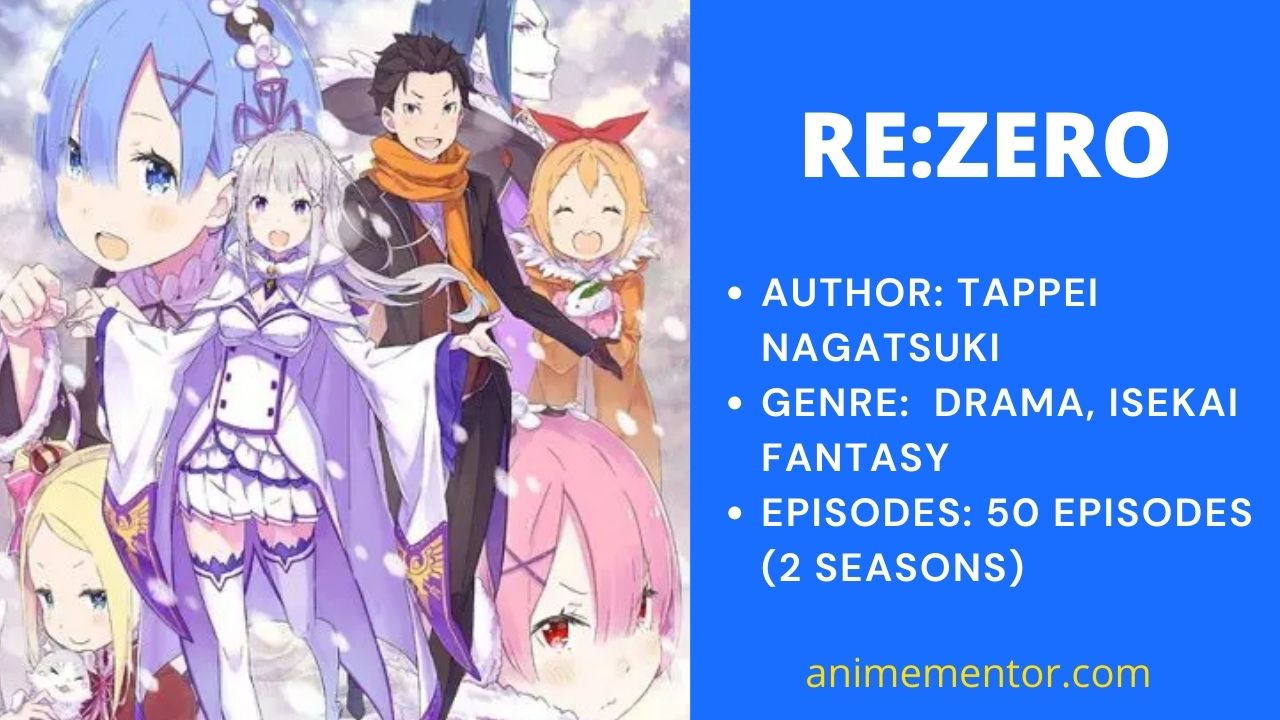 AUTHOR: Tappei Nagatsuki
GENRE:  Drama/ Fantasy
EPISODES: 50 episodes (2 seasons)
SYNOPSIS:- The story tells us about Natsuki Subaru, a normal young man, and an ordinary high school student. His normal life changed when he was suddenly summoned by someone from a parallel world where he was dumbfounded by the things he saw.
There he is rescued by a beautiful elf girl named Emilia who has a very painful past and due to which she is being chased by an assassin. Subaru was delighted by his rescuer and wanted to do something for her in return for saving him. He didn't know why or who has summoned him so for the time being he started to follow Emilia in her journey.
Enemies attack one by one, and at last, the assassin gets to kill the two of them and everything seemed to be over and now both of them are killed. But here comes the mysterious power, Subaru awakens and realizes that he has the power to rewind death and names his ability "Return by Death". The new ability gives him the ability to reverse time by dying; although, only he remembers what happened in the previous timeline.
Who gave Subaru the power to reverse time and why was he summoned in this alternate world?
5. ERASED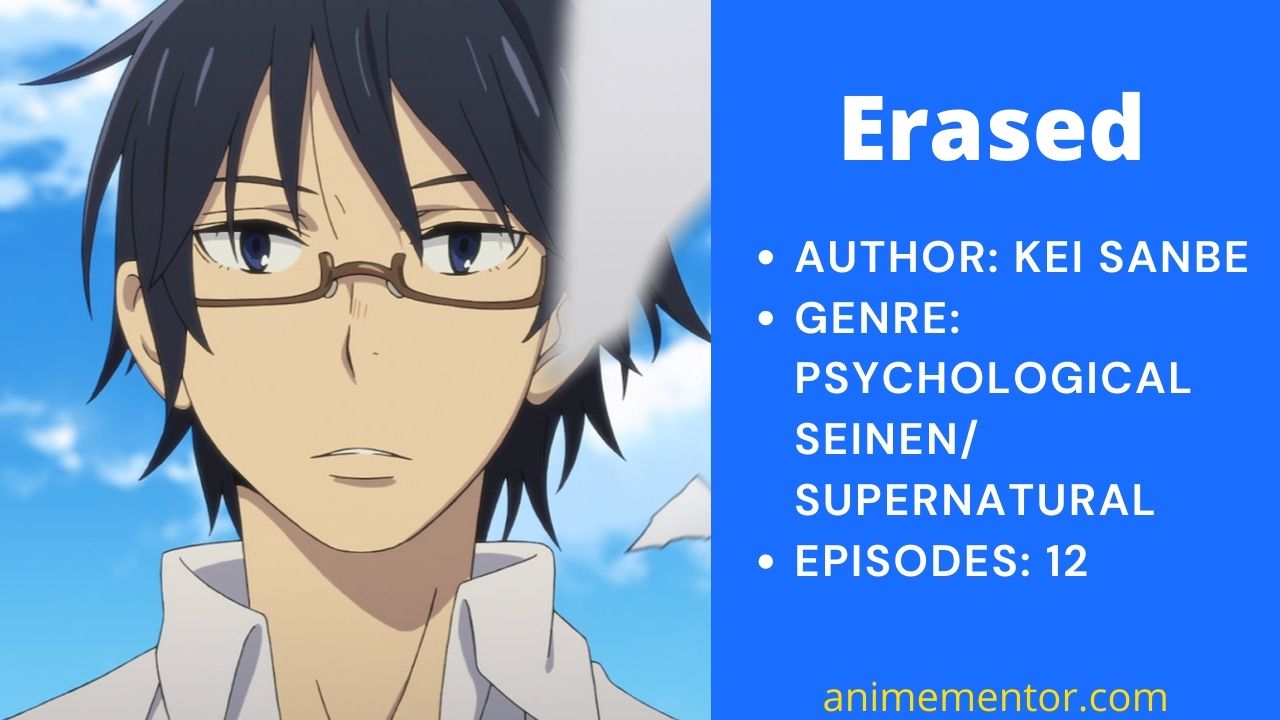 AUTHOR: Kei Sanbe
GENRE:  Comedy/ Romance/ School/ Slice Of Life
EPISODES: 12 (1 season)
SYNOPSIS:- Erased follows the story of the Satoru Fujinuma who is engulfed by his fear to manifest himself. Somehow, he possesses a supernatural ability to be compelled to prevent deaths and disastrous incidents by time-traveling before the event actually occurred, and ultimately preventing the accident.
But one day Satoru was hailed as a murderer as he got himself entangled in an accident. Although to save the sufferer he time-traveled to the past and now finds that he was now present 18 years ago as a grade-schooler and realizes that the incident of his classmate Kayo Hinazuki missing hadn't taken place.
He now sets forth on a new adventure where he wants to solve this mysterious case by himself and save her friend from being missing. These all incidents started when there was a group of kidnappings while he was studying in 5th grade at his school.
6. INUYASHA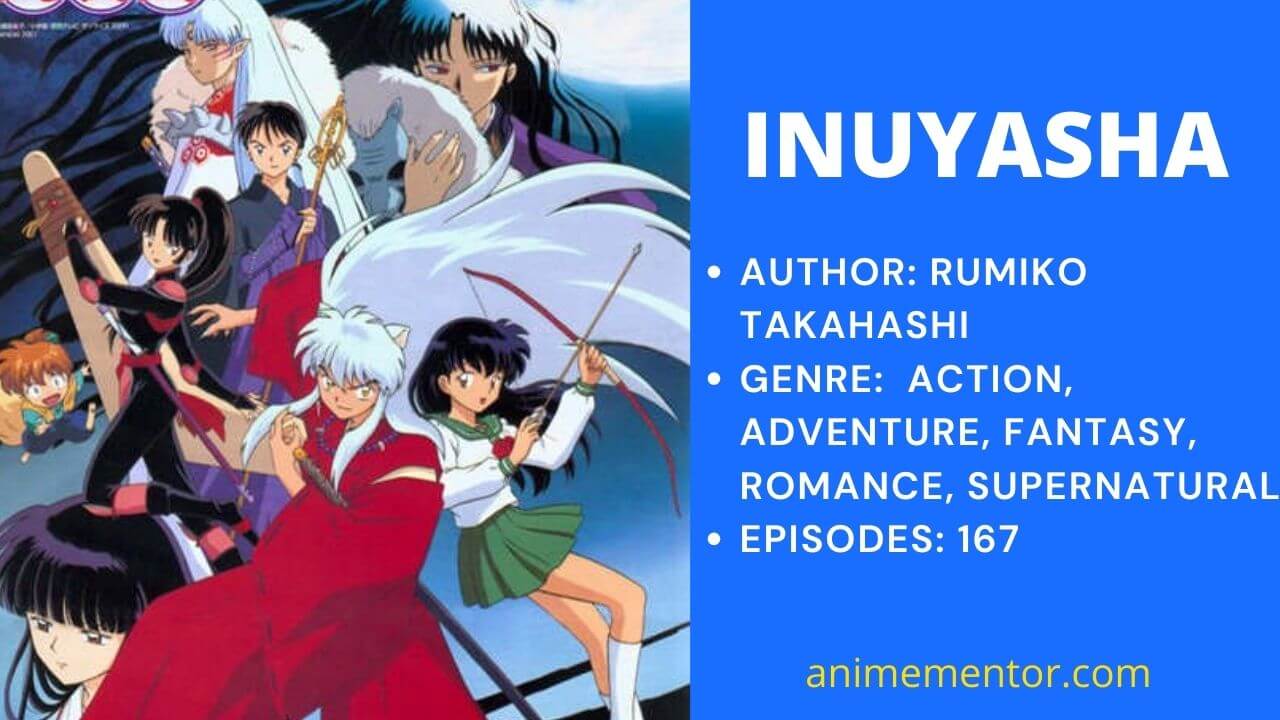 AUTHOR: Rumiko Takahashi
GENRE:  Action, Adventure, Comedy, Demons, Fantasy, Magic, Romance, Shounen, Supernatural
EPISODES: 167 ( 7 seasons)
SYNOPSIS:- Kagome Higurashi is a 15-year-old schoolgirl and has an apparently normal life, regardless of her weird family.
Her house is a history-filled thousand-year-old Japanese shrine, and her grandfather always tells about the history of this old shrine needlessly. There is a legend that the old well in her house has a cruel ancient monster and is trapped in the well. Kagome never believed those legends.
But One day the well pulled Kagome inside and took her to an ancient time of bewitching forests and massive demons. There Kagome is soon approached by her odd similarity to Kikyou, who controlled the magical Shikon no Tama talisman and sealed the legendary half-demon InuYasha.
Now upon entering this fantasy world, Kagome is assaulted by the Shikon no Tama; and she unwillingly releases InuYasha from his imprisonment, and finds out that InuYasha is no ally of hers.
7. FUTURE DIARY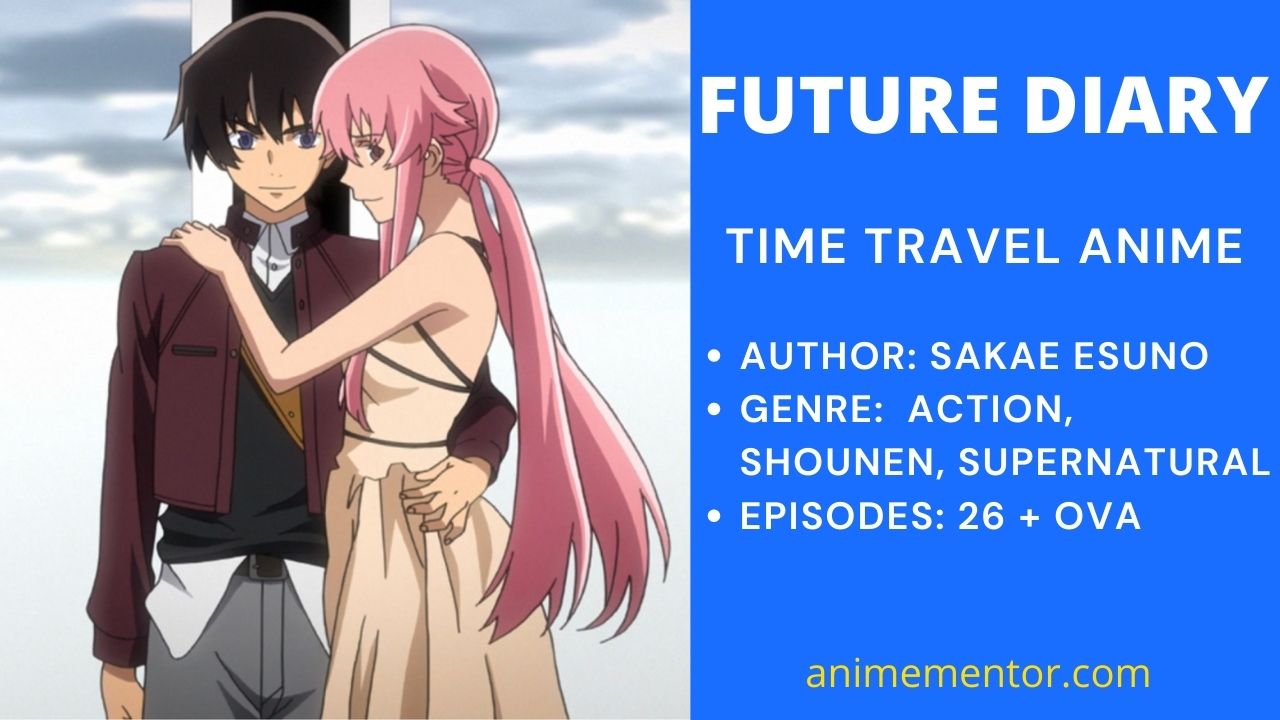 AUTHOR: Sakae Esuno
GENRE:   Action, Shounen, Supernatural
EPISODES: 26 + OVA
SYNOPSIS:- Yukiteru "Yuki" Amano is a socially weird boy who always prefers to spend time on his cell phone, write a diary, and never go out with friends. He thinks that he has a fictional friend named Deus Ex Machina.
However, one day Deus offers Yukiteru to participate in a survival game along with eleven others. The winner will become the next Deus Ex Machina. The rule was that the participants must use their diaries of the future and eliminate one another in order to be the winner. Yukiteru teams up with a girl named Yuno Gasai for surviving this game.
Yuno is another player of this survival game who also wishes to be the next champion but here comes the twist – Yuno likes Yuki and would do anything for him. But the fact is that only one person will become the champion and the rest would face their death. Will Yuki get to be the next Deus Ex Machina?
8. TATAMI GALAXY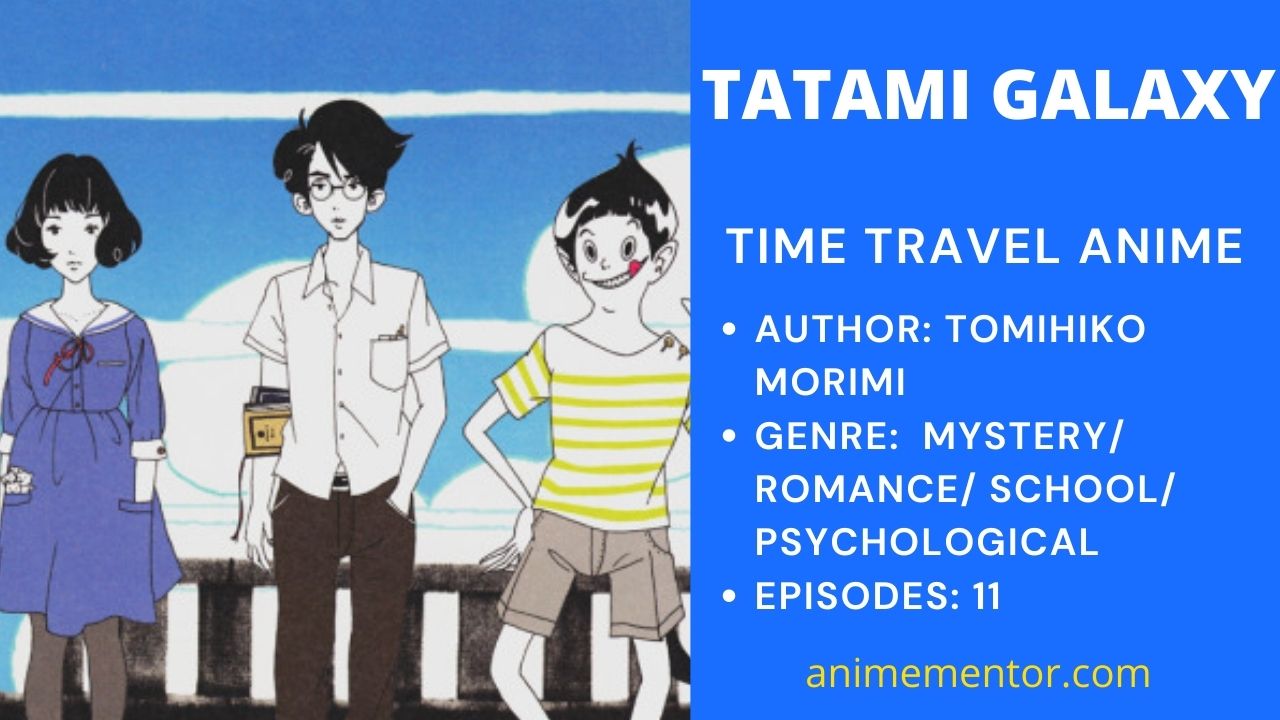 AUTHOR: Tomihiko Morimi
GENRE:  Mystery/ Romance/ School/ Psychological
EPISODES: 11
The story starts at a peculiar ramen stand when a college dropout visits there at late night and he stumbles upon a self-proclaimed deity of matrimony. Here the plot shows a student in his third year at Kyoto University who interferes with the parallel universes to know how would his life have changed if he had joined some other club on campus.
Now upon encountering this weird deity of matrimony, the third-year student remembers his college days, when he met a certain friend and due to whom he was turned into a completely bad cupid.
Here the story follows the young man joining a club by going into the past he dreamed of. However, he is always disappointed by the fact that he never obtained his perfect and beautiful high school life.
But he never loses his hope, the timeline changes and once again our protagonist appears as a new student who wishes to join another circle. Will he ever get the beautiful life he dreamed of?
9. SAGRADA RESET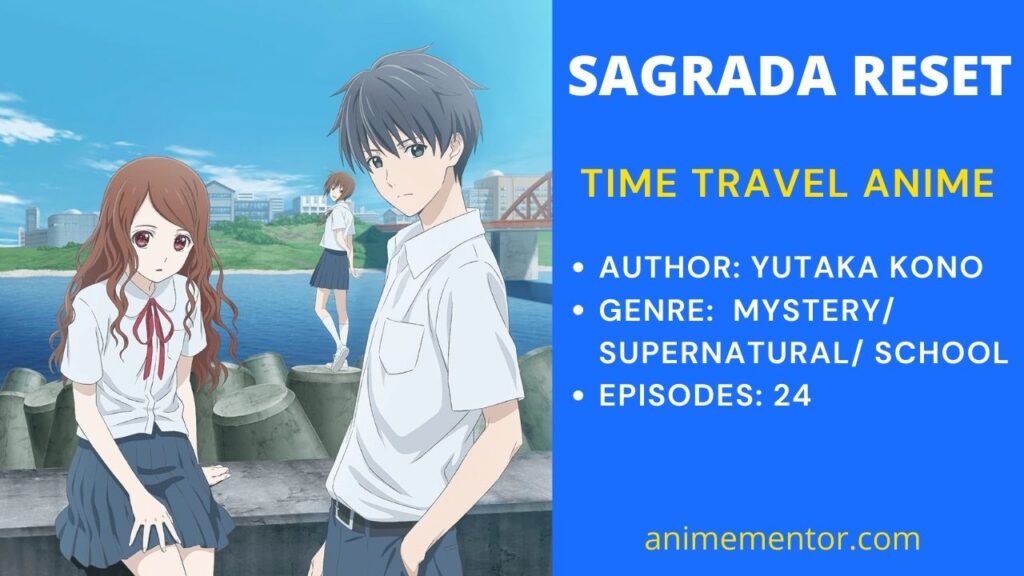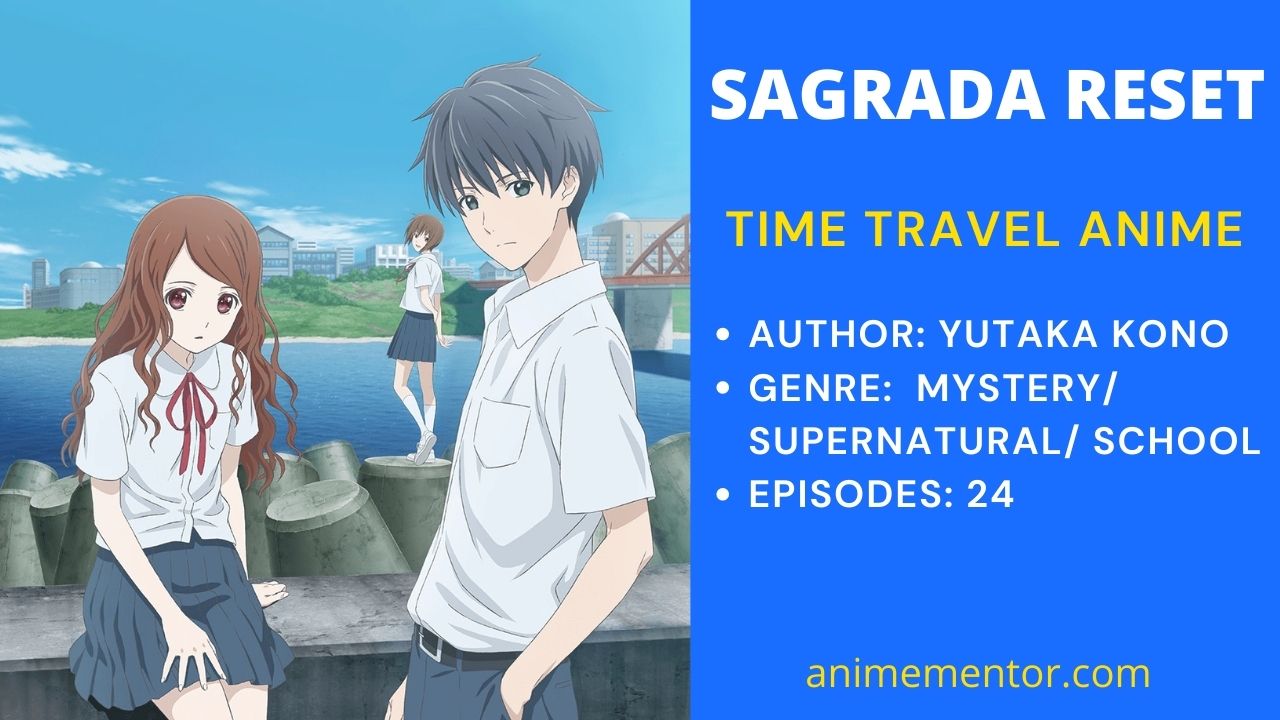 AUTHOR: Yutaka Kono
GENRE:  Mystery/ Supernatural/ School
EPISODES: 24
SYNOPSIS:- The story is set in Sakurada, a town where nearly half the population of Sakurada, near the pacific ocean, has some sort of special ability. The main character is Kei Asai, a boy with a photographic memory.
There is one more character in the story who is of equal importance – Misora Haruki. She is an introverted girl and possesses the ability to change the world by going up to 3 days in the past.
One day Asai meets with Haruki due to Soma's advice and that started the formation of a new club that helps people in need. Kei can remember everything and can recall the time Haruki has changed and ultimately Asai helps Haruki with her ability to form a good friendship.
In the town, there are various kinds of ability users. there are people who can enter a person's mind, reverse the time, or change someone's memory of some past incident.
Asai and his friends find themselves involved with an organization known as Kanrikyoku which controls and keeps the ability of users in check.
10. ZIPANG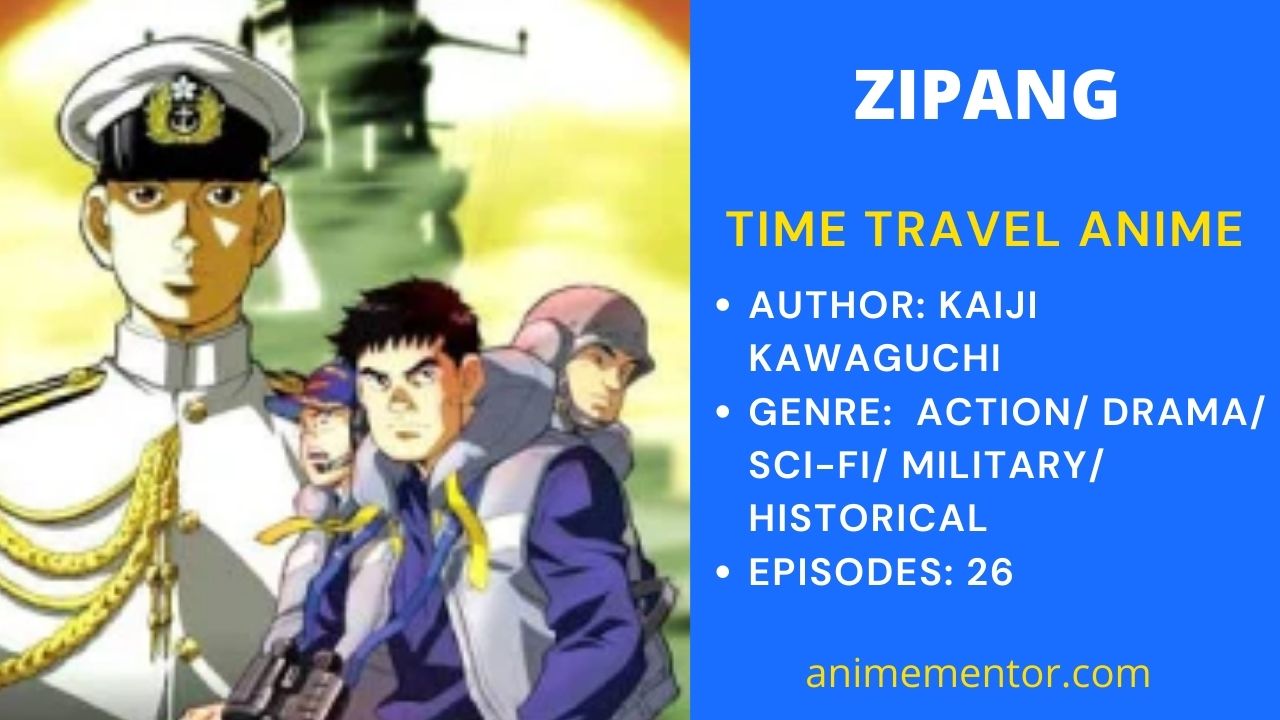 AUTHOR: Kaiji Kawaguchi
GENRE:  Action/ Drama/ Sci-fi/ Military/ Historical
EPISODES: 26
Mirai is one of the recently developed and most advanced ships in the whole Japanese Self Defense Force (SDF) and an upgraded Kongou-class Aegis guided-missile destroyer with the best crew in the world. Renowned captain Saburo Umezo and an executive officer named Yosuke Kadomatsu were in charge of the sailors.
The crew used to have battle drills every day while onboard. However, one day amidst such a drill the ship is hit by a typhoon. The navigation and comms were all in mess and they suffered quite a few losses.
After a slight recovery when the crew was finally able to take control of Mirai, they were astonished to find out that they were now in the middle of historic naval combat which took place many years ago during world war 2 – known as The Battle of Midway.
The crew decided that they shouldn't interfere with the battle and avoided the battle at all costs.
After a state of recuperation, the sailors assembled together and promised to remain in disguise in this past world and not interfere with the events that are going to take place in due time. Needless to say that the promise was short-lived when the crew members encountered Lt Commander Takumi Kusaka.
Lt Commander Takumi Kusaka was destined to die in the Battle of Midway. However, the crew of Mirai decided to save him and ultimately changed the course of history.
Conclusion
So there you go! This was our list of the Top 10 Best Time Travel anime.
Which one is your favorite? Have you watched all of them? Or do you think we missed any anime series that must have been on the list? Let us know in the comments below.
We are open to all kinds of constructive criticism/feedback and any suggestions that you might have. Reach out to us and we will get back to you as soon as possible!
Thanks a ton for reading this far!
Bye!