Nowadays the craze for Netflix shows has gotten quite huge. Fortunately for anime lovers like you and me, Netflix does offer a good number of official anime content in a variety of different genera. From Death Note to Black Clover Netflix has it all!
So today we are listing down the best anime series that you would find on Netflix. Have a great time ahead watching these awesome series!
1. Death Note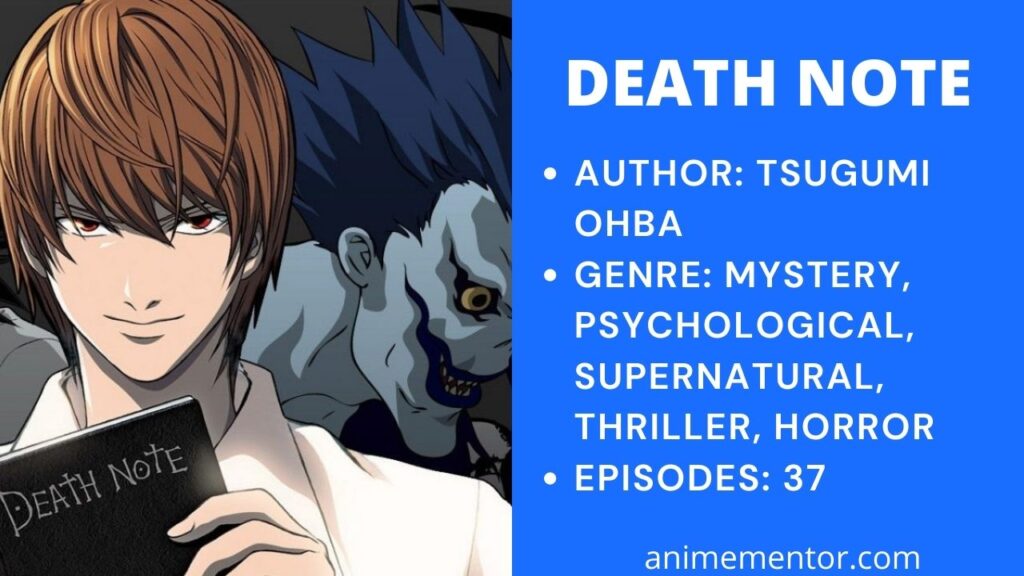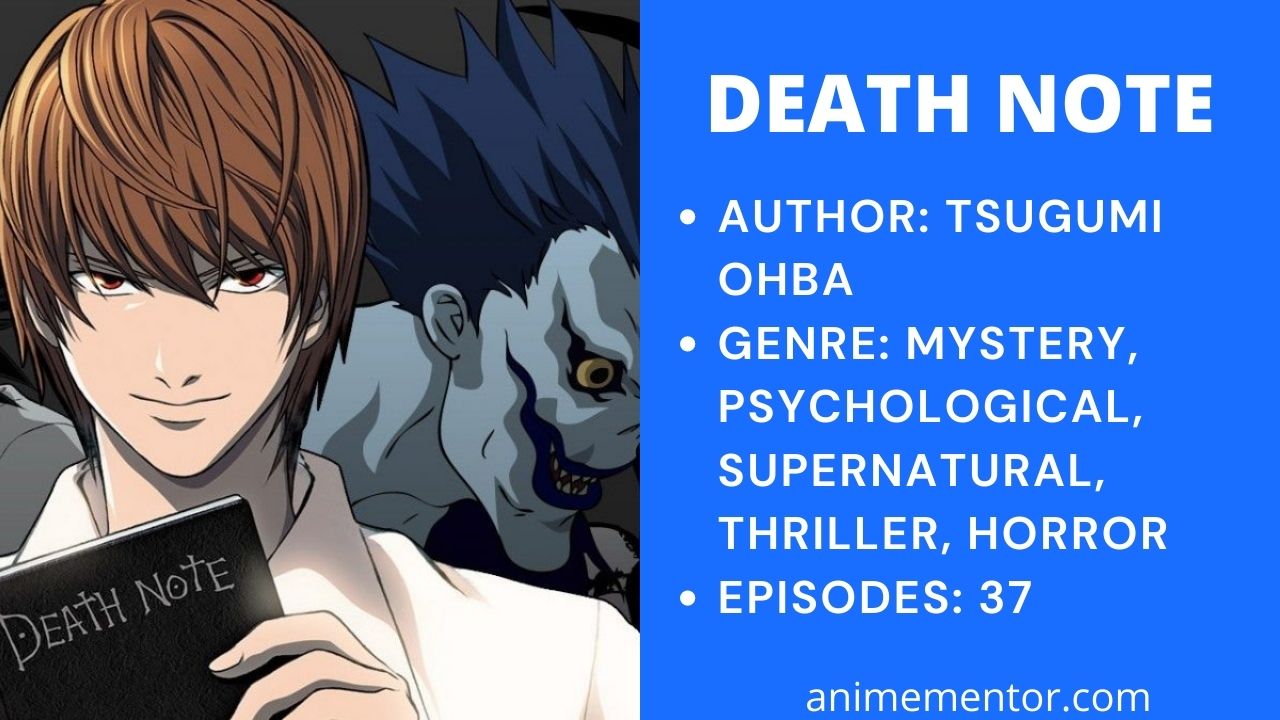 Author: Tsugumi Ohba
Genre: Mystery, Police, Psychological, Supernatural, Thriller, Horror
Episodes: 37
Light Yagami, the protagonist of this story has a very different view of this world. He is an excellent student with outstanding capabilities. 
One day Light found a book that fell from the sky known as the DEATH NOTE. It's a very special book as once someone's name gets written in the book, he/she will die.
Now Light wishes to change the world's system and punish the people for their ill deeds and make this world a better place. He wishes to be the God of the new world where there would be no crimes.
Thus, Light started to kill all the criminals who were on TV by writing their names in the book.
However, the sudden deaths of a large number of criminals made the higher authorities of the world worried. and they sent their best detective- L, to catch the person who is behind all of it.
2. Hunter x Hunter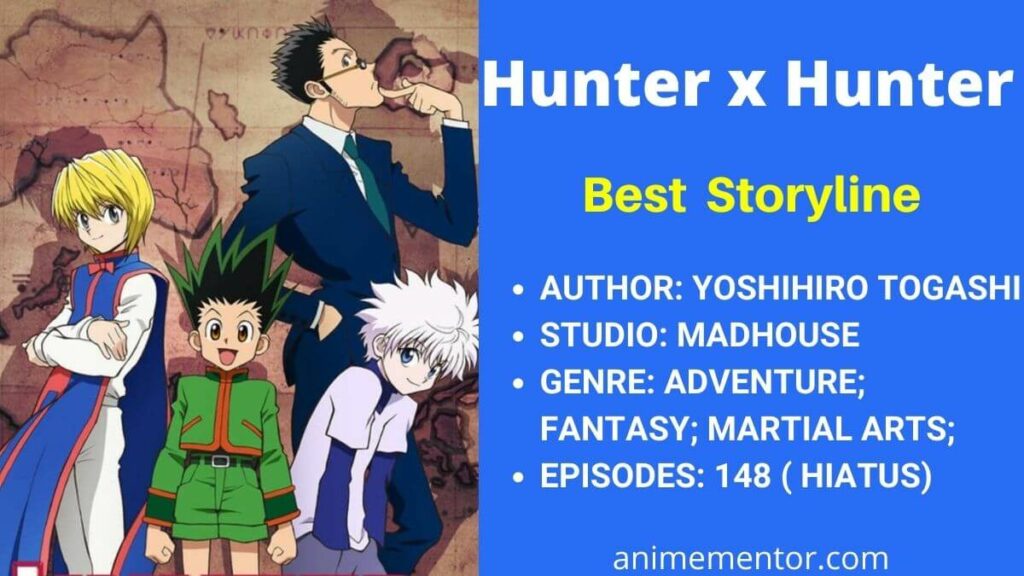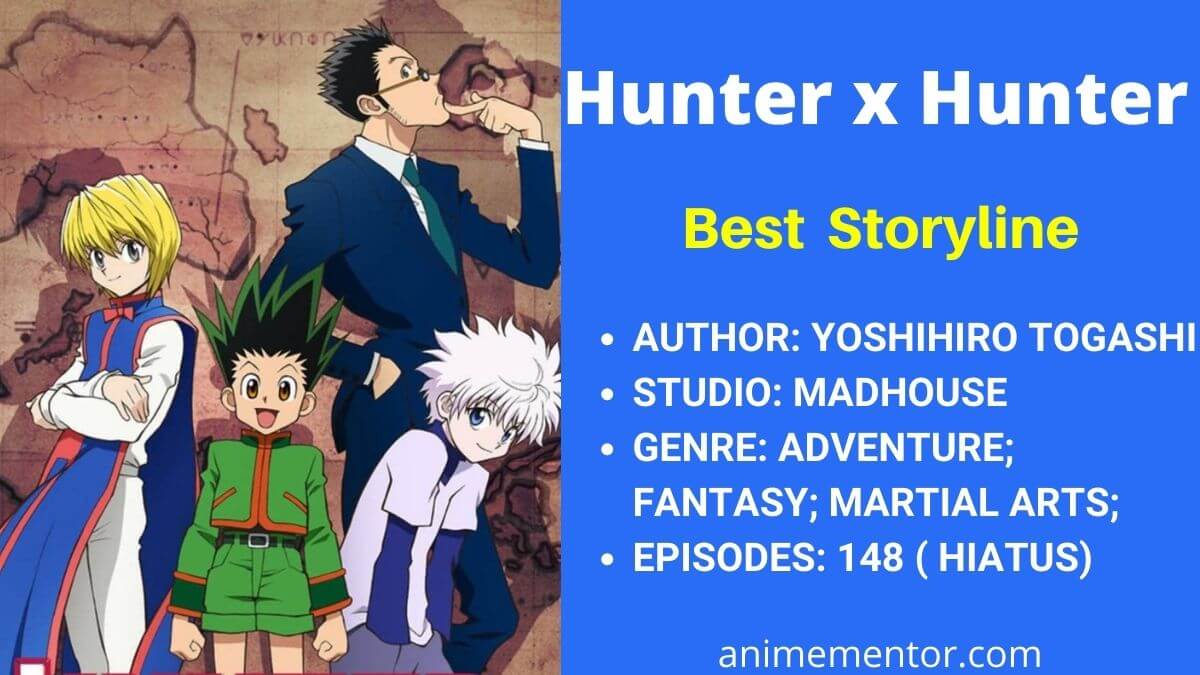 Author: Yoshihiro Togashi
Genre: Action, Adventure, Shounen, Super Power
Episodes: 148
A young boy named Gon Freecs doesn't remember much about his father but recently learns that his father is a famous hunter.
Gon lives on a small island and now to find his father he took up the hunter exam. He became friends with Killua, Leorio, and Kurapica and together they started their journey. 
Gon's father Ging was an elite class hunter of the Hunter society who is licensed to go anywhere. Gon along with his friends wanted to prove himself in front of his father by becoming a great hunter. But on their way, they realize that the journey toward becoming the best won't be an easy one.
As the band of friends must overcome hurdles beyond their imaginations.
3. Naruto and Naruto Shippuden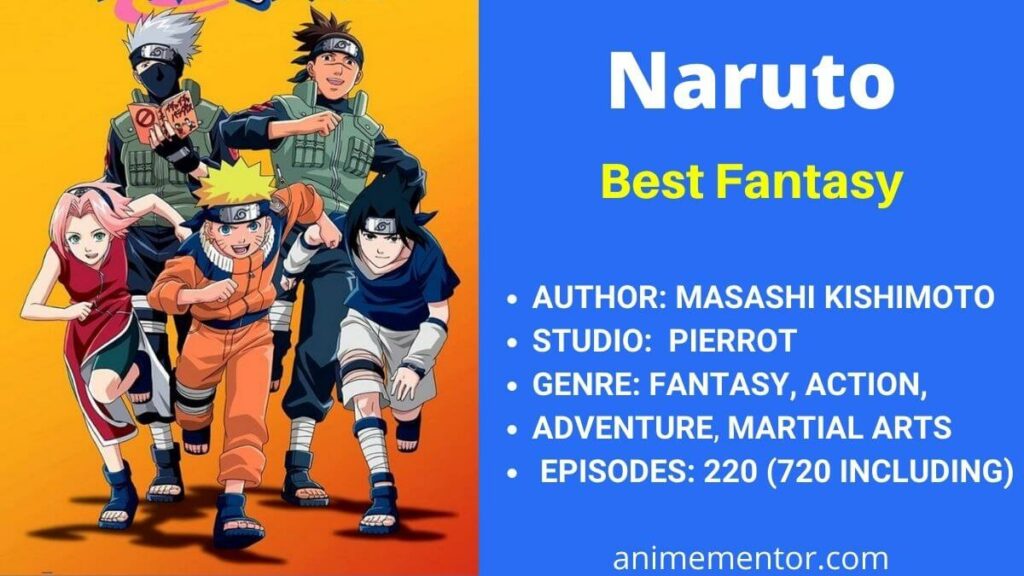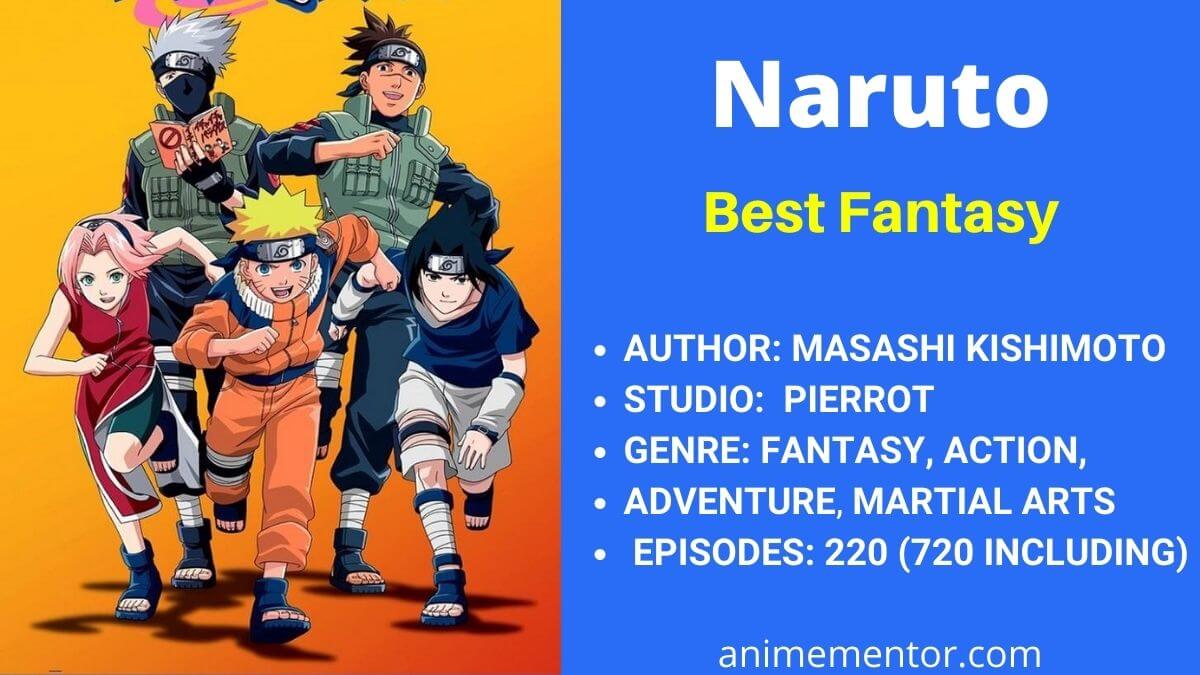 Author: Masashi Kishimoto
Genre: Action, Comedy, Martial Arts, Shounen
Episodes: 720
The story of Naruto Shippuden starts after the original Naruto series which represented the childhood life of Naruto.
This series starts at the point where Naruto came back to Konoha with Jiraiya sensei after 2 and a half years of intense training. He reunited with all his friends and teachers of Konoha. With his new skills, Naruto is determined to find his friend Sasuke.
However, a dangerous group looms in the darkness, the Akatsuki with more powerful allies. 
4. Black Clover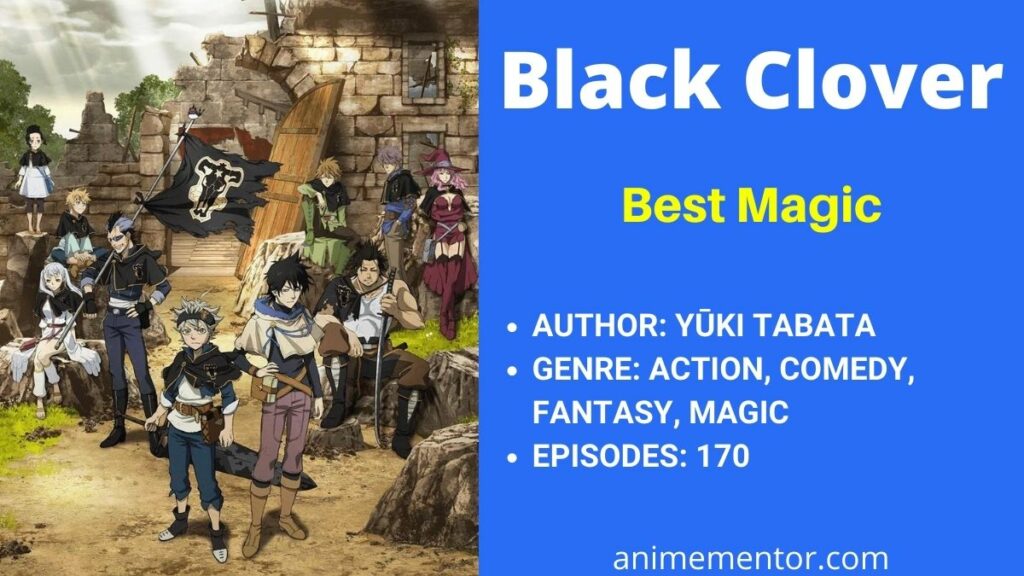 Author: Yūki Tabata 
Genre: Action, Comedy, Fantasy, Magic
Episodes: 170
This story of the anime revolves around two boys Asta and Yuno who one day made a bet with each other to see who would become the Magic Emperor. The two were abandoned in front of the same church and were raised by the church since then. 
As they grew up, Yuno became a genius with amazing magic control whereas Asta never had a shed of magic in him at all. 
When the time came for their Grimoire selection, Yuno received a spectacular four-leaf clover book whereas Asta didn't receive any book. Later due to an incident when Yuno was threatened, Asta got a grimoire which emerged from him.
It was a FIVE-LEAF GRIMOIRE, a black clover!!
5. Attack On Titan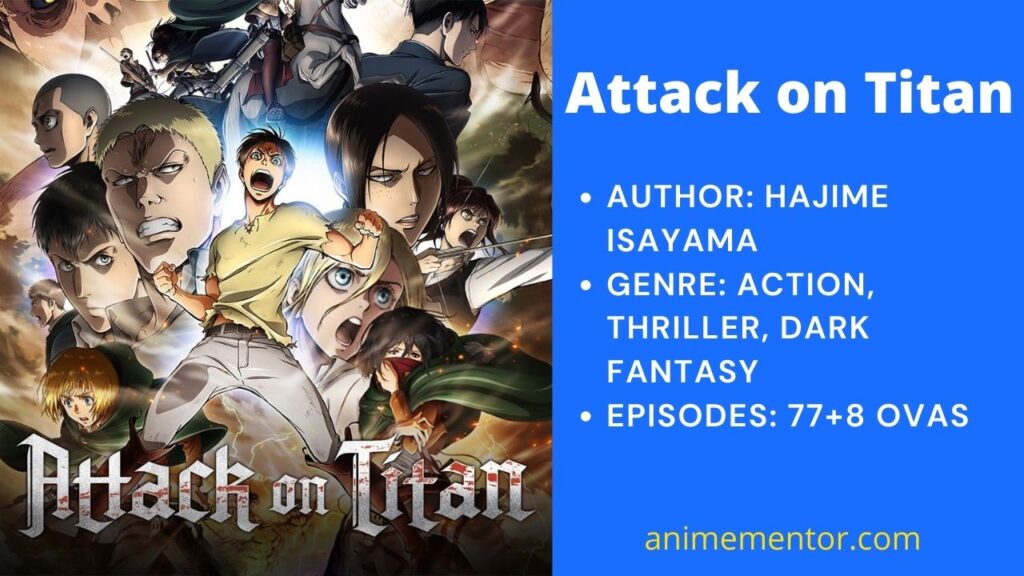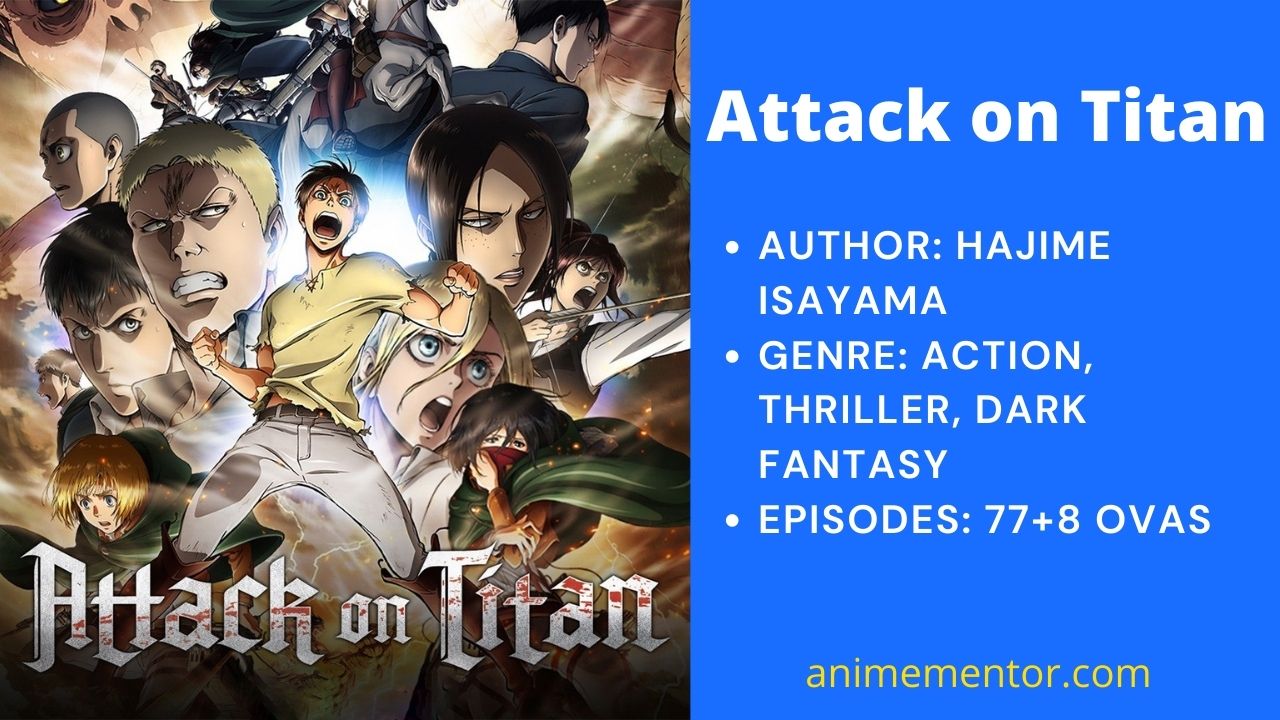 Author: Hajime Isayama
Genre: Action, Drama, Super Power
Episodes: 86
Humans were nearly extinct by great titans several years ago. And now the remaining humans live in a city confined by great walls to prevent the titans from attacking. 
For the past 100 years, humans were safe inside extremely high walls. A young boy named Eren Yeager lives with his family within these walls. As they were leading their peaceful life, one day a colossal titan appeared out of thin air and destroyed the wall. Soon all the titans entered through the broken wall and started killing the people. 
For Eren, he saw his mother being eaten by a titan and thus he swore to himself that he would kill every single titan in this world.
6. One Punch Man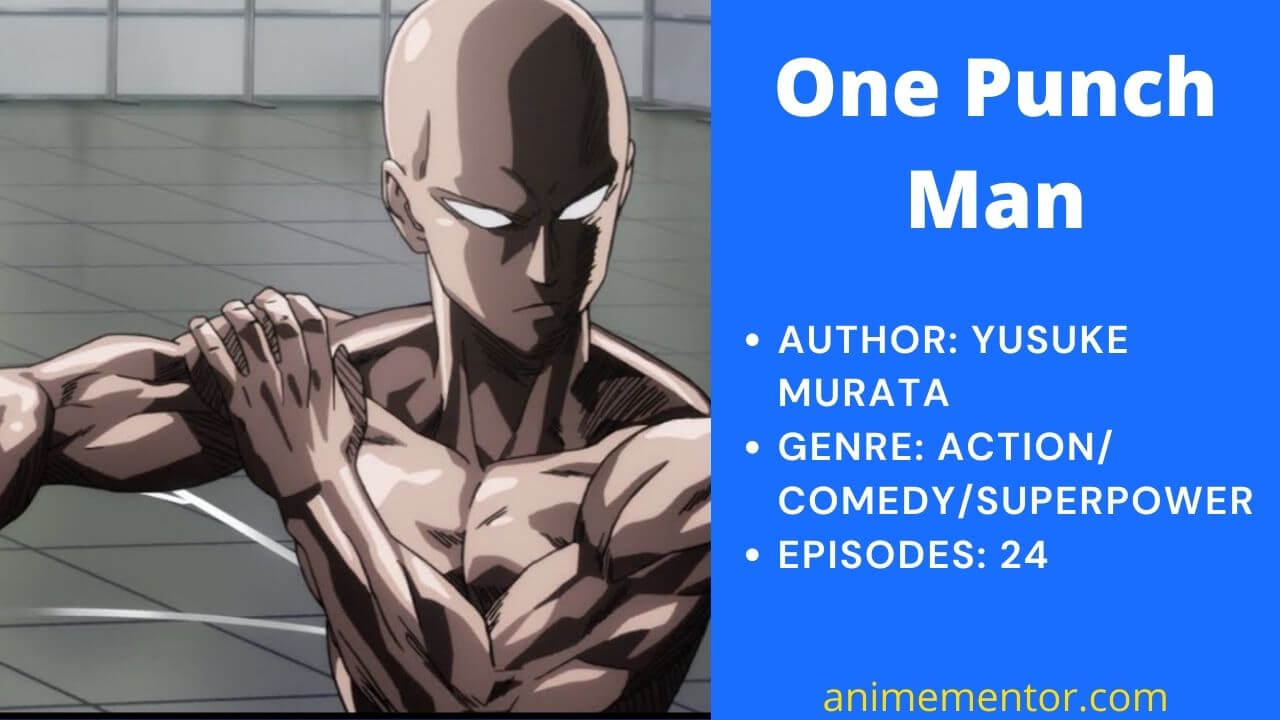 Author: Yusuke Murata
Genre: Action, Comedy, Parody, Sci-Fi, Seinen, Super Power,
Episodes: 24
One punch man is all about a young guy named Saitama who changed from a normal guy to a baldy superhero.
He trained for three years continuously and achieved the perfect strength and now no one can defeat him. On the other hand, he could kill anyone anytime with one punch.
His life became quite boring due to that and now he is in search of some tough opponents to fight an interesting match. But no one could match his level, and the match would end just after a single punch. 
Follow Saitama's journey as he wishes to find a villain stronger or equal to his level in this hilarious anime.
7. Kaguya Sama: Love Is war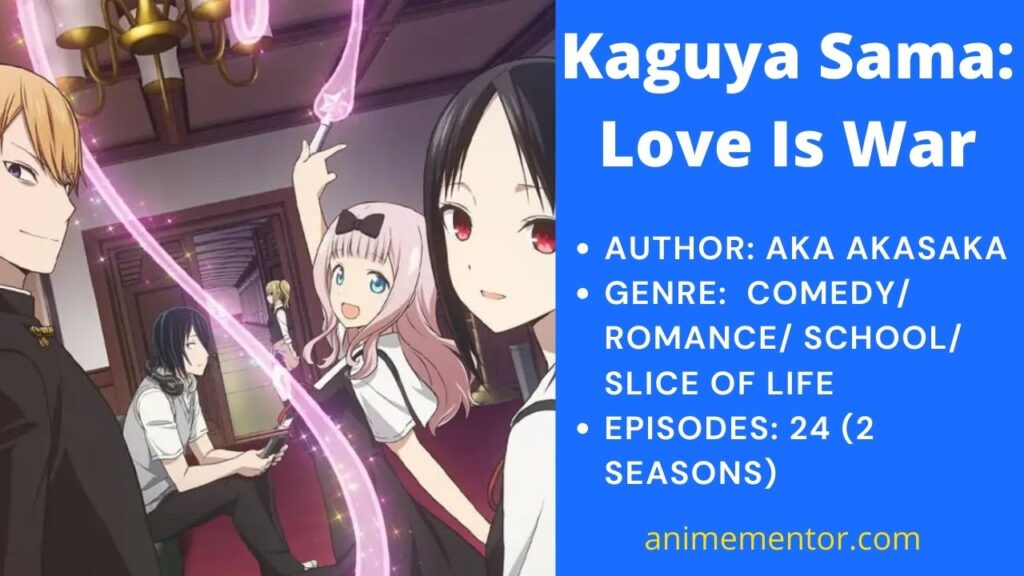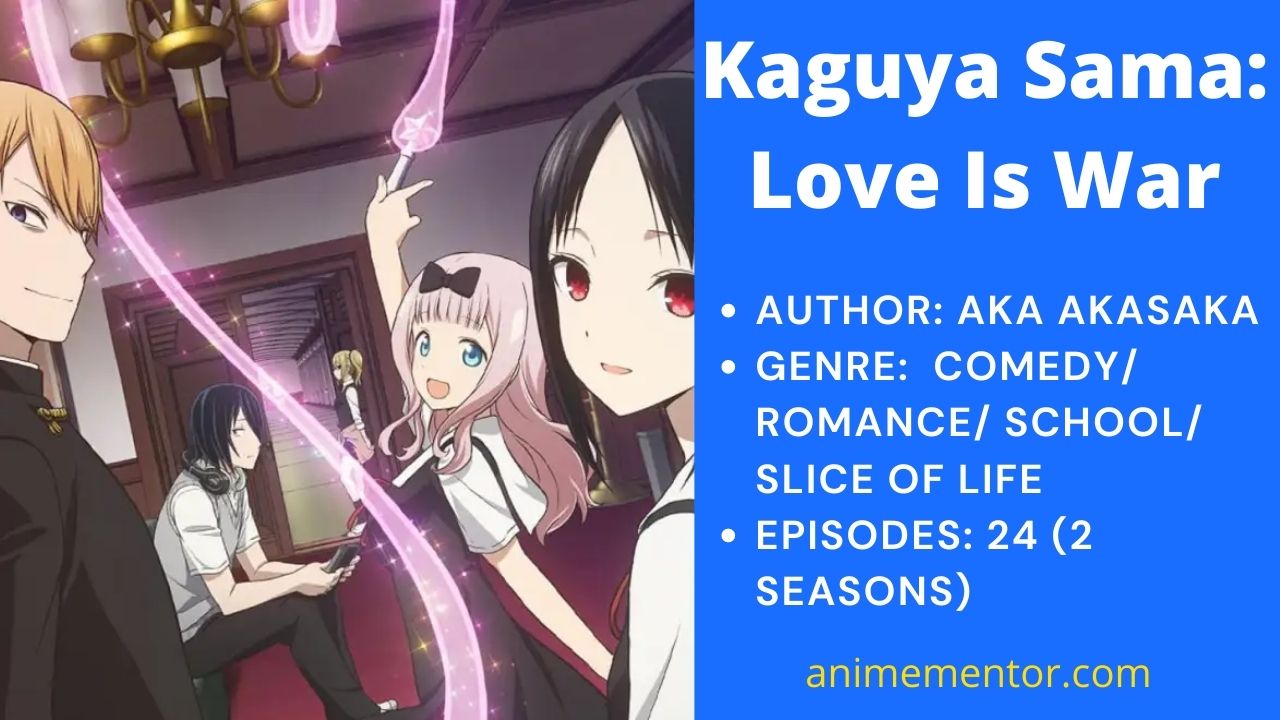 Author: Aka Akasaka
Genre: Comedy, Romance, School, Slice Of Life
Episodes: 24 (2 seasons)
Miyuki Shirogane is a genius boy with exceptional capabilities as a student. He is now the president of the student council at Shuchiin Academy. 
Kaguya Shinomiya is a wealthy and charming girl who is the vice president of the student council at this academy. All the students consider these two as a perfect pair but they weren't in any sort of relationship.
However, gradually they have started to have some feelings for each other that they wouldn't express. Confessing someone at first is considered a symbol of weakness according to them.
Now they developed a strategy to make the other one confess their feelings first and so this love war begins!!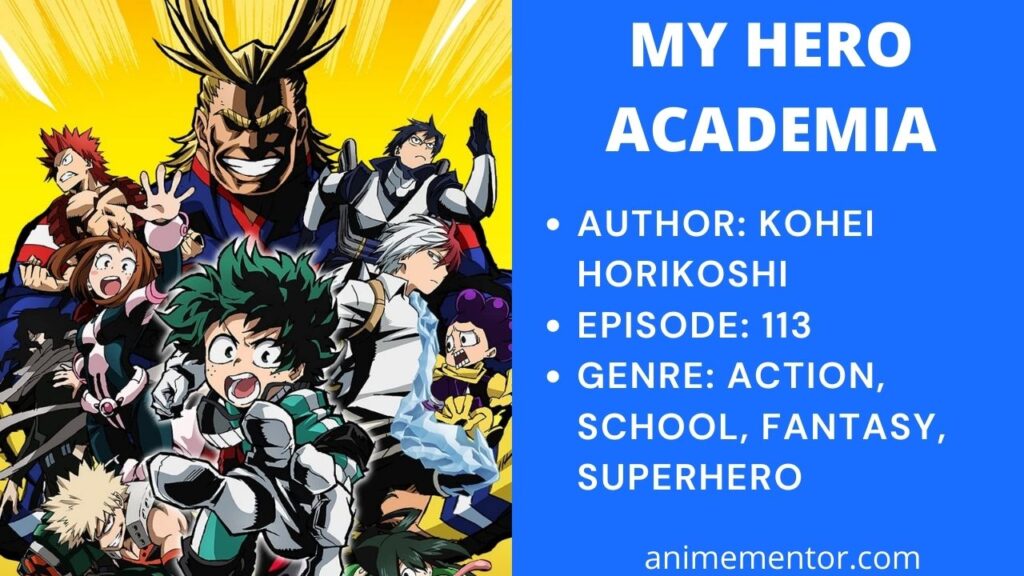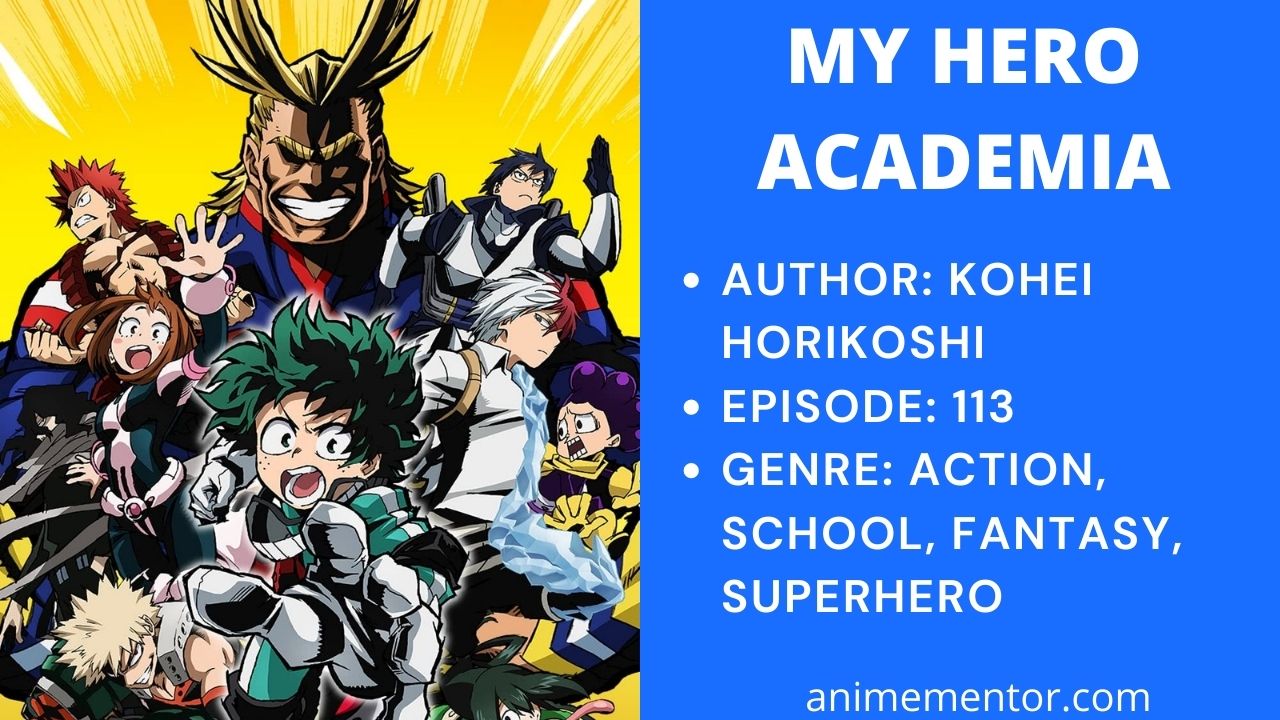 Author: Kohei Horikoshi
Genre: Action, Comedy, School, Shounen, Super Power
Episodes: 113
The world is controlled by superpowers as most people possess superhuman abilities known as Quirk. Like many others Izuku Midoriya, a middle school boy was born without any Quirk. 
However, when Izuku's childhood friend Katsuki was attacked by a Villain, he sprang into action without caring for his life before the world's greatest hero – ALL MIGHT appeared and saved them both.
Following a chain of events, All Might bestows upon Izuku his quirk – One For All and made him his successor. 
Now Izuku has entered Yuuei High school to become a great hero in the future.
9. Fairy Tail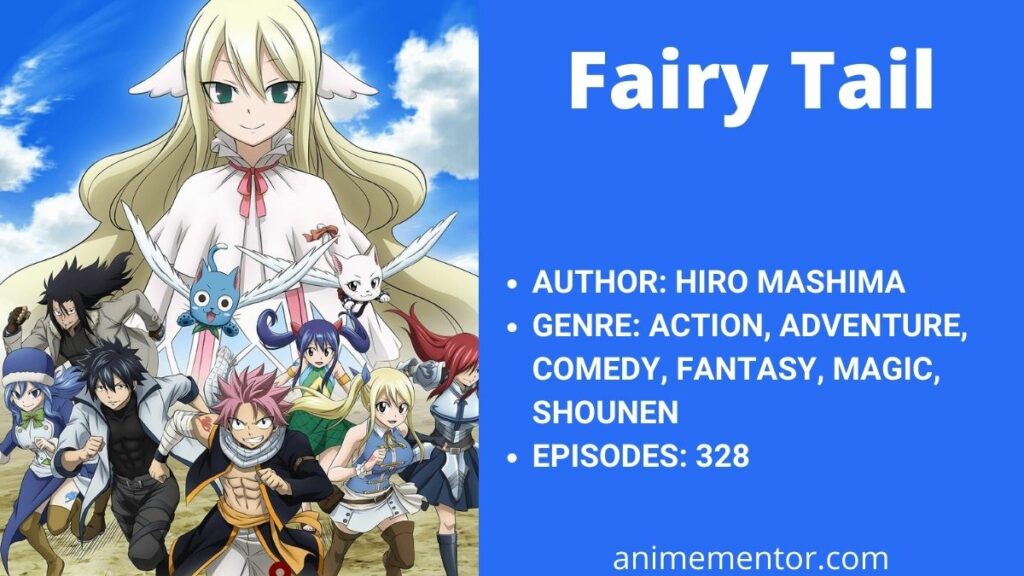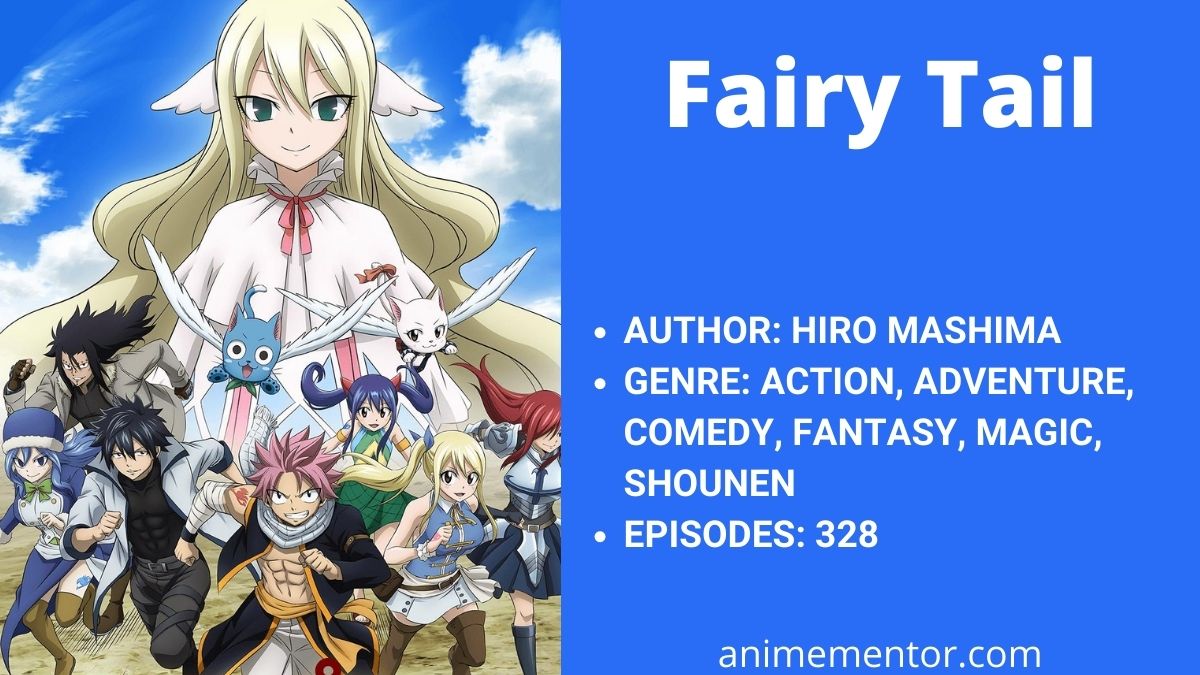 Author: Hiro Mashima
Genre: Action, Adventure, Comedy, Fantasy, Magic, Shounen
Episodes: 328
This story starts when a 16-year-old girl named Lucy visits Harujion town and meets Natsu. Natsu was one of the members of the most infamous guild in the world- Fairy Tail. 
When Lucy got into a crappy situation, Natsu and his cat Happy helped her. Natsu was in this town looking for the salamander. Ultimately Lucy and Natsu became friends and Natsu took her to his guild.
Follow Natsu and Lucy's journey as they uncover many truths and go on several adventures.
10. Tokyo Ghoul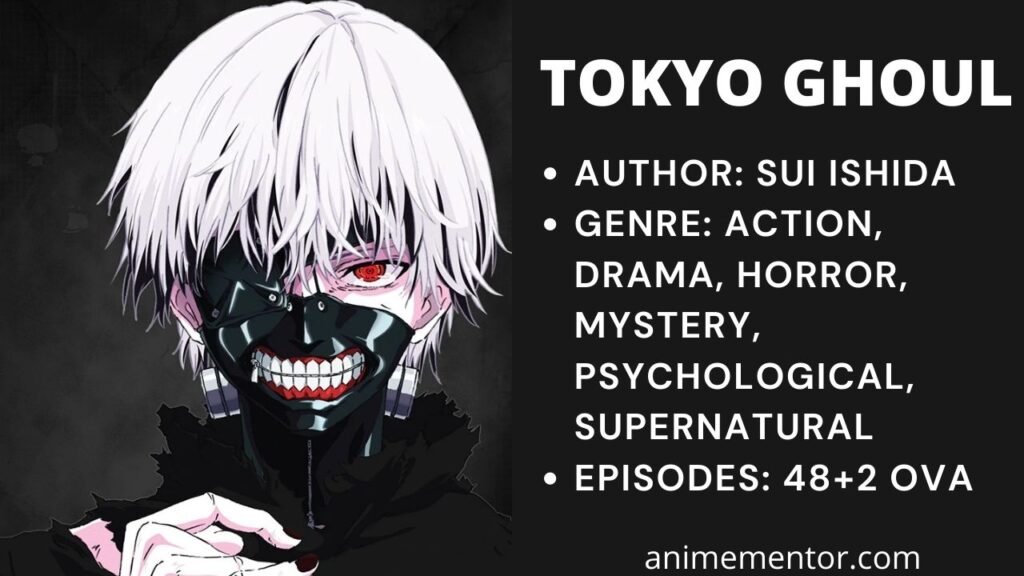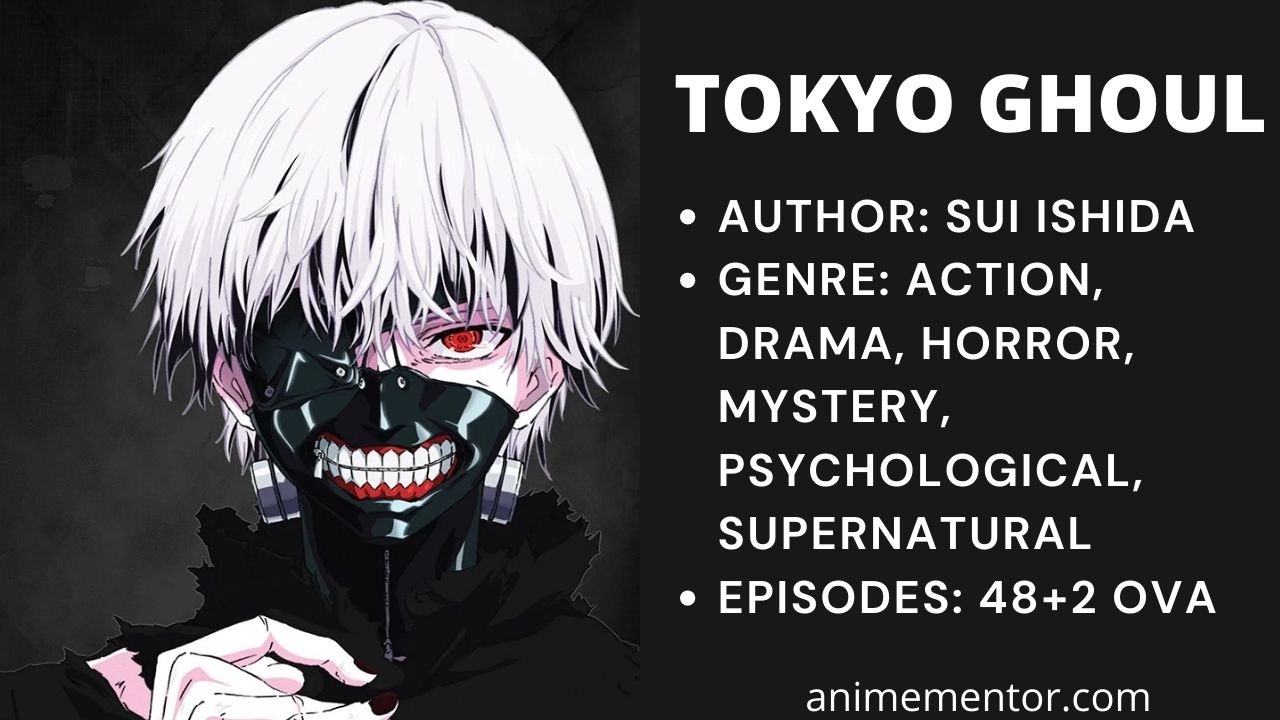 Author: Sui Ishida
Genre: Action, Drama, Horror, Mystery, Psychological, Supernatural
Episodes: 48+2 OVA
Ghouls are mysterious creatures who appear the same as humans but they hunt down people and devour them as a basic need for their survival. Nowadays Tokyo is under constant pressure from these ghouls as no one knows their real identity.
Ken Kaneki is a high school student obsessed with reading books, but one day he encountered a beautiful girl named Rize who too loves to read books. They met together and became good friends but Kaneki was unaware of the fact that this meeting with Rize was going to change his entire life.
11. Spy x Family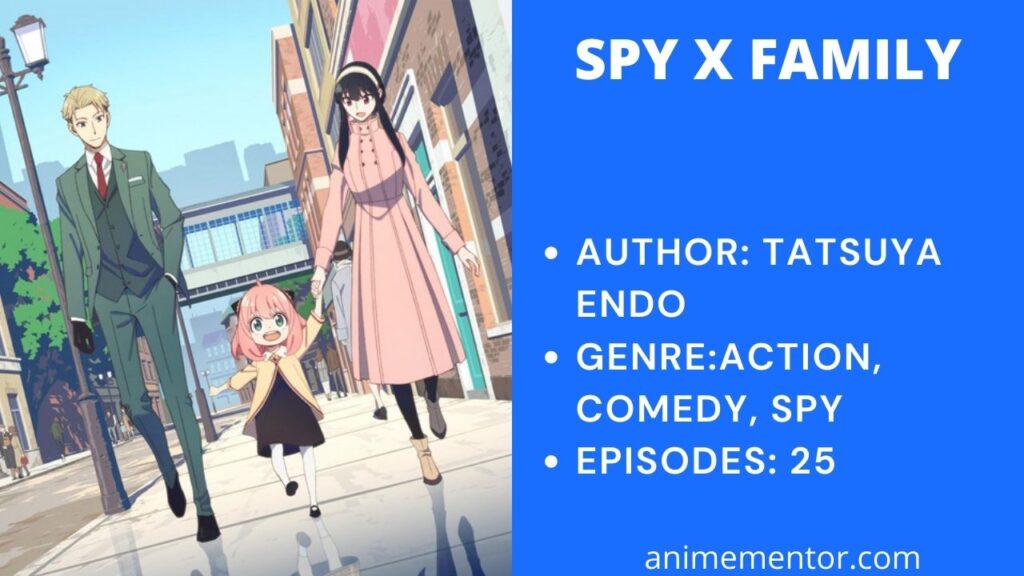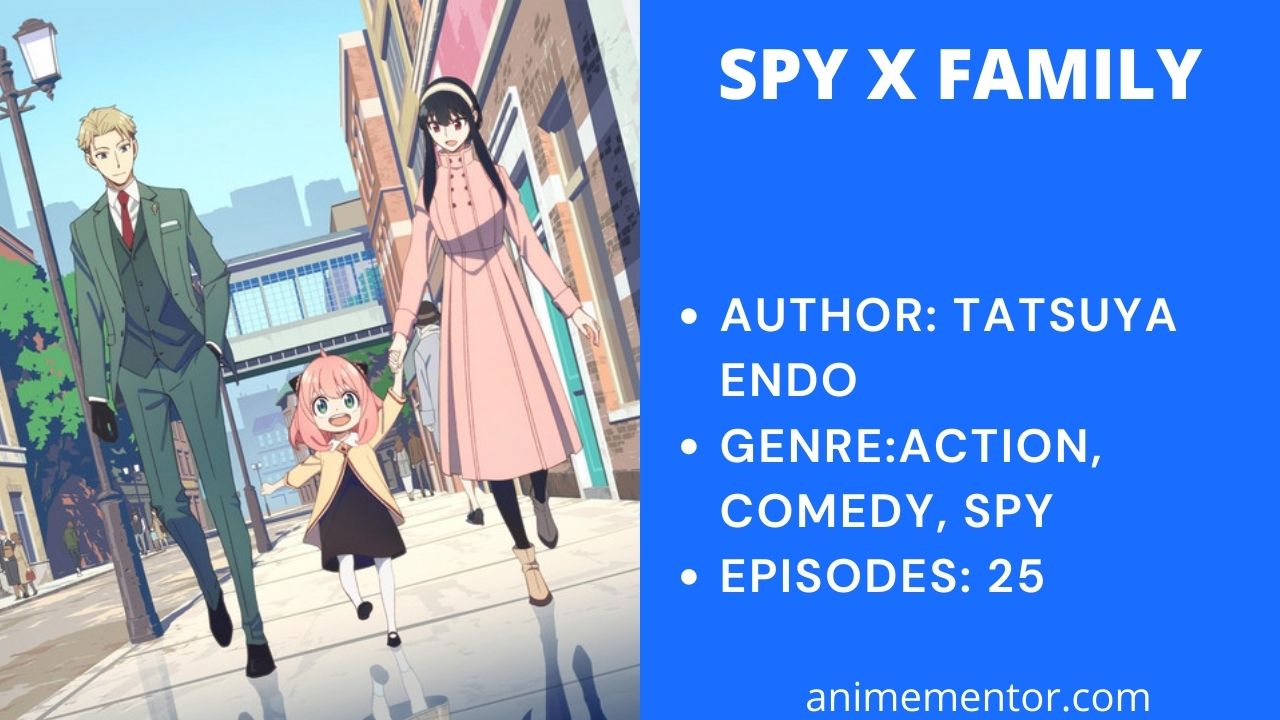 Author: Tatsuya Endo
Genre: Action, Comedy, Shounen
Episodes: 12
Agent Twilight is considered the best spy in all of Westalis. 
Now he is given a mission to investigate Desmond Donovan- the politician of Ostania. To do that he must set up a fake family, have a child, and infiltrate the famous Eden Academy where Desmond's child studies too. 
Twilight took on a disguise with the name Loid Forger and adopted a little girl named Anya from an orphanage to be his child. For his wife, Twilight forged a contract with Yor Briar – a normal and caring woman on the outside who was desperate to find a man.
However, little did Twilight know that the people he took in for his fake family are not ordinary.
Anya is a telepath and able to read anyone's mind and the loving not so bright Yor is an assassin known as the THORN PRINCESS who can kill anyone in a heartbeat.
Now starts the story of a setup family who must remain together hiding their secrets to get what they want.
12. Tokyo Revengers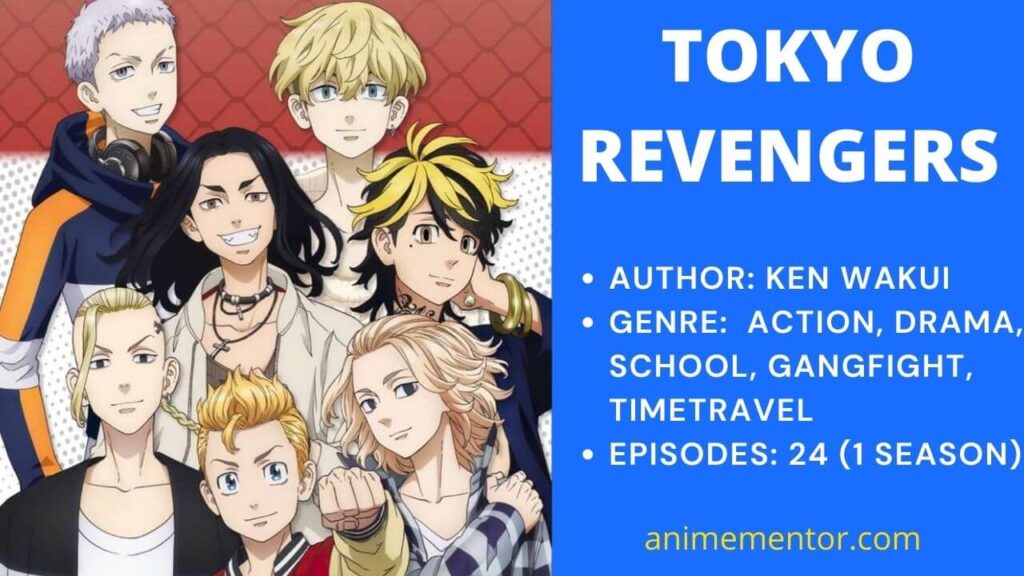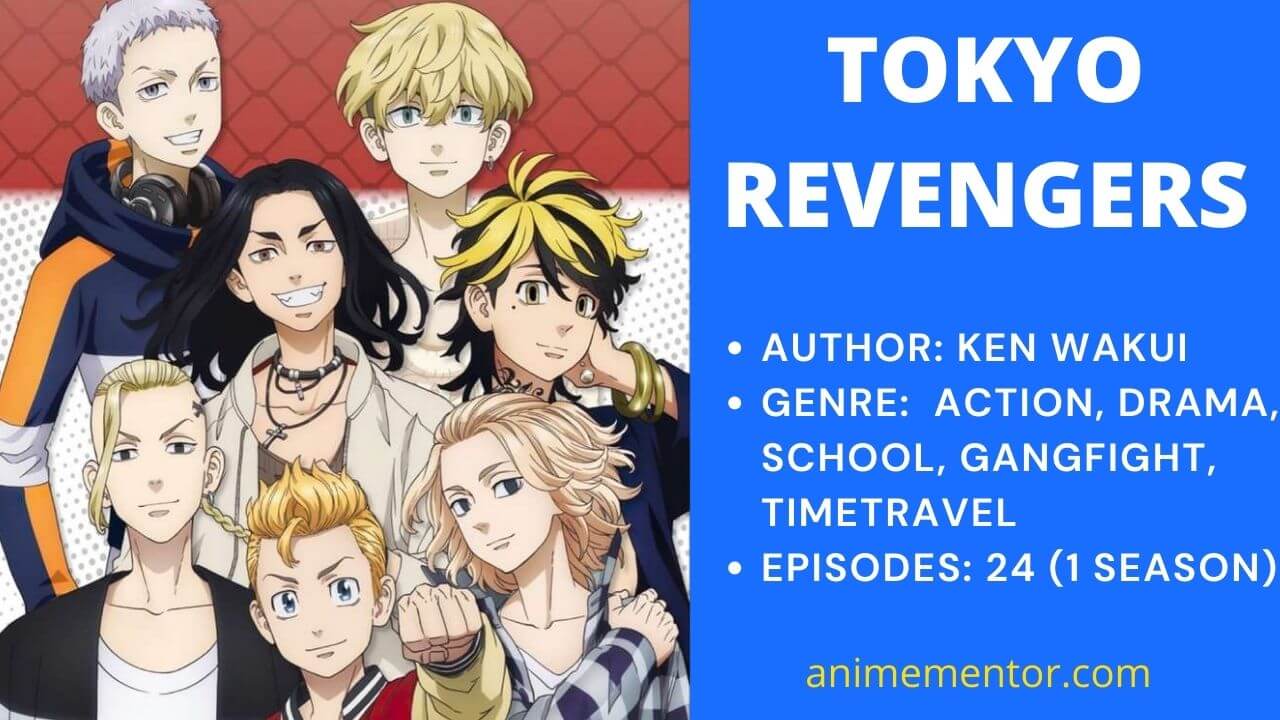 Author: Ken Wakui
Genre: Action, Drama, School, Shounen
Episodes: 24
Takemichi Hanagaki is a normal guy who does a part-time job to pay off his living and leads a boring life. One day he saw the news of a murder and to his surprise, the victim was his ex-girlfriend from high school- Hinata Tachibana.
Tachibana was murdered by the Tokyo Manji Gang – a group of cruel and vicious criminals. 
Wondering about this Takemichi got caught up in an incident and miraculously time-traveled to the past, 12 years ago when he was in high school. At this time he was in a relationship with Hinata.
Takemichi realizes that he needs to save her and therefore tries to get into the core of the Tokyo Manji Gang. To change the future he has to climb up the ranks of the gang and save Hinata from her death.
13. Jojo's Bizarre Adventure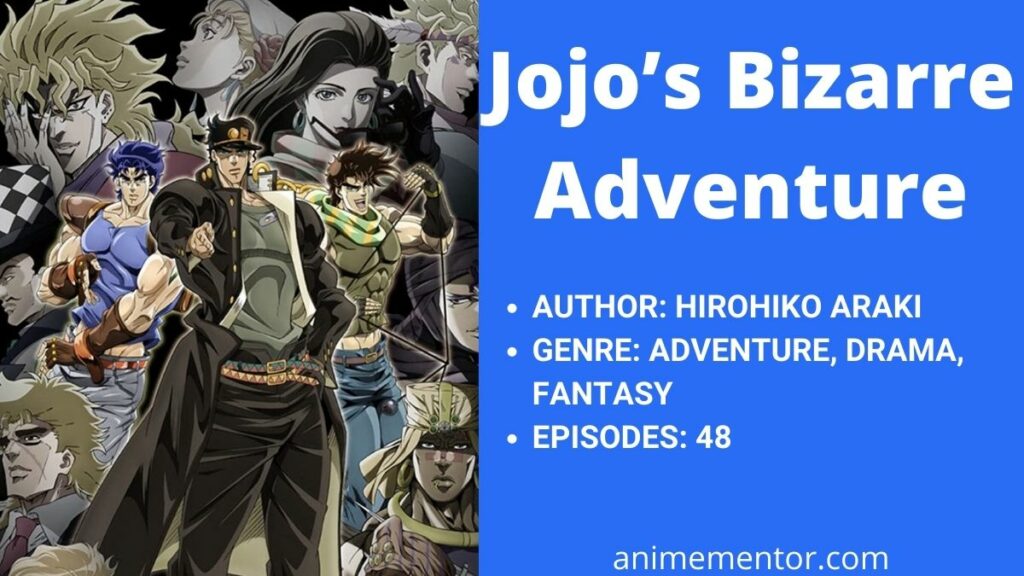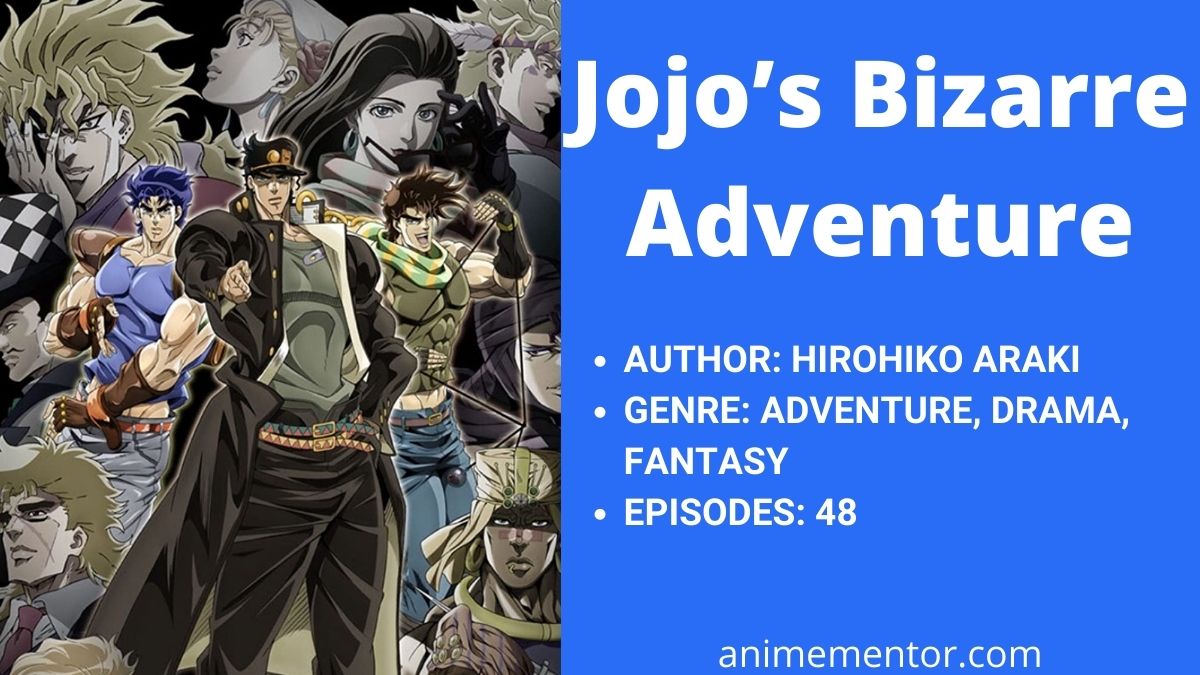 Author: Hirohiko Araki
Genre: Adventure, Drama, Fantasy
Episodes: 48
The story depicts the action-packed adventures of the Joestar family members. Each member of the family goes through an adventure and battles with the vampires and other Stand users in each arc.
Jonathan Joestar nicknamed Jojo finds himself against his stepbrother Dio Brando who is trying to take all of the Joestar family fortunes. Dio is an ambitious person who uses the power of an ancient stone mask. The stone mask makes him a powerful vampire with capabilities.
Now they must learn Ripple or Hamon to stop Dio!!
14. Assassination Classroom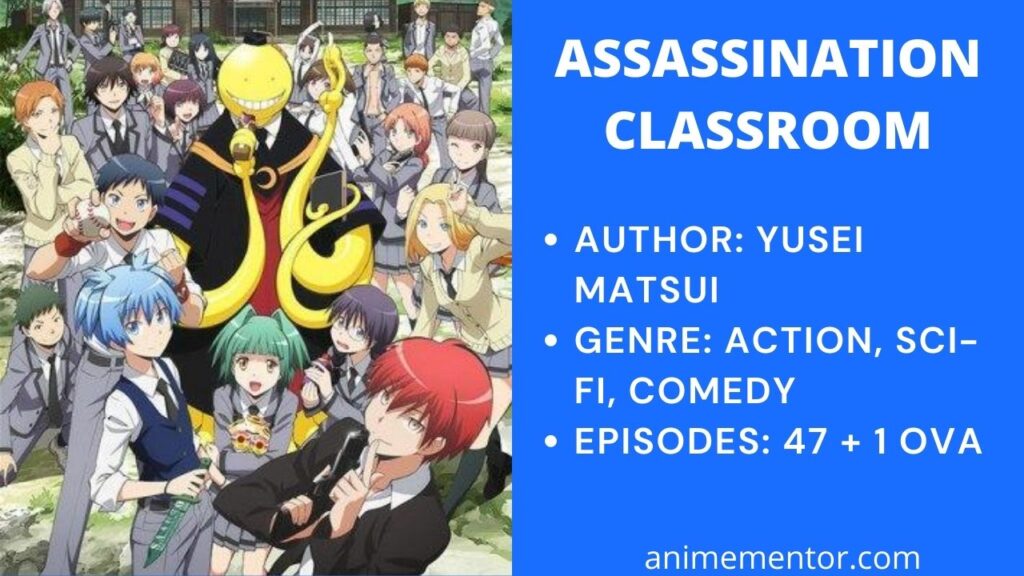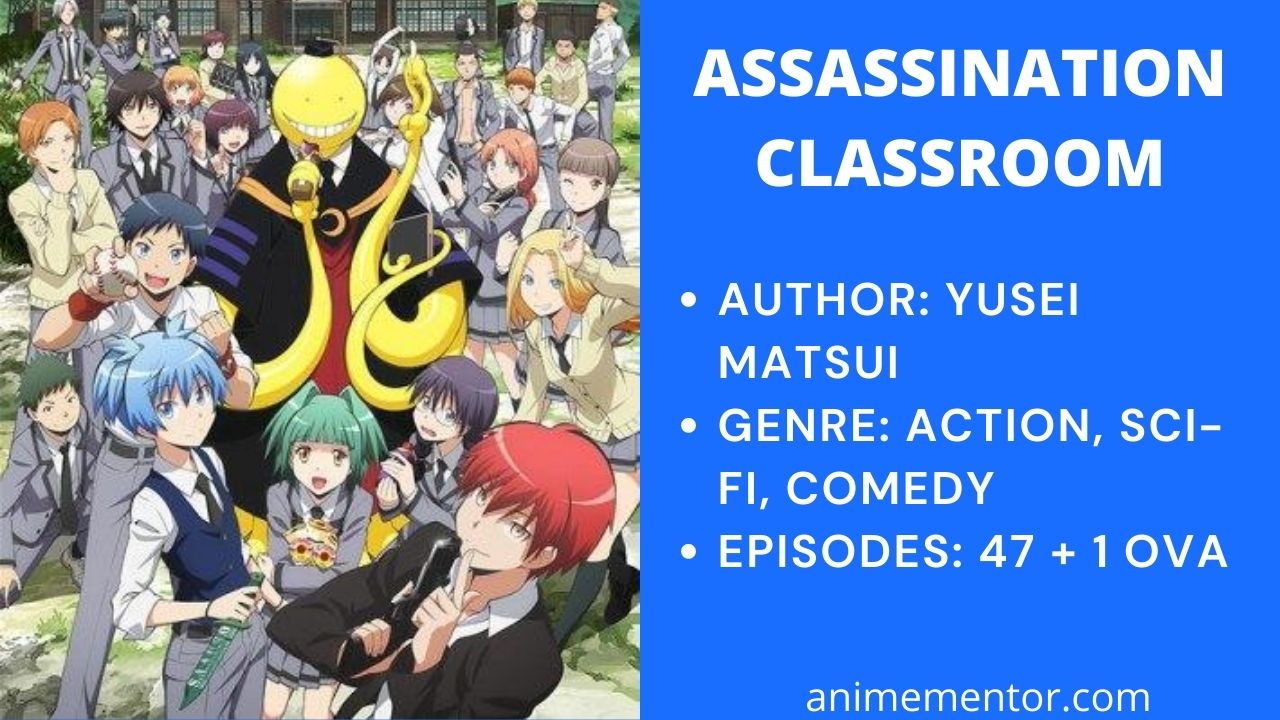 Author: Yusei Matsui
Genre: Action, Comedy, School, Shounen, Supernatural
Episodes: 47
This story is about an alien octopus with superpowers. He destroyed half of the moon and now threats to destroy the earth. To stop this from happening, he proposed a condition – to be the teacher of a section at a particular school. 
In this school, the lowest students get transferred to a different class-3E and are neglected by the teachers and staff.
The students of 3E were greeted by their new teacher- the octopus named Koro Sensei and were given an option to kill their new teacher by any means necessary to obtain rewards.
Now the fate of Earth depends on this class's hand!!
15. Baki Hanma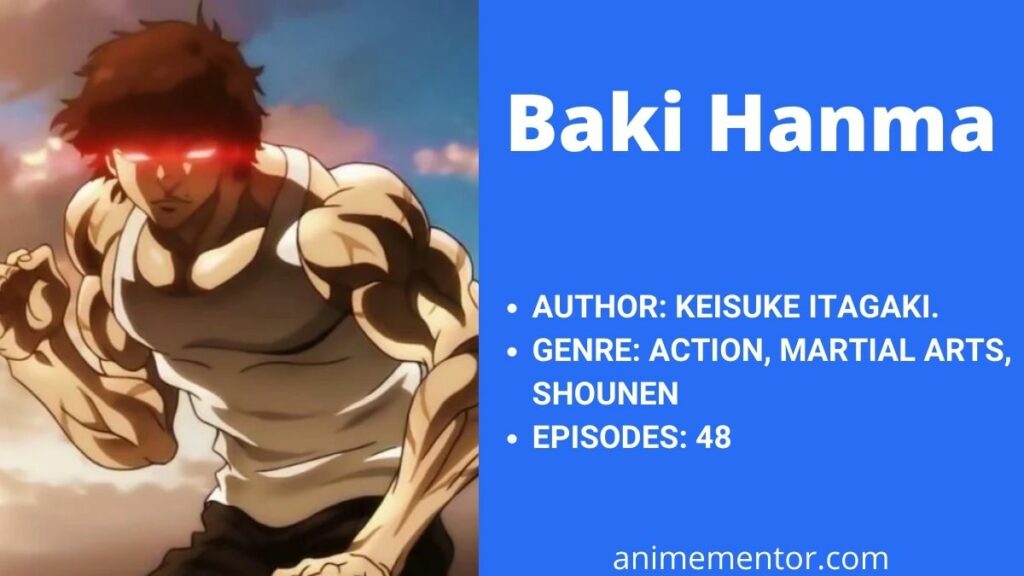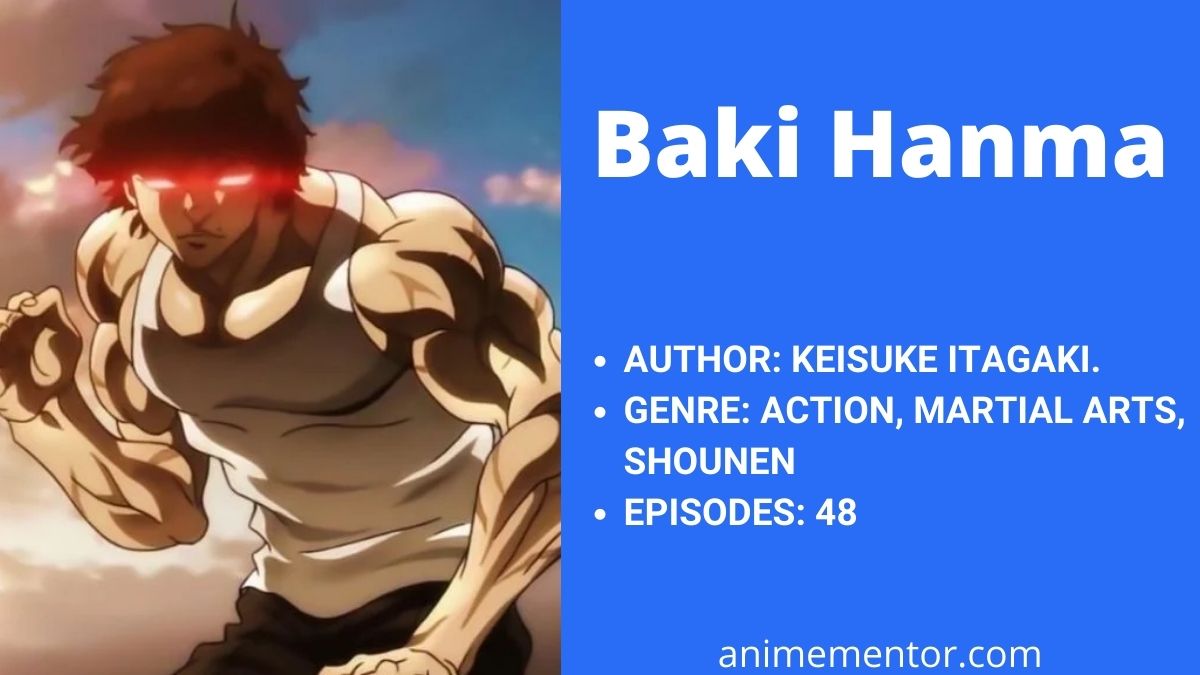 Author: Keisuke Itagaki.
Genre: Action, Martial Arts, Shounen
Episodes: 48
Baki Hanma's father Yujiro Hanma is considered the strongest fighter in the whole world. Baki trains with the sole purpose to become a stronger fighter and surpass his father.
However, things change when world's most brutal, five death row inmates gather together to challenge Baki. They have never been defeated and thus they don't feel the thrill of living anymore. So they want Baki to defeat and crush them. 
Baki along with his friends Kaoru Hanayama, Gouki Shibukawa, Retsu Kaioh, and Doppo Orochi are ready to face the five death row inmates and an epic battle begins now!!
16. Komi can't communicate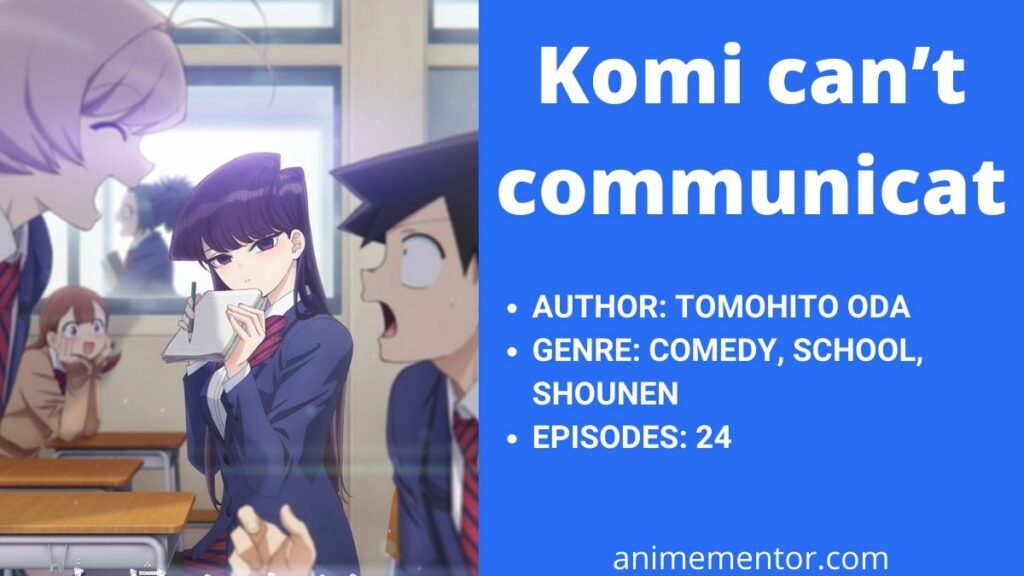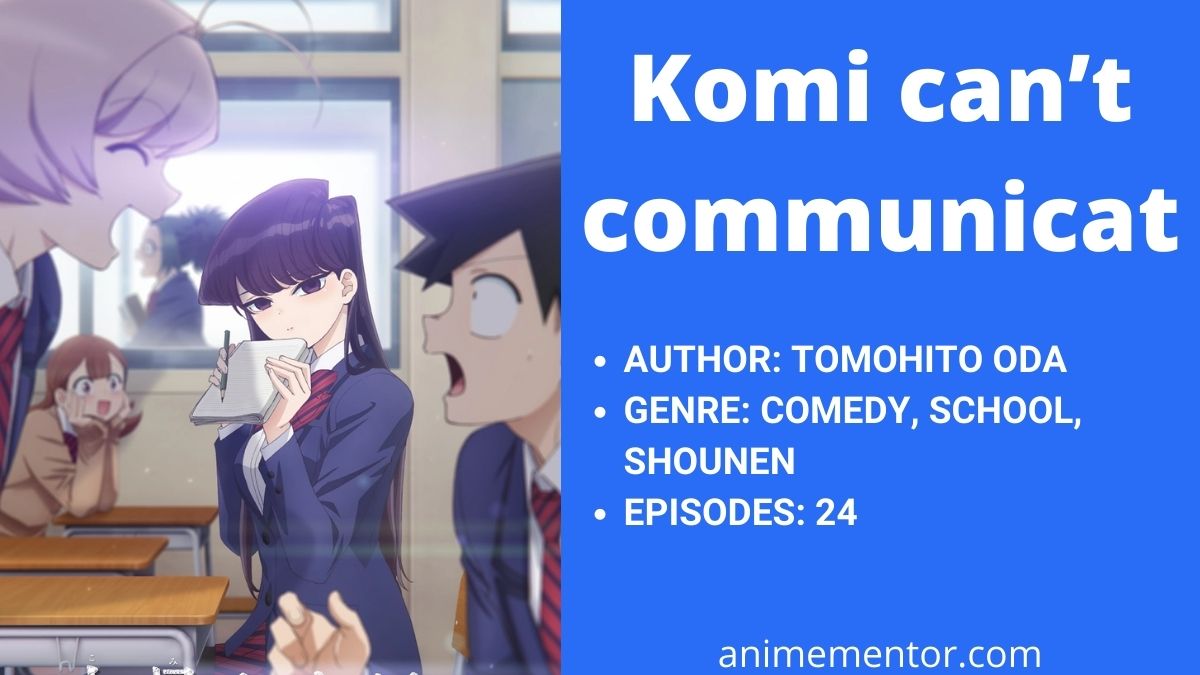 Author: Tomohito Oda
Genre: Comedy, School, Shounen
Episodes: 24
This story starts at the famous Itan Private High School where a girl named Shouko Komi starts her high school life. On her first day, she is considered the school's Madonna. 
An average high school boy named Hirohito Tadano who wants to never indulge in any kind of trouble sits beside Shouko. Gradually he understood that Shouko was terrible at talking and she hasn't made a single friend despite her charming appearance. 
Hirohito becomes her first friend and promises Shouko that he would help her to make her dream of making a hundred friends come true.
17. Seven Deadly Sins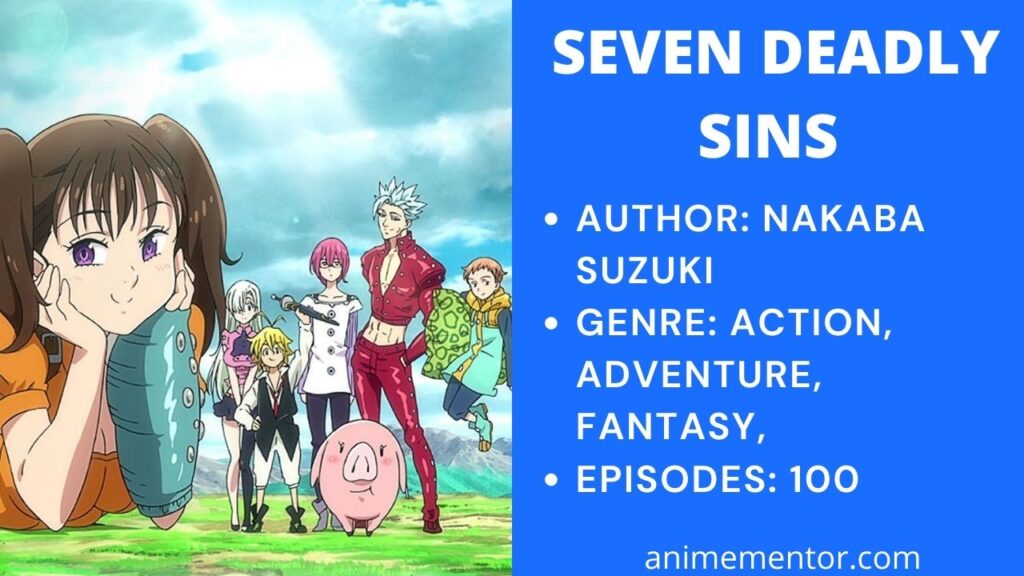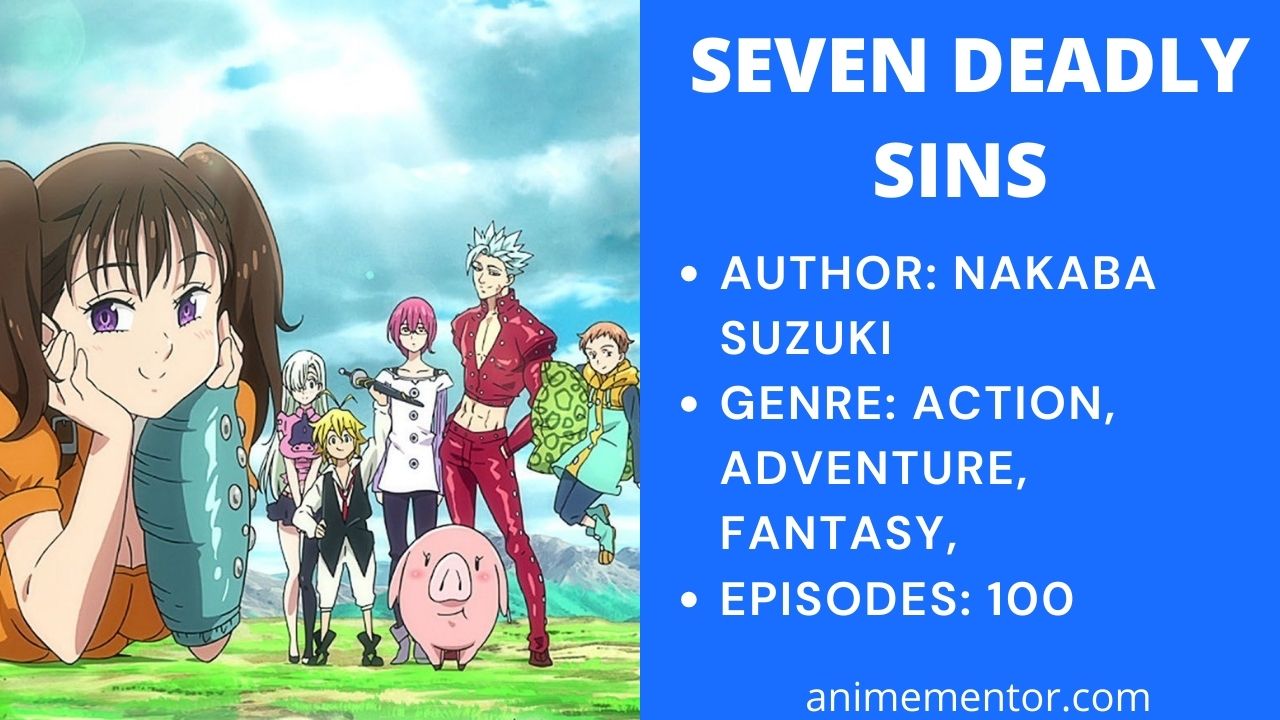 Author: Nakaba Suzuki
Genre: Action, Adventure, Fantasy
Episodes: 120
A group of evil knights comprising seven people with different personalities who once planned to overthrow the whole kingdom of Britannia came to be known as the Seven Deadly Sins. Rumour says that they were defeated by the Holy Knights but many think that they were still alive.
After 10 years, the Holy Knights plotted together and assassinated the king and became the new rulers of the kingdom. The king's only daughter, Elizabeth escaped from the castle and went out on a journey to find the Seven deadly sins to take the kingdom back.
18. Violet Evergarden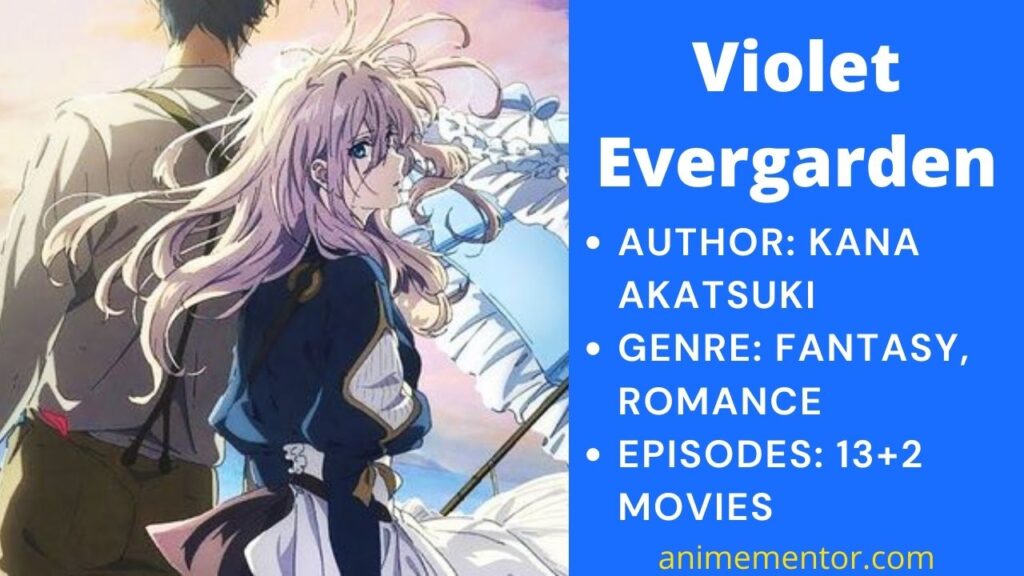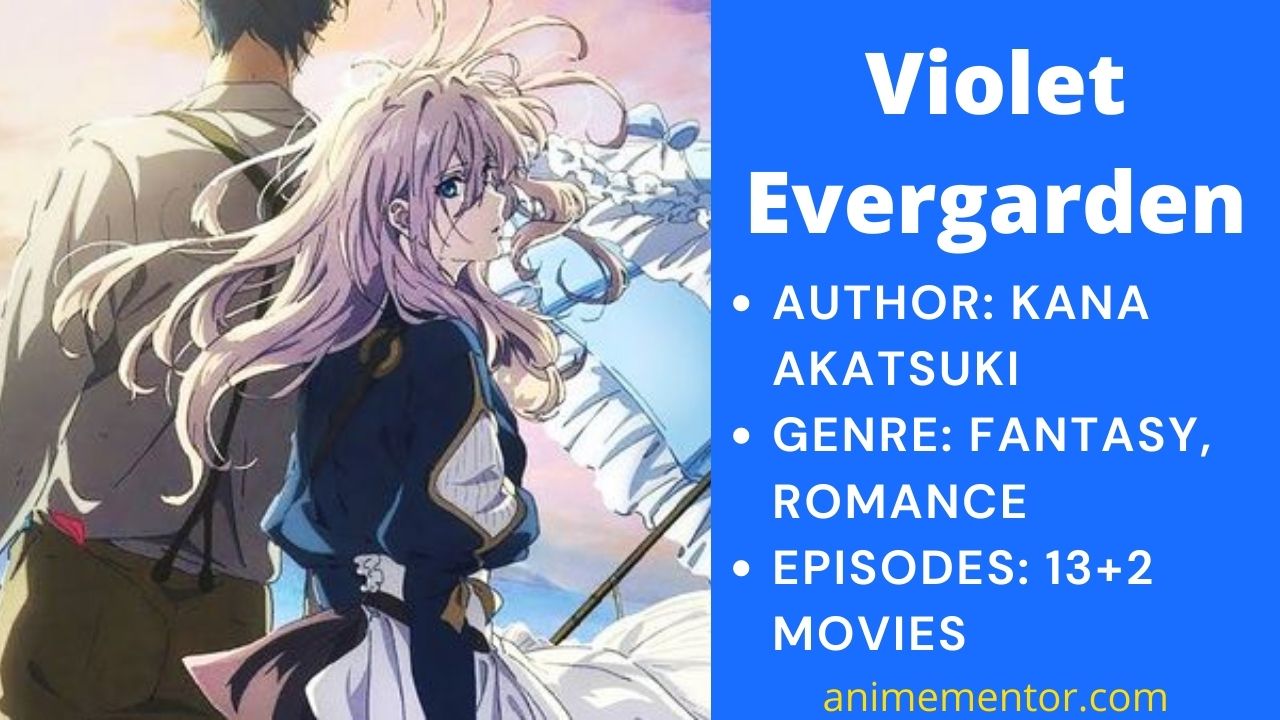 Author: Kana Akatsuki
Genre: Drama / Fantasy
Episodes: 14 + 2 movies
On the continent of Telesis, a great war broke out which continued for 4 years. Violet Evergarden was a woman deadly enough to be called a weapon was trained with to only purpose to be in the war.
She has no emotions, no expressions and she would anything she was commanded. During the last phase of the war, she was severely wounded and ended up in the hospital. 
Upon recovering she tried to find Major Gilbert, the person she was closest to. Previously Violet heard Gilbert say something before she got injured. He told her "I LOVE YOU" but she didn't know what it meant.
Now Violet starts a new journey in her life as an auto memory doll at the postal office. Here she tries to find the purpose of her life and find Major Gilbert to know what happened to him after the war.
19. Kakegurui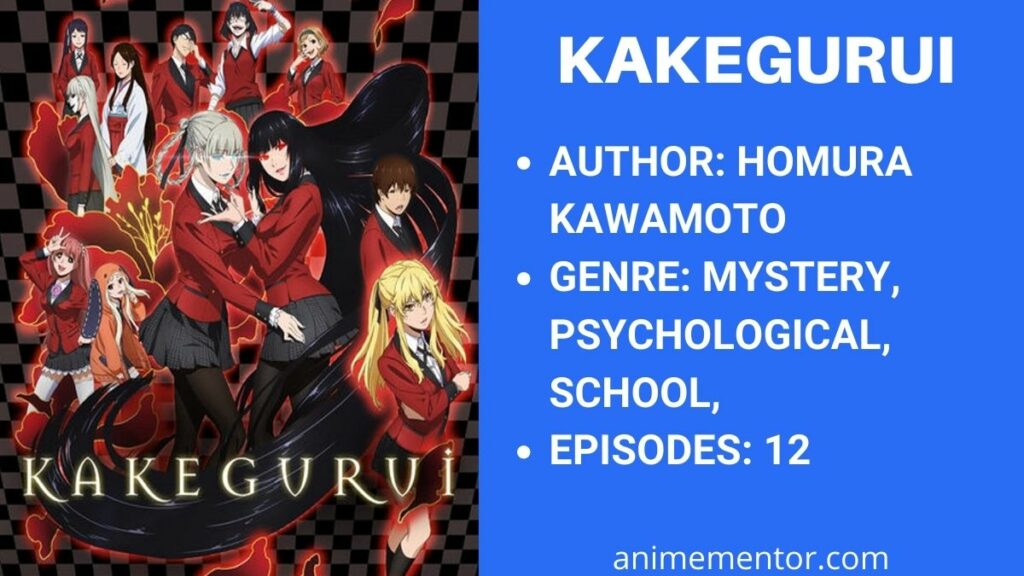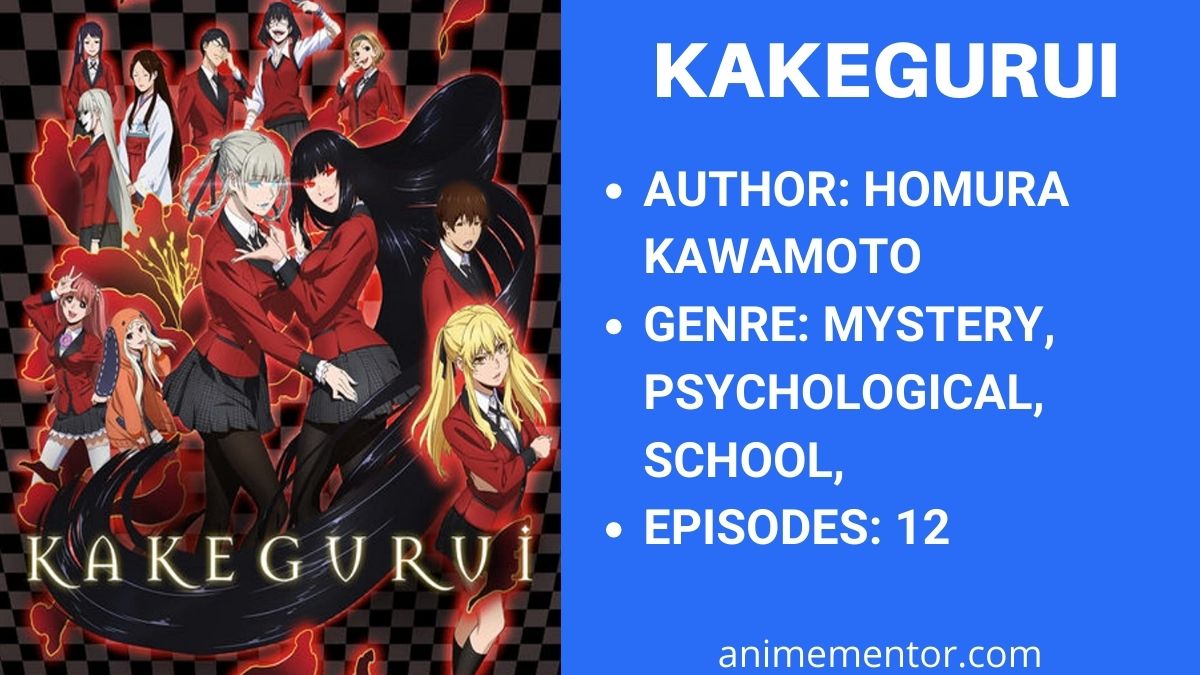 Author: Homura Kawamoto
Genre: Drama, Mystery, Psychological
Episodes: 24
Hyakkaou Private Academy is a prestigious and rich institution that follows a unique curriculum. Here the students learn how to deal with their opponents, how to read their next moves, and defeat them. 
And to do this they participate in gambling, various forms of gambling. The losers always obey the winners. Yumeko Jabami enrolls in this academy and shows everyone how to gamble like a real monster.
20. Devilman Crybaby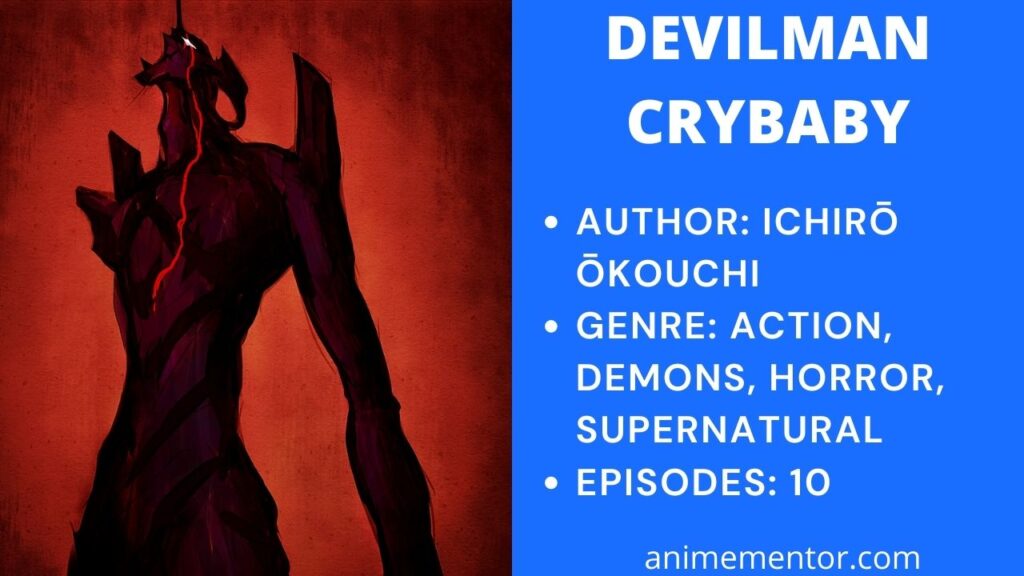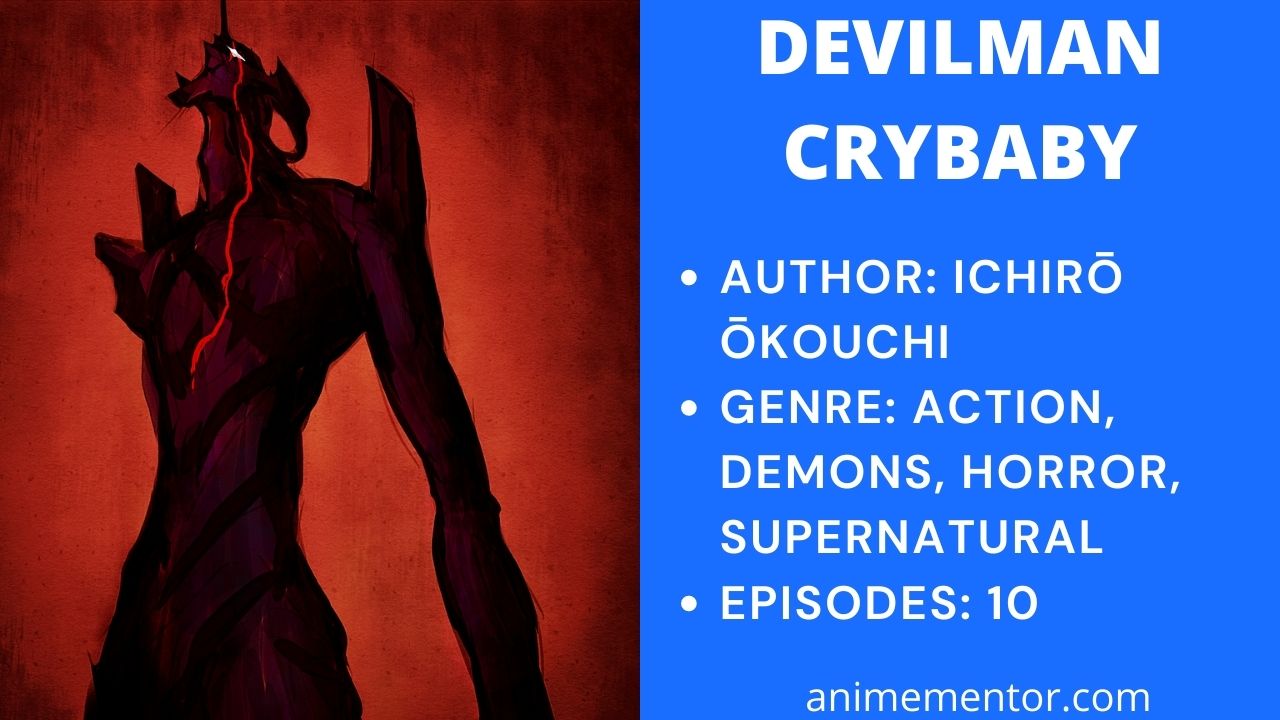 Author: Ichirō Ōkouchi
Genre: Action, Demons, Horror, Supernatural
Episodes: 10
Ryou Asuka ascertains his best friend Akira Fudo that one day the peaceful life of the humans will be snatched away by the demon clan's revival. To prevent the demon clan from doing so, they had to become stronger and more powerful than them.
Thus, Akira fuses with a demon and became a Devilman. Possessing the powers of a demon and the heart of a human, they set on a journey to stop the demon clan.
Conclusion
So, that's it for today. Hope you liked the Netflix best anime list. Please mention in the comments, the series which you enjoyed the most or will be watching next.
Meet you again in my next article, till then –
SAYONARA!