Romance is one of the most interesting genres of anime series which paves its way directly to our hearts. Everyone hopes of getting their true love someday. But it doesn't have to be in some similar ways, there are lots of different settings of this genre.
 Today we have listed here a special category of this genre which is comedy. We all want to have a relationship that is full of happiness and cheerfulness. This genre is all about making memories with our precious ones.
The stories with their comical appearance make you burst with laughter. It portrays a purely romantic sense through these anime series. Be sure to check out all these awesome anime series. So, without wasting any more time, check out these amazing anime series for a better time which I have listed below:-
1. Horimiya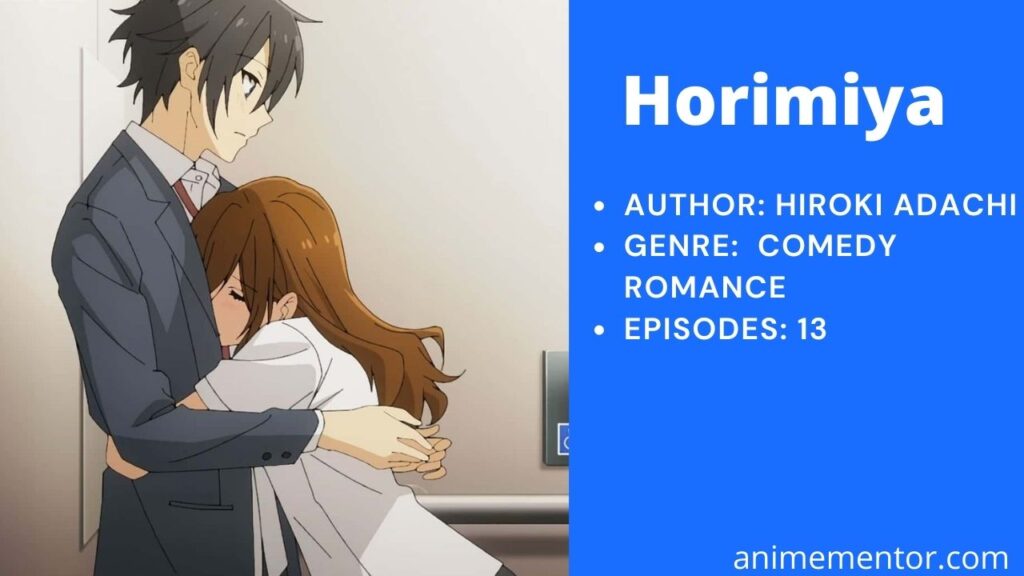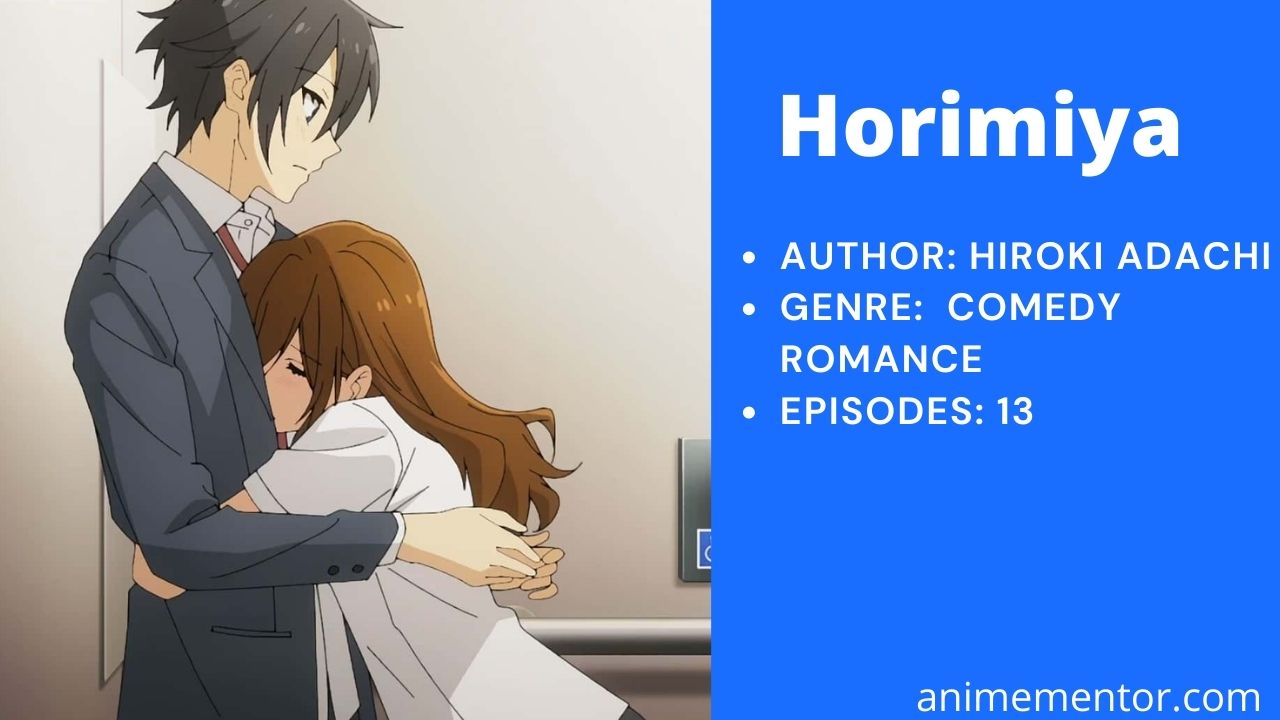 AUTHOR: Hiroki Adachi
GENRE:  Comedy/ Romance/ School/ Slice Of Life
EPISODES:  13
Kyouko Hori is an attractive and popular high school girl. She is admired at school for her academic excellence but she has been hiding another side of her. Mostly her parents stay away from home due to work. So, Hori looks after her younger brother and does the household work, with no time to socialize outside of school.
While on the contrary, Izumi Miyamura is a quiet, glasses-wearing person. Although it's only on the outside because, in reality, he is a handsome and bold guy. He also has many piercings in his ears and also tattoos on his body.
Coincidentally, Hori and Miyamura encounter one another outside of school – neither one looking the way they expected. At first sight, Hori didn't even recognize Miyamura. He looked the complete opposite of what he looked at school. Eventually, they became friends, and share a side of their life they have not shown to anyone before.
2. Oregairu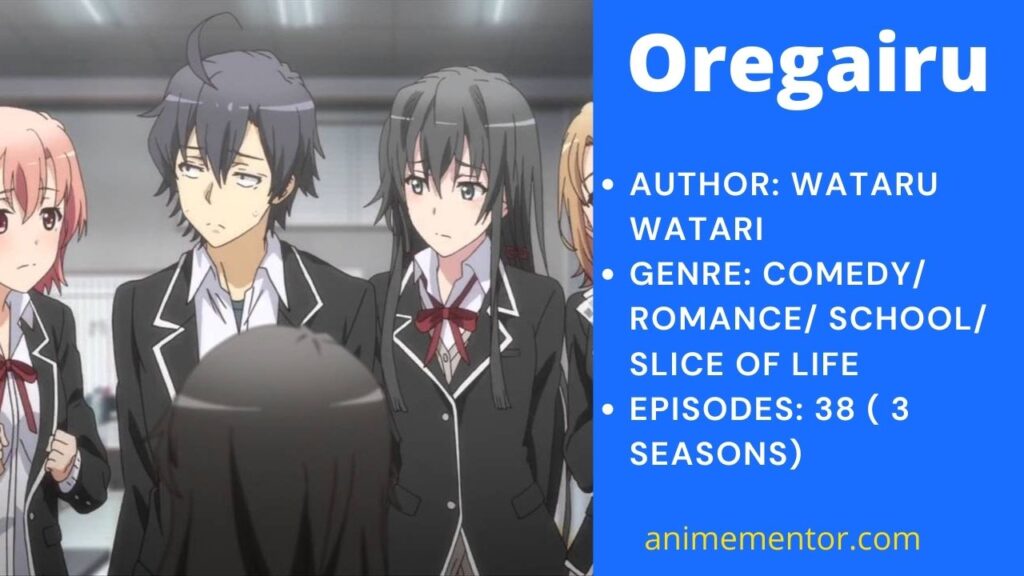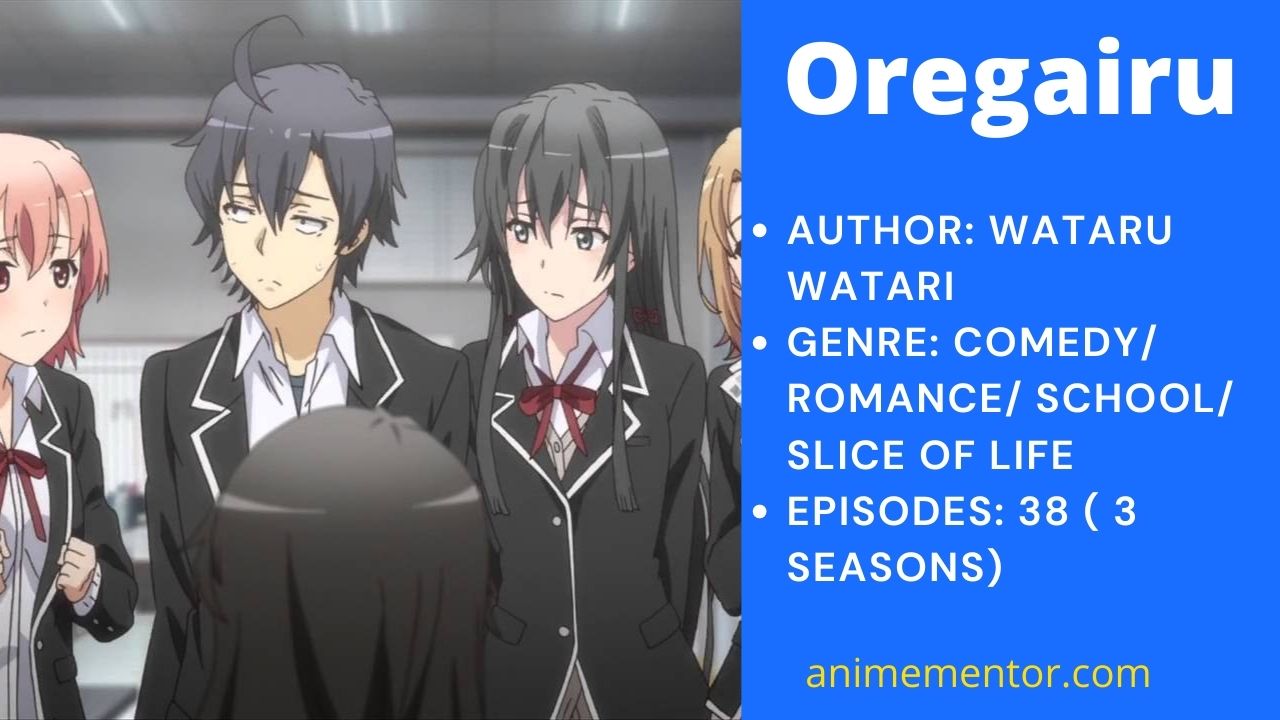 AUTHOR: Wataru Watari
GENRE:  Comedy/ Romance/ School/ Slice Of Life
EPISODES:  38 ( 3 seasons)
The main protagonist of this rom-com is an introverted, unsocial high school student named Hikigaya Hachiman. In his opinion, his classmates are a group of liars. Because they just spout nonsense and false things about their happy adolescent life. He has no interest in his friends and also in his life. He has no future dreams for himself. One day he joins a new club called the "Volunteer Service" club due to a teacher and there he meets the prettiest girl in the school, Yukinoshita Yukino. Yukino is a straightforward and bold girl. She is also top at academics and a perfect girl overall. But the fact is she too is a loner who nobody messes with. The main objective of this club was to provide service to others. They helped other school committees by lending a hand to them. After joining the club Hachiman's daily life of dullness begins to change and one day he finds his life a little bit more meaningful.
3. Ao Haru Ride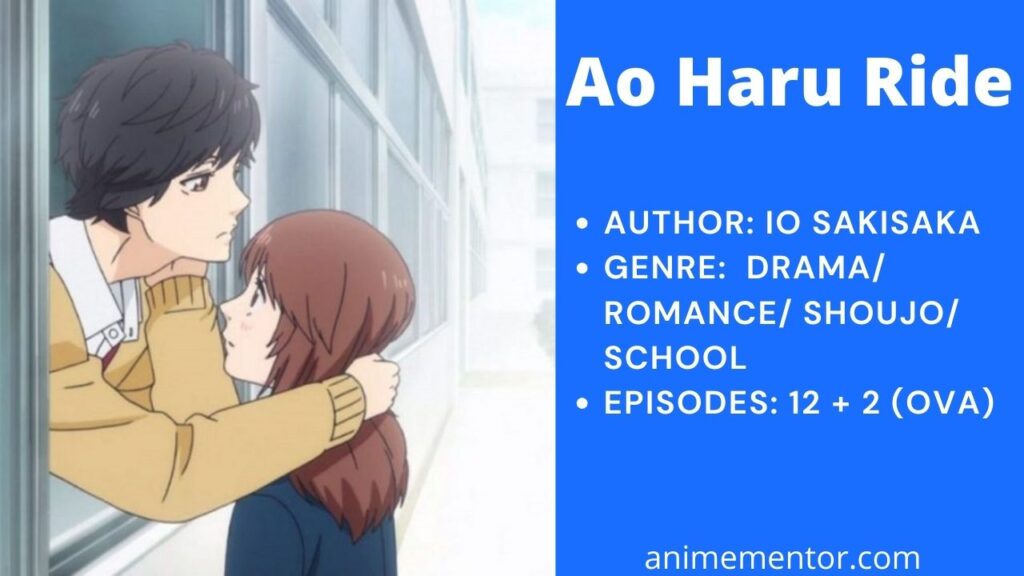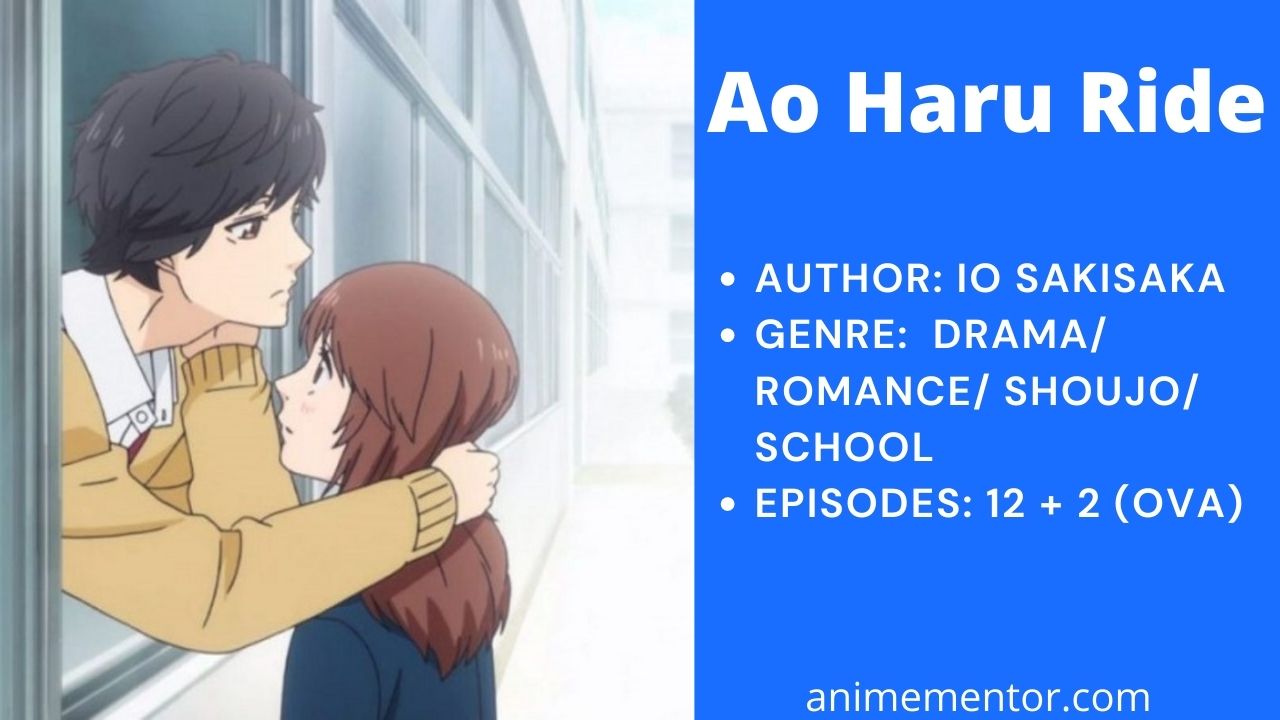 AUTHOR: Io Sakisaka
GENRE:  Drama/ Romance/ Shoujo/ School
EPISODES: 12 + 2 (ova)
In middle school, Yoshioka Futaba used to be in love with a boy named Tanaka Kou but, she couldn't get her feeling across to the only boy she has ever liked. But due to some sudden circumstances, Kou changes his school and their relationship as good friends also end. Now Yoshioka wants to reset her life in her way as a new high school student. She was determined to be a like-minded person so that her friends won't get jealous of her. But once again in high school, she stumbles upon her lost childhood love Tanaka-Kun. But this time his name was Mabuchi Kou. He tells her that he also had the same feelings for her back then in childhood but now it's just become a thing of the past.
Will Futaba be able to confess her feelings to Kou?
4. Kaguya Sama: Love Is War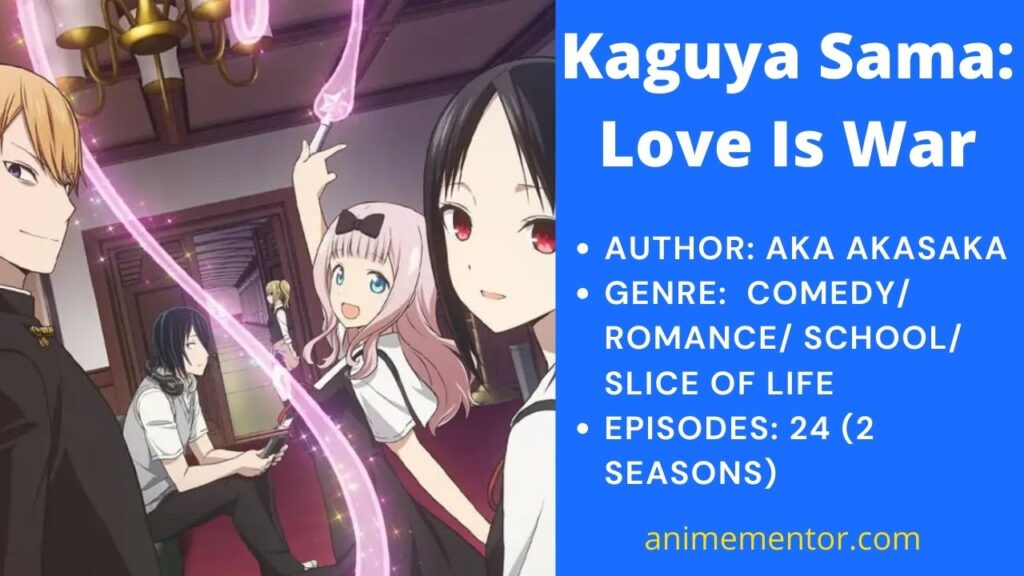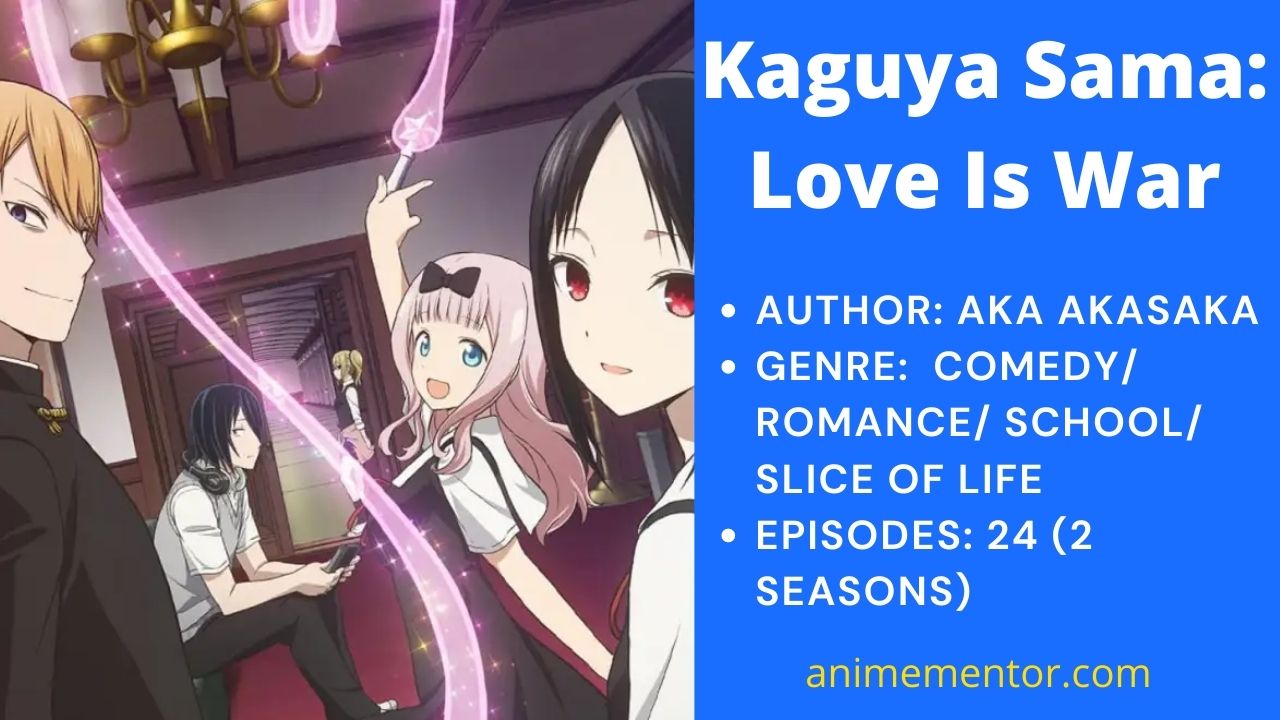 AUTHOR: Aka Akasaka
GENRE:  Comedy/ Romance/ School/ Slice Of Life
EPISODES:  24 (2 seasons)
This story follows a boy named Miyuki Shirogane. He is regarded as the most genius student in the whole country due to his excellent grades. He is now currently the president of the student council at the reputed Shuchiin Academy. The vice president of this student council is a charming and beautiful girl named Kaguya Shinomiya. She comes from a wealthy family.
The students of the school consider them as a perfect pair for relationships though, in reality, they are not in any sort of relationship. But now after being with each other together for a long time, they have started to have feelings for each other which they cannot express. According to them making a confession first is a symbol of weakness. Their pride as top students won't let them do it. So, they adopted a new method of winning this war. Now they try to make one another confess first by any means necessary and this war of love begins!!!
5. Rascal does not dream of bunny girl senpai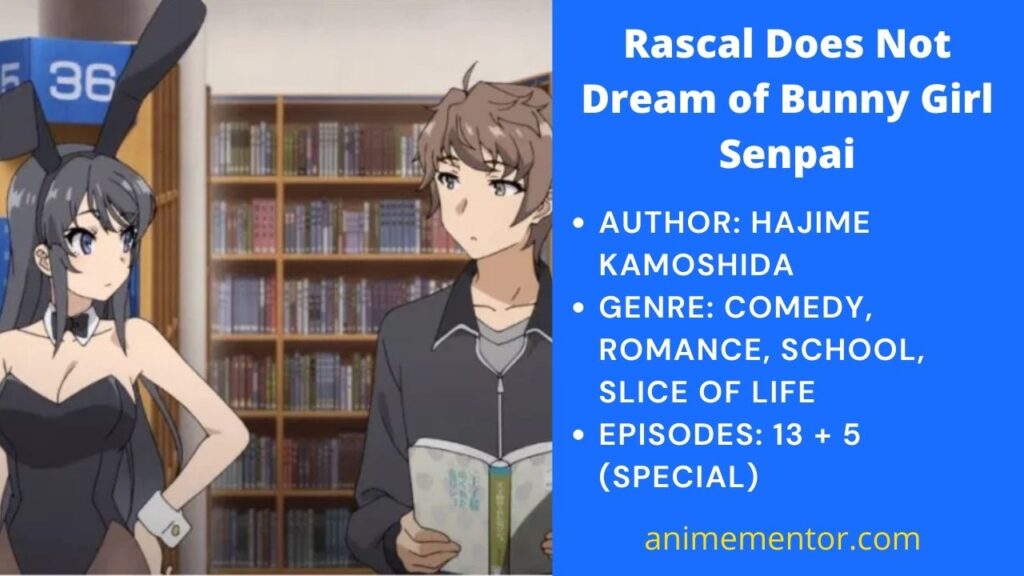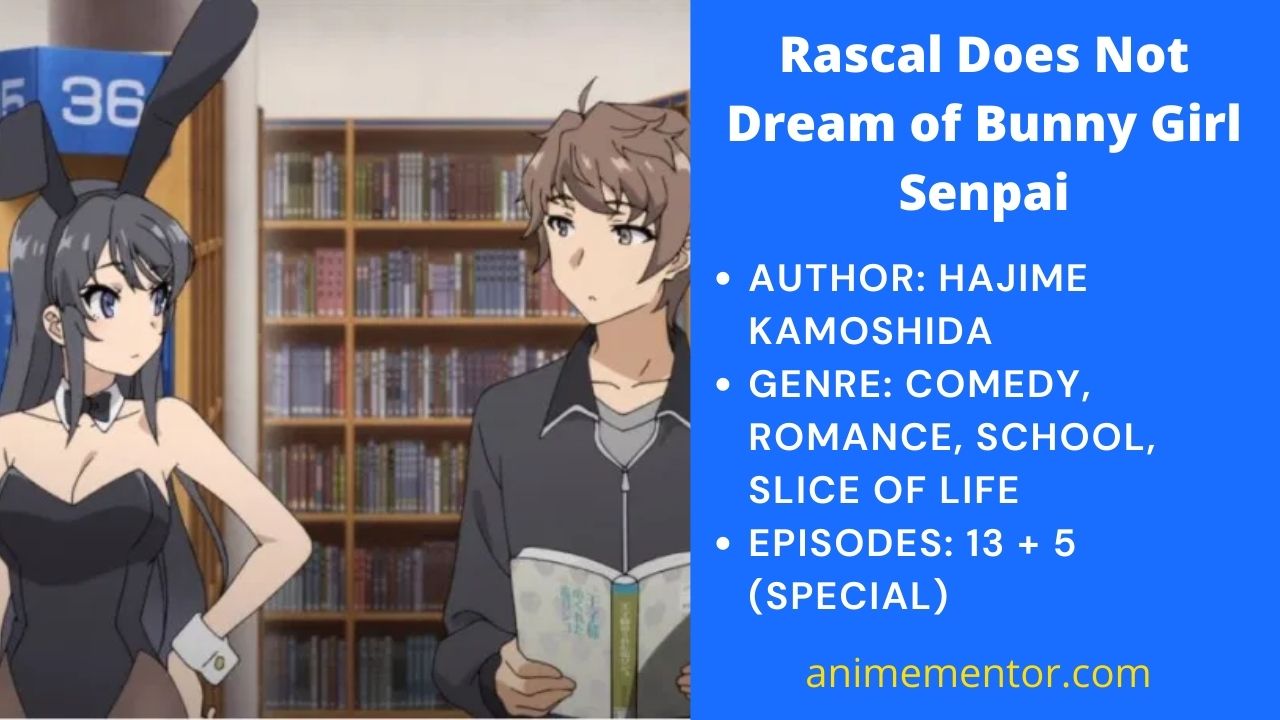 AUTHOR: Hajime Kamoshida
GENRE:  Comedy/ Romance/ School/ Slice Of Life
EPISODES:  13 + 5 (special)
The story follows a young boy named Sakuya Azusagawa, who is a second-year student at Minegahara High School. He was a dull normal student who has no high hopes for his life. One day he stumbles upon a girl who was wearing a bunny costume at the library. The mysterious fact was that only he could see the bunny girl while no one present at the library can. Later Sakuta finds out that the bunny girl was Mai Sakurajima, who was a third-year student at his school. Also, she was a very popular actress who was currently on hiatus from acting. Gradually, he started to develop feelings for her. But Sakuta couldn't understand the reason behind the case and why the people around her can't see her in a bunny girl attire.
Can Sakuta finally reveal the cause behind this mysterious syndrome?
6. Oresuki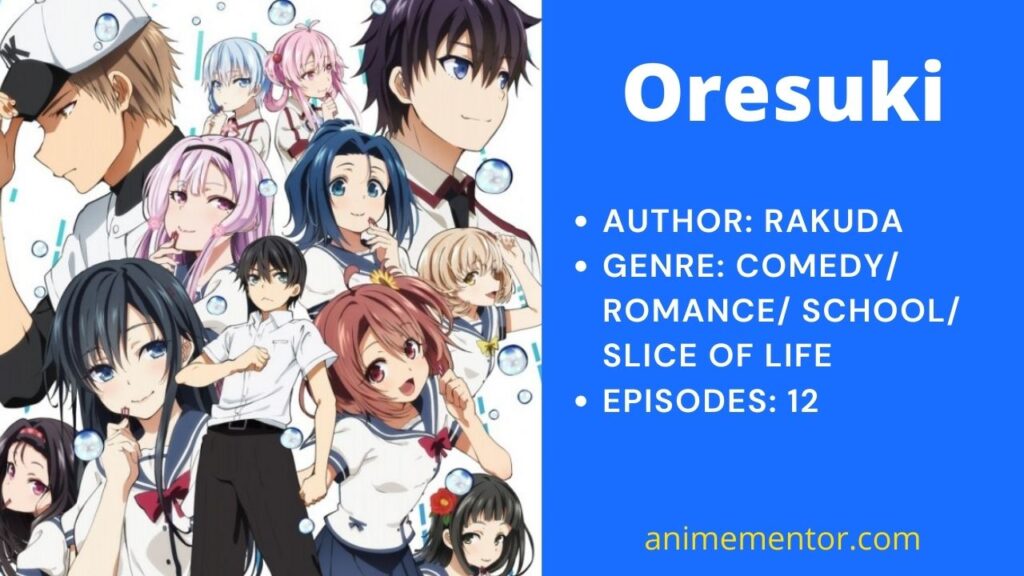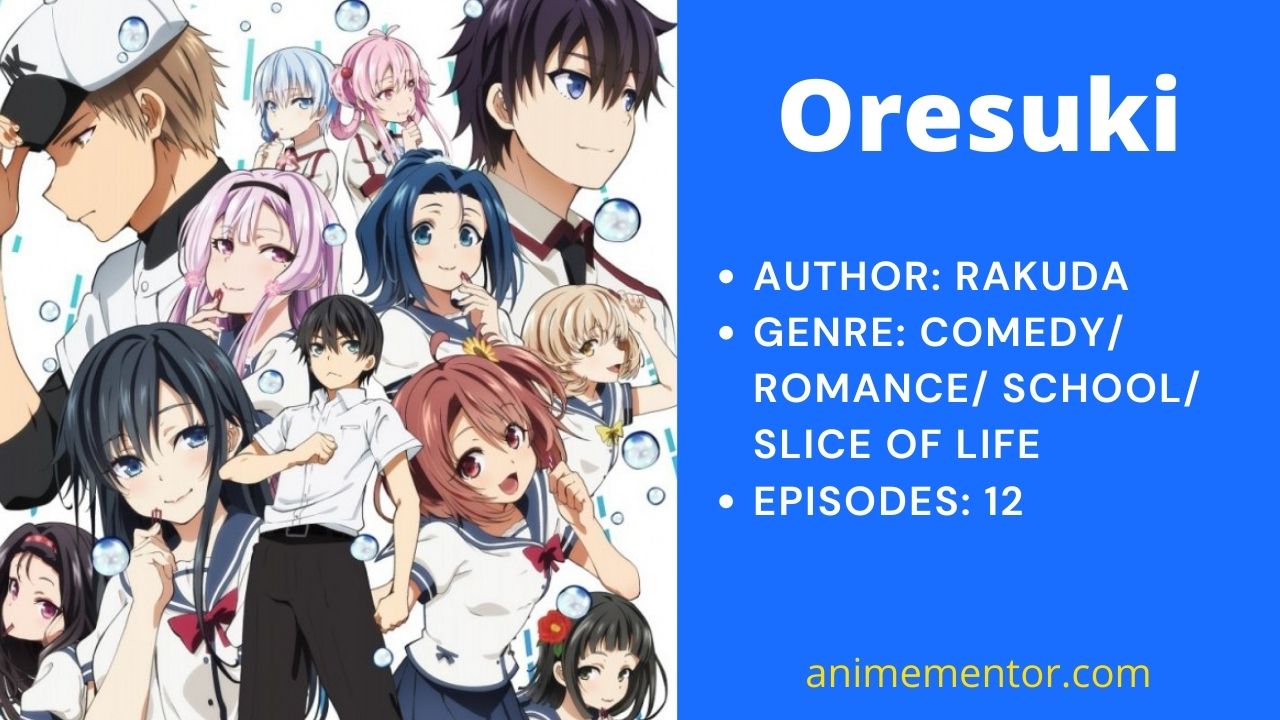 AUTHOR: Rakuda
GENRE:  Comedy/ Romance/ School/ Slice Of Life
EPISODES:  12
It's a story of a high school boy named Kisaragi Amatsuyu who wants to have love in his life and not just only love but lots and lots of love. He is also a student council member. One day he was asked to meet alone by the beautiful and attractive student council president, Cosmos.  And another day his childhood friend a really cute girl named Himawari also invited him to meet alone. Here comes the twist, when he met both of them, they both confessed that they like his best friend named Oga. Amatsuyu wanted to make one of the girls confess to her but instead of that, he created a major misunderstanding Later due to a girl's interference he was found to be not guilty. The girl looked dull and gloomy with glasses and braided hair. Amatsuyu hated her due to her appearance and her words. But later he finds out that this girl was the only one who ever cared about him.
Will Amatsuyu ever find true love in his life?
7. Clannad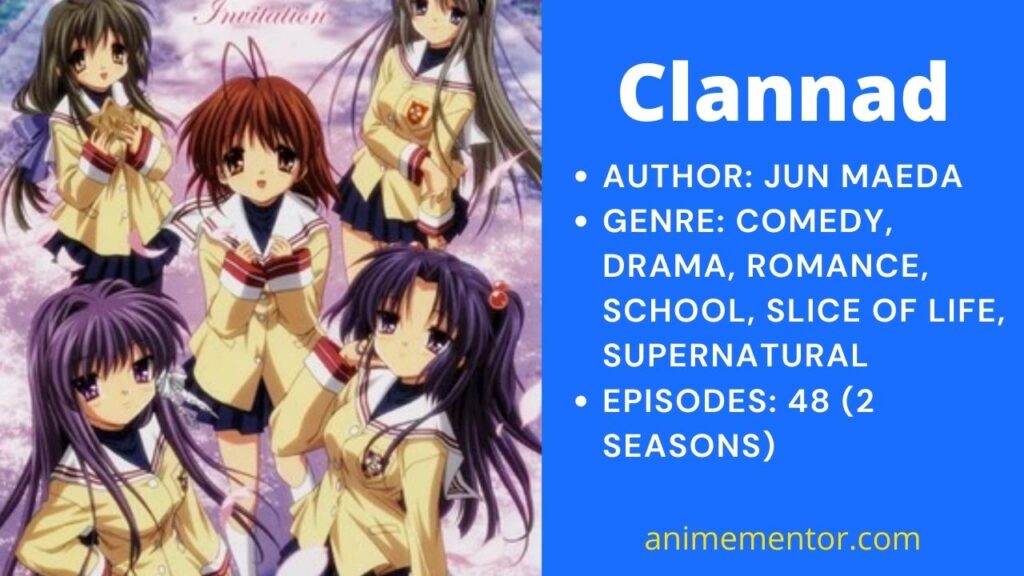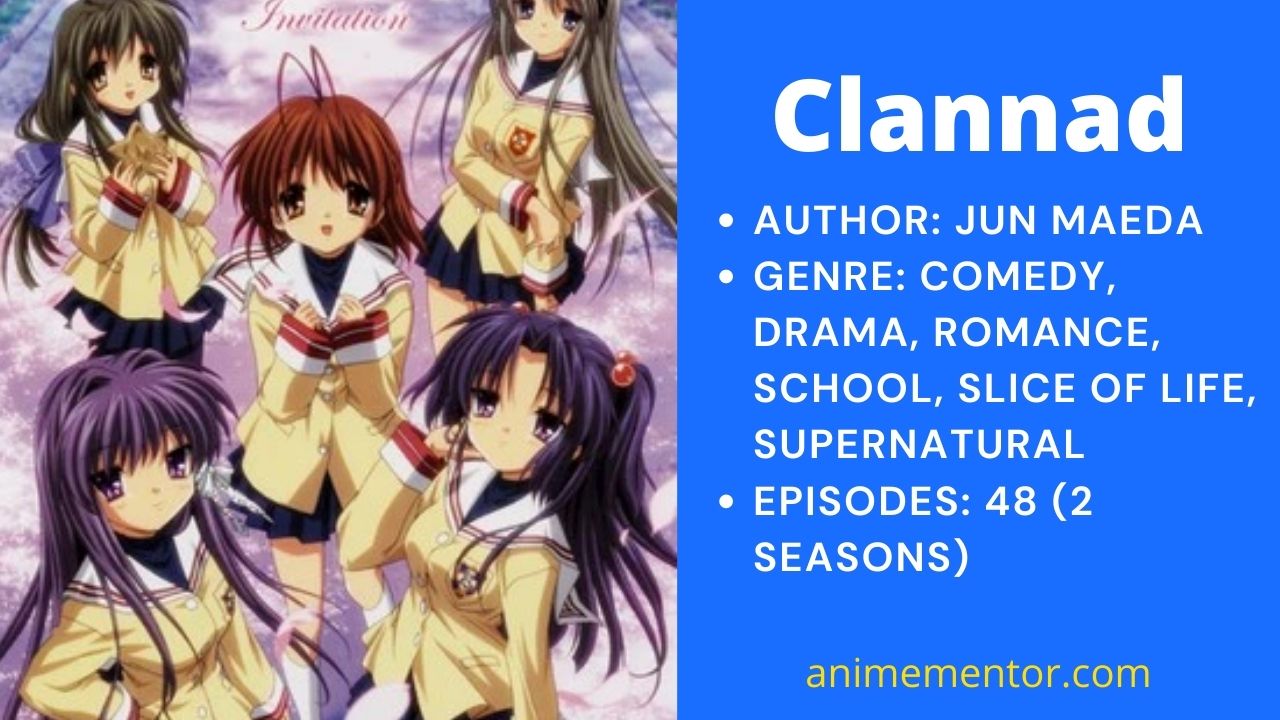 AUTHOR: Jun Maeda
GENRE:   Comedy, Drama, Romance, School, Slice of Life, Supernatural
EPISODES:  48 (2 seasons)
The story of Clannad follows a third-year high school boy named Tomoya Okazaki who is not at all satisfied with his life. Rather he despises living every day. 
Due to a horrific incident in his childhood his mother dies in a car accident. To ease his pain, Tomoya's father started drinking and even went to do gambling. Tomoya would always forbid his father from doing those things but his father would never listen to him.
One day Tomoya got into a fight with his father and he was injured at his shoulder. From that point on he always avoided his father and had distant relationships with him.
He would never talk to his own father and it made him quite lonely.
One day while going to school he encounters a weird girl named Nagisa Furukawa who was just standing by the road. She was mumbling something in her own mind and it was about her favorite foods. She was one year older than Tomoya but due to her illness, she was repeating the same class.
Nagisa does not have many friends as all her classmates have passed to the next grade. Thus she is often alone.
Later, however, Tomoya became good friends with Nagisa and the two started sharing about everything.
With Nagisa, Tomoya finds new hope in his depressing life and his life starts to move in a new direction.
Will Tomoya truly find happiness?
8. Rent-a Girlfriend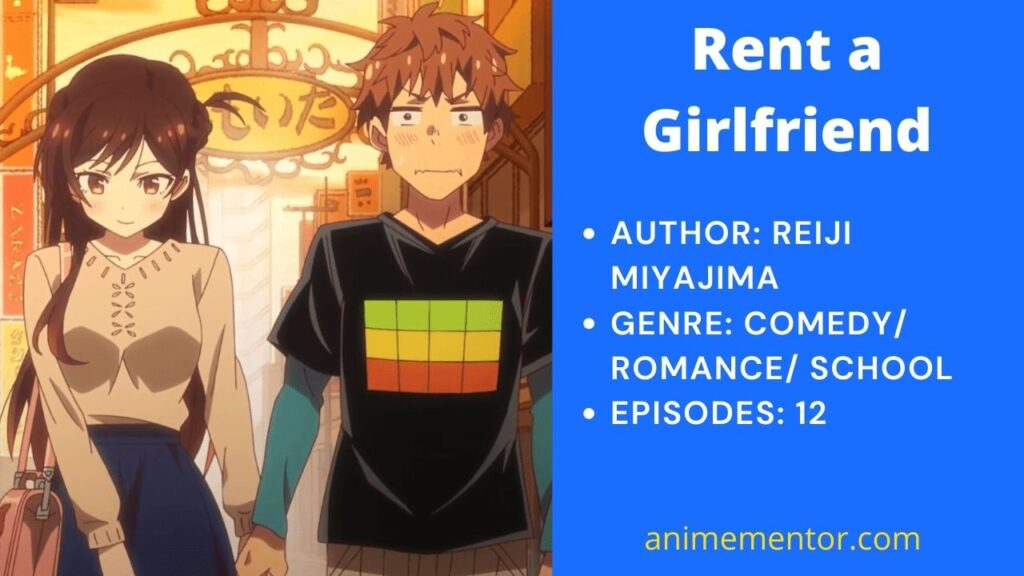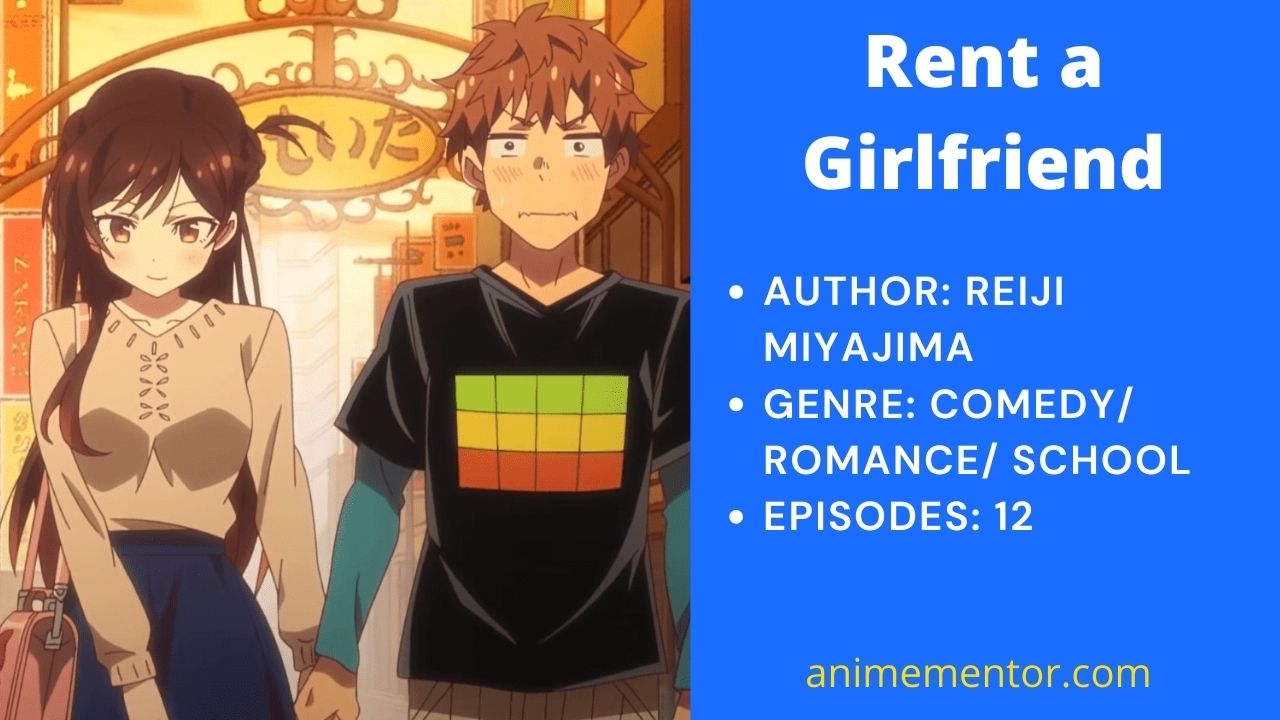 AUTHOR: Reiji Miyajima
GENRE:  Comedy/ Romance/ School
EPISODES:  12
The story starts when a college student named Kazuya Kinoshita gets rejected by his girlfriend. Due to this, he was mentally upset and very depressed. One day he finds out about an app where he can book rental girlfriends for money. To put his heart at ease, he booked a rental girlfriend for himself. Later, when he saw the rental girlfriend, she was a beautiful and very attractive girl called Mizuhara Chizuru. She was just perfect with an angel-like appearance for him. He was full of energy that day. At the end of this date, Kazuya had some questions in his mind about Mizuhara. He thought that Mizuhara was just playing with people's hearts which was not right. So, in the app, he gave her a negative rating. Mizuhara was not at all satisfied with her client's negative rating. She shows her real nature which is quite bold and audacious. It was like she was the complete opposite of what Kazuya had seen her previously. Now Kazuya's grandmother's last wish is to see that Kazuya finds a partner for himself. Due to an incident, she was forced to believe that Mizuhara was his serious girlfriend. Kazuya was not able to tell her grandmother the truth as it could have damaged her health conditions more. So to please his grandmother they both started a fake relationship status between themselves.
9. Love, Chuunibyou & other Delusions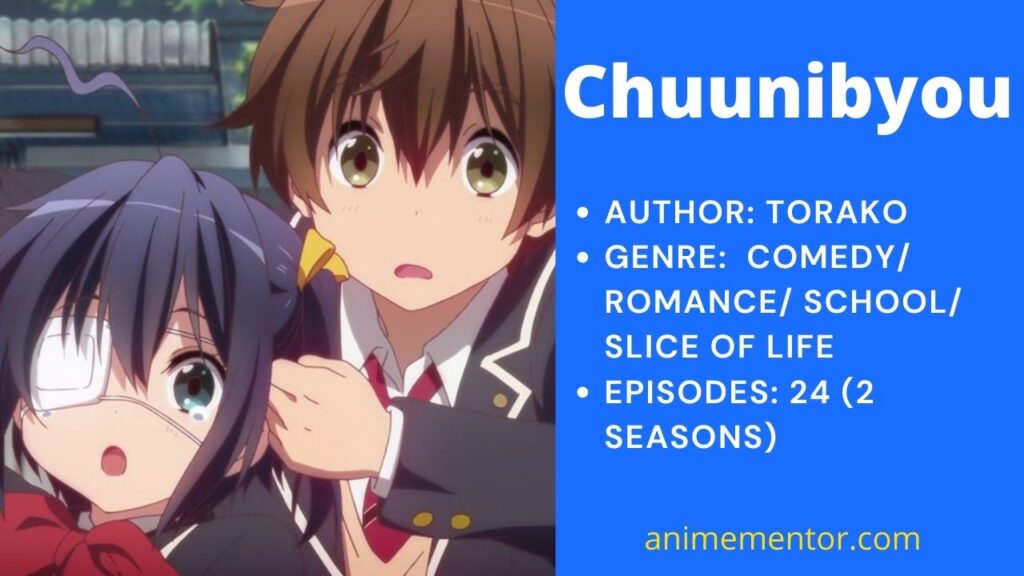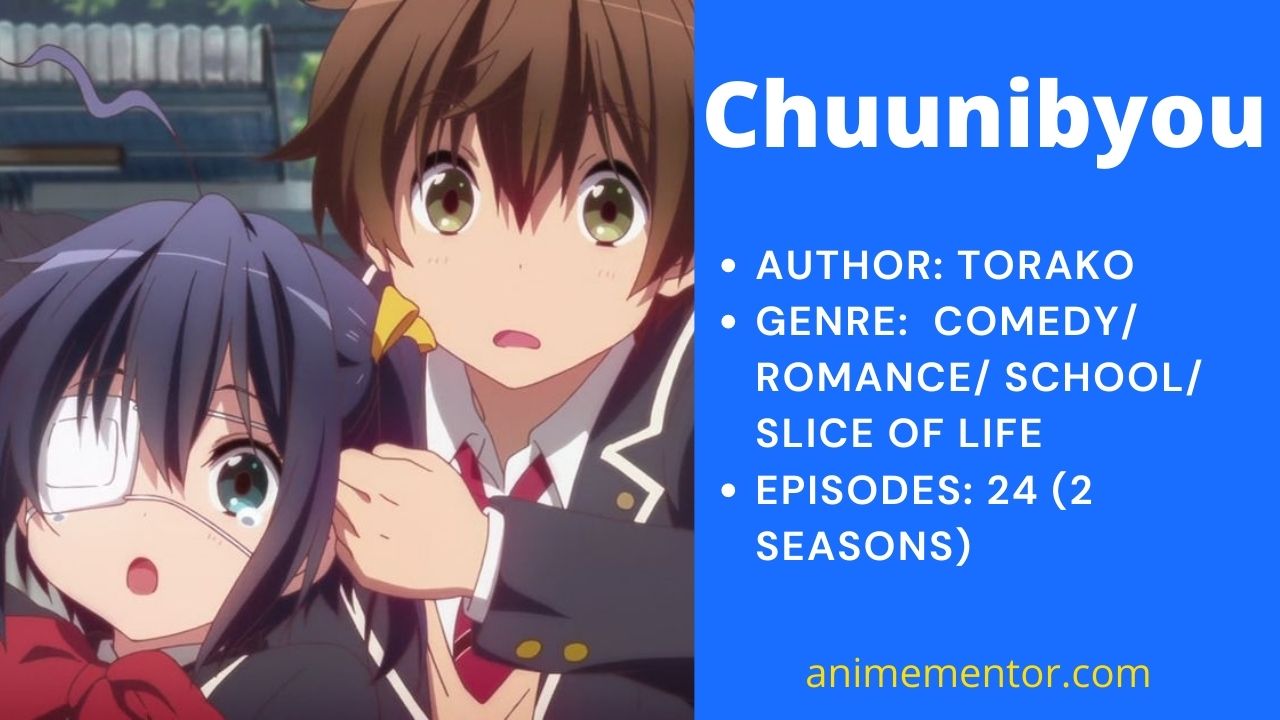 AUTHOR: Torako
GENRE:  Comedy/ Romance/ School/ Slice Of Life
EPISODES:  24 ( 2 seasons)
This story follows a particular topic about a syndrome that occurs in adolescence named Chuunibyou. In this syndrome, a person fantasizes about everything around him. We follow a young high school student named Yuuta Togashi who previously had chuunibyou when he was in middle school. For him, it was a total dark past that he wanted to forget forever. He thought of starting a new phase of his life in high school leaving all those things behind. His days were moving smoothly but then one day he encounters a girl named Takanashi Rikka. She is having this chuunibyou at an immense rate. She was always in her fantasy realm. From time to time she would chant spells and do magics which in reality are nothing. One day Yuuta formed a contract with her and his smooth moving life comes to an end. His memories of dreadfulness once again came back but now he is ready to face them.
 10. Saekano: How to raise a boring girlfriend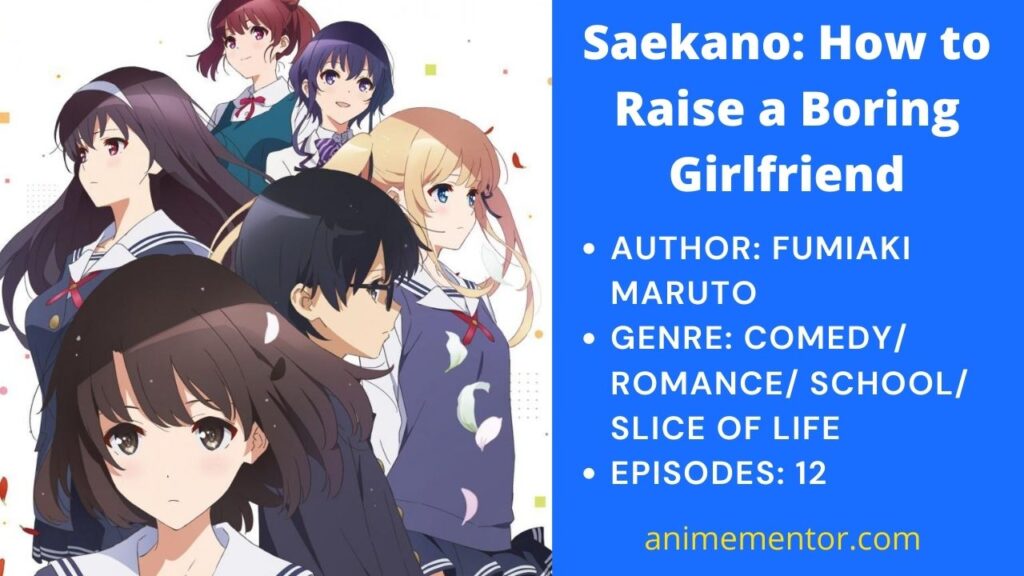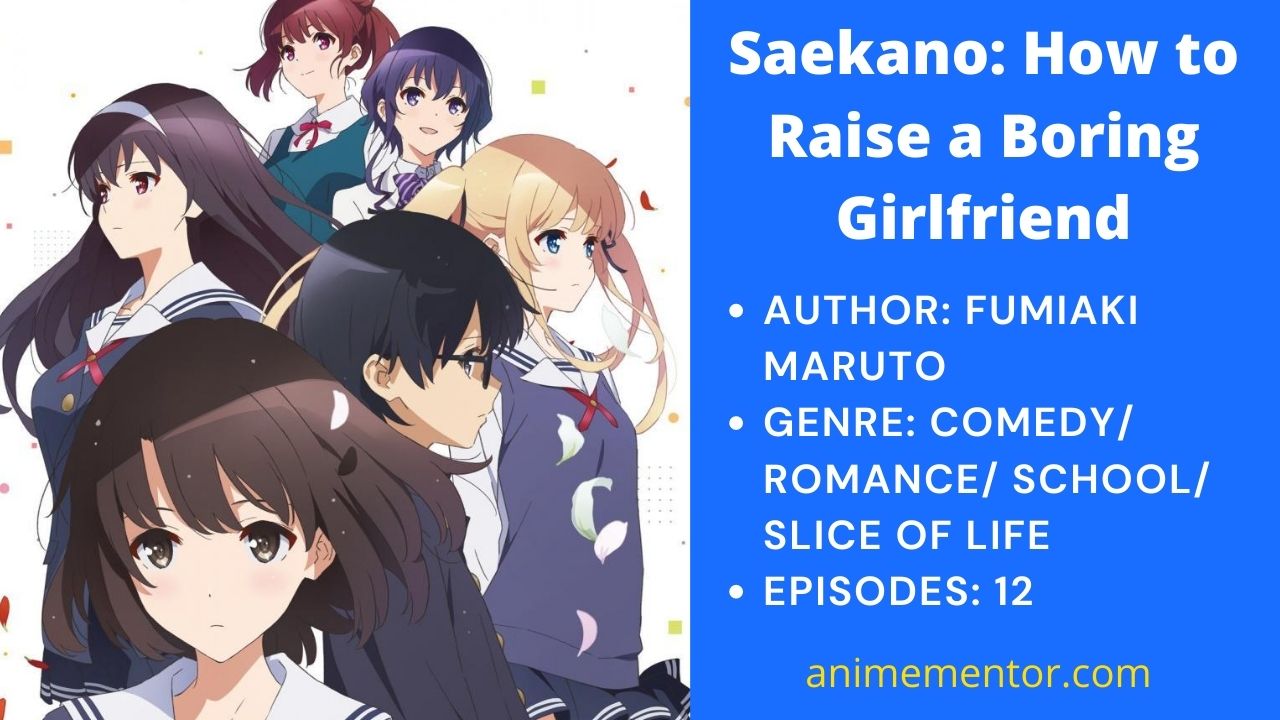 AUTHOR: Fumiaki Maruto
GENRE:  Comedy/ Romance/ School/ Slice Of Life
EPISODES:  12
Tomoyo Aki is a high school student who is obsessed with anime and light novels for a couple of years. He works part-time beside his school to earn money to buy anime stuff and goods. One day during spring vacation he encounters the most beautiful girl in his life. Later after the vacation, he learns that the girl is actually one of her classmates named Megumi Kato. Megumi is an introverted girl who is avoided by most of her classmates. They even sometimes forget that she is in their class like Tomoyo. Tomoyo's dream is to create an ultimate dating sim. He asks help from the school's most beautiful girls, Eriri Spencer Sawamura and Kasumigaoka Utaha. Eriri is Tomoyo's childhood friend who is a great artist. Whereas Utaha is a very popular story writer. Megumi became the main heroine of this game and they form a group together. Now we came to know that Eriri and Utaha both have their eyes on our main protagonist. They both possess feelings for him. But Tomoyo has his eyes on only one girl, Megumi, the main heroine of this game. Will they be able to create the ultimate dating sim which they aim for?
CONCLUSION
So, I hope that you enjoyed reading this article for the Top 10 Best Romance Comedy Anime Series. The above-mentioned animes are very energetic in their sense and you would just fall in love with the characters. Watch these few animes to have a very fun time. I'm sure that you will enjoy each of these anime series mentioned above. Hope that you too find true love in your life like them.  As always, see you soon in my next article.