Summer 2023 has been an explosive season for anime with the likes of Jujutsu Kaisen, Bleach, and Mushoku Tensei raising the standards of storytelling and animation. With the same momentum, Fall 2023 is also gearing up to have an excellent selection of shows which explore various genres while impressing us with their intricate writing and characters.
In this list, we will be taking a look at 15 of these which fans need to keep an eye out for.
Release Date
Title
Studio
Director
Jp Title
September 29
Frieren: Beyond Journey's End
Madhouse
Keiichirō Saitō
Sōsō no Frieren
September 30
Firefighter Daigo: Rescuer in Orange
Brain's Base
Masahiko Murata
Megumi no Daigo: Kyūkoku no Orange
September 30
Ragna Crimson
Silver Link
Ken Takahashi
October 5
The Ancient Magus' Bride (season 2, part 2)
Studio Kafka
Kazuaki Terasawa
Mahō Tsukai no Yome
October 8
Four Knights of the Apocalypse
Telecom Animation Film
Maki Odaira
Mokushiroku no Yonkishi
October 8
The 100 Girlfriends Who Really, Really, Really, Really, Really Love You
Bibury Animation Studios
Hikaru Sato
Kimi no Koto ga Dai Dai Dai Dai Daisuki na 100-nin no Kanojo
October
A Girl & Her Guard Dog
Project No.9
Yoshihiro Takamoto
Ojō to Banken-kun
November
A Playthrough of a Certain Dude's VRMMO Life
Maho Film
Yuichi Nakazawa
Toaru Ossan no VRMMO Katsudōki
October
A Returner's Magic Should Be Special
Arvo Animation
Taishi Kawaguchi
Kikansha no Mahō wa Tokubetsu Desu
October
B-Project ~Netsuretsu*Love Call~
Asahi Production
October
Berserk of Gluttony
A.C.G.T
Tetsuya Yanagisawa
Bōshoku no Berserk: Ore dake Level to Iu Gainen o Toppa Suru
October
Captain Tsubasa: Junior Youth Arc
Studio Kai
Katsumi Ono
Captain Tsubasa Season 2: Junior Youth-hen
October
Dead Mount Death Play (part 2)
Geek Toys
Manabu Ono
October
Dekoboko Majo no Oyako Jijō
A-Real
Masahiro Takata
October
Dog Signal
Kazuhiro Furuhashi
October
Dr. Stone: New World (part 2)
TMS Entertainment
Shūhei Matsushita
October
Girlfriend, Girlfriend (season 2)
SynergySP
Takatoshi Suzuki
Kanojo mo Kanojo
October
Heat the Pig Liver
Project No.9
Masayuki Takahashi
Buta no Liver wa Kanetsu Shiro
October
Hoshikuzu Telepath
Studio Gokumi
Kaori
October
Hypnosis Mic: Division Rap Battle: Rhyme Anima+
A-1 Pictures
Katsumi Ono
October
I Shall Survive Using Potions!
Jumondou
Nobuaki Nakanishi
Potion-danomi de Ikinobimasu!
October
I'm in Love with the Villainess
Platinum Vision
Hideaki Ōba
Watashi no Oshi wa Akuyaku Reijō
October
KamiErabi God.app
Unend
Hiroyuki Seshita
October
Kibō no Chikara: Otona Precure 23
Toei Animation
Studio Deen
Takayuki Hamana
October
Kizuna no Allele (season 2)
Signal.MD
Wit Studio
Kenichiro Komaya
October
MF Ghost
Felix Film
Tomohito Naka
October
Migi to Dali
Geek Toys
CompTown
Mankyū
October
Our Rainy Protocol
Quad
Yasutaka Yamamoto (Chief)
Daishi Kato
Bokura no Ameiro Protocol
October
Overtake!
Troyca
Ei Aoki
October
Paradox Live the Animation
Pine Jam
Naoya Ando
October
Rail Romanesque (season 2)
Yokohama Animation Laboratory
Michiru Ebira
October
Ron Kamonohashi: Deranged Detective (season 1)
Diomedéa
Shōta Ihata
Kamonohashi Ron no Kindan Suiri
October
Shangri-La Frontier
C2C
Toshiyuki Kubooka
Shangri-La Frontier: Kusoge Hunter, Kamige ni Idoman to su
October
Shinobanai! CryptoNinja Sakuya
Fanworks
Akifumi Nonaka
October
Shy
Eight Bit
Masaomi Andō
October
Spy × Family (season 2)
Wit Studio
CloverWorks
Kazuhiro Furuhashi
October
Tearmoon Empire
Silver Link
Yūshi Ibe
Tearmoon Teikoku Monogatari: Dantōdai kara Hajimaru, Hime no Tensei Gyakuten Story
October
The Apothecary Diaries
Toho Animation Studio
OLM
Norihiro Naganuma
Kusuriya no Hitorigoto
October
The Demon Sword Master of Excalibur Academy
Passione
Hiroyuki Morita
Seiken Gakuin no Makentsukai
October
The Eminence in Shadow (season 2)
Nexus
Kazuya Nakanishi
Kage no Jitsuryokusha ni Naritakute!
October
The Idolmaster Million Live!
Shirogumi
Shinya Watada
October
The Kingdoms of Ruin
Yokohama Animation Laboratory
Keitaro Motonaga
Hametsu no Ōkoku
October
The Rising of the Shield Hero (season 3)
Kinema Citrus
Hitoshi Haga
Tate no Yūsha no Nariagari
October
The Saint's Magic Power Is Omnipotent (season 2)
Diomedéa
Shōta Ihata
Seijo no Maryoku wa Bannō Desu
October
The Vexations of a Shut-In Vampire Princess
Project No.9
Tatsuma Minamikawa
Hikikomari Kyūketsuki no Monmon
October
Tokyo Revengers: Tenjiku Arc
Liden Films
Koichi Hatsumi
Tokyo Revengers: Tenjiku-hen
October
Undead Unluck
David Production
Yuki Yase
October
Under Ninja
Tezuka Productions
Satoshi Kuwabara
October
You Were Experienced, I Was Not: Our Dating Story
ENGI
Hideaki Ōba
Keiken Zumi na Kimi to, Keiken Zero na Ore ga, Otsukiai Suru Hanashi
The Ancient Magus' Bride (season 2, part 2)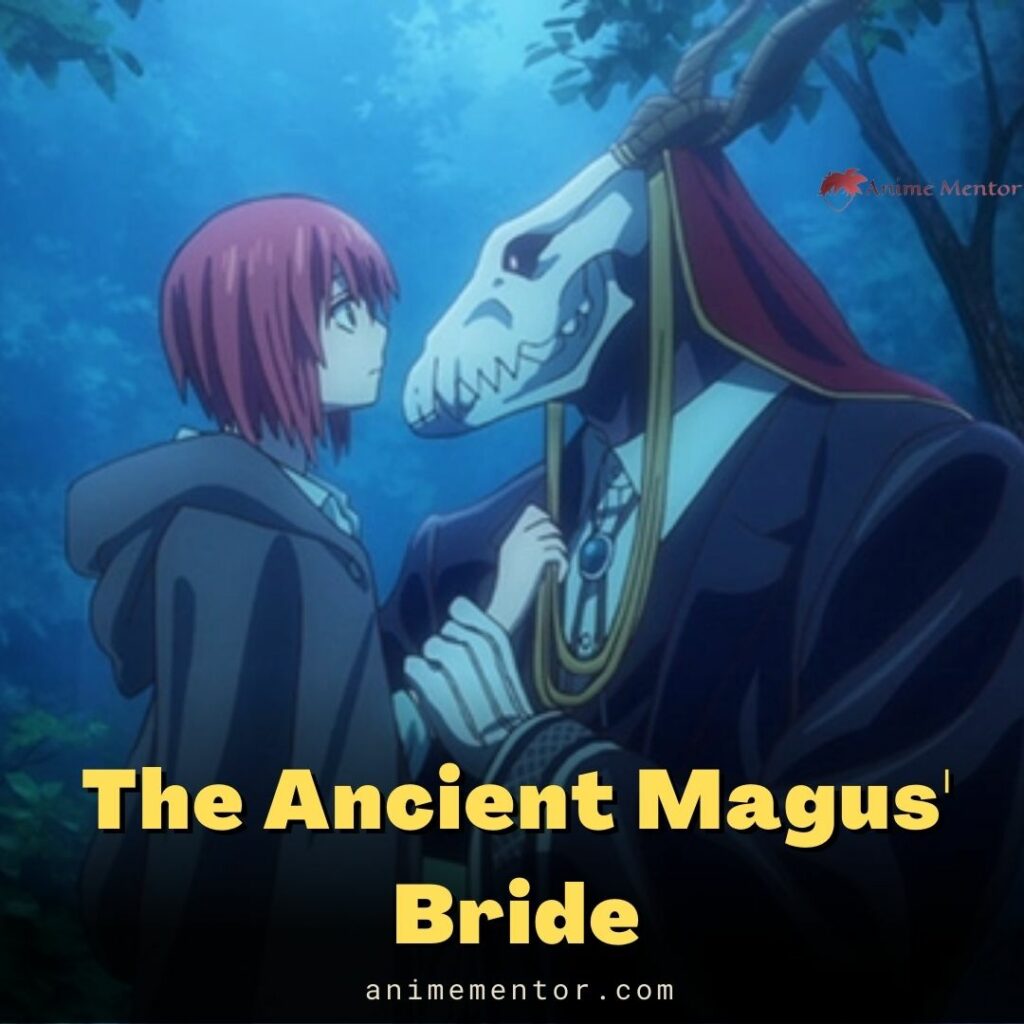 The show is based on the popular manga series of the same name by Kore Yamazaki. It follows the story of Chise Hatori, an orphaned Japanese high school student who sells herself at an auction in search of a new home and someone to take care of her. At the auction, she is purchased by a seven-foot-tall humanoid creature with an animal skull for a head. The two of them then move to Great Britain together.
Season 2 of "The Ancient Magus' Bride" premiered on April 6, 2023. "The Ancient Magus' Bride" Season 2 Part 2 is set to be released on October 5, 2023. The series will be available for streaming on various networks in Japan, including Amazon Prime Video, and worldwide on Crunchyroll.
Four Knights of the Apocalypse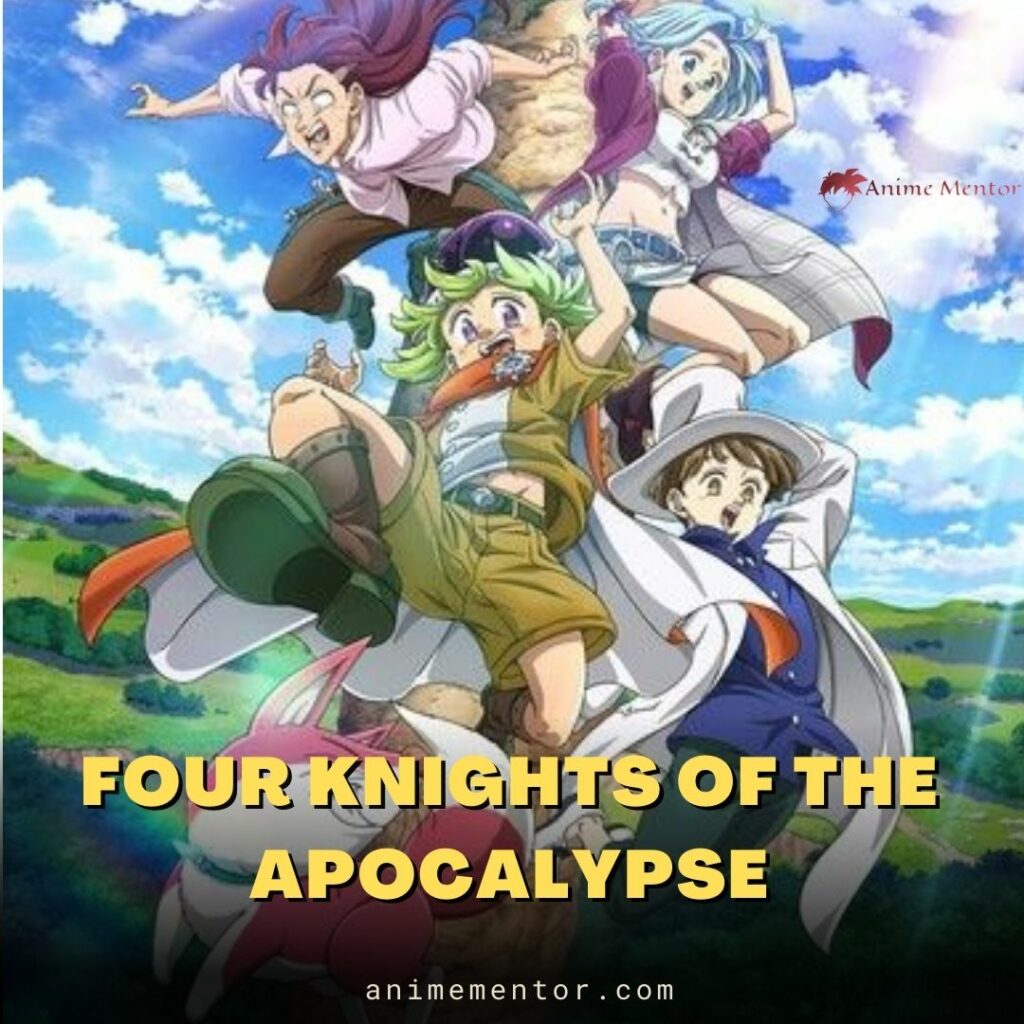 "Four Knights of the Apocalypse" is a manga series written and illustrated by Nakaba Suzuki. It is a direct sequel to the popular manga series "The Seven Deadly Sins," which concluded its run in 2020. "Four Knights of the Apocalypse" takes place in the same universe as its predecessor and continues the story in a new adventure.
The story follows Percival, a young boy with no memories of his past, who embarks on a journey to become a Knight of the Round Table. He seeks to fulfill his late mother's wish and discover the truth about his origins. Along the way, he encounters various characters from "The Seven Deadly Sins" series and gets entangled in epic battles, discovering the secrets of the Holy Sword and the four knights who wield it.
A Returner's Magic Should Be Special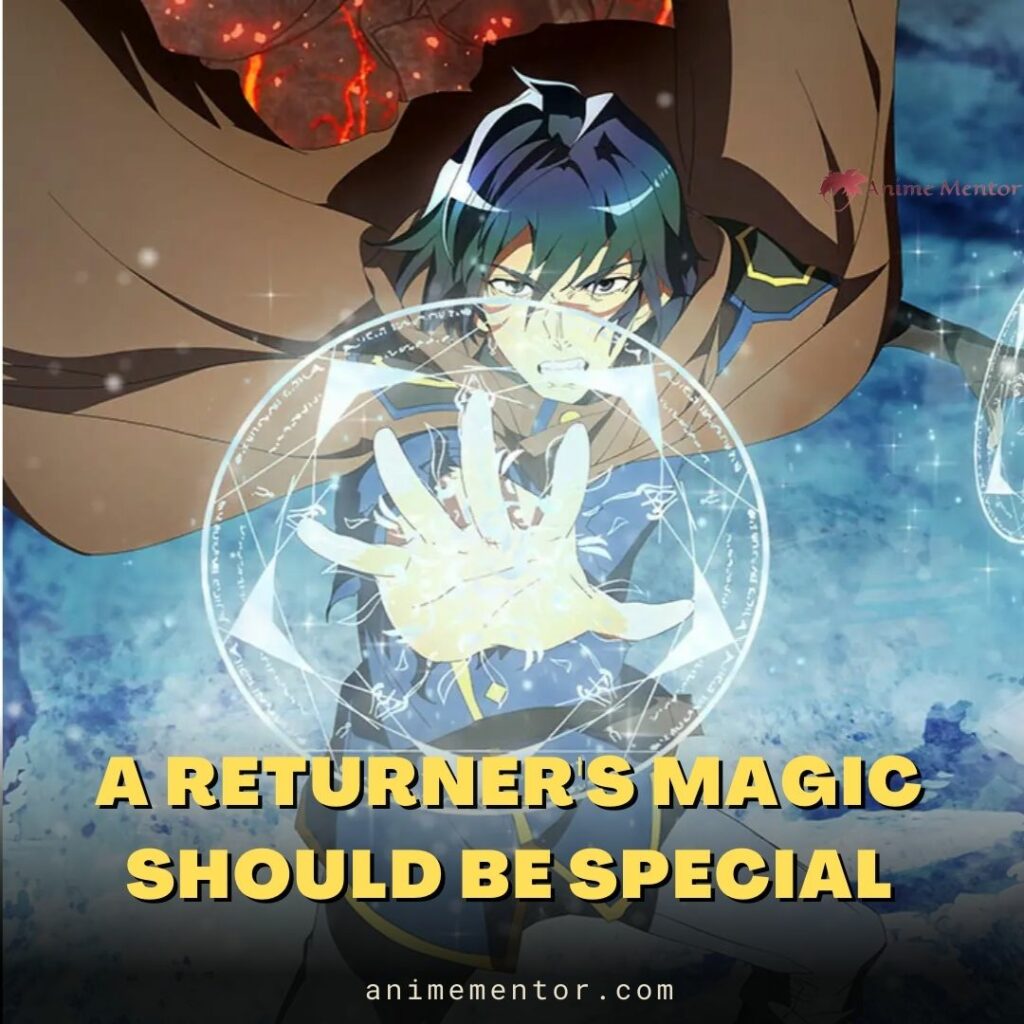 "A Returner's Magic Should Be Special" is a South Korean web novel written by Usonan. The story follows Desir Herrman, a skilled magician in a world facing destruction after a decade-long war in the "shadow labyrinth." When all hope seems lost, he miraculously travels back to his earlier days at Hebrion Academy, where he studied magic.
With this second chance, Desir is determined to change the fate of himself and his friends and comrades who were lost during the war. Armed with the knowledge of the future, he seeks to alter their destinies and prevent the impending doom. The series also has a webtoon adaptation illustrated by Wookjakga and an anime television series adaptation by Arvo Animation, scheduled to premiere in October 2023.
Dead Mount Death Play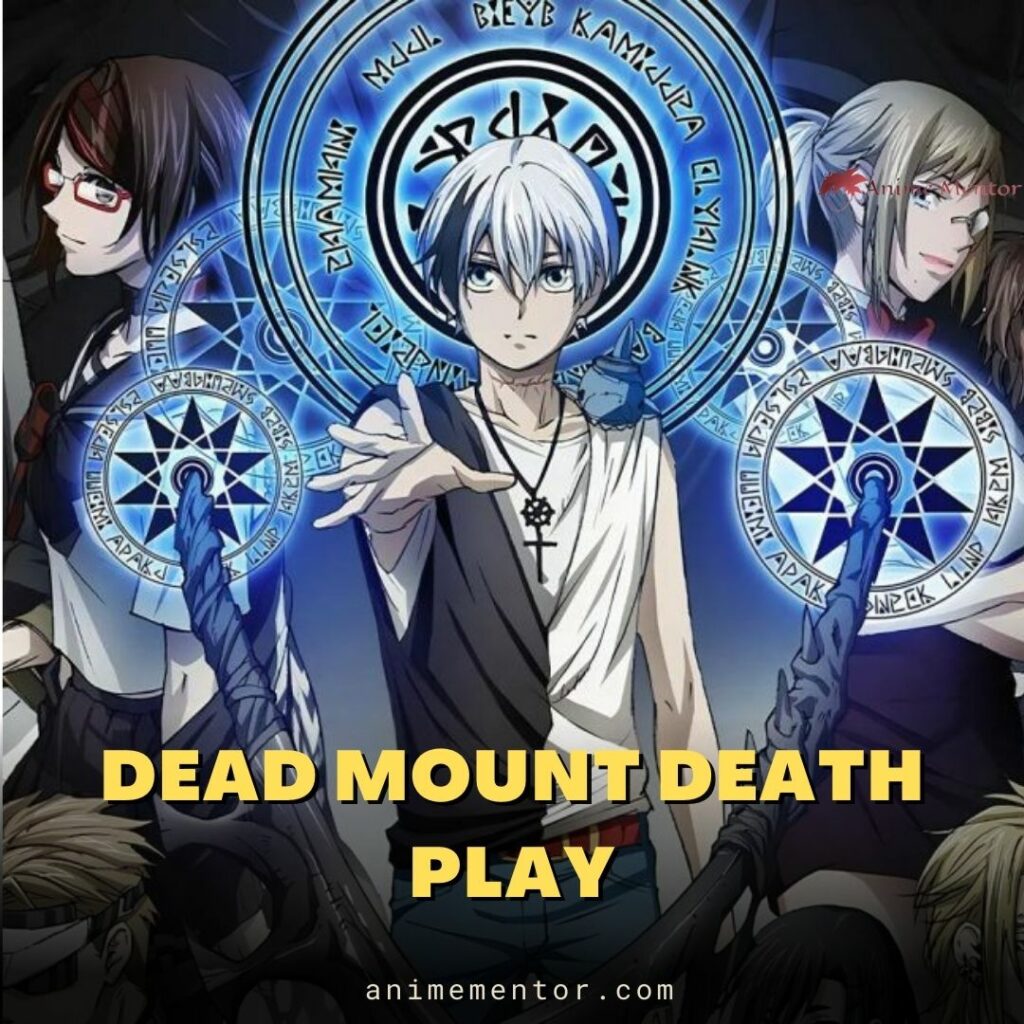 "Dead Mount Death Play" is an anime based on the manga written by Ryohgo Narita and illustrated by Shinta Fujimoto. The story follows a powerful necromancer, the Corpse God, who is reincarnated as a young boy named Polka Shinoyama in modern-day Tokyo.
He becomes the target of gangster groups. With the help of unexpected allies like Takumi Kuruya and Lisa Kuraki, Polka seeks to understand his reincarnation and the mysteries of his new world. Part 2 is set to premiere in October 2023, promising more action and revelations. Viewers can watch the anime on platforms like Crunchyroll and the Ani-One Asia YouTube Channel.
Girlfriend, Girlfriend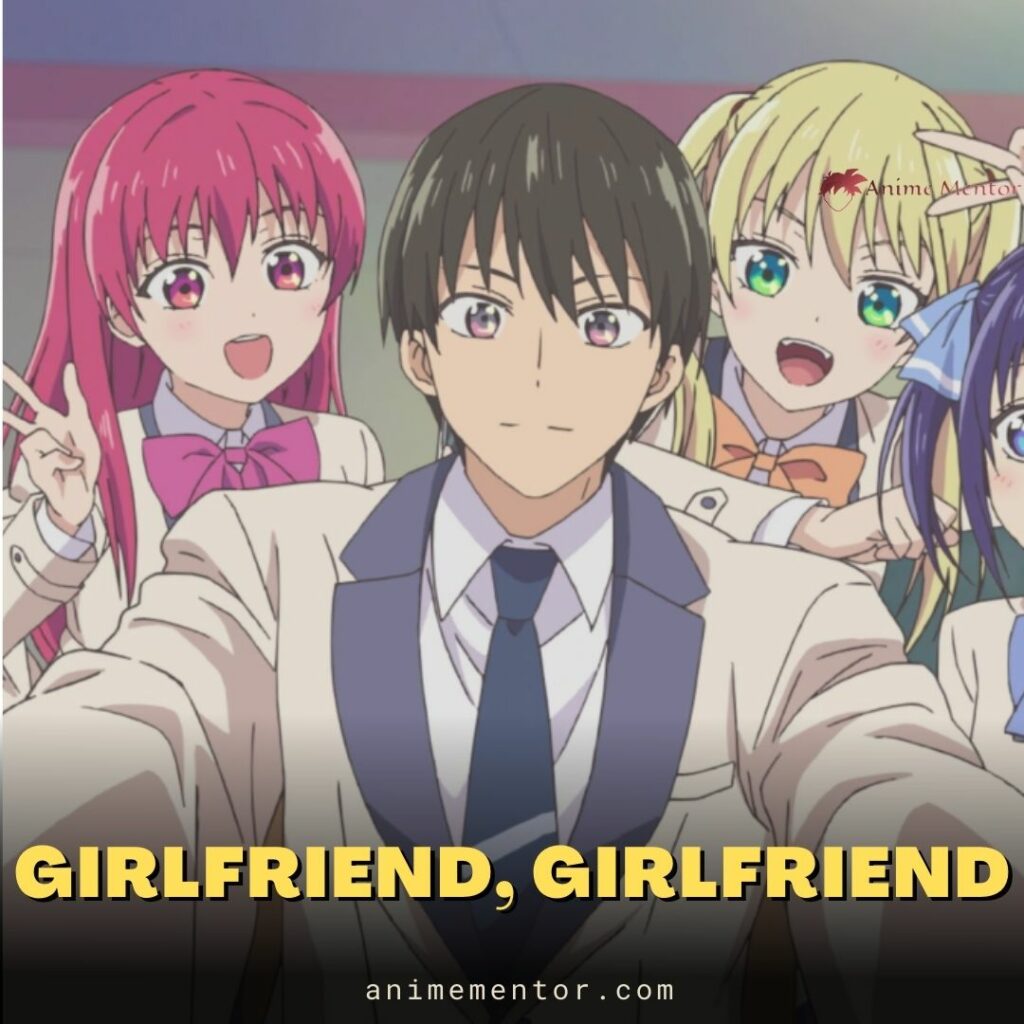 Naoya Mukai is ecstatic after his childhood friend, Saki Saki, finally accepts one of his many confessions. However, everything changes when another girl named Nagisa Minase confesses to Naoya after careful preparation. In a bold move to fulfill both Saki and Nagisa's wishes, Naoya proposes a crazy idea—to date both girls simultaneously, and they both agree to it.
The anime's hilarious and unconventional romance continues, and fans can look forward to Season 2 premiering in October 2023.
The Eminence In Shadow Season 2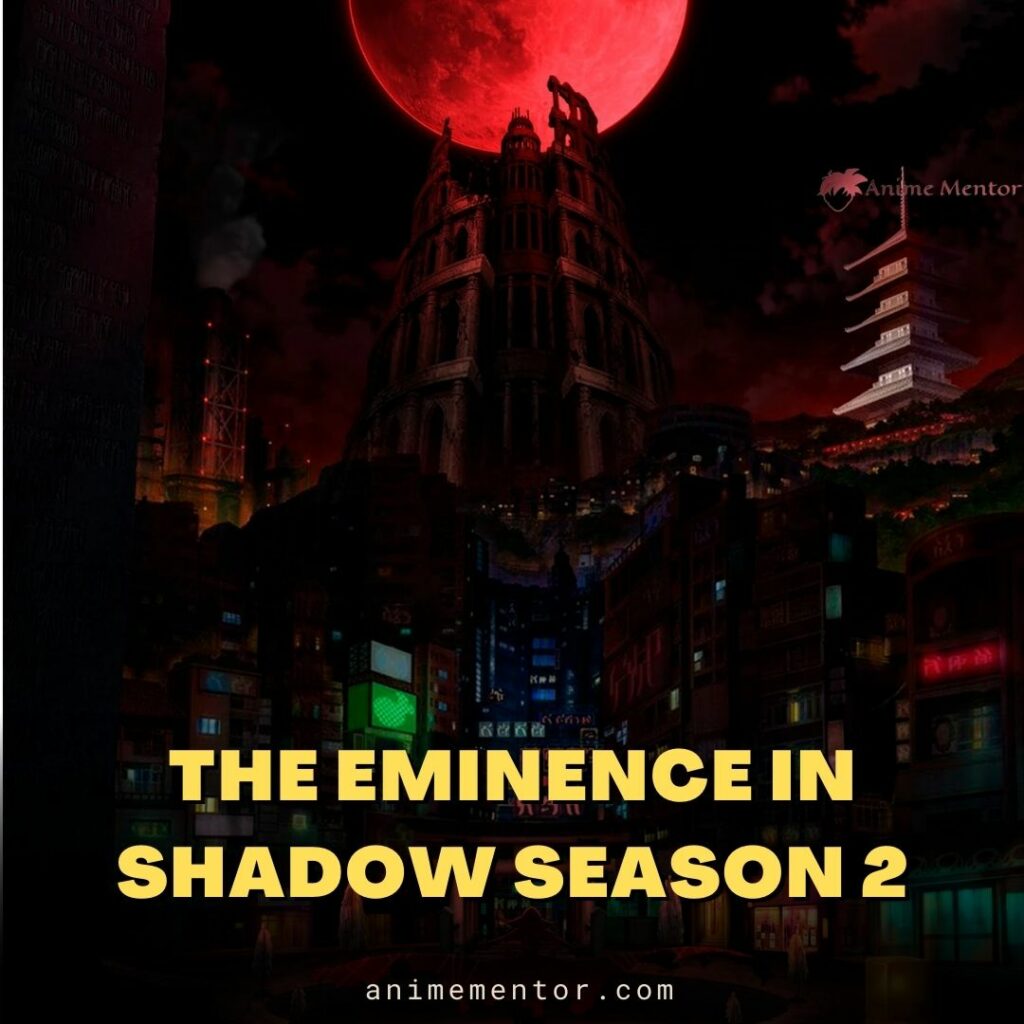 "The Eminence in Shadow" is a successful isekai anime based on a light novel series. The first season premiered in October 2022 and quickly gained popularity. A second season was announced in February 2023. The anime centers around Cid Kageno, a protagonist with exceptional powers and a stoic demeanor. However, unlike typical isekai protagonists who seek the spotlight, Cid desires to be the "Eminence in Shadow," a mysterious and powerful figure behind the scenes. His unique ambition sets him on a comedic and thrilling journey.
Season 2 is set to premiere in October 2023 and will take Cid and the Shadow Garden to the Lawless City, facing new challenges and characters.
Shangri-La Frontier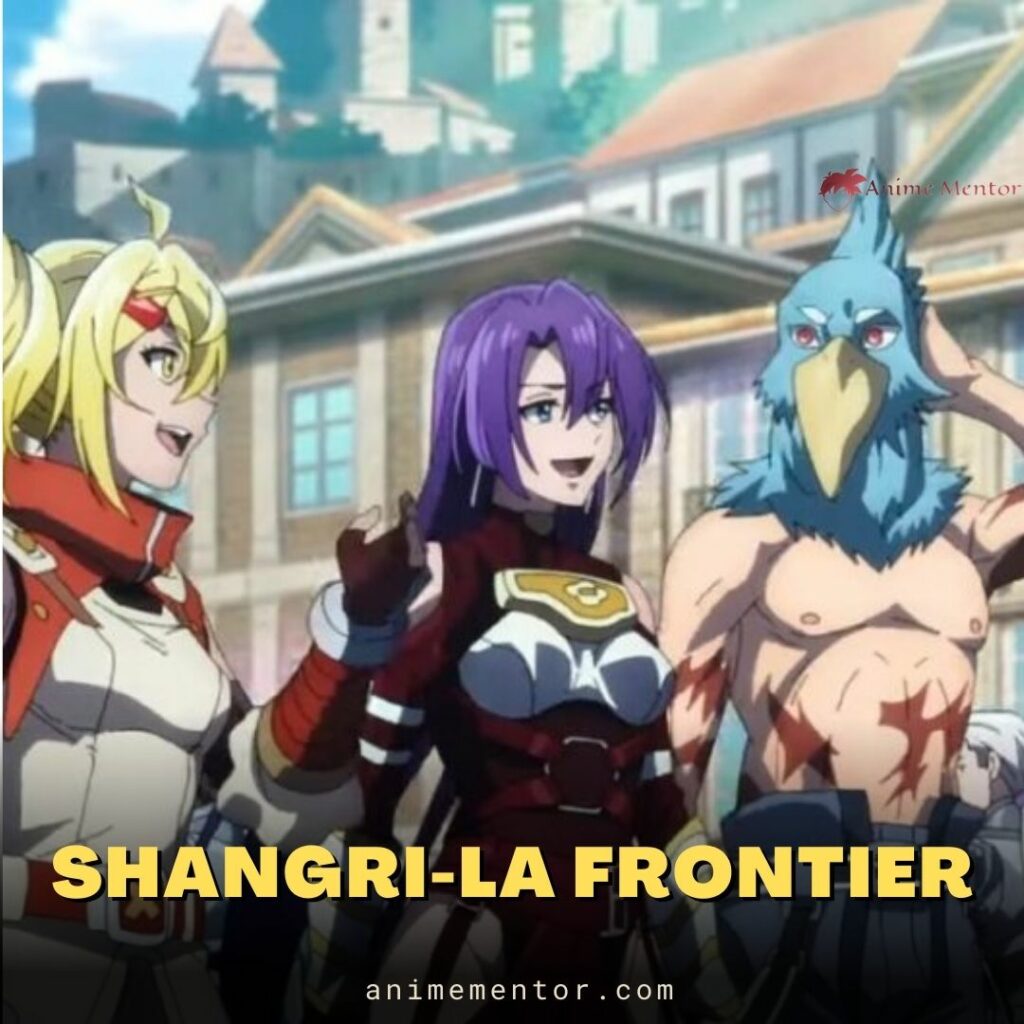 Shangri-La Frontier is a fresh take on the video game genre and has an exciting combination of action and adventure. We are introduced to a student named Rakurou who enjoys clearing games quickly and believes himself to be the best in the business. After a new game named Shangri-La Frontier is released, he believes it to be yet another simple task and dives in immediately.
However, Rakurou soon finds out that the game is unlike anything he's played so far, and faces many hurdles while traveling in this virtual world and facing formidable enemies. The story is very appealing to those who enjoy extensive world-building and even takes the appropriate time to develop characters and sub-stories rather than just jumping into action. In a season with several great additions, Shangri-La Frontier is bound to be one of the underdogs.
I'm in Love with the Villainess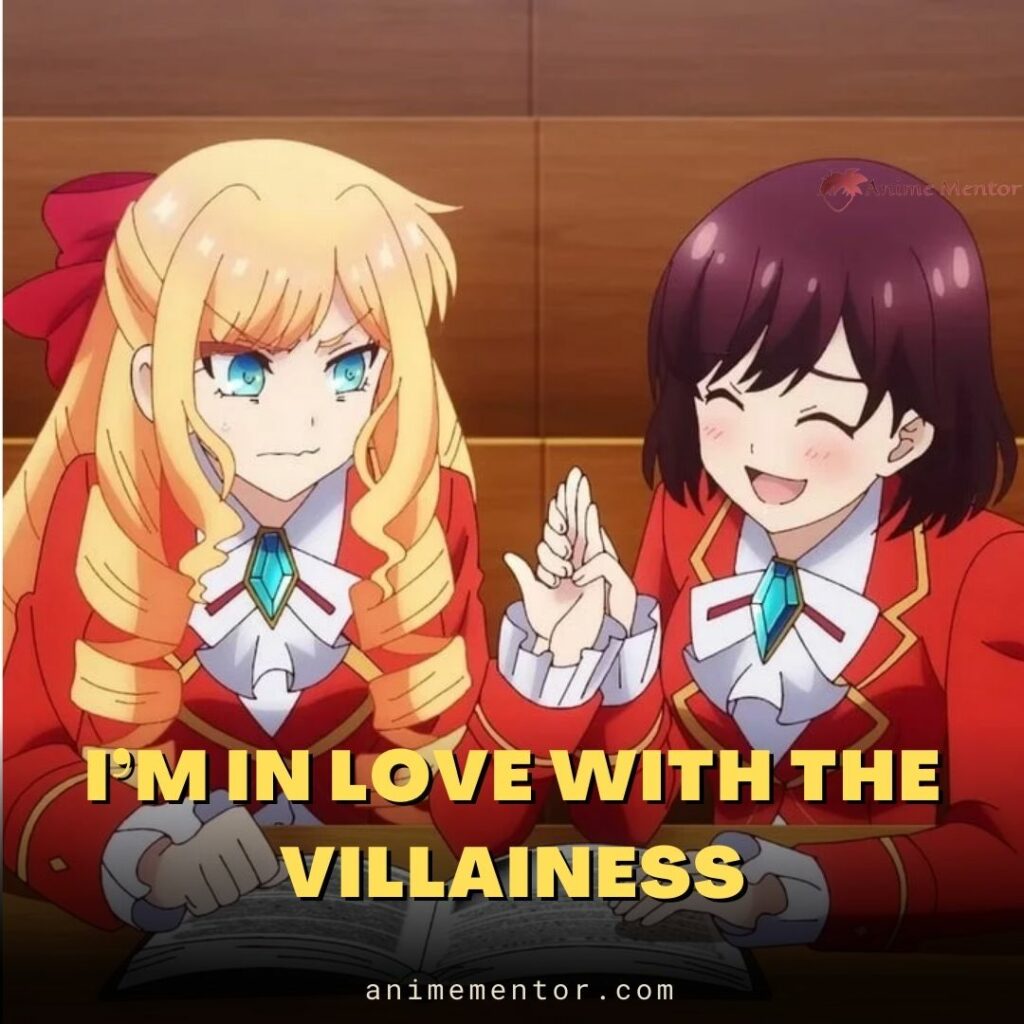 I'm in Love with the Villainess is a very enjoyable Isekai story that is based on its original light novel. It follows a girl named Rei as she is reincarnated into a fantasy world in a standard shoujo setting. After finding out that it is based on a game she enjoys, Rei works towards enticing the main villainess of the game which leads to plenty of hilarious yet sweet moments. With a school setting and a twist on the regular stale romance tales, I'm in Love with the Villainess very cleverly acts as a commentary on dating games while being distinctive in its own way.
A Girl and Her Guard Dog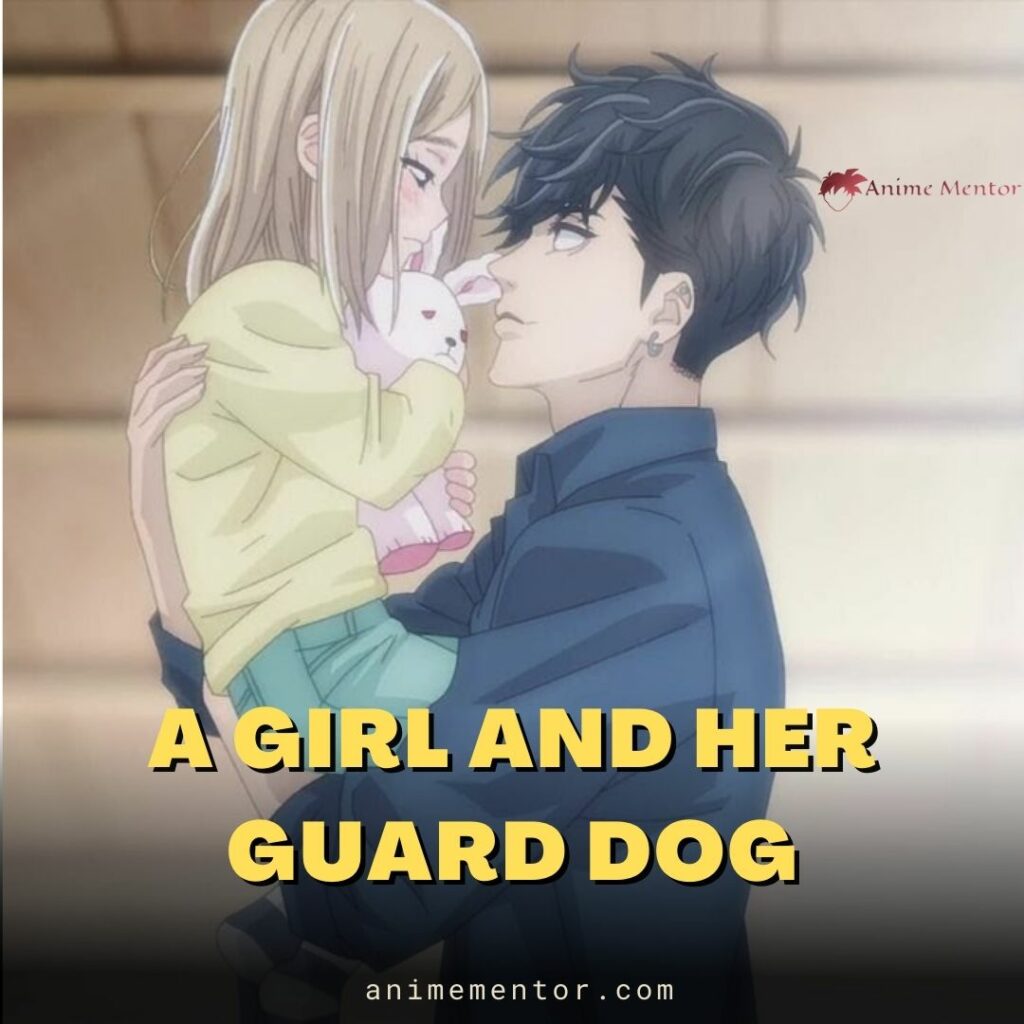 A Girl and her Guard Dog is the classic Shoujo story we all know and love which features a doe-eyed female character and a handsome male character who can do no wrong. The series follows a young girl named Isaku who ends up living with her grandfather after the death of her parents.
To her surprise, however, her grandfather is a gangster and this makes life very hard for Isaku as she struggles to make friends. Right before joining high school and hoping for a change, her dreams seem to be destroyed yet again when a guardian is assigned alongside her to watch over her in school. We watch as the tale of these two gradually develops into an adorable romance.
MF Ghost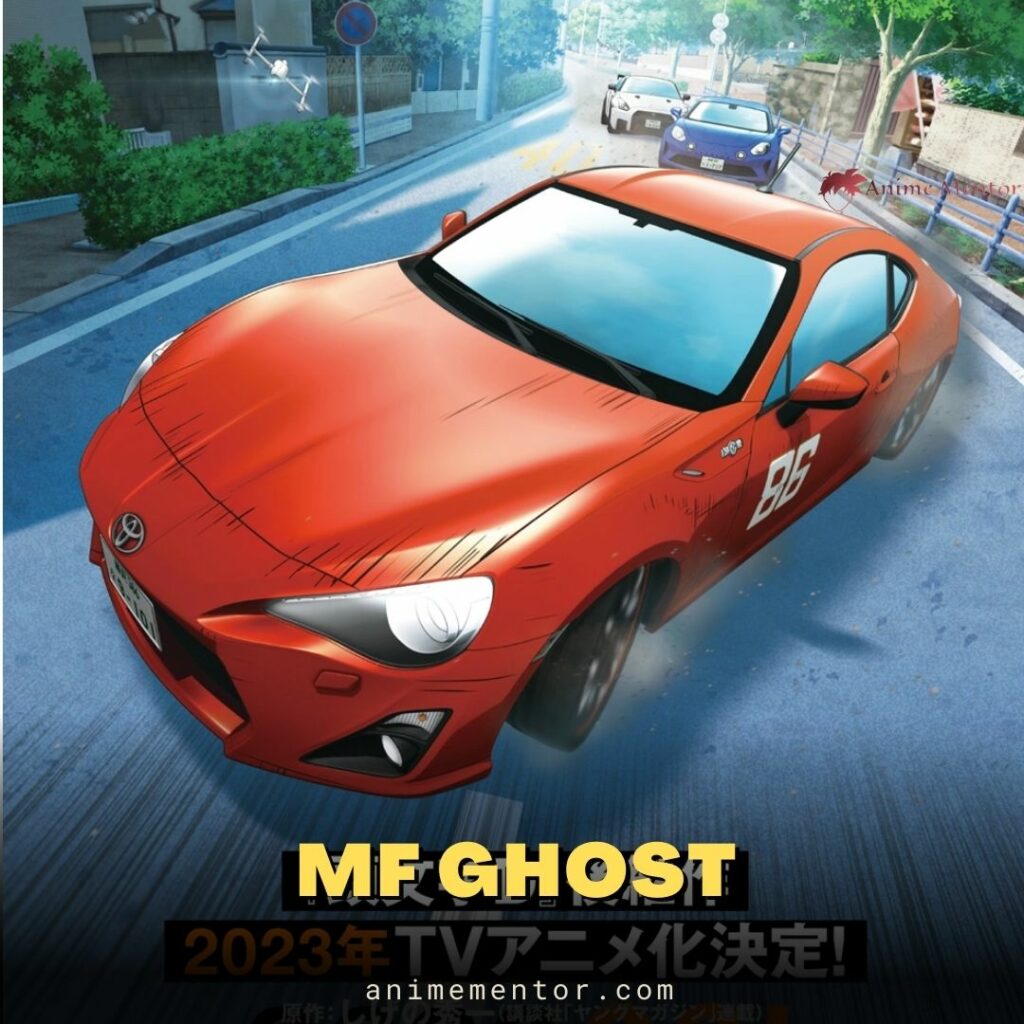 MF Ghost is a unique seinen series that follows the sport of competitive racing. Its protagonist, Kanata is a man who wishes to join an elite racing contest known as MFG and show off his skills while impressing those around him. In a time when fuel-running cars are going extinct, we see our dedicated group of main characters strive to bring them back into fashion through exhilarating races.
Along with its exciting story, MF Ghost also has an element of mystery as Kanata is also in the constant search for his missing father and the story keeps us hooked with its drama. Hence, this is definitely one series that you viewers need to keep an eye out for.
Ragna Crimson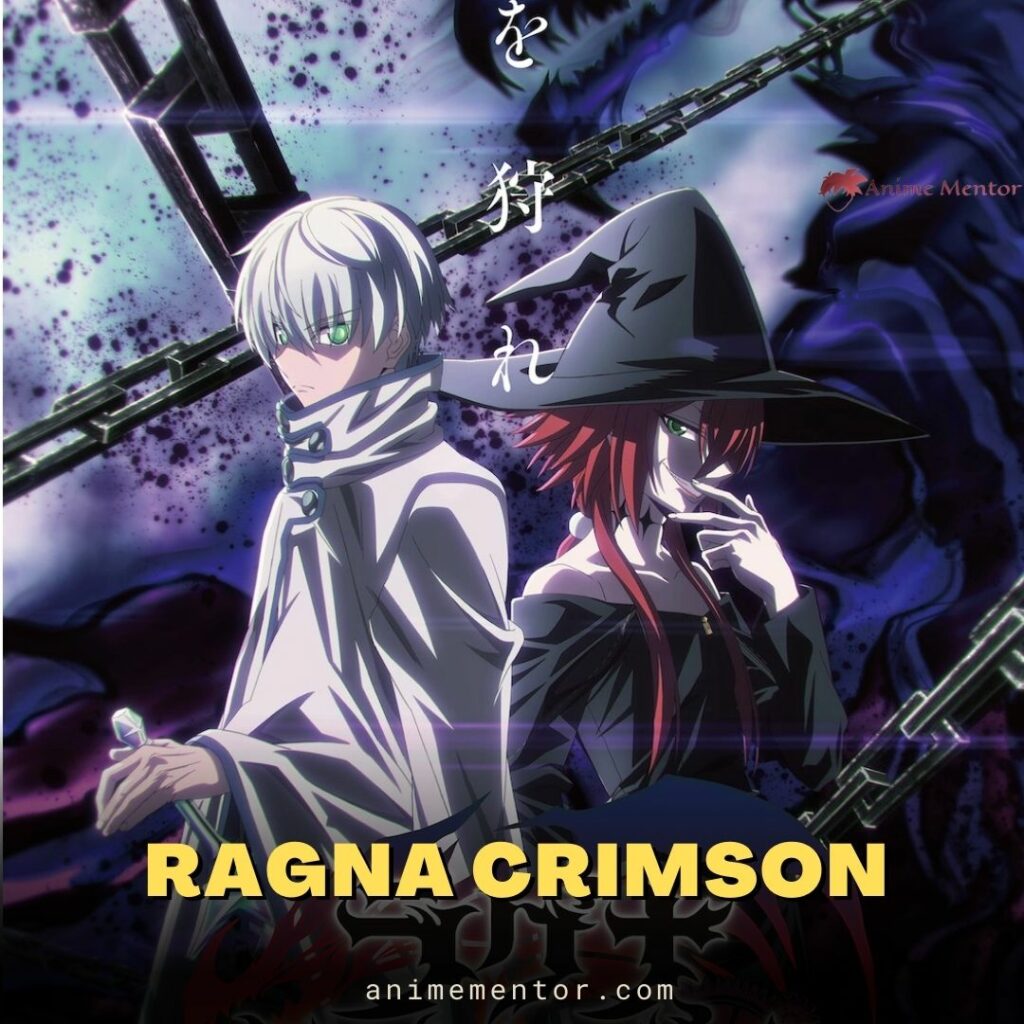 Ragna Crimson is a fantasy story unlike any other and takes us on an intense journey through a world ruled by dragons. As the undisputed monarchs, they are hardly just and often cause a lot of suffering. In order to fight against them and protect the people he loves, a man named Ragna joins a mysterious person named Crimson as they embark on adventures together.
In order to change a disastrous future that Ragna is aware of, he will have to work hard and constantly surpass his limits to fight against fate. While Ragna Crimson does have a few stereotypical Shounen elements, it also deals with several mature themes and has a beautiful art style that only enhances the story.
Ron Kamonohashi: Deranged Detective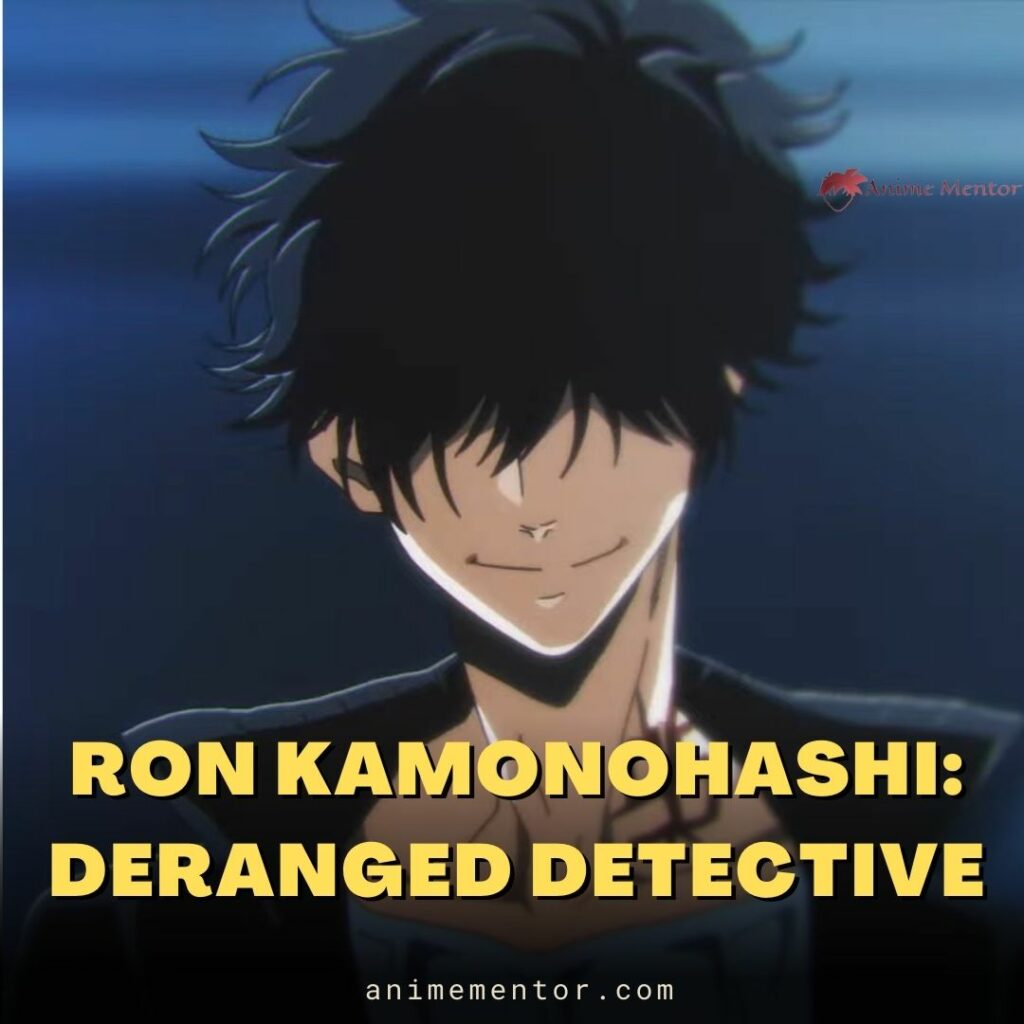 Ron Kamonohashi is yet another extremely funny series that relies on gag comedy of the mysterious detective stories we've all come to love. It follows a hard-working officer named Totomaru as he enlists the help of the eccentric detective Ron Kamonohashi to solve a murder case. Together, we watch this duo get into all sorts of situations while dealing with thrilling cases. While poking fun at tropes, the series itself is also very good at dealing with its mystery storyline and keeps you invested even past the comedy. It is an extremely fun story and its rise to fame during the upcoming fall season is all but guaranteed.
The Rising of the Shield Hero Season 3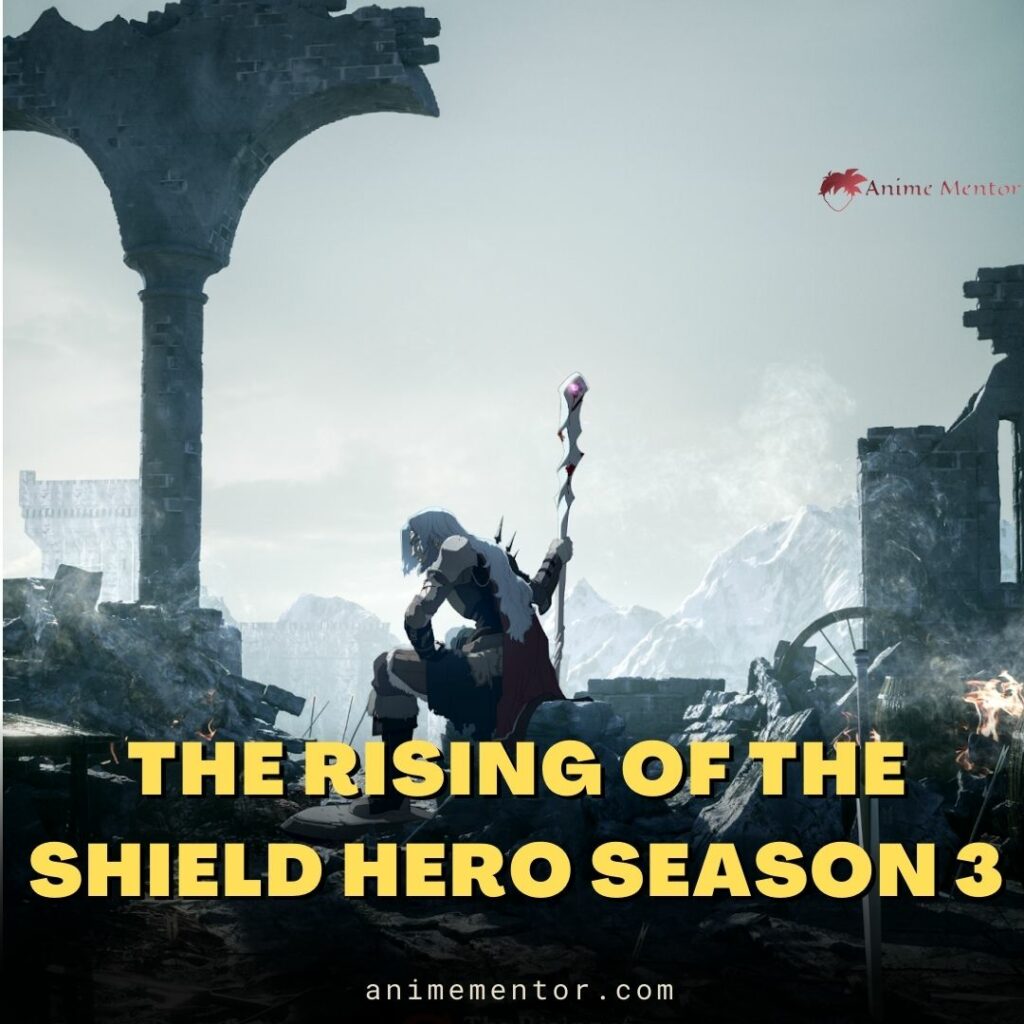 The Rising of the Shield Hero has gone through a very bumpy journey with an extremely popular first season and a second season faced a lot of criticism. The story follows a man named Naofumi who is summoned alongside 3 others to a magical kingdom. However, as the shield hero, he faces a lot of discrimination and is eventually driven out. Motivated by his quest for revenge, Naofumi puts his skills to use while consistently saving the kingdom and its people.
However, the story soon took a turn for the worse as a bland plot and disappointing animation let fans down in the second season. Nevertheless, they are still looking for a positive change in season three as it explores Naofumi and his crew's search for the three heroes who went missing. We are sure their adventures will bring more action while introducing us to many more memorable characters.
The 100 Girlfriends Who Really, Really, Really, Really, Really Love You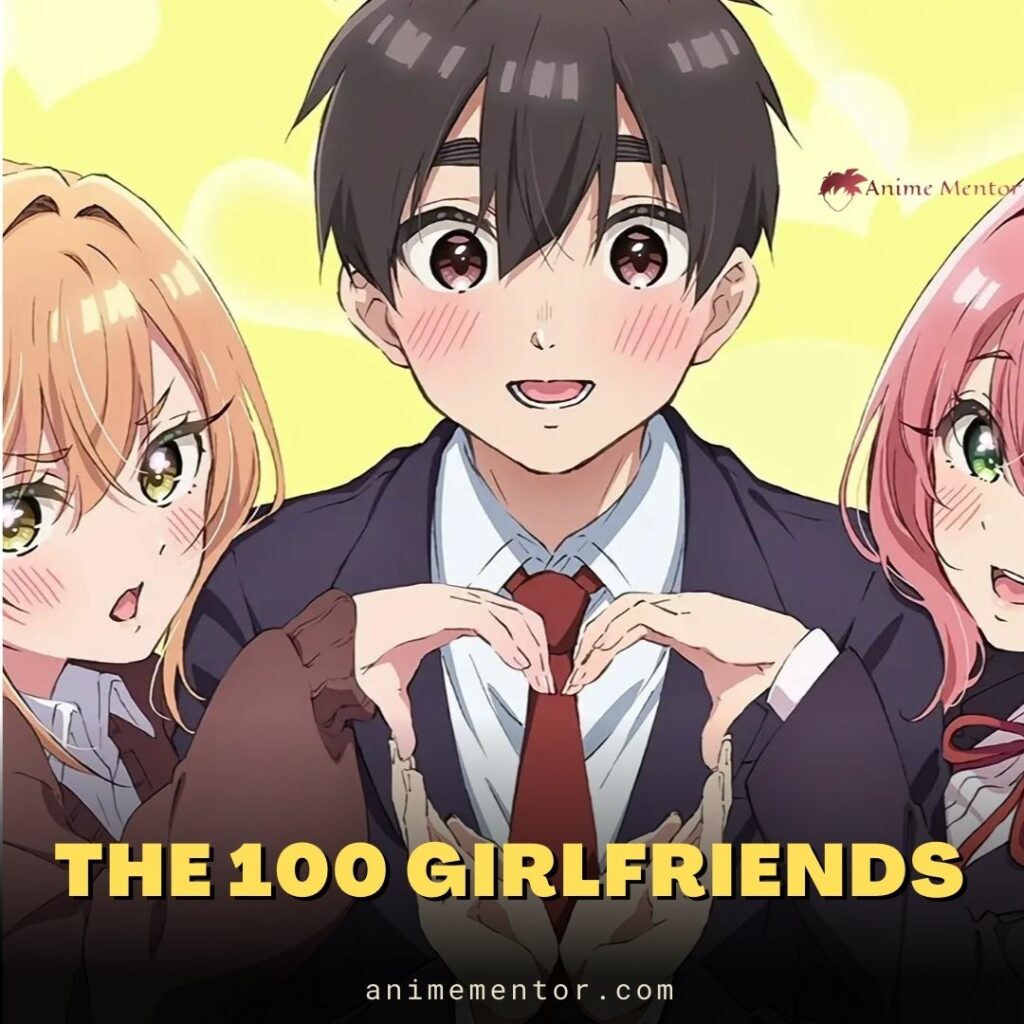 Just like its name, The 100 Girlfriends Who Really, Really, Really, Really, Really Love You is an outrageous parody of harem animes and fully embraces its outlandish nature. It follows a young boy named Rentarou who is blessed by god to have 100 soulmates in his life.
While initially very happy, Rentarou is distraught when he finds that if any of his soulmates don't get into a relationship with him, they die. In order to prevent this, Rentarou works hard while managing the enormous number of girls interested in him. The series features a plethora of distinctive characters and does an excellent job of mimicking romance animes while leaving you thoroughly entertained.
The Faraway Paladin Season 2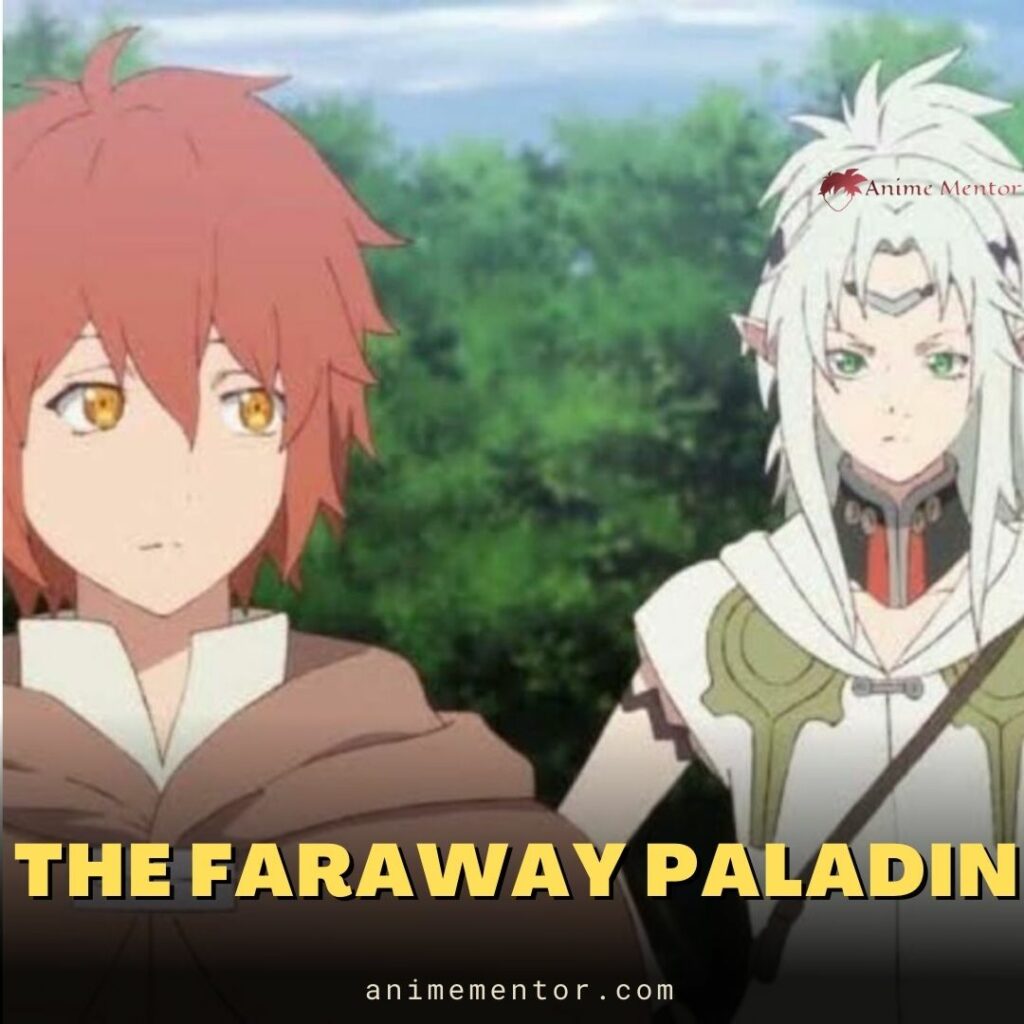 In this season consisting of several great Isekai animes, the second season of the Faraway Paladin is also set to excite fans with its themes of adventure, friendship, and family. It revolves around a man named William as he is reincarnated in a world and is raised by undead creatures.
Ironically, however, the undead teaches him several lessons on life and how to lead it in a fulfilling manner. We watch as he carries their teachings with him while exploring the world and experiencing various other things. While the first season of the anime faced some negative reactions for its animation, we all hope for the second season to have improved visuals that can completely bring out this amazing story.
The Apothecary Diaries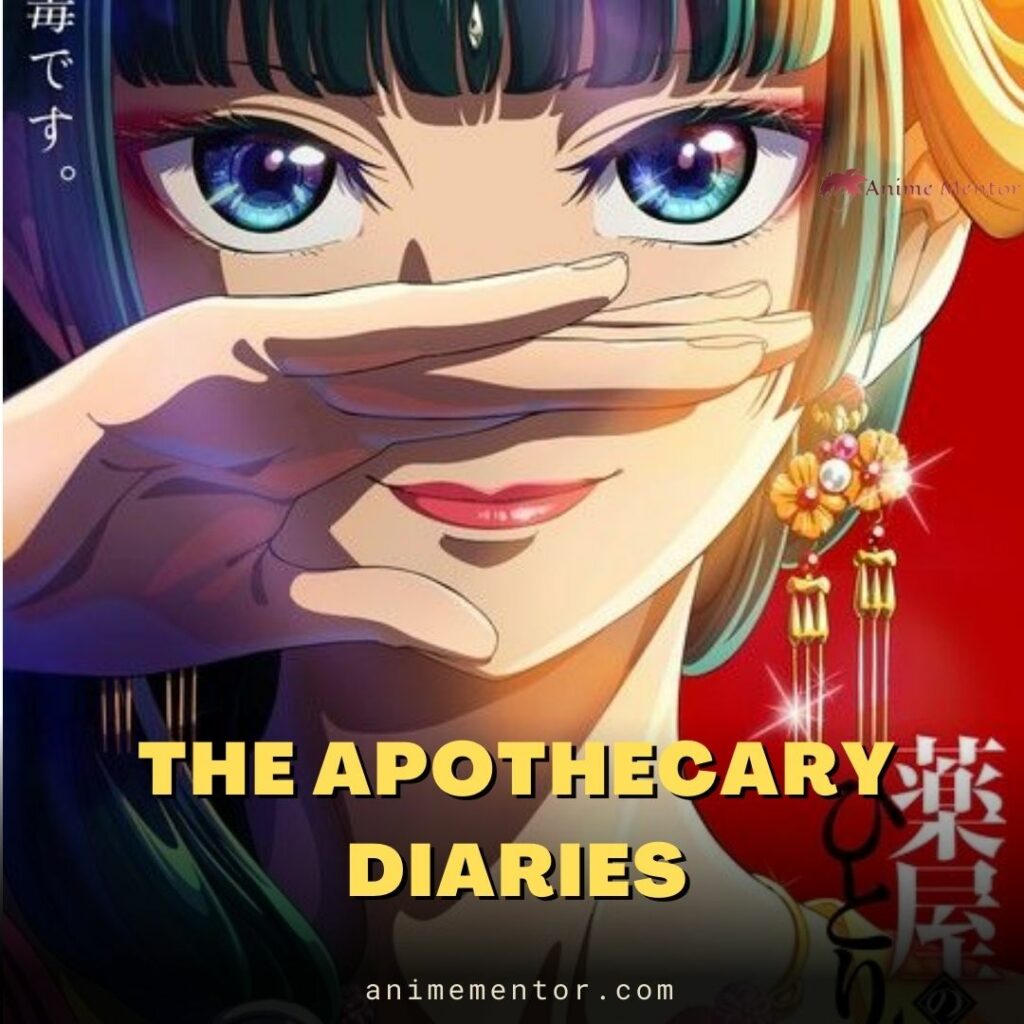 The Apothecary Diaries is a charming story that follows a young girl named Maomao who works as a servant at the palace. However, after a grave situation where the emperor's children fall ill, she is able to put her medical skills to use. Through this, she gains a lot of attention and is eventually mentored by an eccentric person named Jinshi who guides her in various things. Witnessing how Maomao cleverly deals with every problem while teaching us several lessons never fails to charm us. For those who wish to get into Shoujo-type stories but always found them too cheesy, this is the perfect manga as it steers away from the stereotypes while retaining its originality.
Tokyo Revengers Season 3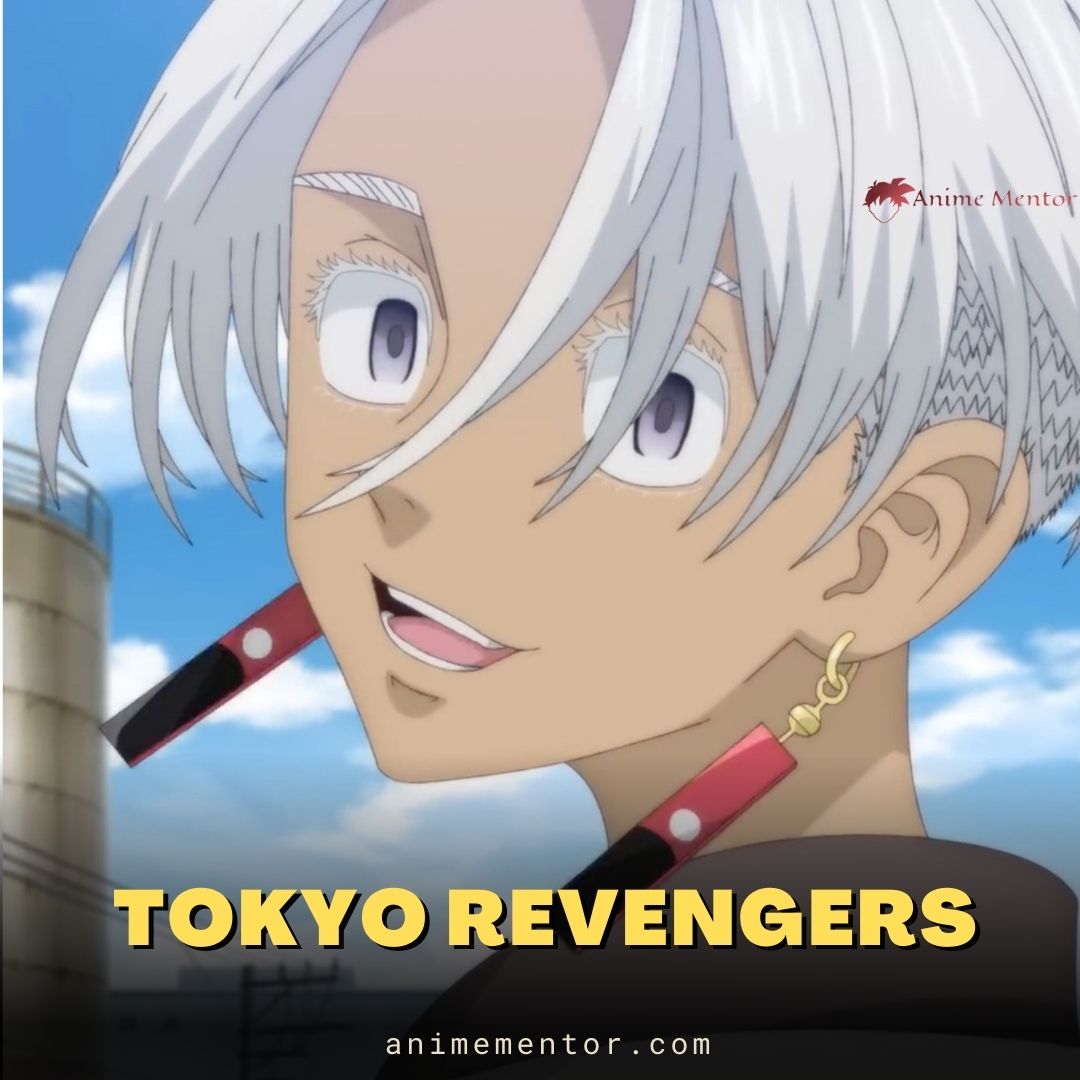 Tokyo Revengers is the big new time travel anime that tells us the story of a man named Takemichi who travels back in time to save his girlfriend. Going back to his school life, we watch him navigate through the many dangerous gangs around him. Despite being weak, Takemichi's resolve allows him to stand up to the strongest of opponents while making dependable friends. Season 3 of this series will be adapting the thrilling Tenjiku arc where Takemichi continues to try and get stronger to fight against the ingenuity of the antagonist, Kisaki. At the same time, his gang, Toman, faced a new and powerful enemy called Tenjiku.
Spy x Family Season 2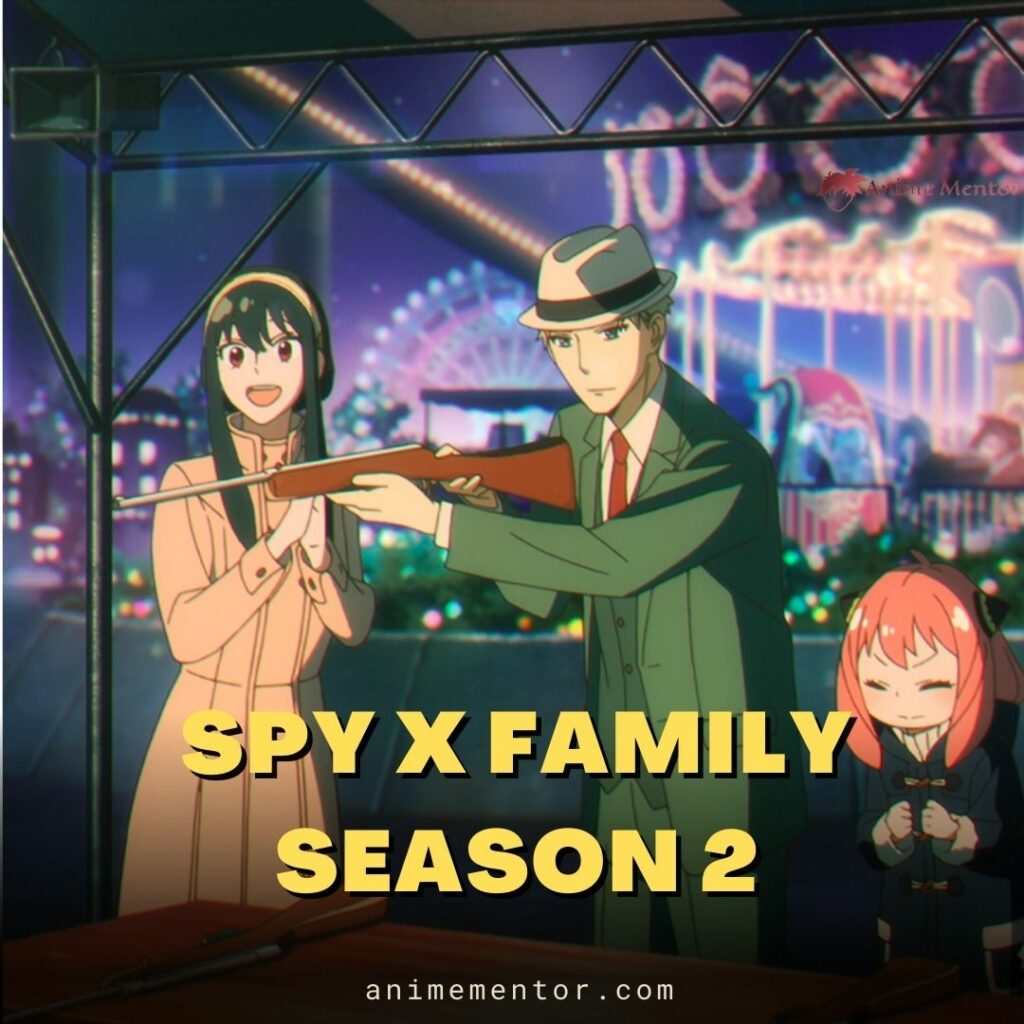 Spy x Family is an explosive and hilarious anime made from a collaboration between WIT and Cloverworks. The series follows a unique family with a spy father, an assassin mother, and a daughter who can read minds. While none of them are related, they have come together for their own reasons and spend every day together. Gradually, we watch them form a very wholesome relationship while getting into all kinds of trouble. The series features a cast of highly likeable characters and a story that is generally light but also goes into deeper topics. With a successful first season and manga which only keeps improving in quality, the upcoming second season has some very high expectations.
Dr. Stone New World Part 2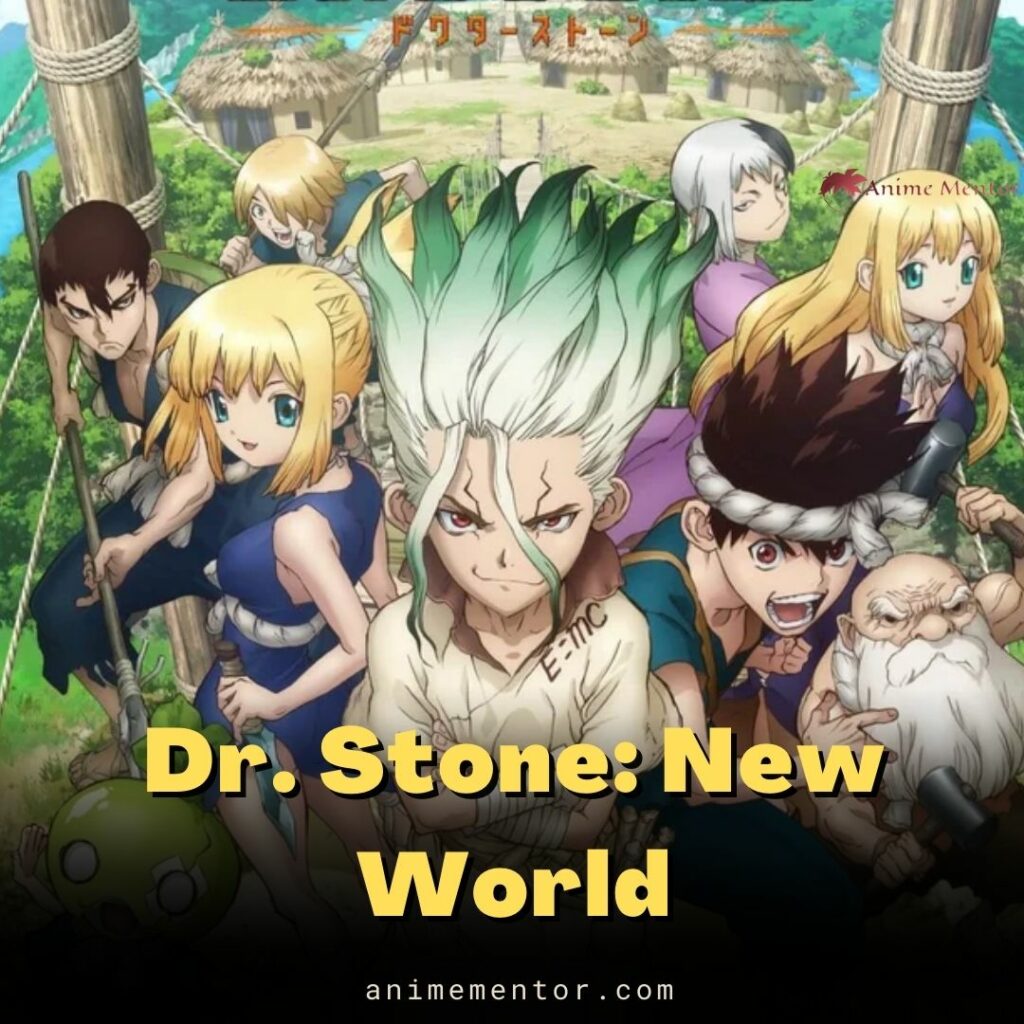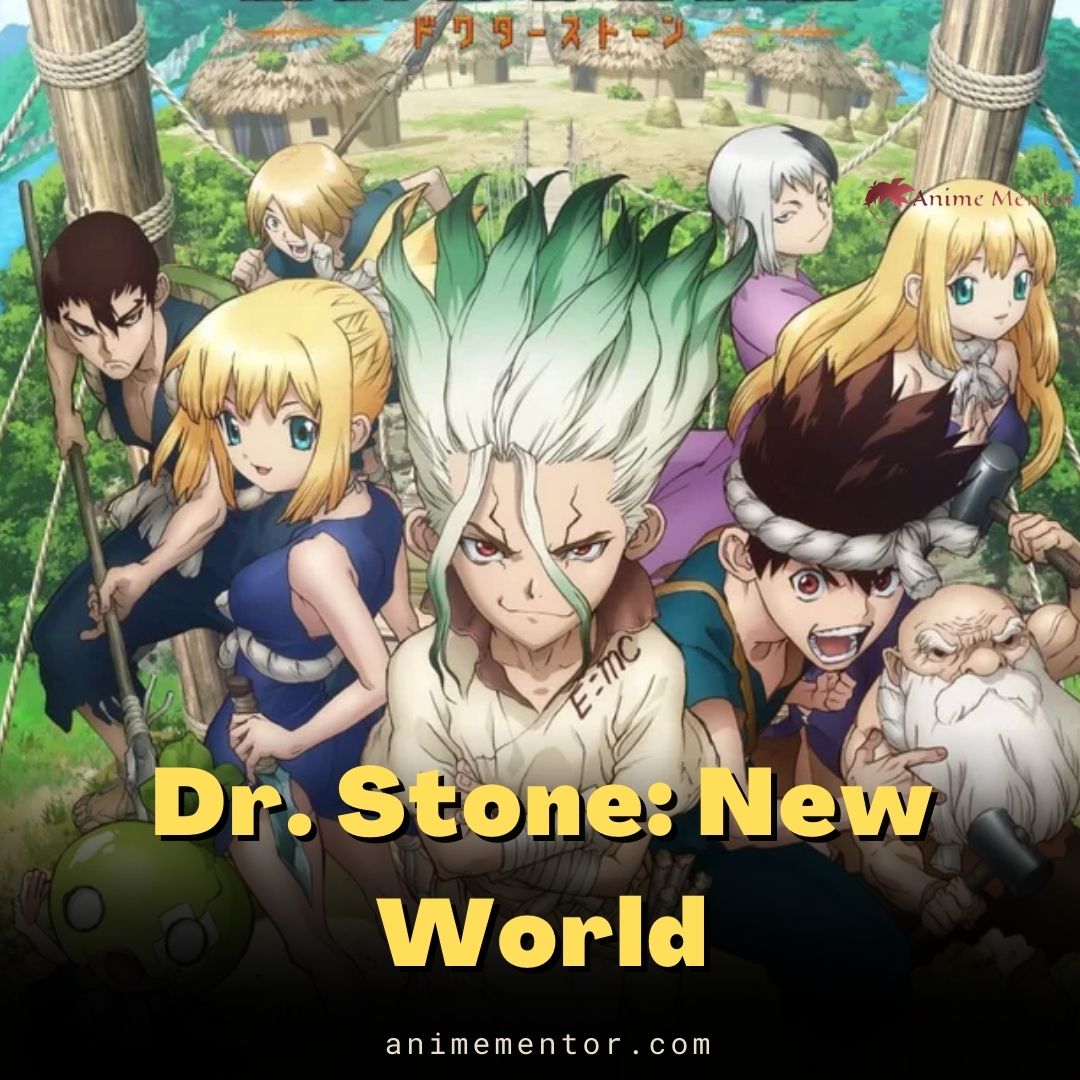 Dr. Stone is a very unique blend of adventure and science and it is set in a world where all the people have turned to stone. Far into the future, a young genius named Senku manages to escape his petrification and is stunned by his new surroundings. Without wasting time, he gets to work and puts his high intellect to good use by trying to revive those close to him and restore civilization as a whole.
At the same time, he also attempts to figure out the reason behind the phenomenon which causes the petrification in the first place. His quest is easier said than done, however, as he faces powerful enemies who have different plans for the world. The second part of season 3, titled New World, continues Senku's journey as he explores the seas with the help of a talented captain named Ryusui.
Frieren: Beyond Journey's End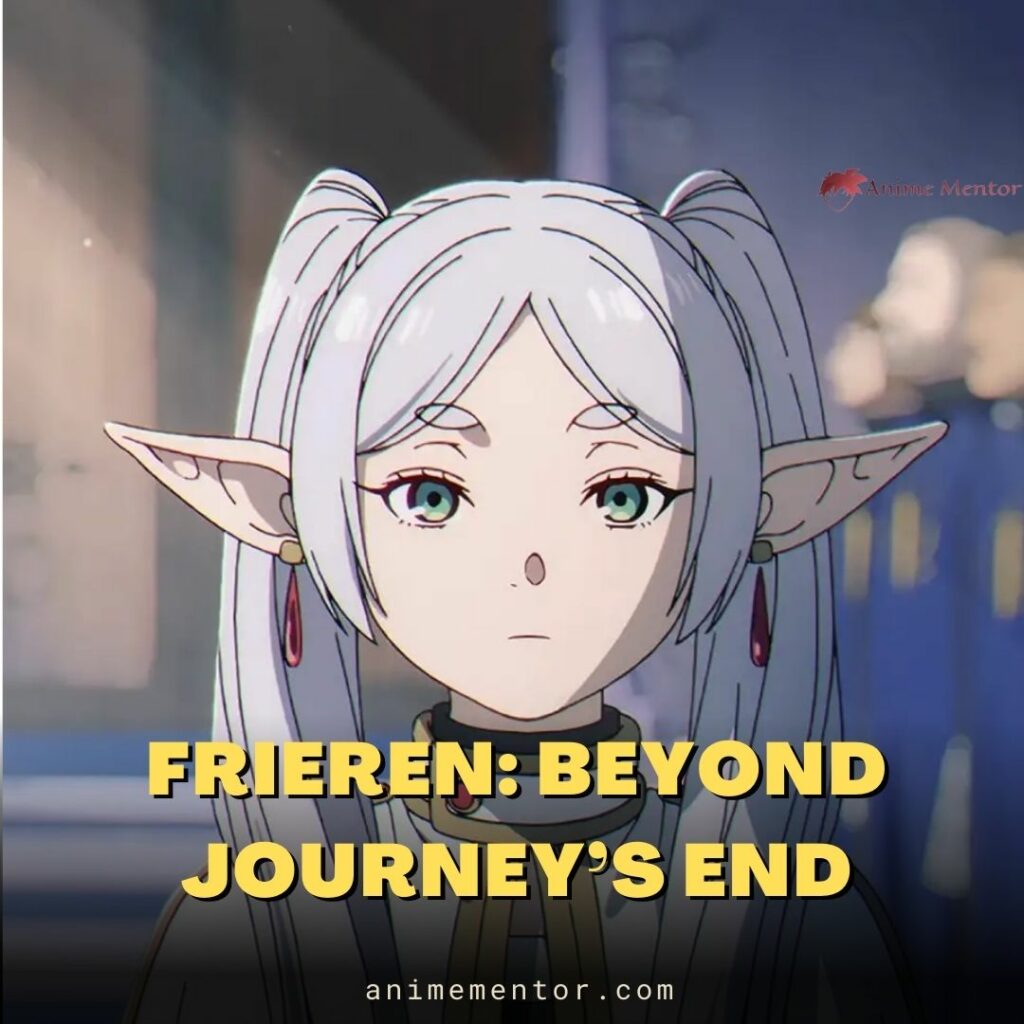 Frieren is an excellent Slice of Life story that follows an elf named Frieren who is part of the hero's party that manages to defeat the demon king. Following that, however, Frieren is forced to see her friends grow older while she herself has a larger life span.
After their deaths, she travels back to the places they held dear with her apprentice while reminiscing about the time which flew by. The series is extremely bittersweet and takes a completely new route in a fantasy story. Animated by the brilliant Madhouse studios, there is no doubt that it is going to be one of the top animes in the coming season.
Pluto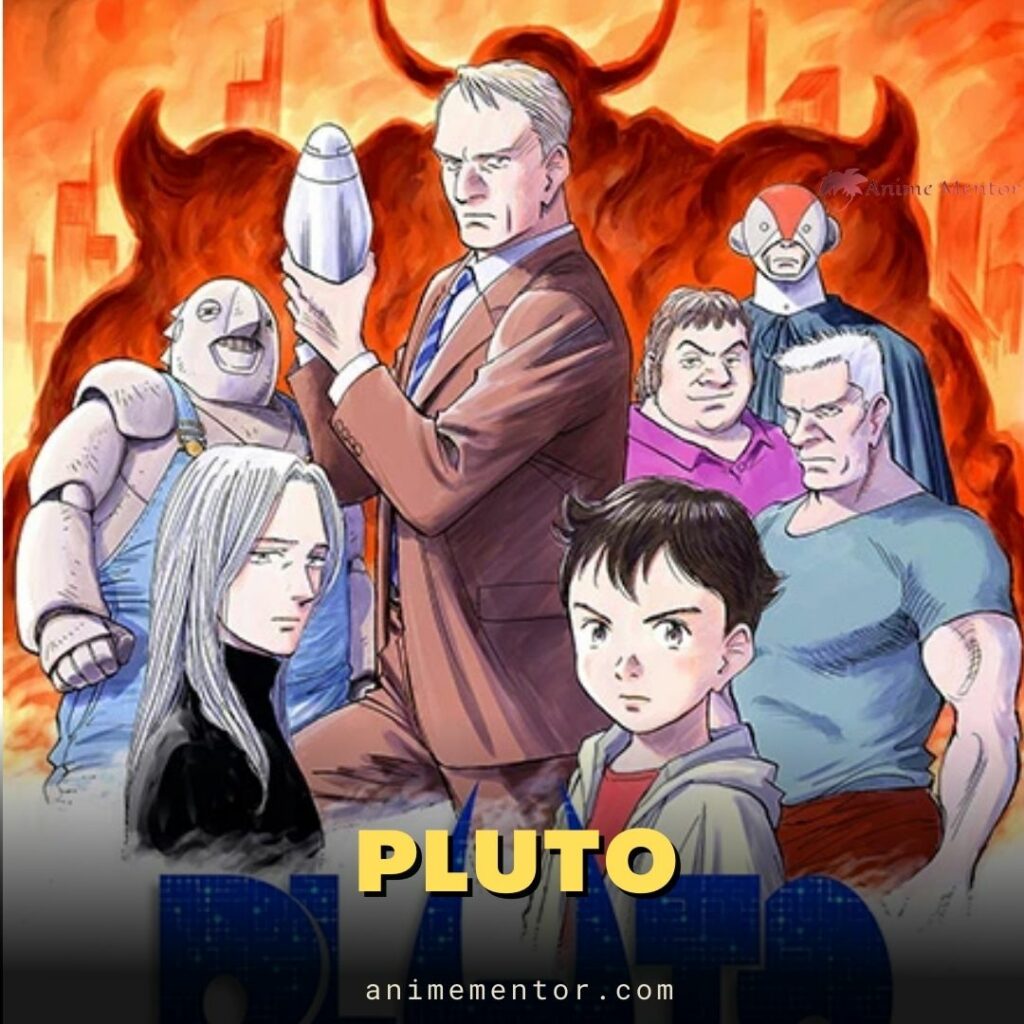 Created by the incomparable Naoki Urasawa and inspired by Osamu Tezuka's Astro Boy, Pluto yet again shows why these mangakas are considered the best in the business. It tells the tale of a society where humans and robots co-exist in harmony.
However, after the death of a very famous robot, an investigator named Gesicht is led down a spiral of mysteries that could potentially damage society as a whole. While the story is relatively shorter, it manages to completely capture us with its storytelling that keeps us at the edge of our seats and this feeling is only bound to multiply when made into an anime. Hence, Pluto is definitely one anime that everyone needs to watch in the Fall 2023 anime season.