With chapter 1088 One Piece leaves their fans in a huge cliffhanger. The chapter ends with the announcement of Garp's disappearance or possible death which left the fanbase in quite a shock. 
Key points:
Koby uses Conqueror's Haki like black lighting punch to subdue a group of Blackbeard Pirates.
Garp is attacked by Kuzan and seemingly killed, but his fate is left unknown.
The Straw Hats takeover Eaghead island.
We are going to discuss all of this in this article, so let's start. 
Is Garp Dead?
So what happened to him? "The Final Lesson" of Garp to his disciple Koby led to a great rescue for the marines. However, is it the end for the 'Hero'? Is the Hero of the marines dead?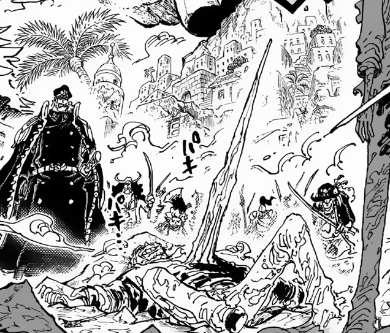 There's both sides to this and most probably he will be alive. However, the final panel of the chapter and the title gives hints towards the death of Garp. Just like last week, this week's chapter also didn't give a proper answer to conclude the decision. So we are going to analyze this chapter to create our own decision. 
Predictions
The fact that Garp might be dead is very chilling news. However, there's a lot more importance to him being alive than being dead as I talked about last week. The first thing is his connection to God Valley which is a very important thing for Blackbeard. Pudding  with her Devil Fruit power can use Garp's memories to get more information regarding the God Valley war.
Next is Kuzan/Aokiji is still a mysterious Character. As we see in this chapter Garp was defeated and was pierced through the chest with a Icy spear. However, in a similar fashion we have seen Kuzan kill Jaguar D. Saul who is supposedly wasn't killed but was frozen
So in a similar fashion Kuzan might have done the same here. As there's a possible chance of Kuzan being a spy of the Navy working silently under Akainu, these things will work out fine if Kuzan just faked killing Garp. 
Read More
Why Grap Will Die same way like Whitebeard and Ace?
Koby's Conqueror Haki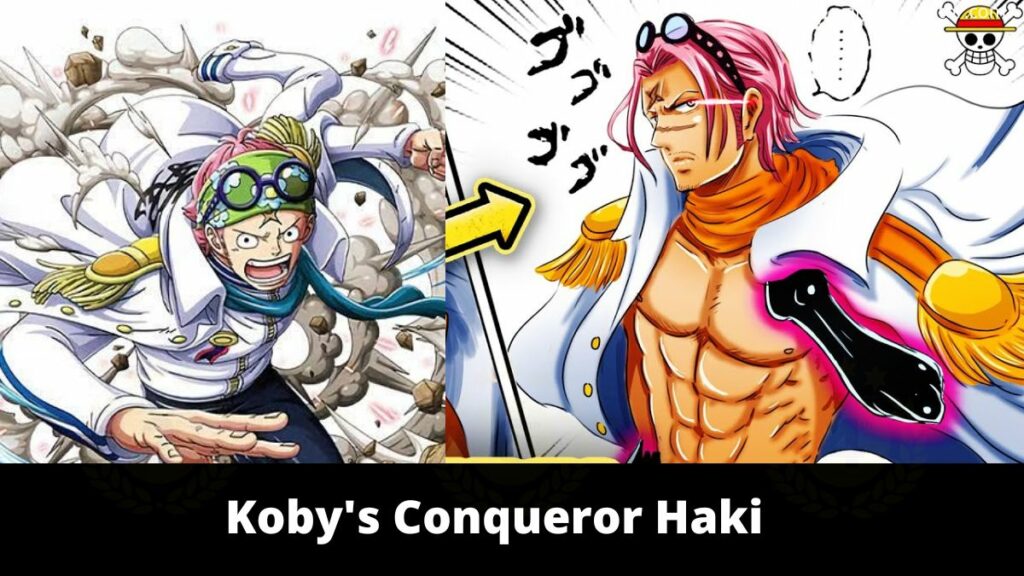 This chapter was very heavily focused on the theme of the future generations. As we see from the beginning, Garp focuses on saving the new generation and leaving the old behind.
There's a possible revelation of the next generation admirals in this chapter. As we know Koby's dream throughout the series has been to become a Navy Admiral. This chapter solidifies that dream along with Helmeppo and Grus.
The last words of Garp towards them were "Never forget you are the future of the Marines" Which in a shuttle way represents the massive next generation of Admirals who will be leading the Navy. We also see massive power showcases from Koby and Grus too. 
Now there's a huge confusion that has been created in the chapter which is the attack of Koby. Honesty Impact looks like a Conqueror's coated attack which leads into a dispute that says how did Koby awaken the strongest power in the series in an instant.
However, the main thing is it may not be Conqueror's Haki as many think. There's a lot of circumstances where Armament Haki with black lightning creates confusion among fans. So what was that attack?
According to my thought process, it might have awakened the hidden Conqueror's Hali within Koby. However, the attack was mostly based on Advanced Armament Haki which is also known as Ryou.
But during the punch we see the lighting which may be proof of him being a Conqueror. The main thing behind it not being Advanced Conqueror's Haki is there's not a single frame where we see people getting knocked out. As we've seen through the series Oda showed people getting knocked out for any Conqueror's Haki action. 
Will Luffy Avange Garp's Death?
Yes. In "One Piece," Luffy will fight Blackbeard due to the personal vendetta he holds against him. Blackbeard was responsible for capturing and orchestrating the execution of Luffy's brother, Ace, and was involved in the death of Whitebeard, and also death of his grand father. These tragic events have fueled Luffy's strong desire to seek revenge on Blackbeard and avenge the deaths of his loved ones.
Luffy Defeats the Gorosei
Now the chapter ends with a speech from the narrator. This was a very intriguing speech that hypes up the next Egghead Chapter. The translation to the final speech goes as "Emperor Luffy siege the island of Egghead" as we see the marine ships finally reach Egghead Island.
This indicates a lot of things. But the most interesting thing about this is the possible fight between Luffy and Saturn. This is a major event in the history of One Piece as we see for the first time a Gorosei on the move.
So what do you guys think will happen? Will Luffy be able to defeat Saturn and keep Egghead Island as his territory or do you guys think Vegapunk will be killed by Kizaru and Saturn? 
Conclusion
We are on a break next week sadly which makes 1089 to come out in August. However, when we return it will be a very interesting chapter which fans have been looking forward to. It's already been 4 months without the Straw Hats in the manga.
So many people are waiting for their return. And as the Narrator already said, it will be the return of Emperor Straw Hat Luffy. So see you people in chapter 1089.