One Piece anime has created massive hype with the release of Gear Fifth. After the internet-breaking episode 1071 released episode 1072. This episode in and itself was a piece of art. From gorgeous animation to beautiful storyboards this episode had everything. Now it's time for episode 1073.
After back-to-back phenomenal episodes, people are very hyped for Episode 1073. So will it live up to the hype of the fans? What are the pieces of information you need to know about episode 1073? Let's dive into it.
One Piece Episode 1073 Title: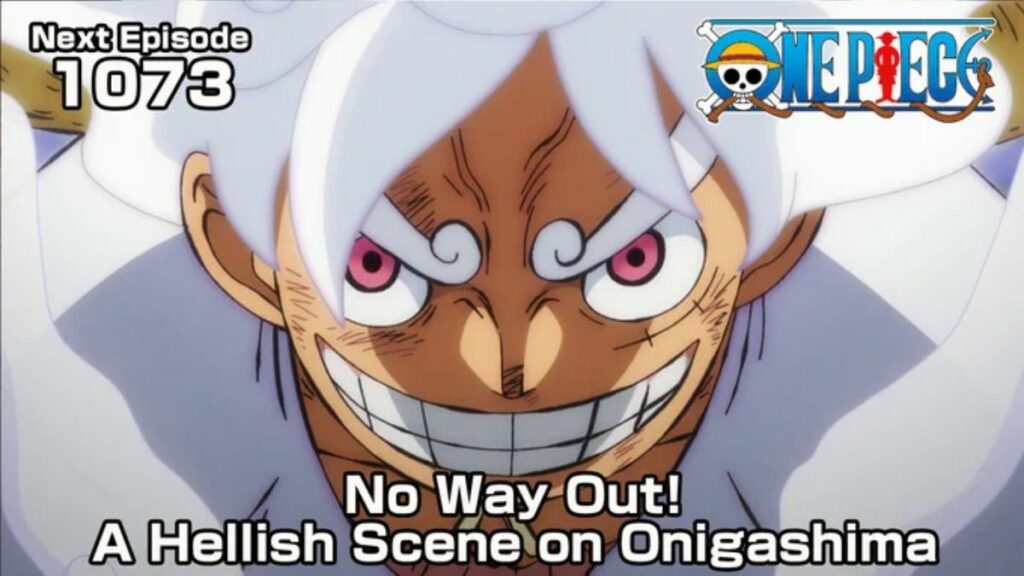 No Way Out! A Herllish Scene on Onigashima
Staff List:
Sadly not many staff names for this episode have been confirmed yet. We only have two names so we will share that with you for now.
Storyboard: Katsumi Tokoro (485, 968, 1040, 1053, 1064)
Animation Director: Mamoru Yokota (One Piece Film: Red, 1052, 1057,1058)
How Good Was One Piece Episode 1072:
One piece episode 1072 is one of the best animated episodes of all time pic.twitter.com/vMoBXn4ERs

— Jason Klum (@PokemanZ0N6) August 13, 2023
This episode went above and beyond fans' expectations. This episode delivered one of the most beautifully animated sequences of the series done by Shinya Ohira and Akihiro Ota. So let's take a look at 1072 before diving into the preview of 1073.
After a long time, One Piece anime covered more than a chapter in a single episode. This episode covered the whole chapter 1045 and a few pages of 1046. One of the best action chapters of Gear 5 Luffy was adapted this Sunday. 
The episode started where 1071 left off. Then we see the power of  Gear 5 on a broader scale. This episode followed the manga very closely. However, there were a few added scenes that also looked very beautiful. Unlike 1071 this episode did not suffer from pacing issues, and the animation in some sequences was unbelievable. 
The episode ends with adapting a few pages from 1046. This scene in a way clears the fact that Joyboy hasn't reincarnated. In this scene, Luffy declares his oath to become the "King of The Pirates". Overall, this episode was gorgeous.
One Piece 1073 Release Date & Time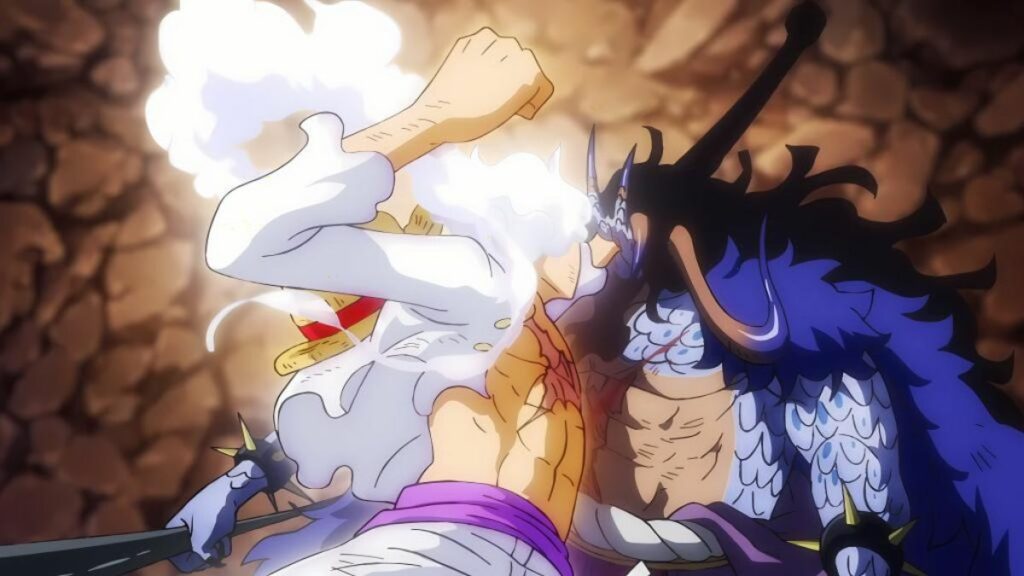 This episode will air on the 20th of August at 9:30 a.m. JST(Japan Standard Time) on Japan.
Also, the episode will be available in Cruchyroll throughout different timezones along with the release in Japan. Here is the list:
Japan – 10:00 am (JST)- It takes 1hr to release the episode in Crunchyrool
South Korea – 10:00 am (KST)
Taiwan – 9:00 am (CST)
Philippines – 10:00 am (PHT)
Thailand – 9:00 am (ICT)
Indonesia – 8:00 am (WITA)
India – 7:30 am (IST)
UAE – 6:00 am (GST)
Egypt – 4:00 am (EET)
Russia – 6:00 am (MSK)
Germany – 3:00 am (CET)
France – 3:00 am (CET)
UK – 3:00 am (GMT/BST)
Brazil – 12:00 am (BRT)
Argentina – 1:00 am (ART)
Where to Warch One Piece Episode 1073?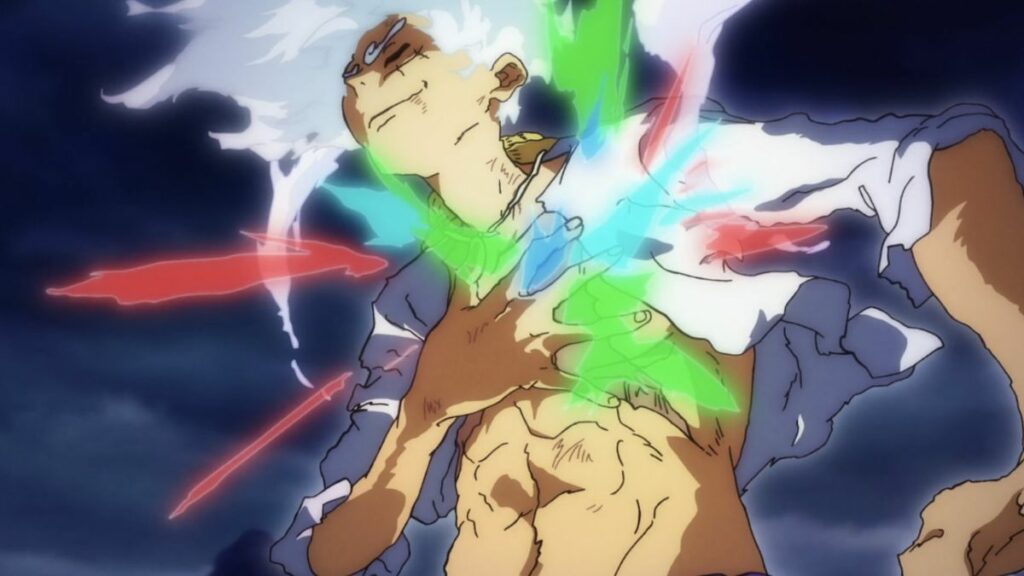 You can watch One Piece episode 1073 on the popular anime streaming service Crunchyroll.
One Piece Episode 1073 Content(SPOILER):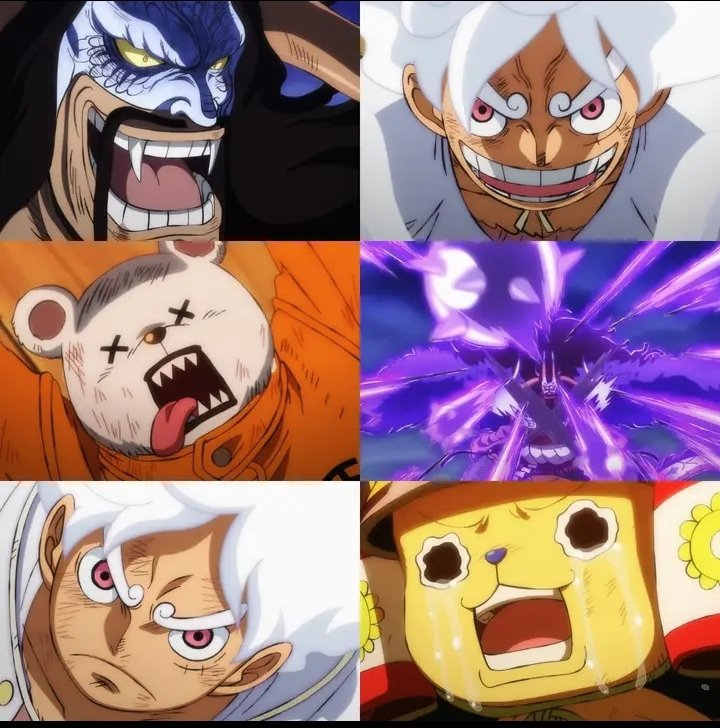 This episode will cover the remaining part of chapter 1046. This chapter is titled Raizo. This episode may be less hype because of this chapter's content.  In the climax battle of Onigashima, this chapter is the only one that focuses solely on things other than Gear 5. So let's discuss what will be covered in the episode.
As I said before the beginning few pages of Luffy and Kaido are already adapted in chapter 1072. So this episode may start with a short Luffy vs Kaido or they may turn this few pages at the end of the episode. Other than that, this chapter focuses on everything except the rooftop battle. From the impact of Kazenbo the whole island of Onigashima is on fire. Now without water, it's almost like a burning pyre. 
However, amid the crisis, two people took it upon themselves to extinguish the fire. The first is Raizo and the other one is Jimbe. Raizo creates a massive amount of water from his scroll jutsu. Jimbe then took the strong wave of water and spreads it throughout Onigashima. 
This is the majority of the chapter that will be covered in 1073. However, they might add some extended cuts of Luffy vs Kaido as there is very less content to cover. Or, they might look to the next chapter which is chapter 1047. However, I don't think so because this chapter has a huge cliffhanger which will be a great surprise for the fans.
Conclusion:
This is it for today. The anime will have a recap episode after this episode. So 1074 will release a week late. I will be back with more info regarding that until then bye bye.