One Piece Live Action is a forthcoming TV show based on the 1997 Japanese manga by Eiichiro Oda the same name. The show was public by Hiroyuki Nakano, Weekly Shonen Editor-in-Chief on 21st July 2017 to commemorate the manga's 20th anniversary. As a huge fan of the anime and manga series, One Piece, I was ecstatic when I heard about the upcoming live-action adaptation.
As a die-hard fan, I know how exciting it is to be a part of the One Piece fan community and to follow the latest developments. I went on a deep dive and spent countless hours researching the cast, crew, story, release date, and all the other juicy details. That's why I wanted to share my findings and thoughts with other One Piece enthusiasts who are just as passionate as I am.
In this blog post, you will find everything you need to know about the upcoming One Piece live-action series, all gathered in one place. No need to spend hours searching for information or scrolling through social media accounts. I also want to thank StuffWithBudder for providing some great information that helped me in my research. You must check out his channel if you're looking for more One Piece content.
So, if you're as excited as I am about the One Piece live-action adaptation, then put on your pirate hats and hop on board, because we're in for an exciting ride!
[toc]
One Piece Live Action Wiki

| | |
| --- | --- |
| Genre | Adventure, Fantasy, Comedy, Action |
| Based on | One Piece by Eiichiro Oda |
| Country of origin | United States |
| Original language | English |
| Executive producers | Eiichiro Oda, Marty Adelstein, Becky Clements, Matt Owens, Steven Maeda |
| Shooting Location | South Africa |
| Production companies | Tomorrow Studios, Shueisha |
| Distributor | Netflix Streaming Services |
| Original network | Netflix |
| Expected Release Date | 31st August 2023 |
What is the story behind the creation of the One Piece live-action series?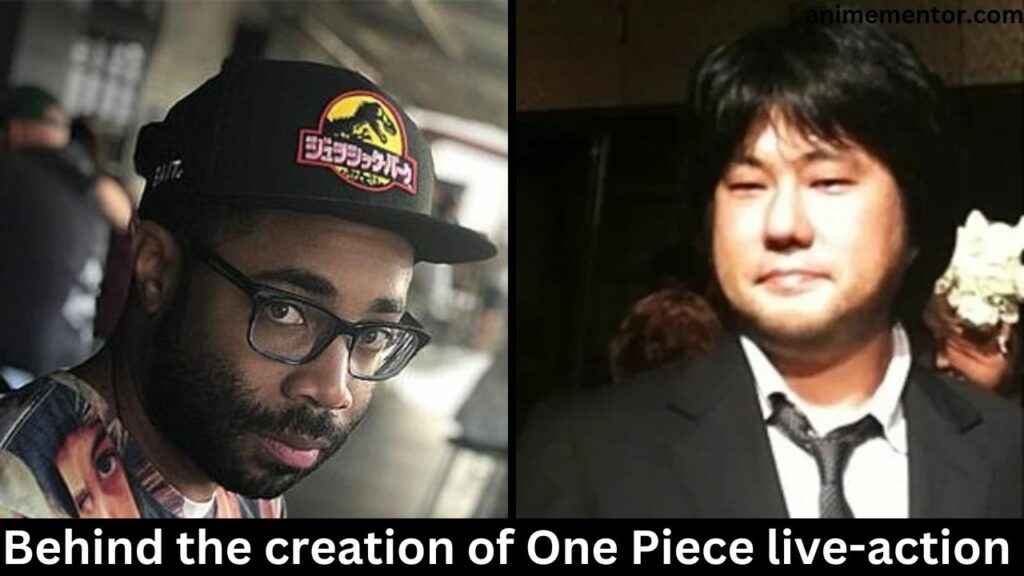 The One Piece live action came about when Tomorrow Studios obtained the rights to produce it sometime between 2014 to 2016. The first step was to assemble a team that Eiichiro Oda, the creator of One Piece, would approve of.
Matt Owens, one of the two showrunners for the series, convinced Tomorrow Studios that he was the right man for the job by explaining how much he loved and understood the series.
The next step was to convince Oda. In a meeting in the Shonen Jump offices, Matt Owens pitched their idea for the live-action and explained his strategy for adapting One Piece while also expressing his love for the series.
Oda, who had turned down numerous offers to adapt One Piece at that point, was still wary by the end of the meeting.
However, during a dinner afterward, Owens explained how One Piece had saved his life during a period of extreme depression and how the story is about how everyone has pain and tragedy in their life but it's not what defines them.
Oda was moved by Matt's story and expressed his faith in him. After this point, work began on making One Piece live-action a reality.
Oda announced the live-action to the public on the 20th anniversary of One Piece in 2017, stating that the first condition he presented was that the live-action would be faithful to the fans who have supported One Piece for 20 years.
Along with Tomorrow Studios CEO Adelstein and Becky Clements, Eiichiro Oda will serve as executive producer.
According to Adelstein, the series will begin with the East Blue saga from chapter 1 to chapter 100.
More than two years went by without any news about the live-action before in 2020, Oda announced that Netflix would be lending its tremendous production support to the project.
Since then, we have received more news about the live-action, but details about the story's progress and the vast majority of the cast are still unknown.
Producers Behind The One Piece Live Action
In this series, Monkey D. Luffy and his crew, the Straw Hat Pirates, explore the oceans in search of One Piece, a fabled treasure that will enable Luffy to become King of the Pirates.
Before we get to the producers and directors, let's start with the three main companies in charge –

Netflix: #1 OTT Platform in the world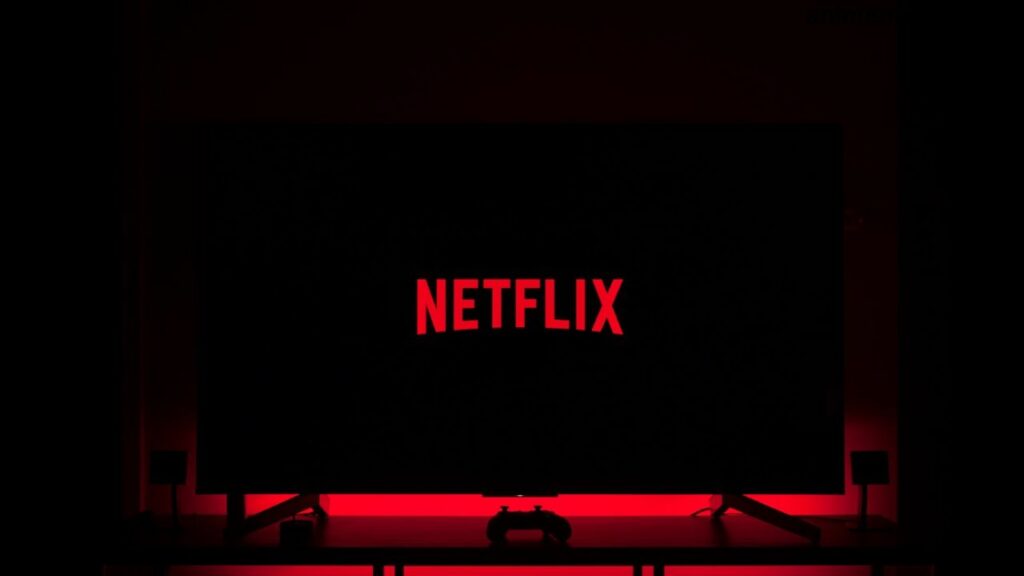 Netflix has produced several live-action adaptations of popular anime series in recent years, including Death Note, Fullmetal Alchemist, and Cowboy Bebop.
Here are some details on Netflix's live-action anime series, including their names and ratings on popular websites like MyAnimeList (MAL) and the Internet Movie Database (IMDb):
Alice in Borderland – MAL rating: 8.25/10, IMDb rating: 7.7/10
Cowboy Bebop – MAL rating: 6.29/10, IMDb rating: 5.9/10
Fullmetal Alchemist – MAL rating: 6.15/10, IMDb rating: 5.7/10
Bleach – MAL rating: 5.65/10, IMDb rating: 6.4/10
Death Note – MAL rating: 5.07/10, IMDb rating: 4.5/10
It's worth noting that while some of these live-action adaptations have received mixed reviews, Alice in Borderland has been quite popular with audiences. Alice in Borderland, for instance, has a strong rating on both MAL and IMDb.
While One Piece has generated significant buzz ahead of its release, the success of these live-action adaptations depends on a variety of factors, including the quality of the writing, the faithfulness to the source material, and the performances of the actors involved.
Shueisha: The company that owns Shonen Jump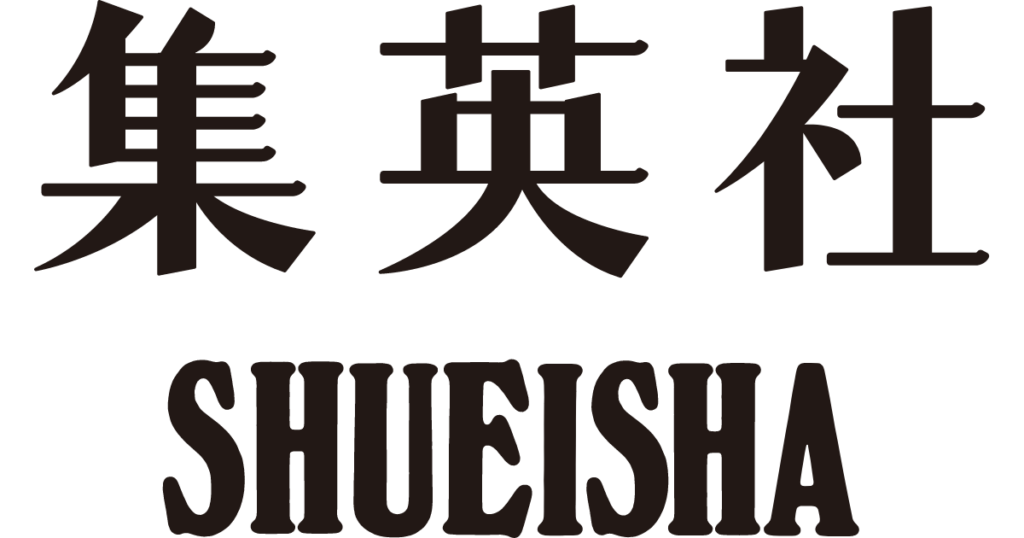 Shueisha is a Japanese manga and publishing company that has been involved in several live-action adaptations of anime and manga series. You must have heard their name. They are the most popular Manga Company that owns Viz Media also.
One of its most well-known live-action adaptations is the 2015 film "Assassination Classroom," which is based on the manga series of the same name.
The film received positive reviews from both fans and critics and was a box-office success.
Tomorrow Studios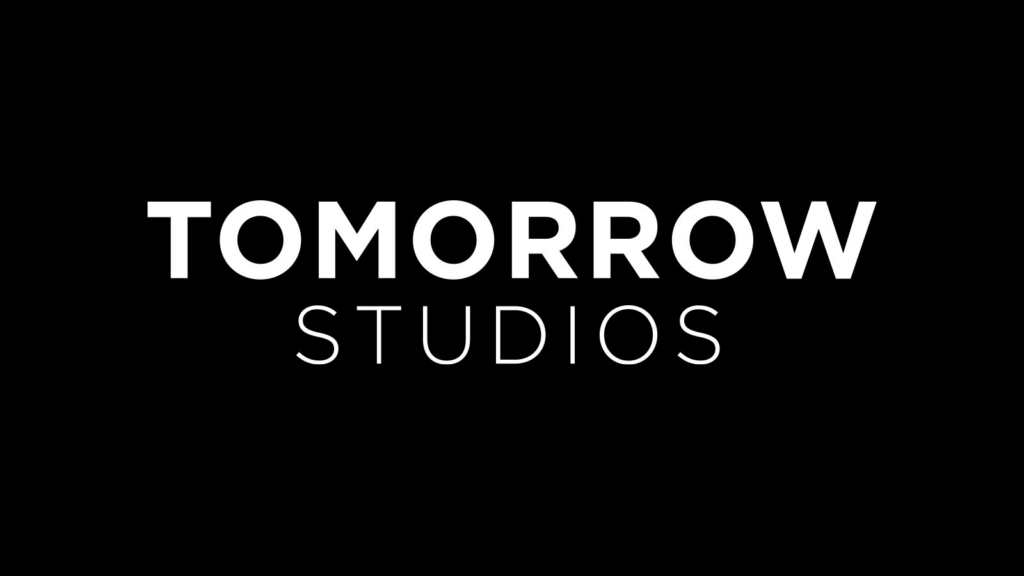 Tomorrow Studios is a production company that was founded in 2014 as a joint venture between Marty Adelstein's Tomorrow ITV Studios and the production company behind the popular manga magazine Weekly Shōnen Jump, Shueisha.
The company has produced a number of television shows, including the live-action adaptation of the manga series "Cowboy Bebop" for Netflix.
Overall, Tomorrow Studios has established itself as a major player in the world of live-action adaptations of anime and manga series and is continuing to work on new projects that are sure to excite fans of the genre.
There are 23 of these people working on One Piece of those only three of them have worked on both live actions. And of those three people, two of them are the head honchos of Tomorrow Studios. So, to some extent, they're involved in every Tomorrow Studios production.
Now that you know the companies, let's talk about the people –
The Showrunners:
Showrunners are the individuals who oversee the overall creative direction of a TV series, including writing, casting, and directing. They play a crucial role in bringing a TV show to life and ensuring its success. 
First up is someone that's already been mentioned a couple of times in this post –
Matt Owens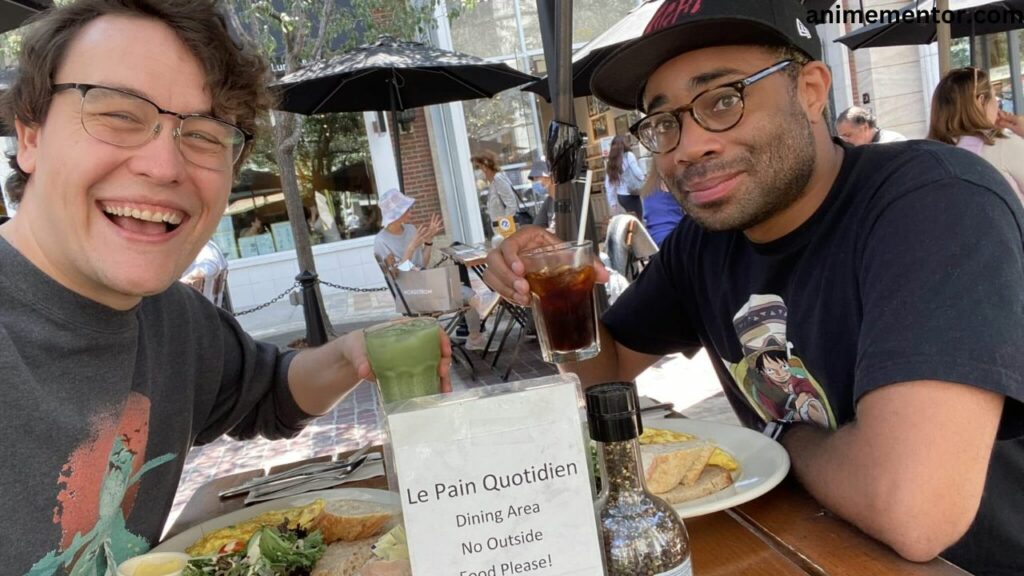 Matt Owens is one of the showrunners for the One Piece live-action series. Owens has previously worked as a writer on various popular TV series, including Luke Cage, Agents of S.H.I.E.L.D., and The Defender.
Steven Maeda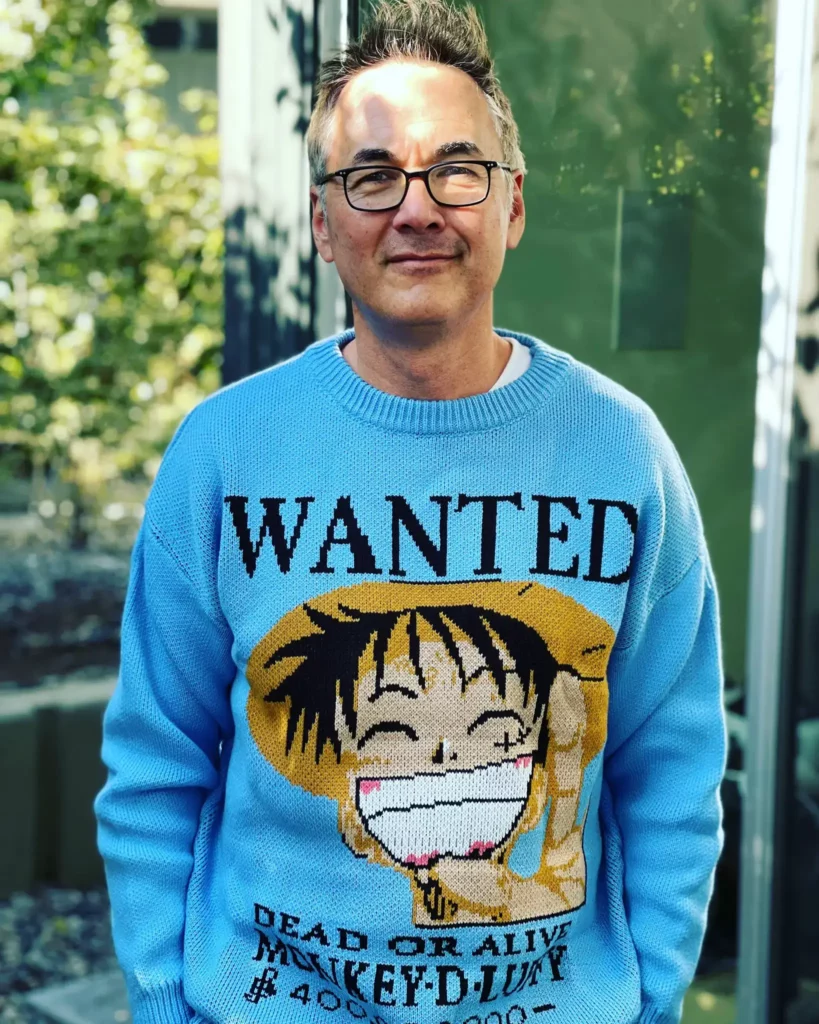 Maeda has worked as a producer and writer on several popular television shows, including "CSI: Miami," "Lost," "The X-Files," "Lie to Me," and "Daybreak." He has a wealth of experience in the television industry and is well-versed in working on projects with complex storylines and intricate world-building.
Maeda's involvement in the project is seen as a promising sign for fans of the One Piece franchise, as he brings a lot of talent and expertise to the table.
Exclusive Producer
Allison Weintraub: Allison Weintraub, who previously worked on "The Witcher," serves as one of the executive producers of the show.
Ian Stokes: Ian Stokes, who worked on "The Walking Dead," is also an executive producer.
Lindsay Gelfand: Lindsay Gelfand is another executive producer, having previously worked on "The Punisher" and "The Defenders."
Laura Jacqmin: Laura Jacqmin, known for her work on "Get Shorty" and "Lucky 7," is a writer on the One Piece live-action series.
Writers
Jason Cho
Damani Johnson
Tom Hyndman
The Directors
A director is a key creative role in any film or television production, responsible for overseeing and guiding the artistic and technical aspects of a project. They work closely with the writer, producers, and actors to bring the script to life, making decisions about the visual style, pacing, and overall tone of the production.
Here are some details about the directors involved in the One Piece Live Action adaptation:
Mark Mylod: Mark is a British director known for his work on popular TV shows like Game of Thrones, Entourage, and Succession. He has directed several episodes of these series, showcasing his ability to work with large ensemble casts and handle complex multi-layered storylines.
Emma Sullivan: Emma is a rising star in the world of television directing, having worked on critically acclaimed series like Doctor Who, Silent Witness, and Call the Midwife. She brings a strong visual style and a keen eye for storytelling to her work, as well as a talent for working with actors to bring out their best performances.
Tim Southam: Tim is a Canadian director with a diverse range of credits, having worked on shows like Bates Motel, Lost in Space, and House. He is known for his ability to balance action, suspense, and character development, creating engaging and immersive viewing experiences for audiences.
Yostell Lopez: Yostell is a Colombian director and producer who has worked on a number of international productions, including the hit Netflix series Narcos and the upcoming HBO Max series Tokyo Vice. He brings a strong sense of realism and authenticity to his work, as well as a talent for capturing the unique flavor and atmosphere of different cultures and locations.
Overall, the One Piece live-action adaptation has assembled a talented and experienced team of directors with a proven track record of creating compelling, high-quality television. Fans can look forward to seeing how these talented individuals will bring the world of One Piece to life on the small screen.
And that's all the important people behind the scenes of the One Piece live-action. Well, not quite, because we've yet to mention the most important person in the entire production, and that's Oda Sensei.
Is Oda Working On The One Piece Live Action?
Yes, Eiichiro Oda, the creator of One Piece, is very involved in producing One Piece Live Action as an executive producer. He approves every outline and script and is involved in deciding on the casting. Any changes that need to be made are adjusted accordingly based on his feedback.
"We decided on this cast after numerous discussions involving people around the world! These are the people who will be our Straw Hat Pirates! It'll take a bit more time to get this show done, but we'll continue to do our best to deliver a show that we're confident will be enjoyed by everyone around the world! Look forward to more updates in the future!"

Echiro Oda about the Cast
The producers of the show aim to portray the series in the best way possible and are not adding anything non-canon, but are looking at future canon as a reference. They also aim to keep the lighthearted tone of the show with some serious moments and are not censoring anything, although the show will have a rating of TV 14.
Their main goal is to bring people into the wonderful world of One Piece by making them laugh, cry, and go "holy" at least once in every episode.
One Piece Live Action Cast: Training and Behind the Scenes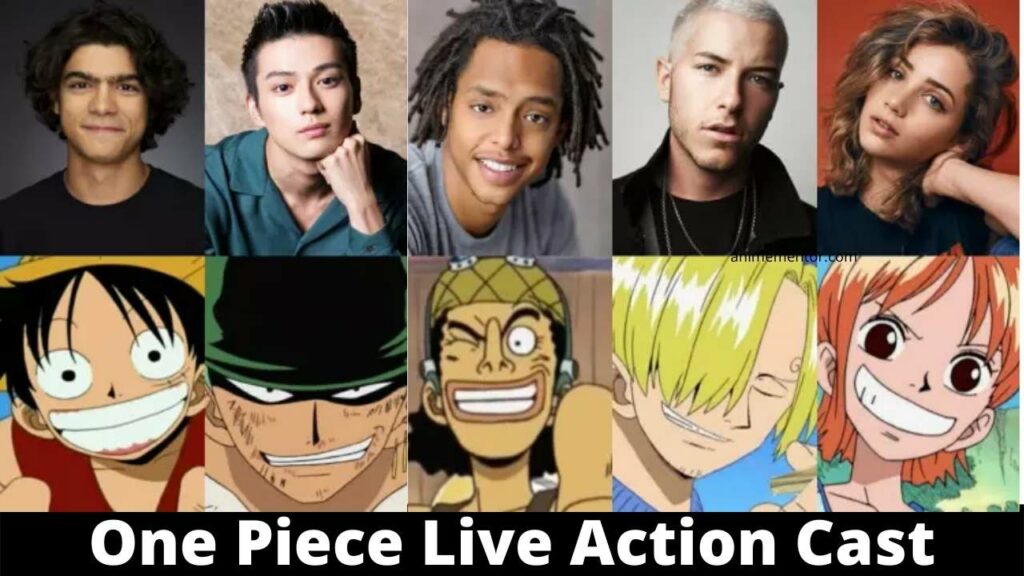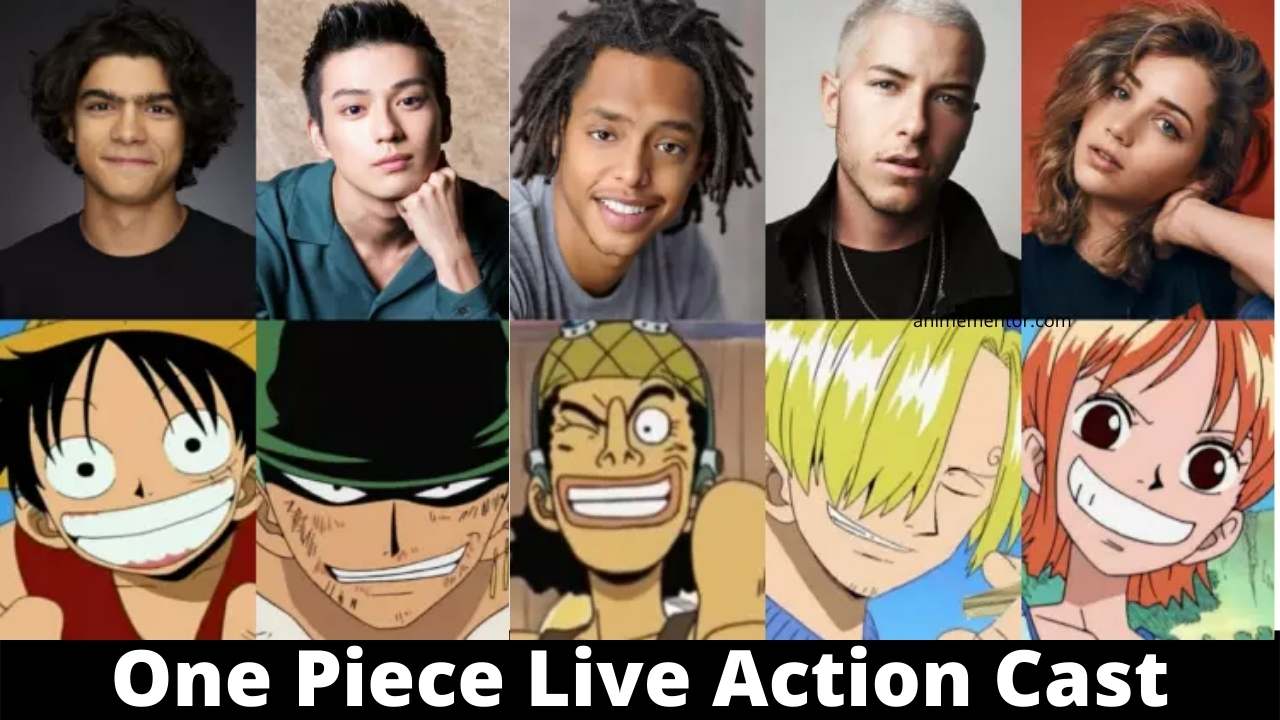 In an interview with Syfy Wire on May 19, 2020 producer Marty Adelstein revealed that all ten scripts had been written for the series and casting would begin sometime in June 2021.
Straw Hat Pirates' main cast was revealed via wanted posters in November 2021. On January 31, 2022, Maeda announced that principal photography had begun. Later on May 8, 2022, the show's director Marc Jobst announced that the first two episodes had been filmed.
The One Piece live-action has been a long-awaited project for fans of the iconic anime and manga series. With production underway, fans have been eagerly anticipating news and updates on the cast and crew. Recently, some behind-the-scenes information has been revealed about the cast's preparation for their roles.
Inaki Godoy as Luffy:The protagonist Monkey D. Luffy will be played by Inaki Godoy. He is 18 and has played Bruno in a Mexican series named "Who Killed Sara?". Enaki Godoy shared that he embarked on a three-month journey around the Caribbean Seas to prepare for his role. Although he didn't undergo any specific training for the role of Luffy, he assisted in navigating the vessel between islands and even did some cooking and cleaning, similar to the character's personality and habits. Colton Osorio will play Young Luffy.
Mackenyu as Roronoa Zoro:The first mate of Luffy who is an accomplished swordsman and former bounty hunter. Mackenyu is a Japanese actor who lives in the USA. Makenu Arata was spotted practicing his fighting skills using the three-sword style. While we don't know the full extent of his preparation for the role, fans can rest assured that he's putting in the work to bring Zoro to life on screen.
Emily Rudd as Nami: Emily Rudd was a fan favorite for the role even before being cast. Fans suggested her due to her love for the character and her resemblance with Nami. A member of the Straw Hat Pirates is a fierce and enigmatic thief, serving as the crew's navigator. She dreams to draw a map of the entire world.
Jacob Romero Gibson as Usopp: Specializes in sniping, usually with a slingshot, and is known to be the greatest liar of his village. He wants to overcome his personal weaknesses and become a brave warrior of the sea.
Taz Skylar as Sanji: Sanji serves as the crew's cook and is a master chef. His martial art primarily involves kicks. Taz Skyler, who plays Sanji, has been the most active in sharing his preparation for the role. He's been training in martial arts and taking cooking classes. Skyler has a difficult past with food due to severe eating disorders in his early 20s. He shared that he had to emotionally detach himself from food to manage the disorders. However, with Sanji's role, he's reconnecting with food in a way that's about finding joy and pleasure in feeding others. He dreams of finding All Blue, a mythical sea that connects the four seas.
Craig Fairbrass as Chef Zeff: He has worked with Skyler in the past and will play his father figure for the third time in the One Piece Live action. Their past experience will definitely be a plus point for the duo.
Overall, as a One Piece fan, I am reassured that the One Piece live-action cast is putting in the work to bring their beloved characters to life on screen. Although there are no official release dates yet, there is much excitement about the live-action.
Why Zoro is Missing in Early promotion?
You may have heard the surprising news that the titular character will not be appearing in the first season. Moreover, there are reports that the actor playing Zoro, Makenu, never made it to the set and is still missing to this day. What happened? Is this a publicity stunt or a genuine problem?
According to reports, Makenu's plane did arrive at the filming location, but he took a wrong turn on the way to the set and got lost. This may sound far-fetched, but the legend of the lost Zoro has been circulating online and among fans, adding to the mystery and intrigue of the show.
The showrunners are using this as a clever way to generate buzz and create a viral marketing campaign.
However, there may be a more plausible explanation for Zoro's absence. Japanese talent agencies are known for their strict policies regarding social media and public appearances.
Makenu's agency may have decided to keep him off the set and out of the public eye until they are ready to promote him officially. This could explain why there are no photos or videos of him on social media or from unofficial sources.
In any case, the anticipation for Zoro's debut and the resolution of his mysterious absence only adds to the curiosity surrounding the new series. Whether he is lost in the wilderness or just waiting for his moment to shine, we hope that Makenu and the rest of the team will deliver a thrilling and memorable performance that honors the legacy of the iconic hero.
The Other Casts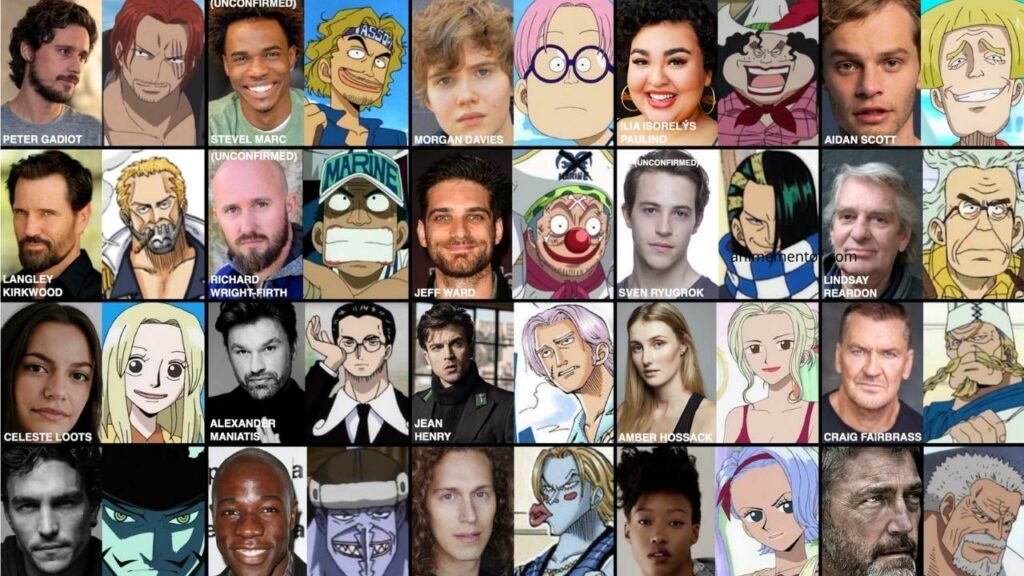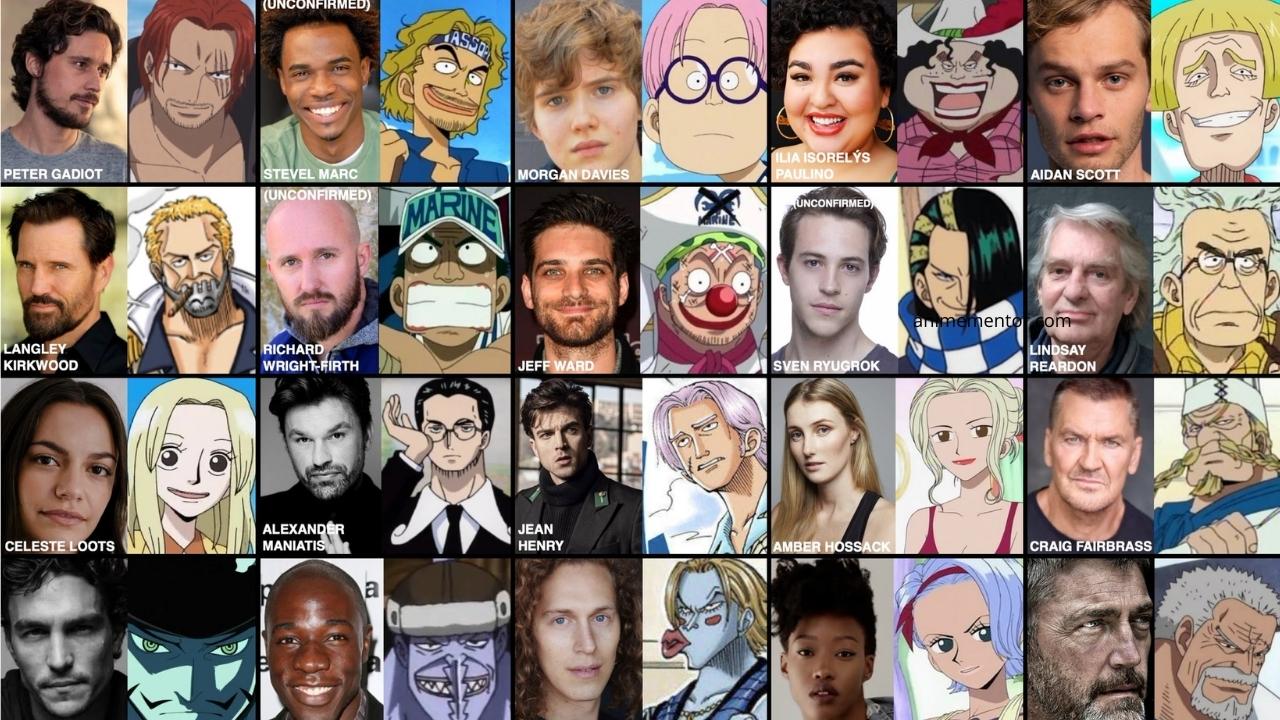 In March 2022, who will play the roles of Alvida, Arlong, Koby, Helmeppop, Garp, and Buggy was announced-
Peter Gadiot as Shanks: Captain of the Red-Haired Pirates who was Luffy's childhood hero.
Morgan Davies will recreate Koby. (The Evil Dead: Rise, The End)
Ilia Isorelýs Paulino will portray Alvida
Aidan Scott will recreate Helmeppo. ( Between the Devil, Action Point)
Jeff Ward will recreateBuggy. (Hacks, Brand New Cherry Flavor)
McKinley Belcher will portray Arlong. (The Good Lord Bird, Ozark)
Netflix announced more cast members, during the Geeked Week 2022 virtual event including:
Vincent Regan will recreate Garp. (300, Troy)
Celeste Loots as Kaya: An orphaned heiress and Usopp's close friend.
Alexander Maniatis as Klahadore: One of Kaya's butlers.
Craig Fairbrass as Chef Zeff: Former pirate and currently the head chef and owner of Baratie, a floating restaurant, and Sanji's father figure.
Steven Ward as Mihawk: A pirate regarded as the world's greatest swordsman.
McKinley Belcher III as Arlong: A strong, ruthless fisherman who is the leader of the Arlong Pirates and ruler of Arlong Park.
Chioma Umeala as Nojiko: Nami's older sister by adoption.
Vincent Regan as Garp: A prolific Vice-Admiral in the Navy.
Why Does the Cast lack any Big Names?
One surprising aspect of the cast is the absence of big-name actors or recognizable faces. Why did the producers choose to cast unknown actors instead of hiring superstars?
One reason is the longevity and scope of the One Piece story. The One Piece manga and anime have been ongoing for over two decades and feature a vast and diverse cast of characters.
If the live-action series follows suit and covers multiple seasons, it would be impractical and risky to rely on A-list actors who may not be available or willing to commit to a long-term project.
Moreover, the series may introduce new characters and storylines that require fresh faces and talents.
In conclusion, the decision to cast less-known actors in the One Piece live-action series may be a pragmatic move, but it does not detract from the potential quality and impact of the series.
If anything, it allows for more creativity, diversity, and surprises, which are some of the defining traits of the One Piece world. To me, as long as the actors embody the spirit and essence of their characters, they will win over the hearts and minds of the fans.
Budget
Based on various sources, it is clear that One Piece Live Action has a very high budget. Marty Adelstein, the CEO of Tomorrow Studios, stated in 2017 that the production costs of the show could set a new record in television drama history.
In May 2022, Richard Berglund, the production designer for the show, stated that the budget of the show is comparable to a Marvel movie.
Additionally, Netflix is reportedly giving the show "The Stranger Things treatment" by investing significant resources into the production. This means that the show will not be limited by its budget, and the producers can spend more money on smaller details to make the world feel more alive.

According to some speculations, One Piece Live action's total budget is $150 Millon. They built an entire ship for part of a single episode! 
Overview Of Season One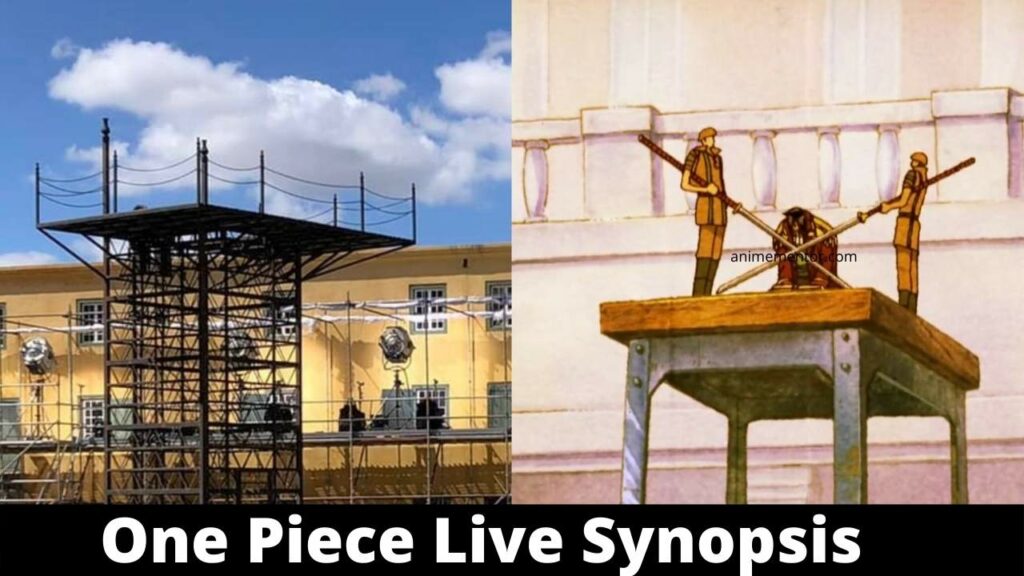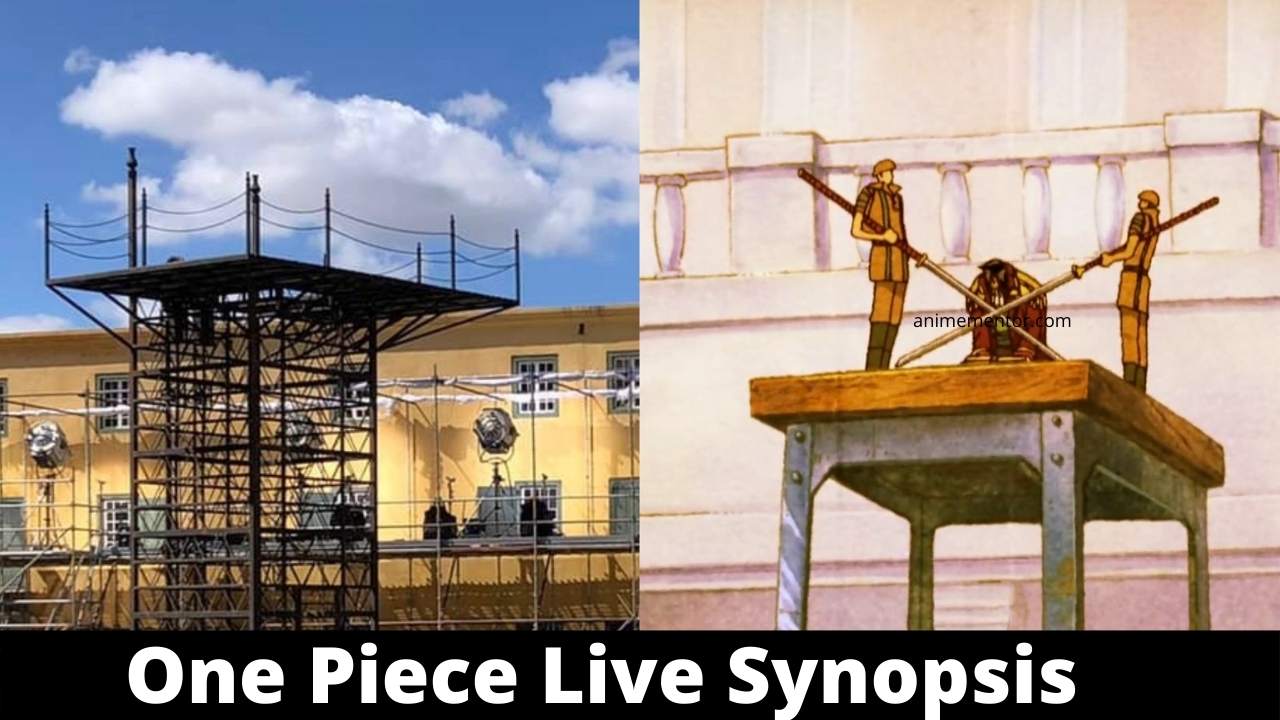 Season one of the show will have 8 episodes with each episode most likely being 1hr long.
There will be 8 episodes, and their names give a good idea of what content will be covered in each episode. Here is what we found – 
Episode 1 will cover Luffy's initial backstory, his meeting with Alvita and Kobe, and the Shell Island Arc where he meets Zoro.
Episode 2 will cover the Orange Town Arc where we meet Buggy.
Episode 3 will cover the Syrup Village Arc where we meet Usopp and defeat Kuro and the Black Cat Pirates.
Episode 4 will cover the start of the Baratie Arc where we meet Sanji.
Episode 5 will cover the second part of the Baratie Arc, including Zoro vs. Mihawk, and end with Sanji joining the crew and Nami stealing the Going Merry.
Episodes 6 and 7 will cover the start of the Arlong Arc, including Nami's backstory.
Episode 8 .will likely start with the end of the Arlong Arc and continue into Loguetown.
It is uncertain whether all 8 episodes will drop at once or be released weekly, but the best guess is that they will be released weekly to maintain the hype.
Series Synopsis
Gol D. Roger was known as the Pirate King, the most notorious and the most powerful pirate to sail The Grand Line. The World Government captured and executed him which led to a start of a safer world.
Before his death, Roger disclosed the location of the greatest treasure this world has ever seen, the One Piece. And thus started a grand age of pirates, who dreamed of finding this immense treasure (One Piece) that promises a never-ending supply of wealth and fame.
A 17-year-old boy, Monkey D. Luffy disregards all the meanings of a conventional pirate. Usually, pirates have a personality of stone, hardened, toothless maniacs and rob villages and others for fun but Luffy's reason for being a pirate is true and pure.
It is a thought for a new and exciting adventure, along the way finding new and exciting people and of course, finding the infamous treasure of Roger.
Following in the steps of Shank (Luffy's hero) Lufy and his mates set to travel across the grand line on a crazy adventure uncovering murky mysteries, fighting strong enemies and pirates, and facing extreme weather just to reach One Piece.
One Piece Live Action Changes From Manga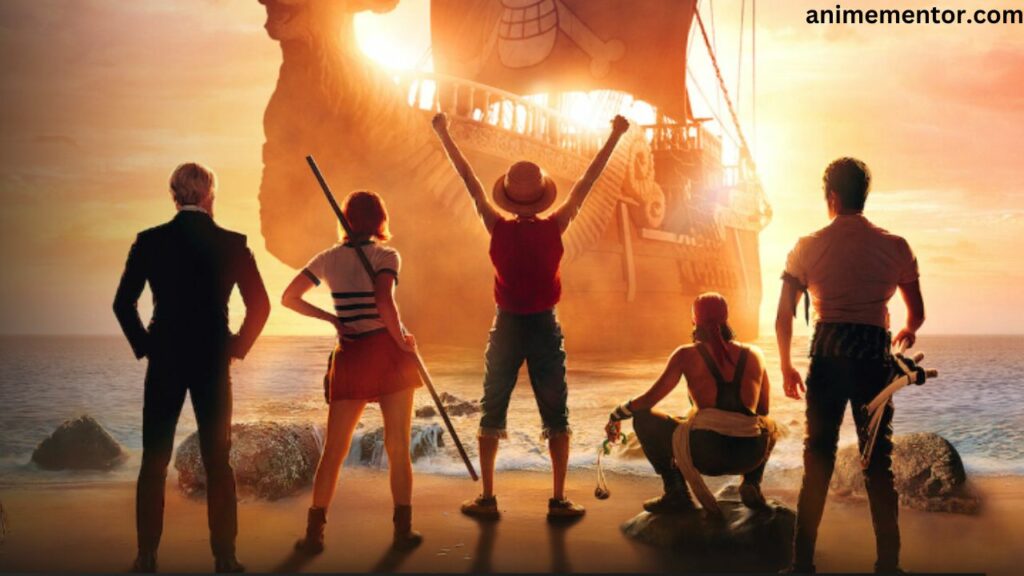 Although the production crew and the directors are closely working with Eiichiro Oda there will be a few changes in the show as compared to the source material. 
One of the changes mentioned is that Luffy longer wears sandals but shoes. According to actress Emily Rudd, this change was made for safety reasons as sandals are not the safest footwear for stunt work. While this change may not be significant, it is been discussed among the fanbase.
Another change is the tweaking of Sanji's character. In the original series, Sanji was portrayed as a huge simp, but in the live-action adaptation, he is more flirtatious. This change was made for two reasons –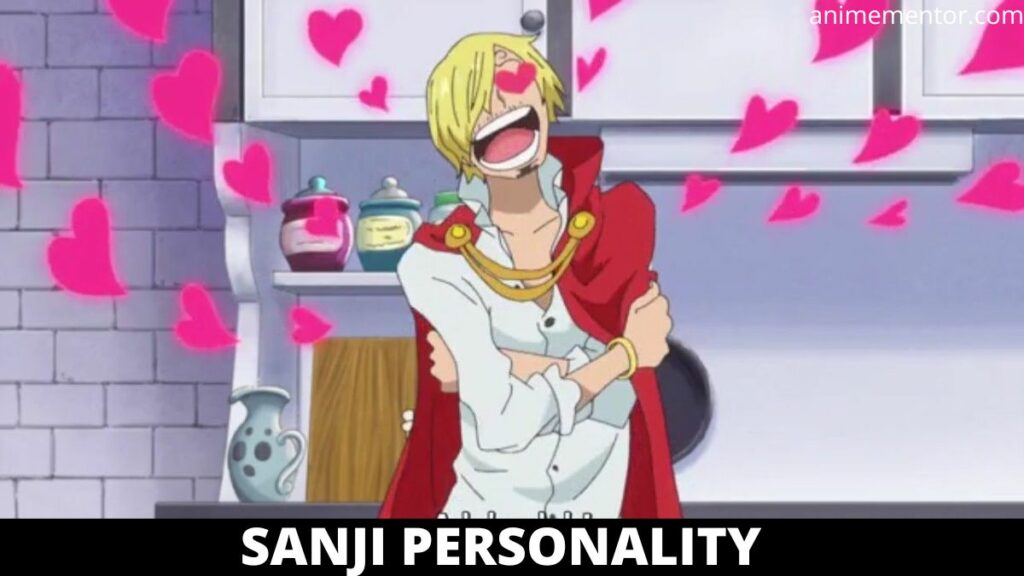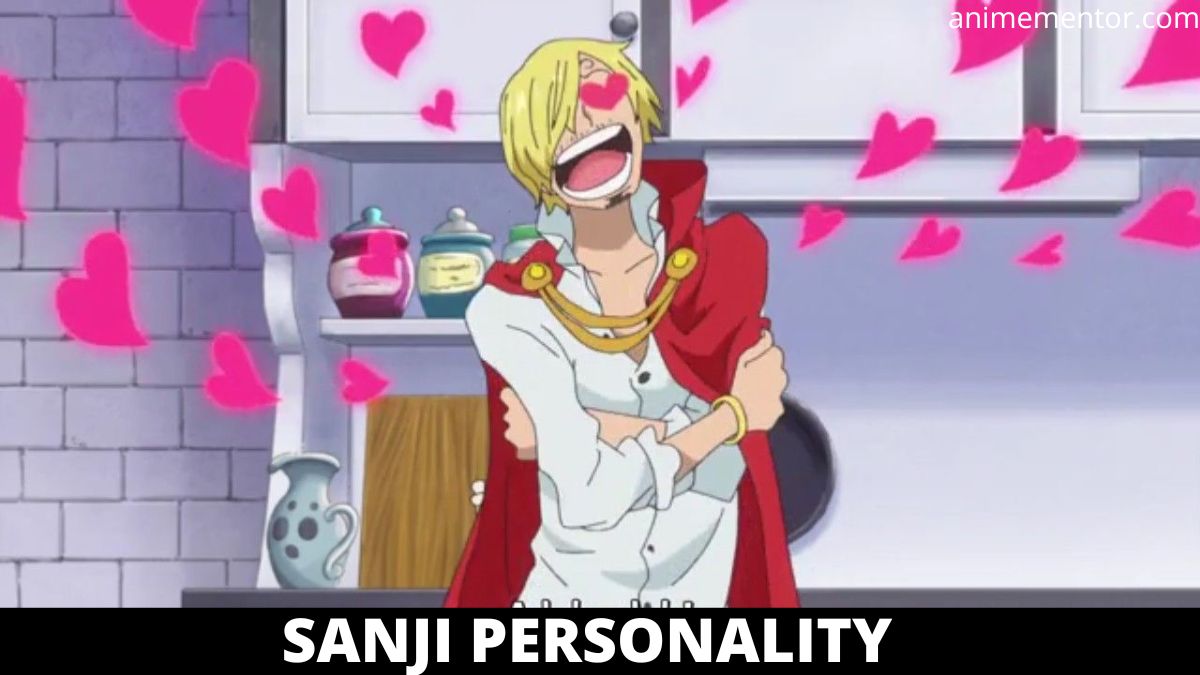 First, to avoid Sanji's behavior coming off as sexual harassment in live-action and 
Second, to adapt the series to the changes in viewer tastes since the original manga was written in 1997.
The comedy in the series has also been a challenging aspect to adapt. Matt Owens, one of the producers of the series, mentioned that they had to make changes to make the comedy palatable to a larger audience. However, any changes made were necessary to adapt the series to live-action, and all changes were approved by Oda, the creator of One Piece.
Another difficulty in adapting One Piece to live-action is the episodic nature of the early arcs. Matt Owens mentioned that the arcs in the East Blue Saga are disconnected, unlike the arcs in the Marine Ford Saga, which have direct connections.
The producers of the live-action series are trying to find ways to strengthen the connections between arcs.
Despite these changes, the crew is confident in the final product as Matt Owens too mentioned that they found the sweet spot of changing what needed to be changed while staying true to the source material.
Mr. Oda himself released a statement after filming concluded, saying that he was the most worried person in the world about the live-action adaptation, but it looks amazing.
Overall, it seems that the changes made to the live-action adaptation of One Piece were necessary to adapt the series to live-action while still staying true to the source material. While fans may have some concerns about the changes, the crew and Oda's confidence in the final product is reassuring.
Filming, Set & Costume Design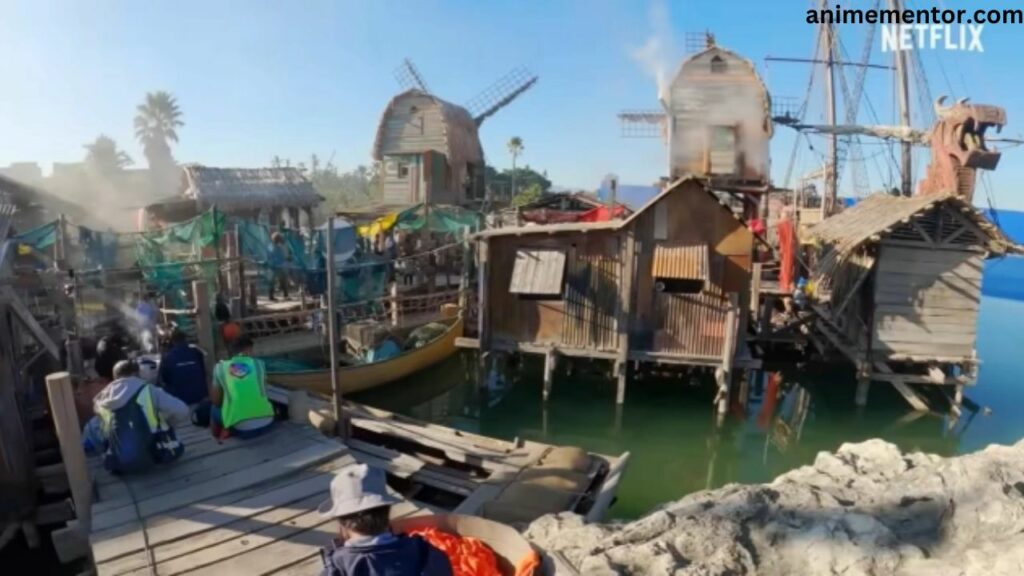 The filming of the live-action adaptation of One Piece took place in Cape Town, South Africa, at Cape Town Live Studios.
The president of South Africa even visited the set and gave a speech about the production, stating that it's the biggest Netflix production ever in Africa in terms of scale and budget. Additionally, a lot of the natives were hired for the crew.
One piece, which is set in Cape Town, involves more than 50 South African cast members, more than a thousand crew member jobs consisting of 67 previously disadvantaged individuals and 46 youth employees, as well as an Academy of Creative excellent mentorship program for more than 30 young creatives and technicians in collaboration with the South African Film Academy during 2022.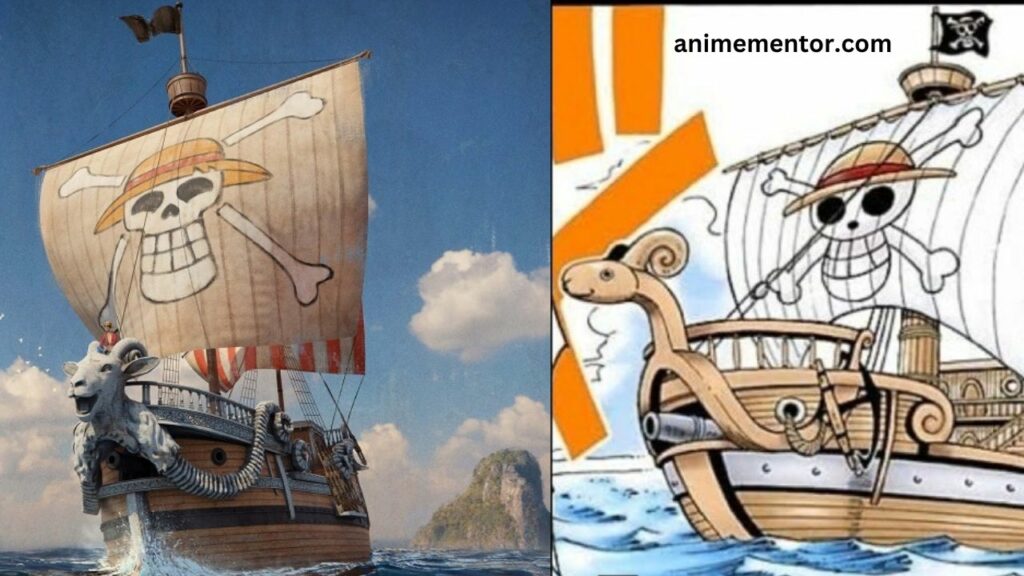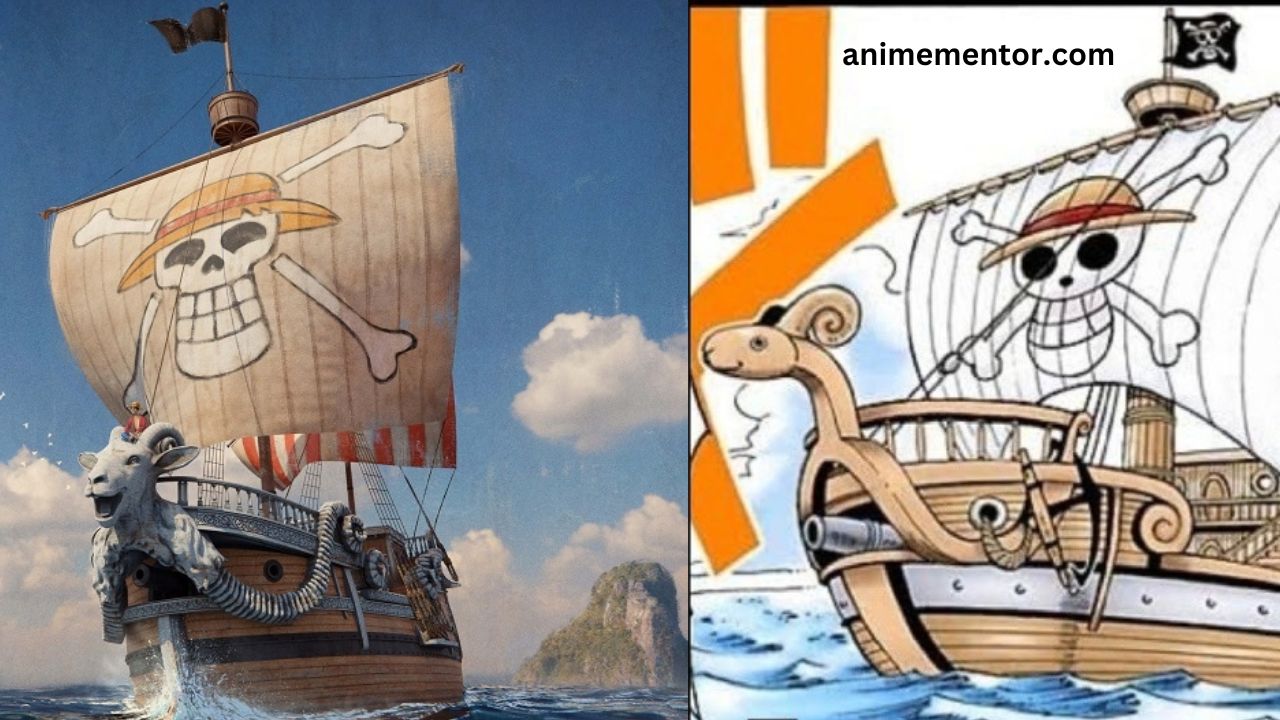 Nicole Hersh Whitaker is one of the cinematographers for the live-action adaptation of One Piece. In an interview, she revealed some of the things she did for the series.
First of all, she watched the entire One Piece anime so she would know more about the series. Additionally, she reached out to cinematographers who have worked on series with boats, such as Paul Cameron, who worked on Pirates of the Caribbean, and someone who worked on the life of Pi.
She also helped to design camera lenses from scratch specifically to use for the live-action so they could film it exactly how they wanted to.
What About Underwater Scenes?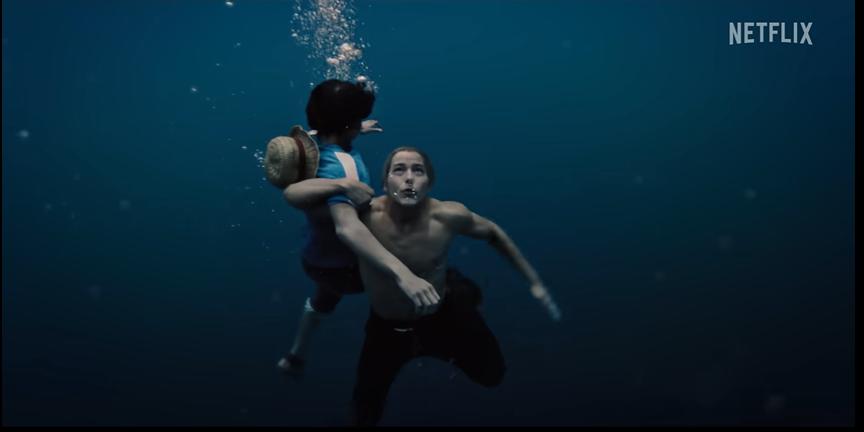 The main scenes that are underwater will be in Sanji's flashback as well as when Luffy gets stuck underwater in Arlong Park.
Jason Martin, who is one of the people who worked on it, said they've been filming at Cape Town film studios in the Deepwater tank. There are various scenes that require VFX elements and scenes with key actors underwater.
The Frog Squad is a One-Stop shop for these sequences, working hand in hand with a stunt team and creatives providing dive supervisors, commercial divers, water safety, and an underwater camera team. (meaning is not clear)
Rock Squad also provides underwater cameras, underwater comms, and diving equipment, as well as working platforms underwater. They spent weeks training the various cast for the sequences, making sure that they were comfortable and able to work on scuba. The training includes the doubles and the younger cast as well. (meaning is not clear)
How are Special Effects Done?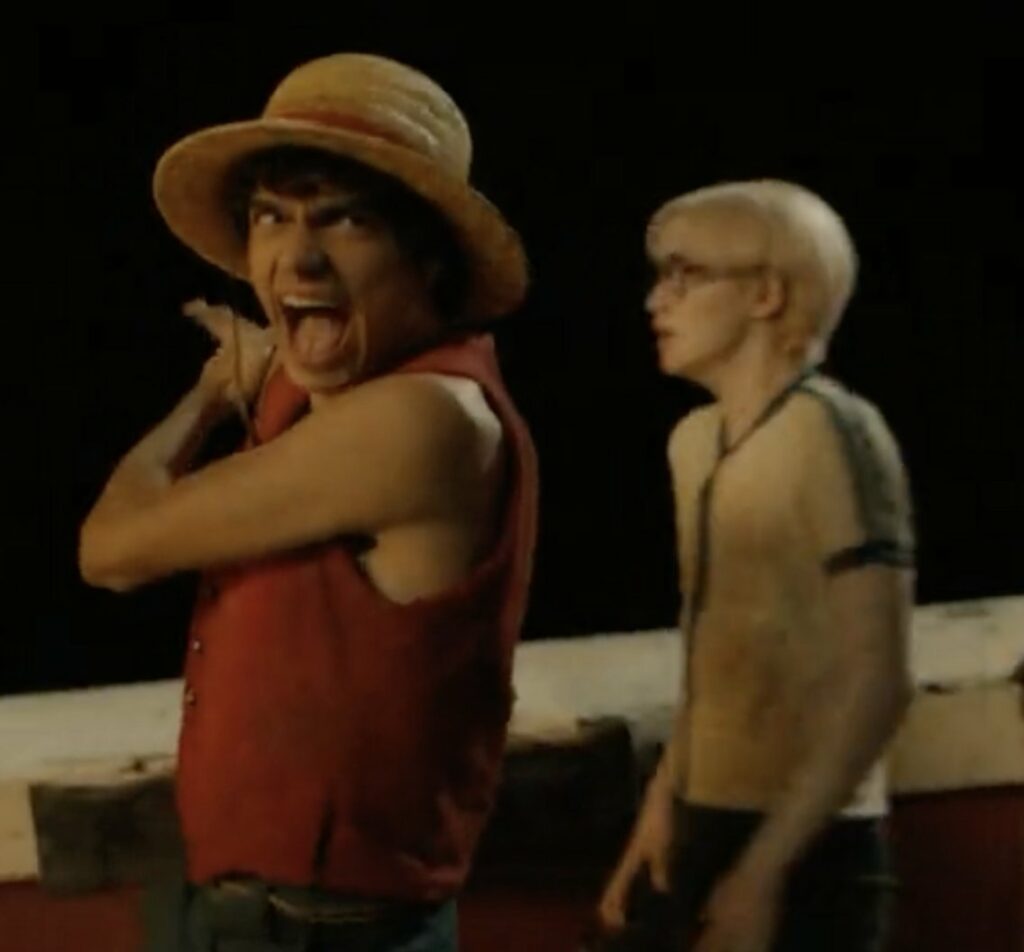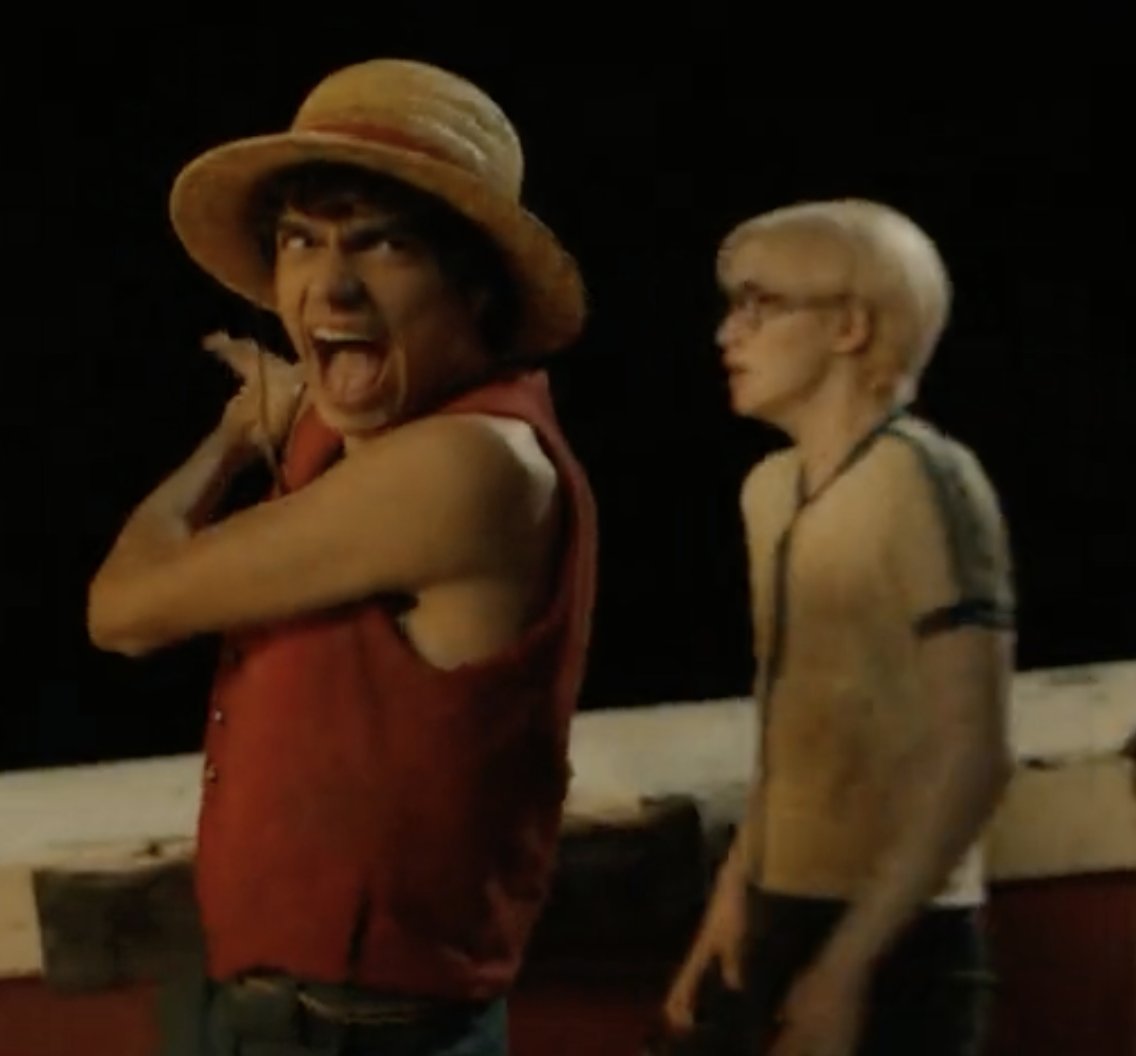 One of the most anticipated aspects of the live-action adaptation of One Piece is how they'll do special effects like Luffy's stretching.
At the time of writing this article, we don't have any videos yet, but it's likely we'll see it in a trailer prior to release.
Matt Owens has said that they did a ton of research into different methods for special effects because they wanted to make everything look as cool as possible.
The Impact of COVID-19
COVID-19 had a massive impact on the filming process, both fortunate and unfortunate. Originally, the filming was supposed to start in 2020, so COVID-19 pushed back the live-action adaptation two whole years.
The fortunate part of it, however, is that the production team took this time to improve the stuff they already had planned and to ensure the safety of their cast and crew during the pandemic. As a result, they were able to create a much better product than they might have otherwise.
One Piece Live Action Release Date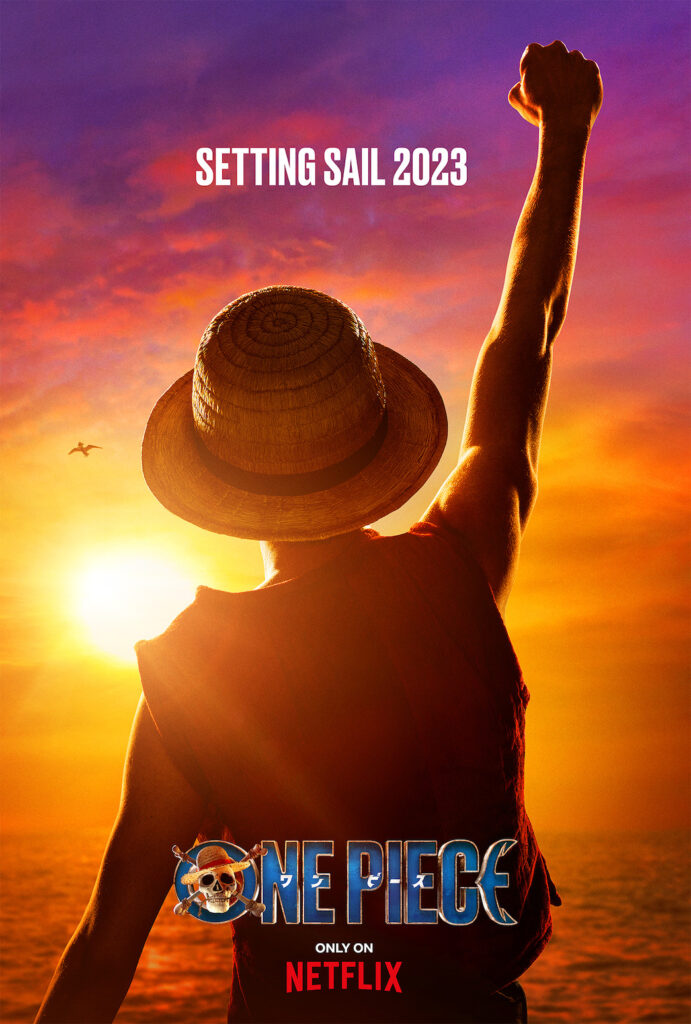 During Netflix's TUDUM event in Brazil, fans were treated to the long-awaited teaser trailer for the live-action adaptation of "One Piece." However, that wasn't the only exciting announcement. The event also unveiled the official release date for the series. Fans can mark their calendars for August 31 of this year, as that's when the highly anticipated "One Piece" live-action series will make its debut. Season 1 will consist of eight episodes, each approximately an hour long, immersing viewers in the captivating world of pirates, adventure, and treasure. This announcement has generated even more anticipation and excitement among fans who have been eagerly awaiting the arrival of the beloved manga's adaptation on the small screen.
How to Watch One Piece Live Action TV Series?
Yes, Netflix is producing the One Piece live-action series and will stream it exclusively on their platform. It's possible that all episodes of the series will be released at once, as is typical for Netflix original shows.
It's also worth noting that the One Piece anime is available on Netflix in certain regions, which fans can watch to prepare for the upcoming live-action adaptation. Additionally, fans can go to the Netflix link for the One Piece live-action series and hit the "Remind Me" button to receive a notification once the show is available to stream.
Trailer and Streaming Platform
Final Thoughts:
In conclusion, while there's still a lot we don't know about the live-action One Piece, what we've seen so far is very promising. The set design and costumes look fantastic, and the production team seems to be committed to staying true to the source material.
By compiling all the information we have about the series, we hope to convince fans that it's worth giving the live-action One Piece a chance. And, with Eiichiro Oda himself guiding the production team, we can be confident that the series is in good hands.
The following blog post was inspired by StuffWithBudder's video on the topic of the One Piece live-action. I highly recommend checking out his video and subscribing to his channel to support his content creation.