In Slice of Life anime, we see characters who are somewhat comparable to us, who also face the same struggles of life as we do. This Genre teaches us to cherish the small everyday moments of our life.
In this category, probably the sweetest and most loved animes have to be the Slice of life Romance animes. These anime series get you involved in the world of romance while keeping things in touch with the real world.
So today for this article, we decided to list the 15 best Romantic Slice of Life animes of all time. We hope that you will like it!
[toc]
1.Hyouka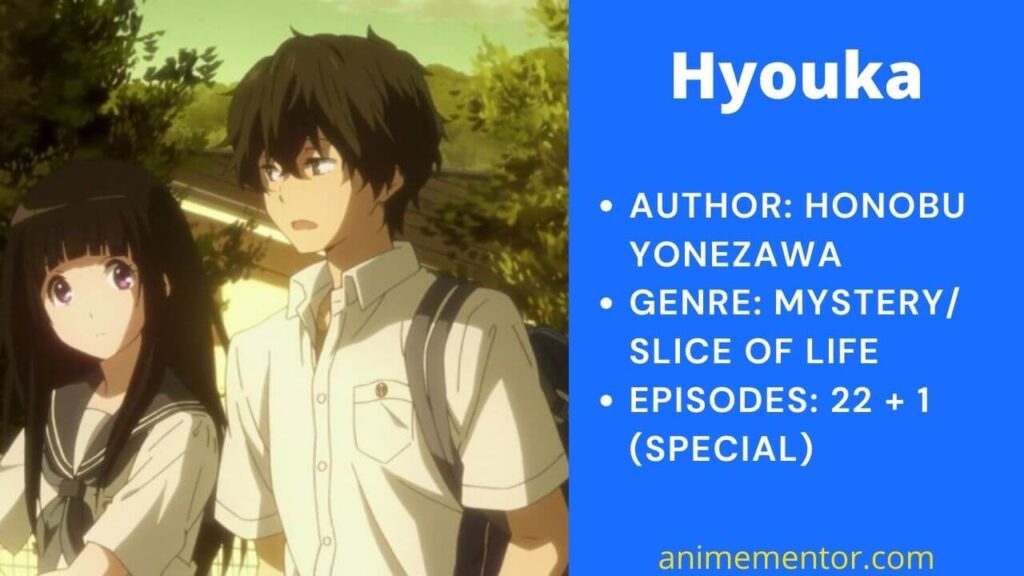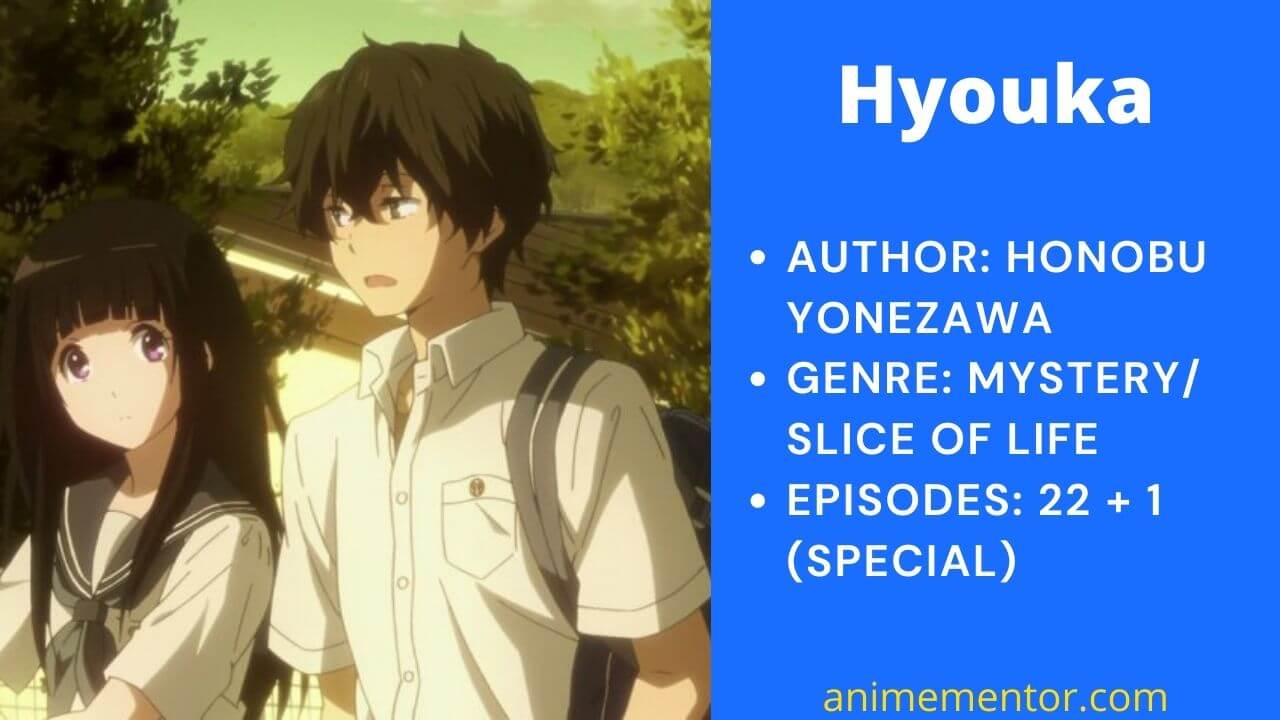 AUTHOR: Honobu Yonezawa
GENRE: Mystery/ Slice of life
EPISODES: 22 + 1 (special)
High school freshman Oreki Hotaru, who always acts quietly has but only one goal- to achieve a gray life while maintaining as much energy as he can. But one day due to his sister Tomoe's request, to help the Classics Club from being disbanded he joins the club against his will.
There was not a single member in the club until he joined. However, the unsociable Hotaru soon meets a few others who also wanted to join the club and encounters Chitanda Eru, Fukube Satoshi, and Ibara Mayaka.
Chitanda Eru is a polite and attractive girl but sometimes she gets filled up with questions and asks Hotaru to solve them.
2. Relife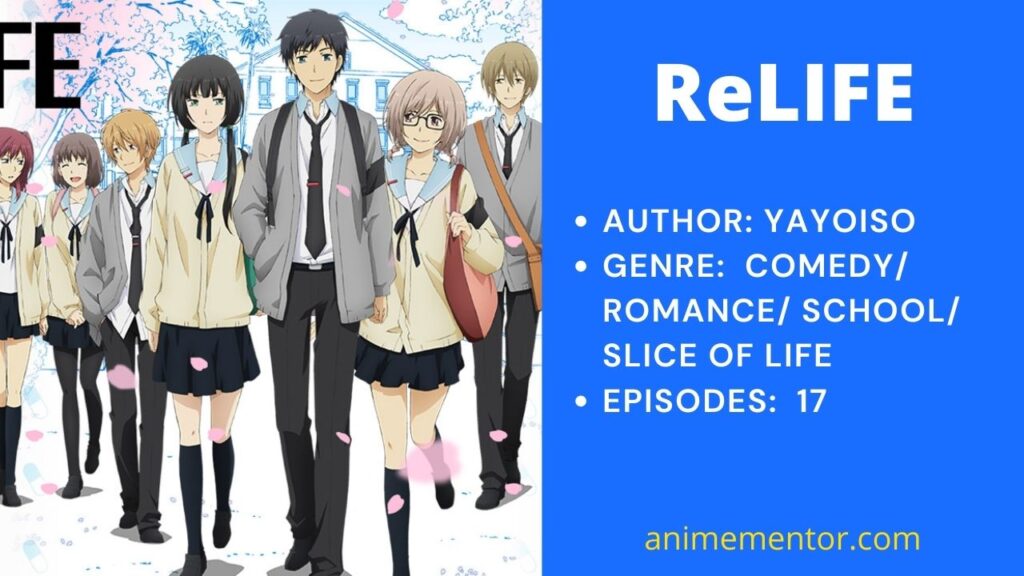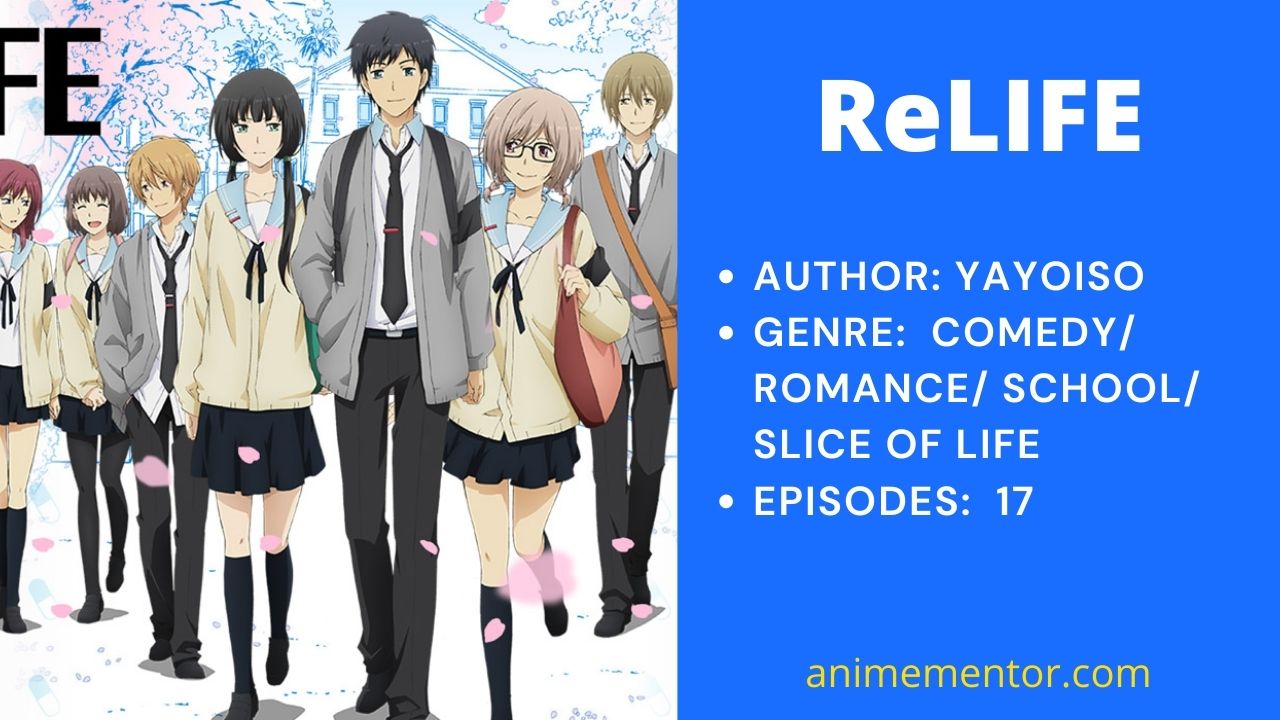 AUTHOR: Yayoiso
GENRE:  Comedy/ Romance/ School/ Slice Of Life
EPISODES:  17
SYNOPSIS:- This story presents us with an interesting concept about living your past life the second time. It follows a 27-year-old unemployed man named Kaizaki Arata who quit his company and is searching for new jobs. One day he was presented with an offer by the ReLife Research Institute through Yoake Ryou.
Kaizaki was to participate in a special drug test for a year, a drug that will make him like a 17 years old highschool boy.
His life changes drastically after that and for the second time, he starts his life as a high school student with new hopes of a life that he missed.
3. Horimiya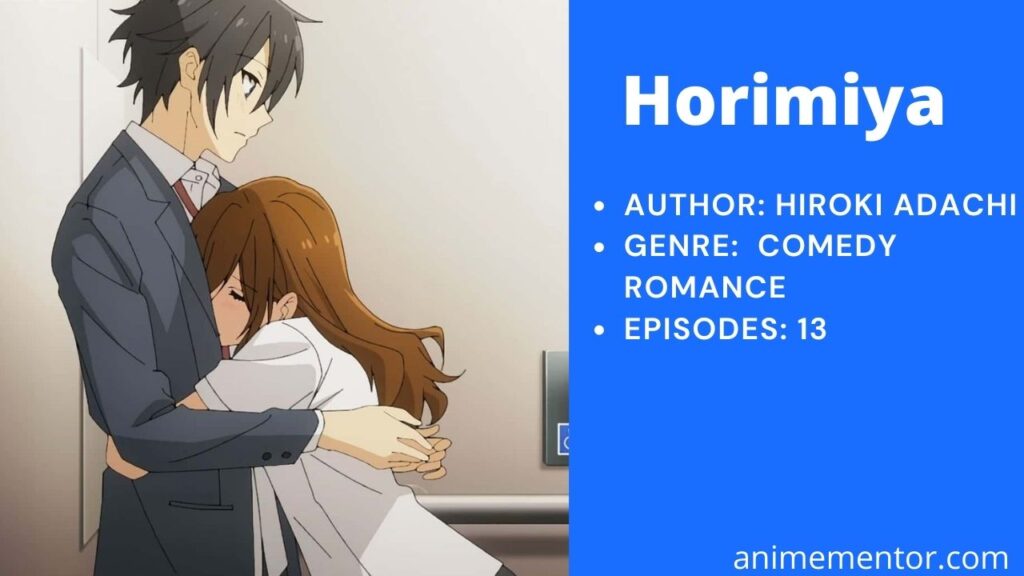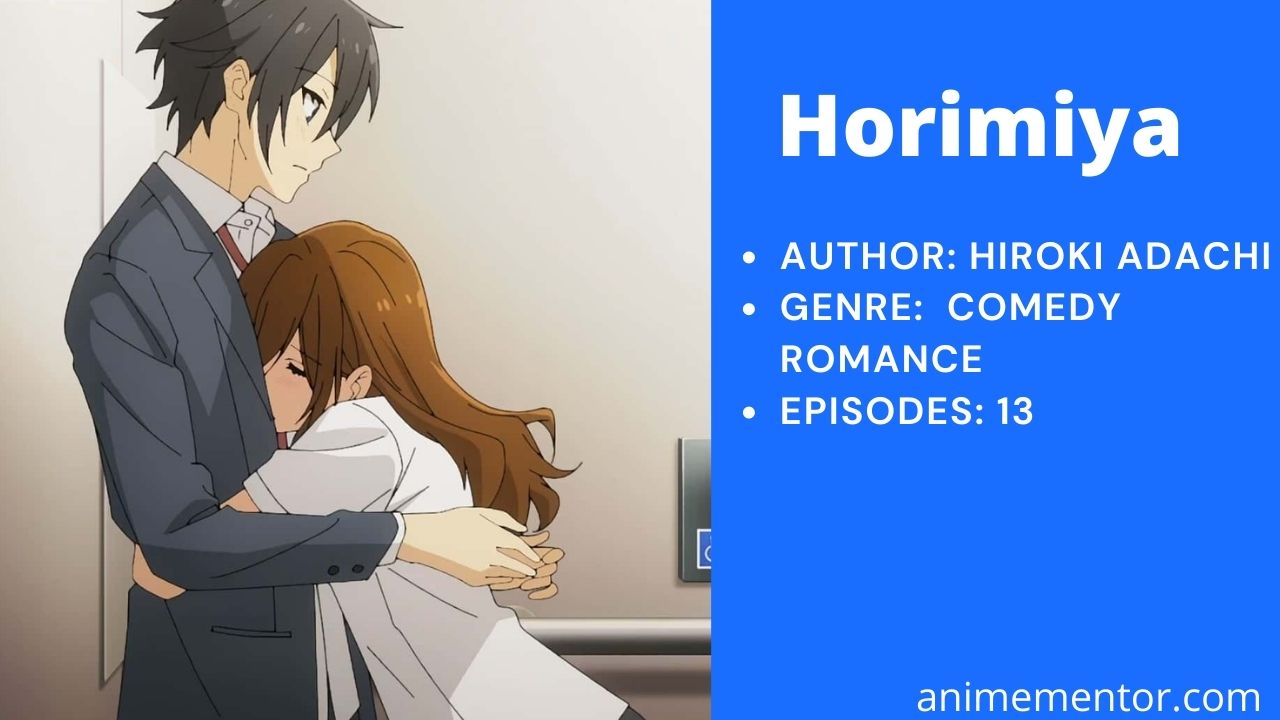 AUTHOR: Hiroki Adachi
GENRE:  Comedy/ Romance/ School/ Slice Of Life
EPISODES:  13
SYNOPSIS:- Kyouko Hori is an attractive and popular high school girl who is admired at school for her academic excellence. However, she has been hiding another side of her. Her parents mostly stay away from home due to work so Hori looks after her younger brother and does the household work, with no time to socialize outside of school.
While on the contrary, Izumi Miyamura is a quiet, glasses-wearing boy, or at least that's how he looks in school because, in reality, he is a handsome and bold guy with many piercings on his ears and tattoos on his body.
Coincidentally, Hori and Miyamura encounter one another outside of school – neither one looking the way they expected. Eventually, they became friends, and share a side of their life they have not shown to anyone before.
4. Teasing Master Takagi-San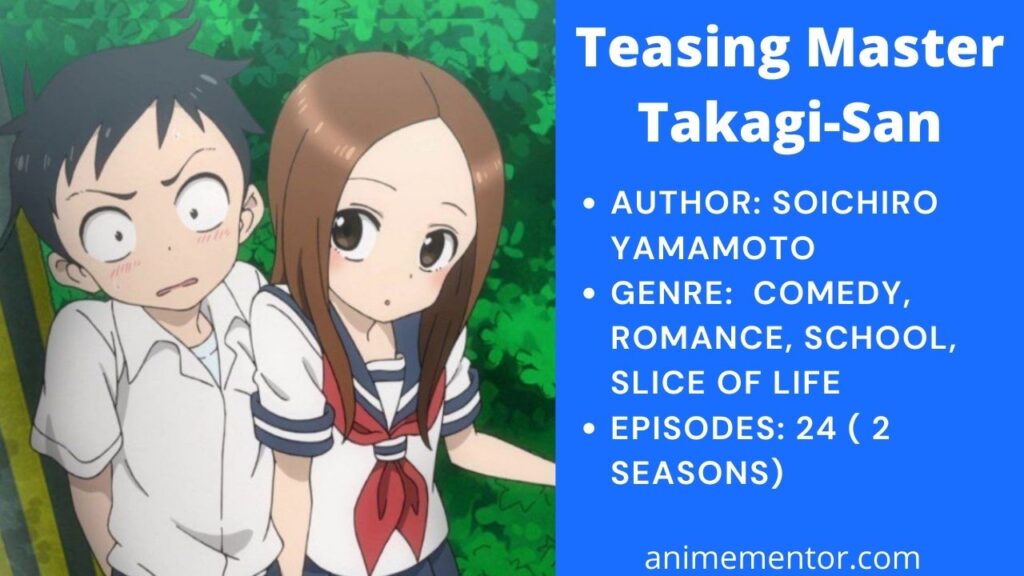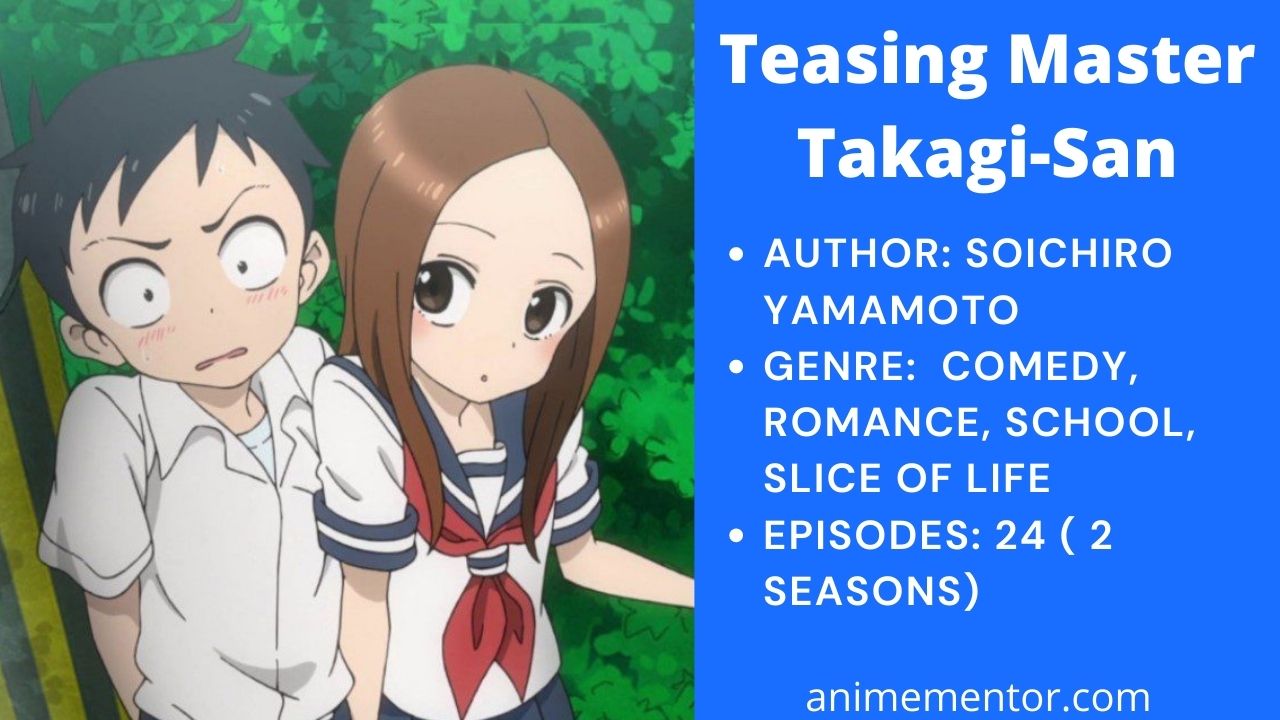 AUTHOR: Soichiro Yamamoto
GENRE:  Comedy/ Romance/ School/ Slice Of Life
EPISODES:  24 ( 2 seasons)
SYNOPSIS:-  Teasing Master Takagi-San is a story about two middle school friends who are very close friends of each other. They both had feelings for each other which they haven't confessed yet. Here, Nishikata is always trolled and made fun of by Takagi-san because of a simple rule they have made which is – the one who will blush first will be the one to lose.
Finally, Nishikata loses and his pride was lost. He promises that he would make Takagi-san blush and turn the game to win once and for all.
Thus, Nishikata starts to make fun of Takagi-san every day but in the end, at high school, he is the one who gets trolled.
Can Nishikata have the guts to face it all and be successful in making Takagi-san blush even once?
5. Ao Haru Ride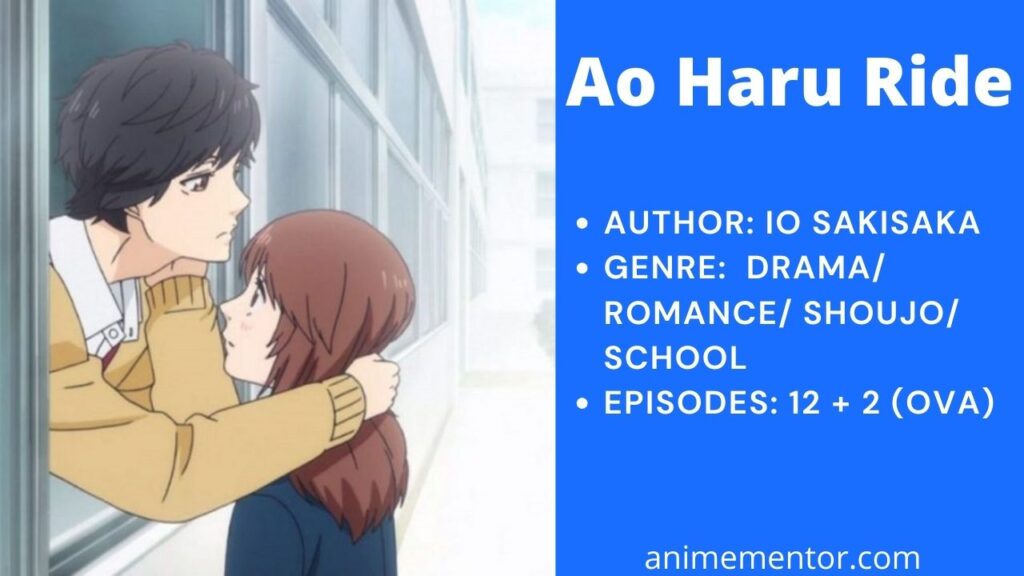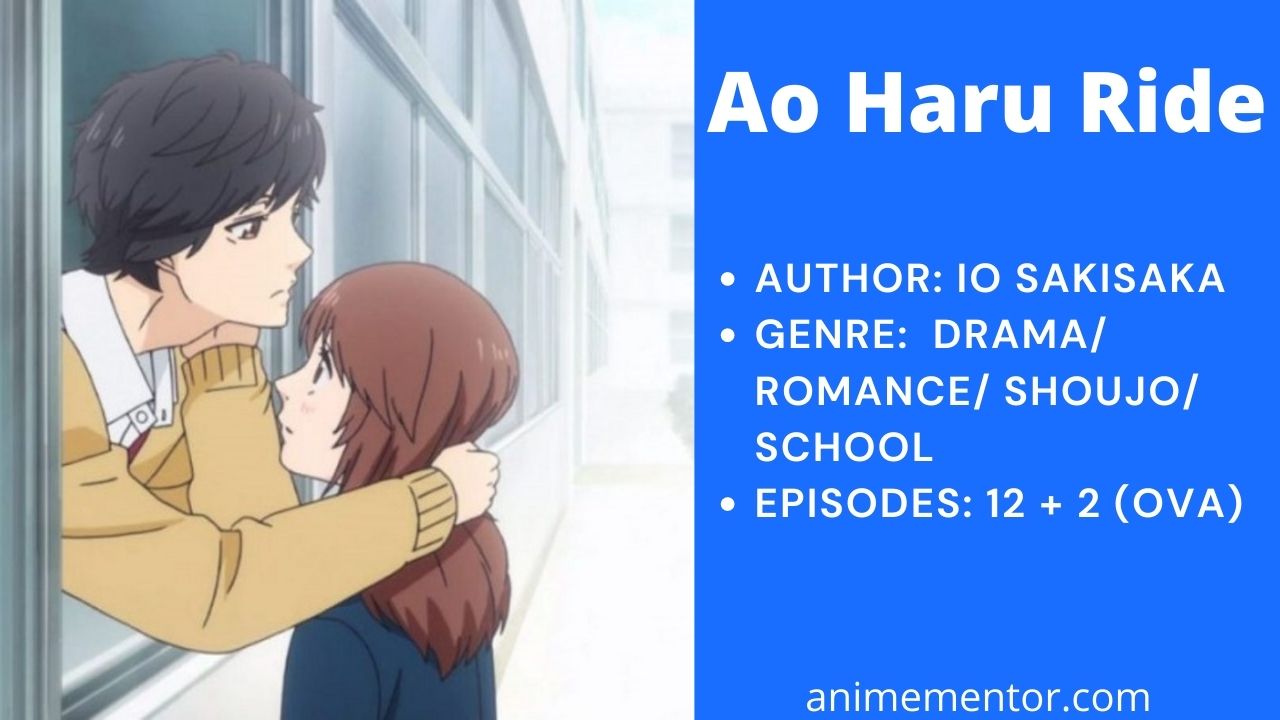 AUTHOR: Io Sakisaka
GENRE:  Drama/ Romance/ Shoujo/ School
EPISODES: 12 + 2 (ova)
SYNOPSIS:- In middle school, Yoshioka Futaba used to be in love with a boy named Tanaka Kou but, she couldn't get her feeling across to the only boy she has ever liked. But due to some sudden circumstances, Kou changes his school, and their relationship as good friends also ends.
Now Yoshioka wants to reset her life in her way as a new high school student. She was determined to be a like-minded person so that her friends won't get jealous of her. But once again in high school, she stumbles upon her lost childhood love Tanaka-Kun. Strangely though he now goes by the name Mabuchi Kou.
Mabuchi Kou tells Yoshioka that he also had the same feelings for her back then in middle school. However, now it's just become a thing of the past.
Will Futaba be able to confess her feelings this time around?
6. Kimi Ni Todoke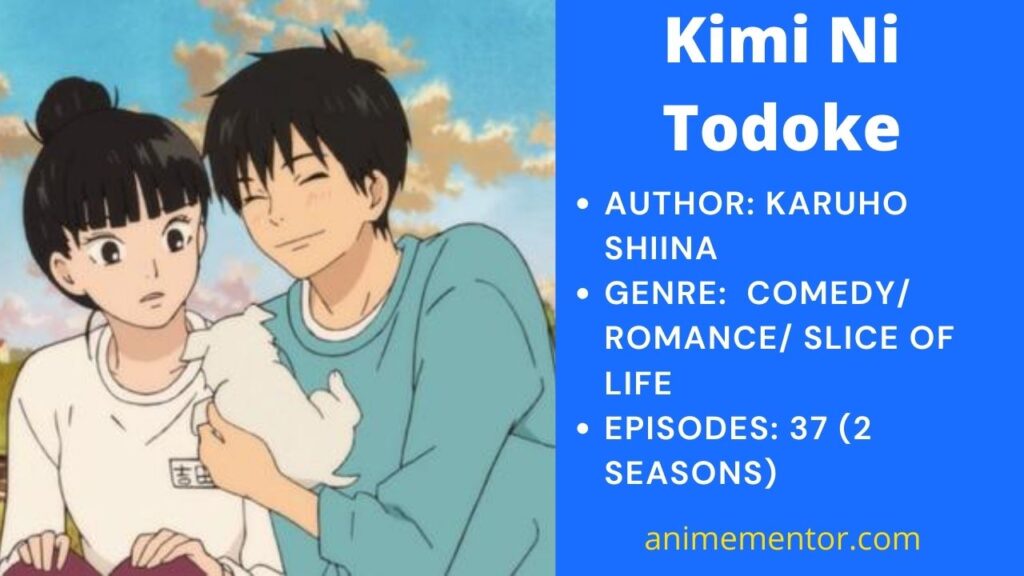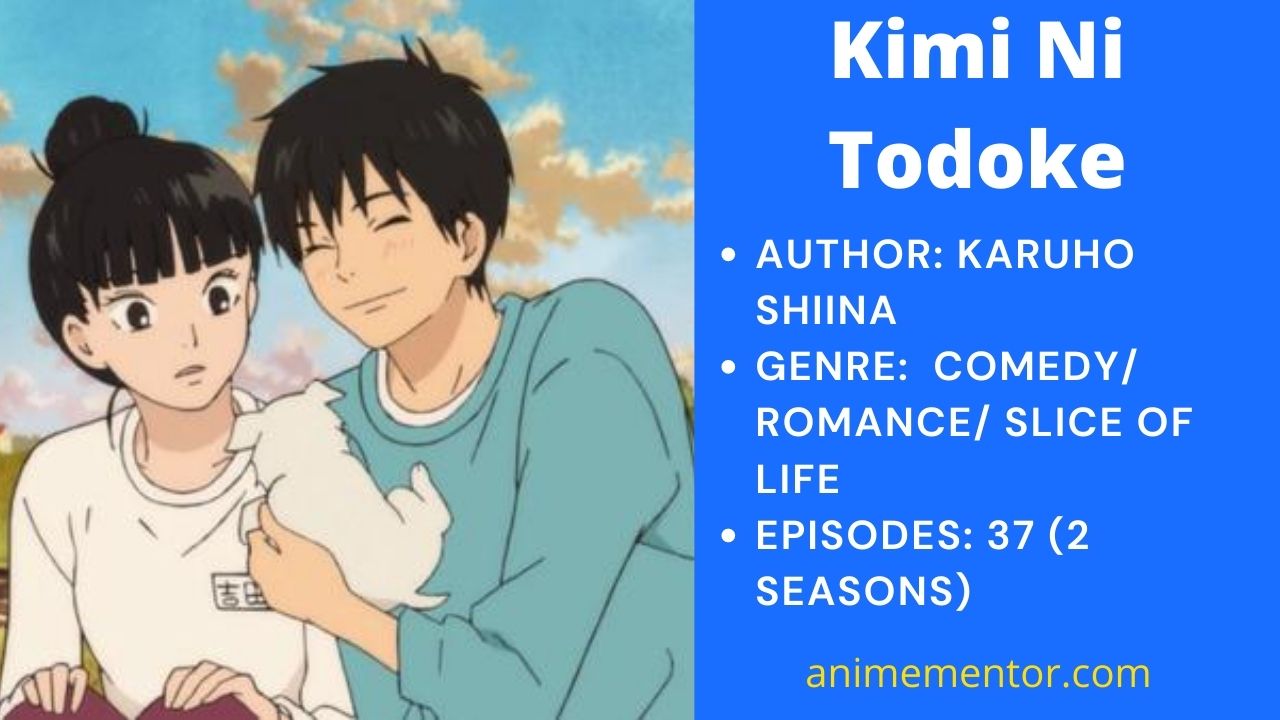 AUTHOR: Karuho Shiina
GENRE:  Comedy/ Romance/ School/ Slice Of Life / Shoujo
EPISODES:  37 (2 seasons)
SYNOPSIS:-  The story revolves around a high school girl named Kuronuma Sawako who is completely misinterpreted by her classmates. They think of her as a ghost because of her long black hair, quiet behavior, and eerie smile. She is often told as the haunting character Sadako from the rings movie.
But in reality, she is not at all scary, it's just she is too introverted and feels shy to talk with others. Her wish is to have as many friends as possible which is quite a distant dream for her for the time being.
However, due to an incident one day a handsome and popular boy in her class becomes her friend. Thanks to him Sawako now starts to get noticed by everyone in the class. At first, it was a great thing for Sawako but little did she know that is not only making friends but some enemies too.
7. Clannad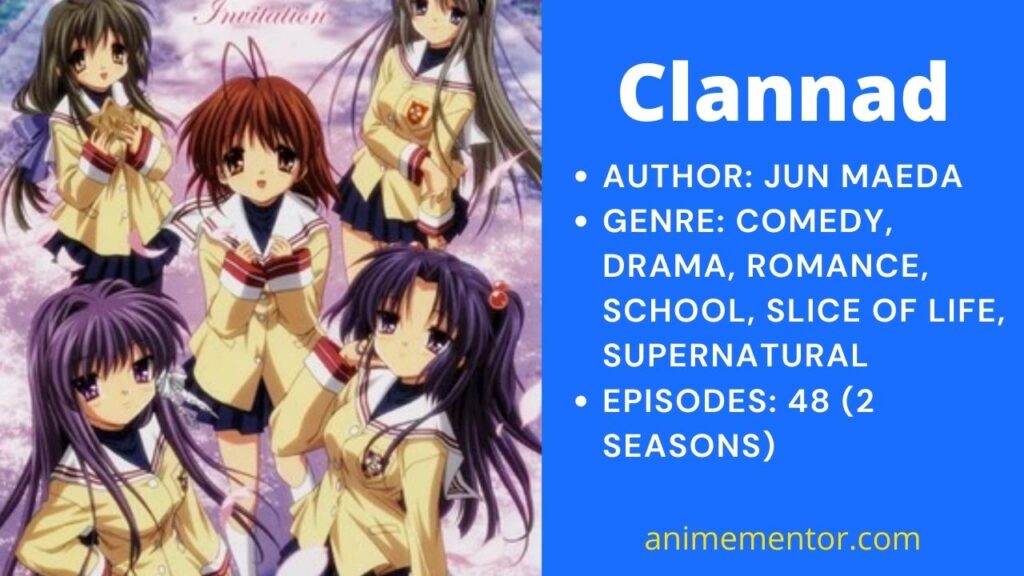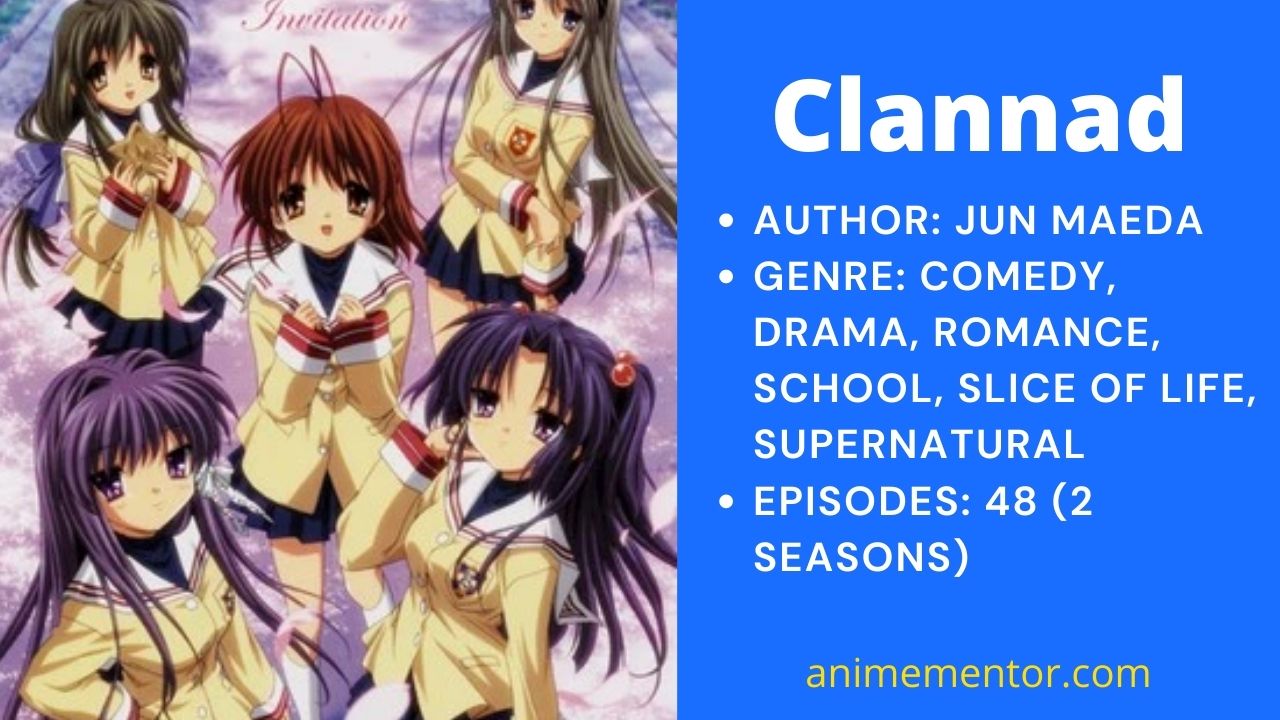 AUTHOR: Jun Maeda
GENRE:   Comedy, Drama, Romance, School, Slice of Life, Supernatural
EPISODES: 48 (2 seasons)
SYNOPSIS:-The story of Clannad follows a third-year high school boy named Tomoya Okazaki who is not at all satisfied with his life rather he hates living.
A horrific incident in Tomoya's childhood claimed the life of his mother. Unable to cope with it Tomoya's father resorted to alcohol and gambling. But Tomoya never liked it, in fact, the father and son even got into a fight over that same that ended with Tomoya injuring his shoulder.
From that point on Tomoya always ignored and hated his father and had distant relationships with him.
However, one day while going to school Tomoya encounters a weird girl named Nagisa Furukawa who was just standing on the road and was mumbling something to herself. Later, Tomoya became good friends with Nagisa and the two started sharing about everything.
8. Oresuki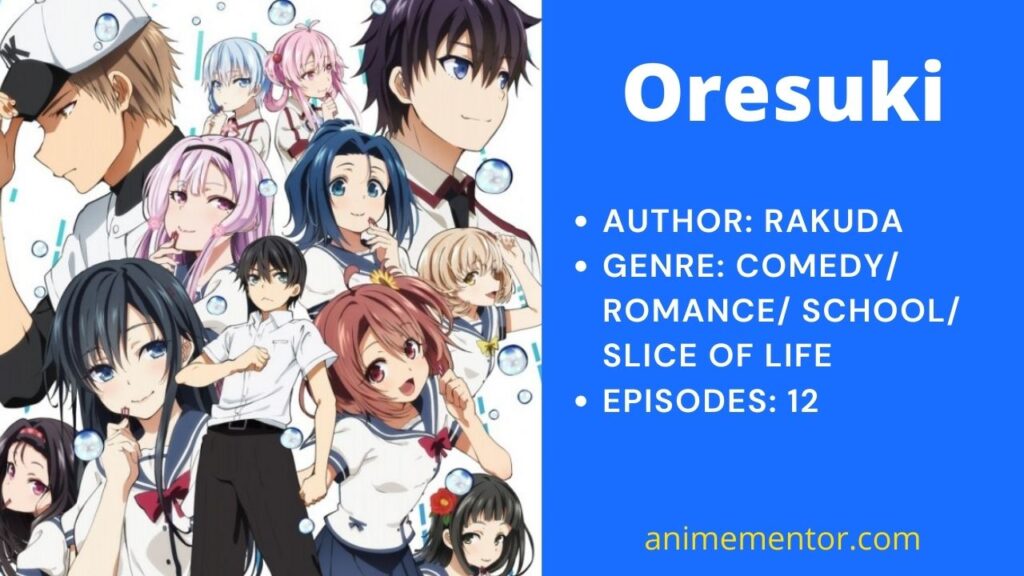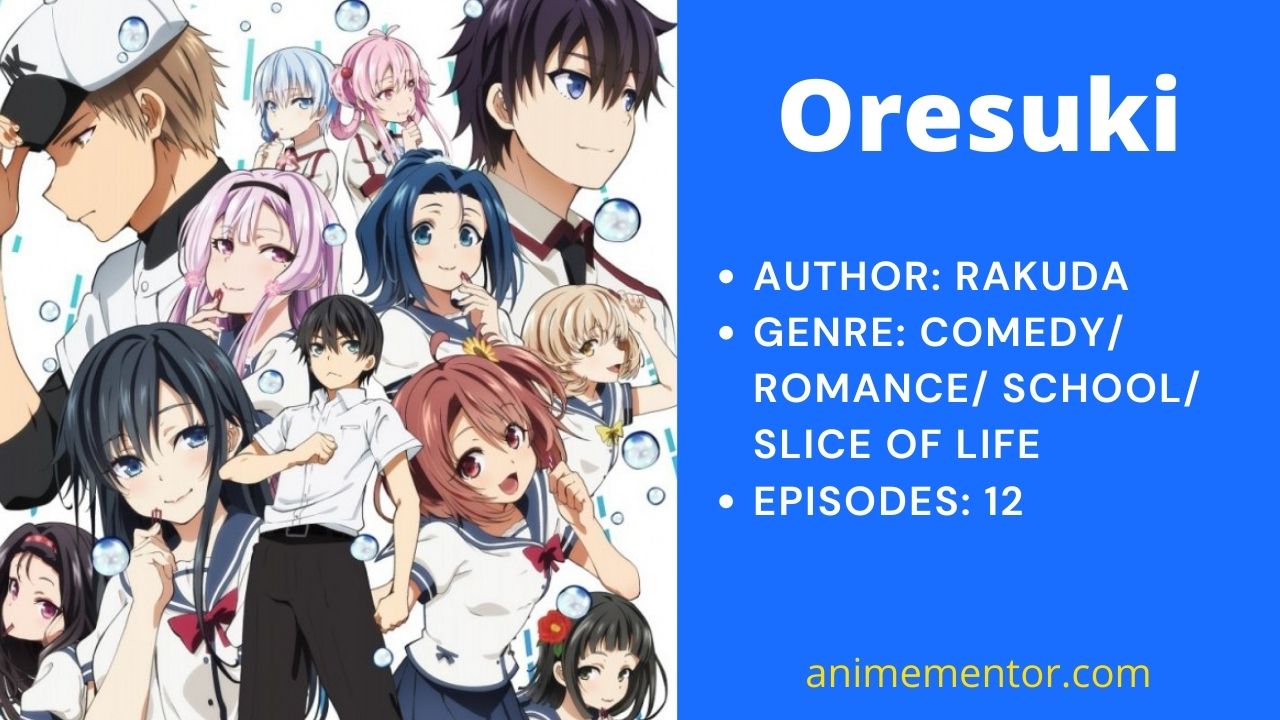 AUTHOR: Rakuda
GENRE:  Comedy/ Romance/ School/ Slice Of Life
EPISODES:  12
SYNOPSIS:- It's a story of a high school boy named Kisaragi Amatsuyu who wants to have love in his life. And not just only love, as a student council member he dreams that every girl will fall in love with him.
One lucky day he was asked to meet alone by the beautiful student council president named Cosmos.  And another day his childhood friend a cute girl named Himawari also invited him to meet alone.
Amatsuyu was over the moon thinking about both of the girls. However, his happiness was short-lived when both the girls confessed that they like Amatsuyu's best friend Oga.
But all was not lost as Amatsuyu met a new girl. She is dull, gloomy with glasses and braided hair. At first, Amatsuyu hated everything about her but later he finds out that this girl is the only person who ever cared about him.
9. Rascal does not dream of bunny girl senpai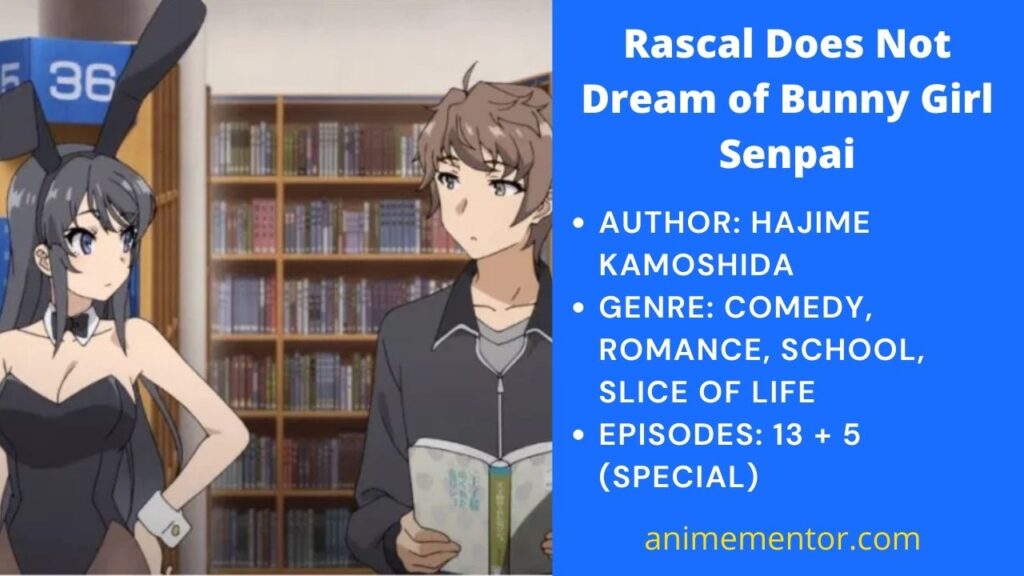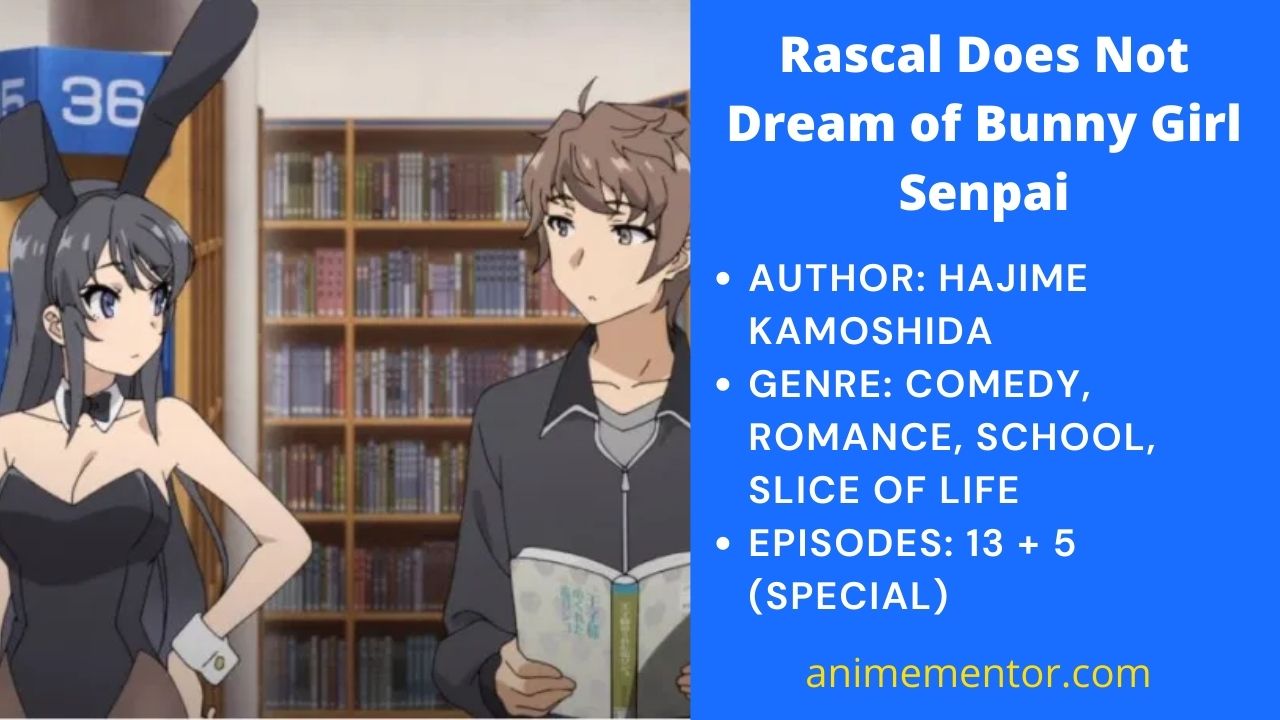 AUTHOR: Hajime Kamoshida
GENRE:  Comedy/ Romance/ School/ Slice Of Life
EPISODES:  13 + 5 (special)
SYNOPSIS:- The story follows a young boy named Sakuta Azusagawa, who is a second-year student at Minegahara High School. One day he stumbles upon a girl who was wearing a bunny costume at the library. The mysterious fact was that only he could see the bunny girl while no one present at the library could.
Later Sakuta finds out that the bunny girl was Mai Sakurajima, who was a third-year student at his school. Also, she was a very popular actress who was currently on hiatus from acting. However, Sakuta couldn't understand the reason behind the case and why the people around her can't see her in bunny girl attire.
Determined, Sakuta decides to solve this mystery and finds something that he never expected.
10. Kaguya Sama: Love Is War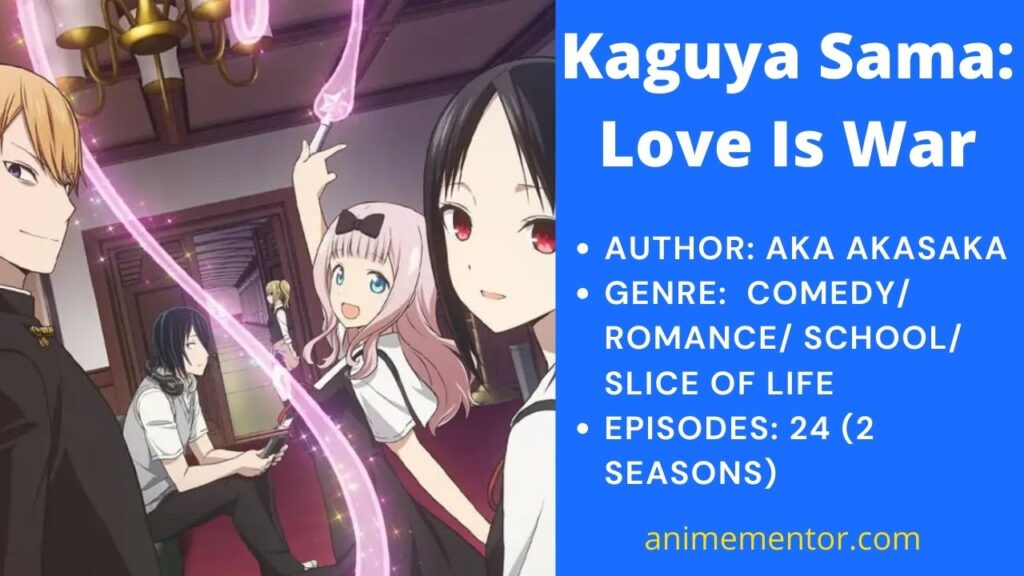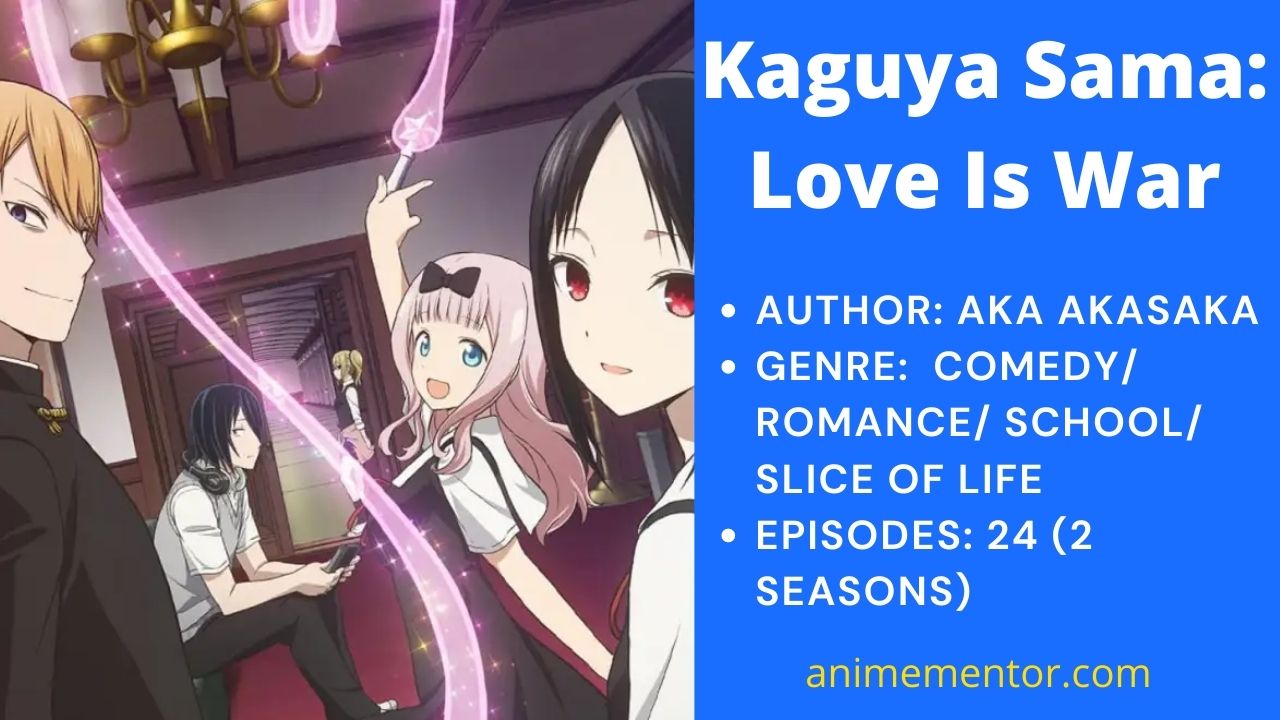 AUTHOR: Aka Akasaka
GENRE:  Comedy/ Romance/ School/ Slice Of Life
EPISODES:  24 (2 seasons)
SYNOPSIS:- This story follows a boy named Miyuki Shirogane who is regarded as the most genius student in the whole country. He is exceptional in studies and is currently the president of the student council at the reputed Shuchiin Academy.
The vice president of this student council is a charming and beautiful girl named Kaguya Shinomiya who comes from a wealthy family. The students of the school consider them as a perfect pair for relationships but in reality, they are not in any sort of relationship.
That being said, after being with each other together for a long time, they both have started to have feelings for each other. Yet they will not express it as according to them making a confession first is a symbol of weakness and their pride as top students won't let them do it.
So now, they try to make one another confess first by any means necessary, and thus war of love begins!!!
11. One Week Friends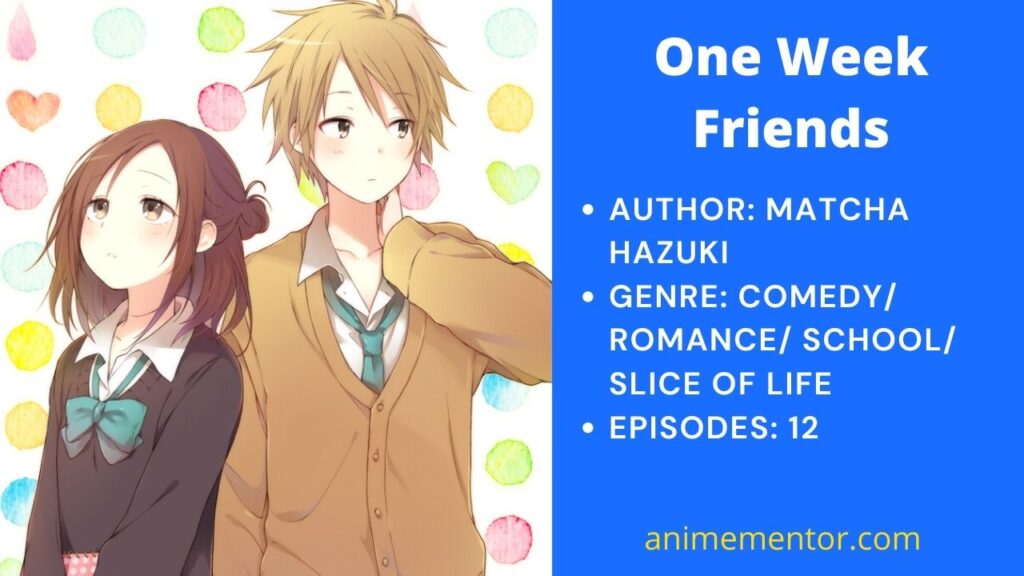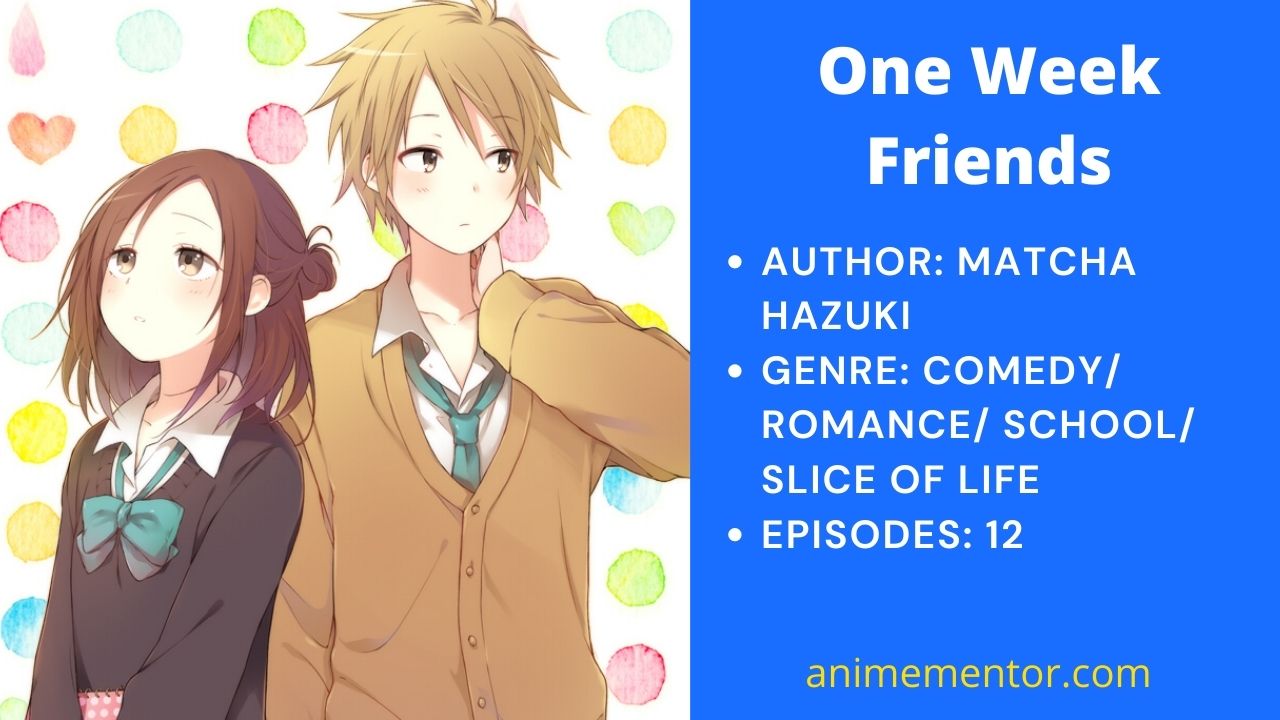 AUTHOR: Matcha Hazuki
GENRE:  Comedy/ Romance/ School/ Slice Of Life
EPISODES:  12
SYNOPSIS:-  Yuuki Hase is a 16-year-old high school student and has a crush on Kaori Fujiyama who is a quiet and unsociable girl.
One day at lunchtime Yuuki sees Kaori eating her lunch alone on the roof and visits her. Yuuki wanted to get closer to her, so he started to meet Kaori frequently in the hope that they would become good friends someday. Eventually, Kaori also started to shares her thoughts with Yuuki and opened up a little bit.
But one day suddenly Kaori started ignoring Yuuki and he was very curious about it. Later on, Yuuki came to know a strange fact about Kaori. At the end of each week, Kaori's memories of her friends and close ones are deleted and her memory resets every Monday.
12. Oregairu, My Teen Romantic Comedy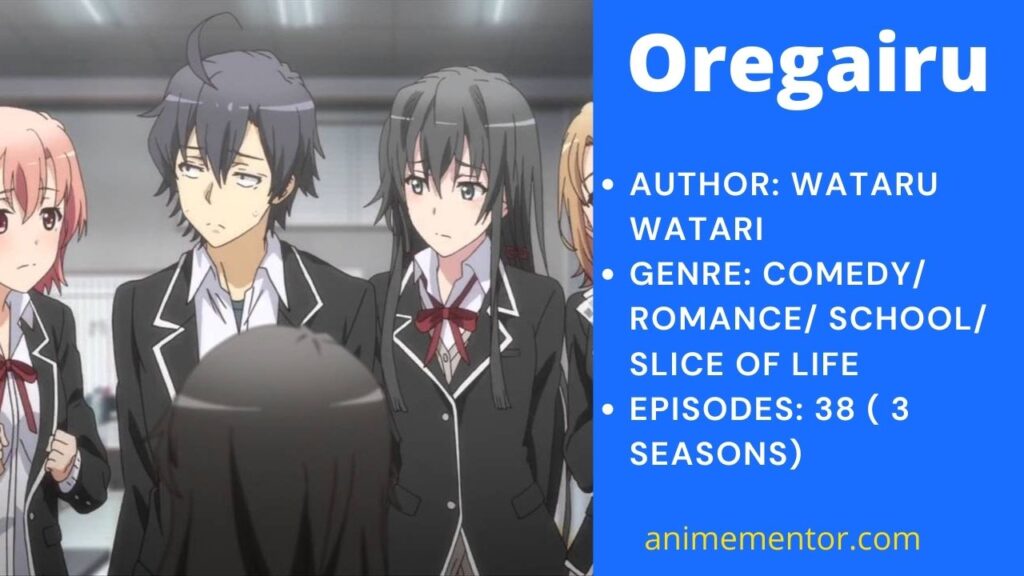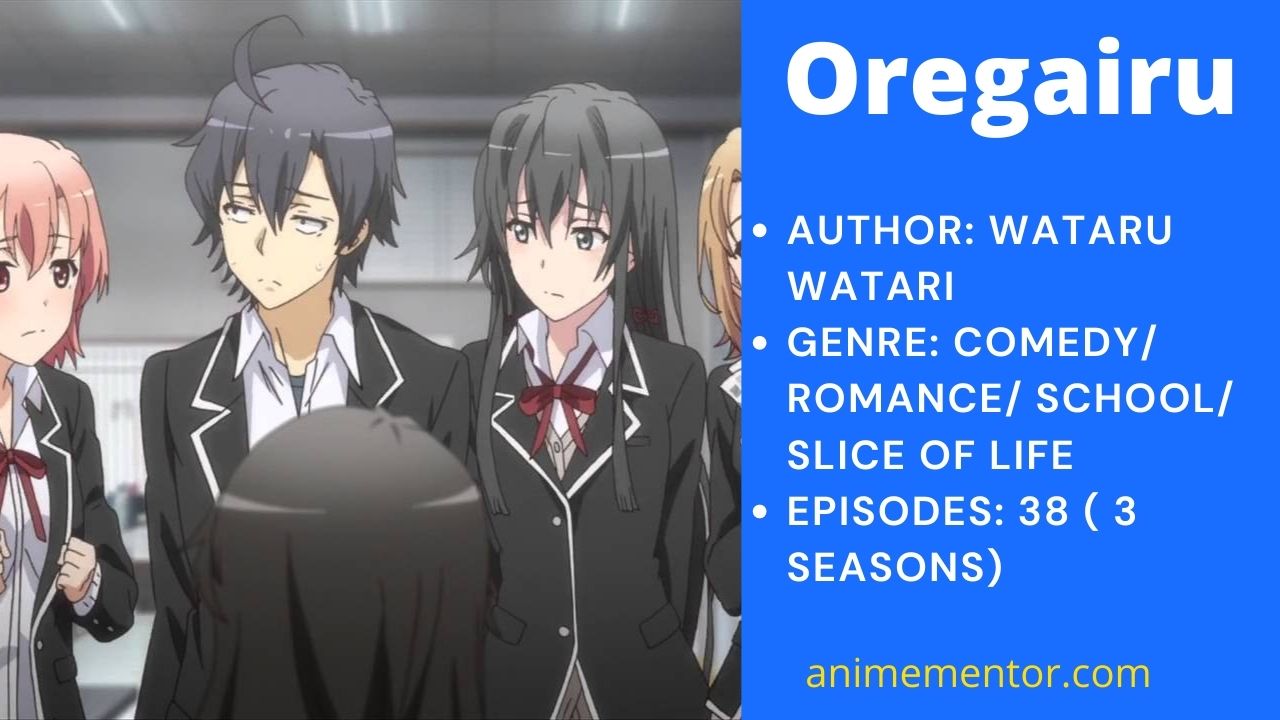 AUTHOR: Wataru Watari
GENRE:  Comedy/ Romance/ School/ Slice Of Life
EPISODES:  38 ( 3 seasons)
SYNOPSIS:- The protagonist of this rom-com is an introverted, unsocial high school student named Hikigaya Hachiman. In his opinion, his classmates are a group of liars who just speak out falsely about their happy adolescent life. He has no interest in his friends and also in his life. He has no future dreams for himself.
One day though, he joins a new club called the "Volunteer Service" club and there he meets the prettiest girl in the school, Yukinoshita Yukino.
Hikigaya's daily life of dullness begins to change and one day he finds his life a little bit more meaningful.
13. Golden Time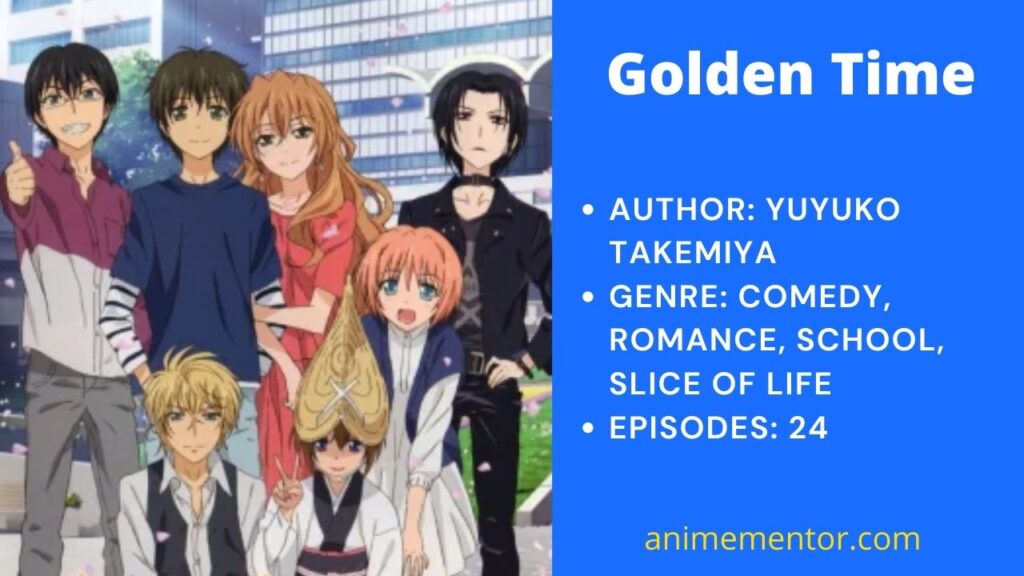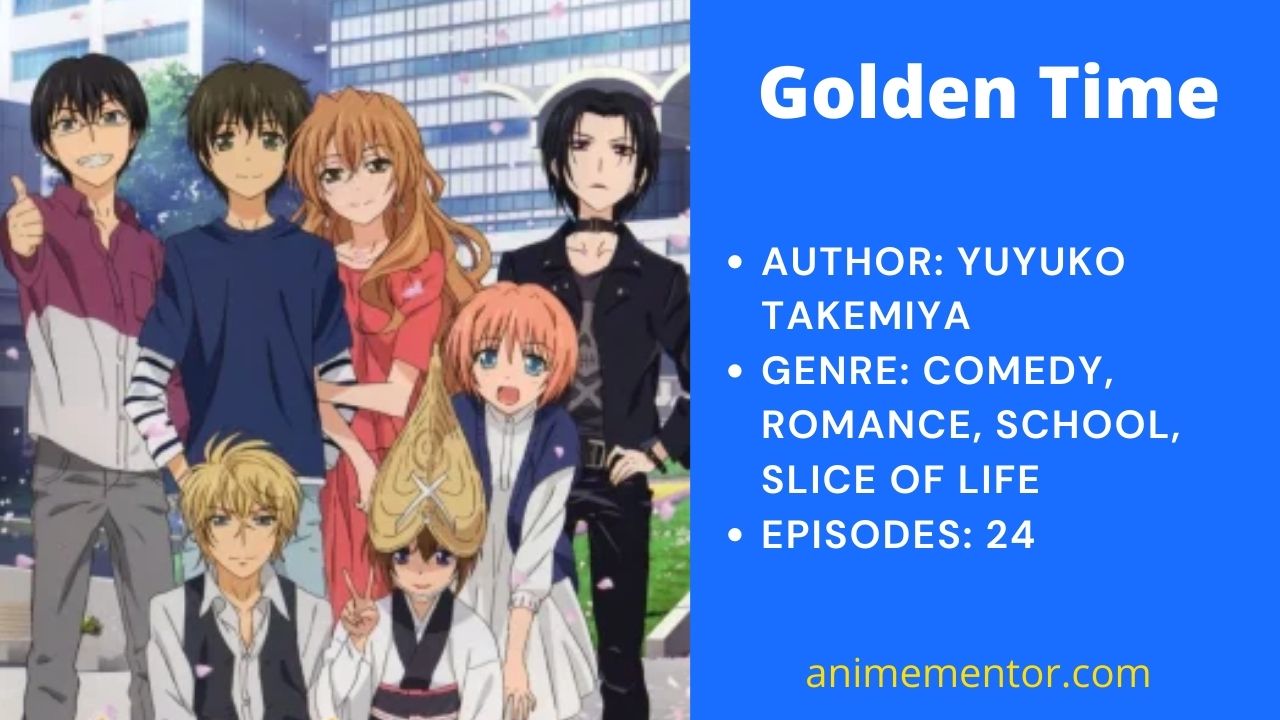 AUTHOR: Yuyuko Takemiya
GENRE:  Comedy/ Romance/ School/ Slice Of Life
EPISODES:  24
SYNOPSIS:- In a private law school in Tokyo, a new student named Tada Banri was enrolled who on his first day to school was finding his way to the freshman orientation but got lost after the opening ceremony.
There he stumbles upon another freshman of his school who was also lost in the way named Yanagisawa Mitsuo. The duo somehow managed to arrive at the orientation in time but suddenly an attractive girl appeared with a bouquet of roses appeared from nowhere.
The girl gave the flowers to Mitsuo congratulated him and left. However, Tada was swept off his feet at first sight. Later, Tada learned that the beautiful girl was Mitsuo's childhood friend, Kaga Kouko.
14. Violet Evergarden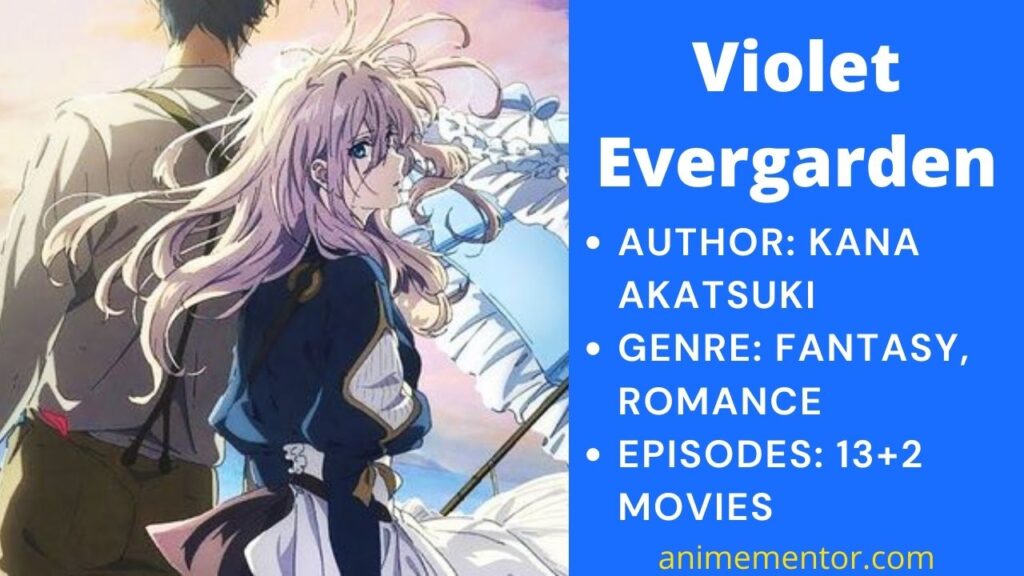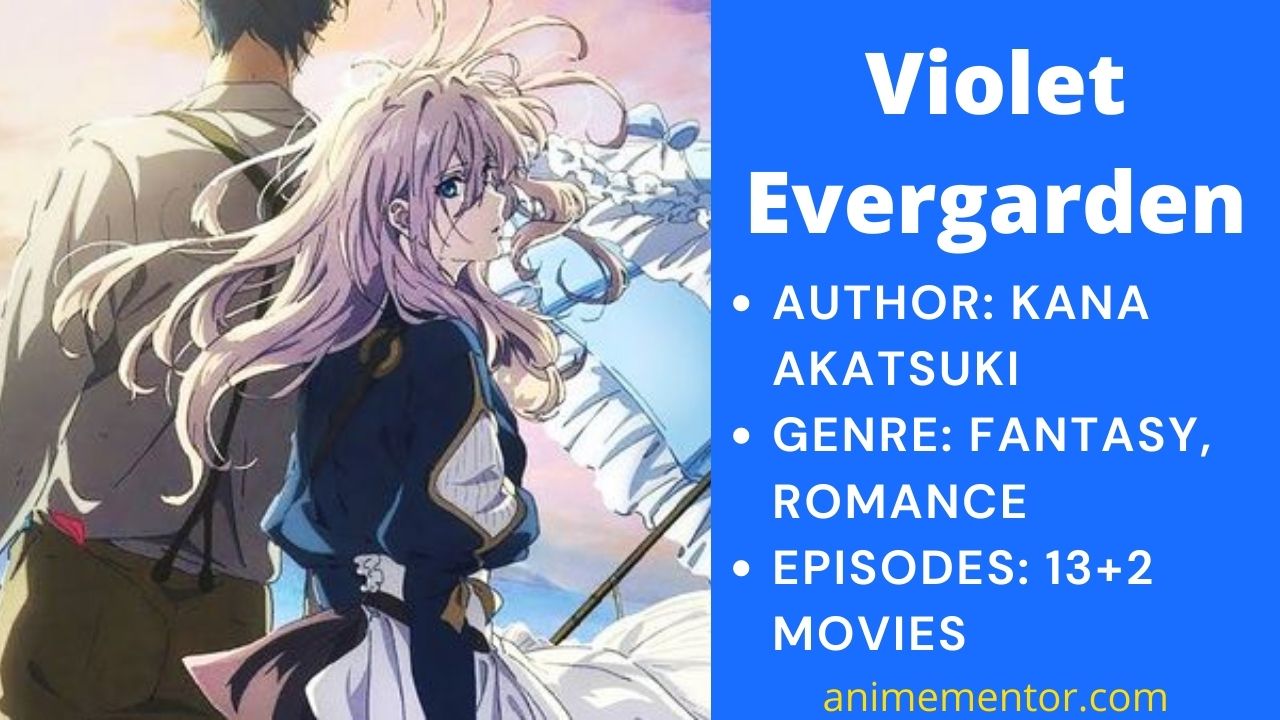 AUTHOR: Kana Akatsuki
GENRE:  Drama / Fantasy
EPISODES:  14
SYNOPSIS:- Once there was a great war in the continent of Telesis which lasted for about 4 years. Violet Evergarden who was once a soldier in the war in the war wakes up in a hospital, recovering from the wounds she got on the battlefield at its last phase. Violet heard a few words from Major Gilbert the person she was dearest in the war. The words were "I love you" but Violet didn't know what it meant.
Violet was trained to be a deadly weapon in the war. She never had any emotions and all she knew was to take orders from her commanders.
After being discharged from the hospital, Violet starts a new phase of her life at a postal service office as an auto memory doll.
With the war over, Violet tries to find her purpose in life. At the same time, she starts to look for major Gilbert the person who was very dear to her, and to know what happened to him after the war.
15. Love, Chuunibyou & other Delusions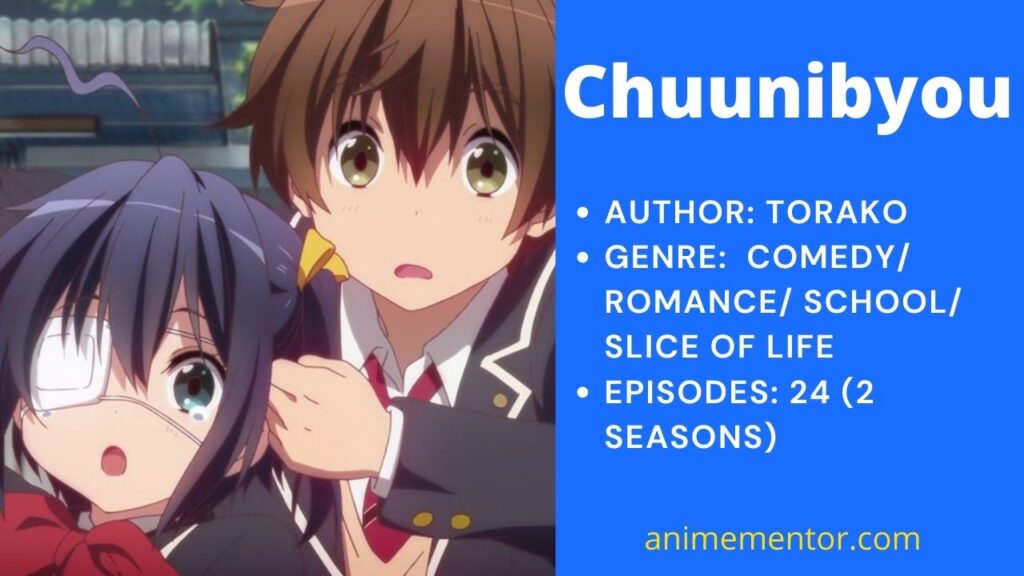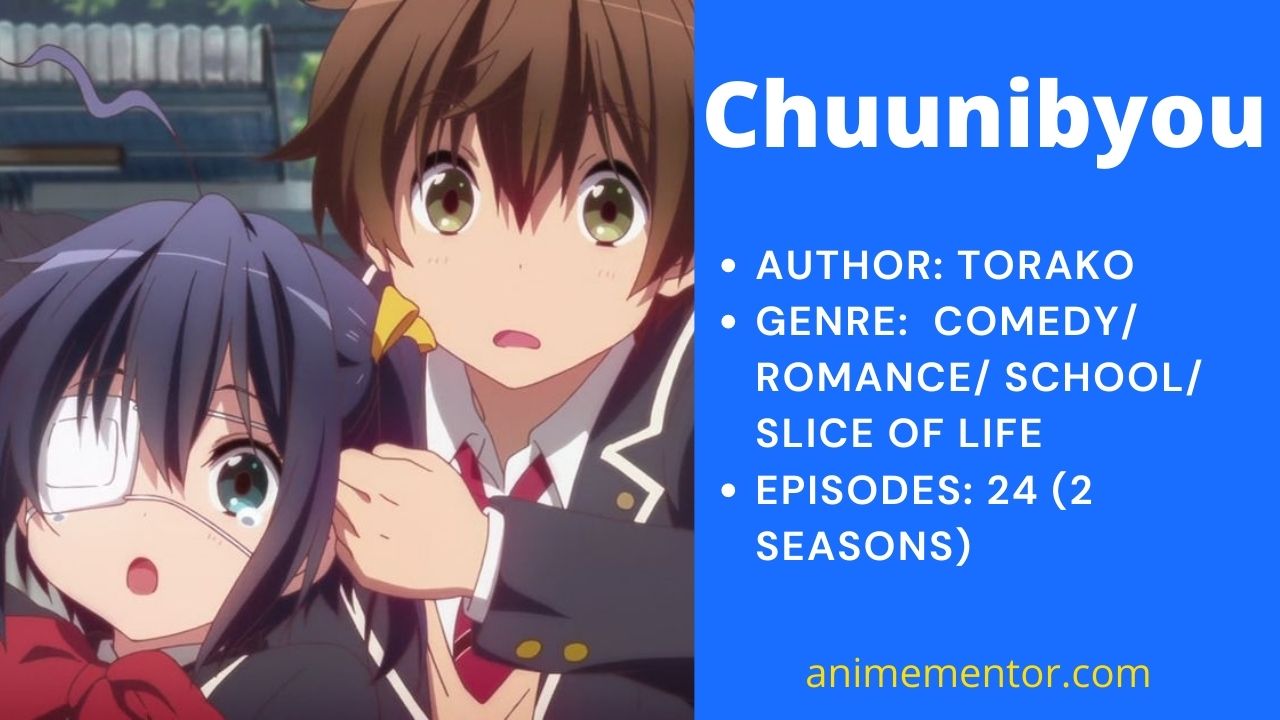 AUTHOR: Torako
GENRE:  Comedy/ Romance/ School/ Slice Of Life
EPISODES:  24 ( 2 seasons)
SYNOPSIS:-  This series tells about a syndrome that occurs in adolescence named Chuunibyou in which a person fantasizes about everything around him.
A young high school student named Yuuta Togashi previously had chuunibyou when he was in middle school. For him, it was a total dark past that he wanted to forget forever. He thought of starting a new phase of his life in high school leaving all those things behind.
His days were moving smoothly but then one day he encounters a girl named Takanashi Rikka who is having this chuunibyou at an immense rate. Without knowing he formed a contract with her and his smooth moving life comes to an end.
Conclusion
So Theses were our picks for the Best Slice of life Romance anime. Now it is your turn to let us know your thoughts, the comments section is open for you!😊
Also, if you think we missed any anime that should have been on the list reach out to us and we will add that to the list.
Thanks a ton for reading.
Have a wonderful day!