In the slice of life genre, we see the characters that are somewhat comparable to us. They too face the same struggles of life as we do. The genre teaches us to value the small moments in our life.
So, today we have listed a special sub-genre of a slice of life Anime series. It represents the happy and fun life of a character i.e., comedy. We all like to have a good laugh right?
The comedy part of the anime series adds good taste to the overall anime and due to the slice of life background, you can relate this to your life.
So, without any further ado let's dive into the list –
[toc]
1. Relife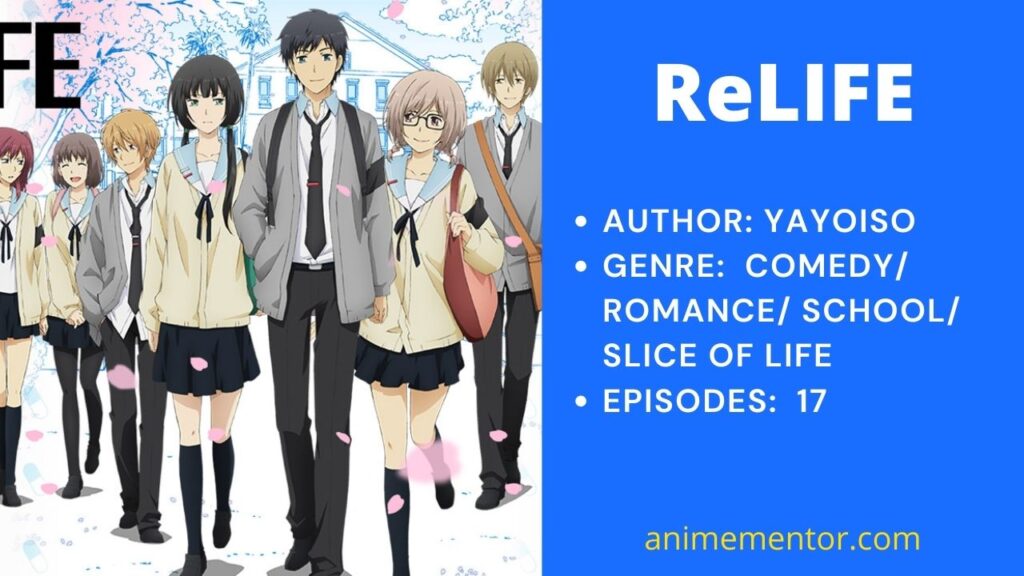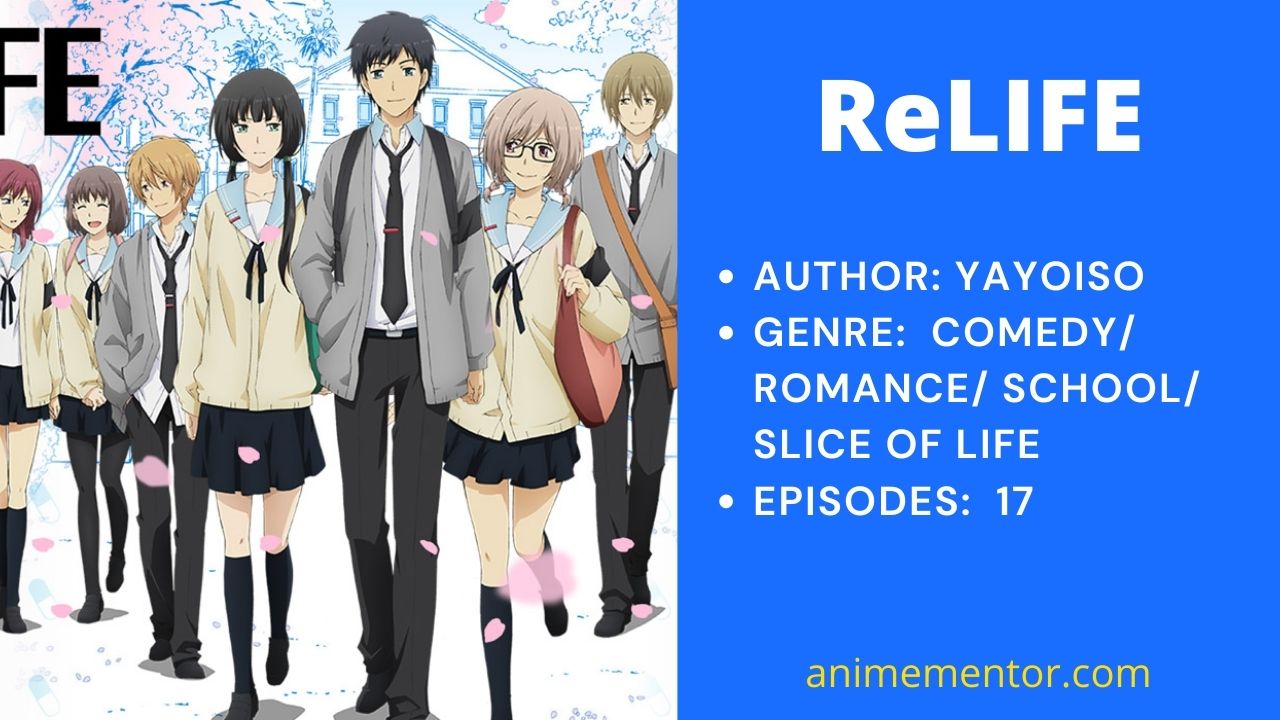 AUTHOR: Yayoiso
GENRE:  Comedy/ Romance/ School/ Slice Of Life
EPISODES:  17
SYNOPSIS: – This story presents us with an interesting concept about living your past life for the second time.
The anime follows the story of a 27-year-old unemployed man named Kaizaki Arata. He left his company and is searching for new jobs. One day he was presented with an offer by the ReLife Research Institute through Yoake Ryou. The offer was to participate in an experiment for a year. Kaizaki accepted that offer and Yoake Ryou gave Kaizaki a drug that can make him look like a 17 years old highschool boy.
The now 17 old Kaizaki gets admitted to a school for the second time and starts his life as a high school student with some new hopes in his life.
2. Tamako Market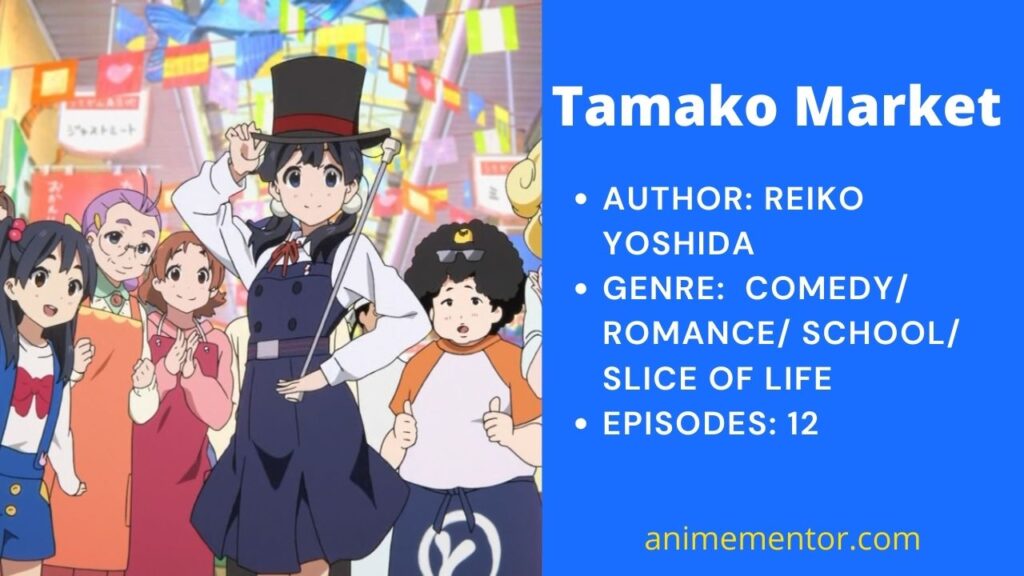 AUTHOR: Reiko Yoshida
GENRE:  Comedy/ Romance/ School/ Slice Of Life
EPISODES:  12
SYNOPSIS: – Tamako knows everything about a Japanese dessert known as mochi as her family runs a mochi shop. She likes to create new varieties of mochi and add new flavors into it. Tamako doesn't like to go to school or grow up as an adult. All she wants is to spend her time with her two best friends, Kanna and Midori.
Mochizo was Tamako's best boyfriend. However, Mochizo's family runs a mochi shop too and thus the families are rivals in selling mochi. But the thing is, Tamako and Mochizo both have some feelings towards each other. Yet both are embarrassed to confront each other.
Will Tamako and Mochizo be able to confess their feelings to each other?
3. Bottom Tier Character – Tomozaki-Kun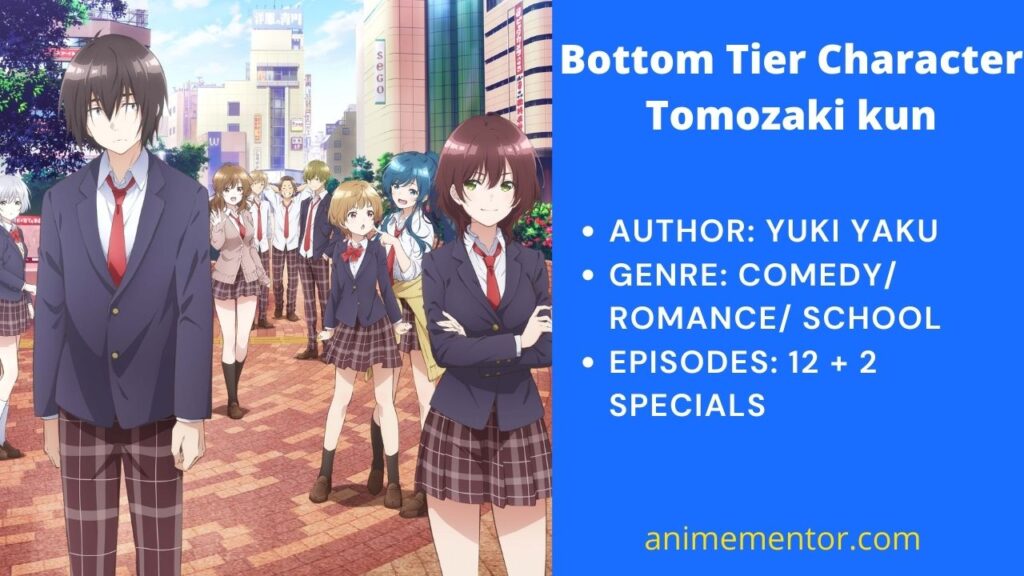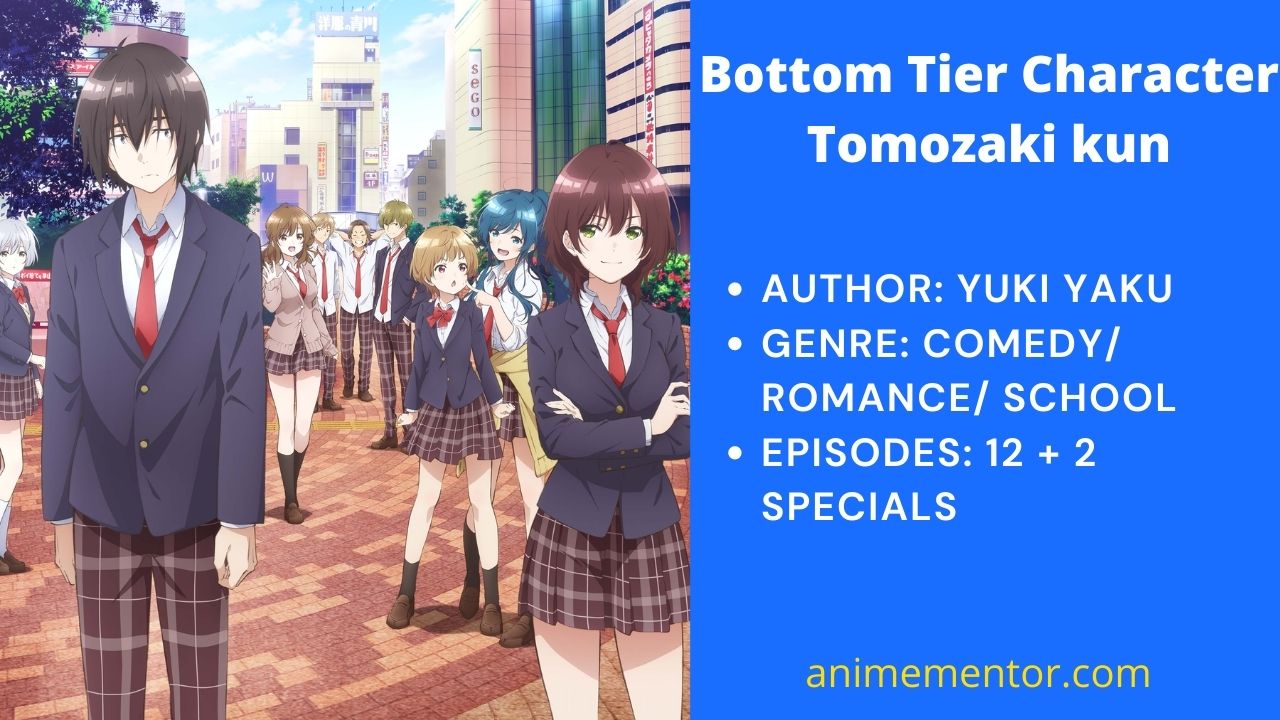 AUTHOR: Yuki Yaku
GENRE:  Comedy/ Romance/ School
EPISODES:  12 + 2 specials
SYNOPSIS: – The story revolves around a high school student named Fumiya Tomozaki. He looks upon himself as a bottom-tier player who is a failure in the real life. Although Tomozaki has a unique talent in playing games and is one of the best gamers in whole Japan. In his opinion, the real-life game is the worst. There is no definite set of rules and no regulations. Therefore he spends most of his time playing video games.
One day while playing a game, he finds a really good opponent named "NO NAME" but ultimately Tomozaki wins the game. After the match, Tomozaki was requested by the player NO NAME to meet up. However, when the two met, Tomozaki was surprised to find out that the player was one out of his classmates and an elite student named Aoi Hinami. Hinami too was shocked to know that the lazy, dull student was actually the best gamer in Japan.
Hami then visits Tomozaki's house later that day. She was worried about him being a failure in life. So, she decides to help Tomozaki to become a god-tier character from a bottom-tier character.
4. Golden Time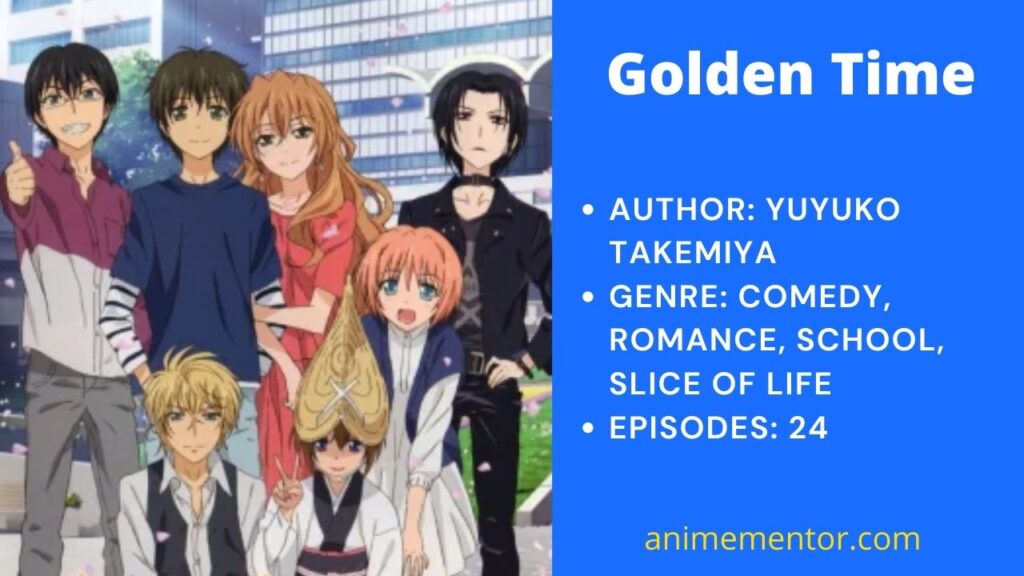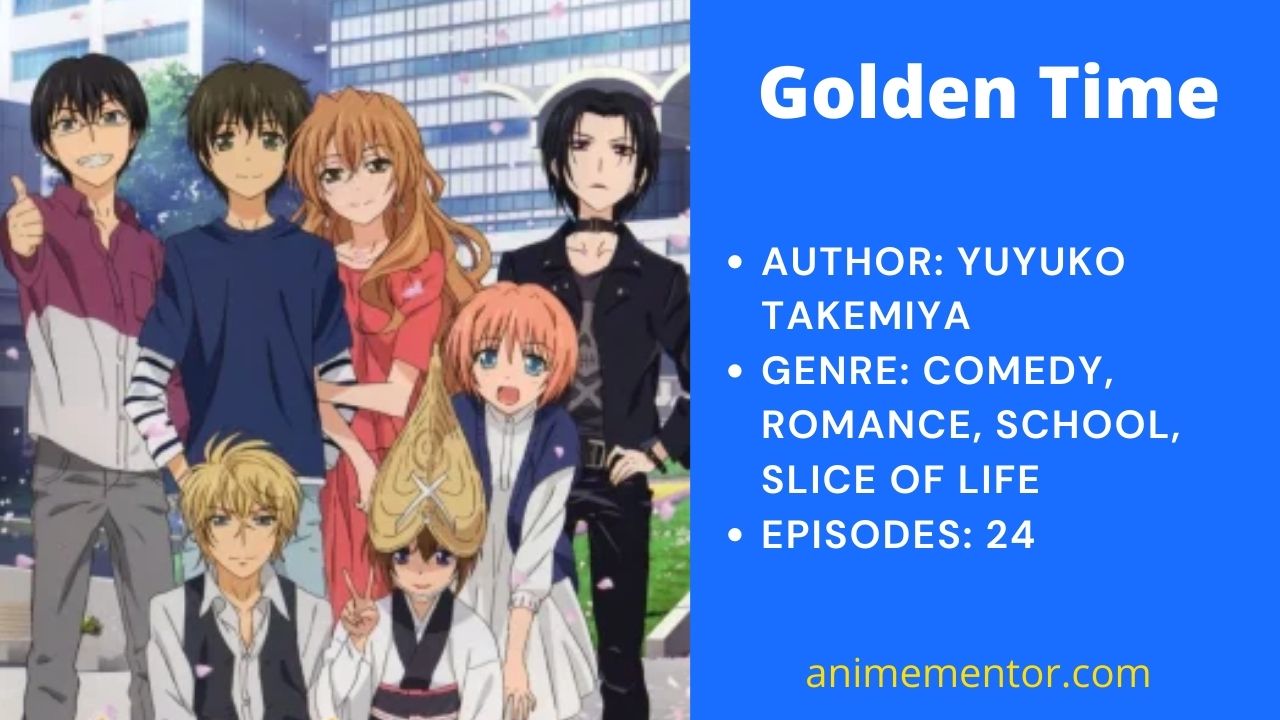 AUTHOR: Yuyuko Takemiya
GENRE:  Comedy/ Romance/ School/ Slice Of Life
EPISODES:  24
SYNOPSIS: – In a private law school in Tokyo, a new student named Tada Banri has enrolled who on his first day to school got late. After reaching the school, he was directed towards the freshman orientation room. But he got lost on his way after the opening ceremony and stumbled upon another freshman of his school named Yanagisawa Mitsuo who was also lost in the way. The duo somehow managed to attend the orientation in time.
As Tada and Mitsuo were leaving, a beautiful girl appeared with a bouquet of roses. The girl gave the flowers to Mitsuo and congratulated him and left. Upon inquiry, Tada learned that the beautiful girl was Mitsuo's childhood friend, Kaga Kouko. She was determined to make Mitsuo her boyfriend by any means possible. She was also the heiress to a major hospital in Tokyo and is very wealthy.
Kaga joined the same law school Mitsuo attended to keep an eye on him. However, Mitsuo didn't love her back, but Tada fell for Kaga-san's beauty the moment he set his eyes on her.
Will Tada manage to impress Kaga-san?
5. Horimiya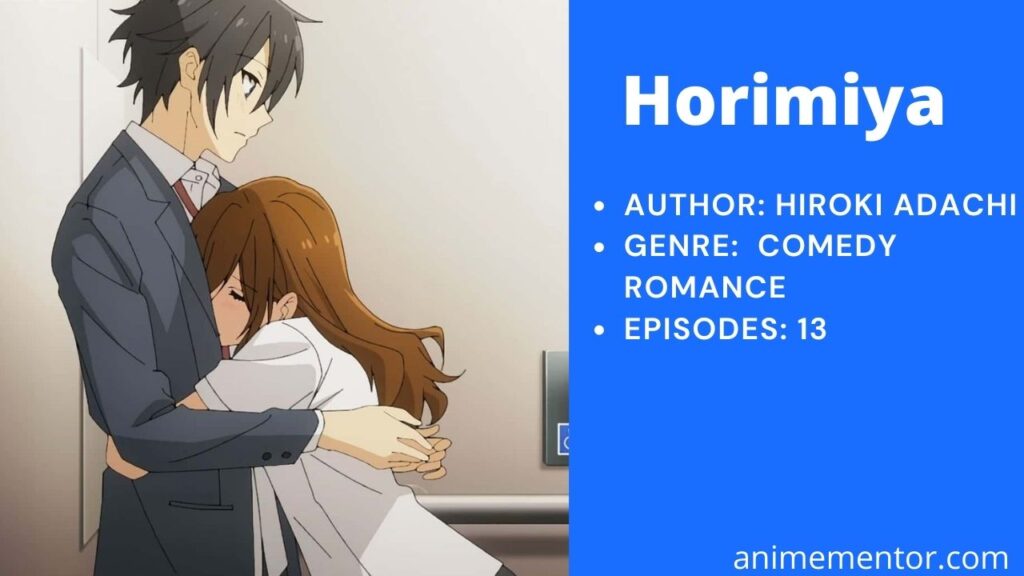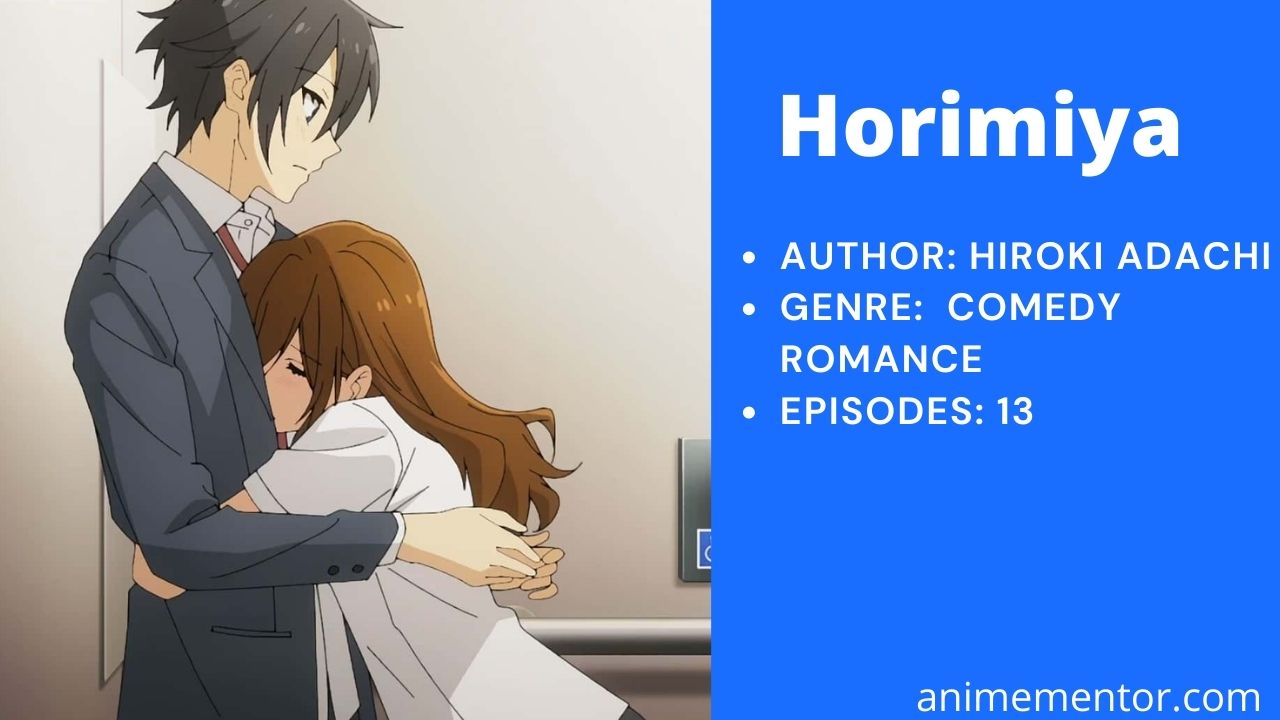 AUTHOR: Hiroki Adachi
GENRE:  Comedy/ Romance/ School/ Slice Of Life
EPISODES:  13
SYNOPSIS: – Kyouko Hori is an attractive and popular high school girl. She is admired at school for her academic excellence but she has been hiding another side of her. Hori's parents usually stay away from home due to work. So, she looks after her younger brother and does the household work, with no time to socialize outside of school.
While on the contrary, Izumi Miyamura is a quiet, glasses-wearing boy. Although it's only on the outside because, in reality, he is a handsome and bold guy. He also has many piercings on his ears and also tattoos on his body.
Coincidentally, Hori and Miyamura encounter one another outside of school – neither one looking the way they expected. At first sight, Hori didn't even recognize Miyamura. He looked the complete opposite of what he looked at school. Eventually, they became friends, and share a side of their life they have not shown to anyone before.
6. Kaguya Sama: Love is War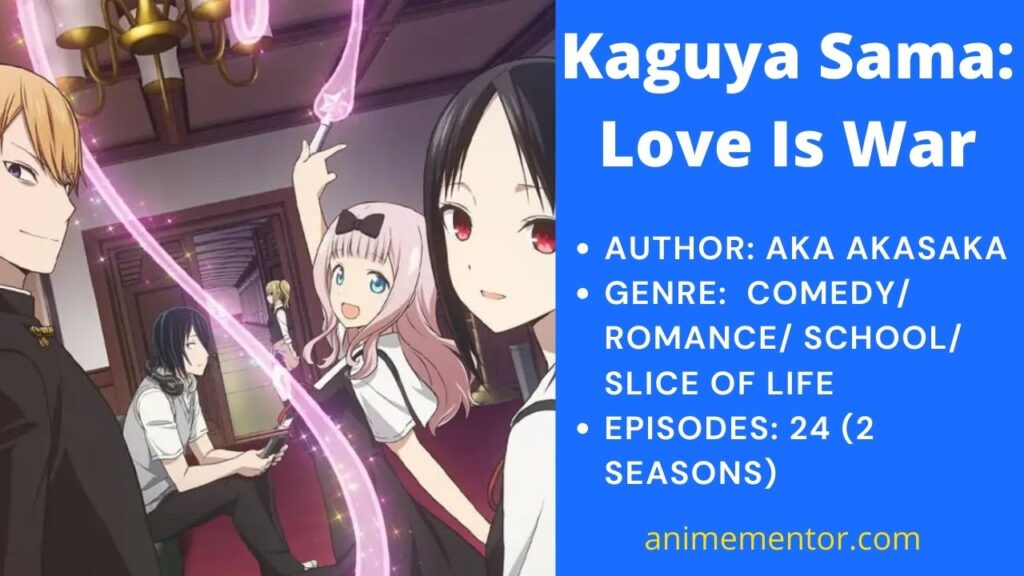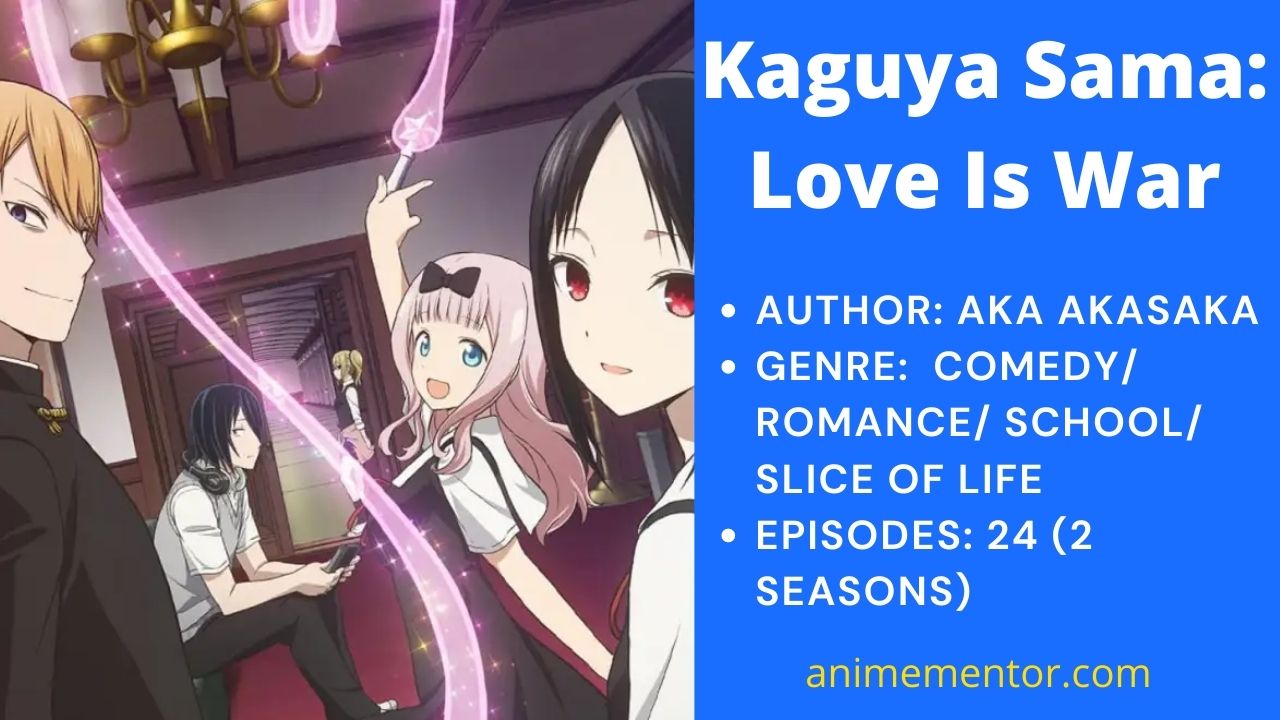 AUTHOR: Aka Akasaka
GENRE:  Comedy/ Romance/ School/ Slice Of Life
EPISODES:  24 (2 seasons)
SYNOPSIS: – The story follows a boy named Miyuki Shirogane. He is regarded as the most genius student in the whole country due to his excellent grades. He is now the president of the student council at the reputed Shuchiin Academy. The vice president of this student council is a charming and beautiful girl named Kaguya Shinomiya. She comes from a wealthy family.
The students of the school have long considered the two as a perfect pair, though, in reality, they are not in any sort of relationship. However, now after being with each other together for a long time, both have started to have feelings for each other which they cannot express. According to them confessing first is a symbol of weakness. Their pride as top students won't let them do it. So, they try to make one another confess first by any means necessary, and thus the war of love begins!
7. Oregairu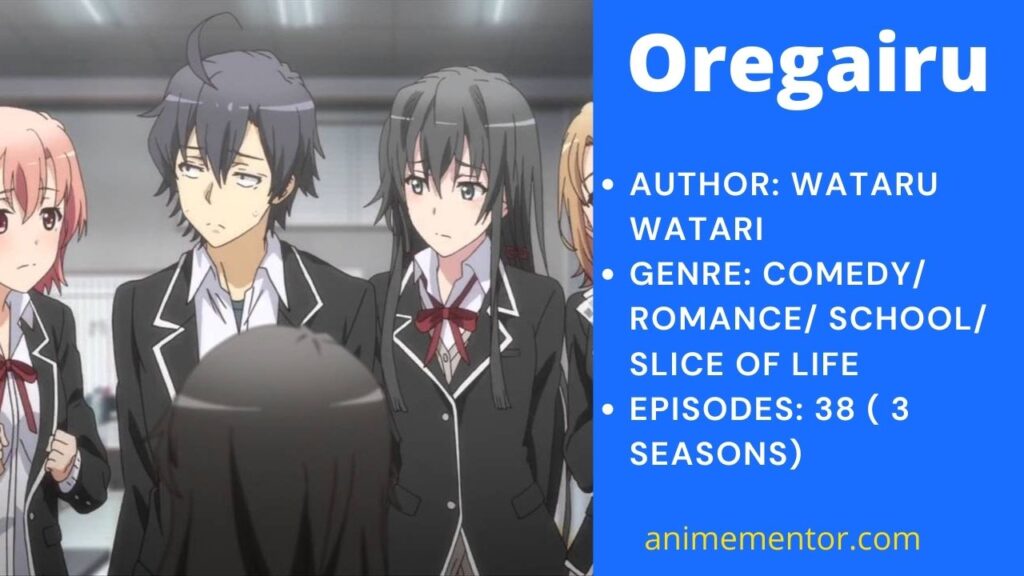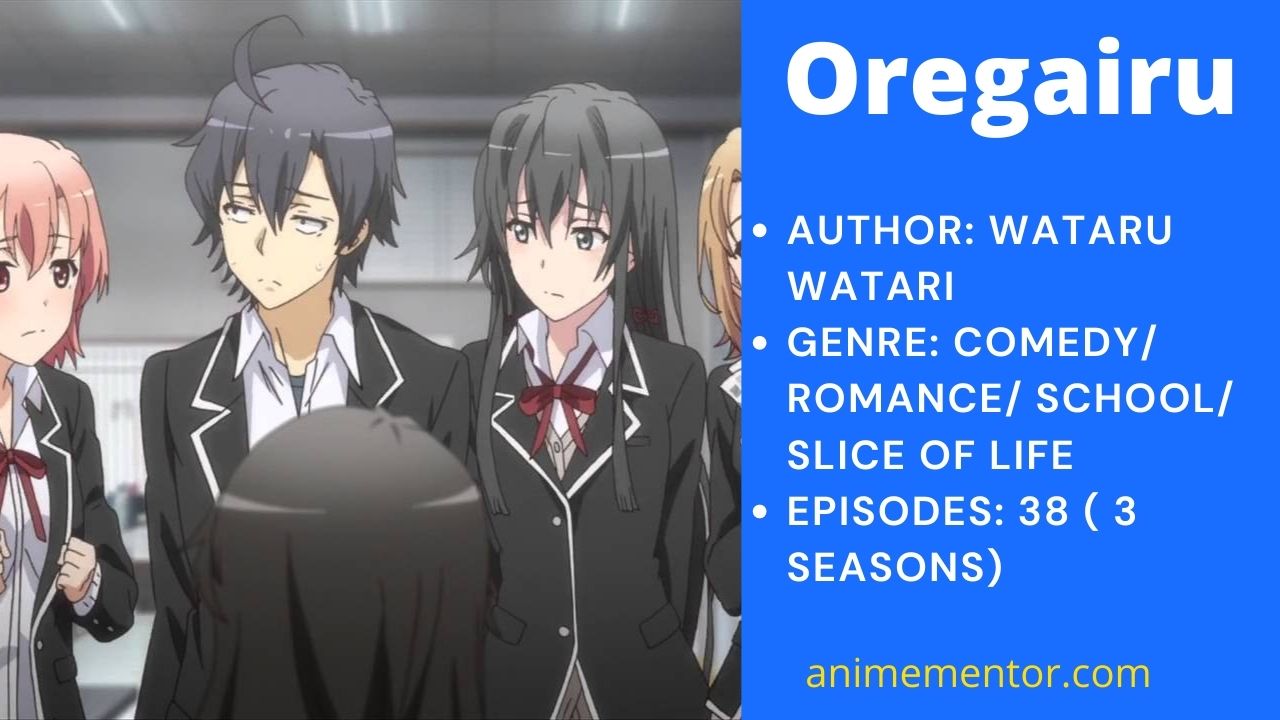 AUTHOR: Wataru Watari
GENRE:  Comedy/ Romance/ School/ Slice Of Life
EPISODES:  38 ( 3 seasons)
SYNOPSIS: –The protagonist of this rom-com is an introverted, unsocial high school student named Hikigaya Hachiman. In his opinion, his classmates are a group of liars who just spout nonsense and false things about their happy adolescent life. He has no interest in his friends and also in his life. He has no future dreams for himself.
One day Hachiman joins a new club called the "Volunteer Service" club as per a teacher's request. There he meets the prettiest girl in the school, Yukinoshita Yukino.
Yukino is a straightforward and bold girl. She is also top at academics and a perfect girl overall. But the fact is she too is a loner who nobody messes with. The main objective of this club was to provide service to others. They helped other school committees by lending a hand to them.
After joining the club Hachiman's daily life of dullness begins to change and one day he finds his life a little bit more meaningful.
8. Chuunibyou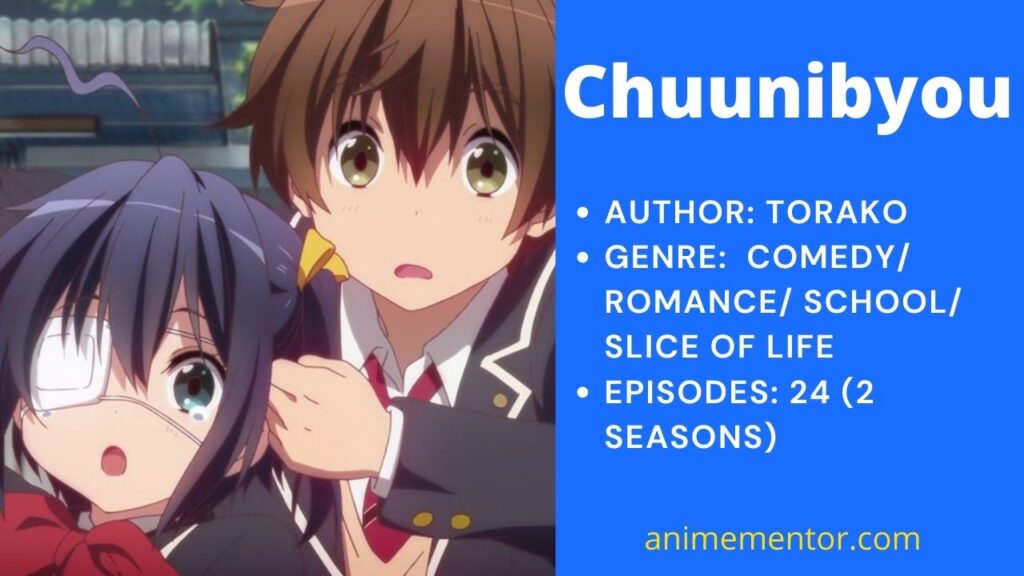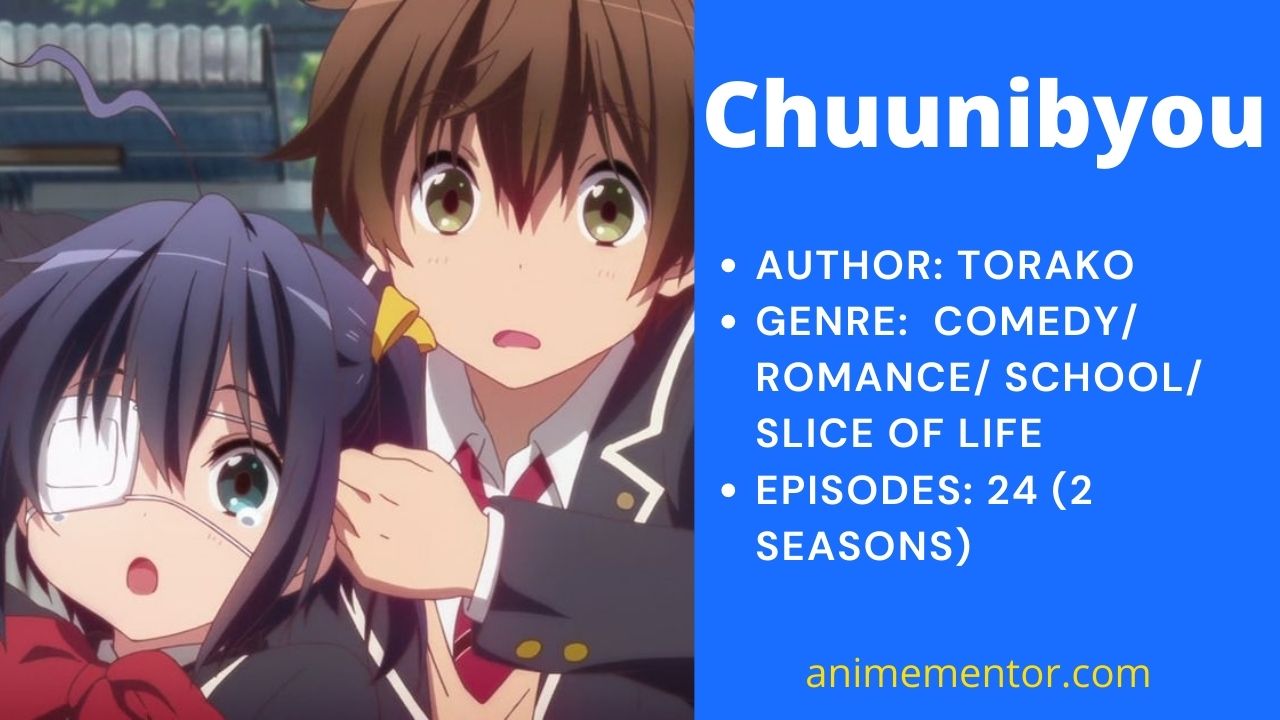 AUTHOR: Torako
GENRE:  Comedy/ Romance/ School/ Slice Of Life
EPISODES:  24 (2 seasons)
SYNOPSIS: – Chuunibyou is a peculiar syndrome that occurs in adolescence. In this syndrome, a person fantasizes about everything around him/her.
We follow a young high school student named Yuuta Togashi who previously had chuunibyou when he was in middle school. For him, it was a total dark past that he wanted to forget forever. He thought of starting a new phase of his life in high school leaving all those things behind. His days were going great when one day he encounters a girl named Takanashi Rikka.
Rikka has chuunibyou and is always in her fantasy realm. From time to time she would chant spells and do magics which in reality are nothing. Yuuta forms a contract with her and his smooth moving life comes to an end.
Yuuta's memories of dreadfulness once again came back but now he is ready to face them.
9. Hyouka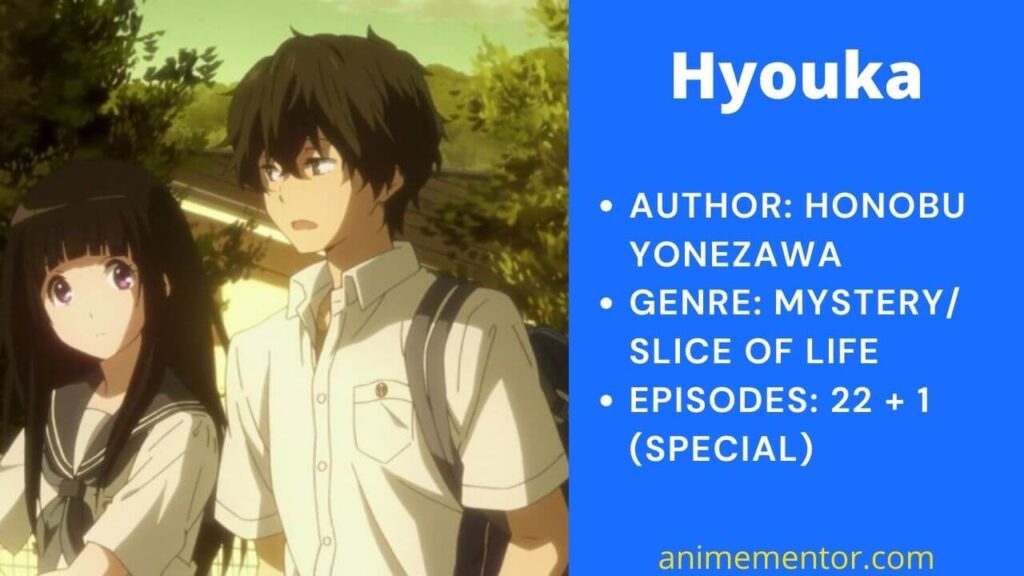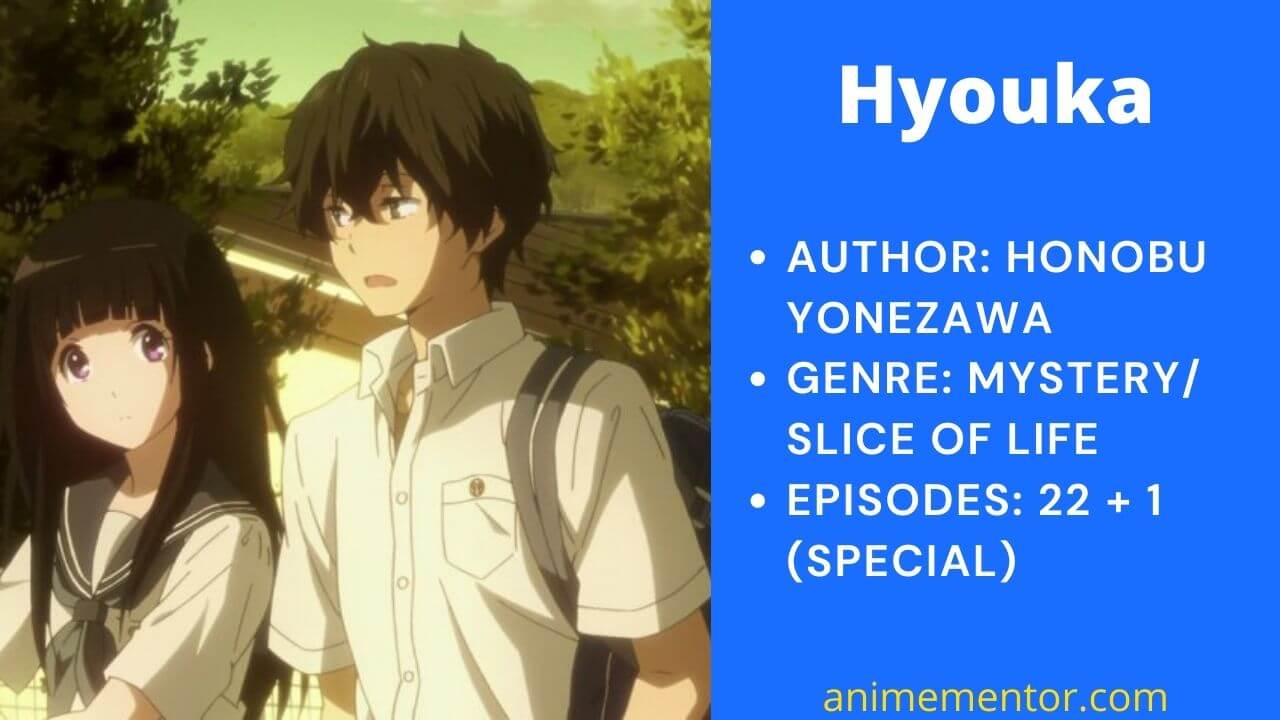 AUTHOR: Honobu Yonezawa
GENRE: Mystery/ Slice of life
EPISODES: 22 + 1 (special)
SYNOPSIS: –  High school freshman Oreki Hotaro, who always acts quietly has but only one goal- to achieve a gray and peaceful life. One day due to his sister Tomoe's request, to help the Classics Club from being disbanded he has to join the club against his will. There was not a single member in the club until he joined.
The unsociable Hotaru then meets the other members who also wanted to join the club and encounters Chitanda Eru, Fukube Satoshi, and Ibara Mayaka. Hotaru's lifeless life becomes a lot more interesting because of these people.
Chitanda Eru is a polite and attractive girl. But sometimes she becomes so filled up with lots of questions ultimately asking Hotaru to solve them. Will Hotaru be able to satisfy Chitanda's curiosity?
10. Kimi Ni Todoke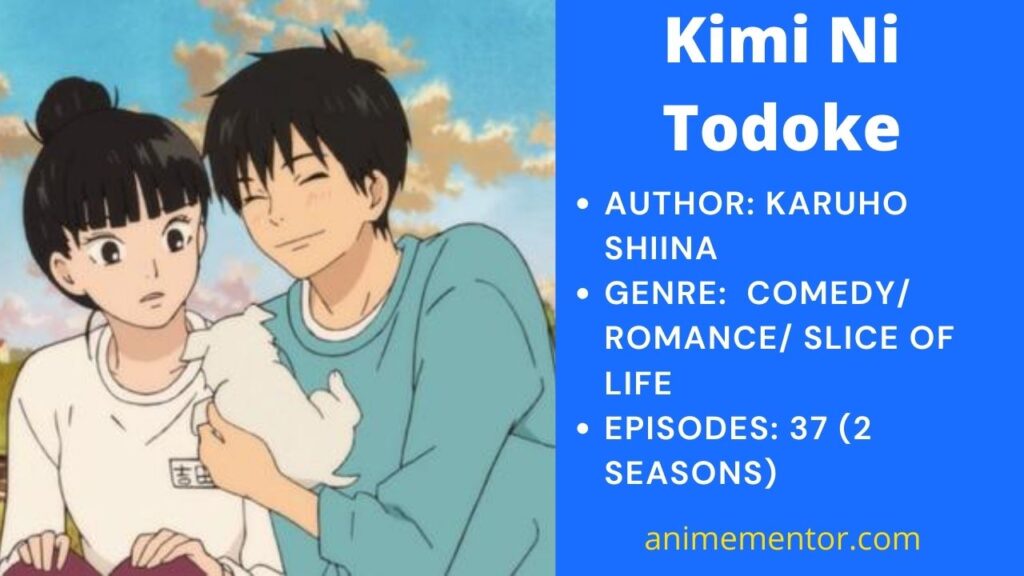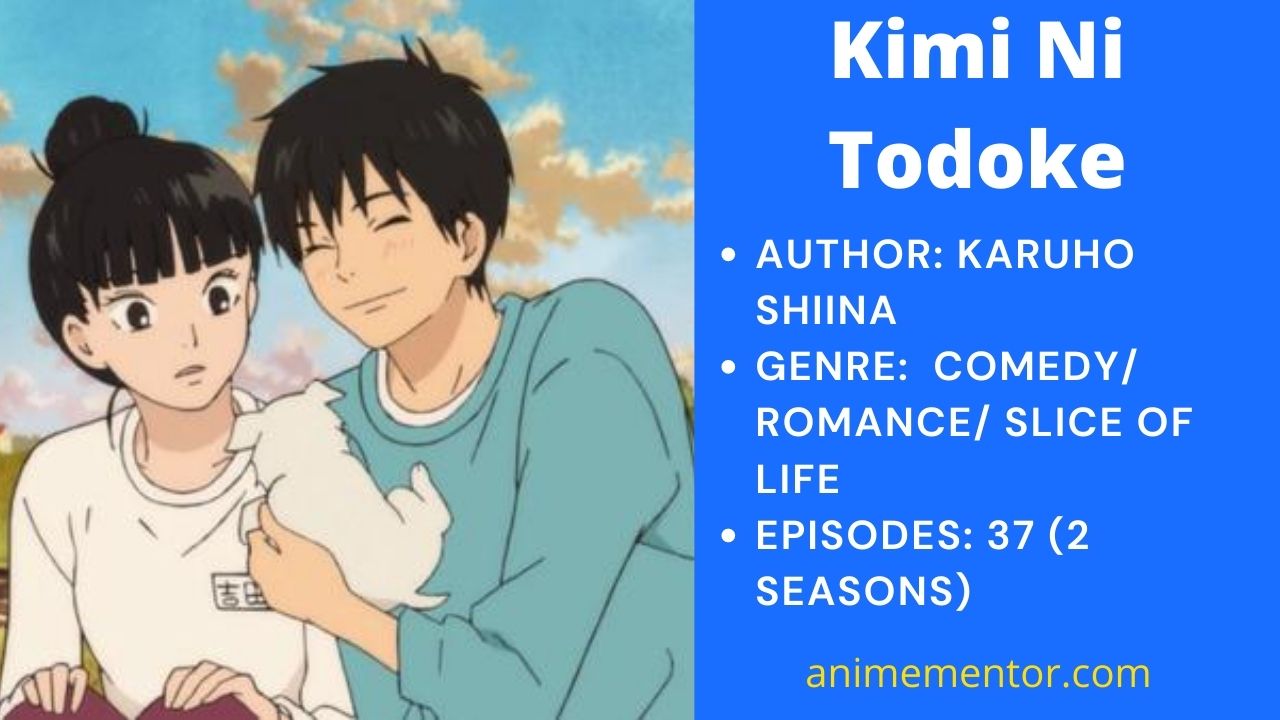 AUTHOR: Karuho Shiina
GENRE:  Comedy/ Romance/ School/ Slice Of Life / Shoujo
EPISODES:  37 (2 seasons)
SYNOPSIS: – The story revolves around a high school girl named Kuronuma Sawako who is completely misinterpreted by her classmates. They think of her as a ghost because of her long black hair, quiet behavior, and eerie smile. She is often told as the haunting character Sadako from the rings movie. But in reality, she is not at all scary, it's just she is too introverted and feels shy to talk with others. Her wish is to have as many friends as possible. But it is quite a distant dream for her in the meantime.
Due to an incident one day, a handsome and popular boy in her class becomes friends with Sawako-san. Because of that she now gets noticed by everyone in the class. It was surely a good thing for her as she was making new friends. But the fact is she is not only making friends but enemies too.
Can Sawako fulfill her dream of having many friends?
CONCLUSION
So, that's it for the Top 10 Best Slice of Life Comedy Animes. I hope that you enjoyed reading this article and will enjoy each of these anime series mentioned above. So, please let us know your thoughts in the comments below.
As always, see you soon in my next article.
Bye!