Basketball is one of the most popular sports in the world, with fans spanning across countries and cultures. It's no surprise that basketball has made its way into the world of anime as well.
For anime fans who also love shooting hoops, basketball anime is the perfect blend of action, drama, and sports entertainment.
After watching the listed series you would be definitely willing to play basketball.
From classic titles to recent hits, here are the top 10 best basketball anime of all time for fans to add to their watchlist.
1. Slam Dunk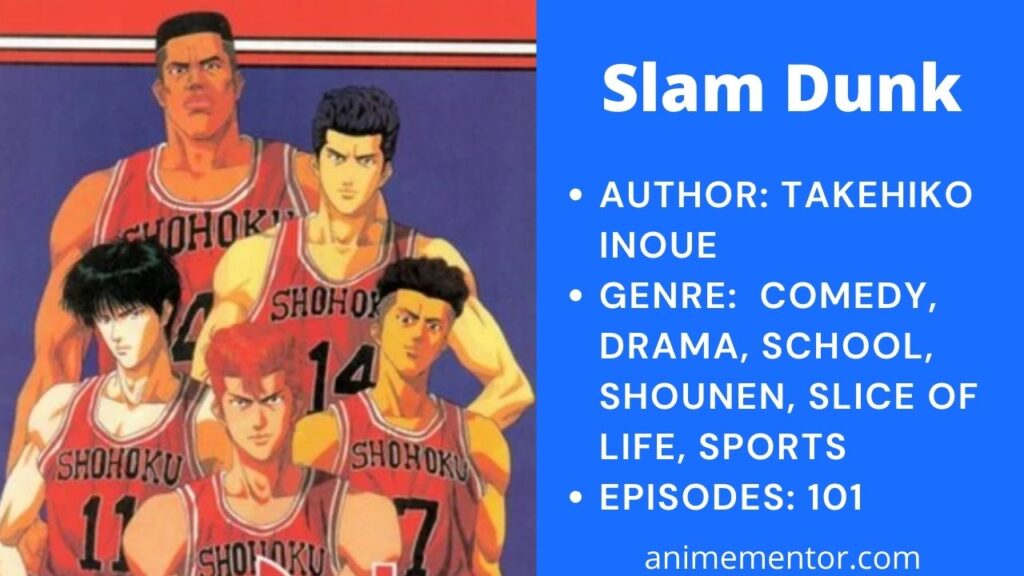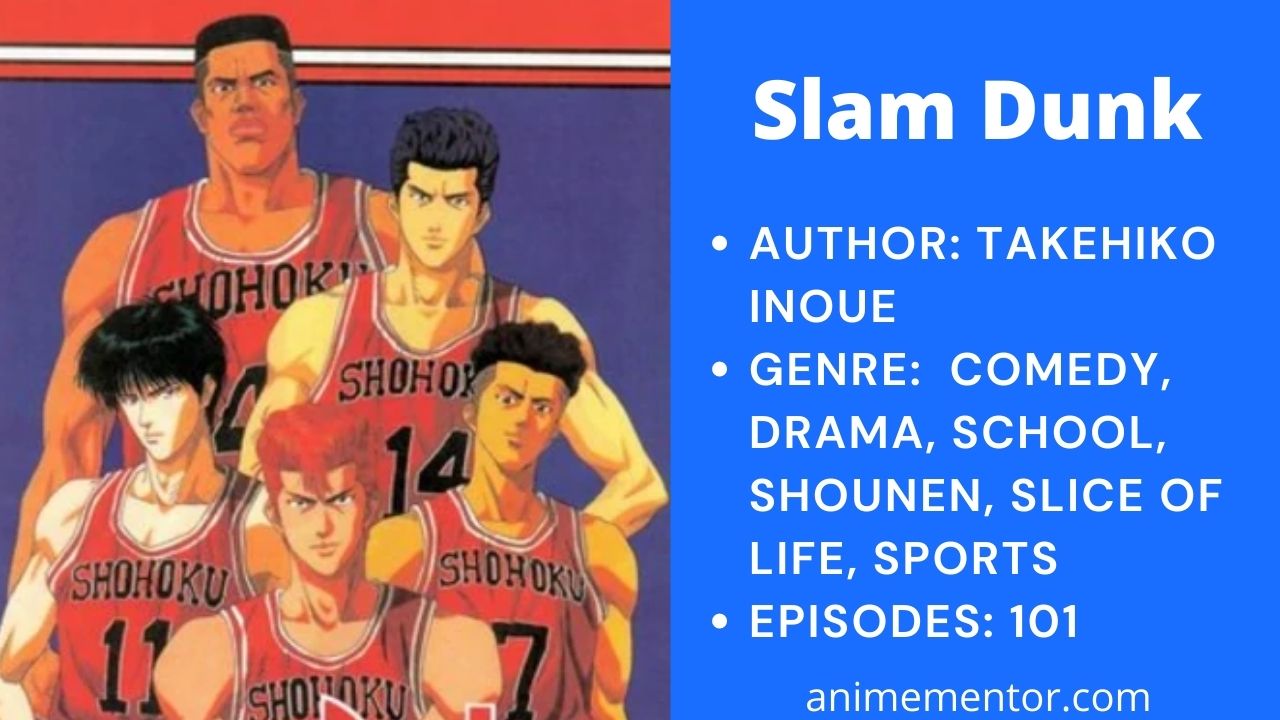 Author: Takehiko Inoue
Genre:   Comedy, Drama, School, Shounen, Slice of Life, Sports
Episodes: 101
Slam Dunk stands out as a monumental 1990s basketball anime that sparked a fandom phenomenon.
The series ran for 101 episodes from 1993-1996, based on creator Takehiko Inoue's own initiations into basketball culture.
Protagonist Hanamichi Sakuragi is a delinquent who joins his school's team to impress his crush, starting as a clueless novice. We follow his growth into a skilled player through hard work and passion for the game.
Hanamichi must learn to collaborate with teammates like rival Rukawa Kaede, navigating sports drama and intense rivalries. Their development embodies how basketball bonds youth despite differences.
While lacking modern visual flair, Slam Dunk enthralls viewers with its inspirational coming-of-age story. The anime's legacy remains strong decades later as fans continue to celebrate its universal themes and portrayal of basketball's competitive spirit.
2. Kuroko no Basket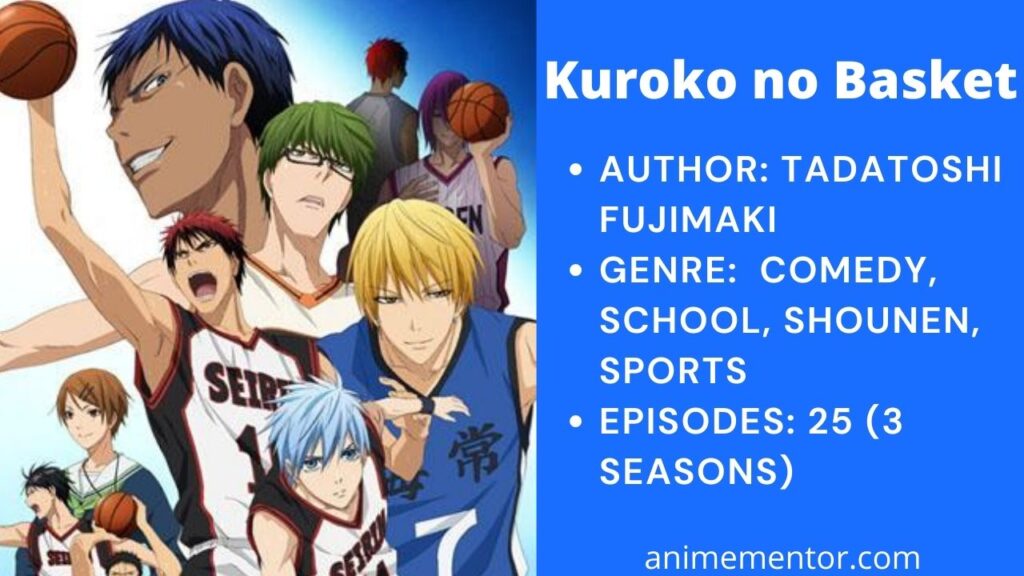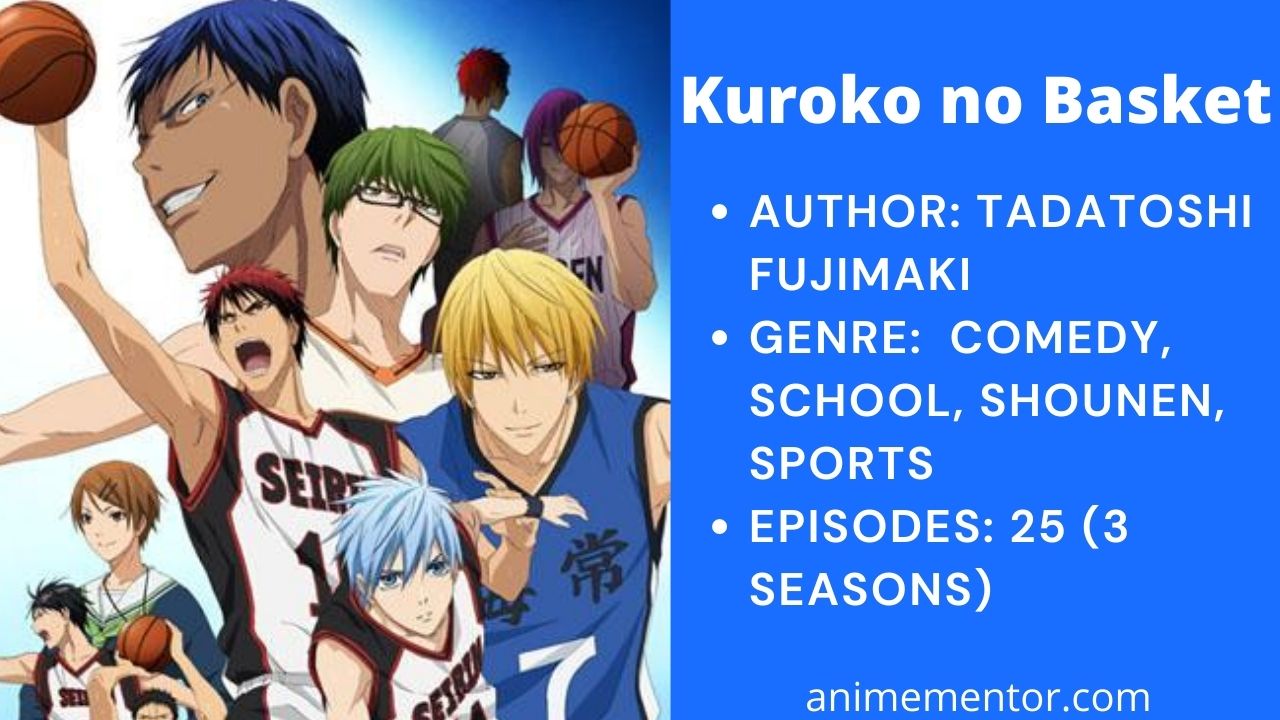 Author: Tadatoshi Fujimaki
Genre:   Comedy, School, Shounen, Sports
Episodes: 25 (3 seasons)
No list of basketball anime will be complete without Kuroko's Basketball.
With 75 episodes produced between 2012 to 2015, Kuroko's Basketball quickly became a modern sports anime hit that sparked basketball fandom.
Originally created by Tadatoshi Fujimaki as a basketball story with supernatural flair, Kuroko's Basketball evolved into an exciting tale of teamwork, growth, and overcoming challenges.
Given that the main character Tetsuya Kuroko lacks traditional basketball skills but utilizes misdirection and passing, Kuroko's Basketball paints a compelling story about how players with different strengths come together.
And Kuroko's Basketball has quite the engaging story to offer!
It may not have the retro vibe and realism that classics like Slam Dunk have.
But Kuroko's Basketball provides amazing animation and hype matches full of superpowered abilities and unpredictability that shonen sports fans love.
The story's heartfelt themes of friendship and redemption have resonated strongly with viewers. Fans are eager to see more of the characters in this fictional basketball world!
3. Ahiru no Sora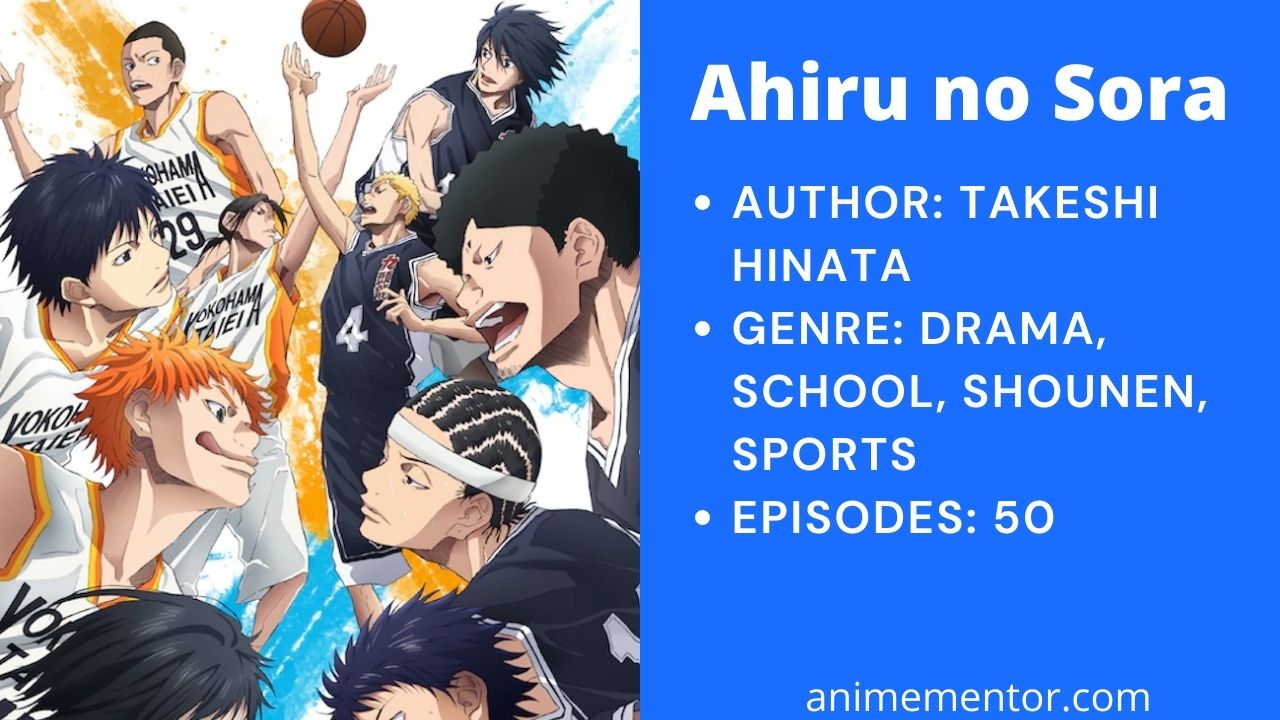 Author: Takeshi Hinata
Genre: Drama, School, Shounen, Sports
Episodes: 50
Sora Kurumatani is a proud and very passionate player when it comes to playing basketball. But he lacked the most important thing which was required in playing basketball— height!!! He has struggled a lot due to his short height since he started playing this game.
Although he hadn't given up, he practiced whenever he got time and was trying his best to become a good player. He was enrolled into Kuzuryuu High School where he wanted to fulfill his mother's dream for him to win his first tournament in high school.
However, he was saddened by the fact that the basketball club was full of nasty delinquents who never actually played basketball. The team members have no interest in sports. Eventually, Sora came across two twin brothers- Momoharu Hanazono and Chiaki Hanazono. Momoharu was a good blocker but not too good at shooting while Chiaki was a talented point guard. But they both have lost their passion for basketball.
But you know what, this reason is not enough to stop our protagonist's wish to fulfill his dream. He was too determined to revive the whole club and started many events to get their interest back in the game. He challenges the members to a match, where the members were shocked by his quick movements which were overwhelming for the group.
Slowly, they started to care out their passion for the game and started playing the game in hopes of becoming a great team!!! Will Sora be able to fulfill his mother's dream?
4. Buzzer Beater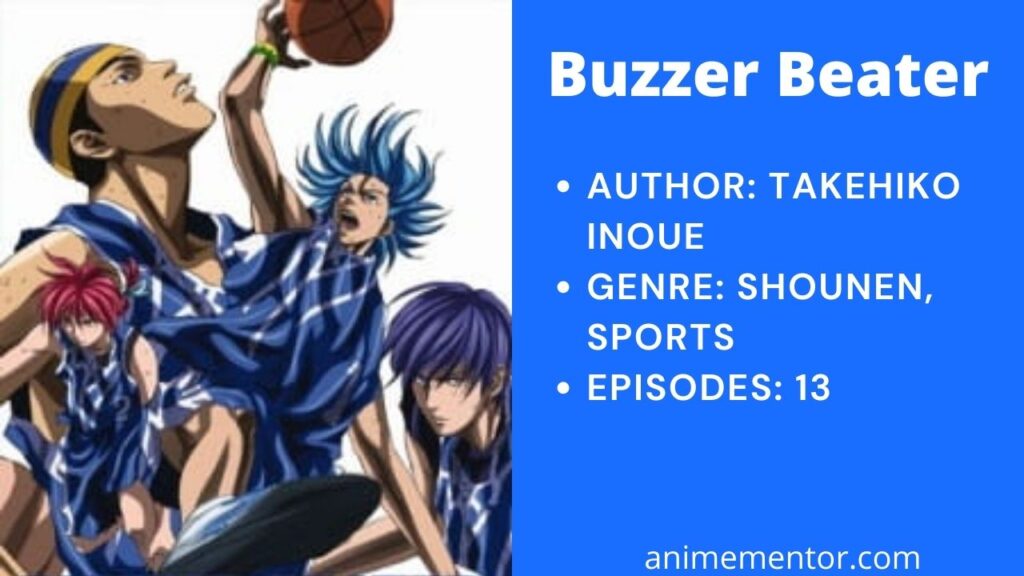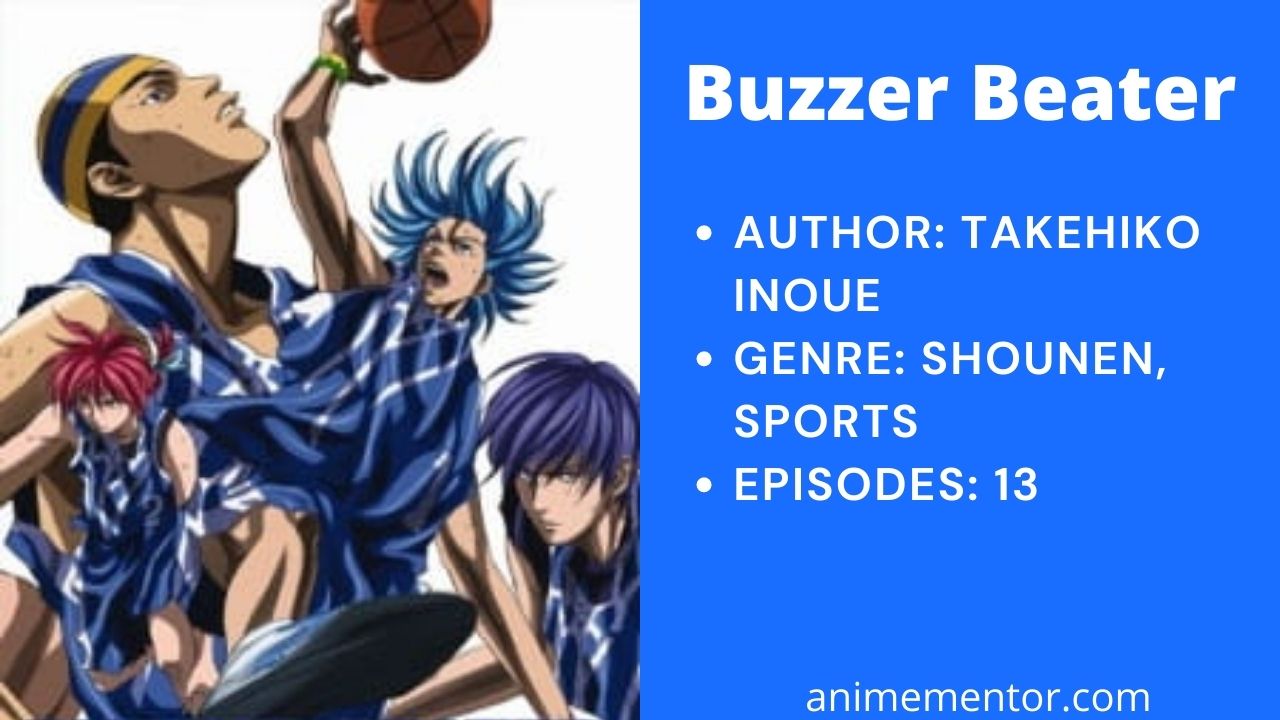 Author: Takehiko Inoue
Genre: Shounen, Sports
Episodes: 13
SYNOPSIS: – This plot starts at a certain time soon in New York City where a homeless boy named Hideyoshi survives by playing basketball. He is naturally talented in playing basketball. He uses this game to get over other kids and lives through that.
Due to his smart playing methods, he is appointed to a pro-level team. They were given a very unique goal. Now at this time, the foreign alien species played basketball and also took control over the game.
In the past, the humans were the ones to dominate this game but now it's the aliens. So now there are very few human players left who are willing to play basketball.
Therefore, Hideyoshi and his teammates aim to gain the glory the humans once possessed by defeating the aliens in a basketball competition. Can they defeat the aliens and be the champions?
5. Mitsu x Mitsu Drops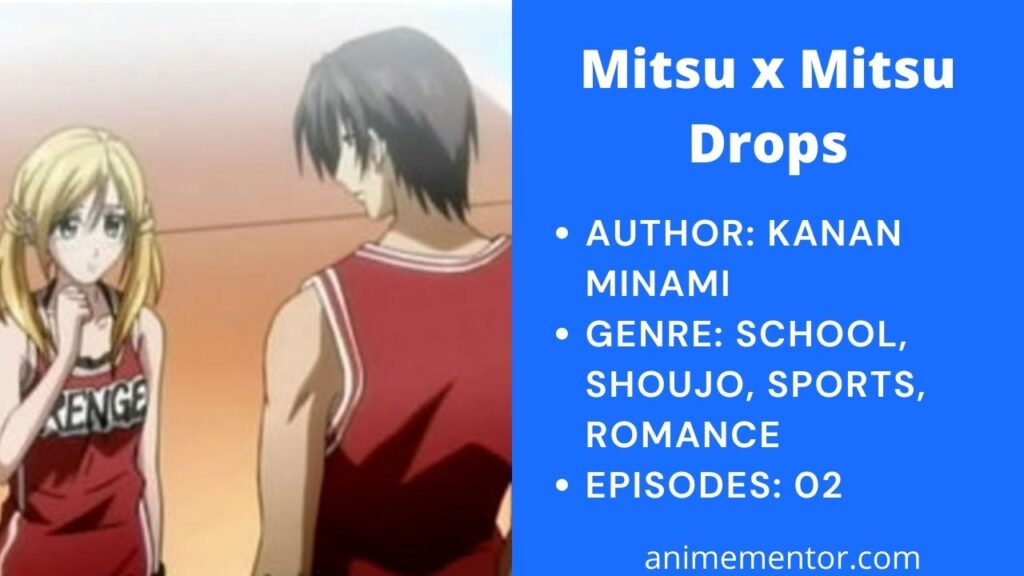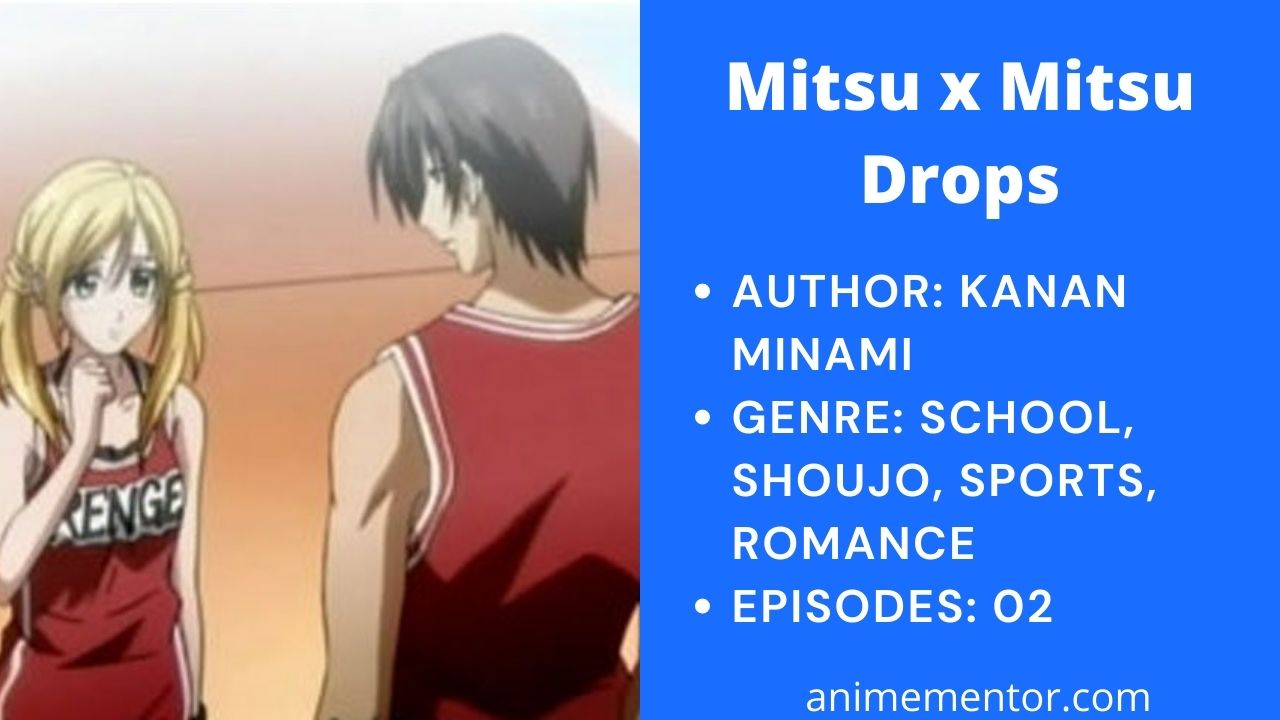 Author: Kanan Minami
Genre: School, Shoujo, Sports, Romance
Episodes: 02
There are two types of students at the esteemed Houjou academy- the normal one and the rich one. The normal ones are just perfectly fine and can study any course they want except one- the Kuge course. It is only reserved for the rich and elite students along with their 'honey'. The condition for being honey is that one should be sponsored by a student taking a huge course.
Now there was a basketball tournament known as Drop tournament, where basketball is played basically without any proper rules. But there was only one thing special about it, that is, the loser must give up their honey.
Hagino Yuzuru is a girl of 15 years who has enrolled at Houjou academy in her first year. During summertime, she met with a boy named Renge Kai and ended up becoming his Honey.
Now Kai is determined to not give up Hagino so he knew he can't lose the basketball tournament. Together they started practicing basketball to achieve their goal.
Will Kai manage to win this basketball tournament and not end up losing Hagino?
6. Barangay 143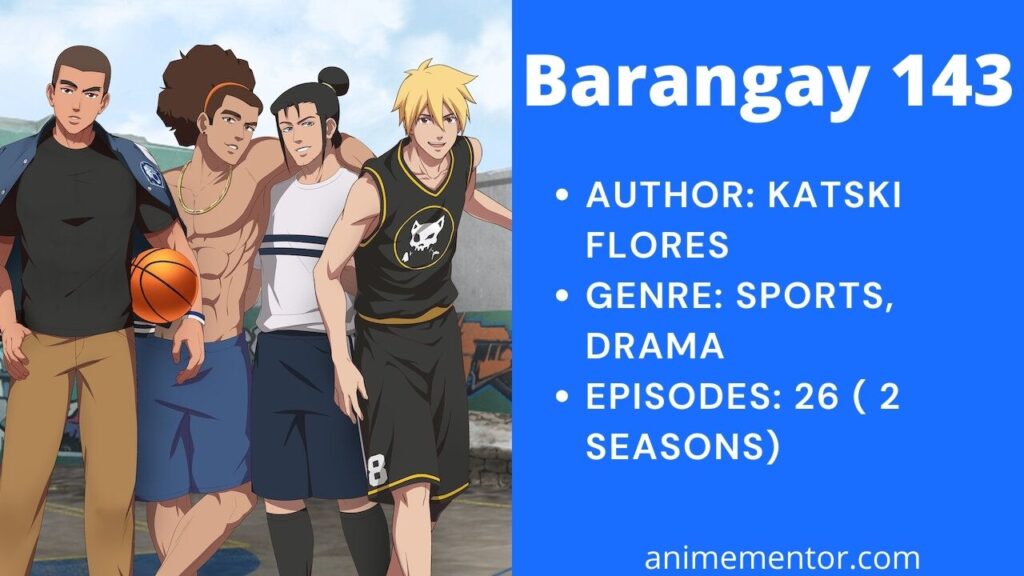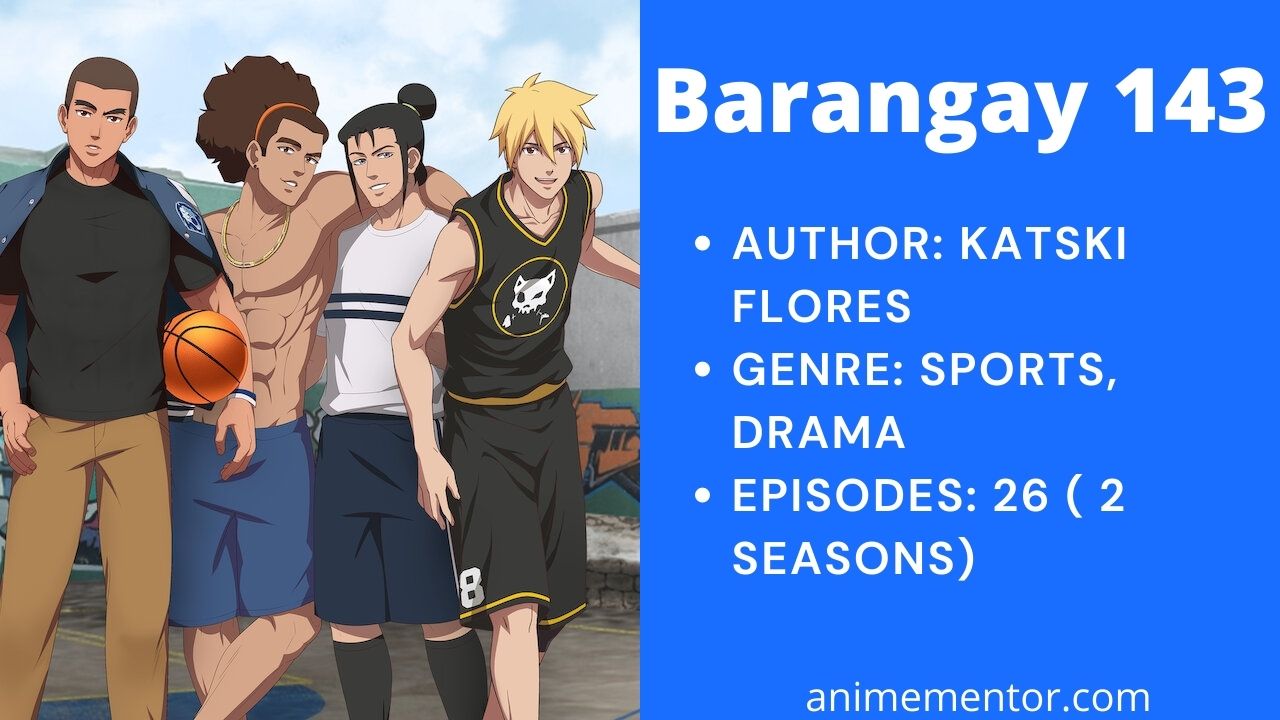 Author: Katski Flores
Genre: Sports, Drama
Episodes: 26 ( 2 seasons)
This incident took place two years before this series started when Roberto "Basti" Sebastián, Jr., the son of Roberto "Coach B" Sebastián, Sr.'s was murdered by a syndicate member from a large syndicate group. This event brought down the powerhouse team of Barangay 143 and today at present they are standing at this position.
In the Korean basketball team in South Korea, there was a player named Bren Park. He was a talented basketball player. He has no family currently, as they all died during a snowstorm in South Korea. This led him to quit his basketball team and his passion for basketball.
Quite a few days later, he learned something about his past. Uncovering the truth he found out that his father was a Filipino man, so he went out to search for him in Manila. Through the way, he met with many people, and eventually, he joined a basketball team called the Puzakals of Barangay 143.
7. Ro-Kyu-Bu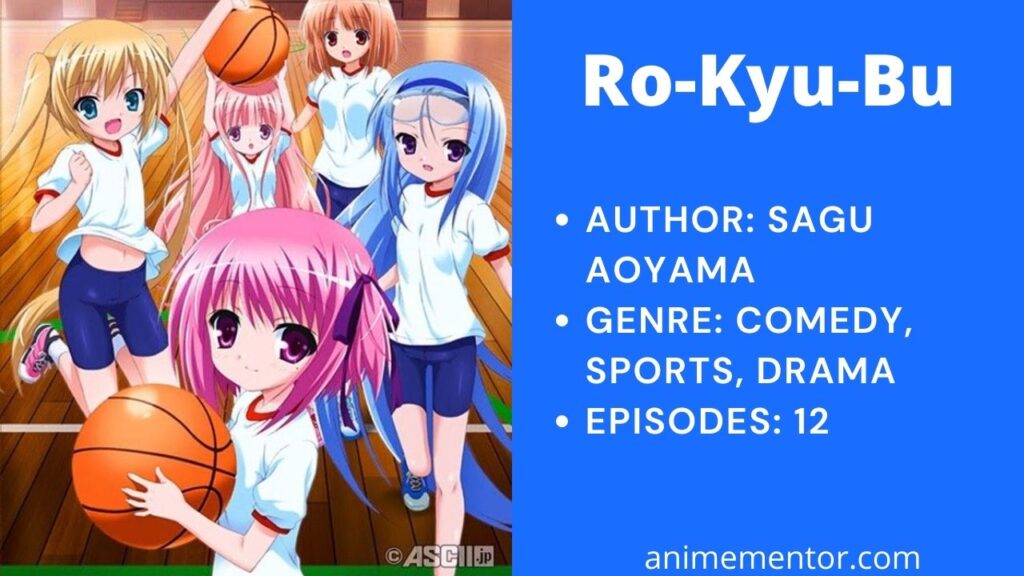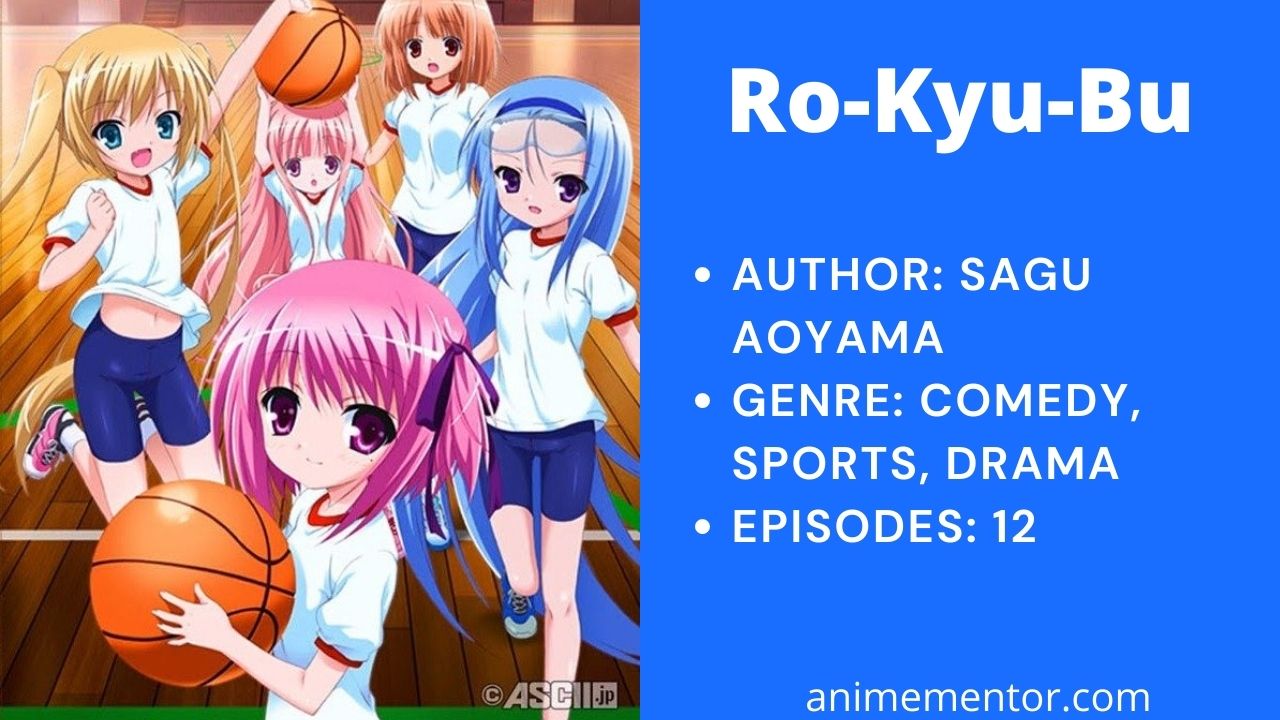 Author: Sagu Aoyama
Genre: Comedy, Sports, Drama, Ecchi
Episodes: 12
Subaru Hasegawa is a freshman currently studying at a high school and is a talented player in playing basketball. But his dream to become a basketball player came to a halt when he was forced to stop playing basketball in his school.
The reason was that the captain of this team was involved in a scandal and was currently suspected of sexually abusing a girl which led to the disbandment of the club for a year.
Later, Subaru became a coach of the girls' basketball team in an elementary school because of his aunt, Mihoshi Takamura. At first, Subaru hesitated to become the coach but after some time he started training the girls for three days only. Gradually, he learned of their situations and for some reason, he decided to coach them in a mannered way.
It was good for Subaru as his once passion for basketball is now returning and now he works hard to improve his skills. Eventually, Subaru became very good friends with them.
8. Dear Boys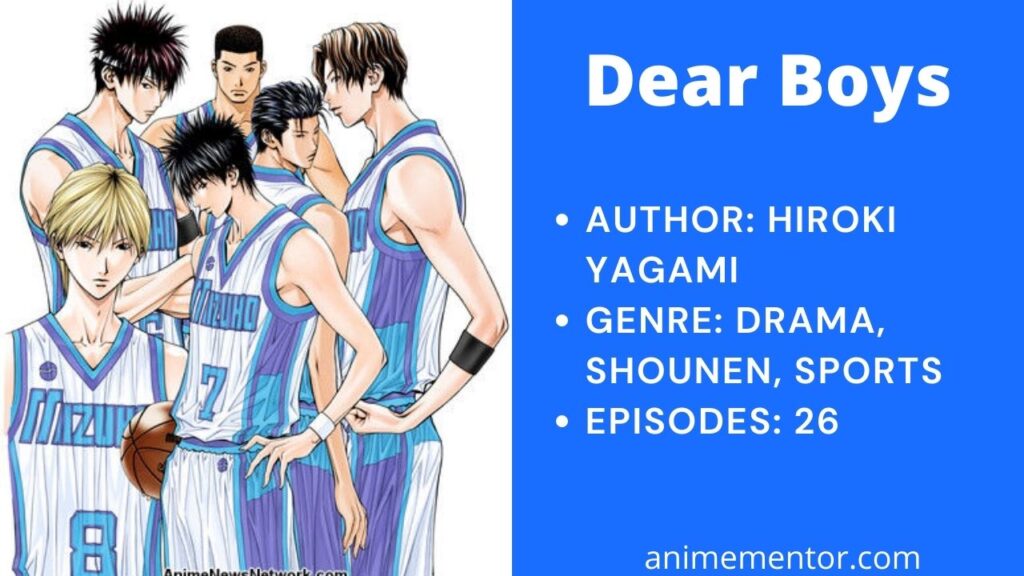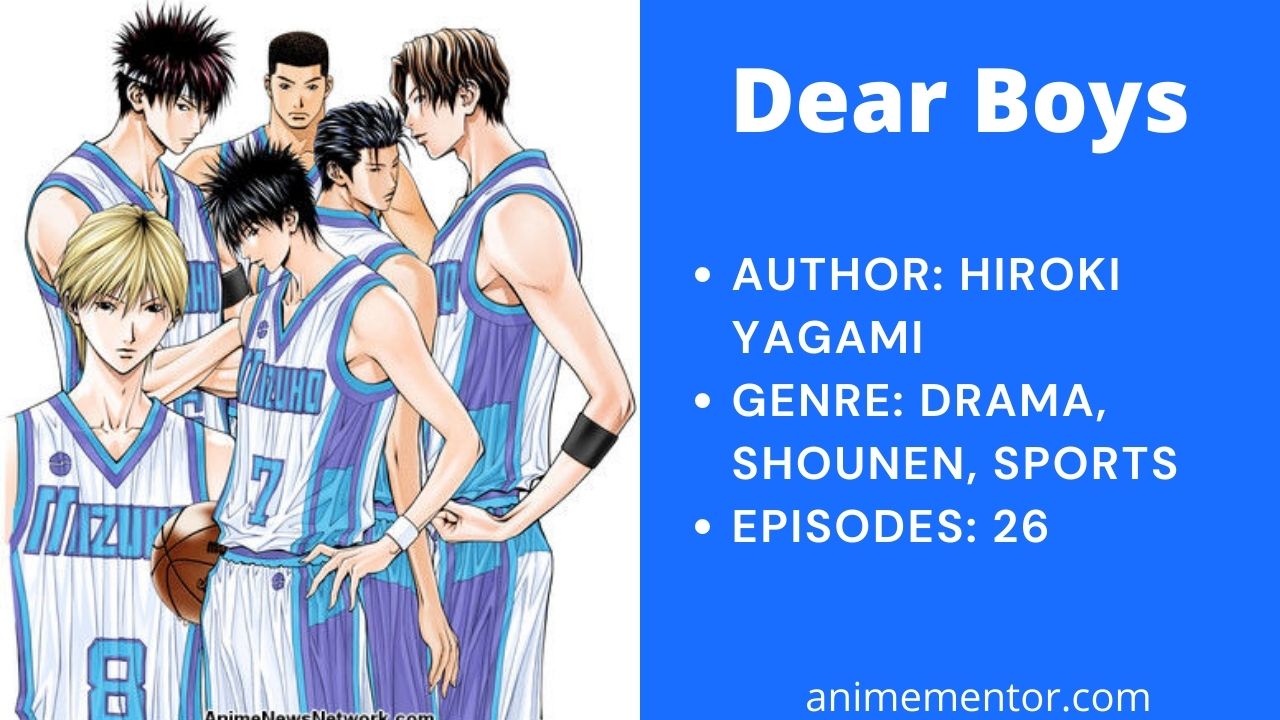 Author: Hiroki Yagami
Genre: Drama, Shounen, Sports
Episodes: 26
This plot is a little bit unique in terms of sports as it deals with the love and fun life of a student too. It's about gaining greatness in sports with all the fun one can have.
The story is about the Mizuho High School basketball team who works hard to win the prefectural championship. It also represents the sportsmanship between the two main players Kazuhiko Aikawa and Takumi Fujiwara.
In this team, a lot of trouble is going on due to the lack of team members. There are only 5 players in this team in the whole prefecture who aim to have a certain goal in life. Also, the coach stopped their training after an incident. Somehow, they managed to convince the girls' team coach to train them.
At first, the coach was reluctant to train them but due to their strong enthusiasm about basketball, she agreed to it.
They practiced together to make their dreams come true and make their team the best in the whole prefecture.
This story is all about the team which struggles hard to win, has some drawbacks, their beautiful teamwork, and all the things they do together. It also represents the love life and the relationships between friends to a great level.
9. I'll / CKBC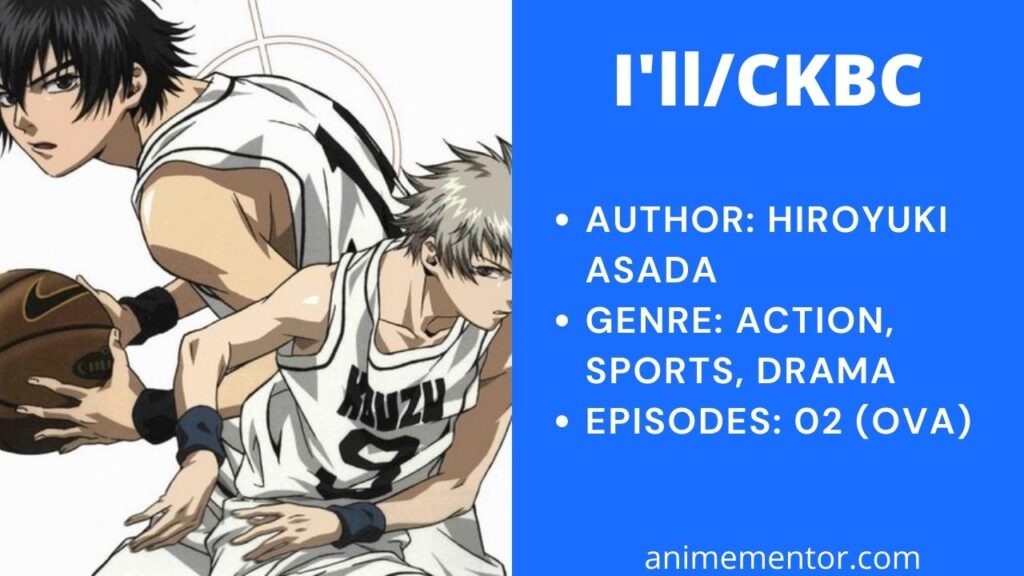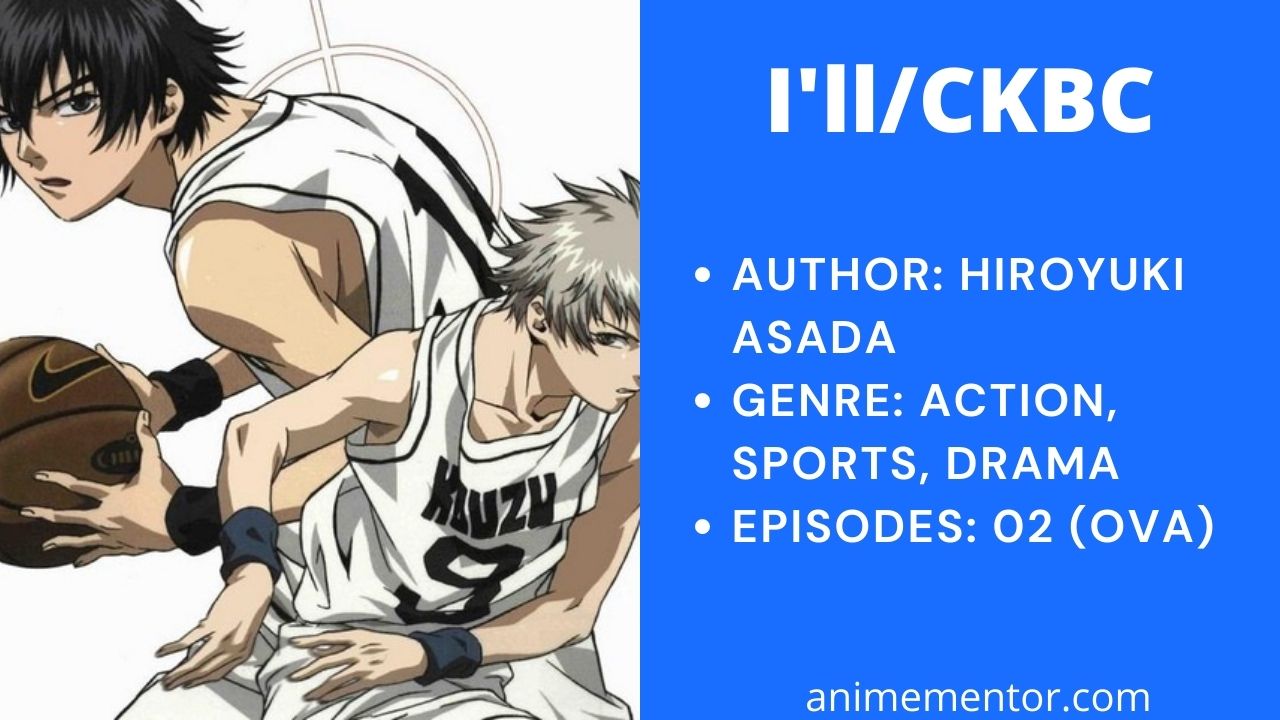 Author: Hiroyuki Asada
Genre: action, sports, drama
Episodes: 02 (ova)
Hitonari Hiiragi is a very talented basketball player and is currently studying at Kouzu high school. But now he has decided to quit basketball due to his family's pressure. But once he arrived at his high school, his love for this game was ignited when he met Akane Tachibana.
Akane was the only player who caught his eyes and due to him, he decides to join the basketball team. Hiragi joins the Kouzu high school basketball team to pursue his dream. The team's first match was an exhibition match in which their opponent was the strongest team in the league- Hyamazaki.
Hiragi's brother plays for this team and his father coaches this team.
Eventually, Hiragi plays in the second half of this exhibition game in which they haven't performed well. They ultimately lose the game and were criticized by the Hyamazaki team.
Seeing this, one of the senior players from Kouzu team challenges the Hyamazaki team to beat them one day.
Later they all started to give their best performance in the game to become a great team one day. Hiragi was having fun with his teammates but at the same time, he was scared that he might not fulfill his dream. Will Hiragi be able to become a successful basketball player?
10. Basquash!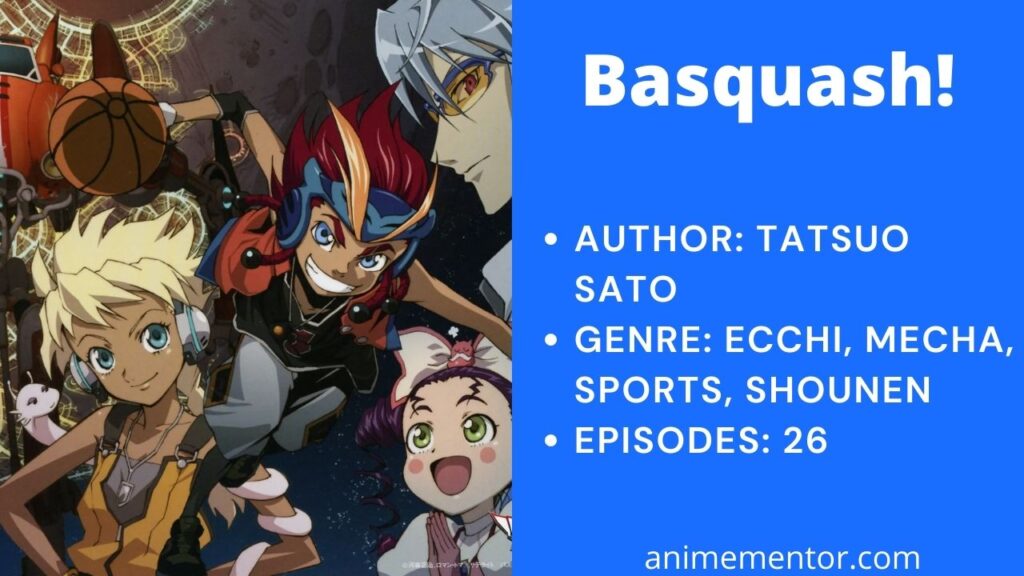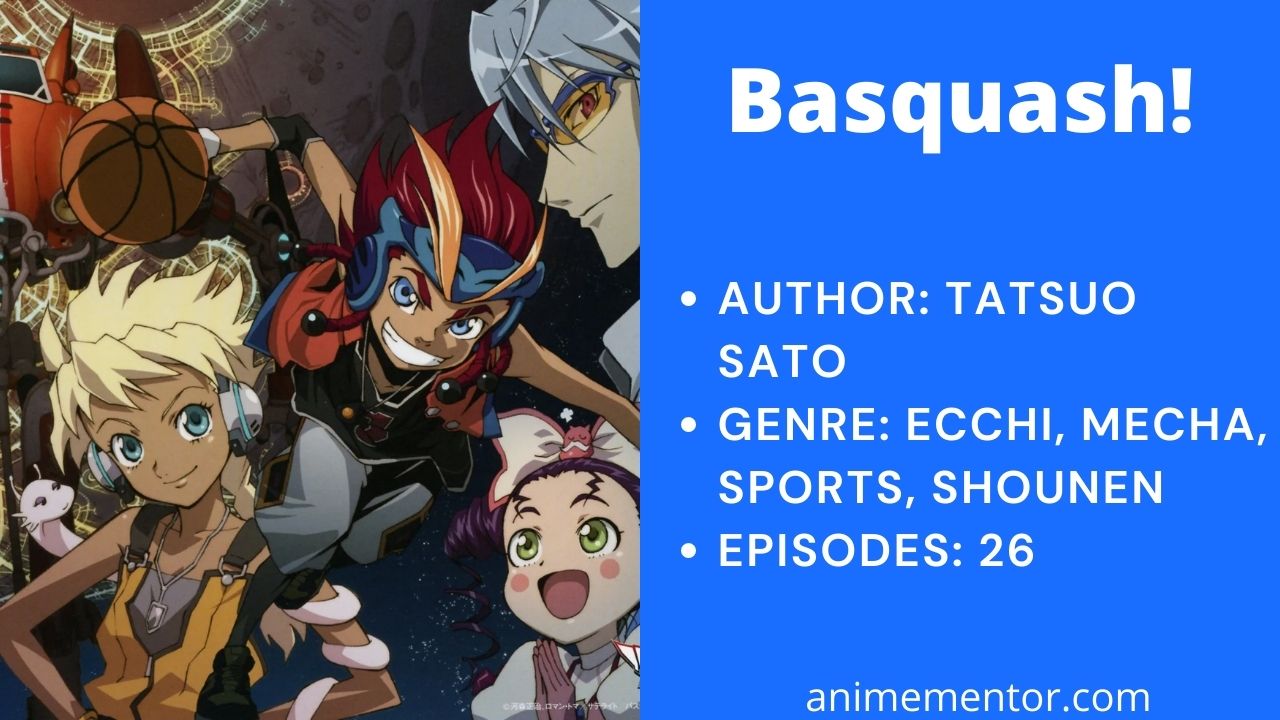 Author: Tatsuo Sato
Genre: Ecchi, Mecha, Sports, Shounen
Episodes: 26
SYNOPSIS: – Earth Dash is a separate developed and future version of earth. Here human society has divided into two sectors- the developed lunar society and the planet's surface society.
The most popular game which is played here is the BFB (Big Foot Basketball). In this game, the players control a mecha known as the "Big Foot" and play basketball in a wide area. In this Earth Dash, there is a city called Rolling Town where the story occurs.
Dan JD and his companions wish to take this sport into every corner of the city so that everyone can play it. They renamed it Basquash. Together, they set on a new journey with lots of hardships and try to fulfill their dreams. Will they be able to achieve their goal and become the best team together?

So, I hope that you enjoyed reading this article for the Top 10 Basketball Anime Series. The above-mentioned anime series is very energetic in their sense and you would just fall in love with the basketball.I'm sure that you will enjoy each of these anime series mentioned above. Don't forget to mention in the comments, the anime which you liked the most. As always, see you soon in my next article.
SAYONARA!!