Most of the people involved in the anime verse love the sports genre of anime. Also for the people who are very interested in playing sports, these anime series serve as a true sportsmanship example. 
They love to see the struggles faced by the team and how they overcome them. This creates a sense of inspiration among us watchers to do better. 
And when it comes to watching volleyball, it just demonstrates the real meaning of teamwork and cooperation. The failures of a team, the rising of a new team, and their consistency are all the essence of this game. 
From Haikyuu!! to 2.43: Seiin Koukou Danshi Volley-bu, we have listed the best volleyball anime series for you to watch.
So without any further delay, let's take a look at this list
1. Haikyuu!!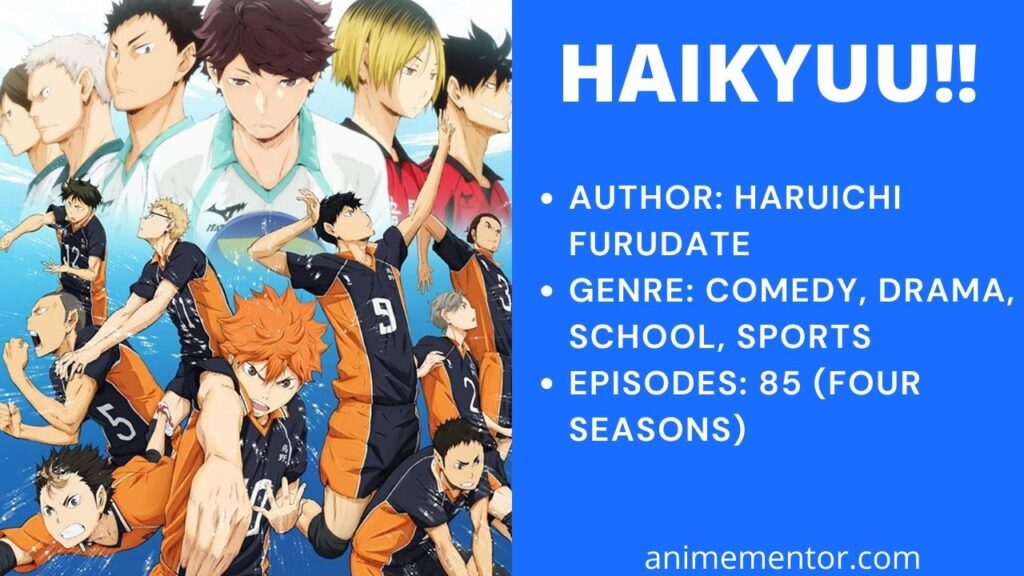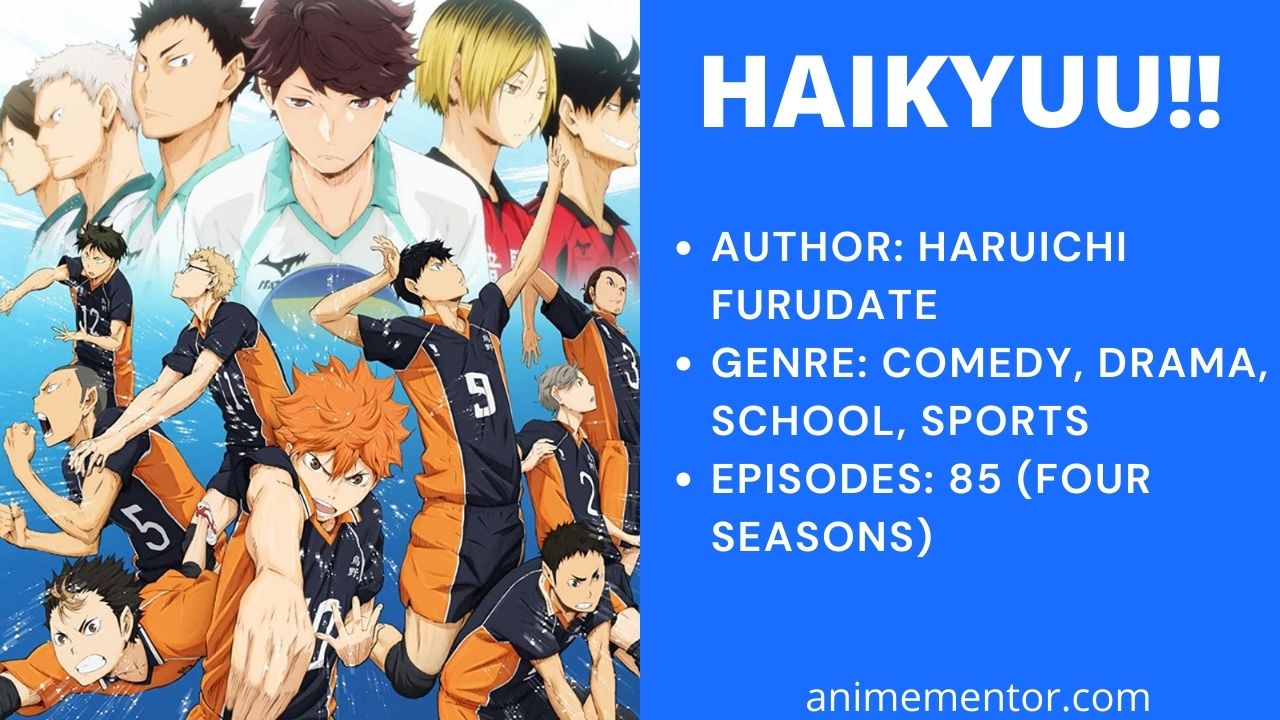 Author: Haruichi Furudate
Genre: Comedy, Drama, School, Sports
Episodes: 85 (four seasons) 
Haikyuu is one of the most famous anime series about volleyball which displays the game in a very realistic way. The protagonist of this incredible story is Hinata Shouyou who is obsessed with playing volleyball. 
Hinata has a downfall when it comes to playing volleyball as he is a short-statured person. 
One day, on the television, he saw a player named Little Giant who is as short as him and displayed incredible skills. Little Giant is a very famous player in volleyball despite his short appearance. This fact motivated Hinata very much, as he gained confidence from that, that he too can perform very well.
He was on the volleyball team of his middle school which had no members, Hinata practiced playing volleyball alone most of the time. Hinata requested many of his friends to join his volleyball team and ultimately many accepted. 
One day they were given a chance to play volleyball at a regular match where their opponent was the volleyball team from Kitagawa Daichii. Hinata's team suffered a total defeat against Kitagawa Daichii. They were defeated alone by Kageyama Tobio who is also known as the King of the court from Kitagawa Daichii. Hinata was too stunned by Kageyama's performance and even challenged him that he would defeat him one day. 
After Hinata left his middle school, he applied to Karasuno High School which was once known for volleyball. Hinata then joined the volleyball club and to his surprise, Kageyama Tobio was also admitted to this school and was in the same volleyball team as him.
From here on their rivalry starts as they both wish to become the no.1 player…. 
2. 2.43: Seiin Koukou Danshi Volley-bu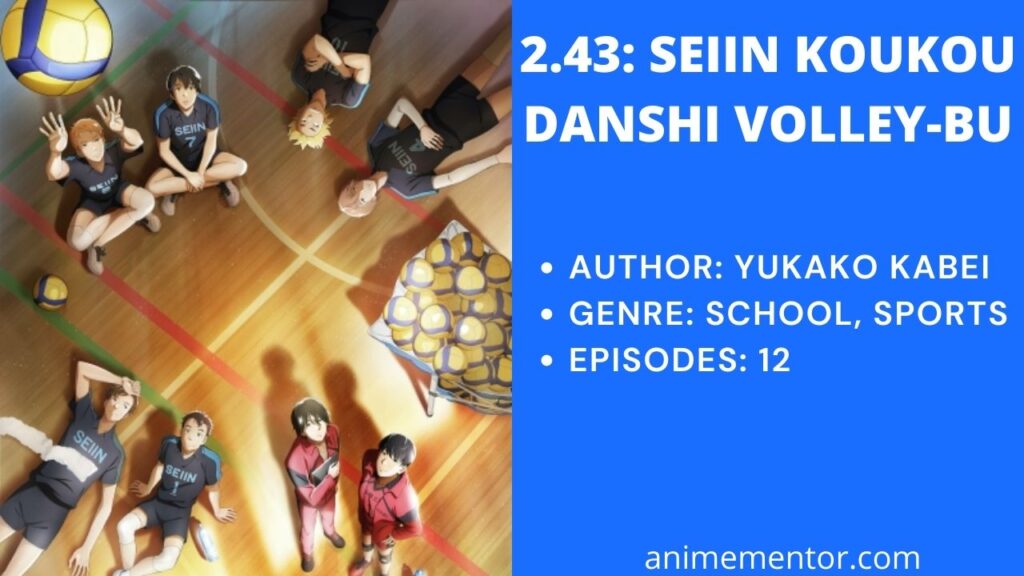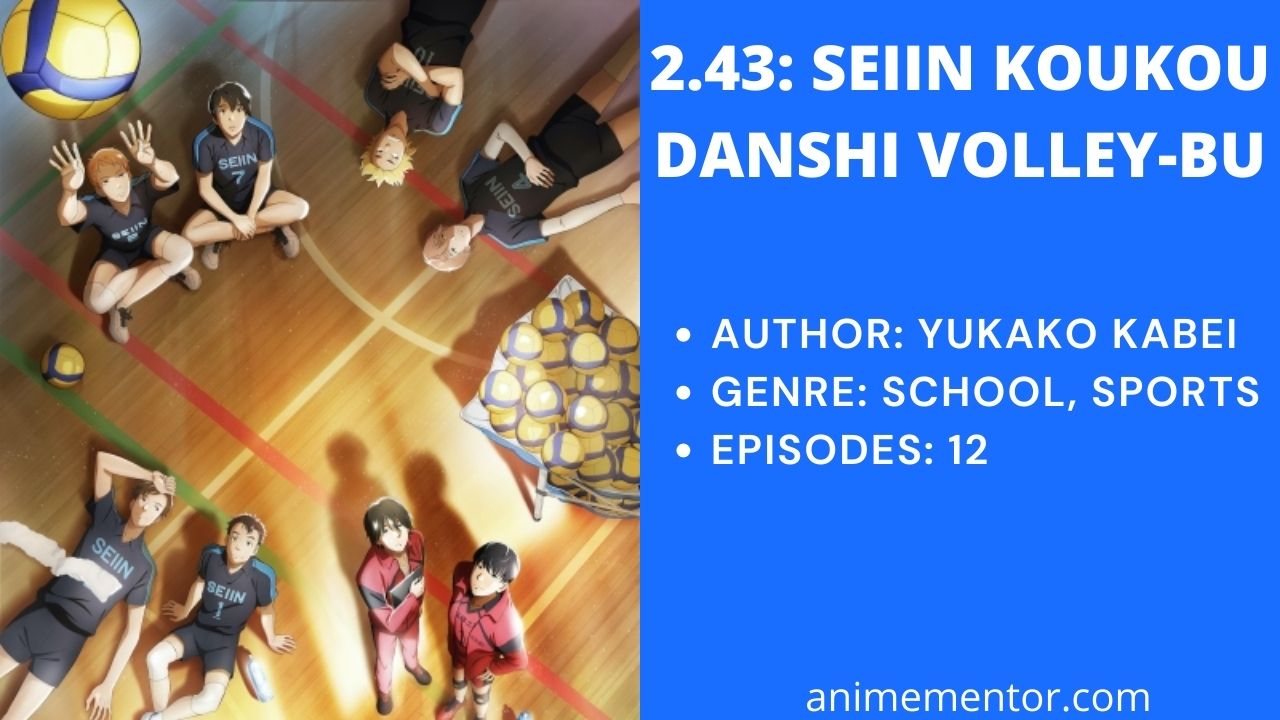 Author: Yukako Kabei
Genre: School, Sports
Episodes: 12
Haijima Kimichika who is very passionate and talented in terms of playing volleyball is the protagonist of this story. He was formerly playing in the Tokyo Junior High School volleyball club, but after a certain incident that caused trouble in the team, he left it. 
After that incident, he moved back to Fukui, his hometown where he came across his childhood friend Kuroba Yunii. Kuroba has incredible skills and possesses different physical abilities. But sometimes due to some overwhelming pressure, he too could be vulnerable. 
Haijima decided to join hands with Kuroba and form the best combination for playing volleyball. Therefore they enrolled at Seiin High School and joined their volleyball club. 
The club consisted of different varieties of people like Shinichirou Oda who is a hot-blooded person with a height of around 163 cm. Also, Misao Aoki is the vice-captain of this team and is a talented player though he is very witty and sharp-tongued. Akito Kanno, one of the second years of school has an allergy to sunlight and therefore wears long sleeves all the time.
Although the members are of different personalities, they have one common goal between them, and it's to be the top team. Haijima and Kuroba displayed their stunning skills in the team which also led to the uprising of the team. 
This story is about a team who continues to overcome the barriers present in their way to become the no.1.
3. Harukana Receive (2018)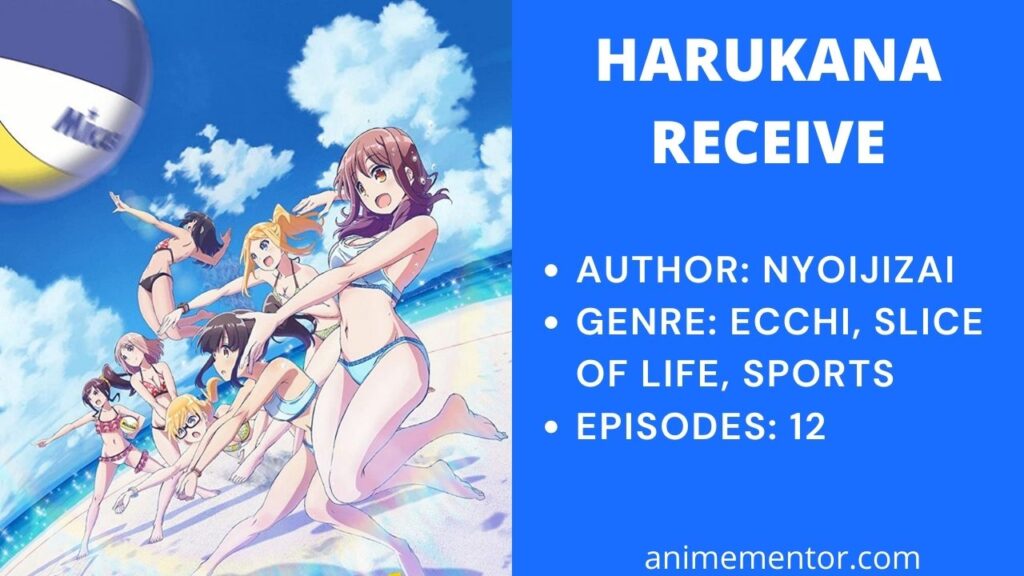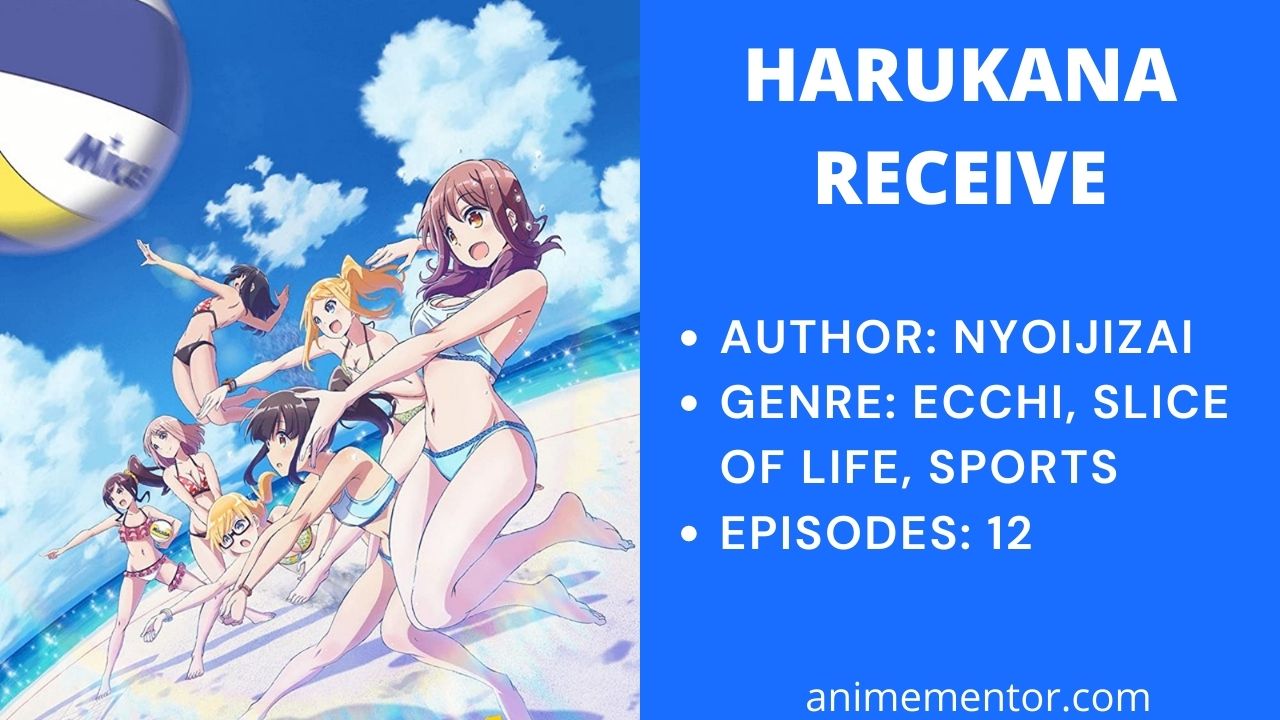 Author: Nyoijizai
Genre: Ecchi, Slice of life, sports
Episodes: 12
The story of Harukana Receive takes place in Okinawa where a girl named Haruka Ozoro is very enthusiastic about playing volleyball. Haruka moved to Okinawa to live with her grandmother and her cousin, Kanata Higa.
Upon arriving in Okinawa, Haruka saw two people named Narumi Tōi and Ayasa Tachibana playing volleyball on the beach. She was very interested in playing the game from the beginning. But Haruka passed an upsetting comment on becoming the ace in the future in front of them which made them quite angry. 
Narumi challenged Haruka and Kanata to score a single point against her and Ayasa. In the end, Haruka suffered a total defeat but she realized her mistake. She learned that beach volleyball requires total cooperation with one's partner and a lot of hard work and practice. 
Haruka was a tall statured girl while her cousin was short-statured due to which her cousin thought of quitting volleyball.
After that incident with Narumi, Haruka was more eager to know about beach volleyball and learn to play it more efficiently. She vows to defeat Narumi and Ayase in the next match but later she knew that both of her opponents were high school champions.
She ultimately decided to form a volleyball club at their school with her cousin, Kanata.
4. Attacker You!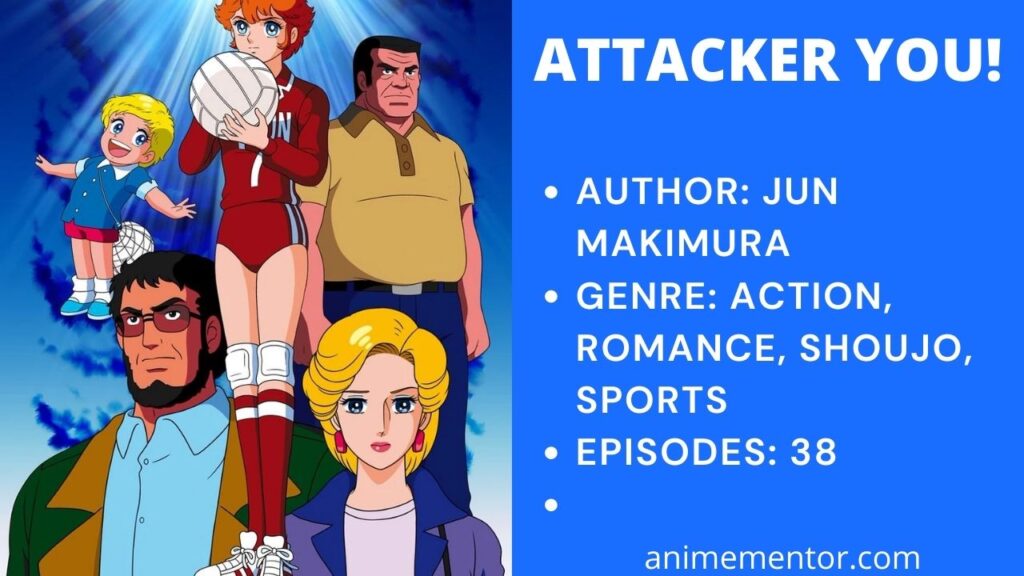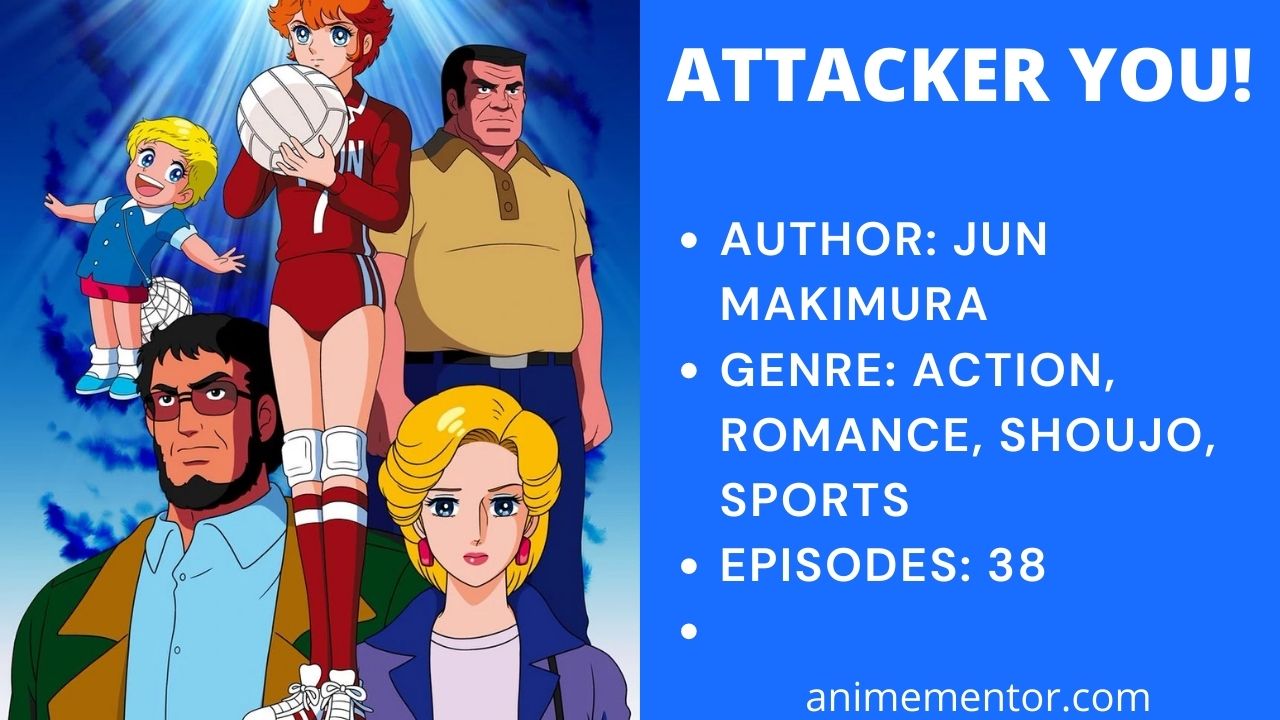 Author: Jun Makimura
Genre: Action, romance, shoujo, sports
Episodes: 38
You Hazuki is a 13-year-old girl currently studying at a junior high school. She is a very energetic and passionate girl. She moved to Tokyo from Osaka to stay with her father, Toshihiko. Her mother left them when she was very young and her father is a cameraman who returned from Peru. 
She is very dedicated in terms to playing volleyball and her dream is to become a member of Japan's national women's volleyball team in the future. She wants to play in the Seoul Olympics in 1988.
You joined her school's volleyball club and within a short time, became one of the most important players on the team. Their coach who is also their homeroom teacher is very brutal in teaching. He sometimes punishes the players who don't perform well or live up to his expectations.
You's brother Sunny follows her everywhere from school to the volleyball matches she played and supported her very much.
You has an archrival named Nami Hayase who was a volleyball champion at her previous school. You and Nami joined separate professional teams and vowed to defeat each other. 
Later, she had also a crush on the captain of the Hikawa boys volleyball team, Takiki. She was putting more effort into playing volleyball than she did previously to win his heart.
5. Attack NO. 1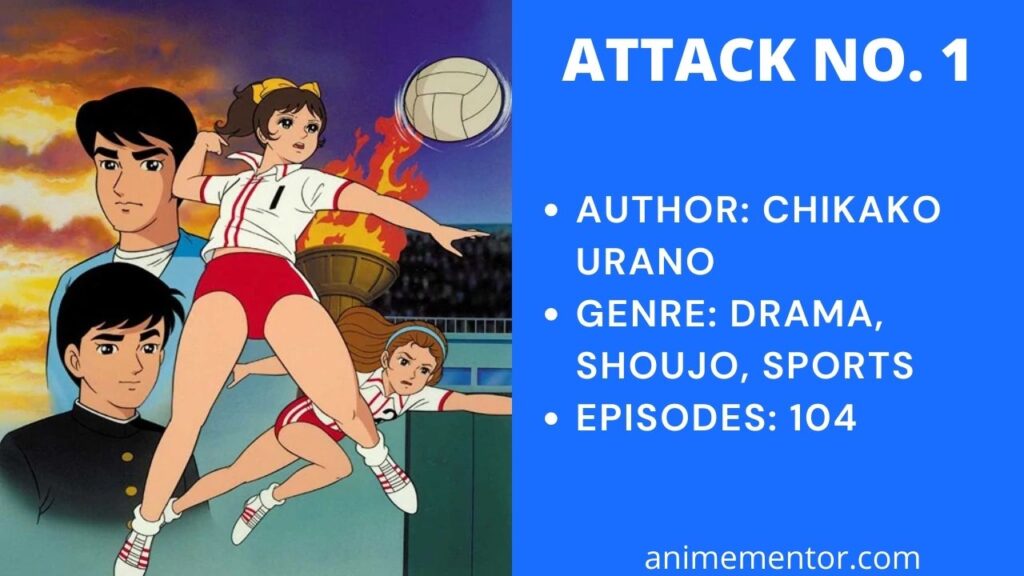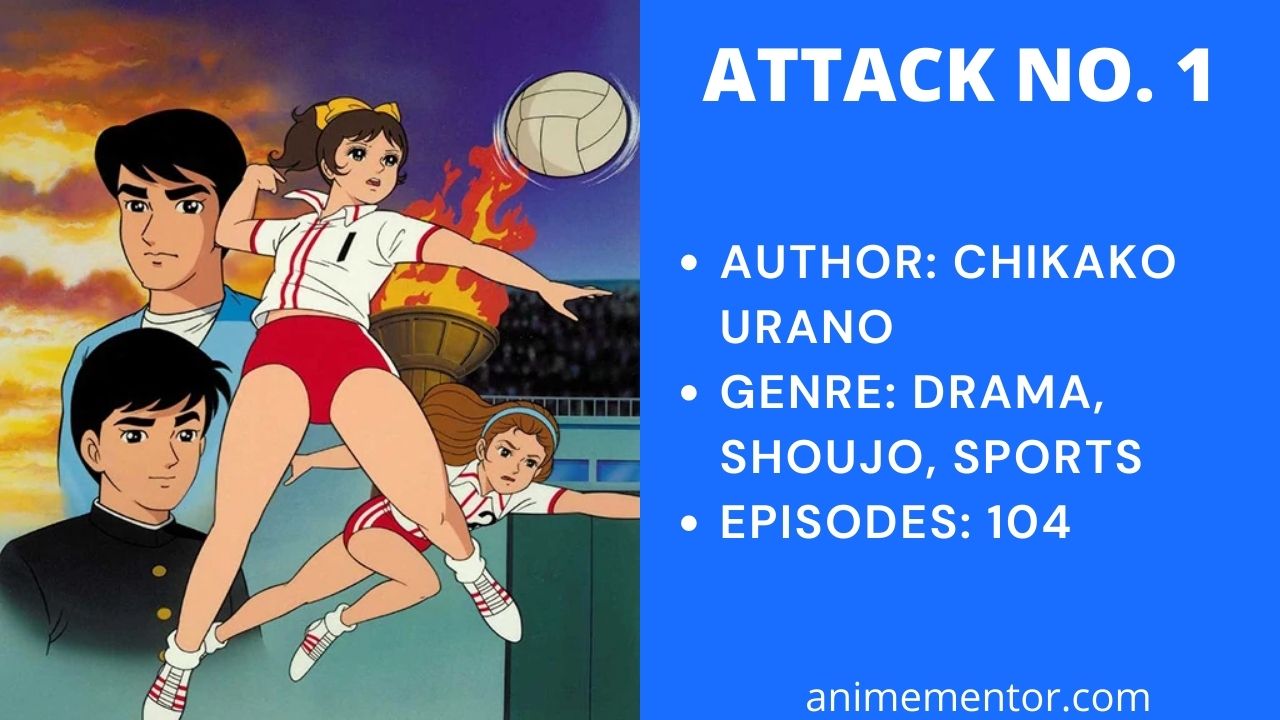 Author: Chikako Urano
Genre: Drama, Shoujo, Sports
Episodes: 104
The protagonist of this story is a high school girl named Kozue Ayuhara who is very energetic and enthusiastic about playing volleyball. She aims to be a member of the Japanese National Volleyball team. She is very talented and supportive.
She transferred to Fujimi Academy and participated in the school volleyball team. Her talents for playing volleyball were recognized by all and her coach was getting impressed by her day by day. She was very friendly with her teammate Midori Hayakawa but not all were pleased as the star of the current team named Katsuragi was jealous of her.
She demonstrated extraordinary performances which made her quite famous. She made it to the school district league which she won. Later she went into the Japanese volleyball finals and further on she even made it to the international volleyball championships. 
But at a certain phase of her life, she thought that all her actions and success were bringing her a lot of discomforts too. She was confronted with the dark side of success with lots of stress and dilemmas.
This story portrays her high expectations for becoming the best volleyball player and her journey through that along with the dark side of a successful person.
6. Shoujo Fight: Norainu-tachi no Odekake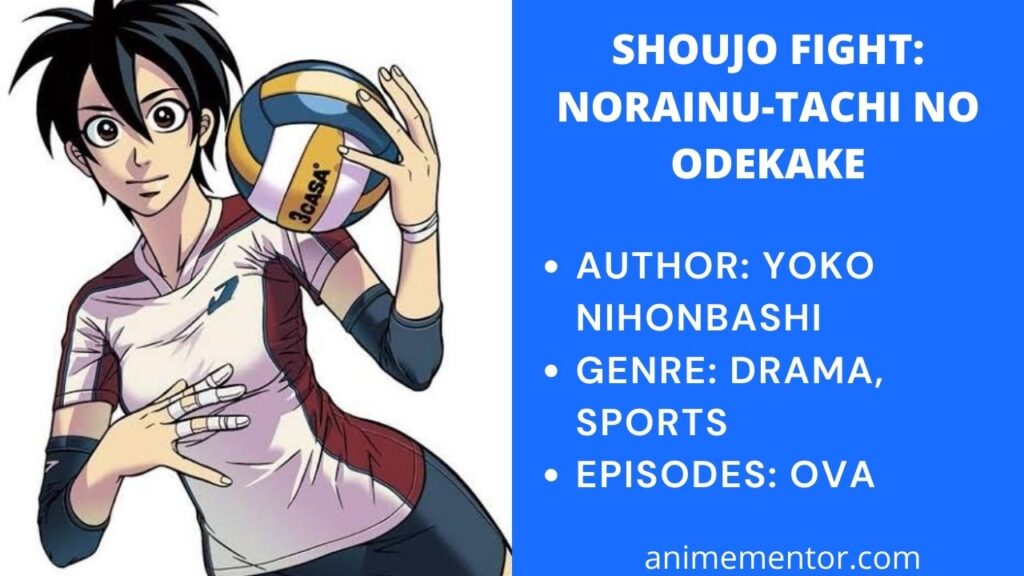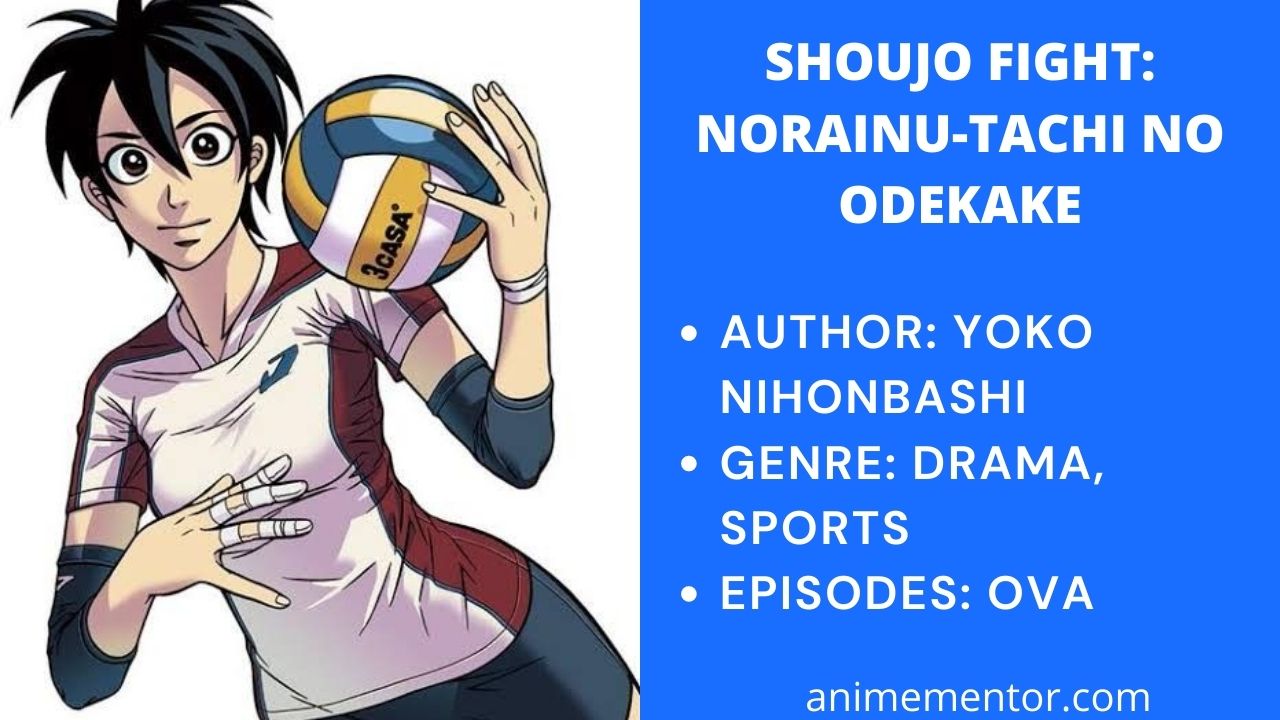 Author: Yoko Nihonbashi
Genre: Drama, Sports
Episodes: OVA
This plot is a little unique in terms of sports genre as it comprises both the struggles and hard work of a person playing volleyball along with one's thoughts and is a drama-centric process.
The protagonist of the story is Neri Ooishi who is a fifteen-year-old high school student. She is a very talented and efficient player in terms of playing volleyball. She is enrolled at Hakuunzan Private Academy Middle School which is known for producing top players in this sport. She plays for this school's volleyball team.
But the fact was that Neri was not showing all her abilities and skills in the game. She was always hiding her true strength in front of everyone. Later we knew that she was even the captain of a team in her elementary school that took second place in the national tournament. But in this school, she hides this fact.
She was always resolved to not make any new friends and just play along every day. This story is conveyed in the form of a drama that tells us about Neri's thoughts about playing volleyball and the reason behind her actions.
What compels her to do so despite becoming a talented player?
7. Ashita e Attack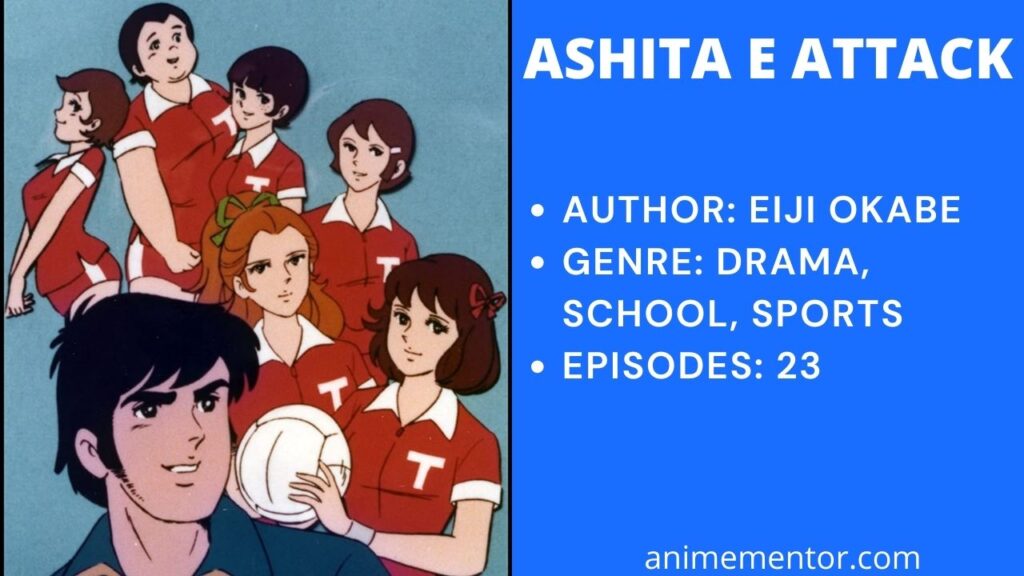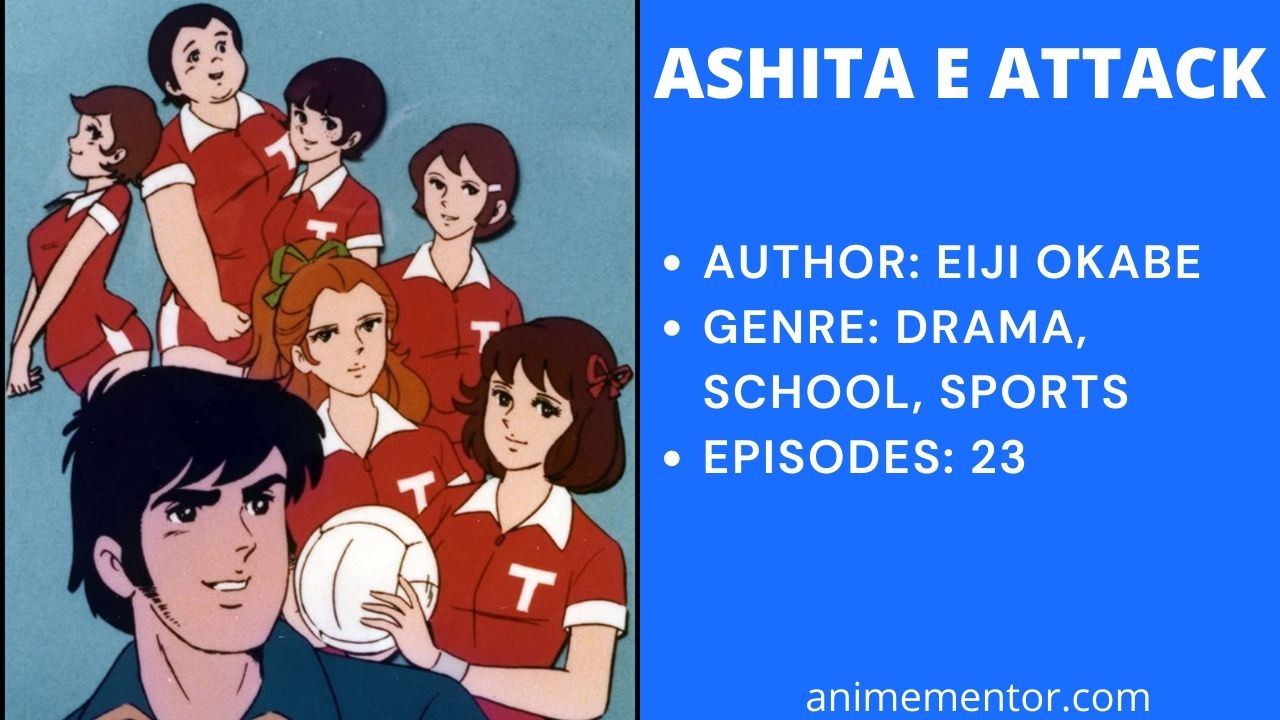 Author: Eiji Okabe
Genre: Drama, school, sports
Episodes: 23
The story starts at Tachibana High School where the school volleyball team has been dissolved. It was due to the death of one of the members of the volleyball team. But now comes, Mimi Hiijiri who is a second-year student at this school, committed to reopening the volleyball club once again.
She requested the girls who love to play volleyball and formed a team of six girl participants. In the beginning, it was just a lame team with no motivation and energy to play. There was no dedication or ambition among them to do better. 
But later on through regular practice and hard work they developed feelings toward this game. Their passion and hard work for the game showed results and therefore their team becomes one of the most organized and recognized teams in the school.
Their goal was to win the tournament at the National High School Volleyball League. They were very loving and kind to each other and shared their joy. 
They worked hard very much and experienced many difficulties on their road, but they never gave up. By this game, they learned the true essence of life as they played through their games. Now let's be a part of this wonderful game with them.
8. Kougyou Aika Volley Boys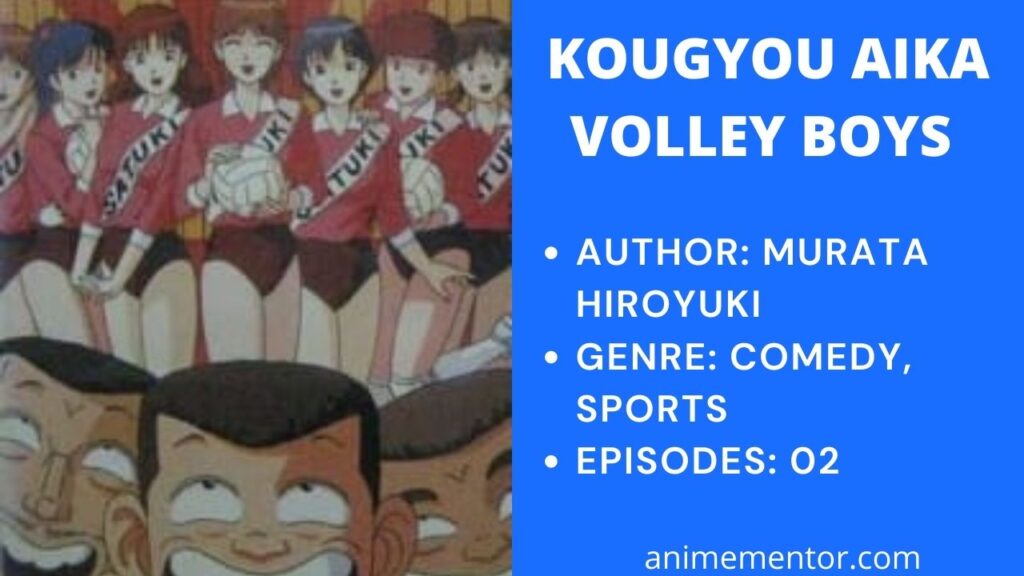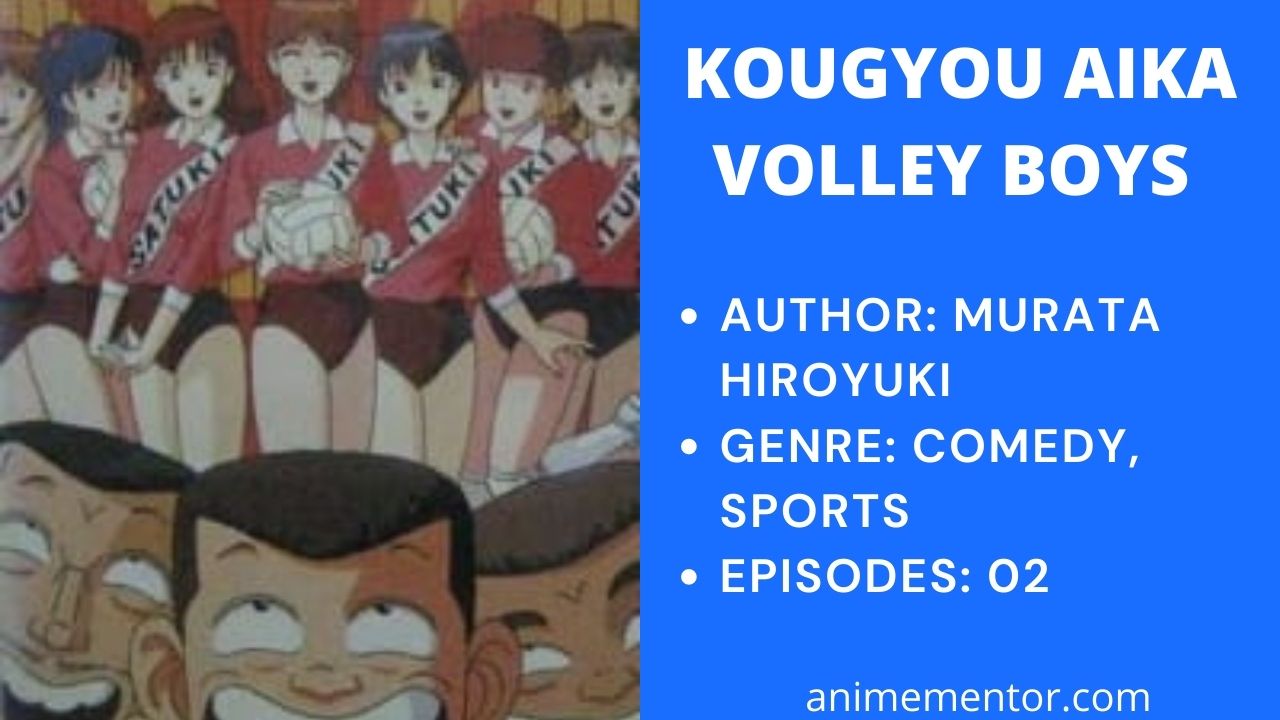 Author: Murata Hiroyuki
Genre: Comedy, sports
Episodes: 02
The story takes place at Kudo high school where some perverted teenage males enroll at the girls' volleyball team. Their sole ambition was to make the girls join their team because the team currently has no girl members. The current year has no girls in it but also they were determined to make some girls join their team. 
This story conveys the struggles and failures of establishing a volleyball club and recruiting members to play for it for a better future for themselves. Though the perverted nature of the boys is too hidden in this superior objective of them.
Akagi, Miyamoto, and Taniguchi who are together referred to as the Numa K-3 are the ones behind all this. They established a secondary volleyball club and struggle hard to make it a famous club in everyone especially girls would like to join.
Their main objective was to gain popularity through their playing, so they were very determined to perform well in this game.
CONCLUSION
So, now it's time to end this list. Hope you guys like it.
Please mention in the comments the anime series which you have liked the most. Follow through our website for more incredible posts. Meet you in my next article. Till then, Sayanora!!!