Rent-A-Girlfriend was one of the main surprising standout romantic comedy shows from the summer 2020 anime season. The author of this weekly magazine is Reiji Miyajima from which this anime is based on. Manga which was already a huge success in China and recorded around 700,000 sales digitally, the anime has recorded new levels after release. The series took the fourth spot on Netflix Japan tweeted by Miyajima himself.
This anime revolves around a 20-year-old boy Kazuya Kinoshita who gets dumped by now his ex-girlfriend Mami Nanami.
Depressed Kazuya was just going through his feed when he comes across an advertisement about renting a girlfriend. So Kazuya rents an attractive girlfriend named Chizuru Mizuhara. The date went great yet Kazuya still gave her a low rating as he thought Mizuhara is only playing with others' feelings.
Kazuya again hired Mizuhara just to get back at her and give her a piece of his mind. Needless to say, nothing went as planned and Kazuya ended up introducing Mizuhara to his family as his girlfriend.
The situation really starts to go south when the two find out that they are not only neighbors but also go to the same University.
Now fans have started to question the season 2 release date.
Does Season 2 Have a Release Date?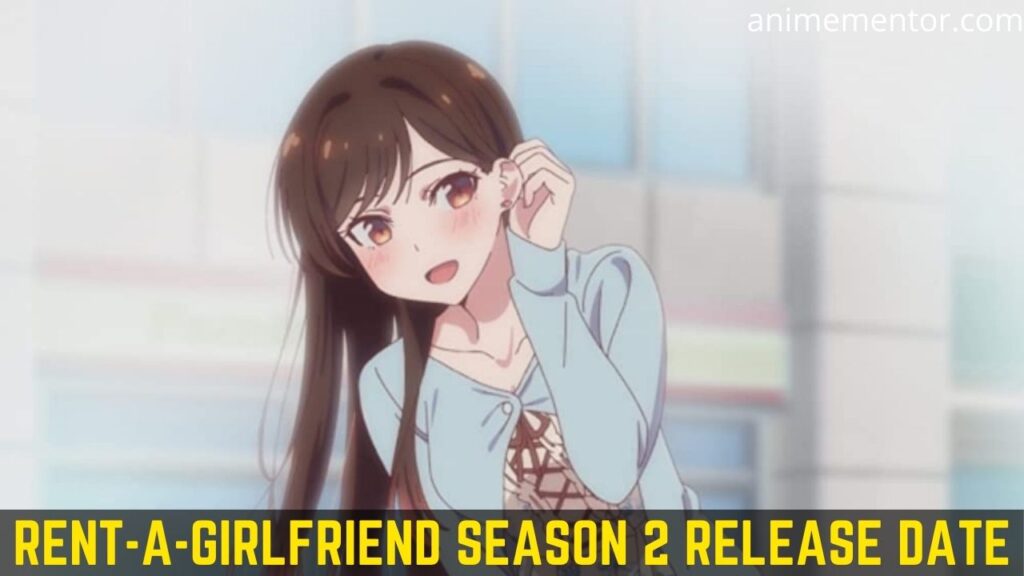 It didn't take long for the Rent-A-Girlfriend Season 2 announcement. Streaming service Crunchyroll confirmed the same as the first one back in 2020. Although the release date was not revealed.
Thankfully Crunchyroll recently reported that season 2 will have a July 2022 release, but the specific date is still unknown.
Rent-A-Girlfriend Season 1 aired in July in Japan and in the US in late August, so the release of season 2 may follow a similar timeframe in 2022 with weekly episode releases based on countries.
The cast for Rent-a-Girlfriend Season 2
Till now, there is no announcement from any official channel for the cast of season 2. It is safe to announce that most of the characters will make a reappearance from season 1. The special short video which was released after the announcement of season 2 proves that the cast is almost the same.
The cast included Aoi Yūki as Mami Nanami, Rie Takahashi as Sumi Sakurasawa, Nao Tōyama as Ruka Sarashina, Sora Amamiya as Chizuru Mizuhara, Shun Horie as Kazuya Kinoshita, and Yukari Nozawa as Kazuya's grandmother Nagomi Kinoshita.
The production team also seems the same as the same studio TMS Entertaining service, and the same returning director Kazuomi Koga.
The plot of Rent-a-Girlfriend season 2
There is no official announcement for the plot of Rent-A-Girlfriend season 2. But as the first season is adapted from the manga which followed the first six volumes. The manga has 200+ chapters and 23 volumes so it can be guessed that season 2 will be pulled from the manga.
The finale of the last season ended with interesting turnarounds. Mami confronted Chizuru after renting her which revealed that she knew the true nature of their relationship but promises to stay quiet about it.
Season 2 will explore the relationships and romantic developments between Chizuru, Kazuya. As for Mami, we will just have to wait to see what is her true motive.