Kon'nichiwa, min'na!!
Anime or manga is not only just about superpowers, overpowered MCs, and romantic life. Besides that, there is a whole sports genre included in the animeverse. And today we have brought for you the anime series about the most-watched sport all over the world – Football/soccer.
Football is not only just a sport but an emotion for thousands of football/soccer fans. Check out the listed anime series which portrays the love and passion for the game.
These are our top 10 picks so give them a try if you love this game:
1. Blue Lock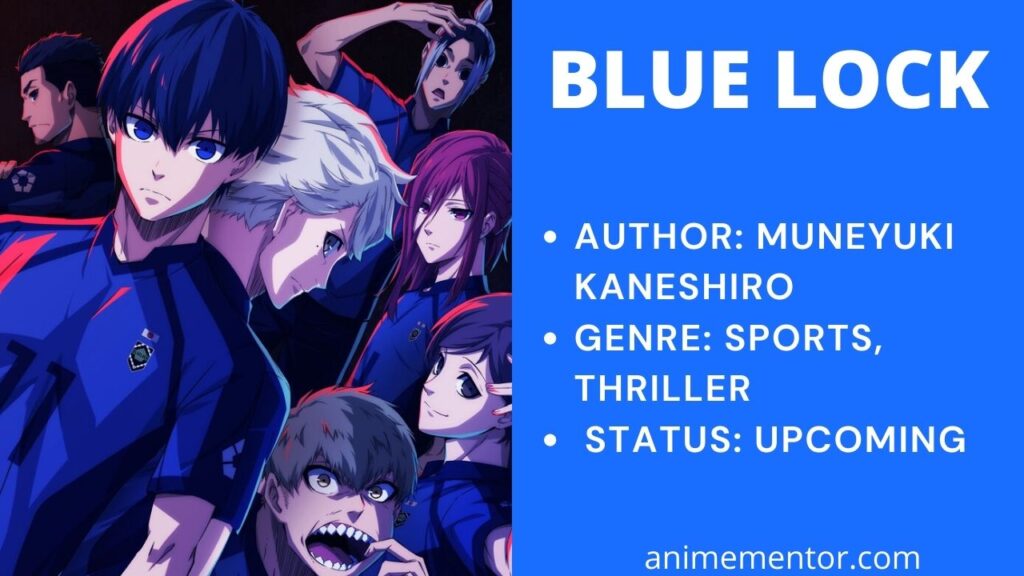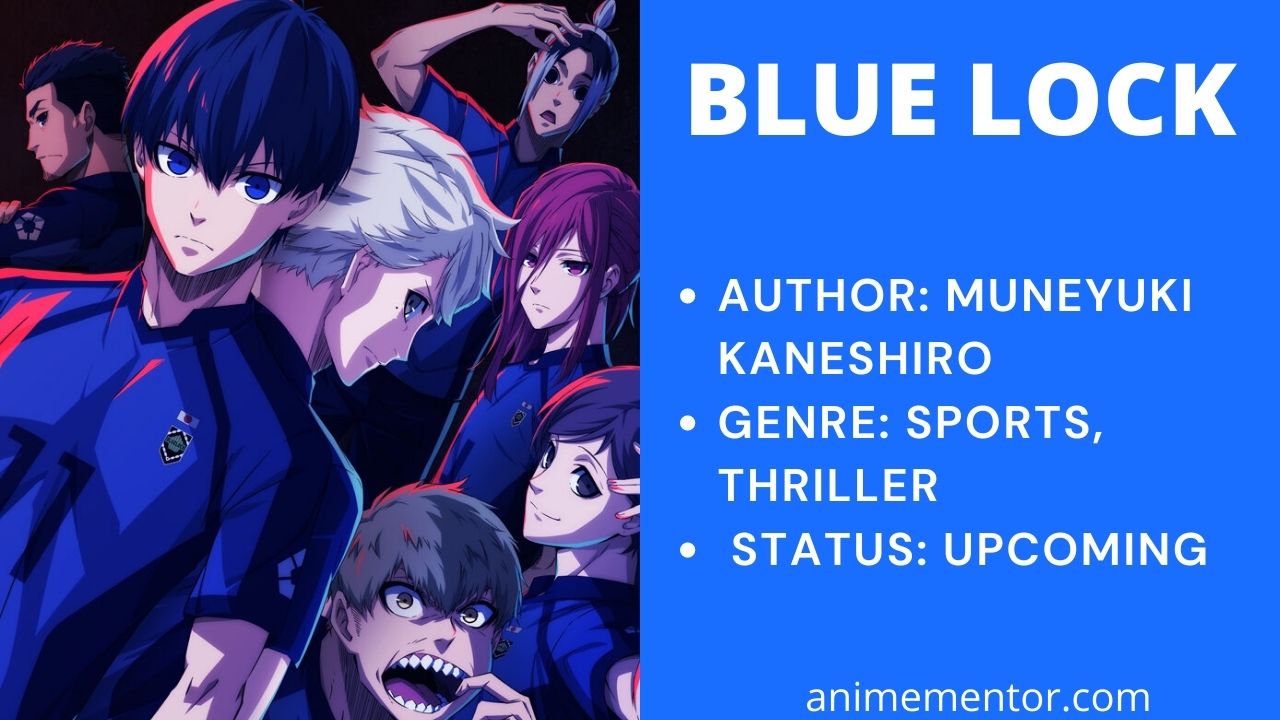 Author: Muneyuki Kaneshiro
Genre: Sports, Thriller
 Episodes: Upcoming series
The story starts at the time when Japan's national team was eliminated from the FIFA World Cup in 2018. The Japanese football union was humiliated and decided to scout new players studying in high school who wanted to play in the FIFA 2022 tournament to begin their preparation for the tournament right away. 
A high school student named Isagi Yoichi who is naturally talented at playing football receives an invitation from the Japanese Football Union. He was invited to participate in the program of selecting the best players. He is a forward in football.
Previously, Isagi missed his chance of going to the Nationals. As in the last game, he passed the ball to one of his other teammates who couldn't score the goal. Isagi could have scored the goal by himself but he passed the ball to his teammate who was less competent than him.
So, this time he wants to fulfill his dream of going to the nationals.
Jinpachi Ego was appointed as the coach of this new team. He aims to make the best Japanese team with the world's greatest strikers and is hell-bent to win the tournament.
So he put forward a new training system in which 300 new and young forward were isolated in a caged institution which is known as the "Blue Lock".
2. Whistle
Author: Daisuke Higuchi
Genre: School, Shounen, Sports
Episodes: 39
This story revolves around Kazamatsuri Shou whose sole aim is to become a professional soccer player. But the fact is he is not good at playing soccer. He transferred from Musashinomori School to Sakura Jōsui Junior High School for getting a better chance at playing football. 
In his previous school, Shou was not allowed to play the game as he was short. So, he transferred schools to make a good team and make a name for himself.
The previous school was well known for its top-rated soccer team but there he never rose beyond the rank of a third-stringer. But now in this school, he can finally play his favorite game and hope to fulfill his dream.
Their teacher, Yuko Katori, introduced them to the former star of the top-rated Mushasinomori team. Now, Shou was determined to overcome his weaknesses and start a new life ahead in which he can fulfill his dream.
With the help of his teacher and friends and with lots of practice his skills start to improve and each day he moves closer to achieving his dream.
3. Inazuma Eleven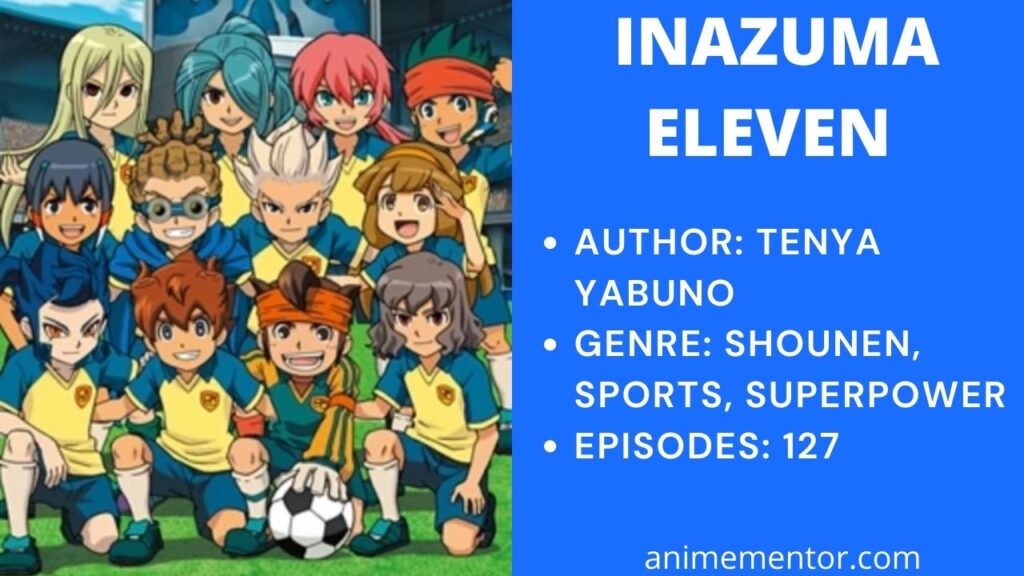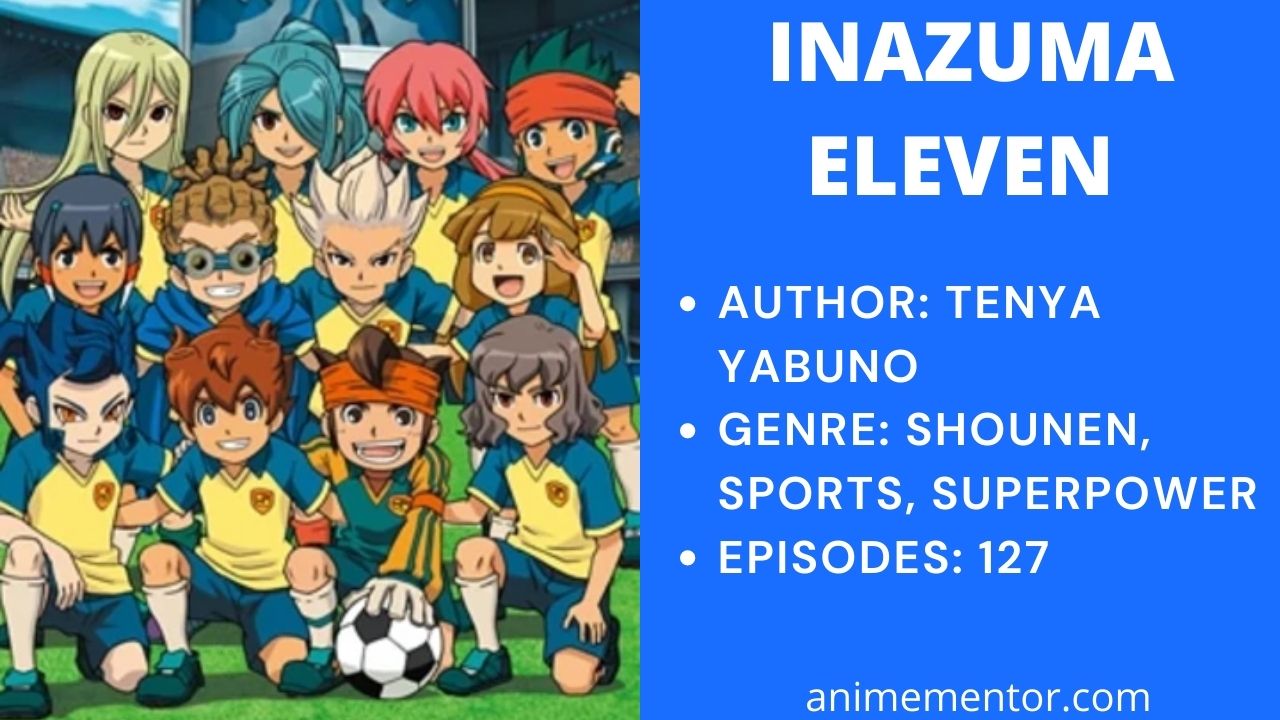 Author: Tenya Yabuno
Genre: Shounen, Sports, Superpower
Episodes: 127
This story revolves around our protagonist, Endou Mamoru who is a naturally talented and cheerful goalkeeper. His grandfather was also one of the most famous goalkeepers in whole Japan, but he passed away before Endou was born. 
Endou studies in Raimon Jr High and they have only 6 players on their soccer team. His school doesn't have a proper soccer club and the members were also not particularly interested in playing the game. The only one who was passionate about the game was Endou himself.
One day, the Raimon Jr High soccer team was faced with a new challenge – they have to win a match against the best team of Japan, the Teikoku Gakuen, otherwise, their team will be disbanded.
There were not enough players in the team, so Endou tried to recruit four more players. At last, a forward named Gouenji was selected to the team who was new to the town and was incredibly talented at playing soccer.
Their journey to become the best soccer team in Japan started from here and Endou started practicing hard to be the best goalkeeper just like his grandfather.
4. Giant Killing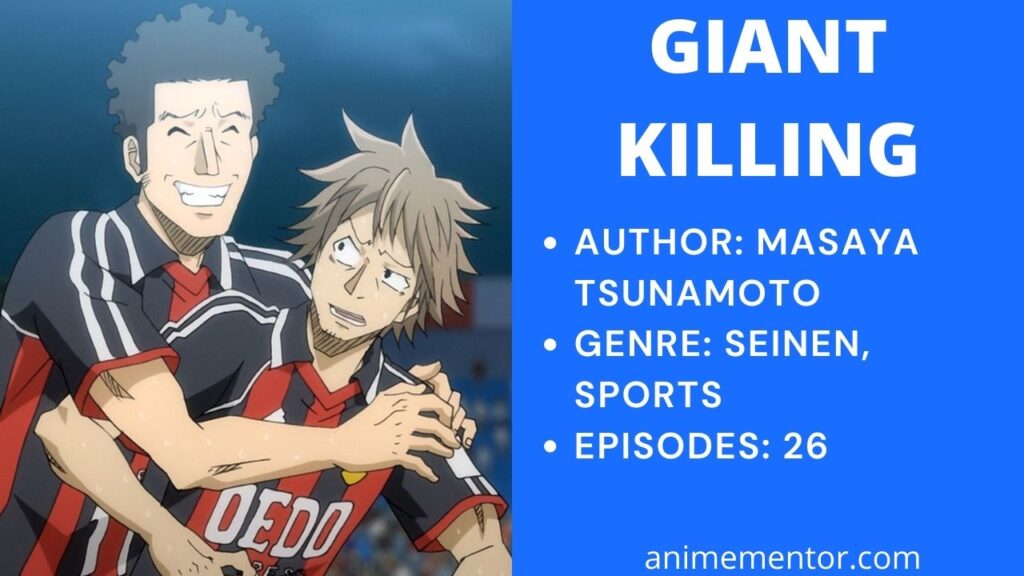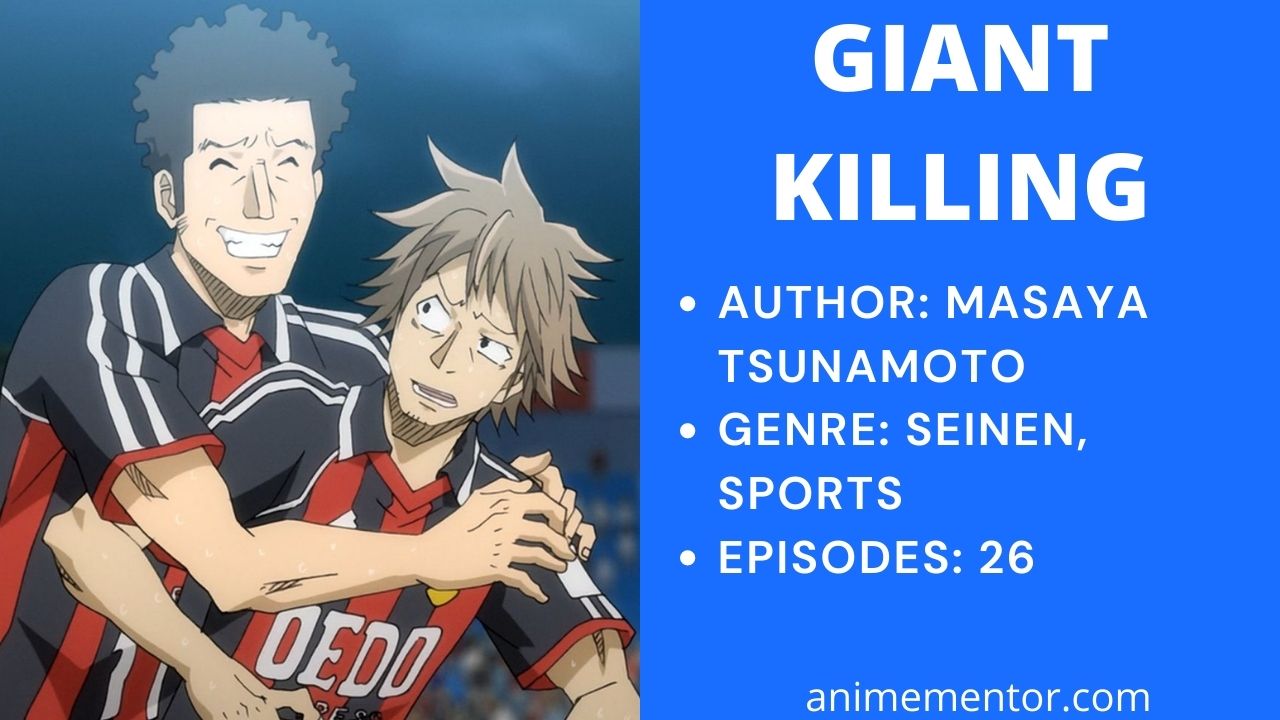 Author: Masaya Tsunamoto
Genre: Seinen, Sports
Episodes: 26
East Tokyo United (ETU) is a soccer team with a bunch of players who are continuously suffering from poor play performances and were failing in Japan's top football league. They have lost a total of 5 matches in a streak and were almost at the bottom of the chart. 
Their team spirit was low as usual and the lost matches just made it more miserable. They had no confidence in themselves. Their fans were also tired of the losing matches, and if this continues, then the team's end is near.
Thus the team hires a new manager named Tatsumi Takeshi to break the curse which has fallen upon this team. Previously, Tatsumi had made an amateur team to reach the top 32 teams of the FA cup and therefore he has spent 3 years in England managing them. 
There was a time when Tatsumi played for ETU but he left the team when the team was about to reach the top positions. So, many players in East Tokyo United don't want him to be their manager and hold a grudge against him.
However, Tatsumi was not shaken by these things, as he was confident in himself to make this team reach new heights and bring back their lost glory.
5. Hungry Heart Wild Stricker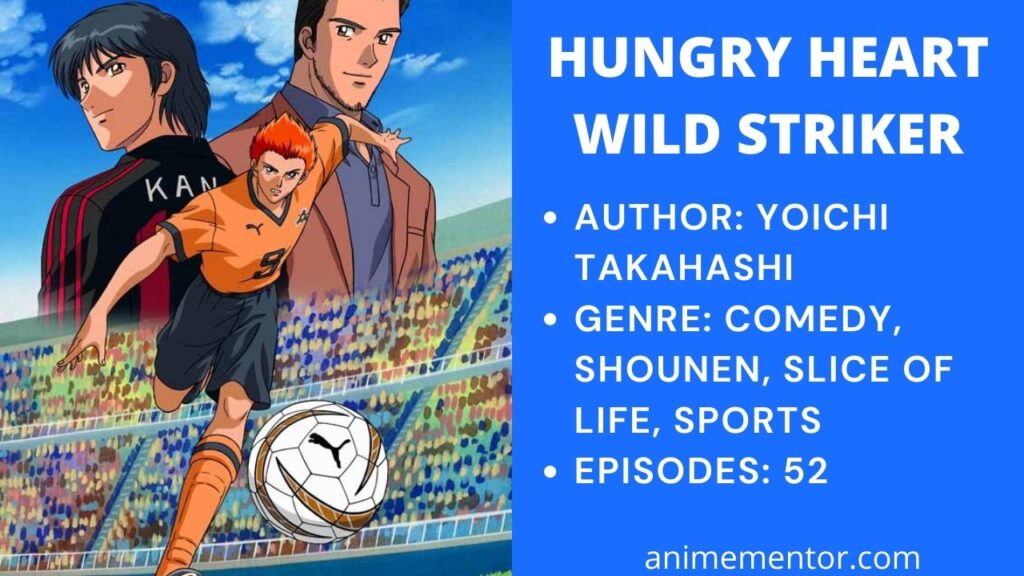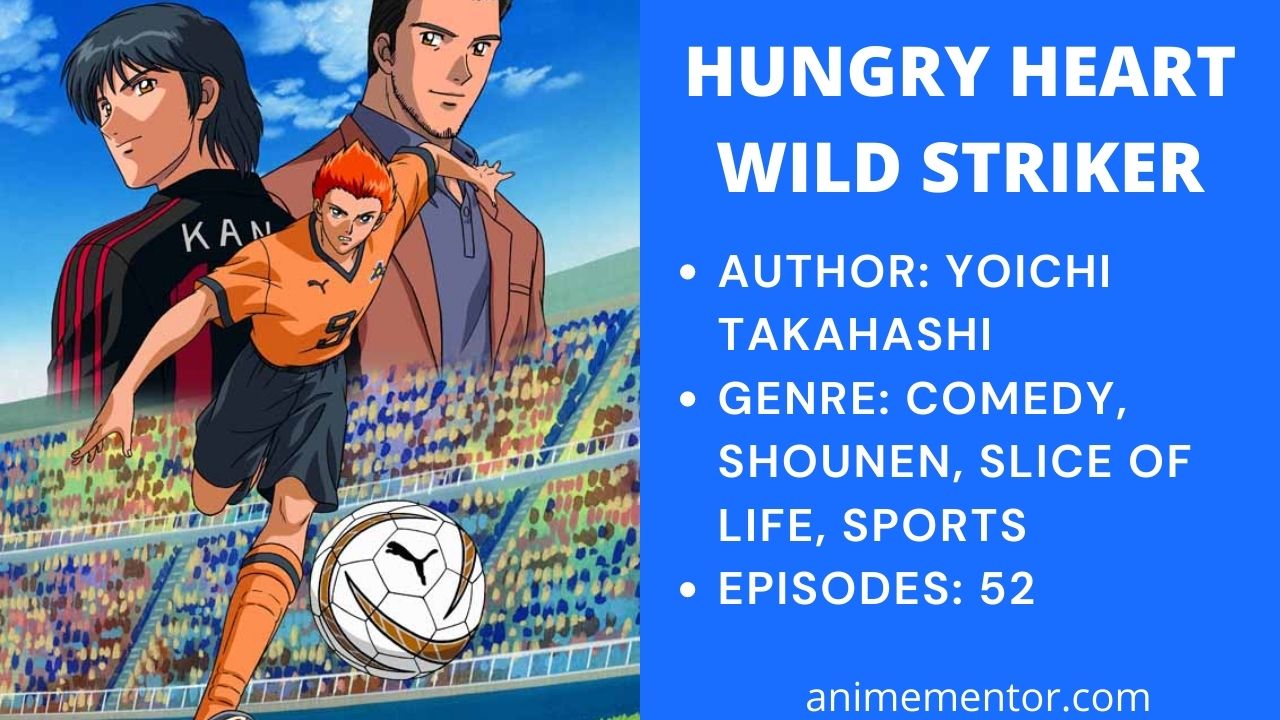 Author: Yoichi Takahashi
Genre: Comedy, Shounen, Slice of life, Sports
Episodes: 52
The story starts when a teenage boy named Kanō Kyōsuke has transferred to a new school – Jyoyō Orange high school. Kyosuke's brother Seisuke is a very successful soccer player and is a very famous member of A.C Milan. The one who taught Kyosuke to play soccer was his brother. Thus, Kyosuke admired his brother since childhood.
When Seisuke left Japan to join Italian powerhouse A.C. Milan, people started to compare the two brothers. Kyosuke was demotivated because he thought he was not a good player as his brother. Due to this inferiority complex, he quits playing soccer.
But in his new high school, a girl named Miki Tsujiwaki who was very passionate about playing football discovers Kyosuke's talent and helped him to once again start playing soccer. After this, Kyosuke joined the men's football team and made new friends like Sakai Jefferson who is a talented goalkeeper, and Rodrigo who was a Brazilian student.
With his determined passion for the game, Kyosuke thought of moving forward with his friends in the team with the hope of becoming professional players someday.
6. Area no Kishi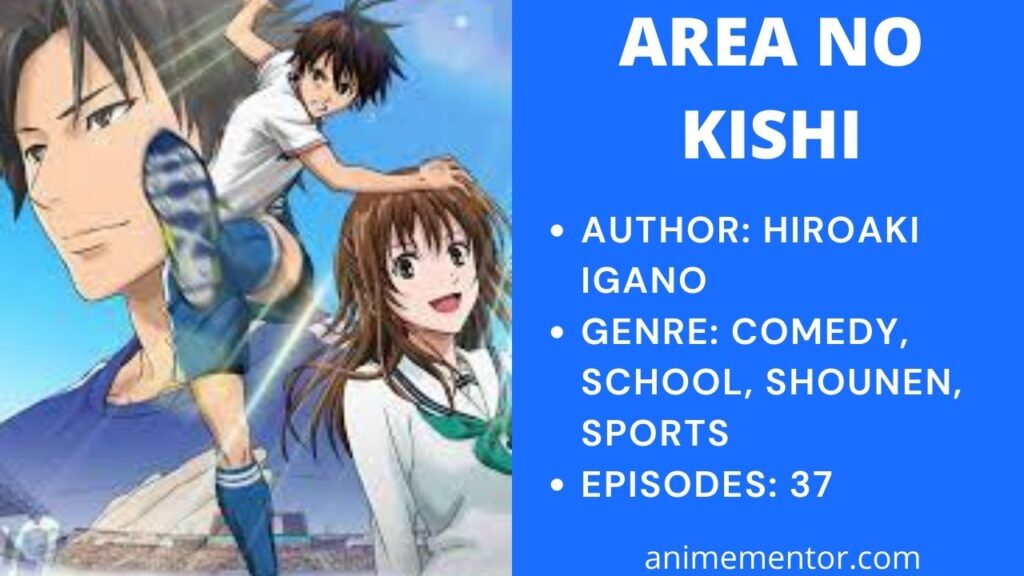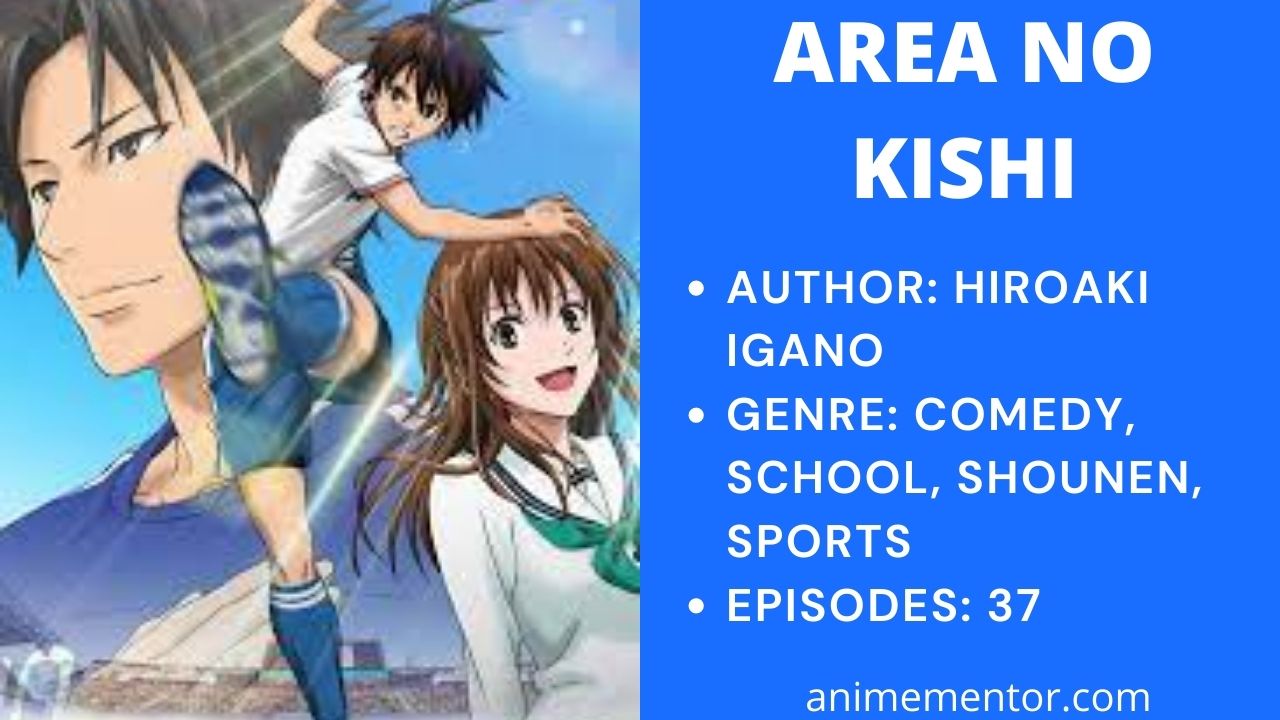 Author: Hiroaki Igano
Genre: Comedy, School, Shounen, Sports
Episodes: 37
Aizawa Kakeru believes that he is a useless player when it comes to playing soccer. He is also the manager of the Soccer team of his school. His brother named Suguru is the ace of the team and is one of the most talented soccer players. He is also suitable enough to play nationals and represent Japan at higher levels. 
Suguru loves his brother so much and he thinks that his brother has the potential to play soccer. He insists his brother Kakeru to keep on practicing soccer as he possesses great talent. But time and again Kakeru just denies it and believes himself to be a loser.
One day Suguru is met with a car accident and dies. Kakeru was severely injured and needed a heart transplant. Their parents gave Suguru's heart to Kakeru to save him. From that day on, Kakeru believed that he lived because of his brother and he has to fulfill his brother's wishes to honor him.
He has to play soccer and represent Japan in national and international tournaments. With hard work and training, Kakeru along with his friends set on a journey to become the best team in Japan and fulfill his brother's dream.
7. Days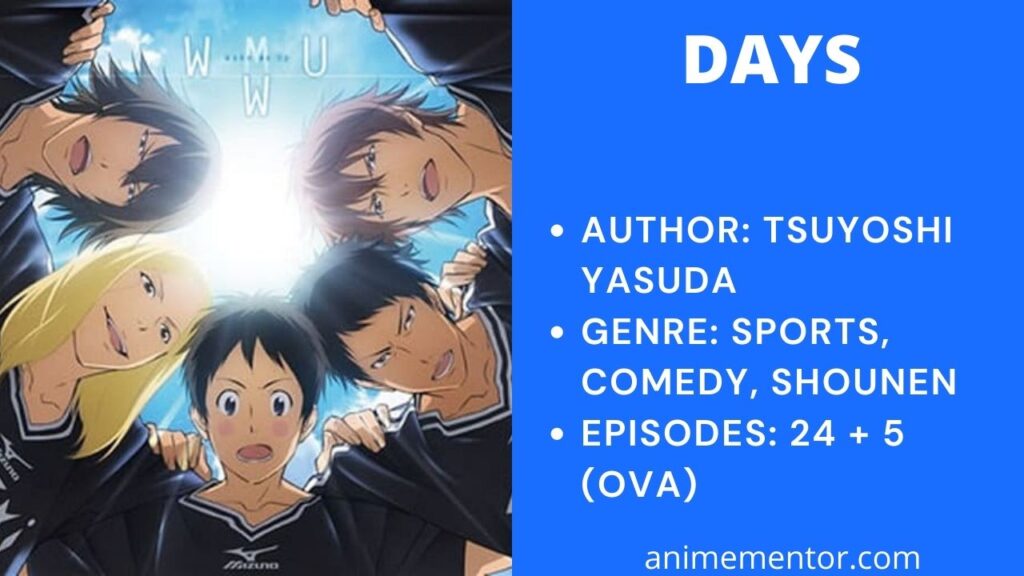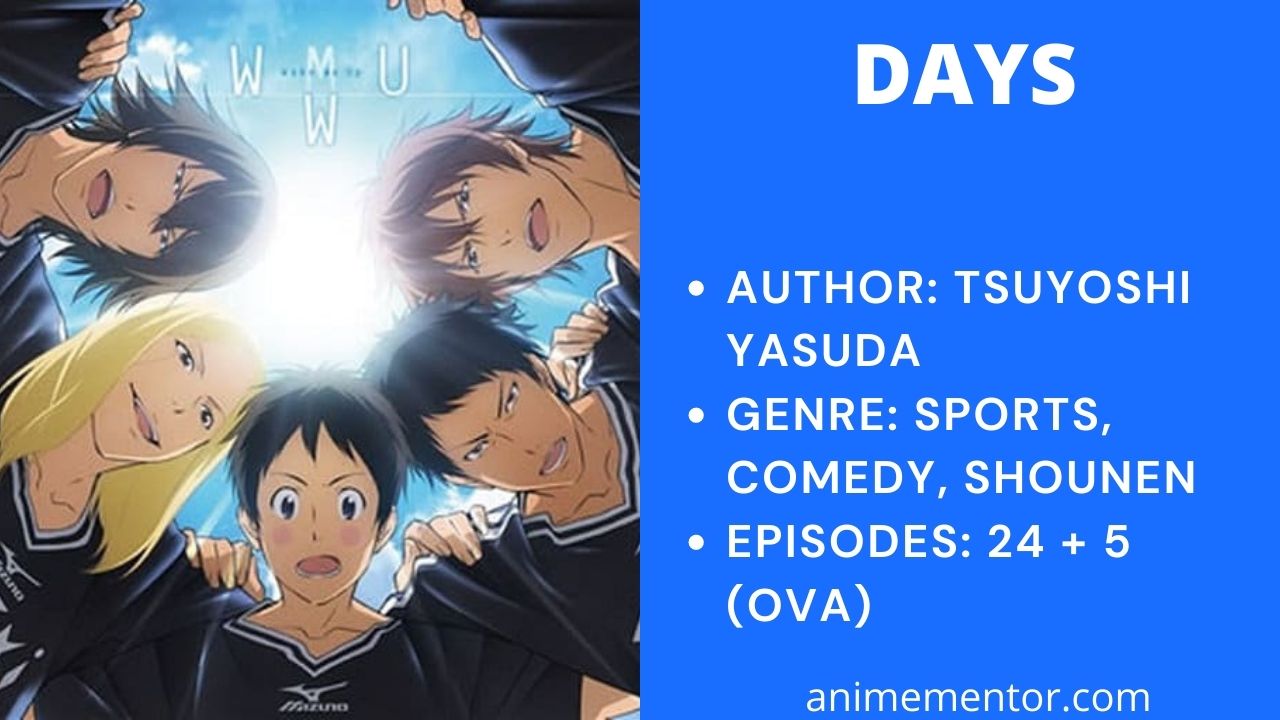 Author: Tsuyoshi Yasuda
Genre: Sports, Comedy, Shounen
Episodes: 24 + 5 (OVA)
Tsukushi Tsukamoto is a short, shy and lazy teenage boy who is about to start his high school life. He joins Seiseki High School so that he can meet up with his childhood friend Tachibana Sayuri, though she is one year senior to him.
Tsukushi was always bullied by his friends. One day, on his way back after he met with Sayuri, Tsukushi was bullied by some fellows.
Luckily Tsukushi was saved by a person named Kazama Jin who attacks the bullies with nunchucks and scared them away. Jin tells him that he was lost in the town and was just roaming here and there. Later he asks Tsukushi if he liked to play football and also asked him if he would play for their team for the time being as they are one player short. Tsukushi agreed to the plan.
But Tsukushi doesn't play football very well. He falls every time someone charges at him, yet he stands up to play more which motivates other members to play.
Jin was also in his first year at his school, so Tsukushi decided to join the football club to play with him.
The football club in Seiseki highschool was very famous and known throughout the whole nation. Will Tsukushi be able to make it into the team and be one of the best players through his hard work and sheer will?
8. Captain Tsubasa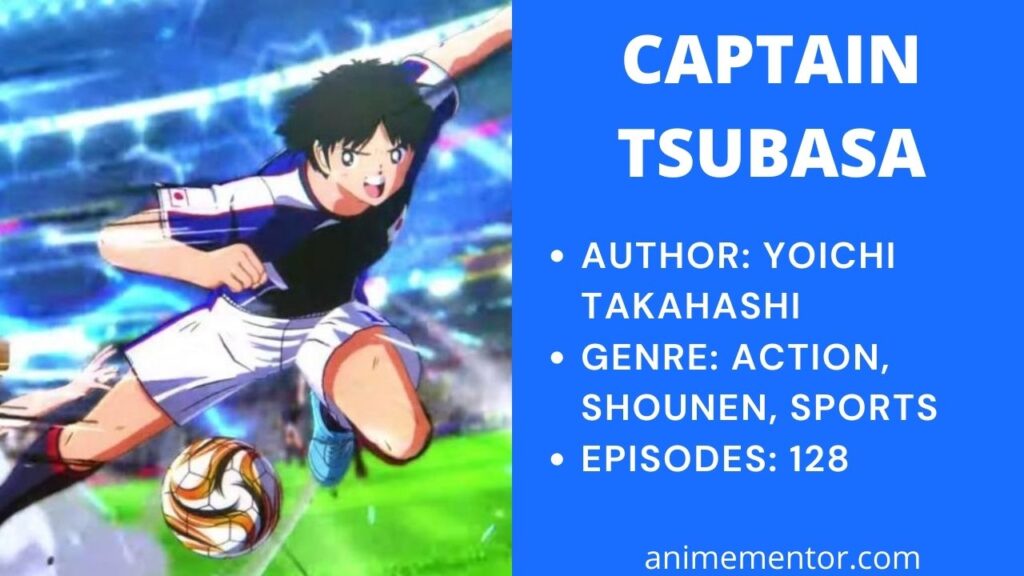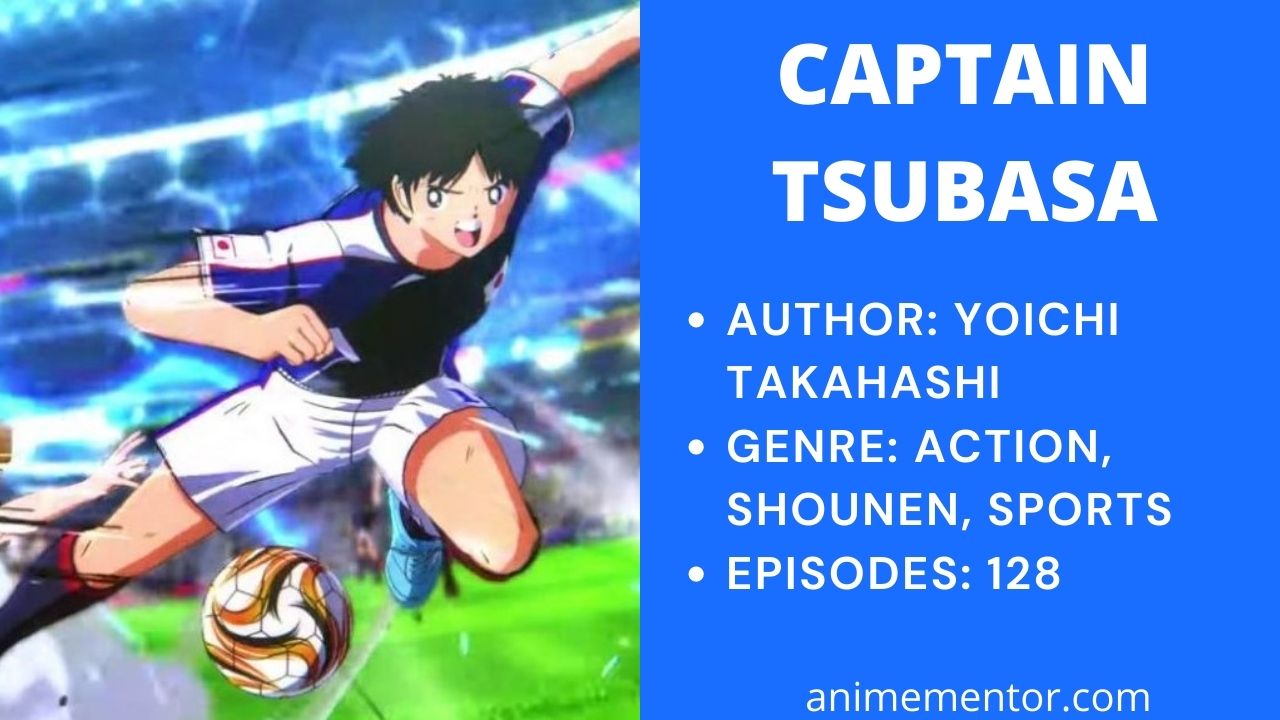 Author: Yoichi Takahashi
Genre: Action, Shounen, Sports
Episodes: 128
The story revolves around Tsubasa Oozora who is an 11-year-old boy studying in elementary school and thinks about playing football all day. Tsubasa started playing football at a young age with his friends and it turned into one of his obsessions.
He wanted to pursue his career in football and be a great player someday. To fulfill his dream, Tsubasa moved to Nankatsu city with his mother to enroll in an elementary school that is known for its famous soccer team.
Tsubasa was considered the best player in his old town, but now in this new city, he is faced with lots of equally talented football players. He also made many new friends in his new school. He met with a pretty girl named Sanae Nakazawa and also made friends with Genzo Wakabayashi who is a talented goalkeeper. 
Tsubasa's dream was to get selected in the Japanese team and represent Japan in the FIFA World Cup.
To achieve his dream, he continued to struggle hard along with practicing and improving his skills with his friends to become the best player in Japan.
9. Aoki Densetsu Shoot!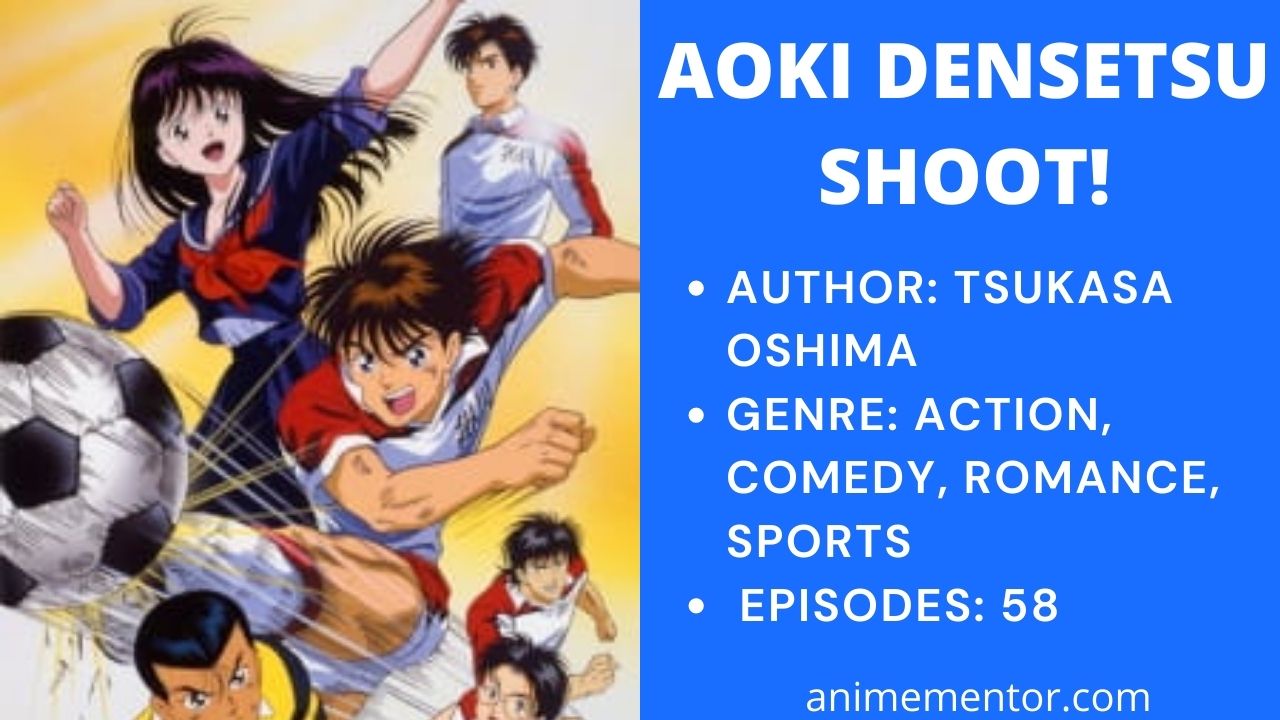 Author: Tsukasa Oshima
Genre: Action, Comedy, Romance, Sports
 Episodes: 58
Toshihiko Tanaka is a high school student at Kakegawa High School who is very passionate about playing soccer. He joined Kakegawa high school, as his idol Yoshiharu Kubo plays for this school's soccer club.
In middle school, he played football with two of his best friends Kenji Shiraishi and Kazuhiro Hiramatsu, and together they were considered the golden trio. Now, due to some unforeseen circumstances, both of Toshihiko's friends have quit playing soccer. 
Hiramatsu was forced to study abroad by his father to become a gentleman. On the other hand, Shiraishi quit playing soccer because once, his team ended up disqualified from the game as he lost his temper and argued and got into a fight.
Hiramatsu confronted his father that he wanted to continue playing soccer and wanted to be a part of the golden trio again. Hiramatsu's father told him that in his youth he too used to play soccer, so he will let Hiramatsu off the hook for now.
Upon several thoughts, Shiraishi too joined the Kakegawa High school soccer club and ended up reviving his love for football. Together, the 3 friends again formed the Golden trio and dreamed to become a great team together in the future ahead.
10. Ginga e Kickoff!!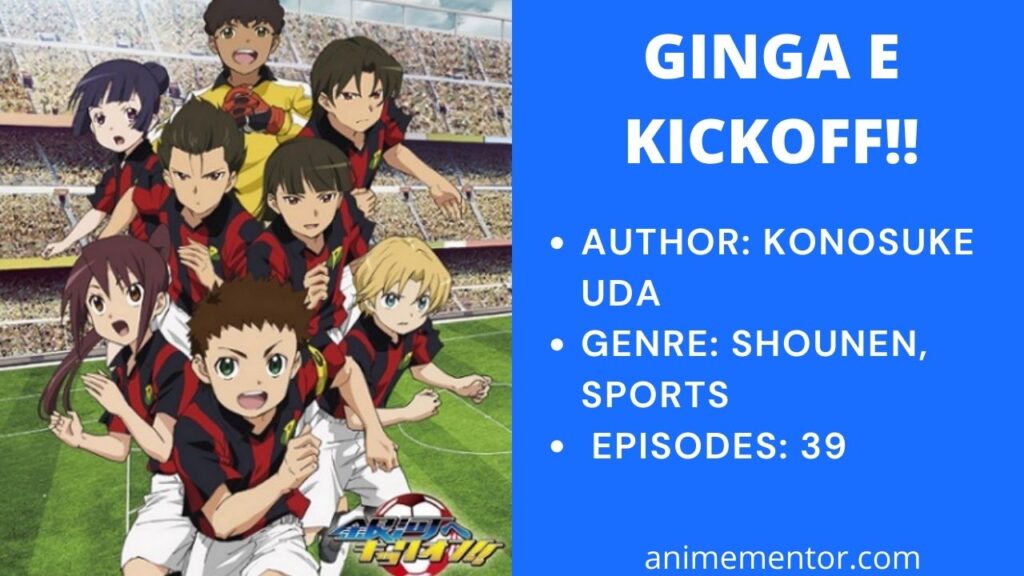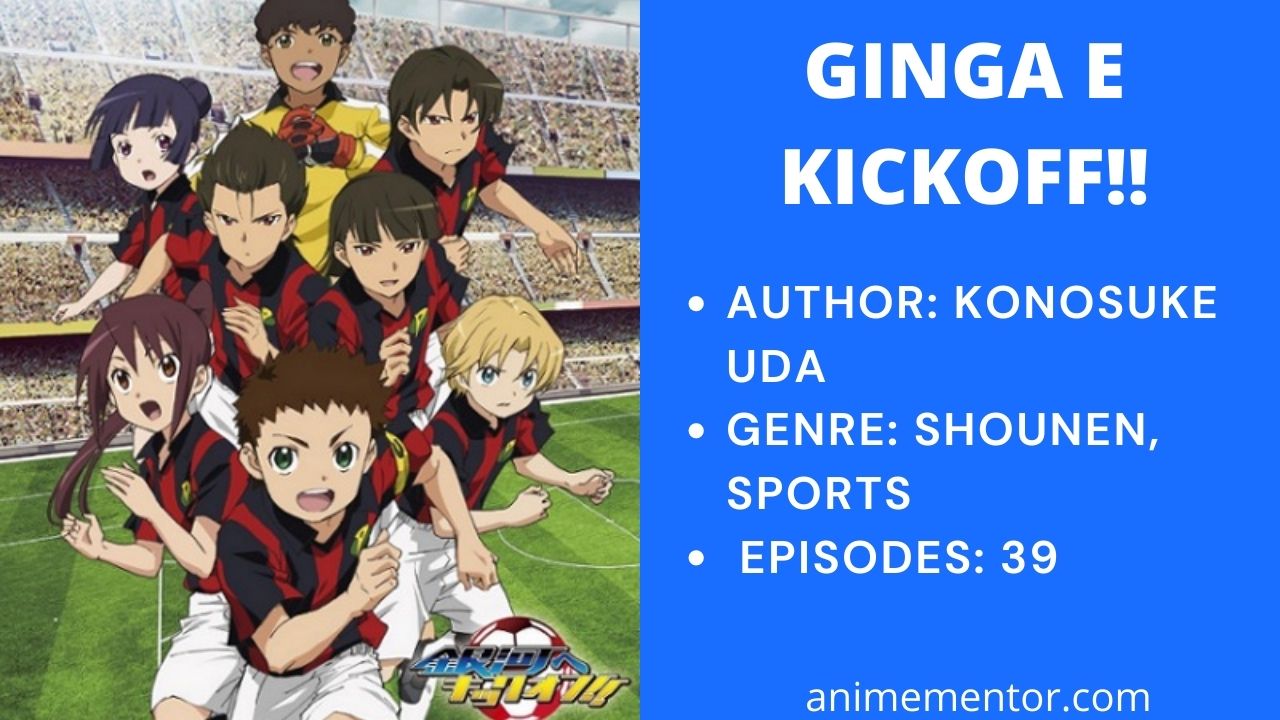 Author: Konosuke Uda
Genre: Shounen, Sports
 Episodes: 39
The soccer team Momoyama Predators was disbanded because of not having enough team members in the team
Oota Shou is a sixth-grader and was also the last remaining member of this team.
Shou loves to play football very much but he was not good at playing it. Yet, he tries hard to search for new members who would join their team and revive the team.
Shou's dream is to become a professional soccer player one day and to do that he needs a great team.
He tried to recruit members whenever he sees someone playing football. He asked a girl named Erika to join when he saw her playing football with her dog in the park. Erika joined the team without any hesitation. 
Later they stumble upon a female soccer player who was a professional player. Will Shou be able to save the team and fulfill his dream of becoming a professional soccer player?
Conclusion:
So, that's it for our 10 Best Soccer/Football Anime of All Time. People for whom football/soccer is a passion and enjoy their time playing it; should go and check out the anime series. You will be thrilled!
Do let us know your thoughts about these anime series and the one you liked the most and, as usual, if you have any suggestions, queries, or feedback the comments section is open for everyone.
See you soon in my next article.
SAYONARA!!