Violet Evergarden is a popular anime that premiered on Netflix in 2018. Many people love its emotional story, beautiful animation, and interesting characters. It follows Violet, a former soldier, as she tries to understand her commander's last words to her. This helps her learn about feelings she's never had before.
If you liked Violet Evergarden, here are 11 other great anime you might enjoy:
11 Best Anime Like Violet Evergarden
1. Tegamibachi (Letter bee)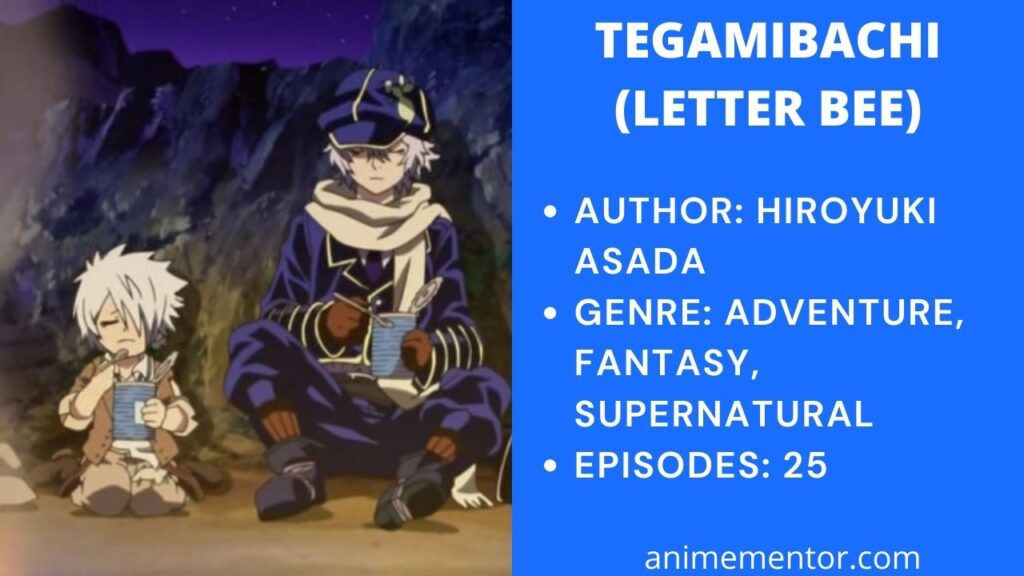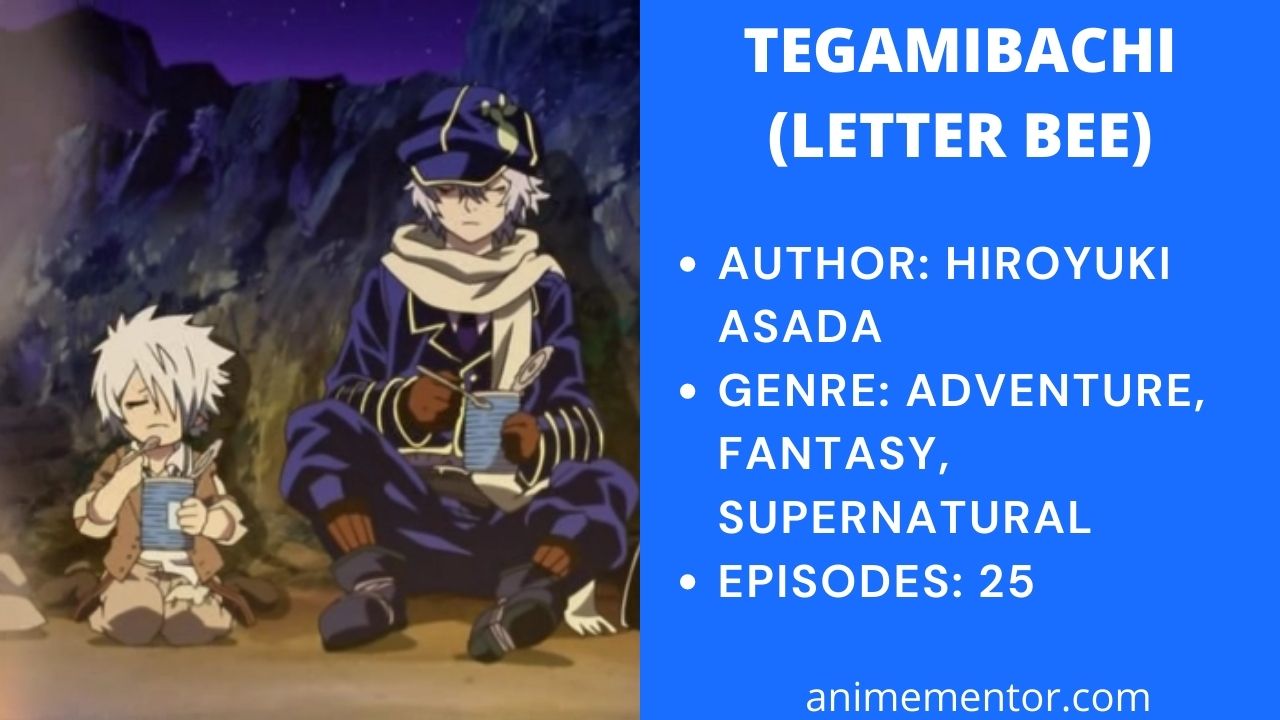 Author: Hiroyuki Asada
Genre: Adventure, Fantasy, Supernatural
Episodes: 25
Tegamibachi, or Letter Bee, is a lovely animation about delivering meaningful messages. It's comparable to Violet Evergarden, where Violet delivers people's messages to the receiver. Both anime depict a universe in which the protagonist isn't totally human and has the authority to deliver those highly important letters to various clients.
Letter Bee's protagonist has also lost someone close to him, which has led him down his current path, where he faces various adventures while delivering those lovely letters.
Despite the fact that the character in Letter Bee is a very emotional character, the story's structure and theme embody the viewers' hearts and ideas.
2. The Ancient Magus Bride
Author: Kore Yamazaki
Genre: Dark Fantasy, Mystery, Slice of Life
Episodes: 24
After being abandoned and sold as a slave, Chise Hatori, a 15-year-old girl, searches frantically for a place to call home. Elias, an odd man, purchases her as his bride. Later, she is transported to England, where she learns about magic and begins to learn more about herself in a world of talking animals, dragons, and fantastic creatures.
Violet and Chise seem to have a lot in common, appearance-wise, and also similar in age. Both animes deal with the topic of finding love. They're both looking for happiness in the end.
3. Maquia: When the Promised Flower Blooms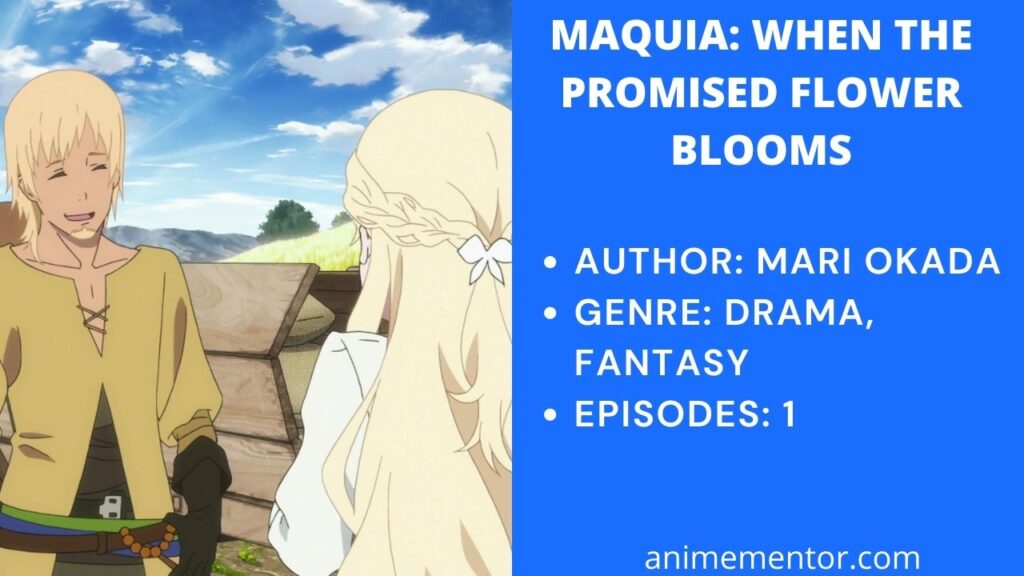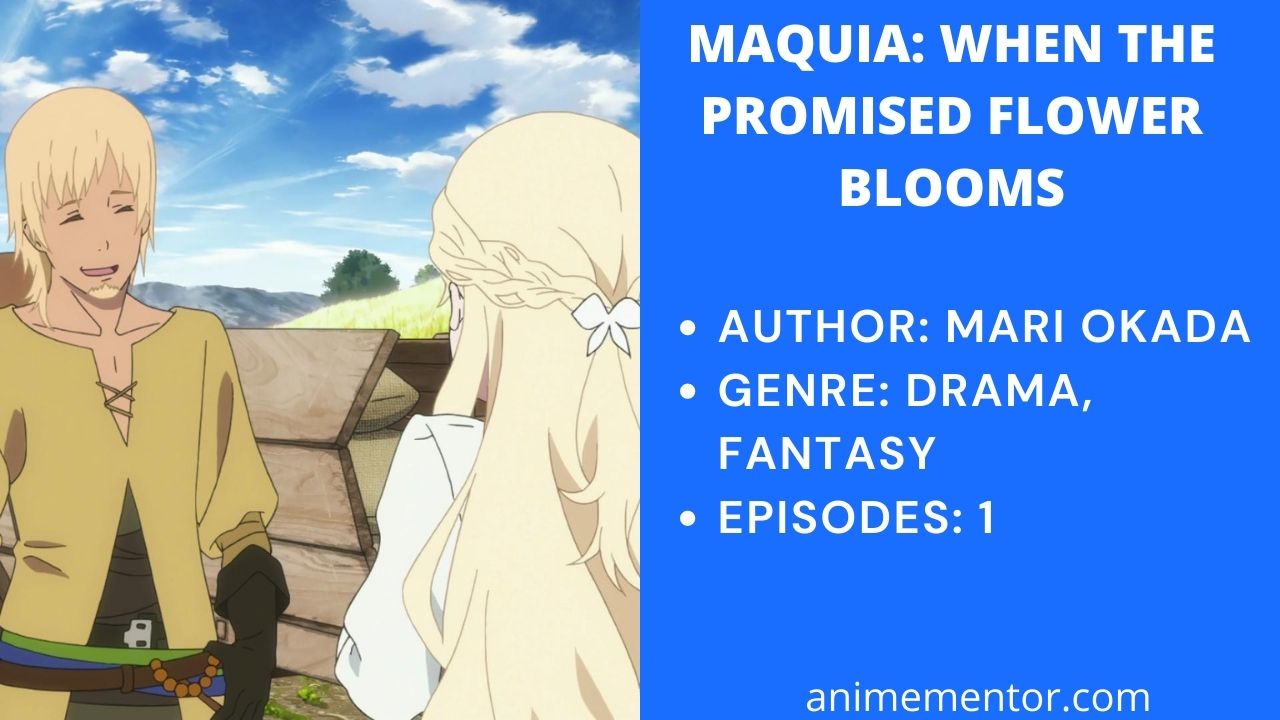 Author: Mari Okada
Genre: Drama, Fantasy
Episodes: 1
Maquia, an orphan alone in a wilderness after fleeing war, hears a baby crying from a nearby damaged hamlet and decides to raise him as her own, giving him the name Ariel.
Despite the fact that she is part of a rare species known as Iorphs. Lorphs are mystical beings who can live for hundreds of years while being separated from the lives and daily troubles of mankind.
She knows nothing about the human world, how to raise a child who ages faster than her, or how to live with the smoldering pain inside of being lonely, she is determined to make it all work.
It's one of those anime that makes you realize how intense a mother's love can be, and it'll undoubtedly break your heart.
4. My Happy Marriage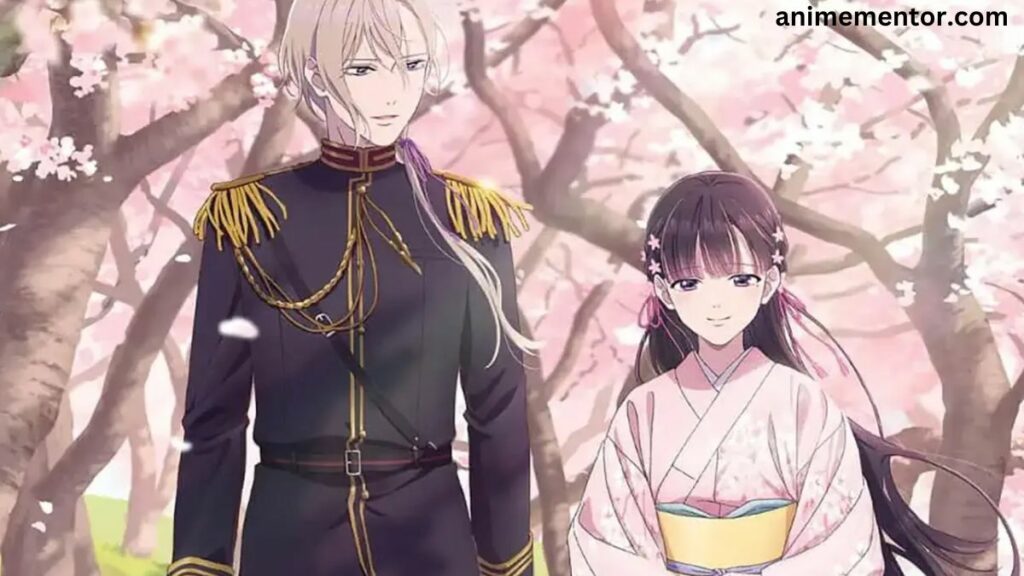 My Happy Marriage and Violet Evergarden tell similar stories about young women who find the meaning of love.
In My Happy Marriage, Miyo is in an arranged marriage to Kiyoka. At first, she thinks he will be cruel. But as they spend time together, Miyo realizes Kiyoka is kind and they fall in love. Their marriage helps them find happiness.
In Violet Evergarden, Violet was a soldier. After the war, she becomes an Auto Memory Doll who writes letters for people. Delivering these letters teaches Violet about love and gives her life purpose.
Though the settings are different, both anime show young women overcoming hardship.
5. Kimi No Nawa (Your Name)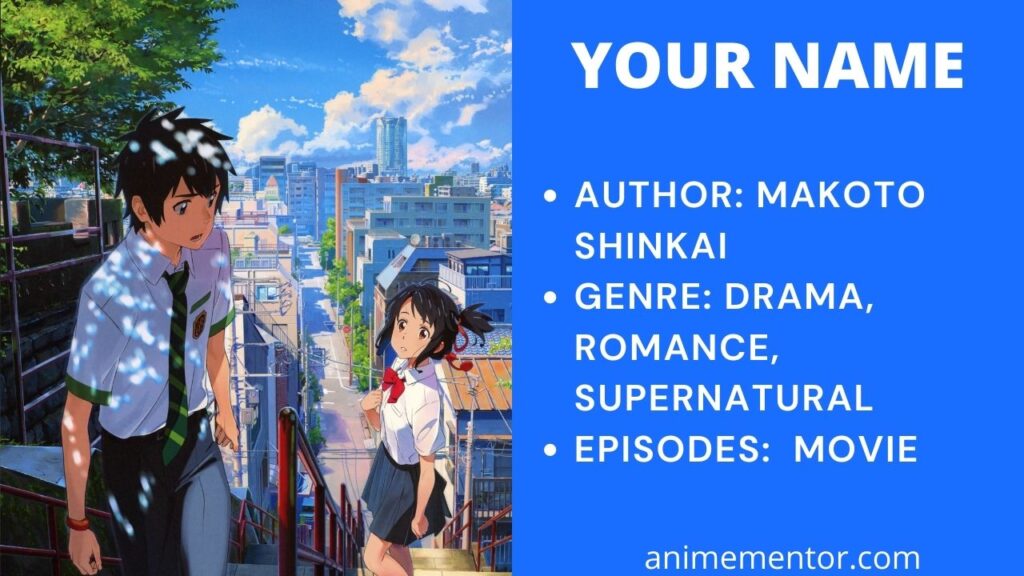 Author: Makoto Shinkai
Genre: Drama, Romance, Supernatural
Episodes:  Movie
Despite its differences in plot, the film Your Name (also known as Kimi No Nawa) belongs to the same genre as Violet Evergarden. The anime's narrative revolves around the idea of living the life of someone you lust after.
A city boy who wishes to live in the countryside swaps souls with a girl who wishes to dwell in a bustling metropolis. The emotions carried out throughout the movie are quite similar to that of Violet Evergarden.
Many people enjoy this classic anime film, but if you haven't seen it yet, you should. Now is the ideal moment!
6. Iroduku: The World in Colors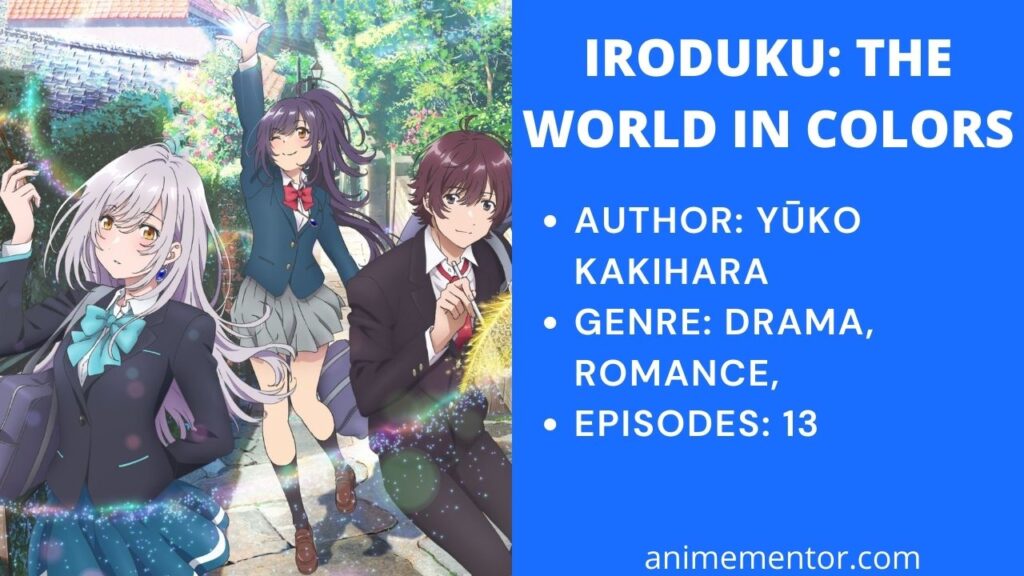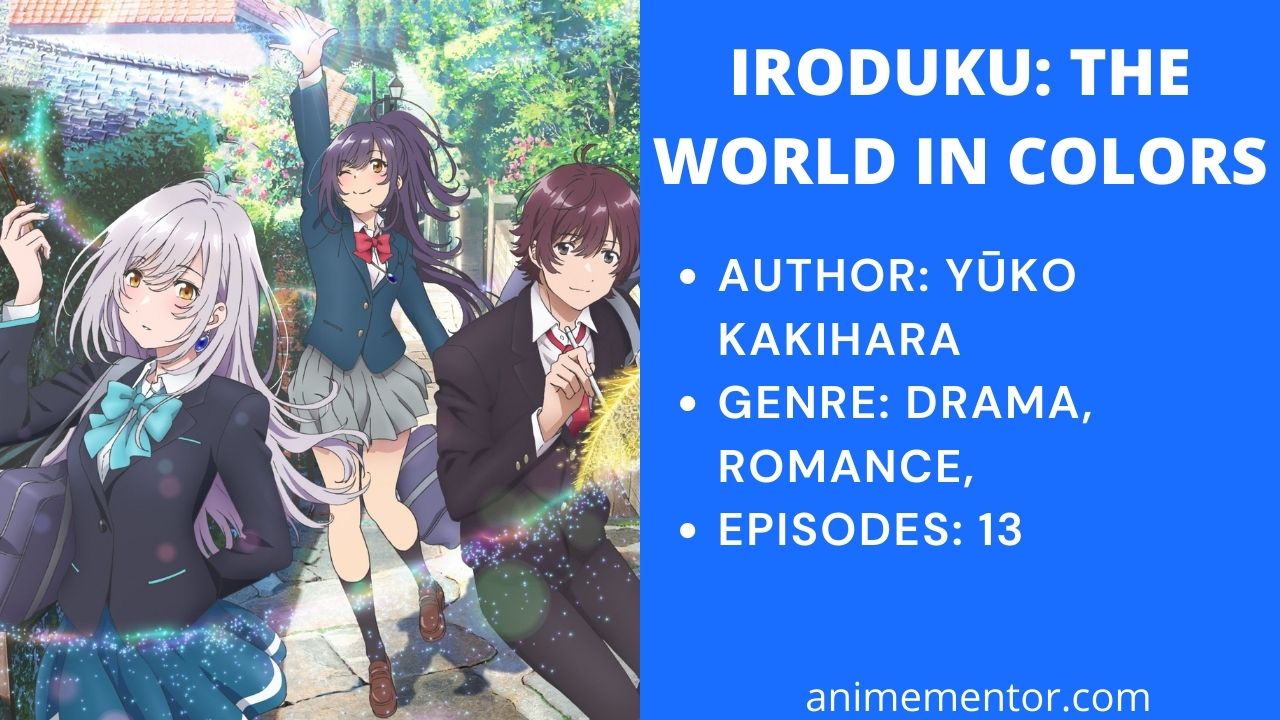 Author: Yūko Kakihara
Genre: Drama, Romance,
Episodes: 13
Like Violet Evergarden, Iroduku: The World in Colours is a fantastic anime series that combines imagination and reality.
The story revolves around students in the art and photography club at their high school. Hitomi Tsukishiro, a colorblind girl, is transported to the past in 2018, thanks to her grandmother's magic, to experience the school life of the past, where they were all immersed in photography.
She sees Yuito Aoi's bright artwork for the first time after entering his bedroom, and something starts to alter in her.
7. A Silent Voice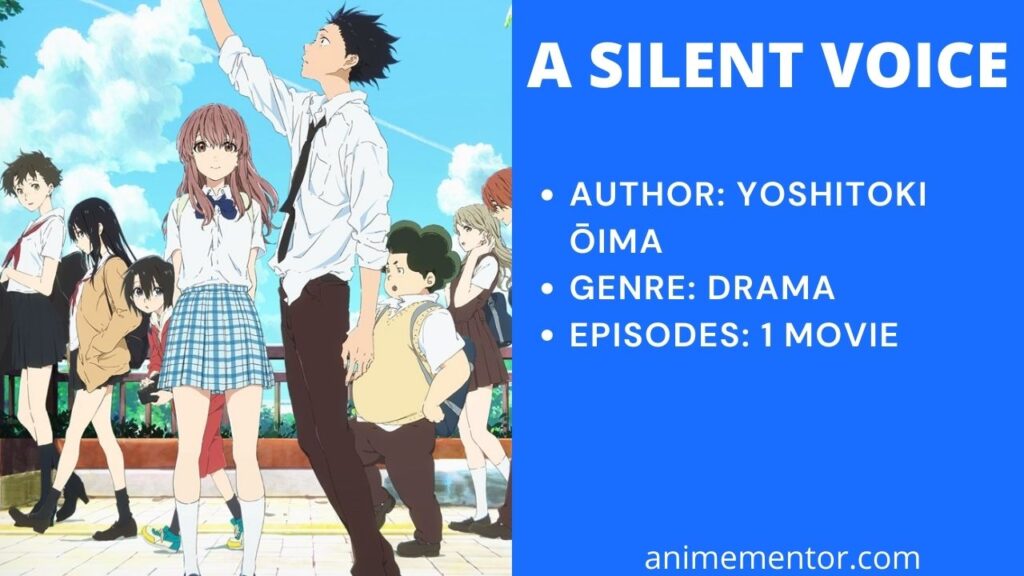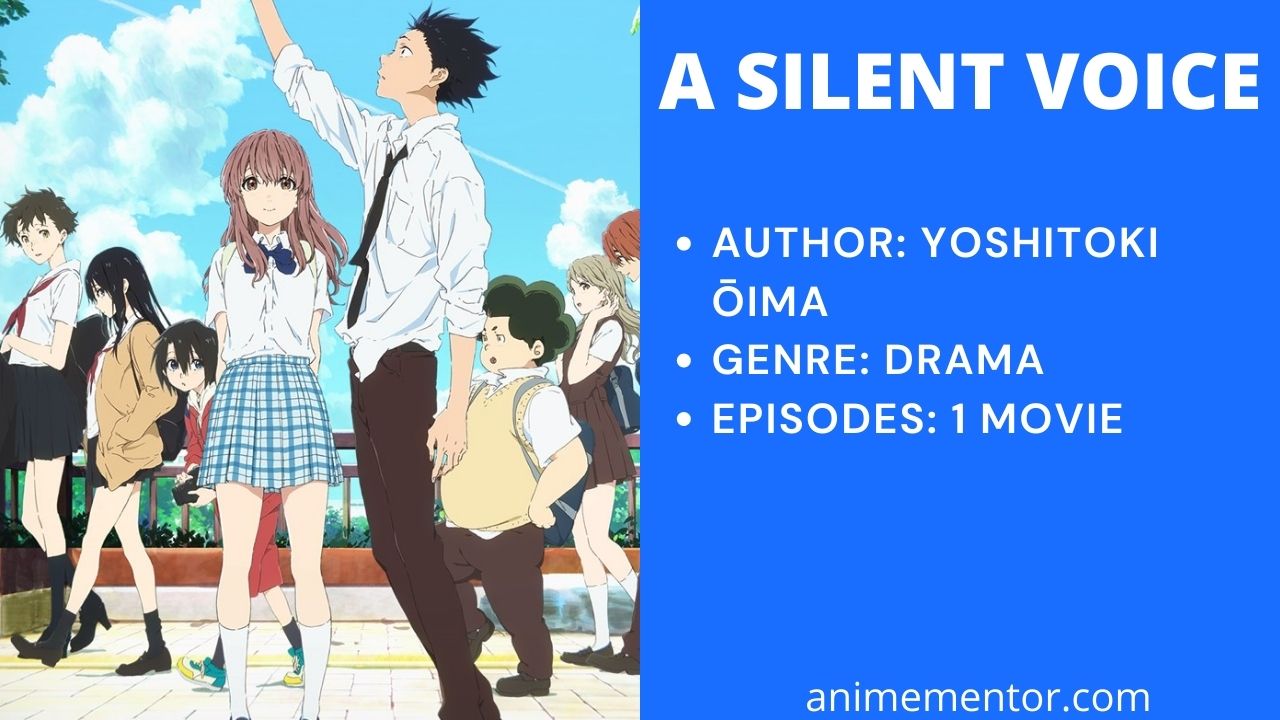 Author: Yoshitoki Ōima
Genre: Drama
Episodes: 1 Movie
If you've just finished watching Violet Evergarden, A Silent Voice, aka Koe No Katachi, is a great movie to watch. Shouya Ishida, a former delinquent who used to get into mischief while bored as a child, meets Shouko Nishimiya, a deaf girl who recently transferred to his school.
He and his friends constantly bullied her to the point where she lost all of her hearing aids as a result of it. When confronted by the teacher, the entire class blamed Ishida, and he became the next victim of bullying.
He seeks to make amends for his heinous crimes against Nishimiya a few years later. Is it possible that they will continue to be friends? Check it out and share your thoughts with us.
8. Fruits Basket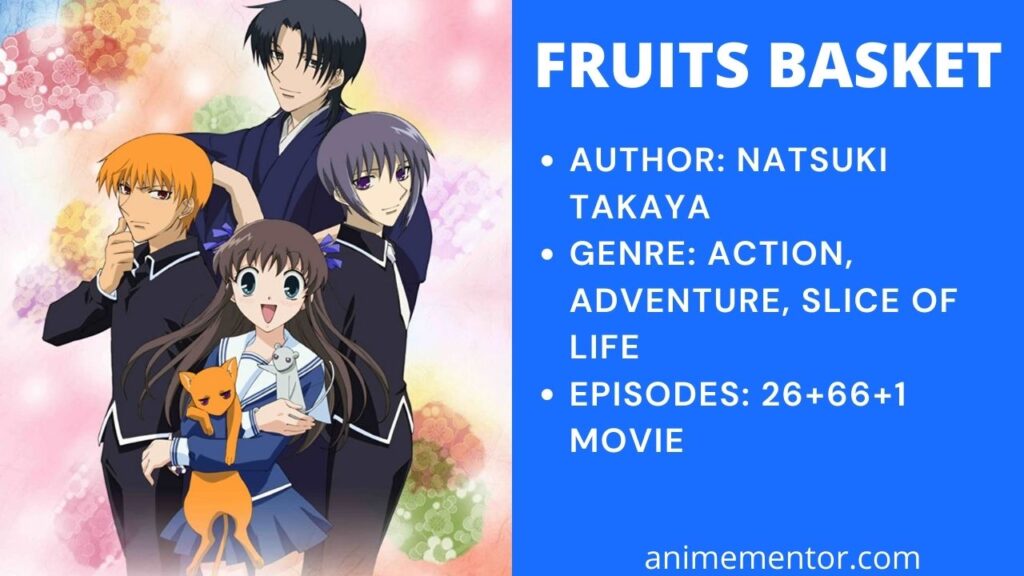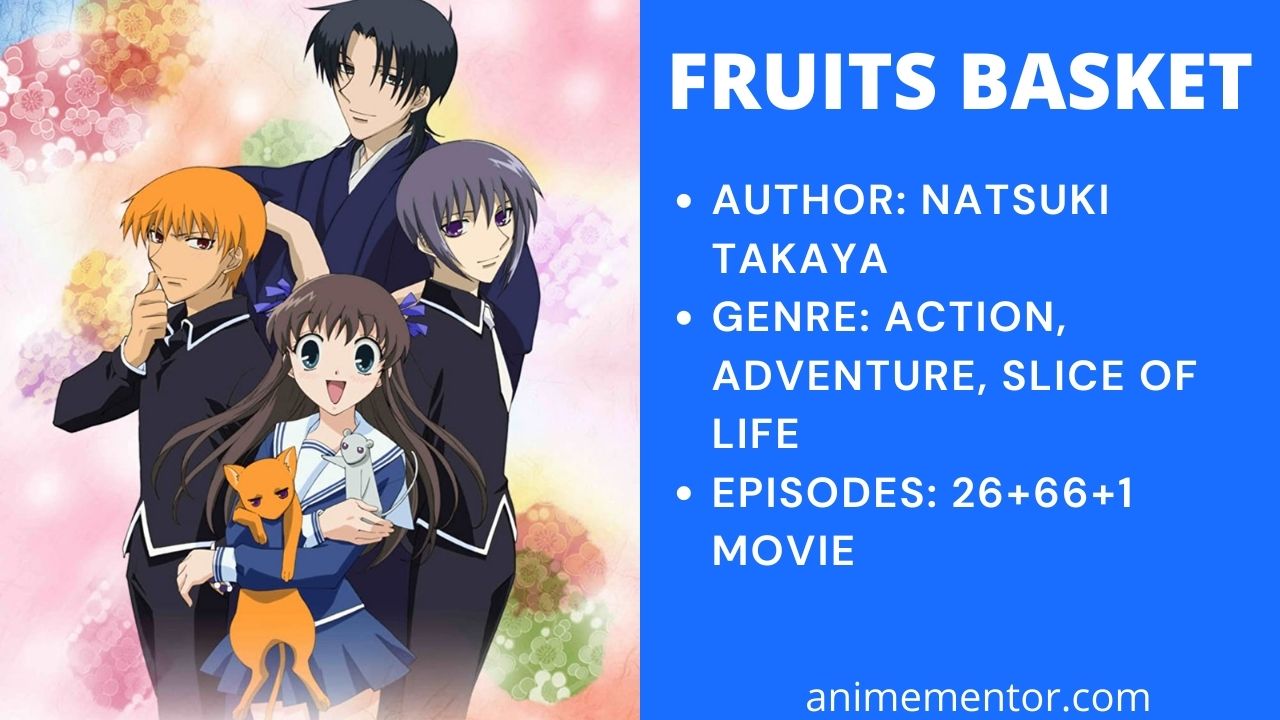 Author: Natsuki Takaya
Genre: Comedy, Drama, Romance, Slice of Life, Supernatural
Episodes: 26+66+1 Movie
Although the anime is of a different genre, the subject of understanding emotions is unmistakably the same. Despite her own desire for emotional closure, the tragic heroine finds a way to provide it to her peers instead.
Tohru Honda, a cheerful young lady, assists the cursed zodiac in dealing with their daily problems in order to gain courage and escape their deepest emotional torment.
Despite having nothing left to herself, she never loses hope, and her character soothes and restores your trust in humanity.
9. Kino's Journey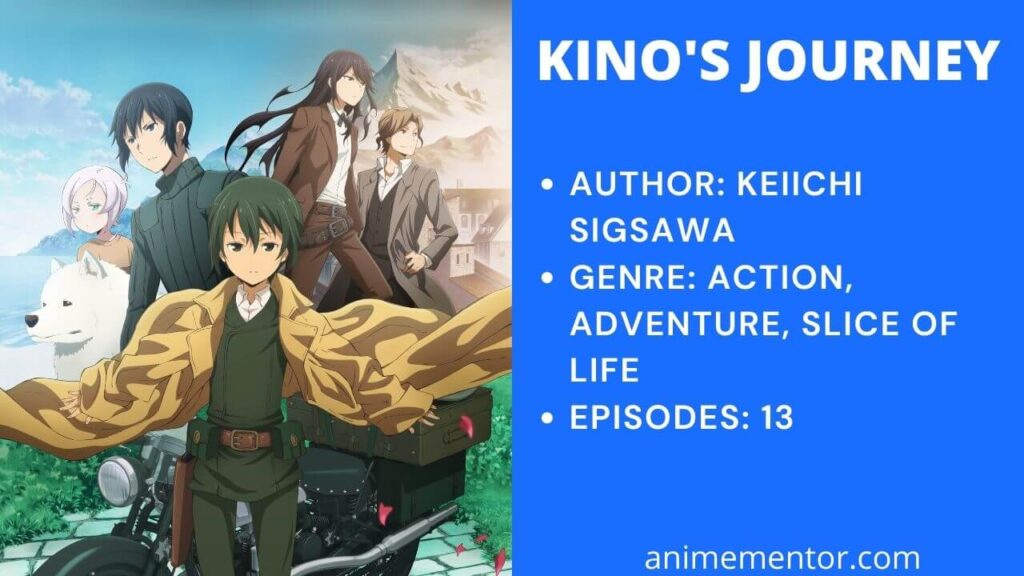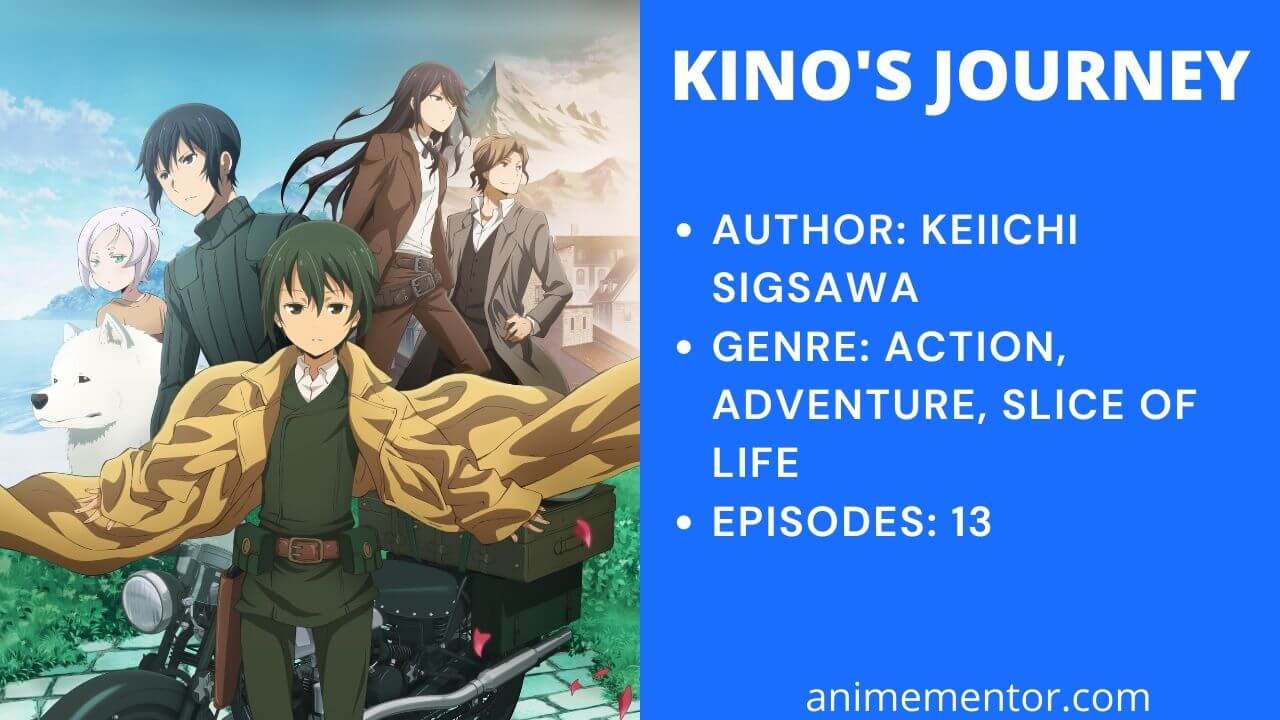 Author: Keiichi Sigsawa
Genre: Action, Adventure, Slice of Life
Episodes: 13
Kino's Journey is a highly recommended anime series for fans of Violet Evergarden. It tells the story of Kino, a teenage girl who travels the world with Hermes, a talking motorcycle.
Every episode has its own significance and teaches us something fresh through its own narrative. Kino travels to various countries and learns something new from each trip.
Kino's Journey is one of those shows that linger in your mind long after you've finished watching it.
10. Your lie in April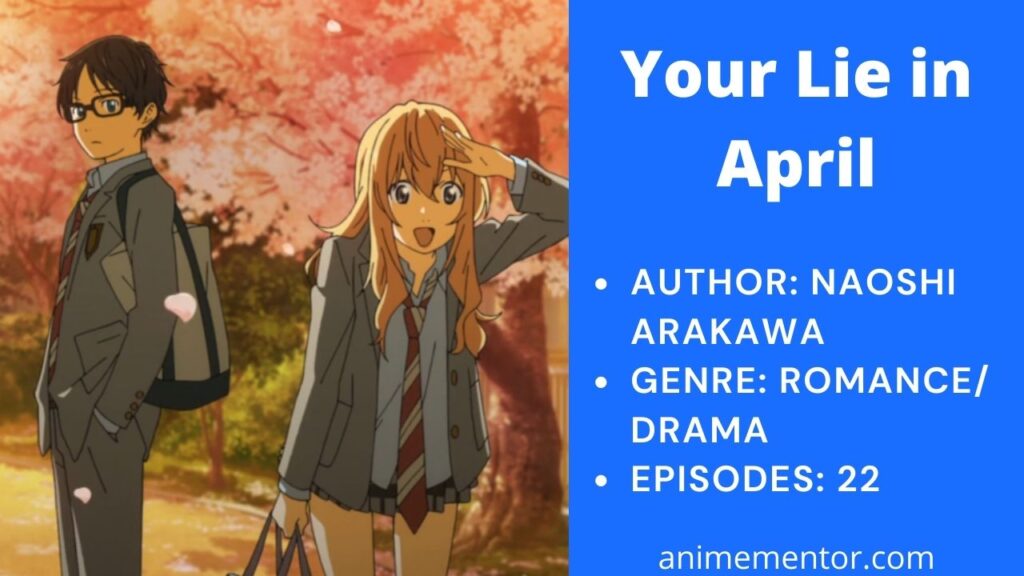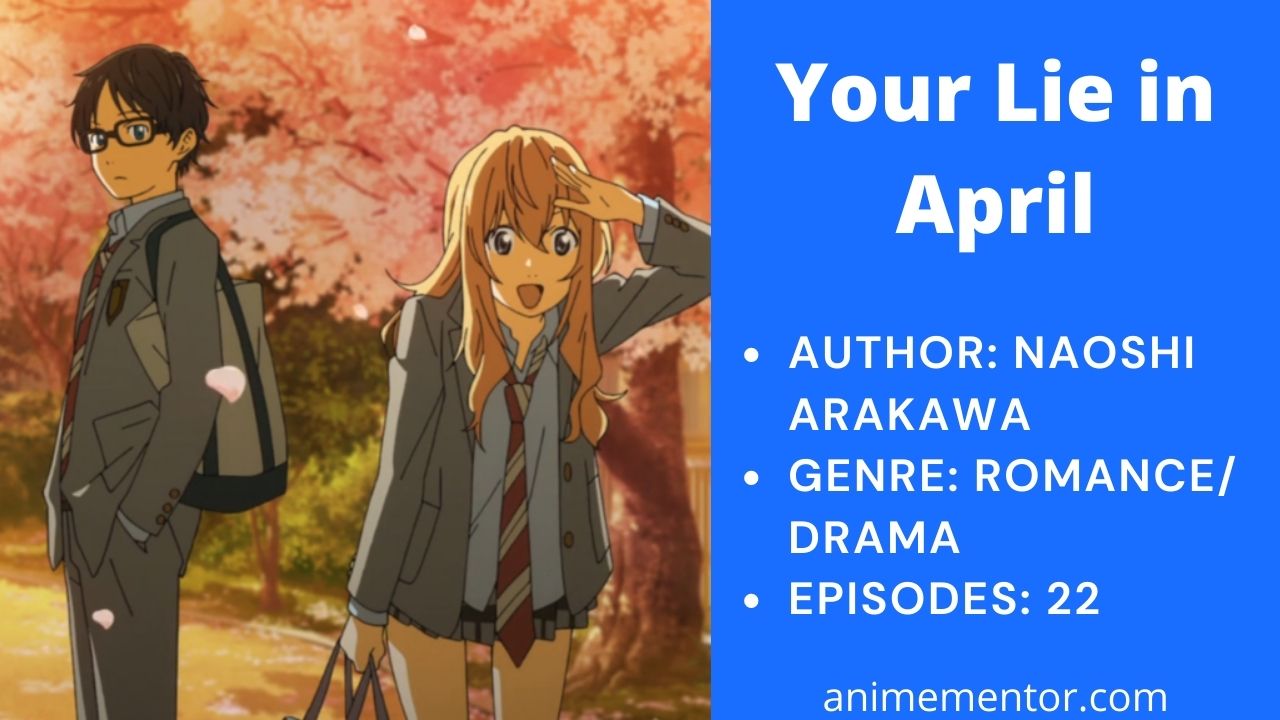 Author: Naoshi Arakawa
Genre: Drama/ Music/ Romance/ School/ Shounen
Episodes: 22
Another melancholy anime that will make you cry as well as feel overwhelmed. Your lie in April is a well-known and frequently recommended anime. After his mother's death, Kousei Arima, a prodigious pianist, loses his ability to hear his own piano.
He stops playing the piano and settles into a routine, but two years later, he meets an eccentric violinist named Kaori Miyazono, who drags him out of his routine and into the world of music.
The anime focuses on the concept of love and how our emotions are what distinguishes us as human beings.
11. Plastic Memories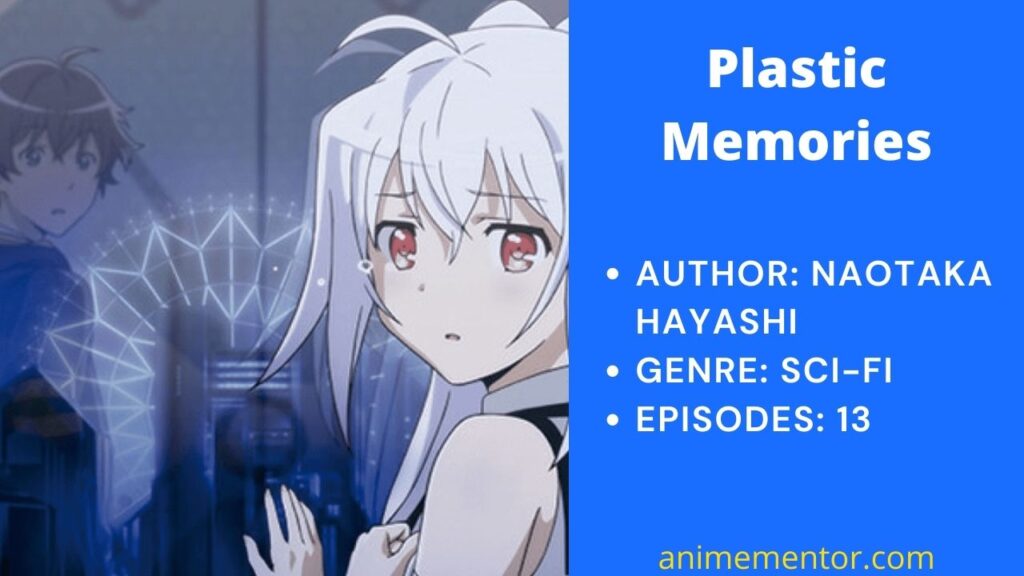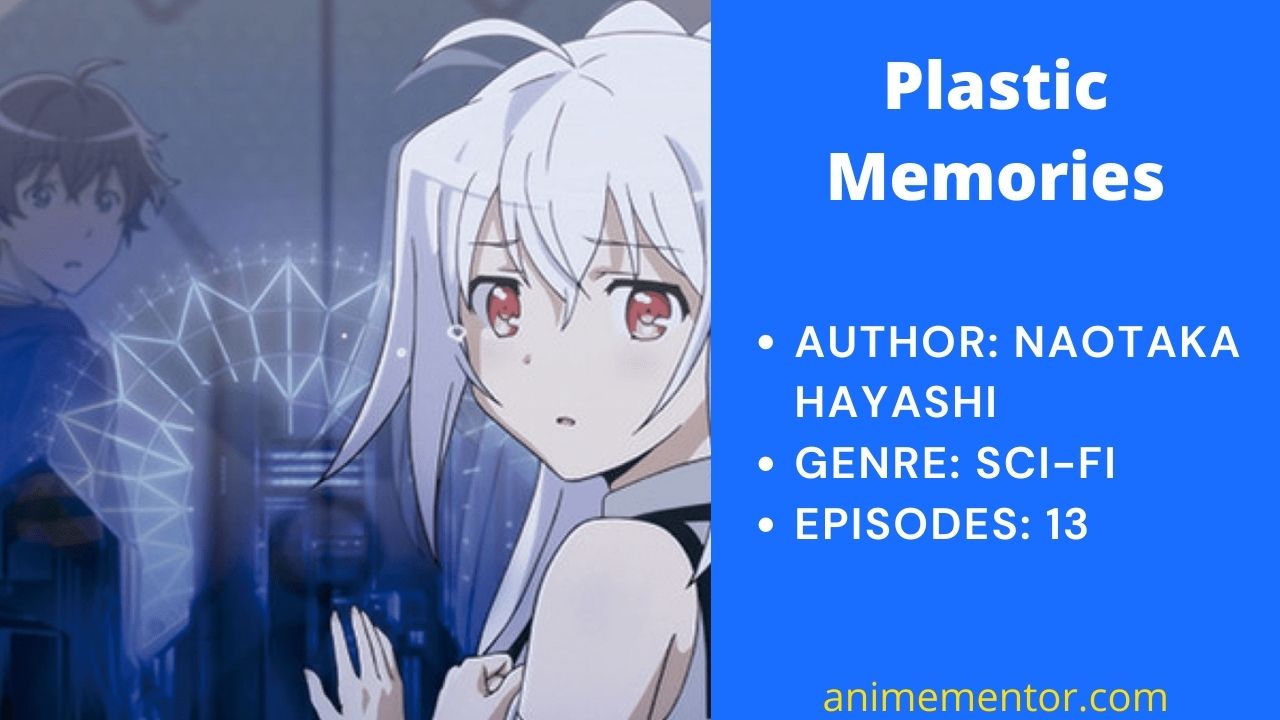 Author: Naotaka Hayashi
Genre: Sci-fi
Episodes: 13
Tsukasa Mizugaki is offered a job at the Sion Artificial Intelligence Corporation after failing his college entrance exams. The company creates 'Giftias,' life-like androids that look so real that it's difficult to tell them apart from humans.
However, they have a limited lifespan of about nine years and four months before malfunctioning and becoming hostile. The anime is set in the future, and the characters' emotions are examined in great detail.
The series does a great job of portraying the interplay between humans and technology, and it is highly recommended to watch.
Final Words
Violet Evergarden is a uniquely moving and beautifully animated anime. Fans longing for a similar viewing experience should check out the 11 recommendations in this article.
These anime deliver stunning visuals, emotional storytelling, complex female protagonists, and poignant themes that echo what made Violet Evergarden so special. While no show can truly replace Violet, these anime will appeal to fans craving more of the magic that Violet Evergarden created.
This list offers Violet Evergarden fans a variety of compelling anime to fill the void.