Love blooms in unexpected places in these entertaining romance anime. What could be more bewitching than the popular girl unexpectedly falling for the shy, unpopular boy? This reversal of high school stereotypes makes for captivating storylines.
Watch relationships develop against all odds and social barriers crumble in the face of true love. These anime showcase the thrill of forbidden connections and hard-won happy endings. So get ready to swoon as we dive into the Romance Anime Where a Popular Girl Falls For an Unpopular Guy.
Anyway, don't lose your hopes, and check out these amazing animes for a better time.
10 Romance Anime Where Popular Girl Falls For Unpopular Guy
[no_toc]
1. Bottom Tier Character Tomozaki kun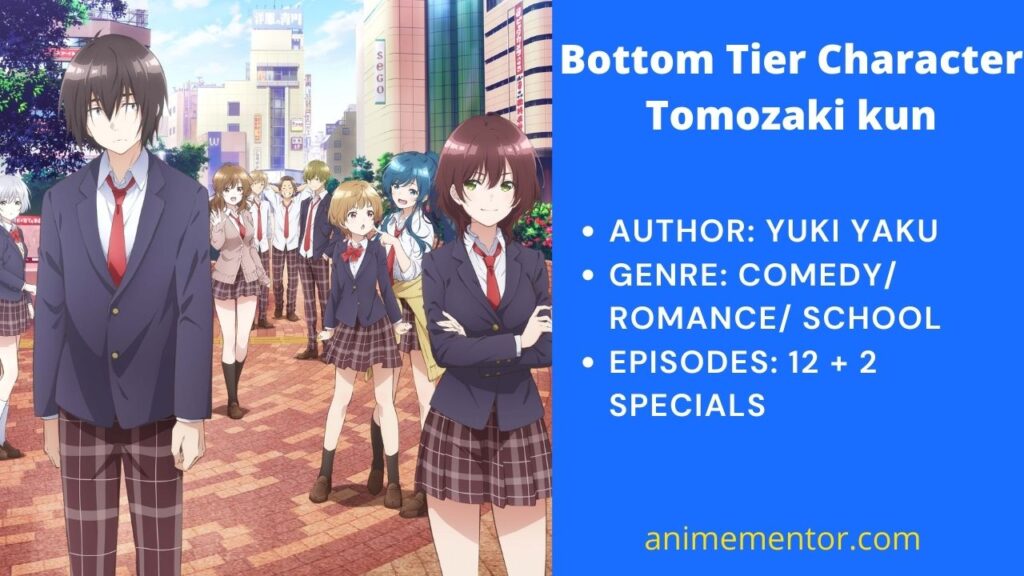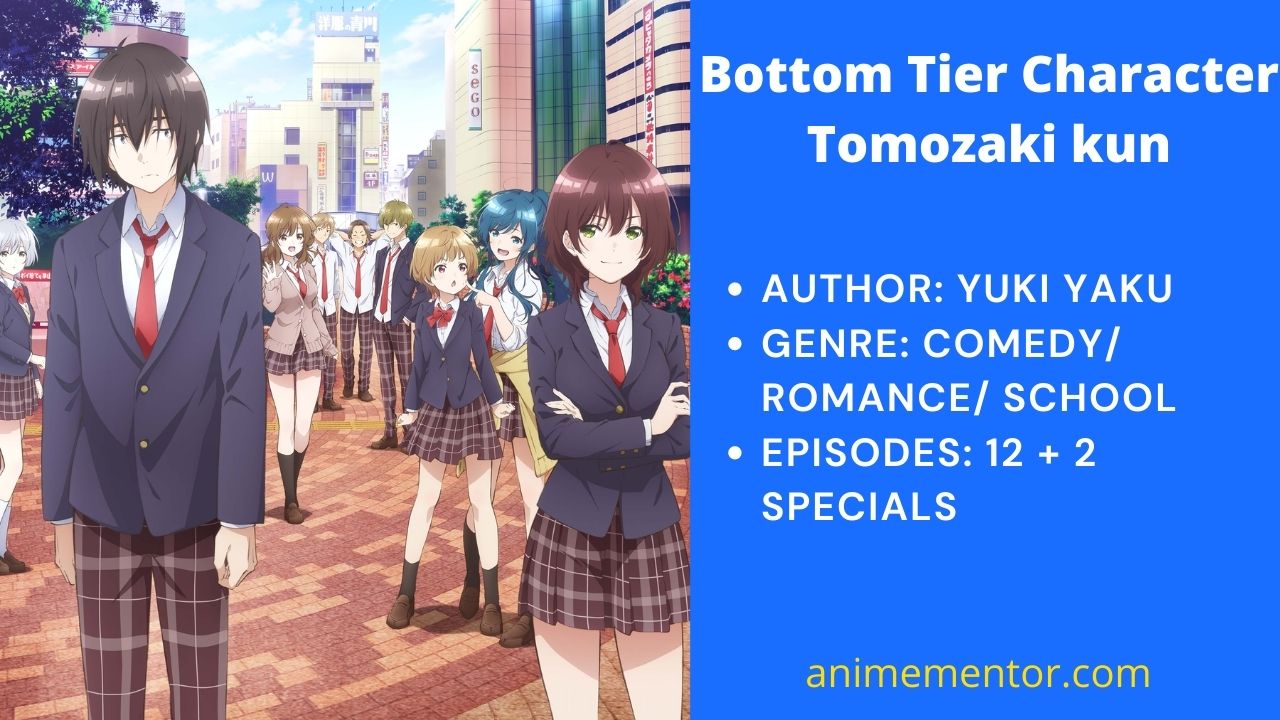 AUTHOR: Yuki Yaku
GENRE: Comedy, Romance, School
EPISODES: 12 + 2 specials
Tomozaki-kun is a refreshing rom-com anime that flips high school stereotypes on their head. Our lead Fumiya Tomozaki is a top-tier gamer but a total loser in real life. That changes when the popular, seemingly perfect Aoi Hinami takes an interest in coaching Fumiya on how to succeed socially.
What makes this show so enjoyable is seeing the shy, geeky Fumiya integrate Hinami's advice and slowly transform into a socially adept person. He goes from zero to hero while winning over both Hinami and his classmates. The sweet blossoming romance between this mismatched pair is adorable to watch unfold.
Tomozaki-kun captures all the warm fuzzies and laughs of a good rom-com. Fumiya's growth into confidence is extremely heartwarming. And Hinami's hidden exposures beneath her perfect veneer make her sympathetic. If you like subverting high school tropes with plenty of self-discovery, give this anime a watch.
Read More:
Top 10 Best Sad Romance Anime
2. Osamake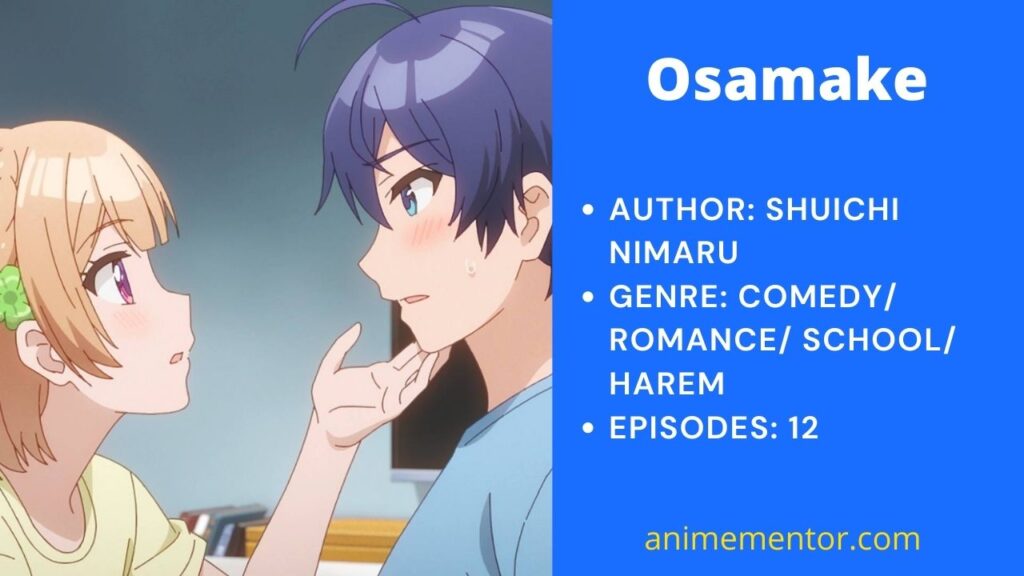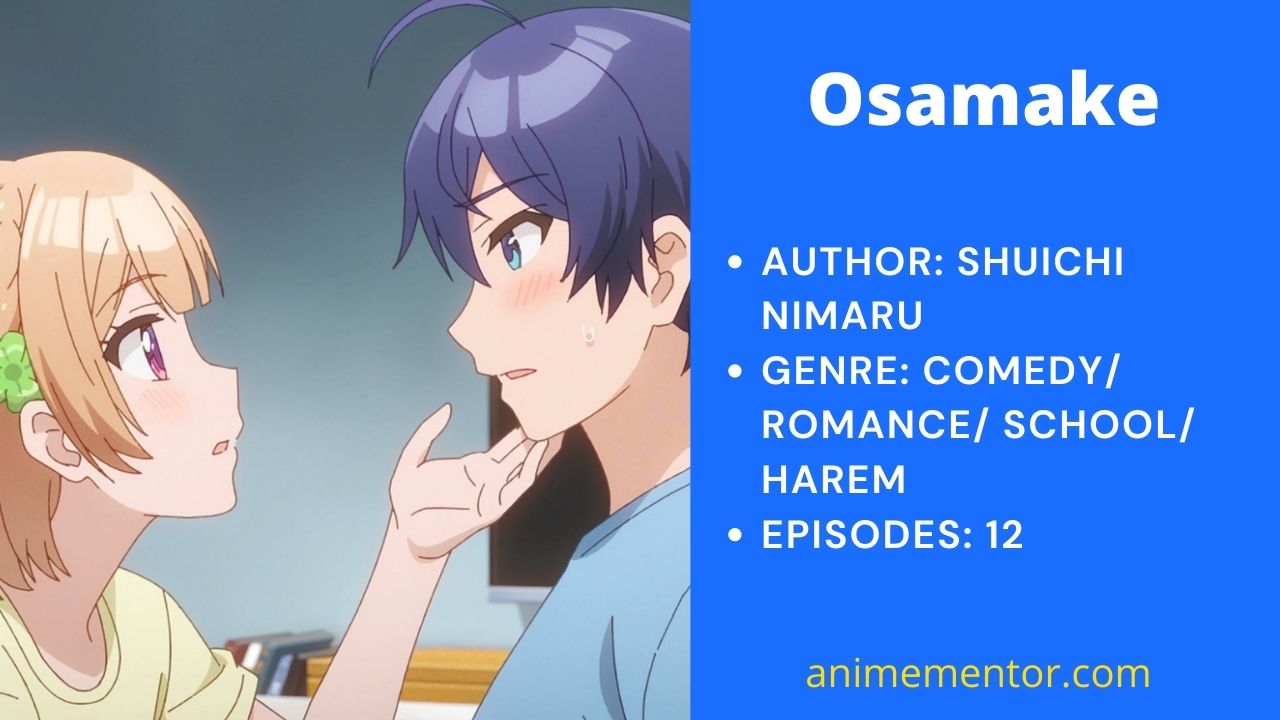 AUTHOR: Shuichi Nimaru
GENRE: Comedy/ Romance/ School/ Harem
EPISODES: 12
The story revolves around a 17-year-old high school student named Sueharu Maru. His childhood friend Shida Kuroha has feelings for him. Kuroha lives beside Sueharu's house and is a very attractive and caring person.
One day she tells Sueharu about her feelings but she gets rejected. Sueharu loves only one person – Kachi Shirokusa. She is a charming idol and an author who received many awards. Shirokusa ignores all boys in the class but she seems to be a little caring about Sueharo. It makes Sueharu think that he can form a relationship with her.
One day he made up his mind and confessed to Shirokusa. He was shocked to hear that she already had a boyfriend. She was his first love but he got rejected. At that point, Kuroha advises Sueharu and helps him get revenge on Shirokusa and her boyfriend.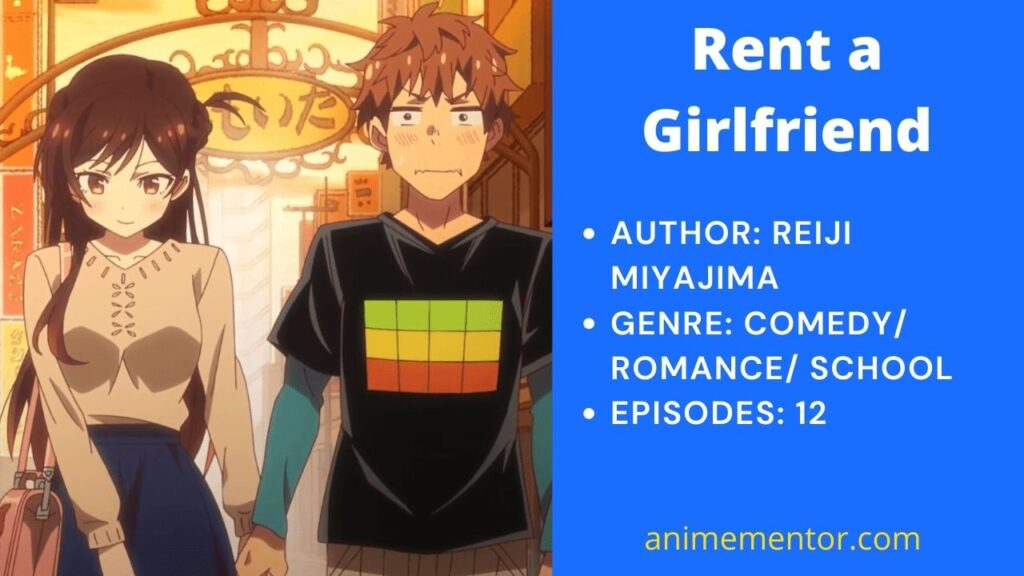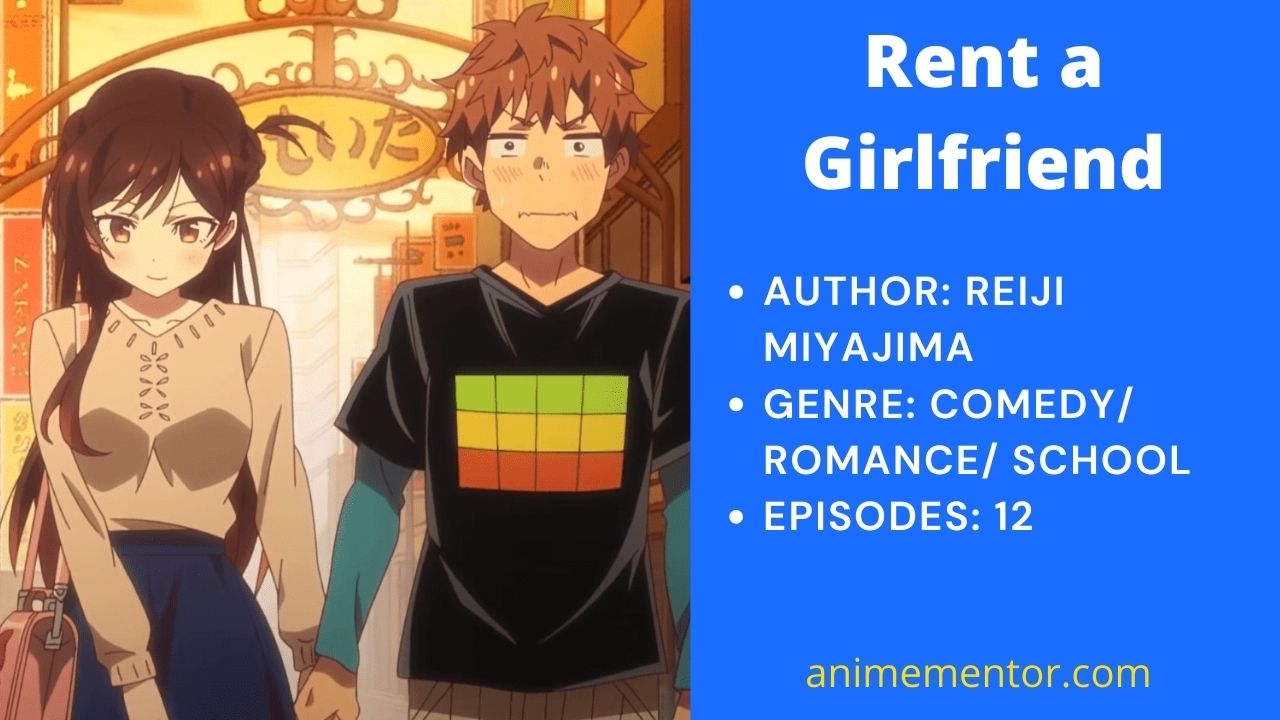 AUTHOR: Reiji Miyajima
GENRE: Comedy/ Romance/ School
EPISODES: 12
SYNOPSIS:- The story starts when a college student named Kazuya Kinoshita gets rejected by his girlfriend. He becomes very sad and depressed.
However one day Kazuya finds out about an app where he can book rental girlfriends for money. To put his heart at ease, he booked a rental girlfriend for himself. Later, when he saw the rental girlfriend, she was a beautiful girl Mizuhara Chizuru. She was just perfect and with an angel-like appearance, Kazuya was over the moon to spend a day with her. On the date Mizuhara made Kazuya feel special.
However, when Kazuya came to know that Chizuru does the same things with all of her clients, Kazuya felt cheated and gave Mizuhara a negative rating. On top of that Kazuya booked another date with Mizuhara trying to get back at her. But it didn't go as planned and Mizuhara gave Kazuya an earful for the negative rating.
One thing led to another and Kazuya ended up introducing Mizuhara as her girlfriend to his sick grandmother and family. Unable to confess the truth Kazuya signed a contract with Mizuhara where he will rent her regularly and they both started a fake relationship status between themselves.
Read More:
Rent-A-Girlfriend Season 2 Release Date, Cast, Plot, and more
4. Horimiya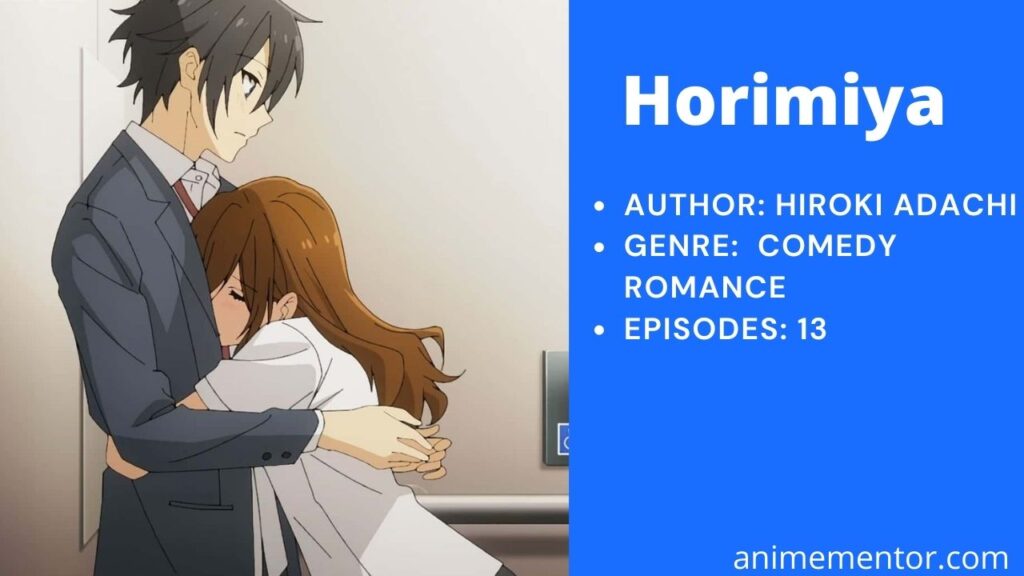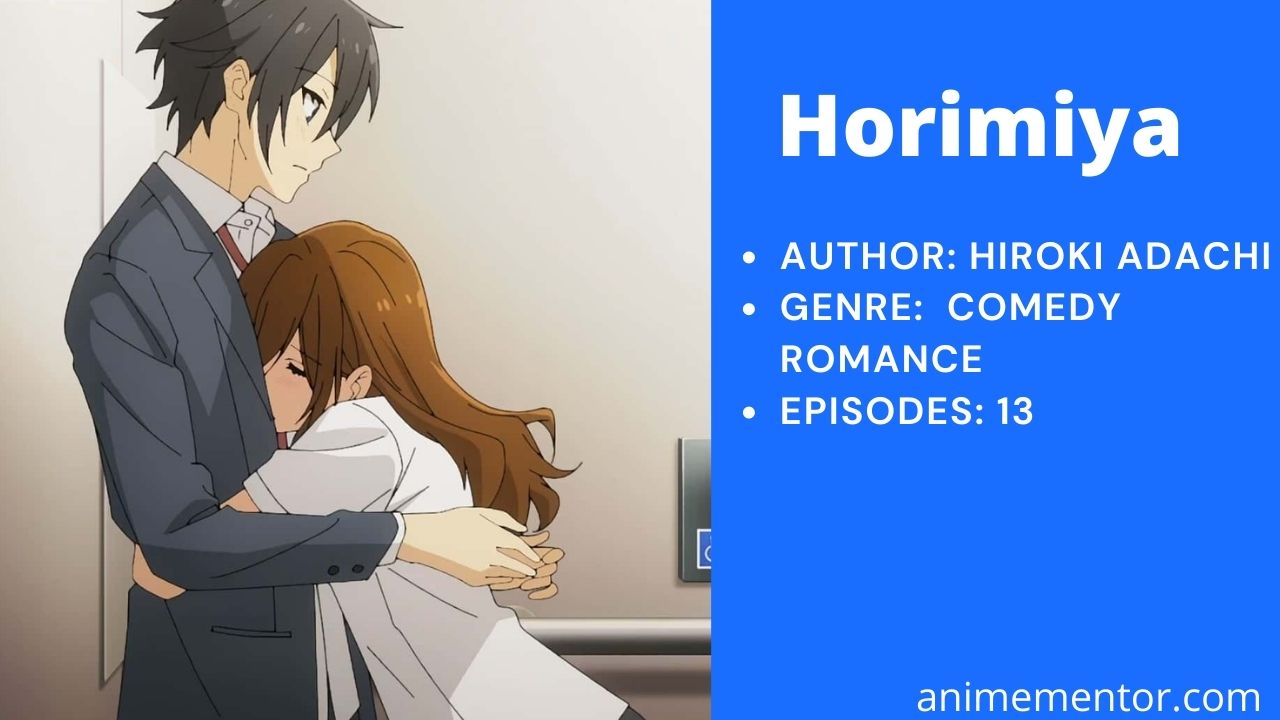 AUTHOR: Hiroki Adachi
GENRE: Comedy/ Romance/ School/ Slice Of Life
EPISODES: 13
SYNOPSIS:- Kyouko Hori is an attractive and popular high school girl. She is admired at school for her academic excellence but she has been hiding another side of her. Mostly her parents stay away from home due to work. So, Hori looks after her younger brother and does the household work, with no time to socialize outside of school.
On the contrary, Izumi Miyamura is a quiet, glasses-wearing person. Although it's only on the outside because, in reality, he is a handsome and bold guy. He also has many piercings on his ears and also tattoos on his body.
Coincidentally, Hori and Miyamura encounter one another outside of school – neither one looking the way they expected. At first sight, Hori didn't even recognize Miyamura. He looked the complete opposite of what he looked at school.
Eventually, they became friends, and share a side of their life they have not shown to anyone before.
5. Saekano: How to Raise a Boring Girlfriend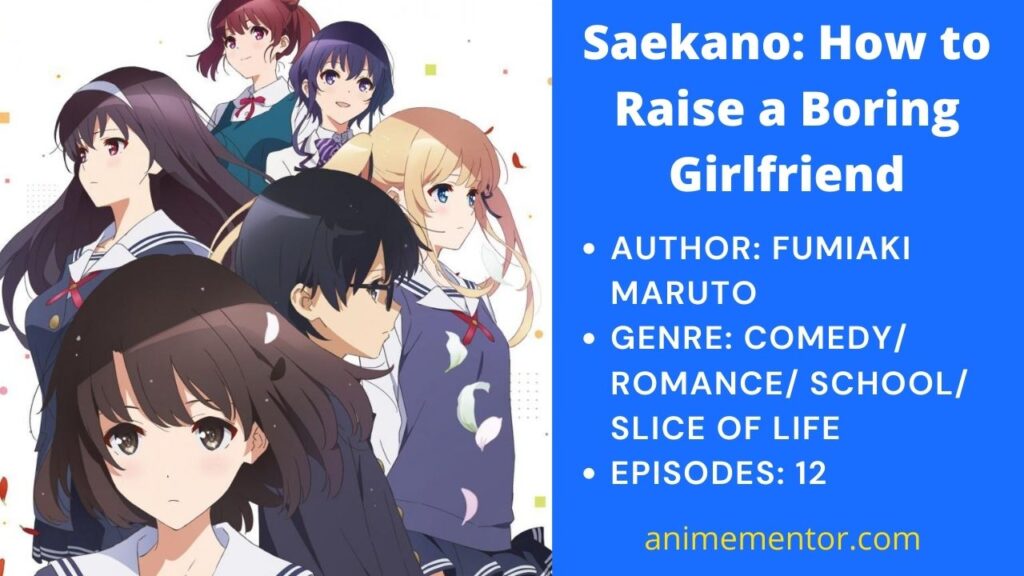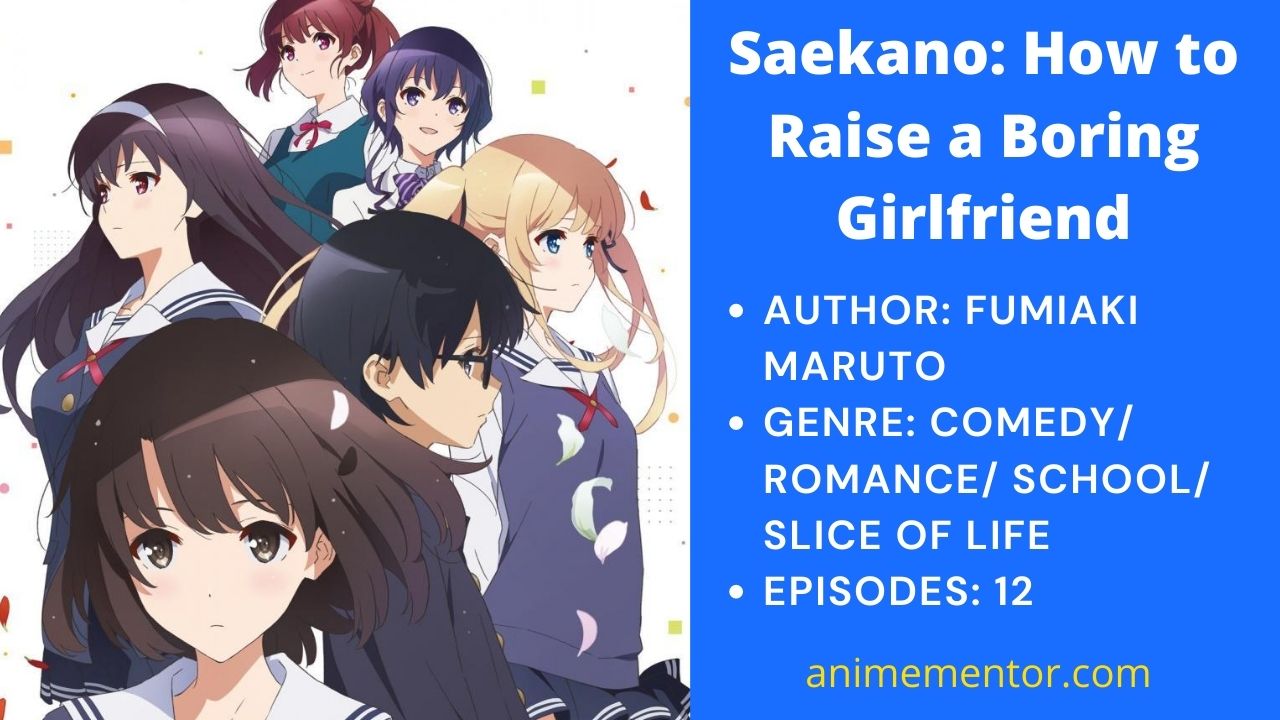 AUTHOR: Fumiaki Maruto
GENRE: Comedy/ Romance/ School/ Slice Of Life
EPISODES: 12
SYNOPSIS:- Tomoyo Aki is a high school student who is obsessed with anime and light novels for a couple of years. He works part-time beside his school to earn money to buy anime stuff.
One day during spring vacation he encounters the most beautiful girl in his life. Later after the vacation, he learns that the girl is one of her classmates named Megumi Kato. Megumi is an introverted girl who is avoided by most of her classmates. They even sometimes forget that she is in their class like Tomoyo.
Tomoyo's dream is to create an ultimate dating sim. He asks help from the school's most beautiful girls, Eriri Spencer Sawamura and Kasumigaoka Utaha. Eriri is Tomoyo's childhood friend who is a great artist. Whereas Utaha is a very popular story writer. Megumi became the FL of this game and they form a group together.
Now the truth is, Eriri and Utaha both have their eyes on Tomoyo. They both have feelings for him. But Tomoyo has his eyes on only one girl, Megumi.
Will they be able to create the ultimate dating sim which they aim for?
6. Hyouka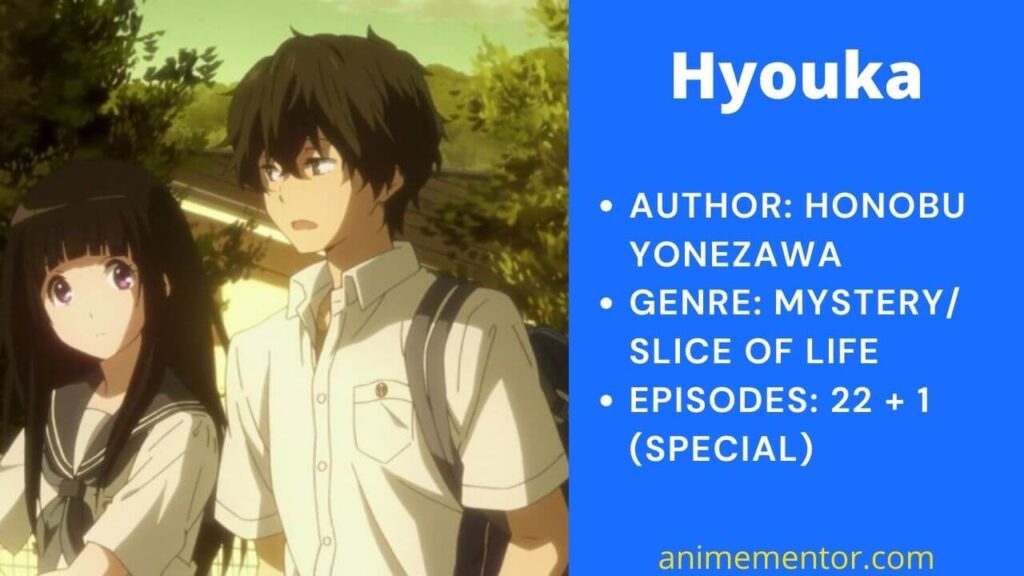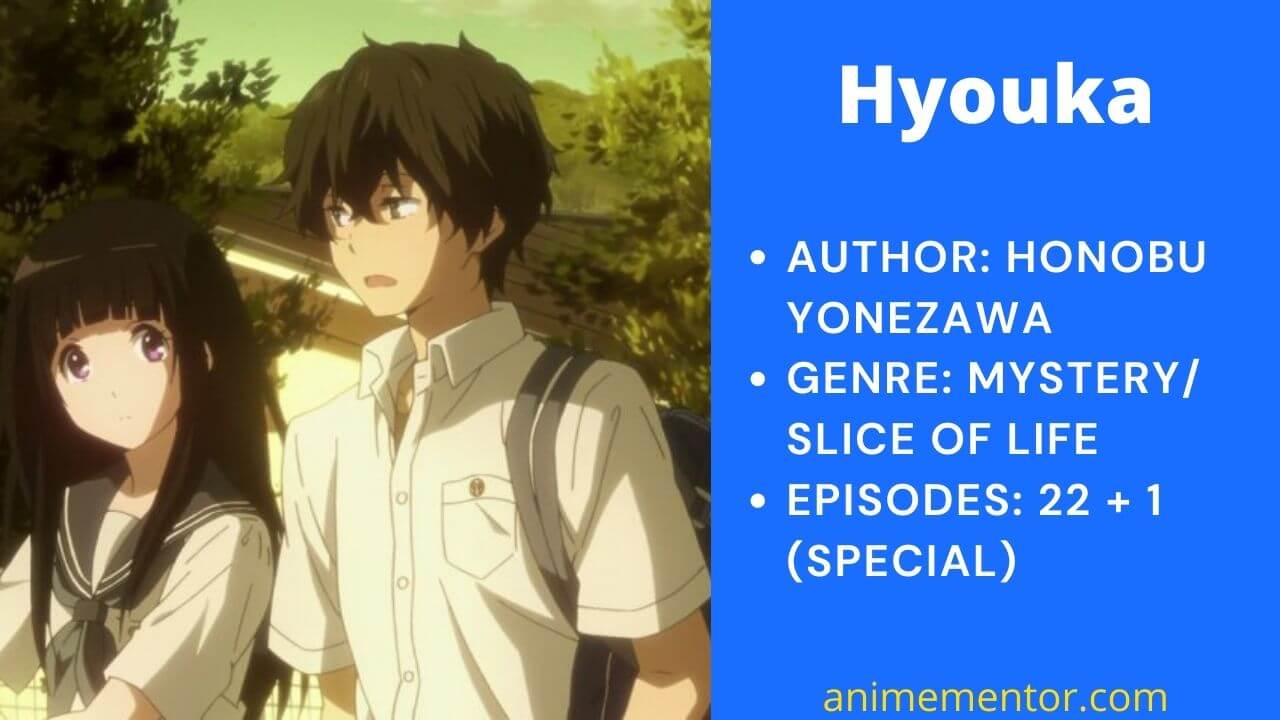 AUTHOR: Honobu Yonezawa
GENRE: Mystery/ Slice of life
EPISODES: 22 + 1 (special)
SYNOPSIS:- High school freshman Oreki Hotaro, who always acts quietly has but only one goal- to achieve a gray life. He also maintains as much energy as he can by leading a peaceful life. But one day due to his sister Tomoe's request, to help the Classics Club from being disbanded he ends up joining the club against his will.
There was not a single member in the club until he joins. The unsociable Hotaru then meets the other members who also wanted to join the club and encounters Chitanda Eru, Fukube Satoshi, and Ibara Mayaka.
Chitanda Eru is a polite and attractive girl. But sometimes she becomes so filled up with lots of questions ultimately asking Hotaru to solve them. Will Hotaru be able to satisfy Chitanda's curiosity?
7. Oregairu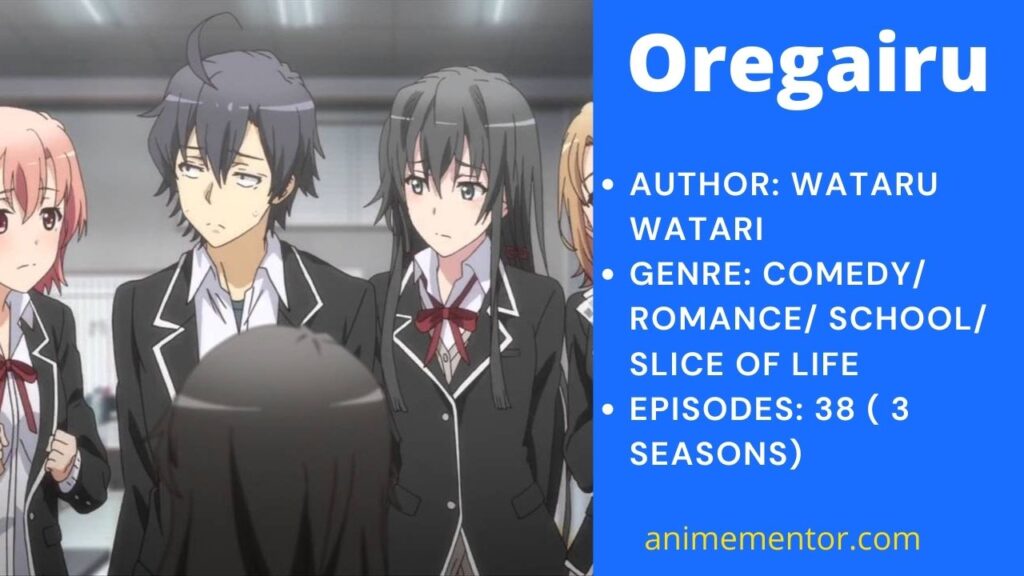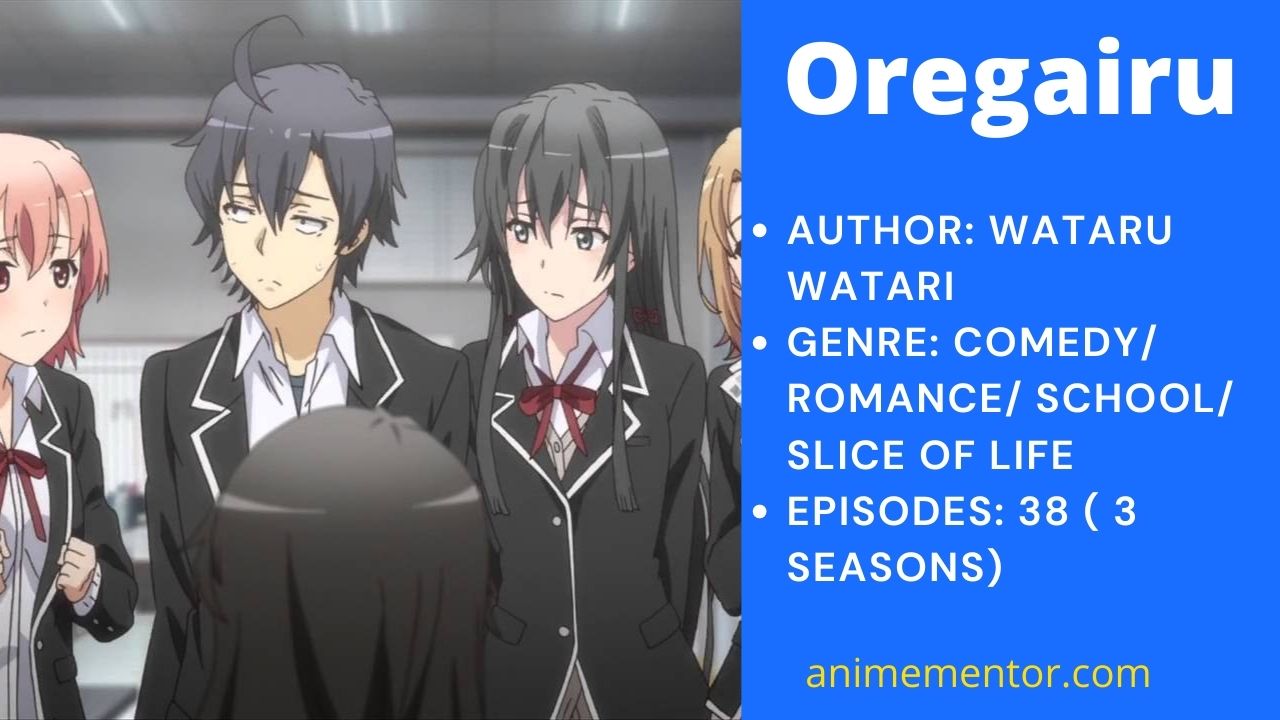 AUTHOR: Wataru Watari
GENRE: Comedy/ Romance/ School/ Slice Of Life
EPISODES: 38 ( 3 seasons)
SYNOPSIS:- The protagonist of this rom-com is an introverted, unsocial high school student named Hikigaya Hachiman. In his opinion, his classmates are a group of liars. Because they just spout nonsense and false things about their happy adolescent life. He has no interest in his friends and also in his life. He has no future dreams for himself.
One day he joins a new club called the "Volunteer Service" club due to a teacher and there he meets the prettiest girl in the school, Yukinoshita Yukino. Yukino is a straightforward and bold girl. She is great in academics and a perfect girl overall. But the fact is she too is a loner who nobody messes with.
The main objective of this club was to provide service to others. After joining the club Hachiman's daily life of dullness begins to change and one day he finds his life a little bit more meaningful.
8. Rascal does not dream of Bunny Girl Senpai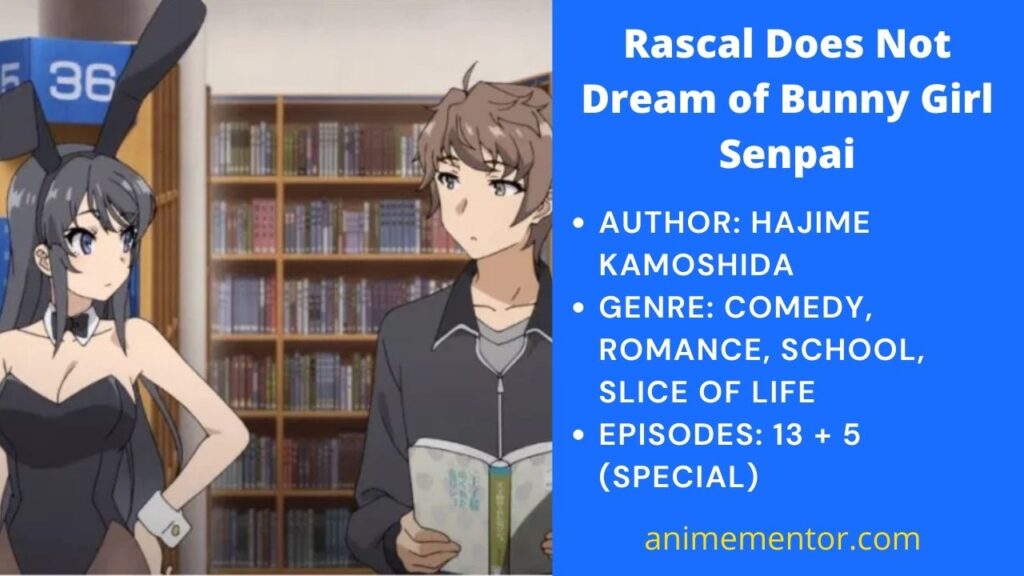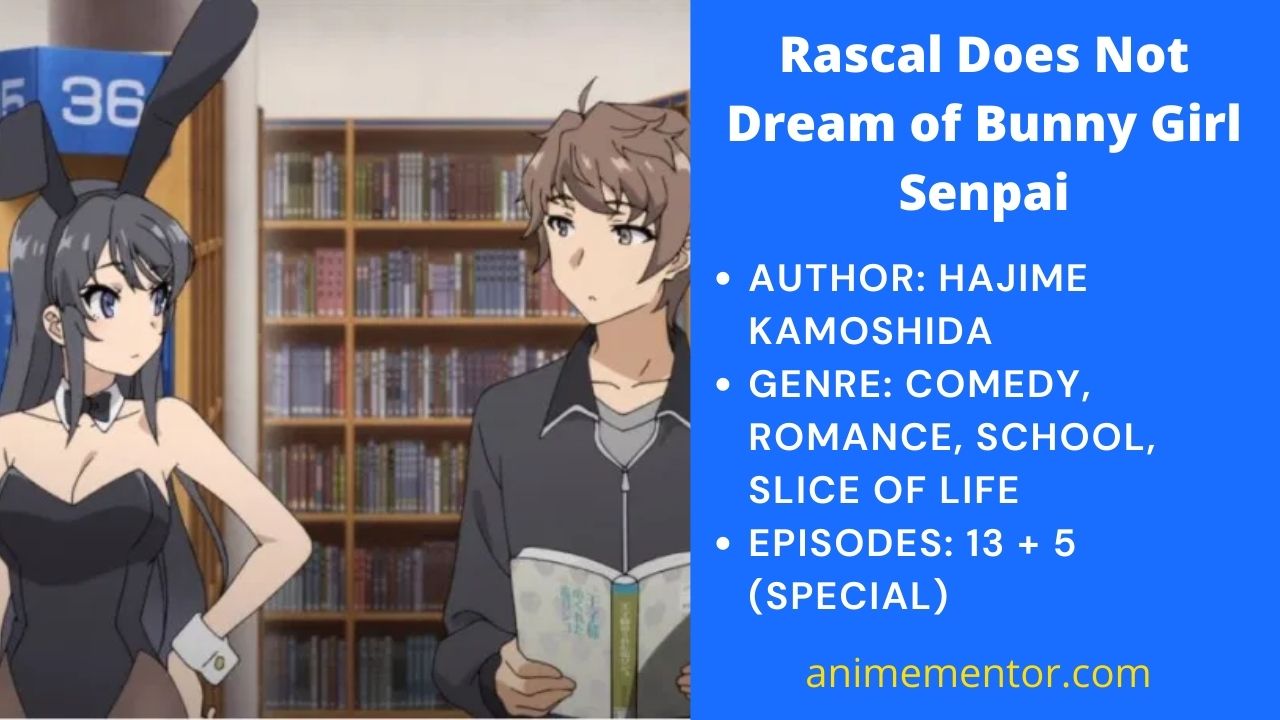 AUTHOR: Hajime Kamoshida
GENRE: Comedy/ Romance/ School/ Slice Of Life
EPISODES: 13 + 5 (special)
SYNOPSIS:- The story follows a young boy named Sakuta Azusagawa, who is a second-year student at Minegahara High School. He was a dull normal student who has no high hopes for his life. One day he stumbles upon a girl who was wearing a bunny costume at the library.
The mysterious fact was that only he could see the bunny girl while no one present at the library can. Later Sakuta finds out that the bunny girl was Mai Sakurajima, who was a third-year student at his school. Also, she was a very popular actress who was currently on hiatus from acting.
Gradually, he started to develop feelings for her. But Sakuta couldn't understand the reason behind the case and why the people around her can't see her in a bunny girl attire. Can Sakuta finally reveal the cause behind this mystery?
9. Oresuki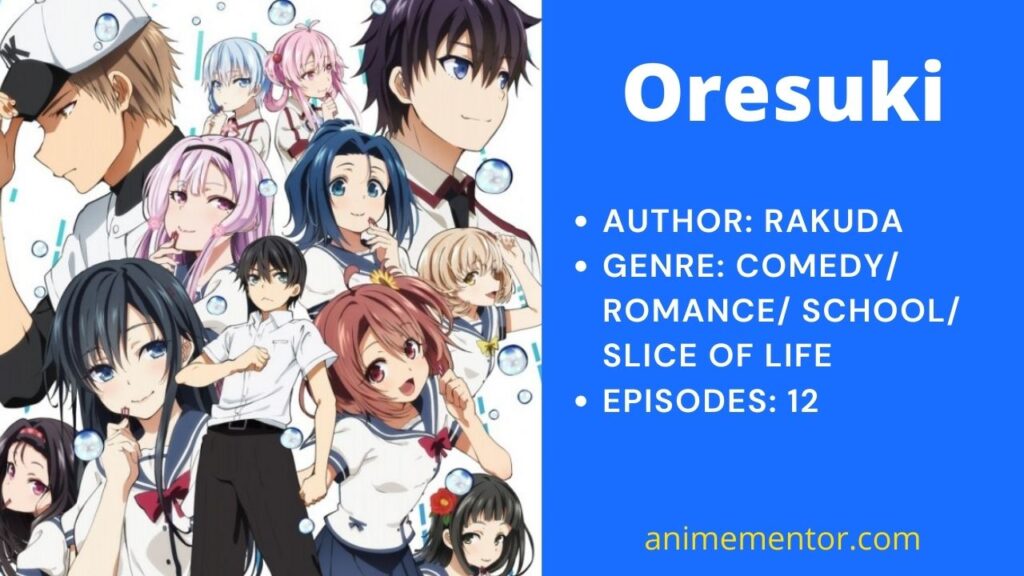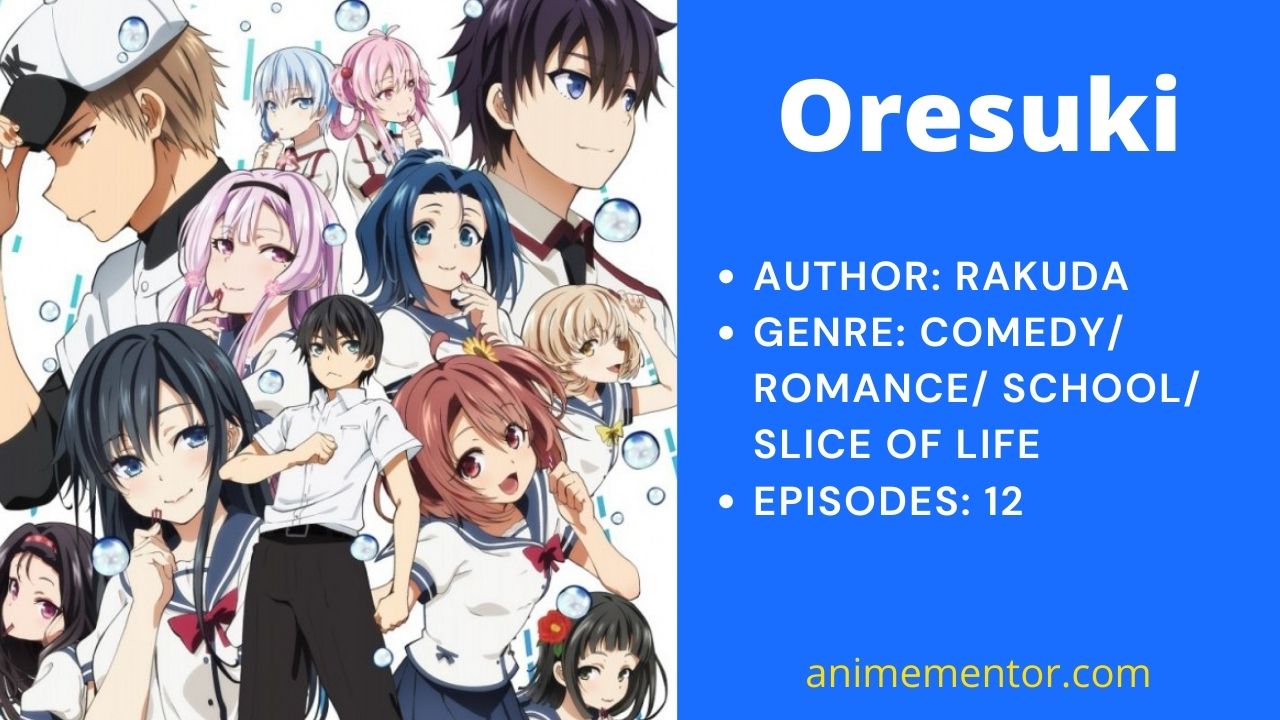 AUTHOR: Rakuda
GENRE: Comedy/ Romance/ School/ Slice Of Life
EPISODES: 12
SYNOPSIS:- It's a story of a high school boy named Kisaragi Amatsuyu who wants to have lots of love in his life.
He is also a student council member. One day he was asked to meet alone by the beautiful student council president, Cosmos. And another day his childhood friend a really cute girl named Himawari also invited him to meet alone.
However, when he met both of them, both girls confessed that they like his best friend named Oga. Amatsuyu wanted to make one of the girls confess to her but instead of that, he created a major misunderstanding.
Thank's to a girl's interference he was found to be not guilty. The girl looked dull and gloomy with glasses and braided hair. Amatsuyu hated her due to her appearance and her words. But later he finds out that this girl was the only one who ever cared about him.
Will Amatsuyu ever find true love in his life?
10. Classroom of the Elite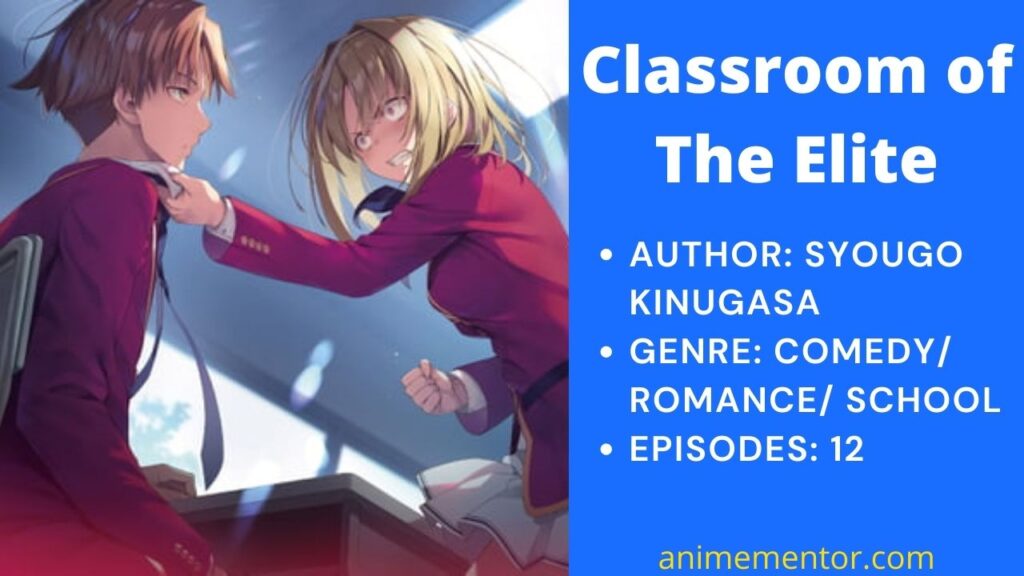 AUTHOR: Syougo Kinugasa
GENRE: Comedy/ Romance/ School
EPISODES: 12
SYNOPSIS:- Koudo Ikusei is a leading prestigious state of art senior high school that has highly developed facilities. Almost all of their students go on to university or find employment and get success in their life. The students there have the privilege to wear any hairstyle and bring any personal things they want.
Koudo Ikusei is an amazing school like that, but the truth is only the extraordinary and superior students received this advantageous treatment. The weak students are neglected and driven into a corner by others.
When Ayanokouji Kiyotaka set foot into this elite government-sponsored prestigious high school, he finds out how virtue-based this system of education is. He is a student of D-class, where the school puts all of its inferior students together to scorn and mock them.
Kiyotaka's situation begins to change when he met with Horikita Suzune and Kushida Kikyou from his class. Horikita was a bold girl with whom no one messes. Her sole aim is to climb the ranks and get to the elite classes.
Conclusion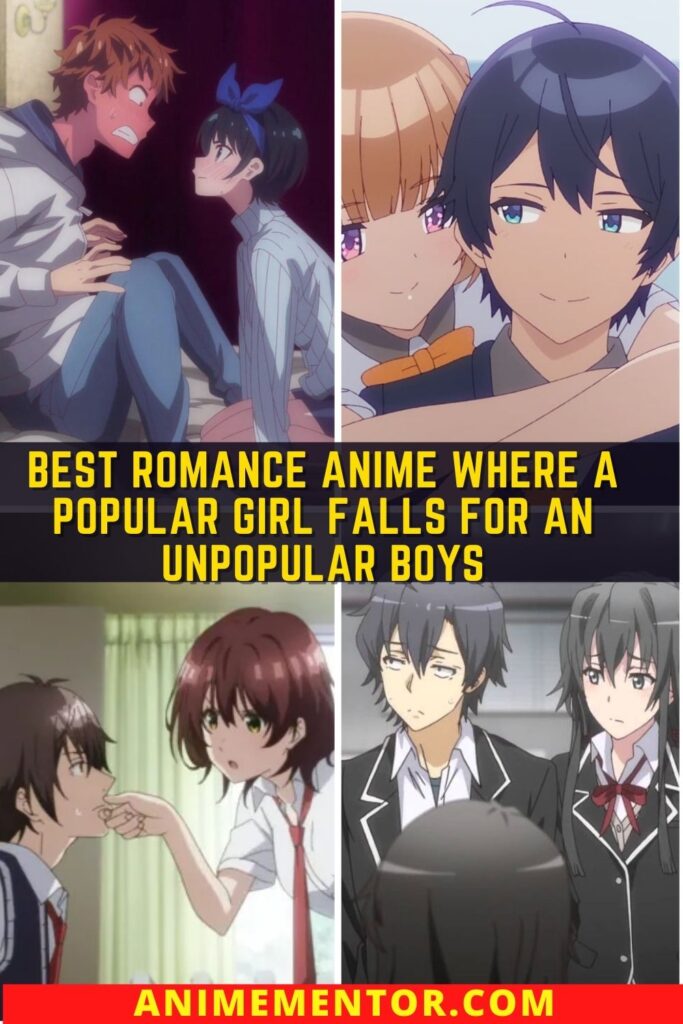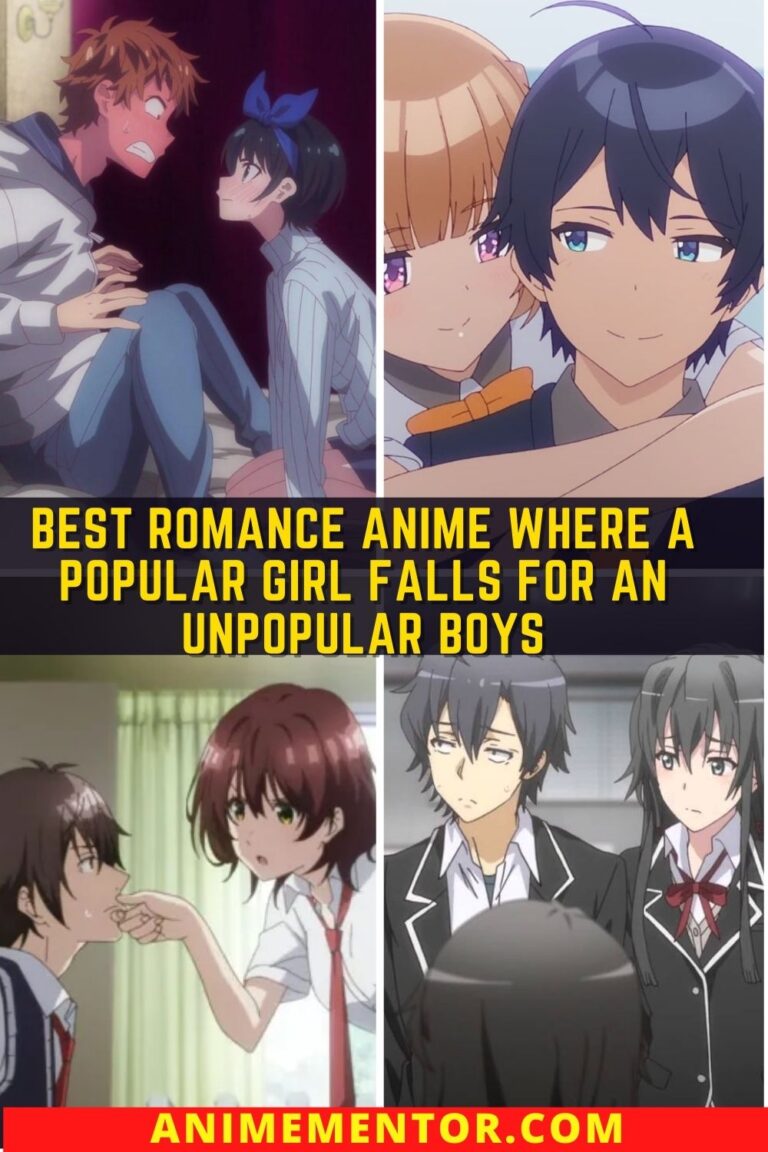 So, I hope that you enjoyed reading our article on the Top 10 Animes where the popular girl falls for an unpopular boy. Do you know of any other anime that should be included in the list? Let us know in the comments.
Thanks for reading thus far! See you soon on the next article.