Best Romance anime starts with a simple story where the main characters spend their life filled with sadness or happiness and suddenly or slowly fall in love with each other and make a romantic environment sometimes in a comedic and dramatic way. Firstly it feels kinda boring but these anime are really satisfying to watch.
Nowadays romance anime are getting very popular as the audience gets bored of watching the typical action/fighting anime. So today we cover some of the most romantic anime that will give you the vibes of valentines day and like the characters, you will also fall in love with these anime. If you're single, be ready for the taste of love.
20. The Quintessential Quintuplets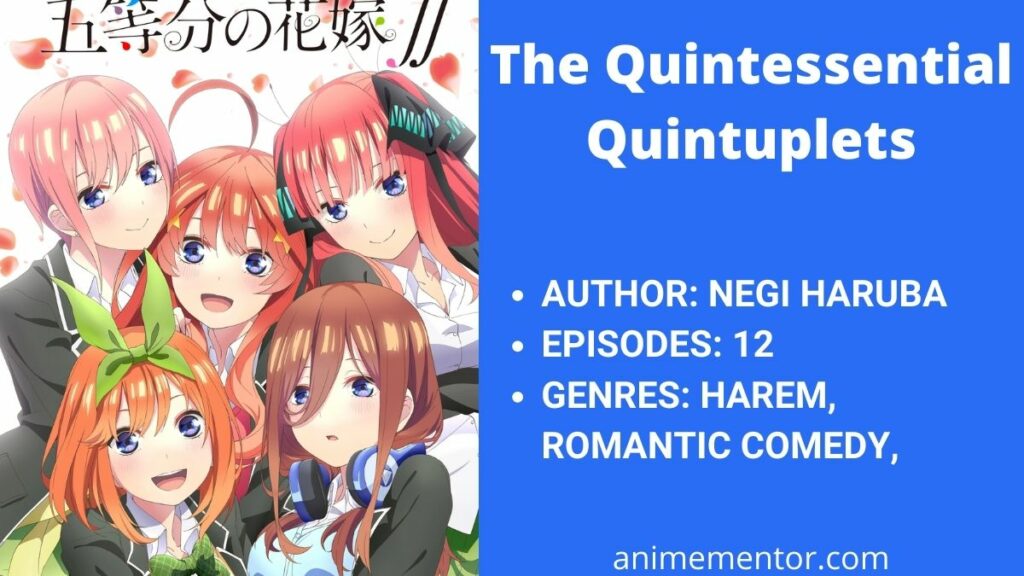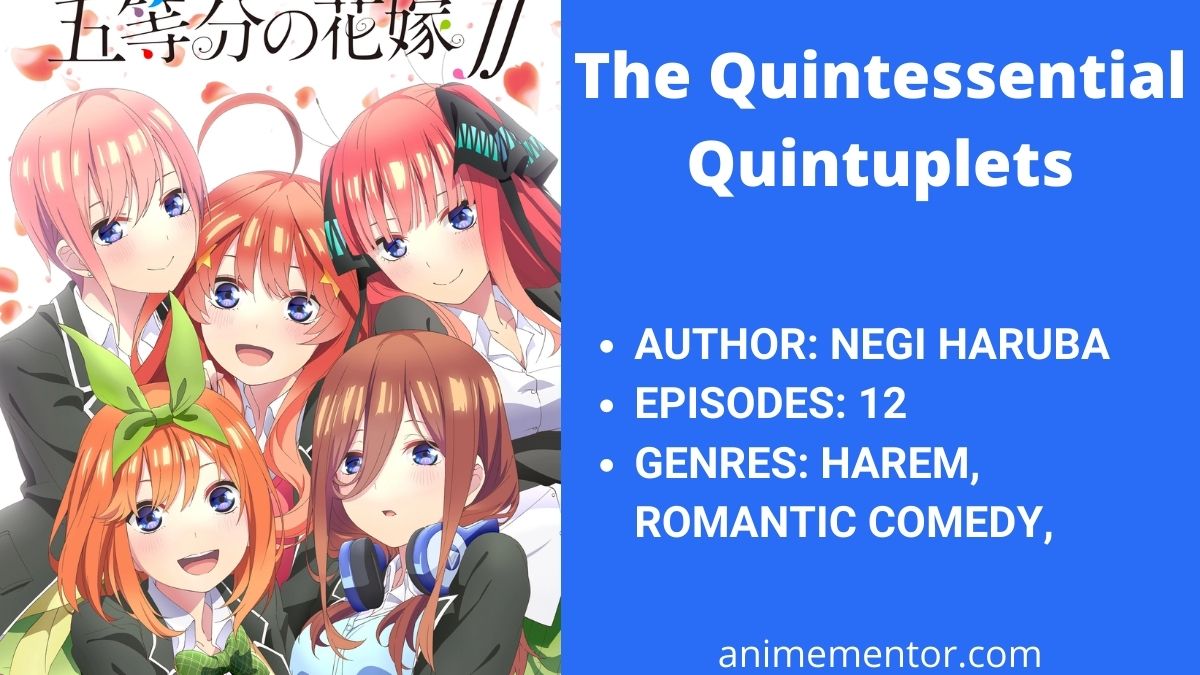 Author: Negi Haruba
Episodes: 12
Published by: Kodansha
Studio: Tezuka Productions
Genres: Harem, Romantic comedy, Shonen manga
Futaro Uesugi, the main character of the story, is a brilliant and hardworking high school student. On the other hand, the Nakano quintuplets are very lazy and weak in their studies. So their father hired Futaro as their private tutor.
Firstly they do not accept him but gradually they accept him as their teacher. This part of the story looks very simple. But the story gets a twist when we find out that in childhood Futaro encountered a young girl during the Kyoto school trip, who motivated him to study hard to become a responsible man.
And the girl is none other than one of the Nakano quintuplets. After that incident, Futaro promised himself that he will study hard to become a responsible man and then he will marry her.
 In the beginning scene of the anime, there is a flashback to the future where Futaro is marrying a girl. Who is that girl among the quintuplets? Will Futaro manage to find and marry her? To know the answers, check out this interesting romance anime.
19. Yamada-Kun and the Seven Witches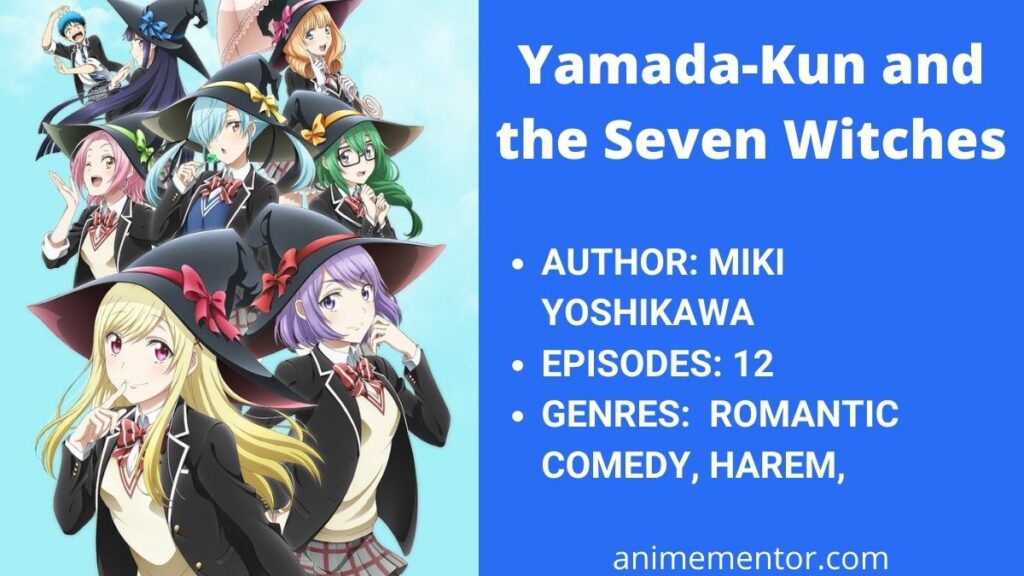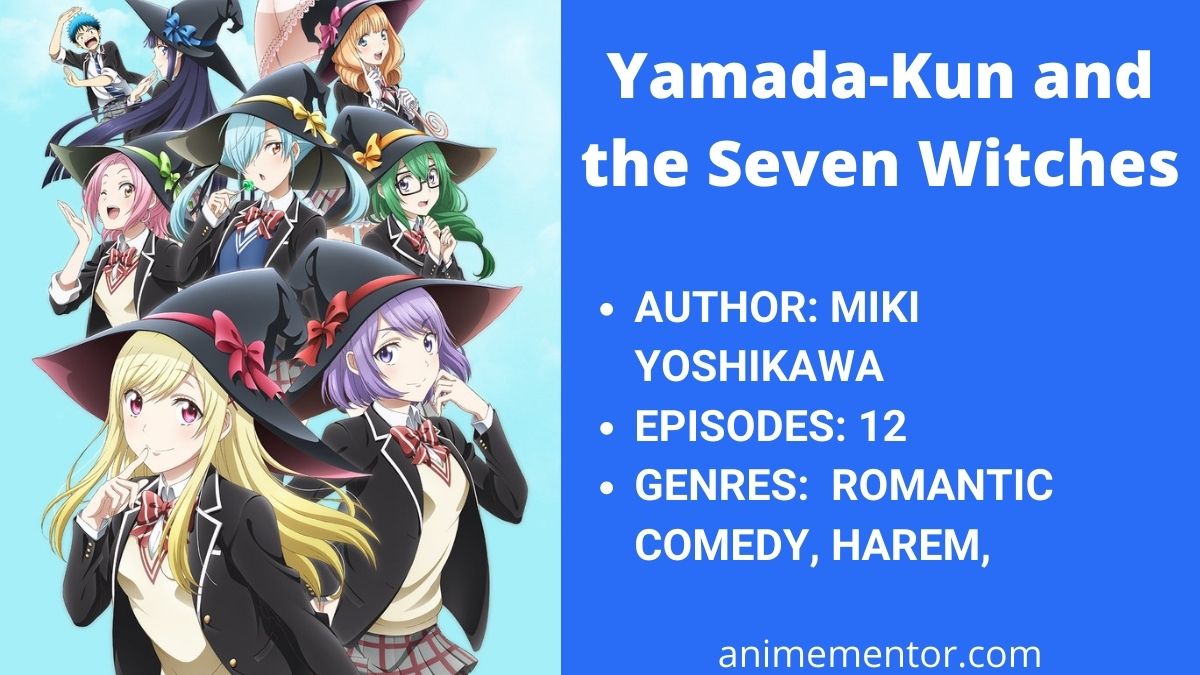 This anime takes place in a school where seven female students possess those supernatural abilities. Ryu Yamada, the primary protagonist of the story, gets involved in those supernatural phenomena almost every time by accident and gets into trouble.
This anime is a combination of romance and supernatural phenomena. So if you are looking for a romance-comedy anime with some supernatural stuff this anime is definitely worth watching for you.
18. Wotakoi: Love is Hard for Otaku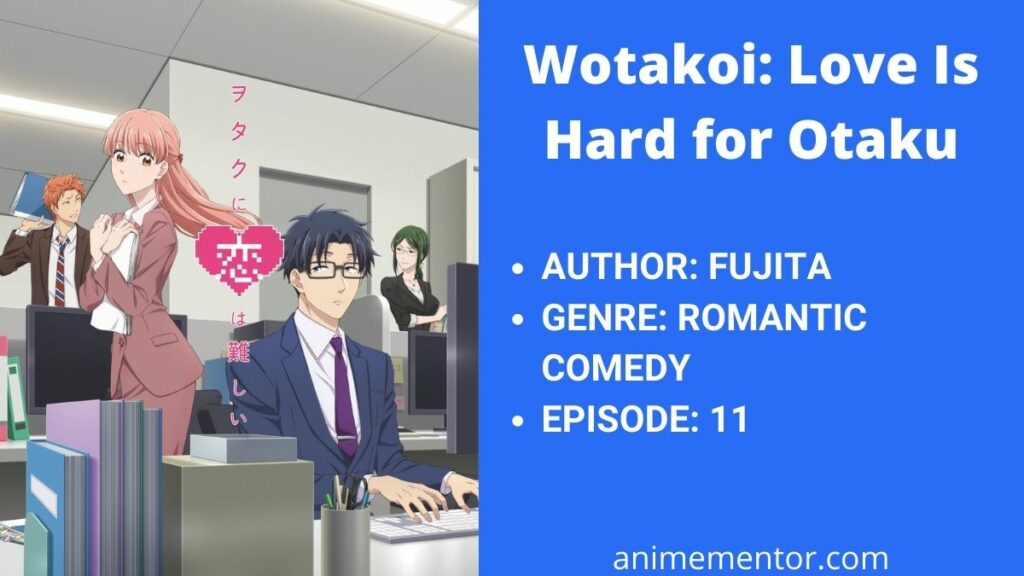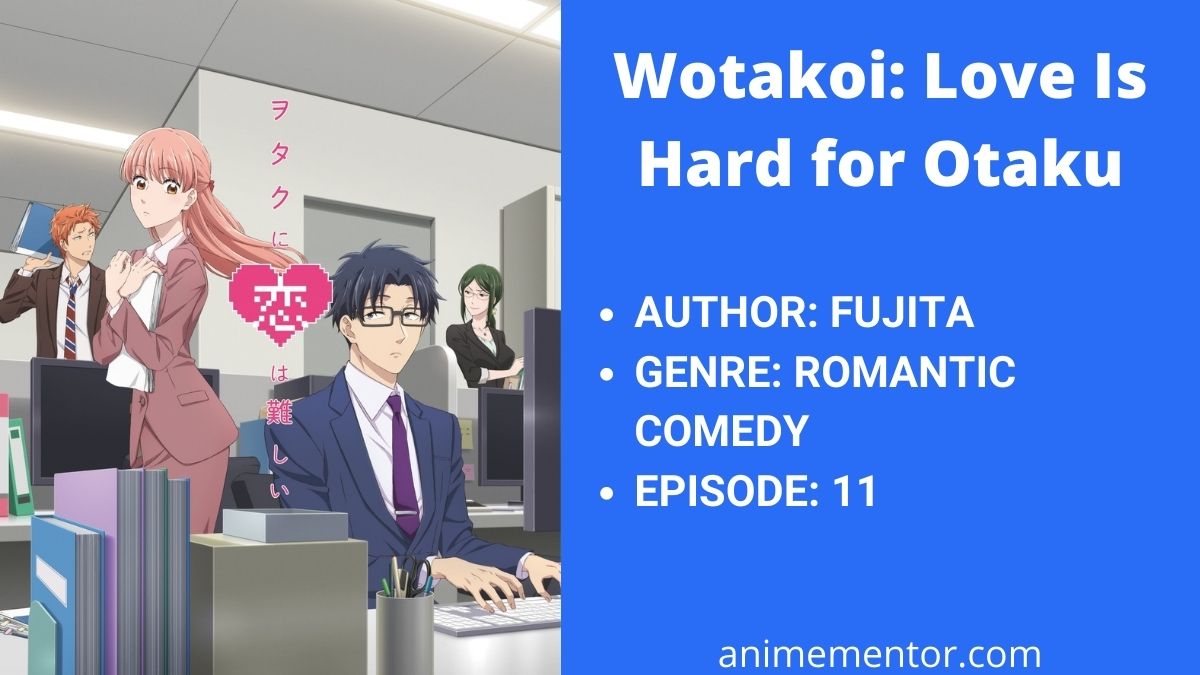 Author: Fujita
Genre: Romantic comedy
Episode: 11
Studio: A-1 Pictures
Demographic: Josei
Although the story is cute and fluffy like any romantic anime out there, what makes this one stand out is how the characters balance their work and hobbies with their love lives like a real adult would. The thing that makes this anime different from typical romance anime is that its cast of characters is all well above high school age.
At the beginning of the story, the show introduces our main character Nanumi, an office working girl with an interest in fujoshi and otome games. She promises herself that none of her coworkers will know about her secret.
It all goes awry when she runs into a middle school friend she hasn't seen in a while. Hirotaka is a handsome and loyal company man who is a game Otaku. It seems that the two were made for each other, but love is difficult for otaku. Can they fall in love with each other? – is the main question of this anime.
17. His and Her Circumstances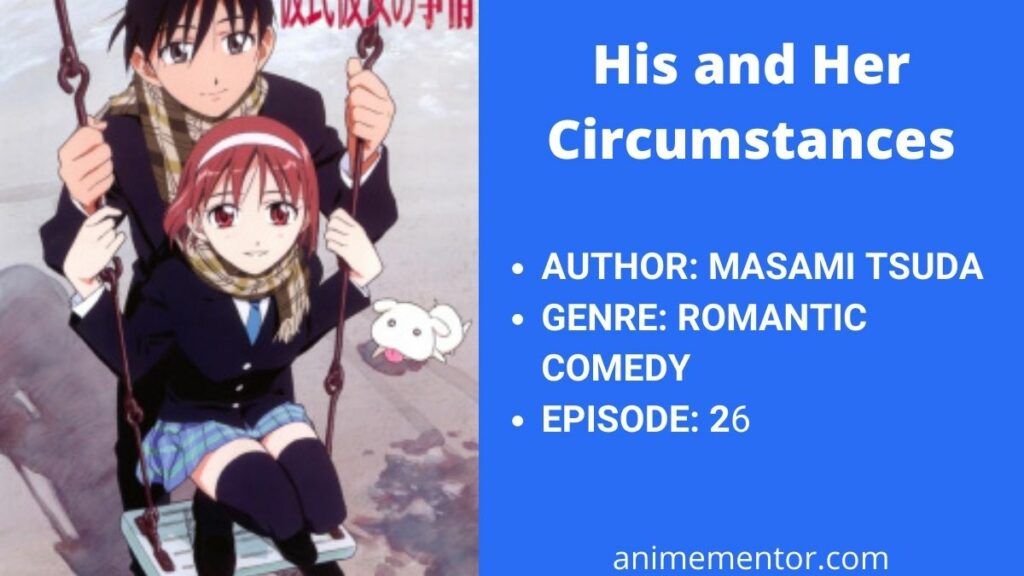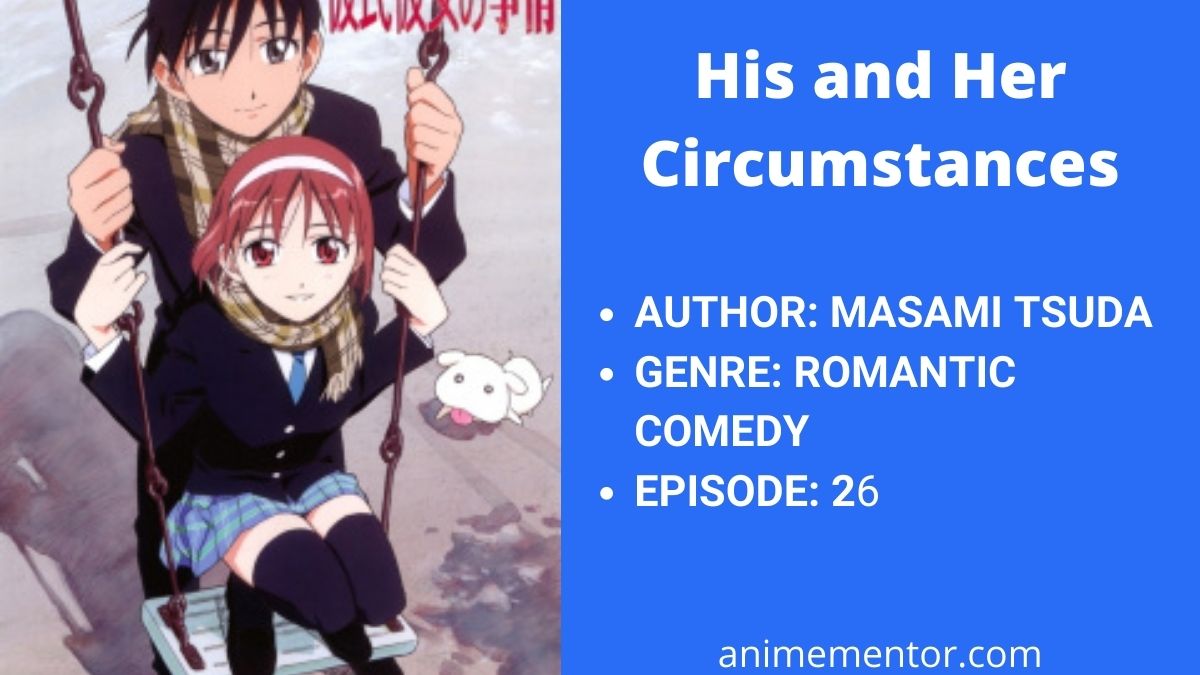 Author: Masami Tsuda
Genre: Romantic comedy
Episode: 26
His and Her Circumstances is a classic high school romance anime. The story of this anime is simply, two high school students pretending to be perfect for their own reasons. And one day they eventually fall in love. But their love story never runs smoothly as they face many trials being together.
If you are looking for a bittersweet and heart-touching romance anime, you should definitely watch it.
16. Blue Spring Ride (Ao Haru Ride)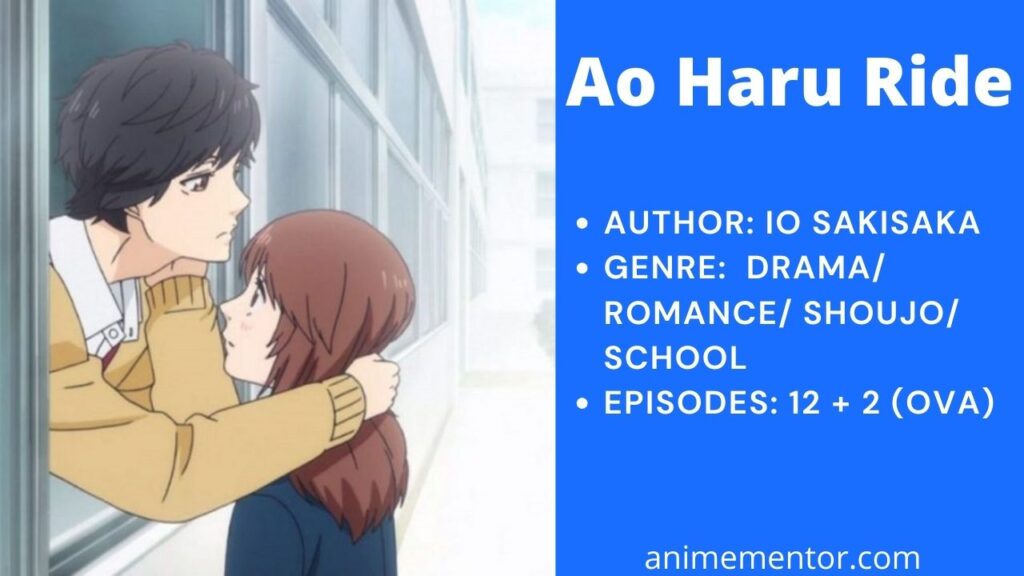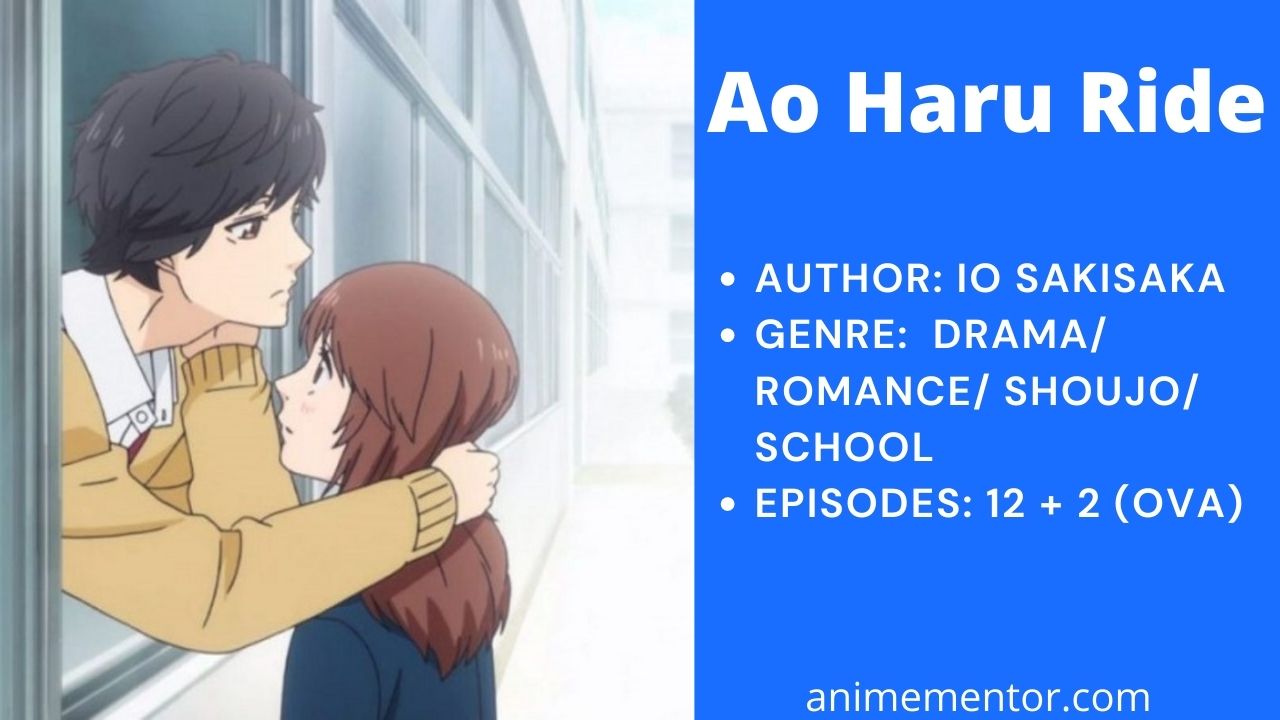 Blue Spring is one of the most popular "Shoujo" anime series that targets adolescents and young women. Its story follows a 16-year-old high school girl, Futaba Yoshioka, who wishes to change herself and find new friends.
One day, she reunites with her middle school crush, Kou Tanaka, who has changed his surname to "Mabuchi". Soon she finds out that Kou has become a completely different person than she knew back in middle school.
Now the story moves on as they come close to each other again with the new characters being introduced. While romance seems to be the main theme of this series but on top of that friendship is the one driving the plot.
15. From Me to You (Kimi ni Todoke)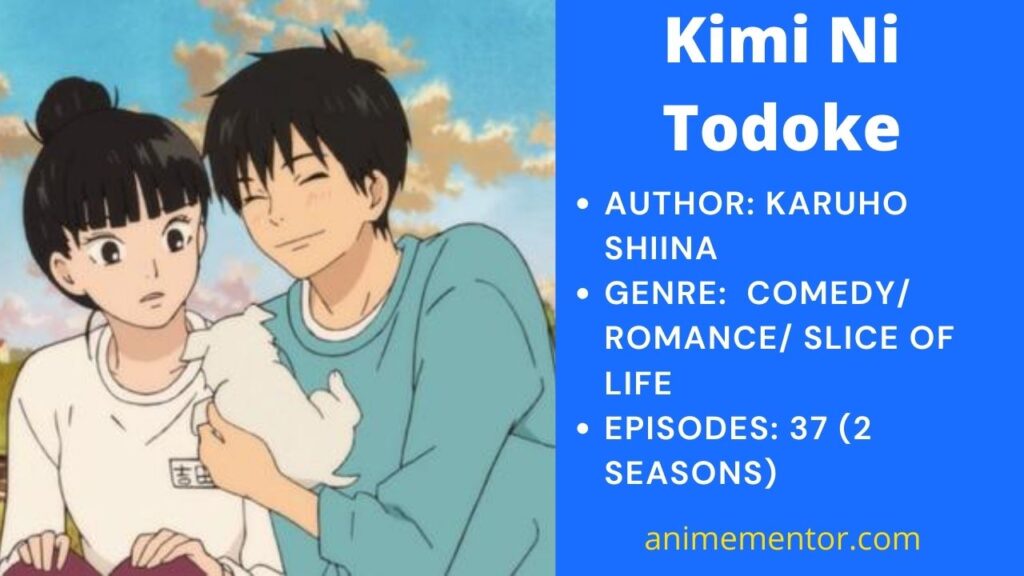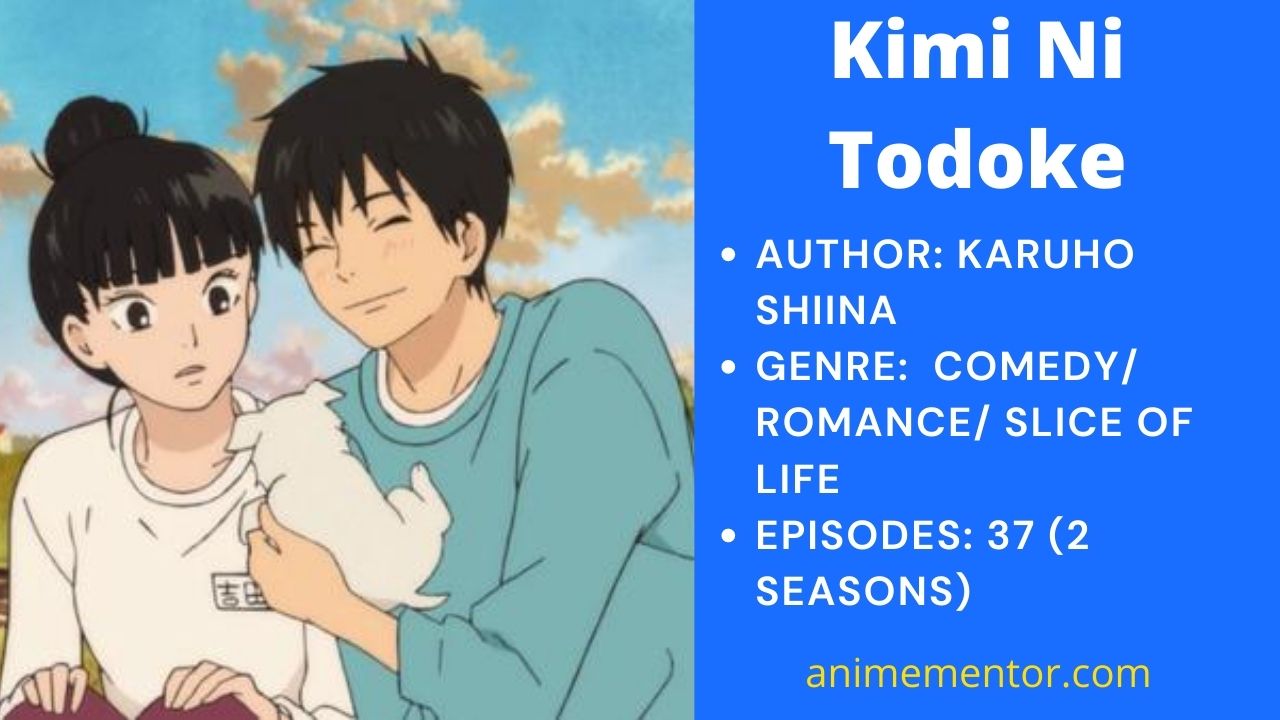 Just like Blue Spring Ride, From Me to You is also a popular Shoujo romance anime series. This anime is the narrative of a 15-year-old high school freshman Sawako Kuronuma. She is an honest, shy, and beautiful schoolgirl who is searching for friends.
But she was ignored by the others as rumors spread around the school that she could see ghosts and curse spirits. On the day of the entrance ceremony, when a very cheerful boy named Kazuya, begins talking with her, everything in her world goes upside down.
Now the story takes the romantic path and moves on. If you like romance anime, you should check out this, it's definitely worth watching.
14. Nana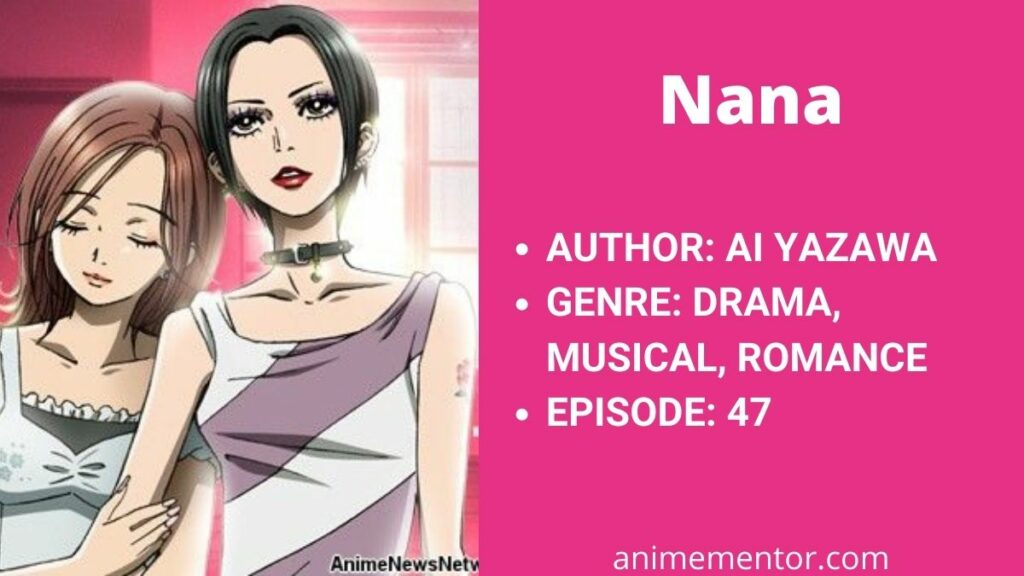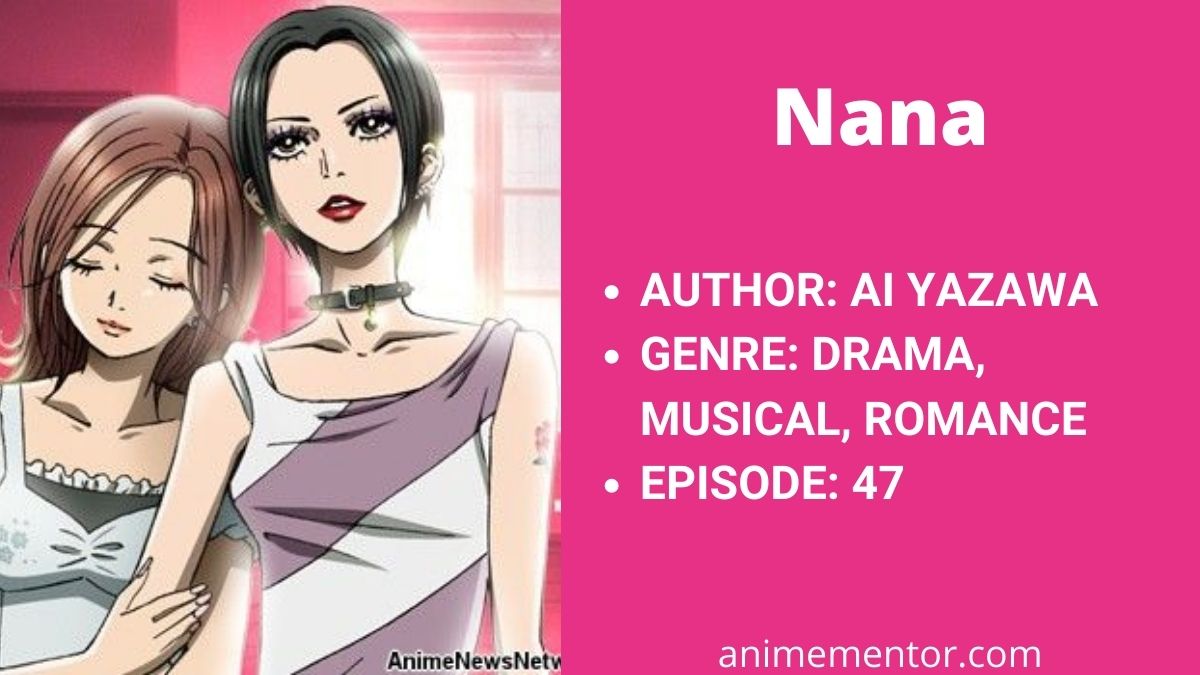 Two young women with identical names moved to Tokyo and became roommates. However, they're ostensibly opposite as one is looking for fame and the other for love. But through it all, they found each other as close friends, who lift each other up.
 So if you are looking for a classic poignant romance anime regarding adult life, don't waste your time, just go and watch this beautiful anime series. This 47-episode anime is an epic ride of comedy, drama, romance, and much more.
13. Plastic Memories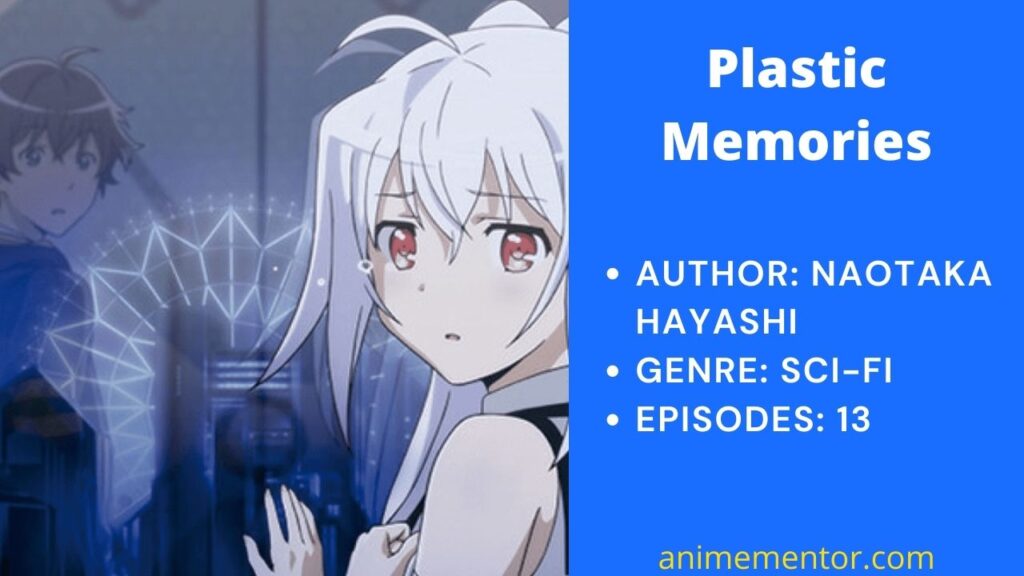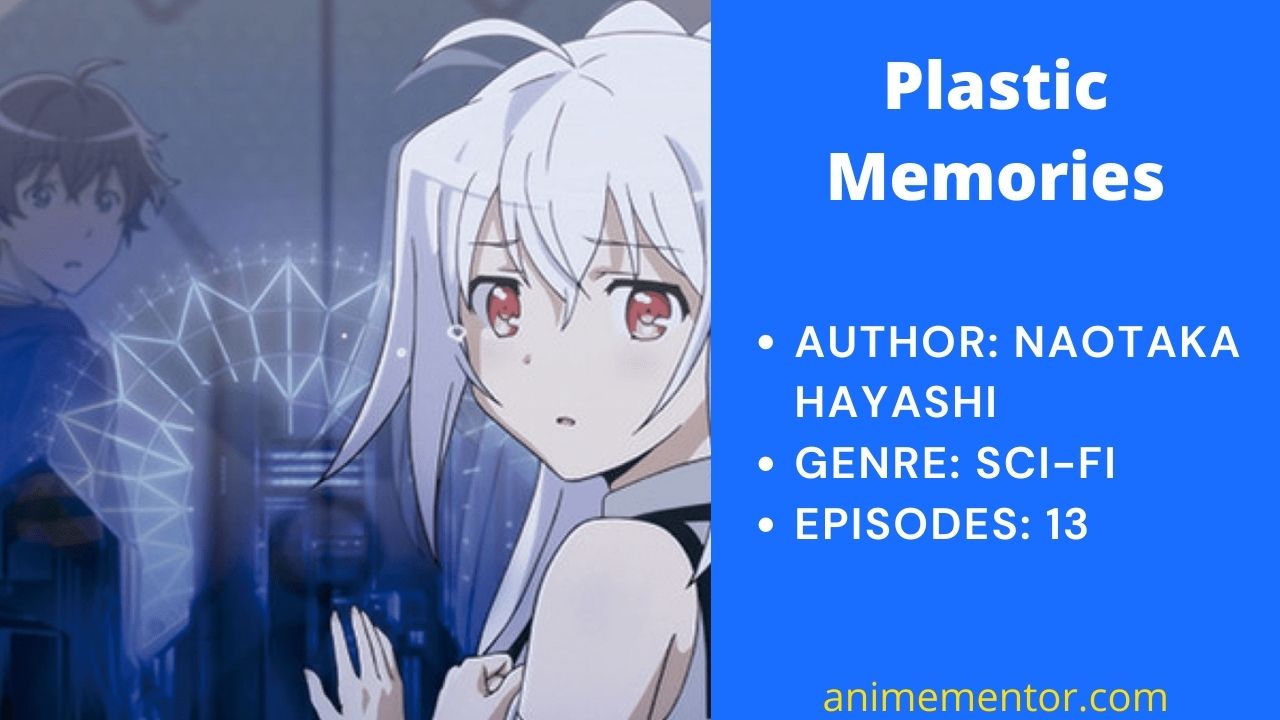 Unlike the other romance anime, "Plastic Memories" is a sci-fi romance anime, featuring a love story between a human and a humanoid android.
This anime takes place in future Earth where humans live alongside humanoid androids, named "Giftias", that look exactly like humans and are fully equipped with human emotions. Tsukasa Mizukagi, the protagonist of the series, didn't pass his college entrance exam due to circumstances. But in the end, he gets a job retrieving Giftias. There he falls in love with a Giftias named Isla. Without spoiling the story further, you should check out this interesting sci-fi tale.
12. The Pet Girl of Sakurasou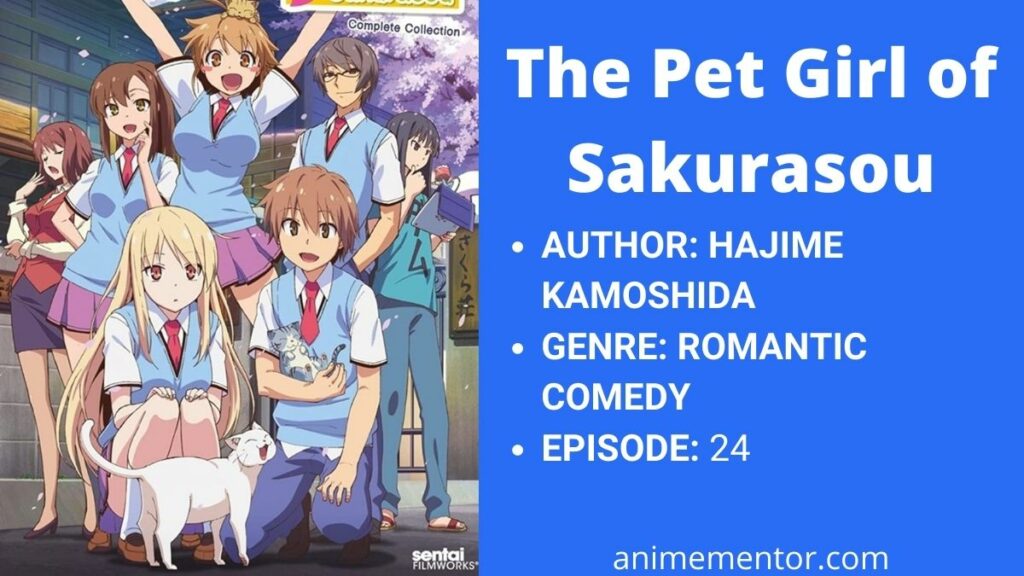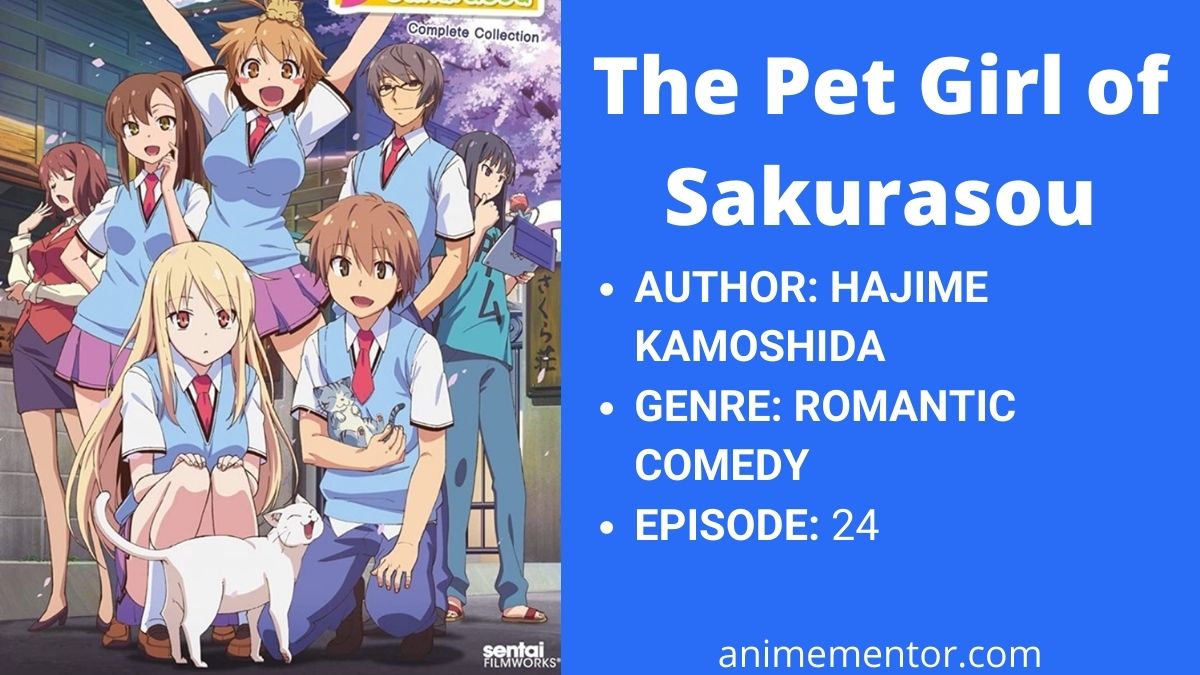 The Pet Girl of Sakurasou is a slice-of-life rom-com anime, whose story revolves around a group of high school students. These students are very talented but they are rejected from the normal dorms of Sui High, for various reasons. As a result, they each ended up in the weirdest dorm at the school, Sakurasou. The main character of the story, Sorata, is also forced to come to this dormitory because of keeping a stray cat.
When he is getting used to living in the dormitory little by little, Mashiro Shiina, a beautiful girl, makes her entry in the story. Despite being good-looking she has some problems that's why Sorata begins to take care of her. It looks a bit romantic, but this anime is a story about friendship and the "dreams" of our youth that we want to be one day.
11. Nisekoi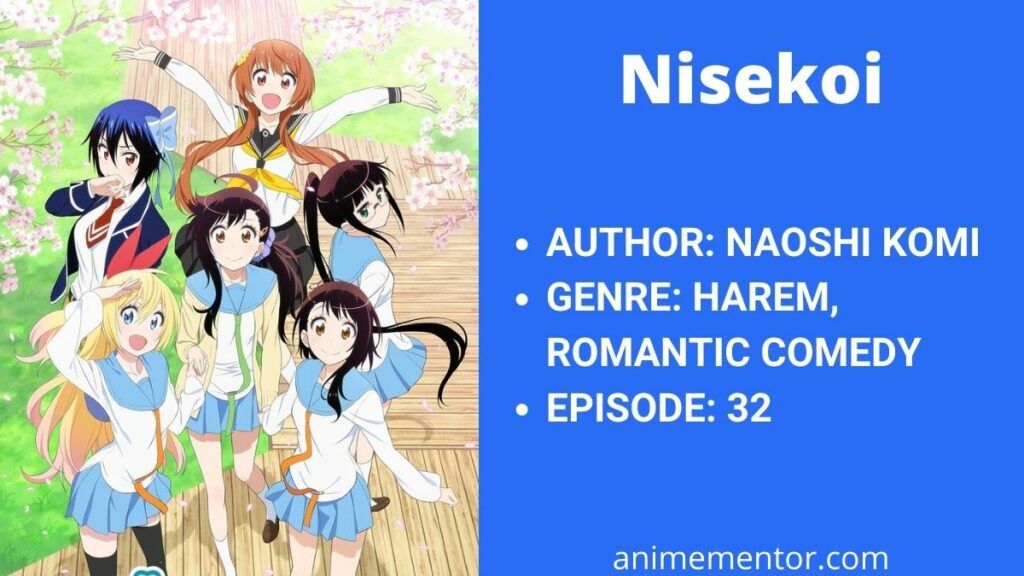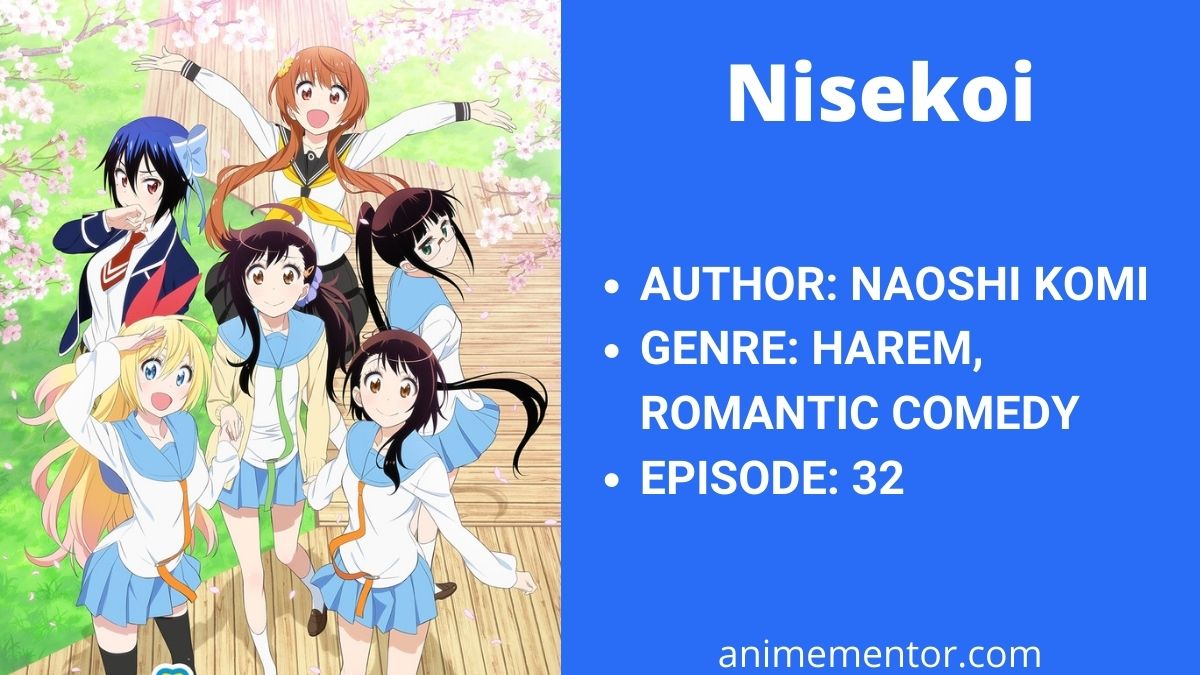 Like The Quintessential Quintuplets, Nisekoi is also a story about childhood love. But it's slightly different, you can find out later.
The main character of the story, Raku Ichijou, meets and falls in love with a girl as a child.  Now ten years later, he no longer remembers the girl, but he does remember that they promised to marry each other when they met again and would identify each other by the lockets and keys they exchanged. Ten years on he still holds onto the locket hoping to be reunited with her.
But his life is turned upside down when he encounters Chitoge Kirisaki, a beautiful but aggressive girl, and although they don't like each other, they are forced to act as a fake couple in a family situation. We also learn that Raku has a crush on a girl named Onodera and hopes that she is the girl he has been looking for.  To know what happens next, you must watch this exciting romance comedy anime.
10. Komi Can't Communicate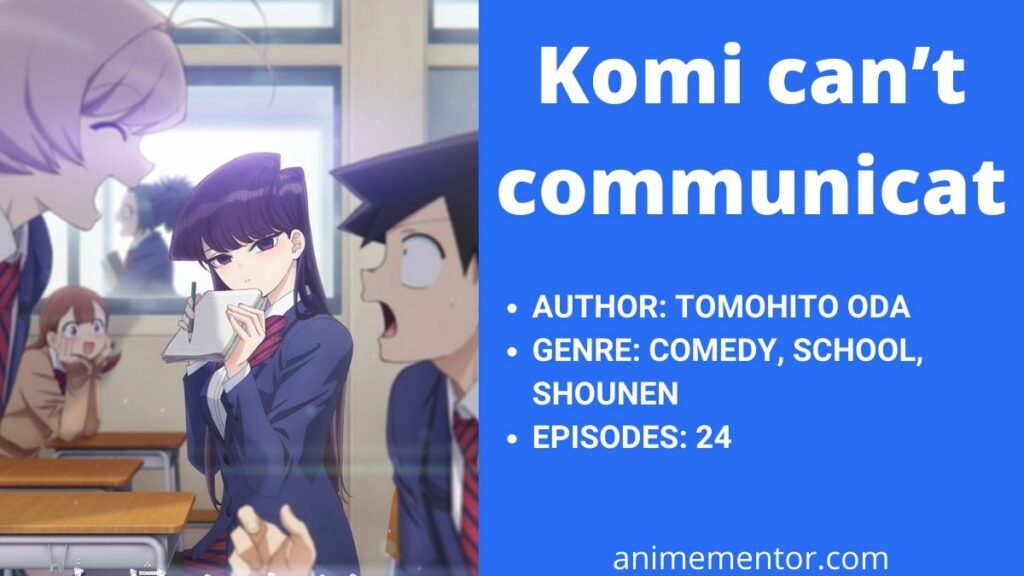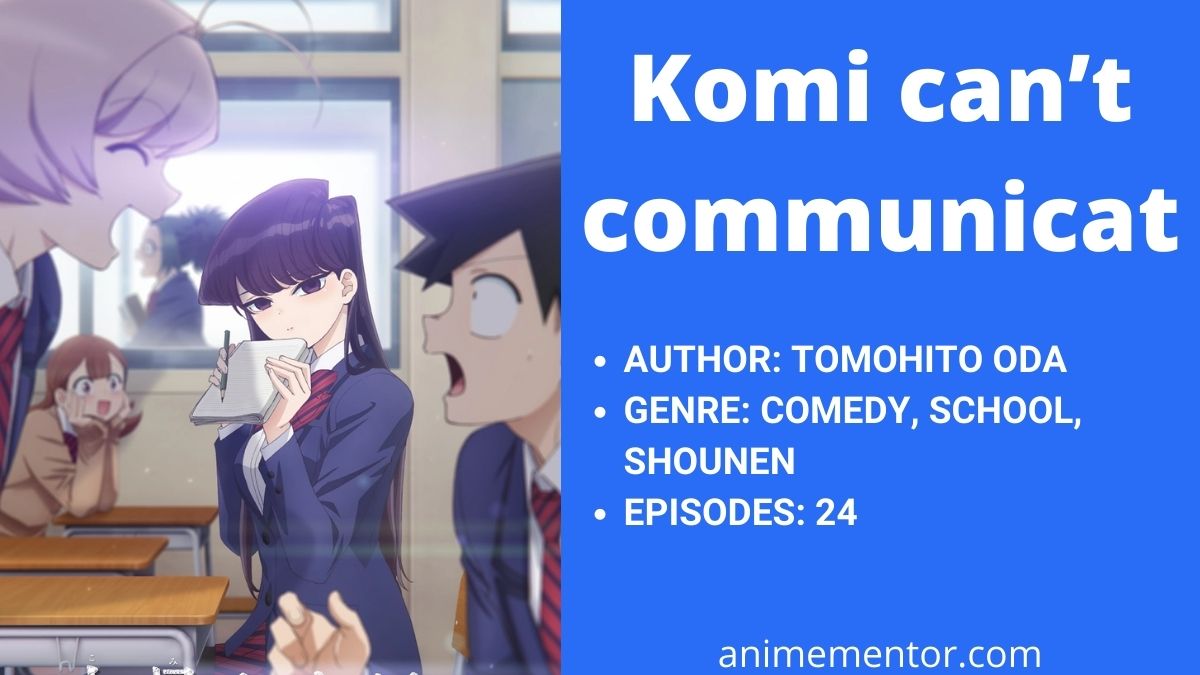 Komi Can't Communicate is a beautiful romance anime whose story follows an incredibly beautiful high school girl, Shoko komi, who suffers from extreme social anxiety. As a result, she can't communicate with others. But her wish is to make 100 friends.
Tadano, the main character of the story and Komi's first friend, takes the responsibility to fulfill her wish. With his help, Komi slowly recovers from her disorder and moves towards making 100 friends. The animation in this anime is amazing and Komi looks so adorable that you can't take your eyes off her.
So in one word, this heartwarming romance anime will surely become your favorite romance anime.
9. My Dress-up Darling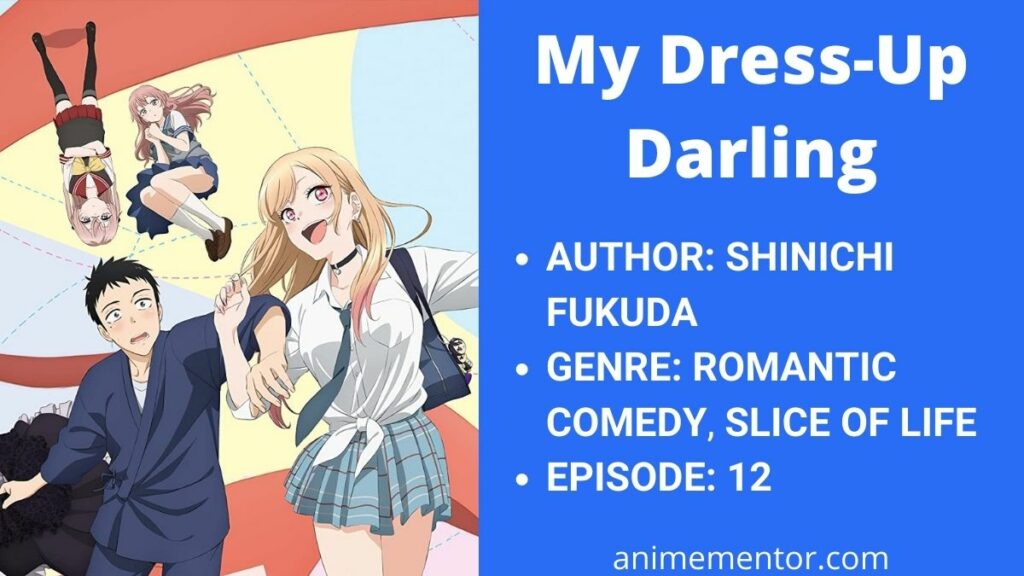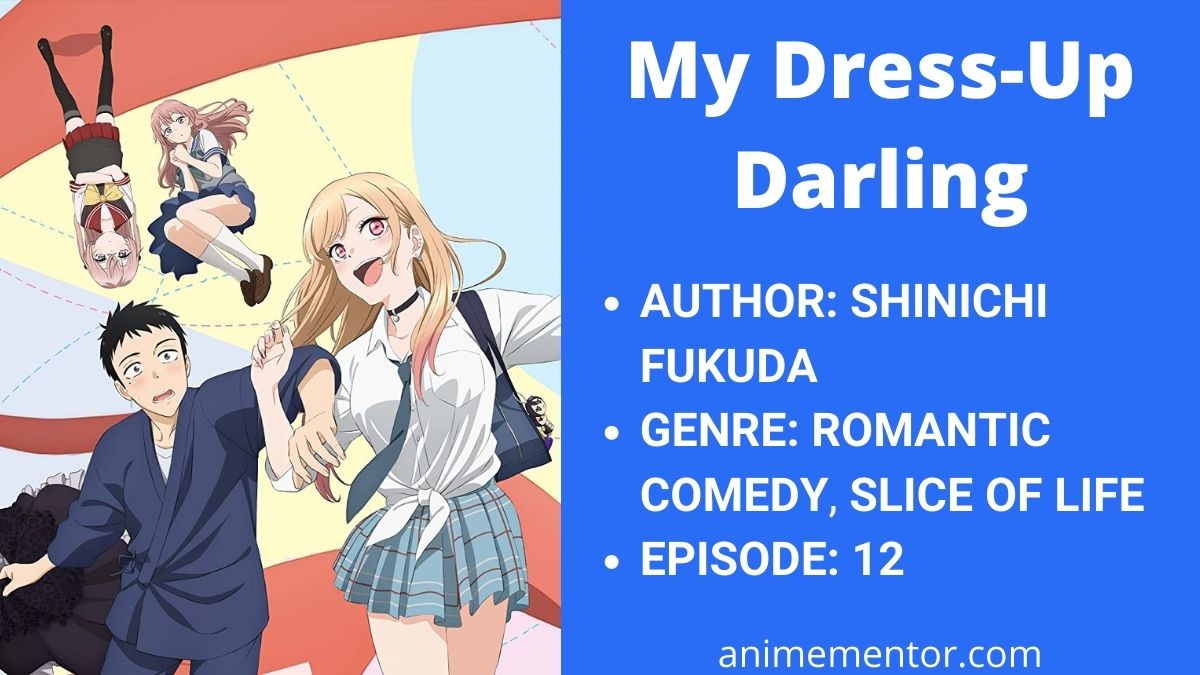 My Dress-up Darling is one of the most hype-creating anime nowadays. This anime is popular for its main female protagonist, Marin Kitagawa, who loves cosplay events. So she tries to make cosplay for herself but in the end, she eventually fails every time.
But she gets a chance to create cosplay for herself when she meets Gojo, the main male character of the series, who has a love for making Hina dolls. Marin requests Gojo to make cosplay for her and Gojo finally does it?
Thus they both start to have feelings for each other and their blossoming love story begins so that we can enjoy it.
8. Maid Sama!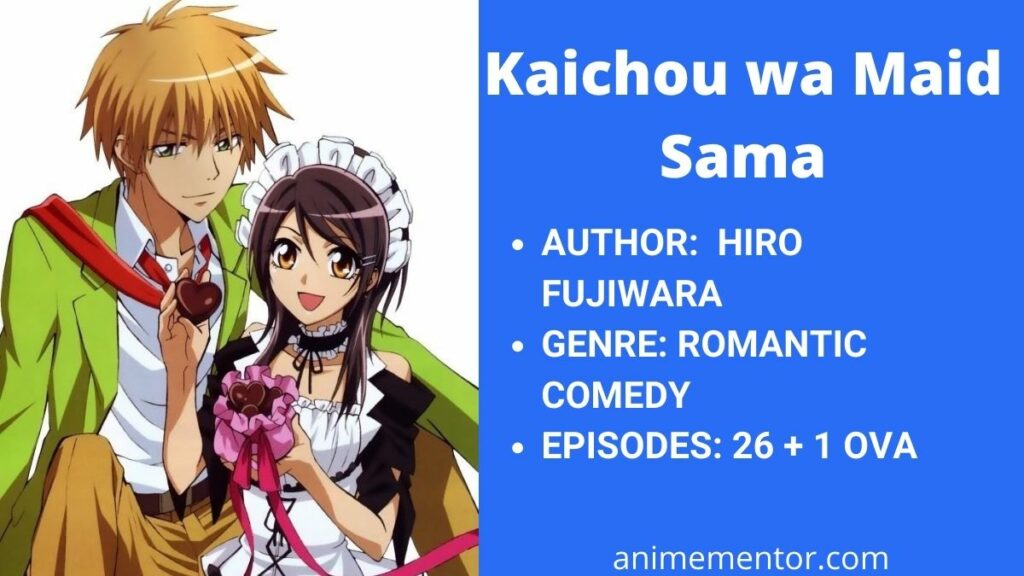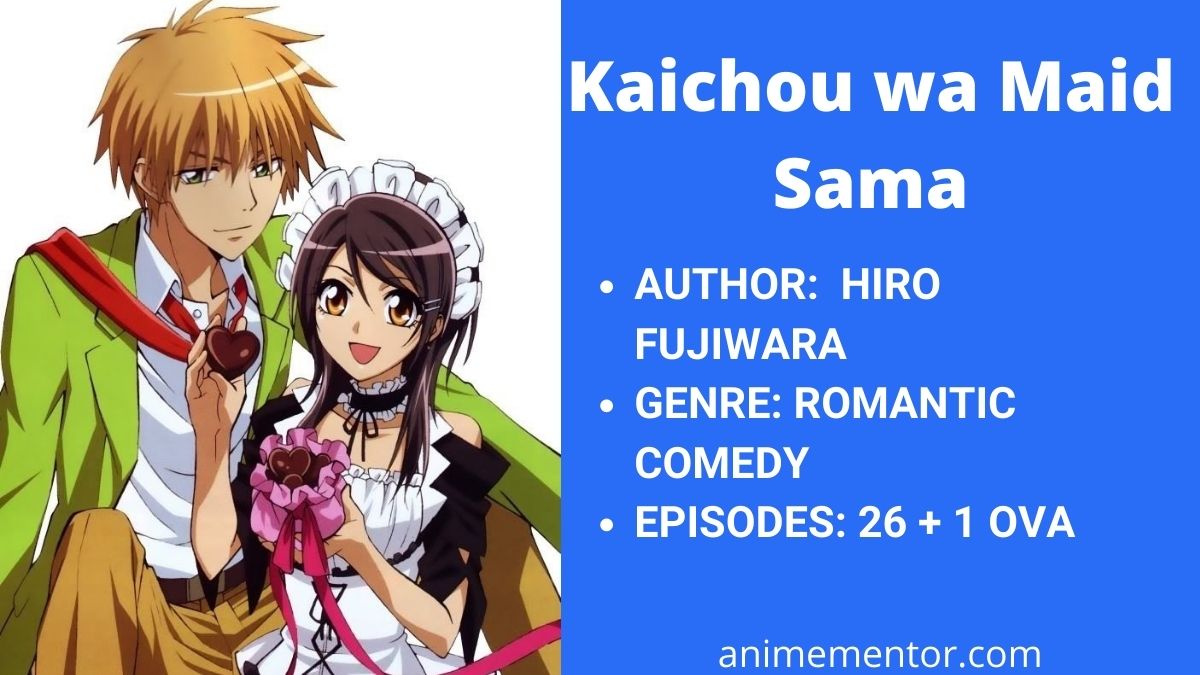 Maid Sama is one of the funniest romance anime on the list. Although the anime has given importance to comedy, despite this, the romantic elements of this anime have not faded away. Thus it's become one of the most romantic anime of all.
After becoming the school's first female student council president, Misaki vows to make the school a better school for girls and will do so by kicking out the boys. She is extremely strict towards the disobedient boys. So all the boys obeyed her out of fear.
Although she has an honorable reputation at school, she secretly works part-time in a maid café to support her family. When the school's most popular student, Usui, finds out about this, instead of laughing, he is impressed by her work.
And he eventually falls in love with Misaki. But Usui's demeanor is so funny that Misaki thinks he's teasing her. This is how the story unfolds as their humorous love story begins.
7. Clannad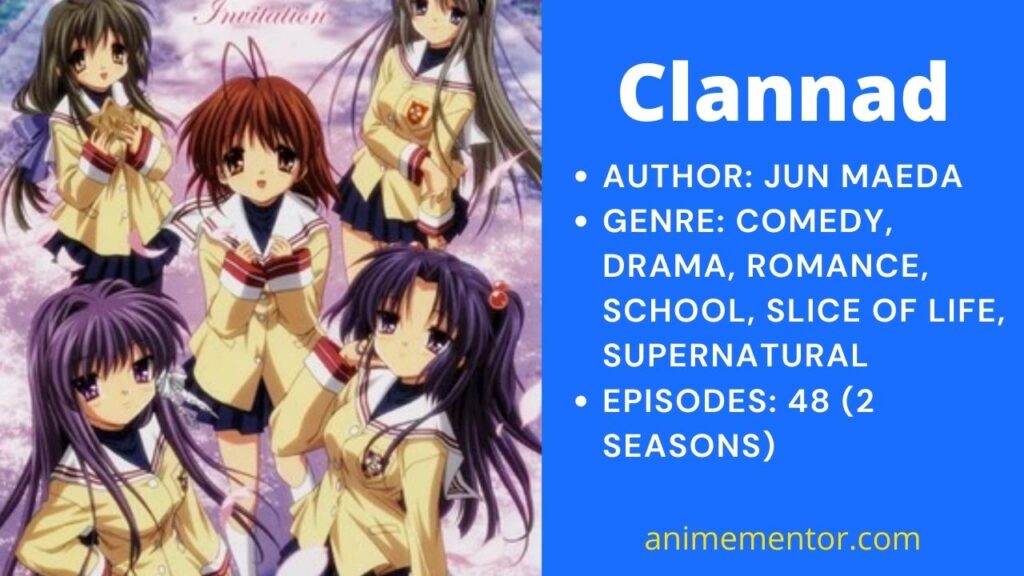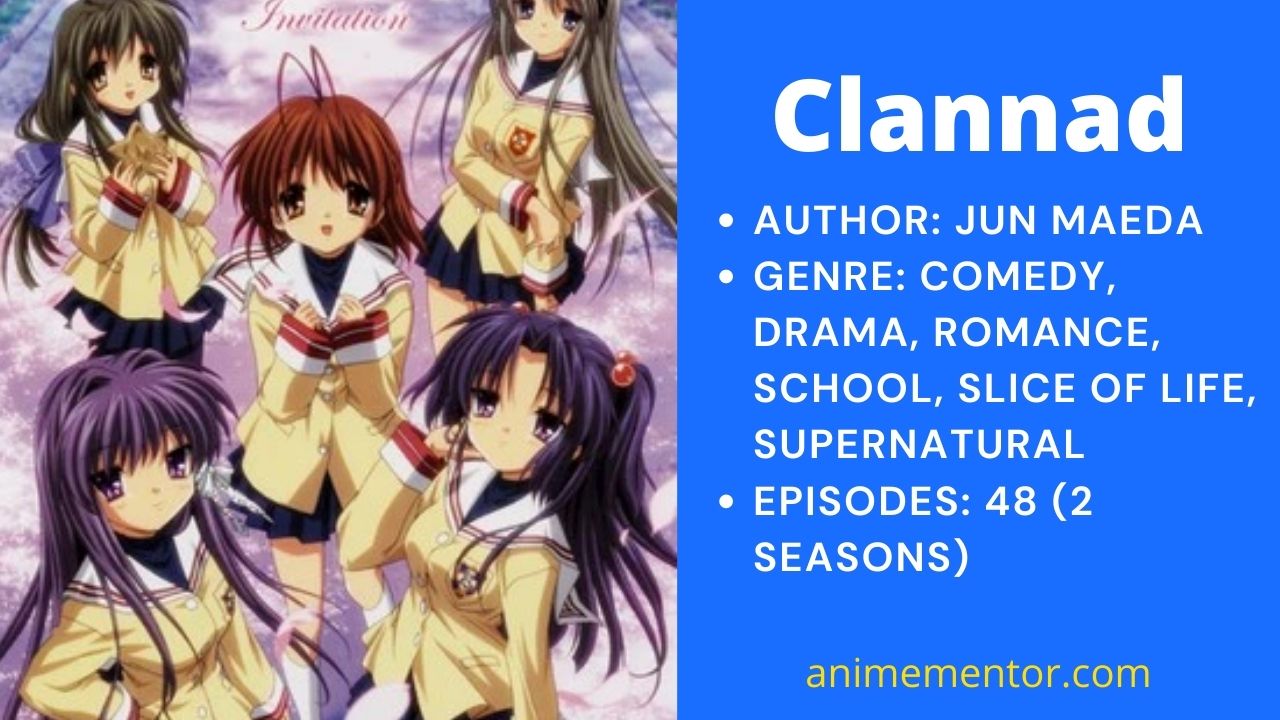 Clannad is one of the most poignant and addictive anime of all time. This anime's story, characters, soundtrack everything is just beautiful. We assure you that watching this anime will be a part of your daily life routine.
The story is about a delinquent high school boy named Tomoya Okazaki. Life kicked his ass, so he now has no hope to live in his miserable weary life. But his life started to change after he met Nagisa Furukawa. But this anime doesn't only revolve around these two but also focuses on others who have their own stories.
6. Toradora!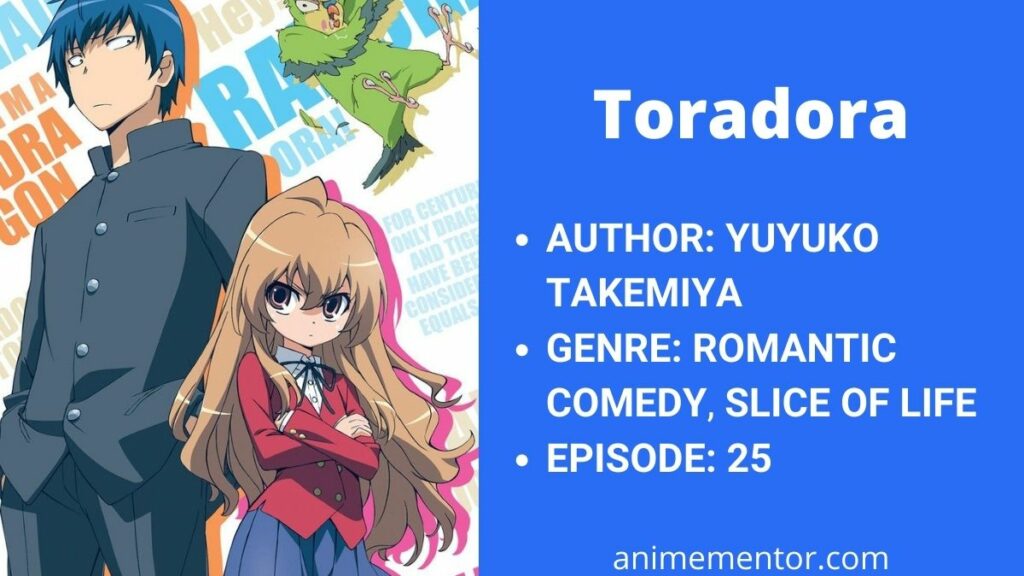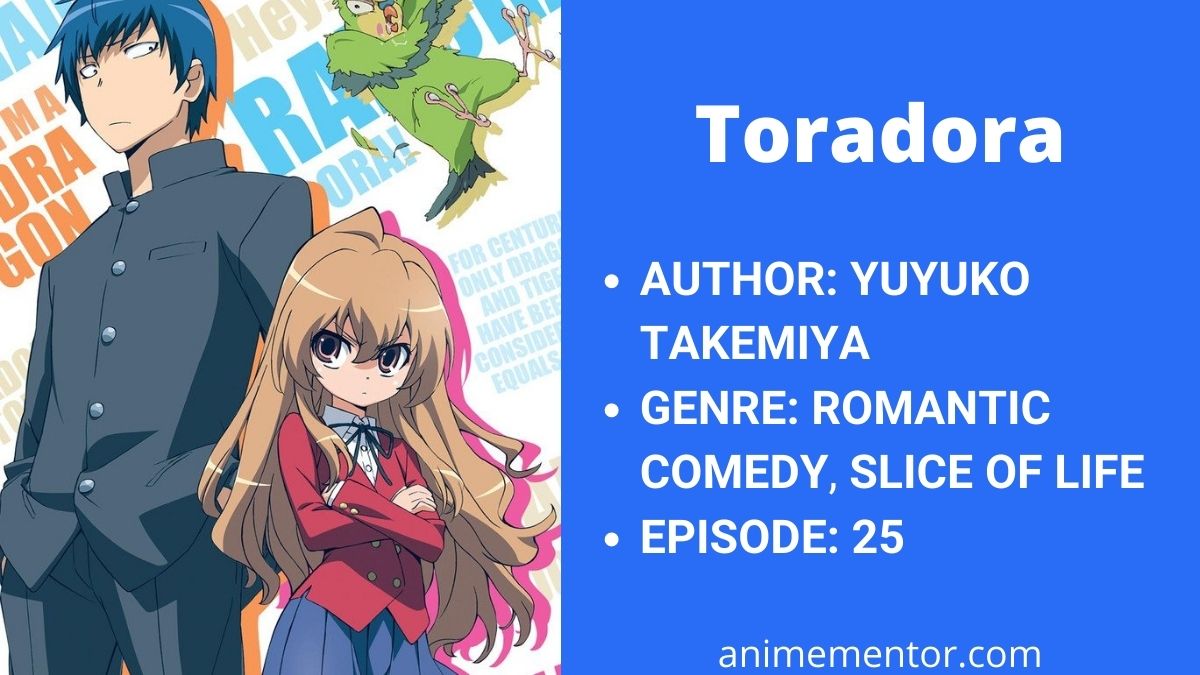 Toradora is another romance comedy anime revolving around high school students. 
The anime story is very funny and tells the story of two high school students, Ryuuji and Taiga, who love each other's friends so they become each other's friends so they can hook up with them but in the end, they end up falling in love with each other.
This anime is highly recommended for those fans who really love to watch romance comedy anime with a bit of sadness.
5. Horimiya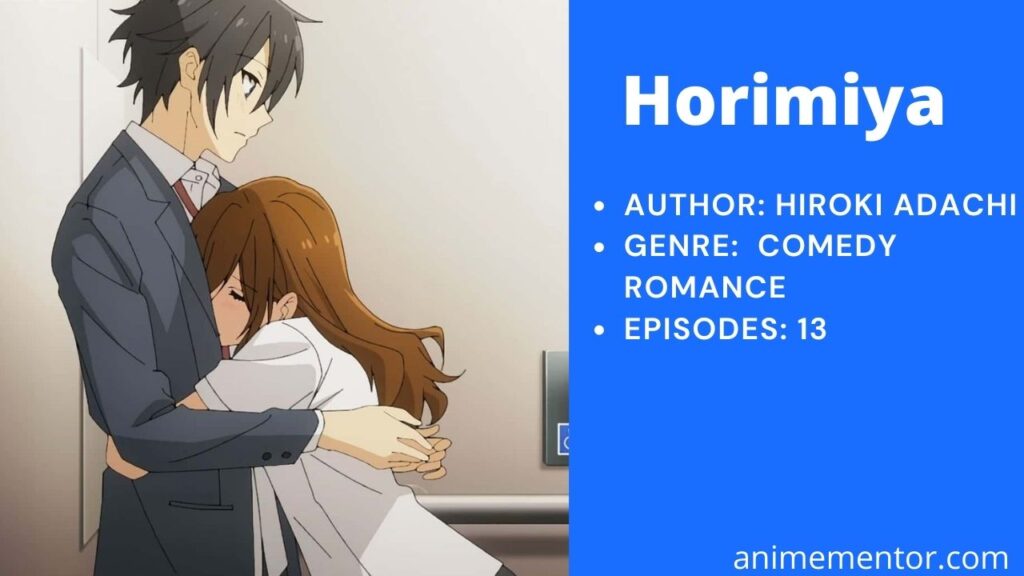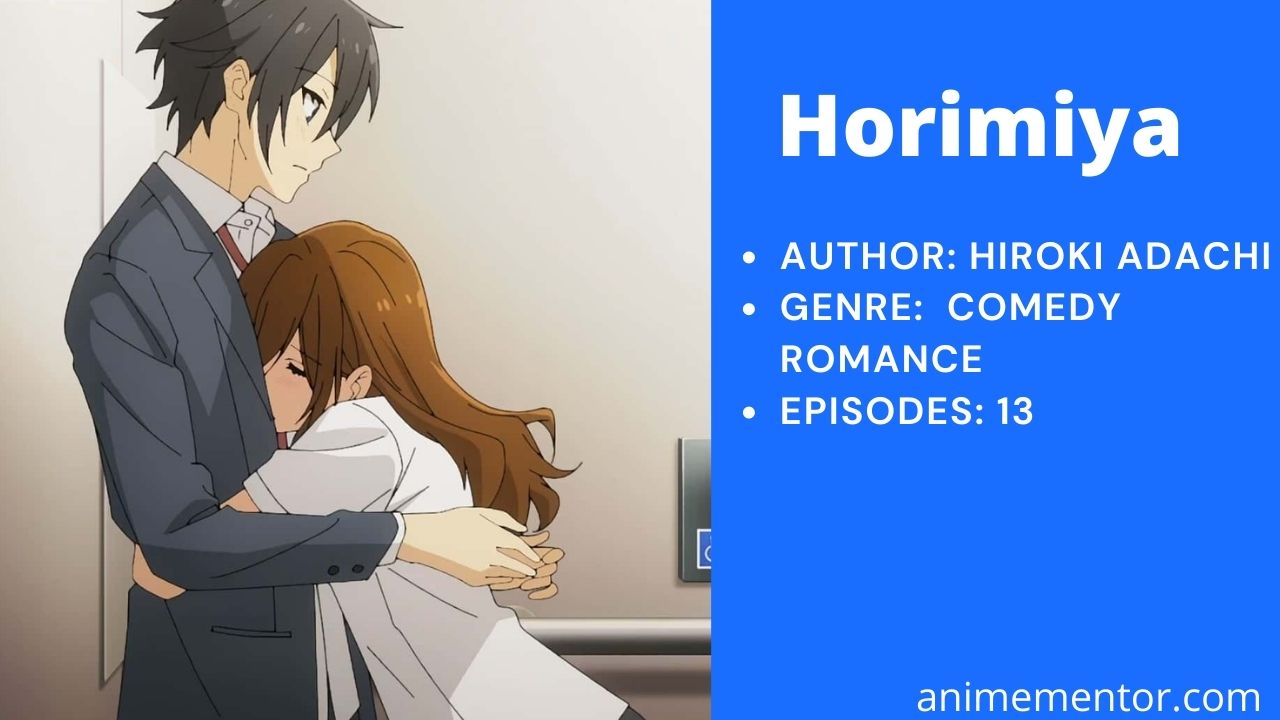 Everyone has a side they don't want others to see. They hide it from others and pretend to look different so they can't feel embarrassed. But love doesn't care all about these. That's why popular Hori and outcast Miyamura fall in love with each other when they find out about one another's true selves.
Though they're the main characters, there are many side characters, whose love journey is also shown in this anime.
This school-life romance anime is the most romantic on the list. So without wasting your time, go and check out this beautiful romance anime.
4. Rascal Does Not Dream of Bunny Girl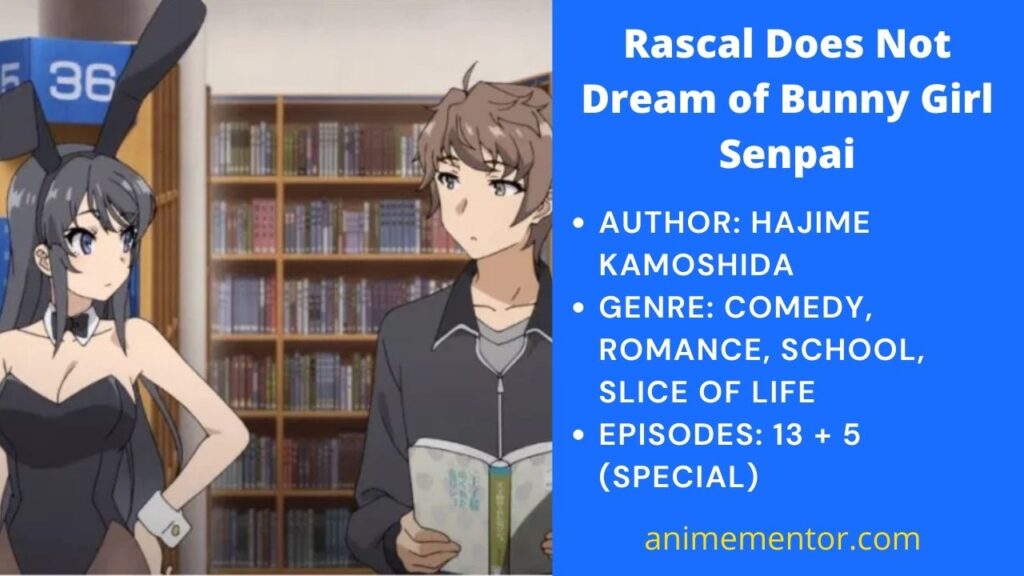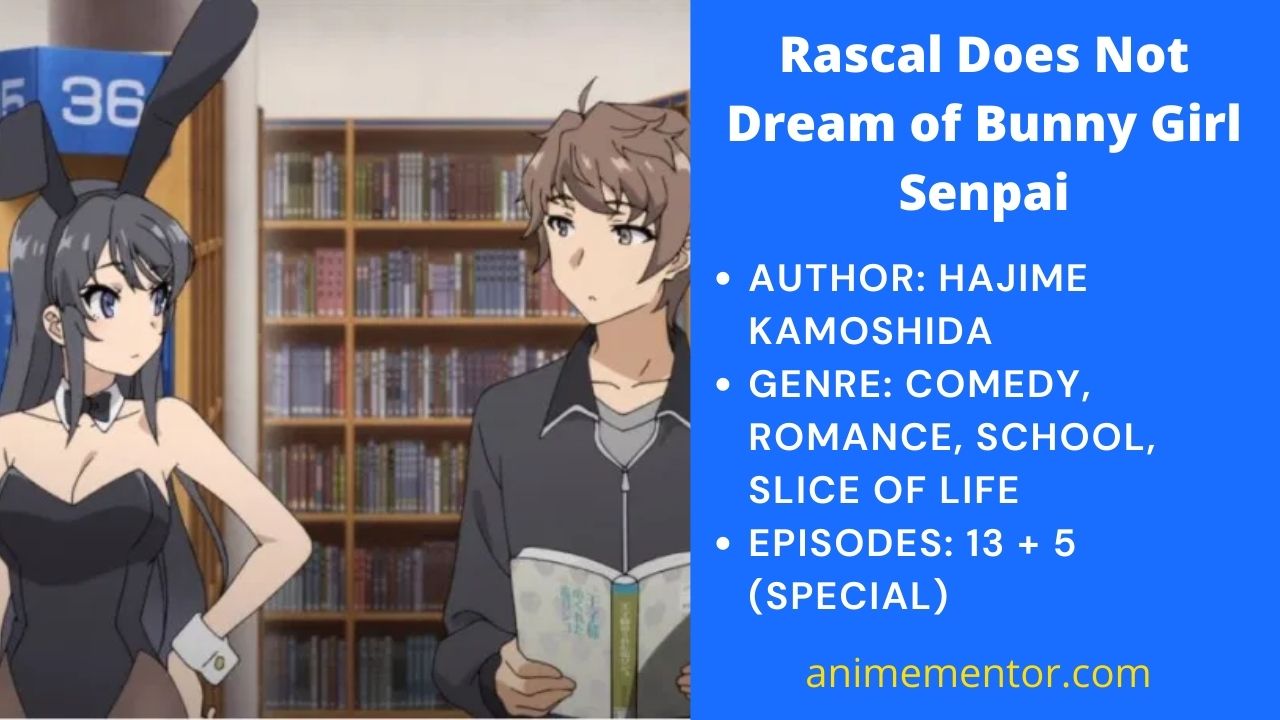 Love × Physics: the most complicated combination that an anime fan could ever imagine. But surprisingly "Rascal Does Not Dream of Bunny Girl" follows this combination. But you don't need to fully understand physics and its phenomena when there is chemistry between Sakuta and Mai.
Yes, they are the main couple of the series and their love story is what we are looking for. Though this anime has many physical and supernatural phenomena, the main focus of the story is its characters. How they overcome these supernatural events happening in their life is the main plot of the series. This anime is highly recommended for you.
3. Your Lie in April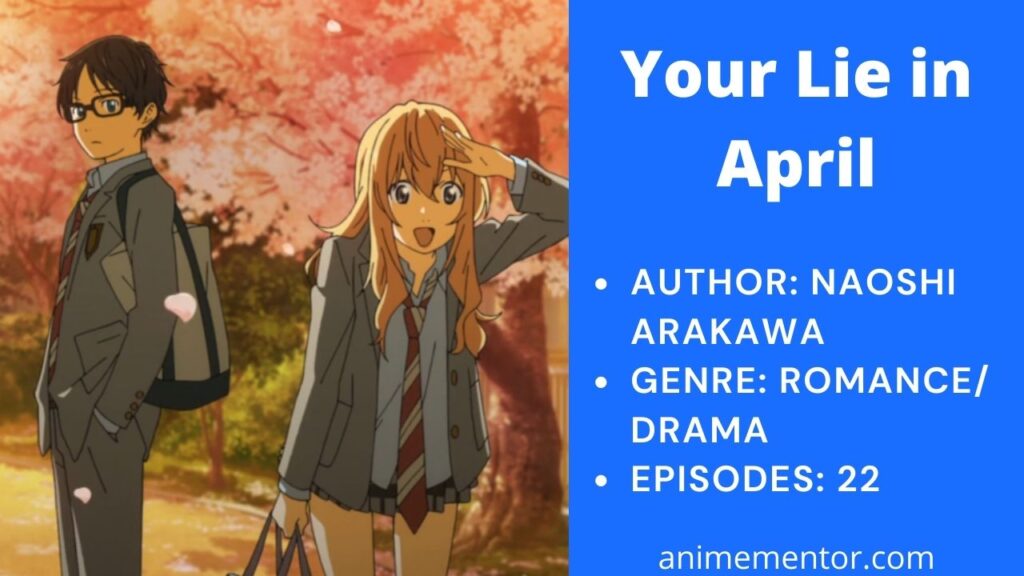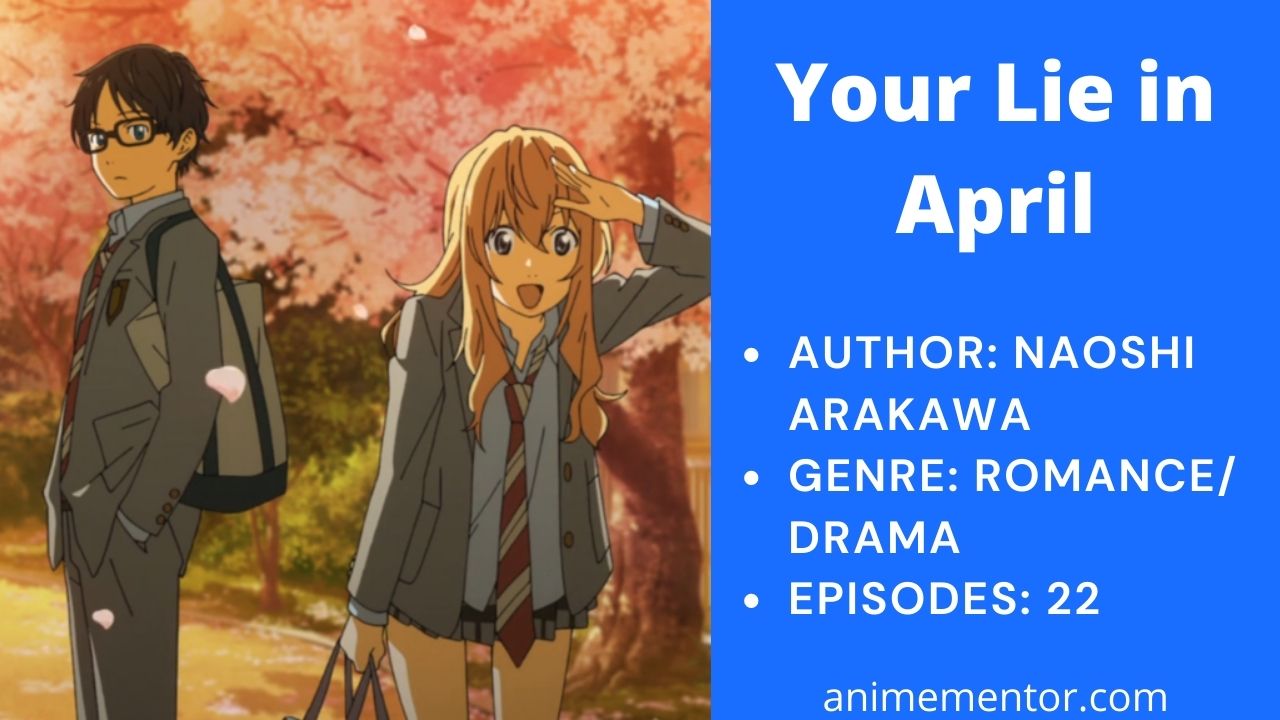 "Your Lie in April" is the most tragic romance anime of all time. The story of this anime follows the tragic life of Arima, a piano prodigy. After her mother's death, he went into depression and gave up playing piano. But his dark life starts to fill with light when he meets Kaori, a gifted violinist. But not all stories have happy endings. This anime's story doesn't have a happy ending but it doesn't matter because it has a 22-episode emotional ride filled with love, romance, and music that hits hard in our chests.
2. Fruits Basket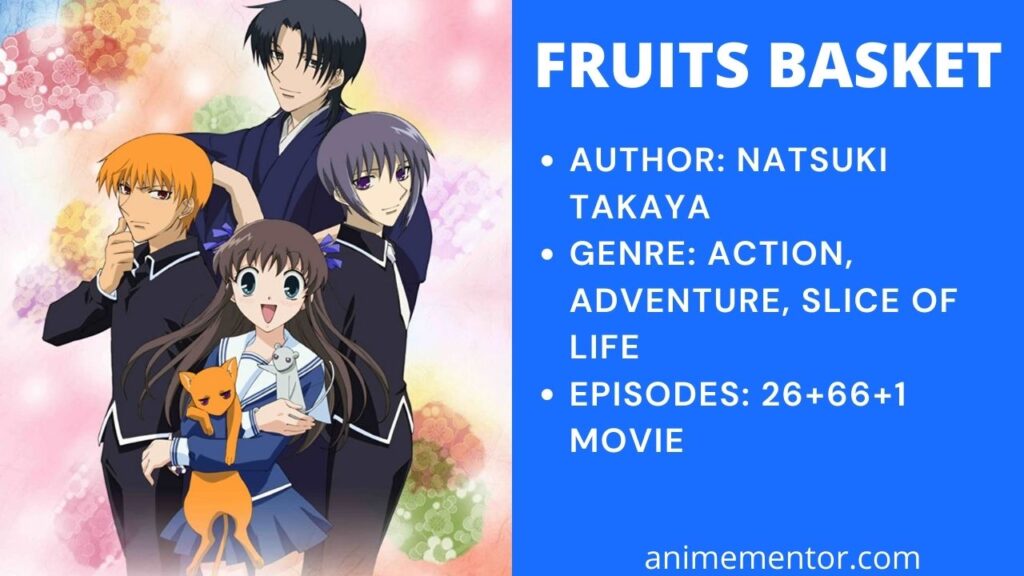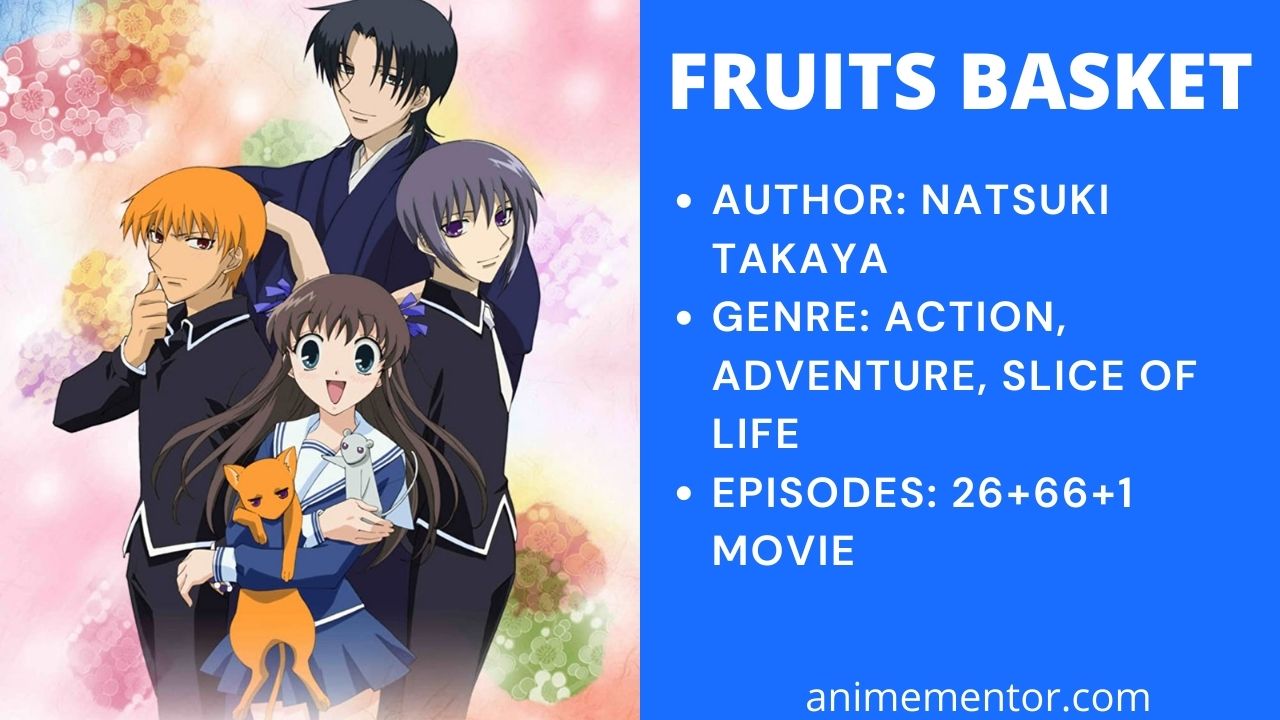 Fruits Basket is a masterpiece romance anime because of its beautiful animation, amazing soundtrack, and a heart-touching storyline that will always remain your favorite.
The story follows an orphan high school girl, Tohru Honda, who lost his mother in a car accident. And she starts to live with the cursed Sohma family because of some circumstances.
After Tohru finds out about their curse, she wants to help them to break their curse and bring happiness to the family. This anime is surely tragic and so amazing that it will tear your heartstrings.
1. Kaguya-Sama: Love is a War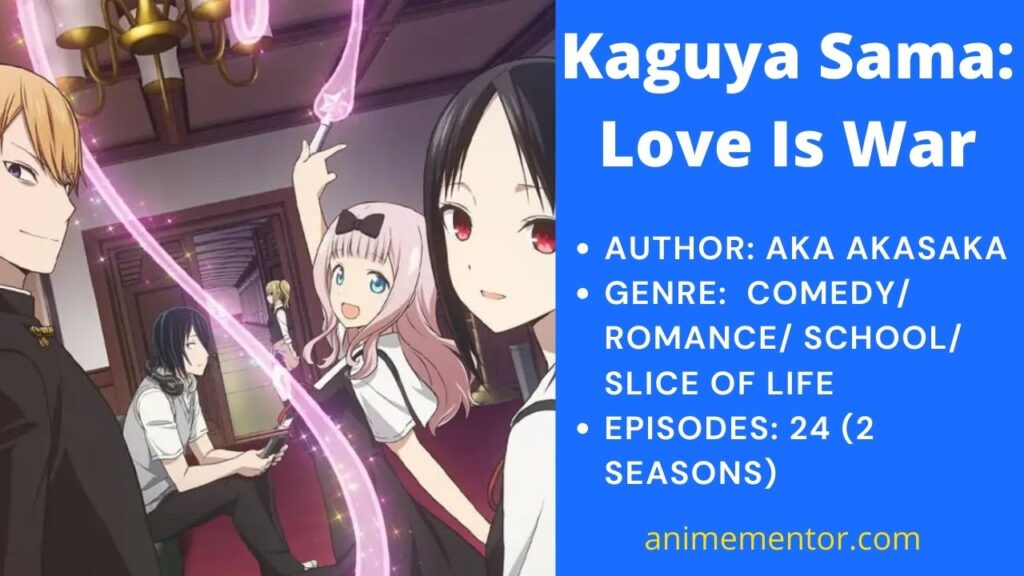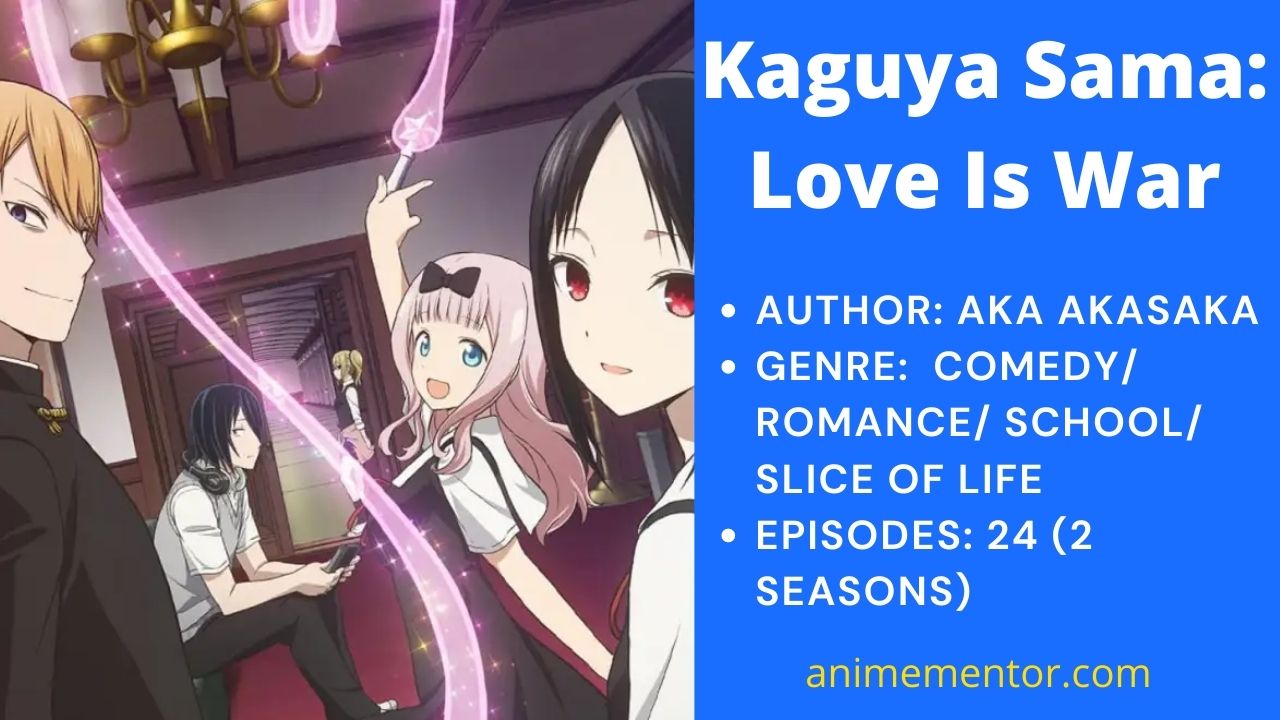 "Kaguya-Sama: Love is a War" became the best romance anime of all time as its second season broke the all-time record and moved up into no.1 position in MAL (Myanimelist).
What is this anime that makes it the best anime of all time beating all other masterpiece anime?
This controversial discussion will end if you watch the anime. This anime has the most unique way of storytelling and the animation, characters, and soundtrack all are first-class.
Two high school students love each other but don't want to express their feelings toward each other. That's the shortest way to describe this anime. So without discussing furthermore, we left this anime in the no.1 position so that you can check this out first.