Love stories in anime have the power to make us feel a whirlwind of emotions. While many romance anime end happily, there exist many shows that bring all the feelings in a melancholy way. These sad romance anime series beautifully portray the bittersweet nature of love, loss, and heartbreak.
So, if you are a sucker for some sad romance anime then grab some tissues before diving into this list of the most tragic and devastating romance anime that are guaranteed to make you cry.
10 Best Sad Romance Anime
1. Clannad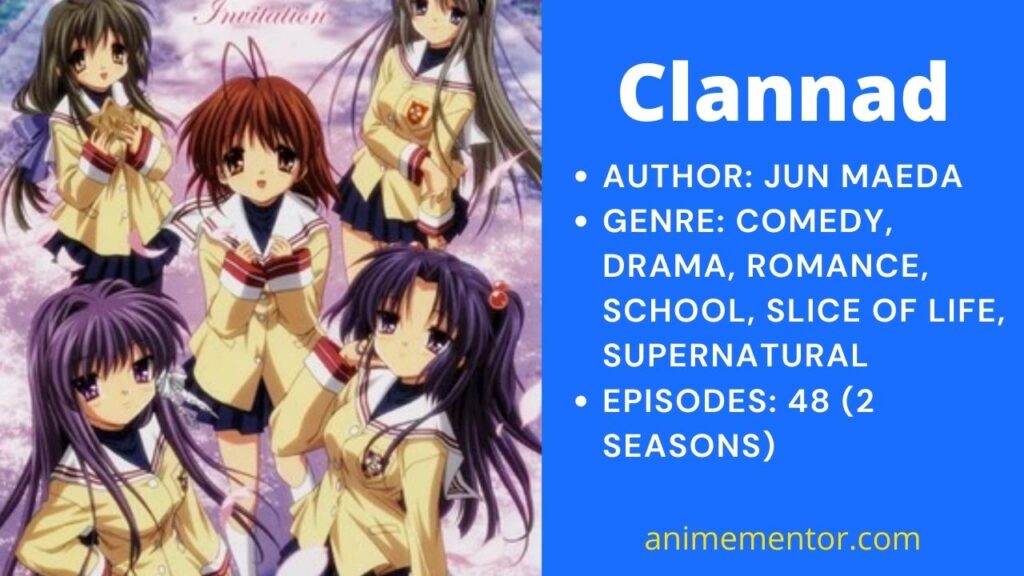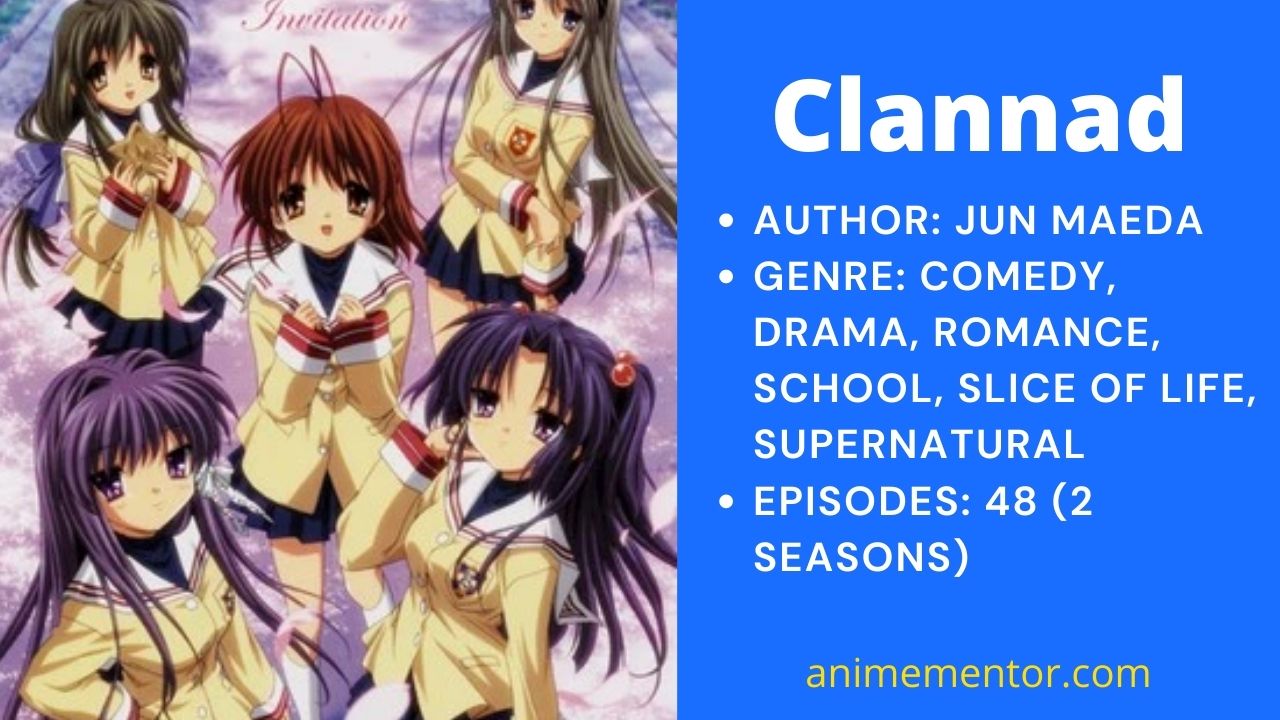 AUTHOR: Jun Maeda
GENRE: Comedy, Drama, Romance, School, Slice of Life, Supernatural
EPISODES: 48 (2 seasons)
If you're looking for the most tragic and emotional romance anime that will make you cry, look no further than Clannad. This devastating love story has secured the #1 spot as the best sad romance anime for good reason.
Clannad follows the melancholy high schooler Tomoya Okazaki, disillusioned with life after losing his mother in a car accident. His relationship with his alcoholic father is strained. But when Tomoya meets the frail Nagisa Furukawa, who suffers from illness forcing her to repeat a year of school, his life starts to change.
Their blossoming friendship gives Tomoya newfound hope and purpose. Will Tomoya truly find happiness?
Clannad takes viewers on a rollercoaster of laughter, warmth, tears, and heartbreak. Its potent story has touched millions with its messages about family, friendship, and the importance of caring for loved ones.
2. Plastic Memories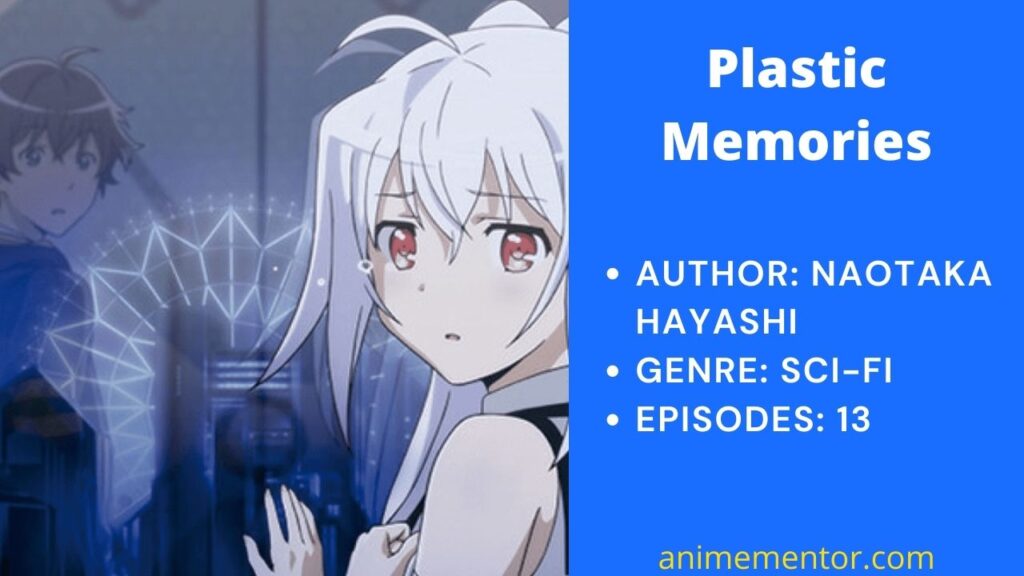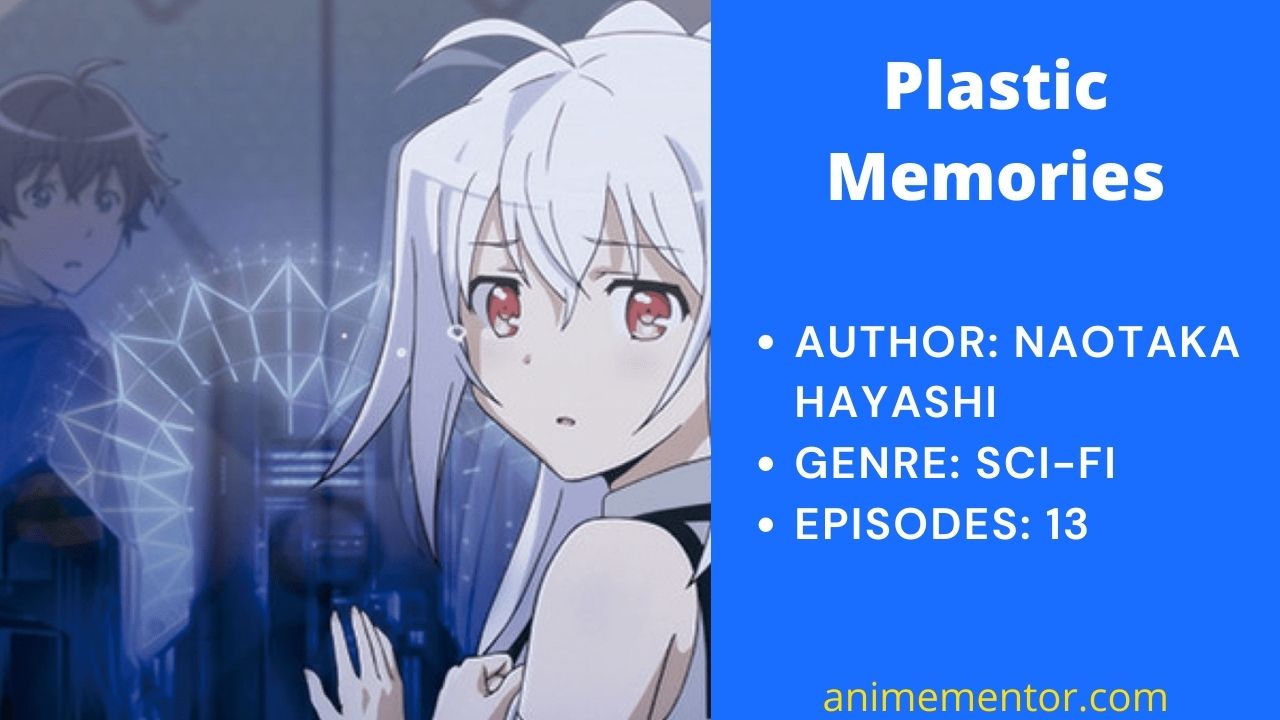 AUTHOR: Naotaka Hayashi
GENRE: Sci-fi
EPISODES: 13
Be ready to cry, because Plastic Memories is one of the saddest android love stories out there. This sci-fi romance anime is a tragic tale of love that will touch your heart.
The story takes place in the future, where human-like androids called Giftia live alongside humans. Tsukasa gets a job at SAI Corporation retrieving Giftia who are close to the end of their short lives. He is paired up with Isla, a kind Giftia who wants to make the most of her remaining time. As they work together, forbidden feelings start to develop between them.
Their impossible romance beautifully explores themes of death, loss, and how to live life to the fullest. At first, Plastic Memories seems like it will be a gloomy sci-fi drama. But the focus shifts to the sweet relationship between Tsukasa and Isla. Their awkward, cute romance has many lighthearted moments too.
People looking for a heartbreaking tragedy may be let down since the dramatic potential is not fully explored. But if you see it as a touching love story between two likable characters, Plastic Memories still shines brightly despite the misleading beginning.
3. Rascal does not Dream of Bunny Girl Senpai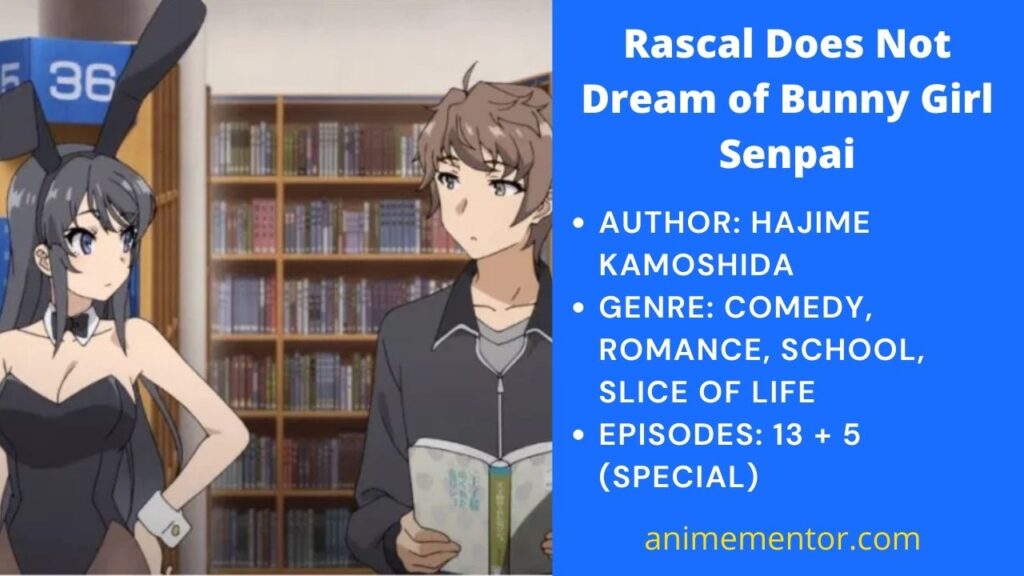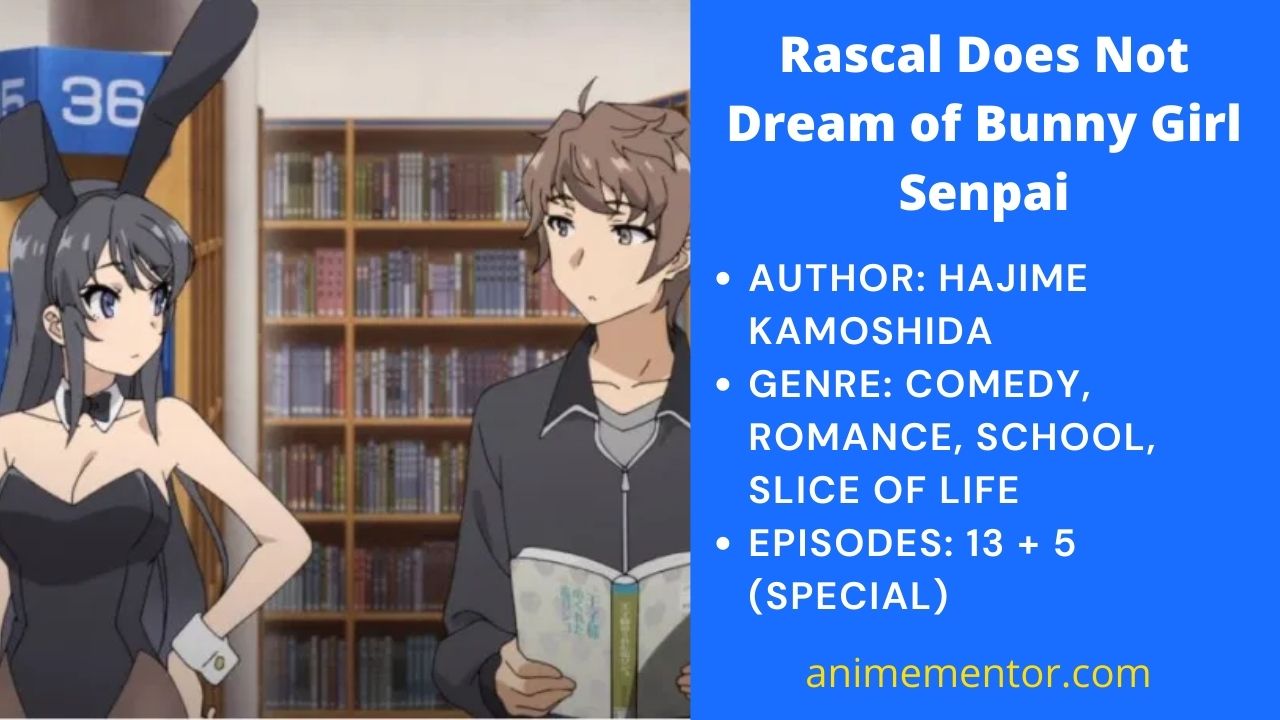 AUTHOR: Hajime Kamoshida
GENRE: Romance, School, Slice Of Life
EPISODES: 13 + 5 (Special)
Rascal Does Not Dream of Bunny Girl Senpai tells the tragic supernatural love story between Sakuta and Mai, two teens suffering from a mysterious affliction called Puberty Syndrome.
When Sakuta sees upperclassman Mai dressed in a bunny costume no one else can see due to her illness, he reaches out to help her. As they bond over their loneliness and trauma, they begin to fall in love.
However, their tender romance faces hurdles due to Mai's declining health and career pressures. Sakuta desperately tries to save Mai as her condition worsens, leading to an emotionally devastating climax.
While the misleading title suggests a lighthearted series, Rascal is a melancholy coming-of-age drama about the hardships of adolescent love. It explores the fragility of young romance and connections through the lens of supernatural tragedy.
This poignant anime captures not only the joy but also the intense pain of first love and growing up.
4. Anohana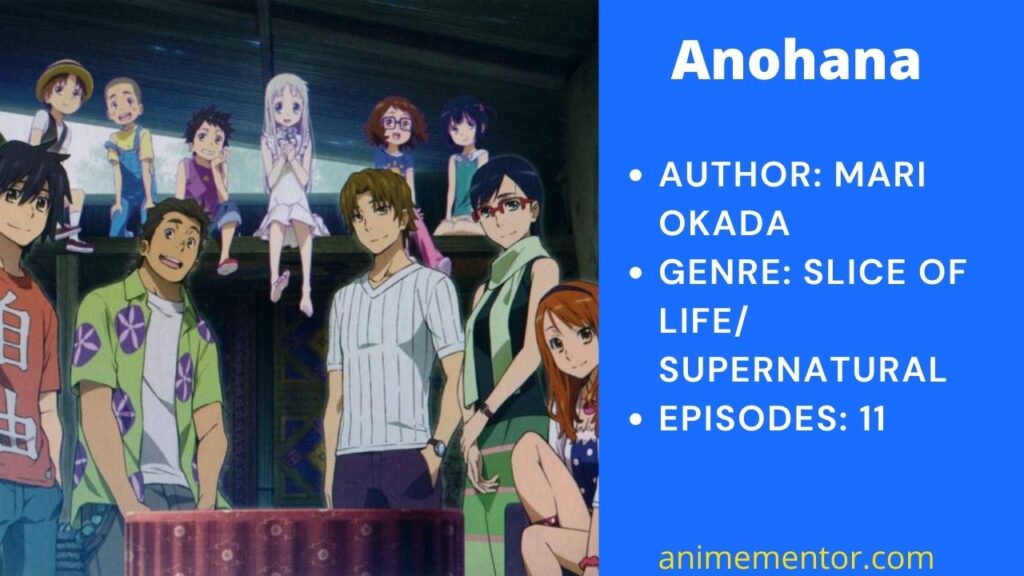 AUTHOR: Mari Okada
GENRE: Slice Of Life, Supernatural
EPISODES: 11
Anohana is a profoundly moving anime that explores themes of grief, lost love, and the bittersweet passage of time.
It follows a group of childhood friends reuniting as teenagers after one of their friends, Menma, dies in an accident. Her ghost returns asking them to grant her final wish so she can find peace.
As the friends try to figure out Menma's wish, they reconnect and reminisce on their lost youth and innocence. Buried feelings of regret, romance, and guilt resurface along with cherished memories.
While Anohana has a gentle supernatural premise, the focus is on its emotional character drama and the melancholic beauty of longing for the past. This poignant coming-of-age story will immerse you in the characters' pain of losing their dear friend Menma too soon and growing apart as time moves forward.
With its incredible ability to tap into nostalgia and heartbreak, Anohana is regarded as one of the saddest and most moving anime out there.
5. Violet Evergarden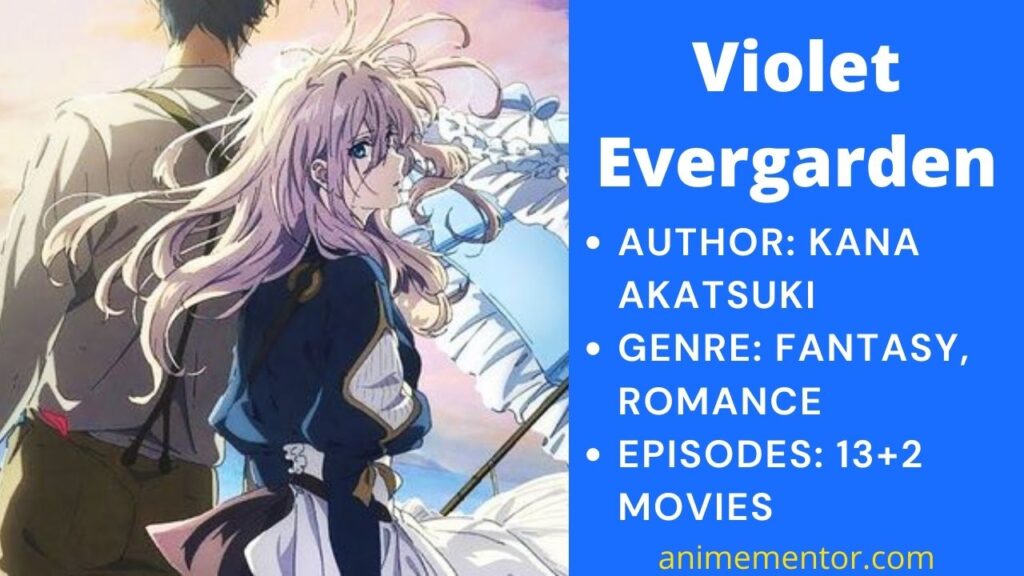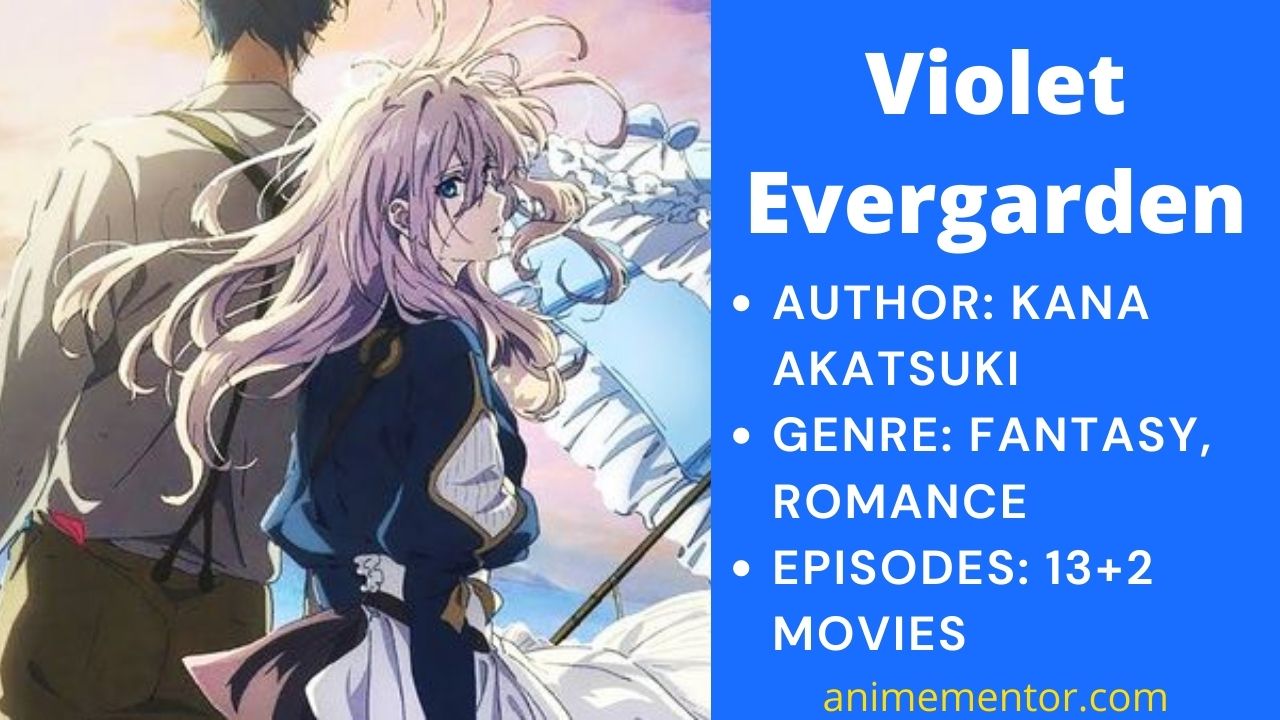 AUTHOR: Kana Akatsuki
GENRE: Drama, Fantasy
EPISODES: 14
Violet Evergarden tells an emotional story of loss and longing after the war through the perspective of its titular former soldier protagonist.
The main character Violet is a former soldier who is haunted by her dear major's last words "I love you". She struggles to understand love and grief.
Through her job Auto Memories Doll writing letters, Violet sees how war has deprived many people of their loved ones and the hardships that people go through every day. Her own painful journey is a tragic reminder of how war steals someone special away.
With its sad tone, beautiful art, and focus on Violet's memories, the anime shows the lasting scars left by war. It is an unforgettable tragedy about searching for the meaning of life.
Violet Evergarden tells a poignant story about cherishing love before it's taken away. This sad romance anime will move viewers with its messages about the importance of human connections and the tragedies of war.
6. Your Lie In April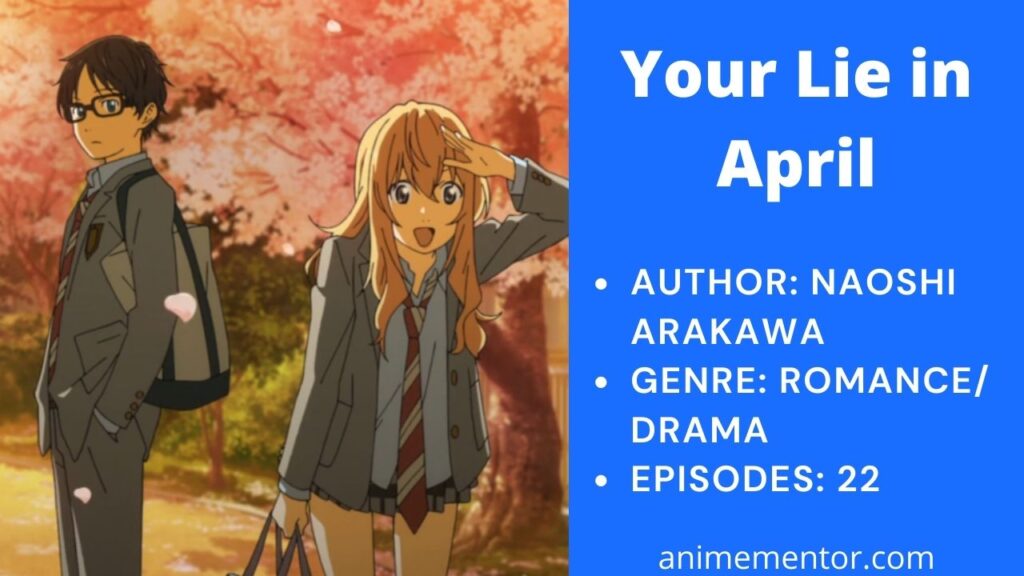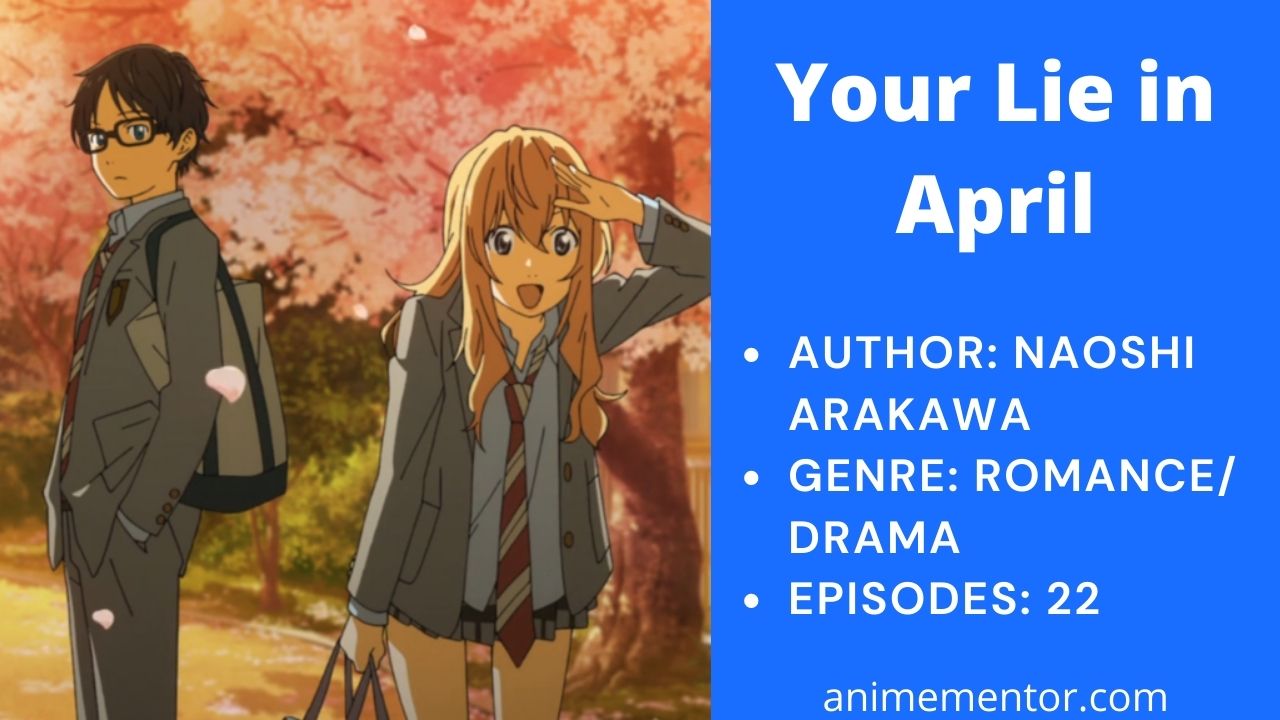 AUTHOR: Naoshi Arakawa
GENRE: Drama, Music, Romance, School
EPISODES: 22
Searching for a devastating yet beautifully told tragic sad romance anime? Look no further than Your Lie in April, which secures a spot as one of the most tearjerkers in the genre.
This coming-of-age drama follows former piano prodigy Arima, who lost his ability to play after his mother's death. His colorless world transforms when he meets Kaori, a spirited violinist who restores Arima's passion for music. As they bond through duets, a tender new connection forms. However, Kaori harbors a heartbreaking secret that threatens their young love.
Your Lie in April compassionately explores loss, trauma, and finding the strength to heal. With a masterful soundtrack and resonant messages about living life to the fullest, this anime delivers an unforgettable elegy on grief, regret, and the redemptive power of love.
7. Orange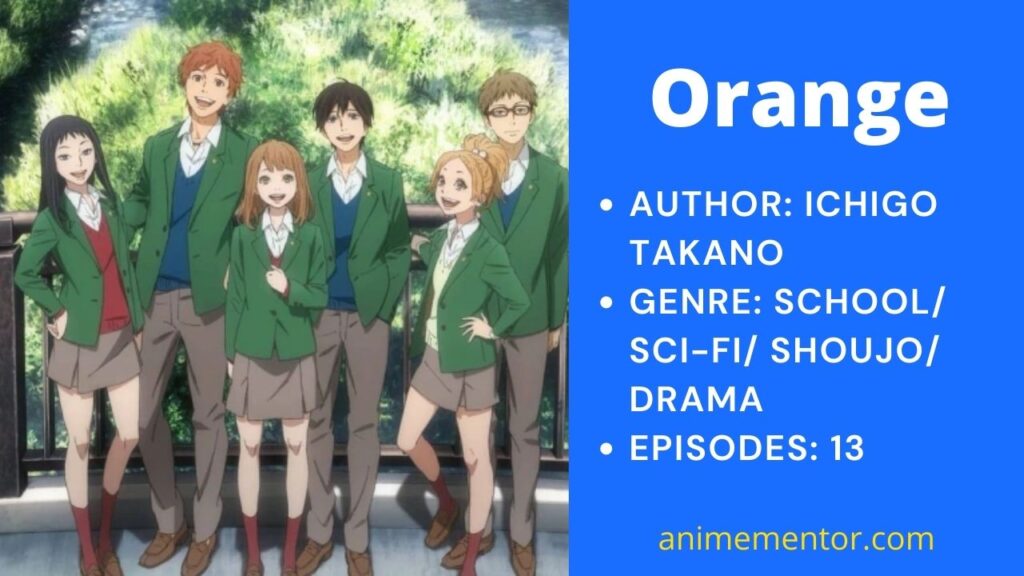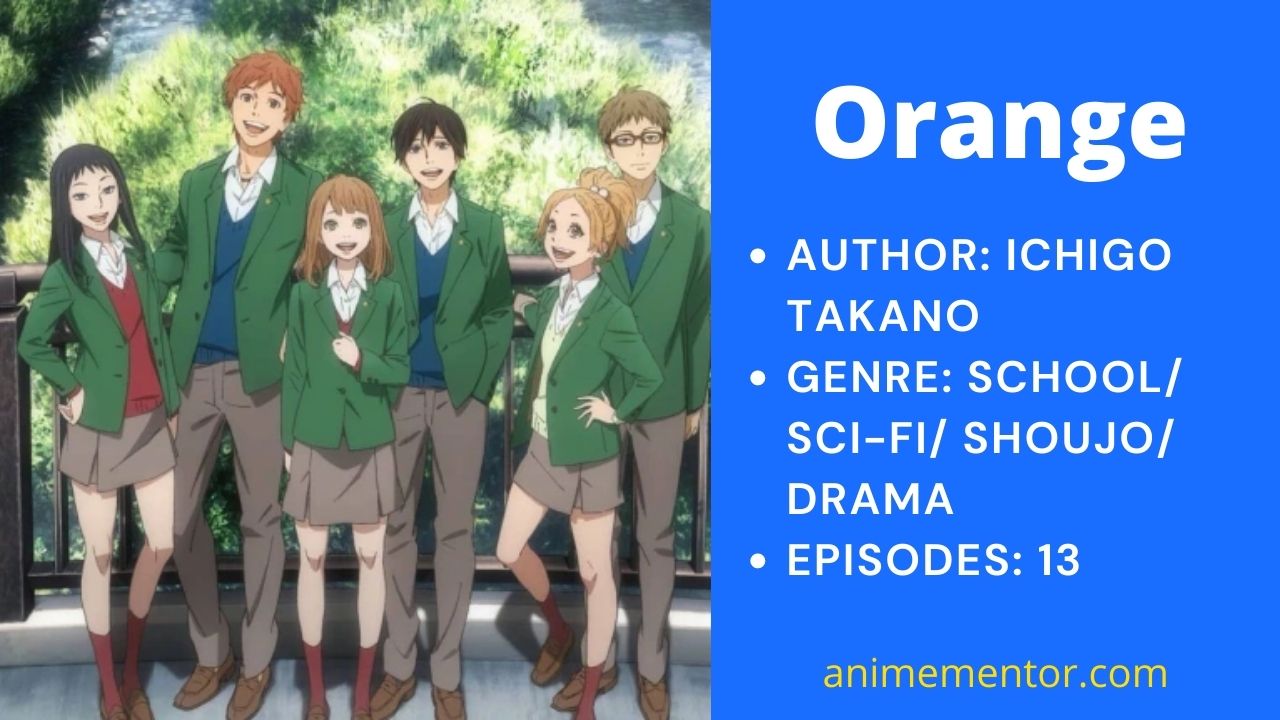 AUTHOR: Ichigo Takano
GENRE: School, Sci-fi, Shoujo, Drama
EPISODES: 13
The story follows teenager Naho, who mysteriously receives a letter from her future self warning of future regrets regarding the new transfer student, Kakeru. As events from the letter come true, Naho desperately tries to change the course of fate to save Kakeru from tragedy.
Will She be able to make the right decisions that can change their fate?
Orange explores heavy themes of depression, suicide, and survivor's guilt with painful sincerity instead of glorification. While its time travel element requires some suspension of disbelief, the focus remains on the rich bonds between its authentic, flawed characters.
For audiences seeking a tragic romance that cuts straight to the heart, Orange delivers an unforgettable tale of loss and the courage to carry on.
8. Angel Beats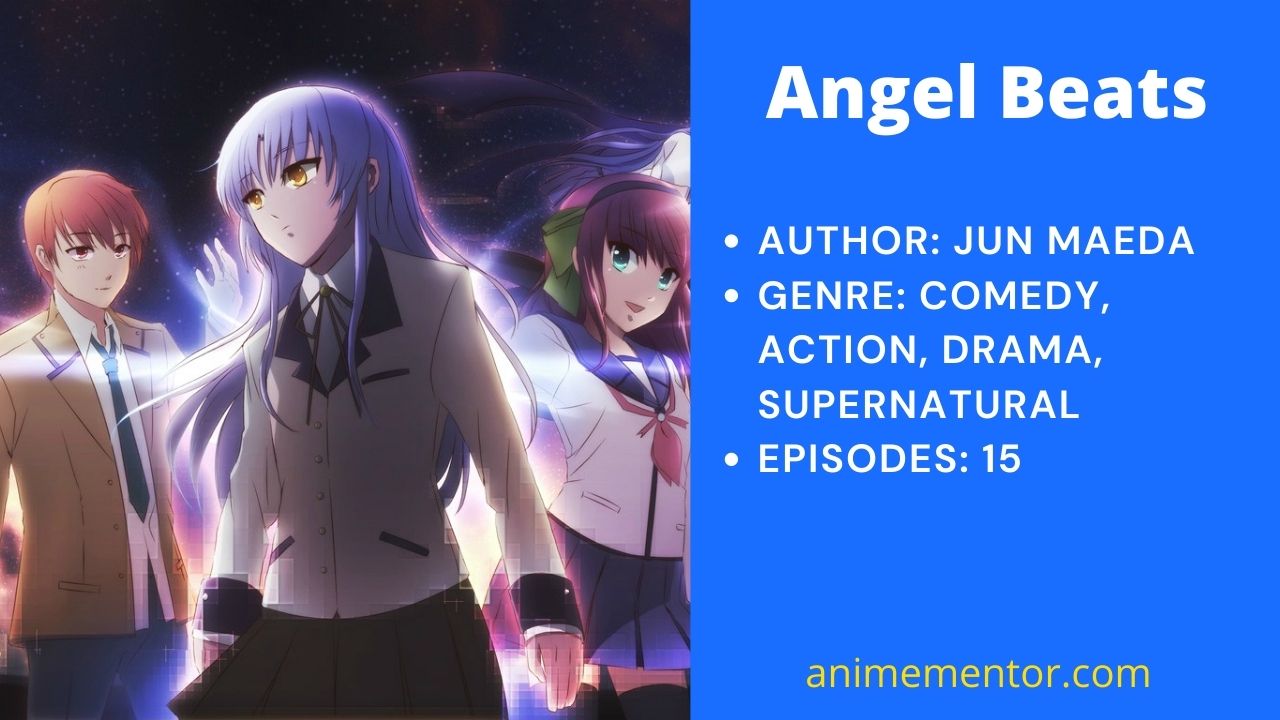 AUTHOR: Jun Maeda
GENRE: Comedy, Action, Drama, Supernatural
EPISODES: 15
This story presents us with a group of students who are already dead but refuse to go to the next life. Here the protagonist is a boy named Yuzuru Otonashi who has no memory of his past life except his name after waking up in the afterlife.
It is a world where the future of the angels is at stake and they must fight to protect their future.
Through unforgettable characters forging connection amidst loss, Angel Beats depicts the struggle of processing regret and moving on. While action and comedy elements lighten the mood, at its core this is a profound tale of life, death, and the power of human bonds.
9. One Week Friends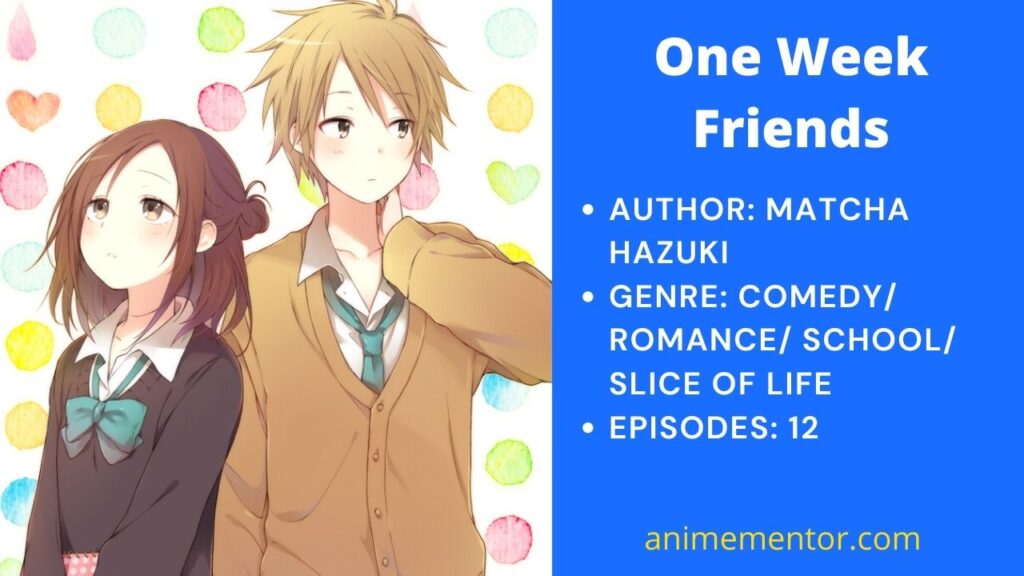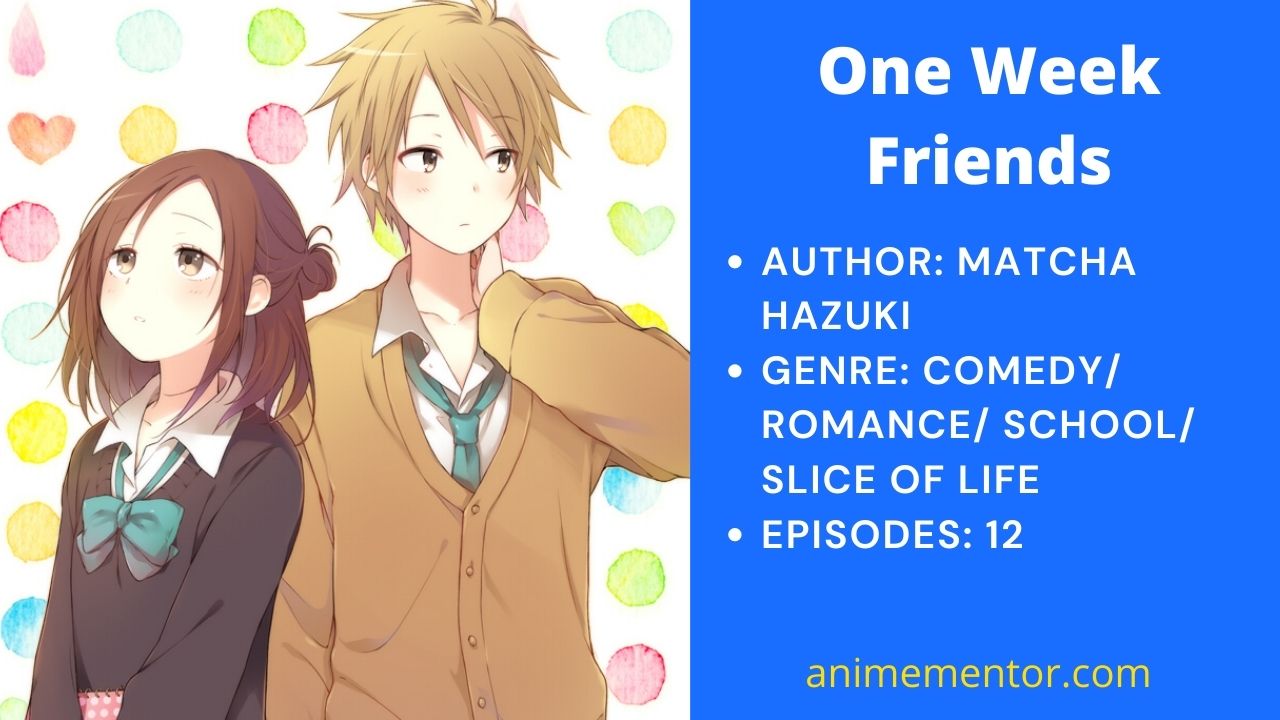 AUTHOR: Matcha Hazuki
GENRE: Comedy/ Romance/ School/ Slice Of Life
EPISODES: 12
Yuuki Hase is a 16-year-old high school student who develops feelings for the quiet and reserved Kaori Fujiyama. Gathering his courage, Yuuki asks Kaori to be friends, and she accepts. They begin spending cherished time together at lunch on the school roof as Kaori slowly opens up.
However, one day Kaori suddenly ignores Yuuki. He later discovers she loses her memories of friends each Monday due to a past accident. Heartbroken but determined, Yuuki restarts their relationship every week, asking Kaori to be his friend again.
Can you imagine the pain? For me, it's one of the saddest love stories.
This melancholy anime thoughtfully explores the fragility of human connections through Yuuki and Kaori's fleeting yet heartfelt bond. Despite her memory loss, Kaori finds comfort in Yuuki's reliable presence. And Yuuki discovers that even impermanent relationships have meaning.
The bittersweet tone and emotive soundtrack speak to the quiet passion of unwavering devotion in the face of life's unpredictability. Viewers seeking a sad romantic drama will find themselves moved.
10. Golden Time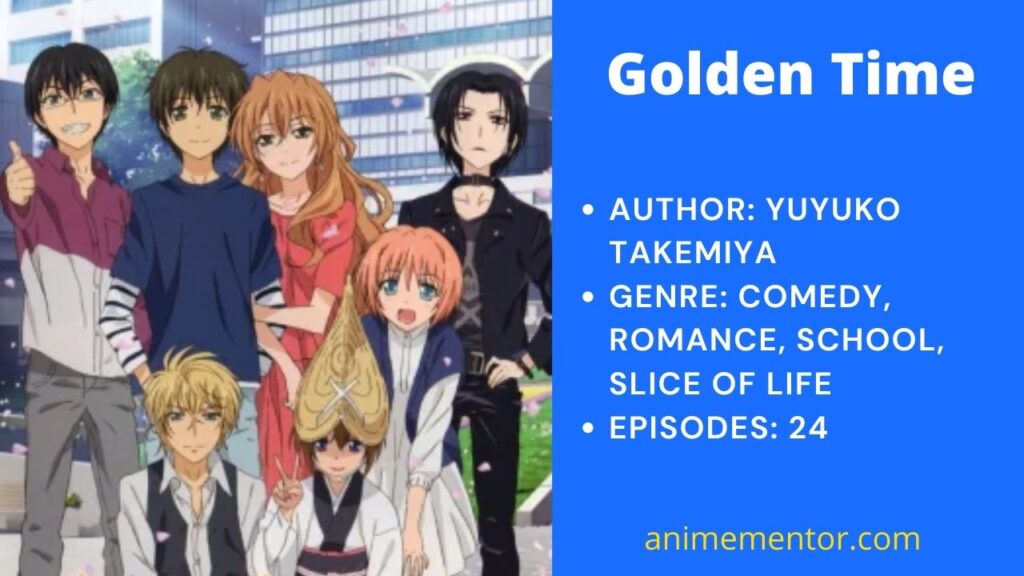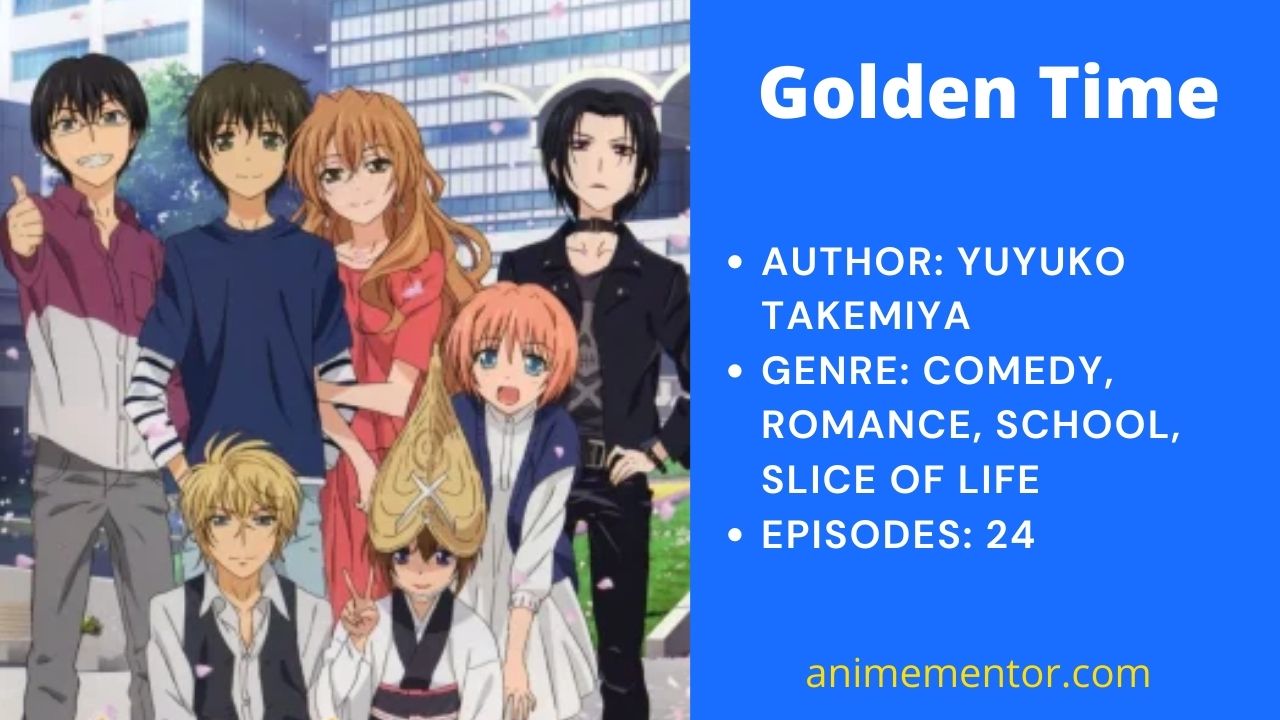 AUTHOR: Yuyuko Takemiya
GENRE: Comedy/ Romance/ School/ Slice of Life
EPISODES: 24
In a private law school in Tokyo, a new student named Tada Banri was enrolled who on his first day to school was finding his way to the freshman orientation but got lost after the opening ceremony.
There he stumbles upon another freshman named Yanagisawa Mitsuo who was also lost in the way. The two somehow managed to arrive at the orientation in time when suddenly a beautiful girl with a bouquet of roses appeared from nowhere. The girl gave the flowers to Mitsuo, congratulated him, and left. Later, Tada learns that the beautiful girl was Mitsuo's childhood friend, Kaga Kouko.
In their childhood, Mitsuo and Kaga were told that they would marry each other in the future. Mitsuo doesn't like Kaga anymore but now they are again together in the same private law school.
Conclusion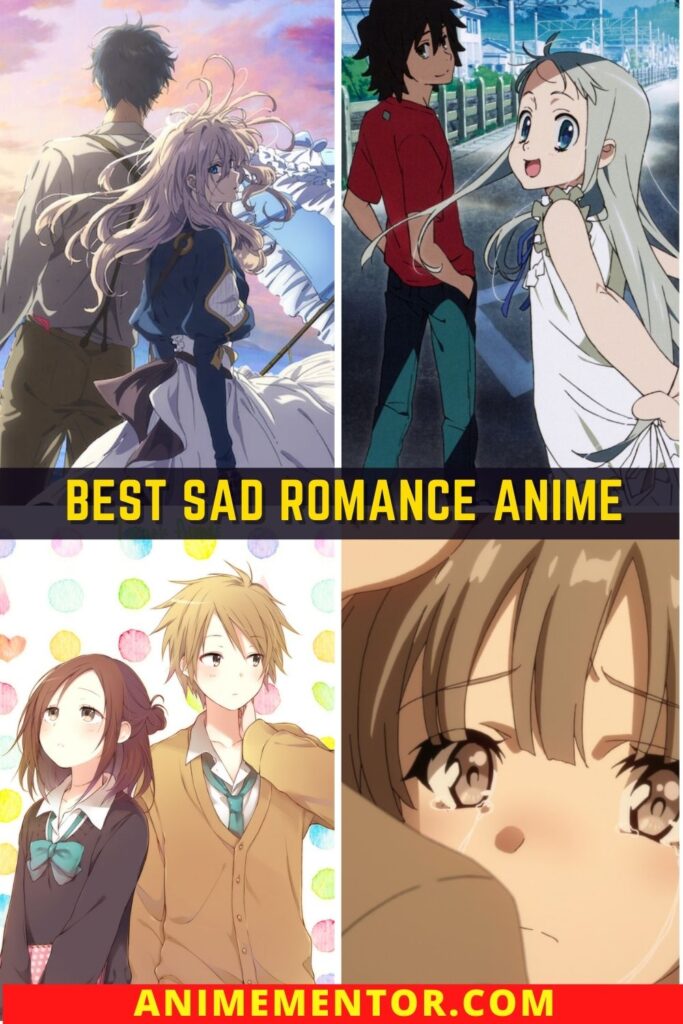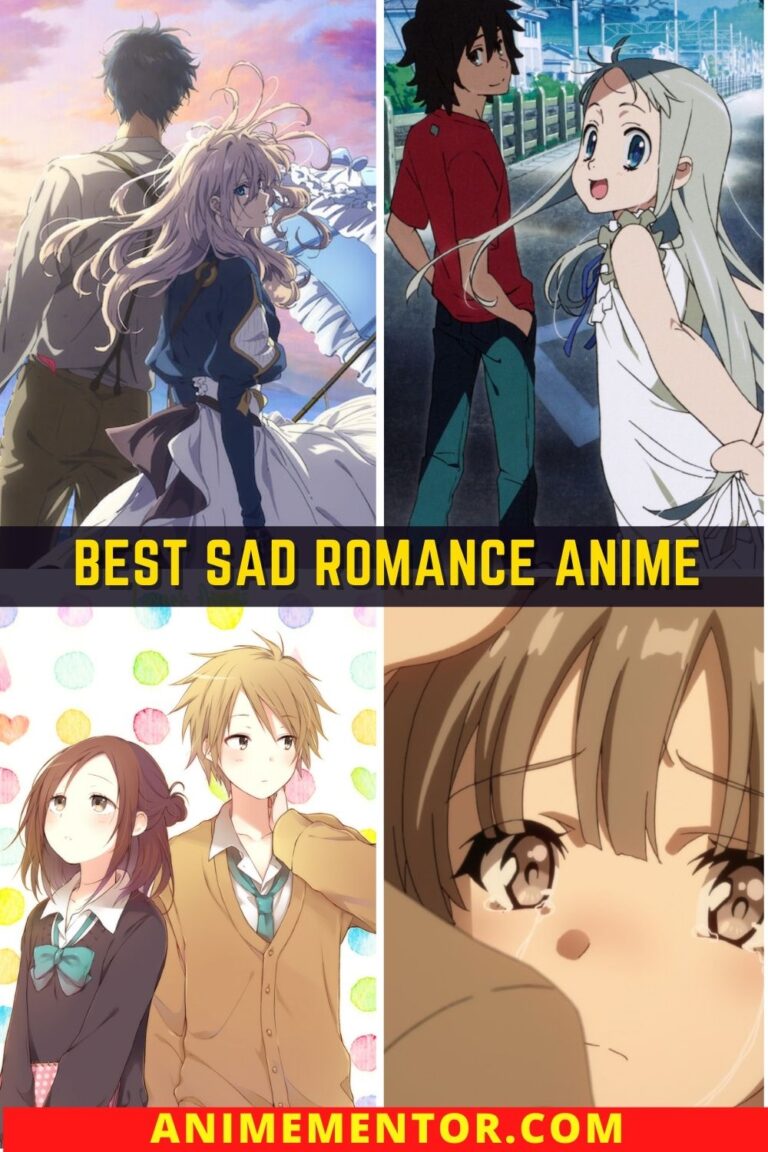 So this was our list of the Best Sad Romance Anime. Did your favorite sob anime make it to the list? Or do you think we missed some good ones? The comments section is all yours!
Also, If you have any queries, suggestions, or feedback reach out to us and we will get back to you as soon as possible!
Thanks for reading this far!
Bye!