There is no denying the fact that over the last few years, anime and mangas have gained much popularity. While many may have binged multiple seasons of some anime in one sitting, there are some series that did not get the attention they deserved.
So we decided to take things into our own hands and compiled a list of some underrated anime that deserve more attention.
Now before we go any further, this list is totally based on personal opinions (and yours might vary from ours).
In this list, we have tried to cover anime from different genres. So that every fan will have something to look forward to.
Each anime series on our list is unique in its own way. However, for various reasons (things like less production value or for being old) they were almost ignored by anime fans.
So without further ado let's get straight to the list!
1. Ranking of Kings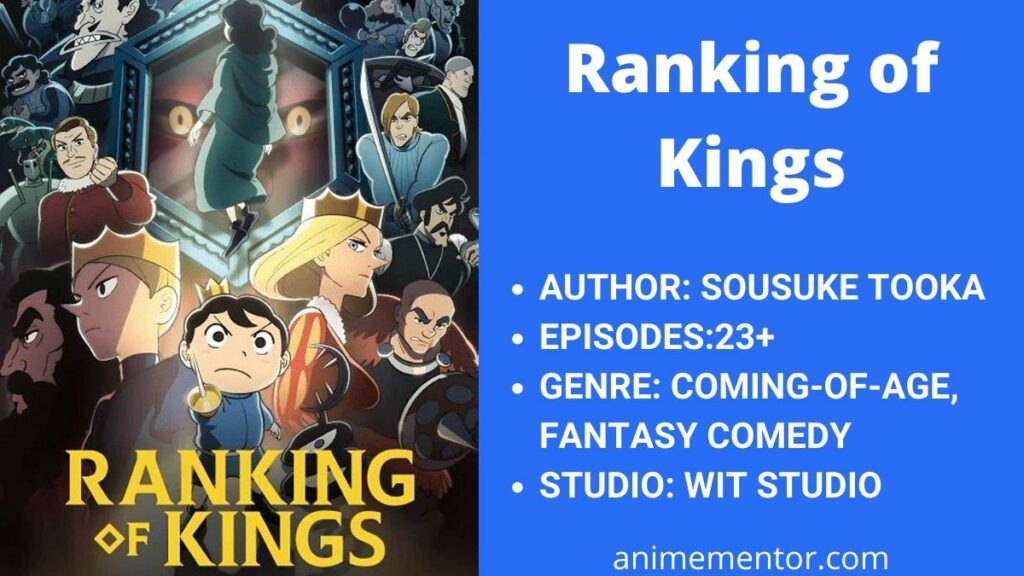 Author: Sousuke Tooka 
Episodes:23+
Genre: Coming-of-age, Fantasy comedy
Studio: Wit Studio
A new series came this year that broke the internet for its fans. Still, the series is very under-watched. The art style is unique as compared to normal 2D animation. Well, that might be one of the reasons why many ignored the series altogether. However, from storytelling to character development this series is one of the best. The animation although a bit different still is pretty good as we see the story progress. If you still haven't watched this masterpiece.
The story of Ranking of Kings focuses on Bojji and Kage. The world is quite different from our Earth. For starters, there is a ranking system as the title suggests.
The entity called God gives ranking to the strongest Kings of the world and the King ranked No.1 is given a gift of their wish from the 'Divine Treasure Vault'.
Now Bojji is supposed to be the next King after King Bosse. However, he was born deaf and naive. Yet, he had the dream of becoming the strongest King.
When everyone almost rejected Bojji he met Kage – the only survivor of an assassin clan that was wiped out. How will their friendship fulfills their dream is an awesome story to watch.
2. Houseki no Kuni (Land of the Lustrous)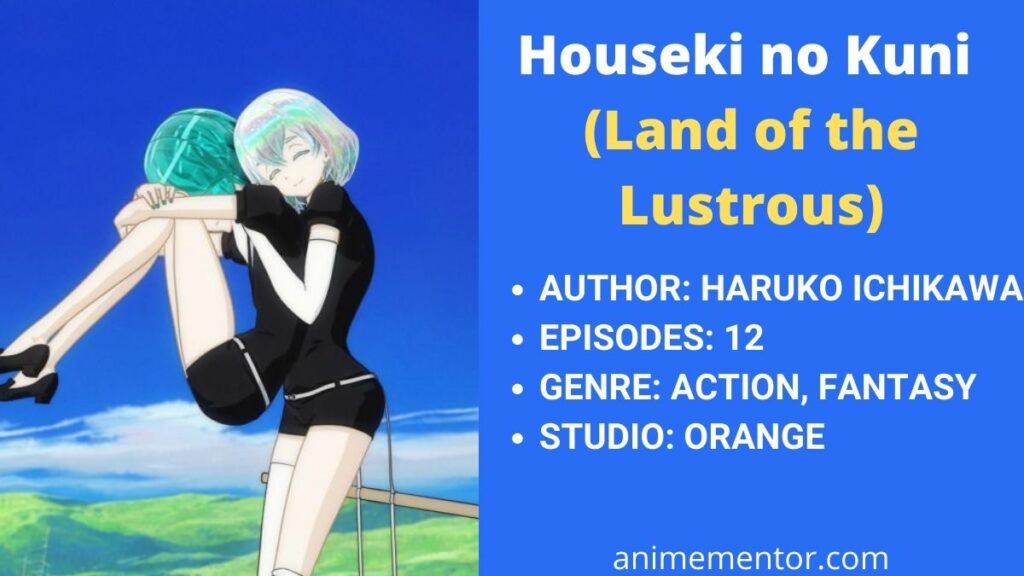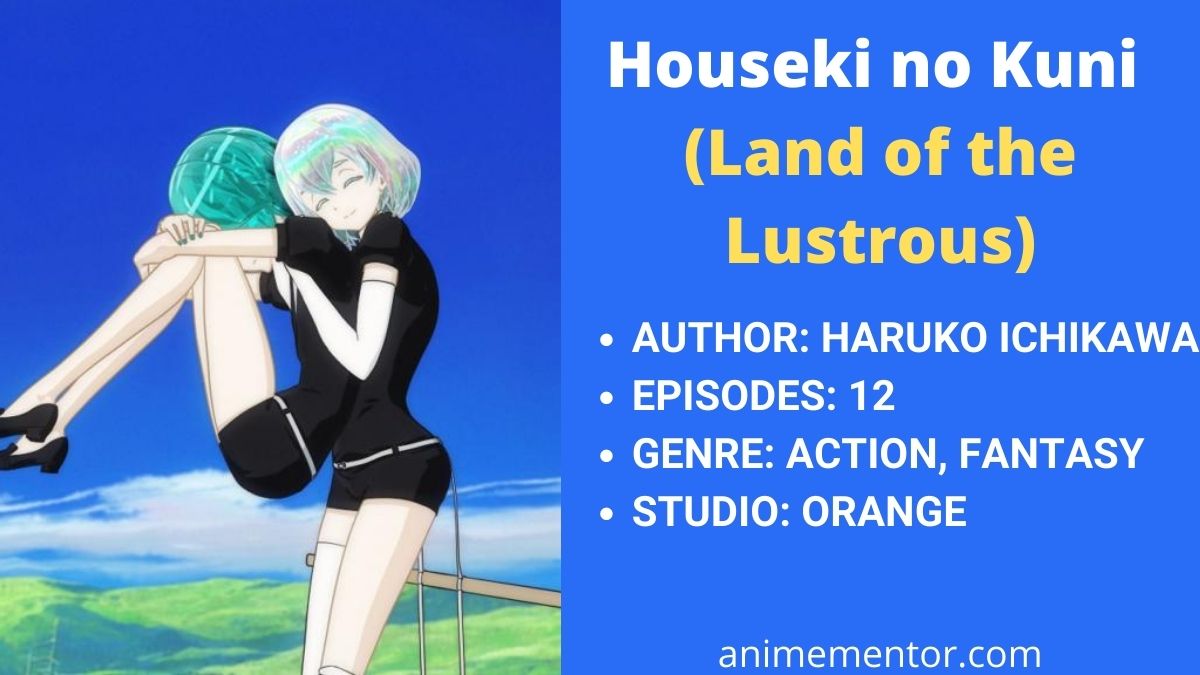 Author: Haruko Ichikawa
Episodes: 12
Genre: Action, Fantasy
Studio: Orange
The second series on our list is Houseki no Kuni – a series that is very beautiful in both anime and manga. The art style of this series is an eye candy. The anime also has only one season though it adapted the series perfectly. It's a must-watch for those who love stories with nice world–building and plot twists.
The story of Houseki no Kuni is set on a future timeline. The world has been destroyed by 6 meteorites. Now only one beach is left which is surrounded by oceans. There lives a new life form called "Houseki"(Gems). There are 28 active Gems.
However, life is not so easy for anyone. There are Lunarians who always seek Gems to wear as decorations. So Gems has to fight to survive against the deadly Lunarians.
We follow Phos (Phosphophyllite) in this story. They are the weakest of all the gems. They were never ordered to do anything because of their lack of abilities. Until Phos was ordered to write the History  Encyclopedia by Kongo – king of Gems. So what awaits them in the future?
3. Yowamushi Pedal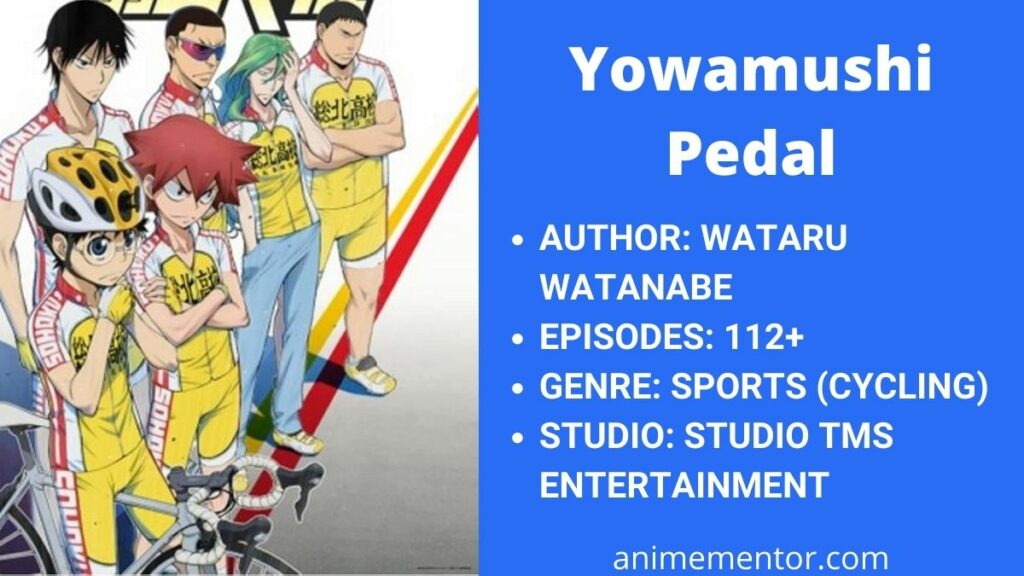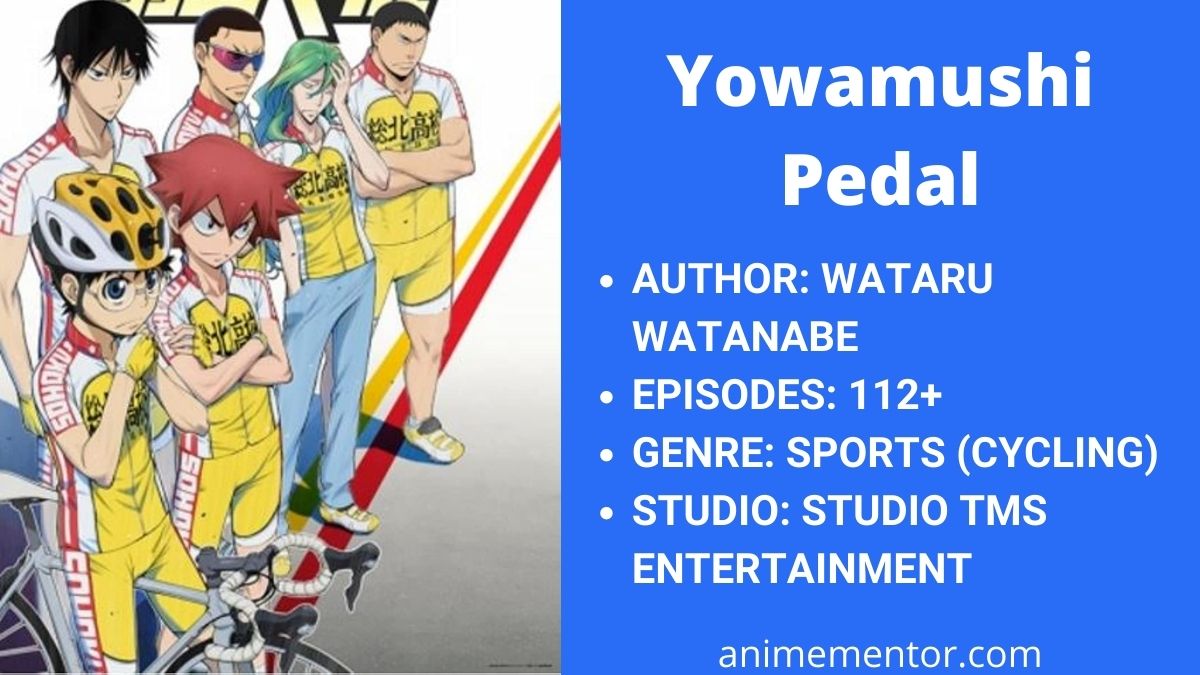 Author: Wataru Watanabe
Episodes: 112+
Genre: Sports (cycling)
Studio: Studio TMS Entertainment
In the 3rd place on our list is a sports anime. The anime was very popular once. However, as time passed people seem to have forgot its name. But trust me, the anime is so intriguing it will always keep you at the edge of your sit. If you are a fan of sports anime like Haikyuu you must give this anime a try. Though it starts a little slow when it takes pace you won't be able to stop watching it. Give it a try. Also October 10th,2022 new season is also coming its the best time to catch up.
Yowamushi Pedal tells the story of a group of kids who love Bicycle Race.
Sakamichi Onoda is a very cheerful and kind otaku. He wanted to open an anime club, however, it got disbanded. So Onoda took it upon himself to rebuild the club. He goes to Akihabara (a 90-kilometer-long trip) just to buy some mangas on his normal bicycle.
He is on this journey since 4th grade without any misses. One day on his way to buy manga he meets Imaizumi. Imaizumi is a fellow first-year whose dream is to become a professional cyclist.
Not to spoil anything but Onoda's life changes drastically after this faithful meeting.
Watch the anime to know how it goes and follow them on chasing their dreams.
4. Natsume Yuujinchou (Natsume's Book of Friends)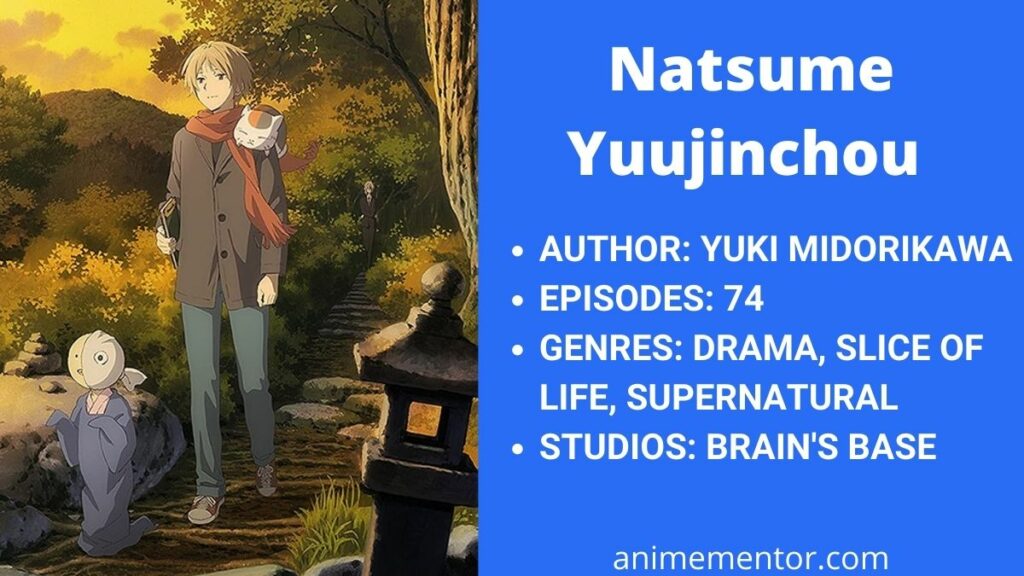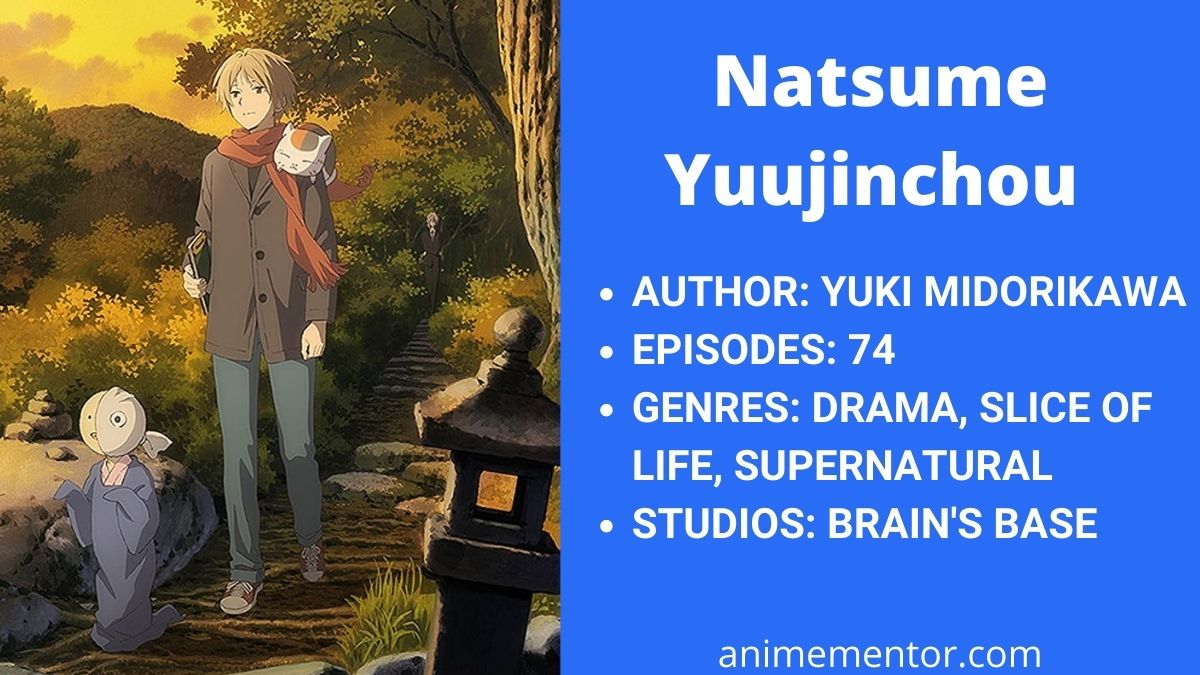 Author: Yuki Midorikawa
Episodes: 74
Genres: Drama, Slice of Life, Supernatural
Studios: Brain's Base
A beautiful fantasy slice of life is in the 4th position on our list. Natsume Yuujinchou is a very unique story in itself and also very calming. If you want to watch a series with a lot of emotions and an awesome world to explore with many unknown creatures, this must be your first choice. It is an underrated Anime that Slice of Life story lovers will have a great time with this series. A must-watch.
Natsume Yuujinchou follows a boy Natsume on his journey to meet various new Yokai.
Natsume is different from normal humans, as he can see Yokai – an ability that he inherited from her late Grandma. However Natsume was only aware of his powers after he stumbles upon a book called the "Book of Friends" that belonged to his grandma.
He also came to know, that her grandma has bound many spirits/Yokai and wrote their name in the diary. As long as their names are in the diary they cannot be free. So Natsume decides to free them.
Natsume sets on this journey with his partner Madara (Nyanko-Sensei by Natsume). However, there are problems. The "Book of Friends" is a very valuable object in the spirit world as anyone who possesses it can control the spirits whose names are written in the book.
So here starts the fantastically unique emotional journey of Natsume.
5. Ergo Proxy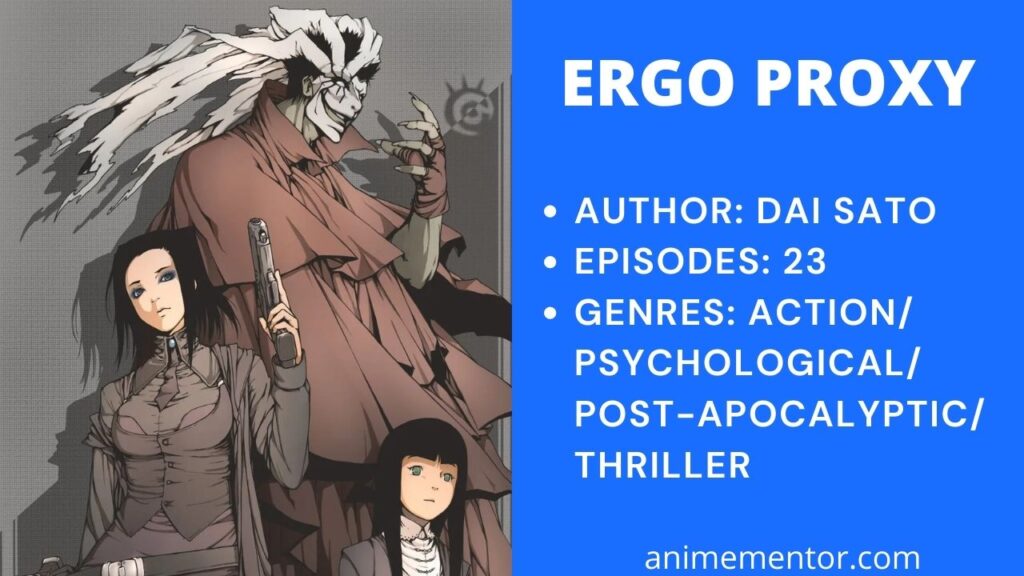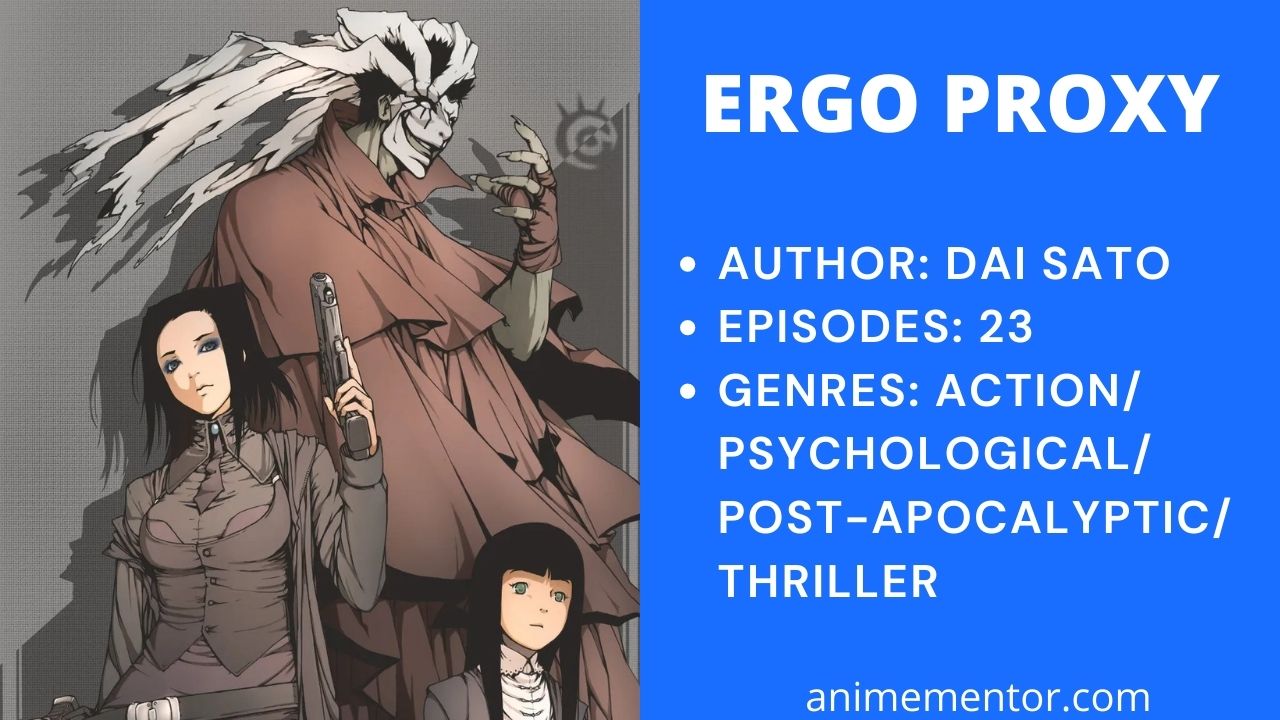 Author: Dai Sato
Episodes: 23
Genre: Cyberpunk, Post-apocalyptic, Psychological thriller
Studio: Manglobe
Director: Shuko Murase
Now we have a Psychological thriller on our list. The genre in itself is relatably underrated. Ergo Proxy is one of the best psychological anime to this day. The eerie feeling while watching the anime is just very unique. The thrill and suspense of this series are also great. The story is awesome and the animation is beautiful. Still, this might be the most ignored series ever. Give it a watch now to know how great this series is.
The story takes place in the faraway future where Earth is already been ravaged by multiple cataclysms. However, on this lifeless Earth still people live. One such group of refugees lives in a domed City name "Romdeau". Here humans live with their Android Servants which are called "AutoReivs".
A Regent with its Governing Body controls the Dome. They are maintaining the peace and trying to keep the problems out of the Dome's gate. Soon though everything changed. A series of murders created unrest inside the Dome.
Re-l Mayer a Citizen Inspector was tasked with solving the case. However, she came to know more about the truth. The hidden truth of "Proxies" and about what they truly are.
6. Eden of The East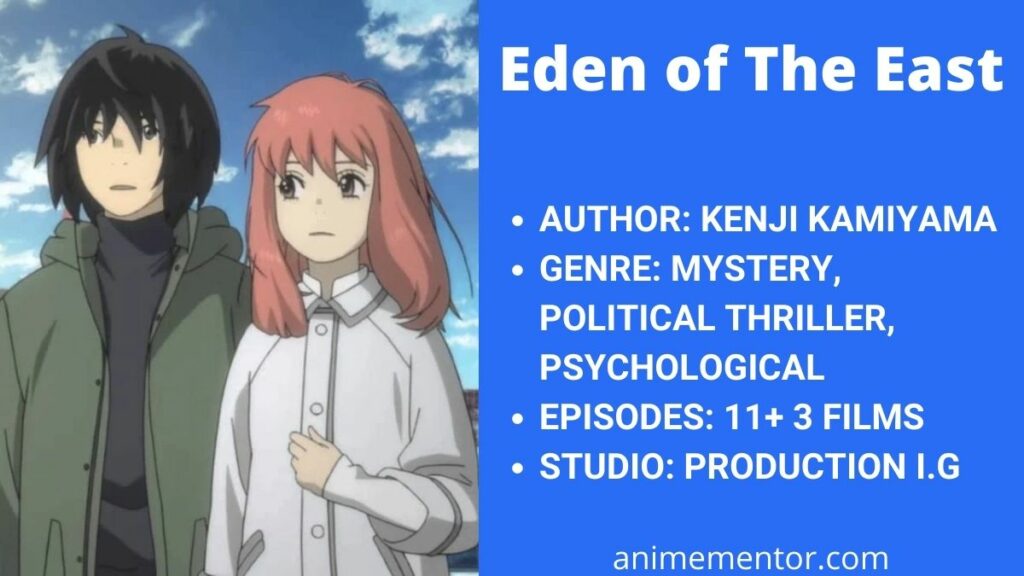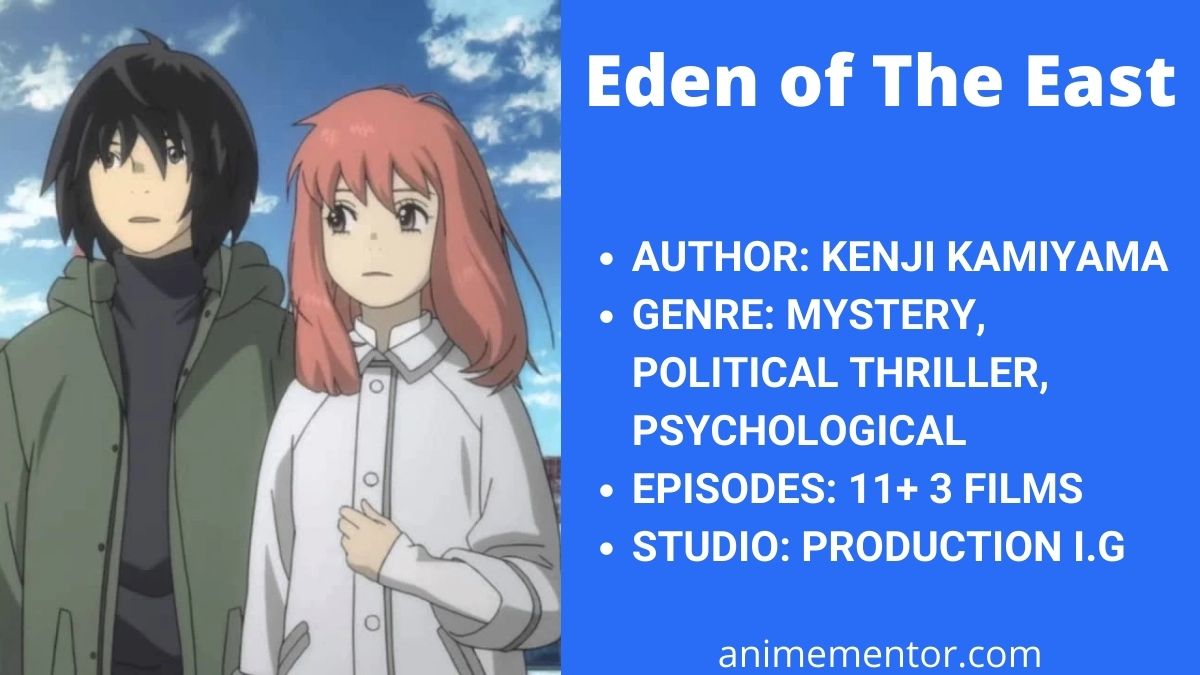 Author: Kenji Kamiyama
Genre: Mystery, Political thriller, Psychological
Episodes: 11+ 3 Films
Studio: Production I.G
Now after Ergo Proxy Eden of the East might be the best recommendation for the mature audience. This series truly depicts Violence, Adult Content filled with Graphic scenes. At the time this anime was released it won an award however, the popularity died down soon enough. As it might be the promotion of this anime might have been done to the wrong audience as this series is clearly not for everyone. However, the story of this series is one of the best to date.
The story follows two people Saki Morimi and Akira Takizawa. One day Japan was attacked by 10 missiles without any casualties. This apparent terrorist attack was announced as "Careless Monday".
3 months after the incident, Saki comes to the White House. Here she meets a naked man with amnesia. That man is Akira Takizawa. Though it's not his true identity. While leaving the White House he found multiple passports. Among those, he chose Akira Takizawa's passport.
He also discovers his phone has 8.2Billion Yen and he is a part of a game. 12 people along with him were given the money to save Japan. Now, this death game begins.
7. Mushi-Shi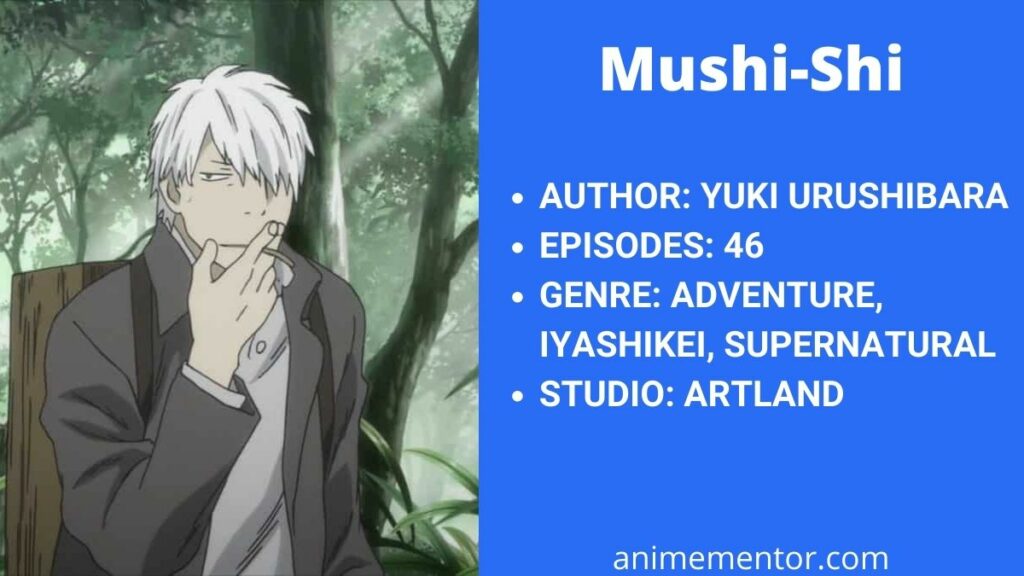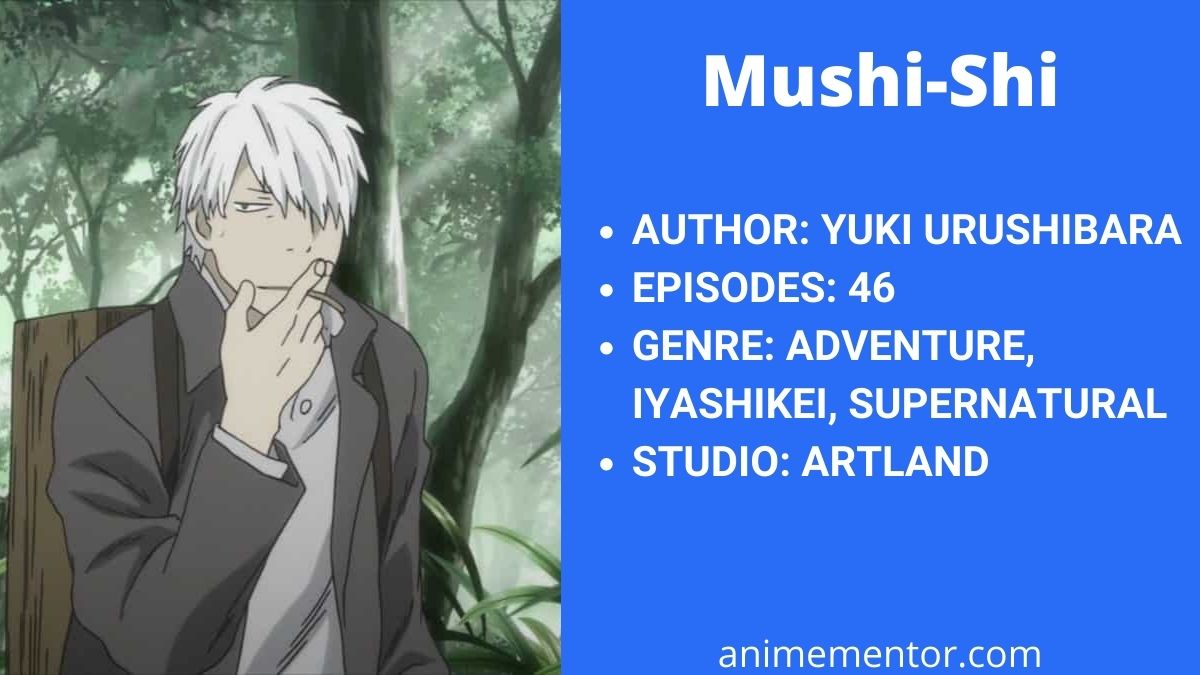 Author: Yuki Urushibara
Episodes: 46
Genre: Adventure, Iyashikei, Supernatural
Studio: Artland
At number 7 we have a series depicting the essence of adventure – Mushi-Shi. It is definately a very under-watched anime and deserves more respect as it is an awesome series to enjoy anytime. The series is kind of an anthology which is unique on its own. Yet, it was never much popular probaply because of its quite slow pacing. However, if you are under stress or need relaxation this series might fit the bill. The sheer beauty of this animation is worth watching.
The anime Mushi-Shi follows a man named Ginko. The world is filled with ethereal spirits known as Mushi. Ginko can see the Mushi. The series does not have a massive overarching plot. However, the beauty of small-scale storytelling with action and suspense is an awesome experience.
Ginko in every episode meets new Mushi and helps them. Every episode features a well-fleshed-out character and Ginko helping them somehow.
Watch it whenever you have time!
8. Rewrite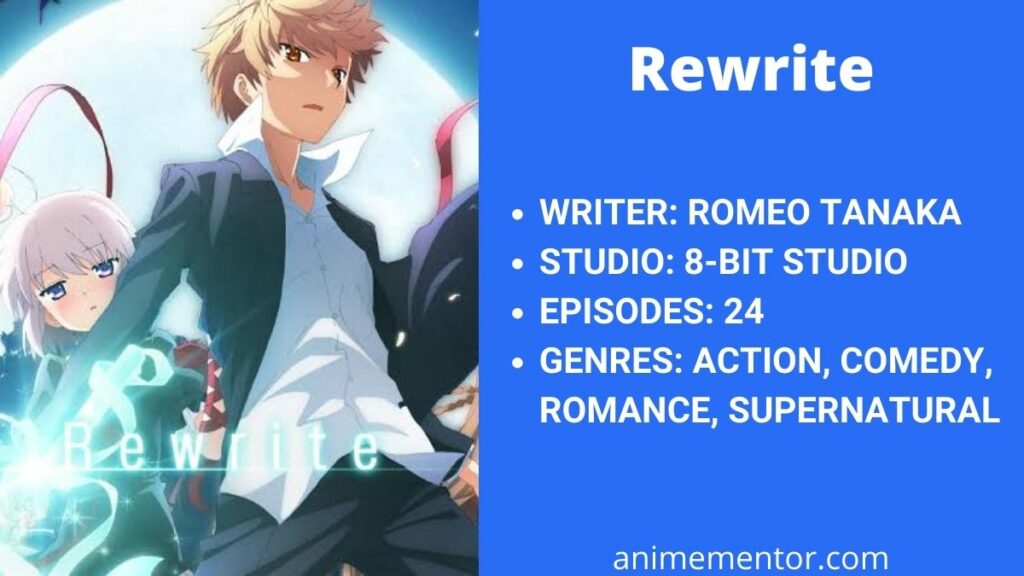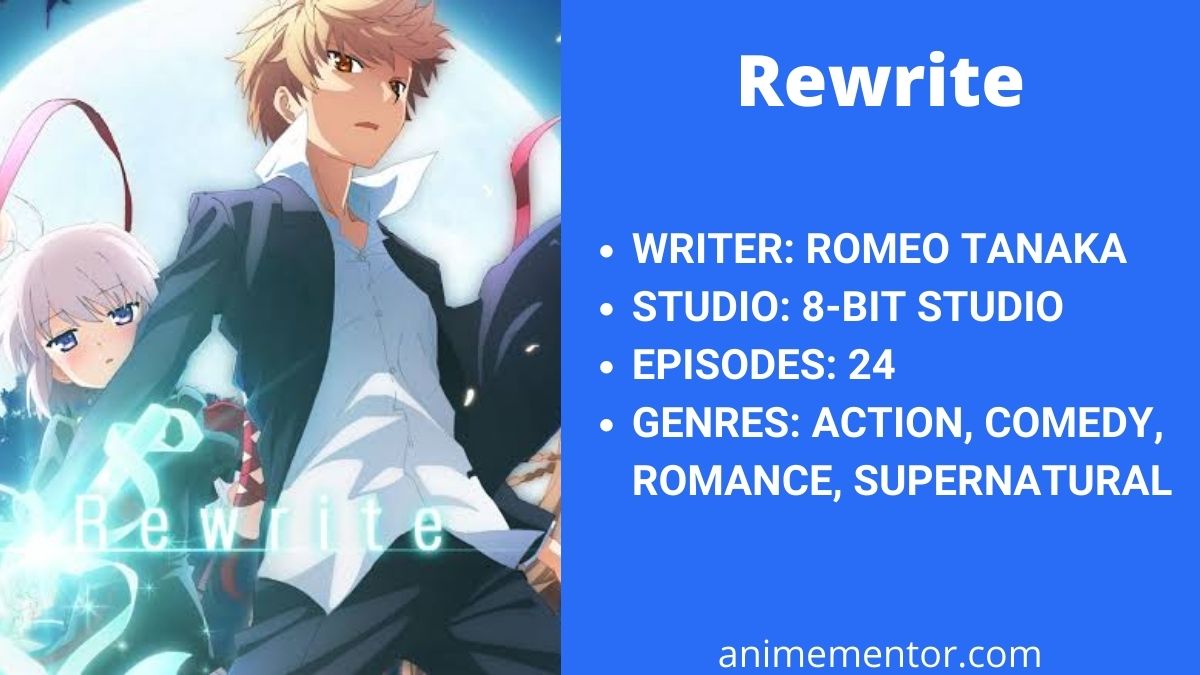 Writer: Romeo Tanaka
Studio: 8-bit Studio
Episodes: 24
Genres: Action, Comedy, Romance, Supernatural
Rewrite is a very unique series that many might have never heard of. The series was adapted from a visual novel of the same name. It is filled with supernatural mysteries with a little bit of sci-fi. The series might be unpopular because of less promotional value or liking the Visual Novel more. Still, the anime deserves a chance as it has great animation. Do watch it if you love Romance with Supernatural fantasy.
The story of Rewrite revolves around Kotarou Tennouji – a boy with supernatural powers. He was drawn to the supernatural forever. He is a high-schooler in Kazamatsuri city.
One day Kotarou found out about the Occult Research Club. There he helped the lone member of the club and the  "Witch" Akane Senri to revive the club. He along with Kotori, Shizuru, Chihaya, and Lucia joined the club and soon after, their lives start to change.
Kotarou started to uncover many secrets regarding the Club Members as they went on their adventures. However, he still doesn't know what lies ahead. He is unaware of the inevitable fate that only he might be able to Rewrite.
9. Hitori no Shita – The Outcast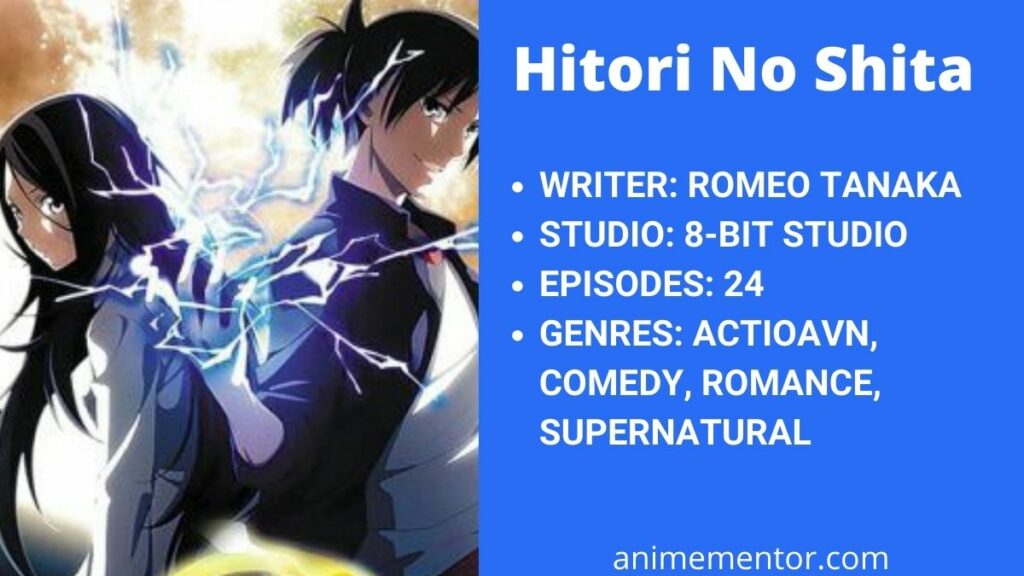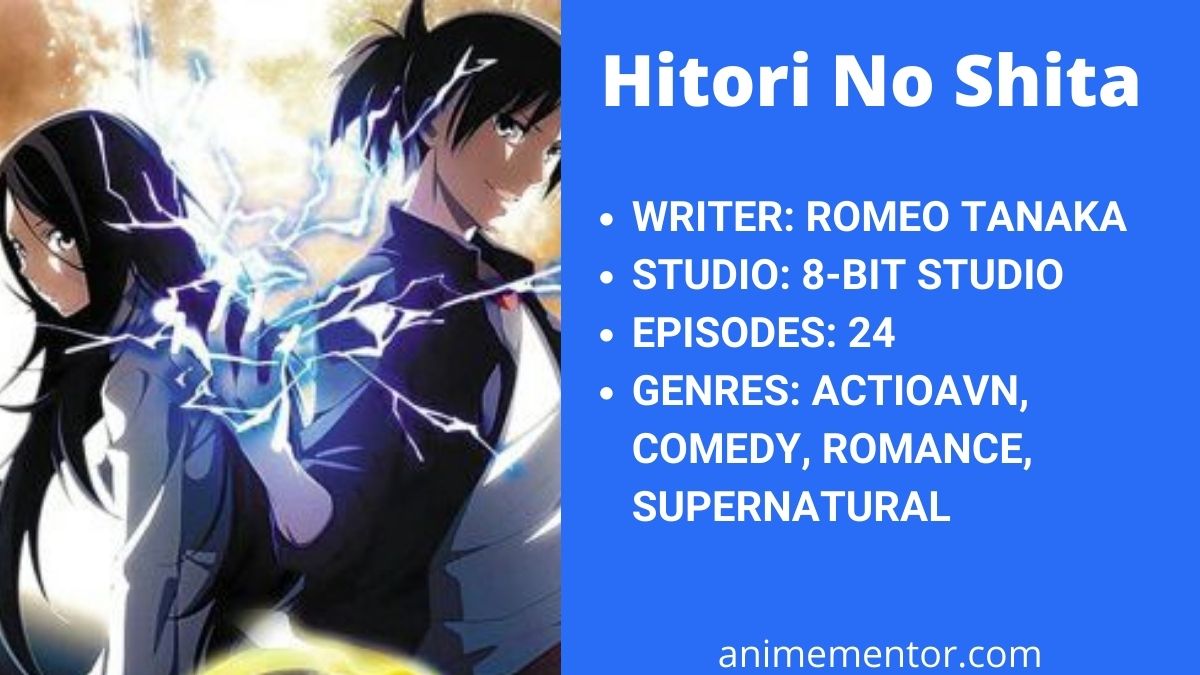 Author: Dong Man Tang
Episodes: 56
Genres: Action, Supernatural
Studios: Namu Animation
At no.9 we have Hitori no Shita. This is a series that is almost underrated because of less promotion. This seasonal anime is very beautiful with good animation. The plot covers an awesome story filled with some thrilling mystery, comedy, and superb action scenes. The action choreography is amazing. This is a must-watch for those who love martial arts animes. This series has a vibe akin to Chinese series so anime fans might have ignored it because of that. However, it's a total 2-D anime with awesome graphics and great Voice acting. Don't wait watch it!
The story focuses on Chou Soran. He is a normal college student who always had an easygoing life. However, everything changed one day.
Chou Soran was going to visit his Grandfather's grave when suddenly he was attacked by a hoard of Zombies. As Chou was running away, he was saved by a girl with a knife. She told Chou that her name is Fu Hoho after which his life changed.
Chou came to know that the martial arts technique that his Grandpa taught him is hunted by a lot of strong people. Soon his journey starts to find his own Grandpa's past along with Hoho's true identity.
10. Hell Girl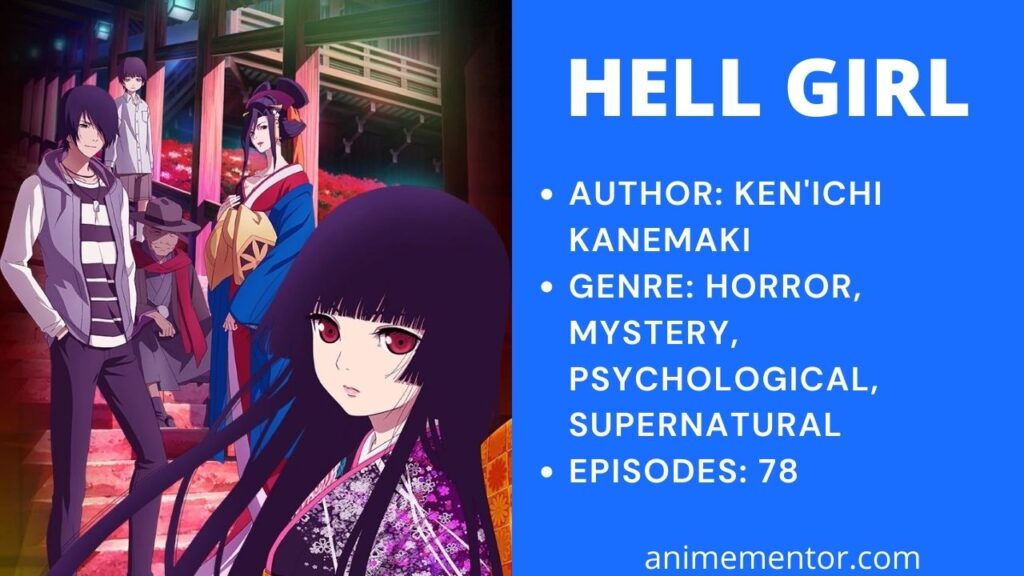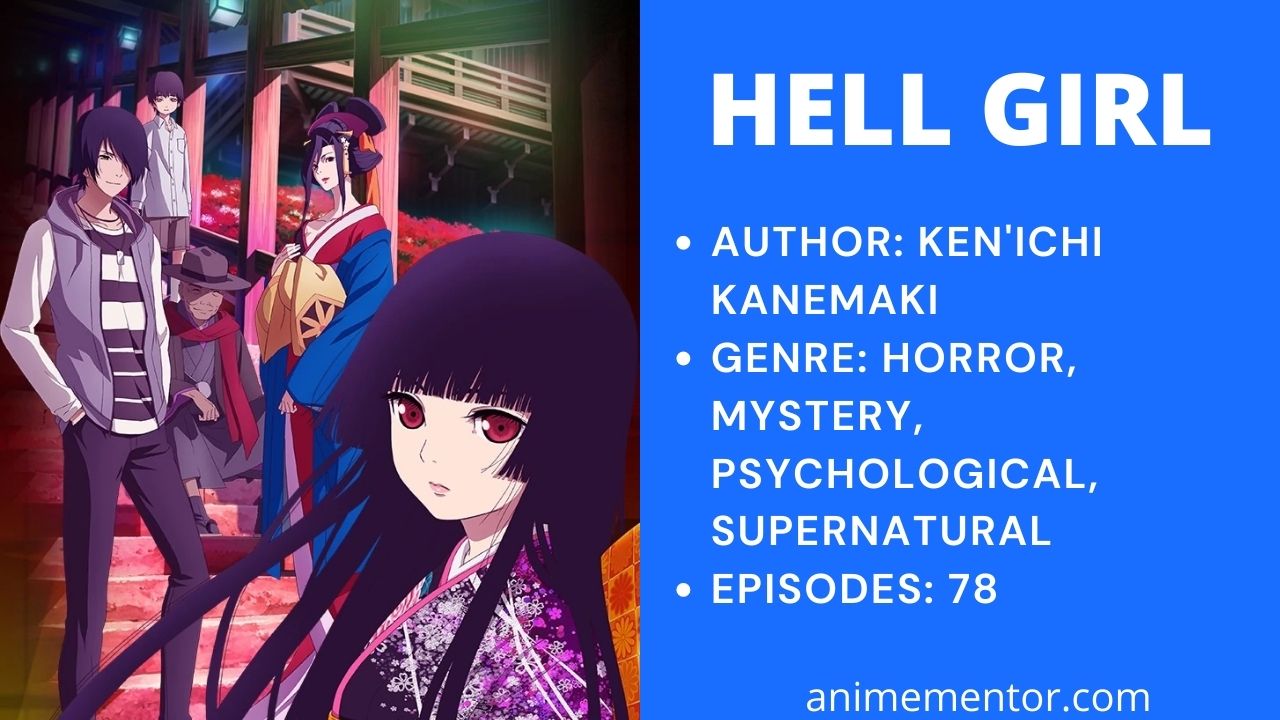 Author: Miyuki Etō
Genre: Dark Fantasy, Supernatural thriller
Episodes: 64
Studio: Studio Deen
If you are a horror fanatic this series might be your favorite on the list. Our 10th anime is Hell Girl. A series that very beautifully depicts the human emotions of injustice, revenge, and hatred. This series from beginning to end is very consistent with its dark theme. Though every episode focuses on a new person, the stories are totally connected and a must-watch. Many might not even have heard its name but you do now so give it a shot!
Hell Girl a.k.a Ai Enma is the titular character and the main focus of the story. Though every episode is kind of a short story still, it has a very interesting and unique plot.
People can call Enma through Dark Web now to get revenge against someone they hate. And Enma comes to fulfill their wishes.
She comes and brings the said antagonist to Hell. After which the torment starts.  However, the one who requests the job also has to pay a hefty price.
A psychological horror that might blow your mind. 
11. Moribito: Guardian of The Spirit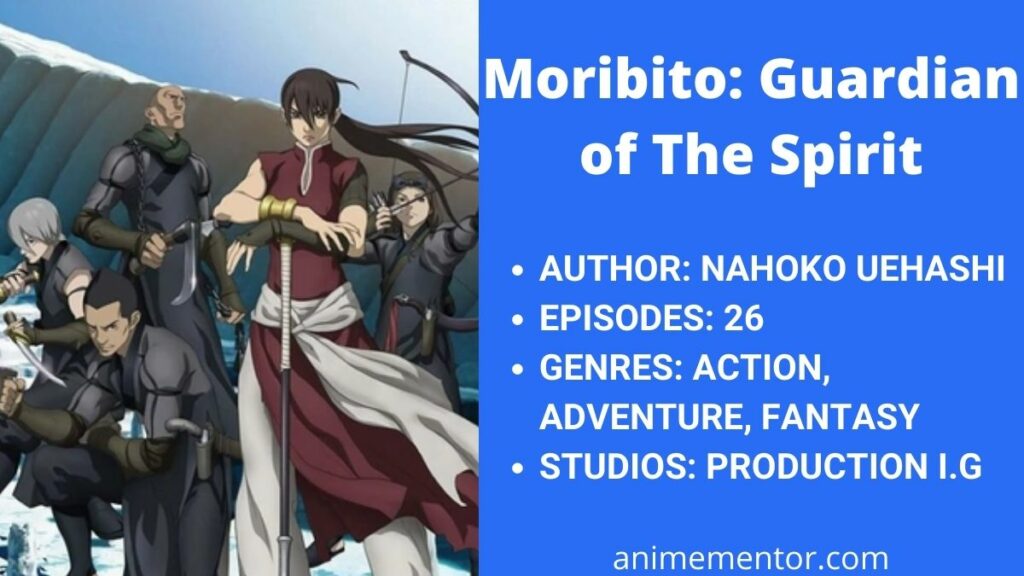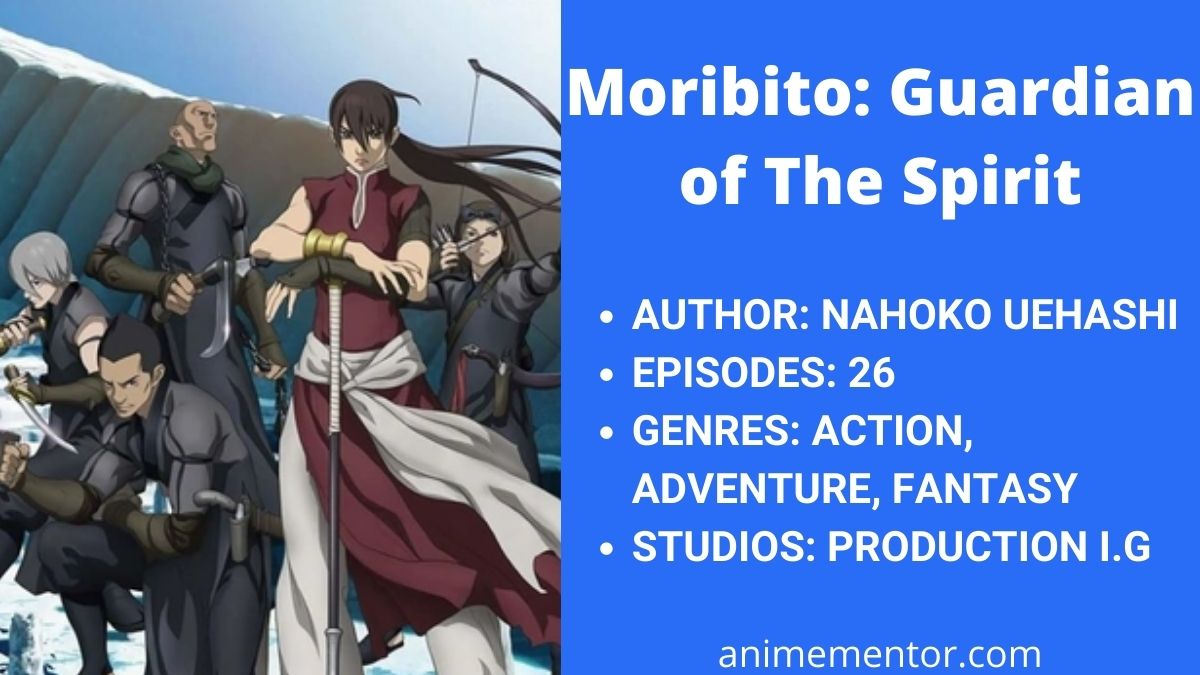 Author: Nahoko Uehashi
Episodes: 26
Genres: Action, Adventure, Fantasy
Studios: Production I.G
Next on our list is a series for History fanatics. The most underrated gem on this list. At this time lots of anime are coming out however, this one is different. In this time of cliche anime series, this one feels like fresh air. Historically it has the setting of almost Edo Period Japan. The story also contains materials of sci-fi content like the parallel world with some great supernatural stuff. This is a must-watch for anyone who loves anime in general.
The story revolves around Balsa and Chagum and takes place in a Shin Yogo empire. The country's Star Readers foretold an upcoming drought. So against the widespread famine, they have to take drastic measures to survive and the Emperor decides to sacrifice his second son Chagum to save the empire.
At this moment enters our wondering mercenary Balsa. She was tasked to protect Chagum by his mother and with this Balsa's new life begins.
She started to protect Chagum by experiencing life, nature, and family from a new perspective. Watch to know how their story goes.
12. Plunderer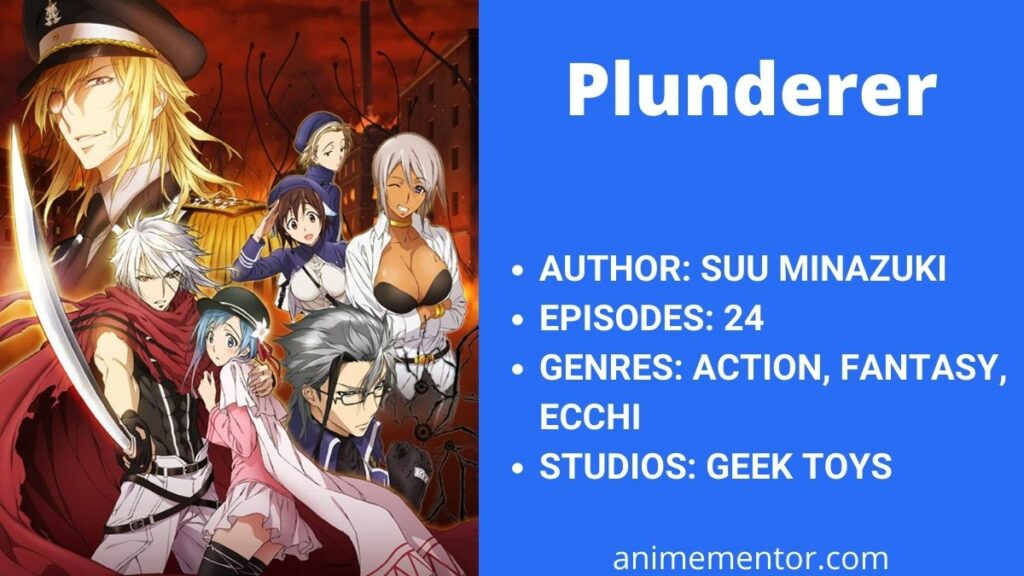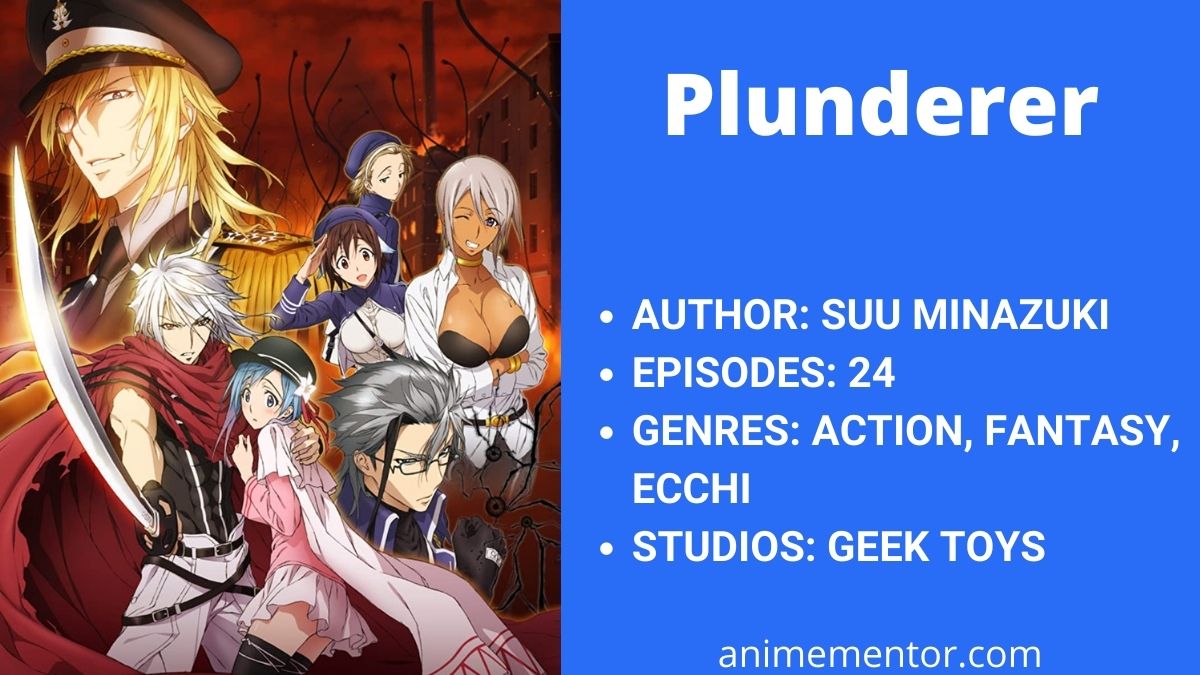 Author: Suu Minazuki
Episodes: 24
Genres: Action, Fantasy, Ecchi
Studios: GEEK TOYS
Now the next on the list is a series called Plunderer. The series became quite popular when it was released, however, the hype died down and many people don't even know about this series existence. The story of this anime is quite complex set in a post-apocalyptic world. The characters are very well written with some great twists and untold secrets that will keep you on the edge. However, the season-ending became quite slow and ended with a cliffhanger without any news of a possible season 2. Still, this one is a great choice for those who love action-romance series with a little bit of a dark plotline.
In the city of Alcia people's worth is measured through some point system. People are born with numbers printed on their bodies. The system that controls this is called Althing and the point system is called the "Count".
Every human for a different reason can rise their count. People with Lower Counts are destined to be ruled by the Higher Count. When the Count reaches 0 the person is dragged into an unknown abyss and is supposed to be dead.
The story begins with Hina Farrow whose Count was 441. She was searching for a man her mother told her before death. She had a sphere of 10,000 Count which will grow the receivers Count by – you guessed it – 10,000.
However, she meets a person named Licht Bach on her way. A person who has a Count of -999. In a world where 0 is death, how does someone has a negative count? You will have to watch the show to find out.
13. Bastard!! -Heavy Metal, Dark Fantasy (2022)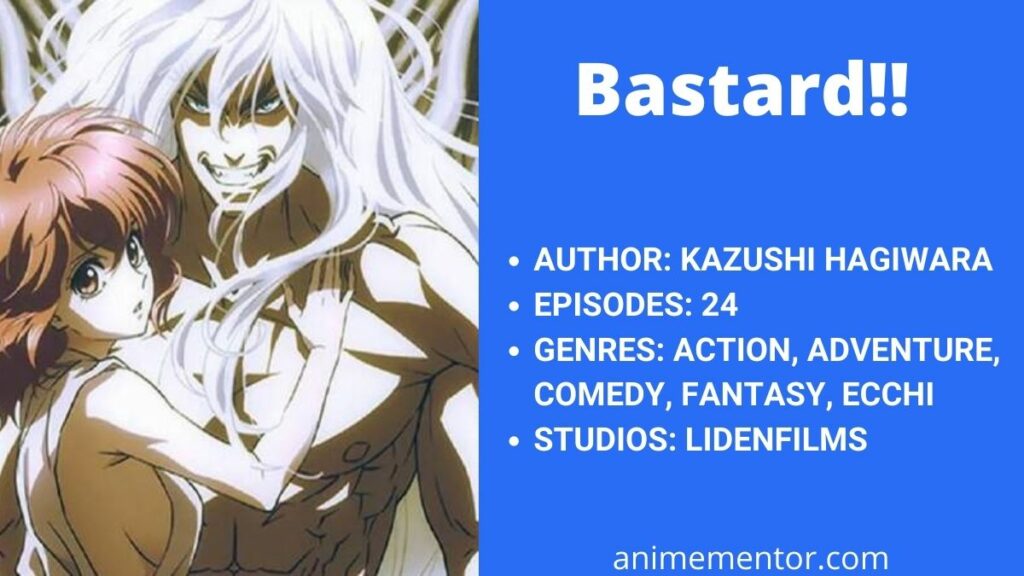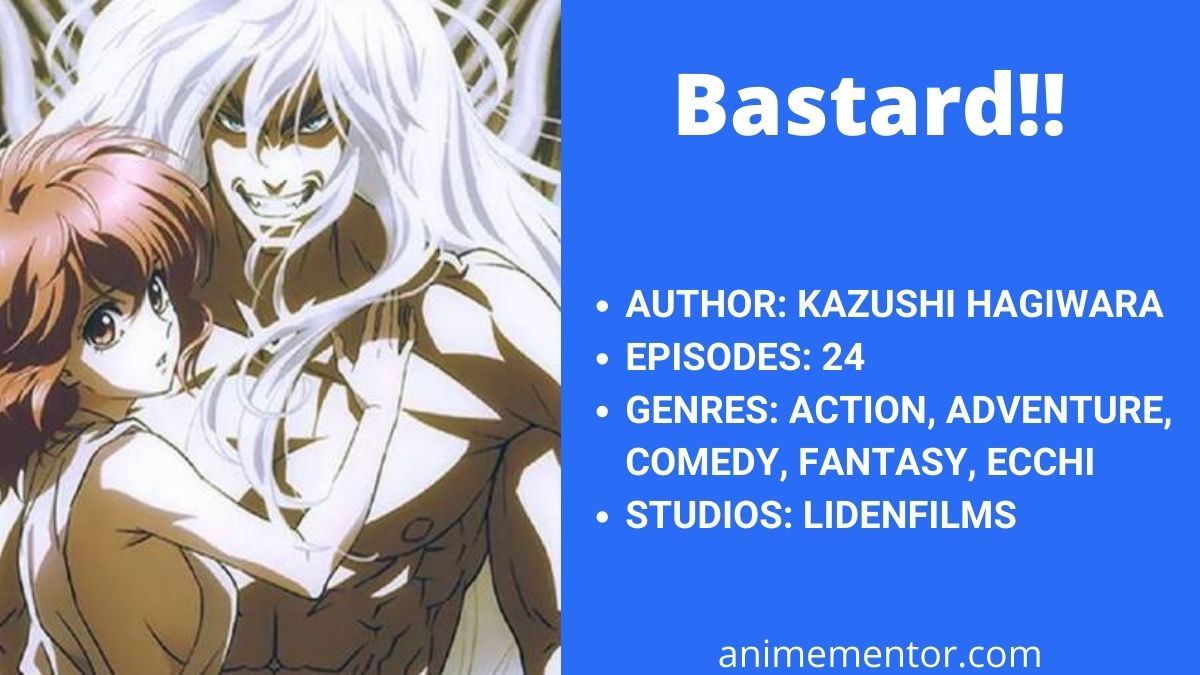 Author: Kazushi Hagiwara
Episodes: 24
Genres: Action, Adventure, Comedy, Fantasy, Ecchi
Studios: LIDENFILMS
Finally to end the list we have Bastard. This series is very interesting and a Dark Fantasy. Among various aspects, a very important thing is about the series' author. He is a huge fan of Heavy Metal so the series also has various Heavy Metal band references. The story is quite good along with its animation. However, the series is so underrated because of its release on Netflix. The promotion of this series was handled very poorly. It's a must-watch for those who love violence and mature content.
400 years ago, Earth faced a huge cataclysm in the name of Demon Lord Anthrasax. However, she was stopped by a Dragon Knight, a mecha created to destroy Anthrasax.
However, the new generation faces the same fear again. A new Dark Army has attacked the nation of Metallicana in order to resurrect Anthrax. So the high priest decides to reincarnate Dark Schneider – the pilot of the Dragon Knight and the most powerful wizard.
Dark Schneider was successfully reincarnated in the body of Luche Renren and thus a new Dark Age began.
What does the future hold for the nation of Metallicana?
Conclusion
With this, our list of 13 Most Underrated Anime comes to an end. Have you watched all the anime on this list? If not, what's stopping you?
Share which one of these anime you liked most in the comment section and do leave your take on it too. We love reading your comments.
See you soon in the next article!